Plants and flowers are a huge part of our life, and they make our surroundings better by keeping our environment clean. If you are a DIY garden enthusiast, you will absolutely love these beautiful diy planters, but if not, we hope you get inspired to include some greenery in your homes with super easy and quick methods. Literally, anything you see can be turned into diy planters using a few basic supplies and tools. These DIY planters can be as creative as you want, and you can hang them, place them indoors, or even place them on your porch if they are too big to keep indoors. Find these 30 amazing DIY planters that are easy to build with recycled items, and you will have a lot of fun making them with your family. So, let's look into the diy planter ideas with the instructions mentioned below now!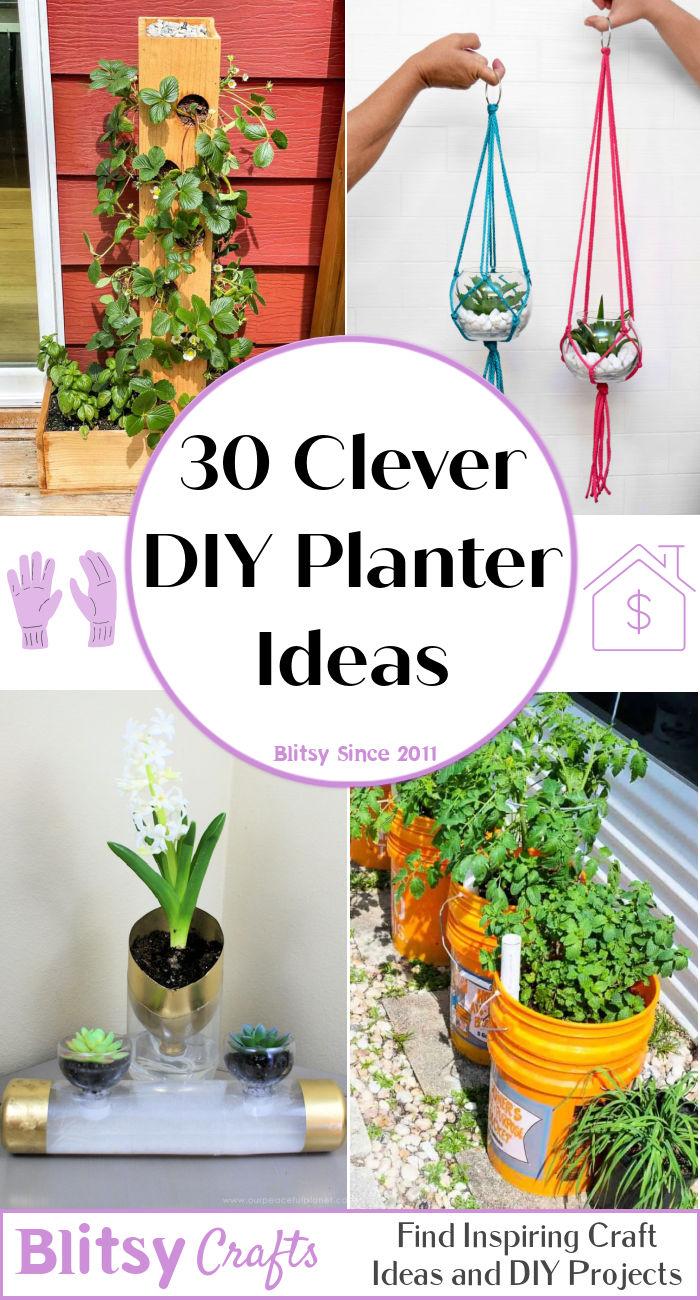 Here we have listed 30 different ways to make DIY planters at home with different things. Either you want to make a vertical balcony planter, modern cedar planter, pumpkin topsy turvy planter, mason jar hanging herb planter, succulent wall planter, recycled wine bottle planters, raised planter boxes with sub-irrigation, pallet planter, no screw potato tower, macrame hanging planter, indoor planter, hanging tire planter, large cedar planters, fabric planter, lightweight concrete planter, self-watering planters, trellis wall planter, railing planter, privacy planter, strawberry planter, upside-down hanging planters and much more – we have them all mentioned here for you!
All you need to do is, go through all the given DIY planter ideas and pick the ones that inspire you the most. Then you need to gather the necessary supplies, and you'll be set to make your own DIY planters at home. So, without any more delay, let's start!
1. Upside Down Hanging Self Watering Planters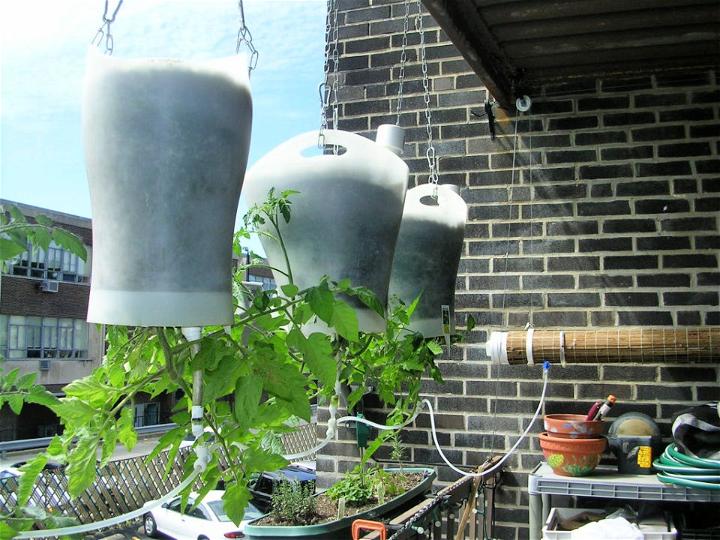 Are you someone who loves to keep your home green? Then you should definitely try out this upside-down hanging self-watering planter for your garden. So, if you have a problem keeping water levels balanced, this idea will work the best for you. For this, you will need supplies like a 10-quart water basket, lid, 2" length of 1" diameter PVC, 12" length of 1-¼" diameter PVC pipe, end cap, 10" wick that fits a ⅜" ID hose, 6" length of ⅜" ID hose, quick-connect male connector, quick connect "Tee" connector, small tomato plant, good soil/compost mix, foam, gravel, screen mesh, rotary cutting tool, hot glue or sealant, PVC cement, Teflon ribbon, and a ladder. instructables
2. DIY Concrete Succulent Planters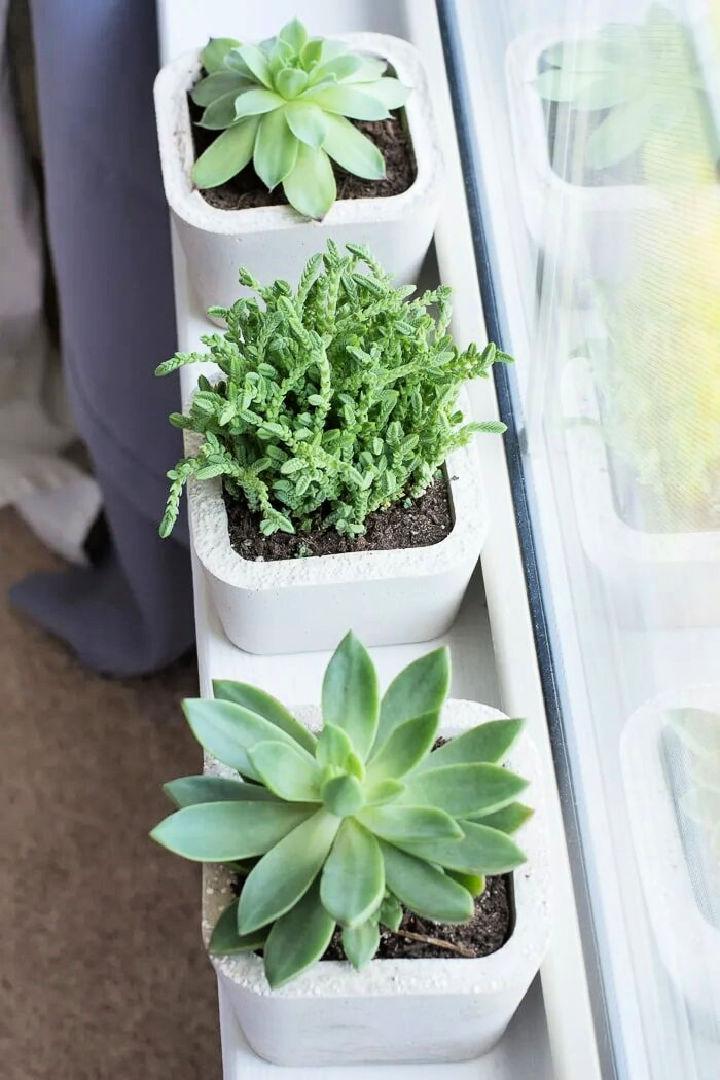 Want to keep some mini planters at your study table? Then go for these cute DIY concrete succulent planters. It is a nice decor item and keeps the environment fresh too. These mini diy plant pots do not take up much space and are easy to work up too! You will need a concrete and plastic mold, coconut oil or any kitchen oil, a mixing bowl, a spoon, measuring cups, and assorted sandpaper. bybrittanygold
DIY Concrete Planters: Make these pretty DIY concrete planters with an inexpensive bag of concrete mix. Experiment with various shapes and sizes for on-trend home decorating!
3. Self Watering Planters From Soda Bottles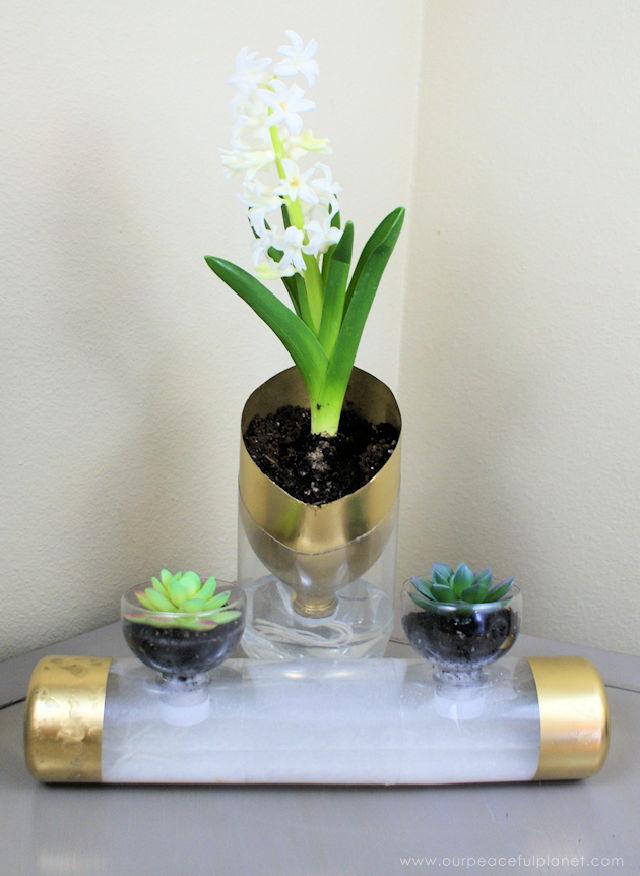 Do you find a lot of soda bottles lying around the house? Well, let's make them useful by following this DIY self-watering planter. This is perfect for growing herbs at home and looks like a great decor item! So, gather supplies for this project, including 2 slim plastic soda or water bottles, Xacto knife, dry erase marker, hair band, gold spray paint, small filler stones, pebbles, masking tape, drill, 100% white cotton yarn, paper towels, and much more. craftyourhappiness
4. $15 DIY Window Box Planter

Do you have a low budget but looking for a nice planter to go with? Then you should try out this $15 DIY window box planter for your house. This super cheap planter will definitely change the look of your windows and make your house look even more fresh and beautiful. You may grow anything in them or may also go for multiple ones to place on your porch too! The materials required for this idea are cedar fence boards, construction screws, clear plastic sheeting, gravel, potting soil, flowers, chop saw, table saw, nail gun, nails, drill, scissors, and trowel. joyfulderivatives
5. DIY Privacy Planter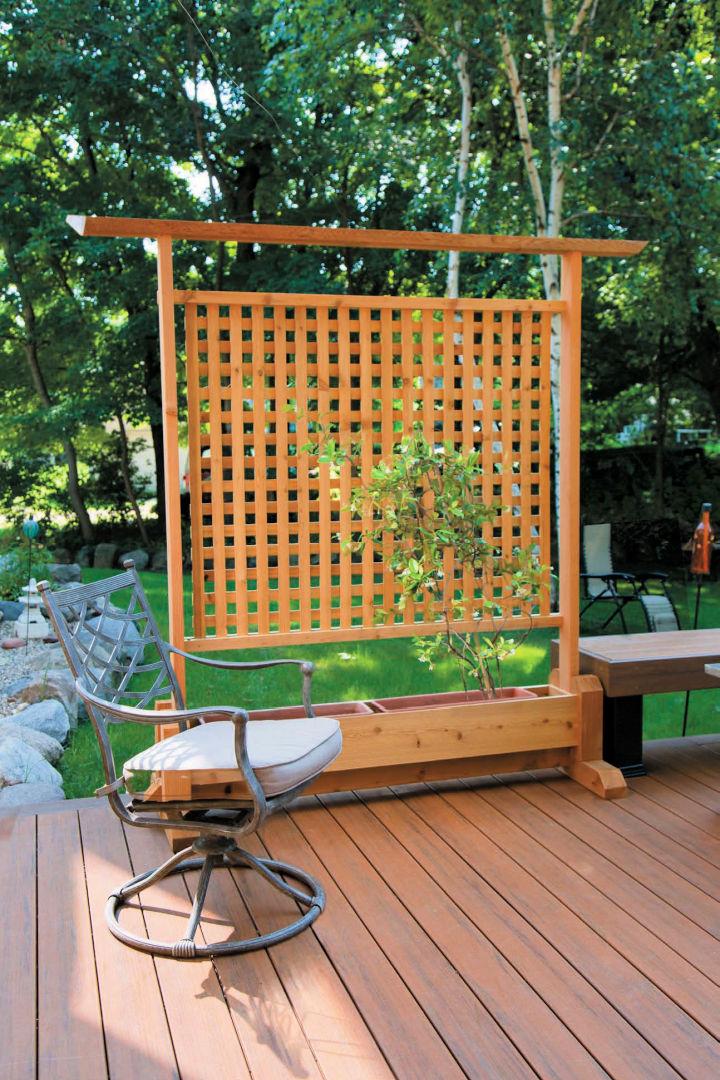 If you feel like your garden is too open and there is no private space to sit, you can try this easy DIY! Now you can have the privacy you need with a super gorgeous backdrop with plants or flowers. The tools and supplies needed for this plan include cedar boards, deck screws. Trim screws, window-box planters, drill, driver, circular saw, tape measure, clamps, and square chisel. quartoknows
6. Strawberry Planter Plan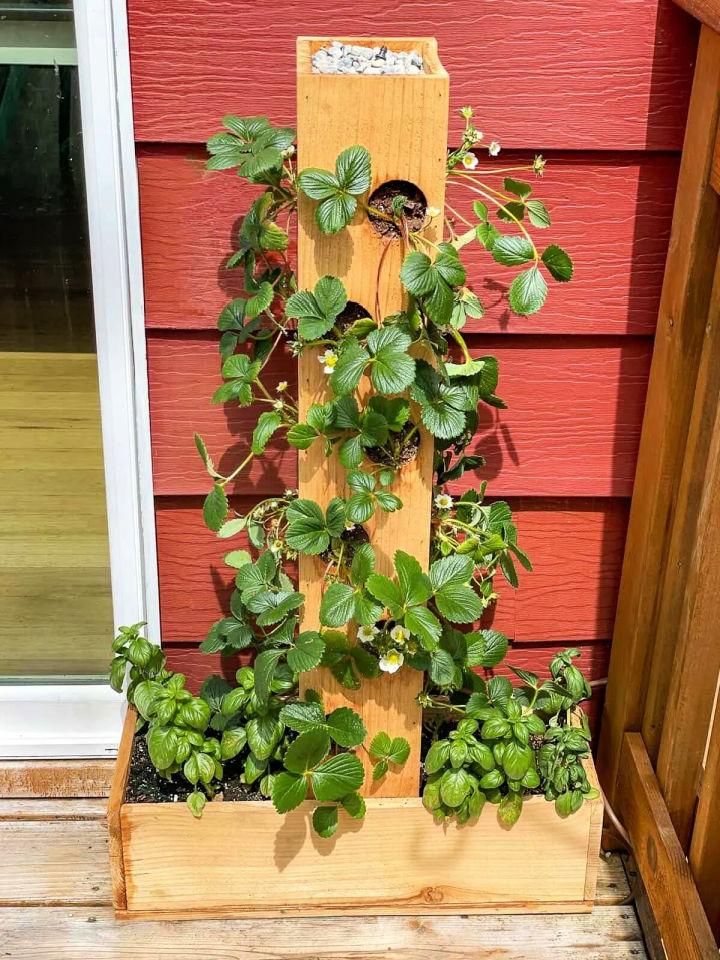 Who doesn't love strawberries? So how about growing them on your own and eating as much as you like? Well, for that, you need to DIY this simple and cost-effective strawberry planter for your garden. Without any further delay, let's start making this with supplies like cedar fence pickets, PVC pipe and caps, soaker hose, 2" diameter hole saw, drill, Brad Nailer, 1" exterior wood screws, small drill bit, exterior wood glue, clamps, potting soil, and strawberry plants. thehandymans
7. Homemade Cement Planters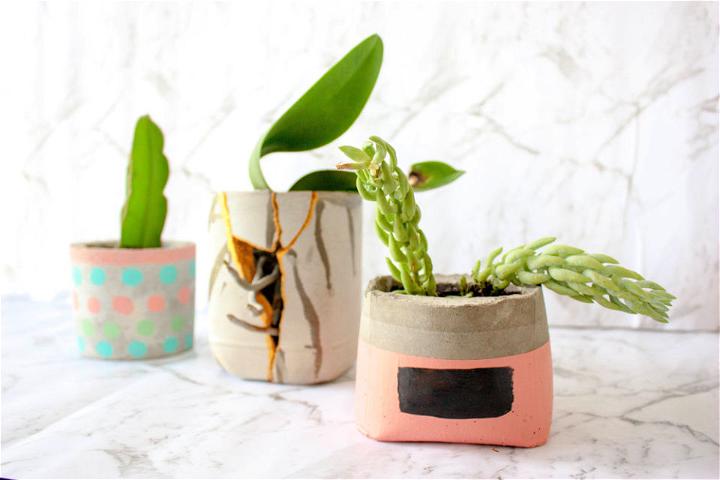 For a quick and easy planter, cement is the best thing to use! It is not only easy to use but also quite inexpensive. Moreover, you can mold it to any shape you like and customize it according to your preference. For this diy indoor planter, you need easy mix quick-set cement, water, 2 sets of Moulds that inlay, vegetable oil, paint, small rocks or glass beads, soil, and plants of your choice. wearekittygang
8. How To Make A Wooden Planter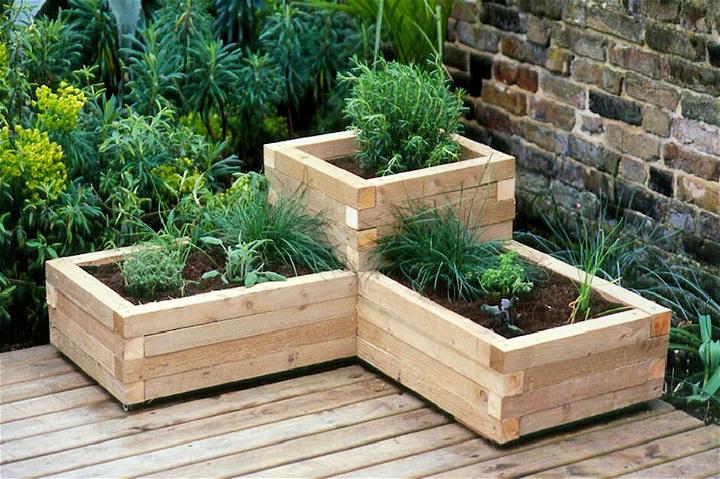 If you are short on space, then these DIY wooden planters are the perfect option to go for! They make a good space of bed for plants to grow, whether they are fruits or vegetables. It is quite simple to make, which you can even complete in a day if you have wood available at home already. To make it, you will need pressure-treated timber, gravel board, saw, drill, 3mm wood drill bit, screwdriver, try square, pencil, tape measure, and zinc-plated screws. gardenersworld
9. DIY Railing Planter For Your Deck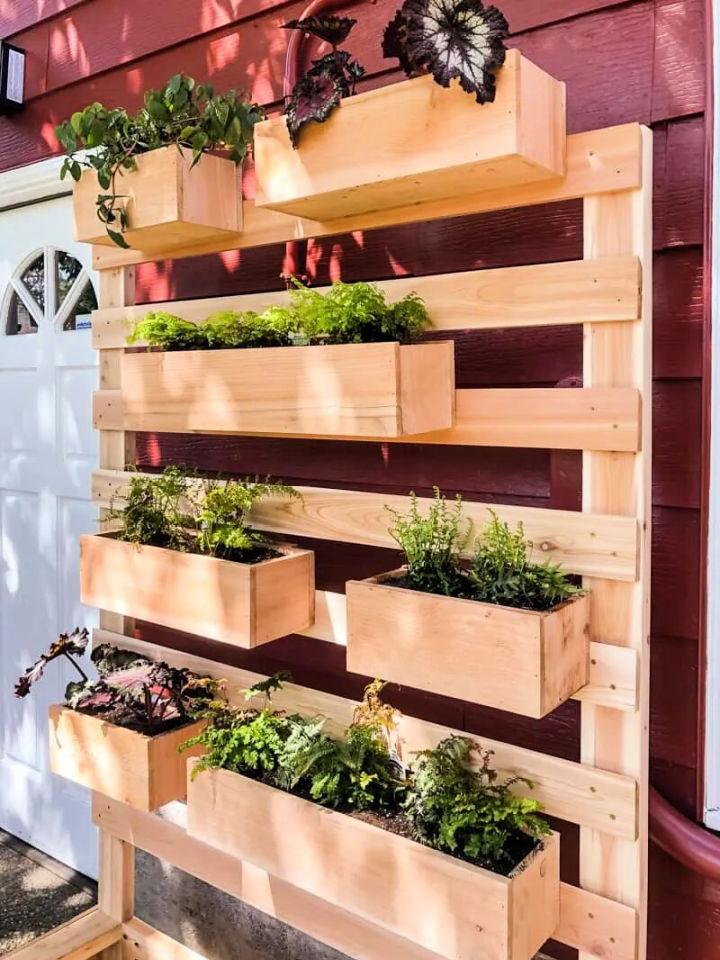 Are you a garden enthusiast and want something to make for your space? Then why don't you try this beautiful DIY vertical planter wall? It is super easy to build and does not require much space too – how great is that? It is definitely going to be a sight for sore eyes! Gather materials and tools like cedar boards, 6-foot-long cedar fence pickets, outdoor wood screws, Kreg Blue-Kote pocket hole screws, 1 ¼" brad nails, wood glue, table saw, miter saw, Kreg jig, drill, brad Nailer, speed square, and clamps. thehandymans
10. Trellis Wall Planter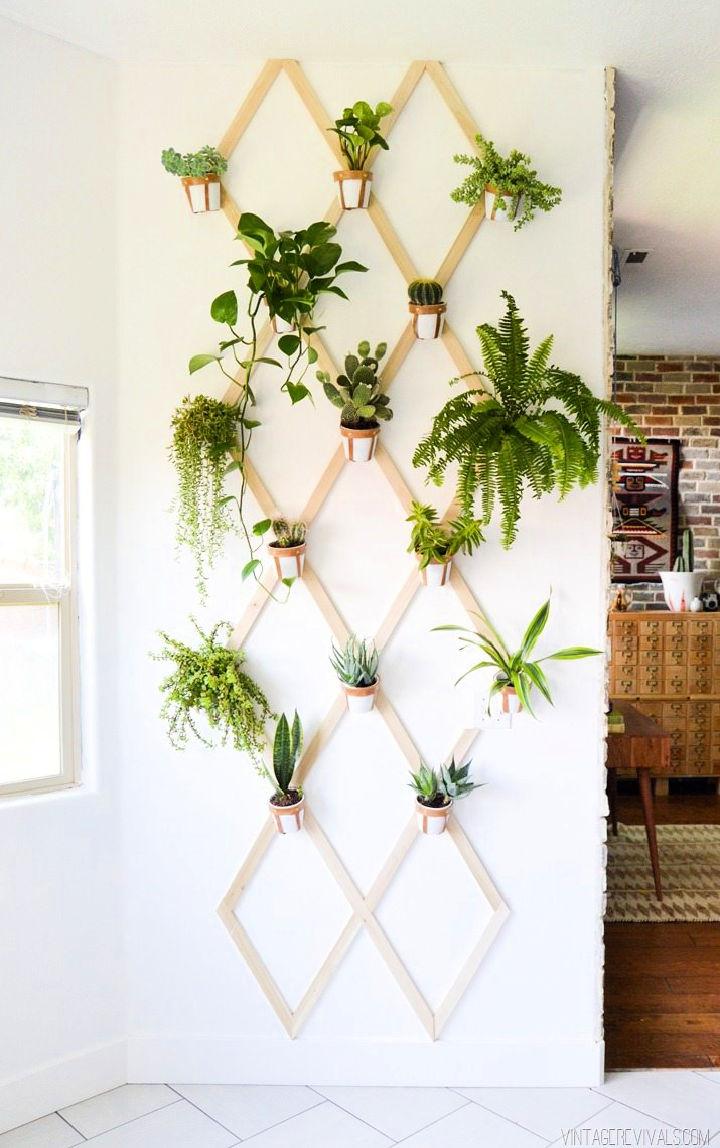 This DIY trellis wall planter will spice up your garden and will also not take up much space – isn't it amazing? You can hang any of your favorite plants in it. For this project, you'll need some plant pots, leather stapes, a drill machine, and long wooden boards; that's it! vintagerevivals
11. Self Watering Planters For Tomatoes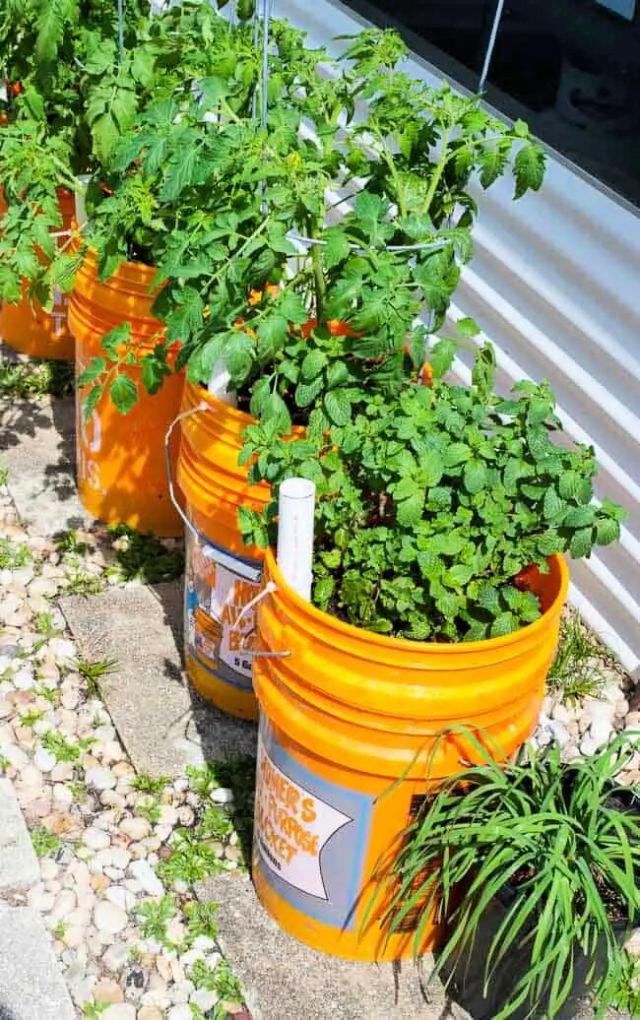 If you are not satisfied with the tomatoes you buy from stores, why not grow your own? And yes, it is super simple and easy to make as well. Now you can DIY a 5-gallon self-watering planter that requires small space. To start with the project, you'll need 5-gallon buckets, 2 cheap kitchen sponges, 1" PVC pipe, an old 100% cotton bath towel, a drill with a ¼" bit, a utility knife, hacksaw, a sharp pocket knife, and a pair of scissors. joeshealthymeals
12. DIY Hanging Planters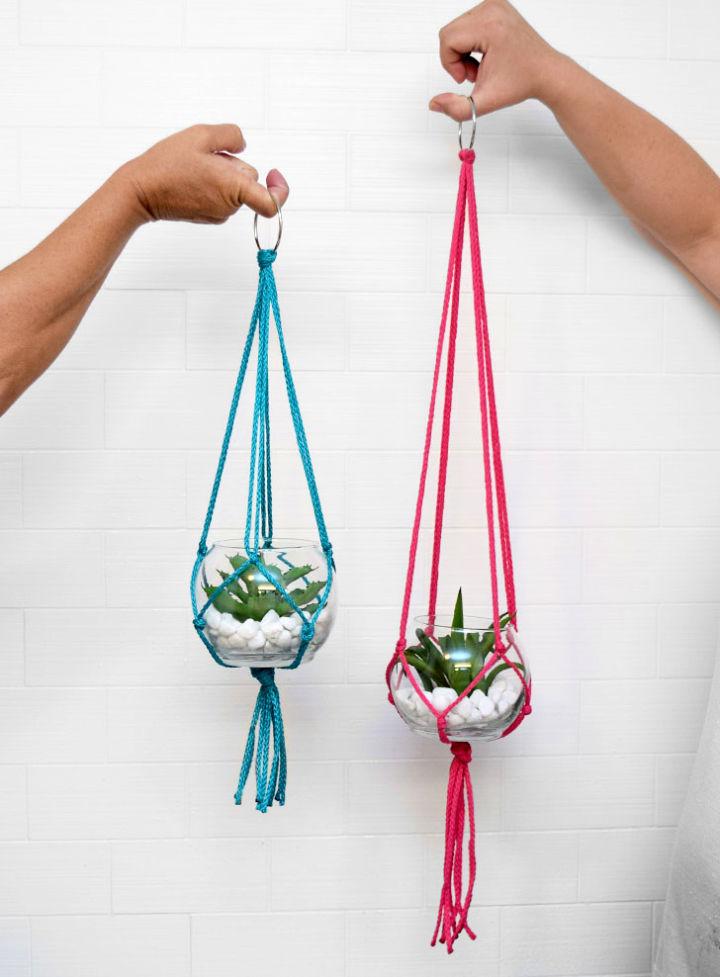 Get crafty this summer season and give a new look to your garden with these DIY hanging planters. They are super easy and cost-effective! Moreover, it can easily be done within a few minutes. So, if you want to make these, gather supplies like macrame cord, steel rings, scissors, lighter, faux succulents, glass planters, and rock or other filler. momspark
13. Lightweight Concrete Planter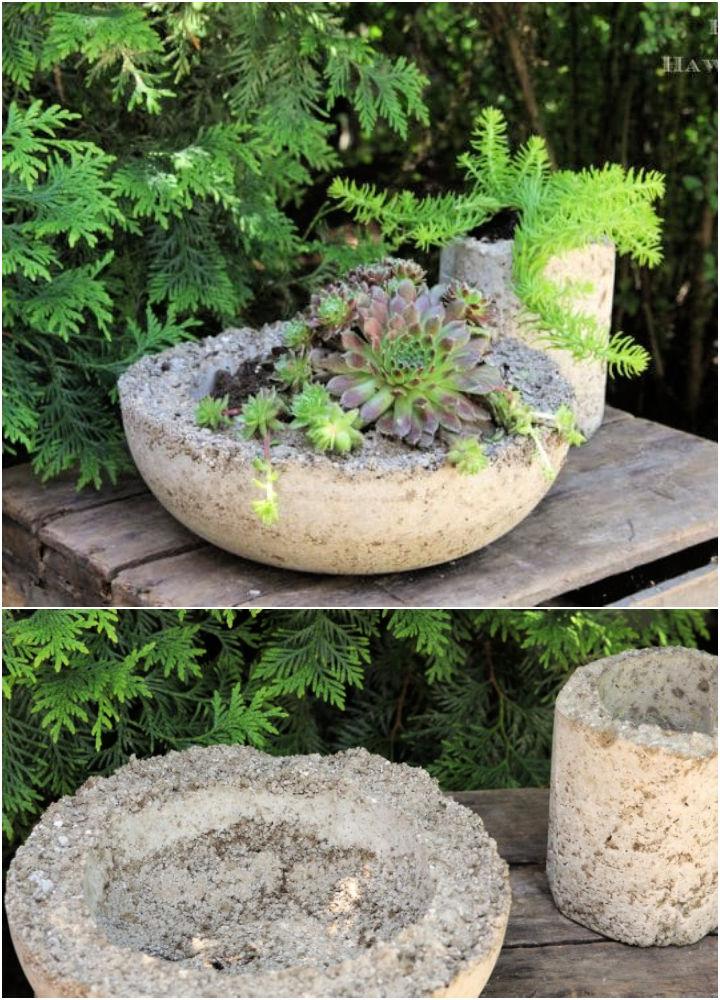 Do you find concrete planters too difficult to carry around? Then without any further ado, try making these lightweight concrete planters. Now you can get the look of stone without the weight – how cool is that? Supplies list include Portland cement, sphagnum peat moss, perlite or vermiculite, water, non-stick cooking spray, large bucket or trough, various plastic or cardboard containers, rubber gloves, mask, and safety glasses. houseofhawth
14. How To Build Tall Planter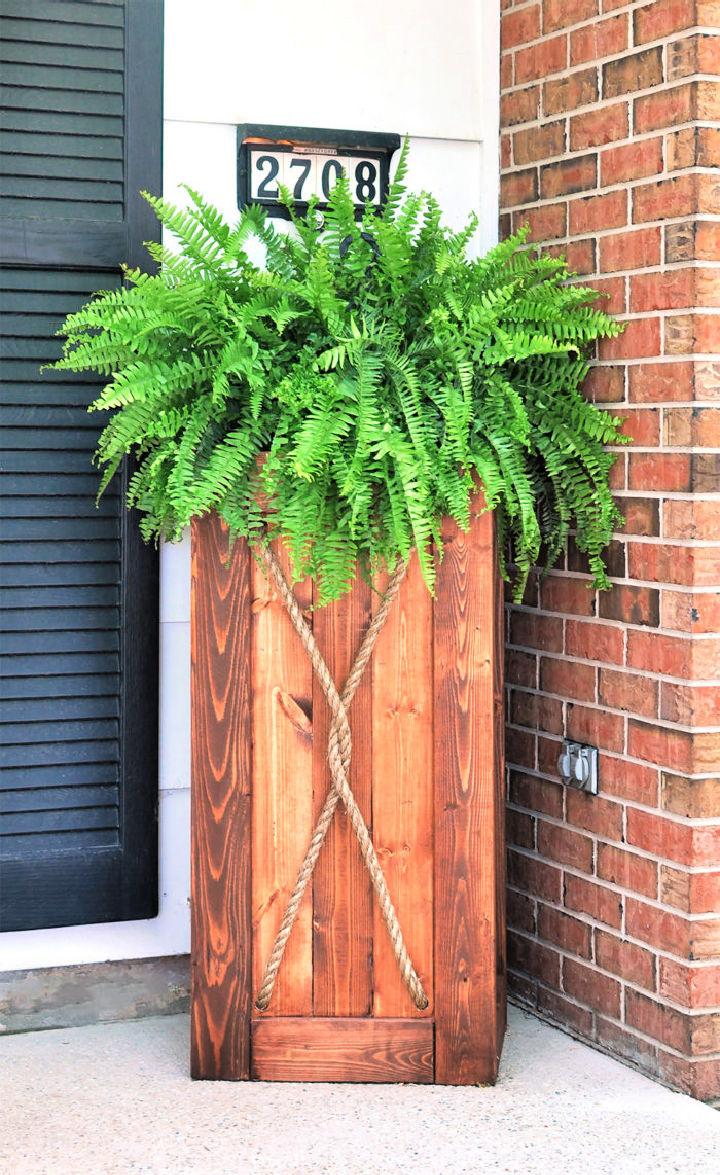 Now you can welcome guests at home with this tall planter by your front door and add to the beauty of your porch. Other than that, if you want to sit outdoors, this makes a nice decor item. It is pretty simple to build, so you do not need to be an expert at woodwork. The tools and supplies needed for this planter are rope, wood stain, waterproof sealant, 1×4's, miter saw impact driver or drill, nail gun, Kreg jig, clamps, and wood glue. cherishedbliss
DIY planter box: Try a DIY planter box to plant your flowers and make your yard or front porch be a second glance. Do not miss these DIY planter box plans.
15. Simple DIY Deck Planter Box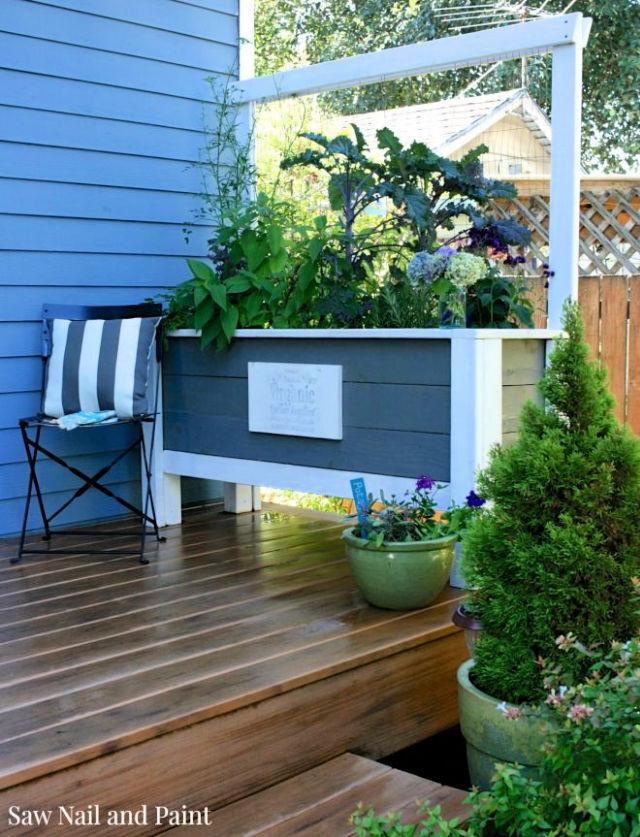 If you are a minimalist and like simple things, you will like this simple DIY deck planter box. It works perfectly for anyone with less space and is quite easy to build. You can paint it in any color you want, preferably something that matches your home. So gather all the supplies, and let's start working right away! sawnailandpaint
16. Indoor Fabric Planter DIY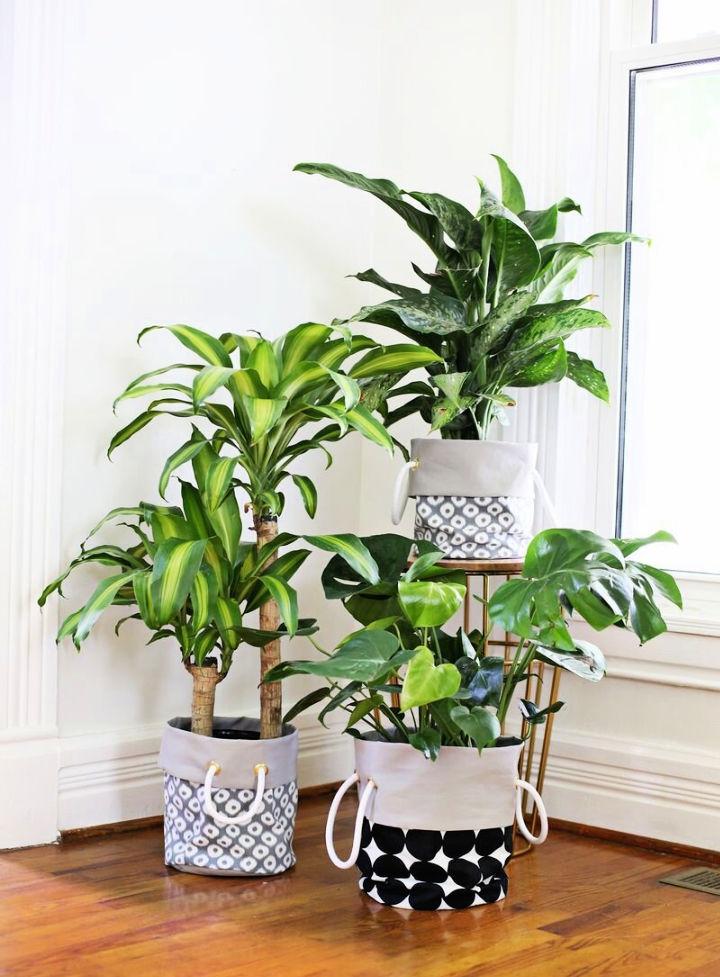 Do you have some extra fabric pieces at home and don't know what to do with them? Well, you can make a planter! Yes, that's right, a DIY fabric planter! You can customize this with any fabric you like, and they will make a nice statement piece in our living rooms! To make these, you will need fabric scissors, 2 twill fabric patterns, plastic liner 6mm thick, rope, extra-large eyelet kit, hammer, and waterproofing spray. abeautifulmess
17. Large Cedar Planters for Cheap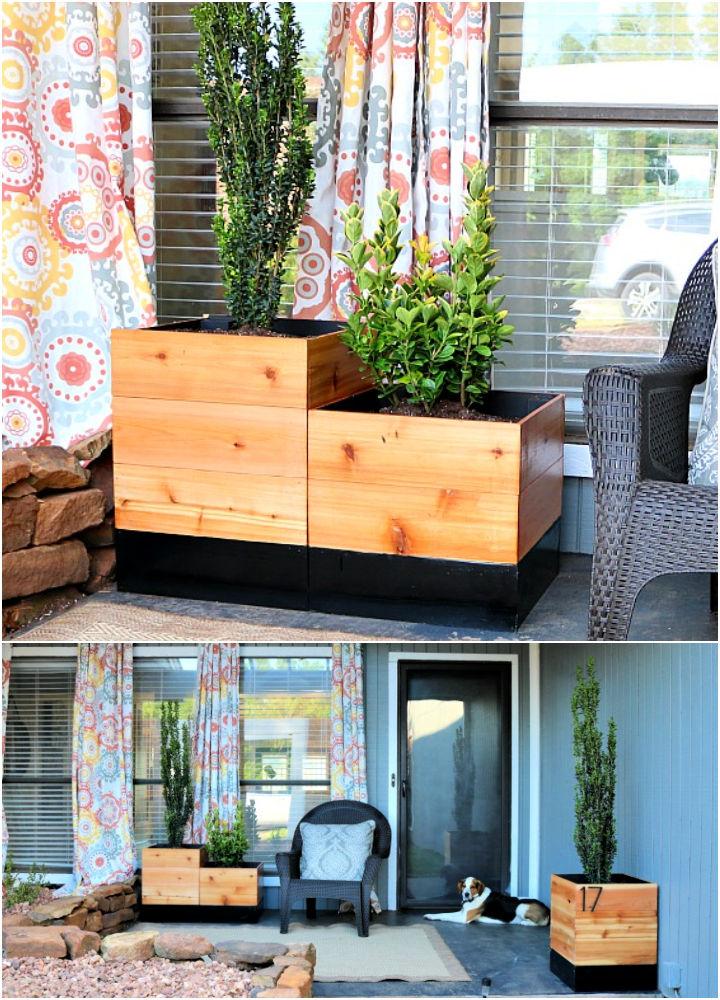 Have you ever seen those cedar plants in stores and wanted to buy but they were a little out of your budget? Here we have an alternate for you – let's try to DIY them on your own in cheap? Well. It's an easy process, so don't worry. Just follow the steps given in the guide, and you'll be good to go! You will require scrap plywood, scrap outdoor treated wood, cedar fence pickets, pocket hole screws, wood glue, rust-oleum LeakSeal, Minwax polyshades, miter saw, nail gun, Kreg pockethole jig, and drill. uncookiecutter
18. Hanging Tire Planters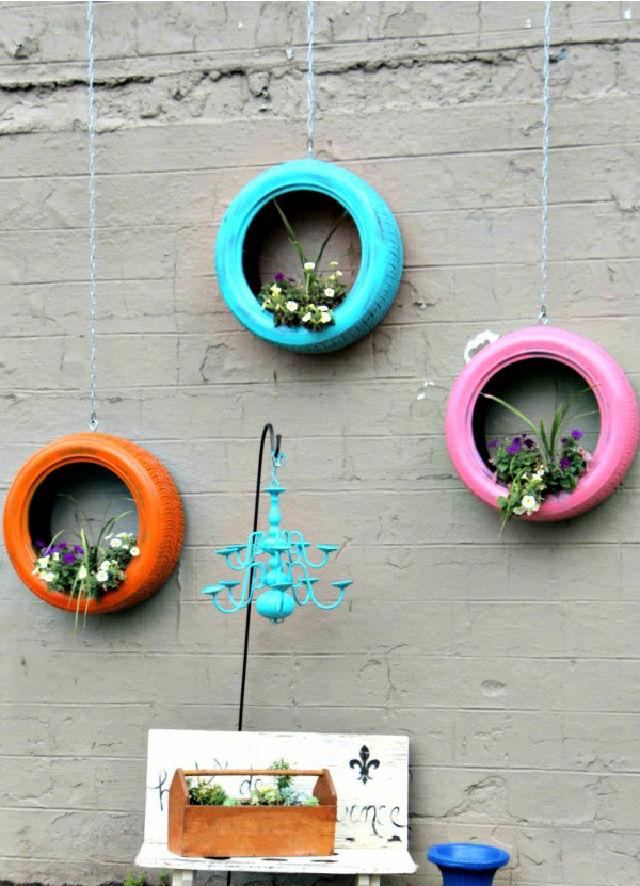 Rubber tires are one of the most fun and cool way to add planters to the house. It instantly brightens up a dull exterior, and you can even color the tires for a more colorful addition. Give your place the punch of pizzazz it needs with these DIY tire planters. All you need to have are supplies like 3 tires, potting soil, eye bolt, drill, ⅜" drill bit, rope binding hooks, chain, and spray paint. divaofdiy
19. DIY Indoor Planters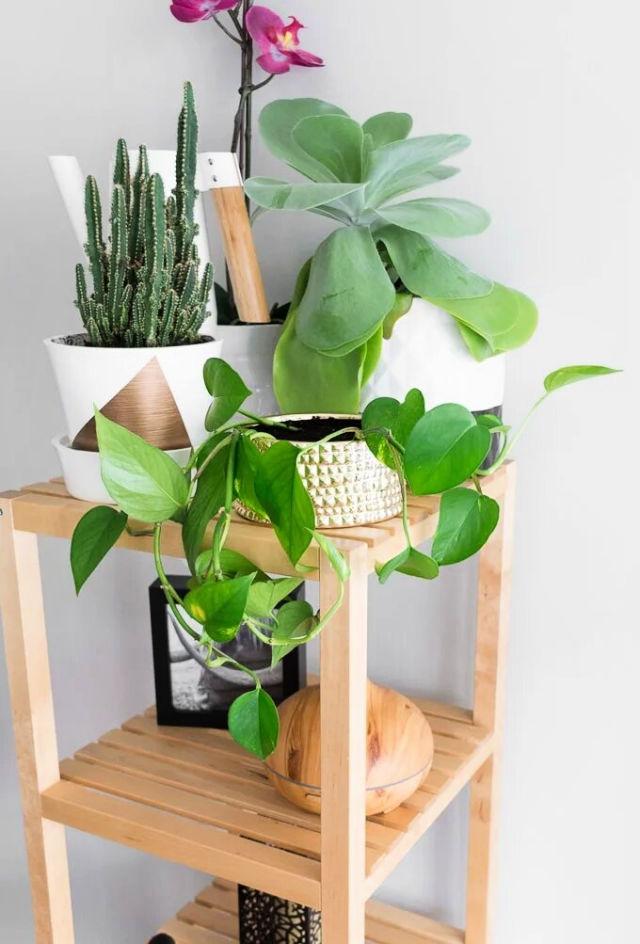 Upcycle your candle stands to make space for some indoor plants! It is a great way to add a new decor item in the house band quite, an environment-friendly idea! You can add it to your side tables or even study tables and enjoy this quick and easy DIY! The best thing is that you will find all the supplies lying around in your house! bybrittanygoldwyn
20. DIY Raised Planter Box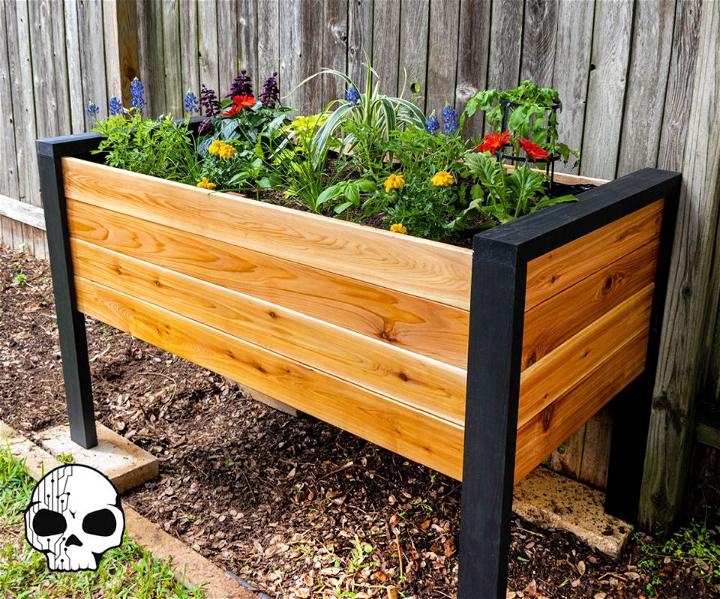 Save your plants from getting ruined by animals by building this DIY raised planter box. It is a super effective and useful way to keep plants healthy. Other than that, you can also save yourself some backache with these raised planters as you wouldn't need to lean over them. This modern-looking planter box is pretty simple to make as it requires things like rough-sawn cedar, cedar fence pickets, exterior paints, spar varnish, exterior screws, wood glue, miter saw, circular saw, drill, impact driver, Kreg jig, trim router, tape measure, and table saw. instructables
21. Simple Macrame Hanging Planters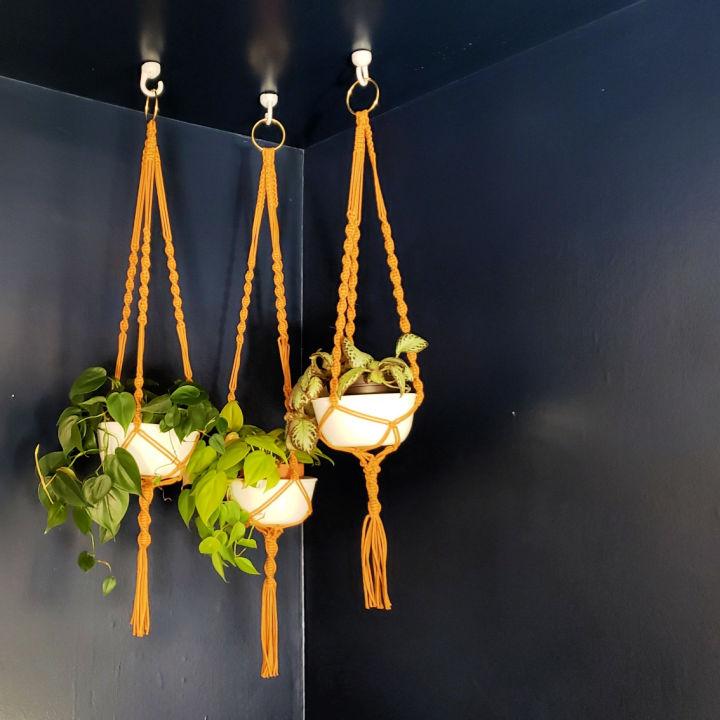 If you're a beginner and looking for some easy DIY planters to try out, then you're at the right place! These simple macrame hanging planters are super fun and gorgeous addition to the house. Moreover, they make a nice housewarming gift that you can also customize accordingly. You will need some basic supplies like a 3 mm macrame cord, brass rings, national hardware elephant hooks, sewing scissors, planter pot, and of course, a plant! realitydaydream
DIY hanging planters: Find these DIY Hanging Planter Ideas You Have to Try. Get creative with hanging basket projects for all skill levels.
22. No Screw Potato Towers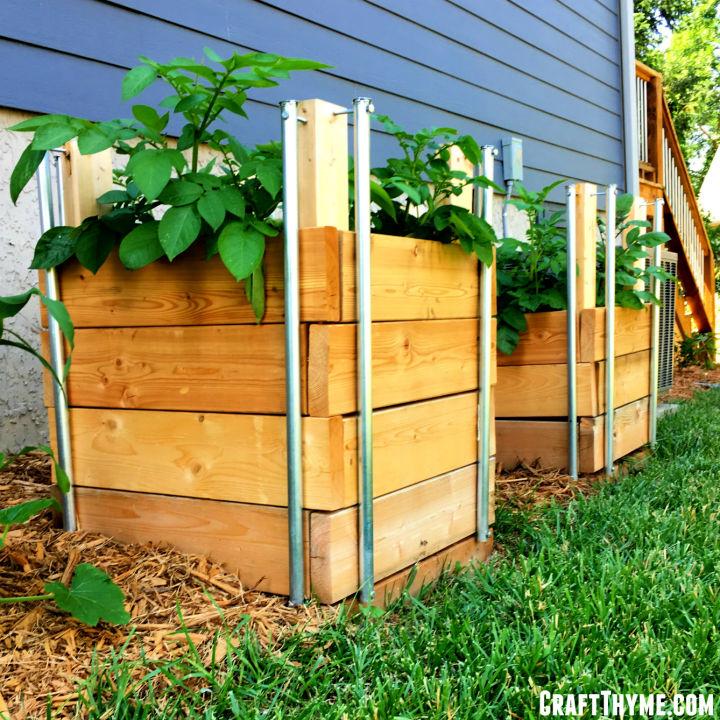 Growing your own vegetables at home is one of the most exciting things ever. If you are a gardening lover, then you must be aware of how much care it needs. So, here we are with an easy DIY to make no screw potato towers. It requires less space to grow potatoes and, at the same time, looks aesthetically pleasing too. Gardening in style – sounds cool to us! For this, you will need wooden boards, ¾" x 120" conduit, 5" hex lag bolts, 2.5" wood screws, ½" drill bit, drill, hammer, nail set, or hole punch. craftthyme
23. Turn A Pallet Into A Planter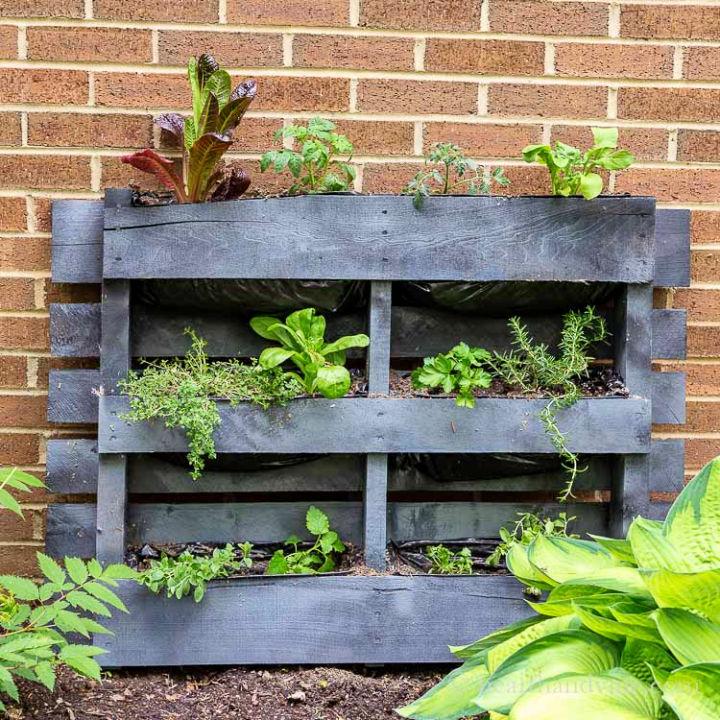 Are you searching for a vertical wooden pallet turned into a planter? Do you find the ones in stores too expensive and out of budget? Then try to make this quick pallet garden at home. It is a super-economical option, and you can customize these ideas according to your preference too! You will require a wood pallet, landscaping fabric, spray paint, potting soil, and a staple gun. hearthandvine
24. Raised Planter Boxes With Sub Irrigation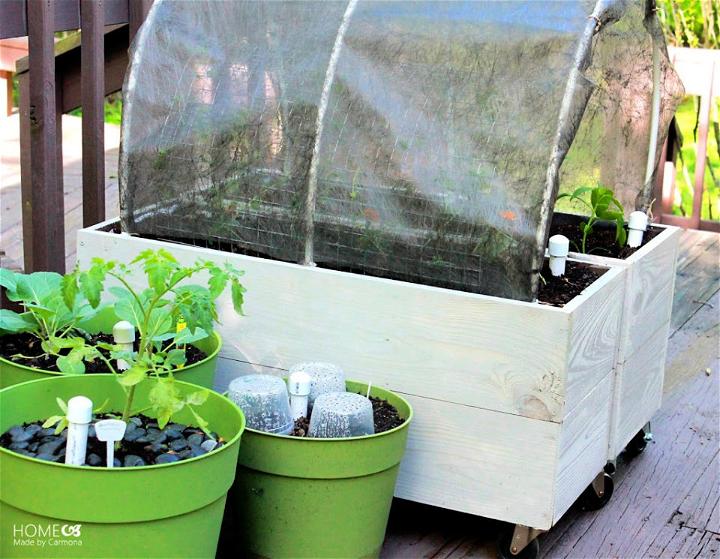 Here is another idea on how to DIY raised planter boxes with sub-irrigation. It is the option for people who have a busy life but also like some greenery at home. It Is low maintenance, so it does not require much attention. Supplies include cedar boards, framing lumber, salvaged pallet, deck screws, deck stain & seal, castors, PVC pipe & cap, 4" drain pipe, thick plastic sheeting, ½" vinyl tubing, topsoil, and garden soil. homemade
25. Recycled Wine Bottle Planters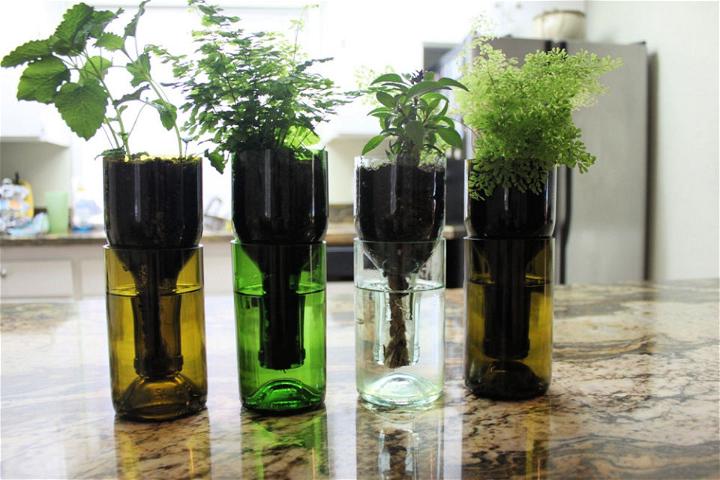 Gardening is a super fun and relaxing activity that also adds to the beauty of one's home. You can grow fresh and organic herbs or vegetables and enjoy natural foods in your cooking. And for this, we have a quick and simple DIY for you to make. Now you can recycle wine bottles as planters and grow as many plants as you want. The supplies you will need include empty and clean wine bottles, a lighter, yarn, acetone, sandpaper, a bucket of water, and goggles. happeningmag
26. Succulent Wall Planter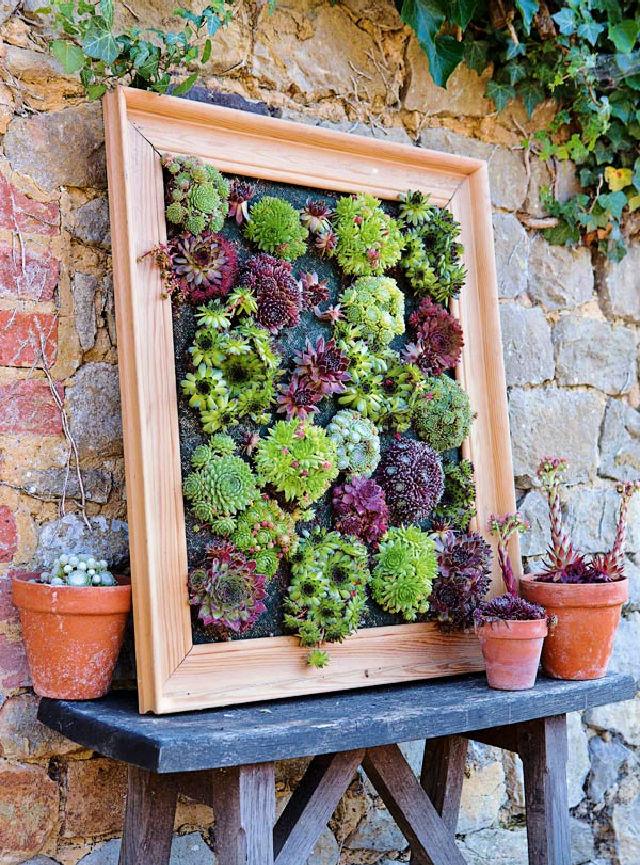 Ditch the boring photo frames and make this DIY succulent wall planter at home. This guide gives you step-by-step instructions so you can easily DIY it at home. Gather materials like a picture frame, wooden board, tape measure, drill, wood screws, exterior wood glue, weights, potting soil, scissors, and exterior plywood. empressofdirt
27. Mason Jar Hanging Herb Planter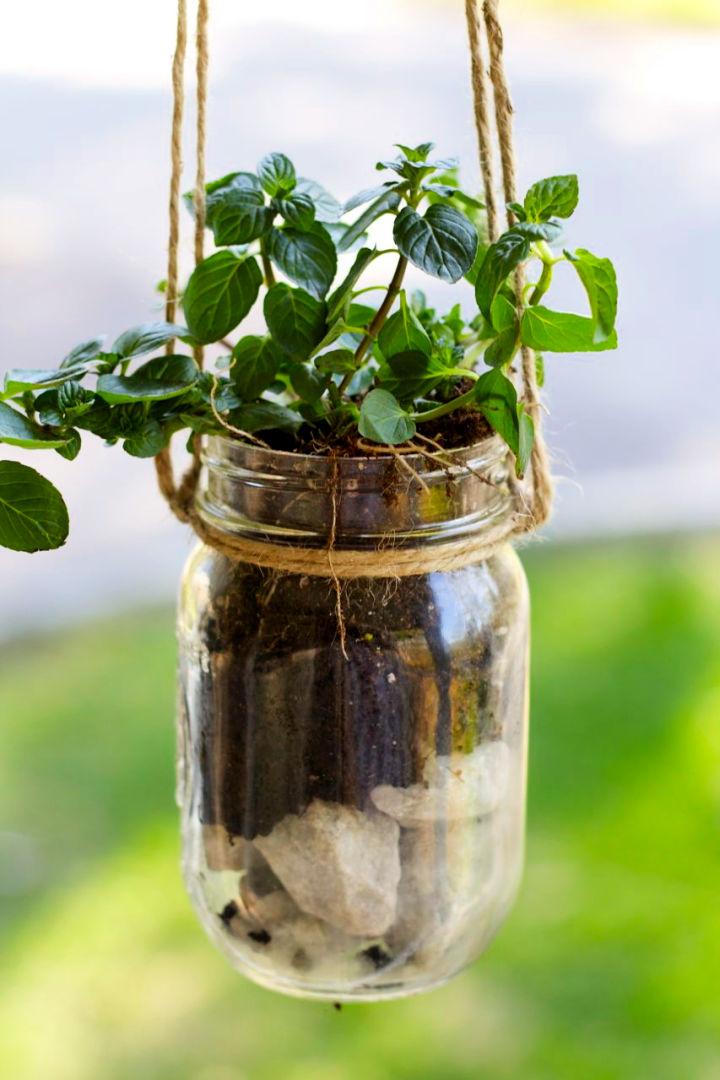 Mason jars have been quite popular for a long time, and there are numerous DIYs on the internet. So, here we have another one for you to try out. This DIY mason jar hanging herb planter can be a nice decor item for the house that you can hang around anywhere and wouldn't even have to be afraid of it breaking. You will need a mason jar, rocks, herbs, dirt, and twine to make this. ramshackleglam
28. Pumpkin Topsy Turvy Planter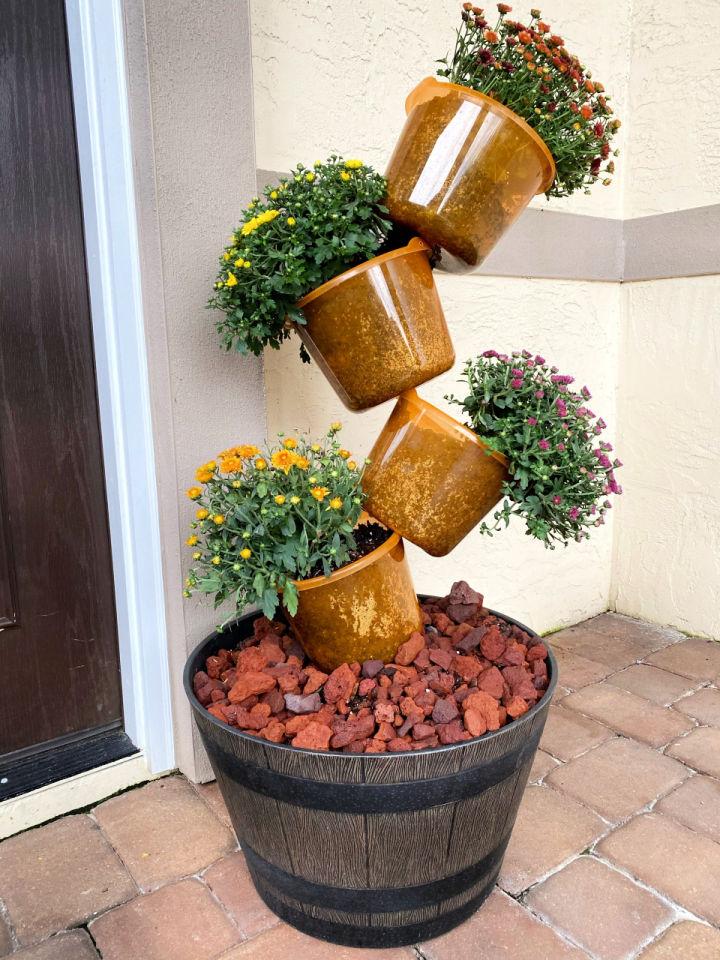 This DIY pumpkin topsy turvy planter is a super cute and innovative decor item to display on your front porch. Moreover, it is very easy to make and serves as the perfect thing to welcome the Fall season at home! So, are you ready to make this? For this, you will need some supplies like base, red lava rocks, masking tape, 2 sturdy stakes, 4 Halloween buckets, potting soil, and 4 fall mums. lakelifestate
29. Modern DIY Cedar Planter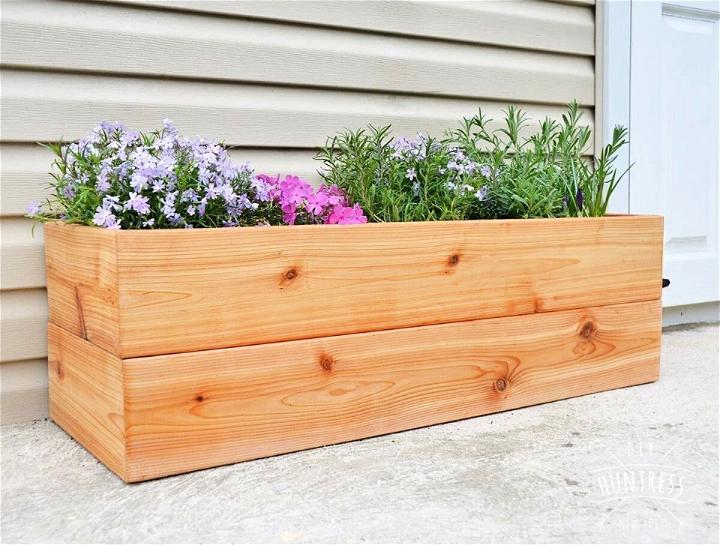 Does your home have a modern look to it, and you're looking for the perfect DIY planters to match it but can't find any? Well, how about you make your own diy flower pot? This super convenient and easy-to-make modern DIY cedar planter is the one for you! You need some basic materials for this project, including wood glue, a Kreg K5 pocket hole system, 1 ¼" pocket hole screws, and an outdoor waterproofing sealer. diyhuntress
DIY Flower Bed: If you need some flower bed ideas for your garden, this may be what you're looking for. Here are inexpensive DIY flower bed ideas that will make your garden glow.
30. Build a Vertical Balcony Planter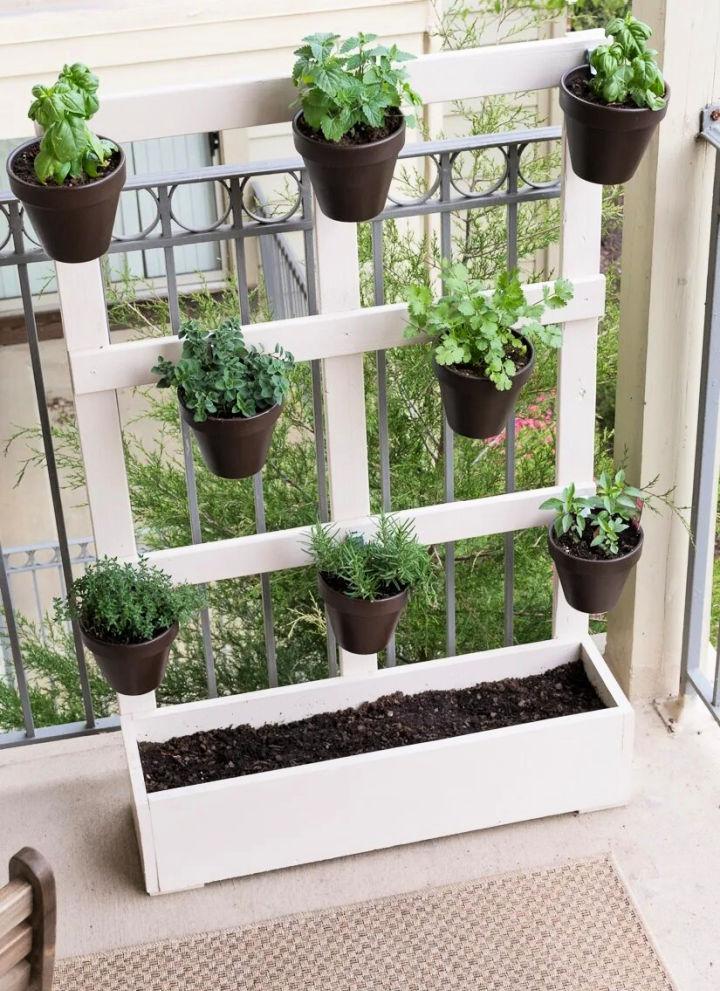 Want to grow more veggies and herbs but have a small balcony? Don't worry! This DIY vertical balcony planter is the perfect option for you to make! It saves up space and also looks quite beautiful on the balcony. Ready to try this diy plant pots planter? Then gather your supplies, including wood, Zinsser bull's eye 1-2-3 primer, flower pot clips, nail gun, drill, saw, screws, pencil, assorted sandpaper, clamps, and spray paint. bybrittanygold
If you love flowers and plants, you will be crazy about these DIY plant stand plans! Learn how to make a plant stand for indoors or outdoor!
Conclusion:
Here we will conclude our article on creative and decorative DIY planters and hope you have been inspired to try yours anytime now. These are super easy and cost-effective garden ideas that anyone can try out with low-budget. Everything you look around you can be potential DIY planters, and they can add beauty to your little gardens with their creative shapes and colorful shades.
The best thing about these DIY planter ideas is that you can make durable planters from simple things like tires, soda bottles, wooden boards, candle pots, cement, fabric, wine bottles, and much more! All the mentioned diy planter plans have their instructions, so it is easier for you to follow and make your own planter without any expert's help. So, look at all the given plans above and choose your favorite one to work on today! Good luck!