Herbs are natural remedies helping treat hundreds of diseases. So, daily consumption of herbs is recommended to stay healthy. There are always some herbs that are difficult to get. So, are you willing to grow those hard-to-find herbs regardless of the garden space? Then go with these DIY herb garden ideas that will make growing herbs indoors or outdoor easy. So, growing your herbs will be a smart way to get the daily supply of fresh herbs inexpensively. From wall-hanging herb gardens to self-standing herb gardens to stacked herb gardens, learn here to build all sorts of herb gardens like a pro.
Most of these herb garden ideas involve using recycled items and old materials for a building herb garden planter, making you start a garden at no cost. See a big range of outdoor and indoor herb garden designs with this list of 40 easy DIY herb garden ideas for every budget and skill level. Building these herb planters will rock for decorative purposes too. Yes, they will rock as natural garden decor and help give any indoor or outdoor space a glam touch of garden elegance.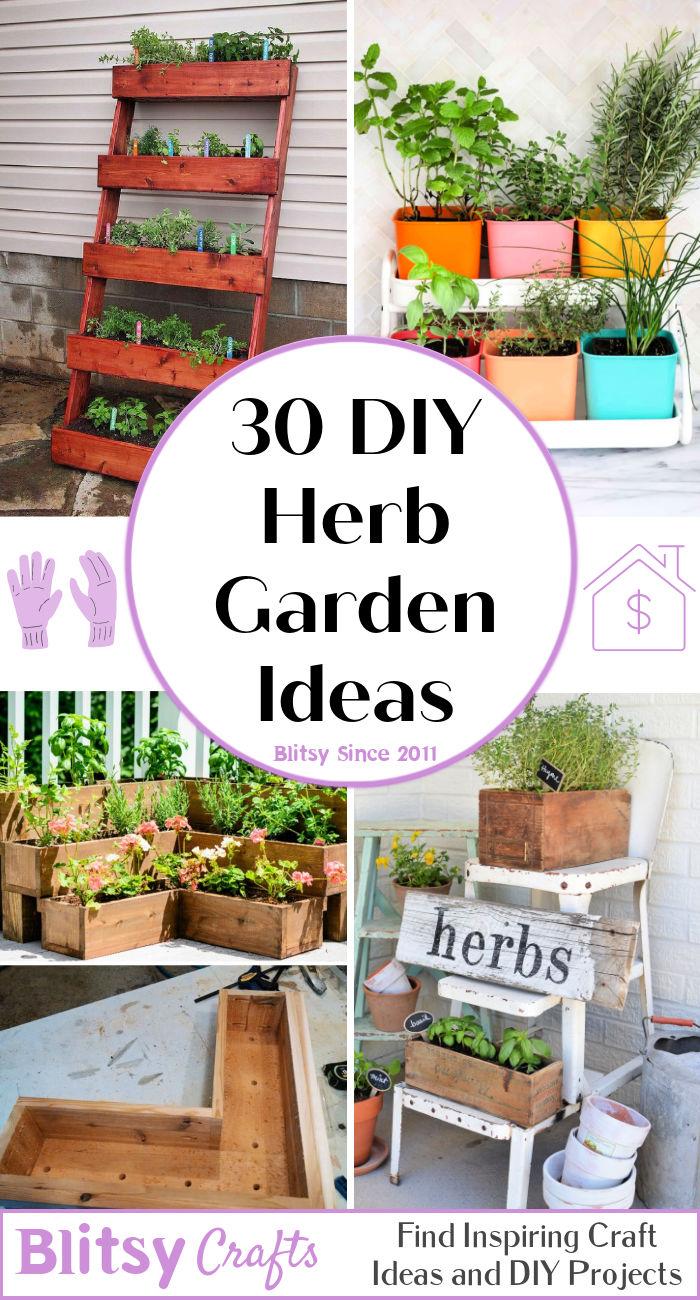 You can build a herb garden with a variety of materials. Pick the DIY planter box, build the metallic vertical herb garden, and upcycle the old pallets to build lasting longer herb garden walls also. Go handmade with the PVC pipe scraps to instantly build herb planters and get crafty with wood to build stacked herb gardens manually. Reclaim the metallic fence sections to instantly build vertical herb gardens and go with the IKEA components to build modern herb planters or gardens. They will style up every kitchen. Browse this entire list of DIY Herb Garden Ideas to make many more unique herb garden planters like a pro.
1. Vertical Herb Garden for Under $20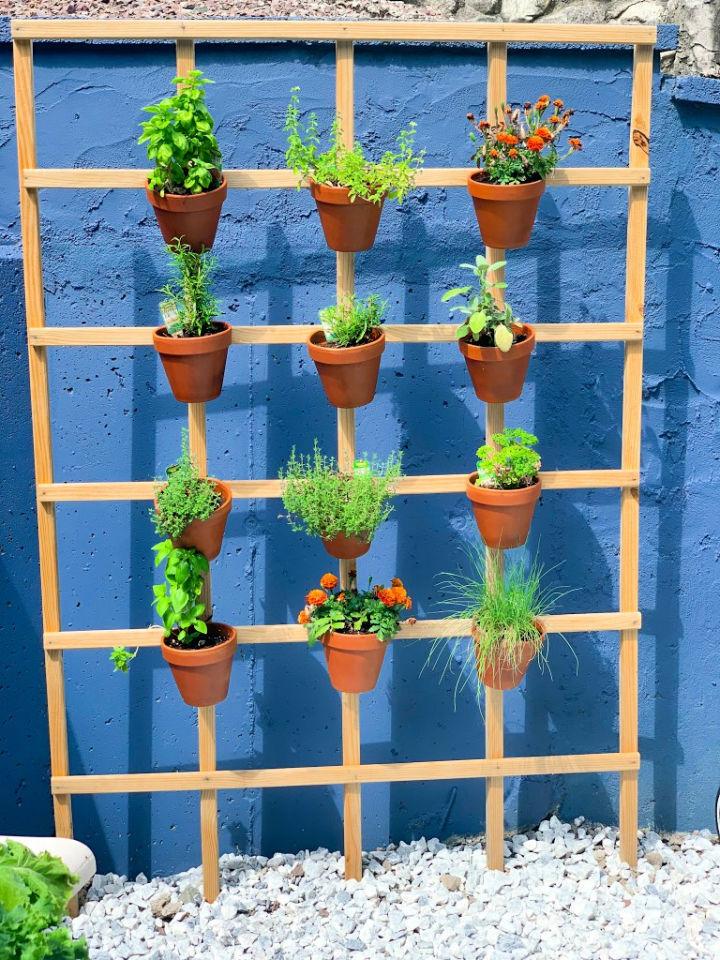 The herb gardens are easy to grow and can be started with much less effort and budget. So, learn here to build a lovely vertical herb garden, impresses with the vertical wood lattice frame, and truly look divine. You need 2x2s, 1x2s, exterior deck screws, potting soil, zip ties, clay pots, and herb plants to build this lasting longer and beautiful wooden vertical herb garden. The project will cost you around $20 and will complete in merely 3 hours. The easiest vertical garden hack that you can complete with measuring tape and drill. The completed size is 4ft long and 7ft tall. thishartandhome
How to create your own self-watering planter/system?
Learn how to use plastic bottles and PCV pipes and turn them into DIY self watering planters to make your plans fresh and save your gardening time too.
2. How to Make a Herbal Garden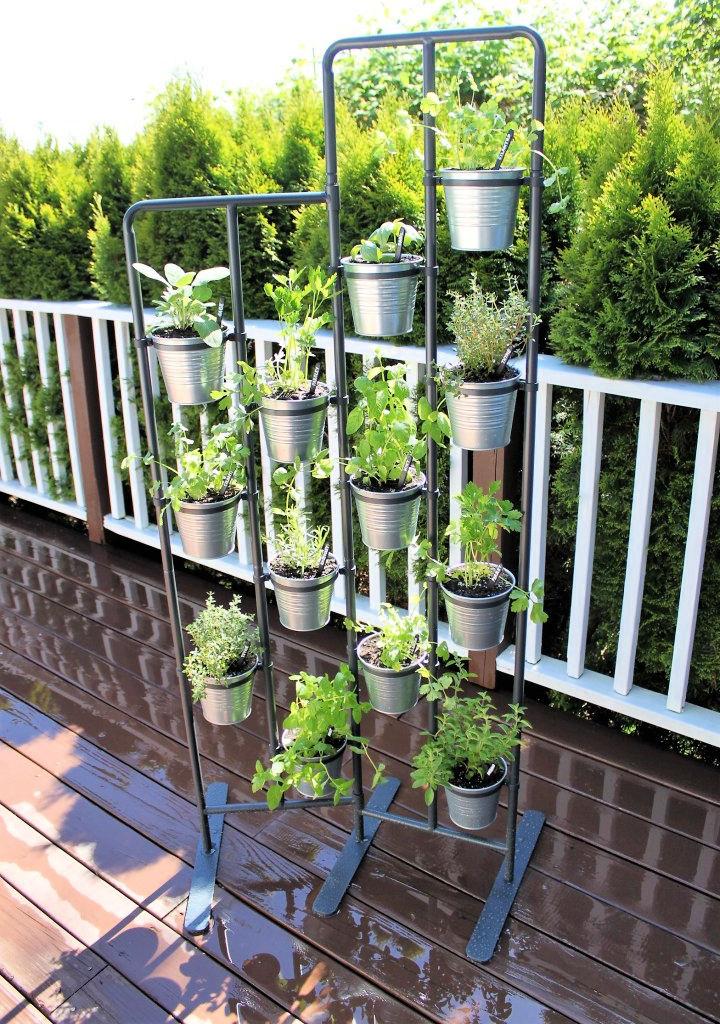 You can simply build the vertical garden in a variety of different ways using a variety of materials. Go with this genius IKEA hack that involves building a herb garden using the Socket Plant Stands from IKEA. With a height of 5′, it can hold 13 pots having a 4″ size. The design is much achievable and will make bigger changes to your garden or any patio space. Add your favorite herb pots to these DIY plant stands and make them also hold the craft stick plant markers. A great idea for a long-lasting herb garden. justlikeplayinghouse
3. Easy DIY Stacked Herb Garden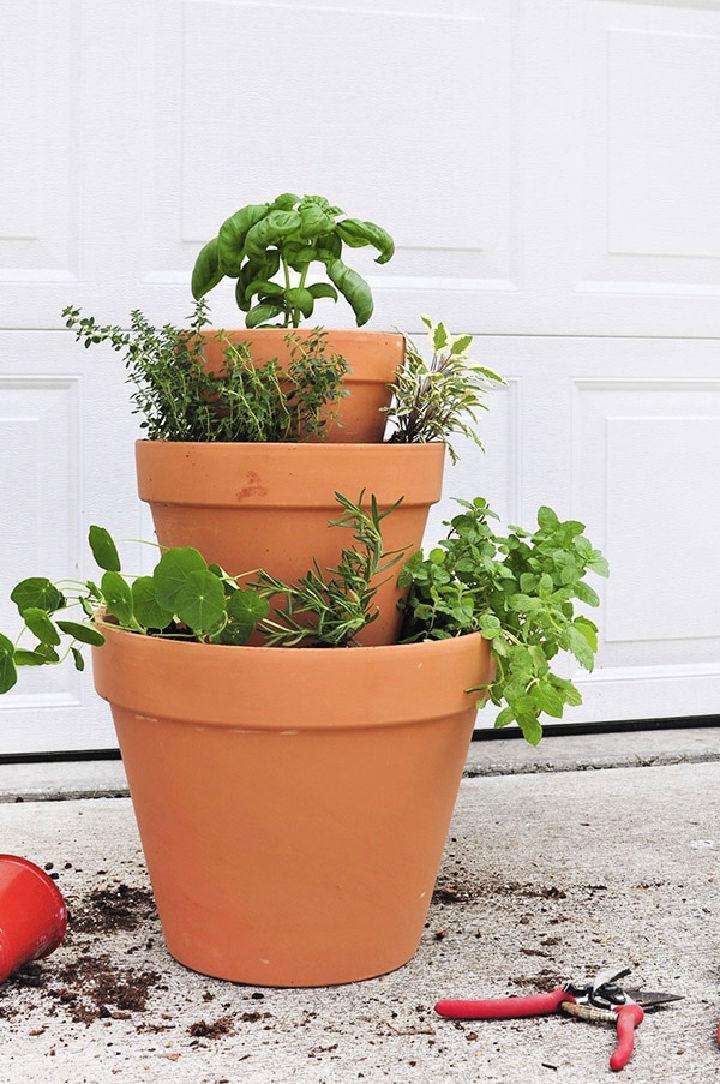 Follow here guides to build the easiest vertical herb garden added to any patio for visual stimulation. This herb garden is made by stacking only 3 pots having different sizes, and this results in a beautiful topiary that rocks for a great curb appeal. You need 5 terracotta pots, six herbs, a garden trowel, garden gloves, hand pruners, and one bag of soil to build this stacked pot herb garden. One of the best and quick herb garden ideas that will impress at a very first glance also. delineateyourdwell
4. Indoor Herb Wall Garden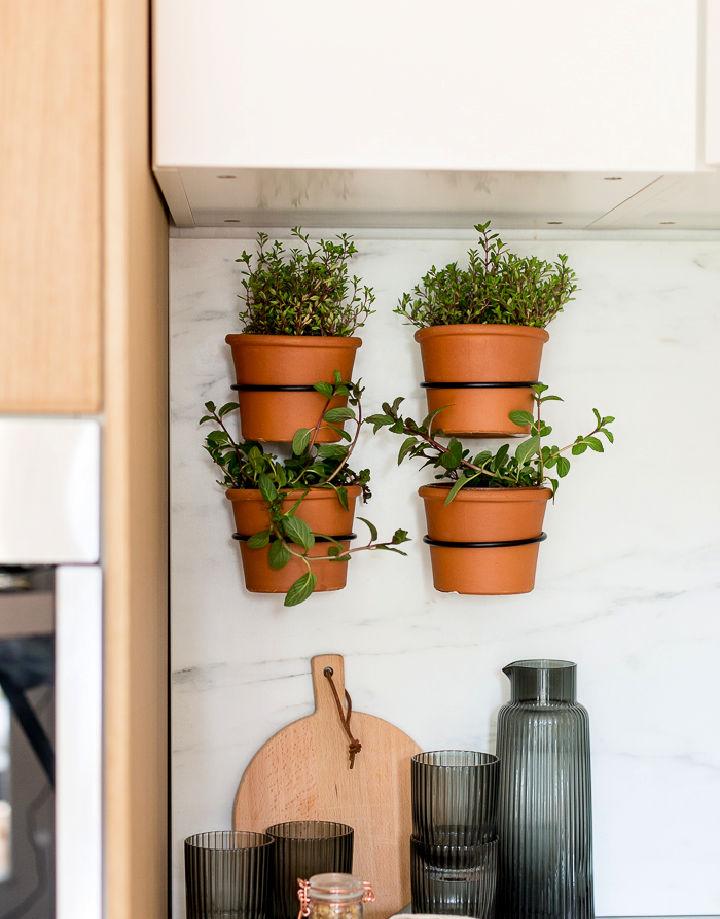 Finally, go with this easiest way ever to grow your hard-to-find herbs. The idea is to build this vertical indoor wall herb garden that is all about to mount the herb planters or pots on the wall in a beautiful sequence. Here you need the wall-mounted ring hooks and terracotta herb pots to build this herb garden. Add it to any favorite kitchen wall to get fresh herbs for routine consumption. You need 4″ planter hooks, terracotta herbs, sugru white and black, and herbs to do this project beautifully and like a pro. One of the best DIY herb garden ideas that everyone can clone with ease. fallfordiy
DIY greenhouse: f you've always dreamed of a greenhouse, we've got tons of free DIY greenhouse plans and budget-friendly solutions for you.
5. How to Build a Vertical Herb Garden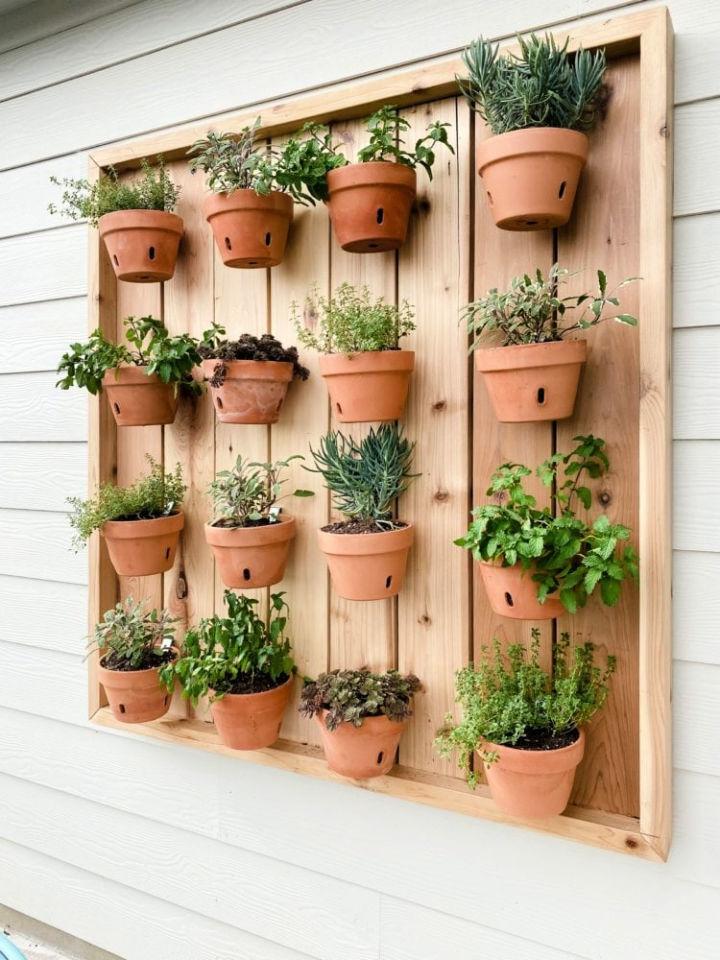 Are you lacking a focal point in your garden or want to maximize the garden potting space? Then go with this DIY vertical herb garden that is easy to build and costs you next to nothing. You need 2x6s and 2x4s cedar boards, wood glue, miter saw, Kreg jig, spar urethane, and plant clips to build this vertical herb garden. It will be the best and quick way to start growing your favorite and expensive to buy herbs. Everyone will love this DIY gardening hack, and the whole project, including the supplies, will cost you around $200. loveandrenovations
6. Tiered Herb Garden Planter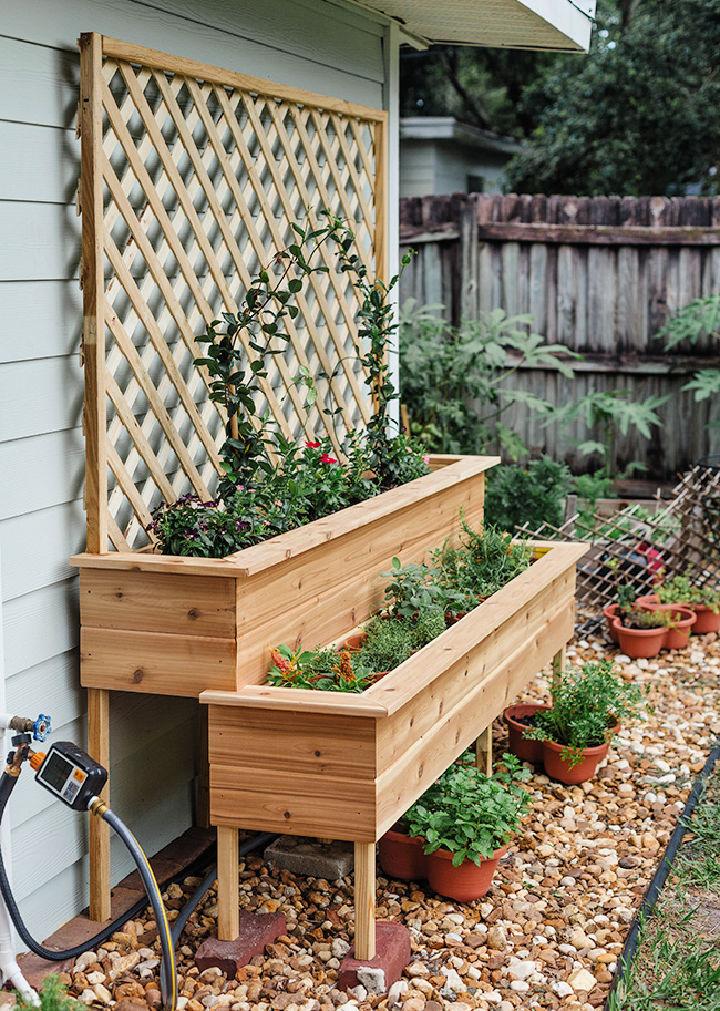 Opt for the tiered herb gardens that will help plan a variety of herbs in the short space. Build this tiered herb planter garden and gain a great yield of herbs even when going short on gardening space. You need 2x2s, 1x6s, 1x4s, lattice panels, and exterior wood screws to build this fantastic herb garden outdoor. Build the garden frame using 2x2s, tong, and groove using 1x6s, and finish the entire herb garden with your favorite wood finish. You can grow strawberries by making this a DIY strawberry planter. One of the best and amazing DIY gardening ideas that will impress at a very first look to all onlookers. jennasuedesign
7. How to Make a Mini Herb Garden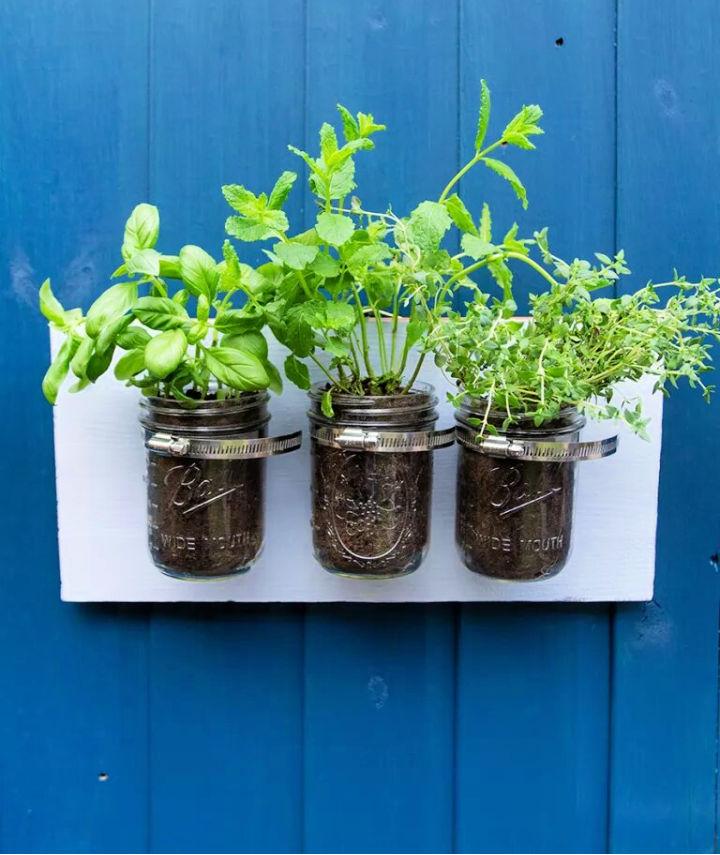 There are various old and empty kitchens always present in the home that you can consider to start the no-cost herb gardening. An impressive example here is this mini herb garden that is to make with recycled Mason jars. The idea is to mount the Mason jar jars on the 20cm x 42cm piece of pine or plywood while using the metal hose clips having 10cm diameter. Next, make them hold the Mason jar herb planter that's it. Paint the piece of wood in your favorite color for a nice background, and that's it. gardeningetc
8. Hanging Indoor Herb Garden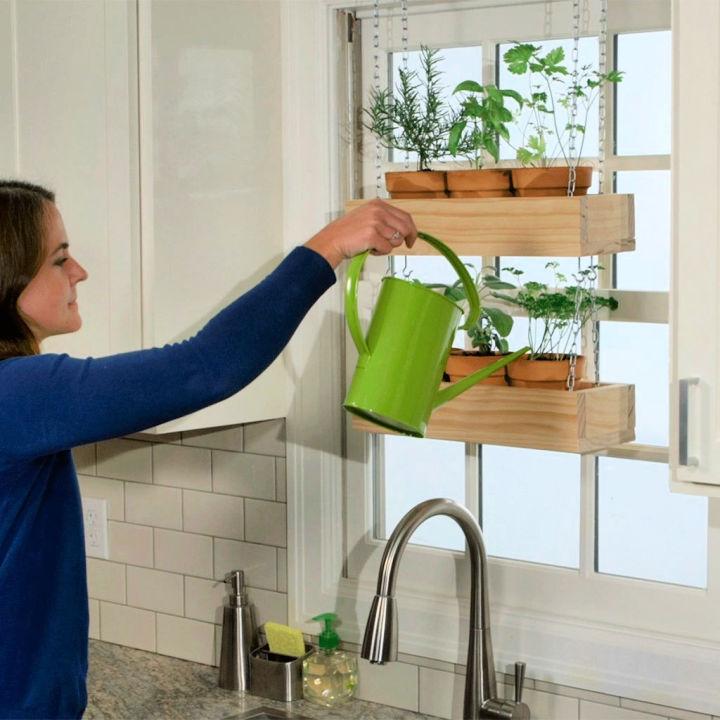 Brainstorming to find out the right and quick ways to grow your favorite herbs? Then, opt for this DIY hanging planter that you can install to a window-side to start growing the fresh herbs. The best idea for an indoor hanging herb garden is quite easy, cheap, and quick to build. You need a metal chain, 1x3s, 1x6s, terracotta pots, and 10 screw hooks to build these tiered hanging window herb planters. The tools that will make your work easier and faster will be a drill, circular saw, and nail gun. familyhandyman
9. Outdoor Tabletop Herb Garden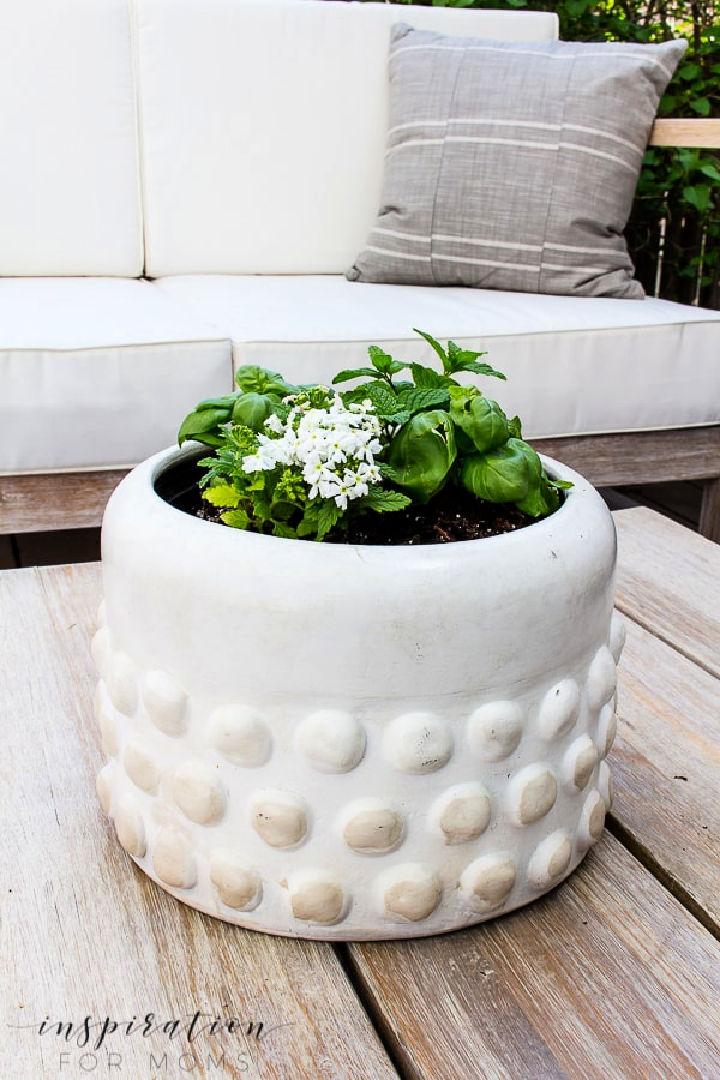 Learn how to build a herb garden that you can place on the outdoor tabletop for added visual stimulation and a glam touch of green elegance. You need a concrete planter, garden potting soil, garden gloves, and your favorite herbs like mint, basil, rosemary, thyme, etc. Here you can pick any of your favorite diy planters that will enchant with the beautiful design. You can opt for a terracotta pot also to do this project. At the same time, grow various other favorite plants in this tabletop herb garden, made to impress and inspire. inspirationformoms
10. Herb Garden Planter Using PVC Piping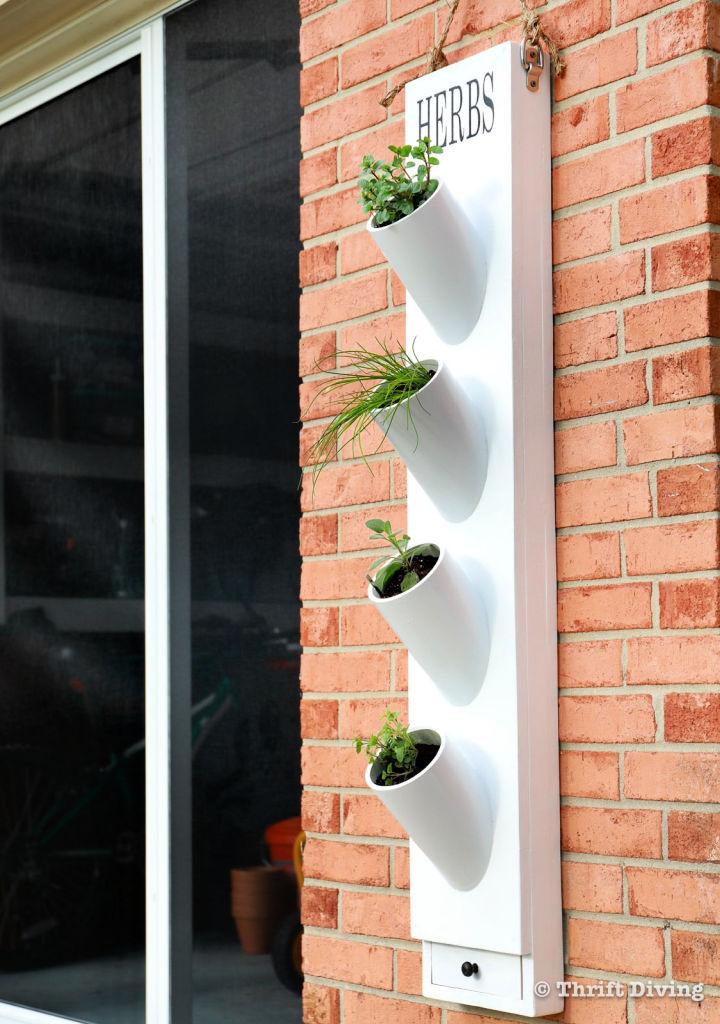 The genius people of the world are sharing the most innovative ways to grow the herbs you need for the kitchen. You can now use the PVC pipes to build herb gardens or planters that will help grow the herb in minimal indoor or outdoor spaces. You need 4″ PVC pipe, ¾″ exterior sanded plywood, herb seeds, ready to plant herbs, soil, a pebble for drainage, mesh screen, waterproof varnish and paint, alphabet stencils, stones, clamp, rope, and side brackets. The whole project is much doable for all and will bring tons of focal stimulation to a targeted space also. thriftdiving
11. DIY Vertical Herb Garden from Fence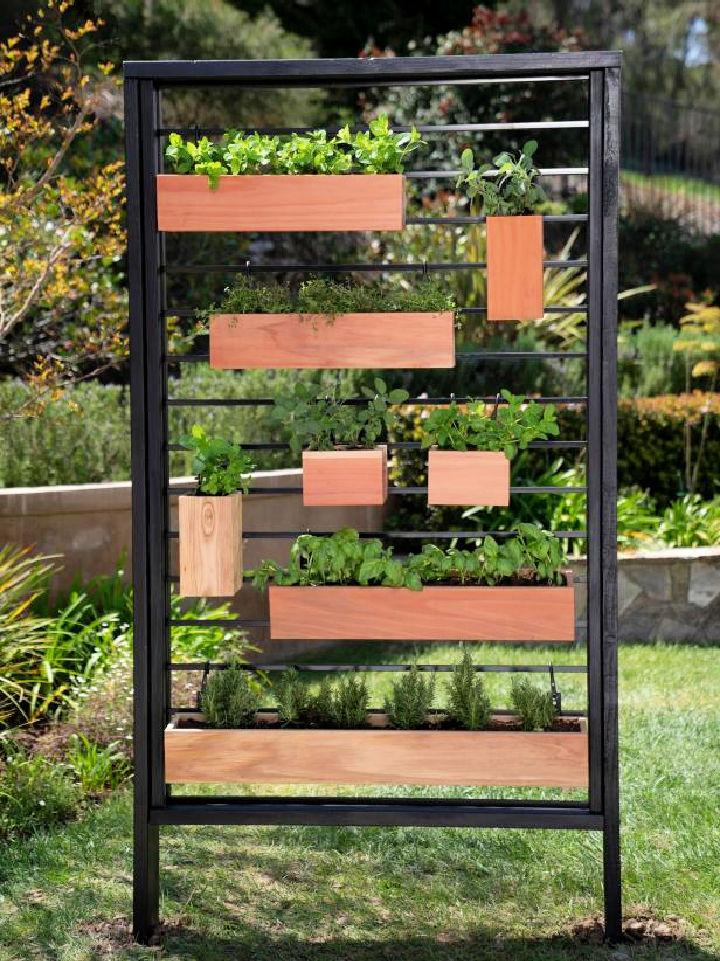 Maximize the growing space of your garden by installing this vertical herb garden. It is to make with an old fence panel and will be lasting longer. So, just grab a section of metal fence and add it up with the basic lumber and redwood planter boxes and gain a vertical herb garden. Start growing the different herbs in each planter box, and it will elevate your garden space by creating a big focal point there. The project will complete in a day and is beginner-friendly. If talking about the total costs, that are much less than the beauty of the model, just $200. diynetwork
12. Create a Kitchen Herb Garden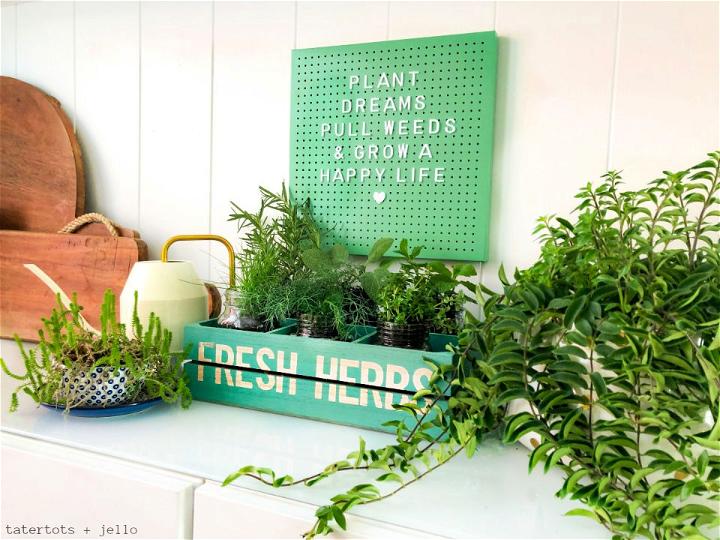 Follow here quick guides and instructions to build an inexpensive and easy DIY kitchen herb garden like a pro. The project involves using 3 simple dollar spot ingredients and will complete in just minutes. You need a wood crate, pegboard, glass jars, spray paint, scrapbook stickers, and herbs to build this easy yet beautiful kitchen herb garden. Use the scrapbook letters in place of stencils to paint custom words on the box. Install a pegboard on the background and add some letter quotes on it, and that's it. tatertotsandjello
13. Hanging Herb Garden for Under $125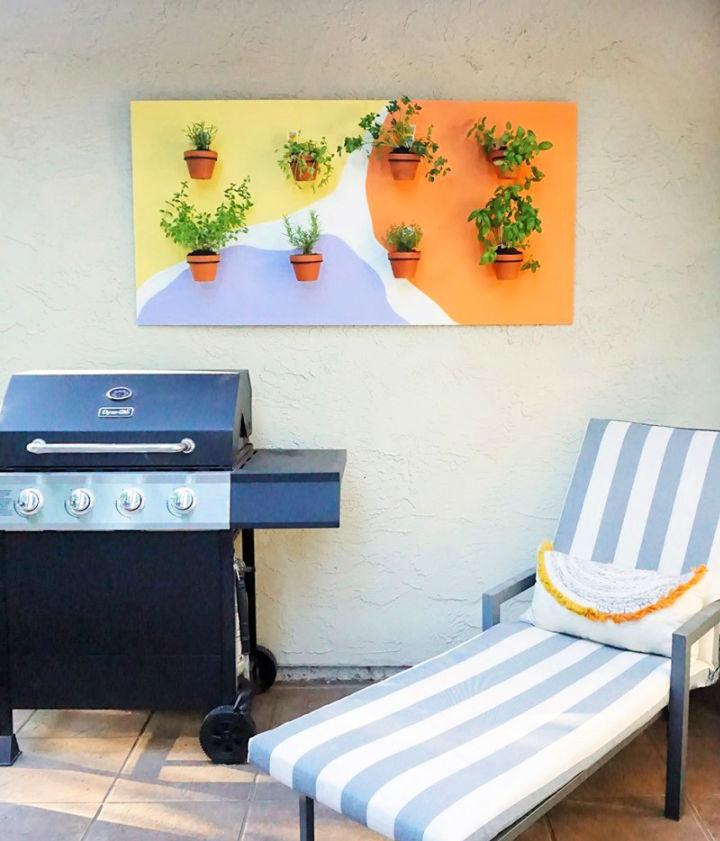 You just don't need to be a professional while willing to make a good-looking herb garden. Grab here the ultimate guides to build a hanging herb garden that will help grow your herbs smartly. You need ½″ common unfinished plywood, 4″ plant hangers, miniature terracotta pots, D-ring anchors, silicone caulking, herbs, potting soil, and enamel protective gloss spray paint to complete this project. One of the best DIY herb garden ideas that everyone can duplicate with ease and without getting a bit expensive. Paint the background wooden board in the way you like to make an interesting background. The whole project will cost you under $125. domino
14. Pretty DIY Container Herb Garden

Growing your herbs at home makes you feel proud. And it should not always start by building robust or complicated planters or boxes; you can even use the simple containers to build a quick lovely herb garden in no time. You need a planter and saucer of choice, paint, white craft paint, spray sealer, and paintbrushes to whip up this container herb garden, will never get out of style. Place it over any coffee table for an accent table for a nice touch of greenery. The whole project is much doable for a beginner and will be super cost-efficient also. stonegable
15. 15 Minutes Countertop Herb Garden Planter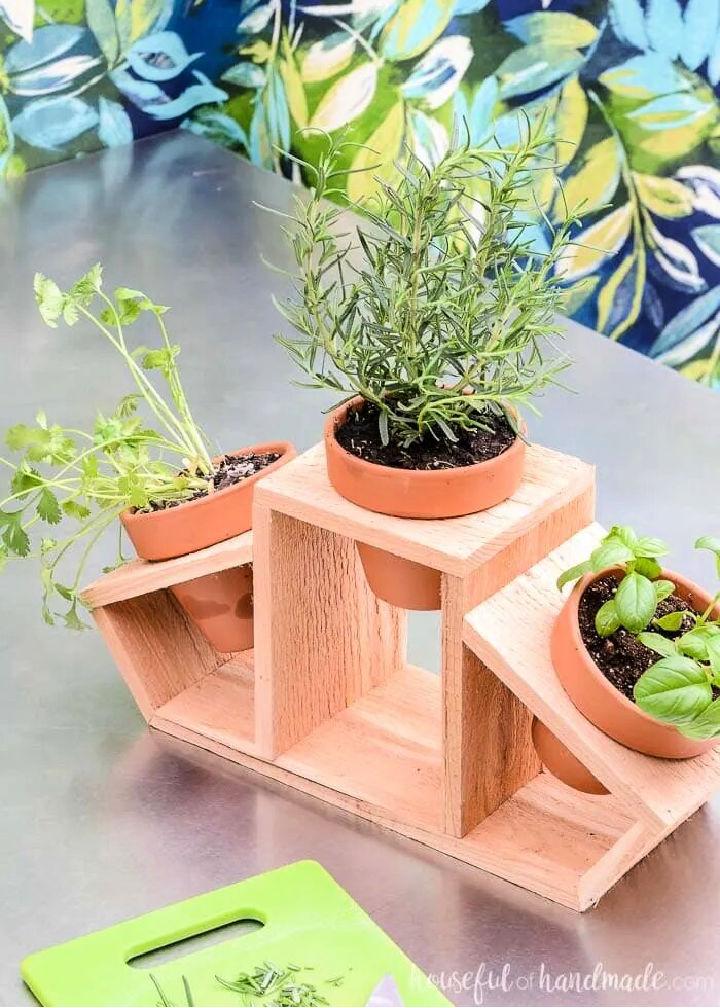 Style up the countertops with this art-style trio of herb planters makes an outstanding green centerpiece. It will only take 15 minutes or less to build this precious herb planter. Use the scrap wood to complete this fantastic garden planter, and it will spruce up all the countertops and accent tabletops. The project is all about making an artistic wooden frame. Drill holes in the frame surface to fit your planters, which will easily make you gain this herb planter. The best scrap wood DIY herb planter hack that will impress all for sure. housefulofhandmade
16. Building a Tiered Herb Garden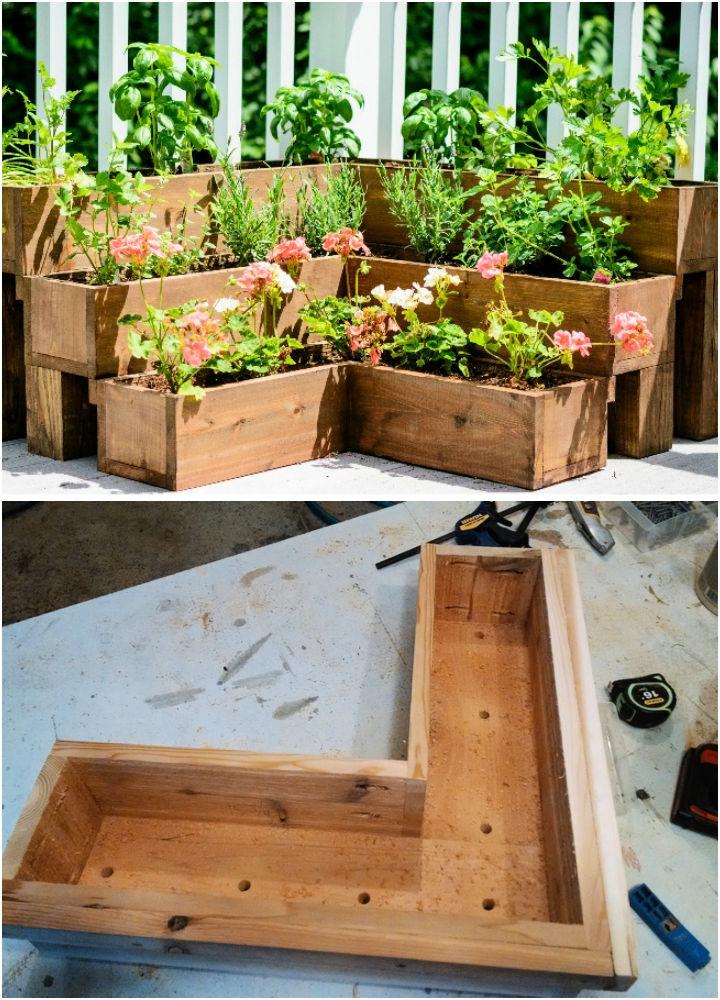 The wood is an ideal choice for building herb planters and gardens. You will get the manual instructions to building this lasting longer-tiered herb garden while using the cedarwood. The project will share the cut lists, hardware lists, and complete material lists to build this tiered herb garden planter will be a breeze to build also. You need 1x6s, 1x2s, 4x4s, spade bit, silicone sealant, landscape fabric, and outdoor stain to build your tiered herb garden. Due to having a brilliant L-shape, it will nicely fit the targeted patio corner. decorandthedog
Want to learn how to build a flower bed in your garden? Here's a list of the best flower bed ideas for inspiration.
17. Plant Pot Herb Garden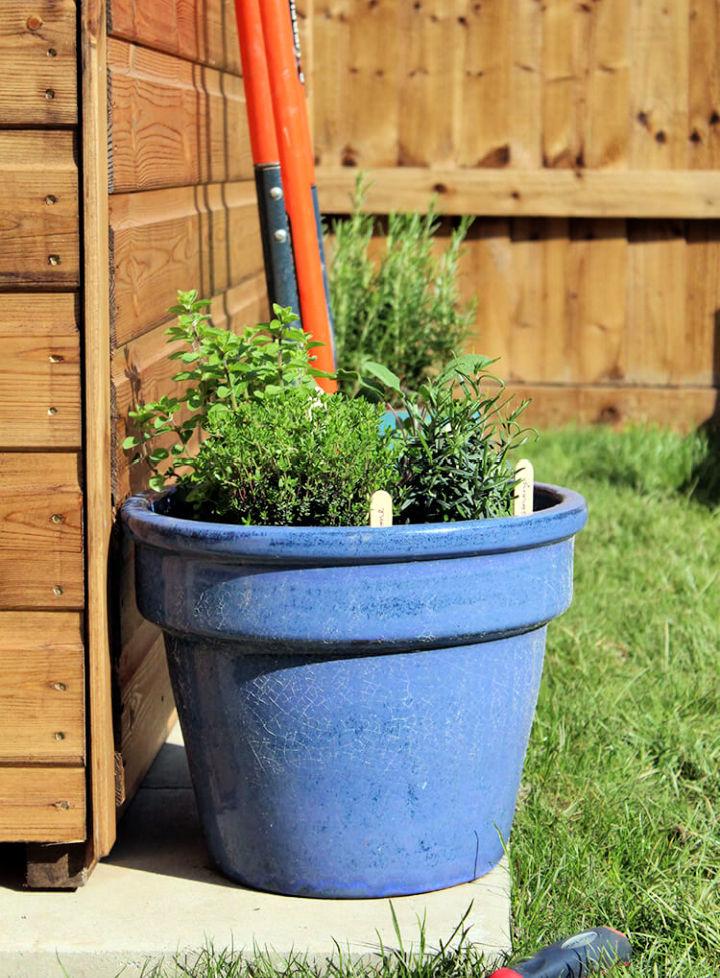 You can simply grow herbs in lots of different things and materials. Hence the possibilities for herb garden designs are just endless. Follow here guides to build a plant pot herb garden without getting a bit expensive. You need a medium or large ceramic plant pot and fill it up with plenty of soil. Use stones and gravel for drainage and then pot your favorite herbs in it and gain a beautiful herb garden. Finish the pot with the beautiful outdoor plant markers, and that's it. This will make you get a beautiful herb garden in no time. The project completes super quickly. thecraftygentleman
18. Free Standing Herb Garden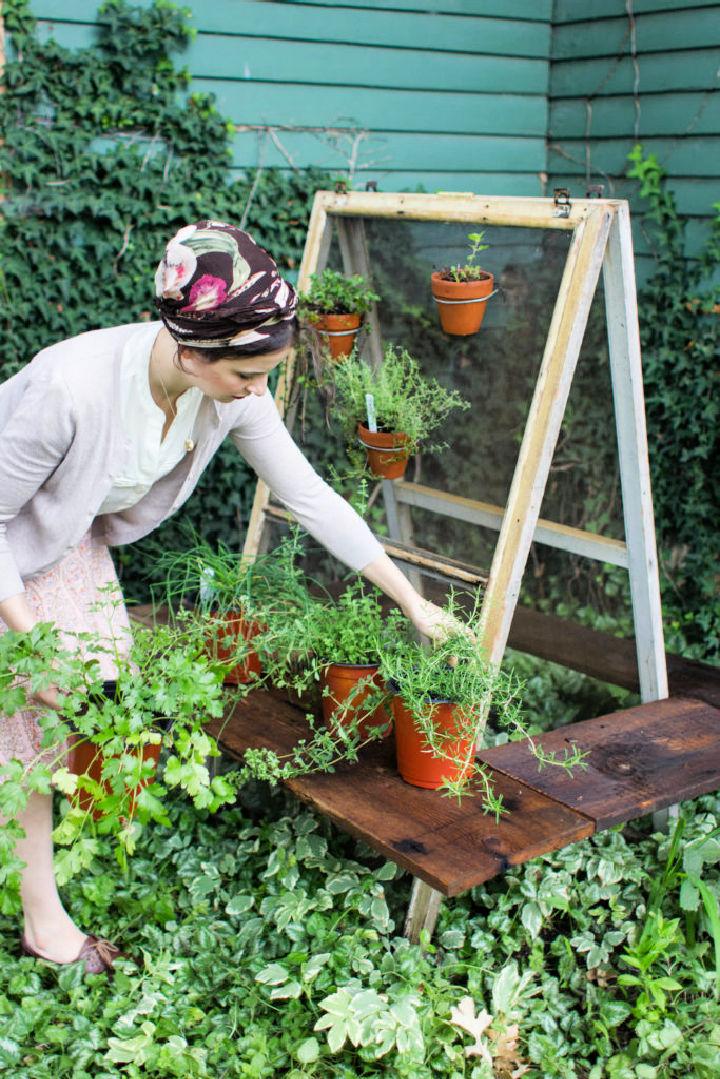 With these simple, low-budget herb garden ideas you can build various styles like hanging, wall-mounted, and stacked. Get here instructions to build a self-standing vertical herb garden, which will impress at a very first glance. This vertical herb garden can stand alone with the A-frame vertical design. Build it using the 2x2s and window screens and then use the metal wire or custom clamps to tie the planters to the window screen. Next, install the wide bottom shelves where you can decently organize a healthy amount of herb planters. The finally completed model will create a big focal point in the entire garden space. thesassysparrow
19. Painted Mason Jar Herb Garden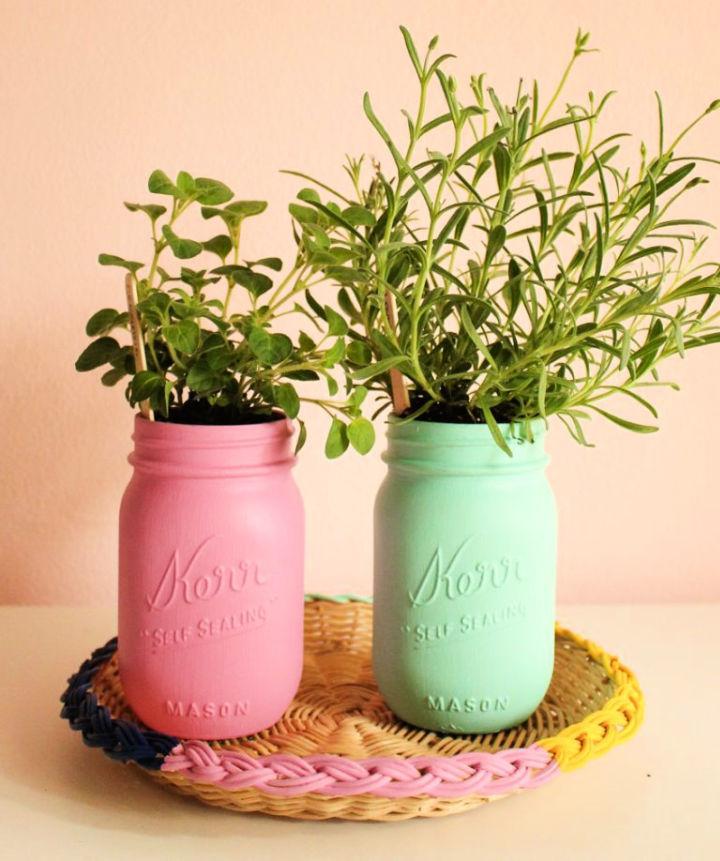 Take your interior or exterior decors to the next level with these DIY mason jar herb gardens. The best planters to bring the natural decor vibes to your spaces. Paint the Mason jar planters in any color you want for a fancy appeal and place them in a decorative basket for added visual charm and grace. For this project, you need Mason jars, a wicker tray, acrylic paints, foam, painter's tape, clear spray varnish, soil, and herbs to build this mind-blowing Mason jar herb garden. One of the best DIY herb garden ideas using old and recycled Mason jars. goldstandardwork
20. Space Saving Herb Garden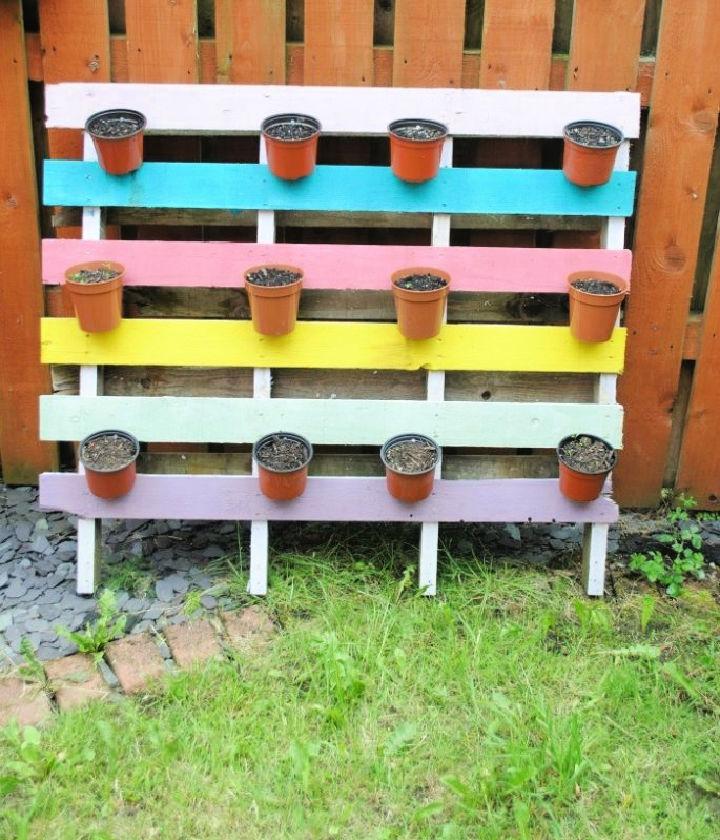 Living in short spaces like flats and compartments often makes you deficient in green garden space. But you can solve this problem with this DIY herb garden that is much space-saving and painted to look extra beautiful and charming. Take a wooden pallet board and just paint it to make a colorful background frame. Next, just screw the planter in the pallet and build a space-saving add the potting soil in the pots to start growing the herbs. One of the best DIY herb garden ideas that will help save a lot of space too. The project is for all beginners who want to be in the growing herb business. hungryhealthy
21. DIY Cocktail Herb Garden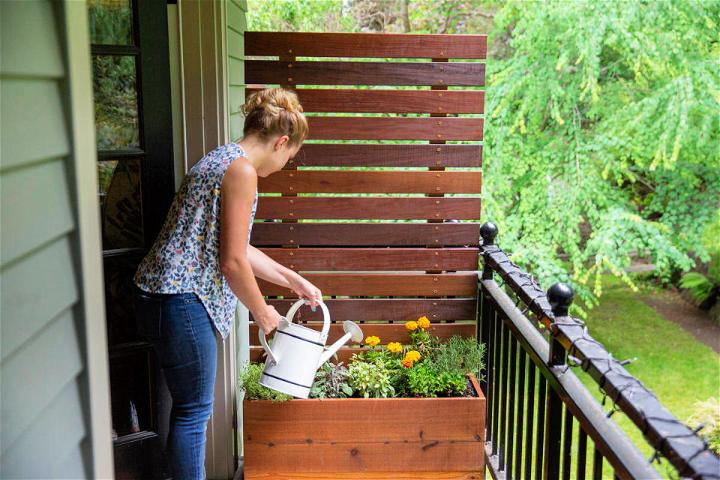 Get busy with a small budget and beginner skill level to build this cocktail herb garden, will be a big love of all garden lovers. The project will complete in just 1-3 hours and involves using a?? few tools and supplies. Here you need a hand shovel, garden gloves, and cedar grove potting soil to build this very beautiful cocktail herb garden. It will be the total value for money and will also smell nice for great aromatherapy. The project is much doable for all and will hone your gardening skills. dunnlumber
22. Colorful Indoor Herb Garden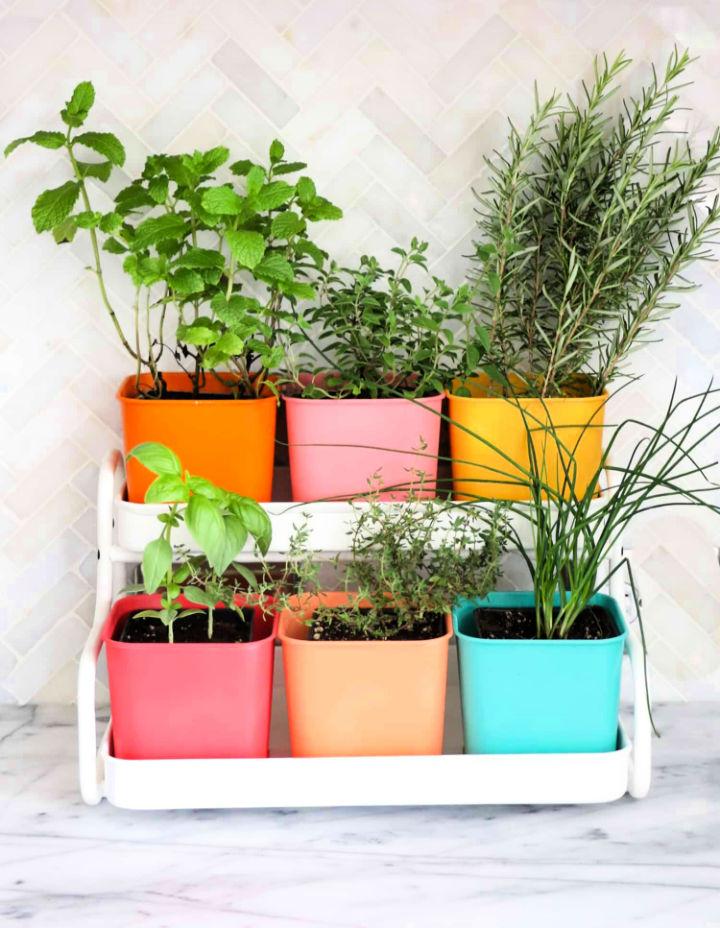 Do you intend to grow herbs inside the home? Follow here directions and instructions to build a colorful indoor herb garden. You will be amazed to see the list of materials helping build this modern indoor herb garden. The project is based on a great IKEA hack and involves using the IKEA socker plant pot withstand. Next, you need spray paint in colors of choice, spray shellac sealant, herbs, and potting soil t build this very beautiful and fascinating indoor herb garden. The whole garden will also bring tons of enchanting colors to a targeted interior space. abeautifulmess
23. Make a Mason Jar Herb Garden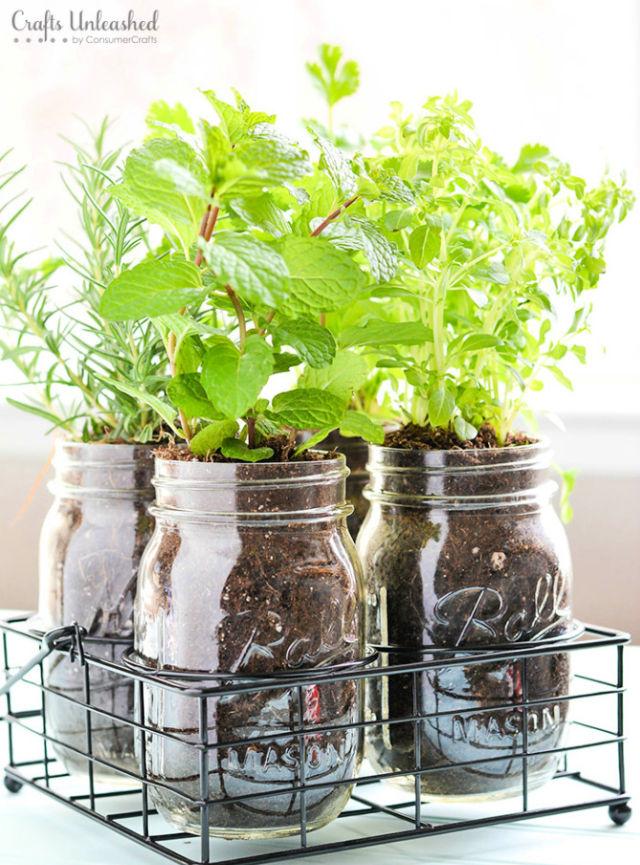 You can simply build the herb gardens in a variety of different ways using recycled items. Grab here the ultimate hack to build a quick, beautiful DIY herb garden without getting a bit expensive. You need pint-size Mason jars, vintage style Mason jar holder, plants, and soil to build this precious herb garden, will make great home decor also. You can try out this project with a colorful Mason jar and a wooden Mason jar holder also. At the same time, you can also increase the number of Mason jar to gain extra growing herb space. The whole project will cost you next to nothing. consumercrafts
24. Paint Can Herb Garden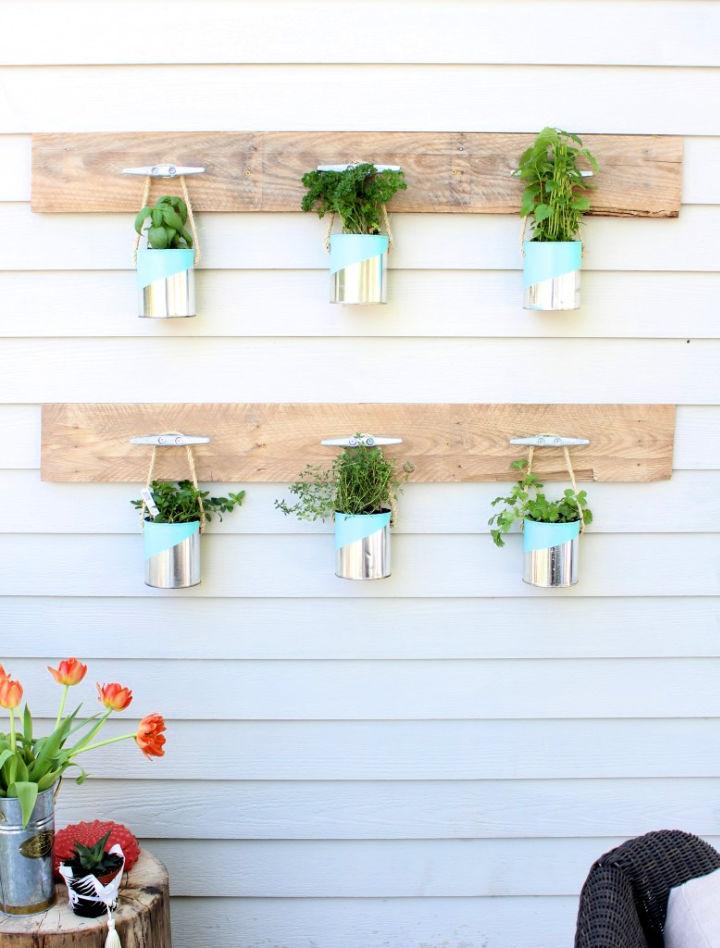 Repurpose the paint cans to whip up this sweet and beautiful herb garden, which helps grow the herbs on a large scale. Here you only need the two recycled items, the old wood planks, and old tin cans, to build this paint can herb garden, will be a big love of all for sure. Just screw in the cleats on the wood planks and then make them hold the tin cans hanging with rope handles. Make holes in the tin can side to add the rope handle. Fill the cans with potting soil and start growing your favorite herbs in them to gain a beautiful herb garden in no time. simplestylings
25. Herb Garden Using Wooden Pallet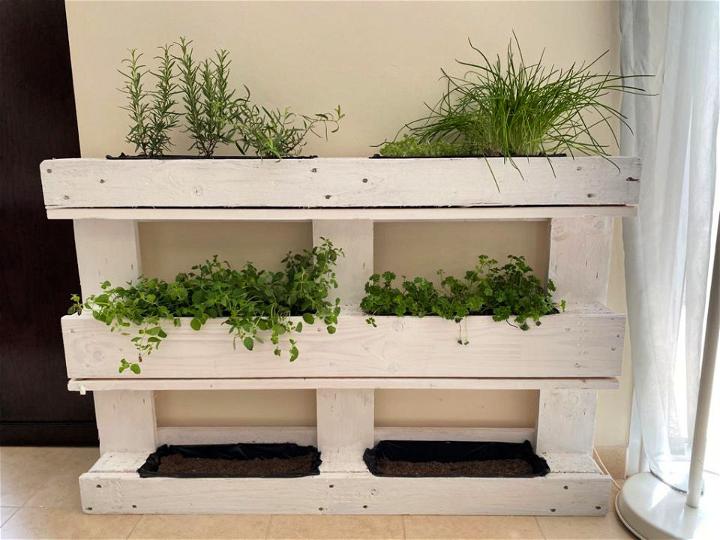 Use also the old recycled wood pallets to build lasting longer and stylish vertical herb gardens. Modify the pallets to build planter pockets and potting shelves and then fill them up with potting soil. Fill each potting pocket with soil and start growing your favorite herbs in them. You need a wooden pallet, wood stain, gravel, soil, herb seeds, hammer, and nails to whip up this crazy wooden pallet herb garden. Here the finally completed herb garden is painted in white for a stimulating modern chic appeal. addictedtoveg
26. Kitchen Planter Box for Herbs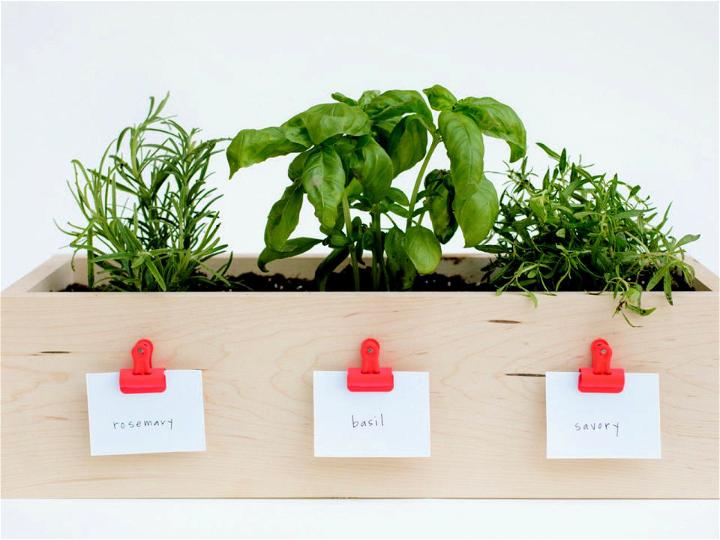 Build also a gorgeous wooden herb planter right in the kitchen. So, you can pick the fresh herbs for the recipes easily, which will bring a glam touch of the garden to your kitchen. It will not take much time to build this herb planter kitchen. It looks superior with the paper herb nameplates added to the front side of the planter using metal clips. You need 5 pieces of wood, glue, finishing nails, metal clips, two clamps, a hammer, neon spray paint, extra finishing nails, and waterproof tape to build this kitchen planter box for herbs. diynetwork
27. Herb Garden with Vintage Boxes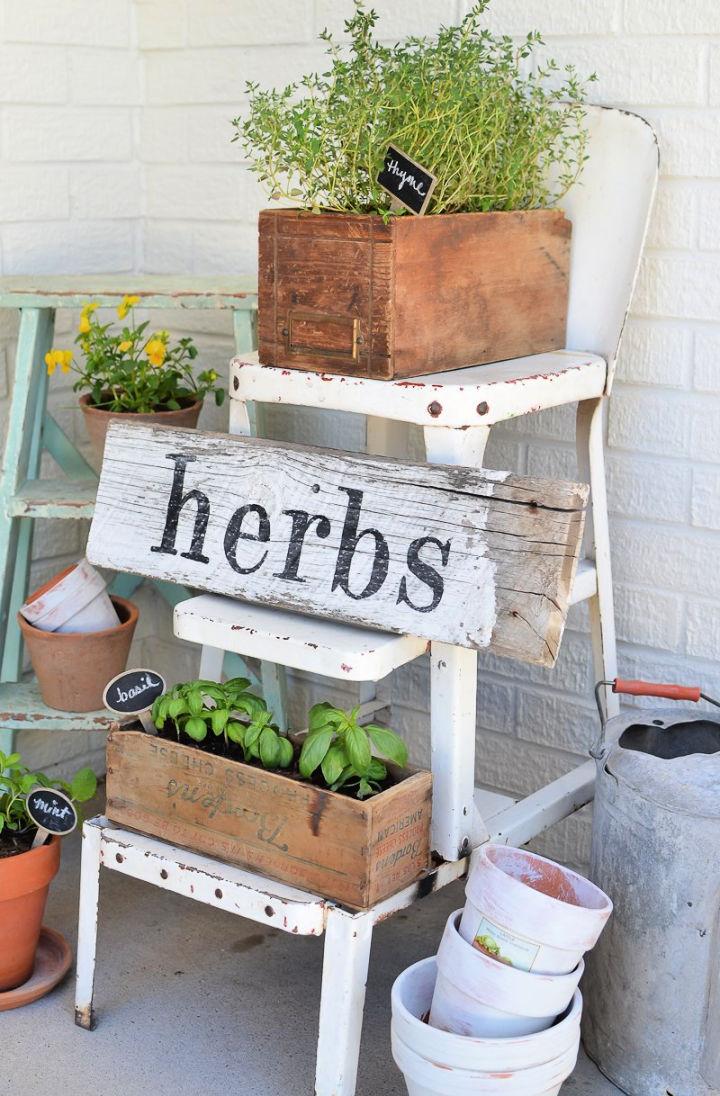 Repurpose also the vintage planter boxes from home to build a stylishly beautiful vintage garden box, will be a breeze to whip up. Just fill the potting soil in the vintage wooden planter boxes and plant your favorite herbs in them. Finish by adding the markers showing the name of the herbs. Finally, can place these herb planters on your favorite stands with a couple of other decors for bigger natural decor statements. So, the project will cost you almost nothing and will elevate the targeted space. The easiest ever DIY herb planter idea. sarahjoy
28. Indoor Herb Garden with Adjustable Grow Light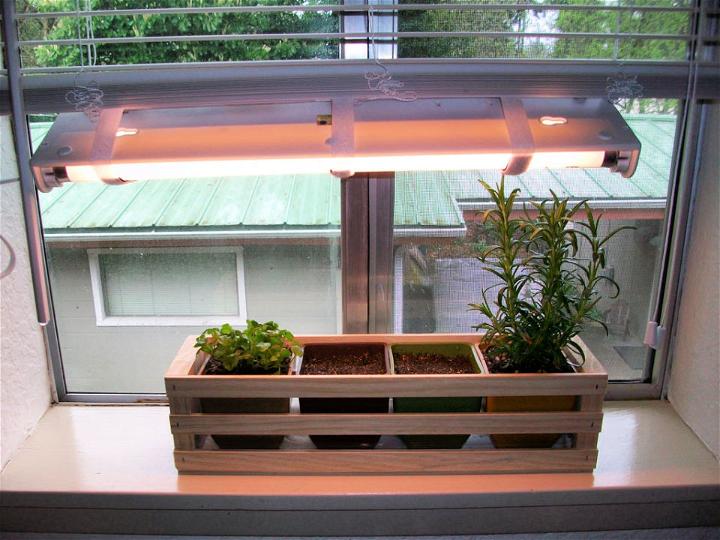 If you love to think like a genius, then you will fall in love with this simple indoor herb garden that comes with an adjustable grow light. You need a fluorescent light fixture 18″, grow light bulb, windowsill herb garden kit, velcro strips or zip ties, and ½ quart starter herbs to build this very unique but creative herb garden. One can easily put this adorable wooden planter in the kitchen for bigger natural decor statements. The project is beginner-friendly and budget-friendly and will be a great addition to your kitchen for sure. This herb garden makes a lovely home decor centerpiece also. instructables
29. Build Your Own Herb Garden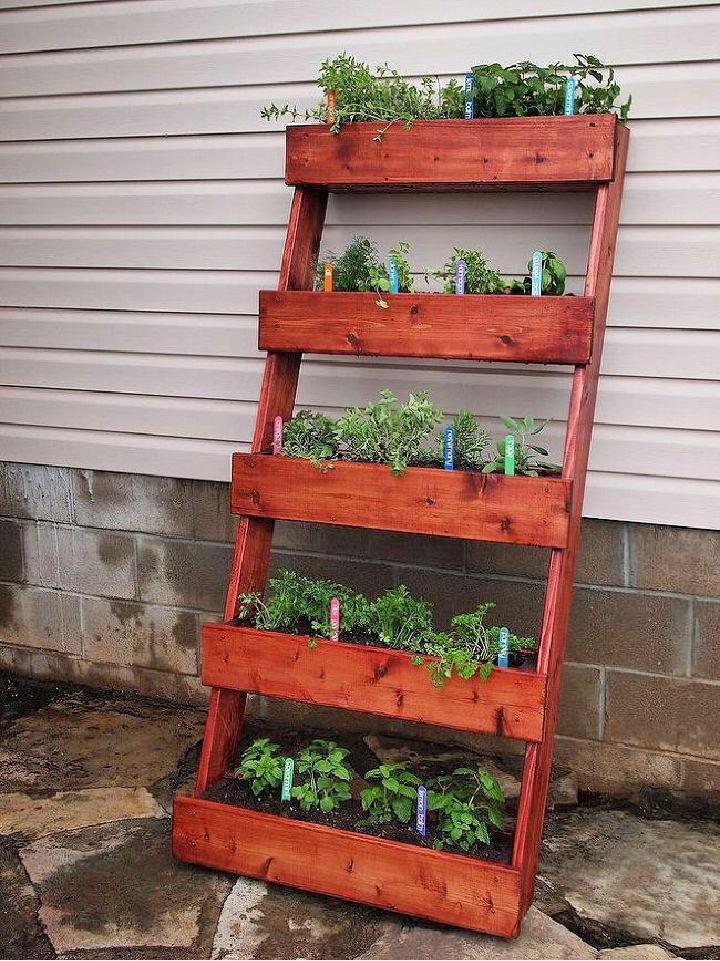 This ladder-style vertical herb garden will get ten out of ten from all the gardening lovers. It will allow you to grow herbs on a large scale and is easy and quick to build. This planter shelf ladder is to make with wood, and you need 8-foot cedar boards, 7 pcs, potting soil, liquid fertilizer, herbs, drill, miter saw, ½″ drill bit and sander etc to build this vertical herb garden. You can simply put this herb garden to any particular indoor wall for bigger natural decor statements. One of the best DIY herb garden ideas. gingersnapcrafts
30. Small Herb Garden for Cat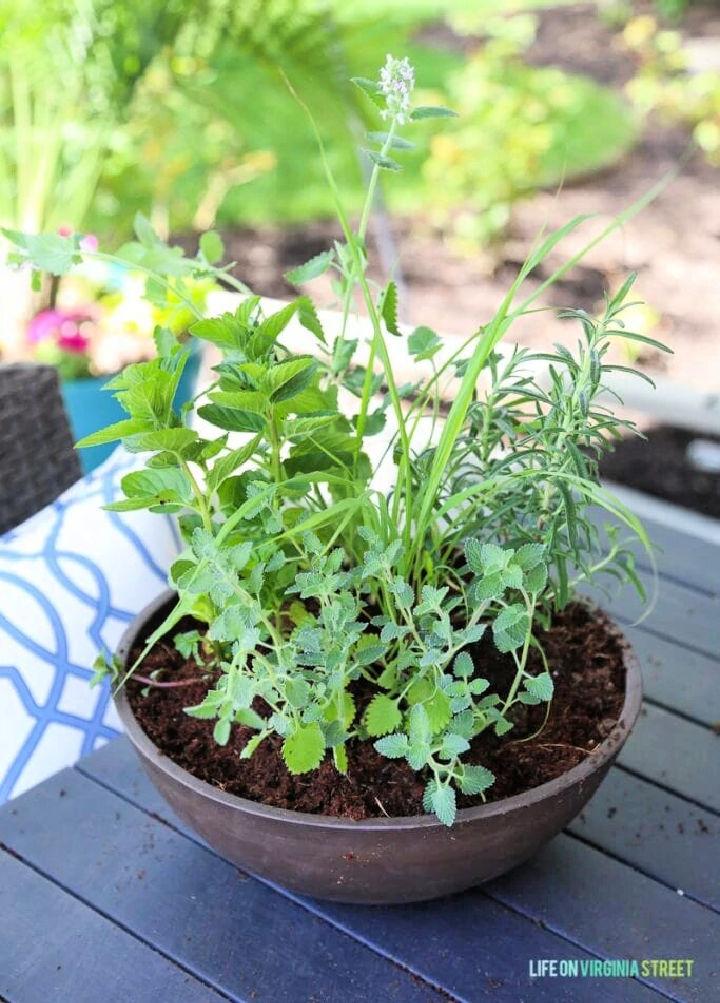 Grab here the ultimate guides and instructions to whip up a beautiful cat herb garden. You will get the complete material lists, step-by-step instructions, tool lists, and complete detailed diagrams to build this cat herb garden will be a big love of all the herb garden lovers. You need Miracle-Gro Expand 'n Gro Planting Mix, planter, gardening gloves, a small gardening shovel, herbs, and some creativity to easily build this lasting longer cat herb planter. Add this herb planter to any kitchen, patio, or garden for bigger natural decor statements. The quick and low-cost DIY herb garden idea impresses. lifeonvirginiastreet
Conclusion:
Growing your beautiful organic herbs helps give you health benefits and save tons of money. They are an important part of routine kitchen dishes, and growing your herbs means you are getting a fresh daily supply of them. So, whether you are willing to grow your herbs indoor, outdoor, or in your kitchen, you will get here the ultimate herb garden ideas for any space. From stacking to hanging to wall-mounted herb planters, these herb garden ideas will share details to build all sorts of planters like a pro. Each project will provide complete material lists, tool lists, supply lists, step-by-step diagrams, and complete written instructions to build each of the listed herb gardens like a pro and without getting a bit puzzled. So, take a tour of these easy to make DIY herb garden ideas to master the art of growing herbs anywhere in or around the home.