Willing to get a fresh and continuous supply of strawberries this summer to enjoy the strawberry delights and shakes? Then grow your beautiful strawberries with these 25 cheap and easy diy strawberry planter ideas that include all types of strawberry planters; like strawberry bed, strawberry container, and vertical planter. Which will allow you to start growing strawberries anywhere in or out of the home. These strawberry planter ideas are all about setting up custom growing planters and systems that will help get the maximum yields without using much garden space. The best part is that these planters are super easy on maintenance and will improve your DIY gardening for sure. Explore this collection of 25 simple DIY strawberry planter ideas and see an extensive range of strawberry growing systems built with hands. From making vertical strawberry tube planters to hanging basket strawberry planters to tiered strawberry planters, you will learn here to build all sorts of strawberry planters like a pro.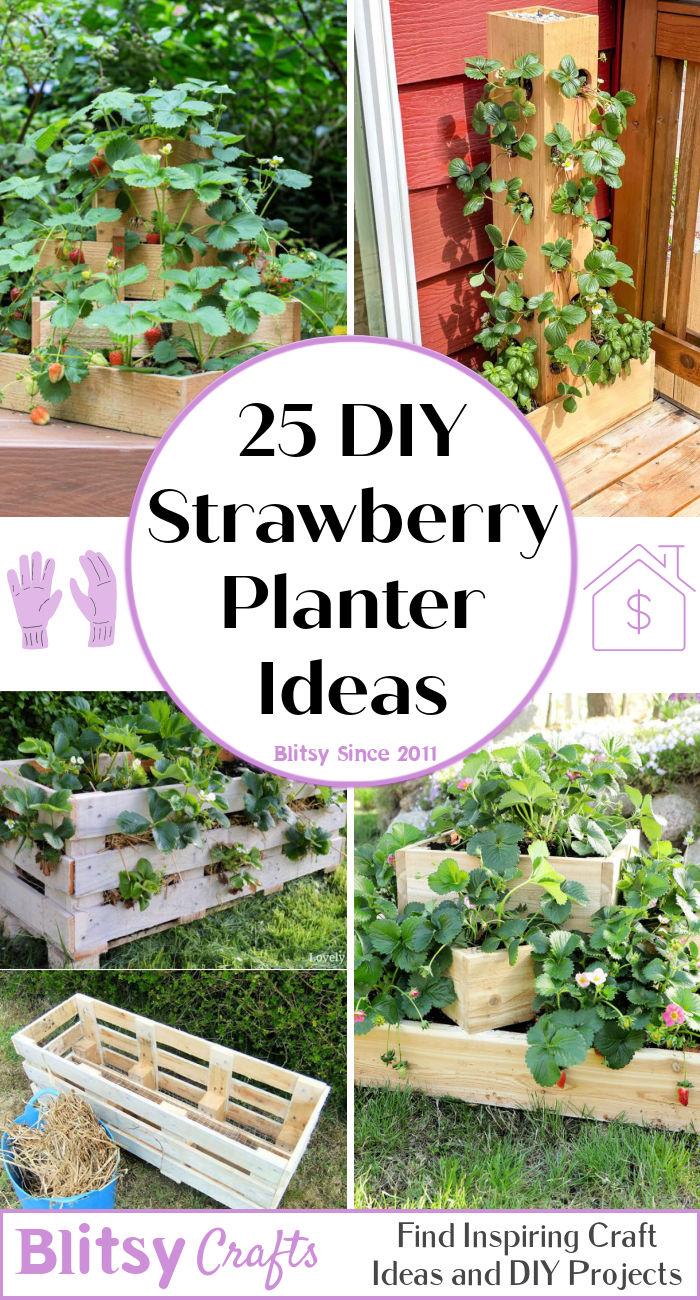 Before getting into these strawberry planters, consider which strawberry plants are and how much space and water they need to grow well. These strawberry plants have shallow stems, and hence they don't require too much soil and space. But they will consume a lot of water in summers, so it will be better to provide them additional water supplies. So, these strawberry planter ideas will guide you to build DIY planters with water reservoirs also. While exploring these DIY strawberry planter ideas, you will learn to build the gutter strawberry gardens, strawberry towers, vertical pyramid strawberry planters, and the stepped strawberry ladders. The pallets are also an amazing choice for free wood, so you will get guides here to build awesome strawberry planters out of free pallets.
1. How to Build a Strawberry Planter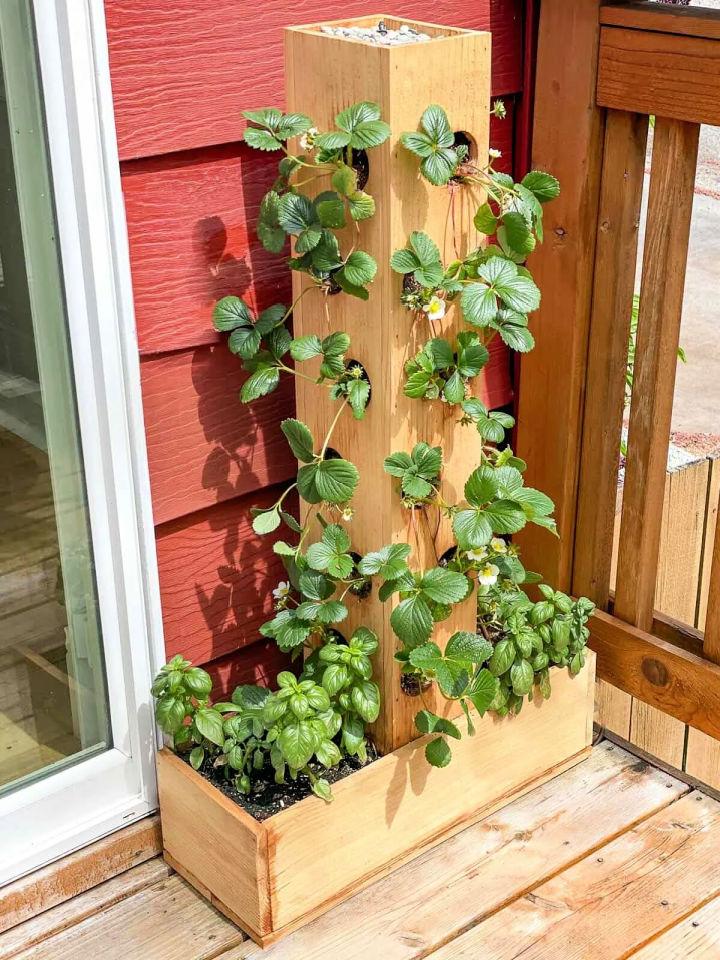 Consider growing your strawberries if you love eating fresh and healthy. Follow here guides to build a quick strawberry planter, which will give you a fresh and constant supply of strawberries throughout the summer season. You can also be in the strawberry business by learning to set up a strawberry planter or garden. You need 1x6s, 1x4s, PVC pipe with caps, soaker hose, 2″ diameter hole saw, drill, brad nailer, wood glue, potting soil, clamps and strawberry plants to build this strawberry planter like a pro quickly. The PVC pipe will be used to install a water reservoir tube in the center of the planter as strawberry plans need a lot of water. thehandymansdaughter
DIY greenhouse plan: You can grow plants and vegetables year-round by making your own DIY greenhouse at home cheaply.
2. DIY Tiered Strawberry Planter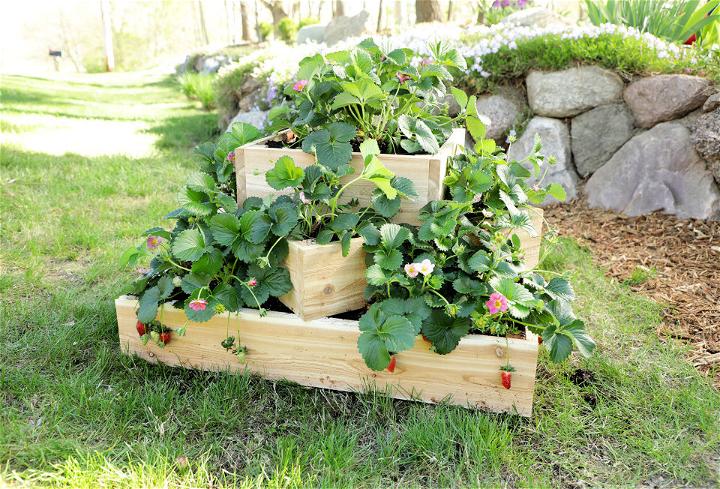 It is an art to grow the strawberries in your own space. The strawberries require much less space but a lot of water to grow properly. So, you should always select the planters with proper water reservoirs fitting inside when being on a mission to grow strawberries. So, follow this raised garden bed guide to building a tiered strawberry planter like a pro. You need a chop saw, cedar boards, wood glue, soli and plants and other custom hardware and woodworking tools to build this tiered strawberry planter in no time. bhg
3. DIY Strawberry Planter from Recycled Materials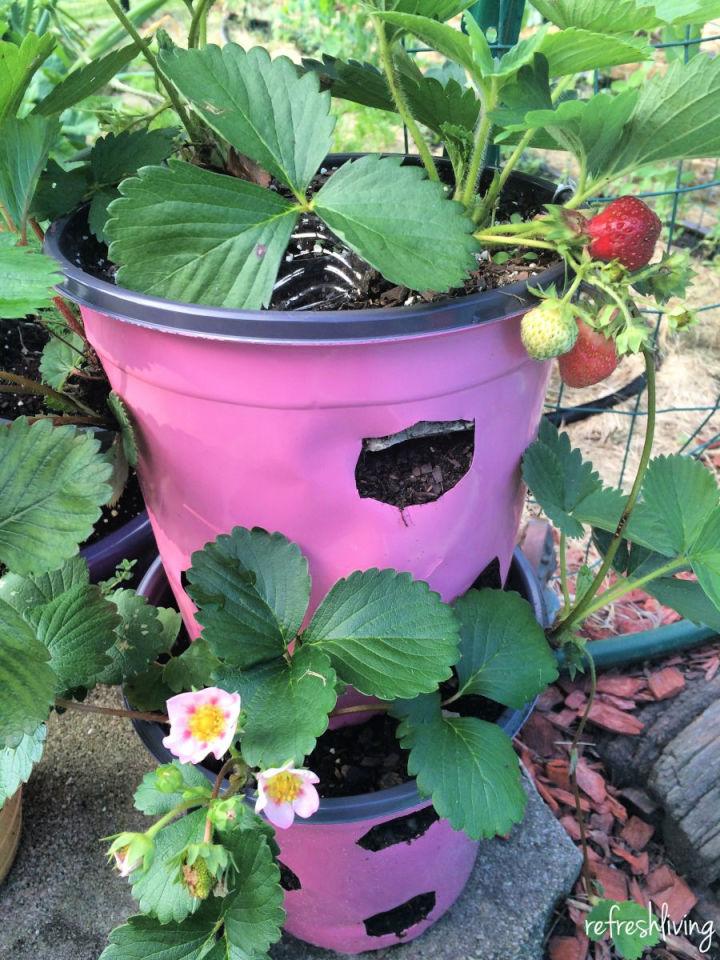 Follow here guides to build a strawberry planter out of recycled items, a Pinterest challenge. Grab the 2-gallon pots and just cut out bigger holes in them and make a quick strawberry planter. This will cost you next to nothing, and you will love the way this strawberry planter will serve in growing fresh strawberries. The best part is that these colorful planters will also grace up your garden space and will be a total pleasure to whip up also. All beginners can do this project with great ease. Experiment with this project with your favorite pots. refreshliving
4. Building a Riased Strawberry Planter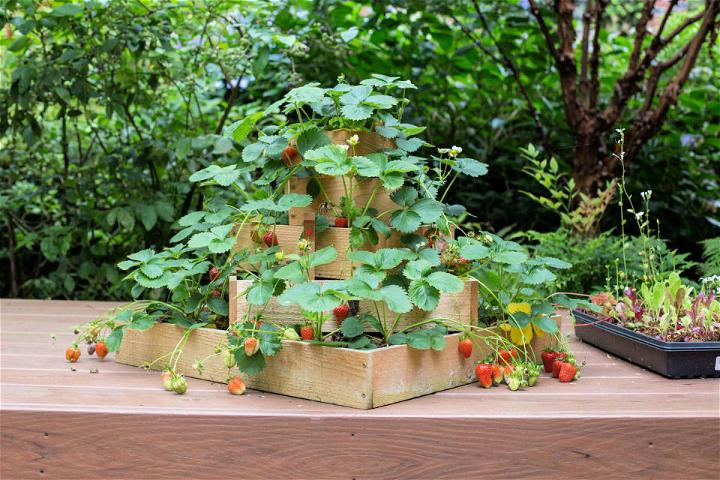 You can grow the strawberries even in a short space. So, picking up the tiered planters will surely be a smart way to grow larger strawberries yields in a small area of your garden or home. So, follow guides about building a tiered strawberries platner, which will rock like a mini strawberry garden. Inwood supplies, you need 1x4s, ¼" plywood. Other required supplies will be, PVC pipe, hemlock square, glue and custom hardware to build this tiered strawberry planter. Everyone with an intermediate skill level can build this planter in just 2-3 hours or less. dunnlumber
5. DIY Hanging Strawberry Planter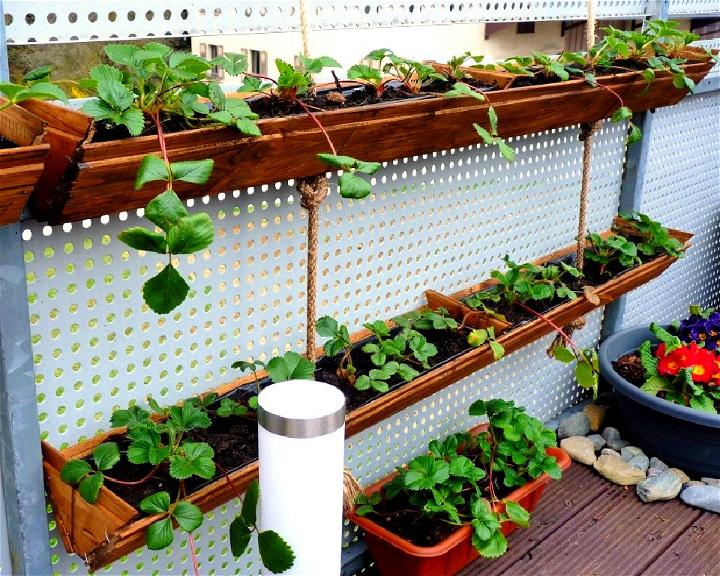 Follow here guides and instructions to build a hanging strawberry planter. It will make it easier to grow your fresh supply of strawberries beautifully and cost-efficiently. This project will share comprehensive guides about setting up a container strawberry garden or planter and will be friendly to grow the strawberries. The tiered level of these hanging strawberry planters will help gain a big yield of strawberries, and it will not cost you big to install this fetching hanging strawberry garden. You need 4 wood panels or decking planks, gardening plastic or any plastic for lining the planter box, rope, wood paint, thin wire and custom woodworking tools to build this garden. foxyfolksy
6. Homemade Vertical Strawberry Planter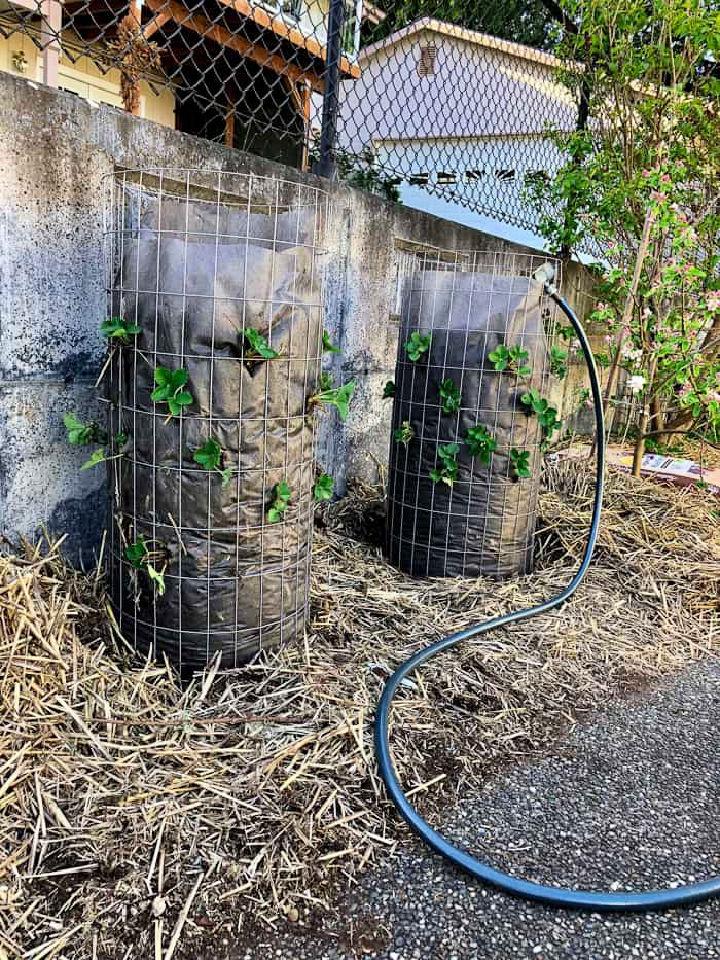 Willing to grow the strawberries in balconies, greenhouses and other small garden spaces? Then opt for these DIY strawberry towers with no PVC pipe water reservoir and are affordable to start growing strawberries professionally. You need galvanized welded wire mesh garden fence, wire cutters, landscaping fabric, straw, potting or garden soil, and a razor blade or box knife to easily duplicate these wonderful strawberry planters. One of the best DIY strawberry planter ideas that everyone can duplicate. sustainablecooks
7. DIY Strawberry Tower Planted Tutorial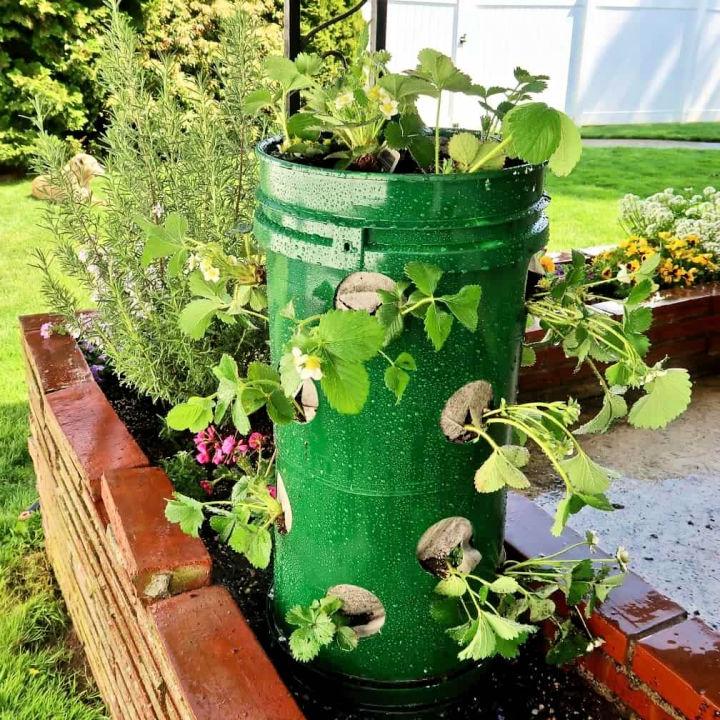 Want to get maximum out of your gardening? Willing to grow some seasonal fruits there? Then follow the here guides about how to grow the strawberries in your garden efficiently. Go with these DIY strawberry towers, and that you can even install them in small garden spaces to start growing a sufficient supply of strawberries. These planter towers will rock for the summer and spring seasons, the seasons of strawberries. The vertical strawberry planter here is eco-friendly and is to build with the 5-gallon buckets. Spray paint the buckets to match your patio or garden decors. You also need a hole saw, a hack saw, landscape fabric and other custom tools to finish this planter. homemadefood
8. DIY 3 Tier Strawberry Planter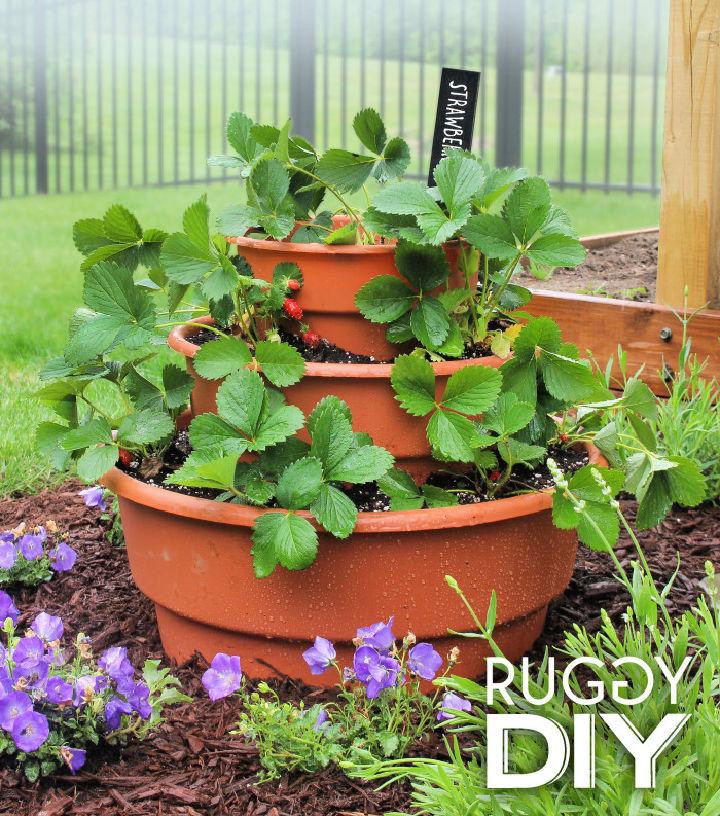 Follow here complete step-by-step instructions about how to build a 3-tier strawberry planter like a pro. The project involves using the 3 plastic dura cotta pots in 3 different sizes like 8", 14" and 20". You will learn to set up these pots in a tiered way to build a tiered strawberry garden in no time. Next, you need empty plastic bottles, potting soil, level, shovel and 11-12 strawberry plants to complete this tiered strawberry planter. It will be ideally suitable and beautiful to grow strawberries right in your garden. This planter will only take a small space of your garden. ruggydiy
9. Vertical Strawberry Tube Planter Using PVC Pipe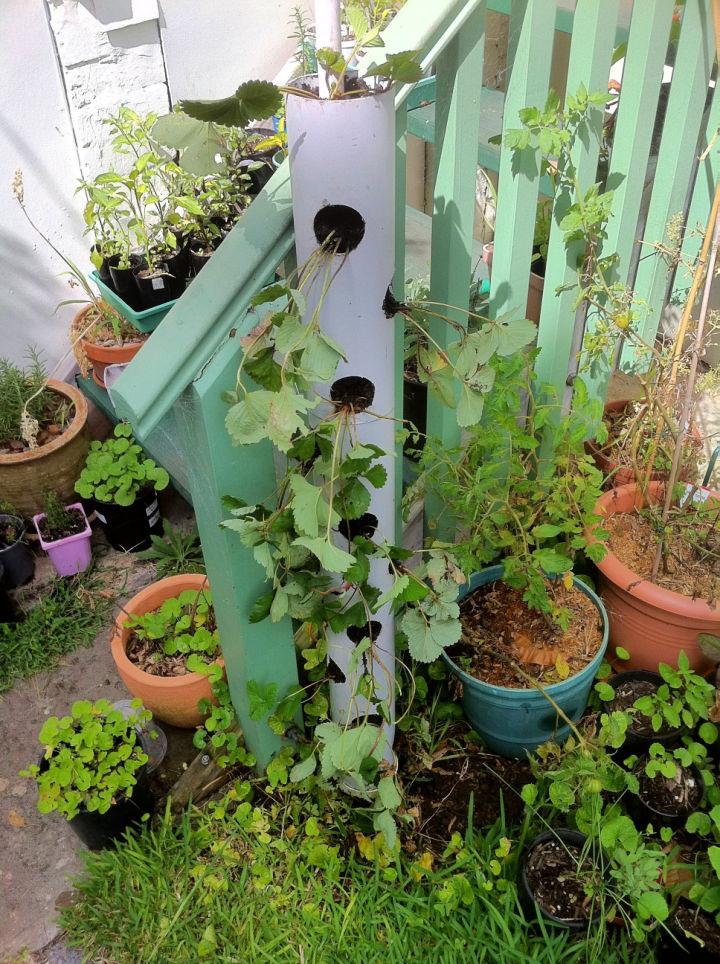 Be an expert in installing vertical strawberry gardens by going with this quick hack here. This vertical strawberry planter is made with the PVC downpipe 100mm or 150mm diameter and will rock for growing strawberries easily. You need an electric drill, PVC pipe, a narrower length of the downpipe, a cork, a knife, duct tape, a length of geotextile, twine, fertile soil, coarse gravel, strawberry plants, companion plants, a large tub and a fixing collar or ties to complete this vertical strawberry tube planter project. Don't forget to drill 5-7cm holes in the pipe planter. urbangreenspace
10. Create a Strawberry Hanging Basket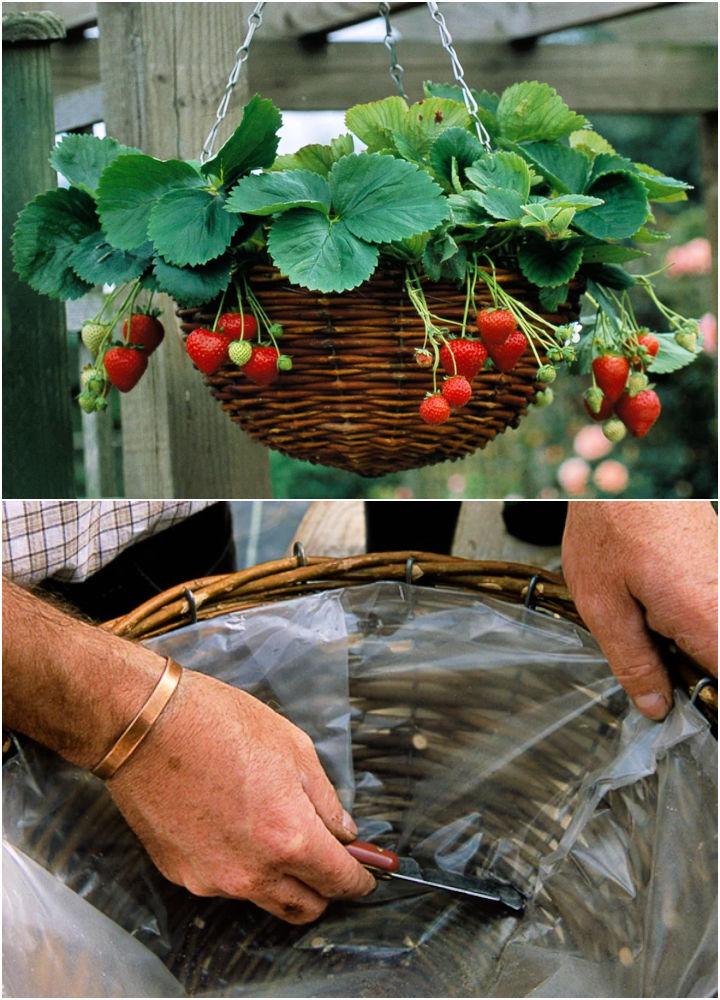 Fab here complete guides and instructions about how to build a hanging strawberry planter like a pro. You need strawberry plants, a hanging basket with liner, compost and metal chains for durable suspension in the air. The entire project is more than easier to do and will also complete simply in no time. This is the most genius, economic and straightforward project to build an instant beautiful strawberry planter at home. This planter is one of the easiest DIY planters to build in no time, and it will also make bigger changes to your interior décor environments. gardenersworld
11. Painted Strawberry Herb Planter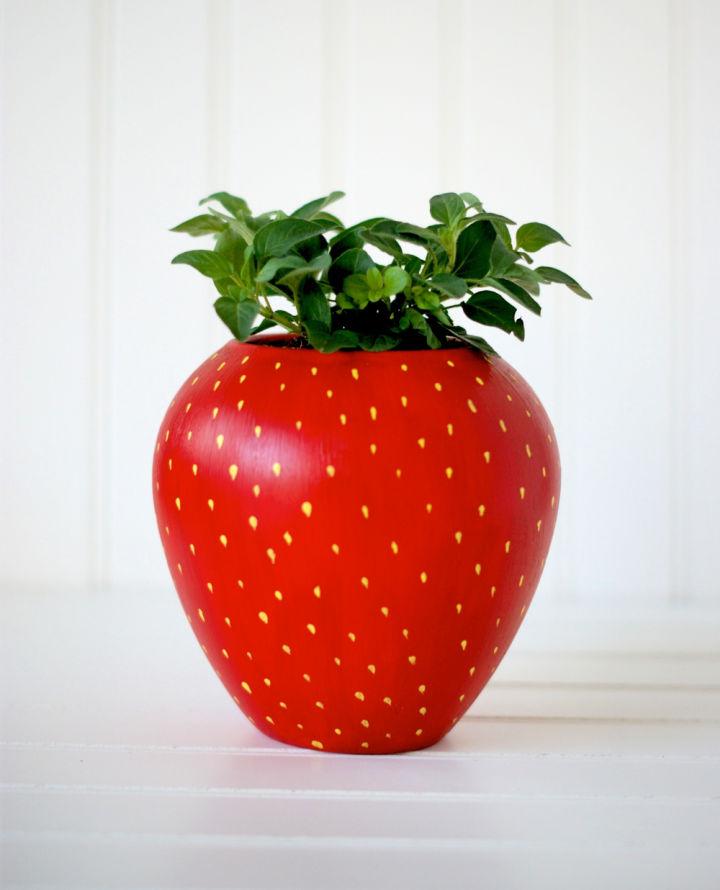 Intending to feature strawberries in your interior home decors? Here is an excellent way to do so. Make this painted strawberry herb planter, sure to bring tons of focal stimulation to a targeted interior. Give the strawberry-shaped planter 3 coats of red paint, and then use the little paint strokes to add the strawberry seeds. Finally, you can add your favorite herbs or planters to the finally completed planter. One of the best DIY herb garden ideas that everyone can duplicate simply in no time. You need a round ceramic planter, oregano herb plant, broad paintbrush, angled paintbrush, craft paint in wedding cake, tartan red and chamomile. acharmingproject
12. DIY Strawberry Tower for Under $30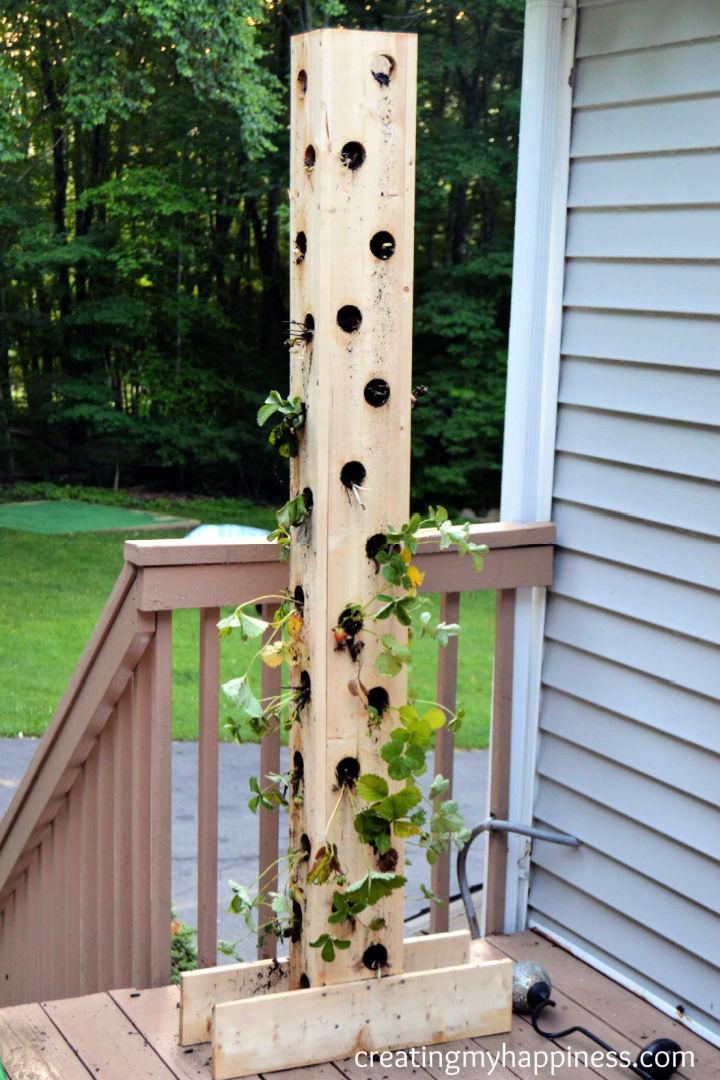 The tower-style planters always rock when you need to grow a lot of strawberries in minimal space. So, you will get free pro tips and plans about building a strawberry tower like a pro. You need 1x6s, 2" deck screws, a power drill, a cubic foot of soil and strawberry plants to build this strawberry tower in no time. Just cut out holes in the wood plans and then put them together for building a durable and stable tower, will be your strawberry planter. The best DIY strawberry planter idea ever. creatingmyhappiness
13. Memorial Day Strawberry Planter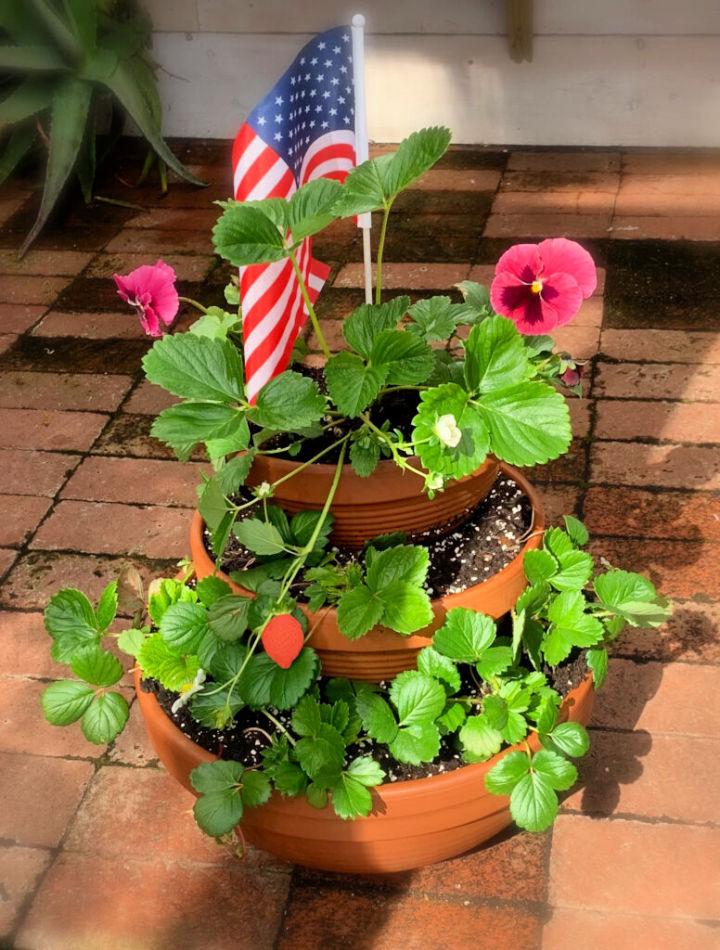 Express your country's love emotions also by building the strawberry planters. Yes, look at this DIY strawberry planter that is 3-tiered and comes with the country flag fixed in the top level. You need 3 terracotta dish planters, organic potting soil, organic strawberry plants, granular or slow-release fertilizer, garden gloves and a watering can to build this tiered patriotic strawberry planter. One of the best DIY strawberry planters ever built. It will be there in your home simply in no time. The easy and economical way to grow your strawberries. northforkrealestates
Flower bed ideas: Add texture and color to your home's garden with these flower bed ideas in front of the house and backyard.
14. How to Grow Strawberries in a Planter Pot

Want a constant supply of fresh strawberries throughout the summer season? Then time to grow your strawberries with this strawberry planter pot. The whole project will complete in just an hour, and you will get here the simple but creative tricks to build this strawberry planter. In very required materials, you need a terracotta strawberry planter with plant saucer, a piece of black vinyl mesh, gardening pebbles, 1" PVC pipe, potting soil, and strawberries to fill your pot to duplicate this project. A speedy and beginner-friendly DIY strawberry planter idea. simpleseasonal
15. DIY Tasty Strawberry Planter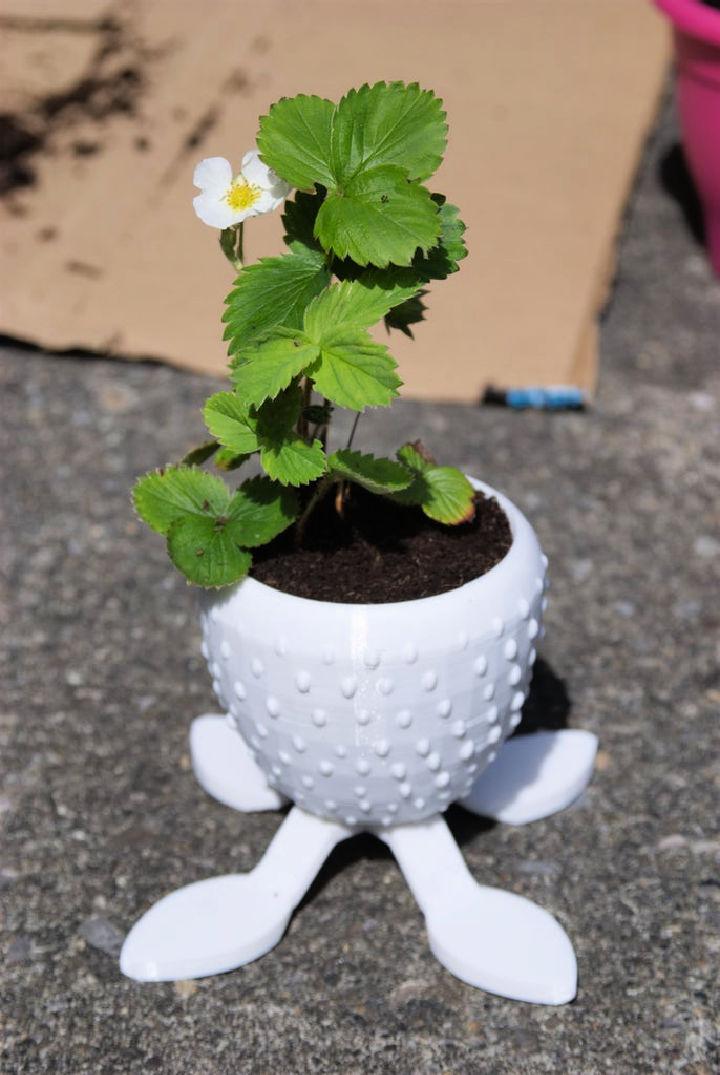 This project involves using the Tinkercad to design and make a tasty strawberry planter like a pro. The completed planter will impress the 3D design texture and will be a significant addition to one's patio or garden space. Tues the Prusa I3 Mk2s for 3D printing, and you will get here suggestions for various other 3D printing ideas. The idea will rock when you need to update the look of your patio by adding some new decorative pots. This type of planer will surely jazz up any patio or home deck, and it will complete simply in no time. instructables
16. Make a Hanging Strawberry Planter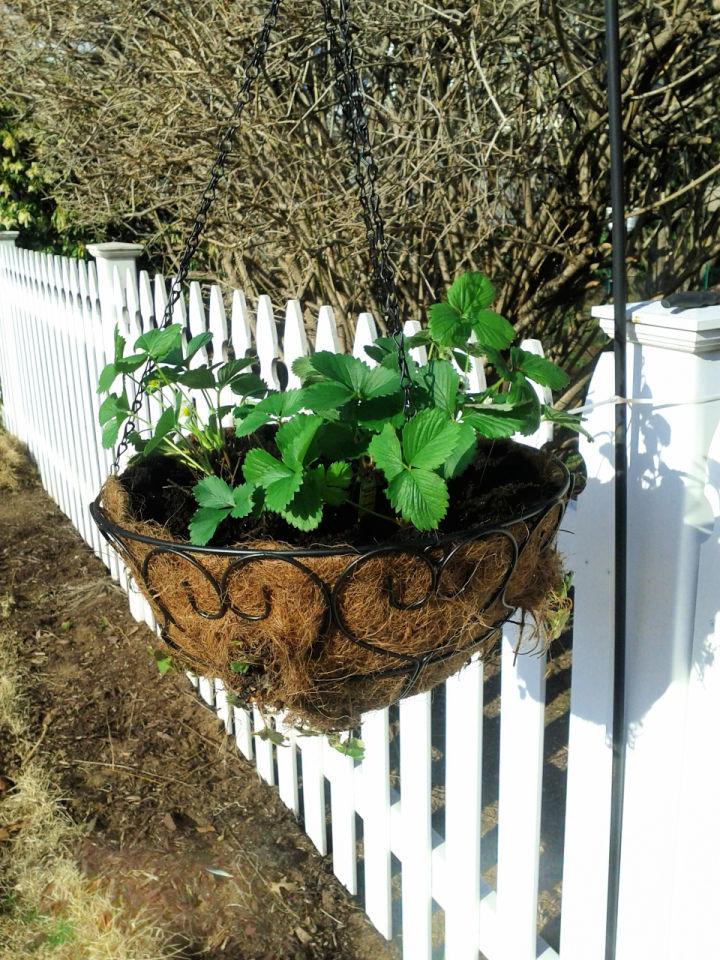 You will love how this hanging strawberry planter will serve to grow the fresh strawberries easily in your garden. Here you need a $12 hanging wire basket, strawberry plants, and potting soil to make these hanging strawberry planters easily. These planters will make it easier to grow the strawberries out of the pet and kids' reach. You can also use various other baskets with liners to build this kind of quick-hanging planters. Build a set of these hanging planters to gain a whole beautiful hanging strawberry planter right in your garden. A quick and beginner-friendly DIY strawberry planter project. learningasigotips
17. DIY Tiered Strawberry Planter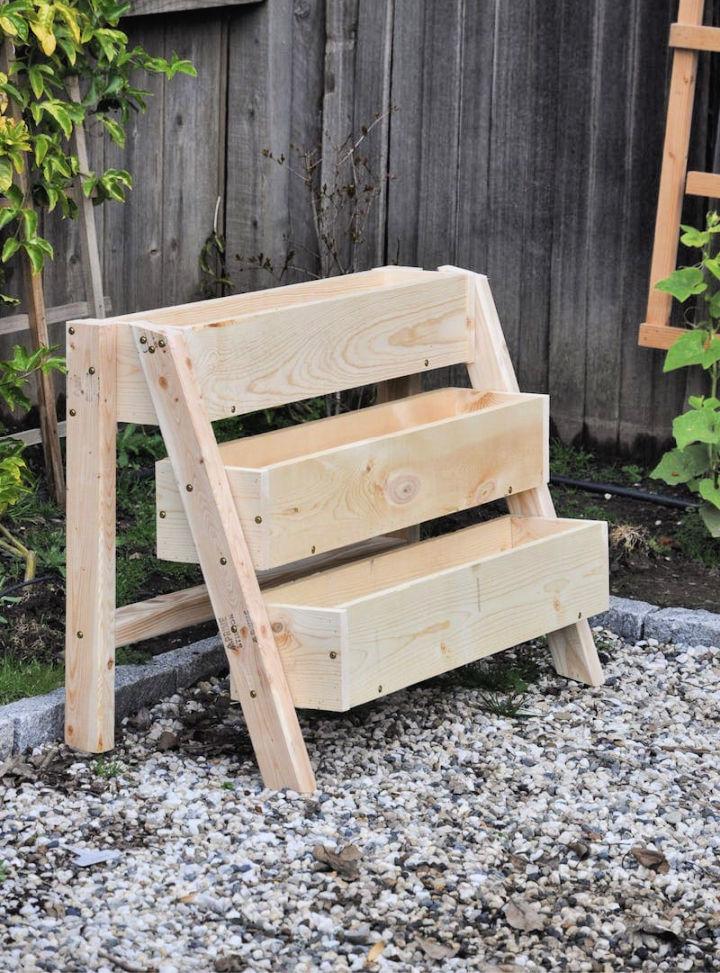 The tiered planters are a great invention to grow your garden yields while using much less space. So, follow guides and instructions here to easily craft 3 tiered wooden planters that can stand alone on a flat floor or surface. The finally completed planter is 34.5″ wide and 23″ tall, and each planter box is 30″ wide, 7″ deep and 5.5″ tall. Inwood supplies, you need 1x6s and 2x4s to build this self-standing tiered strawberry planter or garden. The whole planter is much attention-grabbing and will go for bigger changes in the overall decors of your garden. hydrangeatreehouse
18. Grow Strawberries in a 5 Gallon Bucket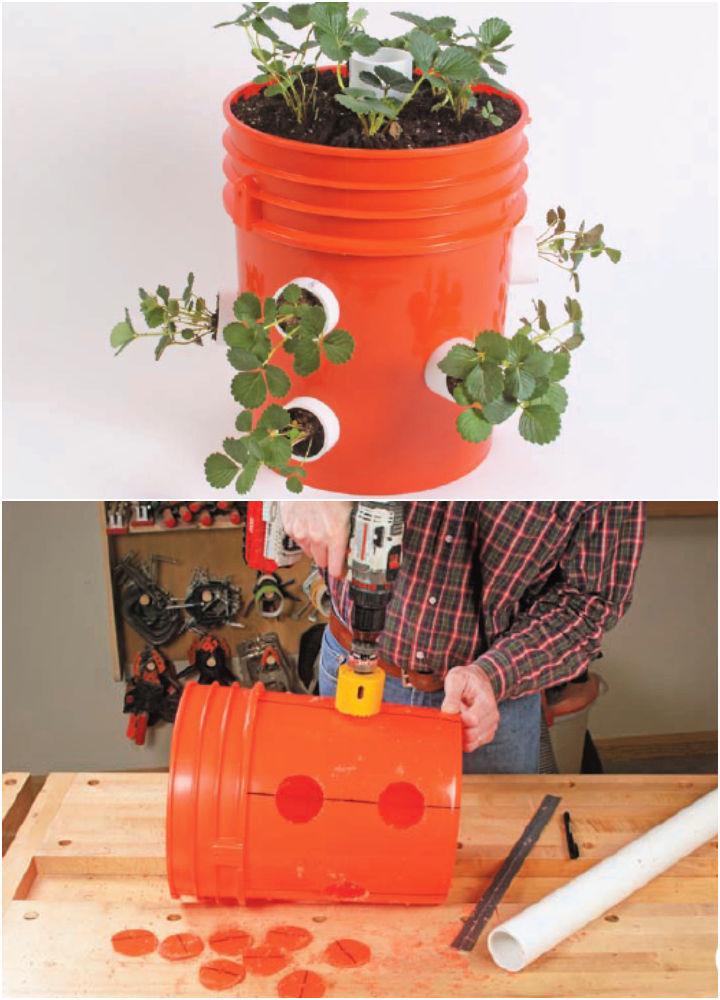 Here is the easiest yet inexpensive way to build a beautiful strawberry planter. Yes, repurpose the 5-gallon buckets to whip up a strawberry planter quickly. You will be able to drag this planter anywhere around the home. You need a 5-gallon bucket without a lid, ⅖″ PVC pipe, landscaping fabric, crushed gravel, potting soil, strawberry plants, garbage can lid, and sandpaper to easily duplicate this strawberry planter. A brilliant DIY strawberry planter hack using a plastic bucket. You also need a sharpie, 3" hole saw, cordless drill, table saw, vise, and scissors for this project. quartoknows
19. Pallet Strawberry Planter Box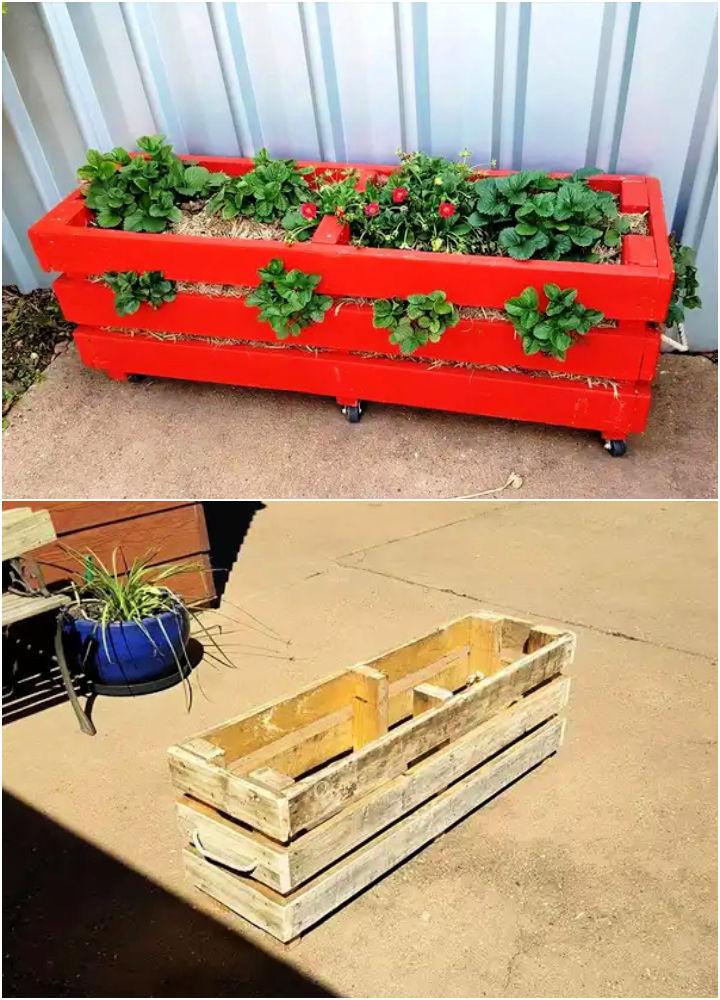 Every garden lover will fall in love with this rolling wooden planter, painted red for a stimulating visual. Get crafty with the free wooden pallets to easily build this lasting longer, and durable wooden strawberry planter can be dragged to any particular outdoor location. Get crafty with the free pallets to build this strawberry planter, is a total breeze to whip up. Just take the pallets into pieces and then put them together to build a durable wooden box, as you can see. Paint the completed box and finish with caster wheels and rope handles to build this strawberry planter easily. easypalletideas
20. DIY Canada Day Strawberry Planter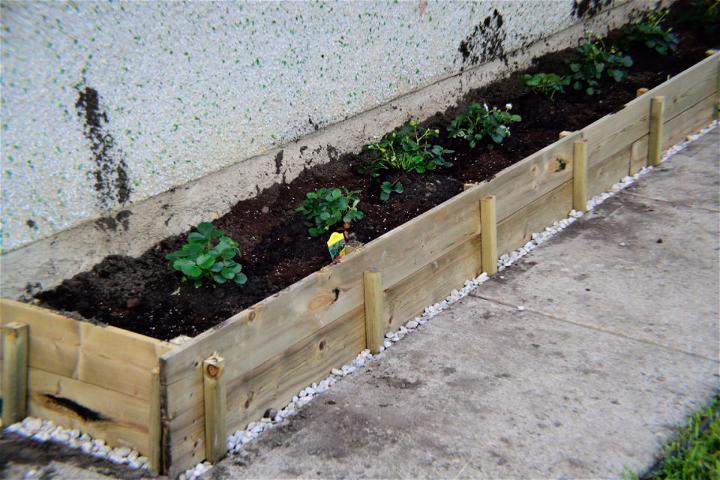 Grab here free instructions to build this Canada day strawberry planter, beautifully installed in the ground, and it comes with a wooden fence all around. Just clean the grass from the home's exterior, add an old newspapers bed and then potting soil. Finish by installing the wooden fence all around, and finally, add your favorite strawberry pots. You need 2x2s and 1x6s to build this lasting, more beautiful DIY wooden strawberry planter along the exterior home wall. Every beginner will be able to build this durable strawberry planter. The whole project is more than easier to do, even for a beginner. imgur
21. Easy DIY Vertical Strawberry Planter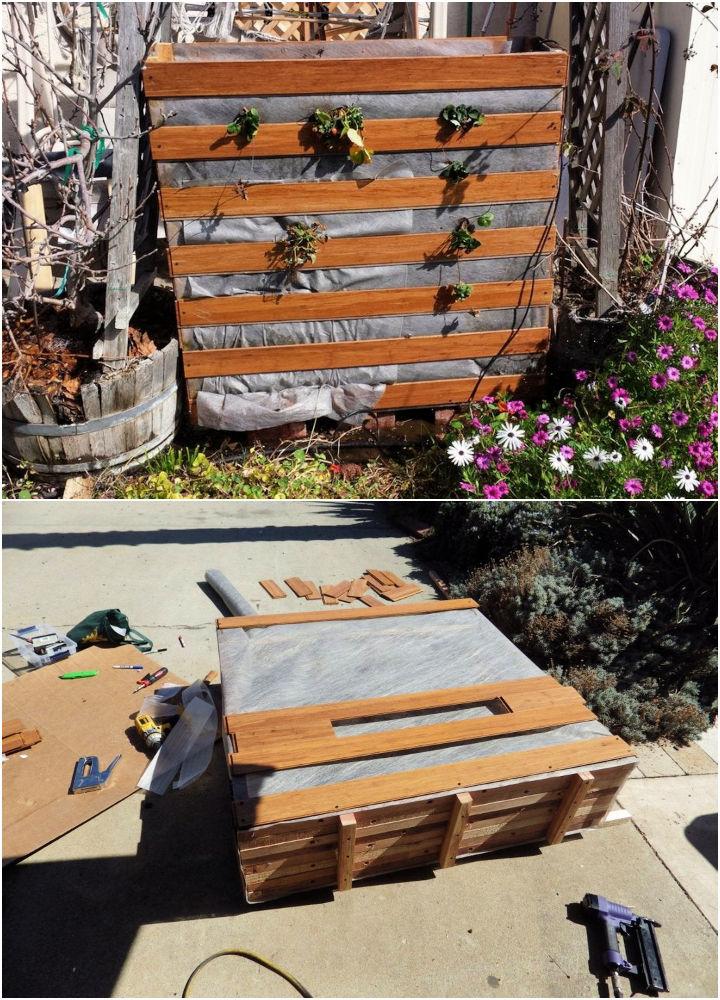 Willing to build a durable vertical planter for your garden space? Then grab here complete DIY vertical garden guides and instructions to build the simple vertical strawberry planter that is amazingly cute and beautiful to look at. Build the frame of the planter using the 1x1s, and then cover the frame with weed cloth. Next, add the wood planks all around the vertical planter to complete the planter. You can also finish the whole vertical planters with wheels for easy dragging and pushing. It will not take that too long to work up this simple vertical strawberry planter, a breeze to make even for a beginner. instructables
22. DIY Cinder Block Strawberry Planter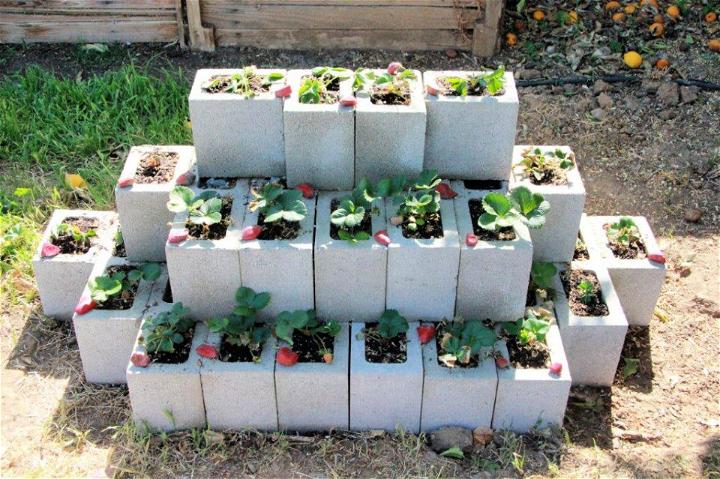 Growing strawberries was never so easier. Put together also the cinder blocks and use them as quick strawberry planters. You can put together the cinder blocks in any custom configuration to easily whip up a lovely cinder block strawberry planter. You will never quit the style trends. Here you need a stock of cinder blocks, potting soil and strawberry plants to build this fabulous strawberry planter in just no time easily. One of the best and most loved DIY strawberry planter ideas for gardening lovers. Every beginner can easily build this cinderblock strawberry planter. clearwatercottage
23. Container Gardening Strawberry Planter Using Pallet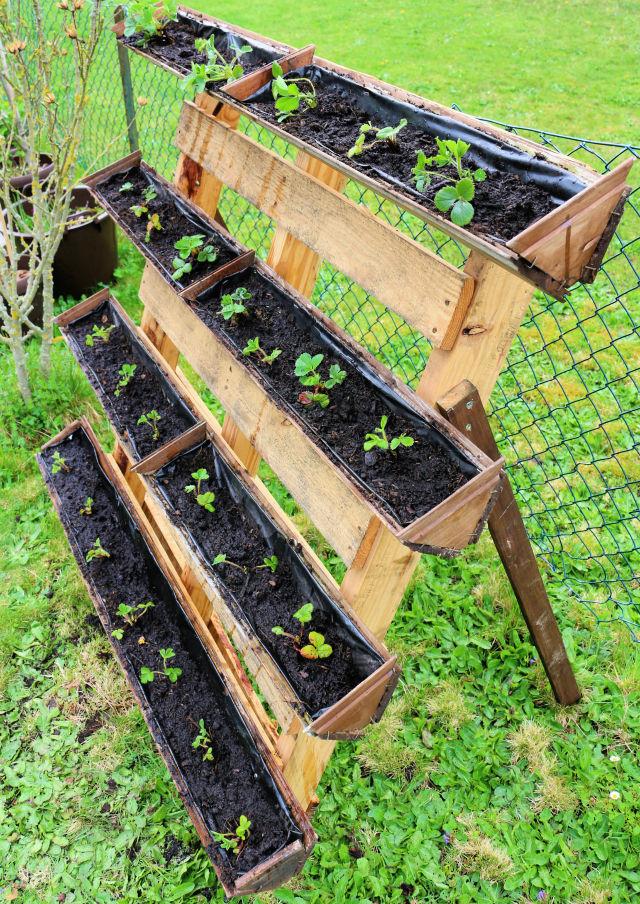 Feel free to duplicate this another great vertical pallet garden. It comes with so many different tiered levels of container planters and is easy and quick to build. Again you need some pallets to build this lasting longer and durable vertical container gardening strawberry planter. If you have got some pallets for free, the whole plant will cost you just next to nothing. You need 4 wooden boxes hanging strawberry planters, a pallet, 2 pcs of square timber posts, and screws to complete this vertical container strawberry planter. foxyfolksy
24. Space Saving Vertical Strawberry Planter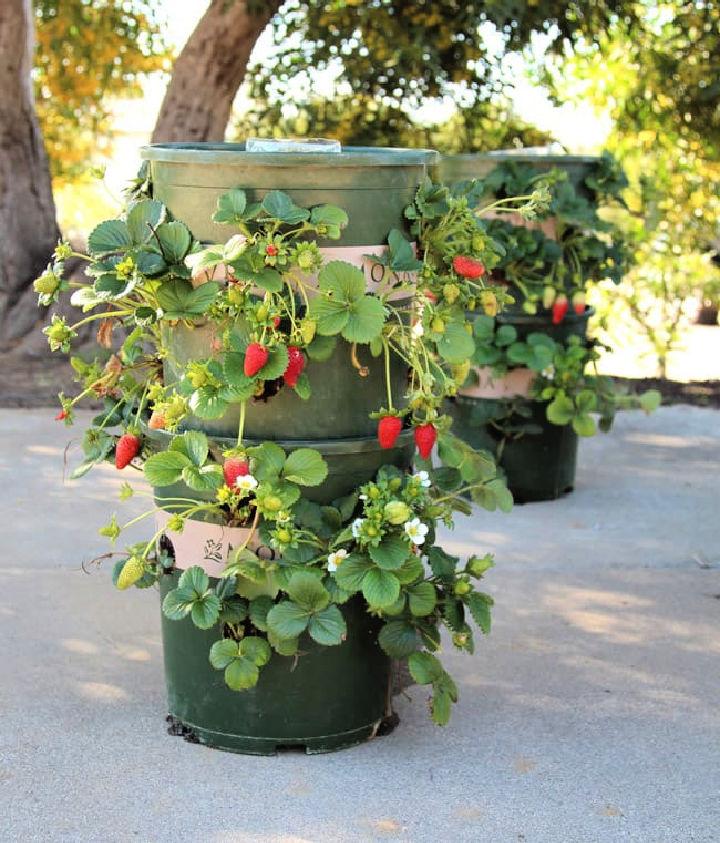 The strawberry plants dry out quickly in summers, and hence you can opt for this strawberry tower that comes with a water reservoir. To complete this strawberry tower, you need 5-gallon plastic nursery pots, a Milwaukee 1.25″ hole saw and drill, a little plastic water bottle, and good potting soil. You also need compost and strawberry seedlings to build this tower strawberry planter quickly, will be a big love of all the garden lovers. If added to your garden, these vertical strawberry planter towers will create a big focal point. All these planters will be a breeze to make, even for a beginner. A super economical DIY strawberry planter idea that everyone can duplicate. apieceofrainbow
25. DIY Pallet Strawberry Planter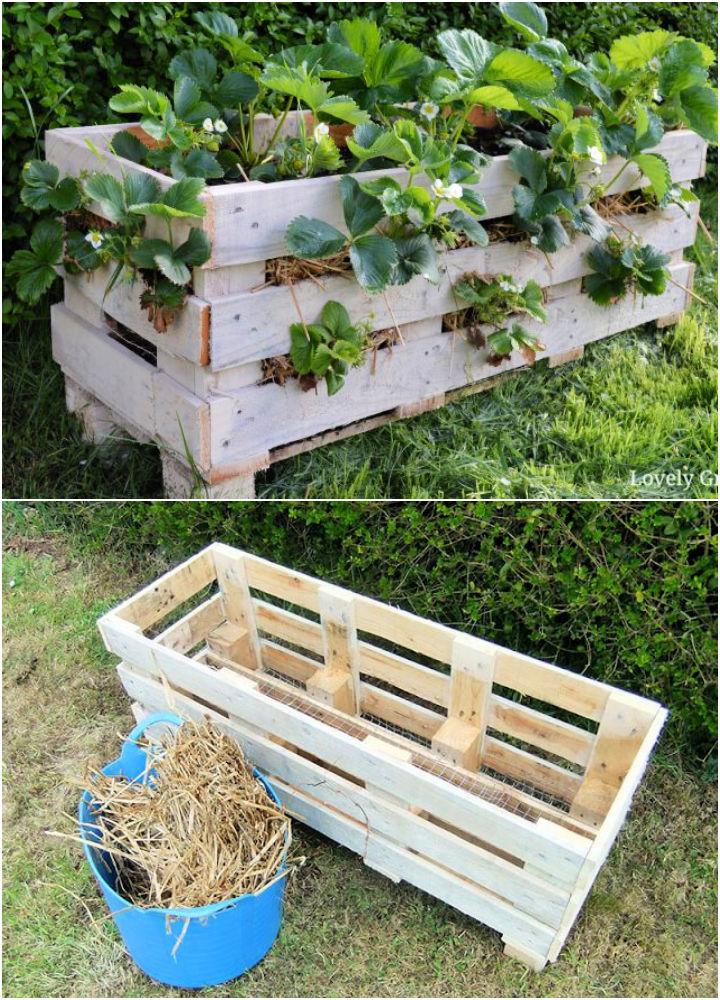 The pallets are an ideal choice for making strawberry planters as they withstand harsh outdoor weather like no other wood does. So, If you having access to some free pallets, you can plan them to start growing your strawberries. Follow here guides and instructions to make a better wooden strawberry plater out of free pallets, which will be a durable and lasting longer one for sure. The idea is to rebuild the pallets to shape up a big box, which will be your planter. Next, paint or stain it or finish with custom caster wheels. The choices are all yours. lovelygreens
Conclusion:
The strawberries are a tasty type of fruit, and all love to eat them in the summers in lots of delicious ways. So, if you are deeply in love with the strawberries and intending to grow your right in your home or the garden, then peek into the details of these DIY strawberry planter ideas that come with detailed free instructions and a material list. They share the complete info about installing custom systems and building custom planters to grow the fresh strawberries beautifully and like a pro. So, this list of best strawberry planter ideas will share a big range of hand-build planters that will make it significantly easy to get maximized strawberry productions even in small gardening or home space. From tiered strawberry gardens to building strawberry towers and hanging baskets, these strawberry planter ideas will provide complete material lists, tool lists and tutorials for all.