Crochet spider amigurumi creations are gaining popularity among craft enthusiasts, as they bring a unique and whimsical touch to home decor or holiday decorations. We've curated a list of 25 free crochet spider patterns, perfect for beginners and expert crocheters. These patterns cover a variety of spider designs, from tiny critters to giant tarantulas, ensuring there's a crochet spider pattern to suit every preference.
The free crochet spider patterns include easy-to-follow, step-by-step instructions and detailed PDF guides to help you confidently create your crochet spiders. Each pattern offers a comprehensive tutorial to learn new techniques while crafting your spider amigurumi masterpiece. By following the provided instructions, even beginners can quickly pick up the necessary skills and easily create their own crochet spiders.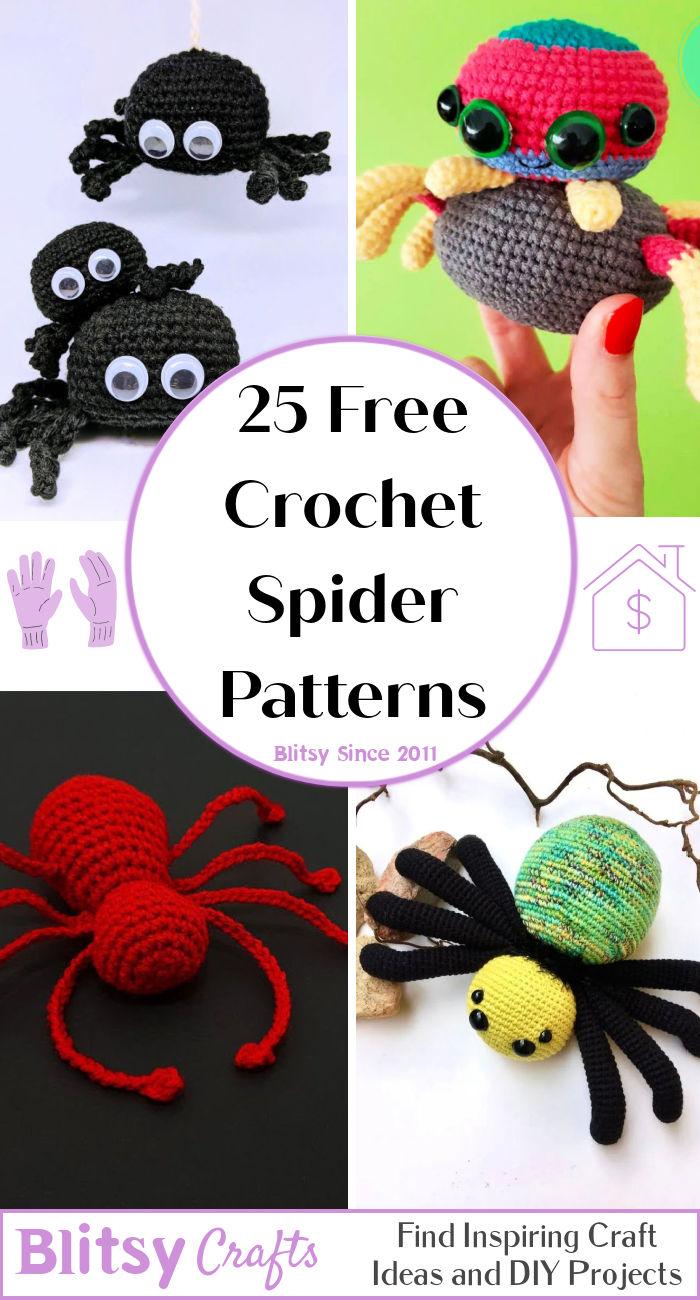 These crochet spider patterns come in various styles, such as cuddly spiders, spider crochet stitches, and even crochet tarantula patterns. With such an extensive selection, you can easily find a pattern that sparks your interest and matches your skill level. Get ready to weave a web of creativity as you dive into the world of crochet spiders. Grab your crochet hook, yarn, and the free crochet spider pattern of your choice, and embark on an exciting crafting journey today!
1. Cute Crochet Little Spider Pattern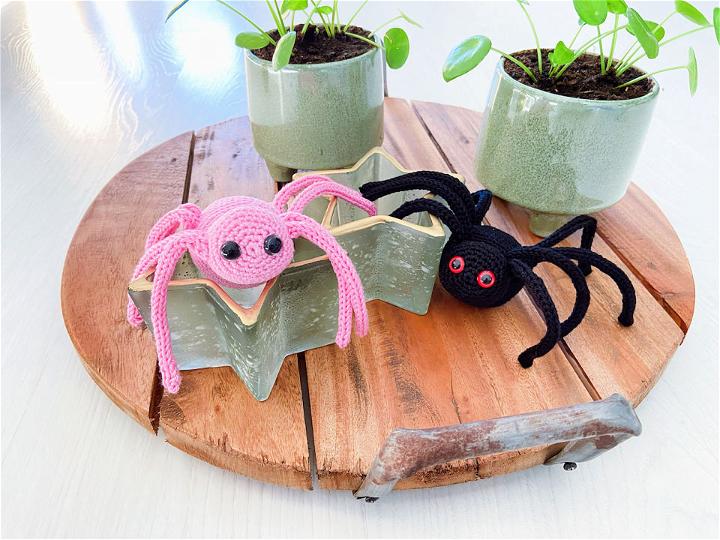 Welcome the Halloween season with this adorable little spider crochet pattern. It comprises only one skein of cotton, 8mm safety eyes, fiberfill and a 2.5mm crochet hook or knitting spool. You'll love creating these cute spiders for decorations! Follow the easy-to-follow instructions in the pattern to make your little spiders just in time for October. dutchcrochet
2. How to Crochet a Spider Amigurumi – Free Pattern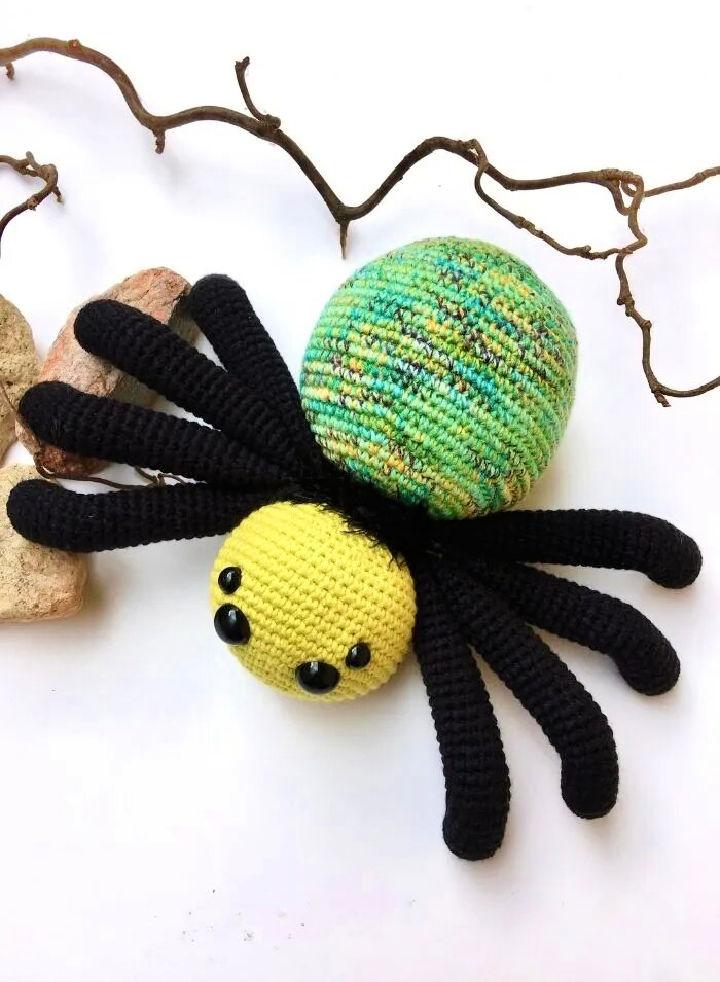 Are you looking for a fun and easy crochet project? Look no further! This free pattern will guide you through creating an adorable spider amigurumi. All required materials can be found at any craft store. Instructions are simple enough for beginners to follow. You'll have your little spider companion ready in no time! It is the perfect gift or an addition to your home décor. This spider amigurumi will surely bring smiles all around. So, grab your hook and yarn, and get crocheting now! cuddlystitches
3. Crochet Spooky Spider Bro Amigurumi Pattern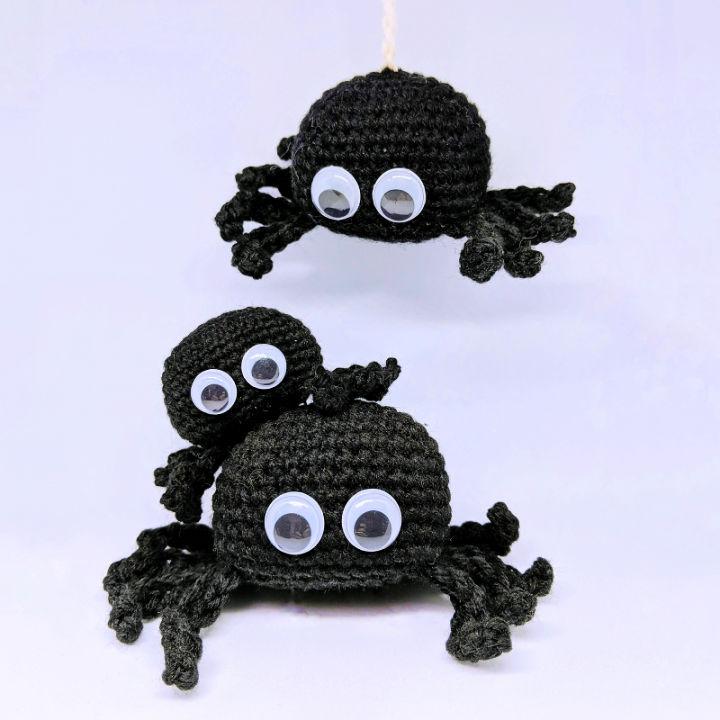 Make your Halloween extra spooky with this easy and quick-to-make spooky spider bro amigurumi pattern! Practically no stitching is required to make this crochet spider. You can use a 3mm crochet hook, dk yarn in black, a tiny bit of white yarn for the spider web chain and googly eyes for this project. Hang them to create a creepy spider web, or leave them scattered around the house. They will look awesome anywhere! Make as many as you can before Halloween arrives. Get creative and make your decorations fun this year! craftybunnybun
4. Easy Crochet Amigurumi Spider Pattern for Halloween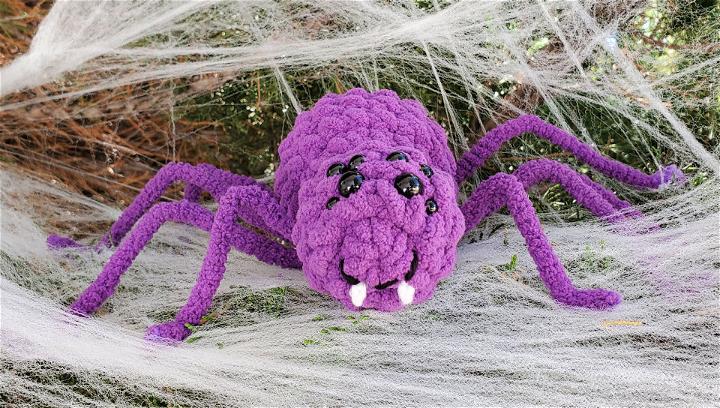 Create a unique and spooky decoration for this Halloween with this free amigurumi spider crochet pattern! Inspired by the beautiful black widow spiders, this purple spider pattern will add a touch of creepy fun to your holiday celebration. With eyes of different sizes, it will make an impression wherever you choose to display it. Try out this free crochet pattern now and craft your special Halloween decoration! kraftykait
5. Free Crochet Spider Hand Puppet Pattern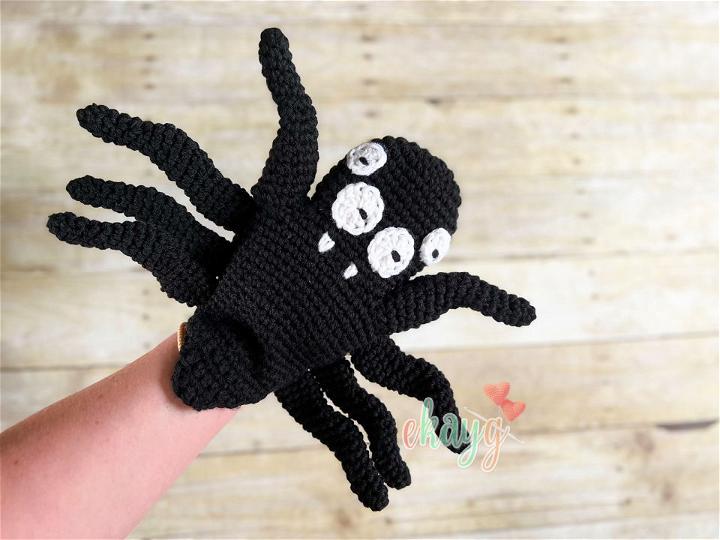 Are you ready to have some spooky fun this Halloween? This spider hand puppet pattern creates a memorable experience for the whole family. It is perfect for inspiring some creative stories and plays. Featuring detailed instructions, this unique design is easy to make. Everyone can get involved in bringing this puppet to life. And why not pair it up with a pig hand puppet pattern and create your very own charlotte's web-inspired puppet show? This spider hand puppet is bound to be a hit for all ages. ekayg
6. Free Crochet Heart Shaped Spider Pattern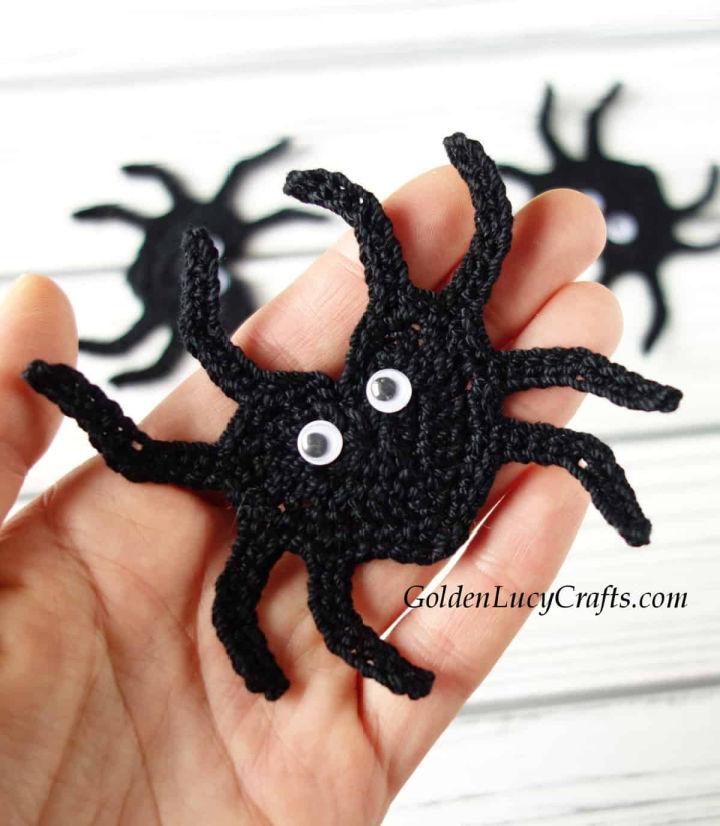 Craft the perfect Halloween decor with this fun crochet heart-shaped spider pattern! This cute applique is full of spooky vibes and will add a festive touch to your home. With its body in the shape of a heart, it's sure to bring extra love into any space. Get creative and make multiple spiders for a themed display or give them as gifts. You'll have an eye-catching decoration that everyone can enjoy! Download this free pattern now and start crafting some Halloween magic. goldenlucycrafts
7. Best Halloween Spider Crochet Pattern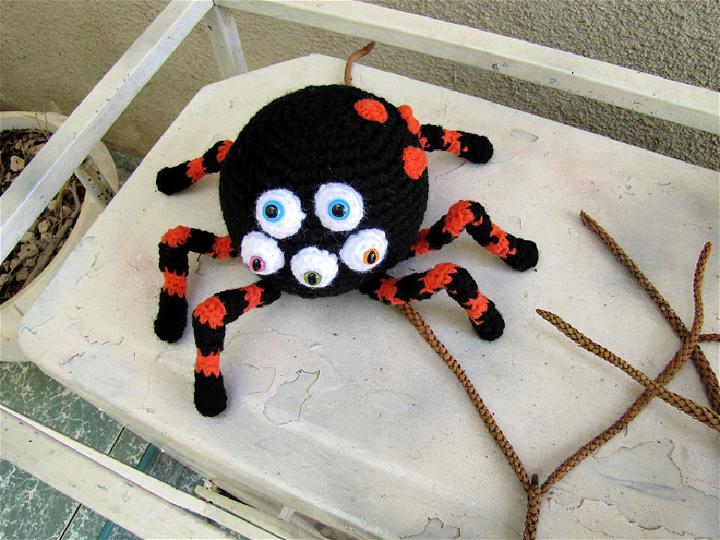 Liliksha Toys presents this unique Halloween spider pattern! It is made with very chunky black yarn and two blue eyes with round pupils. This spooky spider is perfect for adding a creepy touch to your home's décor. Whether you plan on using it as part of your costume or want to create something special, liliksha toys' Halloween spider pattern will help you stand out. Try it now and show off your creative side this festive season! ravelry
8. Simple Crochet Mini Spider Amigurumi Pattern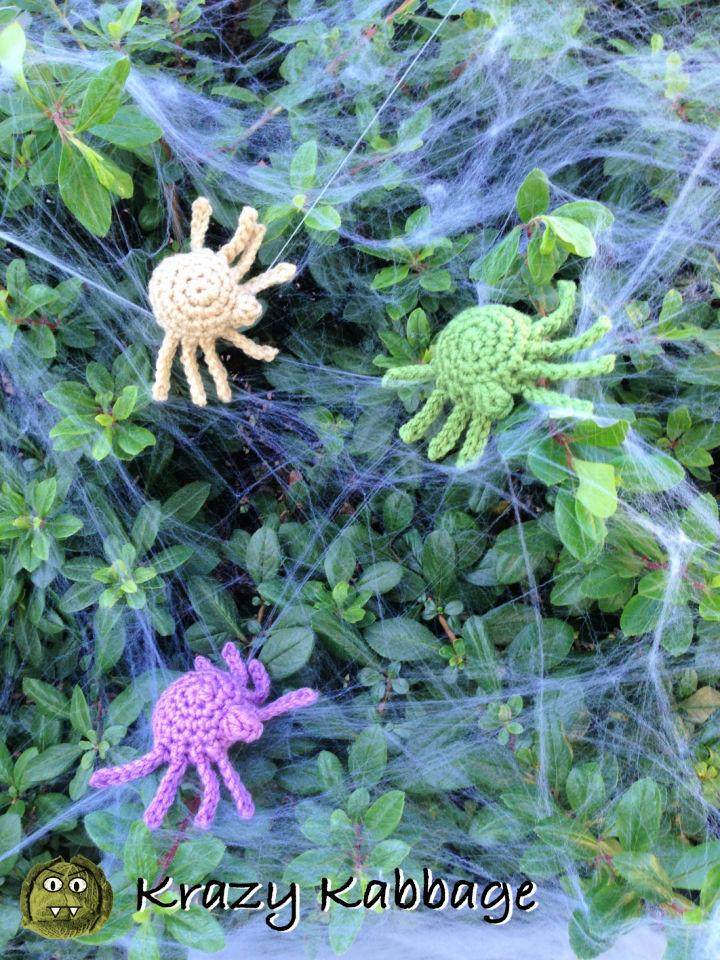 Add some spooky fun to your Halloween decorations with this crochet amigurumi spider pattern. It's an easy-to-follow, no-sew pattern to help you make the perfect spider! After much experimentation, you can crochet a spider design that looks great and is all in one piece. Get creative and have fun crafting these spiders for your family, friends or yourself! This pattern allows you to add the perfect thing to any Halloween-themed decoration. Start crocheting now and enjoy having some spooky fun! krazykabbage
9. How Do You Crochet Spider Amigurumi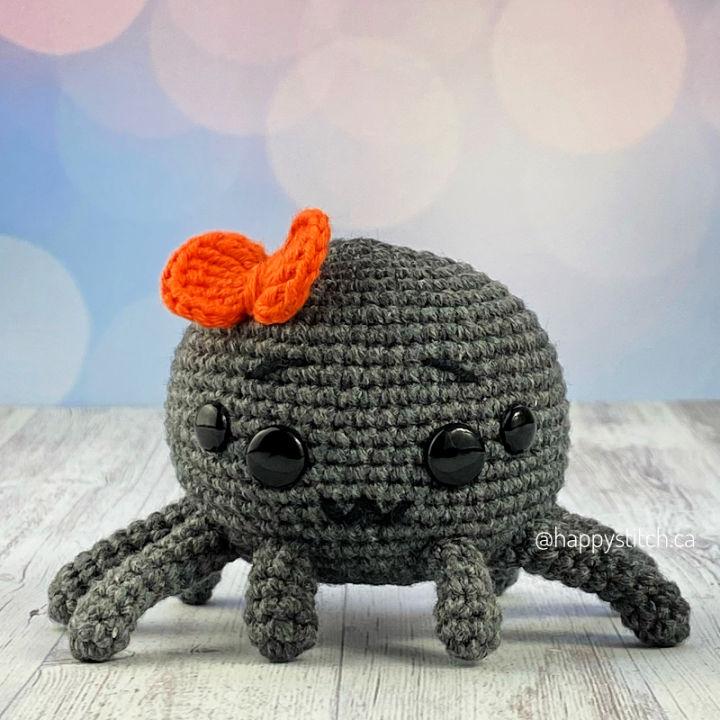 Create your own cute and cuddly crochet spider with this free pattern! With the right materials, such as a crochet hook size 1.75 mm (no. 0), yarn, plastic safety eyes in 10mm and 8mm sizes, polyester stuffing, scissors and needle, you'll be able to make an adorable DIY spider buddy. This is an ideal project for all levels of crocheters. So, get start now with this free pattern! ravelry
10. How to Crochet a Spider-Free Pattern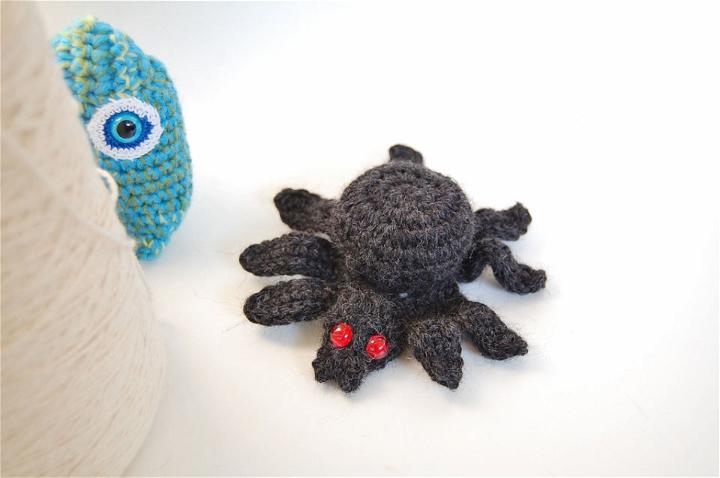 Create the cutest creature of all, a spider! With this free pattern, you can crochet your adorable play pet. You only need a crochet hook, yarn, plastic safety eyes, polyester stuffing and scissors to work on this pattern. Follow the instructions to make your very own arachnid friend. It's an easy project that even beginners can do without any trouble. Download this free pattern now and start creating your eight-legged pal! pulpsush
11. Free Crochet Pattern for Spider Amigurumi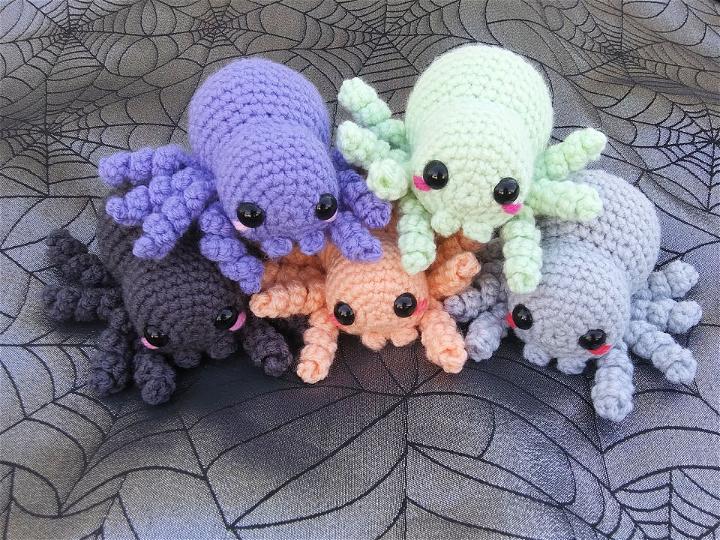 This free download pattern lets you create your no-sew amigurumi spiders! These cuties are perfect for the spooky season. These spiders will make a great addition to your Halloween decorations. The supplies needed to make this spider are yarn, a crochet hook, safety eyes and polyfill stuffing. You can also use some embroidery needlework for that extra detail. Get this free pattern now and get that creepy crawlies ready in time for October 31st, Halloween. ravelry
12. Crochet Jumper Spider Amigurumi – Free PDF Pattern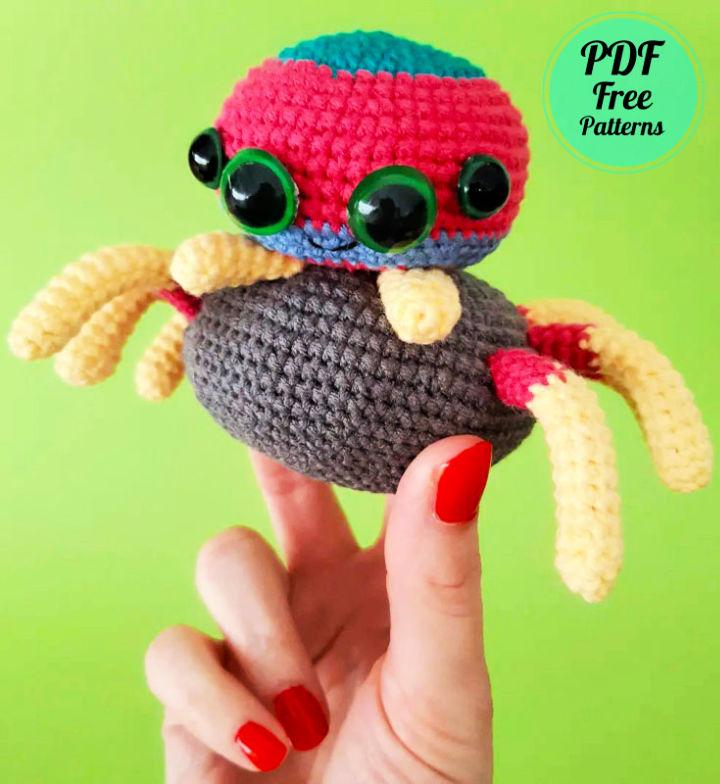 Welcome to the world of amigurumi knitting with this amazing free pdf pattern for a jumper crochet spider! You'll need yarn art jeans, a crochet hook and safety eyes to make this spider. The spider is about 8 cm high, and you will also need scissors, yarn needle, pliers for wire, stuffing and a piece of black yarn for the smile. With simple step-by-step instructions, it's easy to create your unique spider amigurumi in no time. Get creative now with this exciting free pattern! amigurumiday
13. Free Crochet Mr. Creeper the Spider Pattern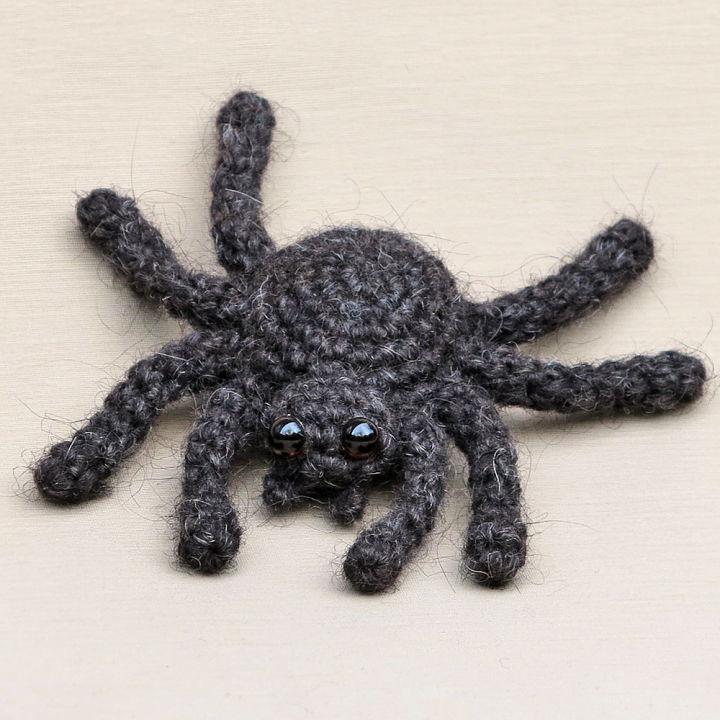 Welcome the spookiest holiday of the year with Mr. Creeper, a free Halloween pattern! Easily stitch up this cute spider for your home decorations to get into the spirit of all Halloween's eve. Whether an experienced or novice sewer, you can quickly make this simple and fun design. It would be a festive addition to bring something special to any room. Get ready for some frighteningly good decorating with Mr. Creeper! sonspopkes
14. Crochet Sharlotte the Spider Amigurumi Pattern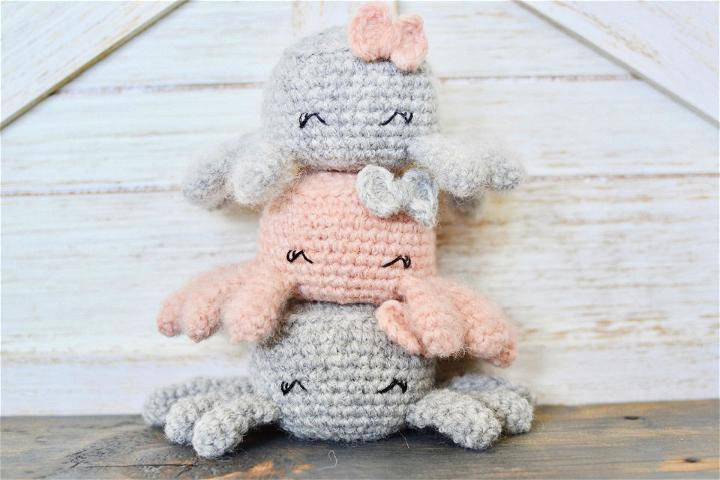 Crochet yourself an adorable spider friend with the sharlotte spider amigurumi pattern. It is perfect for beginner-level crocheters. This pattern comes with clear instructions and pictures to help you. It is written in US crochet terms and crocheted in continuous spirals using a stitch marker or different color yarn to keep track of each round. Your finished spider will be approximately two inches tall. However, size may vary depending on the yarn & hook you use! Have fun creating your own cute little arachnid, friend! yarnsociety
15. Free Crochet Taran Tarantula Pattern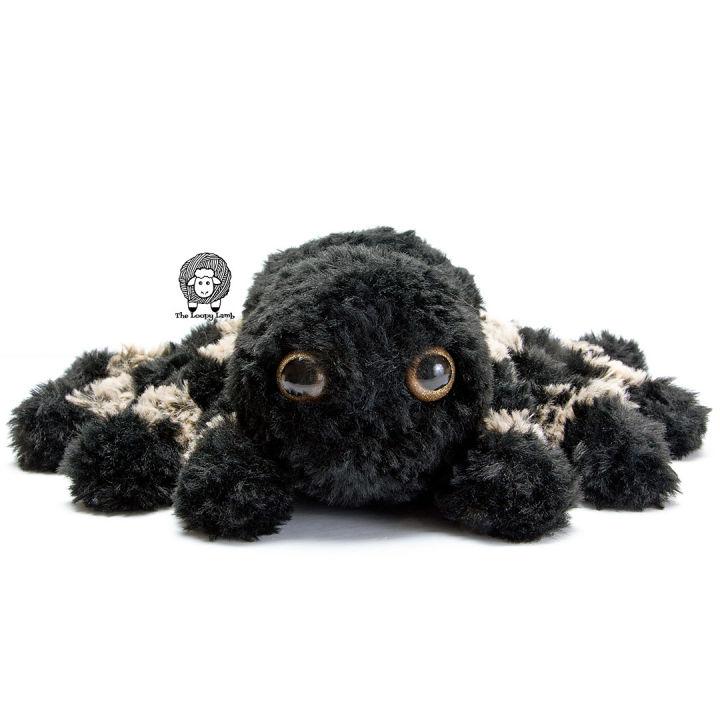 Looking for something unique and fun to crochet? Check out taran tarantula, an adorable amigurumi tarantula free pattern! With this free downloadable pdf, you will receive clear instructions on how to make your own little spider. It is perfect for Halloween or decoration in any room. The pattern is easy for beginners and can be made with just a few supplies. Download the crochet tarantula-free pattern to make your cute and cuddly eight-legged friend! theloopylamb
16. Simple Crochet Halloween Spiderweb Pattern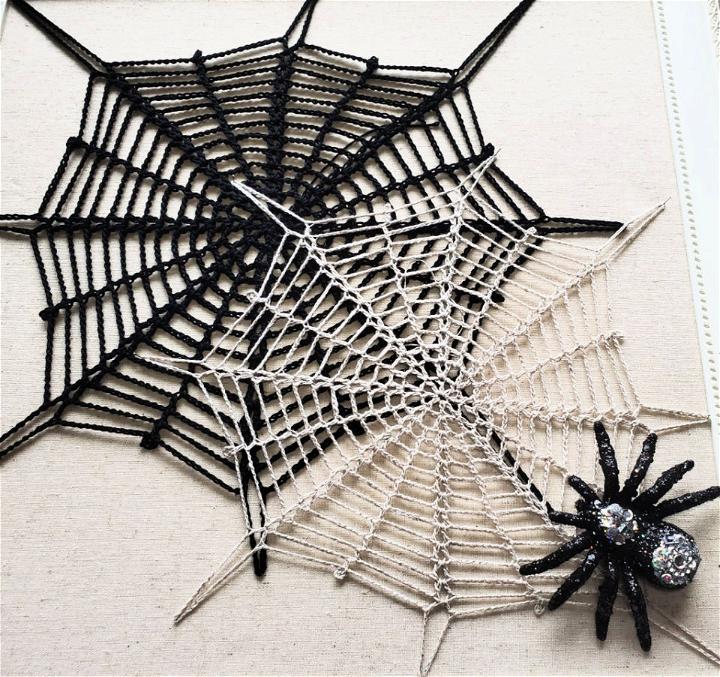 Make your Halloween extra spooky this year by creating a beautiful crochet spiderweb! It's an easy project that requires few materials. To complete this project, you only need yarn, a crochet hook, scissors, and creativity. This step-by-step guide will show you how to create the perfect crocheted spiderweb for any Halloween decor. With just a few simple stitches, you'll have a crafty addition to your favorite holiday decorations that will last for years. Prepare for a fun experience as you learn how to crochet the perfect Halloween spiderweb! handmadebyraine
17. How to Make Spider Amigurumi – Free Crochet Pattern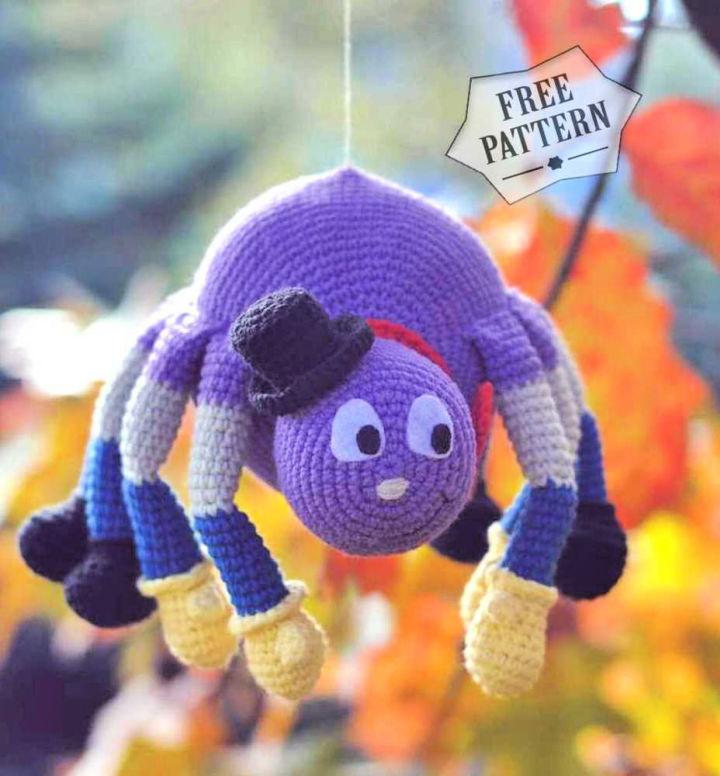 This adorable amigurumi spider is the perfect way to get creative and make something special for a friend this Halloween. This free pattern will instruct you to create your cuddly spider friend! The pattern includes step-by-step instructions, photos, and the required materials. Even beginners can do this project easily. Grab your hook, yarn, and other supplies and start making this spider. It's time to start crocheting! With such an easy-to-follow pattern, making your cuddly creature has never been simpler. alwaysfreeamigurumi
18. Crochet Spider Web Throw Blanket Pattern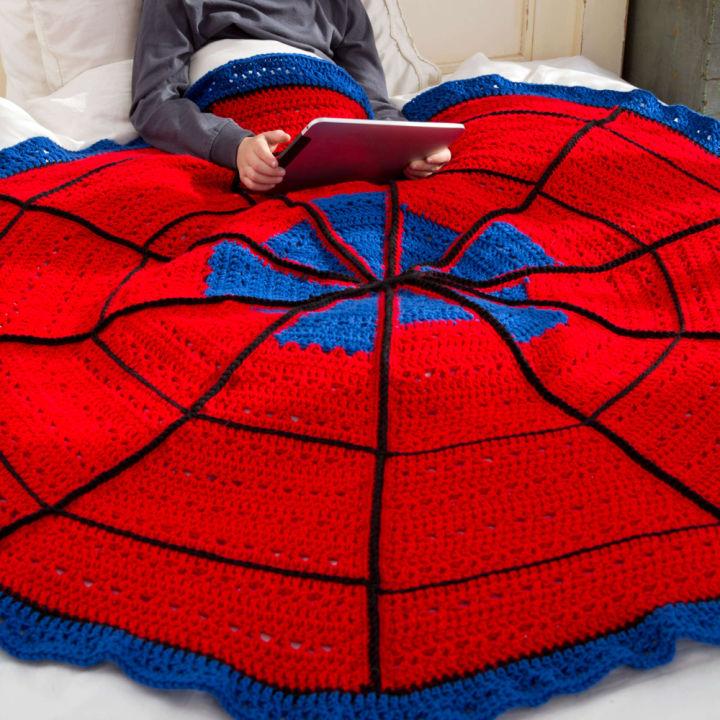 Kids will love this spider web throw! It's a unique graphic crochet design. This crochet throw can be customized in any bold colors your superhero desires. Crafted with easy-care yarn, it's perfect for wild adventures and making memories with your kids. This stylish crochet web throw adds some superhero flair to your child's room. Kids won't forget the fun they'll have snuggling up in it! yarnspirations
19. Free Crochet Spider Pattern for Beginners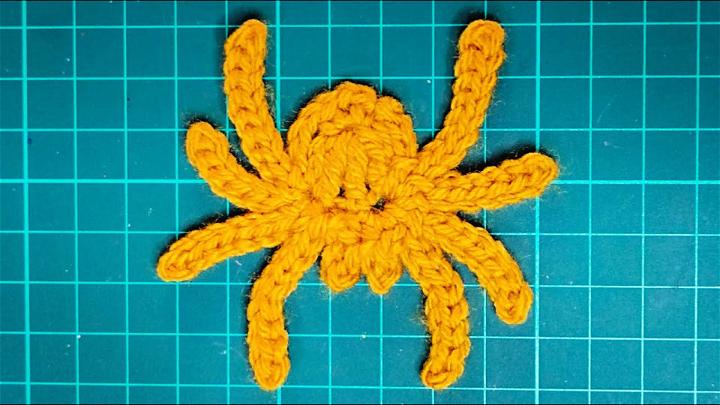 Learn to crochet a spider with this free pattern! Using basic crochet stitches, you can easily make an adorable spider. This detailed pattern includes instructions to help you make the perfect spider. Get creative by adding color or embellishments for an even more unique look to this spider. Creating projects like this is easier than ever with these crochet-free patterns! Start crocheting now and show off your handmade creation in no time.
20. Crocheted Spider Applique Pattern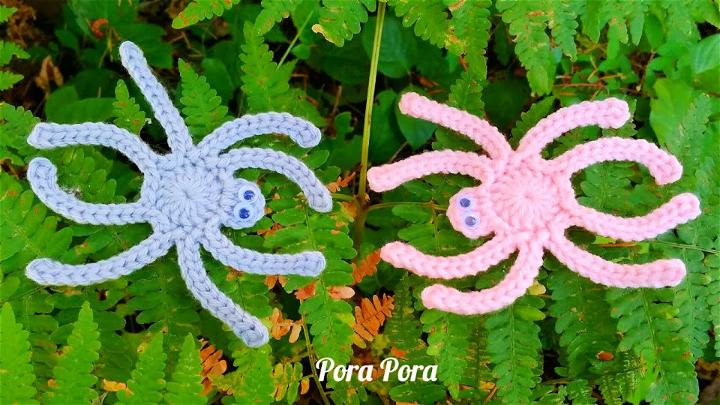 Make your crochet spider applique with this easy-to-follow pattern! It is perfect for beginners, no sewing is required to make this spider pattern. This tutorial will guide you in creating a cute animal applique suitable for a crochet baby blanket. Crochet this spider just in time for Halloween and create the perfect decorations for your house. You can make this unique craft with only basic supplies and minimal effort. Start crocheting today, and have fun!
21. Crochet Baby Spider Amigurumi Pattern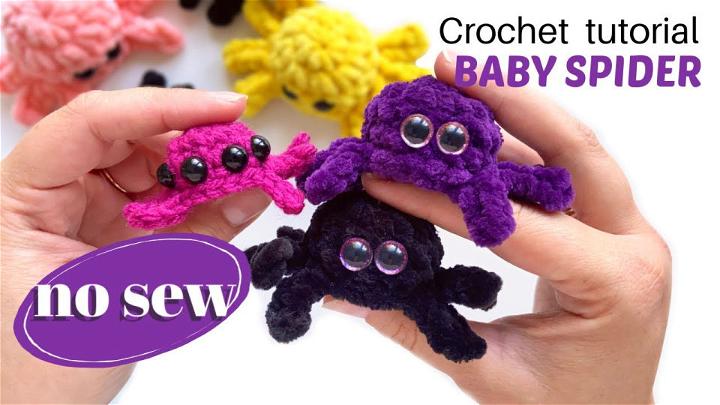 Learn how to create an adorable baby spider amigurumi for Halloween with this beginner-friendly tutorial! This right-handed guide is perfect for those just starting in crochet. Follow the step-by-step instructions, and you can craft your cuddly spider creations! With the help of this simple guide, you can easily turn yarns into something fun and unique. It is a great way to bring out your creative side. So, what are you waiting for? Start crocheting now and make something special that everyone in your family will love!
22. Crocheting a Giant Furry Amigurumi Spider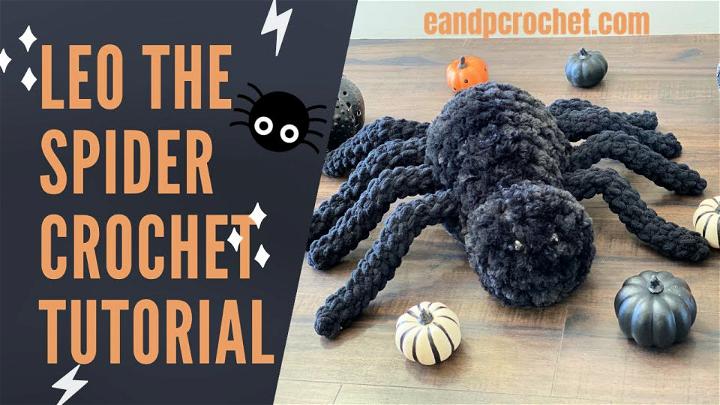 Are you looking for a fun, beginner-friendly crochet project? Look no further than Leo the spider! This giant furry amigurumi spider will surely be the cutest addition to your collection. Crochet it in a few hours using fur and blanket yarn – no sewing required! For full instructions, download this free written crochet pattern. Get creative with colors and make the perfect fluffy friend now!
23. Best Candy Spider Amigurumi Crochet Pattern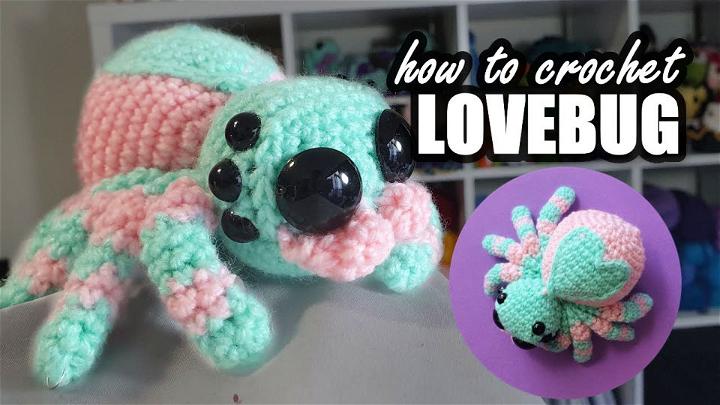 Bring a smile to someone special this valentine's day with a homemade candy spider/lovebug. This friendly little critter will become your loved one's favorite gift! Follow this easy-to-follow tutorial, and you'll have no trouble crocheting the perfect present for that unique person in your life. This eye-catching arachnid only requires basic materials at any craft store, so don't wait! Get started today and make your valentine's day truly memorable!
24. Easy Crochet Red Spider Tutorial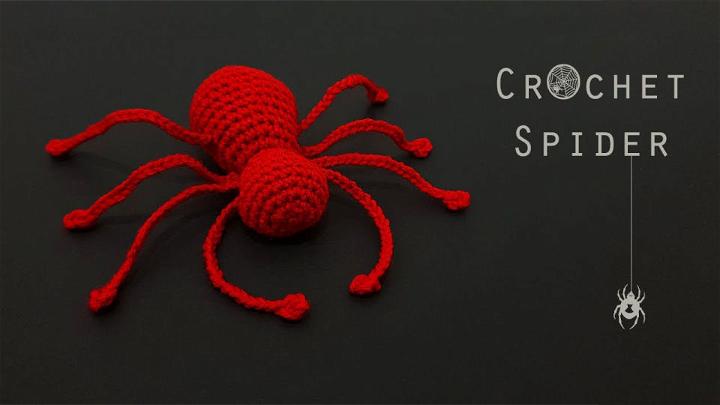 Are you ready to take on a fun project this Halloween? Check out this DIY tutorial – crochet spider, to learn how to craft your own 3d spider with basic crochet skills. With the right technique, you'll create an adorable little creepy. You can match it with a spiderweb dreamcatcher for a complete holiday look. So, get started and make sure your Halloween is spooky and fun!
25. Quick and Easy Crochet Spider Stitch Dish Towel Pattern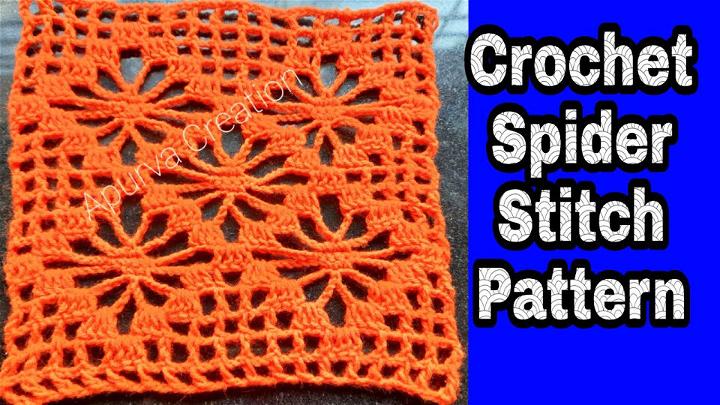 Learn how to crochet a beautiful spider stitch with this easy-to-follow guide! Perfect for craft projects, accessories, and more. This tutorial will provide step-by-step instructions on creating the classic spider stitch pattern with yarn and a crochet hook. You'll learn all the tips and tricks to make flawless pieces every time. Plus, you can find helpful video tutorials that will teach you exactly how to execute each process step. Create intricate designs in no time by mastering the art of crocheting the spider stitch today!
Related Free Crochet Patterns:
Bring your favorite characters to life with our wide selection of free amigurumi crochet patterns! From animals, to superheroes and beyond – add a touch of fun and creativity to any project.
Conclusion: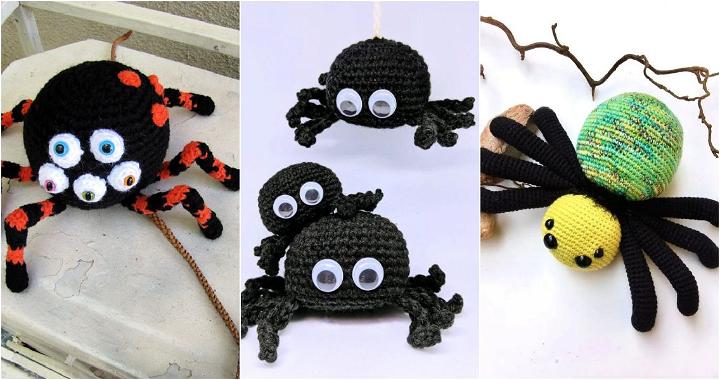 Overall, the 25 free crochet spider patterns are a great resource for anyone looking to learn how to crochet spiders. Whether you are a skilled crocheter or a beginner, there is crochet spider pattern above for everyone, from detailed instructions and videos on intricate stitches to simple step-by-step tutorials. From giant spiders, cuddly tarantulas and tiny spiders with complete details, these free crochet spider patterns provide all the tools needed to start your own unique project. The PDF guides also guide you so that even new crocheters can easily learn more about the craft. With this collection of amazing crochet spider patterns at your fingertips, you can now bring your crochet creations to life in no time!