Explore the world of crochet snails with our 25 free crochet snail patterns, perfect for amigurumi enthusiasts and nature lovers alike. These patterns cater to various skill levels, from beginner to advanced, and include step-by-step instructions, detailed PDF tutorials, and instructional videos. This crochet snail pattern guide will make it easy for you to create adorable crocheted snails confidently.
The free crochet snail patterns collection covers various styles and sizes, from large crochet snail patterns to mini snail designs. You can even find flat crochet snail patterns and crochet snail granny square projects, offering unique and creative twists on traditional amigurumi designs.
Each crochet snail pattern features complete details, enabling you to create a charming snail plush easily. Choose from an assortment of snail shell patterns, or experiment with different colors and textures to create your own personalized crochet snail.

Whether you're new to crocheting or an experienced crafter, these free crochet snail patterns provide a fun and engaging way to enhance your crochet skills while creating delightful snail figurines or accessories. Select your favorite crochet snail pattern, gather your crochet hook and yarn, and embark on your snail-inspired crochet adventure today!
1. Free Crochet Ice Cream Snail Amigurumi Pattern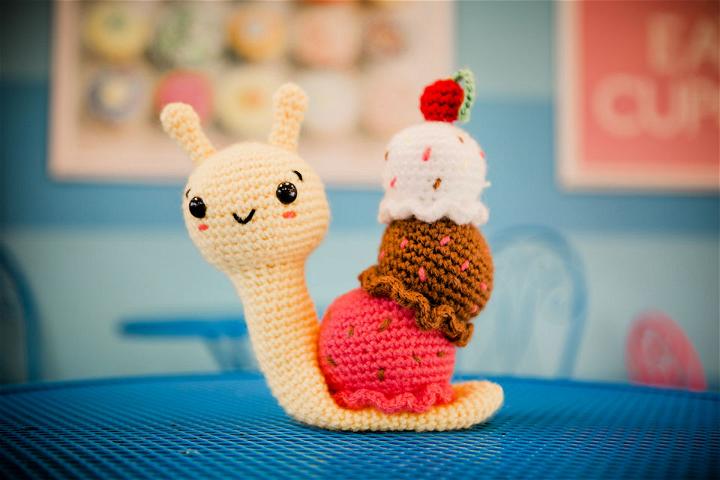 This adorable amigurumi ice cream snail is a fun and unique project for any crocheter! It's easy to make with worsted weight yarn, 12mm safety eyes, fiberfill and a 4mm hook. Everything can be made in continuous rounds, so it's perfect for beginner-level crafters. The finished piece will look great as part of your home decor or as a charming gift to friends and family. Get creative and customize the colors to suit your style! Make this lovely amigurumi ice cream snail today with these supplies, and show off your crochet skills! furlscrochet
2. Crochet Snail Amigurumi – Free PDF Pattern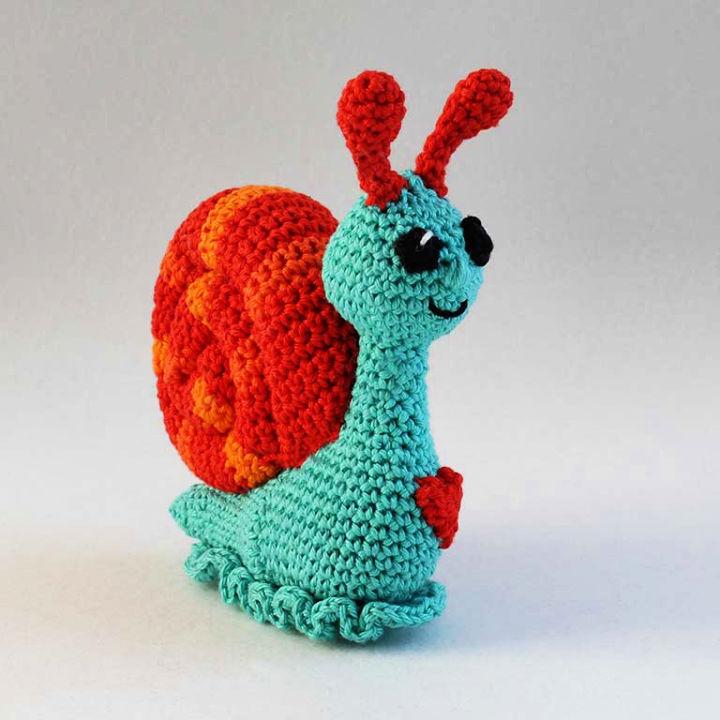 Cuddle with this cute and cuddly little snail amigurumi! This free crochet pattern uses a 4ply 100% cotton yarn 3 mm hook and is created in the amigurumi style. With 24 sts x 27 rows = 10cm measured over dc and a finished size of approx 14 cm (5.5 in) tall, you can make your snuggly companion to cuddle up with. Perfect for all levels of crocheters- get your project started today! mycrochetchums
3. How to Crochet Snail – Free Pattern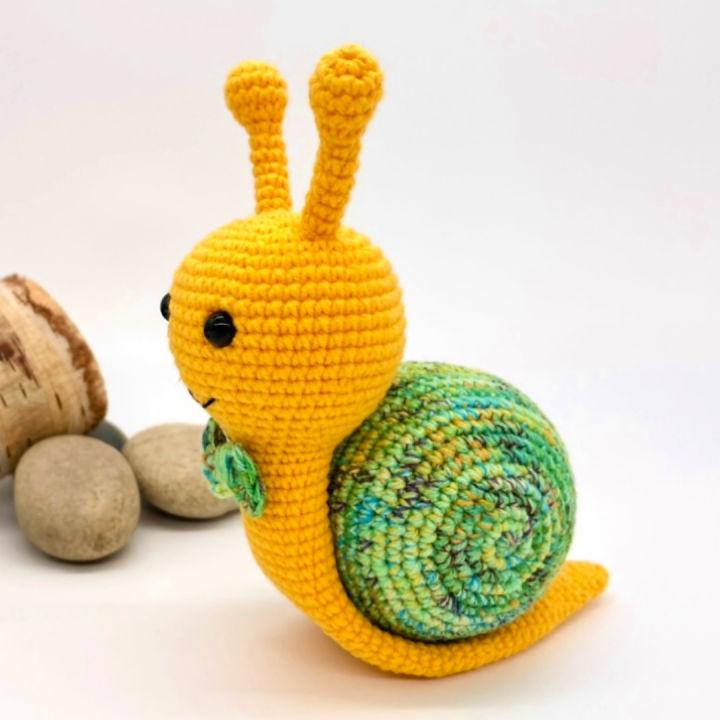 This free crochet snail pattern is the perfect project for any beginner! This powerful amigurumi design boasts a cute and cuddly snail, measuring 13 cm in length and 16 cm in height. With basic crochet skills and knowledge, you can create this delightful work using fine sport #2 (4-ply yarn) and a 2.5mm = b/1 crochet hook to secure the stitch. Get creative and enjoy crafting your very own pet-like creature today! cuddlystitchescraft
4. Easy Crochet Boba Snail Pattern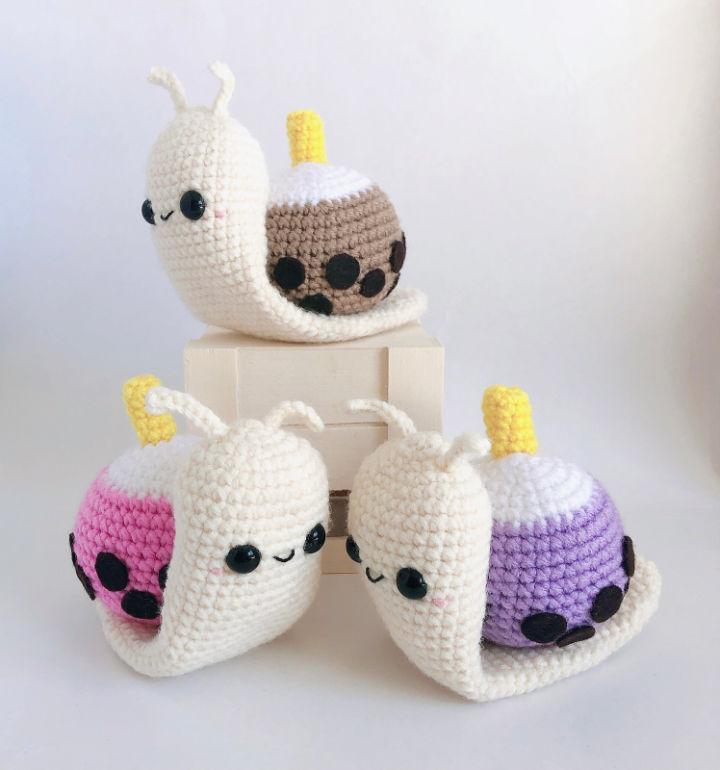 The cuddliest boba snail you'll ever meet, this amigurumi crochet pattern will surely bring a smile to any critter-loving heart! Crafted with worsted weight yarn and a 3.5 mm (e) hook, you can create a unique and cuddly softie. With the help of this detailed tutorial, you'll learn how to craft an heirloom-quality piece that your family will treasure for years to come. From its unique body shape to its cute antennae, this boba snail amigurumi pattern guarantees hours of fun crafting time and a finished product that will warm hearts! ravelry
5. Best Spring Snail Crochet Pattern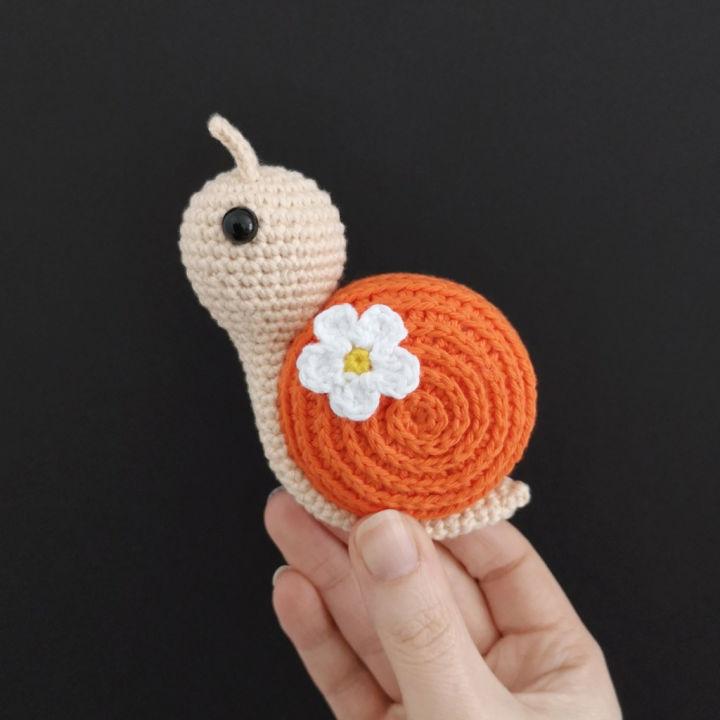 Treat yourself to a delightful spring snail with this easy-to-follow crochet amigurumi pattern! Crocheted using dk weight yarn in beige, yellow and your choice of color for the shell and flower, this design is perfect for adding a charm or as a cute gift. With help from a 2.5mm crochet hook, 8mm safety eyes, polyester fiberfill and detailed instructions, you'll have an adorable 3″ (8cm) x 4″ (10cm) snail in no time at all. A fun project suitable for beginners! stitchbyfay
6. Cute Crochet Party Snail Amigurumi Pattern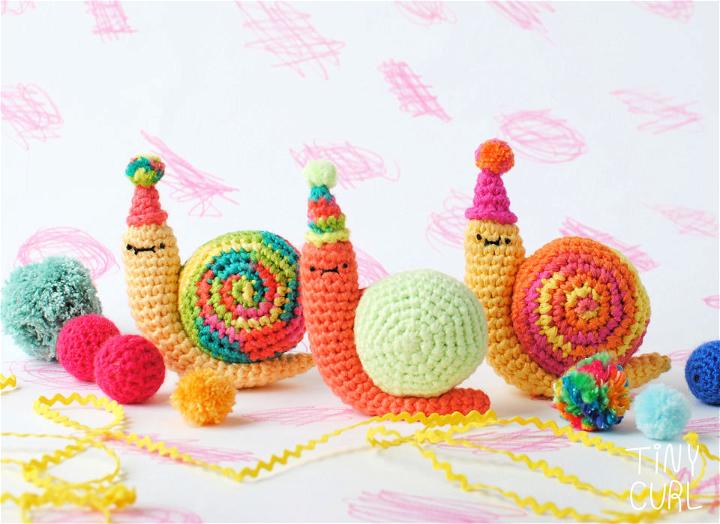 Let the festivities begin with these delightful party snails amigurumi! Using medium weight yarn, a 2.75 mm crochet hook, stuffing and black cotton embroidery thread for facial details, you can make this free crochet snail amigurumi pattern that measures 4.5 inches tall (from yarn pom pom to bottom of snail) and 4 inches across. Perfect as an addition to any room or office décor – they're sure to bring smiles wherever they go! Get creative and use different yarn colors to create unique looks – your party snails will be ready just in time for a celebratory gathering! tinycurl
7. Crochet Fergus the Snail – Free Pattern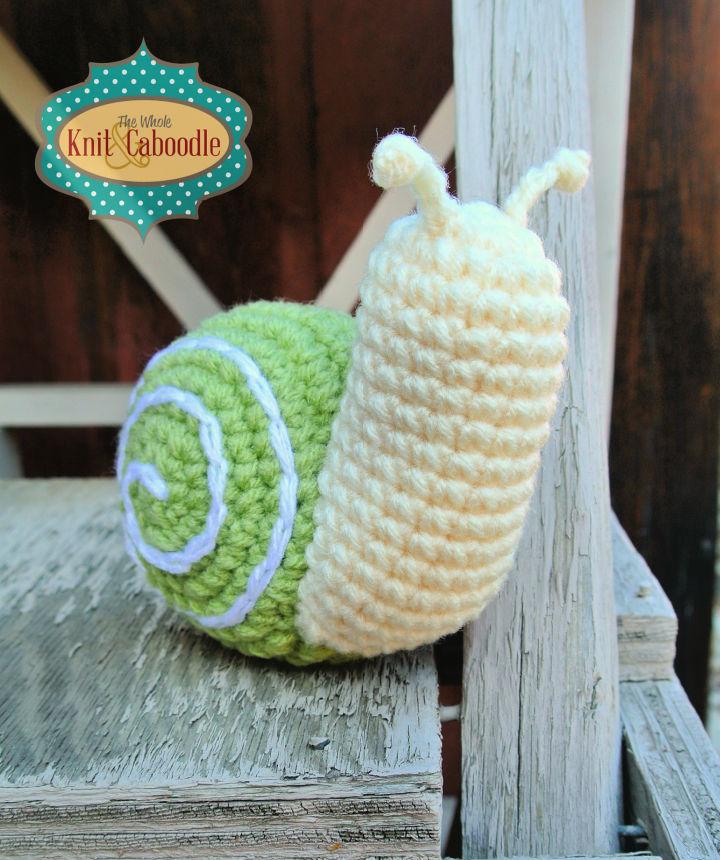 This free crochet pattern makes this cute and cuddly fergus the snail amigurumi! This sweet little snail is crocheted in worsted weight yarn with a 4.0 mm (g) hook. Finished size measures approx 4″ tall and 4 ½″ long, perfect for snuggling up to or giving as a gift. Get creative and customize your fergus – choose different colors to make him unique! Download the free crochet pattern today to make your own lovable fergus the snail amigurumi! ravelry
8. Free Crochet Pattern for Snail Amigurumi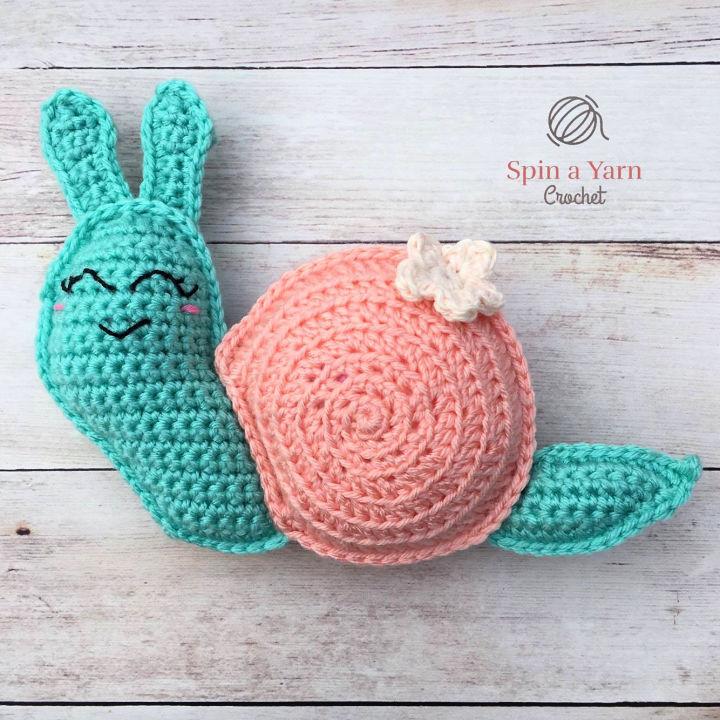 Create a unique and fun snail amigurumi with this free crochet pattern! This adorable snail is the perfect project for fans of ragdoll patterns. Separate pieces are worked in flat rows and joined to create a 2d look. When finished, it measures approximately 20cm/8″ wide and 15cm/6″ from top to bottom. Grab your favorite colors of yarn and crochet hooks to make one today! With this simple pattern, you can make an amazing snail amigurumi that will bring joy to all who see it. spinayarncrochet
9. Free Crochet Abigail the Snail Pattern

Crochet a unique and quirky toy with this free abigail the snail crochet amigurumi pattern! This intermediate level project requires light (3) yarn in pink, light and dark gray, red, and green; cotton thread in black and white; a 2.75 mm hook and poly filling. The finished huggable snail measures 4″ x 4.5″ – perfect for cuddling or decorating your home. A fun way to use up scrap bits of yarn lying around! Make one today with abigail the snail free crochet pattern! elisascrochet
10. Simple Crochet Snail Couple Pattern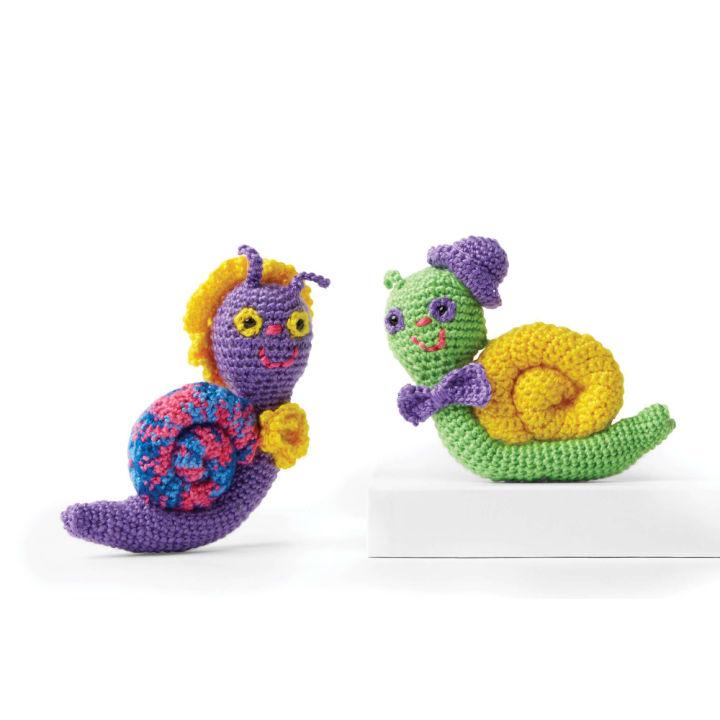 If you're looking for fun and colorful crochet snail patterns, look no further! Stitch the cutest snail amigurumi couple ever with this intermediate-level crochet pattern! This snail couple measures approx 6½" "16.5 cm" from the top of the head to the tip of the tail and requires a gauge of 24 sc and 28 rows = 4″ [10 cm]. Use red heart amigurumi prints yarn, size b/1 (2.25 mm) crochet hook, 4 black safety eyes ¼" [6 mm], fiberfil stuffing, and yarn needle to make them come alive! Crochet your snail couple for a unique gift or home décor item today. yarnspirations
11. How to Crochet Spiral Snail – Free Pattern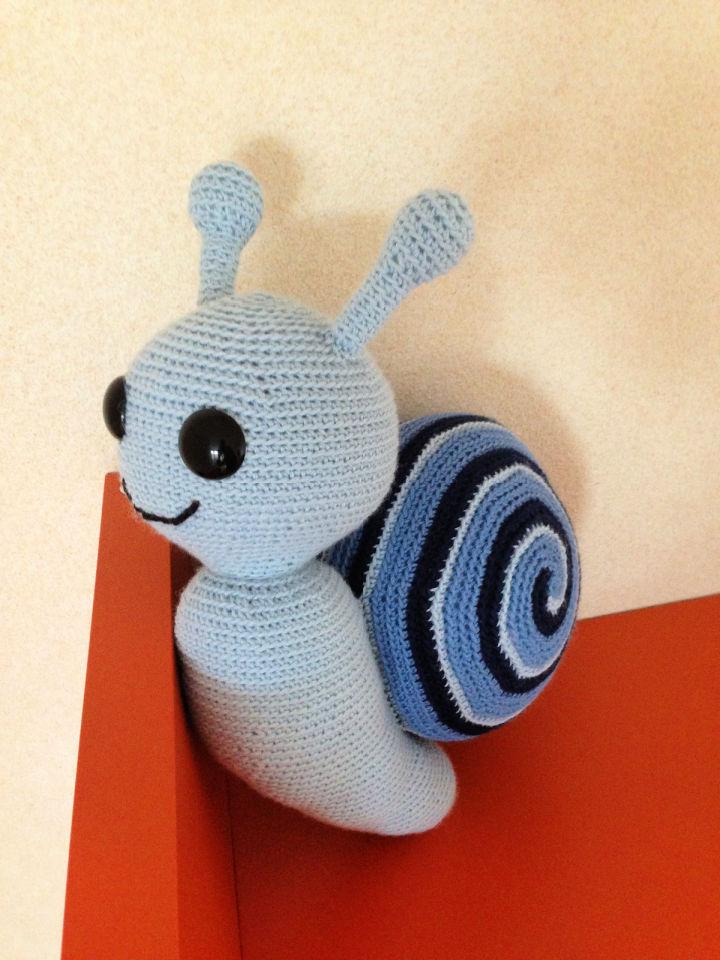 Unleash your inner crafter and explore the crochet world with the delightful schnecke amigurumi pattern! This cute spiral snail design is made with soft yarn weight in your colors. You can use this easy-to-follow pattern with only basic stitches to create the perfect gift or toy. You'll need a 2.75 mm (c) hook size, and the finished product will be 25 cm long. Whether playing pretends or decorating for any occasion, this handmade animal softie will bring smiles to all who see it! ravelry
12. Easiest Heart Snail Applique to Crochet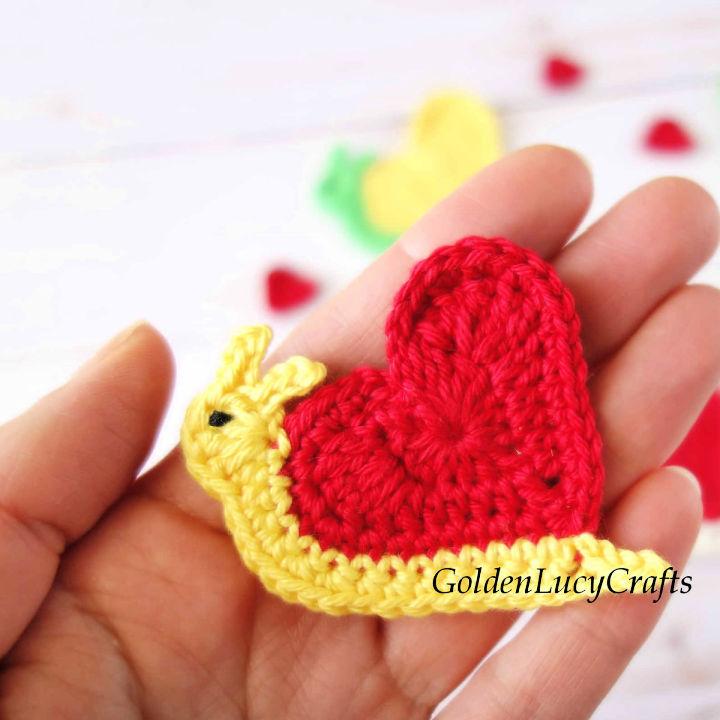 This pattern is perfect for adding a touch of valentine's day cuteness to any project! Make this cute crochet heart snail applique with a shell made from a heart that measures 2-¼″ (7 cm) long. Add the applique to cards, scrapbooks, or craft projects – let your imagination run wild! You can create something special in no time with just some basic supplies and easy crochet stitches! Get creative and make your project loveable with this adorable crochet heart snail applique. goldenlucycrafts
13. Cute and Easy Crochet Snail Amigurumi Pattern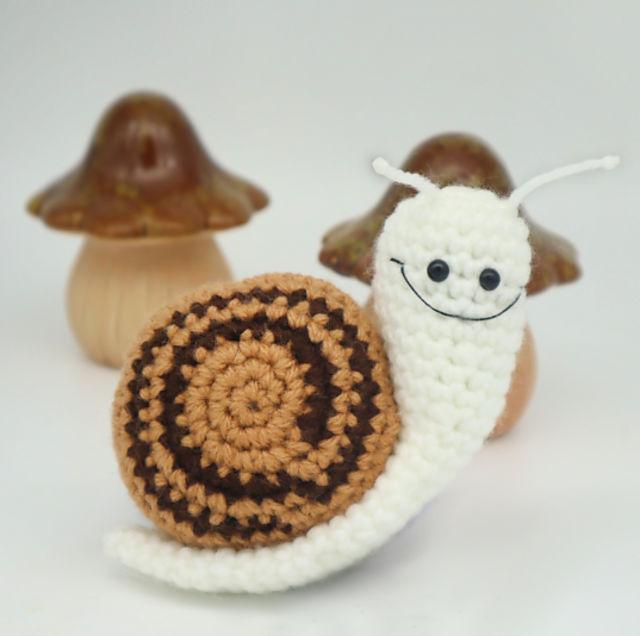 Whip up a charming yarn companion with this free crochet snail amigurumi pattern! This quick and easy project is perfect for making in spring or fall. All you need are white, dark brown and light brown yarn, a 4mm crochet hook, stuffing and 6mm safety eyes. With an easy difficulty level, anyone can make a cute snail with this pattern! Give your room a bit of extra love by adding this homemade creature to your décor. stringydingding
14. Free Crochet Cookie Snail Pattern

Bring a smile to your home with the cookie snail free crochet amigurumi pattern! This super cuddly mega-amigurumi is the perfect addition to any room. Customizing it with your favorite yarn and colors makes it even more special. Easily crochet this snail in chunky weight yarn using simple stitches. Its 16″ long x 11″ tall measurements make this amigurumi a great pillow or stuffie – you'll love snuggling up to its cuteness! Get creative and start crocheting today with the cookie snail pattern! cococrochetlee
15. Quick and Easy Crochet Snail Amigurumi Pattern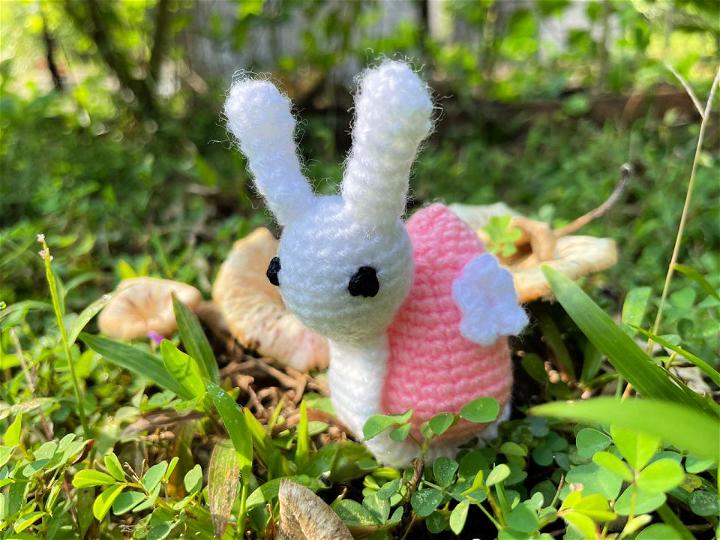 Everyone will fall in love with this cute snail amigurumi softie that is crocheted with a 2.0mm hook size using acrylic 3ply yarn for a soft and cuddly finish! The sizes available are just 3.5 inches, perfect for any small space or as part of a bigger collection. Half double crochet adds detail if desired, making these an ideal choice for making unique animal softies! Get creative and show off your skills by making something adorable that will last forever! ravelry
16. Crochet Snail or Slug Amigurumi Pattern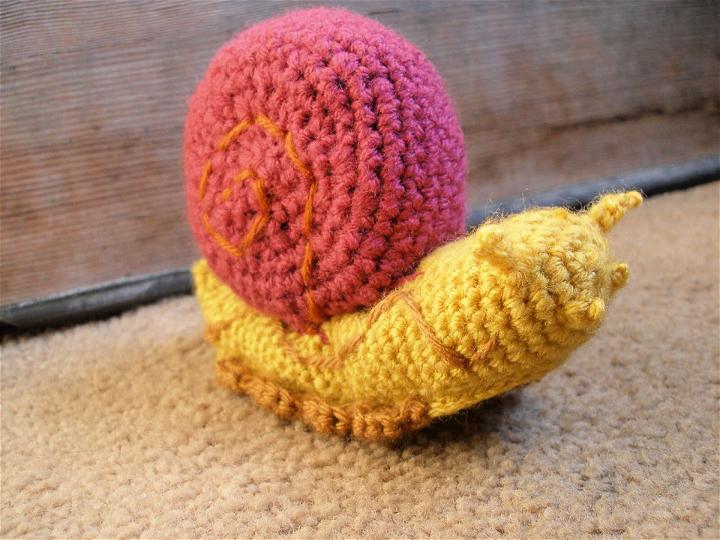 Your fingers will be busy with joy crafting this cuddly snail amigurumi! This cute and cuddly pattern features a shell and body completed in a spiral. Featuring an f/5/3.75mm hook, worsted weight yarn in four colors, fiberfill or other stuffing – you're sure to have everything you need to create your snail stuffed toy! The result will be the perfect companion for playtime adventures and bedtime snuggles – get your hands on this charming pattern today! craftybirdblue
17. Free Crochet Mini Snail Pattern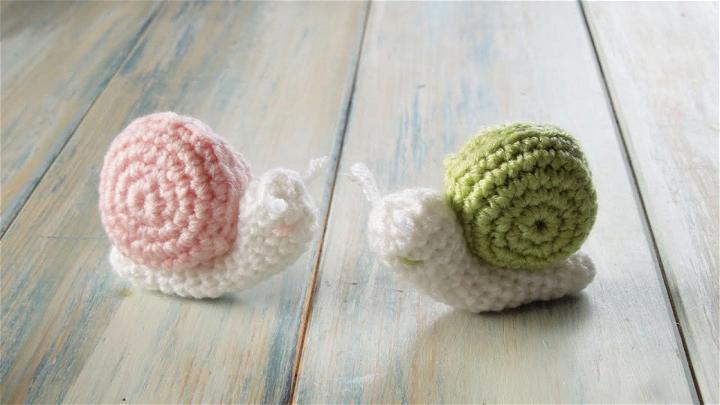 Learn how to crochet an adorable snail amigurumi with this easy diy video tutorial! All you need is a 3mm crochet hook, some happyberry baby snuggles dk yarn or any other dk/light worsted weight yarn in two colors, and toy stuffing or yarn scraps for stuffing. Follow along step-by-step, and soon you'll have your cuddly little pet to keep forever! Perfect for all levels of crocheters, from beginner to expert. Get ready for some serious crafting fun – let's start making snails now! youtube
18. Super Easy Crochet Snail Pattern for Beginners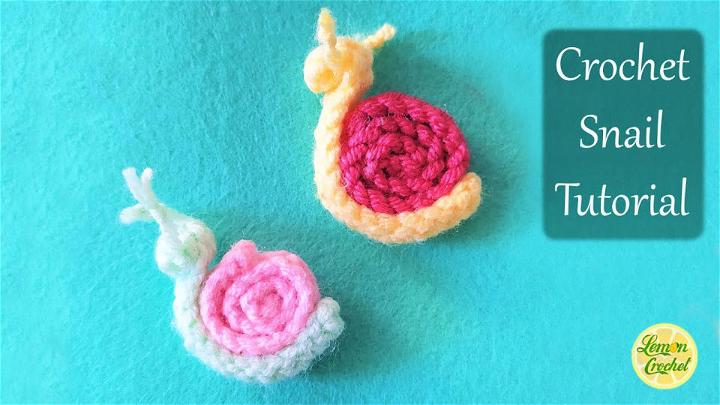 Start your journey into the crochet world with a simple project and discover a beautiful, new craft! This super easy crochet tutorial lets you craft your cute and cuddly crocheted snail. All you need is one 3 mm crochet hook and some basic materials, and you'll be on your way to making a unique handmade item in no time at all. Get step-by-step instructions, tips, and techniques that will help guide you as you go along. Create something special with the how to crochet snail video tutorial!
19. Crochet Snail Plush Amigurumi Pattern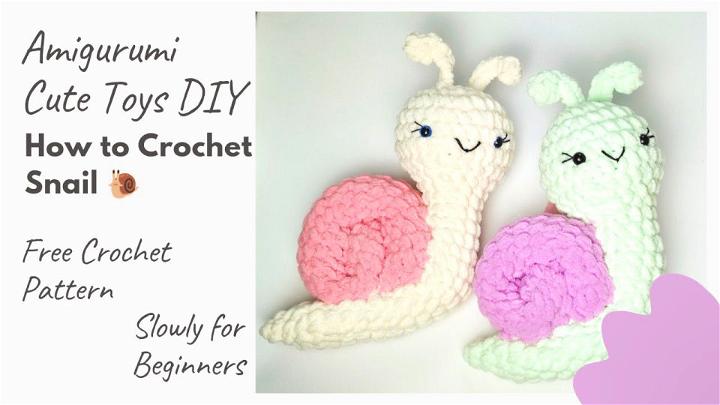 Unlock your creativity with our unique selection of Crochet Snail Patterns to inspire you! Looking for an adorable and easy-to-make craft for the little ones in your life? This free crochet snail plushie pattern is perfect for creating something special. Crafted with aldi baby plush yarn and a 6mm crochet hook, this project will have you crocheting up the cutest ever toys. Plus, there's even a video tutorial to guide you through each step! Whether it's a gift or something fun to brighten your day, embark on this heartwarming journey today.
20. How to Make a Small Snail – Free Crochet Pattern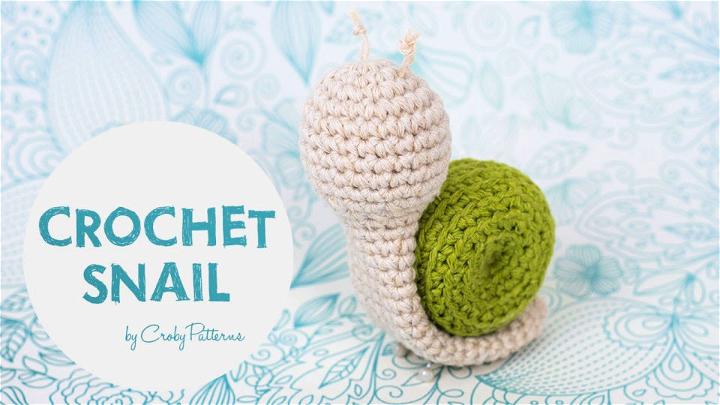 This easy and fun crochet tutorial is for anyone looking to make their amigurumi snail. Learn how to create the body, shell and tentacles of a 7.5 cm or 3 inches long snail in no time! Step-by-step instructions will guide you through the process, with detailed images showing each step. So even if you are new to crochet, this tutorial will have you creating your amigurumi snail in no time! Get ready to craft fun and impressive amigurumi that look great when completed!
21. How Do You Crochet Snail Amigurumi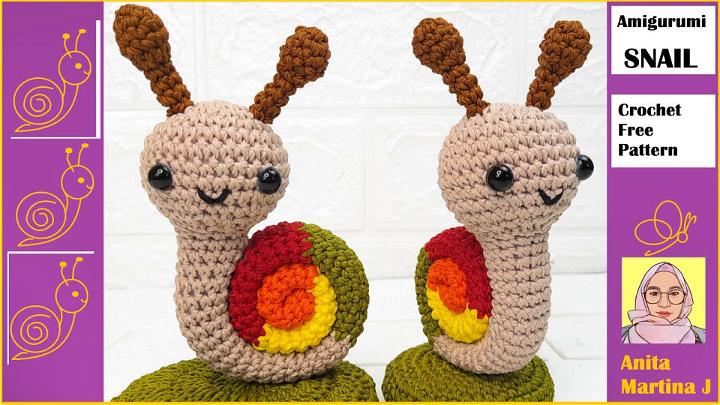 Ready to explore the world of amigurumi? Let's get started! Learn how to crochet a cute snail with this step-by-step snail's amigurumi pattern. All you need is some yarn, a few tools and some basic knowledge of crochet stitches. This beginner-friendly tutorial will guide you through making your very own amigurumi snail. Follow along as it demonstrates how to form the slip knots, create a spiral shell and attach the eyes, top appendage and antennas. Once you've crocheted your snail, it can be used as a sweet home decoration or soft toy! Get creative – make enough snails to fill up an entire garden today!
22. Cute Crochet Happy Snail Applique Pattern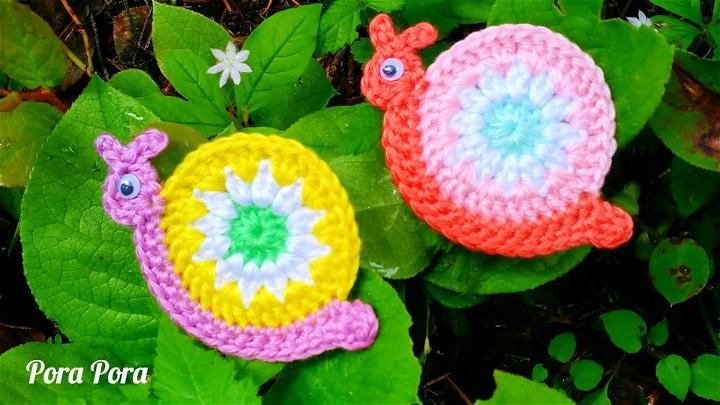 Discover the joy of crafting with our one-of-a-kind Crochet Snail Patterns! Crochet an adorable amigurumi snail with this fun and easy video tutorial! Customize it to be your special creation, and with this beginner-friendly pattern that uses scrap yarn, everyone can crochet a snuggly little friend in no time. Whether as a gift or decoration for yourself, this cute crochet project will bring a smile to any face. Get started today and explore the possibilities of crocheting amigurumi animals!
23. Easy Crochet Snail Toy – Step-by-Step Instructions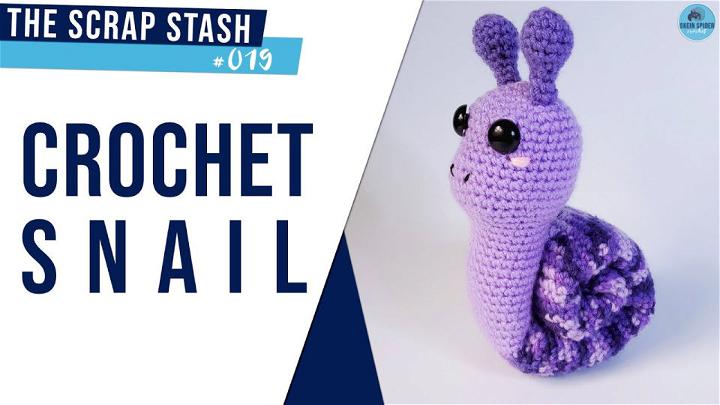 Get creative with your hook and crochet a cute and snuggly amigurumi snail with this easy-to-follow pattern and video tutorial! Perfect for beginners, this tutorial will teach you how to craft your customizable snail. The pattern uses scrap yarn and works quickly – you'll be cuddling your new amigurumi friend in no time! Get creative with colors and accessories to make the perfect companion for yourself or a loved one. Crochet an amigurumi snail today for endless fun and comfort!
24. Fastest Crochet Snail Applique Pattern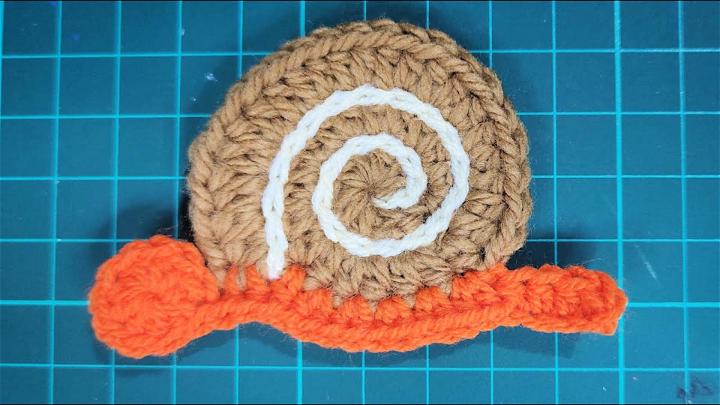 Exploring the possibilities of yarn and hook, let's get creative! This free crochet snail applique pattern adds vivid color, texture, and character to crochet projects. You can learn how to crochet this adorable little creature in no time with an easy-to-follow video tutorial. Whether it's an amigurumi project or an accessory for your favorite hat or scarf, this free snail applique pattern will make any project extra special. So grab some yarn and follow along with the video guide to learn how to create your beautiful snail applique!
25. New Crochet Snail Pattern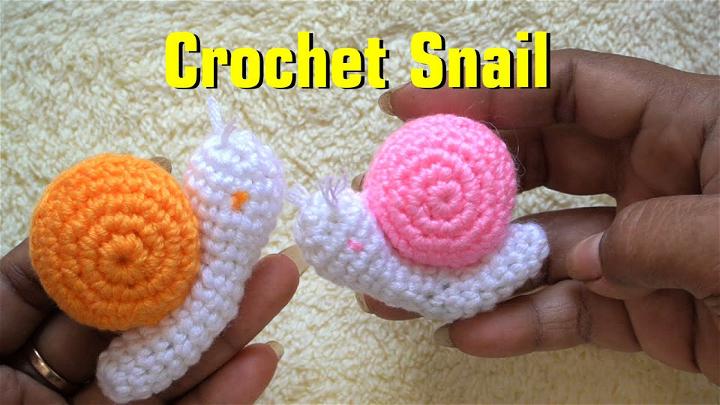 Learn how to make an adorable amigurumi snail with this easy crochet tutorial! Perfect for both beginners and experienced crocheters, this step-by-step guide shows you how to create the perfect snuggly yarn buddy. From choosing the right material to understanding stitches and making your custom shape, get everything you need about crocheting a snail. Plus, find the top tips on adding personality with color or decorations – it's time for some creative fun!
Related Free Crochet Patterns:
Bring your imagination to life with our incredible selection of free crochet amigurumi patterns! Create unique toys, animals, and stuffed friends in just a few hours.
Conclusion: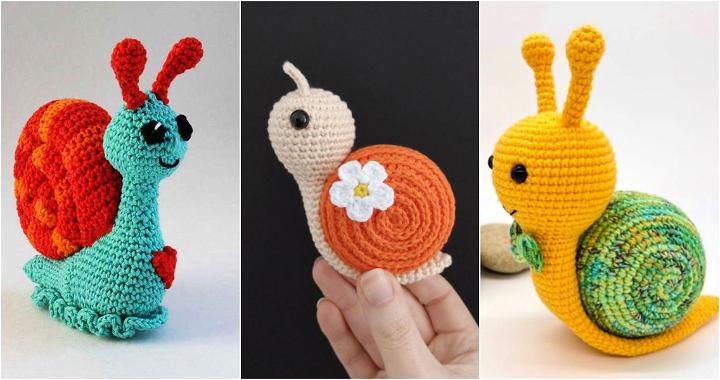 In conclusion, these 25 free crochet snail patterns offer an incredible opportunity to create adorable snail amigurumi, plush toys, and more. With options like large crochet snails, flat designs, giant snails, shell patterns, granny squares, and miniatures, you'll find the perfect crochet snail pattern to match your skill level and interests. Don't hesitate – start exploring the captivating realm of crochet snail patterns today and add a touch of whimsy to your handmade collection.