Embrace the whimsical charm of Totoro with 25 free crochet Totoro patterns, perfect for amigurumi enthusiasts! These delightful crochet Totoro patterns offer a range of Totoro-inspired designs, including crochet Totoro keychains, plush Totoro toys, and more. Ideal for both novice and proficient crocheters, each crochet Totoro pattern comes with detailed, step-by-step instructions to guide you through the process.
Amigurumi Totoro creations are adorable and make for heartwarming gifts and delightful home decorations. The free Totoro crochet patterns encompass various sizes, from mini Totoro keychains to big Totoro plush toys. With crochet Totoro pattern PDFs and helpful illustrations, you'll have all the guidance necessary to bring these endearing characters to life.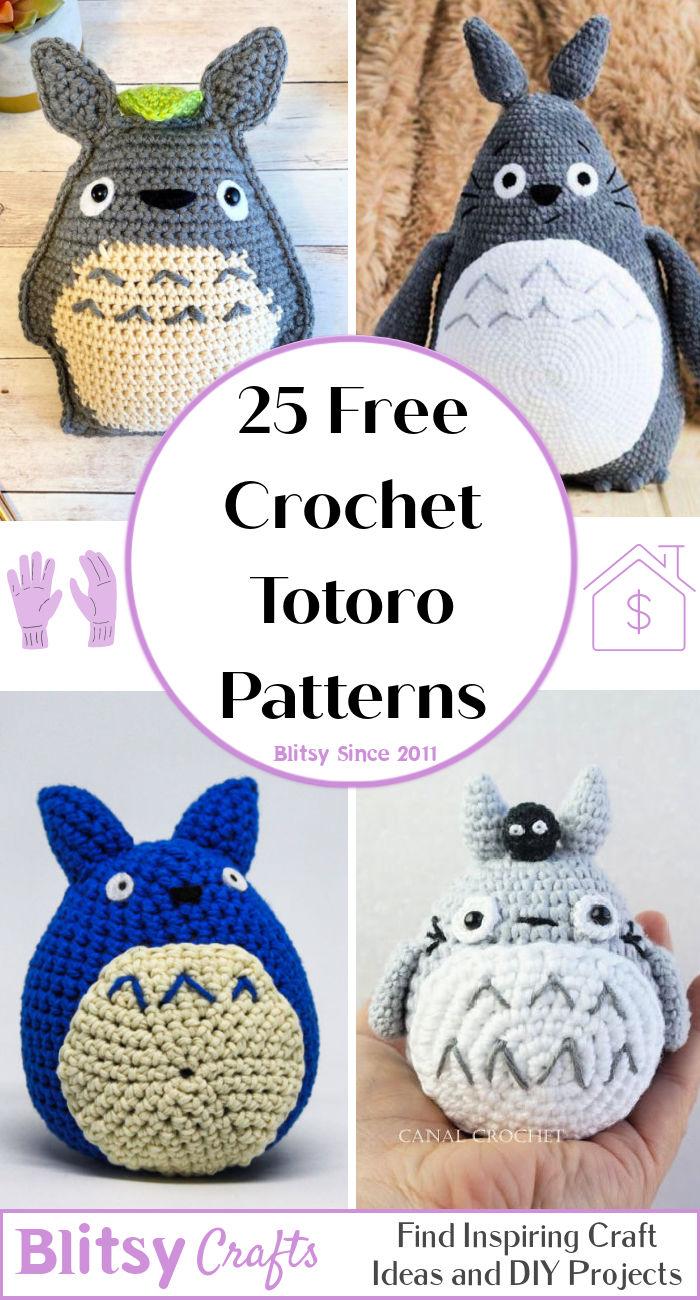 With the wide variety of crochet Totoro patterns available, you can customize your creations using different yarn colors, textures, and stitches. So, gather your crochet hooks, yarn, and the free crochet Totoro pattern of your choice to start crafting your own unique amigurumi Totoro masterpiece today!
1. Free Crochet Chubby Totoro Amigurumi Pattern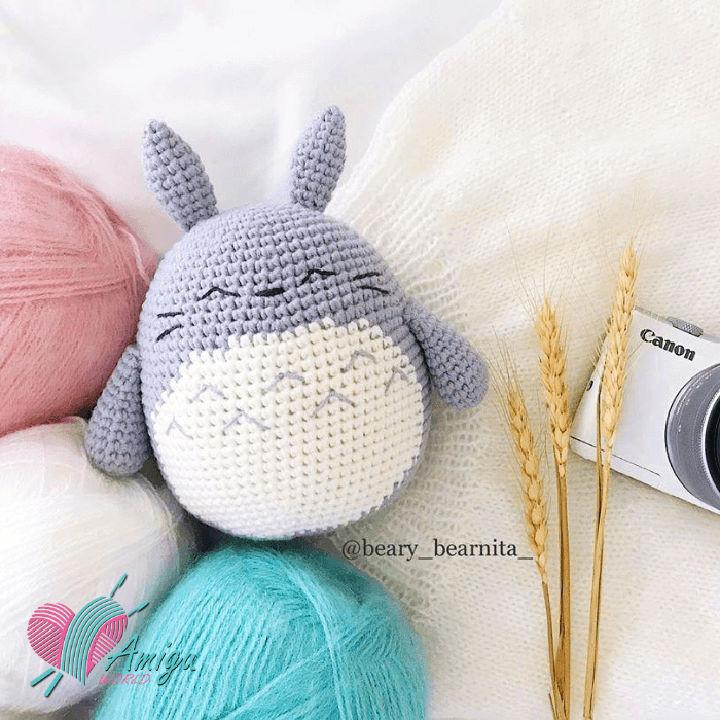 This free crochet pattern lets you make the cutest chubby Totoro amigurumi! This adorable toy is perfect as a gift or decoration and offers hours of fun. With detailed instructions and helpful photos, this pattern makes it easy to follow. It's great for both beginners and experienced crocheters alike. Get creative with your fabric, colors, and adornments – there are many possibilities! Download this free crochet chubby Totoro amigurumi pattern today to create something unique that will be cherished for years. amiguworld
2. Crochet Totoro and Friends Amigurumi Pattern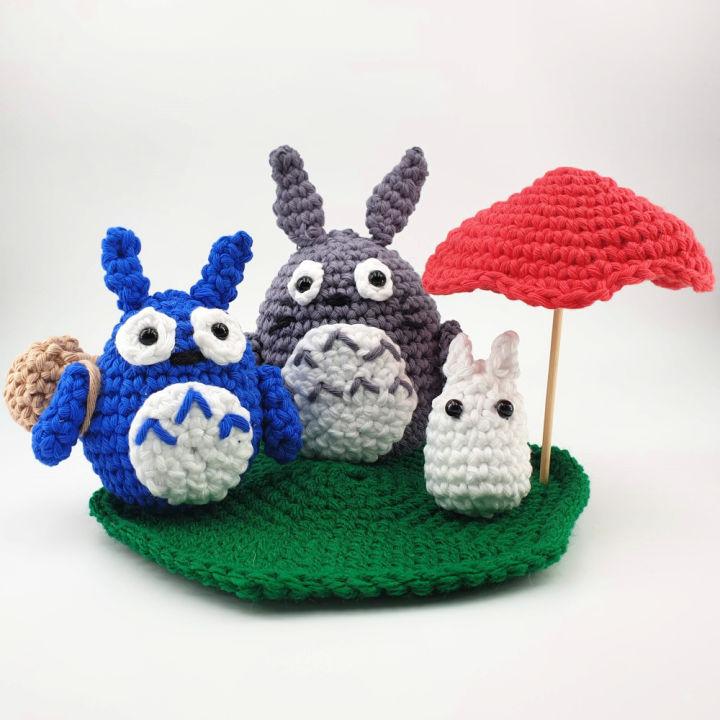 Unveil the magic of my neighbor totoro to life with this free crochet Totoro pattern! You can create your version of Totoro and his friends using Aran yarn in various colors, a 3.5mm crochet hook, 6mm safety eyes x 2 and 4mm safety eyes x4, and stitch markers and pins for details. A yarn needle, stuffing, and cocktail stick (optional) are also required for making the umbrella handle. Follow the instructions to create a one-of-a-kind handmade gift that will bring joy every time it's seen! ninjacatcrafts
3. Best Totoro Amigurumi Crochet Pattern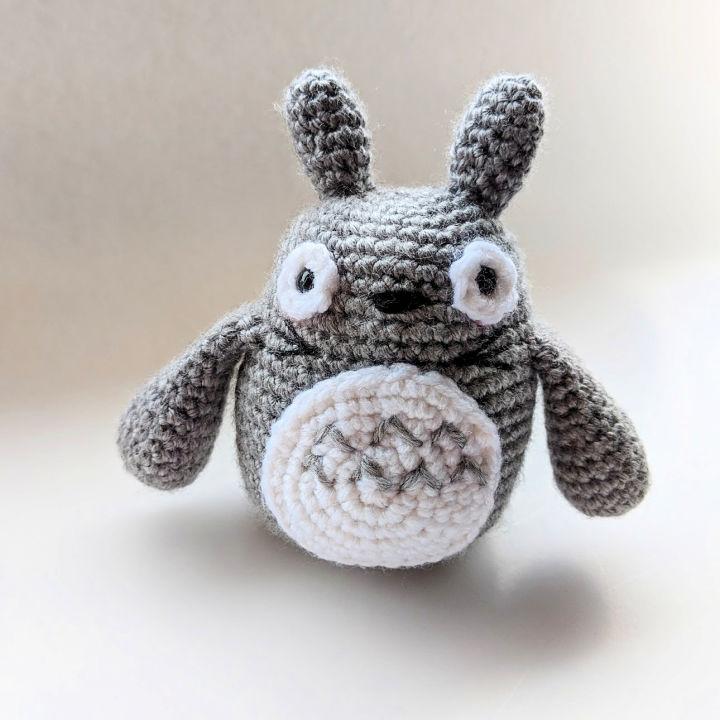 Crochet your own adorable Totoro with the best amigurumi pattern! This easy-to-follow pattern is perfect for beginners and experienced crocheters alike. All you need is a size G or 4mm crochet hook, worsted weight grey and white yarn, black embroidery floss, tapestry needle, polyester fiberfill, and 8 mm safety eyes. Step-by-step instructions will guide you through creating the ears, eyes, and body – insert the safety eyes before tightening the loop. Take your Totoro to life with this fun pattern! creeksidehaven
4. Cute Crochet Huggable Totoro Pattern

Bring the magic of this free crochet Totoro pattern to life with this amazingly cute and huggable final result! Kids will love playing with their very own cuddly Totoro. This fun craft project is perfect for beginners, as it only requires basic supplies and simple stitching techniques. Plus, with detailed instructions in the pattern, making your own Totoro has never been easier.
Create a unique gift for someone special, or keep one for yourself – either way, you'll have an adorable handcrafted creation that adds warmth and charm to any room. Make your kids' dreams come true by crafting their huggable Totoro today! hooksandhabits
5. Crochet Mini Totoro Keychain Pattern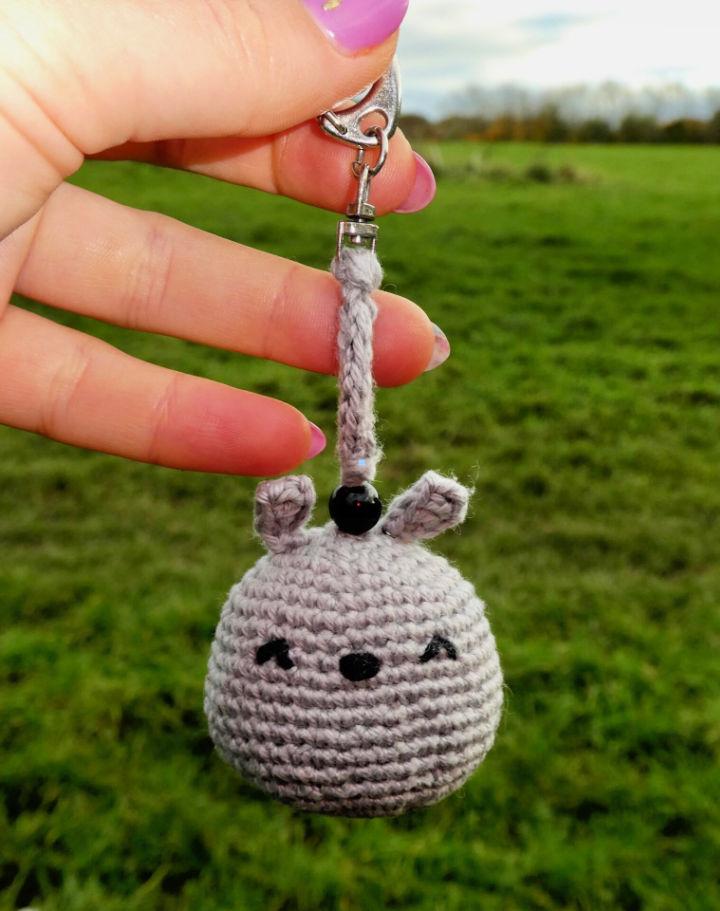 Ace at crocheting this cute and cuddly Totoro friend with this easy crochet mini Totoro keychain pattern. This pattern is made using simple embroidery yarn and a classic shape that you can complete in no time! Make one for yourself or give it to the darling in your life; it's sure to bring a smile. With step-by-step instructions and illustrations, this fun keychain will be ready before you know it!sistertwist
6. Crochet Middle-Sized Chuu Totoro Pattern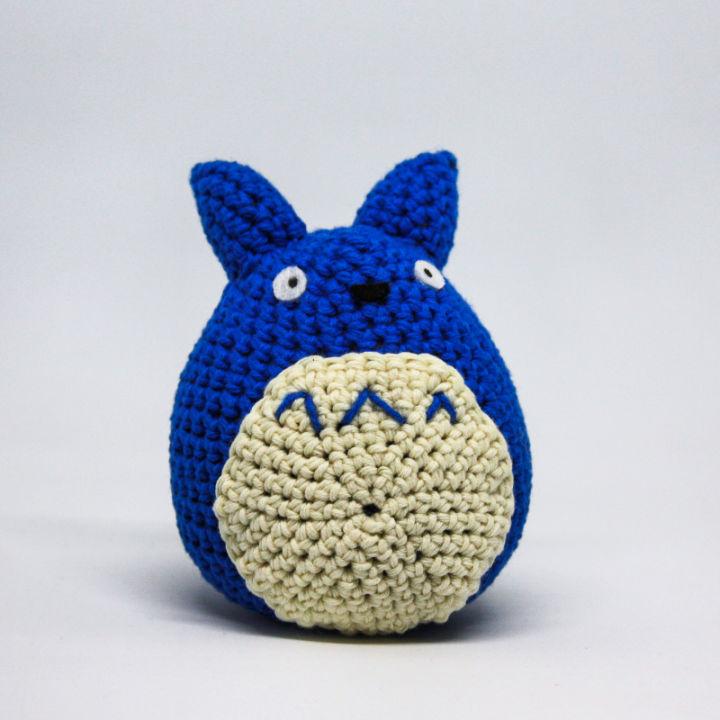 Create your own Chuu Totoro with this easy-to-follow crochet Totoro design! This middle-sized Chuu Totoro is perfect for beginners and experienced crocheters alike. Stuff the body, sew up the hole, add two stuffed ears and a tail to complete the look – then embroider on the blue pattern to finish off your enchanting creature. Grab your needles now and create your magical companion in no time! amigurumino
7. Free Crochet Totoro Amigurumi Pattern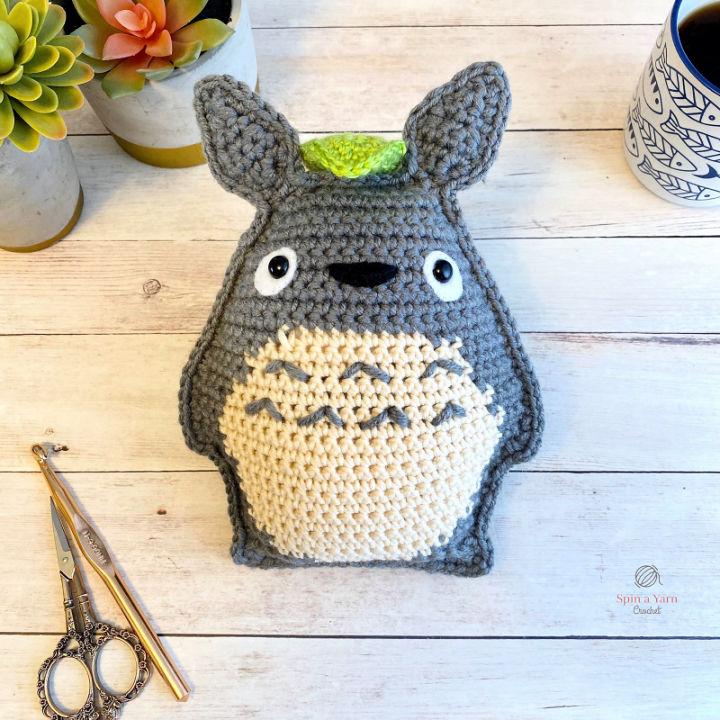 Unlock your inner artist and bring to life a cuddly Totoro with this easy crochet amigurumi pattern! This 2-D design uses the tapestry crochet technique and has just two pieces (not including the leaf and felt for the eyes). The finished measurements are approximately 23 cm/9″ from top to bottom. Ready to bring a smile to someone's face? Get started on this fun project today! spinayarncrochet
8. Simple Crochet Totoro Amigurumi Set Pattern

Looking for an easy yet cute crafting project? Look no further than this simple crochet Totoro amigurumi pattern with a step-by-step guide! It's perfect both for beginners and more experienced makers, as the pattern is incredibly detailed and simple to follow. Involve your kids in this fun crafting process – they will love their handmade little plushy! Get all materials you need, get creative with colors and patterns – have a great time making beautiful items together. amiamour
9. How to Crochet Totoro – Free Pattern

Make your own Totoro with this free crochet pattern! This amazing yet inexpensive idea includes a detailed guide to crocheting the beloved character from Studio Ghibli. Follow these easy instructions and use the standard equivalents to make your Totoro 13 cm tall. Take advantage of bringing this mythical creature into real life! Create yours today for hours of crafting joy. ravelry
10. Crochet Giant Totoro Plush – Free Pattern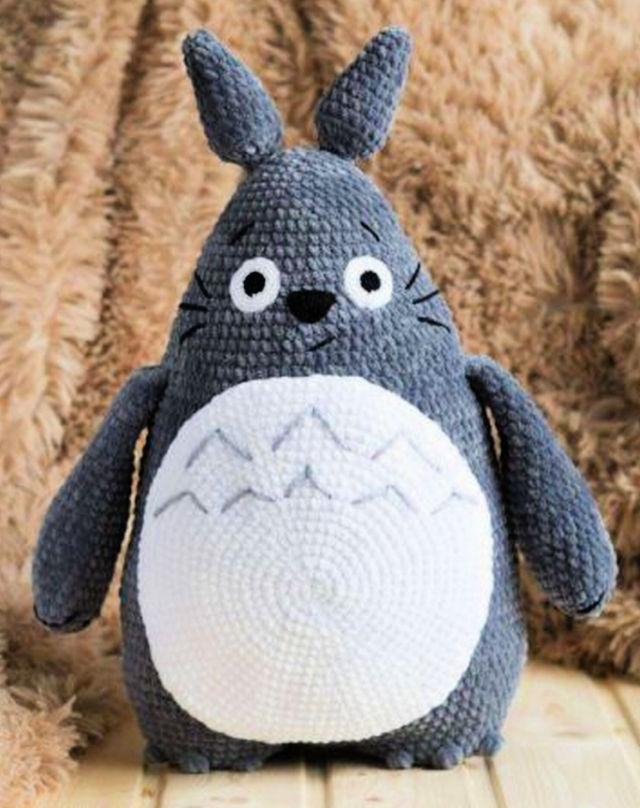 Bring a smile to the special people in your life with this crochet giant Totoro plush! This free pattern will give you all the instructions to make this cute and amazing yet simple idea. Perfect for gifting your loved ones, this chubby and huggable plush will surely be an instant hit! With easy-to-follow steps and diagrams, start crafting today and create something extra special that everyone can enjoy. Make it yours by adding ribbons or customize it with unique colors – whatever suits your style! amigurumitoys
11. Crochet Totoro Amigurumi – Free PDF Pattern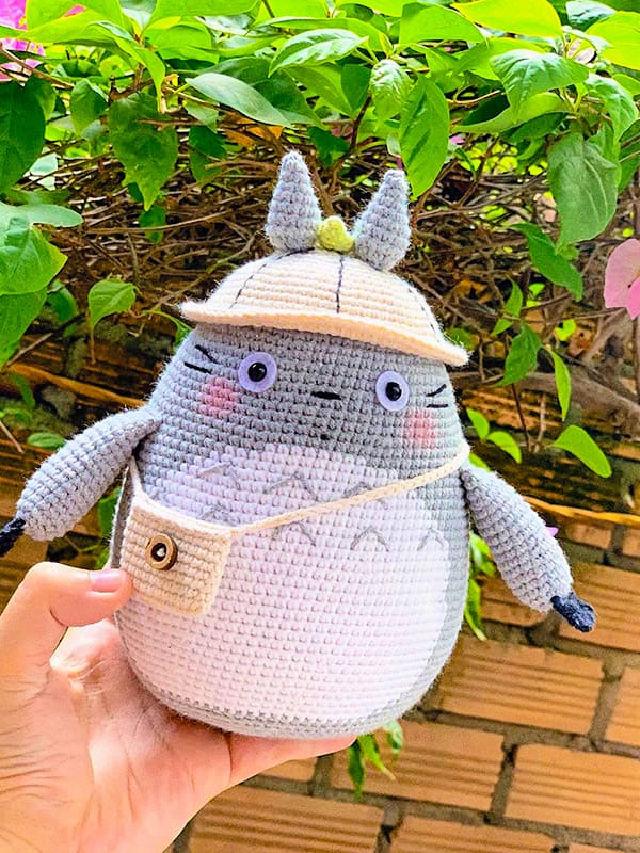 This free crochet Totoro pattern brings a unique and fun atmosphere to your home. This cute soft toy is easy to knit using gray and white colors with detailed black lines for its face. Perfect as a housewarming gift or cozy pillow, create the perfect home décor by getting your pattern now! The necessary materials include sport or DK lightweight yarn, a crochet hook (2 mm- 2.5 mm), black embroidery thread, fiberfill, yarn needles and stitch markers. Get started on your own Totoro today! lovelycraft
12. Cool Crochet Totoro Plush Pattern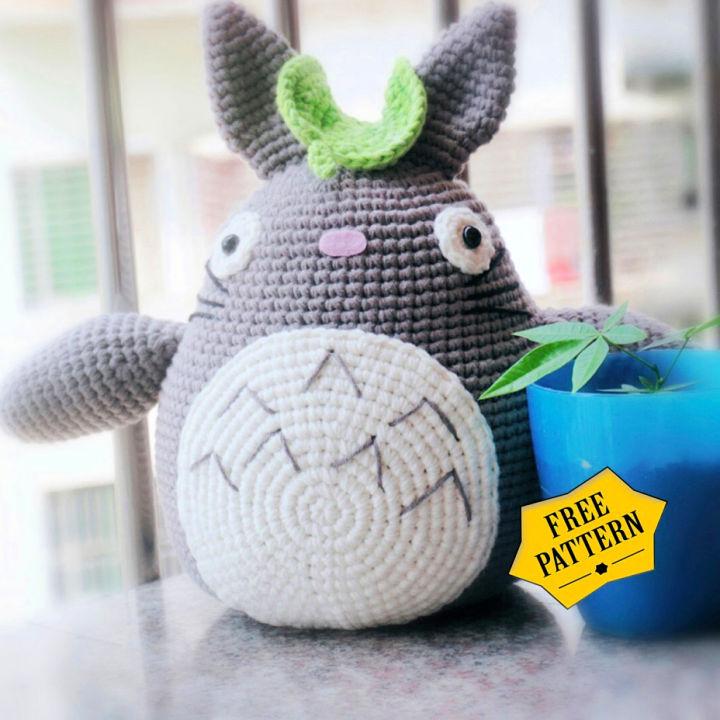 Create a cuddly Totoro plush toy with this easy-to-follow crochet pattern! All you need are Aran yarns in grey, blue, white, and red, a 3.5mm crochet hook, 6mm safety eyes x 2, 4mm safety eyes x 4, stitch markers and pins, yarn needle, stuffing and cocktail stick (optional). Make your own adorable Totoro to keep or give away today – it's perfect for anyone who loves Ghibli films or cute toys! amigurumiall
13. Crochet Totoro Anime Amigurumi Pattern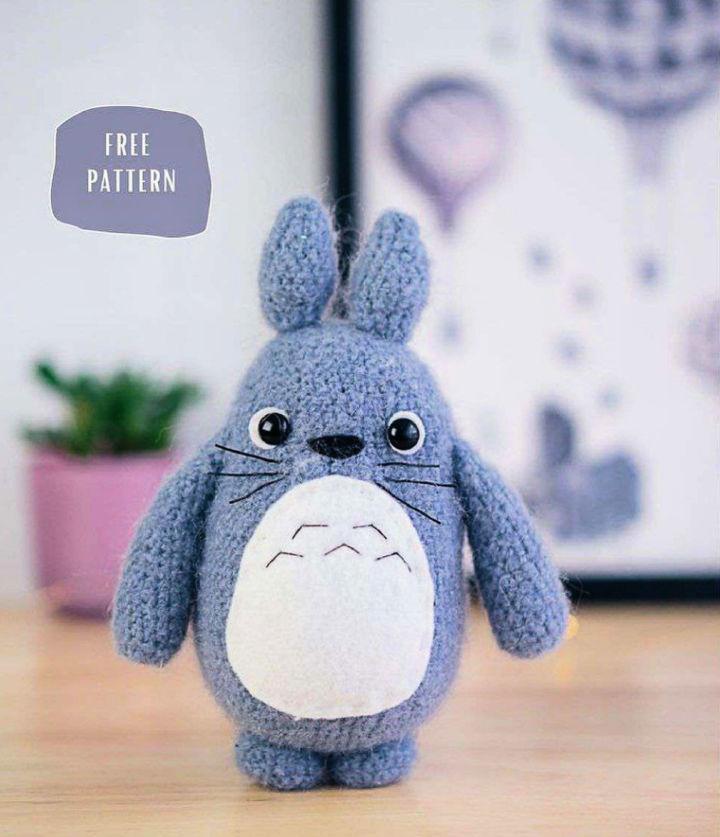 Discover the perfect craft project for anime lovers with this crochet Totoro anime amigurumi project! This amazing yet inexpensive idea is sure to delight kids and adults alike. Get step-by-step guidance to create your animated version of the lovable forest guardian from the beloved movie my neighbor Totoro. Enjoy making a unique toy your children will love playing with, or give it a special gift! Download the pattern now and get creative – start crafting your own free crochet Totoro pattern today. amigurumi toys
14. Easy Crochet Totoro Amigurumi Tutorial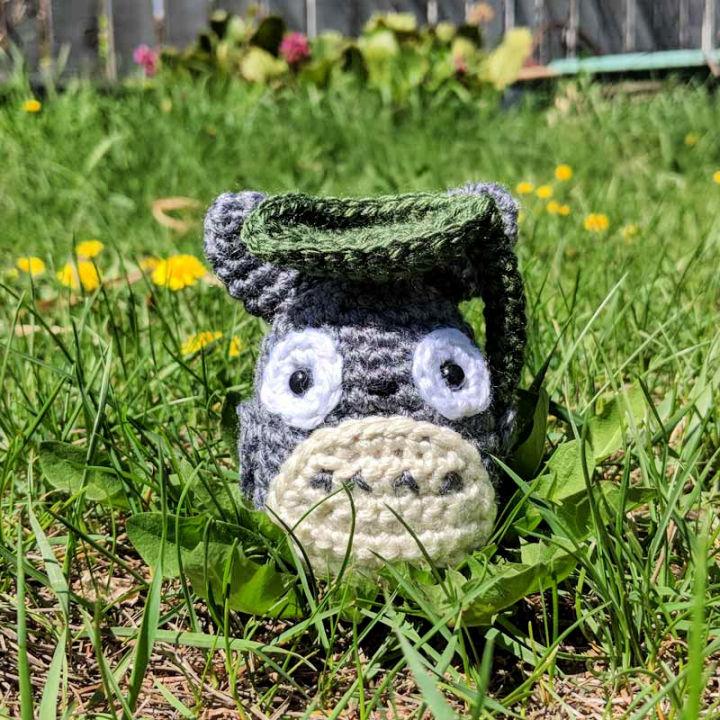 Create a super-cute Totoro Amigurumi with our easy-to-follow crochet tutorial! Perfect for those starting out, you'll soon make your own unique version of this beloved Studio Ghibli character. All you need is some grey (A), white (B), cream (C) and green (D) yarns plus 8 mm safety eyes, polyester fiberfill and a size 7 (4.5 mm) crochet hook. Follow our instructions to add the black nose detail. Get ready to make your very own amigurumi doll today – it's fun and easy! sirpurlgrey
15. Crochet Totoro Lovey Blanket Pattern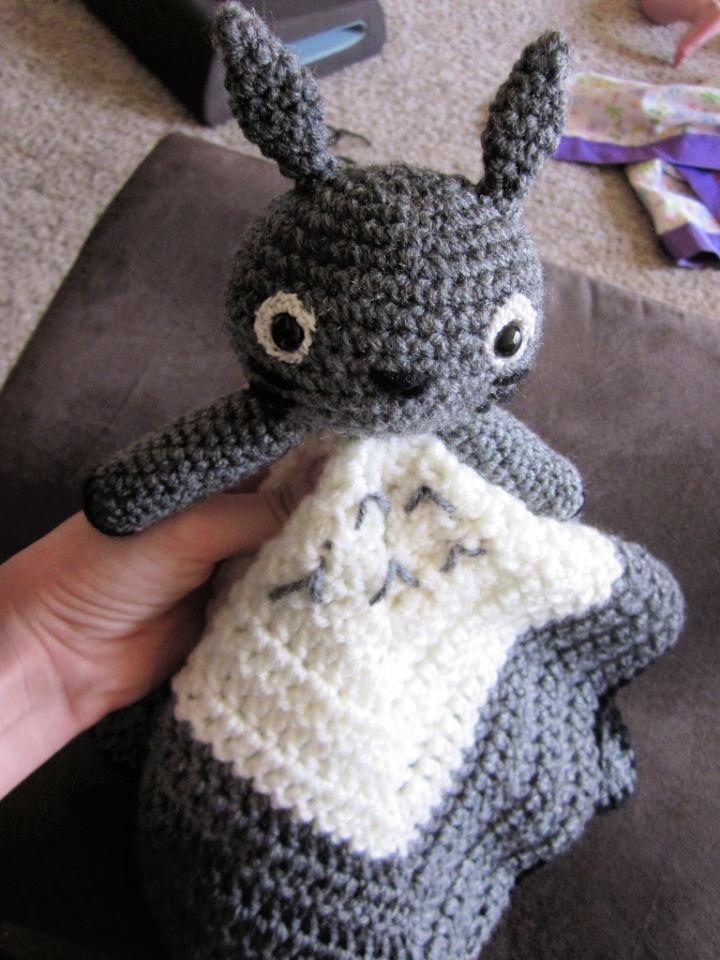 Embrace the spirit of love and joy with this one-of-a-kind crochet Totoro lovey blanket pattern! It uses size F (3.75mm), H (5.00 mm), and 2.70mm crochet hooks along with grey, white, and black worsted yarn, white crochet thread, two 9mm safety eyes, and fiberfill to make the perfect love for your little one. Through step-by-step instructions in several stitches like single crochet, double crochet, half-double crochet, and slip stitch, you'll soon have a cozy security blanket of the beloved Totoro character from my neighbor Totoro! craftsauce
16. Free Crochet Totoro Hat Pattern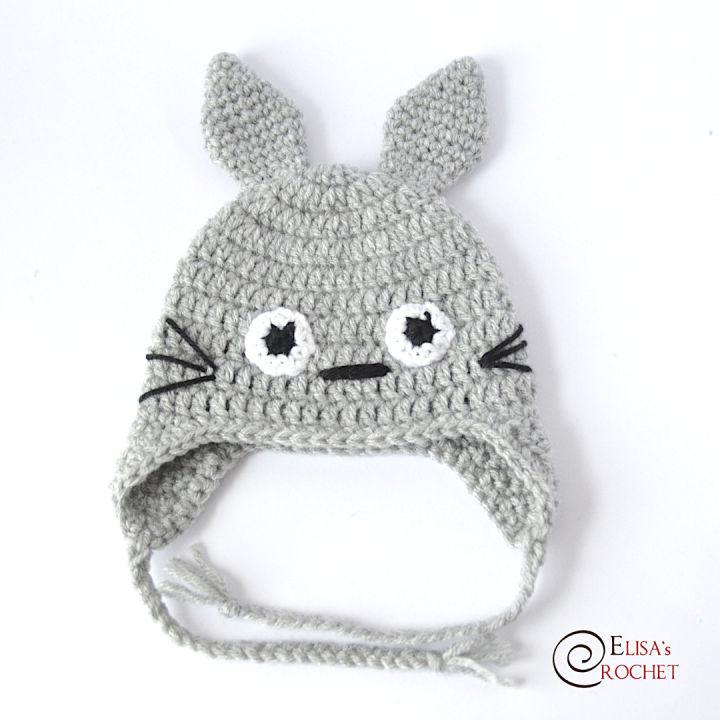 Bring your childhood memories to life with this free crochet Totoro hat pattern! Recreate the charming and magical story of My Neighbor Totoro, complete with braided tails and grey yarn ears. With detailed instructions, you can make a hat perfect for anyone who loves this heartwarming tale. You'll be sure to make a unique statement while conveying the message: "Everything will work out in the end!" Get ready to have some fun crafting as you bring this beloved animated masterpiece into reality! elisascrochet
17. How to Crochet Totoro Coaster – Free Pattern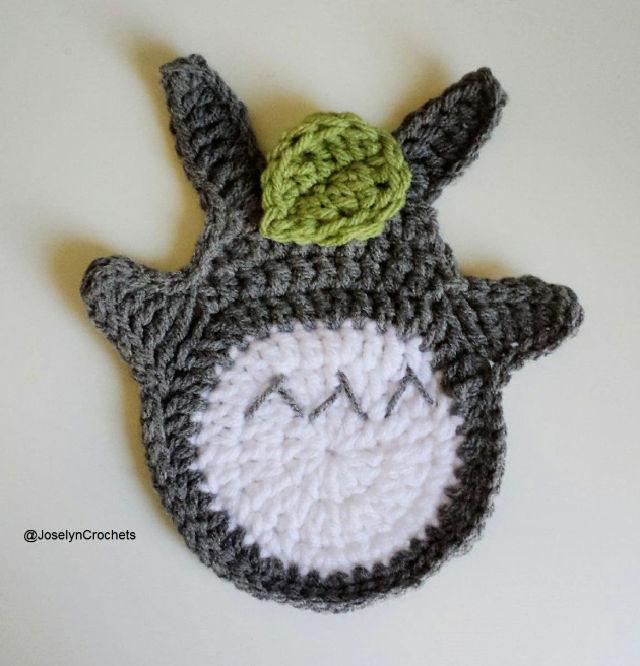 Make a cute and cuddly Totoro coaster with this free crochet pattern! It's so easy to make that it's perfect for beginners. You'll need a 5mm (H) hook, gray and white yarn and green yarn if you want a leaf. Start with the magic circle, then 1 Dc in the same stitch, followed by 2 Dc all around. Slip stitch to join, then switch to gray for the body of your Totoro coaster. Follow this simple step-by-step tutorial for an adorable addition to your home decor – no one will know you made it! joselyncrochets
18. Cool Crochet Totoro Plushie Pattern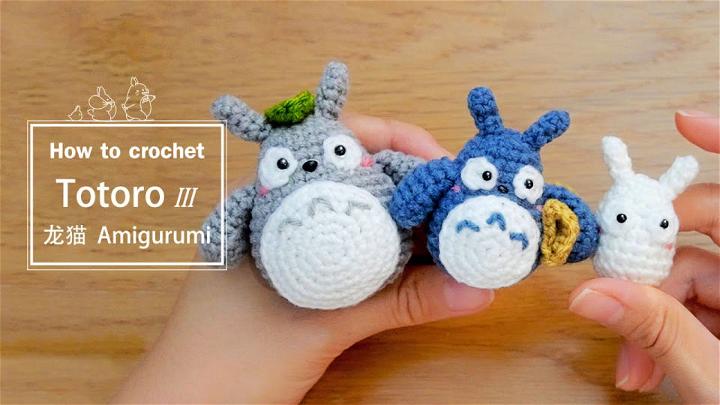 Bring the magic of Totoro to life with this simple crochet pattern! You only need cotton yarn, a 3.0 mm crochet hook, a yarn needle and scissors to start. This pattern explains how to join stitches together and turn your work so the next row can be worked back – all of which will help you create this FO (Finished Object) in no time at all! Don't miss out on the chance to make your own handmade Totoro Plushie for yourself or as a gift; follow this unique pattern today! youtube
19. Free Crochet Totoro Plush Pattern for Beginners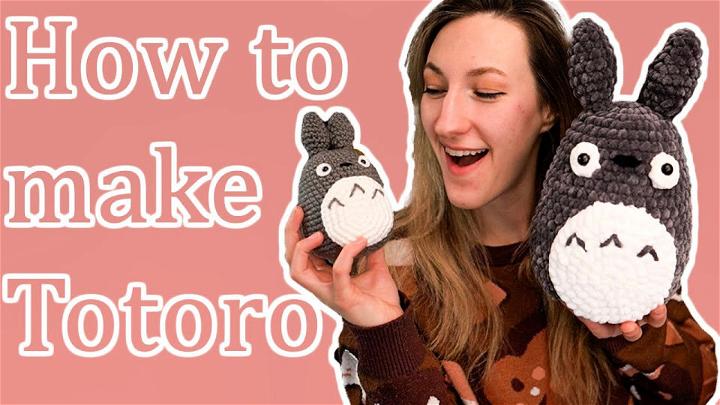 Are you looking for a beginner-friendly crochet pattern to make your work easier? Look no further! Our free crochet Totoro plush pattern is a perfect choice! This fun and easy-to-follow pattern can help even the most inexperienced crocheters create an adorable plush of their favorite character. With detailed instructions and helpful tips, this free crochet pattern will surely come in handy. Just hit the link to learn more about how to make your own Totoro plush today!
20. Easiest Tiny Totoro to Crochet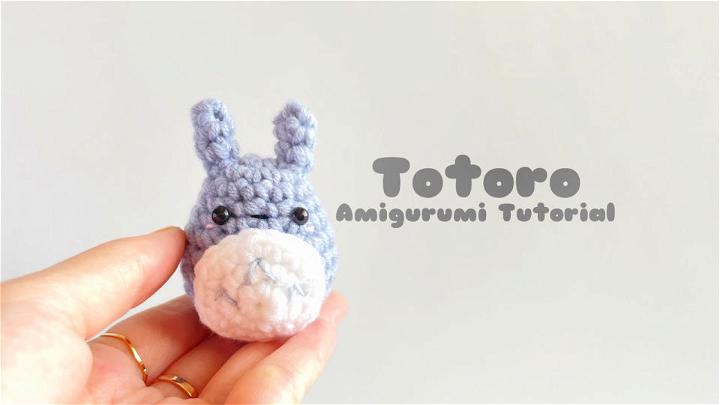 Make your own tiny Totoro with this easy-to-follow crochet project! Our free tutorial makes creating a cuddly and adorable version of the beloved Studio Ghibli character simple. With step-by-step instructions, you'll be able to craft your piece of movie magic in no time. Give your home an extra touch of cuteness with this fun project suitable for beginners and experts alike! Get crocheting today and make the most adorable version of everyone's favorite forest guardian.
21. How Do Yo Crochet Couple Totoro Amigurumi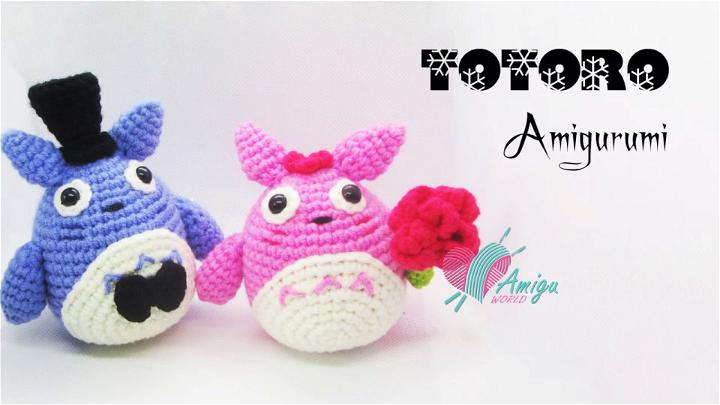 Lovely Totoro amigurumi for couples? Get creative this month and look at your own couple of Totoro amigurumi. All you need to bring these cute characters to life are some 4-ply yarns in pink, dark pink, blue, white, green and black colors; a 4-6 mm crochet hook; fiberfill stuffing; sewing needles & scissors! Follow easy-to-follow instructions with step-by-step video tutorials and make it a fun hobby experience as you create these unique pieces of art that will bring smiles to all who see them. Time to get crocheting – perfect gifts for your loved ones too!
22. Crochet Amigurumi Totoro Idea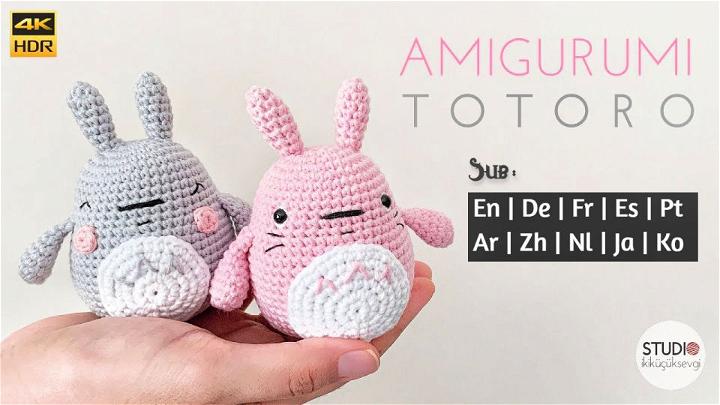 Crochet your own adorable amigurumi Totoro with this easy video tutorial! With the help of supplies such as cotton yarn, a hook, a tapestry needle, fiberfill and pins, you'll create your very own cuddly friend in no time. The pattern is designed to go step by step with the crochet, so it's perfect for all levels. So what are you waiting for? Start crafting and make your special little Totoro today!
23. Crochet Totoro Amigurumi – Step-by-Step Instructions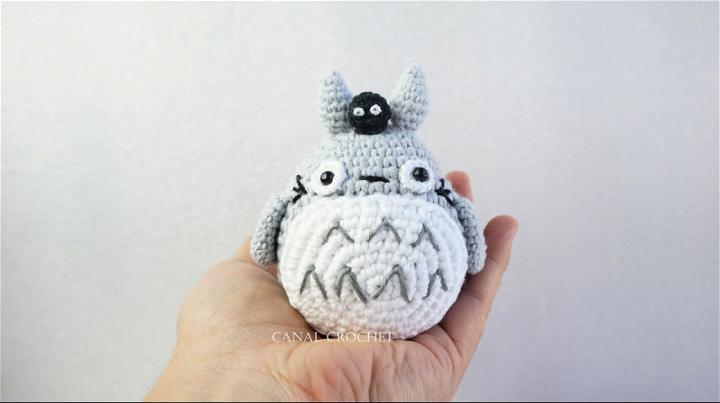 This free crochet Totoro pattern brings the world of My Neighbor Totoro to life! Follow along step-by-step as you learn how to create your amigurumi version of the beloved anime mascot. You can make a cuddly crocheted replica of this classic character with detailed instructions and accompanying photos in no time. Whether it's for yourself or someone special, give the gift that keeps on giving with this DIY crochet project. So, start crocheting your very own Totoro today!
24. Crochet Totoro Phone Case Cover Pattern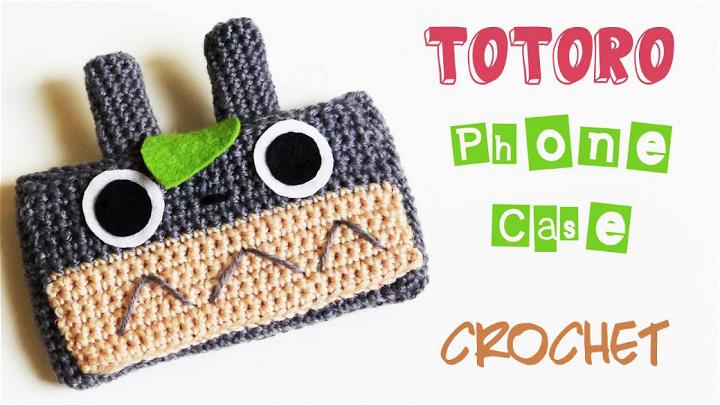 Ready to make some magic with your crochet hooks? Create a cute Totoro phone case cover with this free amigurumi pattern. Perfect for beginners, this guide shows you how to use basic crochet stitches and turn yarn into an adorable phone cover. This fun project takes very little time, and the results will make all your friends jealous! Make your own today and show off your handmade Totoro phone case cover.
25. Crochet Totoro Hat Pattern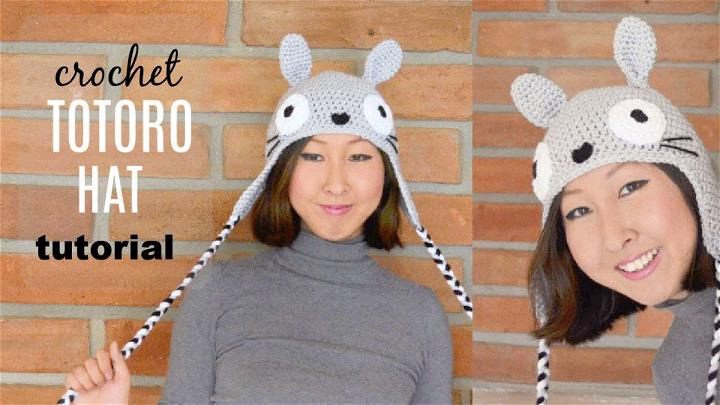 Do you like the classic Studio Ghibli movie, My Neighbour Totoro? If so, then this tutorial is for you! Learn how to crochet a cute Totoro hat with our easy-to-follow instructions. All you need is some light grey, white and black yarn (red heart super saver yarn recommended), a 5.0mm size crochet hook and some notions like a yarn needle and stitch marker. Our step-by-step guide will show you how to create your own unique hat in no time at all – perfect for cosplay or everyday wear! Show off your creativity with this free crochet Totoro pattern today!
Related Free Crochet Patterns:
Unlock your creativity and bring your own unique twist to these adorable related free crochet amigurumi patterns. Choose from a variety of shapes, sizes and colors for the perfect handmade project!
Conclusion: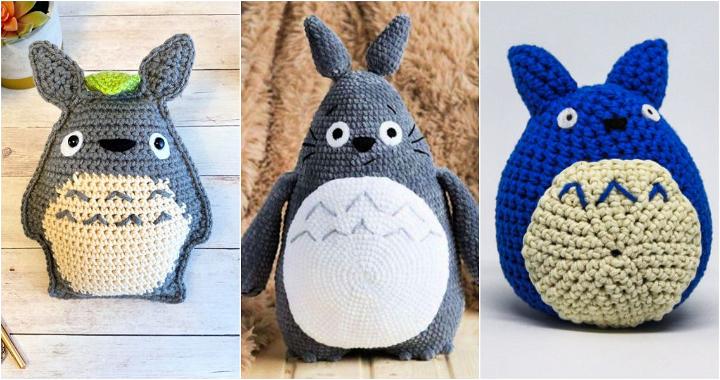 In conclusion, the 25 free crochet Totoro patterns available above provide an excellent opportunity for fans of the beloved character to create their own amigurumi Totoro. With various patterns, including Totoro plush DIY, keychains, and mini and big Totoro crochet designs, there's a project for every skill level and preference. Don't wait any longer – embrace your passion for this charming character and start crafting your unique crochet Totoro patterns today.