Crochet snakes are a fun and easy way to add a touch of whimsy to your home decor or create a unique toy for your child. Find 25 free crochet snake patterns for beginners to create an amigurumi snake easily. These crochet snake patterns cater to various skill levels and styles, making them perfect for crocheters seeking a fun and exciting pattern. With detailed step-by-step instructions and helpful guides, these free crochet snake patterns will have you crafting cuddly and realistic snakes in no time.
Our curated list of easy and free crochet snake patterns includes amigurumi snakes, plush snake patterns, snake scarves, and even snake bookmarks. Each crochet snake pattern comes with complete details, videos, and tutorials to make the process seamless and enjoyable for beginners and advanced crocheters also. You can choose from colorful and whimsical designs to more lifelike and intricate patterns, making it easy to find the perfect crochet snake project for you or as a creative gift for someone special.

Get started on your crochet snake journey today! With these free crochet snake patterns, you can develop new skills, refine your crochet techniques, and create unique and charming snake amigurumi that will impress your friends and family. Embrace your creativity and enjoy the satisfaction of bringing your crochet snake to life with this fantastic selection of patterns. So, gather your crochet supplies, and let the fun begin with these 25 free crochet snake patterns!
1. How to Crochet a Snake – Free Pattern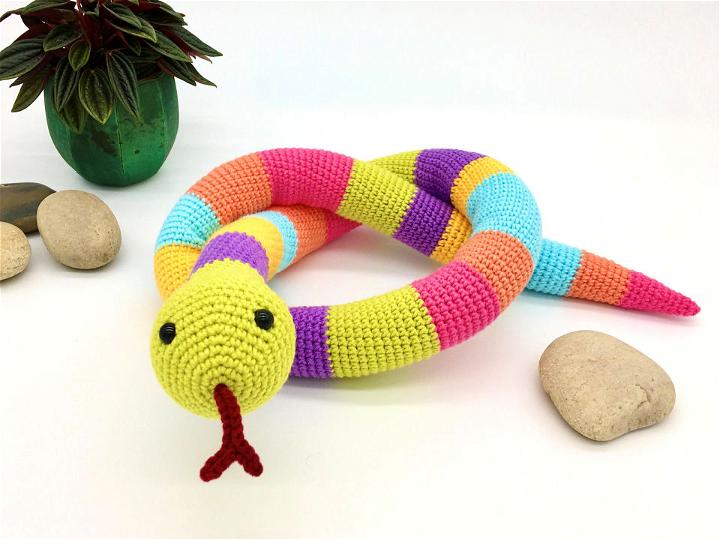 Crocheting a snake can be an enjoyable and rewarding project! With this free pattern, you'll discover how to create a realistic-looking reptile with basic crochet stitches. First, choose the materials needed, including worsted-weight yarn and suitable crochet hooks. Next, follow the chain stitching instructions for creating your snake's body. Finally, add eyes and accessories, such as scales, before sewing them with slip-stitch edges. With this DIY tutorial, you'll soon have your handmade crocheted snake! cuddlystitchescraft
2. Free Crochet Sibling Snakes Pattern

Bring life and color to any dull day with this free crochet sibling snakes pattern! Perfect for beginners and experienced crocheters alike, these fun snakes can be used as toys or decorations. With simple instructions and clear diagrams, you can bring this whimsical project to life – it'll surely put a smile on everyone's face. Don't miss all the creative possibilities – get your free crochet snake pattern today! simysstudio
3. Easy Crochet Silly Snake Amigurumi Tutorial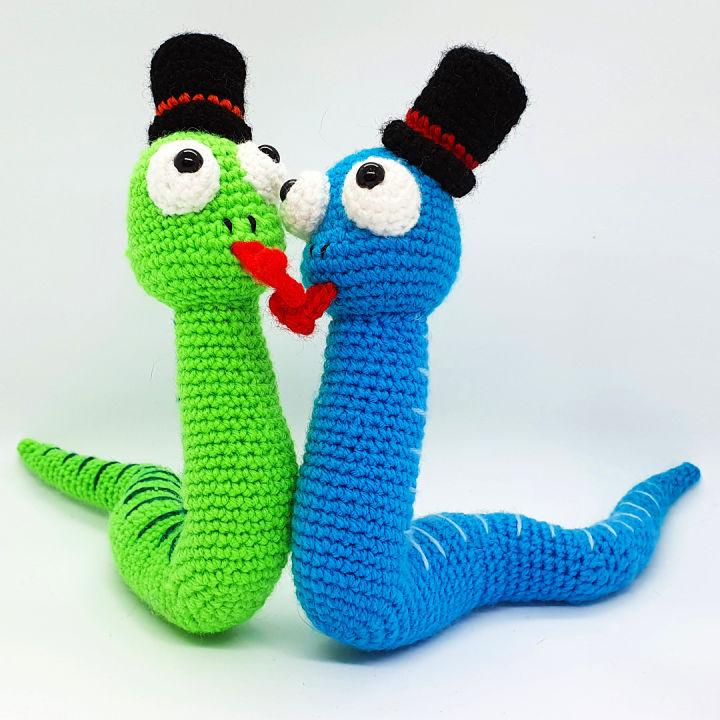 Create the most adorable crochet critter ever with this easy, silly snake amigurumi tutorial! This easy-to-follow tutorial includes everything you need to make a unique and beautiful snake. All you need is basic crafting supplies such as crochet hooks of various sizes, scissors, measuring tape, safety pins (stitch markers), yarn needles, tapestry needles, thread in white and black, plus craft glue or fabric glue. Get ready for some fun amigurumi crocheting action – start making your own silly snake today! youtube
4. Realistic Crochet Snake Pattern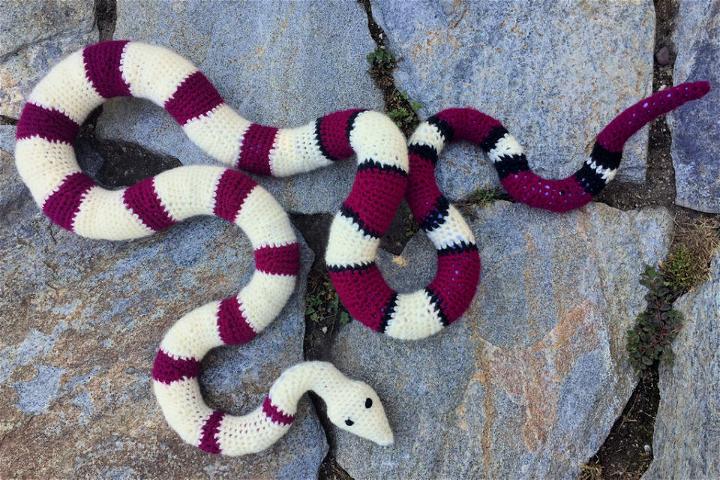 Bring a slithering snake to life with this simple crochet snake pattern! This fun project only requires 3 colors of light worsted-weight yarn and a 3.75mm (F) hook. With less than 1 skein of each color – white, maroon, and black – you can create this crocheted masterpiece that measures 66 inches when stretched out and 2 inches in diameter at its widest point. Make the perfect imaginative friend today with our realistic crochet snake pattern! suviscrochet
5. Colorful Crochet Kids Snake Seat Cushion – Free Pattern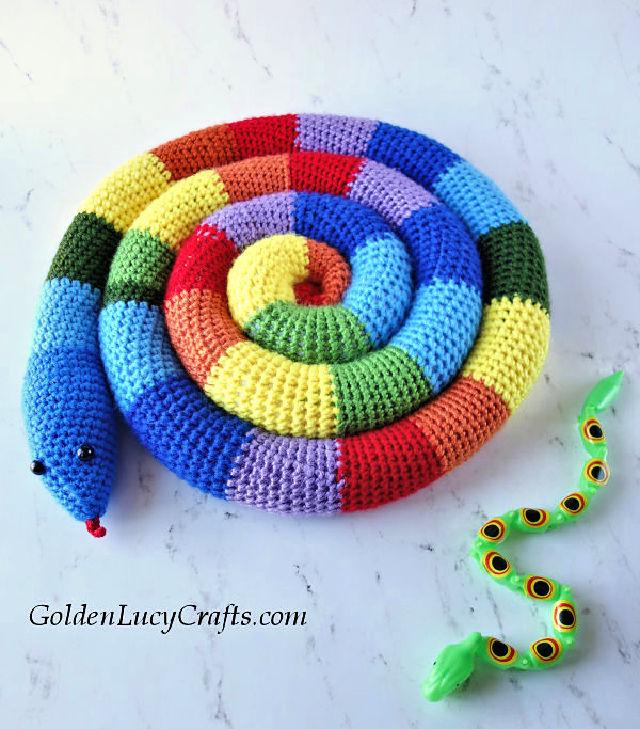 Add color and fun to your kids' room with this free pattern for a colorful kid's snake seat cushion in crochet. This eye-catching cushion will become an instant favorite of the little ones in your life, as they can enjoy hours of comfort while playing or relaxing on it. The detailed instructions are easy to follow. You only need basic crochet knowledge and supplies such as yarn, stuffing, and needles. With its vivid colors and charming design, this handmade seat cushion will bring joy into any home! goldenlucycrafts
6. Free Crochet Pattern for Coral Snake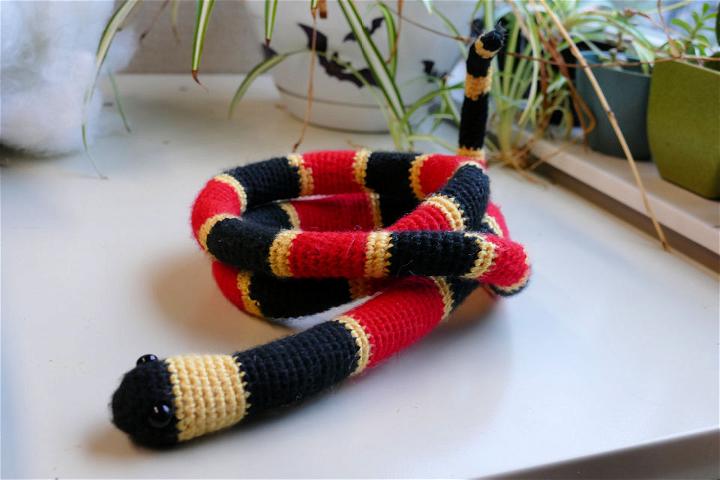 Create a unique, eye-catching crochet project with this free pattern for a coral snake! Follow the easy instructions to single crochet 2 together (SC decrease) and sew the tongue onto the front of the head. Use a yarn needle to weave in all ends and embroider eyes onto the face for added effect. With this simple craft, you can make an adorable, huggable plushy that will surely become everyone's favorite! Try out this free crochet pattern today – it's perfect for beginners and experienced crotchetier alike. yarnspirations
7. Pretty Crochet Mustache Pattern

This pretty crochet mustache pattern is the perfect way to involve your kiddo in a fun craft project! Make a unique and stylish statement with this easy-to-follow crochet snake pattern. Letting your little one join in, follow these easy steps for a playful addition of a mustache that can bring extra fun to any outfit. They will be proud of their work as they show off their homemade accessory that will turn heads! Get creative together today with this free crochet snake pattern – it'll be one memory you won't forget! crochetverse
8. Cool Stuffed Snake Crochet Pattern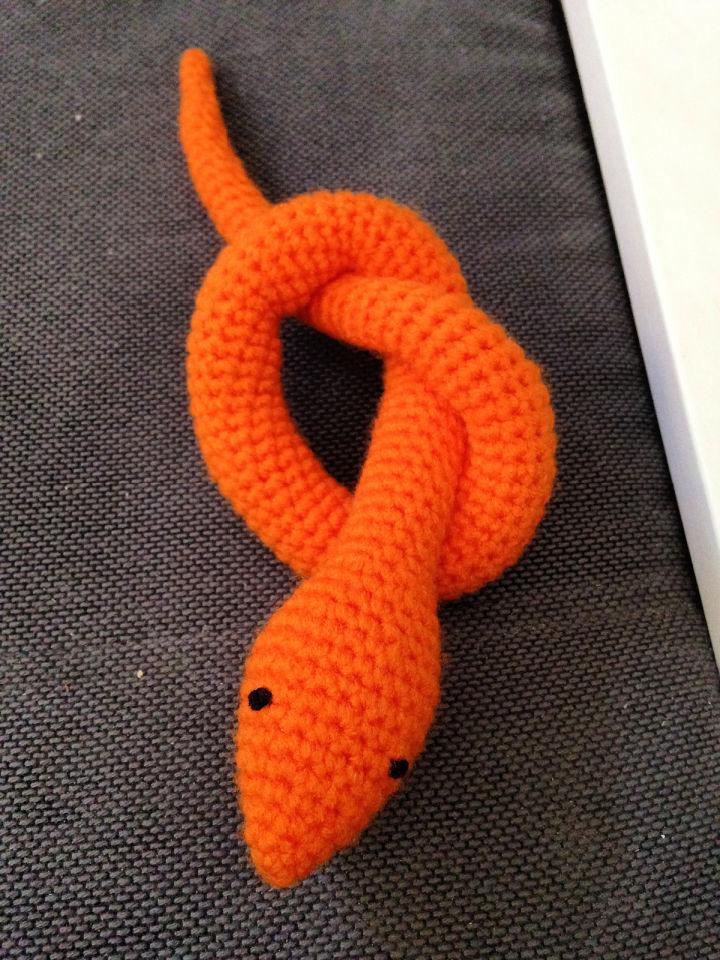 This unique cool stuffed snake crochet pattern is the perfect craft for any snake enthusiast. Every step is easy to follow, and you can customize your finished product however you like! Create a beautiful stuffed snake by cropping it in single stitches until it reaches the desired length, stuffing along the way. When complete, decrease 2 tog stitches until the bottom hole closes, and add eyes for an extra touch of realism. Get creative with your colors and design – this pattern will have everyone asking where they can get one too! mescrochet
9. Crochet Draft Snake for Doors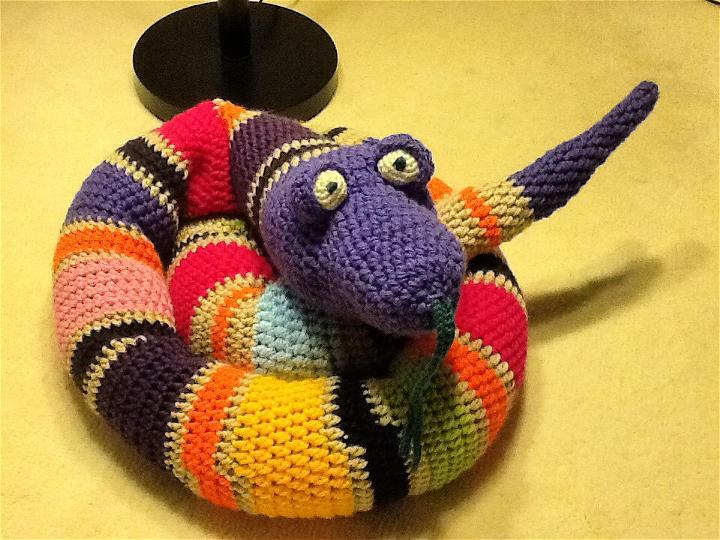 Crochet your own draft snake for doors with this easy and fun DIY project! This simple pattern will have you creating a stylishly functional draft snake in no time. The perfect way to keep out the cold, this crafty door snake will be an attractive addition to any home. With just basic crochet skills and a few supplies, you can make an effective draft blocker that will last years. Get creative with colors and patterns – make one for every season or room! Make yourself a unique and useful crochet draft snake today. designingvashti
10. Crochet Willy Nilly Silly Amigurumi Snake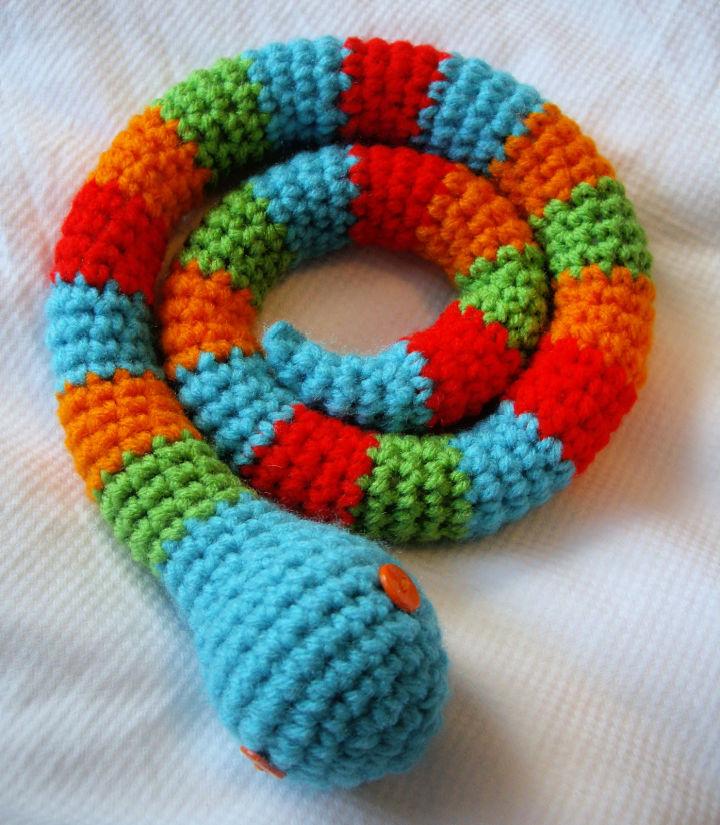 By using crochet snake patterns, you can easily customize your projects with one-of-a-kind designs. Bring a touch of absolute fun to your home with this crochet amigurumi snake! This unique stuffed animal is perfect for creative people looking to bring some joy into their space. Handmade with care, the snake features bright colors and intricate crochet work that will catch anyone's eye. Whether you're gifting it or keeping it for yourself, this adorable collectible will make any room brighter. With its charming design, it's no wonder why this amigurumi snake has become so popular – get yours now by sprucing up one today! willynillywaterlily
11. Free Crochet Snake Pattern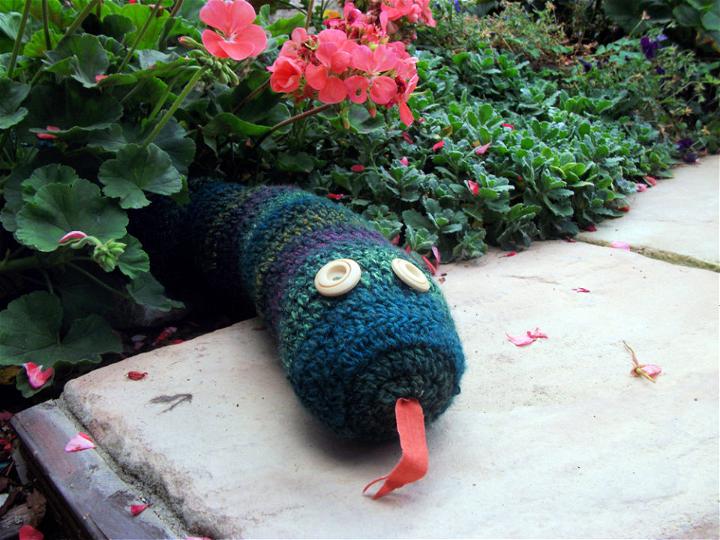 Create your own cute and cuddly crocheted snake with this free pattern! Everything you need to know is included, from the basic slip stitch, stitch, and yarn to more challenging techniques such as 2 Treble crochet together. The stuffable body makes it easy to customize your snake's size and shape. And once it's complete, all that's left are a few finishing details like sewing on eyes or adding a tongue (if desired). Get ready to surprise your loved ones or treat yourself when you start crocheting this adorable snake today! bumpyduey
12. Quick and Easy Crochet Sis the Snake Pattern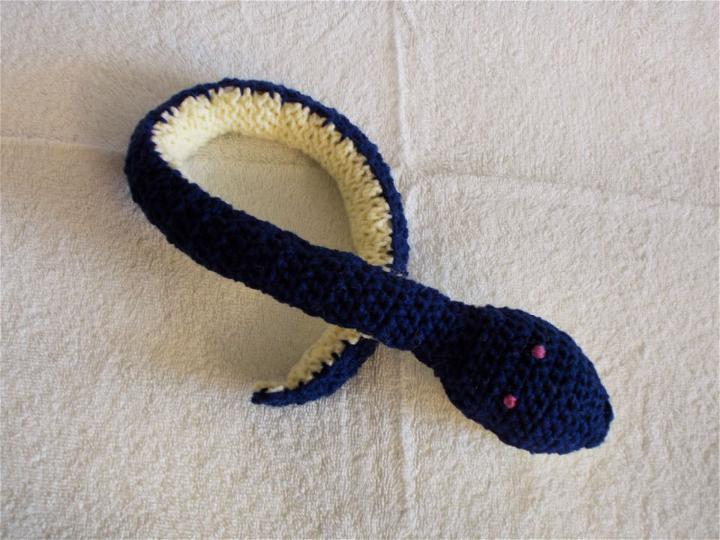 This quick and easy crochet snake pattern is perfect for even a beginner crotchetier! Get a head start on your next crochet project with this fun, easy-to-follow pattern. Whether you are looking to make something special for yourself or as a gift for someone else, this adorable snake will surely put a smile on everyone's face.
With bright colors and intricate details, it's the perfect accent piece that'll have everyone asking where you got it from. Follow our step-by-step instructions with helpful photos and videos so even novice crafters can make beautiful handmade items quickly and easily. Start crocheting Sis the Snake today! stitchinthenightaway
13. How Do You Crochet a Salazar the Snake

Are you looking to create a fun, crafty project? Learn how to crochet Salazar, the snake! This friendly reptile is sure to bring smiles and charm wherever it goes. With just a few basic materials – like yarn, stuffing, and a crochet hook – you'll be ready for your next creative endeavor.
Follow our step-by-step instructions for assembling the body parts and creating Salazar's signature features. Once complete, dress up your snake with accessories or change its colors! Crocheting this cute creature is an easy way to make something special that will last for years. Get started today and enjoy making this free crochet snake pattern! armyofowls
14. Giant Snake Amigurumi – Free Crochet Pattern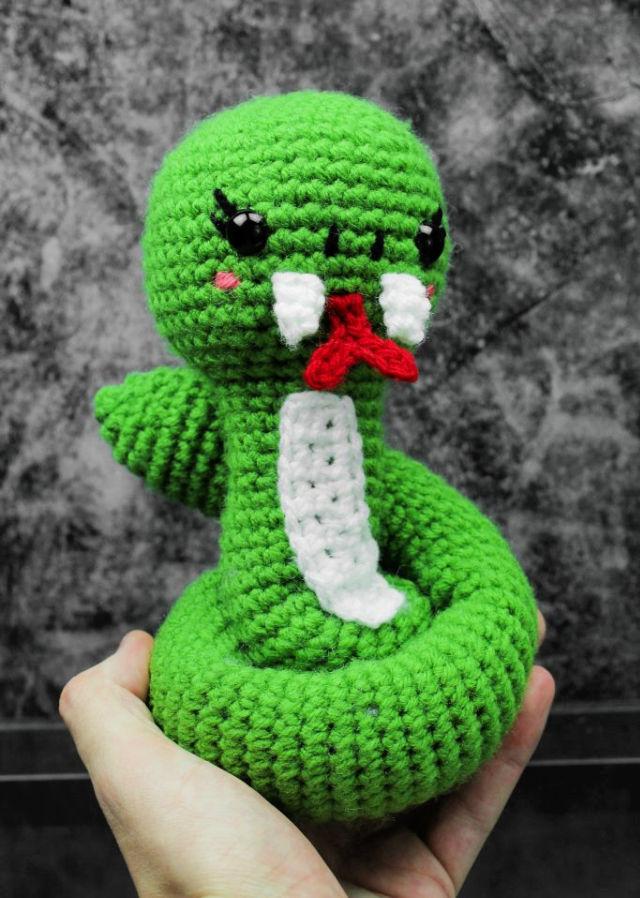 Create your own pet snake with this free crochet snake amigurumi pattern! With detailed instructions and helpful illustrations, you can craft a fun and realistic-looking giant snake of your own. These snakes make great gifts for the reptile enthusiasts in your life or to keep as decoration around the home. So, why not get crocheting and show off your creative skills with this unique project? Let us know if you have already made a snake amigurumi of your own – we'd love to hear all about it! knotbadami
15. Free Crochet Snake Pattern for Beginners

Are you a beginner looking to master the art of crocheting? Look no further! Our free crochet snake pattern is perfect for getting started. This easy-to-follow tutorial makes it simple for anyone to create a fun, coiled snake with minimal materials. You will learn useful skills and techniques and end up with an adorable stuffed toy in the process! Try our free crochet snake pattern today and get crafting! jjcrochet
16. Beautiful Crochet Snake Scarf Pattern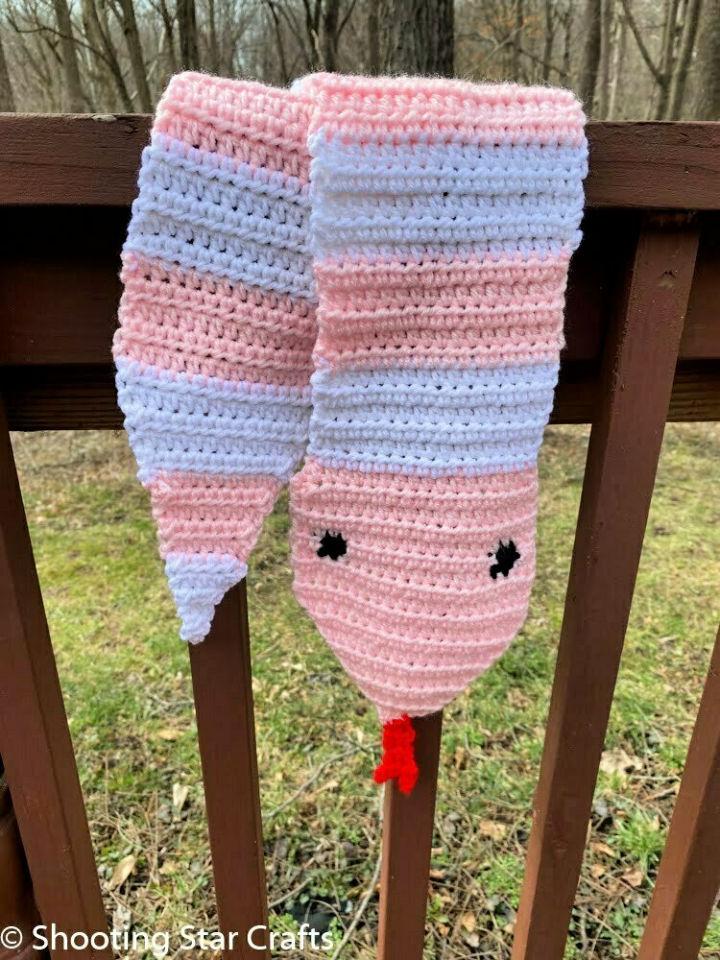 This crochet snake scarf pattern is the perfect project for crafty people of all skill levels. With its stunning pink and white stripes, this beautiful scarf can easily be extended to create an even longer accessory. Plus, it looks complicated but only uses basic stitches – making it easy and fun to make! Get creative with your colors and show off your unique style with a unique handmade serpentine scarf you crafted yourself! shootingstarcrafts
17. Amigurumi Crochet Snake Bookmark Pattern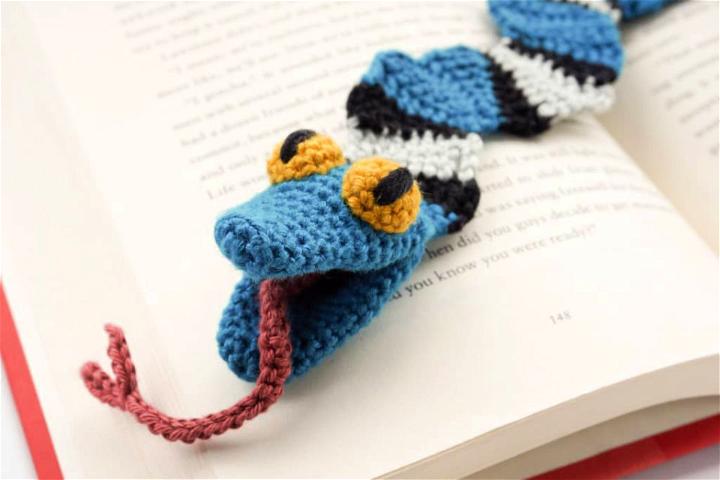 Make your reading a fun experience with this amigurumi crochet snake bookmark pattern. Learn to crochet a cute and cuddly snake bookmark that will make any book more enjoyable to read. Get the necessary materials for this project, like crochet hooks with sizes as small as 0.6mm, scissors, measuring tape, safety pins (stitch markers), yarn needles, tapestry needles, tapestry threads in white and black colors, and craft glue (fabric glue). Follow the simple step-by-step instructions, and you can have a unique homemade bookmark in no time! Enjoy creating your very own snake bookmark today! supergurumi
18. Crochet Amigurumi Snuck Snake Duck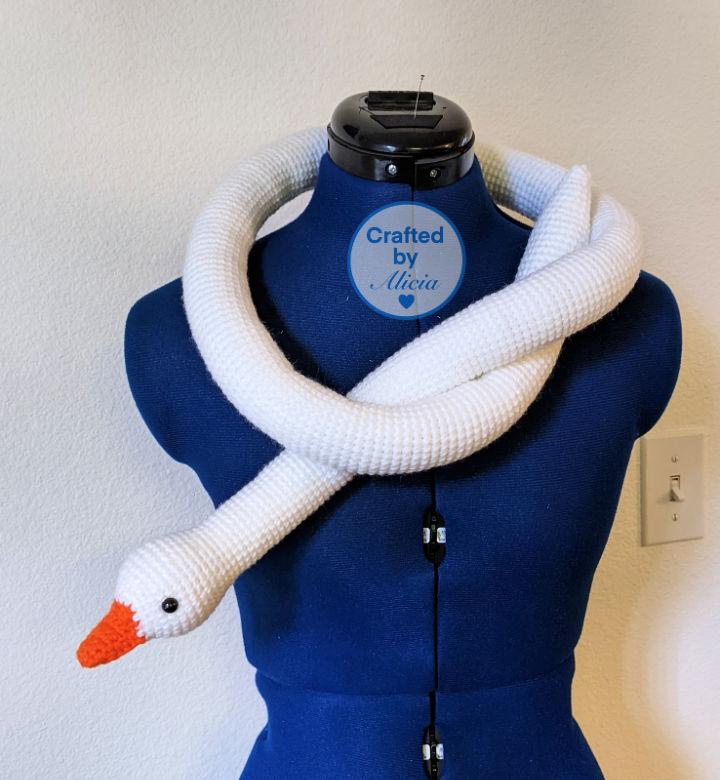 This crochet amigurumi snuck snake duck is an adorable and unique design, sure to bring a smile to everyone who sees it. It's handmade with love using 100% cotton yarn and comes in a variety of colors, making it perfect for any occasion. Featuring realistic details like scales and feathers, this quirky little duck will be the highlight of your home or as a gift for someone special. Super-soft and squeezable, this free crochet snake pattern is sure to bring plenty of joy! ravelry
19. Crocheting a Snake – Free Pattern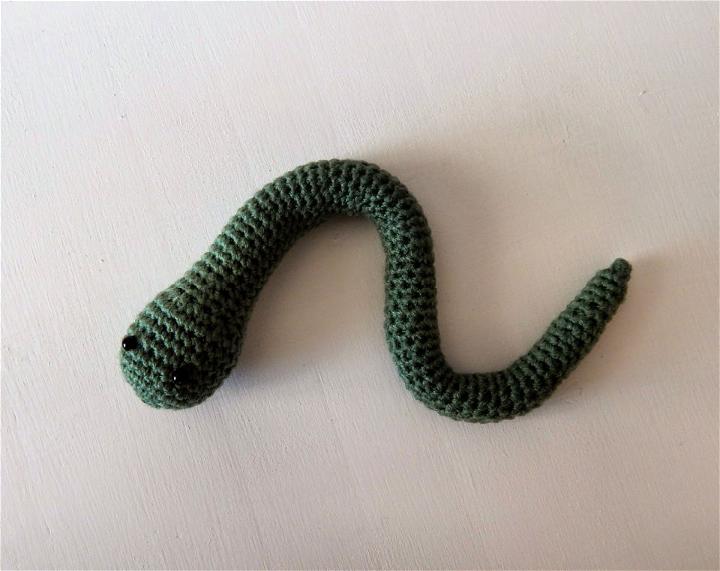 Make crocheting fun and enjoyable with this free snake pattern that's perfect for kids! Let your children choose their favorite colors and involve them in making a unique, handmade craft. This colorful item will become an interesting part of your home decor. Follow the easy instructions to learn how to make this playful creature – it'll be sure to bring lots of joy while you work on it together! amidorablecrochet
20. How to Make Snake Plush – Free Crochet Pattern

This free crochet pattern will transform soft yarn into a cozy and cuddly snake plush! All you need is the right tools – crochet hooks in sizes 0.6mm to 19mm, scissors, measuring tape, safety pins for stitch markers, yarn needles, and tapestry needles & threads (black and white). Craft glue can also help attach pieces together. Follow each step of the instructions carefully to make a super soft and snuggly pet perfect for playtime or as decoration around the home. Get creative with different colors and materials to make your custom snake plush today! alwaysfreeamigurumi
21. Crochet Snakes Heart – Step By Step Instructions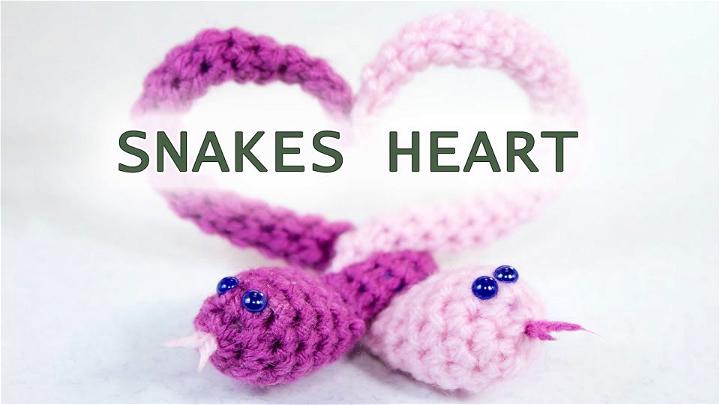 Crochet snake patterns are a great way to create unique and eye-catching art pieces. Unravel the secrets of crocheting a snake heart with this simple step-by-step guide! You will need hooks, acrylic yarn, beads, needles, and pipe cleaners. Through 16 cm/6.3 in of stitching magic, you can create the perfect gift for yourself or a loved one. Follow these instructions to increase, single crochet (SC), and decrease your way through this eye-catching project!
22. Fastest Crochet Snake Tutorial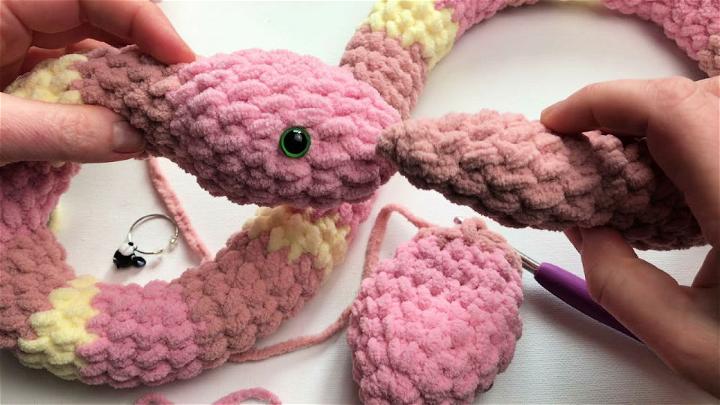 Learn to crochet a super cute and fast snake with this easy tutorial! Perfect for beginners, we'll show you how to make amigurumi circles and increase and decrease stitches. Make a 12-stitch continuous row for your snake's body – stuff it with stuffing and add eyes or any other details to make it look extra appealing. In no time, you'll have an adorable DIY project that will impress kids!
23. Slytherin Snake Harry Potter Inspired Crochet Pattern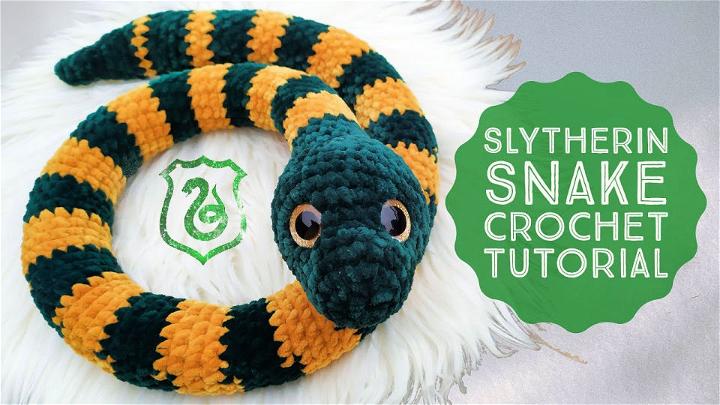 Are you a fan of Harry Potter movies and books? If so, you'll love this Slytherin snake crochet pattern! This crochet pattern is inspired by the famous house at Hogwarts School of Witchcraft and Wizardry. It's easy to customize – work with velvet yarn, and choose any two colors that match your favorite house.
You will need a ball of green and mustard yarn, a 3.5mm crochet hook, a tapestry needle, fiber to stuff the snake, and some safety eyes – then voila! With this fun project, how long and colorful your Slytherin snake will be is up to you! Make one today for yourself, or surprise someone with an epic gift.
24. Crochet Snake Plant Design – Free Pattern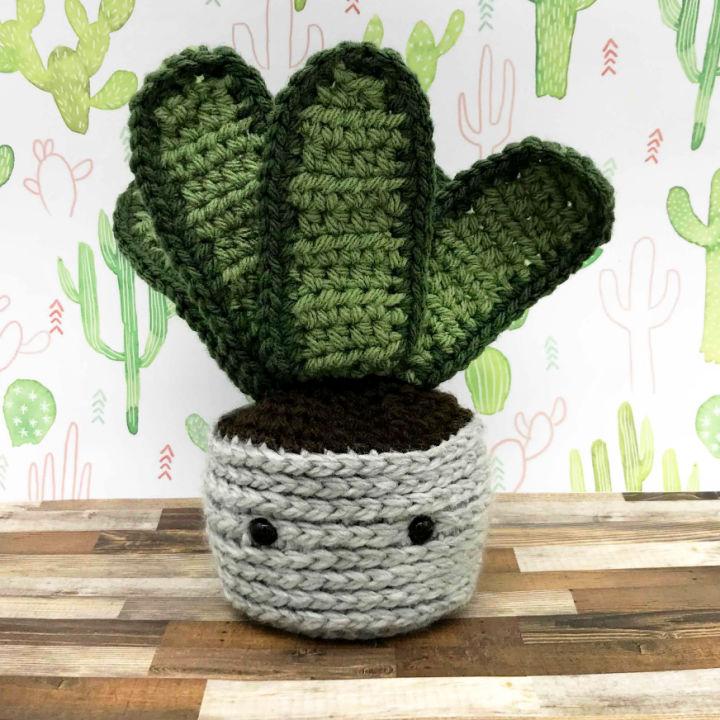 Create a unique home décor item with this free crochet snake plant design! This pattern uses a 4mm crochet hook and worsted-weight scrap yarn in gray, dark brown, light green, and green. To complete the project, you'll also need a tapestry needle, stitch marker, and scissors. Work in spirals except for the leaves; you can make your own version of nature's beauty right at home – no green thumb needed! Get creative with your colors, or use the traditional greens for an authentic look. Start making yours today! woolstreet
25. How to Crochet Bead Rope for Beginners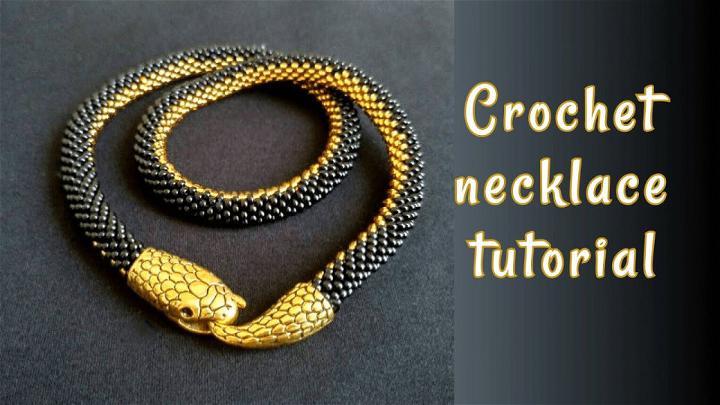 Start creating beautiful jewelry with this easy tutorial! Learn how to crochet bead rope for beginners. With the right materials like seed beads, needles, nylon thread, crochet, and clasps, you can make amazing pieces of jewelry that will last a lifetime. Follow our step-by-step instructions, and before you know it, you'll be an expert crotchetier doing stunning artworks to keep or give as gifts. Check out this pattern now by heading over to the link, now!
Related Free Crochet Patterns:
Let your creativity soar with these delightful free crochet amigurumi patterns! From adorable animals to unique dolls, you'll find the perfect project for any occasion. Start crafting today and bring a little happiness into the world!
Conclusion: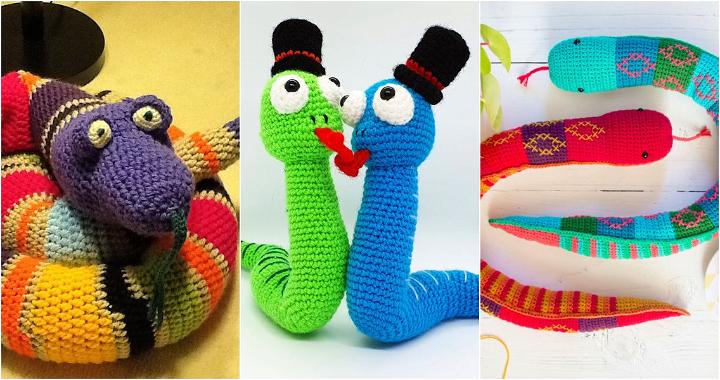 In conclusion, this collection of 25 free crochet snake patterns offers various amigurumi snake projects for all skill levels. From easy snake patterns for beginners to more realistic crochet snake designs for advanced crafters, there's a perfect pattern for everyone. Get a crochet snake pattern with step-by-step instructions, detailed guides, and video tutorials, you'll be well-equipped to create your own cuddly crochet snake plush with ease. Embrace the art of crocheting and add a charming, handmade crocheted snake to your collection or gift it to a loved one