Crochet mushrooms are a fun and whimsical way to add a touch of nature to your home decor or as cute adorable amigurumi mushroom gifts for friends and family. Discover 25 free crochet mushroom patterns, offering a delightful variety of amigurumi designs for beginners and more advanced crocheters. Each free crochet mushroom pattern comes with detailed instructions, step-by-step guides, and even a video tutorial, making it simple for anyone to create their own charming mushroom amigurumi.
From cuddly plush mushrooms to eye-catching mushroom appliques, these free crochet mushroom patterns cater to various styles and preferences. Try your hand at the pretty crochet valentine's day toadstool pattern or the easy crochet plush mushroom pattern, both perfect for beginners. For a more advanced project, explore the intricate crochet mushroom bag pattern or the stunning crochet mushroom fly agaric pattern.
You'll soon create delightful amigurumi mushrooms to decorate your home or share with loved ones, along with a crochet hook, yarn, and these free crochet mushroom patterns. So, dive into this magical world of crocheted mushrooms and let your creativity flourish with these beautiful crochet mushroom patterns.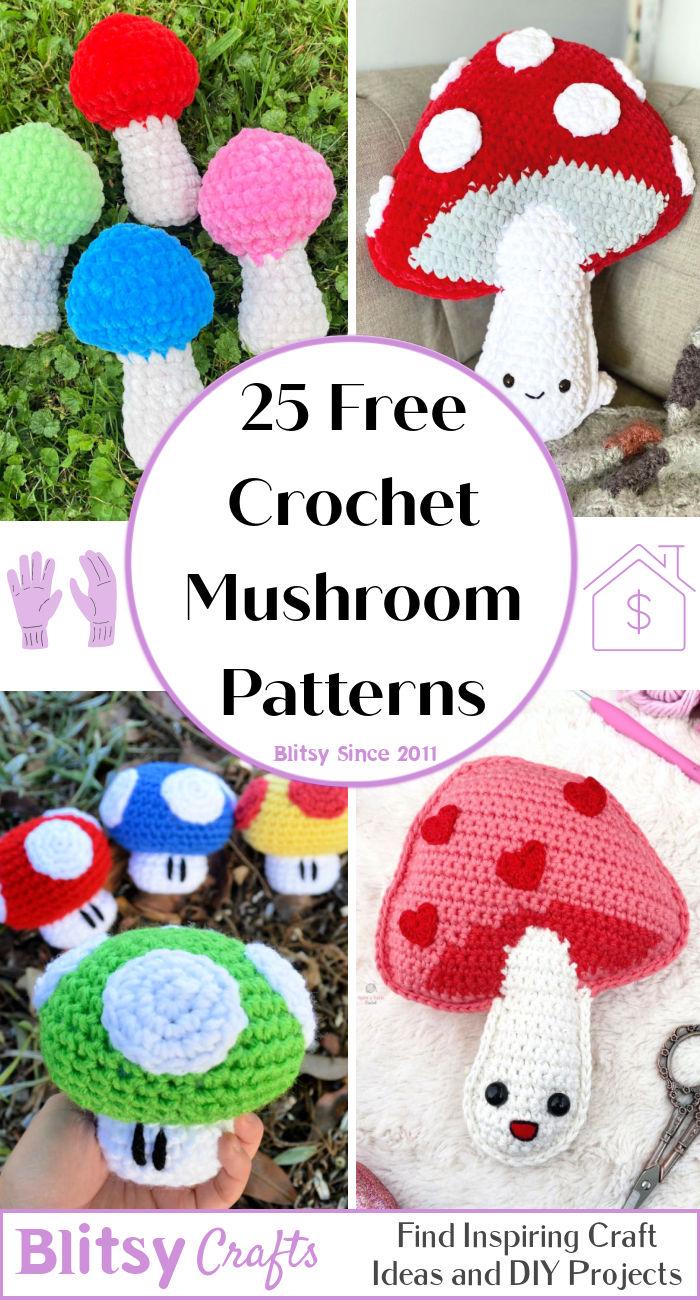 Uses and Benefits of Crochet Mushroom Patterns
These easy and free crochet mushroom patterns are a wonderful way to add a touch of whimsy to your home decor. You can use adorable little crochet mushrooms in various ways, from hanging on a wall or tree to being used as pins and ornaments or large mushrooms as stuffed toys and decorations. Here are some of the uses and benefits of crochet mushrooms:
Decorative purposes: Crochet mushrooms can be decorative in homes, offices, or other spaces. They add a whimsical touch and can be made in various sizes and colors to match any decor.
Toys for children: Crochet mushrooms can also be used as toys for children. They are soft and safe for children to play with and can be made in various sizes and shapes.
Photo props: Crochet mushrooms are perfect for photo props for special occasions such as weddings or baby showers. They add a unique touch to photographs, and anyone can make them match any theme or color scheme.
Stress relief: Crocheting is a relaxing activity that can help reduce stress and anxiety. Crochet mushrooms provide a small, manageable project you can complete quickly, providing a sense of accomplishment and relaxation.
Customizable: Crochet mushrooms can be made to fit any need or preference. They can be made in different sizes, colors, and shapes, allowing for customization to match specific preferences.
Unique gift: Crochet mushrooms make a unique and thoughtful gift for friends and family. They are personal and can be made to match the recipient's preferences or interests.
Eco-friendly: Crochet mushrooms are eco-friendly as they are made from yarn and can be reused or recycled. They are a sustainable alternative to plastic or other synthetic decorations.
Crochet mushrooms have several uses and benefits, making them a great addition to any crafter's repertoire. Whether for decorative purposes, as toys for children, or for stress relief, crochet mushrooms offer a unique and customizable option that is eco-friendly and thoughtful. So why not give our free crochet mushroom patterns a try today?
1. Pretty Crochet Valentines Day Toadstool Pattern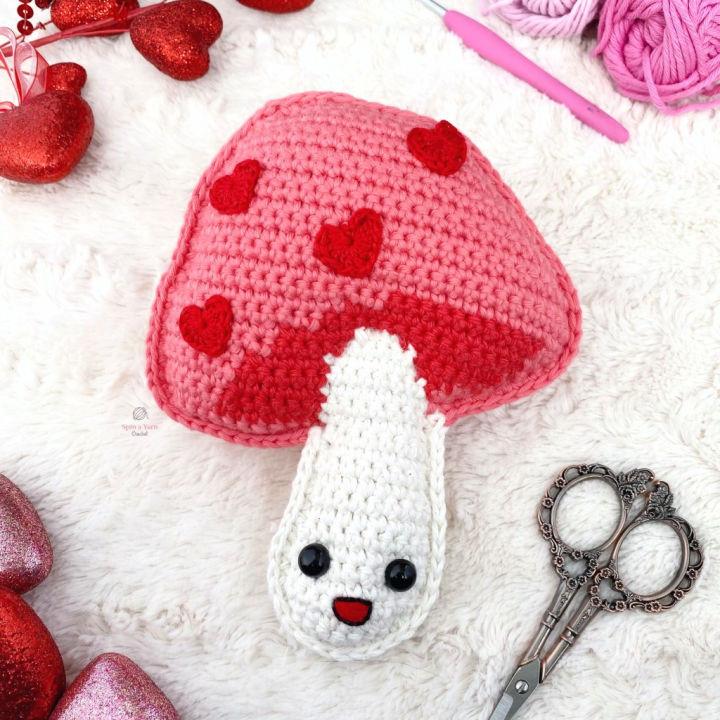 Celebrate the season of love with this adorable Valentine's Day toadstool free crochet pattern. Make a perfect gift for your special someone! The base pattern is mushroom amigurumi, and it requires only basic crochet knowledge and a few materials – a 3.25mm hook for the main, 1.5mm hook for hearts (I use this hook set), cotton yarn in off-white, red, pink, red embroidery thread or any weight 1 yarn in red, 10mm safety eyes, a small amount of red yarn and black crochet thread for mouth & stuffing. Hurry up because time is running out to make your beloved something special this Valentine's Day! spinayarncrochet
2. How to Crochet Fuzzy Mushroom – Free Pattern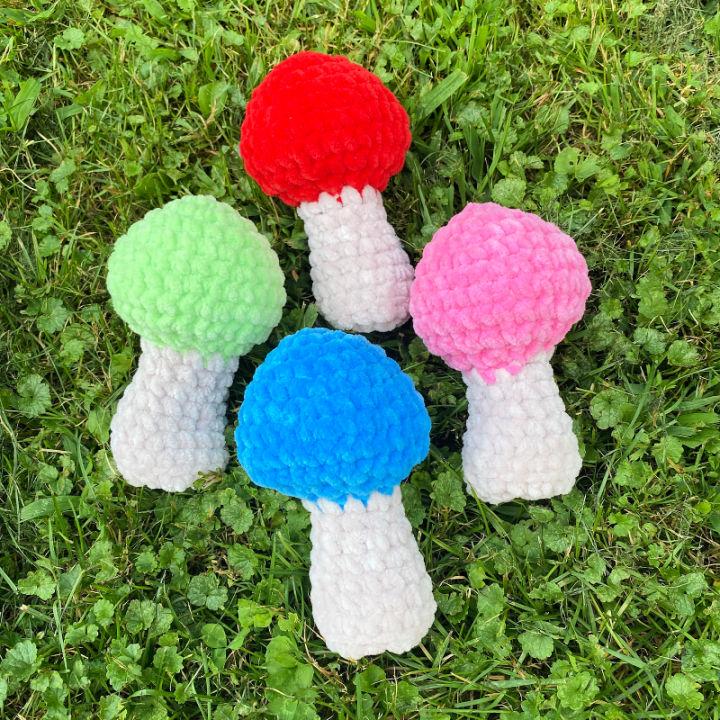 Knit up a fun and vibrant fuzzy mushroom pattern! Perfect for beginner knitters, this pattern helps you create a soft mushroom in multiple colors using premier's parfait chunky yarns. With the right gauge of 14 sc x 11 rows per 4" (10.16cm), make sure to save time and check your gauge first! When finished, the mushroom measures approx 5 ½ x 3 x 3" (14 x 7.6 x 7.6cm) – have endless fun creating mushrooms with this easy-to-follow pattern today! ravelry
3. Crochet Giant Mushroom Pillow Pattern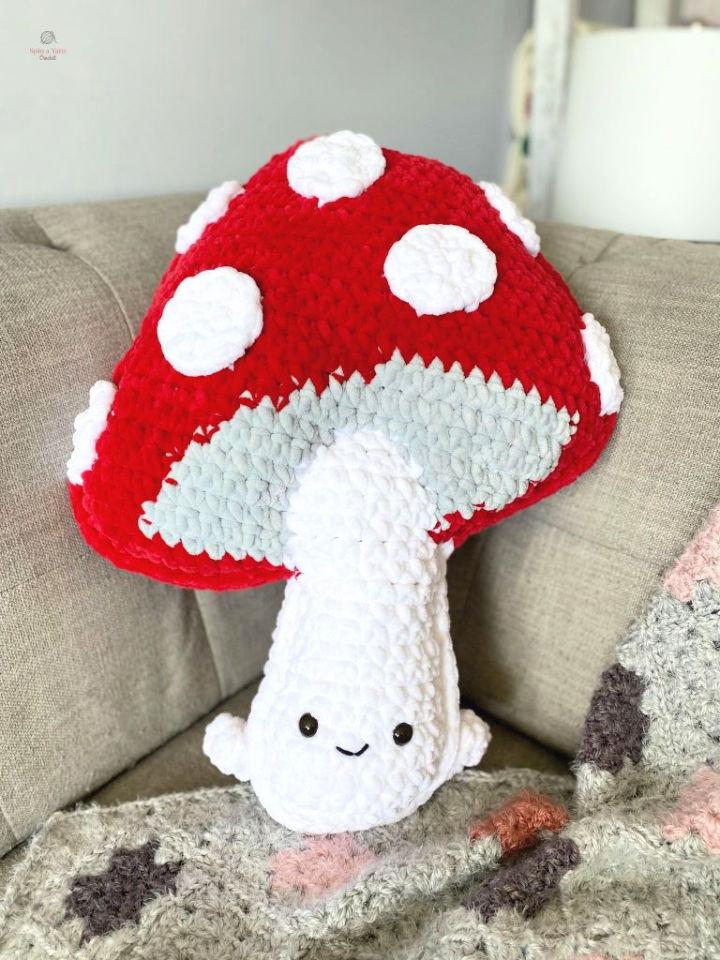 Craft a unique decor piece with this free crochet pattern for a mushroom amigurumi. Plush, squishy and big enough to use as a cushion or cuddle buddy, the design follows the signature ragdoll style; separate pieces worked in flat rows and joined together. You'll need a 9mm hook, loops & threads, sweet snuggles yarn in white, red, and silver, 18mm safety eyes, and black worsted yarn for mouth, stuffing and basic sewing skills! Make your adorable mushroom amigurumi today – the perfect gift idea for kids or adults who love crafting! spinayarncrochet
4. The Fun Guys Crochet Mushroom Pattern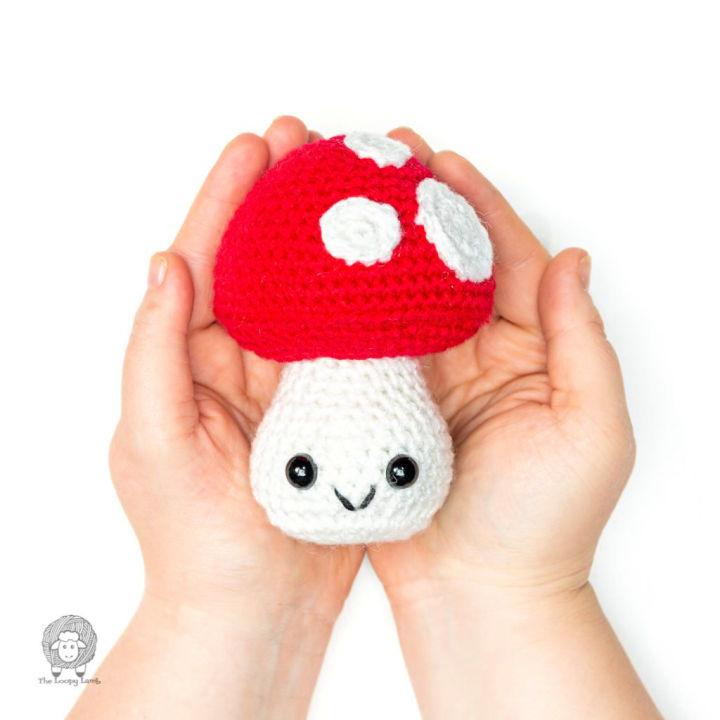 Make these fun guys with this free crochet mushroom pattern! It's quick, easy and highly addictive – perfect for beginner crocheters or a last-minute gift. Plus, the minimal embroidery on the face makes it accessible even if you don't have strong embroidery skills. All you need is a 3.5mm crochet hook, 100% premium acrylic yarn and some poly-fil stuffing – plus two 10mm black safety eyes to give them life! Learn this new skill at an easy level today! theloopylamb
5. Easiest Mushroom Applique to Crochet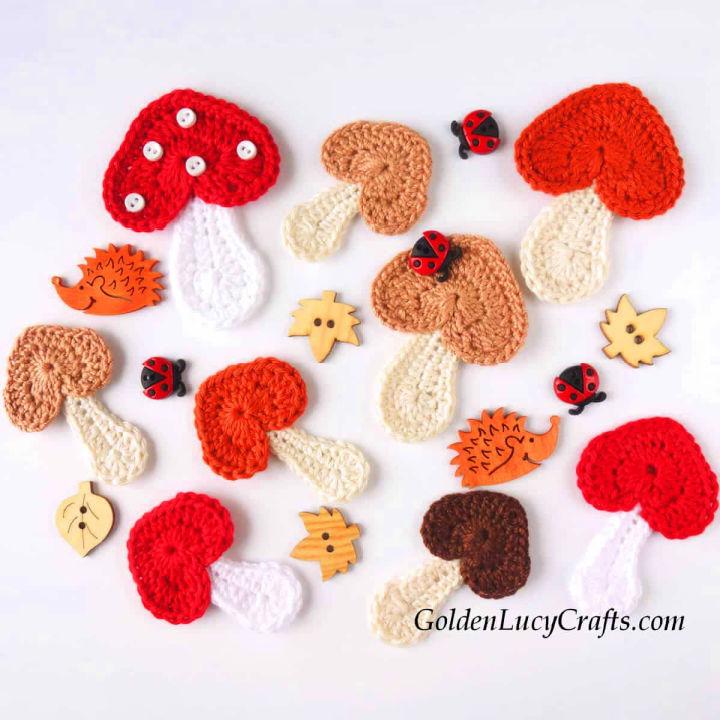 This crochet mushroom applique is perfect for adding a touch of whimsy to any project! It's made by crocheting two pieces and stitching them together: a heart-shaped cap and stem.
The larger mushroom applique measures 3 – ¼″ (8-½ cm) tall, and the smaller one is 2 – ⅕″ (6-½ cm). Use lightweight #3 cotton yarn for the best results. Making this adorable crochet woodland garland? Add these magical mushrooms to create an enchanting look. With just a few stitches, you can craft clothes, blankets, hats, etc., bringing smiles everywhere! goldenlucycrafts
6. Easy Crochet Plush Mushroom Pattern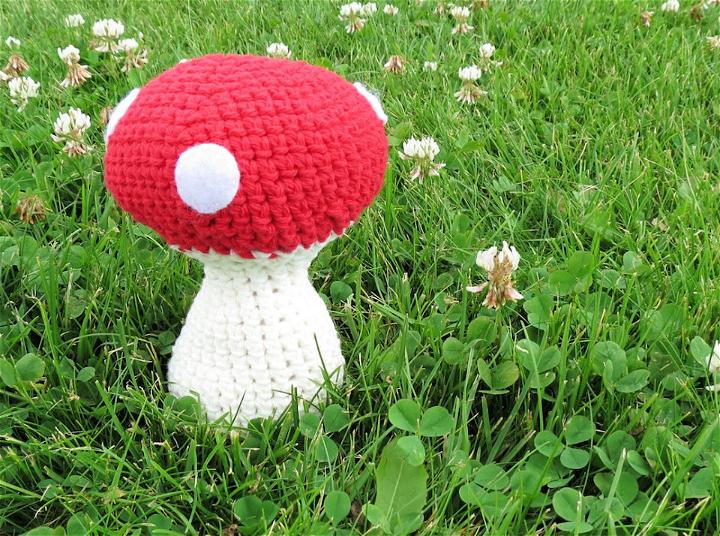 Crochet a giant mushroom softie with this simple pattern! Perfect for any yarn type, it is 6″ tall and 12.5″ in circumference at the head. You'll need two colors of medium weight worsted yarn, a size G (4mm) crochet hook, plastic safety eyes, felted spots or beads (optional). It comes with easy-to-follow instructions to make your stuffed plant today! ravelry
7. Crochet Yet Another Mario Mushroom Pattern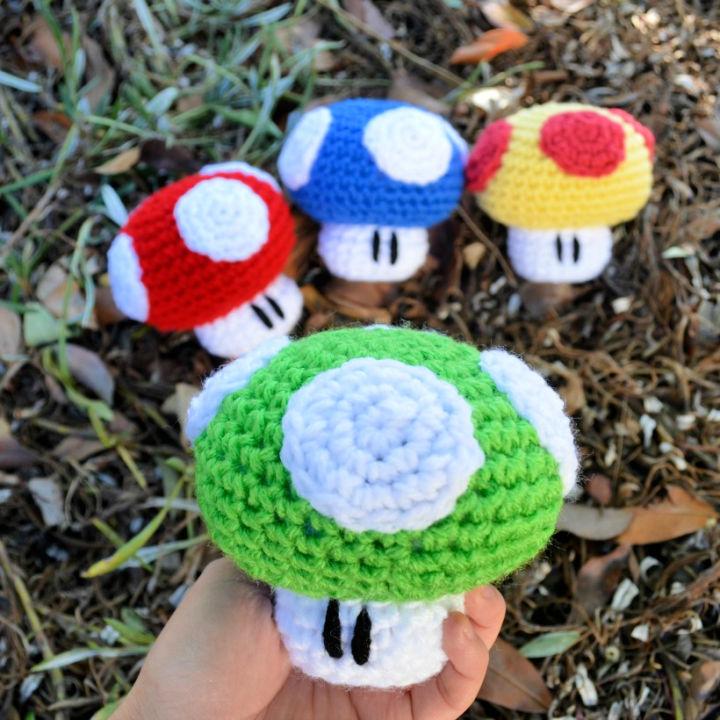 Stitch Mario mushrooms with this fun, free pattern! It's easy and quick to make, so that you can create a whole bunch quickly. Perfect for party favors or as part of your decor, these mushrooms are dressed up with clear bags and matching ribbons. All you need is red heart super saver yarn cherry red, soft white & black; polyester fiberfill; black felt and size H-8 (5 mm) crochet hook for 4.5-inch mushrooms. Make some today! amiamour
8. Beautiful Crochet Toadstool Mushroom Pattern

Create the cutest toadstool mushroom softie plant with DK yarn weight and a 4.5 mm crochet hook. These step-by-step instructions will make this project easy and enjoyable, even if you are a beginner at crocheting! The finished item will be an adorable addition to any home or gift for a loved one. Plus, it is fun, fast, and super easy – all you need is some yarn & a few basic supplies. Start crafting today for unique gifts that won't break the bank! ravelry
9. Free Crochet Mushroom Trio Pattern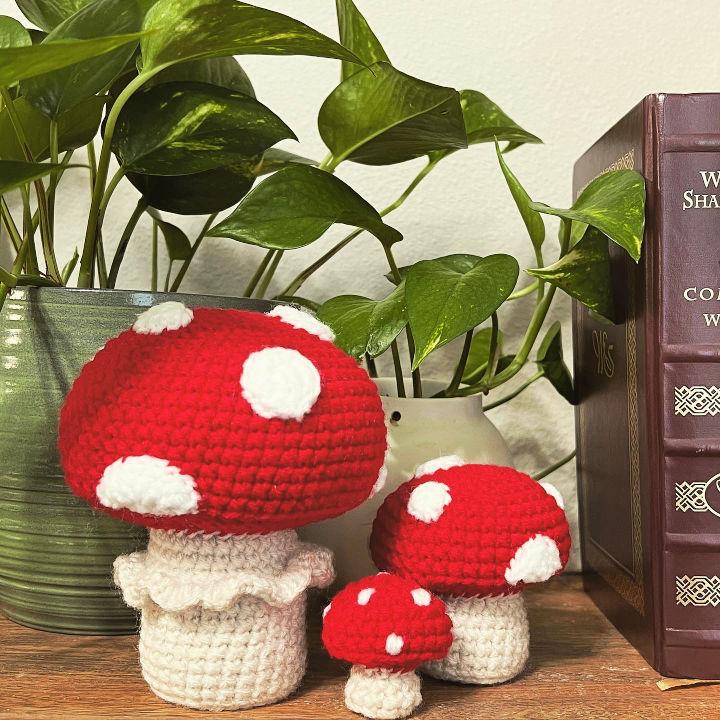 Create the perfect mushroom trio pattern with ease! This versatile pattern is ideal for any skill level and can be customized to make three different sizes of mushrooms, small, medium and large.
You can choose between adding ruffles, spots, gems, and beads. Get creative with worsted weight yarn (size 4) and a 3.75mm crochet hook! The possibilities are endless! Polyester fiber fill will ensure your handmade mushroom trio remains durable and adds extra fluffiness. Make something extra special today with this 'mush' fun pattern! cutiepiecrochet
10. Cuties Crochet Mushroom Pattern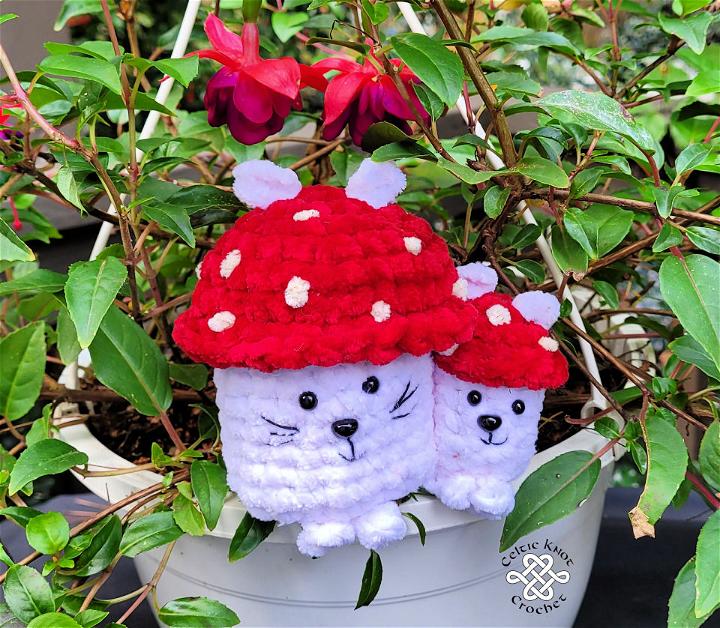 Get ready to create unique and cute crochet mushroom animals with this easy-to-follow pattern! You can make adorable stuffed animals perfect for gifting using luxurious velvet yarn and basic beginner stitches. This large mushroom cutie measures 4 ½″ tall x 3″ wide, while the small one is 2 ½″tall x 1 ¾″ wide. Get velvet yarn, 5.5mm hook (I), 4 mm hook (G), 6mm & 4mm safety eyes today and start your project now! celticknotcrochet
11. Simple Crochet Toadstool Mushroom Pattern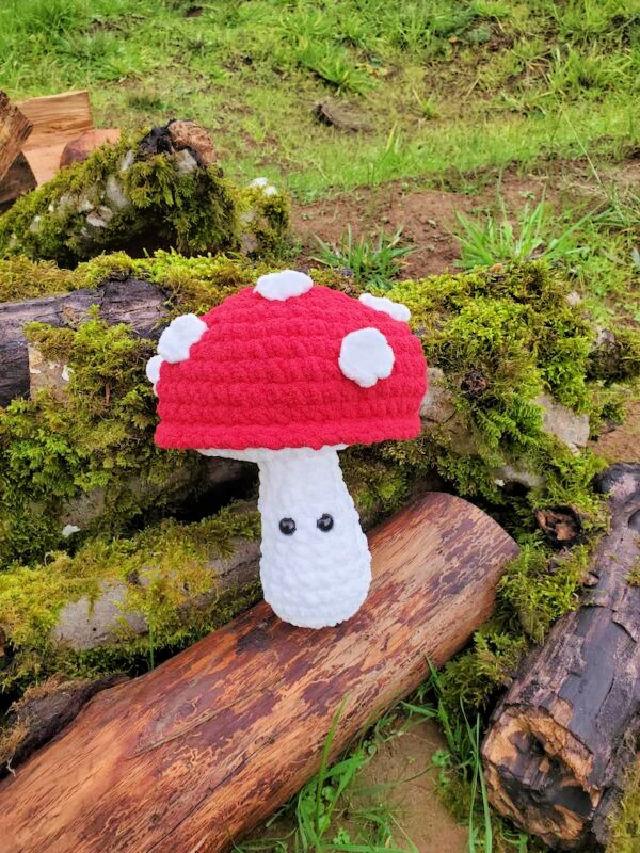 Whip up your lucky charm with this free crochet pattern for steve the shroom! This easy-to-follow amigurumi is worked up in super bulky yarn and looks great as a home décor piece or holiday gift. All you need are racecar red, white and #6 super bulky yarn, an L/11/8.0mm hook and poly-fil premium polyester fiber fill to bring steve the shroom to life! undergroundcraft
12. Free Crochet Mushroom Granny Square Pattern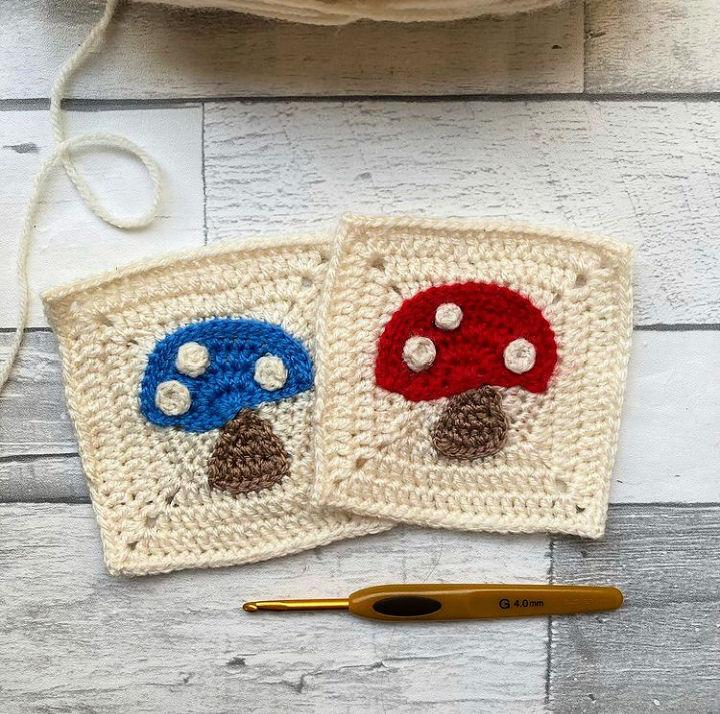 Mushroom granny's afghan block crafted with DK weight yarn and a 4.0 mm (G) crochet hook is the perfect way to add color and texture to any home! These unique granny squares are designed for durability and long-lasting beauty. From classic patterns to modern twists on traditional designs, Mushroom grannies offer something special for everyone! These high-quality pieces will become treasured heirlooms you'll enjoy now and pass down through generations. Show off your style with mushroom grannies today! ravelry
13. How to Crochet Chubby Mushroom – Free Pattern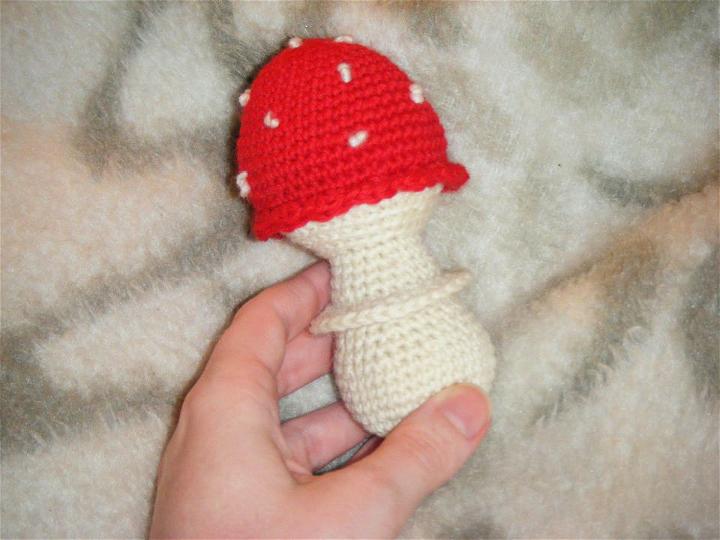 Make a fun and unique crochet amigurumi with the chubby mushroom pattern! This pattern is easy enough for beginners to join in on the fun. Start by using your 3.5mm hook and red yarn to create the body of your mushroom, then switch to off-white yarn for making the gills given in this pattern.
To complete this adorable little guy, use a scrap of white yarn for his eyes and finish him with some embroidery stitches around his cap edge. Bring out your inner creator and craft something special today with a chubby mushroom – it's sure to become an instant favorite! makelittlethings
14. Free Crochet Mushroom Amigurumi Pattern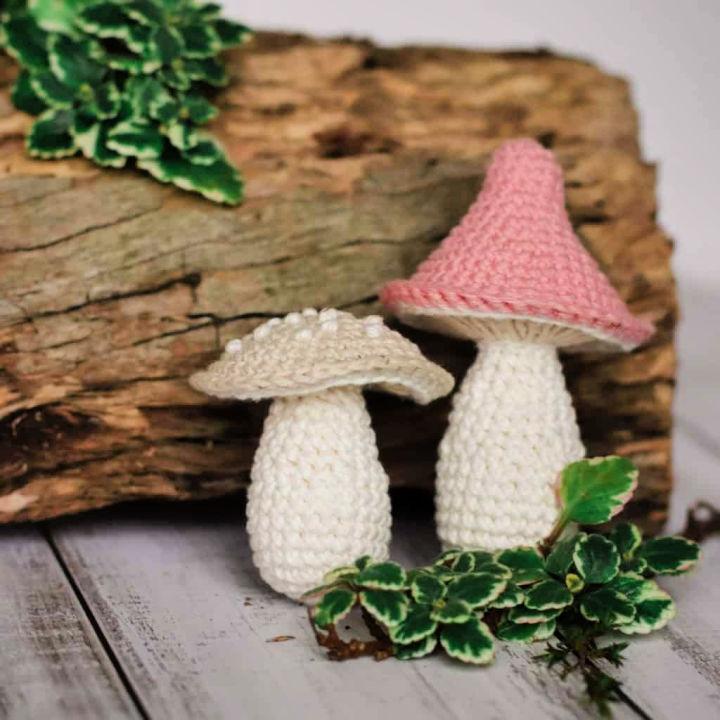 Stitch the perfect woodland-themed gift with this free crochet mushroom pattern! This easy-to-follow amigurumi pattern is designed to give you versatility in colors and textures. All you need is a 2.75 mm/size C crochet hook, stuffing and DK (light worsted) yarn in cream, and beige pink for the perfect combination of mushrooms!
Put your creative skills to work crafting these charming little mushrooms – they would make an excellent addition to any nursery or Easter tree decorations. Let's start making these cute pieces today – download this free crochet mushroom pattern now! thoresbycottage
15. Free Crochet Toadstool Pattern for Beginners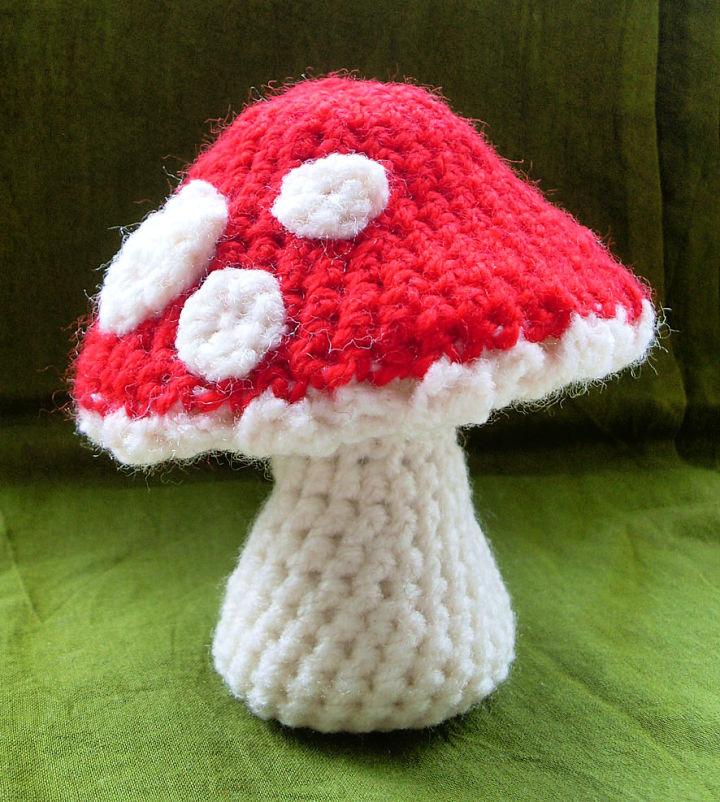 This simple crochet project opens the door to a fun, whimsical world! Create your toadstool or mushroom with this easy crochet pattern! In one piece, starting from the base of the stem and working up, this pattern includes instructions for two different shapes – a brown-topped mushroom and a red-topped toadstool. Plus, get creative with a freestyle variation on the purple frilled toadstool! You'll need DK yarn, a 4mm hook, and stuffing for assembly. Get crafting with this unique amigurumi project today! nicolaschofield
16. New Crochet Mushroom – Step-by-Step Instructions

This crochet mushroom pattern is perfect for giving any nursery or child's room a touch of fun, personality and style. With two hobbii baby snuggle yarn colors and a US G/4.25mm hook, you can easily make this cute little mushroom in no time!
The finished size measures approximately [size], and you'll need polyfill to stuff it with. Add some spots in one color and the stem in another to create an adorable home decor piece that your kids will love! Grab the free crochet pattern today and start creating your handmade mushrooms! roseandlilyami
17. Beautiful Crochet Mushroom Bag Pattern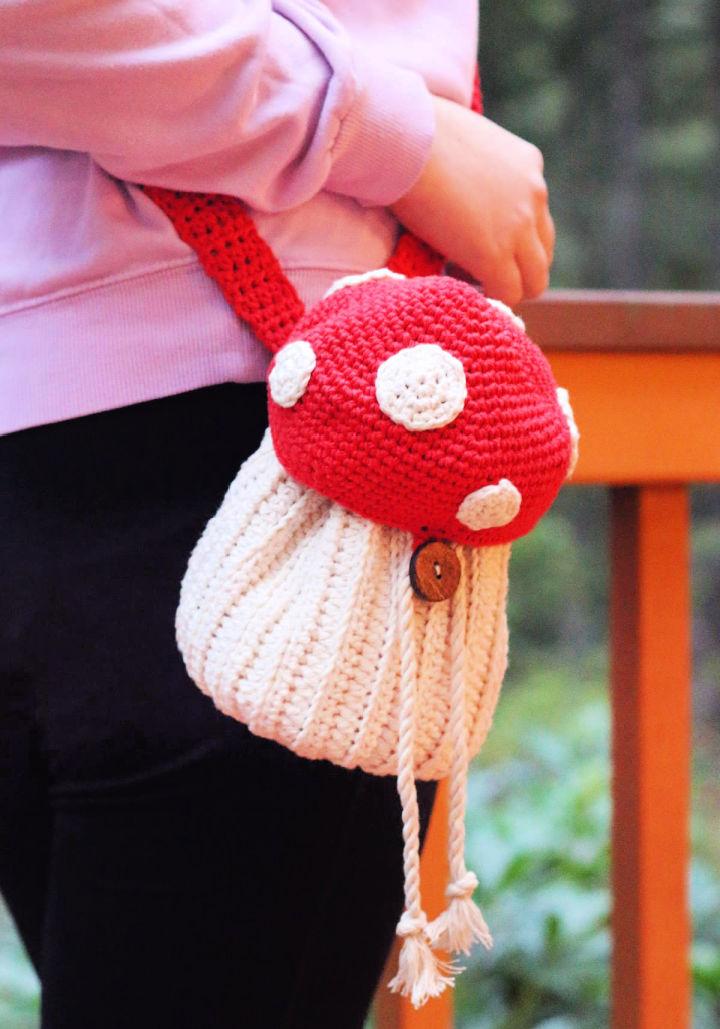 Make a unique and stylish crochet mushroom bag with this free pattern! This cute cottagecore-style crossbody bag is the perfect size for carrying essentials. The drawstring pouch has a ribbed texture, while the mushroom top gives it an extra touch of charm. It's ideal for babies, kids, and teens alike! All you need is 4 worsted cotton yarns, size H (5.00 mm) crochet hook, 1 inch button, and 1 yard 5mm cotton macrame cord to create this 7″ tall by 5.5″ wide accessory. Follow this free pattern to make one today! persialou
18. Crocheted Mushrooms Set Pattern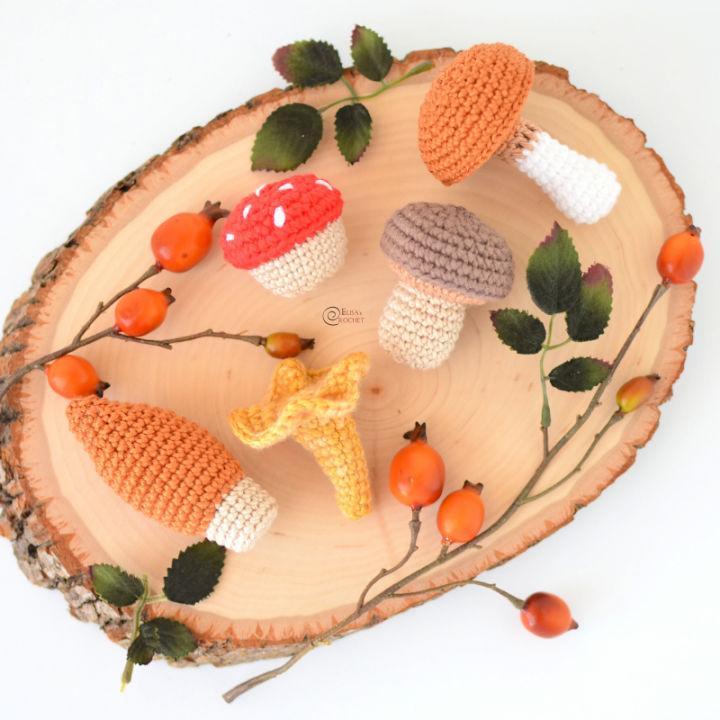 Welcome to the world of crochet! This beautiful mushroom set free crochet pattern adds a touch of fall to your home this season. This beginner-level pattern is perfect for crafting delicate, lightweight pieces that will accessorize any room in your house! Mercerized cotton yarn gives projects a unique softness and shine, making it ideal for amigurumi projects like this one. With only 100% combed, gassed, and mercerized cotton, you can create something cozy, stylish, and long-lasting – perfect for bringing your fall decor alive! elisascrochet
19. Pretty Crochet Mushroom Fly Agaric Pattern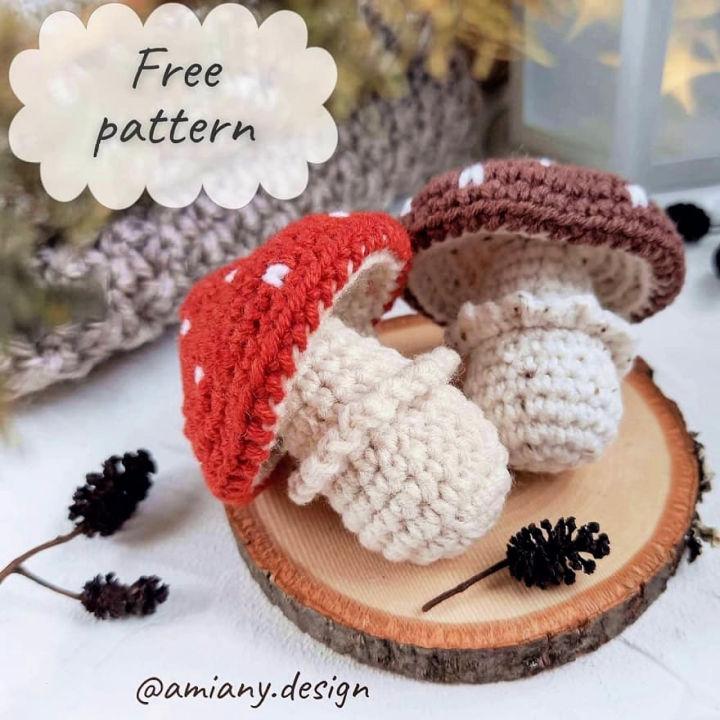 This charmingly crafted crochet mushroom fly agaric pattern transforms your abode into a fantasy realm! Perfect for beginners, the easy-to-follow instructions will have you creating lovely decorations in no time.
Plus, you won't need to take too many breaths – this project can be finished quickly and easily using yarn art jeans, cold, beige and white yarn, and 2.0-2.5 mm hook and fiberfill stuffing. Add a touch of fantasy to your interior decoration today by making one (or more) of these beautiful mushrooms! amigurum
20. Crochet Tiny Shiny Mushroom Pattern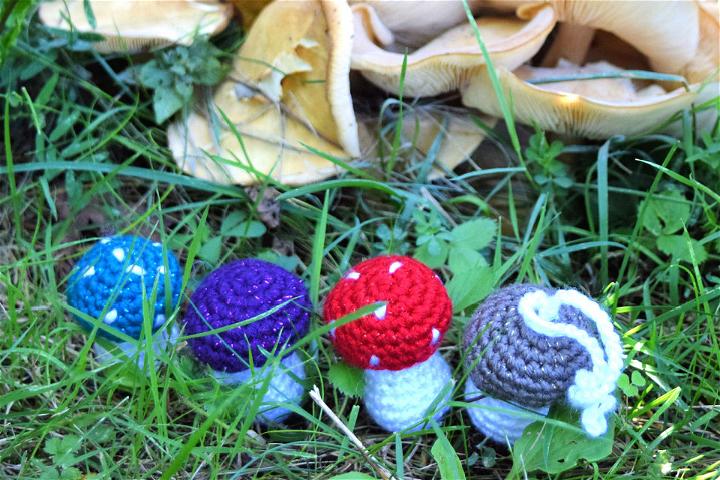 Add color to your autumn decorations with these fall mushroom plushies! This adorable crocheted piece is made from caron, soft party yarn, and a 3.00mm hook, giving it both an aesthetically pleasing texture and fun vibrancy. Perfect for adding extra charm to your seasonal decor, this handmade mushroom will surely be the highlight of any room during the fall season. Get creative and mix up different patterns or assemble multiple mushrooms to create an eye-catching display – you won't regret ordering one (or more!) of these delightful little pieces! amigurumination
21. How Do You Crochet Mushroom Amigurumi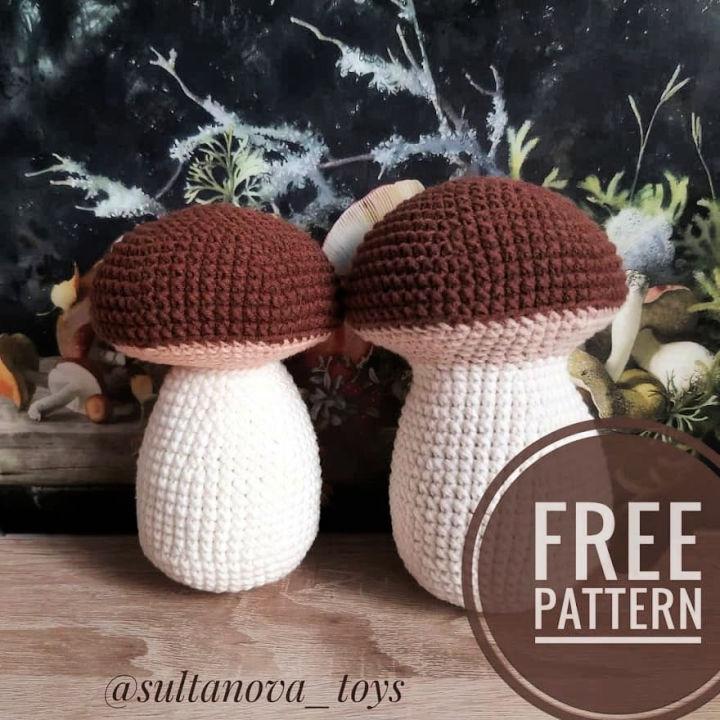 Get busy with your hook and crochet your amigurumi mushroom with this free crochet pattern. Perfect for beginners, the single-piece cap and stem design make it easy to assemble. The 11-12 cm tall crocheted mushroom will be an adorable addition to any dollhouse or nursery. All you need is yarnart jеаns yarn, 2.0mm hook size, and some fiberfill stuffing! So don't wait – create your own cute and cuddly mushroom today! amigurum
22. Crocheting a Mini Mushroom – Free Pattern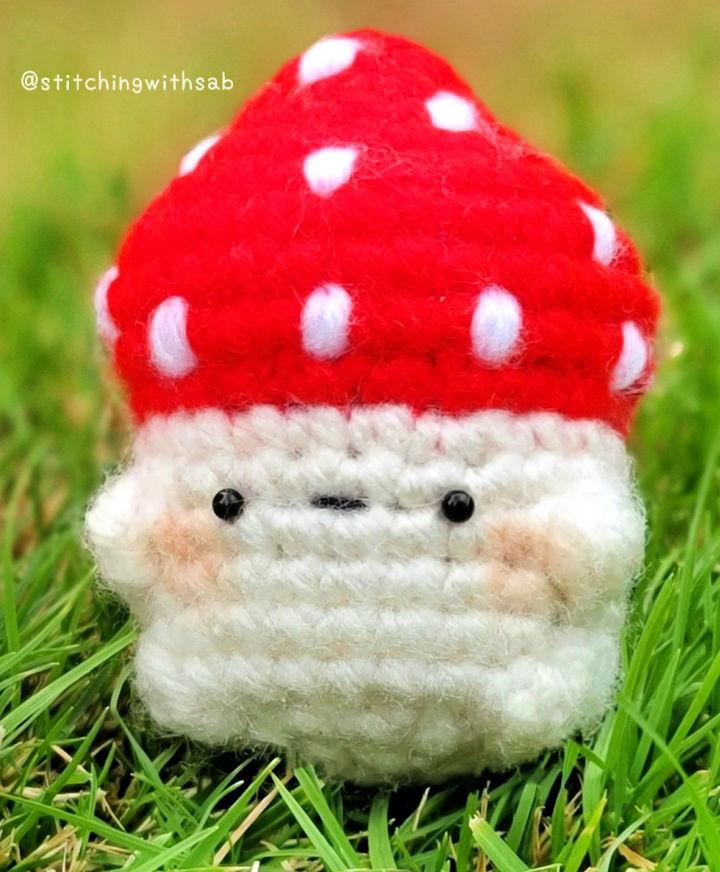 Unlock the door to a world of miniature mushroom magic with this free mini crochet pattern! With materials like worsted weight yarn (red, cream, and white colors), a 2.75 mm hook, black embroidery thread, pink eyeshadow, 2mm safety eyes, fabric glue and stuffing, you can create the cutest amigurumi mushrooms! Perfect to hang off of backpacks or add some flare to any crochet project, it's time to get creative with crafting! Download this pattern for free and bring these sweet little guys to life. stitchingwithsab
23. Fastest Crochet Mini Mushroom Pattern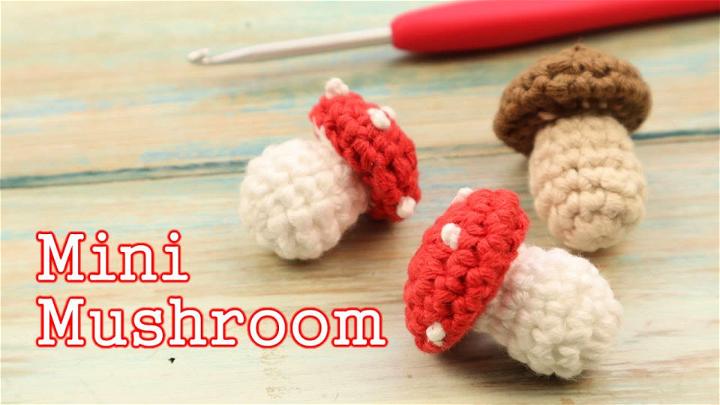 Create your whimsical world with this mini crochet mushroom! This pattern is easy to follow and perfect for beginners. It's small enough to be used as a keychain but can also be scaled up using thicker yarn and a larger hook. Add the finishing touches to any handmade project or amigurumi piece with this cute agaric mushroom design. Its unique shape and color will bring joy wherever it goes – make some today!
24. Easy Crochet Mushroom Hat Pattern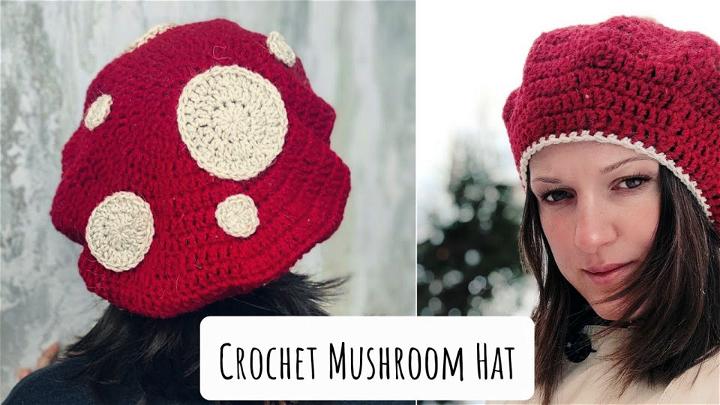 This step-by-step tutorial teaches how to make an adorable and easy red beret hat. Crochet your adult size (22-23 in) super cute mushroom hat using a 5mm hook and any aran weight yarn. Perfect for beginners, you can easily create a unique hat to turn heads! Follow the instructions on crocheting the perfect hat for yourself, your friends, or your family. Make something special today with this fun and easy project!
25. Crochet Big Mushroom Amigurumi Pattern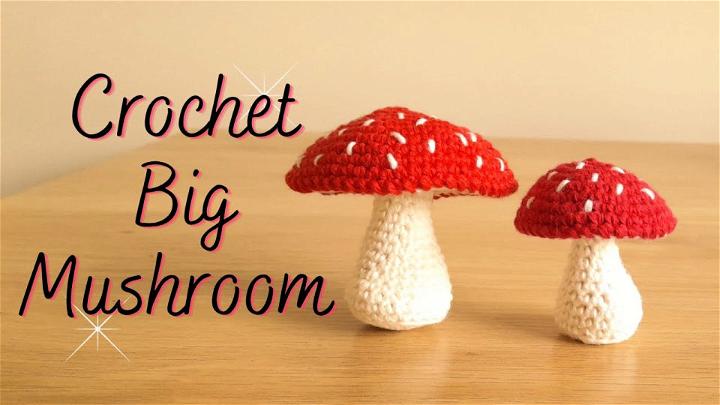 Let your imagination take flight and adorn your home with this beautiful crochet large mushroom pattern! With step-by-step instructions and easy-to-follow diagrams, even beginners can make their crochet mushrooms. Using up scrap yarn is great for the budget-conscious crafter and adds an extra touch of character.
All you need is some cotton yarn, stuffing and a 2.5 mm crochet hook! In no time, you'll have your handmade toadstool that will look just as beautiful in any room or garden space. Follow this pattern today and get creative with your homemade crochet mushroom!
Related Free Crochet Patterns:
Bring your imagination to life with our free crochet amigurumi patterns! Each one is unique, making them perfect for gifting and decorating. Find the perfect pattern for you today!
Conclusion: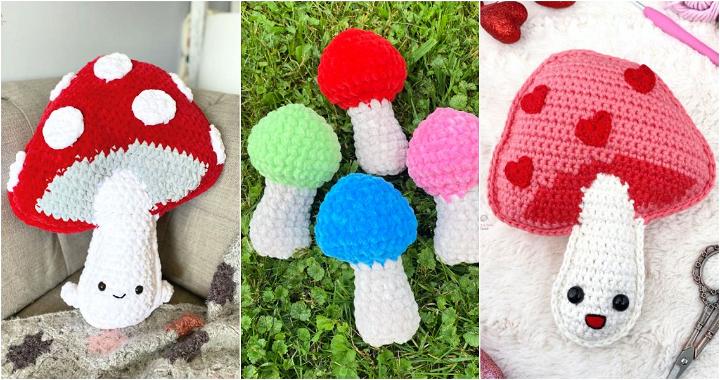 In conclusion, explore the enchanting world of crochet mushrooms with these 25 free amigurumi patterns. From cute and whimsical to charming and detailed, these crochet mushroom patterns cater to various skill levels. Discover easy-to-follow tutorials, step-by-step instructions, and video guides to create your very own plush crochet mushrooms. With a wide array of options, such as toadstools, granny squares, and even mushroom hats, delve into the delightful realm of free crochet mushroom patterns and transform your crochet skills today.