Bring some color and joy to your home with crochet flowers! Learn how to crochet flowers with our collection of 40 free crochet flower patterns, including step-by-step instructions. Each crochet flower pattern comes with easy-to-follow instructions, detailed stitch guides, and helpful illustrations to make crocheting as simple and enjoyable as possible. With various flower patterns, from simple daisies to complex roses, you can add a touch of nature to any item, from hats and scarves to blankets and bags, or create a bouquet of colorful flowers to brighten up your living space. These crocheted flowers make great decorations, gifts, and accessories for any occasion.
The free crochet flower patterns range from simple and basic to more detailed and advanced, so there's a free crochet flower pattern for everyone to create unique flowers. With just a few basic supplies, such as yarn, a crochet hook, and a needle, you can start creating beautiful and colorful flowers today! So why wait? Let's start crocheting some amazing free crochet flower patterns and bringing spring into your home!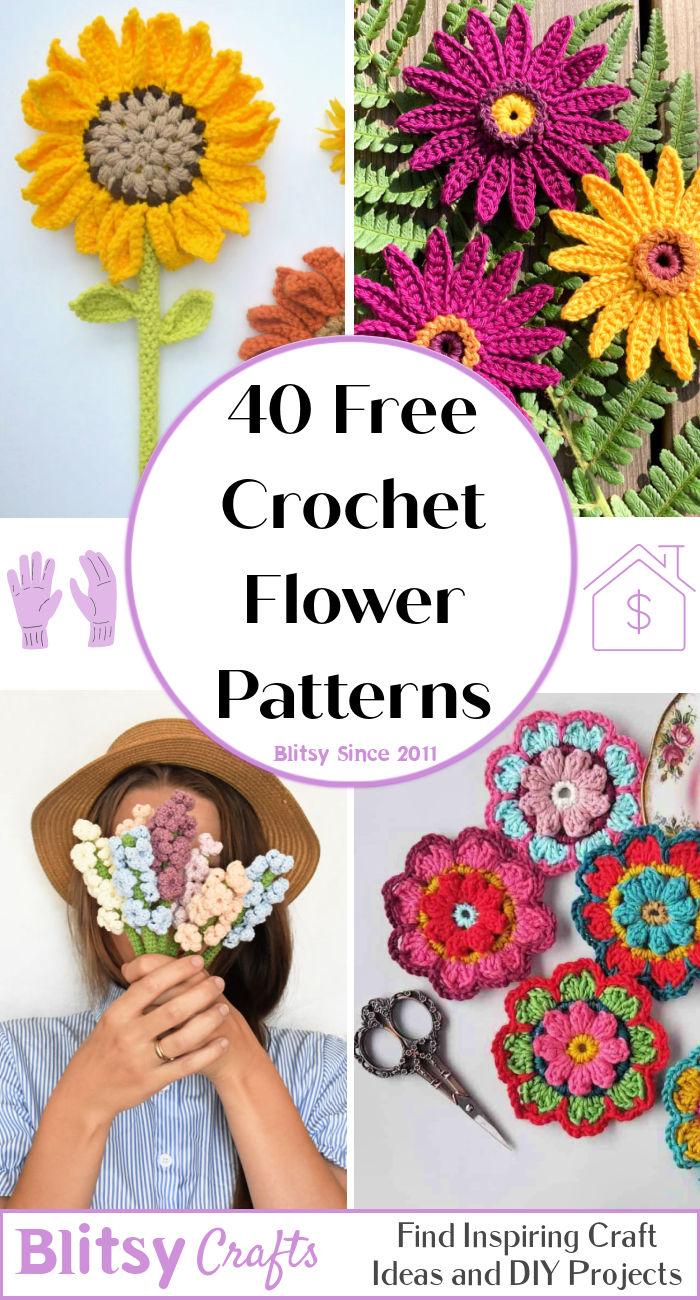 Supplies You'll Need to Make Crochet Flowers
To make crochet flowers, you will need the following supplies:
Crochet hook: Choose a hook size appropriate for the yarn you are using and the desired finished size of your flower.
Yarn: Use a yarn appropriate for the project. A lightweight yarn with a smooth texture is recommended for making flowers.
Scissors: A good pair of scissors will make it easier to cut the yarn.
Tapestry needle: You will need a tapestry needle to weave in the ends of the yarn.
Stitch markers: Stitch markers are useful for marking the beginning of a round or a certain stitch pattern.
Optional: Beads or buttons for embellishment.
With these supplies, you will be well-equipped to make beautiful crochet flowers in various shapes and sizes.
Best Yarn for Crochet Flower Patterns
When it comes to crocheting flower patterns, the type of yarn you use can greatly impact the outcome of your project. Find below some best yarns for crocheting flower patterns:
Cotton Yarn: This is a popular choice for crocheting flowers as it has a smooth and sturdy texture, which can hold the shape of the flower well. It is also available in a wide range of colors and is machine washable.
Wool Yarn: Wool yarn can give your flowers a soft and fluffy texture. You can get it in various colors, and it can be machine washed.
Acrylic Yarn: This versatile yarn is widely available and affordable. It is also machine washable and available in a variety of colors. Acrylic yarn can be a good choice for crocheting flowers that need to hold their shape, such as roses.
Bamboo Yarn: Bamboo yarn is a great choice for crocheting delicate flowers as it has a soft and silky texture. It is also eco-friendly and has a beautiful drape.
Alpaca Yarn: Alpaca yarn can give your crocheted flowers a luxurious feel. It is soft and lightweight, making it perfect for creating delicate flowers.
Ultimately, the best yarn for your crochet flower pattern will depend on the specific look and feel you are trying to achieve. It's always a good idea to experiment with different types of yarn to see which works best for your project.
Favorite Ergonomic Crochet Hooks
Ergonomic crochet hooks are designed to reduce hand fatigue and make crocheting more comfortable. They typically have a soft, rubbery grip and a larger handle that fits comfortably in the palm of your hand. Here are a few popular options:
Clover Soft Touch Crochet Hooks – These hooks have a smooth, lightweight handle that is easy to grip, even for those with arthritis or carpal tunnel syndrome. They come in all sizes and are suitable for working with different types of yarn.
Addi Swing Crochet Hooks – The ergonomic handle of these hooks is designed to fit the shape of your hand, providing a comfortable grip and reducing strain. The smooth, seamless hook allows for easy crocheting and prevents snagging.
Boye Ergonomic Crochet Hooks – These hooks have a contoured handle with a soft, cushioned grip that reduces hand strain. They are available in all sizes and suitable for working with various yarns.
Furls Crochet Hooks – Furls hooks are known for their beautiful design and ergonomic features. They have a unique, tapered shape that comfortably fits your hand and reduces tension. You can find a range of styles, including wood and metal, and they come in various sizes.
Ultimately, the best ergonomic crochet hook depends on your preferences and the type of yarn you are working with. Try out a few different options to find the one that works best for you.
Free Crochet Flower Patterns
Discover 40 free crochet flower patterns with easy-to-follow instructions for beginners and advanced crocheters. These free patterns include various flower designs, including roses, daisies, sunflowers, flowers applique and more. Each crochet flower pattern comes with detailed instructions; some even come with helpful illustrations and pdfs to make the process easier.
With crochet flowers, you can make various things such as floral-themed accessories like scarves, headbands, barrettes, and hats; decorative items like wall hangings and blankets; and even jewelry pieces like necklaces and earrings. You can also use crochet flowers to embellish clothing or accessories like sweaters, bags, or purses. So why start your next crocheting project with a beautiful crochet flower pattern today?
What can I make out of crochet flowers?
Crochet flowers are a versatile and fun way to add a touch of beauty and elegance to a wide range of craft projects. Here are some creative ideas of what you can make out of crochet flowers:
Embellish clothing and accessories: You can attach crochet flowers to clothing items like shirts, skirts, and dresses, as well as accessories like hats, scarves, bags, and shoes to add a pop of color and texture. Crochet flowers can make a simple outfit look more interesting and unique.
Create home decor: Crochet flowers can be used to create beautiful home decor items such as doilies, table runners, placemats, pillow covers, wall hangings, and even wreaths. These items can add a touch of color and charm to any room in your home.
Make jewelry: Crochet flowers can be transformed into beautiful and unique jewelry items like earrings, necklaces, and bracelets. You can attach them to metal findings, add beads or pearls, and combine different techniques like embroidery or beading to create one-of-a-kind jewelry pieces.
Use them as gift toppers: Crochet flowers can be an alternative to traditional gift wrapping and ribbon. Attach them to a plain gift box or a gift bag for a personal touch, or use them to create a small bouquet as a gift.
Create hair accessories: Crochet flowers can make beautiful hair accessories such as hairbands, hair clips, and hair ties. You can create a simple flower and attach it to a hair tie or create a more elaborate one to a headband.
You can use crochet flowers in a wide range of craft projects, and the possibilities are endless. With a little creativity, you can create beautiful and unique items that are sure to impress.
1. Free Crochet Daisy Flower Pattern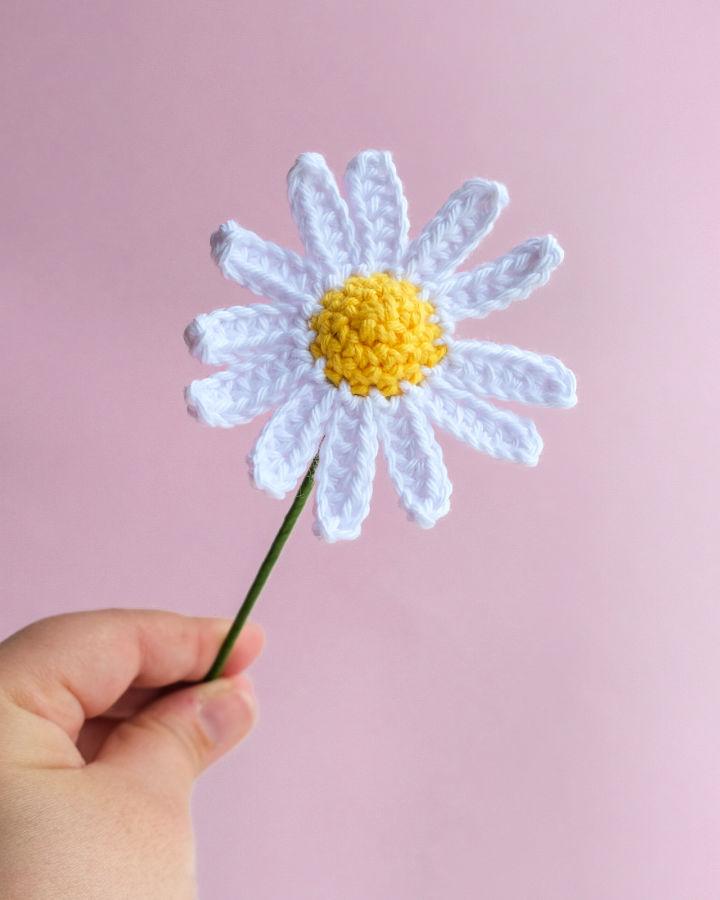 Welcome the spring season with this beautiful daisy flower crochet applique! Create your one-of-a-kind decoration or embellishment for your latest crochet projects using just a few simple materials. All you need is white, yellow and green cotton yarn, a 3.00mm crochet hook, toy stuffing and a tapestry needle. With less than 20g of each color needed, it's budget-friendly and easy to complete – perfect for all skill levels! So don't wait any longer – get ready to bring some spring flair into your home today with this gorgeous daisy flower crochet applique! ravelry
2. Cute Crochet 6 Petals Flower Pattern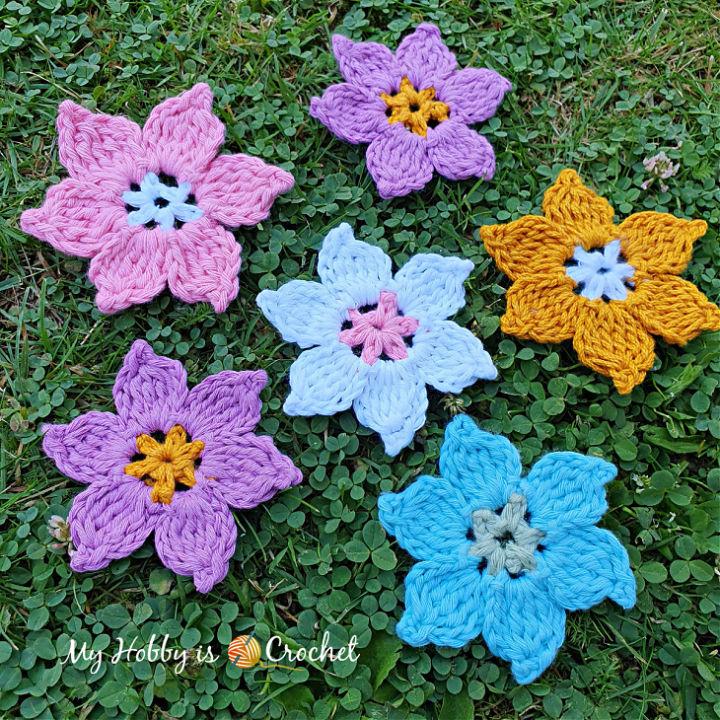 Bringing a delicate touch of beauty, the pointed petals flower will elevate your crochet creations. This 6-petal design is perfect for adding a beautiful, unique touch to any project. Get free written instructions and video tutorials for crocheters of all levels – from beginners to experienced.
You'll need only a small amount of medium 4 cotton yarn in two colors, plus a 3.5mm crochet hook and other supplies, and you'll be ready to go! The size of your flowers will vary depending on your chosen yarn and hook size; they measure approximately 3.2-3.5 inches when finished. Start crocheting these gorgeous pointed petals flowers today! myhobbyiscrochet
3. Crochet Heart Flower Wreath – Free Pattern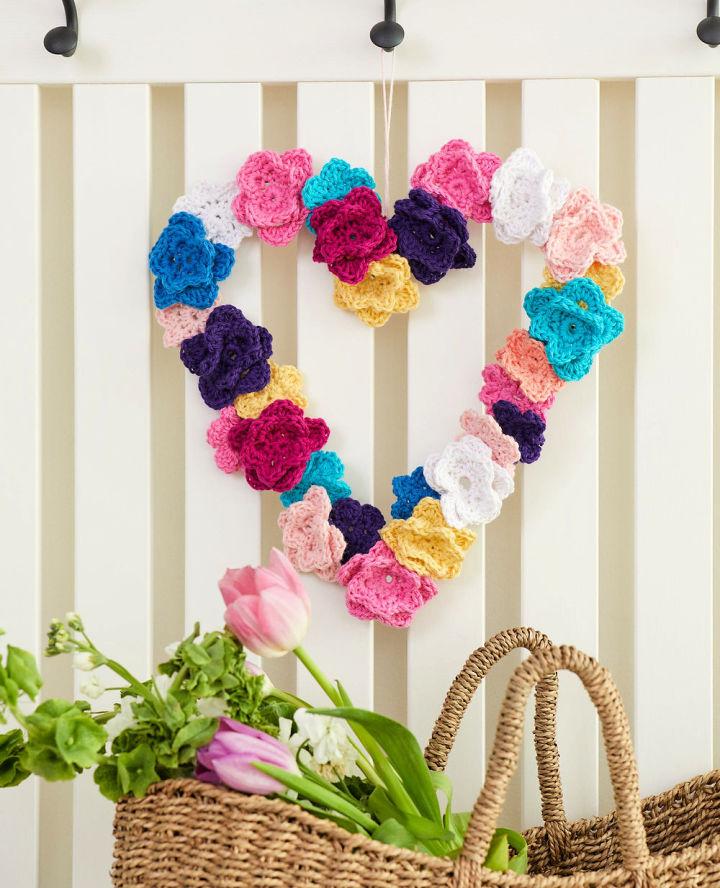 You can make a beautiful and unique heart flower wreath with this free crochet pattern! Perfect for decorating any room in the home, it is made from 100% cotton yarn, using US Size G-6 (4mm) crochet hook and a 12″ heart-shaped wire frame. With detailed instructions on how to weave in small yarn ends and tie the flowers to the frame, your finished piece will be stunning. To finish your masterpiece, cut a 14″ length of yarn to hang it up. Make this amazing heart flower wreath today and add color and beauty to your home! premieryarns
4. Cheerful Crochet Sunflower Pattern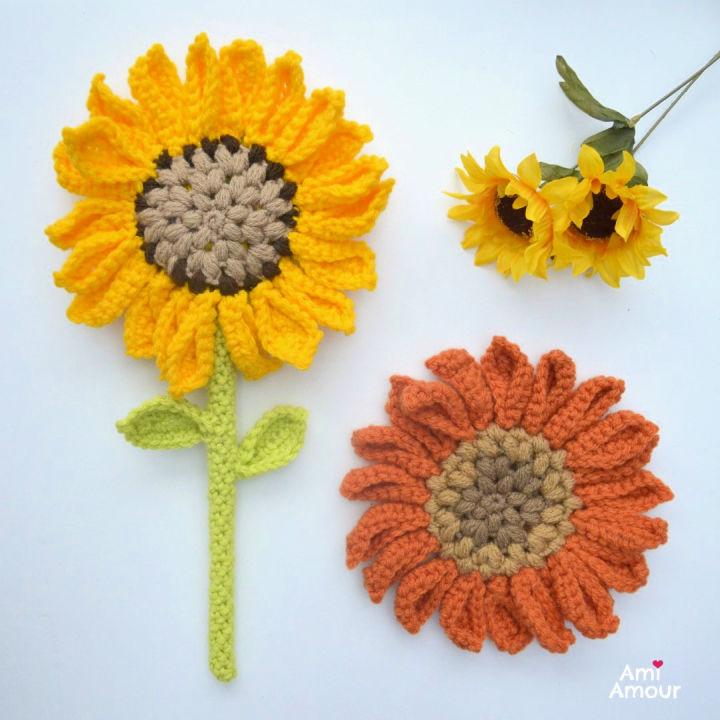 Let your spirit bloom with this stunning crochet sunflower wand! With help from the free pattern and accompanying video tutorial, you'll be able to make a cheerful amigurumi flower in no time. The puff stitches on the center head add texture and detail, making it look real. Choose from either a sunny golden day or pretty autumn orange for your sunflower – whichever color you pick is sure to brighten up any room! So grab your supplies, follow the instructions, and bring some sunshine into your life today! amiamour
5. How to Crochet Tulips on Canvas – Free Pattern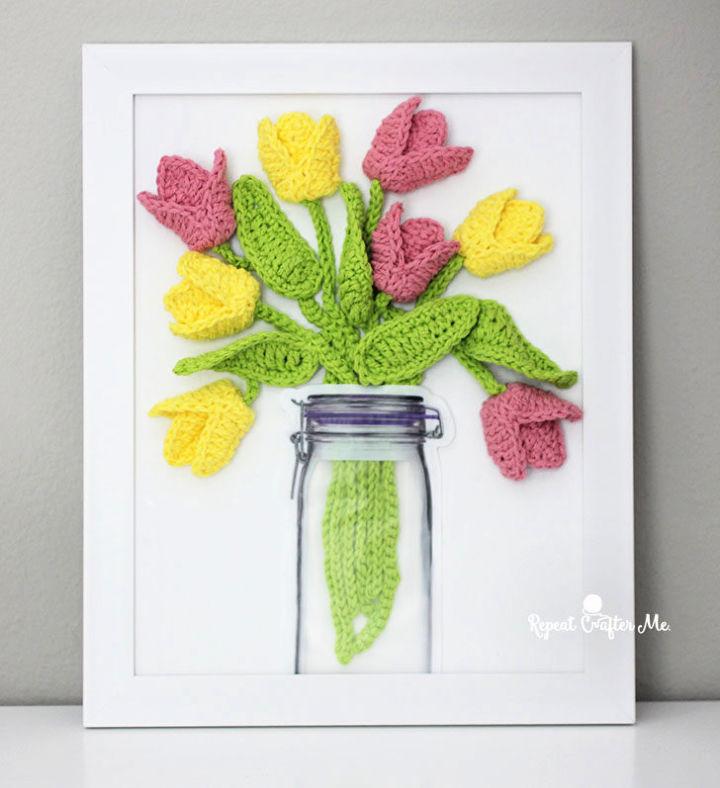 Create beautiful crochet tulips on canvas with this easy and fun DIY project. Choose lily sugar 'n cream yarn for rich, bright colors and a smooth texture perfect for gluing to the canvas. You'll need a G crochet hook, mason jar zipper bags, an 11×14 inch canvas panel, a hot glue gun, a tapestry needle, a white frame and your favorite tulip colors. Follow the instructions to make these adorable home décor pieces in no time! Add a touch of nature to your walls or shelves with this crafty project that anyone can do – get started now and make your custom creation! repeatcrafterme
6. Free Crochet Rose Flower Bouquet Pattern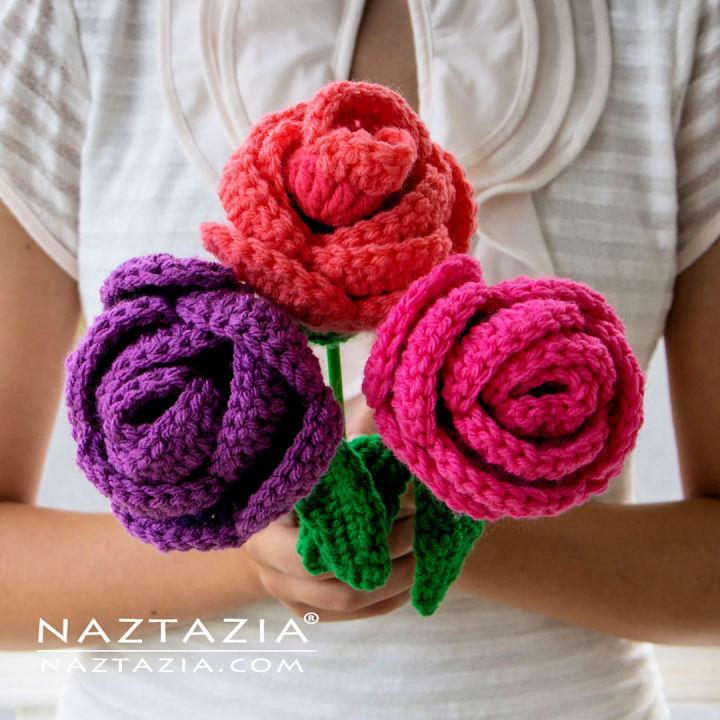 Crochet a stunning bouquet of roses that will never wilt! With This free pattern and video tutorial, you can crochet an everlasting bouquet with 100% acrylic worsted-weight yarn. Perfect for weddings, vases or outdoor use – change the fibers or yarn weights to create different size flowers too! Have fun with this creative project, and enjoy your beautiful rose bouquet. naztazia
7. Crochet May Flowers Pen Amigurumi Pattern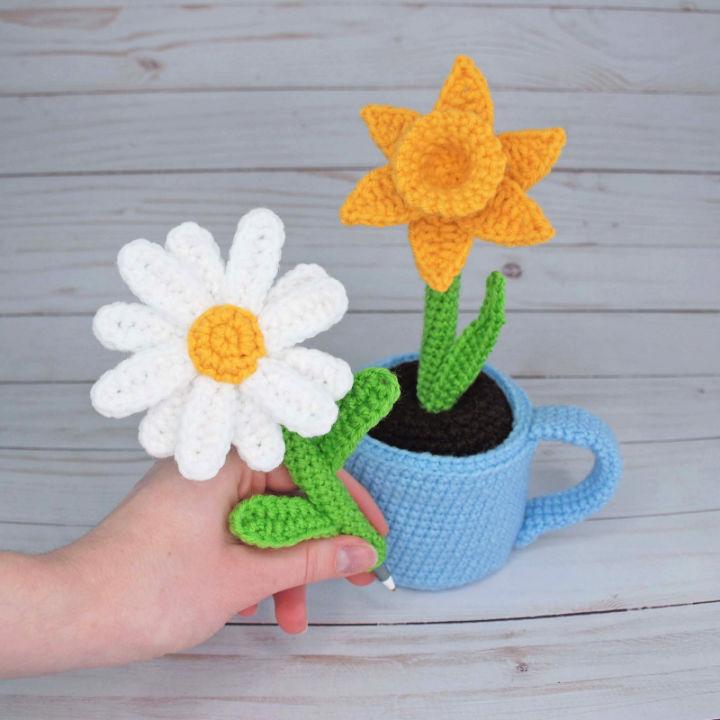 This beautiful and functional May flowers pen amigurumi pattern will help you create a one-of-a-kind writing accessory. The pattern is perfect for a Mother's Day gift and includes easy-to-follow instructions for making daffodils, daisies, and tulip blooms. Crafted using worsted weight yarn in multiple colors and a 4.5 mm G hook, these pens measure approximately 7.5″ tall for the flowers and 4″ tall by 8″ wide for the watering can. Reinforce with cardboard or foam core & stuff to complete your masterpiece! Get creative & add a touch of nature to your writing – grab your tapestry needle & start stitching today! furlscrochet
8. How Do You Crochet a Flower for a Hat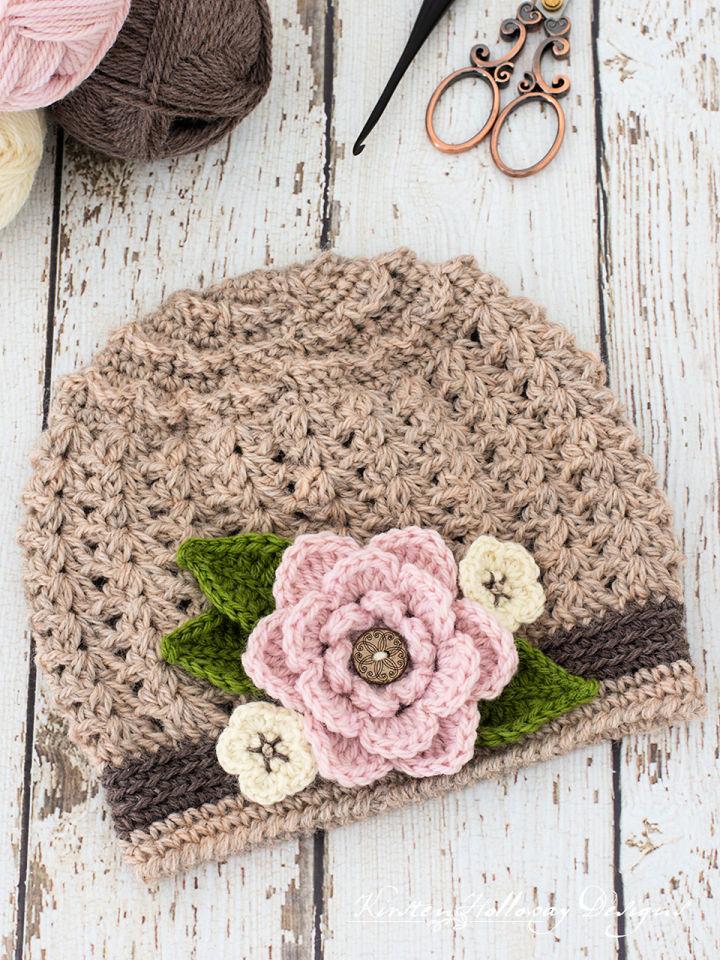 Craft the perfect slouch hat adorned with flowers and left with this free crochet pattern tutorial! Whether for yourself or a child, you'll love the unique combination of post stitches, shells, and reverse single crochet. With two flower tutorials included and 150 yards of Paton's classic wool in heath heather plus other colors for the flowers and leaves, all you need is a 4.5mm hook (and 3.75mm & 3.25mm) to get started today! Mix and match your band color or keep it the same – customize however you like! Show off your creativity with this beautiful project! kirstenholloway
9. Beautiful Crochet Large Ragwort Flowers Pattern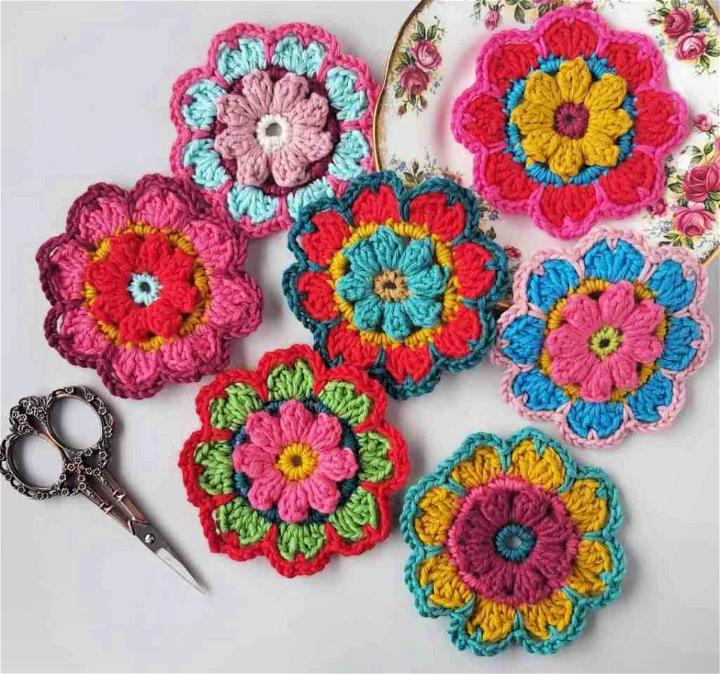 Looking for a creative way to use scrap yarn and show off your crochet skills? This large flower pattern is the perfect solution! With only basic stitches required and no gauge restrictions, this free pattern is suitable for all skill levels. Each flower measures 4 inches across using DK weight yarn, with cotton recommended for its stitch definition and a huge range of colors. Use the flowers as a brooch on clothing or accessories, add them to summer hats, bunting or even yarn bombing – how will you make a statement? Grab your 4mm hook and start creating today! anniedesigncrochet
10. Easy Crochet 3D Flower Bouquet Pattern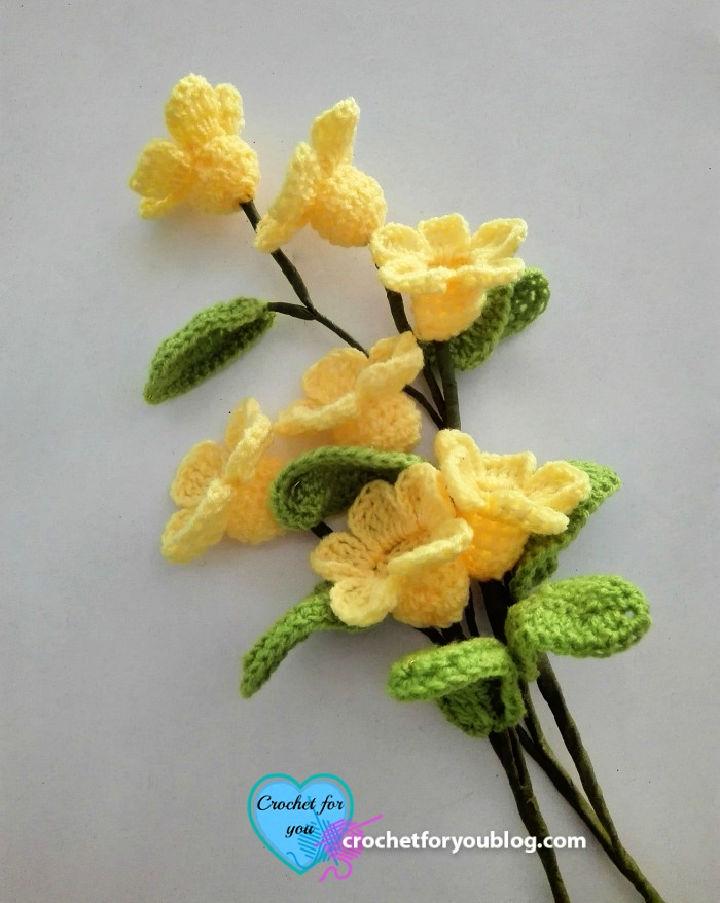 Treat your space to a splash of color and texture with this beautiful 3D flower bouquet crochet pattern. Perfect for a more experienced crocheter, the pattern uses fine sport-weight acrylic yarn in yellow and olive green to create an eye-catching addition to any living space. Get creative by using florist wire and tape for a realistic effect, then finish with a 3.5 mm crochet hook – you'll be delighted by the results! This vibrant décor makes an excellent gift idea or fun craft project that instantly adds color and beauty to your home. crochetforyou
11. Best Two Layer Flowers Crochet Pattern

Create beautiful two-layer crochet flowers with this free and easy pattern! With small scraps of DK weight yarn, you can make a bunch of these eye-catching embellishments in just minutes. Perfect for an adventurous beginner, the pattern uses basic stitches and any matching hook & yarn weight of your choice. The finished flower measures approximately 3 inches across – no gauge necessary! Finish off baby blankets, hats, hair clips or pillows with these merry blooms. Cotton, soft DK yarn, is great for this project – get started now to add some cheer to your projects! anniedesigncrochet
12. Crochet Orchid Flower – Free PDF Pattern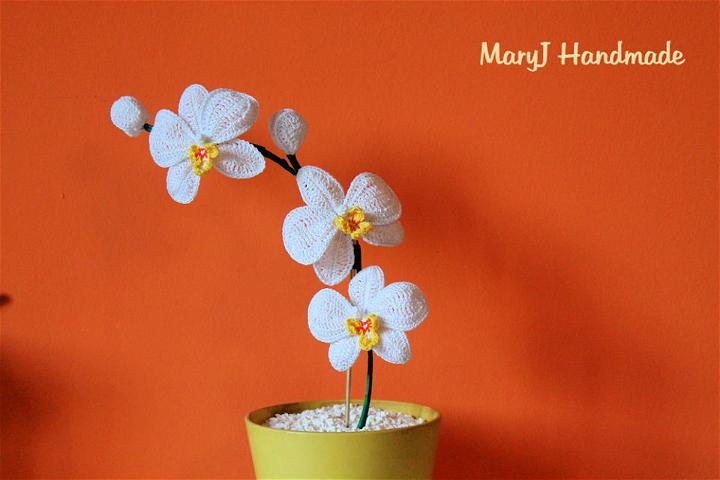 Crochet a stunning floral decoration for your home easily using the free crochet pattern for a two-layer orchid! Perfect for beginners, this project is simple to complete thanks to these step-by-step videos. You only need small amounts of DK weight yarn, a 4mm crochet hook and a yarn needle. Create any color combination you like – from vibrant pinks to neutral whites – for your unique piece that will look beautiful in any space. Get started now, and let your creativity blossom! leartidiminerva
13. How to Crochet 3D Flowers – Free Pattern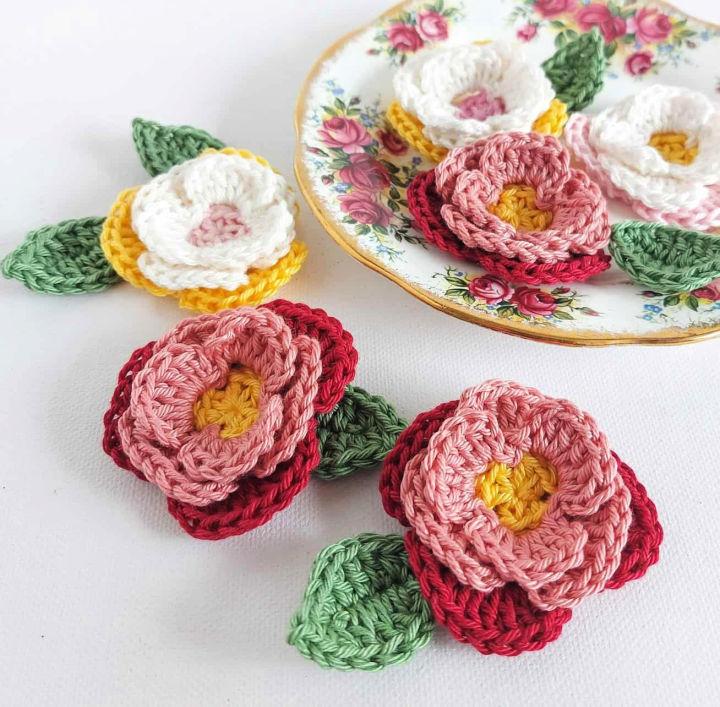 Discover the beauty of 3D crochet flowers and create beautiful projects with a pop of color and texture! With this easy pattern, you can craft these stunning blossoms in minutes. Choose 4 ply/sports-weight cotton with a 3mm hook or aran/worsted weight cotton with a 4mm hook to get started. No specific gauge is needed, so even beginners can join in on the fun! Some small amounts of yarn and your favorite hook are required, plus some yarn needles, hair clips or bobby pins. Start crafting today – make an Easter wreath, baby blanket, hair accessory or brooch! anniedesigncrochet
14. Crocheted Autumn Gerbera Flower Pattern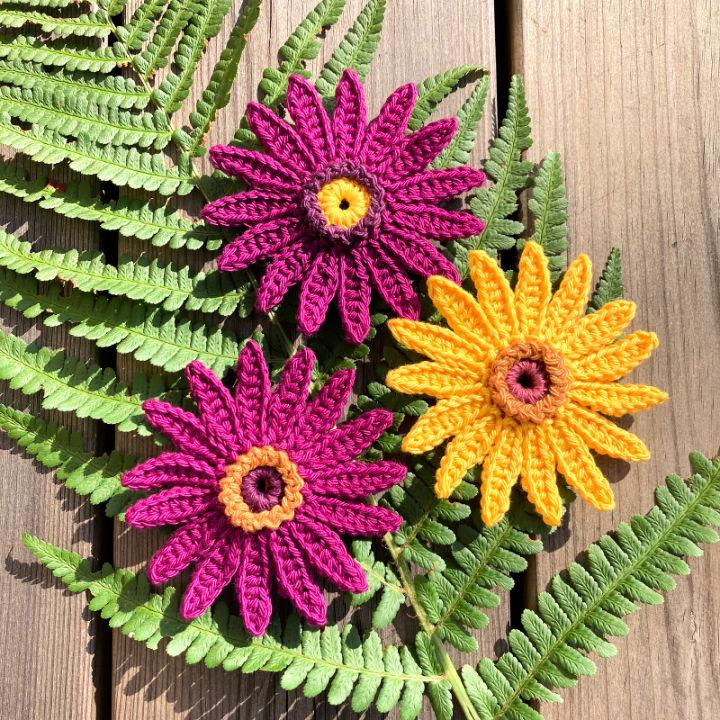 Brighten your home with the autumn gerbera crochet flower! This decorative and ornamental flower is perfect for sprucing up any room. Using fingering weight yarn and a 2.5mm or 2.75mm (C) hook, this 3-round pattern is quick, easy and can be made in any color imaginable. Download the free pattern to start crocheting today! Get creative by trying different yarns for impressive results that will add a pop of color to your home decor. Elevate your décor with this beautiful crochet flower; download the pattern now and get started! ravelry
15. How to Make Flowers – Free Crochet Pattern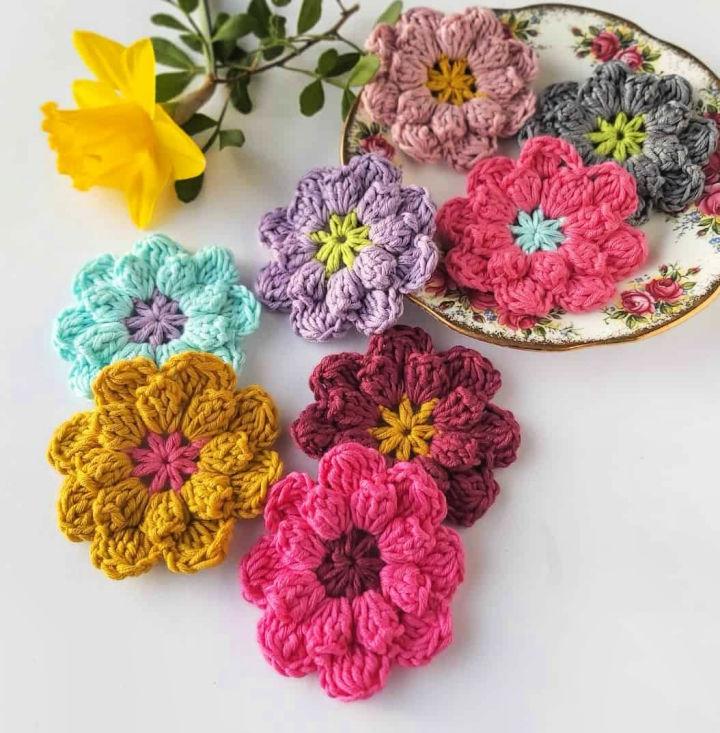 Whip up beautiful and easy crochet flowers with this free pattern! Perfect for embellishing any project, including baby blankets, hats, or pillows. Recommended yarn is cotton DK for its stitch definition & gorgeous colors. Basic stitches only; perfect even for beginners, with a video tutorial included. Each flower measures 3″. The gauge is unimportant. Grab your hook & small amounts of DK-weight yarn to get started today! These flowers take minutes to make, so you can quickly add a unique flair to any project. anniedesigncrochet
16. Free Crochet Hyacinth Flowers Pattern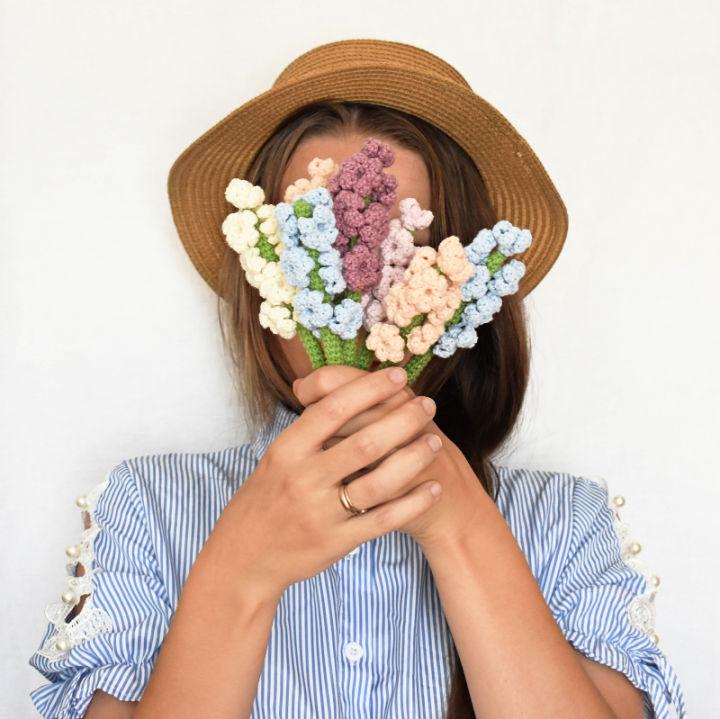 Transform any space with this beautiful and easy-to-make flower hyacinth crochet pattern! Perfect for any skill level, the project uses simple single and double crochet stitches with sport-weight yarn and a 2.0mm hook to create an ornamental flower that measures approximately 15 cm (6″). Free of charge, this low-maintenance bouquet will bring a pop of color and beauty to your home without breaking the bank – perfect for beginners who want to add a touch of nature to any room. Get started on your flower hyacinth today! ravelry
17. Fastest Crochet Cherry Blossom Tiny Flower Pattern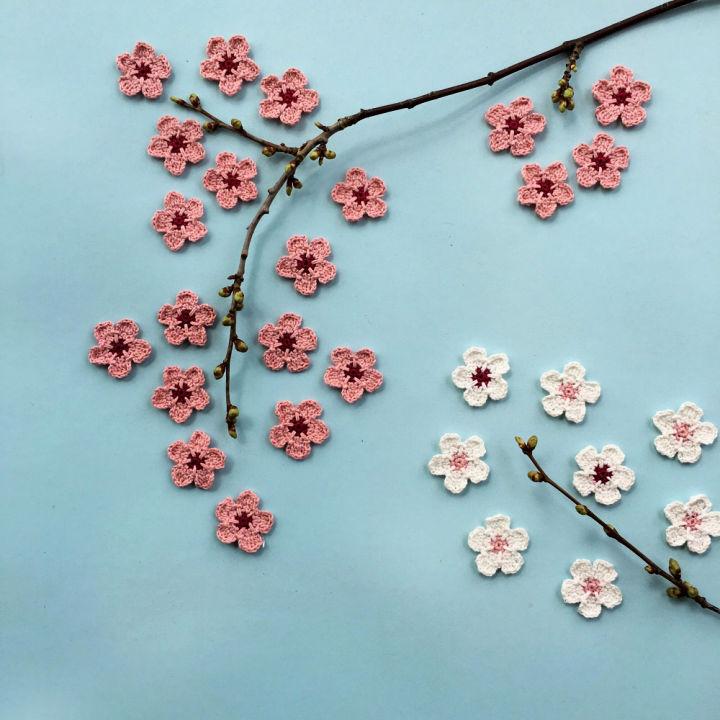 Celebrate the season of renewal with this gorgeous cherry blossom crochet pattern! Perfect for beginners, you only need a 1.25mm hook and 100% cotton mercerized yarn to start. With just a few basic crocheting skills, you can create a beautiful blossom that will add a touch of spring to any room in your home. So don't wait – grab your supplies today and start crafting! intheyarngarden
18. Free Crochet Puff Flower Pattern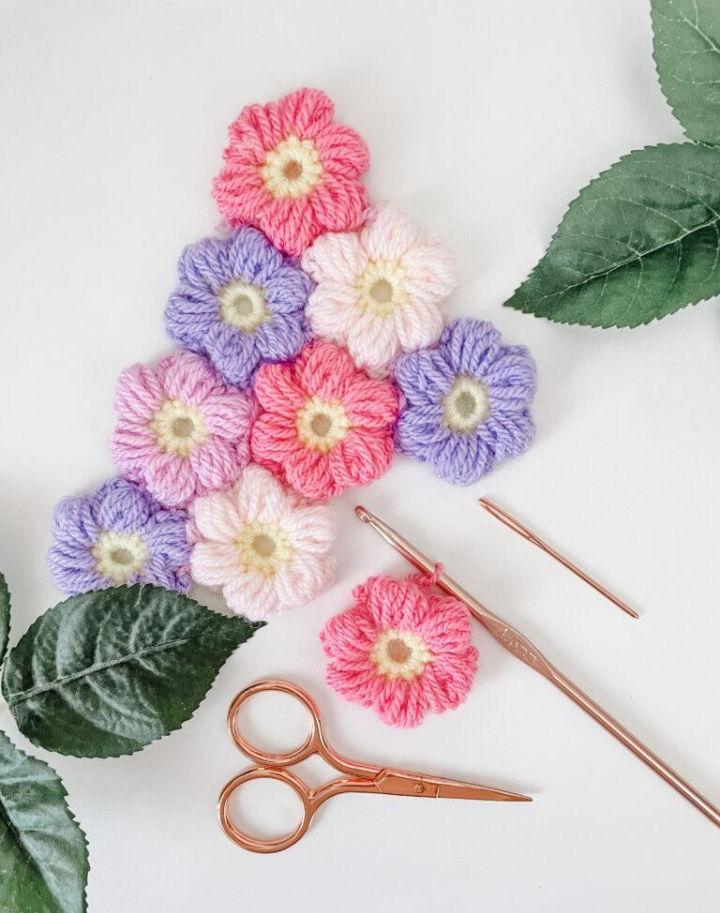 This free crochet pattern will help you create beautiful, fluffy puff flowers. Perfect for adding a touch of finesse to any project, from scarves and blankets to hair accessories. Using the easy-to-follow written instructions and video tutorial, even beginners can make these stunning decorations with DK yarn and a 4.5mm hook. Add that special something to your next project – grab the free crochet pattern now! bellacococrochet
19. New Crochet Wild Rose Flower Pattern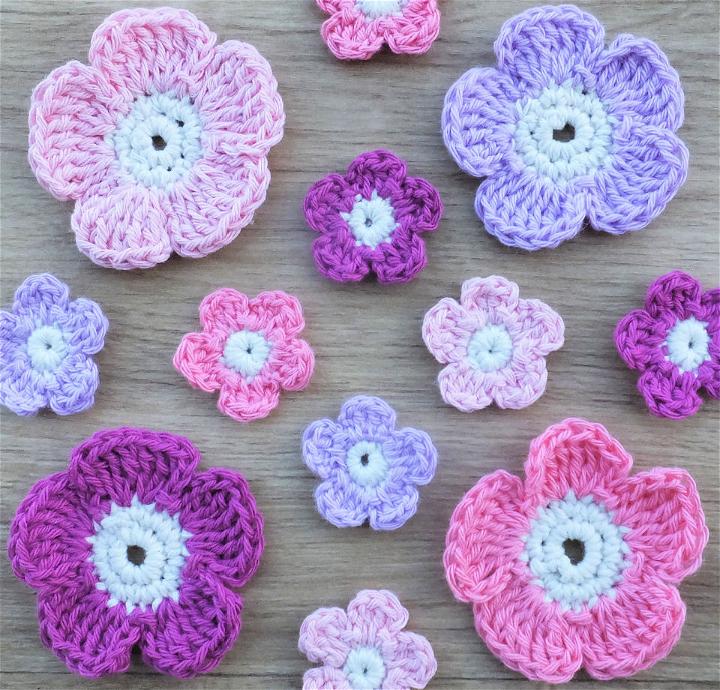 Add a touch of elegance to your projects with the wild rose flower crochet applique. This versatile embellishment is perfect for creating brooches, bookmarks, hair accessories and more. With quick and easy instructions, you can use any yarn weight and corresponding hook size to make this project – ideal for using up your leftover yarn scraps! This lovely wild rose flower crochet applique gives your creations unique beauty. Whether it's an accessory or decor piece, the stunning design will surely add the finishing touches to your beloved crafts. ravelry
20. Crocheting a Carnation Flower for a Bouquet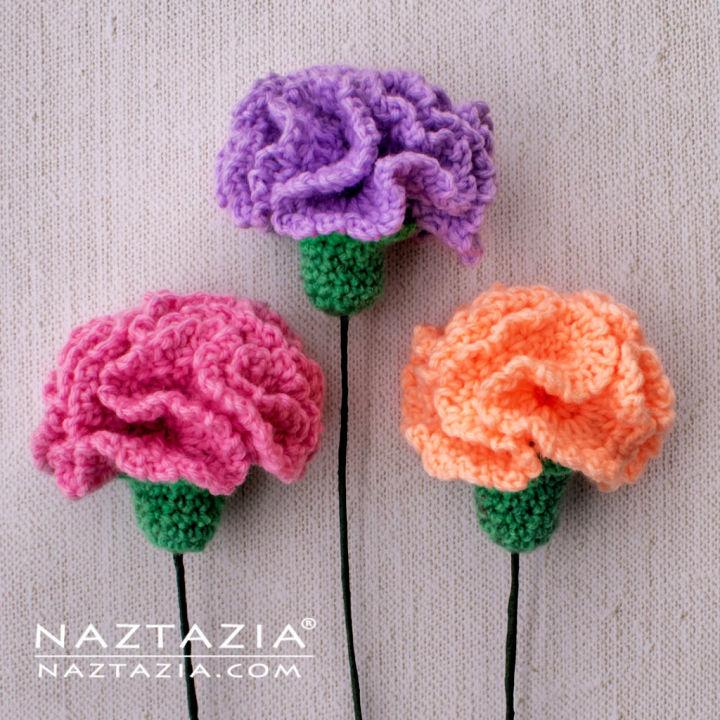 This handmade crochet carnation flower gives your home a touch of beauty! Perfect for a bouquet or as standalone decor, this easy-to-make flower works quickly and can be made in any color. Brighten up special occasions like weddings or proms, or add decoration to your room – it's sure to impress. This pattern requires knowledge of chains, single crochets & double crochets using DK weight yarn and size G hook. Use floral wire or stiff wire for the stem and floral tape to make the perfect long-lasting flower. Get creative and make a dozen for someone special! naztazia
21. Crochet Layer Flowers – Step-By-Step Instructions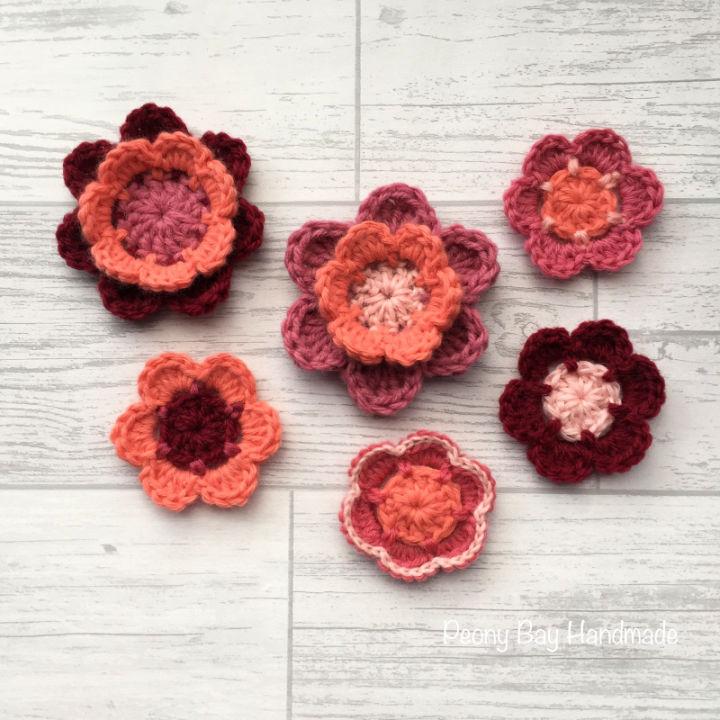 If you're looking for a beautiful ornamental flower to crochet, this amazing 2-layer crochet pattern is perfect for you! Perfect for adding a unique and eye-catching touch to any room, this versatile design features 6 petals and can be made using almost any type of yarn and corresponding hook. With instructions for 4 variations, including a 7 petal layer flower, and a single-layer option with added color, you'll have plenty of possibilities for creating truly unique pieces. Get your DK yarn ready, and grab your 4.0mm hook – Let the crafting begin! ravelry
22. Large Crochet Flower Embellishment Pattern

Do you have scraps of DK weight yarn lying around and need help with what to do with them? With this free crochet pattern, you can use up all your scraps of yarn to make beautiful large and colorful crochet flowers!
Perfect for various projects from brooches to bunting, these flowers are easy-to-make and come in any color. Suitable for all skill levels, grab your 4mm hook, yarn needle, and small amounts of DK weight yarn, then start creating today! With clear instructions and basic stitches, each flower measures 4 inches across – add a pop of color to any item with this free crochet flower pattern. anniedesigncrochet
23. How to Crochet Poppy Flower – Free Pattern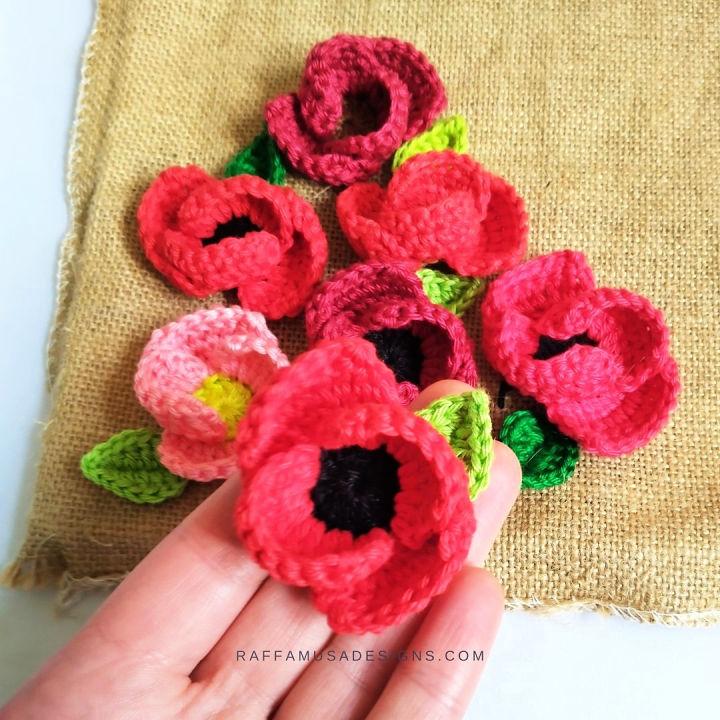 Show your respect for fallen soldiers with this easy and quick crochet poppy flower pattern! Perfect for making brooches, embellishments, or decorations like pillows and wall hangings. Use this crochet poppy as a beautiful way to pay homage to the brave men and women who have given their lives in service of the country. Get your favorite kind of yarn and hook today to start creating these beautiful flowers that can be used anywhere! raffamusadesigns
24. Simple Crochet Flower Pattern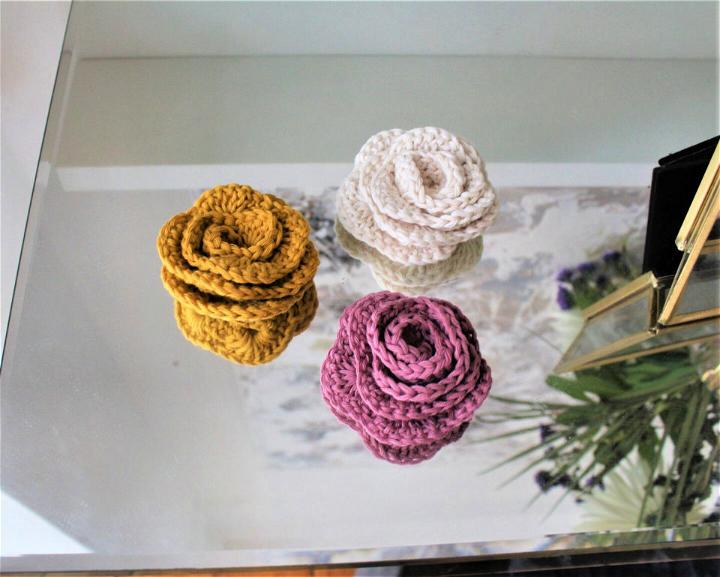 Brighten up the day with a splash of handmade beauty! Add a touch of color to any project with this free crochet flower applique pattern and tutorial. It's quick, easy, and beginner-friendly – perfect for leftover yarn! Any weight yarn in any color will do – try cotton aran for summer projects that is machine washable. Sew these flowers on bags, hats, hairbands, clips or even brooches – the endless possibilities. Get creative with colors and have fun creating something special! trulycrochet
25. Crochet Lavender Flower Applique Pattern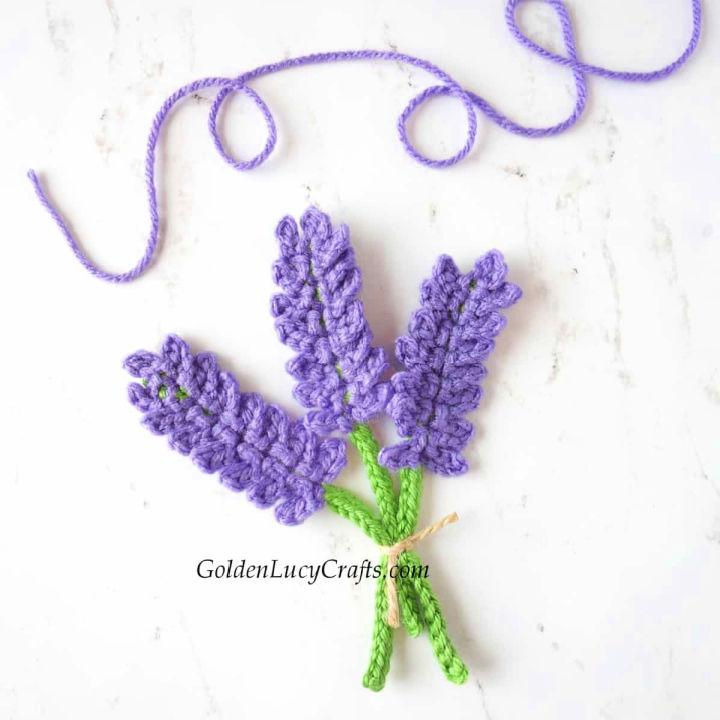 Capture the beauty of a lavender field in your crochet projects with this beautiful lavender applique crochet pattern! Perfect for handmade cards, scrapbooking projects, or as a pin or small bouquet on clothing. The pattern comes in two sizes—cotton thread size 10 for an elegant 2-½″ tall flower or worsted weight #4 yarn and a 5mm hook for the larger 6″ option. The possibilities are endless, from decorating blankets to adding charm to market bags – get inspired with this gorgeous pattern! goldenlucycrafts
26. Easy Crochet Flower Pattern for Beginners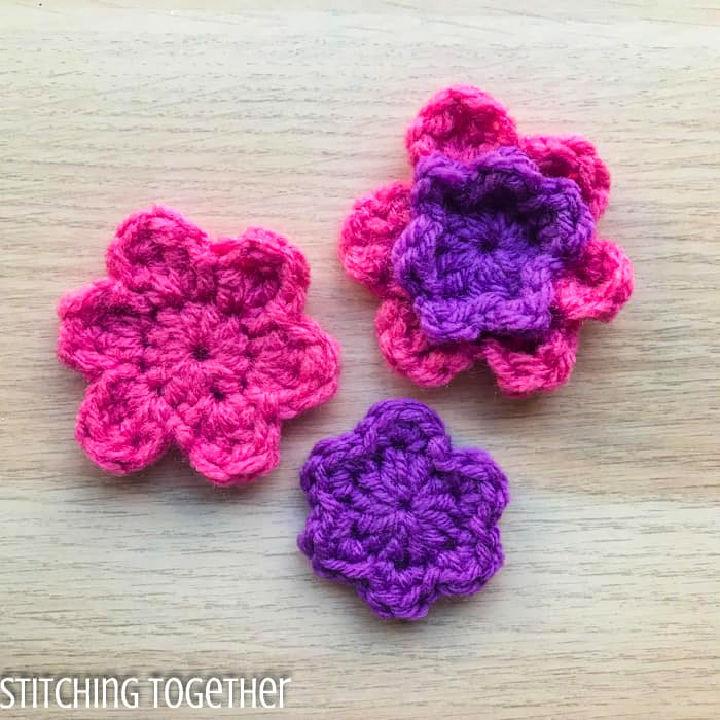 Creating beautiful crochet flowers is easy with these 3 simple patterns. This selection of small and double-layer crochet flower patterns comes with pictures to make it even easier. With scrap yarn and a crochet hook, you can quickly and easily add the perfect embellishment to your favorite projects quickly and easily. Whether you're using them as decorations or accessories, these easy flower patterns will bring life into any project! stitching together
27. Crochet Dahlia Flower Motif Pattern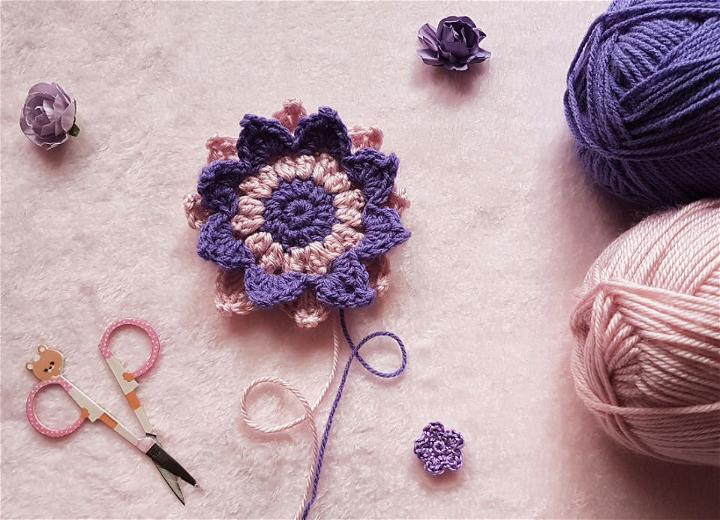 Give a beautiful and unique touch to your projects with the dahlia flower motif. This pattern is perfect for any 8-ply yarn in two contrasting colors and features special stitches, such as a magic ring that tightens the beginning round and picot stitch. Crochet Hook size 4mm will help you create this intricate design that can be added to garments, accessories, blankets or any other project of your choice. Create an exquisite look with this dahlia flower motif! emmeclairecrochet
28. Easy Crochet Thread Flower Tutorial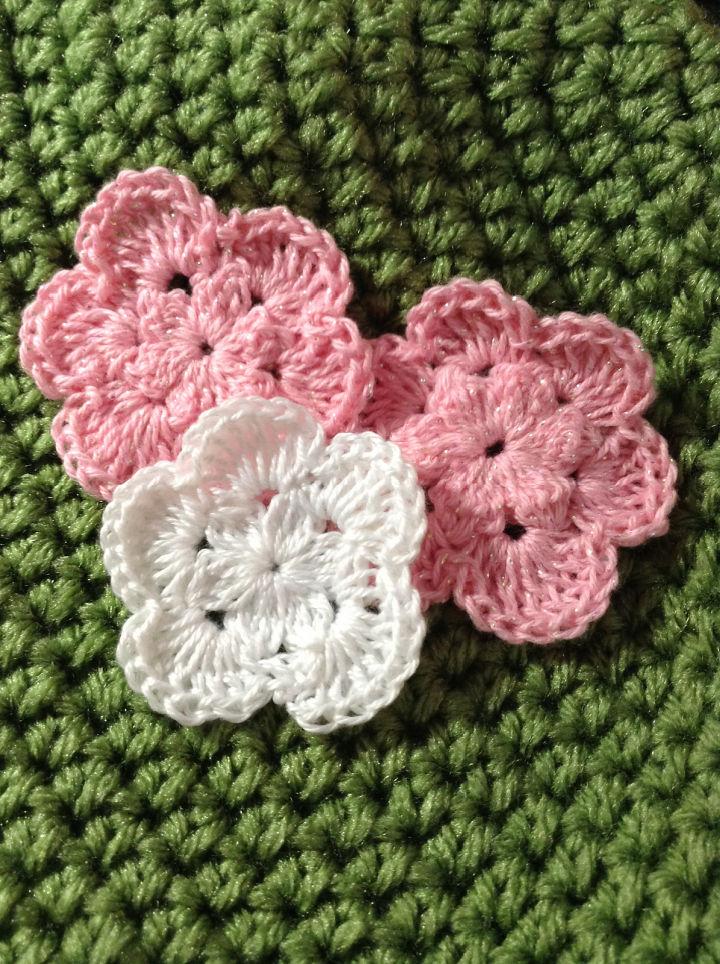 Get busy with your hook and crochet this pretty flower with size #10 crochet thread and a 3.5mm crochet hook. With an easy-to-follow pattern, you can have it finished in no time! Create a beautiful accent for yourself or donate to the sewing 4 souls cause – either way, you'll bring spring to life with your handcrafted design. All you need is thread, scissors, a yarn needle and some basic crocheting skills! So get started today and add beauty to your day with this lovely flower project. theshtickido
29. Fastest Crochet Flower Applique Pattern

Add bright, cheerful flair to any project with this easy crochet flower appliqué pattern! Create cute little flowers in no time with a 5mm crochet hook and worsted-weight yarn. With just a few basic materials and stitches, you can put together each flower in less than five minutes – perfect for quick decorations or last-minute gifts. Add these lovely little appliqués to hats, sweaters, bags and more for a different personality that will stand out! richtexturescrochet
30. Cool Crochet 6-petal Flower Pattern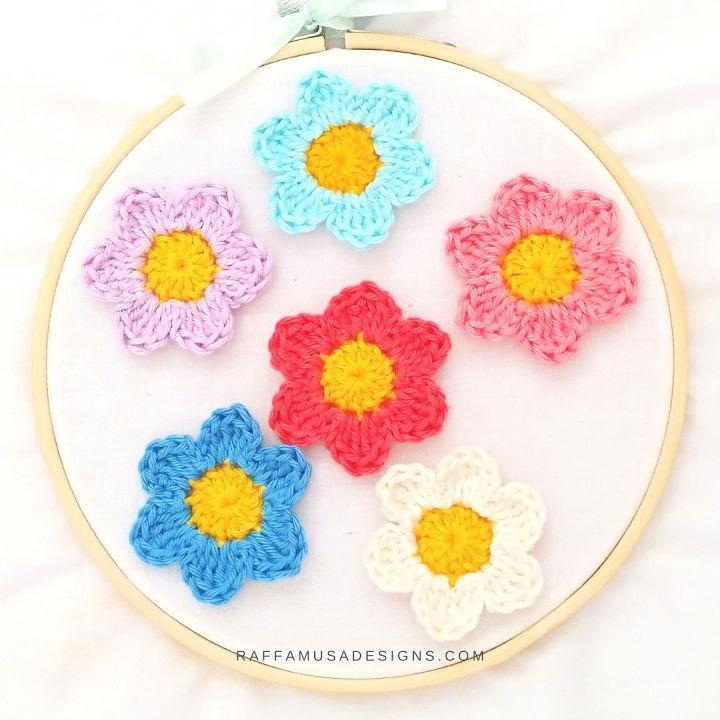 This easy 6-petal flower crochet applique is the ideal floral embellishment to crochet this spring. It's colorful and happy, making it the perfect addition to any project! All you need are some sport weight (2, fine) yarn and a 2.75-mm hook. The petals will come together in no time – follow the instructions carefully, and before you know it, your craft project will be ready for display! Add this beautiful flower applique to hats, scarves, bags, or anything else that needs a little pick-me-up – get creative with colors for an even bolder effect! raffamusadesigns
31. Free Crochet Dogwood Flower Pattern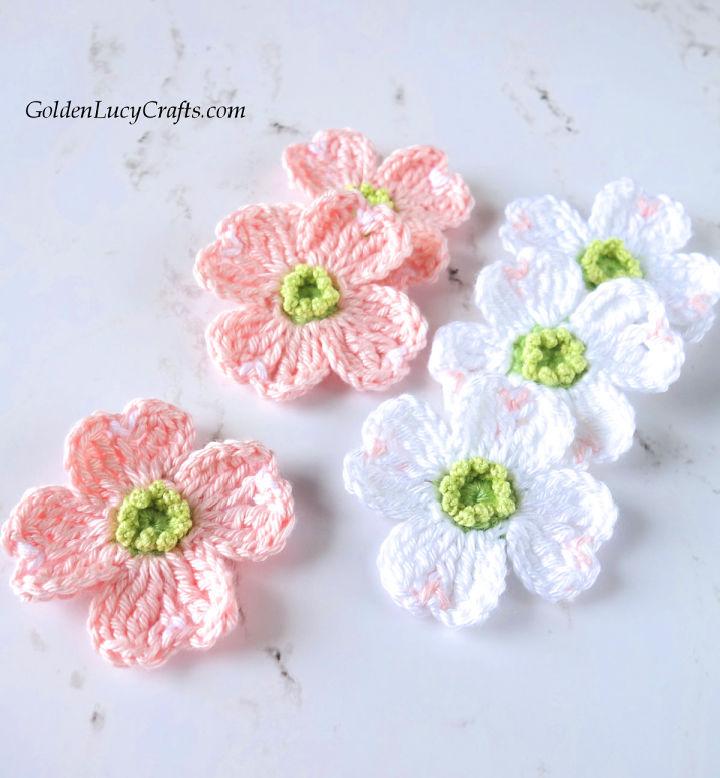 Let the vibrant colors of spring blossom in your home with this gorgeous crochet dogwood flower pattern! The finished size of this crochet flower is 2″ in diameter and uses lightweight #3 cotton. The skill level is intermediate and requires a ½.75 mm and 8/1.5 mm crochet hook and special stitches such as dtr3tog. You can use it to decorate clothes, hats, scarves or anything you like – add some color for the perfect springtime look! goldenlucycrafts
32. Cute Crochet One Piece Poppy Flower Pattern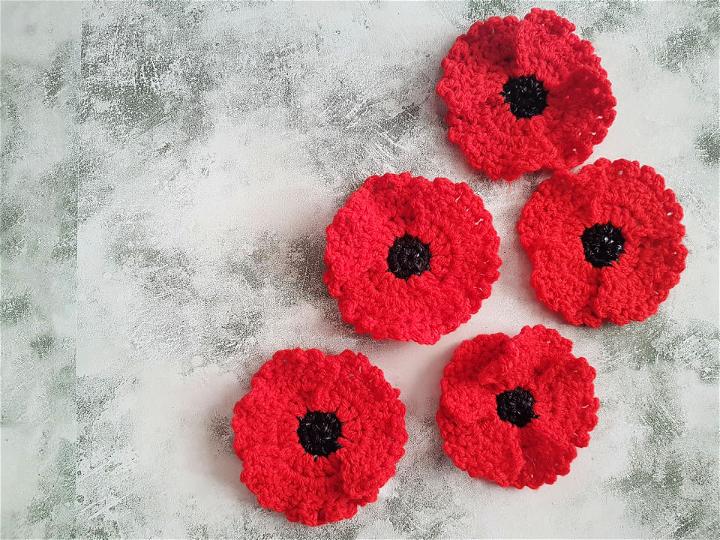 Crochet up a beautiful red poppy flower applique with this free crochet pattern! Perfect for adding charm to any project, this easy-to-follow pattern works quickly and is crocheted in one piece without any sewing needed. You'll need DK in red and black, a 4mm crochet hook, a tapestry needle and scissors. The finished size of the flower applique is approximately 9cm in diameter – just right for adorning hats, bags or garments! Get creative today with the red poppy flower applique-free crochet pattern! craftinghappiness
33. Free Crochet Dahlia Flowers Pattern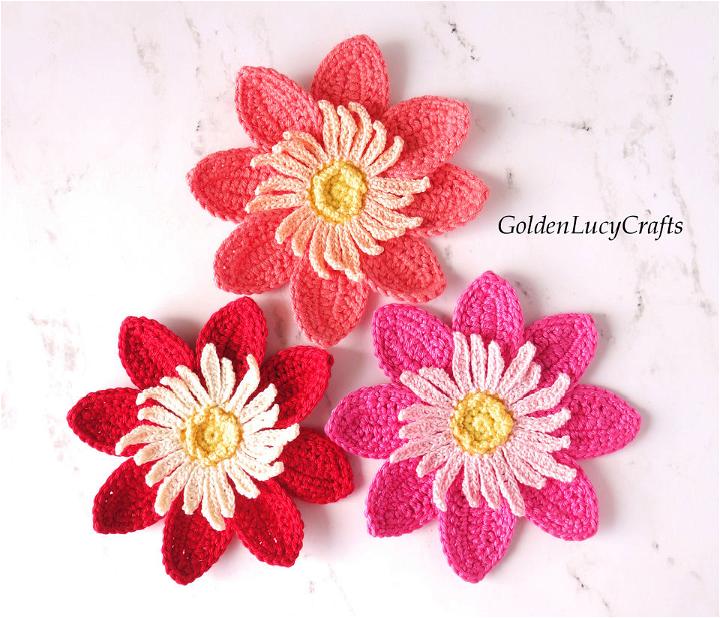 Go crochet and make something special with this beautiful crochet Dahlia pattern! Perfect for adding a touch of elegance to any project, this applique looks great on hats, headbands, bags and blankets. Intermediate level crocheters will love the challenge of crafting it – the finished size is 4-¾″ in diameter, and you'll need lightweight #3 yarn, a 2.75mm crochet hook, and a 1.8mm crochet hook to complete it. Get creative with this unique motif today! goldenlucycrafts
34. Crochet the Poppy Pearl Flower Pattern to Print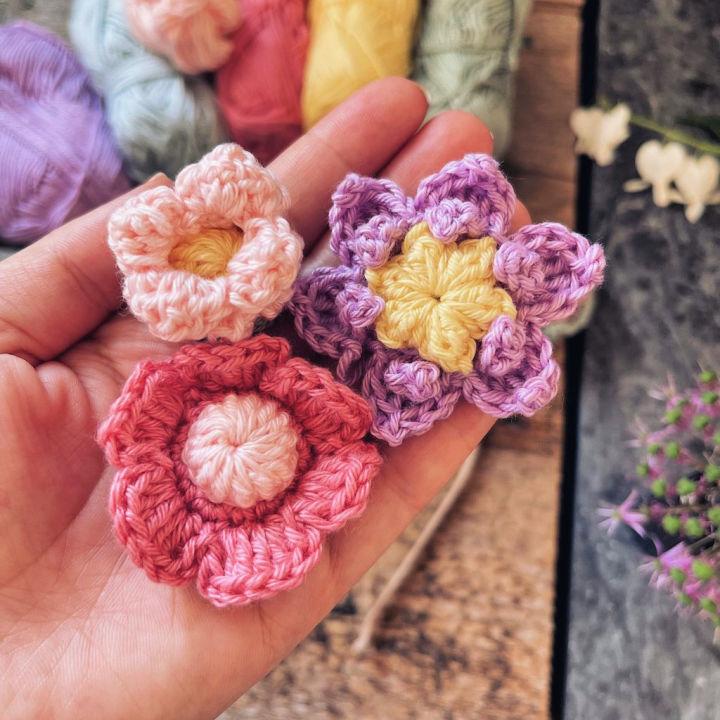 Stitch a beautiful floral accessory with this easy-to-follow poppy pearl flower-free crochet pattern to add to your wardrobe. All you'll need is a 3mm hook, pair of scissors and a darning needle, along with small amounts of two colors of yarn – use must-have yarn in the shades pearl (043) and vanilla (010). This unique pattern creates an intricate flower that looks great as a brooch or hair accessory. Try mixing up different colors for more creative designs. Get started on this fun project today! sistersinstitch
35. Crochet Autumn Berry Flower Diagram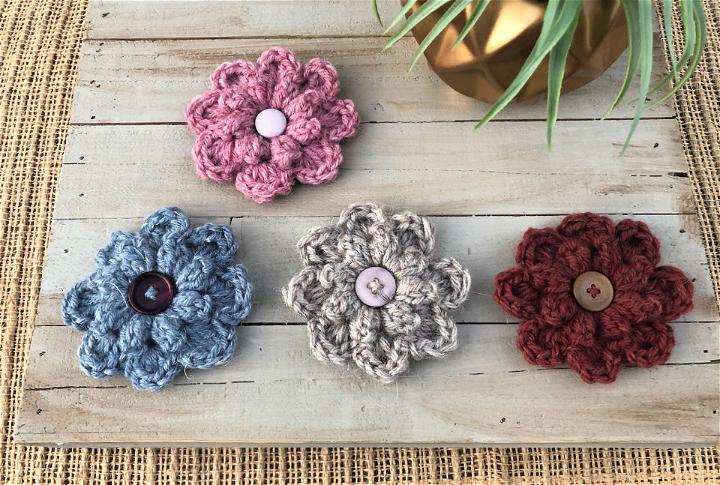 This autumn berry flower crochet applique/embellishment is a great way to add color and texture to any project! It's made with a 5.0 mm (H) hook and lightweight worsted yarn, so you don't need much yarn for this pattern–perfect for using up your scraps. This flower is quick and easy, perfect for hats or scarves. Add an autumnal touch of beauty with this beautiful flower pattern! ravelry
36. Quick and Easy Crochet Flowers Pattern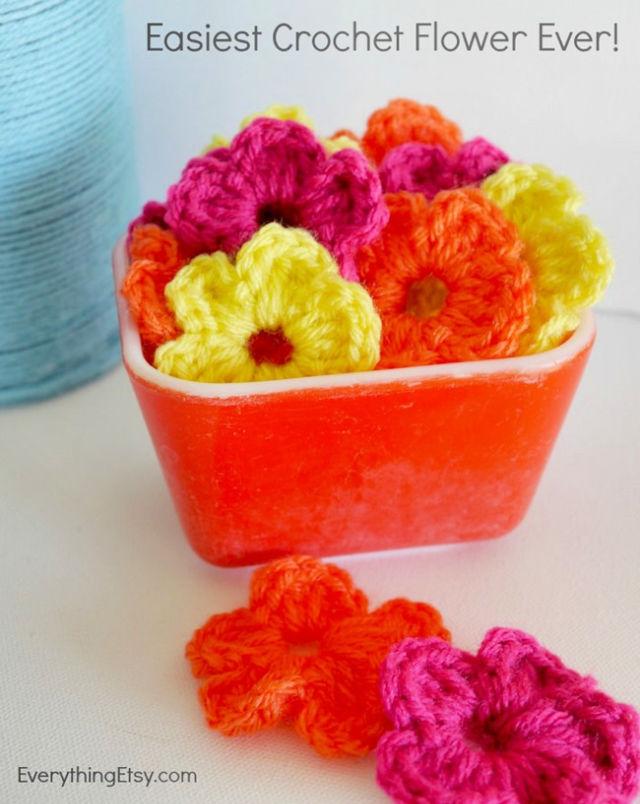 Whip up beautiful crochet flowers with the easiest crochet flower pattern ever! Using lion brand vanna white yarn in radiant orange, berrylicious and radiant yellow colors, you'll be able to craft elegant blossoms. You only need a size G (4.25mm) crochet hook and your leftover yarn stash – perfect for stringing up flower bunting or decorating gifts. Get creative and craft gorgeous blooms with this simple yet stylish pattern that will make any project look amazing! everythingetsy
37. Free Crochet Sunflower Amigurumi Pattern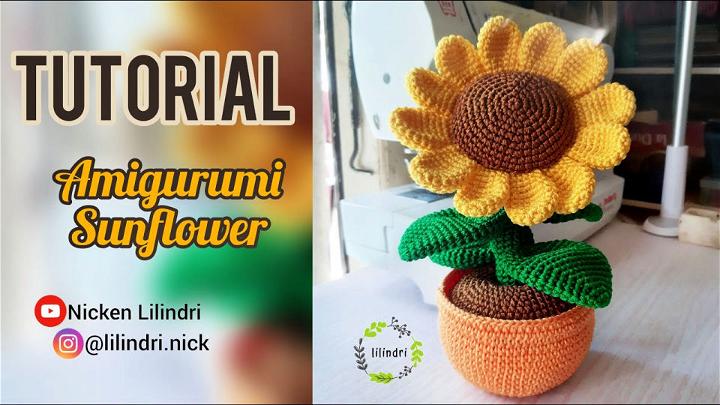 Learn to make a beautiful and unique amigurumi sunflower with this free crochet pattern and step-by-step DIY video tutorial! This amazing handmade sunflower is the perfect accessory for any home or garden. You will learn how to make the leaves, petals and even the sunflower's center using basic crochet stitches. With this tutorial, you can add a touch of sunshine to any corner of your home. Plus, it's a great way to get creative with an easy project that doesn't require much skill. Get started today with this free pattern and have fun creating something special!
38. Crochet Small Spring Flowers Pattern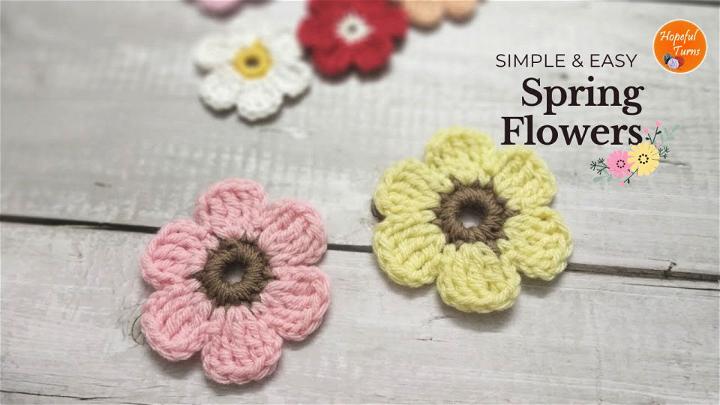 Are you a beginner in crochet and looking to make something special? This tutorial will show you how to create a simple small flower easily! Perfect for spring, this easy pattern will have you crocheting beautiful flowers that can be used as decorations for headbands, beanies, hats, bags and home decor projects. With minimal effort and materials required, even beginners can master these lovely small crochet spring flowers. So take advantage of the fun – get your hook ready and start crafting today! youtube
39. Crochet Flower Top Pattern for Beginners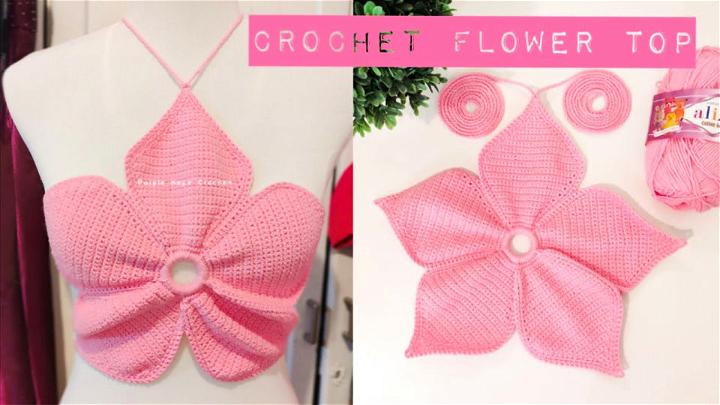 This free crochet flower top pattern and video tutorial are perfect for beginners! It's an ideal project for those just starting with crochet. You'll need a sport/fine weight yarn (#2), a 2.5mm hook, plastic ring 1.5″. The gauge is 12sc and 14rows of 5cm x 5cm. Follow the easy instructions to create this beautiful crochet flower top in sizes XS-S. Whether you want to make it as a gift or wardrobe addition, this fun pattern will have you crocheting up something special in no time at all!
40. Crochet Granny Square African Flower Tutorial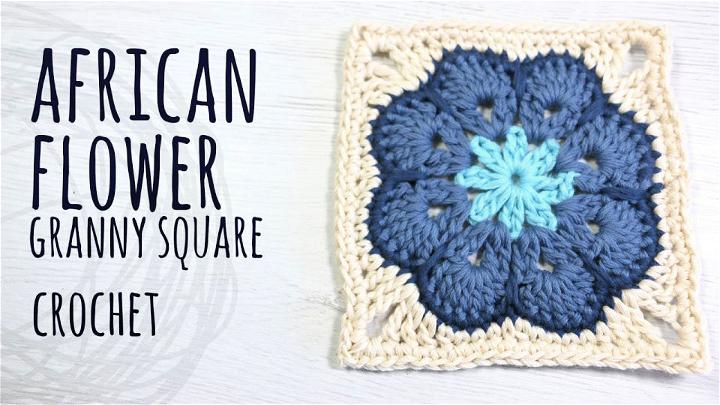 Master how to crochet the beautiful African flower granny square with this step-by-step video tutorial. This pattern is perfect for creating unique homewares, accessories and decorations. With just a few basic stitches, you can create intricate designs quickly! The video covers supplies needed, stitching techniques, shaping instructions and more. Get creative with colors, too – combine different yarns or add beads or sequins for extra sparkle. Start crocheting your own African flower granny square today!
Related Free Crochet Patterns:
Create beautiful works of art with our free crochet patterns! Our collection of stitch instructions and intricate designs will help you get started.
Conclusion: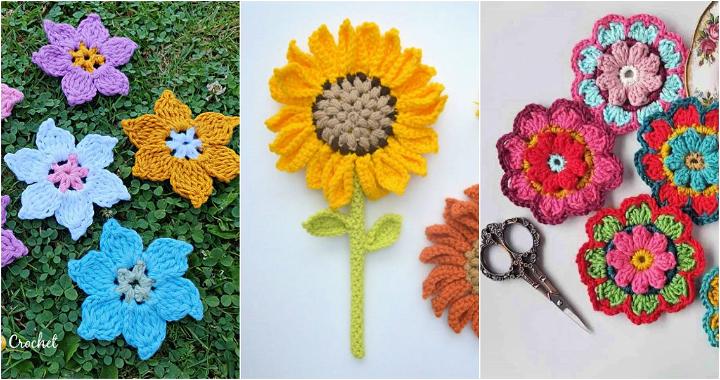 Crocheting flowers allows you to create beautiful and unique pieces of art. With our 40 free crochet flower patterns, the options are endless. These free crochet flower patterns provide detailed step-by-step instructions for the beginner and experienced crocheters so that anyone can easily create amazing crochet flowers. From easy daisy patterns to intricate roses, these free crochet flower patterns offer various styles for any project. Whether you're an expert or just starting out in the craft world, a crochet flower pattern will help bring your projects to life with beauty and style.