Crochet beret hats offer an elegant and timeless accessory that can elevate any outfit with their versatile and classic design. With this collection of 25 free crochet beret patterns, you'll find various options suitable for beginners and advanced crocheters. Each free crochet beret pattern comes with step-by-step instructions, ensuring you can easily crochet a stunning beret.
The selection of free crochet beret patterns includes options for women, men, children and adults of all ages. From the classic French beret to more modern and playful designs, you can create a crochet beret hat that complements any style or preference. Some popular patterns in the collection include the vintage crochet French beret, the easy slouchy beret, and the colorful crochet beret tutorial.
The crochet beret patterns provide clear instructions and helpful illustrations to guide you through crocheting a beret hat. Many patterns also offer video tutorials for those who prefer a visual learning experience. Following these comprehensive crochet beret patterns, you can create a unique crocheted beret hat showcasing your skills and creativity.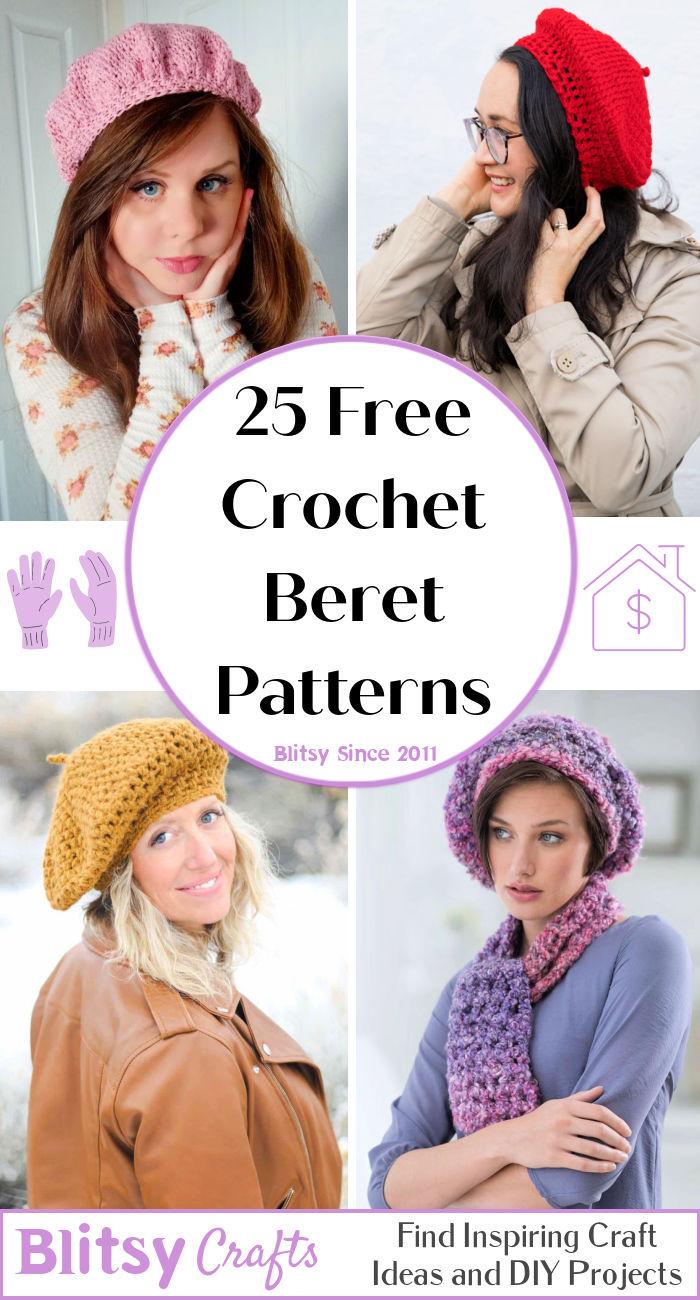 Explore the world of crochet beret hats and discover the perfect pattern for your next project. Whether you're new to crocheting or an expert in the craft, these 25 free crochet beret patterns provide an opportunity to create a stylish accessory that's sure to impress. So hold your crochet hook, choose your favorite free crochet pattern, and start crocheting a beautiful beret hat today!
How to Size a Crochet Beret Hat?
Sizing a crochet beret hat is similar to sizing any other type of hat. The first step is to measure the head circumference of the person wearing the hat. To do this, just wrap any simple measuring tape around the person's head at the forehead level. This will give you an accurate measurement of the head circumference.
If you don't have the person with you or are making the hat as a gift, you can estimate the size based on age. For example, you can use extra small for a child, small for a teen, medium for an adult woman, and large for an adult man.
It's important to remember that the hat circumference is usually 1-2 inches smaller than the head circumference to ensure a snug fit. The length from crown to ears is the length of the hat from the top of the crown to the bottom of the earflaps. The crown size is the height of the hat from the top of the crown to the bottom of the hat.
What Are Some Popular Colors for Crochet Beret Hats?
Crochet beret hats can be made in various colors, so it really depends on your preference and the occasion you're making the hat for.
Some popular colors for crochet beret hats include black, white, gray, navy blue, and burgundy. These colors are classic and timeless and can be worn with various outfits.
If you're looking for a modern, bolder, and eye-catching, you might consider a bright red, pink, or yellow beret. These colors are perfect for adding a pop of color to your outfit and making a statement.
Ultimately, your chosen color will depend on your style and the occasion for which you're making the hat.
Stitches Guide for Crochet Beret Hat
Many different stitches can be used to crochet a beret hat. Some of the most common stitches include single crochet, double crochet, half double crochet, and treble crochet.
The stitch pattern you choose will depend on the style of beret you want to create. For example, a simple single crochet stitch can create a classic and timeless beret, while a more intricate stitch pattern like the puff stitch can create a more modern and textured beret.
Materials for Crochet Beret Patterns
The materials you'll need to crochet a beret hat will depend on your following pattern. However, most patterns will require the following materials:
Crochet hook: The size of the hook will depend on the weight of the yarn you're using. Most patterns will specify the hook size you'll need.
Yarn: The type and weight of the yarn you'll need will depend on the pattern you're following. Some popular crochet beret hat yarns include wool, alpaca, and acrylic.
Scissors: You'll need a couple of scissors to cut the yarn.
1. Free Crochet Bridgette Beret Pattern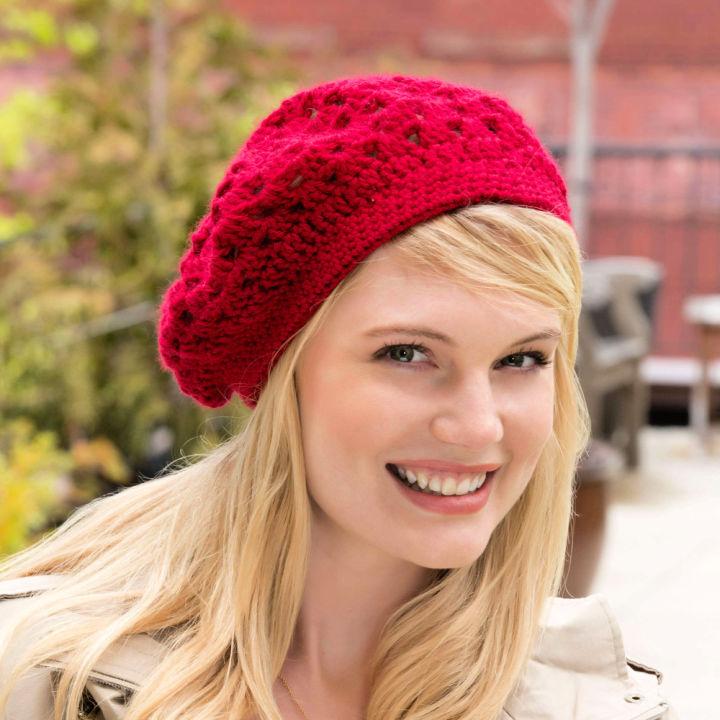 Add a unique touch to your winter wardrobe with the Bridgette beret! This stylish beret is made of quality materials for long-lasting wear. For a perfect fit, elastic can be added to provide a closer fit and comfortable feel. Whether you're looking for something special to complete an outfit or want to make a fashion statement, this jaunty beret will do just the trick. Crochet now and find the perfect accent piece today! yarnspirations
2. The Classic Beret Cap Crochet Pattern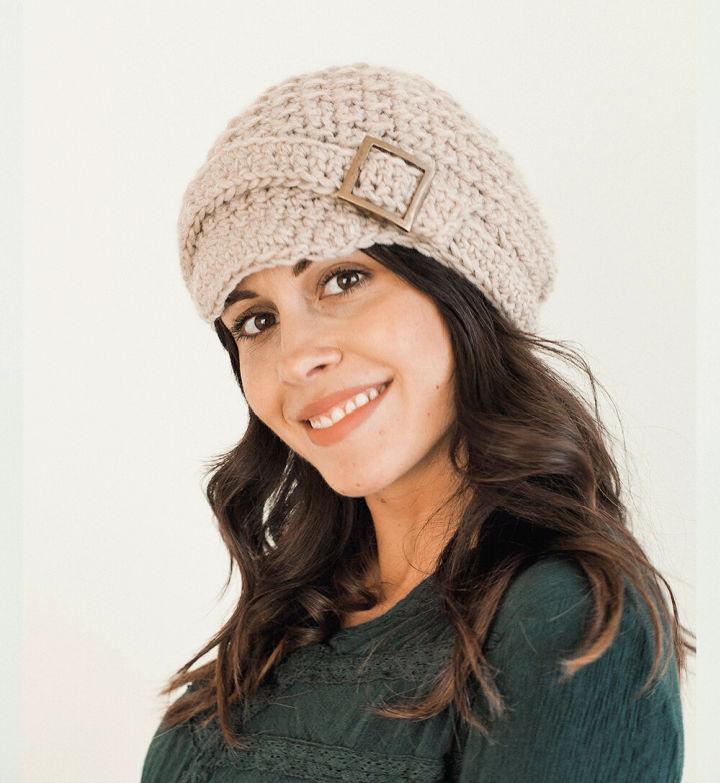 Add a touch of classic French style to your wardrobe with this free crochet pattern for the classic beret cap. Designed in one size to fit adult women, it's the perfect chic finish for any outfit. This beret is so easy to make that you can pretend you put effort into getting ready. Just pop it on and have people thinking you spent ages planning your look! Get the free pattern now and create an elegant accessory that will turn heads! megmadewithlove
3. Easy Crochet Beret Pattern for Beginners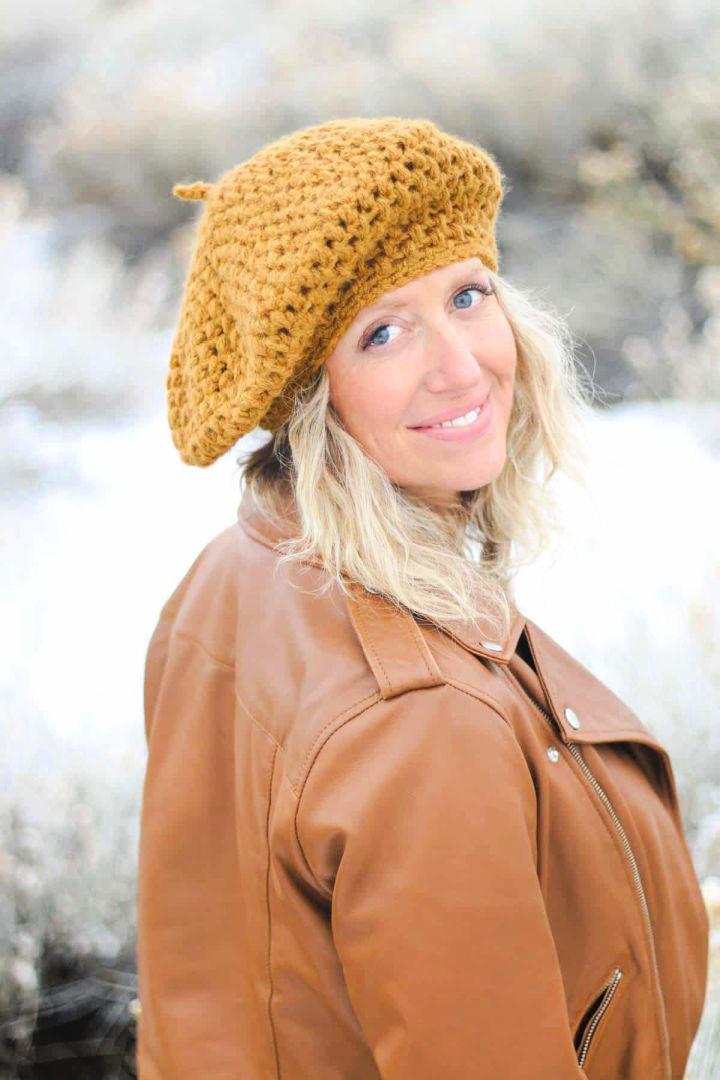 Are you a beginner in crochet? If yes, get the perfect fit with this easy-to-follow beret pattern! With customizable sizing, it can also be referred to as a hat. Puff stitches give it a modern touch, while the lightweight yarn makes it great for wearing any season. Do this versatile one-day project now and enjoy your classic French look or more slouch style! Download the free crocheted beret pattern now. makeanddocrew
4. Crochet One Skein Beret and Scarf Set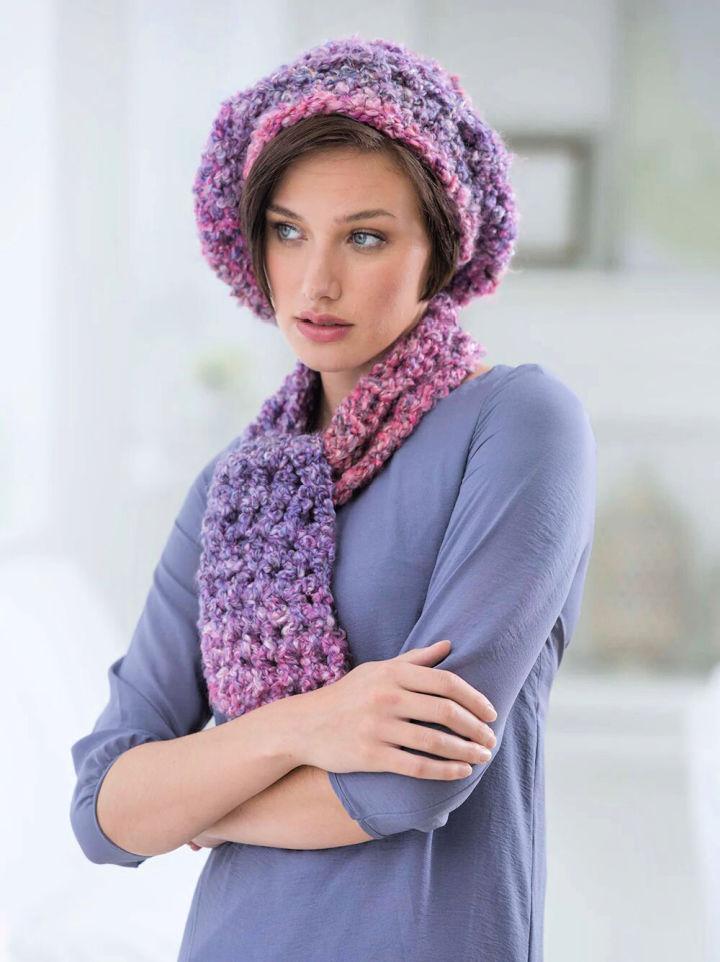 Make a cozy and one-skein beret and scarf set with lion brand's homespun thick & quick yarn. This free crochet pattern is perfect for anyone looking to craft a warm winter accessory in a reasonably short time. Combining the bulky yarn weight and easy pattern makes this project ideal for beginner crocheters and experienced knitters alike. Celebrate the season with this stylish beret and scarf set. You'll stay warm all winter long! lionbrand
5. Vintage Crochet French Beret Pattern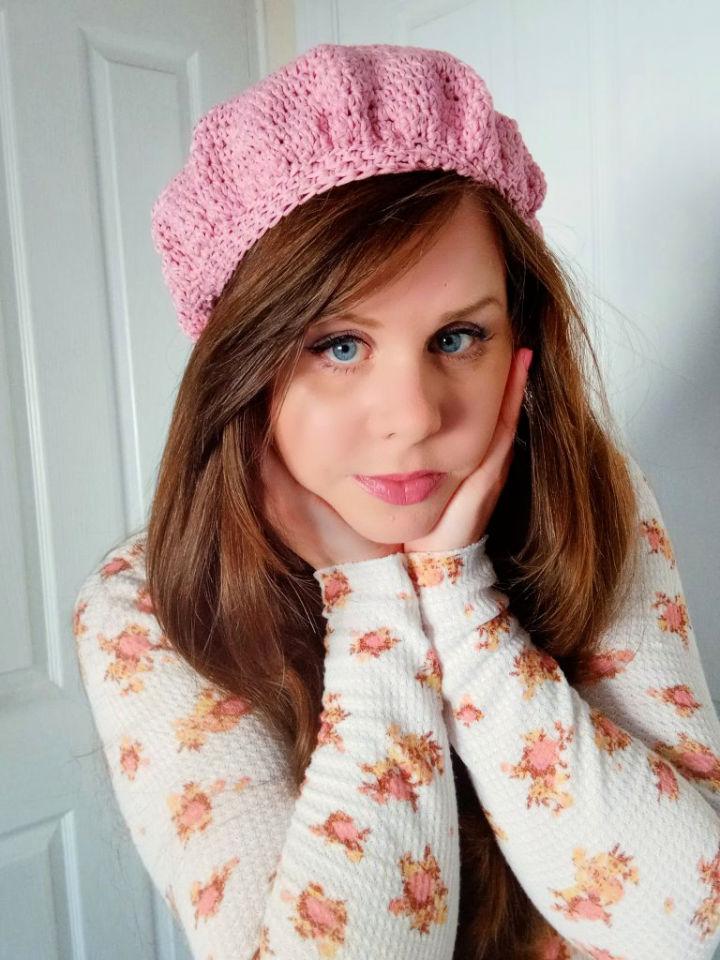 Are you looking for a way to add a stylish element to your wardrobe that works perfectly with changing seasons? Look no further than this crochet traditional French beret-free pattern! Whether sunny and nippy in the morning or chilly in the evening, this beret adds an extra layer of warmth.
Plus, its classic design will always stay in style. Follow along with the video tutorial and find out just how easy it is to make this timeless fashion piece. So why not work on it now and create something unique for your wardrobe? selinaveronique
6. Double Crochet Beret Pattern Tutorial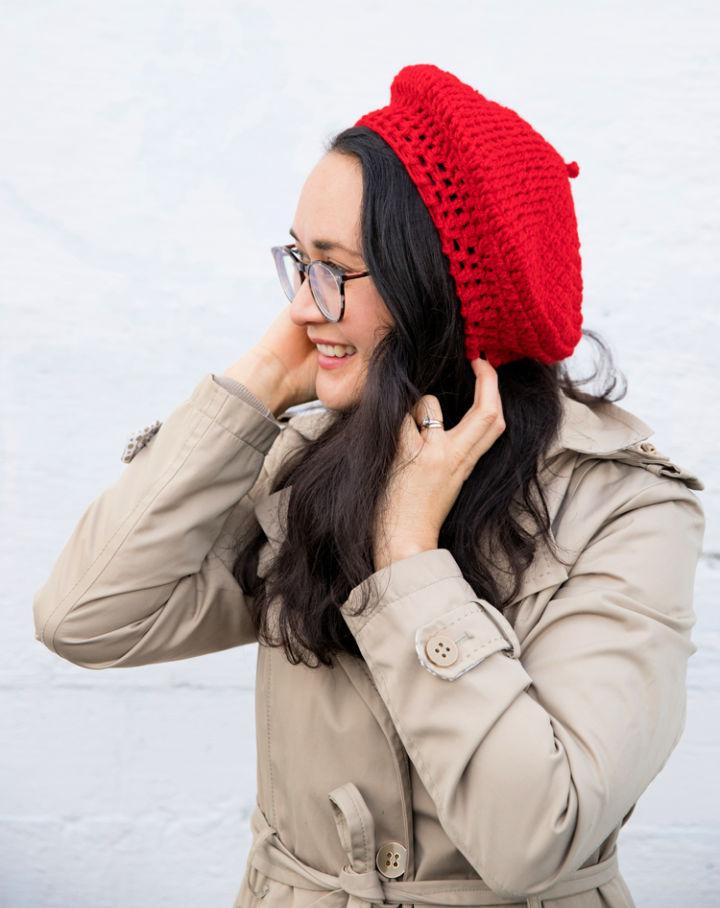 Create a beautiful and stylish beret for any season with this free double crochet beret pattern & tutorial! It's perfect for beginner crocheters. All you need is worsted weight yarn, a j or 6.00 mm hook, scissors, and a yarn needle to make it. Using double crochet stitches, chains, and slip stitches to work in the round, you will top it off with an adorable little loop made from the starting chain. Make this beret your own. Pick out your favorite wool or cotton yarn colors for a unique look! deliacreates
7. Easy Slouchy Beret Crochet Pattern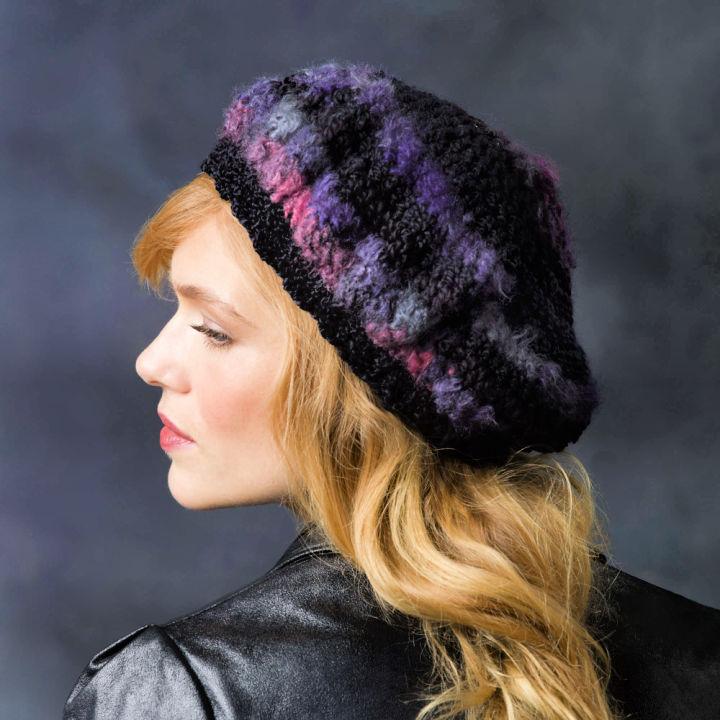 Up your fashion game with the slouchy beret! This stylish modern beret is made of a unique yarn that changes texture and color four times, creating an interesting look. Crocheting this beret is sure to be enjoyable as you watch it come together into a fashionable accent piece. Wear it with your favorite outfit for extra flair, or make one special for someone special. You won't regret adding the slouchy beret to your wardrobe! yarnspirations
8. How to Crochet a Beret for Beginners – Step by Step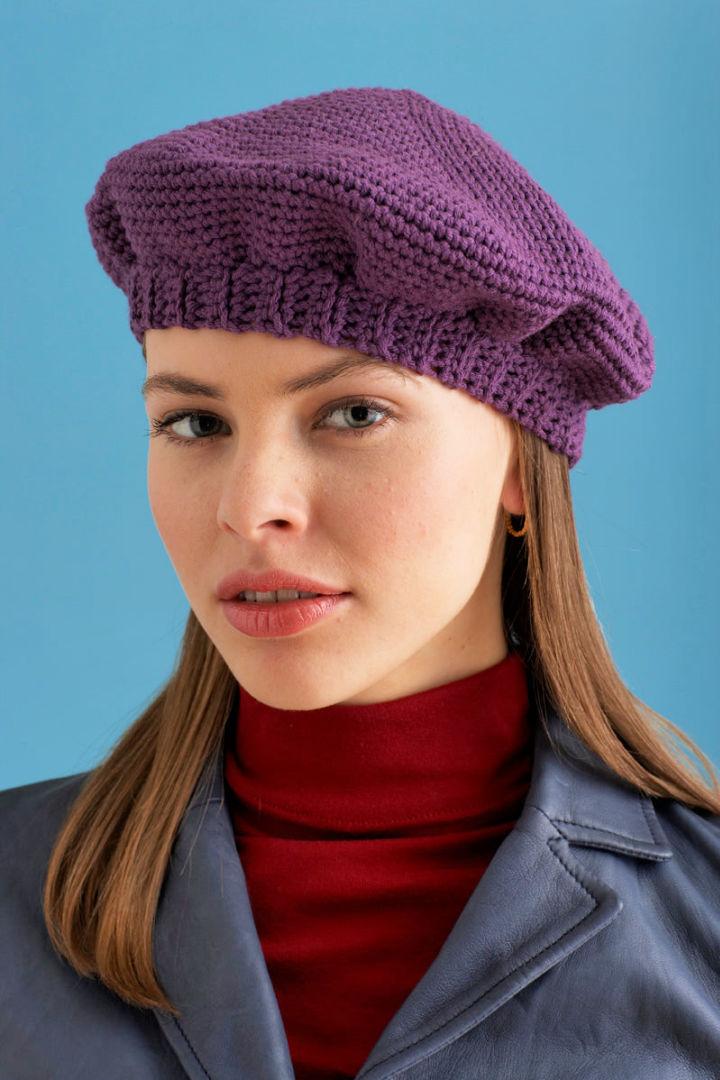 Keep exploring our curated collection of free crochet beret patterns, offering expert guidance and creative inspiration to craft chic, comfortable, and timeless headwear for any occasion.
Make something special for yourself or a loved one with this free crochet pattern from lion brand cotton ease! This easy-to-use pattern is perfect for advanced beginners and experienced crocheters alike. It allows you to create stunning handmade items. With versatile designs and the beautiful feel of the cotton-blend yarn. You can make anything your heart desires. Choose from vibrant colors and textures that will make any project unique. Get creative today with this free crochet pattern! lionbrand
9. Lacy Slouchy Beret Crochet Pattern

Introducing the let's get real wisteria slouch hat! It is a stylish and comfortable way to stay warm in style! This lusciously soft hat is handmade with high-quality yarn and features an exquisite wisteria pattern. Its slouchy fit makes it the perfect accessory for any laidback look. From chilly weekends strolling around town to winter walks on the beach, this hat will keep you feeling cozy while admiring your fashionable style. Get ready to make a statement with this beautiful wisteria slouch hat. melodys makings
10. Fabulous Crochet Tam Pdf Pattern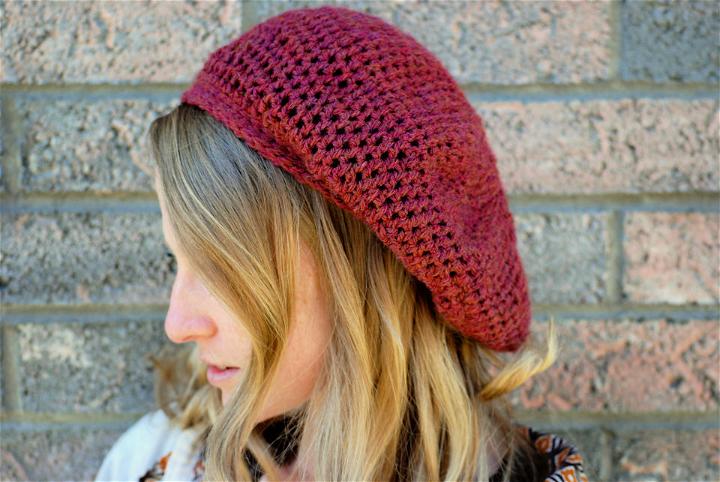 Learn how to crochet and make Brooke's Slouchy Hat! This stylish hat is designed using a G hook and worsted weight yarn for an adjustable fit. You can change the size of the hat by using a different size crochet hook. It is perfect for any head shape or style! Whether you want to add warmth on those chillier days or look fashionable while out and about, this slouchy hat will have you covered in no time! ravelry
11. Colorful Crochet Beret Tutorial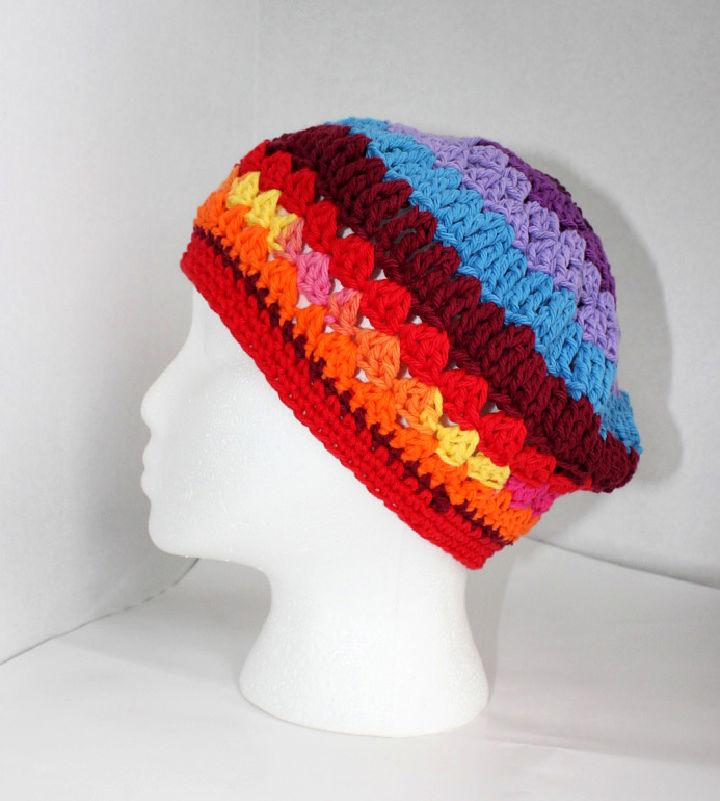 Knit your unique hat with this free chemo or rainbow hat pattern. It features a cross between a beanie, a team, and a beret design that will stand out in any wardrobe. And the best part? You can make one of these hats in just 2-3 hours. It is perfect for those new to knitting or needing a quick stash-buster project! With written instructions and charts included, you have everything you need to create this stylish headpiece without investing too much effort. ravelry
12. Free Printable Pattern for Beret Hat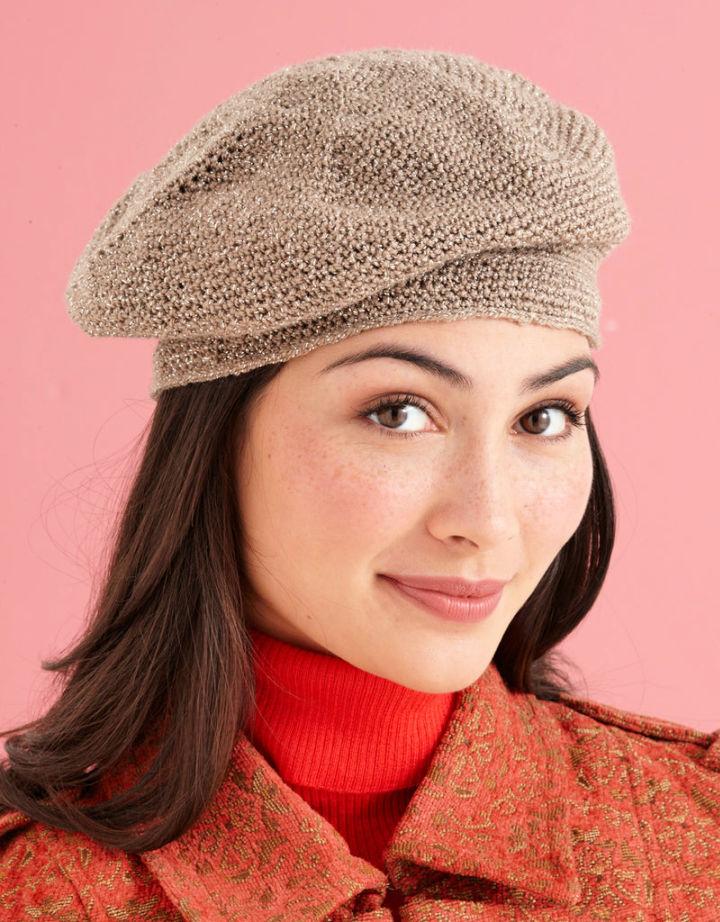 Make a statement with this beautiful and glamorous sunspot hat by lion brand! This free crochet pattern is easy to follow, with detailed instructions that are perfect for any beginner crocheter. Whether you're looking for a festive winter accessory or an eye-catching summer fashion piece, Vanna's glamour sunspot hat will set you apart from the crowd. Get creative with your unique color combination for this stunning project. It is sure to become one of your favorite crocheting pieces! lionbrand
13. Free Crochet French Pompom Beret Pattern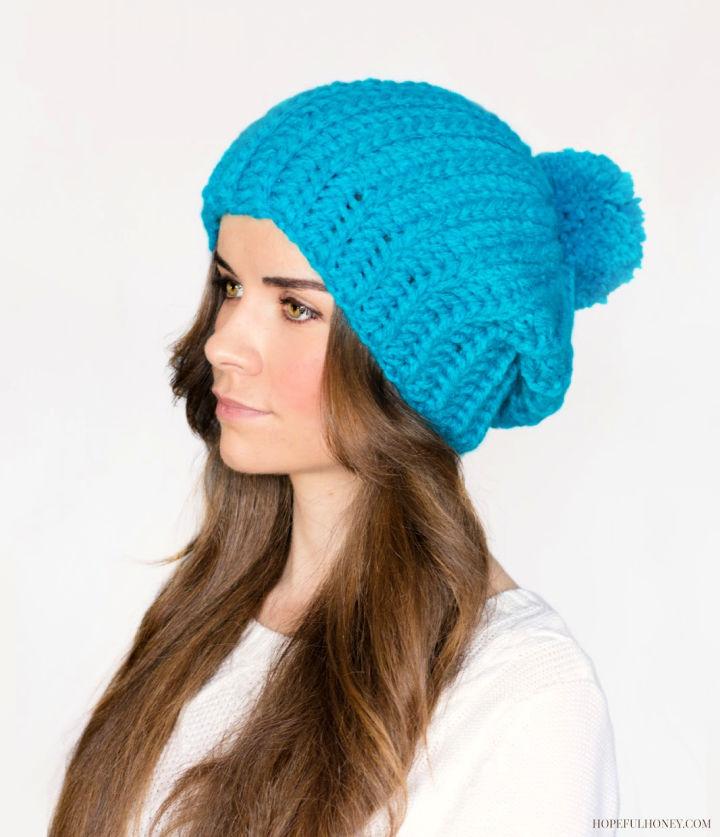 This French pompom beret crochet pattern is the perfect way to stay warm and stylish this winter. All you need is some bulky yarn, a crochet hook, a pompom maker, and a tapestry needle to make it. This pattern will help you create an adorable beret with fluffy poms on top for extra flair. It's easy enough for beginners to make, and it'll keep your head covered in style! Try this vibrant pattern today to add fun fashion to your cold weather wardrobe. hopefulhoney
14. Mock Bobbles Beret Crochet Pattern

This stylish crochet pattern will add a unique touch to your wardrobe. The mock bobble beret has all the classic style of the original beret with an updated texture. You can get this look by combining tall and short stitches. Instantly customize the look with a subtle, neutral color or switch it to something vibrant or pastel! This pattern includes instructions for making three different sizes. So, you can make hats for the whole family. Grab some yarn and start crafting this modern take on a timeless accessory. undergroundcraft
15. How to Crochet Basic French Beret – Free Pattern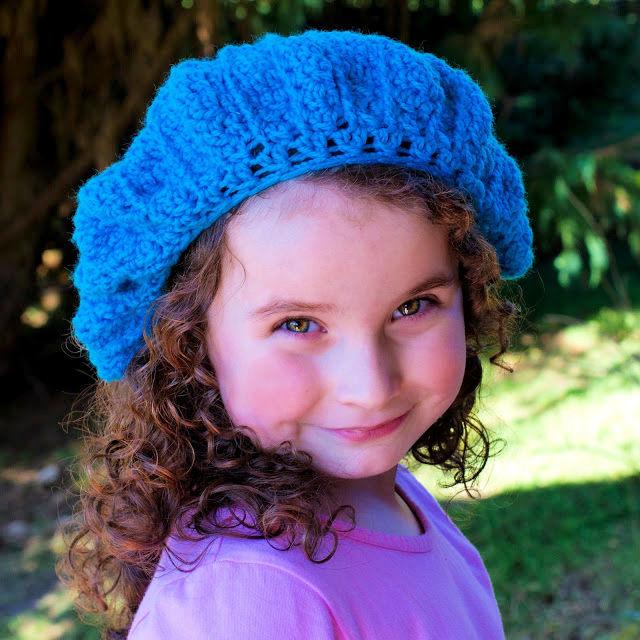 Do you love French-inspired style? If yes, give a chic finishing touch to your wardrobe with this Paris holds the key to your heart French beret pattern. It is crafted using classic crochet techniques.
To complete this stylish project, you'll need wool yarn, crochet hooks, scissors, tapestry needles and a wool needle. Whether you're an experienced crocheter or just beginning your journey into crafting, this guide will have that beret ready in no time! Get creative and show off your passion for Parisian fashion with this special pattern! hopefulhoney
16. How to Crochet a Beret Free Pattern

Heart my dress and beret is a free crochet pattern that will bring life to any outfit! This beret and dress pattern are suitable for kids of all ages. This fun crochet pattern is easily customized to fit your child's size. Download now and start customizing the perfect dress and beret combination. With heart, my dress and my beret, you can create something special your kid will love! Let your imagination run wild with this one-of-a-kind crochet pattern. Get started today! yarnspirations
17. Crocheted Parisienne Beret Pattern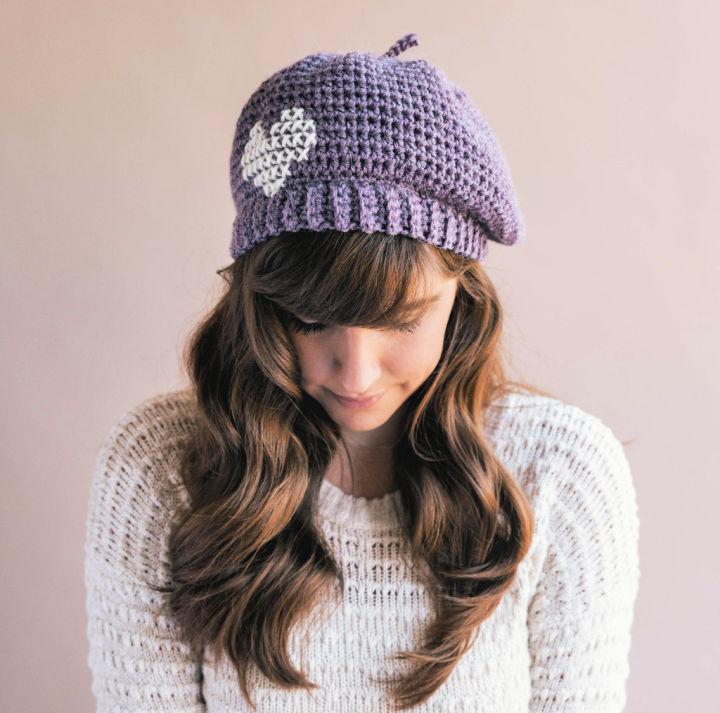 Browse our complete selection of free crochet beret patterns, designed to provide step-by-step instructions and expert tips for crafting elegant, versatile, and timeless headwear at no cost.
Dream of Europe with the crochet Parisienne beret! This fashionable hat is constructed from simple stitches and looks great on all the girls in your life. Use the lion brand's yarn mini skeins to make a cross stitched heart. With this yarn, you can add an extra touch of quality without stepping out of your budget. Make it yours by personalizing this easy-to-make accessory. This beret is perfect for keeping warm during those cold winter days! sewrella
18. Crocheting a Sunflower Stripes Beret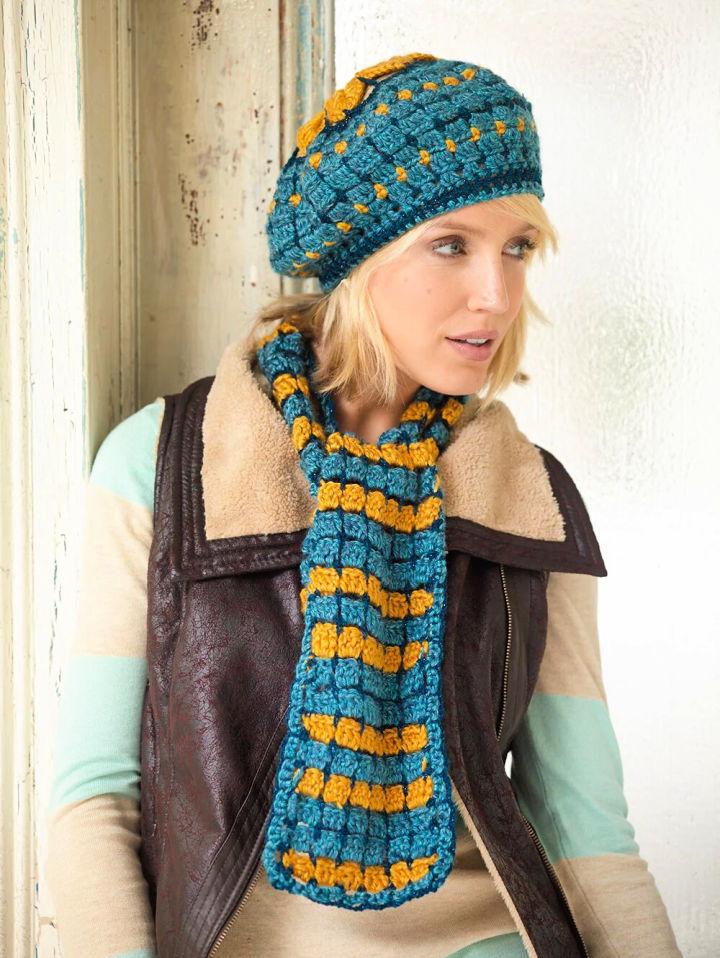 Brighten your wardrobe with this stylish and easy to make sunflower stripes hat and scarf set! This free crochet pattern from lion brand heartland uses Vanna's glamour yarn to create a beautiful accessory perfect for any season. With its simple stripe design, you can easily customize the look of your hat and scarf to match any style or color palette. Plus, knowing you made it makes it even more special. Get creative with colors and make something unique now! lionbrand
19. Classic French Beret Crochet Pattern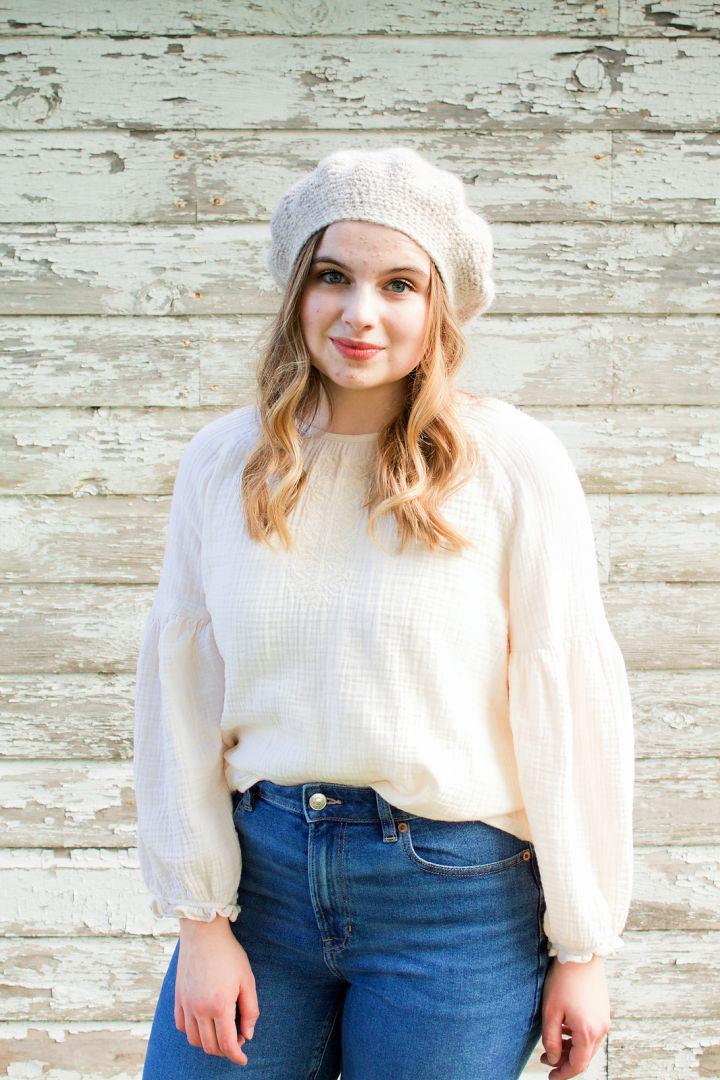 Create a timeless classic French beret with this easy crochet pattern. This quick to make design can be crocheted using any yarn. The pattern also includes detailed instructions and photos to help you create the perfect look. Whether you're looking for an elegant addition to your wardrobe or a gift idea, this classic French beret crochet pattern is sure to please! Enjoy the beauty of traditional style in every stitch. stitchberryblog
20. Crochet Slouchy Beret Free Pattern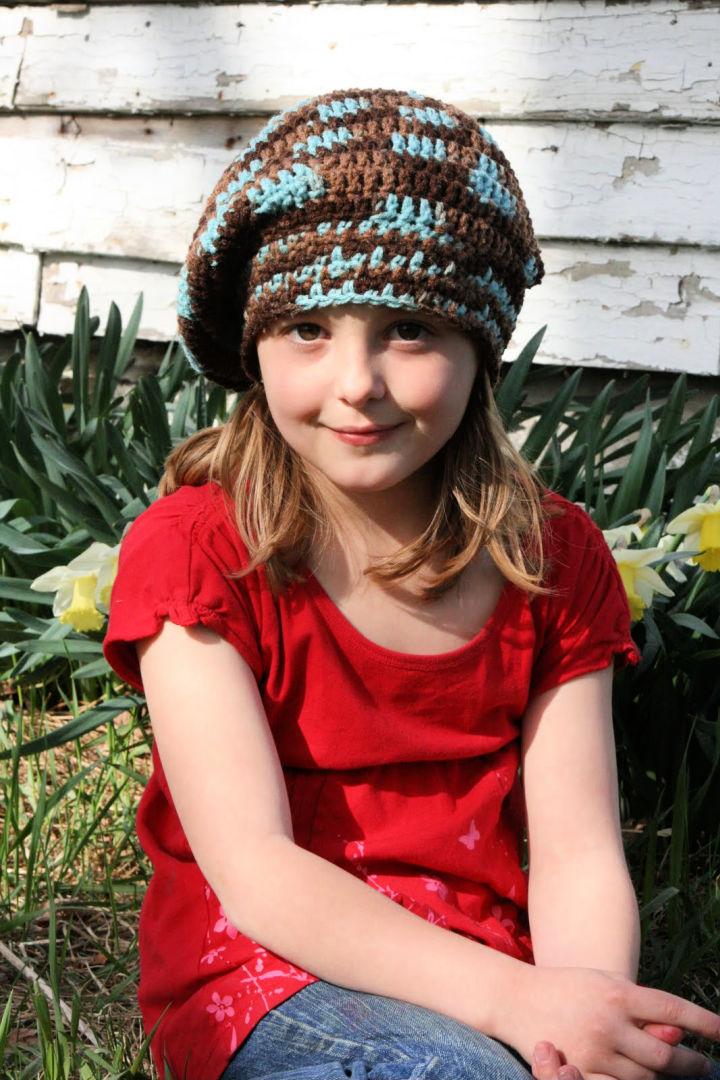 Are you looking for the perfect crochet pattern? If yes, check out a little slouchy! This beautiful design is available to download free of charge. With various colorful yarns, you can customize them to have an appealing end look. With the detailed instructions included, getting your project finished has always been challenging. Get ready to show off your unique handmade creation. Download a little slouchy pattern now! vallieskids
21. Free Floppy Beret Crochet Pattern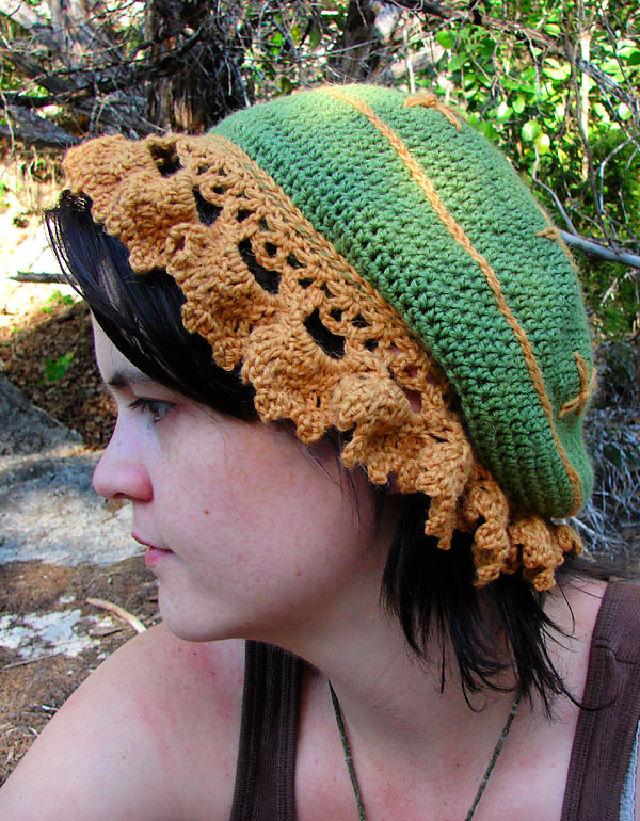 This stylish daisy crochet beret is the perfect accessory to add a bit of flair to any outfit. The hat begins at the center of the crown, with stitches increased evenly around for several rounds. It is worked around; a ribbed band joins to the brim. This hat is super versatile and can be styled in many different ways. So, why not add ruffle trim to match your ruffle scarf or lazy daisies to the crown? Get creative and make this cute hat your own! kristentendyke
22. Crocheting a Flat Beret – Free Pattern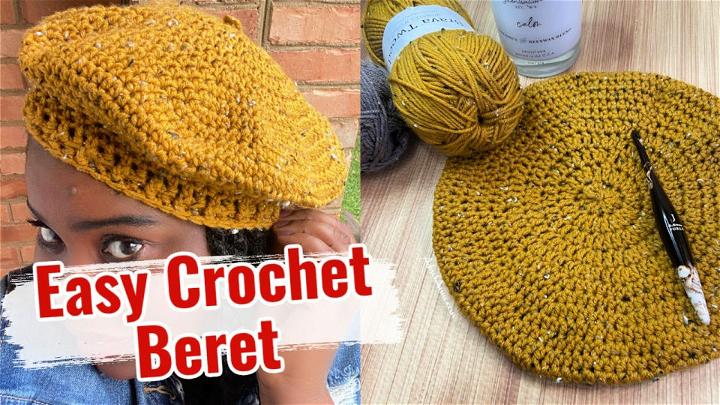 Crochet a stylish sunburst beret with ease! It is perfect for beginner crocheters. This easy and simple pattern will have you look fashionable in no time. With detailed instructions and helpful visuals, creating a beautiful crochet beret has never been easier. Whether you're just starting or an experienced crafter, this beginner-friendly design will bring sunshine into your wardrobe. Crochet your very own stunning sunburst beret now!
23. Free Crochet Easy Beret Hat Pattern

Add a stylish and classic look to your wardrobe with this easy crochet beret hat. Create the perfect hat for any occasion, from everyday wear to special events. This short and simple pattern is suitable for beginners. All you need to do is choose the yarn size of your choice and its recommended hook size and get started! Add this chic beret to any outfit. You'll love how quickly it comes together! Get creative and accessorize. Make this cute crochet beret hat now!
24. Crochet 3D Wind Rose Beret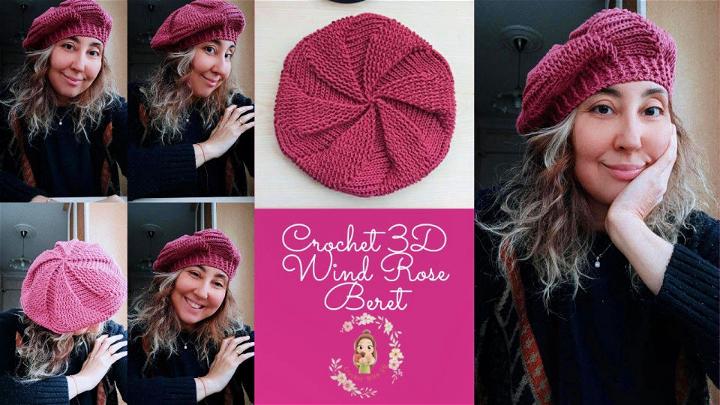 This easy tutorial teaches how to crochet a gorgeous 3D wind rose beret! This DIY is perfect for beginners. You can make your unique beret by following the step-by-step instructions. With this easy video presentation, you can master even complex techniques quickly. You can produce a stunning piece of headgear that will draw compliments wherever you go. So, don't wait. Give it a try now and create something beautiful today!
25. How to Crochet an Easy Beret Hat – Beginner-Friendly Tutorial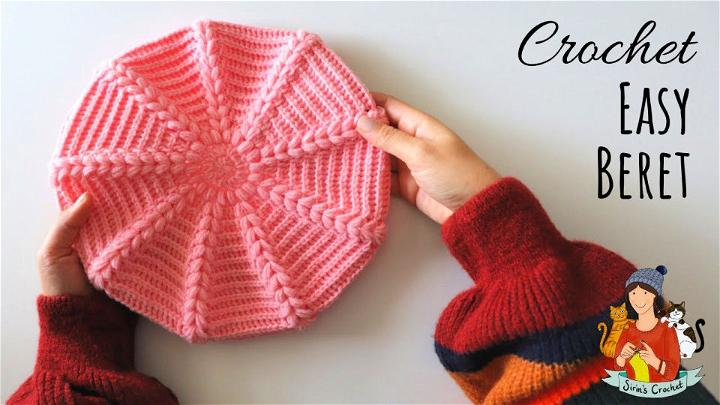 Learn how to crochet an easy beret hat with this beginner-friendly tutorial! Perfect for beginners, you'll love the simple step-by-step. You will have created a stylish beret that everyone will admire in no time. This easy tutorial includes all the materials and tools needed to get started. Whether you are just starting crocheting or looking for something special to add to your wardrobe, this guide on crocheting an easy beret hat will surely satisfy you!
Related Free Crochet Hat Patterns
Discover a wide variety of stylish and unique crochet hat patterns that are perfect for every season! From classic beanies to fun and funky fedora hats, you'll find the perfect design to suit your style.
Conclusion: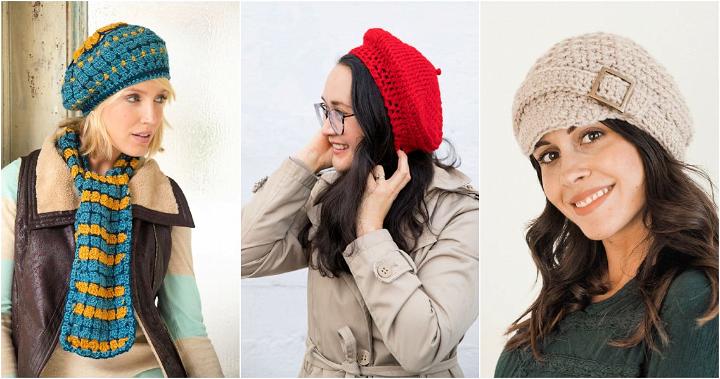 In conclusion, this charming collection of 25 free crochet beret patterns provides diverse designs for different tastes and skill levels. From classic French berets to vintage and modern styles, these crochet beret patterns offer fashionable options for women, men, and children alike. By exploring and crafting these crochet beret hats, you'll create chic and timeless accessories and hone your crochet skills. Delve into the world of crochet beret patterns and let your creativity shine.