Crochet newsboy hats are a trendy and versatile accessory that can add a stylish and classic touch to any outfit. With this collection of 20 free crochet newsboy hat patterns, you can make your own newsboy cap easily and without any hassle. These newsboy hats can be made in various styles and designs, from classic to modern, and are perfect for any age group. Each free crochet newsboy hat pattern comes with detailed instructions, so even if you're a beginner, you can easily make your own newsboy cap.
You'll also find newsboy crochet hats in different sizes and colors, including patterns for babies, kids, and adults. So why not start crocheting your own newsboy hat today? With a few basic crochet stitches and creativity, you can have a stylish and functional accessory that keeps you warm and fashionable. Choose your favorite crochet newsboy hat pattern from this collection, and start crocheting now!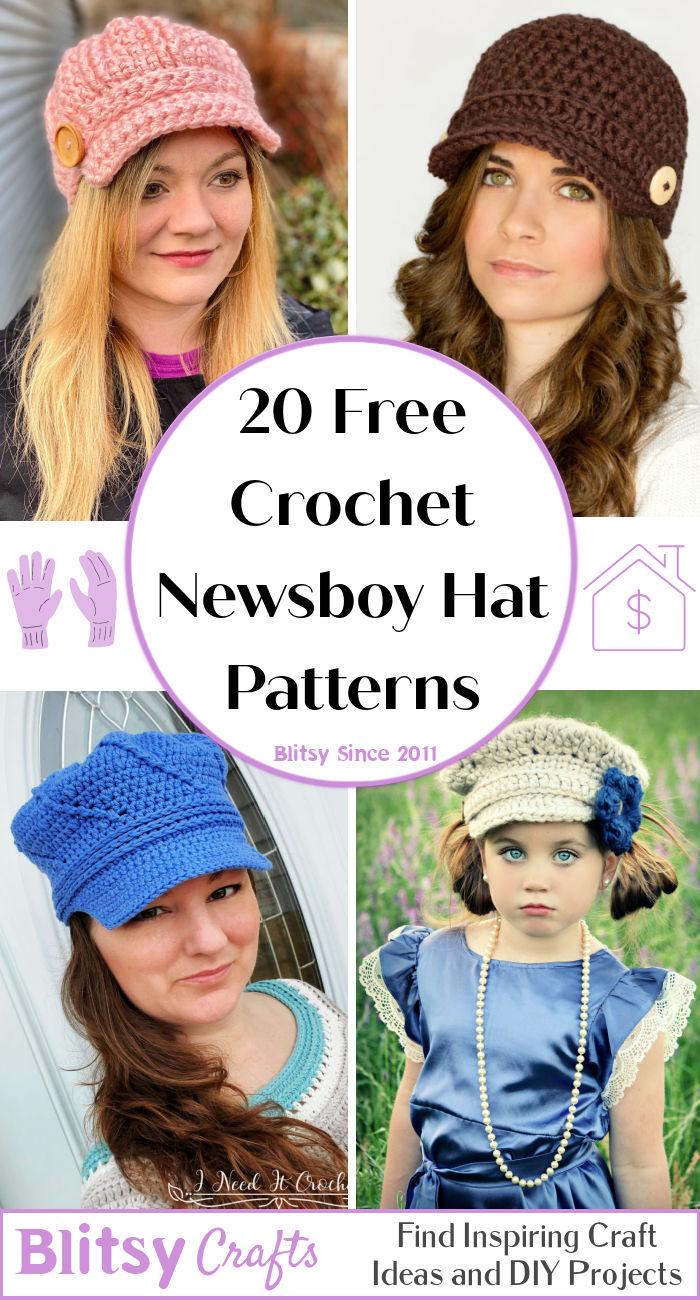 How to Crochet Your Own Newsboy Hat?
Crochet newsboy hats are a popular and fashionable accessory that can add some flair to your outfit. They are also fun and easy to make with some basic crochet skills and a few supplies. Here are some tips and ideas on how to crochet your own newsboy hat.
Choose your yarn and hook size. You can use any type of yarn you like, but a medium-weight yarn is recommended for a sturdy and warm hat. You will also need a crochet hook that matches your yarn weight. A 5 mm hook is a good choice for most yarns.
Start with a magic ring. A magic ring is a technique that allows you to create a circle of stitches without leaving a hole in the center. To make a magic ring, wrap the yarn around your fingers, insert the hook through the loop, pull up a loop, and chain one. Then work your stitches into the ring as instructed by your pattern.
Work in rounds. Most crochet newsboy hat patterns are worked in rounds, meaning you join each round with a slip stitch and chain one to start the next round. You can use a stitch marker to mark the beginning of each round and keep track of your stitches.
Shape the crown. The crown is the top part of the hat that covers your head. You must increase or decrease your stitches according to your pattern to shape it. Usually, you will increase for several rounds until you reach the desired circumference of your hat, then work even for several rounds without increasing or decreasing.
Make the brim. The brim is the visor-like part of the hat that sticks out from the front. To make it, you will need to work in rows instead of rounds, turning at the end of each row. You will also need to decrease or skip some stitches at both ends of each row to create an angled shape for the brim.
Add some embellishments. You can customize your news boy cap pattern by adding some buttons, flowers, pom-poms, or other decorations. You can sew them on with a tapestry needle and matching yarn or glue them on with fabric glue.
That's it! You have just made your own crochet newsboy hat! Enjoy wearing it or giving it as a gift!
1. Crocheted Nifty Newsboy Hat Pattern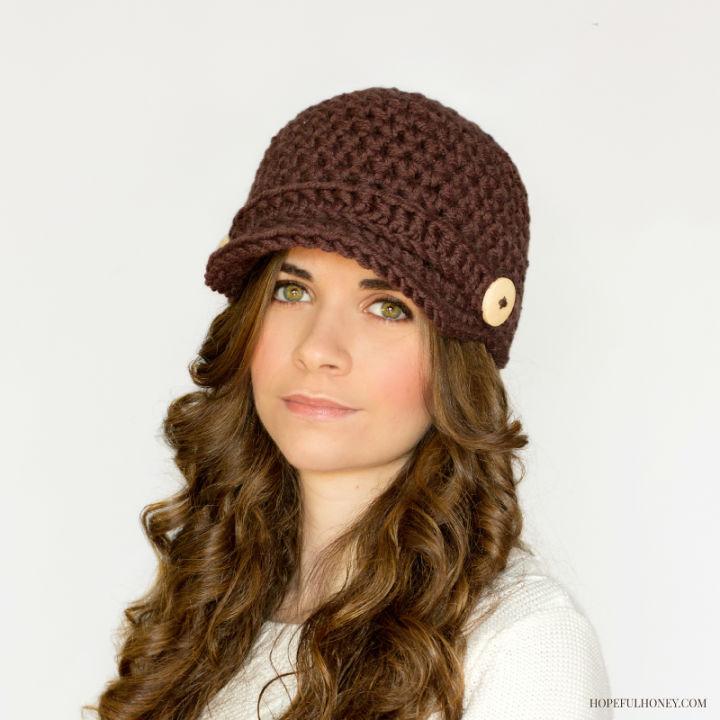 Stay warm and stylish this season with our crocheted nifty newsboy hat! This classic accessory is a great way to protect your head from the windy weather. This pattern can be made with lion brand hometown USA super chunky yarn (14ply) and requires a 10.00mm crochet hook, 150 yards of yarn, two 1.2″ buttons, and a tapestry needle for finishing touches. The finished size will fit most adults comfortably when complete! Don't hesitate – to get started on making your own crocheted newsboy hat today! hopefulhoney
2. Crochet Twisted Newsboy Hat Pattern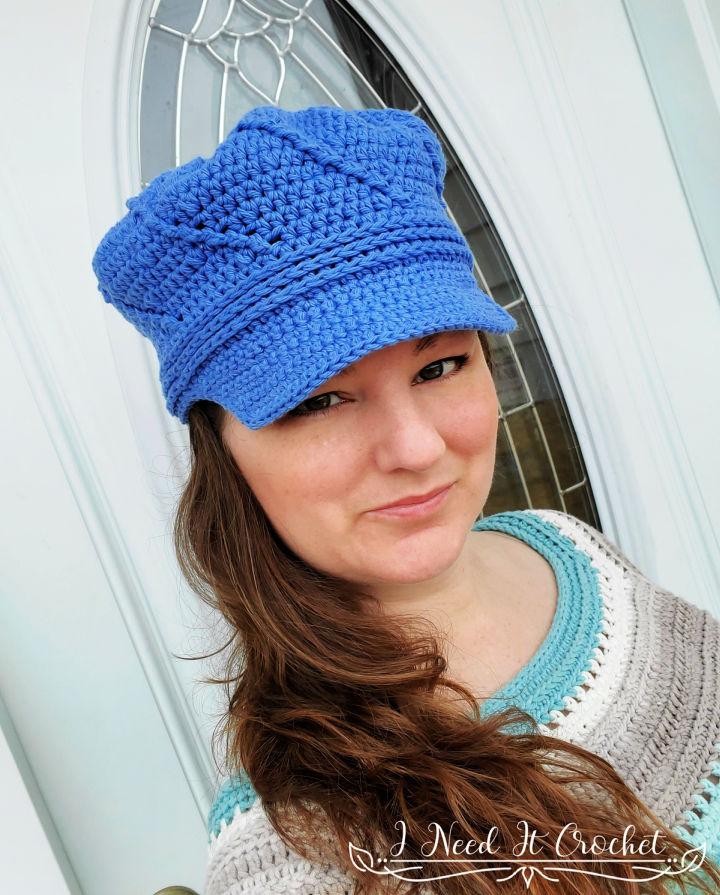 Create a stylish hat with our free twisted newsboy crochet hat pattern. This free crochet newsboy hat pattern is perfect for beginners and experienced crocheters alike to create fashionable hats that make a statement! After you finish your project, you can do whatever you want with it – keep it for yourself or even sell it online. Head over to the link now and start! ineeditcrochet
3. Free Crochet Baby Newsboy Hat Pattern

Brighten up your little one's wardrobe with this beautiful handmade free crochet baby newsboy hat pattern. This cute hat is perfect for sunny days and can be made from cotton or sport-weight yarn, so it won't be too heavy and will keep the head cool in warm temperatures. The wide brim shields their face from the sun while the long sides provide wind protection over their ears. Get creative and make a unique newsboy cap with this easy-to-follow crochet pattern! snowdropcreates
4. Free Crochet Taylor Swift Hat Pattern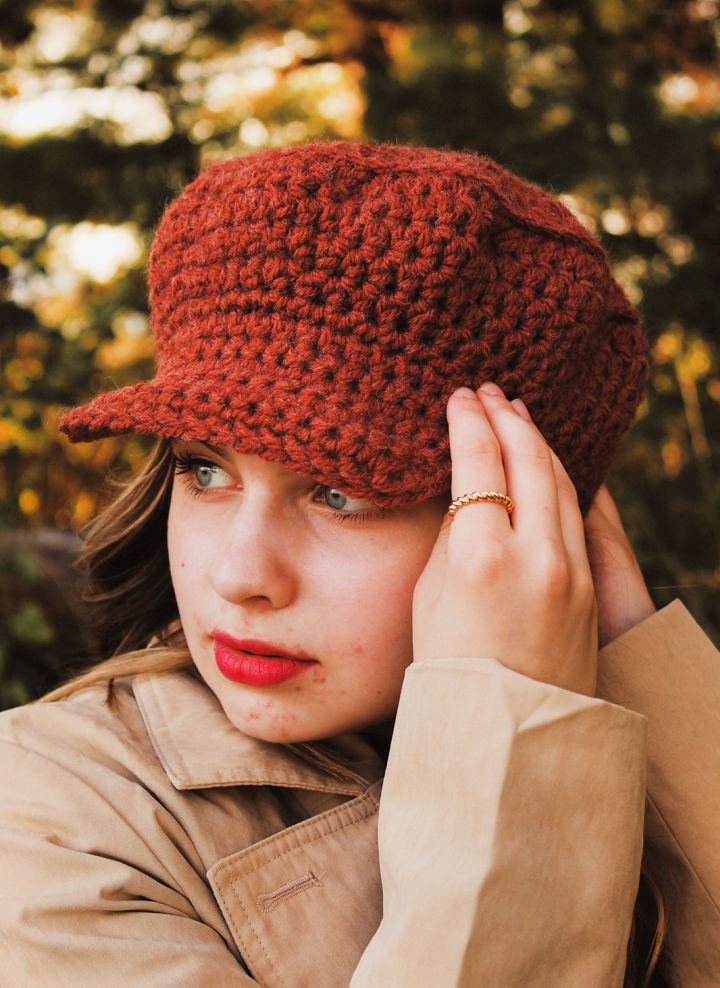 This easy-to-follow free crochet newsboy hat pattern uses simple materials like yarn and hook, as well as a tapestry needle. Learn how to make your own fashionable hat while celebrating the stories that Taylor tells through her music. Be ready for any weather this season, and keep cozy in style. Try out this free crochet Taylor swift hat pattern today! So, stay warm this winter with this free newsboys crochet hat pattern inspired by Taylor Swift's Red album! stitchberryblog
5. Crochet Capitol Couture Newsboy Hat Pattern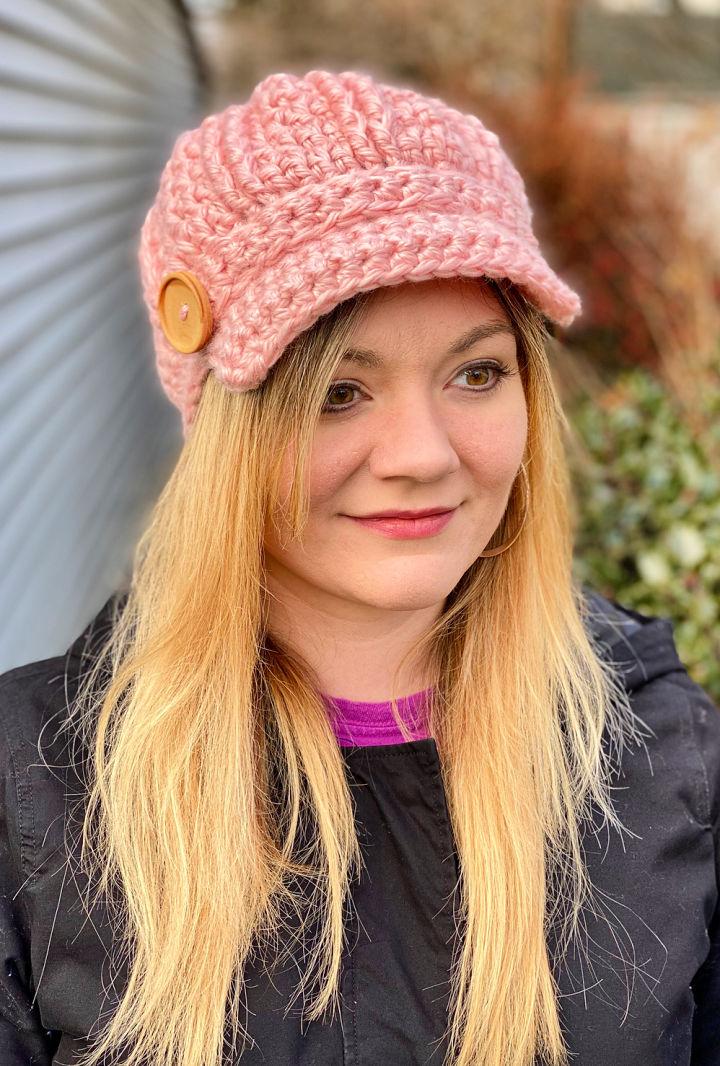 Keep cozy this winter in style with the crochet capitol couture newsboy hat pattern. This easy-to-make-free crochet newsboy hat pattern is perfect for any fashionista! It's cozy, comfy and looks great on everyone. With only one skein of yarn, you can make a variety of colors to match all your outfits; just have fun and get creative! So add some flair to your wardrobe and start crocheting today — it's fast, fun and fashionable! craftykittycrochet
6. Crochet Mixed Cluster News Boy Hat Pattern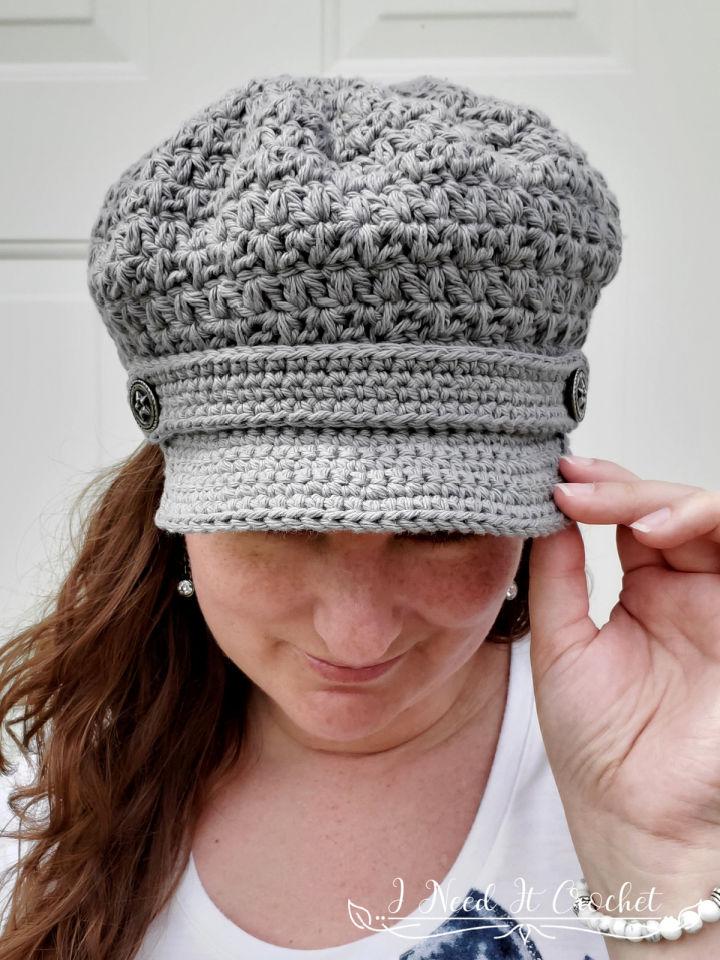 Experience the joy of creating a stylish and unique hat with this crochet mixed cluster newsboy hat pattern! With simple instructions, creating a beautiful accessory in no time is easy.
You'll need handi-crafter cotton, yarn, hook, stitch markers, scissors, measuring tape and yarn needle to complete your project. The intricate cluster pattern looks amazing in any color combination you can think of – perfect for matching all your favorite outfits! Get creative and make the ideal crochet cap for yourself or as a special gift for someone else. Add this stunning newsboy hat pattern to your collection now! ineeditcrochet
7. Classic Crocheted Newsboy Hat Pattern

Improve your wardrobe with this classic crocheted newsboy hat. It features a unique brim and is perfect for any season! These easy-to-follow instructions are written in two sizes, so you can create the perfect fit. The guide provides clear directions with helpful tips throughout, making it simple to complete your project quickly and easily. Get ready to show off this stylish accessory – get started on our classic crocheted newsboy hat pattern today! yarnspirations
8. Square Brimmed Newsboy Hat Crochet Pattern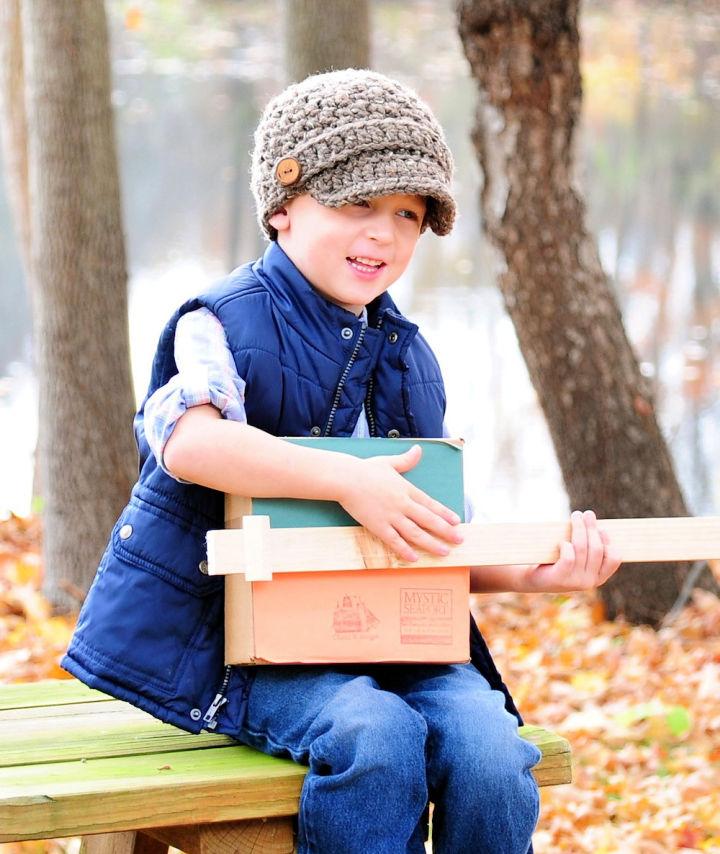 Looking to create a unique and stylish hat? Check out this square-brimmed newsboy hat crochet pattern! This pattern has been tested for accuracy and is perfect for those who love working with yarn. With detailed instructions, you can easily recreate this classic style. Once completed, feel free to wear it or give it as a special gift – the choice is yours. Start crocheting today and enjoy your new-found masterpiece! ravelry
9. How Do You Crochet Newsboy Hat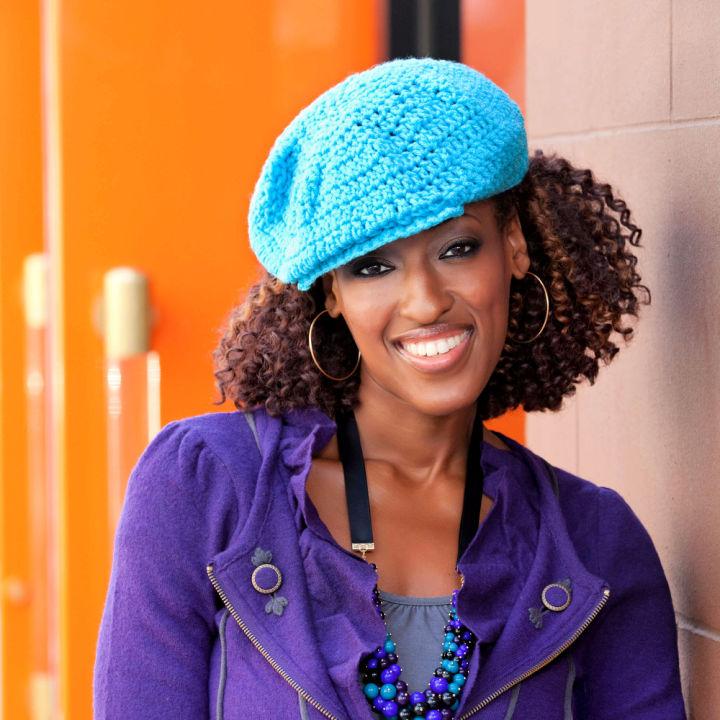 This stylish and unique hat is perfect for any season and will add a finishing touch to your look! The step-by-step tutorial walks you through each stitch, giving detailed instructions that are easy to follow. With clear photos of each stage, it takes no time at all until you're ready to rock this swanky piece of headgear. Get ready for compliments from friends and strangers alike as you walk around town in your handcrafted masterpiece! Click now for the complete guide on how to crochet a newsboy hat. yarnspirations
10. Crochet Kinleys Slouchy Newsboy Hat Pattern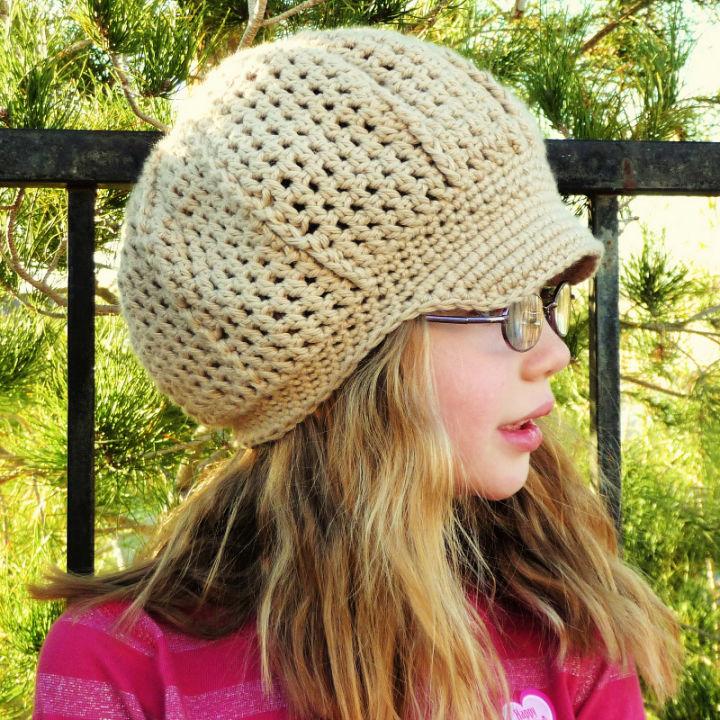 We are absolutely in love with this cozy crochet newsboy hat pattern! This crochet Kinley slouchy newsboy hat pattern is perfect for those looking for a slightly poofy and slouchy look. The pattern works best for smaller children and adults with smaller heads who want something different than the standard, fully slouchy hats out there. Get your hands on it today to create a unique accessory! ravelry
11. Free Crochet Streetwise Brim Hat Pattern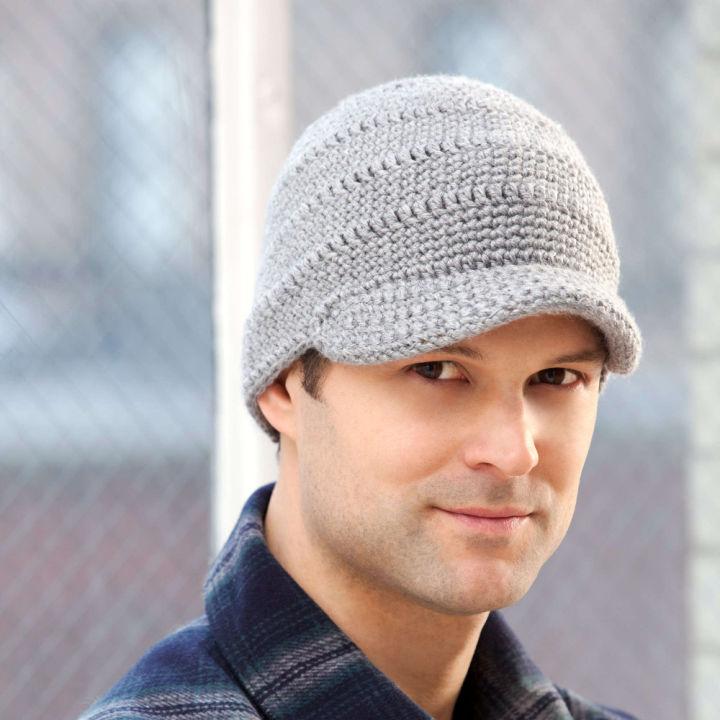 Whip up a stylish and comfortable hat with this free crochet streetwise brim hat pattern. It is easy to make and works up quickly in soft yarn, making it the perfect choice for everyday wear. The brim adds a cool factor while remaining lightweight and breathable. The washable fabric ensures you can enjoy your handmade design season after season. Get creative and cozy with this free crochet pattern! yarnspirations
12. Chunky Crochet Newsboy Hat Pattern

This chunky crochet newsboy hat pattern is perfect for the stylish fashionista looking to make a statement. Moreover, the easy-to-follow pattern features unique textured stitches that give this hat an extra special look, while simple construction makes it fast and fun to work up!
The result is a modern twist on a classic style that will keep your head warm in any weather. Whether you're looking for something different to wear with jeans or want to stand out at your next event, this gorgeous crochet newsboy hat pattern will have heads turning! rebelskein
13. Free Crochet Pattern for Newsboy Cap

Craft the perfect winter accessory with this free crochet newsboy hat pattern. With just a few basic stitches and materials, you'll be able to create a beautiful hat that will keep your head warm all season long. This simple design uses chain, double crochet, treble, dec decrease treble and slip stitch techniques that are easy to learn even if you're new to crocheting! Get creative by adding embellishments or different colors of yarn, and make sure everyone notices your handmade masterpiece! thehandmaderain
14. Crochet Textured Brimmed Newsboy Hat Pattern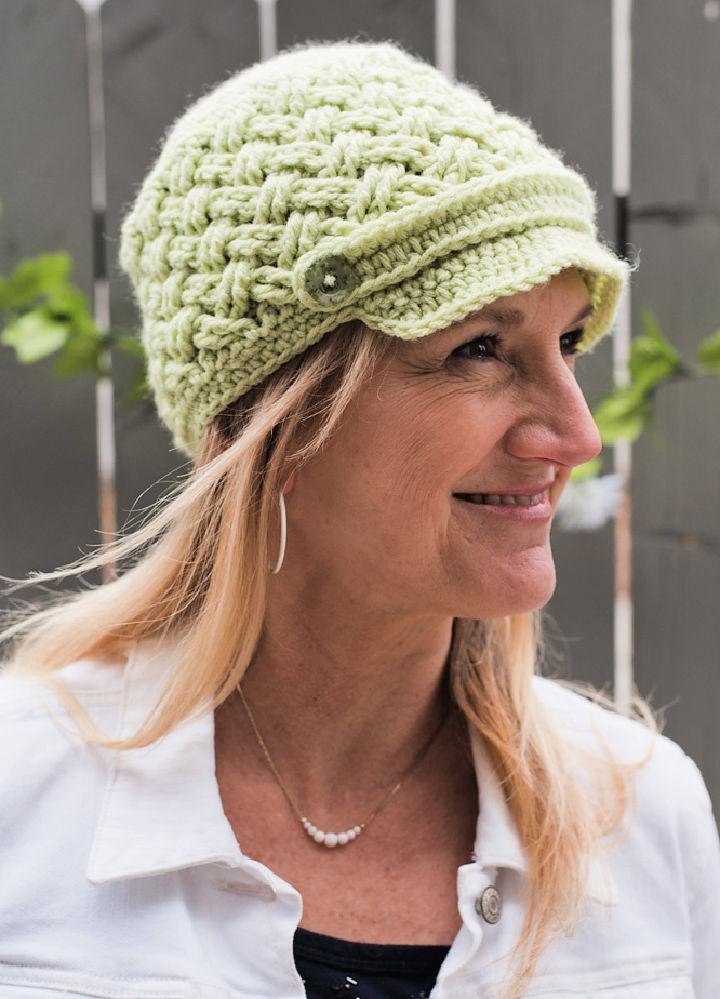 New to crocheting? Well, then, this crochet textured brimmed newsboy hat pattern is perfect for intermediate crocheters. It's a great project to add texture and style to any wardrobe! You'll need worsted-weight yarn, such as Red Heart With Love, two buttons in sizes ¾″–1″, 0 mm (H-8) and 6.0 mm (J-10) crochet hooks or sizes needed to obtain the gauge and a yarn needle for weaving in ends. Once you're done with your hat, show off your new stylish accessory! ilikecrochet
15. Chunky and Slouchy Crochet Newsboy Hat Pattern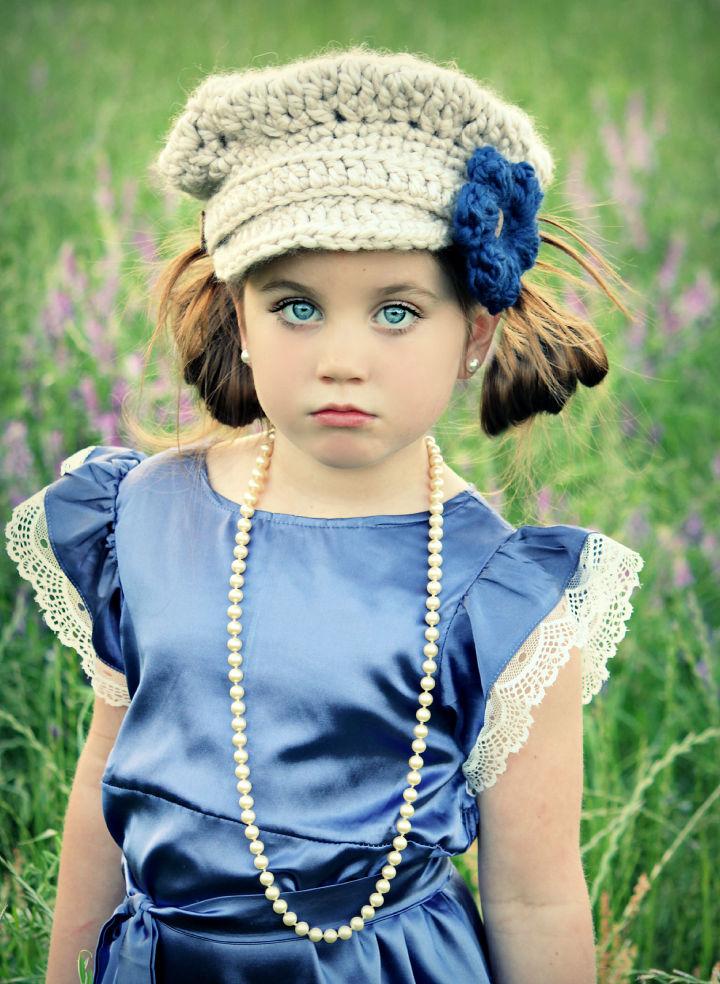 Keep warm and fashionable this winter with a chunky, slouchy crochet newsboy hat pattern! This easy-to-follow step-by-step guide will show you how to create your own stylish hat quickly. The finished product can be personalized in whatever way suits you, so get creative! This crochet newsboy hat pattern gives you the perfect accessory for any winter outfit. So don't miss out on the opportunity to make something cozy and chic – your winter plans are sorted! ravelry
16. Spider Web Newsboy Hat Crochet Pattern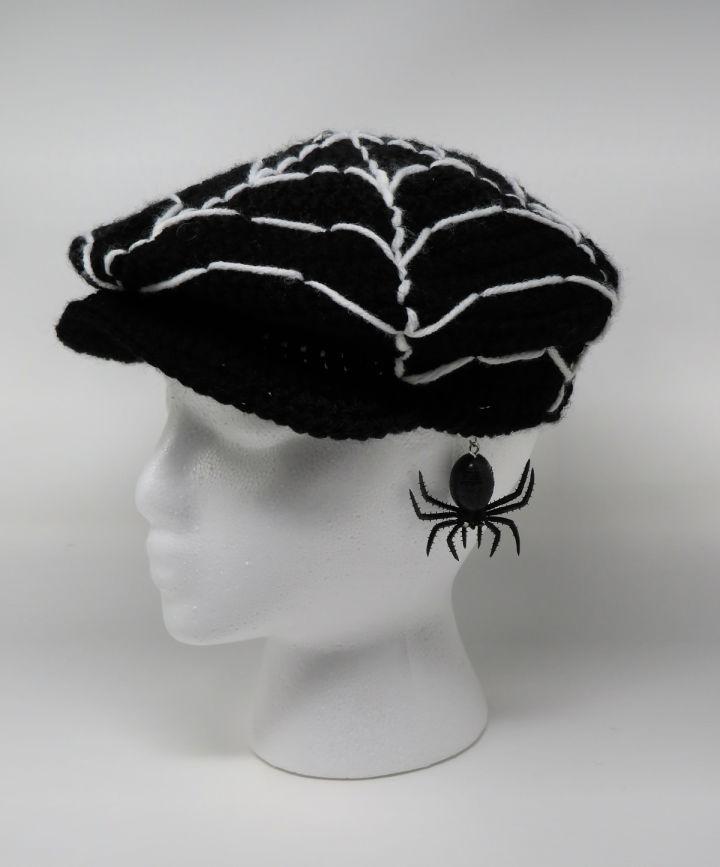 Ready to make a fashion statement? This unique pattern is perfect for Fall – it'll become your go-to accessory when the temperature drops! All you need is Vanna's Choice worsted weight 100% acrylic yarn, Furls Odyssey I (5.5 mm) hook, and a tapestry needle to create this cozy yet chic hat. Great for beginners or experienced crocheters alike, add some personality to your wardrobe with this easy-to-follow crochet pattern today! hookedbykati
17. Crochet Urban Newsboy Hat Pattern for Ladies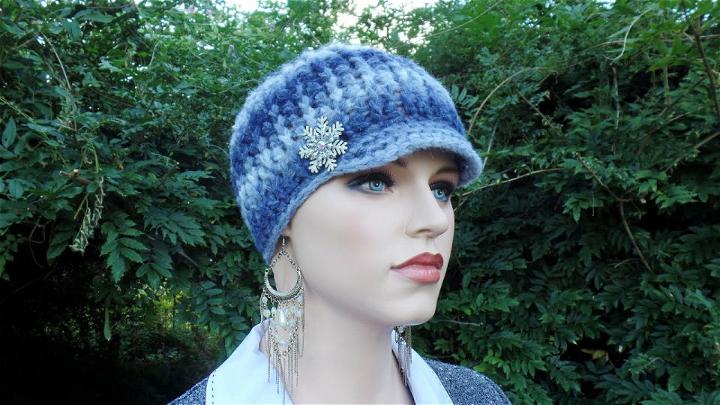 Discover the perfect crochet urban newsboy hat pattern for ladies. Whether you are a beginner or an advanced crocheter, we have tutorials that make it easy to learn how to quickly and easily crochet this stylish new look. Find yarn hauls and unboxings from bulk yarn stores as well as little shops with unique offerings. Get started on your next project today! youtube
18. How to Make a Newsboy Hat – Free Pattern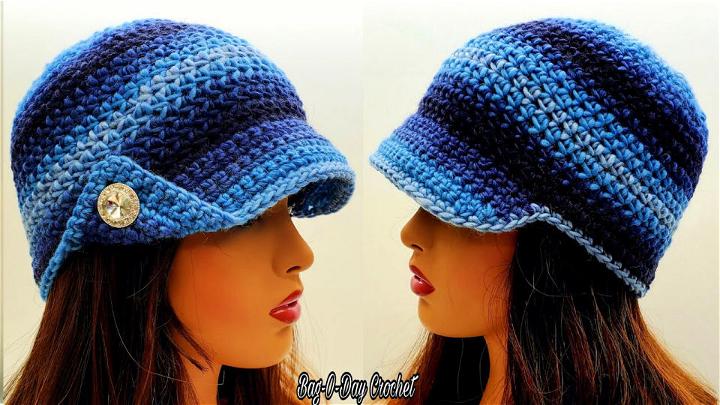 Learn how to make a stylish newsboy hat with this free crochet pattern from Bagoday crochet. Perfect for the beginner crocheter, this tutorial provides detailed instructions and helpful tips so you can craft your own fashionable accessory. The simple design of this crochet newsboy hat pattern makes it ideal for any occasion, and the tools needed are minimal – all you need is yarn and a few basic crochet supplies. Get started today on your very own handmade newsboy hat!
19. Easy Crochet the Belmont Newsboy Hat Pattern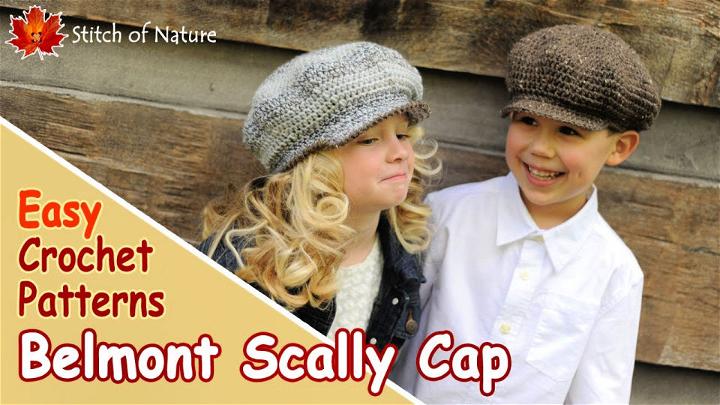 Perfect for beginners, this pattern includes instructions on the skills you need – chain, single crochet, half double crochet, front post single crochet and more – as well as what materials you require like worsted weight yarn medium size 4 and a hook. Start crocheting today and create your very own hat that is stylish and comfortable to wear. Follow along step by step for an enjoyable experience that will leave you feeling proud of your finished product!
20. How to Crochet Pageboy Hat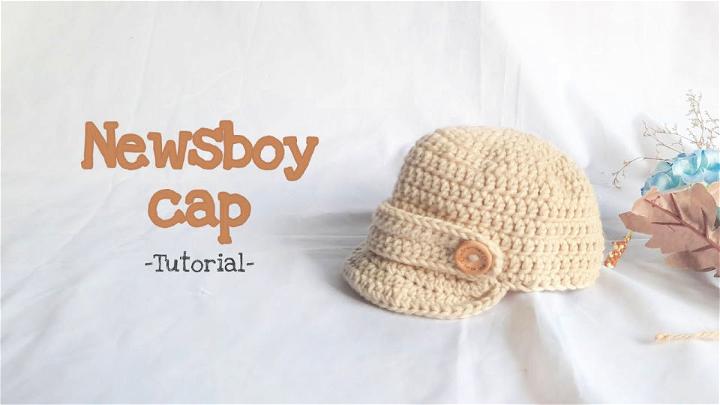 Unveil the secret of how to crochet a stylish pageboy hat with this easy and beginner-friendly tutorial! The size chart in the guide gives you a reference for making bigger sizes, so you can tailor your creation to fit any head. Follow these step-by-step instructions and start crafting your own adorable headpiece today. With this guide, even novice crocheters can quickly create a fashionable accessory that's sure to catch their attention! youtube
Related Free Crochet Hat Patterns
Create your own unique look with these free crochet hat patterns! From stylish cloches to slouchy beanies, find the perfect project for any season.
Conclusion: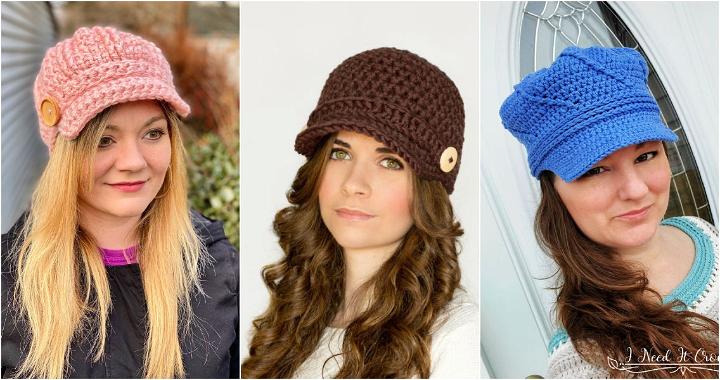 In conclusion, crochet newsboy hats are versatile and trendy accessory that anyone can wear. With 20 free crochet newsboy hat patterns available above, you can make stylish hats for yourself and your family or even sell them. From classic designs to urban and textured patterns, there's a crocheted newsboy hat pattern for everyone, including beginners and experienced crocheters. Try making a square brimmed, spider web or Belmont newsboy hat pattern and add some personality to your outfit. Start crocheting today and create your own unique newsboy hat.