For a unique 1920s cloche hat pattern, Explore our 25 free crochet cloche hat patterns for all skill levels, from beginners to more advanced crocheters. Each free crochet cloche hat pattern, complete with step-by-step instructions and detailed PDF guides, will help you create stylish and vintage-inspired crocheted cloche hats for women, girls, and kids of all ages. Whether you're learning crochet for the first time or expanding your skills, these free crochet cloche hat patterns offer diverse designs, including the crochet cloche hat pattern with flower, crochet strawberry eclair cloche hat, and the elegant downton abbey crochet cloche pattern.
Additionally, crochet enthusiasts can explore crochet flapper hat patterns, such as the shell stitch flapper hat and the free crochet flapper hat pattern. Each crochet cloche hat pattern provides a comprehensive guide with clear instructions, ensuring an enjoyable and seamless crocheting experience. By following these free crochet cloche hat patterns, you can create unique and charming hats that showcase your creativity and style. So, pick up your crochet hook and yarn, and start crafting your very own crochet cloche hat today!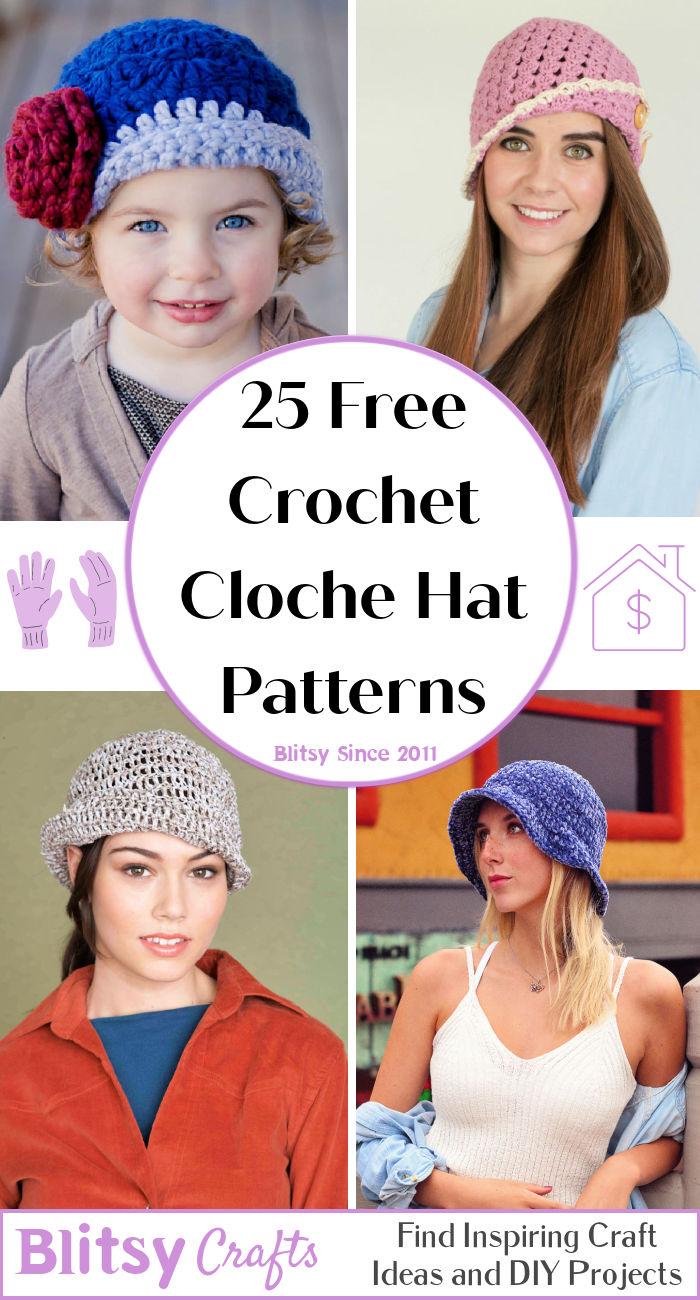 About Crochet Cloche Hat: A Vintage-Inspired Accessory for Any Season
If you love the style of the 1920s and want to add retro flair to your wardrobe, try making a crochet cloche hat. A crochet cloche hat is a fitted hat with a round crown and a brim that can be turned up or down. It was popularized by flappers and actresses in the roaring twenties, and it still looks chic and elegant today.
We've shared 25 free crochet cloche hat patterns below for different crocheter skill levels and styles. You can choose from simple stitches or intricate patterns, solid colors or variegated yarns, and wide brims or narrow brims. Some crochet cloche hat patterns even use an elastic hairband at the top of the hat to make it snug and secure.
A crochet cloche hat is a fun project and a great gift for your friends and family who love vintage fashion. They will appreciate a stylish accessory that complements their outfits and adds charm to their look. Let's start crocheting your own cloche hat today!
1. Crochet Cloche Hat Pattern With Flower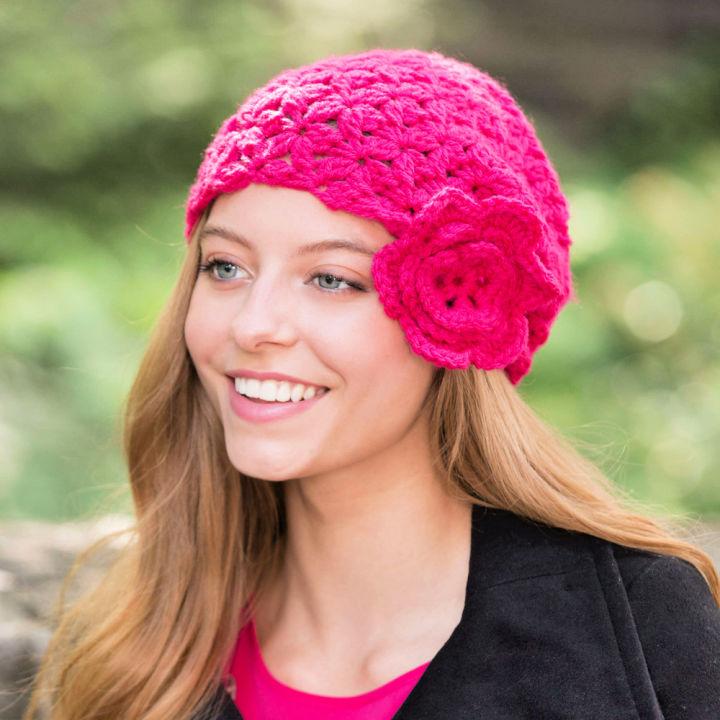 Experience the joy of creating something special with this flower cloche hat! This stylish and wearable crochet hat is made with one skein of red heart super saver yarn and a 6mm crochet hook. Perfect for an intermediate-level project, it measures 21 inches in circumference and 11 inches tall when unfolded. With its beautiful 4-inch flower accent, this piece will surely make you smile! Get ready for compliments as you step out wearing this unique hat! yarnspirations
2. Crochet Strawberry Eclair Cloche Hat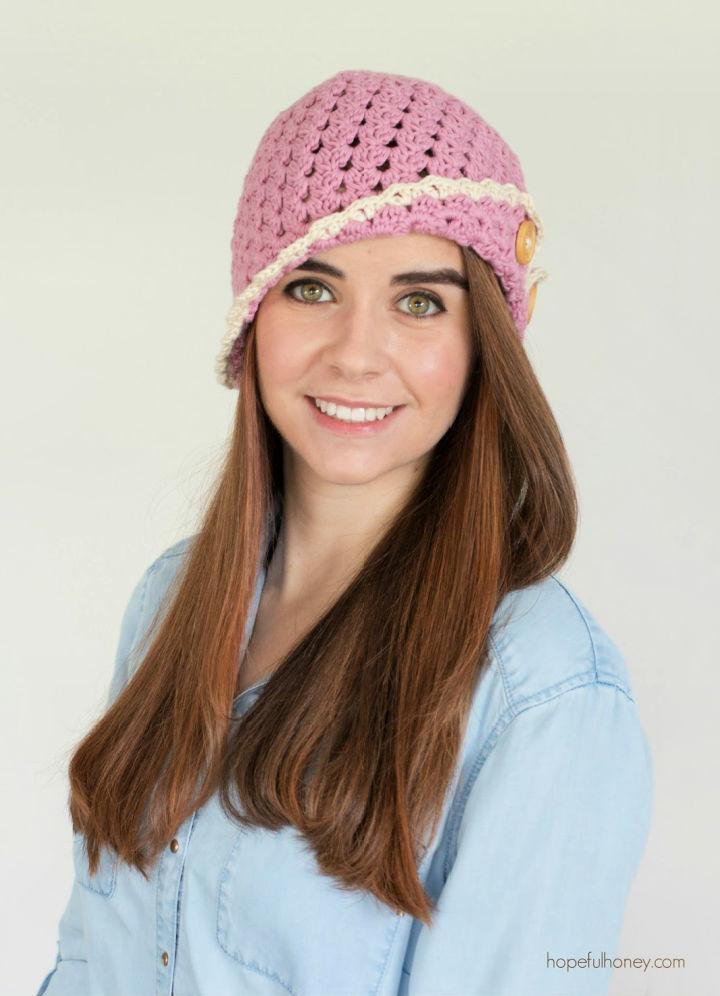 Embark on a crafting adventure with the strawberry eclair cloche hat crochet pattern! Bring this unique and quirky hat to life using only a few skeins of shiny happy cotton. Perfect for autumn, it comes in sizes from child to adult and is adorned with two 1″ buttons to make heads turn. Grab the free copy of this vintage-inspired crochet hat pattern now! hopefulhoney
3. Crochet Velvet Cloche – Free Pattern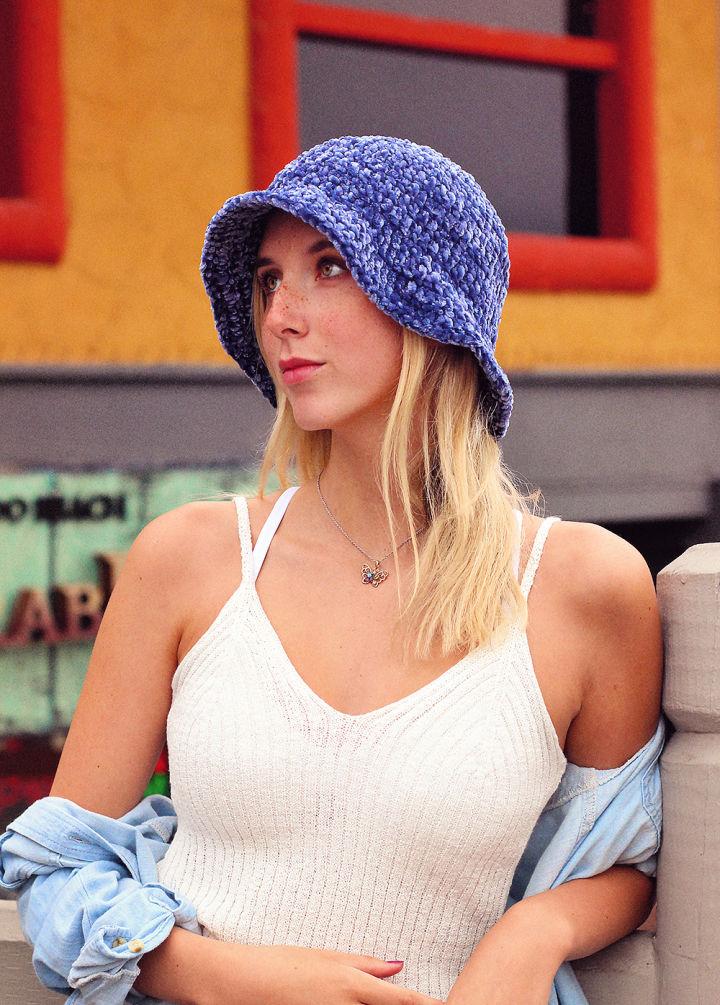 Discover a luxurious comfort for your wardrobe with this free crochet pattern for the velvet cloche hat! Crocheted using #5 bulky weight yarn and us size j/10 (6mm) hook, this beginner-friendly hat will take little yarn – just half a skein of bernat velvet. A perfect accessory to dress up or down, it features two sizes with 8-9 inch lengths and 22-24 inch circumferences – ideal for chilly days. Make yourself a cozy yet stylish cloche hat today! gleefulthings
4. Cadence Cabled Cloche Crochet Pattern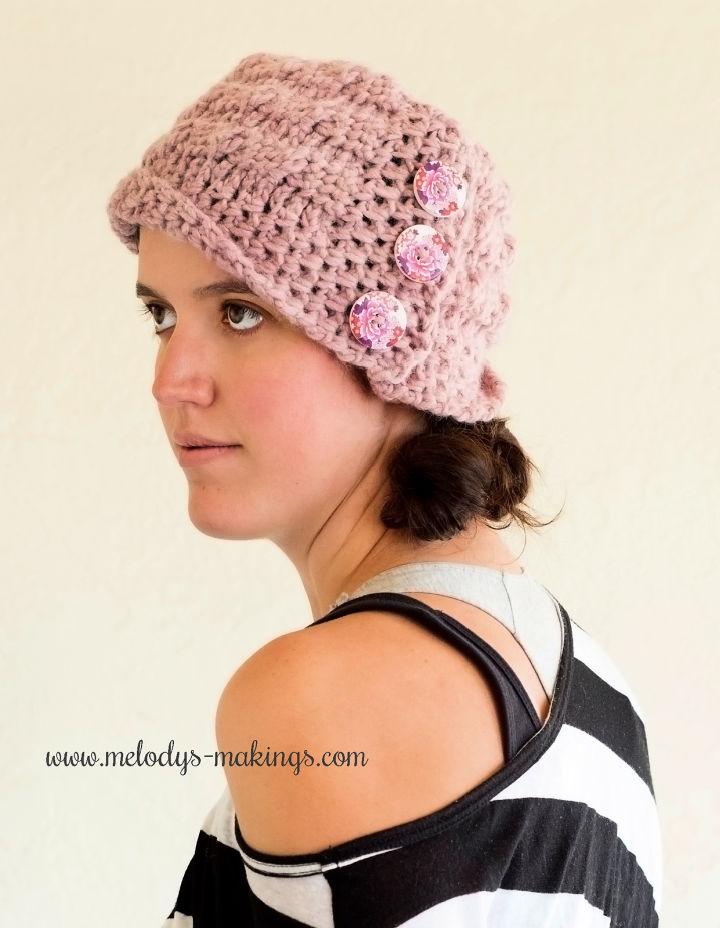 Look no further for a cozy and stylish hat to keep you feeling comfortable on those lazy days. The cadence cabled cloche crochet pattern is perfect, featuring gorgeous design elements like cables that make it look like you put effort into your appearance. Free and easy to assemble with 150 yards of bulky weight yarn and a size 6.5mm crochet hook, this hat comes in sizes for toddlers, children and adults alike! So why not take the hassle out of bad hair days – grab your supplies and whip up this super cute crochet cloche today! melodys makings
5. Downton Abbey Crochet Cloche Pattern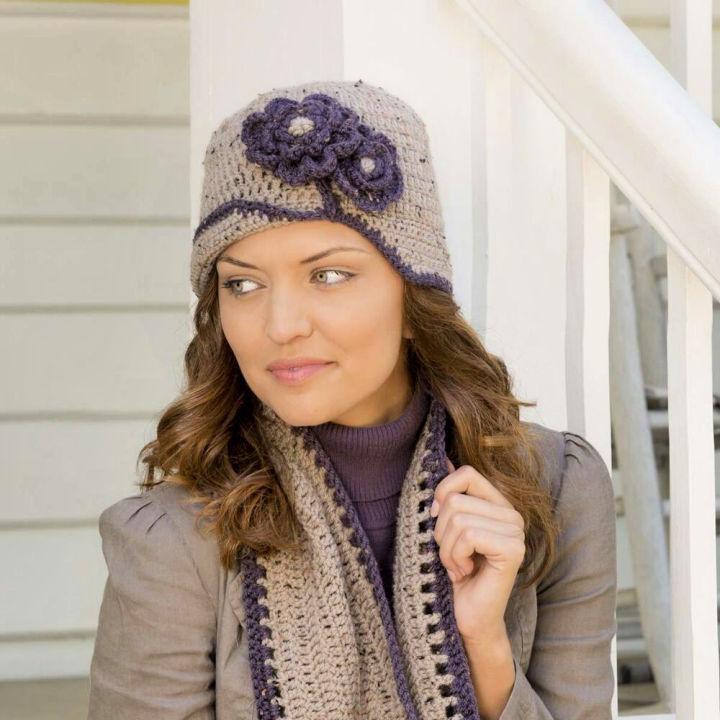 Take a walk through time with this exquisite downton abbey-inspired crochet cloche hat! Cables and soft, luxurious matthew yarn bring this beauty to life in the rich cinder brown and mulled grape colorway. Expertly crafted for most adults – 20 inches in circumference and 9 inches in height – you'll need a US size h-8 (5 mm) hook to recreate it. Flaunt your vintage style with the perfect showstopping accessory to make heads turn! premieryarns
6. Free Shell Stitch Flapper Hat Crochet Pattern

Make your little one look stylish and cozy with this chic flapper hat! Perfect for babies and children aged 0-10 years, this hat is crocheted using the shell stitch pattern and only takes 40-70 yards of super bulky yarn. Choose from a variety of colors to personalize the look. With 10.0mm (n/p) or 8.0 mm (l) hook options, it's quick and easy to crochet – perfect for using up leftover yarn from other projects! Keep them warm in style with this fashionable cloche hat! ravelry
7. Free Crochet Openwork Cloche Pattern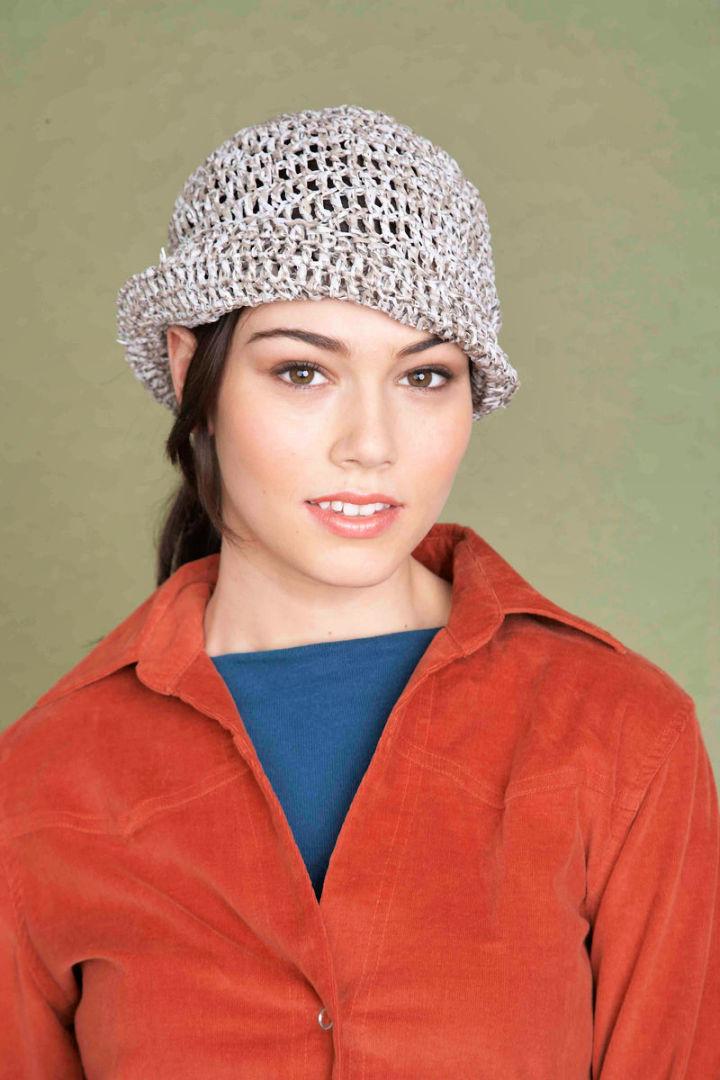 Embrace your inner fashionista and try this easy, one-size openwork cloche crochet pattern! Perfect for novices or anyone needing a quick project, all you need is lion brand jazz yarn in light gray and taupe, plus a size h-8 crochet hook. In just a few hours, you'll have created an 18 x 40 inches hat with an eye-catching texture that's soft to the touch – perfect for adding a stylish accessory to any wardrobe! lionbrand
8. How to Crochet Cover Story Cloche – Free Pattern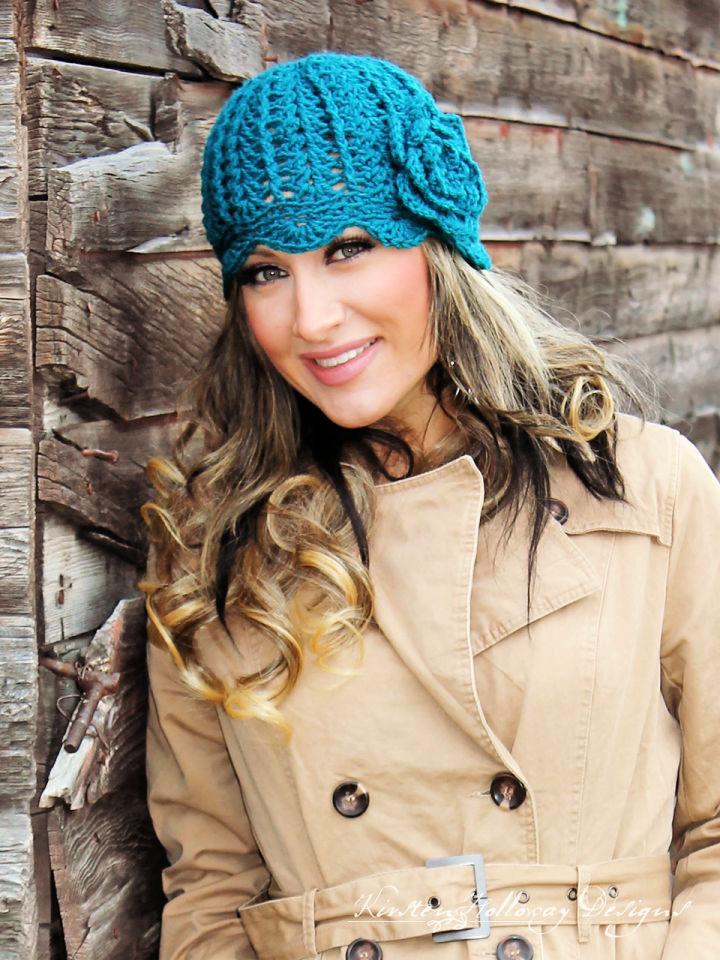 Transform your look with the stylish cover story cloche! Reminiscent of a vintage newsboy slouch hat, this unique crochet pattern is perfect for those looking beyond basic beanies. Using simple shell stitches and either sport weight (#2) or dk (#3) yarn with a 4mm (g) hook, you can create an eye-catching cloche complete with a scalloped edge and bold flower side accent. Make one today as a fashionable accessory for yourself or as a gift! kirstenholloway
9. Crocheted Mom and Baby Cloche Hat Set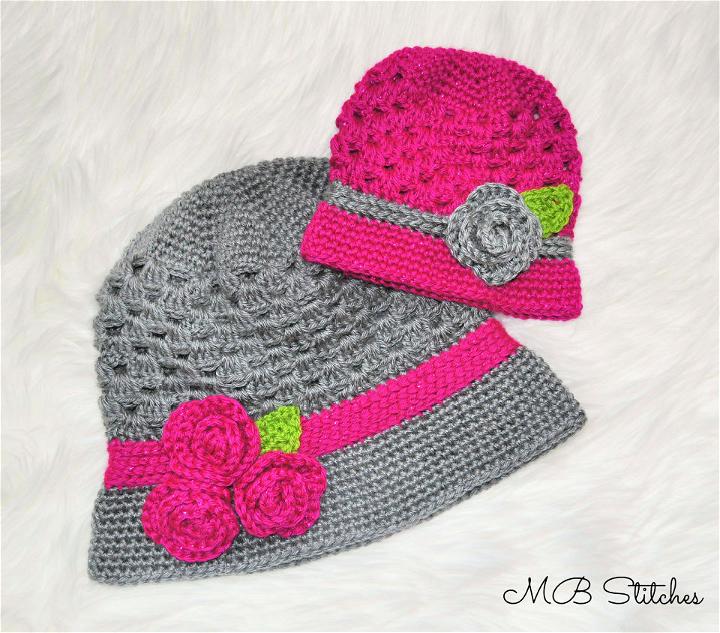 Treat yourself and your little ones to a stylish spring look with this mom and baby cloche hat set! These cute and practical crochet hats are perfect for chilly mornings or cool evenings. The open weave allows for breathability so that you can comfortably enjoy the spring weather. Plus, they work up quickly – perfect for a last-minute gift idea! Get your yarn and hook ready; this project is fun and will impress. Start now on this charming set of cloche hats – your family will love them! mbstitches
10. Crocheted Charleston Cloche Hat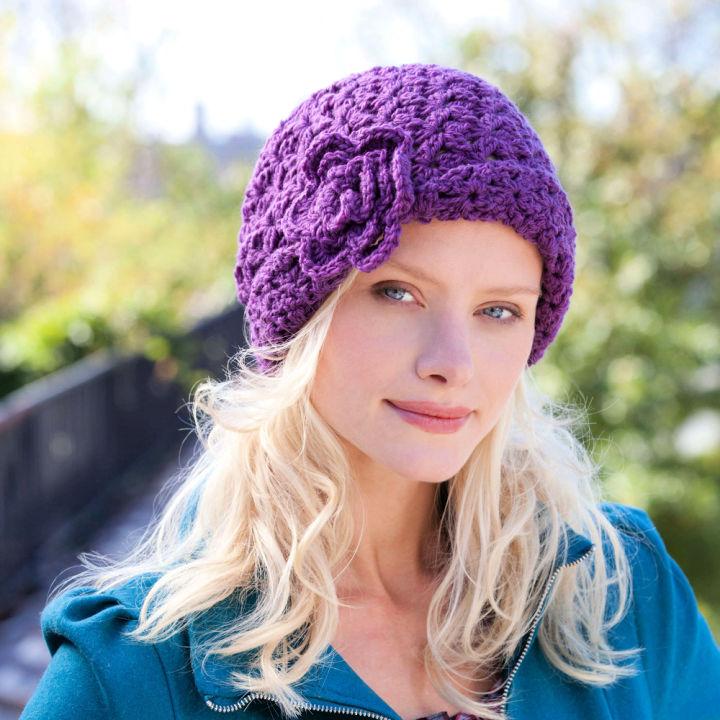 You deserve to look stylish and stay warm in any weather. This free crochet hat pattern introduces you to the charleston cloche, the perfect crochet hat! This wearable style is made with stitch nation yarn, measuring 21″ circumference x 11″ tall (unfolded). All you need is a 5.5mm (US i-9) crochet hook and one ball of "washable ewe" current yarn for this stunning piece of fashion headgear. Create your unique look or make it a thoughtful gift for someone special – either way, your new hat will keep you looking awesome, whatever the weather! yarnspirations
Crochet Top Pattern: Create your own stylish and unique crochet tops with these easy and free crochet top patterns, perfect for any skill level.
11. Vintage Cloche Hat Crochet Pattern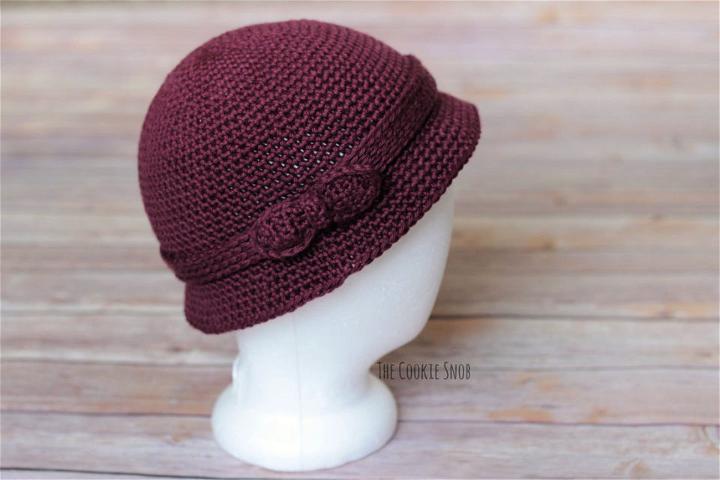 Elevate your style with a timeless cloche hat! The elegant hat pattern is perfect for creating that classic bell shape and can be modified to fit your aesthetic. I love this cotton yarn in aubergine gives the project a nice sheen and helps it keep its form, so check the gauge before beginning. Whether you're looking for a chic accessory or an entry into a county fair, this crocheted cloche hat will make an impression. cookiesnobcrochet
12. Free Cloche Hat Crochet Pattern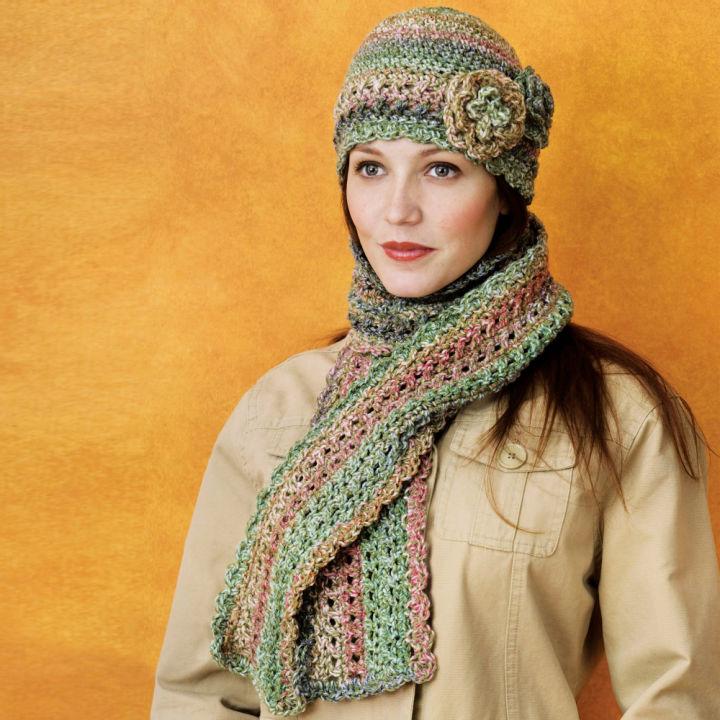 Transform your winter wardrobe and stand out with this stunning crocheted cloche & scarf set! Crafted in red heart "collage" yarn in landscape green, the set is an intermediate crochet project and great for those looking to improve their skills. Each piece has been designed to fit most women comfortably – the scarf measures 5½" x 62″ while 2 balls of yarn are required for the full set (1 ball for the scarf, 2½ oz for the cloche). Get creative and complete this project with just what you have! yarnspirations
13. Simple Shells Cloche Hat Crochet Pattern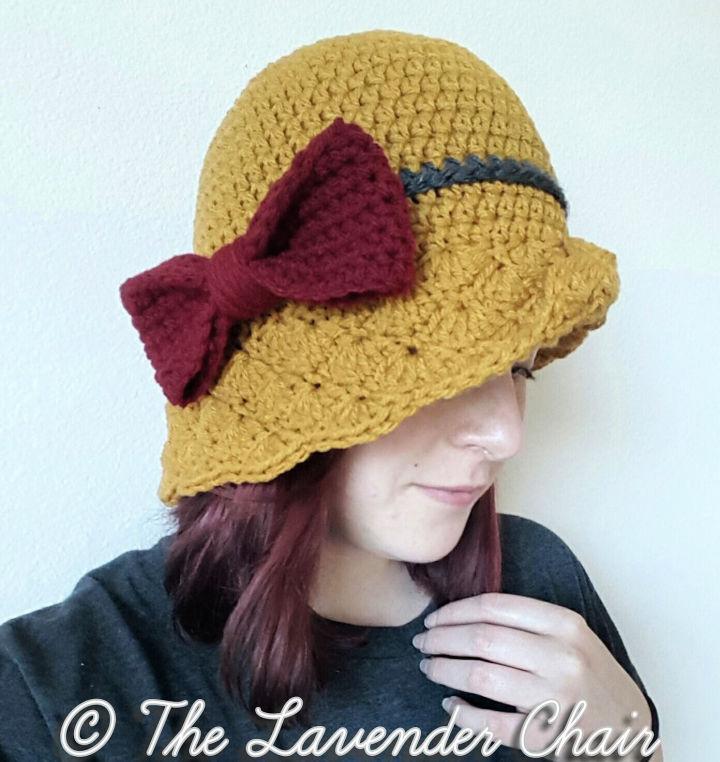 Stay cozy and chic with this simple shells cloche hat crochet pattern! Perfect for intermediate crocheters, this pattern uses worsted weight yarn and a k 6.50mm crochet hook to create a fashionable hat that fits most women. The gorgeous shell stitch design adds charm to the classic look, making it ideal for any occasion. With a gauge of 6 hdc = approx 2 inches, you can easily customize the size to fit your head perfectly. Finish off the project with a yarn needle for an enjoyable crochet experience! thelavenderchair
14. 1920s Cloche Hat Crochet Pattern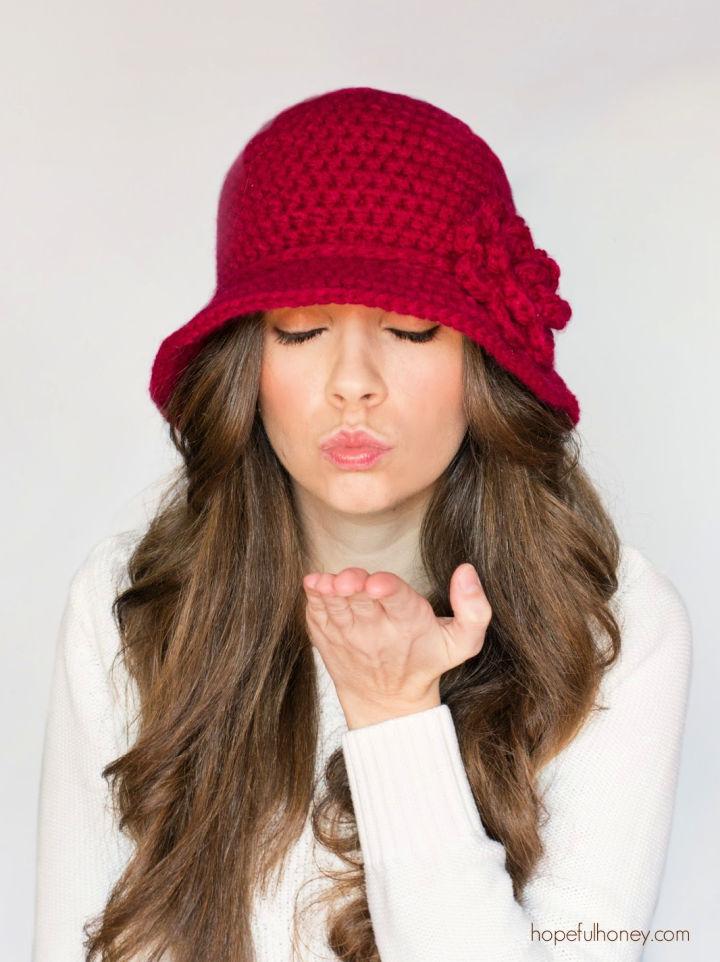 Returning in time, bringing the '20s to life with this timeless cloche hat crochet pattern! Its 21.5″ (55cm) circumference from teens to adults will surely fit most heads. Not sure how? Don't worry – detailed "how-to" photos guide you along every step of the way. This fun, the easy-level project requires basic crochet stitches and techniques. So why not channel those flapper vibes today? This stylish hat will help make any outfit look chic and modern! hopefulhoney
15. Crochet Your Own Josephine Cloche Hat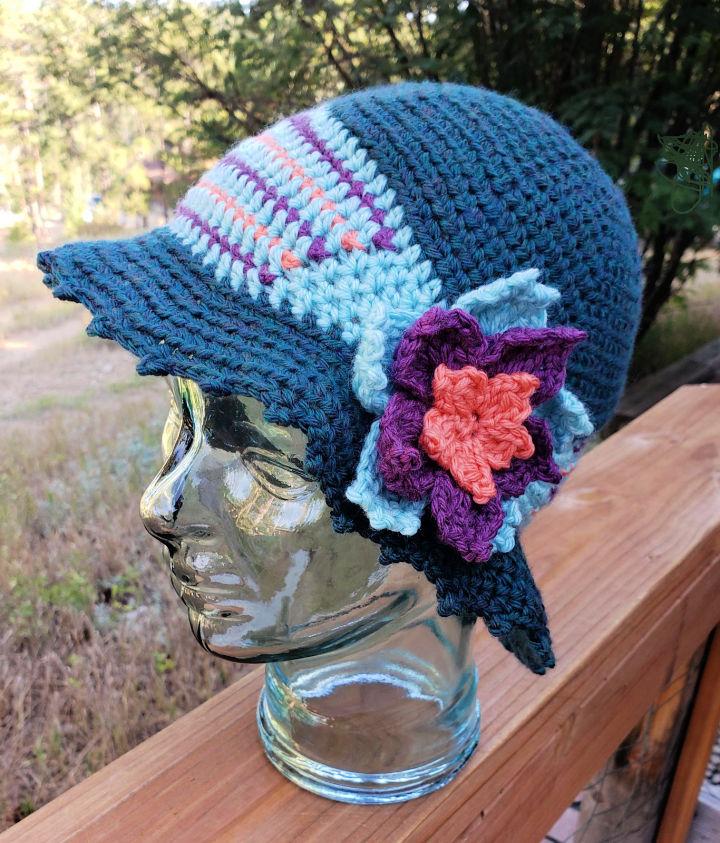 Time to take your winter wardrobe to the next level with josephine cloche crochet pattern! This 1920s-inspired cloche hat is perfect for making a stylish statement. With its "drunken" brim for just the right extension, this wool yarn creation offers practicality and fashion. If you're an intermediate crocheter, get ready to make something special: the finished size is 23 inches head circumference at the beginning of the brim. Gather #4 weight category yarn and h (5mm) hook before starting this fun project! mamas2hands
16. Free Crochet Charmed Cloche Pattern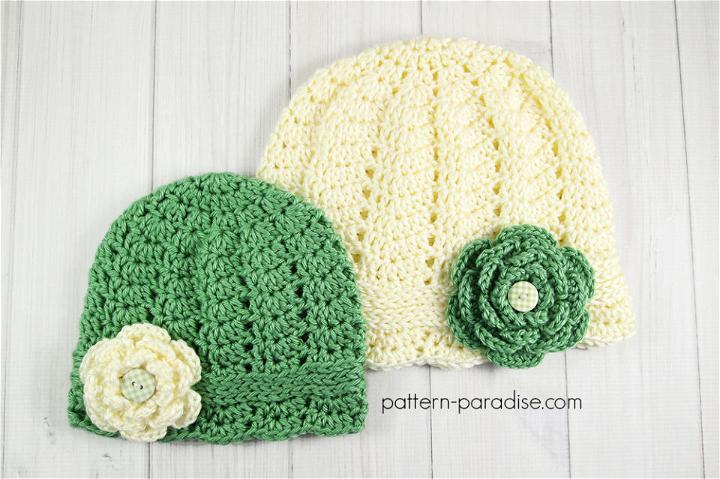 Bring enchantment to your spring wardrobe with the free crochet charmed cloche pattern! This beautiful cloche hat offers a soft and textured stitch pattern for crocheters of all levels. Whether for a mother-daughter photo shoot or extra warmth on cooler days, this lovely hat will make an impact. With optional flower embellishment that adds whimsy, choose your favorite yarn and crochet hook to create one in any size from newborns through adults. Make something special today with this intermediate-level project! pattern paradise
17. Quick Cloche Hat Crochet Pattern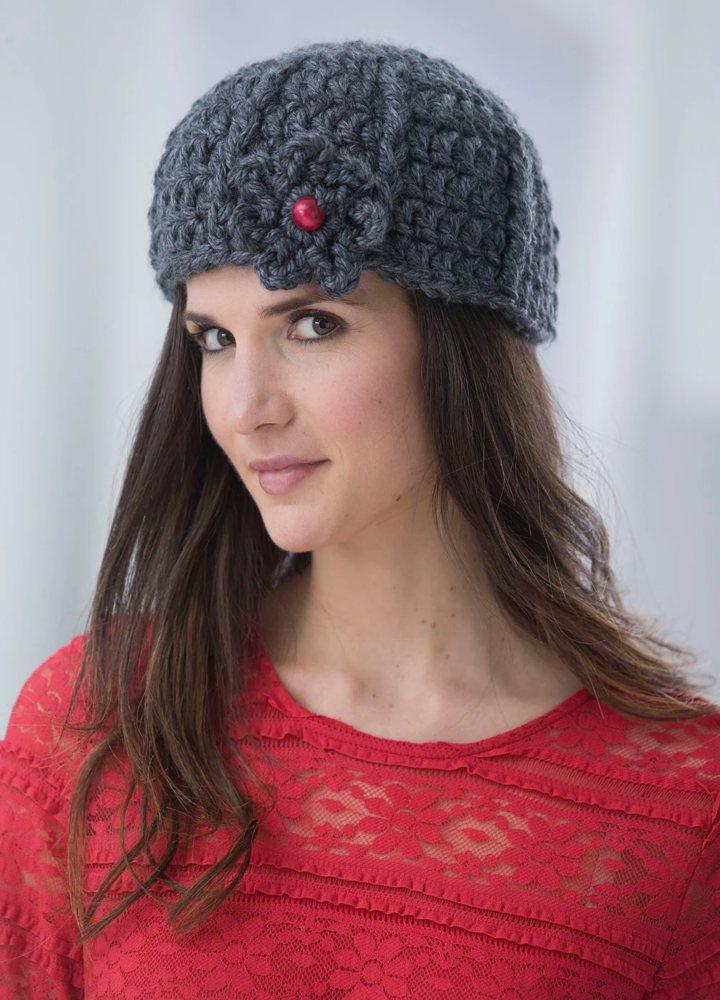 Greet the chill in style with your own handmade quick cloche hat! Perfect for crocheters of all levels, this pattern is rated at a skill level of 2. Crafted using lion brand hometown USA yarn and size n-13 (9mm) crochet hook, the hat measures 23″ (58.5 cm) around its lower edge and 7″ (18 cm) long. Add a special touch by adorning it with a decorative bead or button for the flower center. Enjoy this quick and easy project that will have you cozy in no time! lionbrand
18. Free Vintage Crochet Cloche Hat Pattern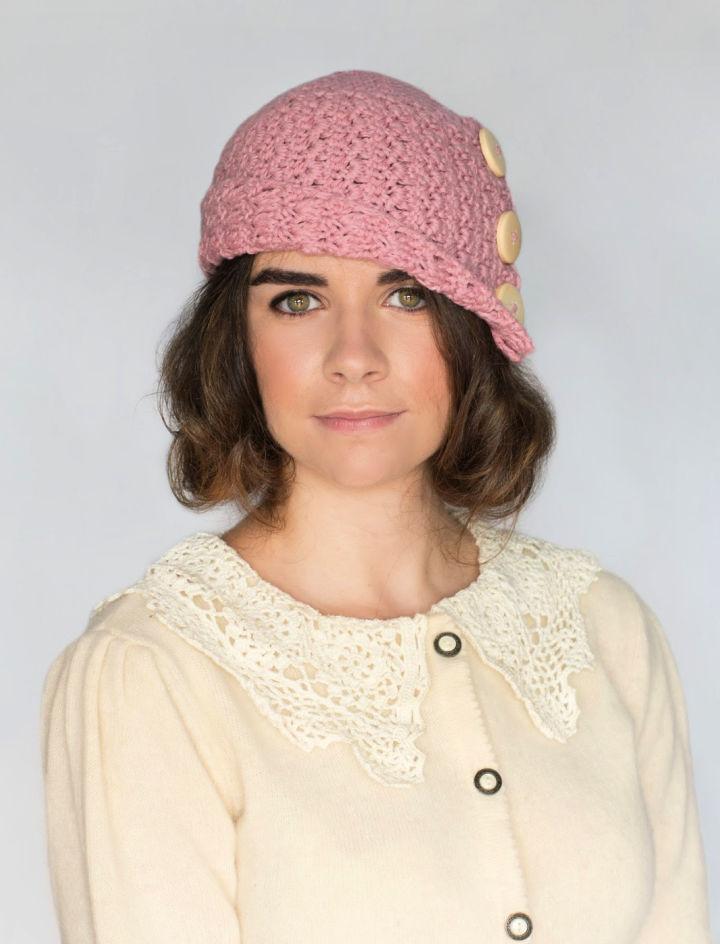 Get ready to step back with the exquisite 1920s rosebud cloche hat crochet pattern! Transform your look and add an old-school touch of glamour to any outfit with this vintage-inspired hat. Crafted using luxuriously soft french-y pink yarn, this project requires intermediate crochet skills, a 5.00mm hook, and 150g of worsted (10ply) yarn. Show off your creation with its unique design – heads will turn as you flaunt it proudly! Let this cloche become part of your wardrobe today, the perfect reward for hours of hard work! hopefulhoney
19. Cloche Hat PDF Pattern to Download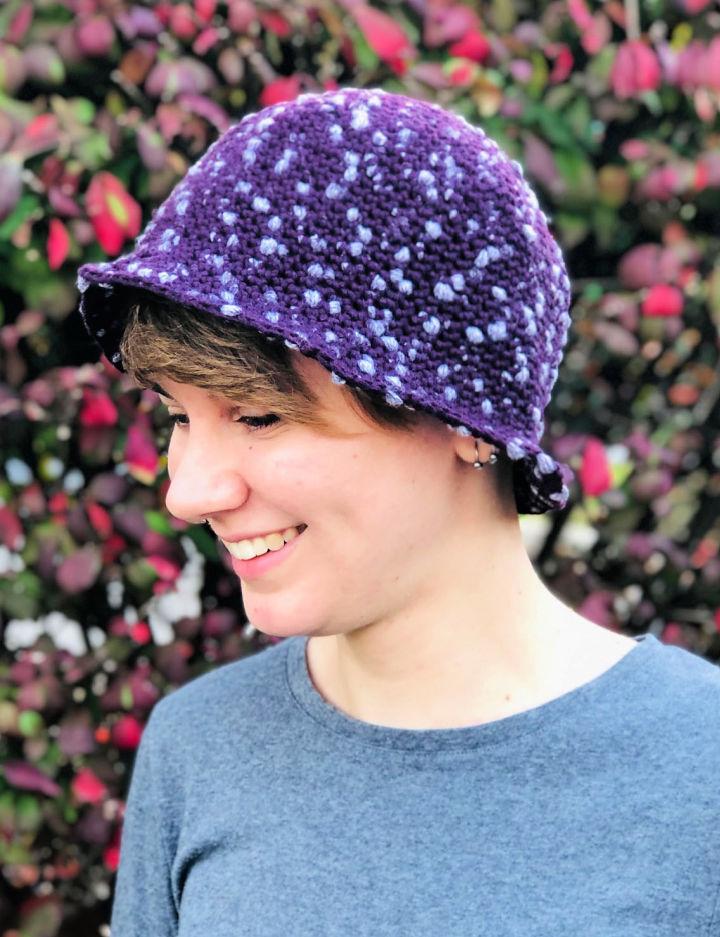 Let your style shine all year round with the beach pebbles crochet cloche hat! This chic hat is perfect for any beach lover and is crafted from 2-50g balls of beach pebbles yarn in the beautiful raisin lilac mix color. The finished size fits most ladies comfortably so you can stay warm and stylish no matter the season. With a size h/8, 5.00mm hook or whichever is necessary to get that gauge – this crochet project is easy enough for beginners and fun enough to keep experienced crocheters hooked! plymouthyarn
20. Crochet Cloche Hat Pattern for Children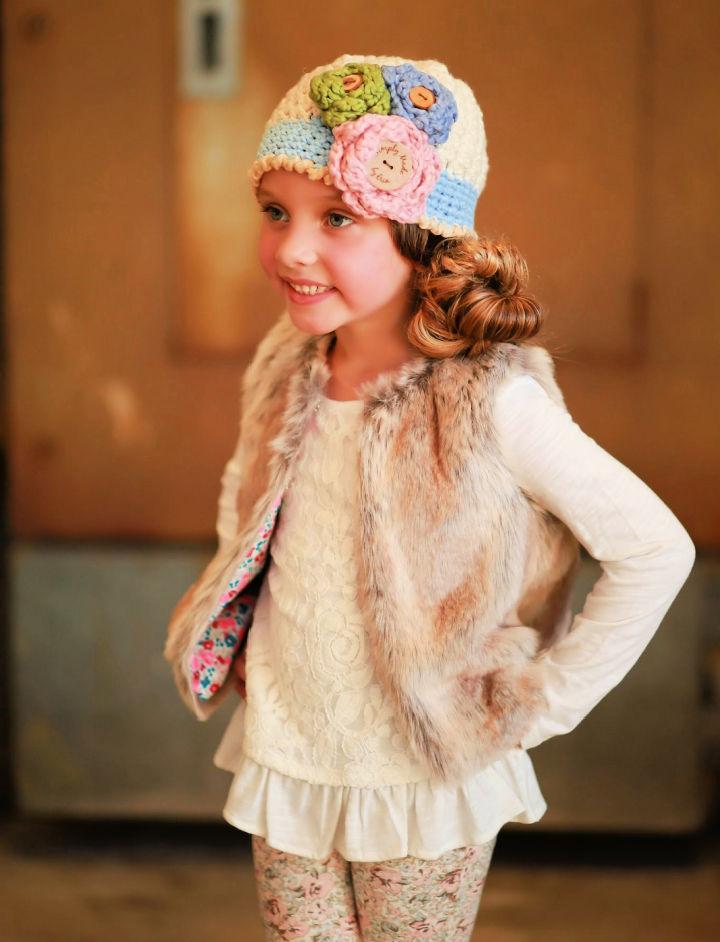 Curl up in style with your little cotton cap! This easy-to-follow pattern requires aran weight yarn and a 6.0mm or 8.0mm crochet hook, depending on your desired size. You'll use 85-105 yards of yarn to create a cloche-style cap that comes in sizes for kids (3-10-year-olds) and adults (women's one size fits most). With a height of 7-8.5 inches and a head circumference of 19-23 inches, this stylish hat is perfect for chilly days! ravelry
21. Crochet Spiky Stripes Cloche Beanie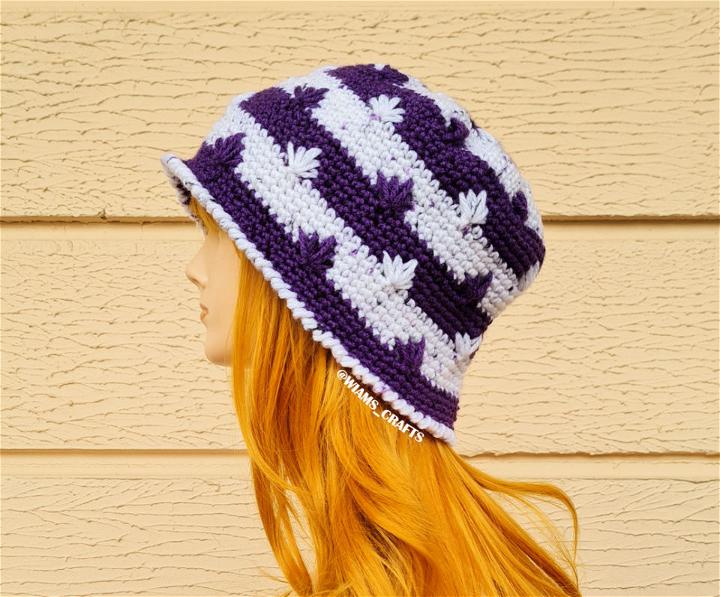 Be the trendsetter with this spiky stripes beanie! This intermediate crochet project comes in two versions- striped or unicolor. Crafted with alize burcum nokta yarn and alize superlana midi mosaic, you'll need a US j (6mm) crochet hook and a tapestry needle to make it happen. Download the printable pdf pattern now and stay cozy all winter long! wiamscrafts
22. Quick and Easy Cloche Lavender Crochet Pattern

Are you looking for a trendy and cozy hat to make your wardrobe stand out? Then crochet this lavender cloche – a free crochet pattern. This crochet hat with a unique twist on the classic slouchy style and a vintage-inspired cloche shape will surely attract attention. Get 137 yards of bulky yarn, size j & k crochet hooks and some brooch or button (optional), and start crocheting your lavender cloche now! myhobbyiscrochet
23. Free Crochet Flapper Hat Pattern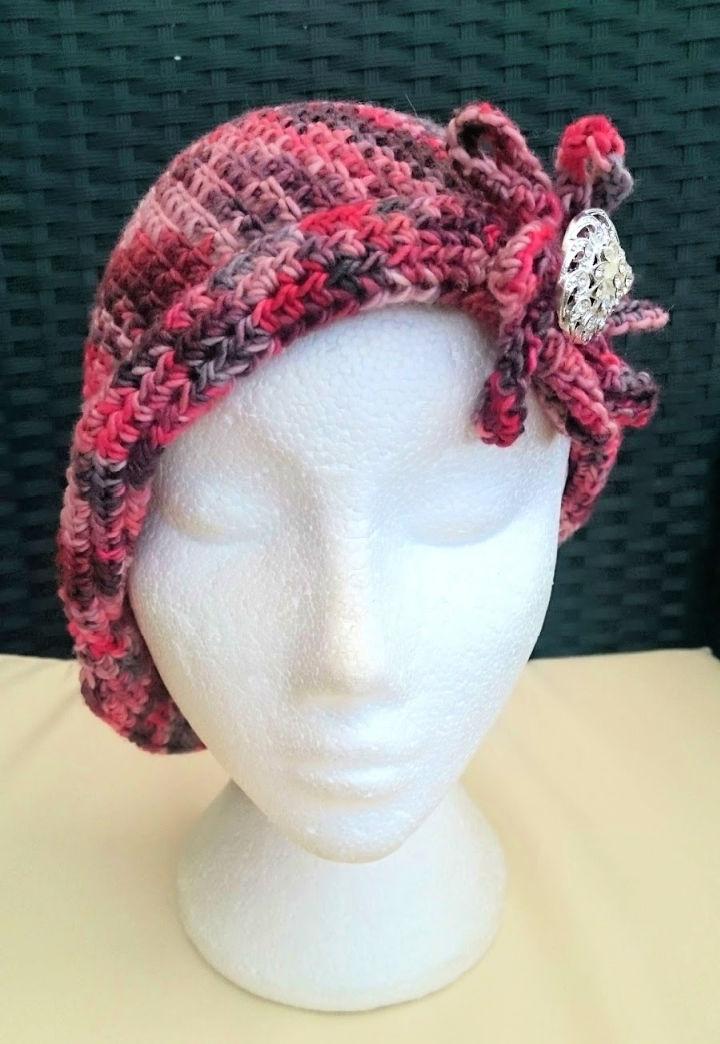 Experience a piece of history with the charlotte flapper cloche hat! Crafted from silk blend yarn and a 5mm (h) crochet hook, this classic cloche-style hat is full of vintage charm. Complete with a stylish brim, elegant embellishment and brooch attachment to make it extra special – you'll be ready for the era in no time. Download the crochet pattern now and step back as you stitch your stunning charlotte flapper cloche hat! crochetaddictuk
24. Flapper Cloche Hat Pattern's Style English Version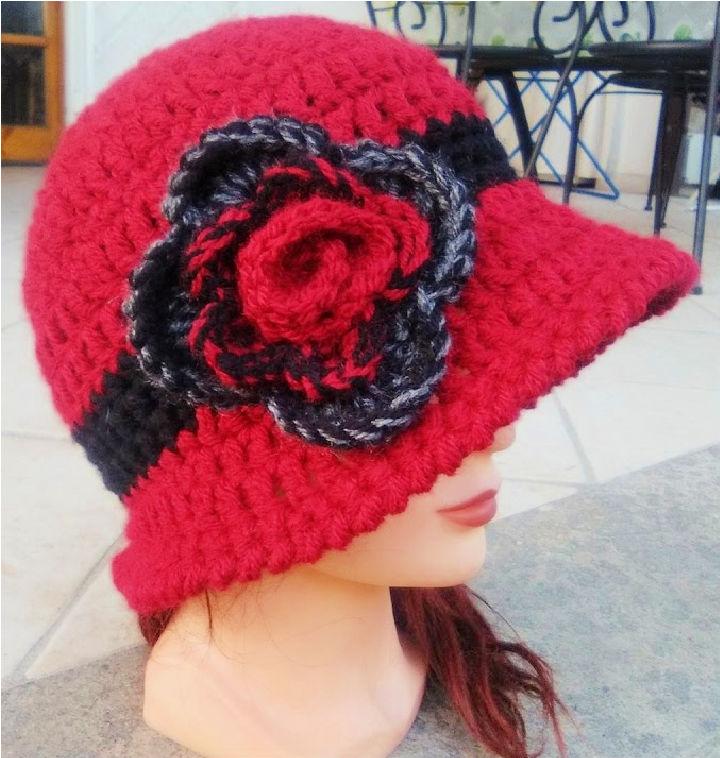 Get ready to experience the thrill of making your own 1920s-style flapper cloche hat with this easy DIY video tutorial! Now available in black, red and even a flower-accented version – you can choose whichever color best suits you. This stylish yet practical accessory is perfect for any event or occasion, so get ready to show off your custom creation! youtube
25. Crochet Vintage Cloche Hat Pattern – 1920's Flapper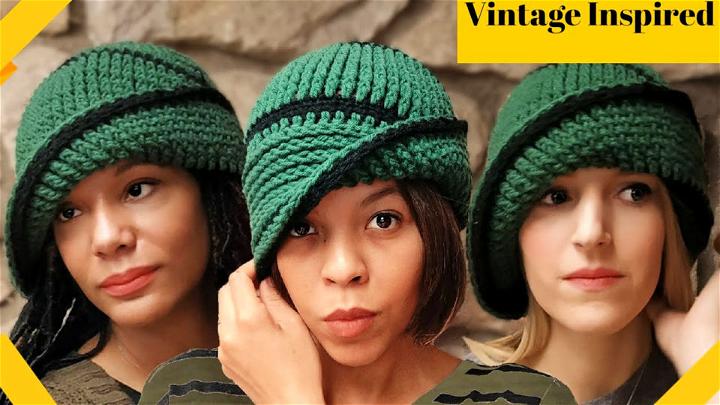 Bring the glamour of 1920s flapper fashion to your wardrobe with this stylish crochet vintage cloche hat pattern! Follow the instructions and materials list to recreate this intermediate mobius twist hat. Get ready to work with caron one pound in black and white and a 6mm hook – perfect for aspiring crocheters looking to build their skillset! Create a beautiful heirloom piece that you'll enjoy wearing for years.
26. Crochet Camellia Rose Cloche Hat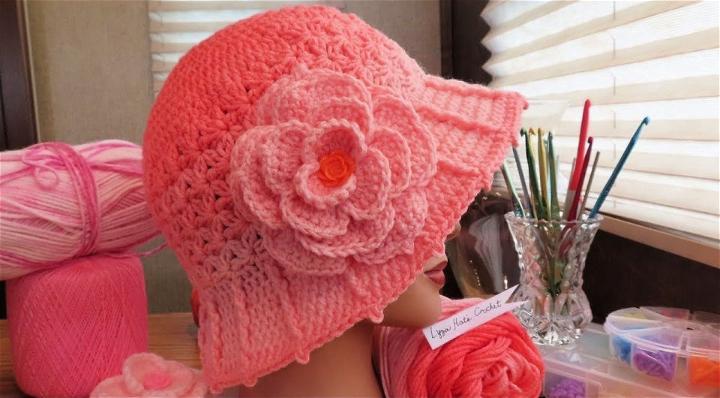 Ready to add a stylish accessory to your wardrobe? You can create a gorgeous statement piece with the camellia rose cloche hat video tutorial! Using red heart super saver ombre yarn in sea coral and a size h crochet hook, you'll be able to craft a hat that fits adult sizes small/medium with ease. Perfect for mannequin heads of 21 inches in circumference or larger, this free video tutorial will have you embracing your inner fashionista in no time!
Related Free Crochet Hat Patterns
Unlock your creative potential and craft your own unique take on style with these amazing free crochet hat patterns! Add flair to everyday outfits or special occasions.
Conclusion: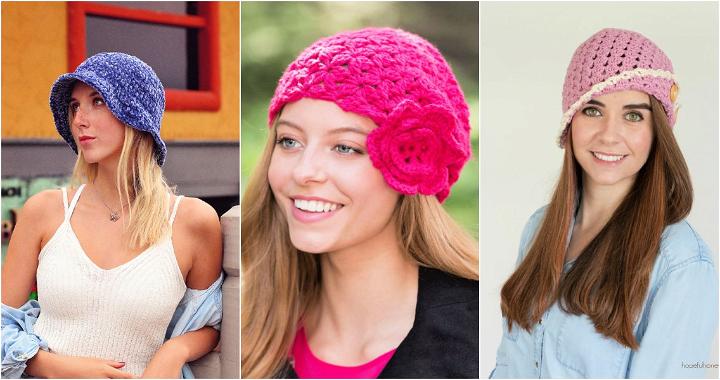 In conclusion, our selection of 25 free crochet cloche hat patterns offers a delightful range of designs inspired by the vintage charm of the 1920s. Discover crochet cloche hats with brims, flapper hat patterns, and options suitable for children, ensuring a perfect fit for everyone. With easy-to-follow instructions and engaging styles, these patterns cater to various skill levels. Welcome the elegance of the past while enhancing your crocheting skills by creating your own unique crochet cloche hats.