Crochet sun hats are a popular and fashionable way to protect yourself from the sun's harmful rays while staying stylish during the warm summer months. We have curated a list of 25 free crochet sun hat patterns, perfect for beginners or advanced crocheters looking to create unique summer hats. Each crochet sun hat pattern includes detailed instructions, making it easy to create your own crocheted summer hat masterpiece.
These free crochet sun hat patterns offer a variety of styles, including floppy hats, beach hats, and fedoras, suitable for women, men, and children of all ages. The crochet summer hat patterns also feature diverse designs, such as the elegant Dahlia sun hat, the playful Watermelon baby sun hat, and the versatile Coastal sun hat for adults. With easy-to-follow tutorials and PDF guides, you can create crochet sun hats that cater to any taste or skill level.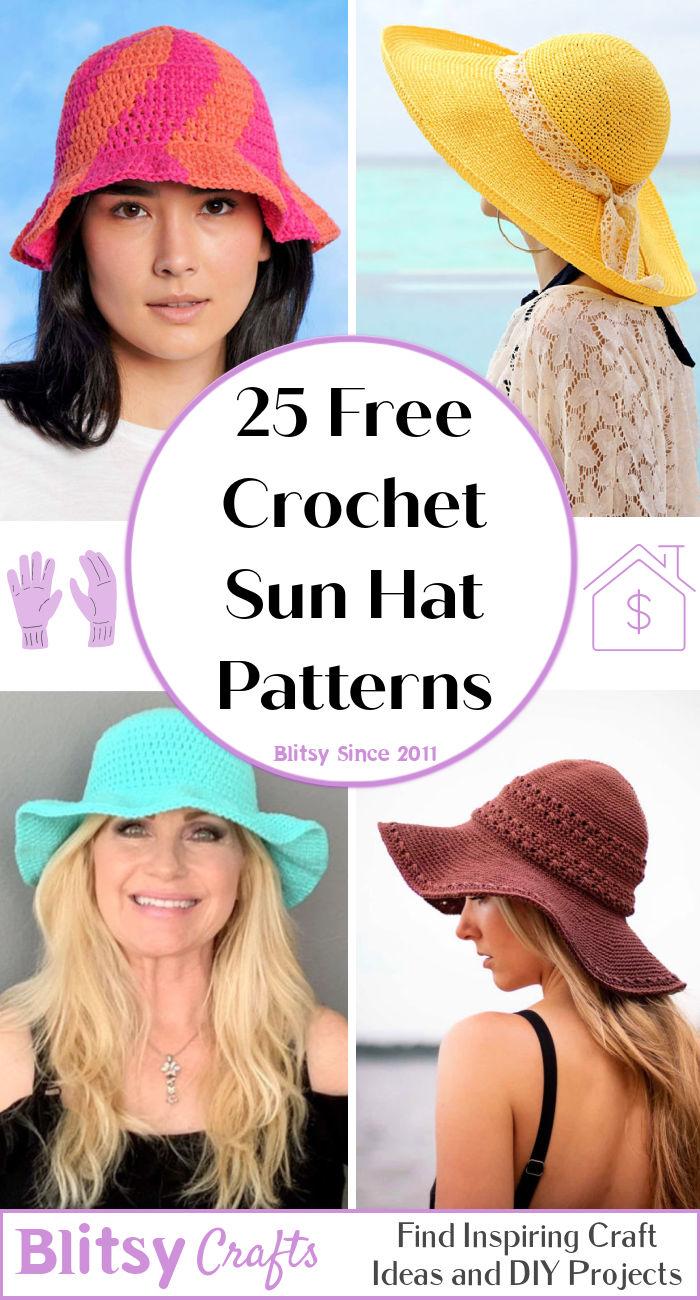 Whether you want to learn how to crochet a sun hat for the first time or are seeking a new summer crochet project, this collection of crochet sun hat patterns has something for everyone. So grab your crochet hook, select your favorite free crochet sun hat pattern, and start crafting your very own summer hats today! Stay fashionable and protected all summer long with your one-of-a-kind crocheted sun hat.
Crochet Sun Hat: Uses and Benefits
Learn about the different uses and benefits of wearing this stylish crochet sun hat to protect yourself from UV rays and keep cool. Be sure to crochet a summer hat today to have safe fun during outdoor activities all season long!
1. Protection from harmful UV rays: Crochet sun hats provide a stylish barrier against the sun's harmful ultraviolet (UV) rays. These hats are made from tightly woven materials and offer effective defense against skin damage, reducing the risk of sunburn and premature aging.
2. Temperature regulation: A summer hat made from breathable materials like cotton or bamboo yarn helps regulate body temperature by wicking away sweat and facilitating air circulation around the head, ensuring you stay cool and comfortable on sweltering days.
3. Fashionable accessory: With many designs, colors, and patterns available, crochet sun hats make a trendy statement piece for your summer wardrobe. From elegant wide-brimmed hats to playful floppy styles, there's a perfect fit for every fashion-forward individual.
4. Customizable designs: Crochet sun hats are ideal for personalization, allowing you to create a one-of-a-kind accessory that reflects your unique style. You can craft a summer hat that truly represents your personality by incorporating specific colors, patterns, or embellishments.
5. Versatile for various occasions: Whether you're attending an outdoor wedding, strolling along the beach, or gardening in your backyard, a crochet summer hat is a versatile accessory that suits various events and activities.
6. Perfect for gifting: A handmade crochet sun hat makes a thoughtful and unique gift for friends, family, or coworkers. By selecting a design tailored to the recipient's preferences, you can give a personal and memorable present that they will cherish for years to come.
1. Free Crochet Desert Sun Hat Pattern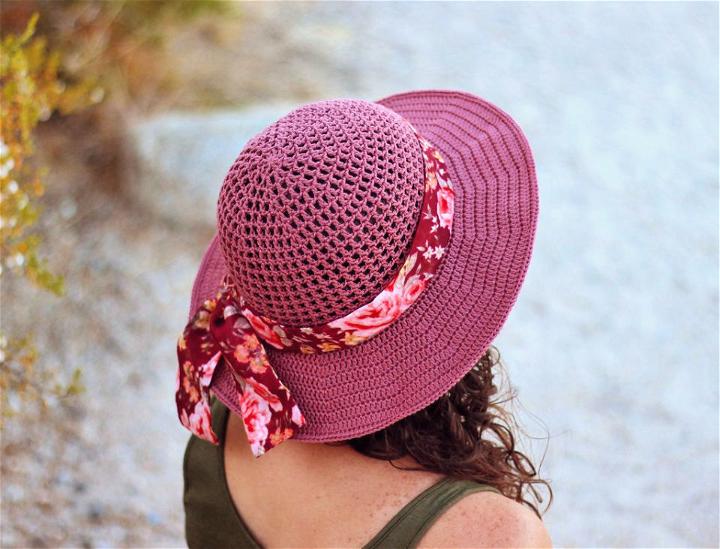 This free crochet pattern is the perfect way to make a summer sun hat that stands out from the crowd. This desert sun hat is ideal for your next beach vacation or backyard BBQ and pairs great with a bathing suit.
The pattern is designed for all skill levels, so whether you're a beginner looking to learn some new stitches or an experienced crocheter looking for an easy summer project, this pattern has something for everyone. Get creative and pick colors representing your style – then relax in the sunshine while wearing your handmade masterpiece! gleefulthings
2. Crochet Sun Swirl Bucket Hat – Free PDF Pattern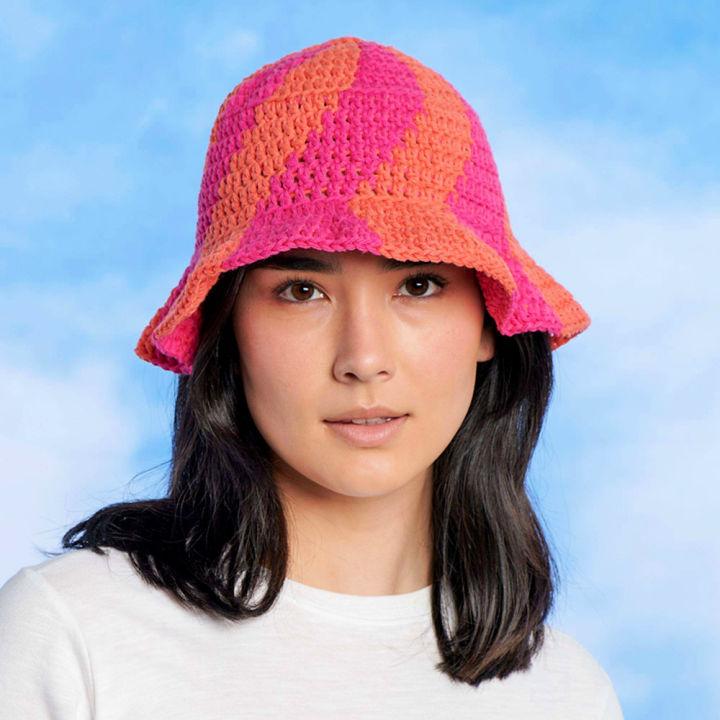 Here's an easy-to-follow PDF crochet sun swirl bucket hat pattern; it is ideal for those wanting to start their crochet journey. This hat features a stunning swirling sun design and uses tapestry crochet techniques. To change color, work until the last 2 loops on your hook from the first color before drawing in the loop of the following color to complete. With this pattern, you'll be able to quickly create a stylish and unique bucket hat – ideal for summer days! yarnspirations
3. How to Crochet Summer Hat – Free Pattern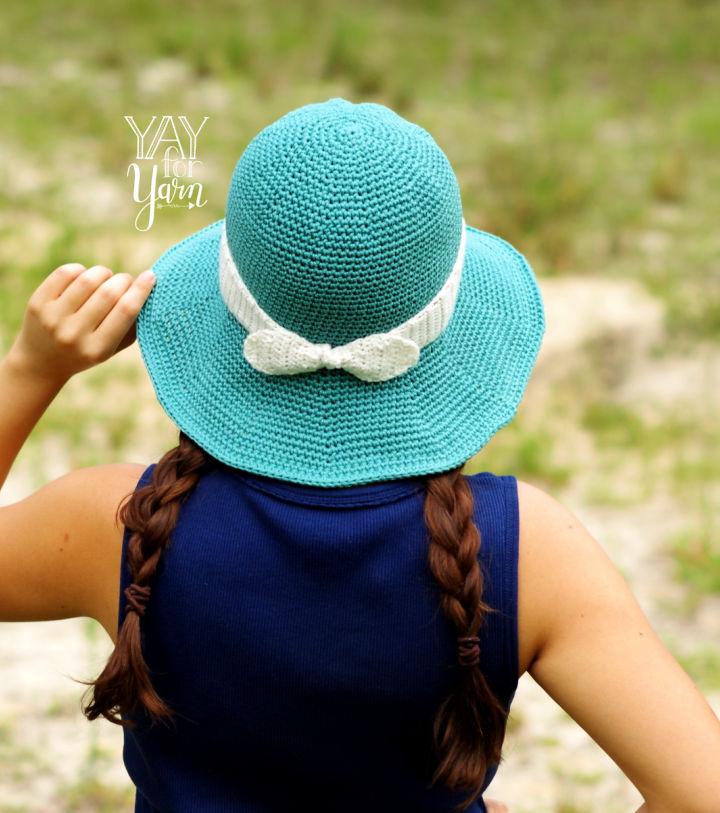 Looking for a fun, easy way to make your own summer hat? This free crochet sun hat pattern is perfect for beginners and experienced crocheters alike. As the step-by-step instructions show you how to create an adorable sunhat that can be adjusted to any size. Plus, the detailed video tutorial simplifies the process even further so anyone can learn how to crochet a stylish hat quickly! Get ready to beat the heat with this simple yet stylish DIY project today! yayforyarn
4. Easy Crochet Seaside Summer Hat for Beginners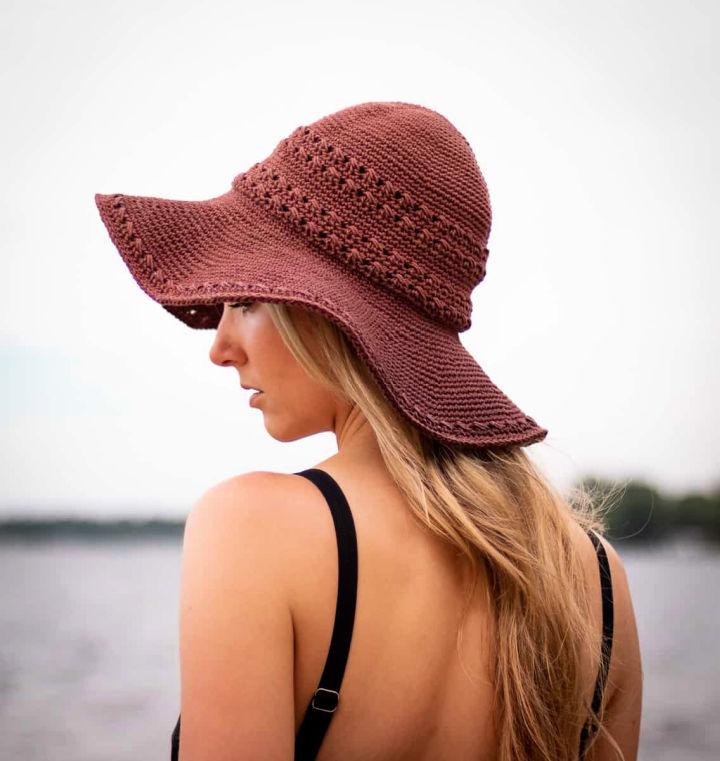 Make a statement this summer with this easy crochet seaside summer hat! Perfect for beginners, this simple and stylish hat is easy to make in just a couple of hours. But, above all, step-by-step instructions and easy-to-follow diagrams make crafting this classic piece of crochet headwear effortless.
Show off your new look at the beach or wear it around town – either way, you're sure to turn heads! Get creative with color combinations and add some fun flair to your wardrobe. Make memories that will last a lifetime with this free crochet sun hat pattern. originallylovely
5. Crochet Fritillaria Sun Hat – Free Pattern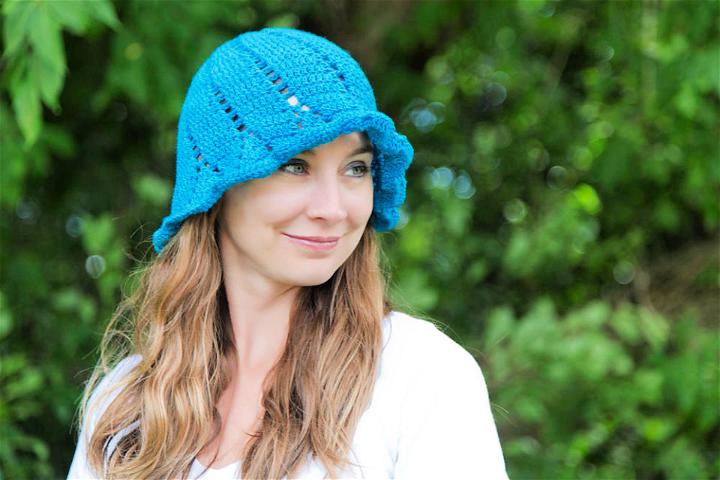 Grab the free crochet fritillaria sun hat pattern – it is perfect for those sunny spring days! The open-work crochet pattern creates a lovely sunhat that can complete any outfit. This hat looks stunning in any color yarn, and the simple stitch makes it easy to customize. Wear this stylish sunhat during outdoor activities or out on the town! It's fashionable and functional – providing protection from the sun while keeping you looking chic. Get creative and make one of your own today with this easy-to-follow free pattern. crystalized designs
6. Makin' Lemonade Sunhat Crochet Pattern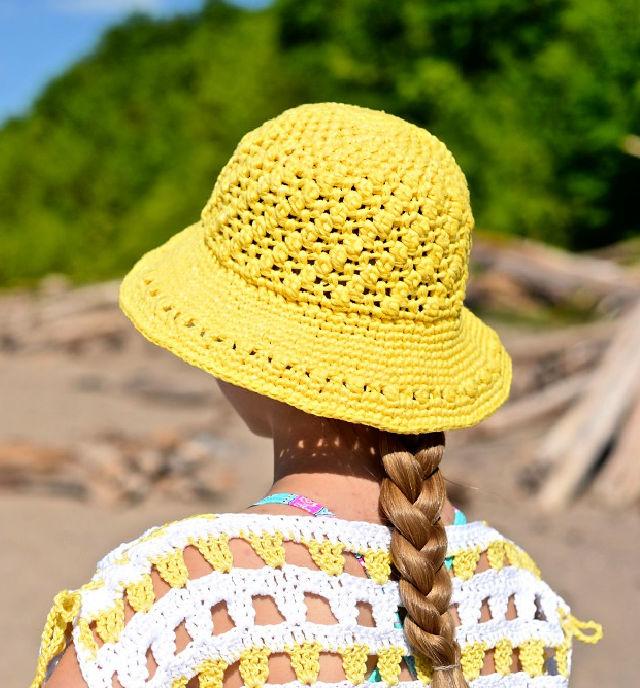 Spruce up a fun and stylish hat with the makin' lemonade sunhat crochet pattern! You can complete your summer look with just some simple yarn, a crochet hook, scissors, a yarn needle, and a scrap piece of yarn to use as a stitch marker. This pattern is easy to follow along and features an adjustable fit that allows it to grow with your child – great for those sunny days spent outside. The bright colors make this sunhat so cute and perfect for any occasion! Get ready to show off in style. acrochetedsimp
7. Crochet Wide Brim Beach Hat Pattern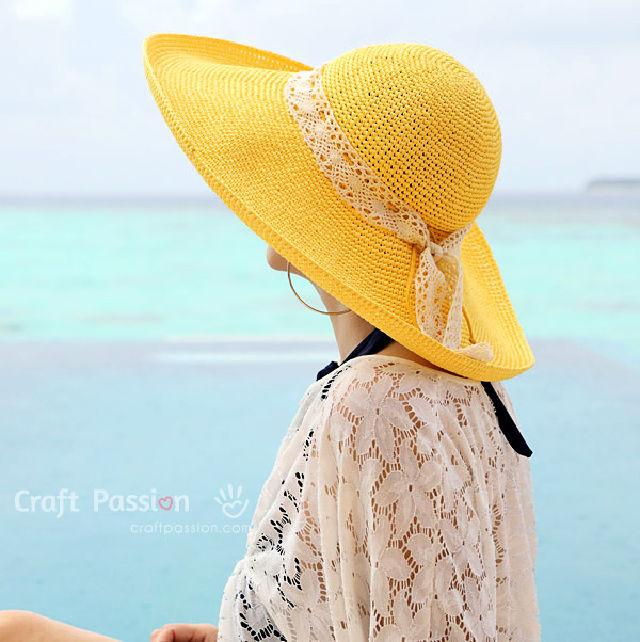 Stay cool in the summer sun with this stylish crochet wide-brim beach hat pattern. It's perfect for a beachy vacation, outdoor strolls, or any other sunny day activity. Moreover, this pattern is easy to follow and makes a beautiful statement piece that will keep you looking amazing while protecting your face from harmful UV rays.
The wide brim of this hat is sure to provide maximum coverage, while the unique color combinations make it stand out from the crowd. Make one today, and look forward to enjoying all your favorite activities in style! craftpassion
8. Crochet Adult Hugs and Kisses Sun Hat Pattern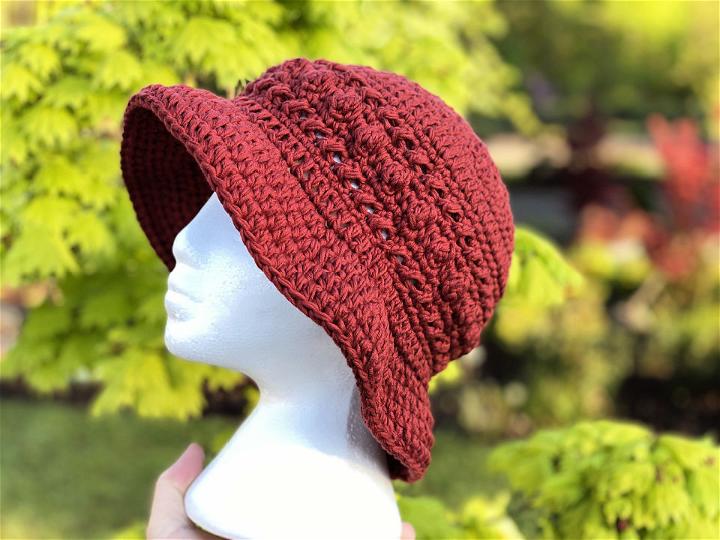 Congratulations on finding a delightful way to keep your head cool and stylish with this crochet adult hugs and kisses sun hat pattern. Its lightweight design features intricate stitches that create a lacy look, while the brim provides plenty of sun protection. This pattern is great for any skill level, from beginner to expert, with easy-to-follow instructions included in the package. It's perfect for those summer days spent outside or relaxing on the beach, so get creative and make this fashionable accessory part of your wardrobe today! thecrochetcrowd
9. Easy Crocheted Summer Hat for Ladies – Free Pattern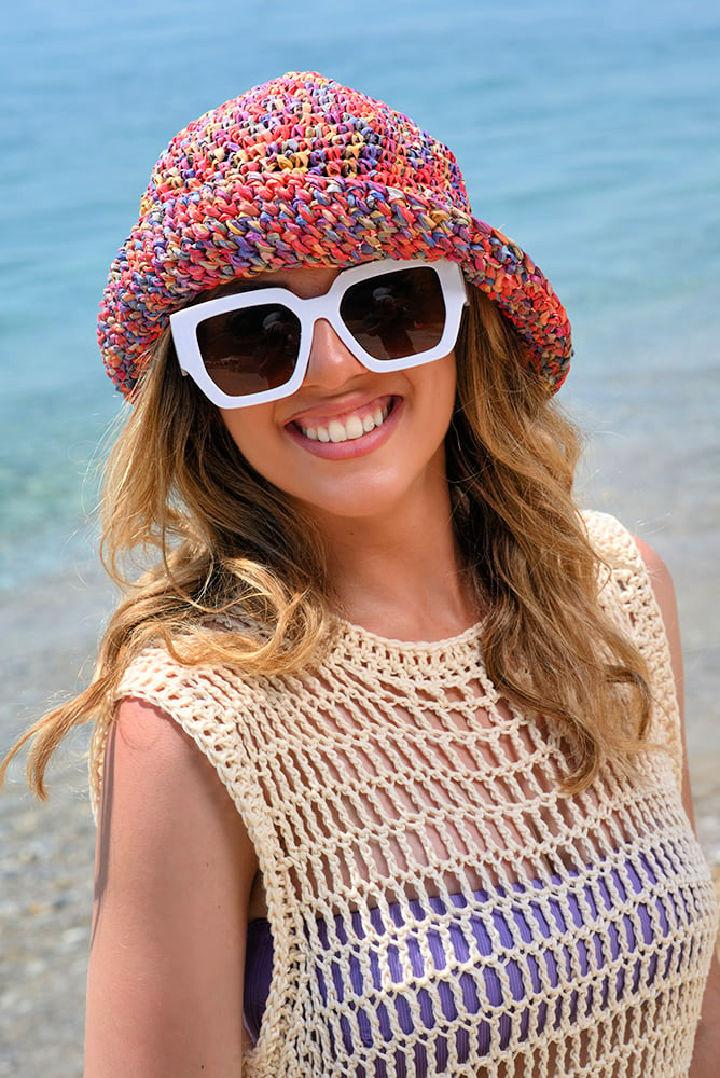 Craft the perfect summer accessory with this free, easy pattern for a crocheted hat! This lovely crochet hat is the perfect mix of fashion and practicality – its intricate design will keep your head cool while adding a great finishing touch to any outfit. The best part? It won't have you breaking the bank, as it's an incredibly affordable project. Get creative and show off your style with this amazing yet inexpensive crocheted summer hat! handylittleme
10. Crochet Watermelon Baby Sun Hat Pattern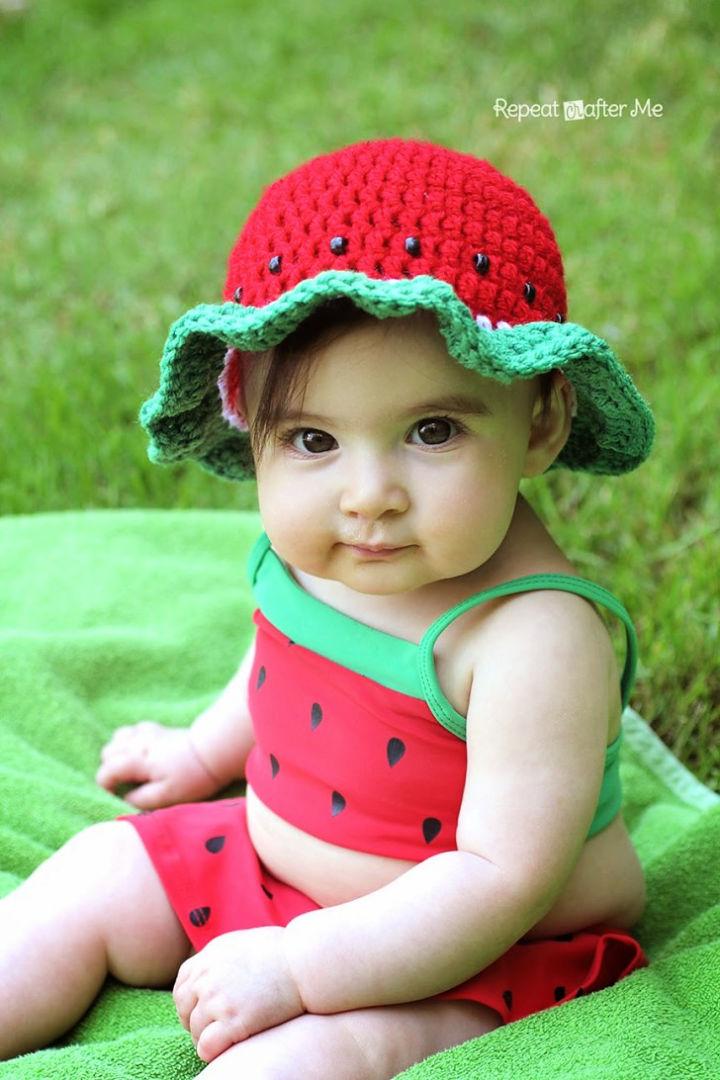 We have found just the perfect hat for your little girl in the form of this crochet watermelon baby sun hat pattern. This fun and stylish hat features a watermelon design that will surely be the town's talk. It's made from lightweight cotton yarn, making it comfortable for your little one to wear in any season.
The pattern includes instructions on how to make this adorable sun hat. Your baby will look so cute wearing this unique and colorful accessory during outdoor activities or just out and about running errands with mommy. Protect your baby from the sun while keeping them fashionably cool in this crochet watermelon baby sun hat! repeatcrafterme
11. Free Crochet Coastal Sun Hat Pattern for Adults

Make a fun and stylish sun hat with this coastal sun hat pattern – designed with adult heads in mind and can be sized up or down to fit most. This design features an intarsia wave-line pattern that adds a unique touch of beachy charm. It has helpful notes written throughout the instructions, so you won't get lost as you go along. Whether it's for yourself or loved ones, this easy-to-follow crochet sun hat will help keep your head cool and protected from the rays all summer long! lionbrand
12. Fedora Crochet Sun Hat Pattern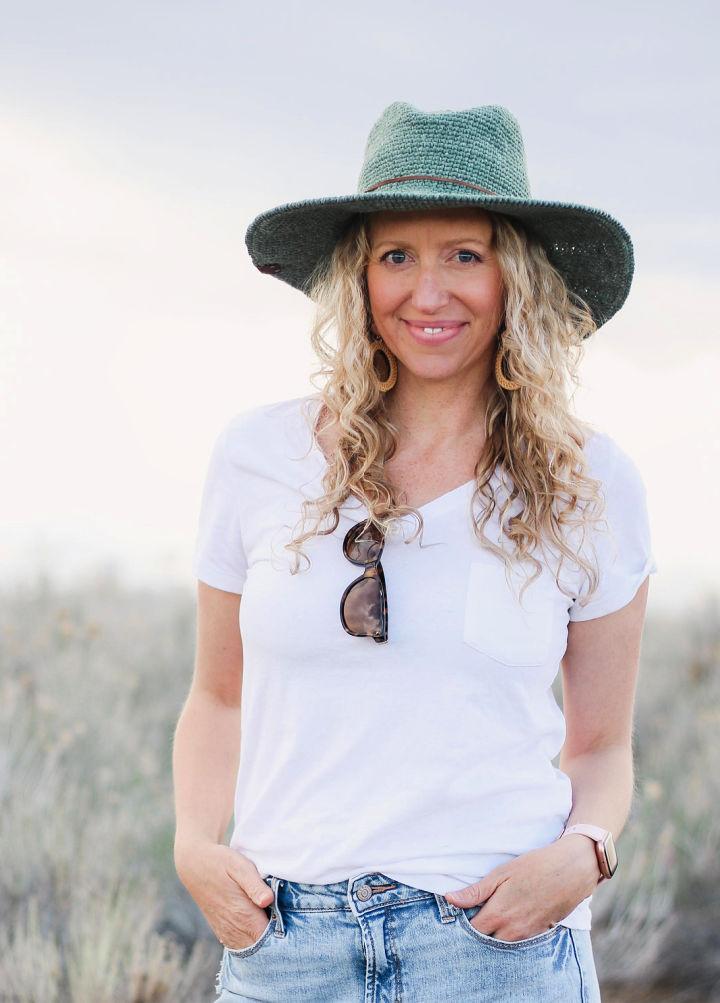 Slay your look this summer with this chic crochet sun hat pattern! This fashionable fedora-style design is perfect for packing away in your beach bag or suitcase. Crafted from lightweight cotton thread, it will protect you from the sun while still allowing you to flaunt your fashion sense. Just grab some supplies and follow these easy instructions – create a beautiful accessory that can take any outfit up a notch! So get ready to stay comfortable and look great all summer long with these must-have-free crochet sun hat patterns. makeanddocrew
13. How to Crochet Raffie Sun Hat – Free Pattern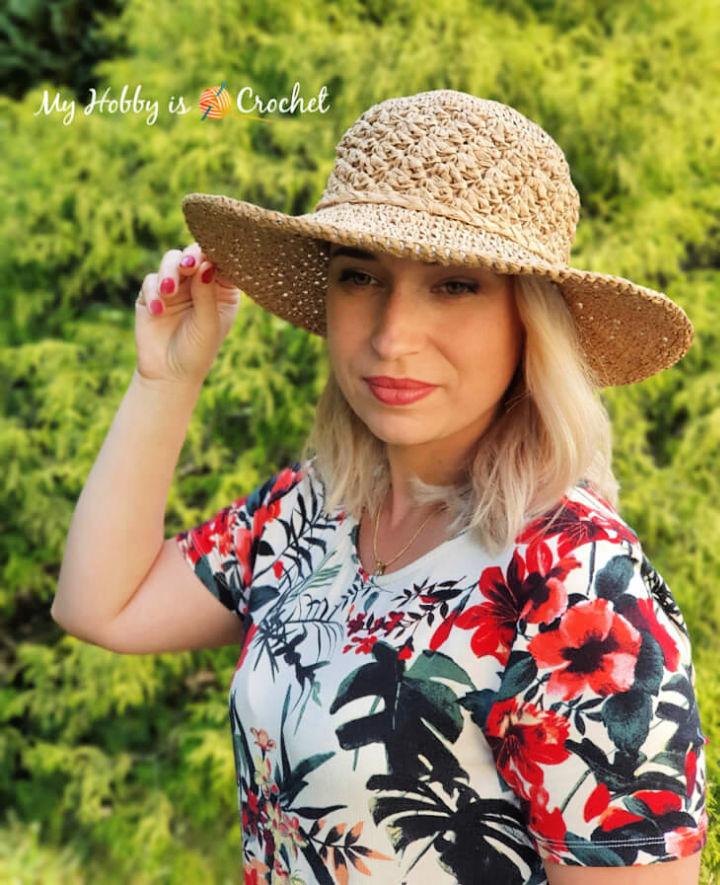 Get started with the perfect and stylish project for this summer. Look no further than this free pattern on how to crochet a raffie sun hat! This cute, airy hat is perfect for keeping the sun off your face while still providing plenty of breathabilities. Not only will it look great, but it's also simple enough for beginners to follow the step-by-step instructions and create their unique accessories. Get started today with these detailed directions – get creative with colorful thread, or keep things classic with a neutral shade. myhobbyiscrochet
14. Dahlia Crochet Sun Hat Pattern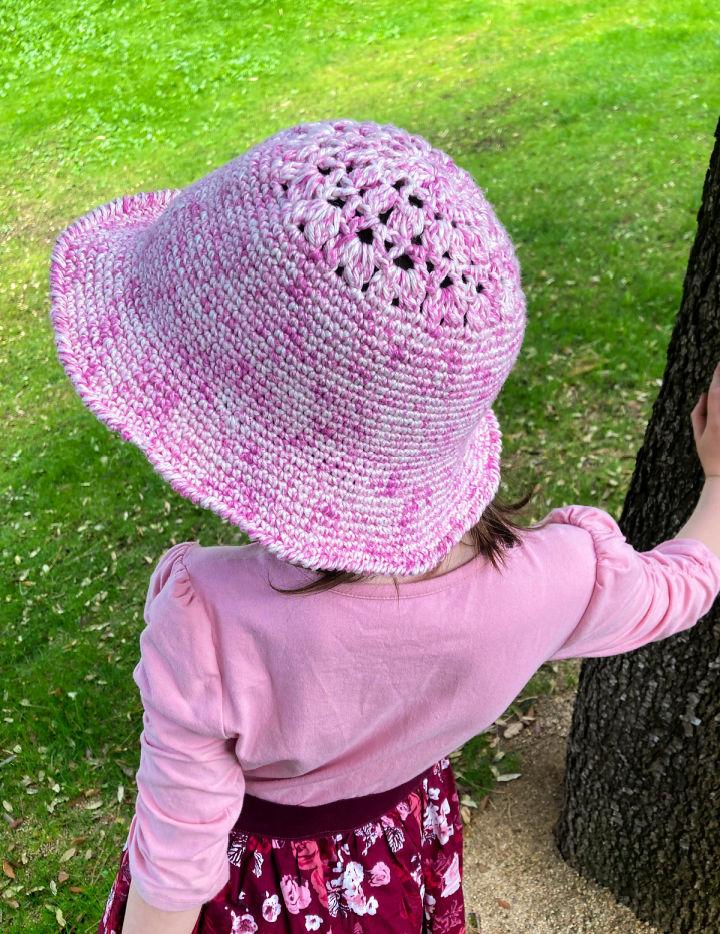 Jazz up any summer outfit with this beautiful Dahlia crochet sun hat pattern – certainly a perfect accessory. This easy-to-follow hat pattern uses a simple and timeless crochet technique for a stylish look you'll love. You will need basic crochet supplies, including yarn, hook, and stitch marker, to get started, plus a yarn needle for weaving in ends. Enjoy the perfect sun hat this season with this free crochet sun hat pattern. nedandmimi
15. Easy Daisy Fields Sun Hat Crochet Pattern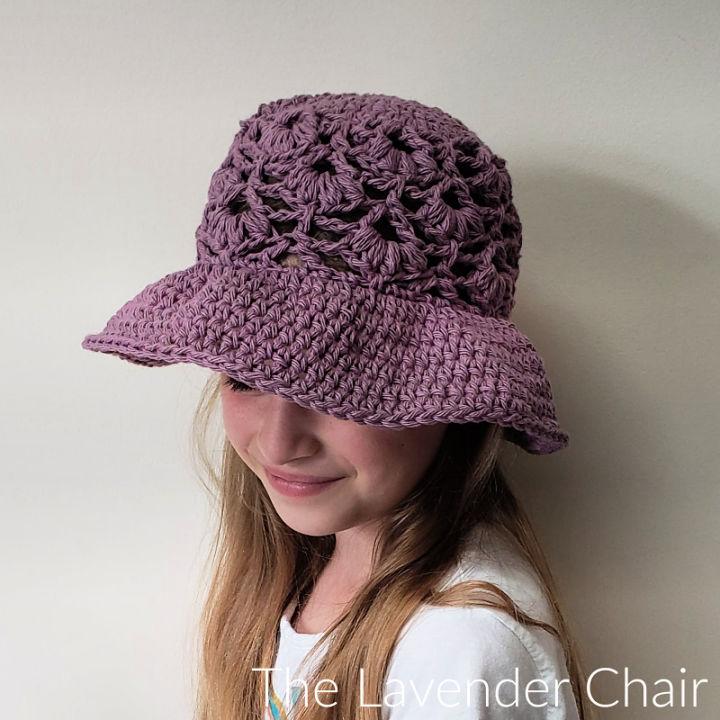 Keeping babies safe from the scorching sun is certainly a quest for mothers! But not anymore with this easy daisy fields sun hat crochet pattern. Featuring a classic daisy flower pattern, this beautiful design is easy enough for even beginner crocheters to complete. With detailed written instructions and accompanying video tutorials, you can whip up this cute hat in no time! Keep your little one looking stylish and protected with this timeless sun hat crochet pattern – perfect for everyday wear and special occasions. thelavenderchair
16. Free Crochet Cotton Sun Hat Pattern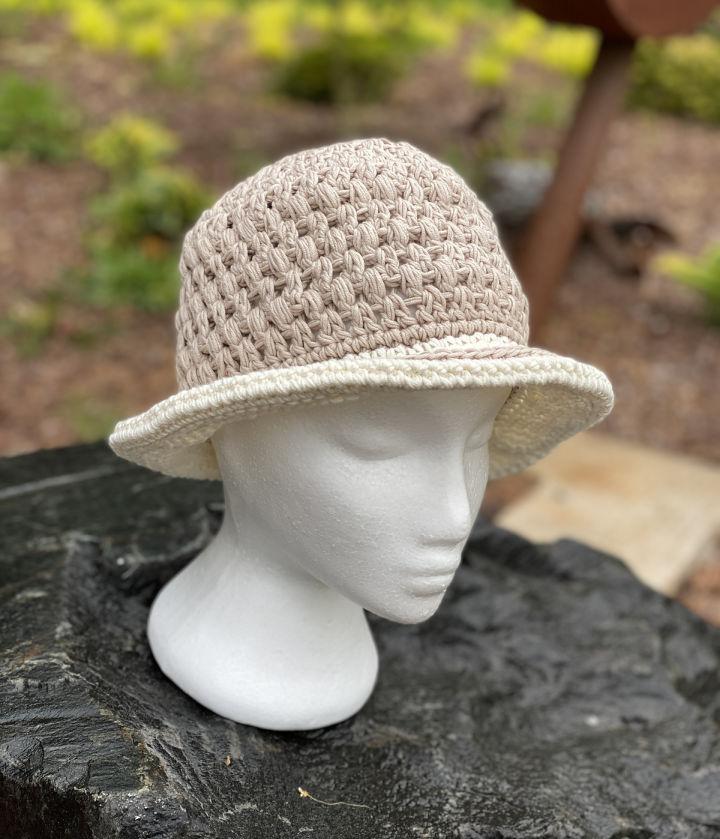 Craft a beautiful, timeless summer accessory with this free crochet cotton sun hat pattern. You can create a classic yet trendy addition to your wardrobe with just basic supplies. A perfect addition for the warmer months of the year, this hat will become a statement piece in your wardrobe! This free crochet pattern suits all skill levels, so get creating today and show off your new sun hat soon! thecrochetcrowd
17. Fast Easy Crochet Summer Hat With Brim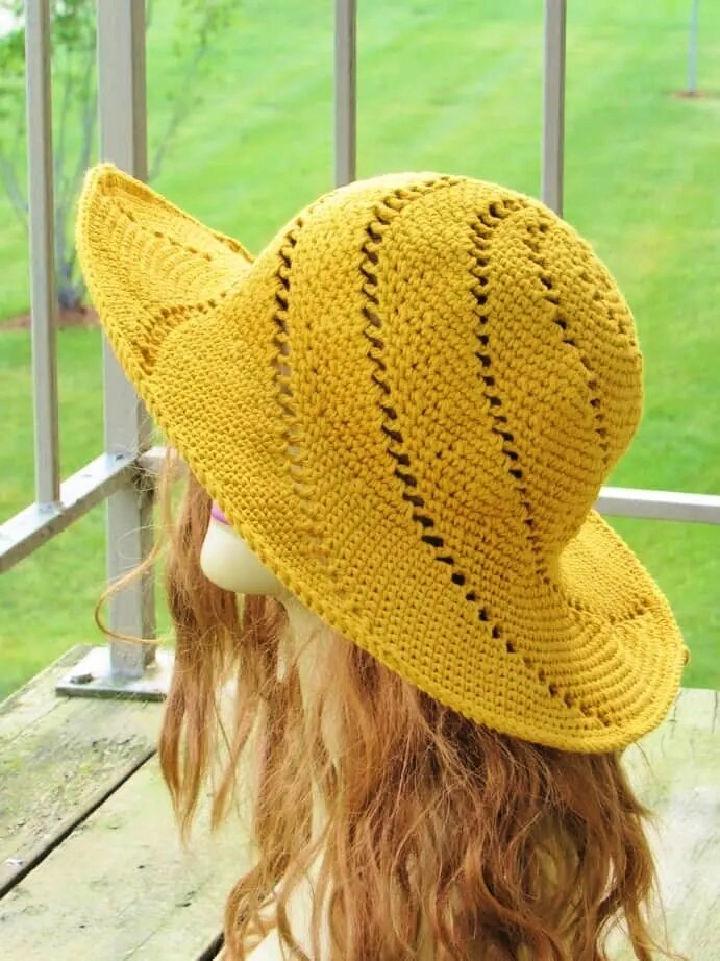 Here's something for the warmer months – an easy crochet summer hat with a brim is perfect for this season. An easy-to-follow pattern will have you crocheting this stylish hat in no time. Millinery wire and a joiner add structure and shape, making the 3 ½-inch brim keep its form and look great. With this quick crochet project, you can enjoy summer days out in style! crochetdreamz
18. How to Crochet June Sun Hat – Free Pattern

Take your summer outfits to the next level with this free crochet June sun hat pattern. Learn how to make a stylish and comfortable sun hat, perfect for outdoor sunny days. You can easily create a unique handmade accessory with detailed step-by-step instructions and photos that'll turn heads when you wear it out in the sunshine. Make one for yourself or give it as a gift – no matter who wears it, they're sure to look great! sewrella
19. Cute Flower Sun Hat Crochet Pattern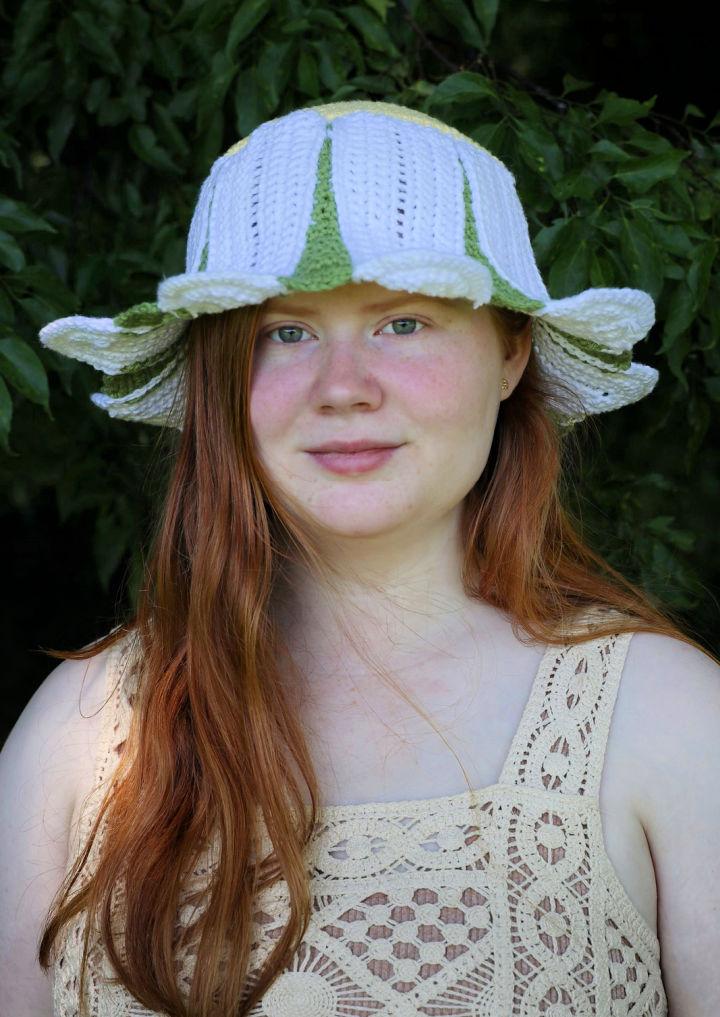 Here's how you can add a bit of fun and freshness to your summer wardrobe with this cute flower sun hat crochet pattern! With easy-to-follow instructions and pictures, this pattern will guide you through every step in creating a charming sun hat. Perfect for beach days, garden parties, or lounging on the porch, this crochet pattern can be made with any type of yarn – from acrylics to wools – so you can customize it however you like. Plus, the bright blooms on top will keep your head looking cool while protecting it from UV rays all season long! ravelry
20. Free Crochet Bucket Hat Pattern for Beginners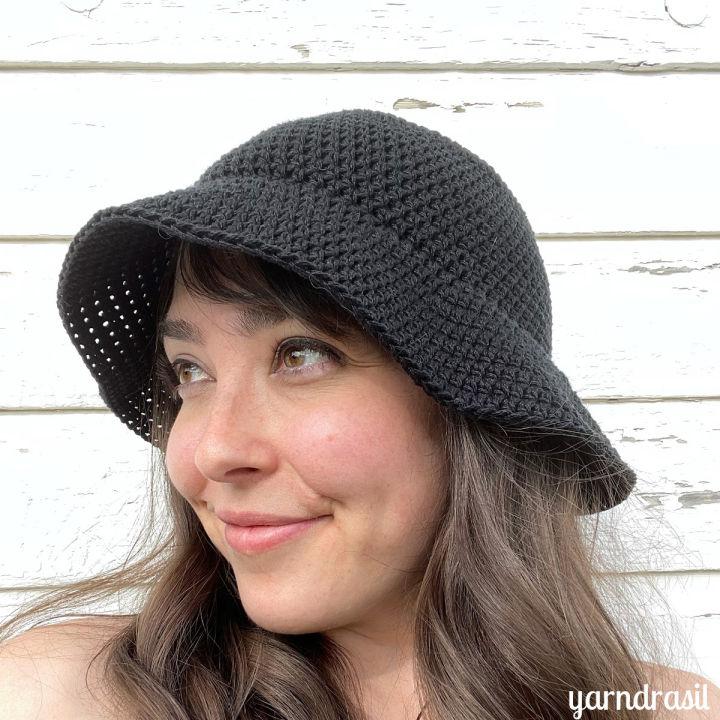 Beginner at crocheting? Then this free crochet bucket hat pattern for beginners is an easy and simple step-by-step guide perfect for getting you started! Learn the basics of crocheting with this beginner-friendly tutorial that shows you how to make a stylish, summer-ready bucket hat. With clear instructions and helpful visuals, you'll be able to crochet a fashionable new accessory in no time at all! Get started on your project today and experience the joy of creating something beautiful with your own hands. yarndrasil
21. How Do You Crochet Straw Sun Hat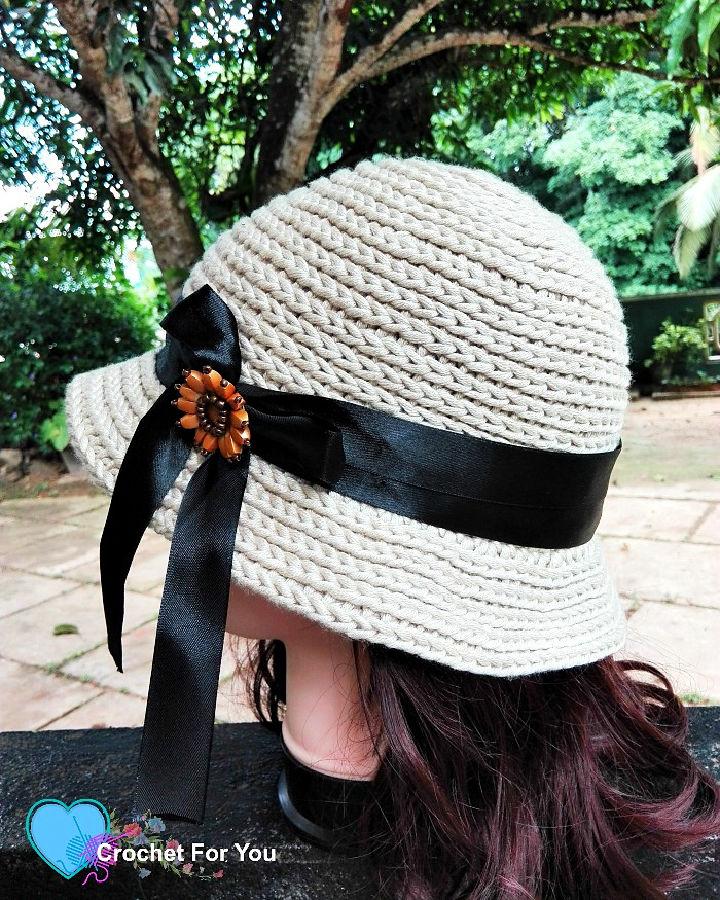 Learn how to crochet a straw sun hat with Bernat Handicrafter cotton deluxe yarn! This easy-to-follow guide will show you step-by-step how to create this summer accessory. The lightweight material allows for breathable comfort during hot days, while the colorful design provides a stylish look. Get ready to hit the beach in style by creating your own custom hat! From selecting materials and assembling components, find out everything you should know about crocheting a straw sun hat today. crochetforyou
22. Crochet Beach Bum Floppy Hat Pattern

Style a statement this summer with the perfect beach accessory – this crochet beach bum floppy hat pattern! This stylish hat is simple enough for beginners and experienced crocheters alike to make. It features an adjustable brim that ties up in the back, making it one-size-fits-all. Plus, you can customize your own look by choosing from multiple colors of yarn. Get ready to hit the beach in style with your own handmade hat! ravelry
23. Crochet Summer Sun Protective Hat Pattern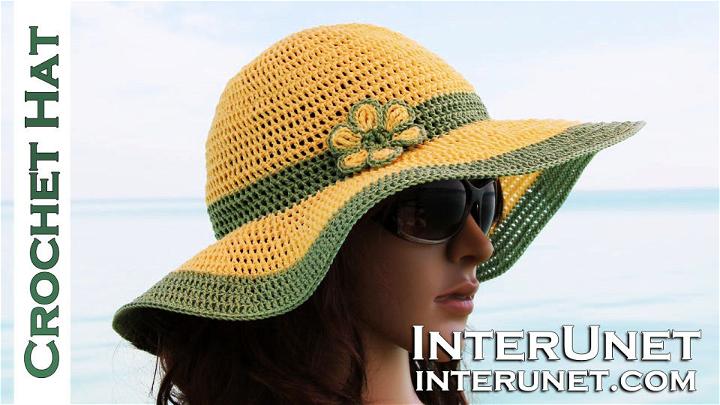 Manage the scorching summer heat this season with this crochet summer sun protective hat pattern! This easy-to-follow pattern is perfect for beginners and experienced crocheters alike. Constructed of lightweight yarn, this hat provides SPF protection from the harsh sun's rays while also keeping you looking fashionable.
With adjustable sizing options and detailed instructions, you'll be able to get a comfortable fit that suits your style perfectly. Get ready for your next outdoor adventure with this free crochet summer hat pattern– perfect for every sunny day!
24. Super Easy Crochet Floppy Sun Hat Pattern for Women's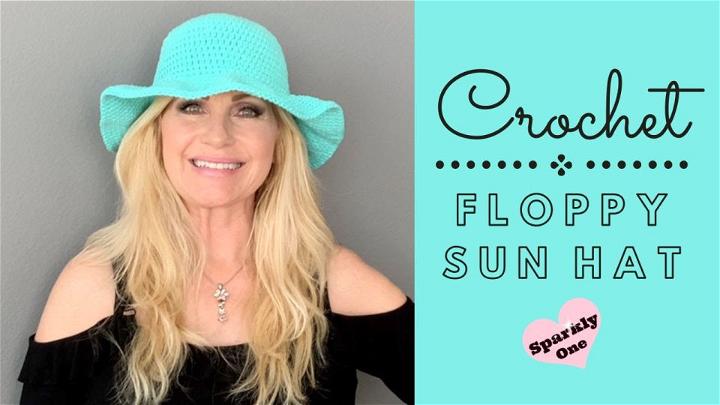 The perfect sun hat for this season does exist! As this super easy crochet floppy sun hat pattern is just perfect for keeping yourself clear of the sun's radiation. It features a classic design with a wide brim and lightweight fabric made from cotton yarn that provides excellent sun protection for women. The simple construction makes it ideal for beginners and advanced crocheters alike, while its stylish look adds an extra touch of sophistication to any outfit. With this versatile pattern, you can easily make your own fashion accessory that will keep you cool on the hottest days!
25. Simple Crochet Summer Bucket Hat Tutorial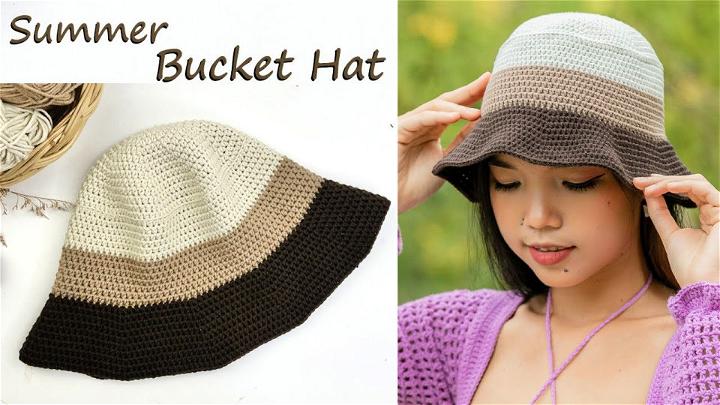 Are you looking to make an easy and stylish summer hat? Here you go with this simple crochet summer bucket hat tutorial; it is ideal for anyone! Especially perfect for any beginner crocheter, this tutorial will show you how to create a lightweight and comfortable hat that can be worn all summer long. With step-by-step instructions and helpful photos, you'll have your new bucket hat finished in no time!
Plus, the pattern is adjustable, so it can be made with different yarn weights and sizes to fit any head size. So say goodbye to store-bought hats – try making your own unique crochet bucket hat today!
26. Women's Crochet Raffia Sun Hat Pattern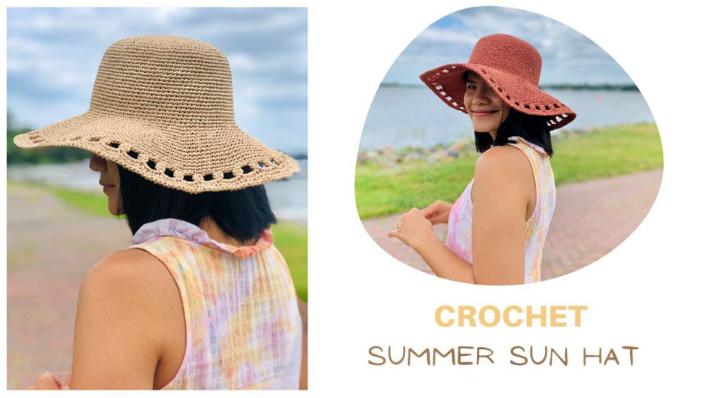 Learn how to make an easy and beautiful summer crochet sun hat with this detailed tutorial. Using 100% paper raffia yarn and a 3mm crochet hook, even beginners can make this beginner friendly project. With only 245 yards of yarn needed for size medium, you'll have the perfect fit for most women's heads (21-22″ heads). The gauge unblock size is 18 sc. x 18 rounds = 4″, so you'll be able to get it just right!
Also, you will need scissors, a yarn needle, and stitch markers to finish off your project. Follow along step-by-step instructions in this tutorial to create your very own stylish crochet sun hat! youtube
Related Free Crochet Hat Patterns
Bring out your creative flair and make a statement with these free, eye-catching crochet hat patterns! Let your personality shine through with unique designs that are sure to turn heads.
Conclusion: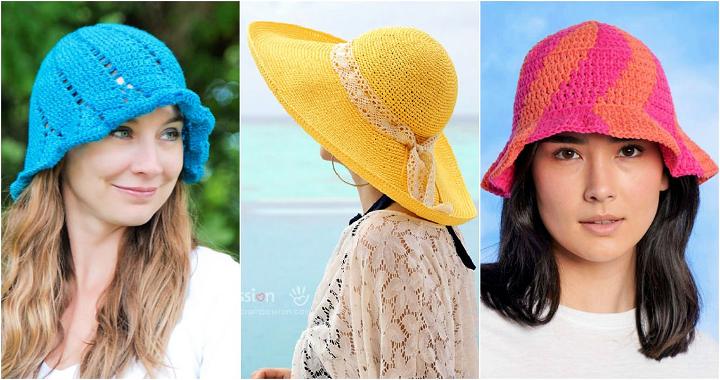 In conclusion, our compilation of 25 free crochet sun hat patterns offers various options for all skill levels and preferences. From easy crochet sun hats for beginners to intricate patterns for the more advanced, these stylish and practical designs cater to women, men, and children also. With step-by-step instructions, detailed guides, and video tutorials, crafting your perfect crochet sun hat, beach hat, or summer hat has never been more accessible. So, grab your crochet hook and explore these fantastic free crochet sun patterns to create a unique, sun-savvy accessory