All garden enthusiasts take the garden decor very sincerely, and this is mostly done by adding decorative DIY flower pots in place of traditional terracotta pots. Choosing different schemes to display the DIY plant pots may also create a great focal point in your garden. So, if you are willing to add unique plant pots to your garden space, then go with these 40 decorative and unique DIY flower pot ideas that are hilariously beautiful. You will get here simple flower pot ideas to personalize and decorate the garden pots using various materials like paint, fabric, stencils, photos, twine and cement etc. There are diy flower pots for all skill levels, from easy to intermediate to advanced, and they will impress all the garden lovers for sure.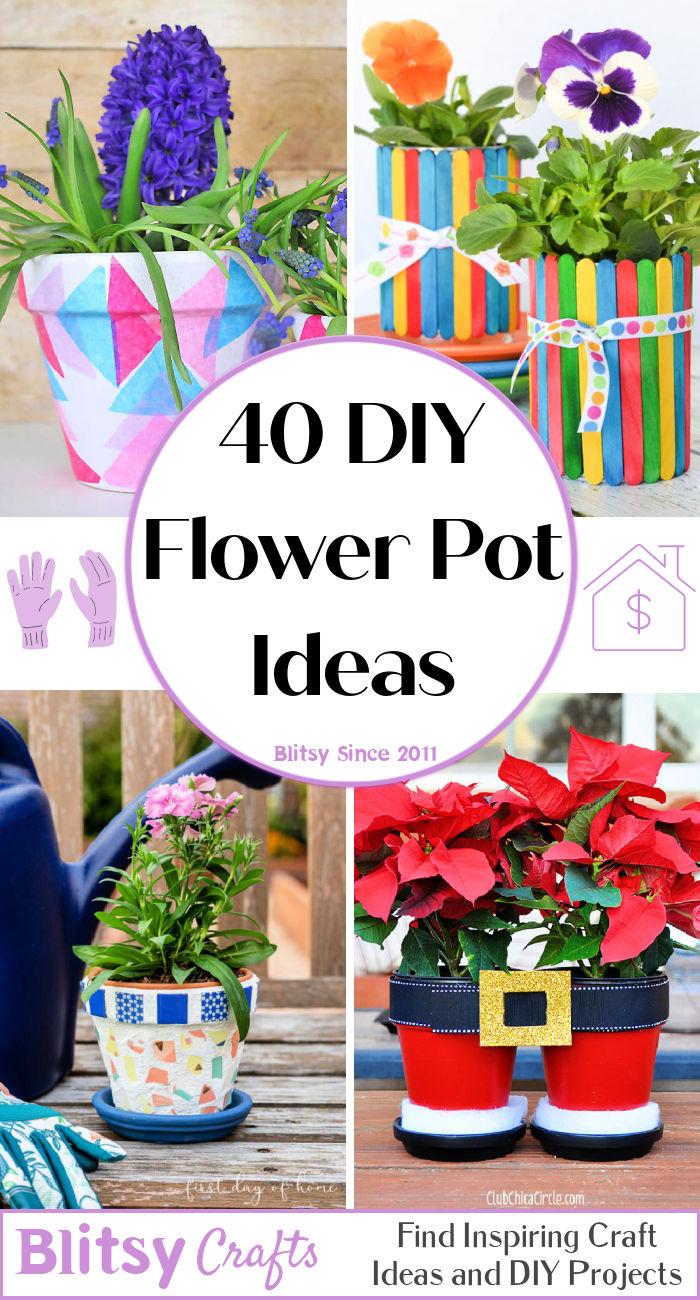 See a wide range of practical projects made at home by starting up with the collection of 40 DIY flower pot ideas. This comprehensive guide of diy flower pots is a decorative makeover of dull and boring-looking pots. So, the decorated flower planters will bring more beauty to your garden and highly enchant the greenery and plants.
These flower pot ideas will help you to create a more precious and decorative appeal of the garden pots. You can marbleize them, cover them with custom decorative fabrics, pom-poms and even with rope and burlap for amazing rustic and modern appeals. If you are handy at using the silhouette machine, then you can make custom vinyl stickers, stencils and lots of visual art to fancy up the pots.
1. How to Make Mosaic Flower Pot

Are you willing to do a decorative makeover of your patio pots that are looking dull and boring? Then time to get into this project to quickly create a mosaic look of your patio pots. The idea is to blue the broken chain or mosaic tiles all around the pots using glue. In the list of essential and optional materials, you need a broken plate, stained glass or Mosaic tiles, terracotta flower pots, clay pot sealer, tile adhesive, mosaic tile grout, safety goggle and gloves, tile nipper, mosaic sealer. firstdayofhome
This not ends here; these DIY flower pot ideas will share lots of smart arrangements of pots that will result in various topiaries and create a lovely focal point in your garden. Finally, you will also get hacks to give the finally completed DIY flower pots as great Mother's Day gifts.
2. Recycled Denim Flower Pot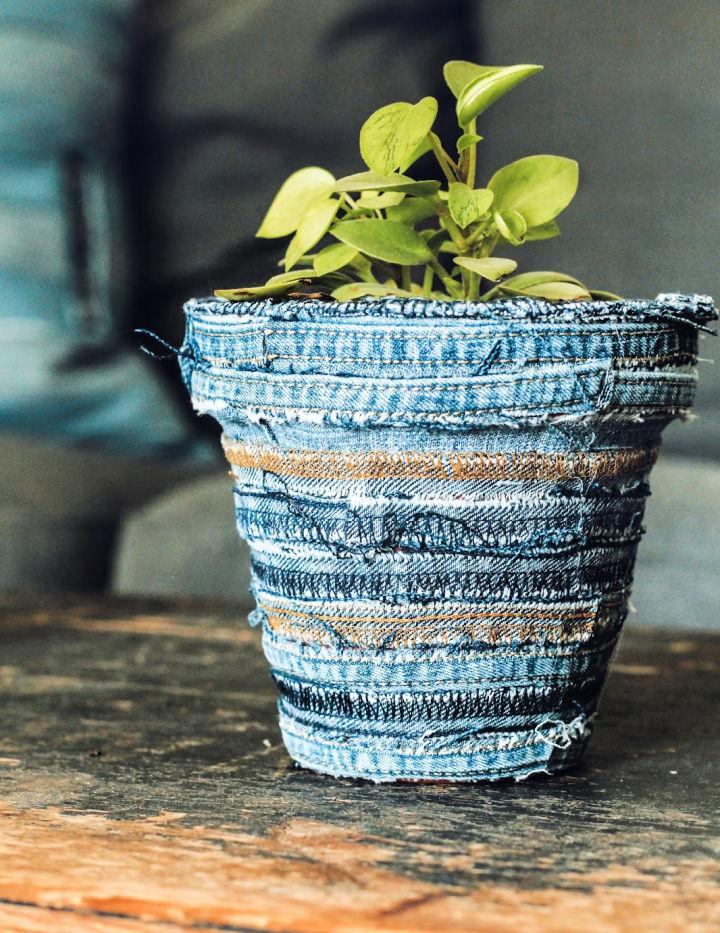 Follow our amazing list of flower pot ideas to create a precious denim appeal for your patio pots by getting them covered in the denim. Recycle the old denim shirts and jeans to do so, and this will be a fun way to get rid of old jeans. At the same time, it will create an enchanting new appeal of patio pots that will impress. Grab the denim seams scraps and a mini flower pot to complete this project with ease. Layer the glue all around the pot using a glue gun and then wrap the denim scrap seams and cover the whole pot in the same way. thewickerhouse
3. Small Fingerprint Flower Pot

When it comes to changing your pots' look and overall appeal, the paint is the most desired option also. So, if you are good at painting and drawing, why not personalize your pots by painting custom symbols and shapes. Peek into details of these colorful fingerprint flower pots looking much visually captivating and will spruce up any patio for sure. You need assorted color acrylic paints, white and yellow acrylic paints, paintbrush, terracotta pot with the base dish, permanent green marker, fine-grit sandpaper, a paint palette and newspaper to do this decorative makeover of the pots. craftsbyamanda
4. Outside Tiered Flower Pots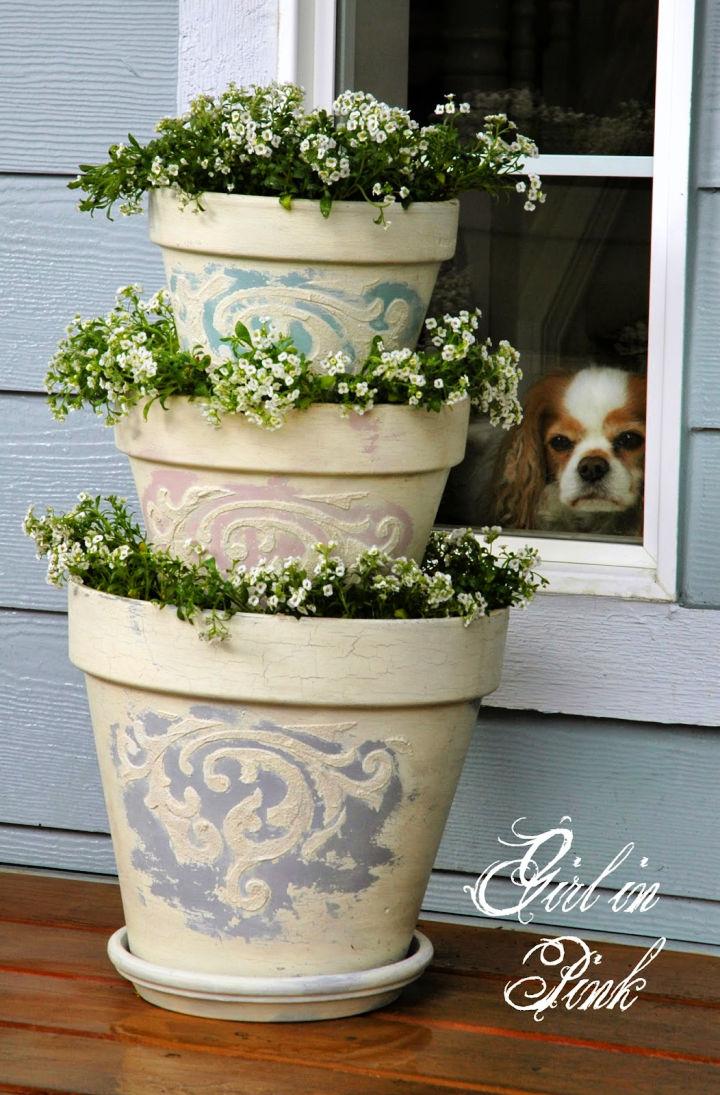 Jazz up the patio pots that are not more focally stimulating with this decorative hack. It involves adding the decorative lines on the flower pots that may be any form spirals to swirls and then to seal them for outdoor weather protection. Look at the sample pots, sure to create a divine appeal of your most visited outdoor spaces. You can also drop the completed pots on a rebar length to gain a fantastic topiary and add a great curb appeal. The whole project is much doable for all beginners and will cost you next to nothing. onegirlinpink
5. Scrap Fabric Rope Flower Pot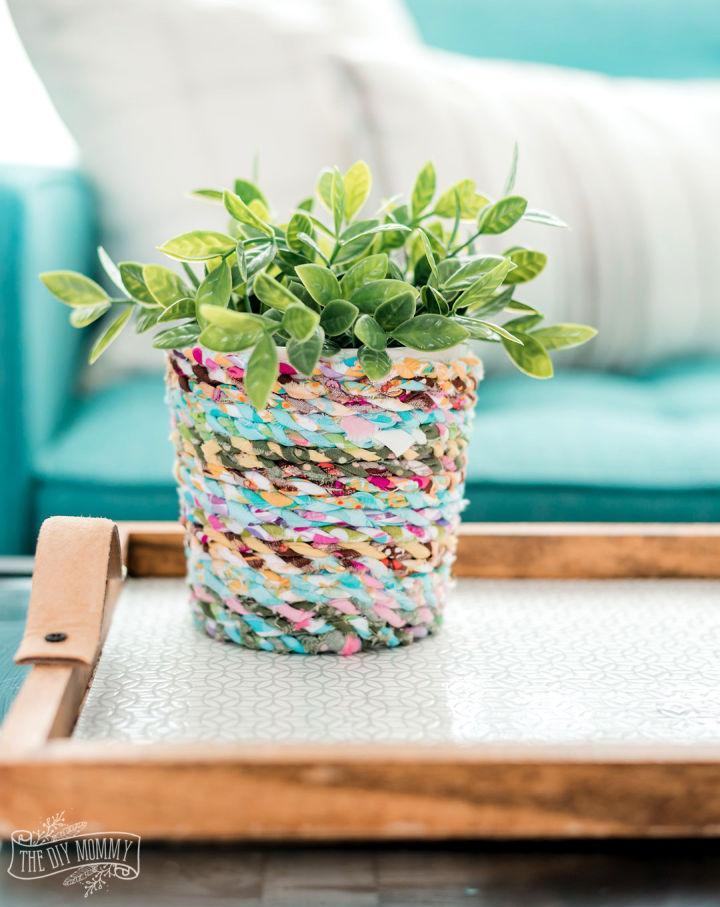 Create a bohemian-inspired appeal of your pots with this scrap fabric makeover of the patio pots. The idea is to use the fabric scraps to make the colorful ropes to wrap around the flower pots for added visual stimulation. Glue each loop of the rope around the pot in place and then cover the entire pot with it. The whole project will cost you next to nothing, and it will be a better way to get rid of the old fabric scraps lying useless. One of the best DIY flower pot decoration ideas that will impress all the patio lovers. thediymommy
6. Painted Flower Pots with Rainbow Ombre

Use also your painting skills to make your tedious and boring-looking planter look attractive again. This project will guide you about how to rainbow paint the patio pots, and they will look much visually pleasing in the final painted appeal. The project requires no skills, and in the supplies, you need multi-surface acrylic paints in rainbow colors, square brush, spray or sealant to complete this project. The whole project will cost you around $2 and be fairly easy to complete in just 50 minutes or less. diycandy
7. Big Mothers Day Photos Flower Pot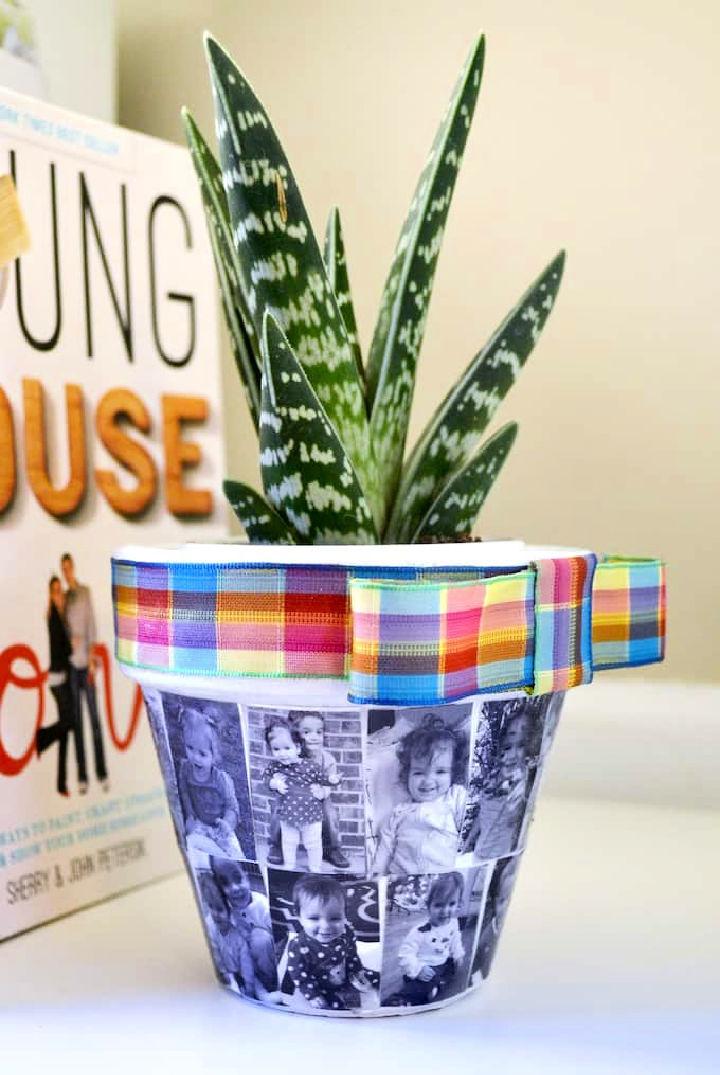 Follow here guides to quickly make a Mother's Day surprise gift at home, easily and quite inexpensively. This is where the photo planter is to make by pasting photos all-around a planter or pot. It makes the best Easter and Mother's Day gift and will complete in just no time. You need mod-podge gloss, photos printed with a laserjet printer, foam brush, ribbon, terracotta pot, hot glue and spray primer to complete this project. Use the decorative ribbon to add the decorative trim around the planters. One of the best and quick DIY flower pot decor ideas that win the heart. modpodgerocks
8. DIY Fabric Covered Flower Pot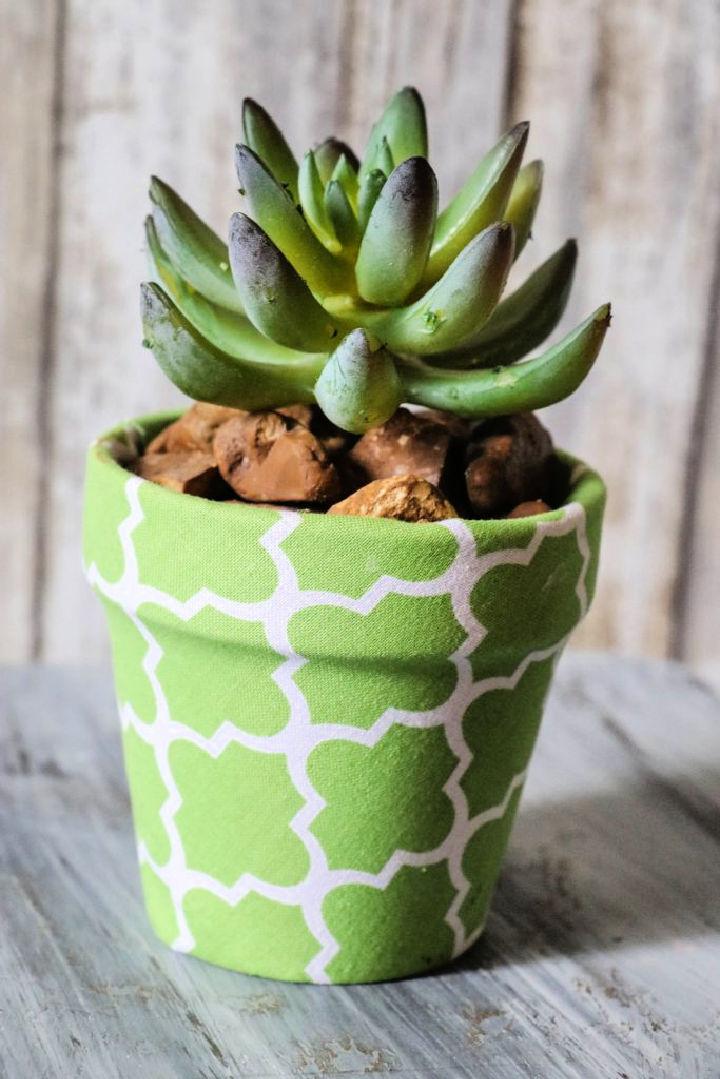 Looking for instant beautiful flower pot ideas to decorate your patio flowers? Then go with these flower pot ideas that will look way more beautiful than the painted pots and will be much doable. Grab 2 dollar tree flower pots, mod-podge, fabric quarters, brush, scissors, and hot glue to make these beautiful flower pots, which will impress at a very first glance. Layer the mod-podge all around the pots, and then cover them with your favorite decorative fabrics. One of the best and quick to do a project will not take much time to be at your patio. re fabbed
9. Easy DIY Painted Flower Pot

You will also keep on staring at these painted flower pots, will grace up any patio or outdoor areas and will be a breeze to paint also. The project involves painting the tops of the pots in blue, giving them a flawless new look. Here you need flower pots, blue paint, polyurethane, painter's tape, foam paint brushes, plastic floor protector, sandpaper and some creativity to complete these painted flower pots. One of the best and quick-to-do painted flower pot projects that everyone can do with ease. The whole project will cost you next to nothing and is easy to do. thetarnishedjewel
10. Painted Cats Terracotta Flower Pot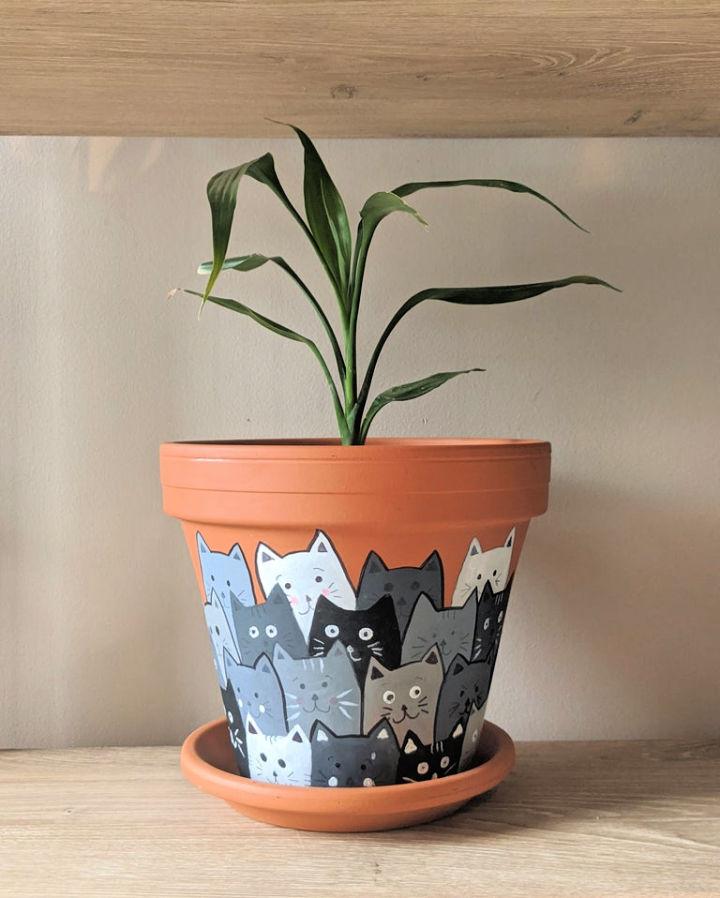 Check out here the cutest ever painted pots that will bring tons of cuteness and grace to a patio place. The idea is to paint the beautiful and cute cats around the terracotta pots to look beautiful and cute. It will take only your beginner painting skills to complete these painted cats terracotta pots, will never go out of style. You need a terracotta pot, a pencil, acrylic paint, paintbrushes, scissors, q tips, a piece of recycled thin cardboard, pens and markers to complete these flower pots. They will be a much-appreciated addition to one's patio. instructables
11. Painted Flower Pots for Kids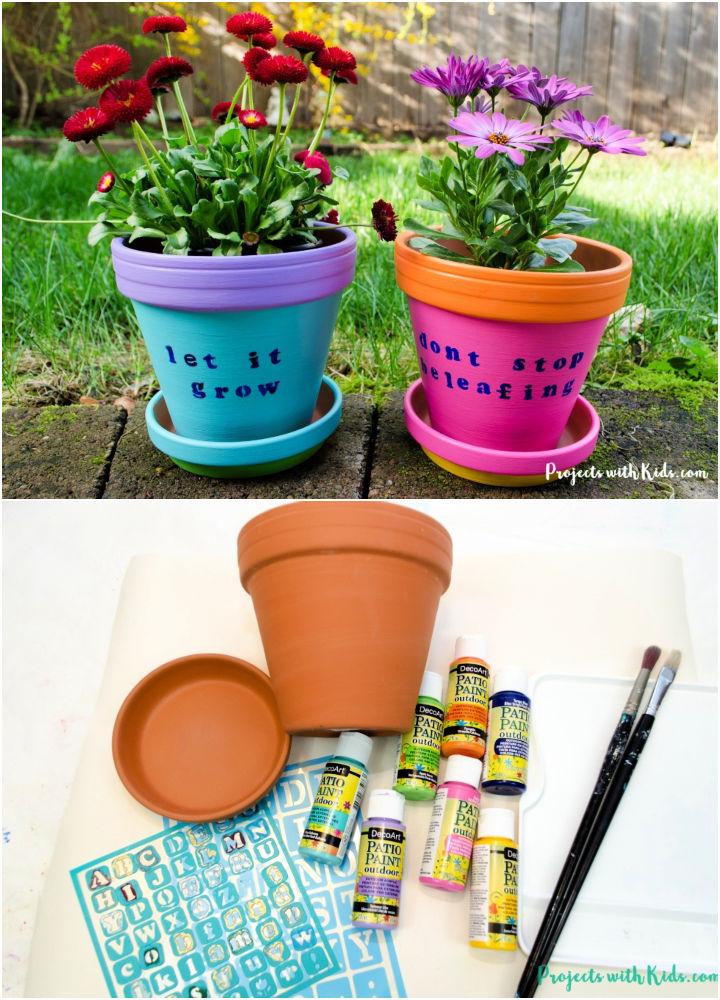 Create your own beautiful painted flower pots that will make the entire patio look divine. You can paint the pots in various ways, check a one here that is creative and inspiring at the same time. You need terracotta clay pots, outdoor acrylic paint, letter stencils, paint pens, paintbrushes and a paint palette to make these painted flower pots. The whole project completed in no time, and painted pots can fancy up any patio in no time. The idea is to paint the lower part of the pots in a solid color and then paint the top in a contrasting color. Use letter stencils to paint custom names and letters on the pots. projectswithkids
12. Hand Painted Watermelon Flower Pot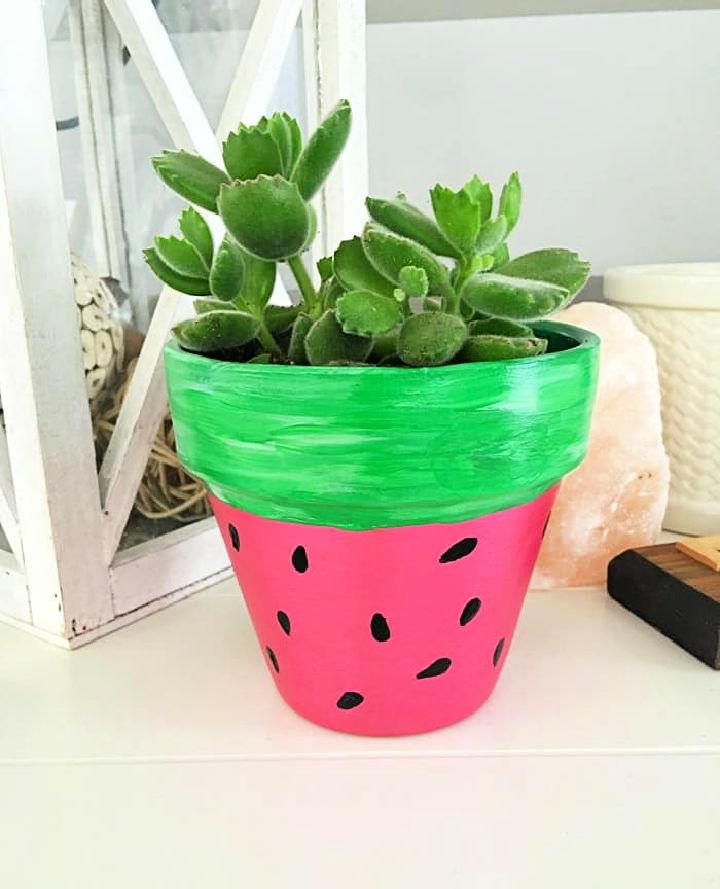 Celebrate the summers by adding this watermelon pot to your patio. It will be super fun to paint this pot, and don't forget to add the black watermelon seeds using the black paint. You need a terracotta pot, foam paintbrushes, a small paintbrush and craft paint in pink, light green, kelly green and black colors. The project is much doable for all beginners, and even the kids can paint these patio pots quite easily and neatly. mommymoment
13. Make a Glitter Flower Pot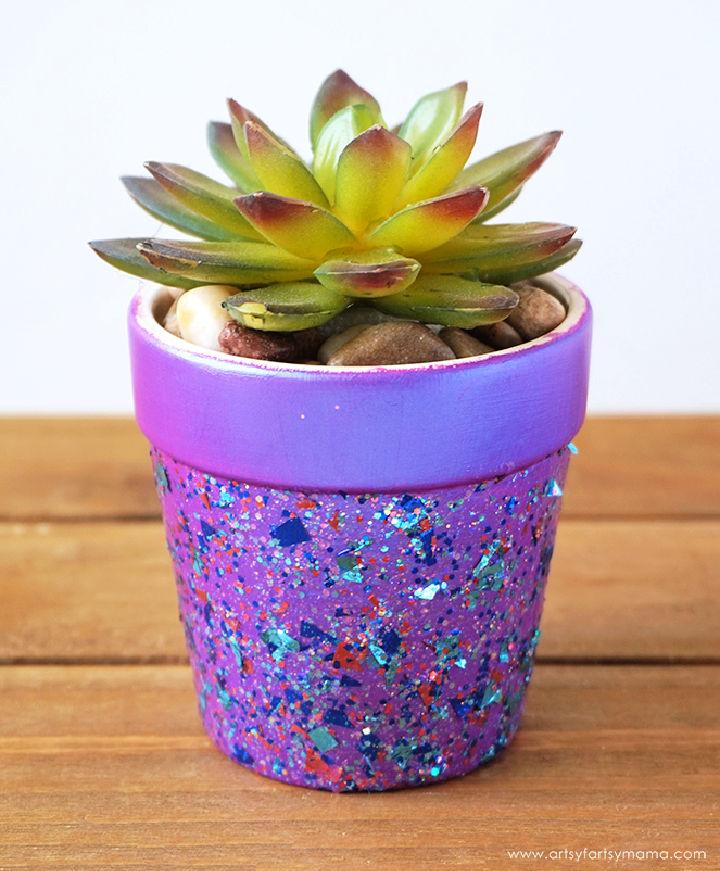 There are endless different ways to paint your patio pots for a glam appearance. This project will share details comprehensive guides here to get the glittered flower pots that will enchant. The very required supplies for the project will be a ceramic flower pot, metallic paint, glitterific and a paintbrush to complete this project easily and quickly. First, paint the pot using metallic paint in favorite shades or colors and then glitter it up using custom glitterific. The project is much doable for all beginners and will also be much easy on your wallet. artsyfartsymama
14. DIY Fingerprint Flowerpot for Kids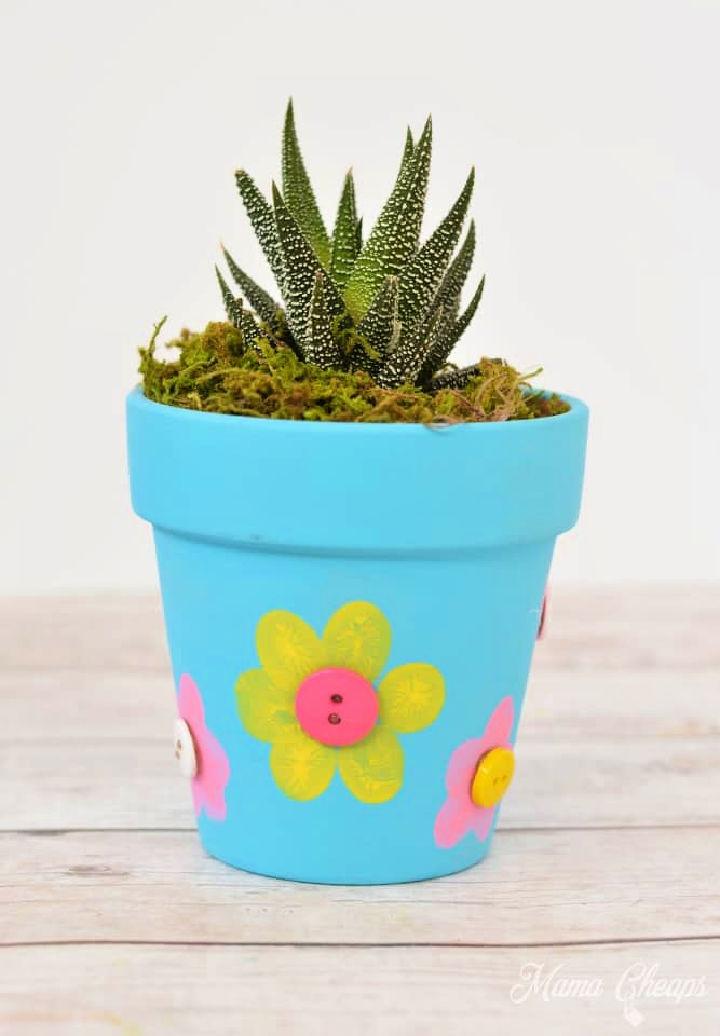 When it comes to painting your flower pots for an enhanced look and appeal, you can even paint them with your hands. Look at these flower pot ideas here that look amazingly cute and graceful and make the pots look double cute and beautiful. These pots will also make a great gift for Mother's Day and will be a breeze to paint also. You need terracotta flower pots, acrylic paint, paint brushes, buttons and modge-podge to complete this project with ease. First, give your pots a base coat and then start painting flowers on them. mamacheaps
15. Ice Cream Container Flower Pot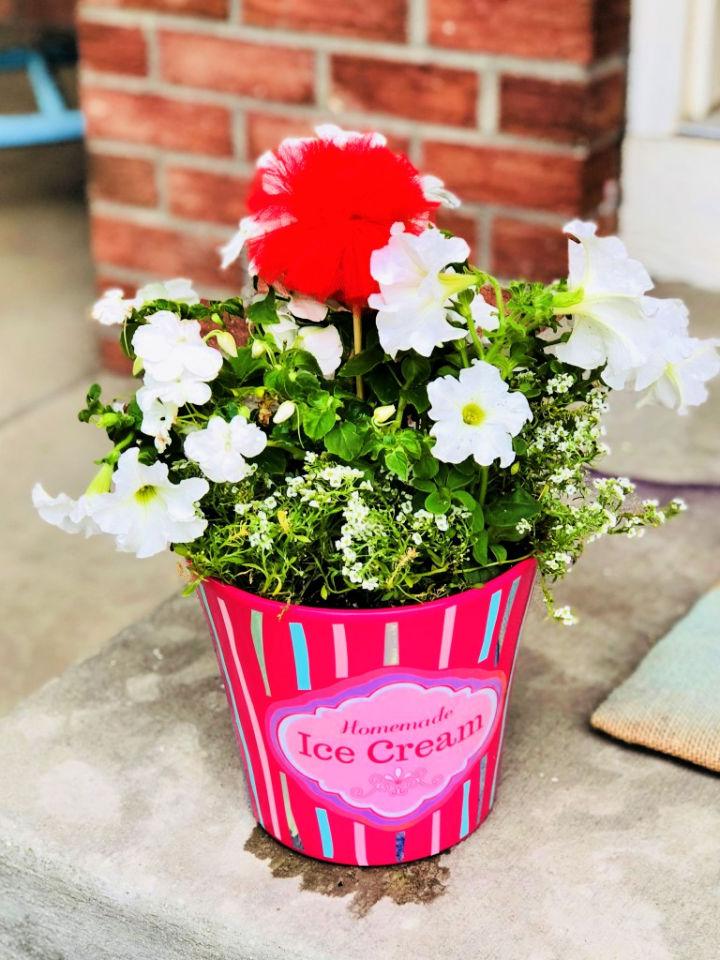 Use stencils and custom vinyl stickers and letters to fancy up your pots nicely and elegantly. Look at these ice cream container flower pots looking amazingly colorful and beautiful and will be a rocking addition to your patio and outdoor spaces. You need flower pots, vinyl in different colors, printers, laminating sheets, scissors, flowers and potting soil to complete this project with ease. You can opt for the vinyl strips, sprinkles and polka dots to start decorating your pots. The whole project will be big fun to do and will complete in a few minutes or less. lostmom
16. DIY Red Santa Pants Flower Pots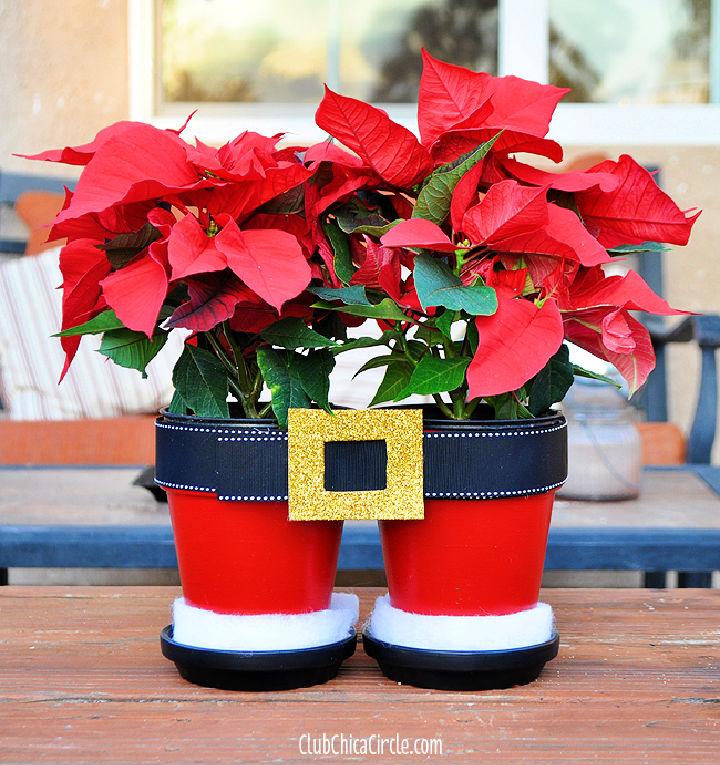 You will love the creativity used here to make these gorgeous flower pots inspired by Santa's pants and are much visually stimulating. You need terracotta pots, red and black patio paints, sponge brushes, 1.5″ black ribbon, gold glittery self-adhesive foam sheet, white batting, glue and scissors to complete this project with ease. The entire project will cost you next to nothing and will complete in a few minutes. The project is budget-friendly and will rock for the festival decors also. If you are more than a beginner, you can easily do this project with ease. chicacircle
17. Easy to Make Cement Flower Pot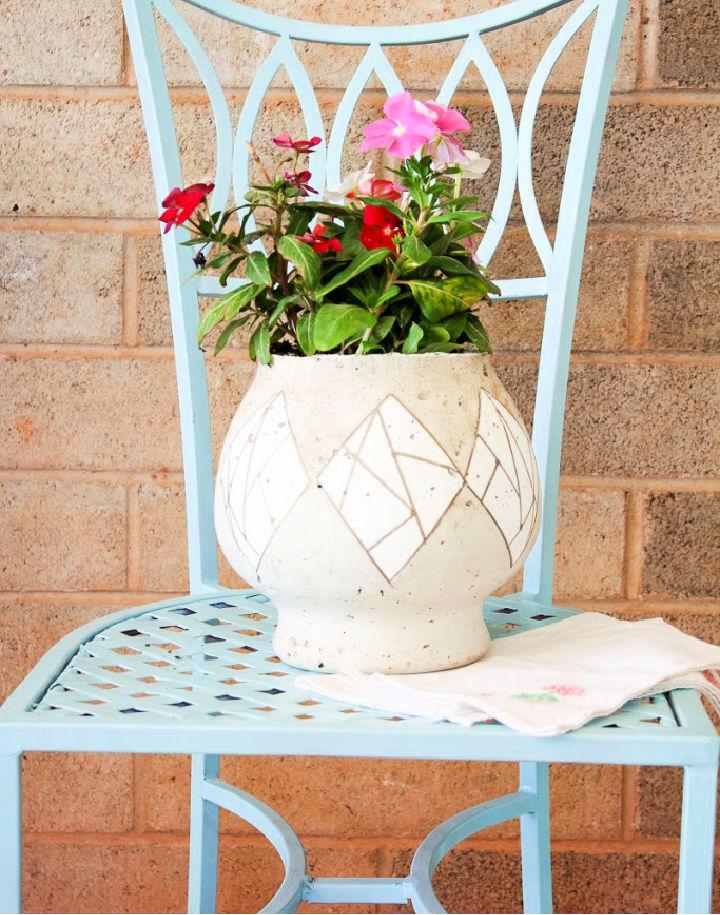 Give your patio or front porch a glam touch of cement elegance by adding this cement flower pot looking super graceful with geometrical line patterns. Easily create the mold and then fill the concrete in it to make the cement planter. Use the glass fishbowl and cylinder jar to make the mold. Moreover, you need a metallic sharpie, white paint, paper bag and painter's tape to complete this fabulous cement flower pot project. It is recommended to wear eye protection while doing this project. Just in case if you do not have a glass fishbowl, buy one from the thrift store for $1. hawthorneandmain
18. Upcycled Flower Pot from Beehive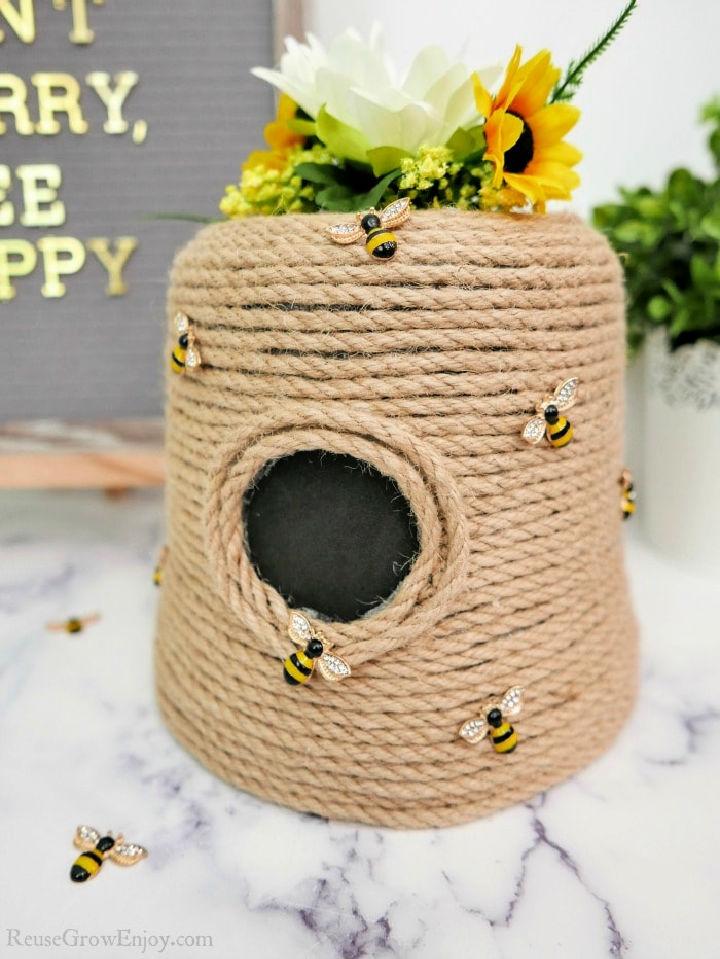 Get inspired by the bee houses also to make gorgeous flower pots for the patio. Peek into details of this beehive flower pot to make with a few simple materials like a flower pot and jute. The idea is to cover the jute all around the flower pot while securing each loop in place using hot glue. You need jute rope, flower pot, hot glue, 10-15 hot glue sticks, black adhesive foam sticker sheet, faux flowers and cute bees to make this upcycled flower pot. The project is much doable for all. reusegrowenjoy
19. Vintage Whitewash Flower Pot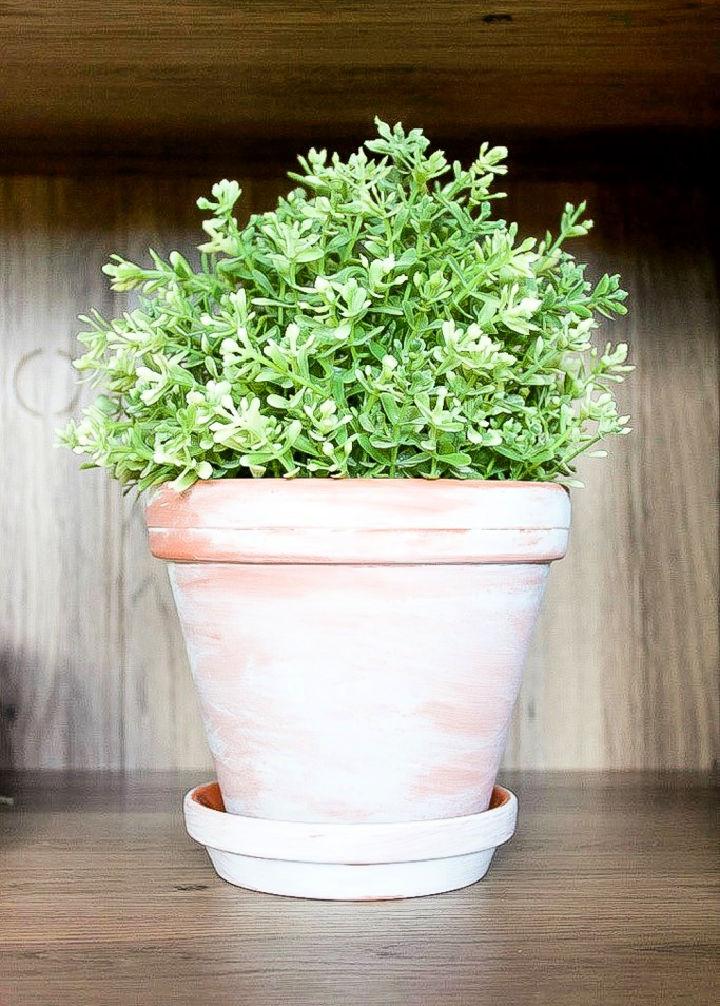 Looking for a vintage pot for your rustic or vintage patio? Create a distressed white look of your patio with the provided guides here, and this will transform the pot into precious farmhouse style or vintage-inspired pots. The idea is to give the thin and fade coat of whitewash to terracotta pots placed in a saucer. The light strokes of brush will make the pot visible, which will create a fantastic distressed appeal of the patio pots. Opt for this desk pot to spruce up your desks too. makingitinthemount
20. Colorful Stick Flower Pots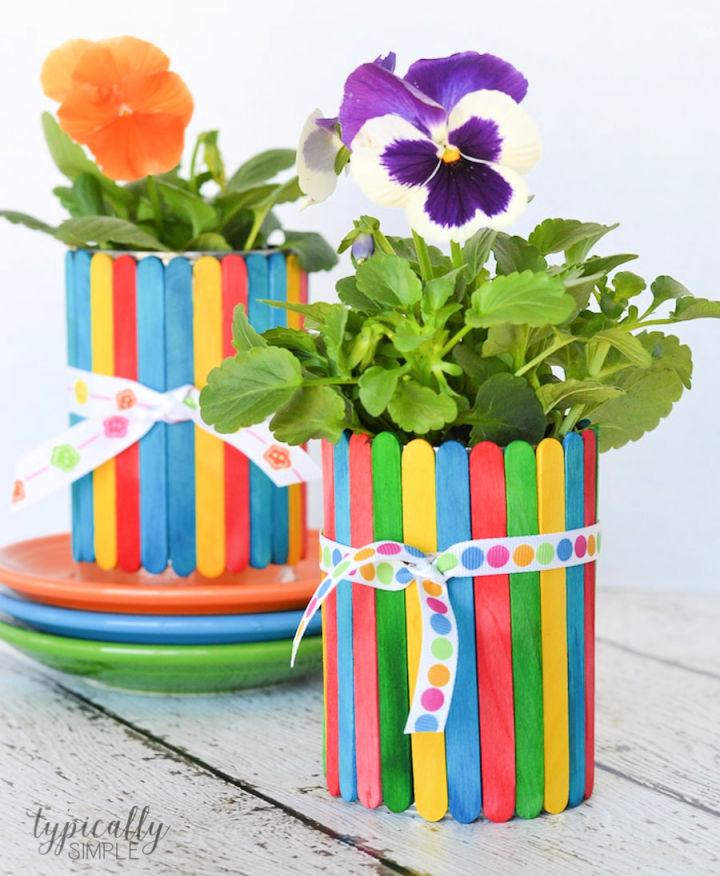 Go also handmade with the colorful craft sticks to create a stimulating, colorful appeal of your patio pots. Paint the craft sticks in rainbow colors and then put them around the patio pots for a graceful rainbow appeal. Use the decorative ribbons to tie the craft sticks together while being around the pots vertically. You need colored craft sticks, rubber bands, clean tin cans, ribbons, soil and flowers to make these craft stick flower pots. Add a lot more custom embellishments to spice up the completed pots more. The whole project will be easy on your wallet and will be much doable also. typicallysimple
21. DIY Paint Drip Flower Pots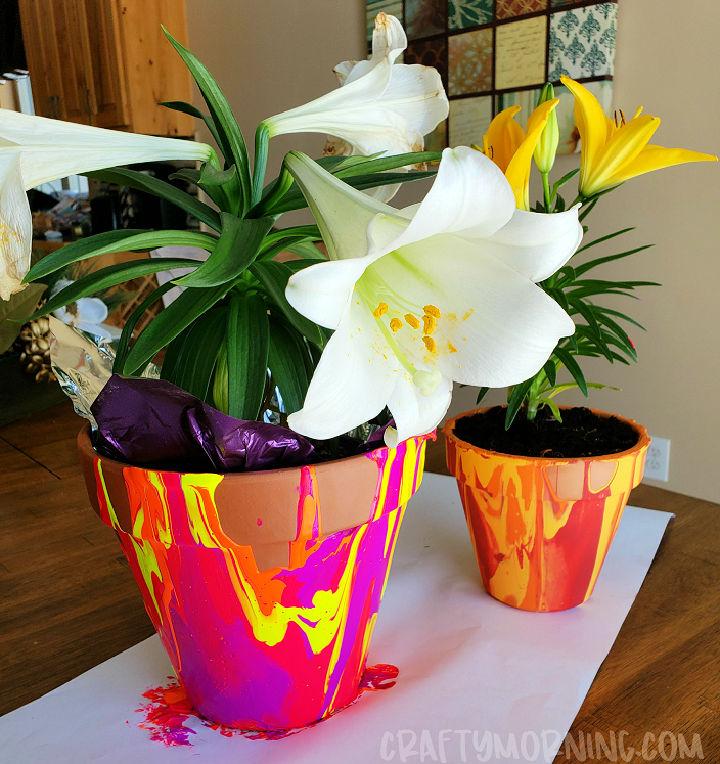 Go also with the dripping paint technique and paint your patio pots brilliantly and fantastically for amazing avatars. You will fall for these painted pots that are looking amazingly graceful and much visually captivating. It will not take much time to paint these drip flower pots that are much visually captivating. Here you need acrylic paint, a clay flower pot, cardboard and some creativity to make these paint drip planters. Here you are all free to choose your favorite paint colors for the project. craftymorning
22. Garden Flower Pot in 15 Minutes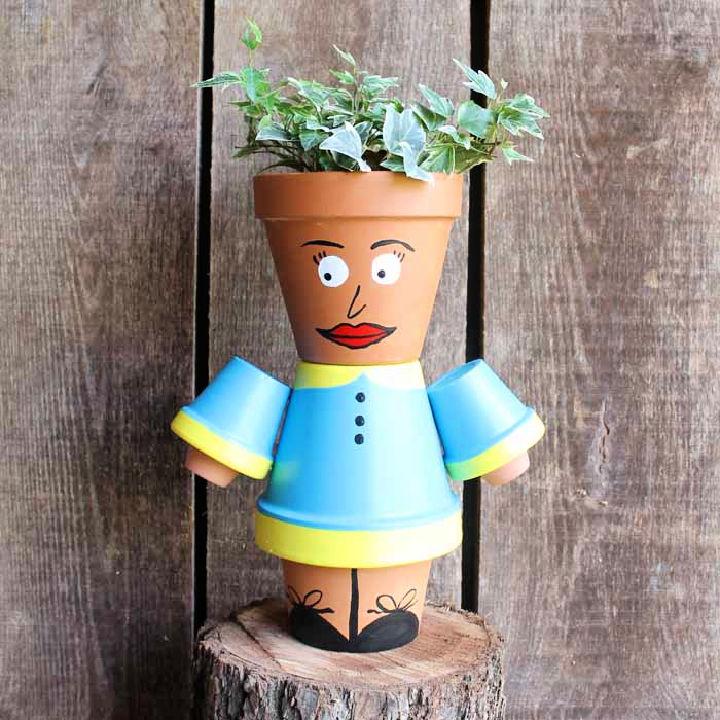 You can put it together in lots of different flower pot ideas to make your patio look fabulous and beautiful. Peek into details of these flower pot people or dolls that can stand alone and will bring a big wow factor to your patio. From legs to the body to arms and face, all are made with terracotta pots. Paint the terracotta pots for a nice costume, for shoes and also for amazing face features. Here you need clay pots in various sizes, paintbrushes, glue and patio paint in red, black, white, aqua and yellow colors to complete this project. thecountrychiccottage
23. Painting Your Own Flower Pots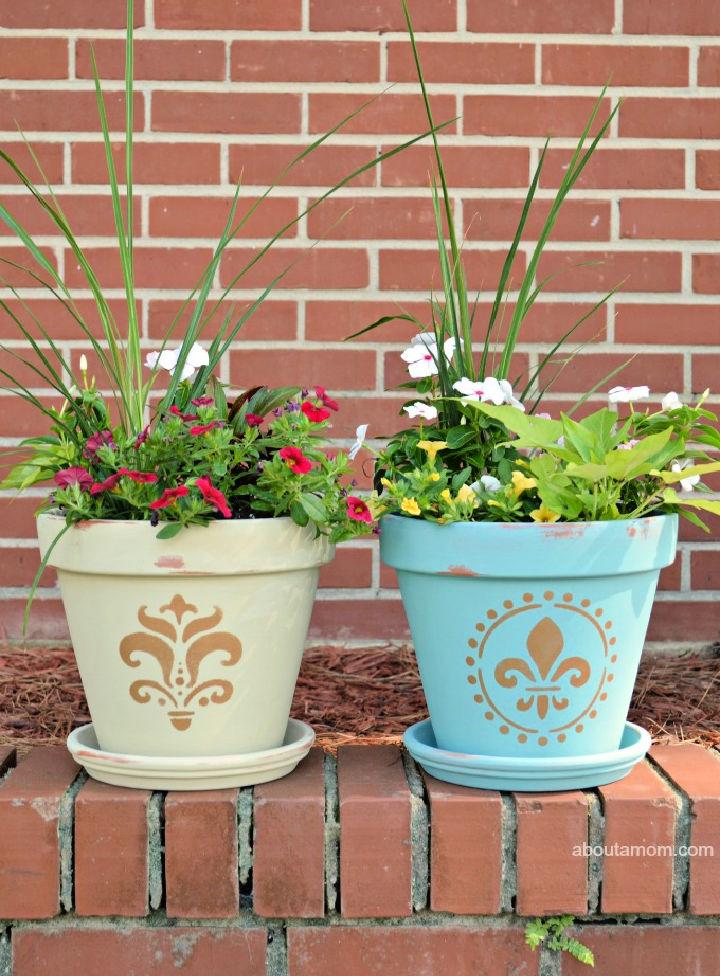 Stare at the beautiful decorative appeal of these patio pots that comes with custom stenciled patterns and logos. Being sit in terracotta saucers brings a lot more grace to these painted flower pots, and they can be cloned in a quick way for sure. You need 2 terracotta pots, chalk paint in colors of choice, bronze acrylic craft paint, stencils, soft cloth, foam paint brushes, and various plans to whip up these painted flower pots. You are all free to use your favorite pots and stencils for this project, shared to inspire and impress. Everyone will fall in love with these painted pots, will never get out of style. aboutamom
24. Homemade Newspaper Flower Pots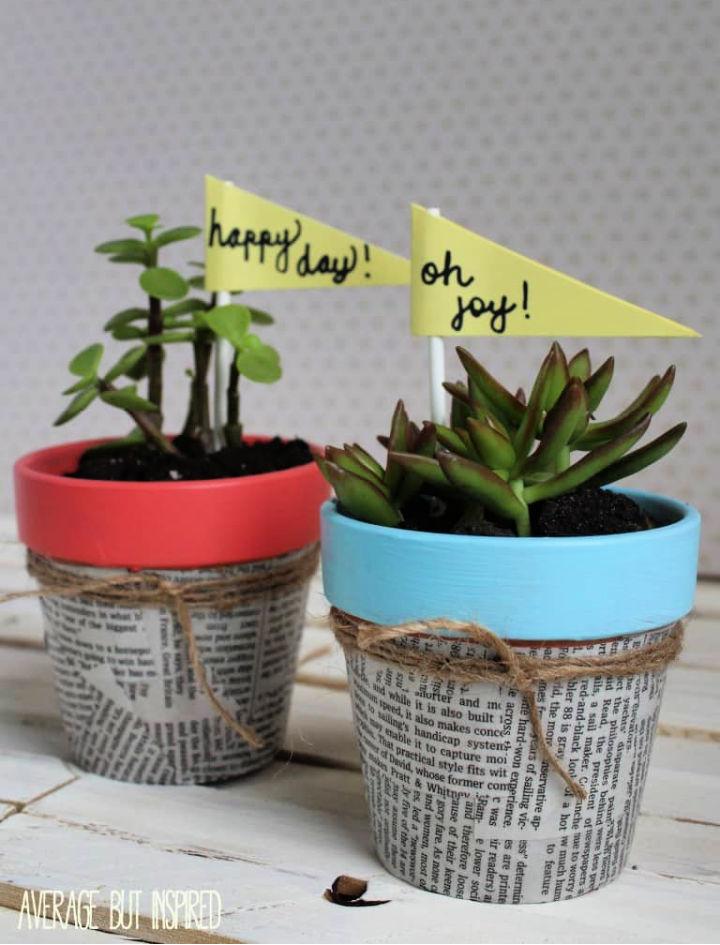 Are you having some old newspaper lying useless in the home? Why not use them to update your old and boring-looking patio pots? Yes, you can create these beautiful-looking newspaper pots that will be a great addition to one's patio. Grab the newspaper, twine and some paint for this decorative makeover of terracotta pots. Paint the tops of the pots in the colors you want, and then cover the lower sections with newspaper. Wrap the newspaper around the pots and then secure it in place by tying the twine around. Don't forget to add custom flag style markers. averageinspired
25. Flowers to Plant in Tall Pots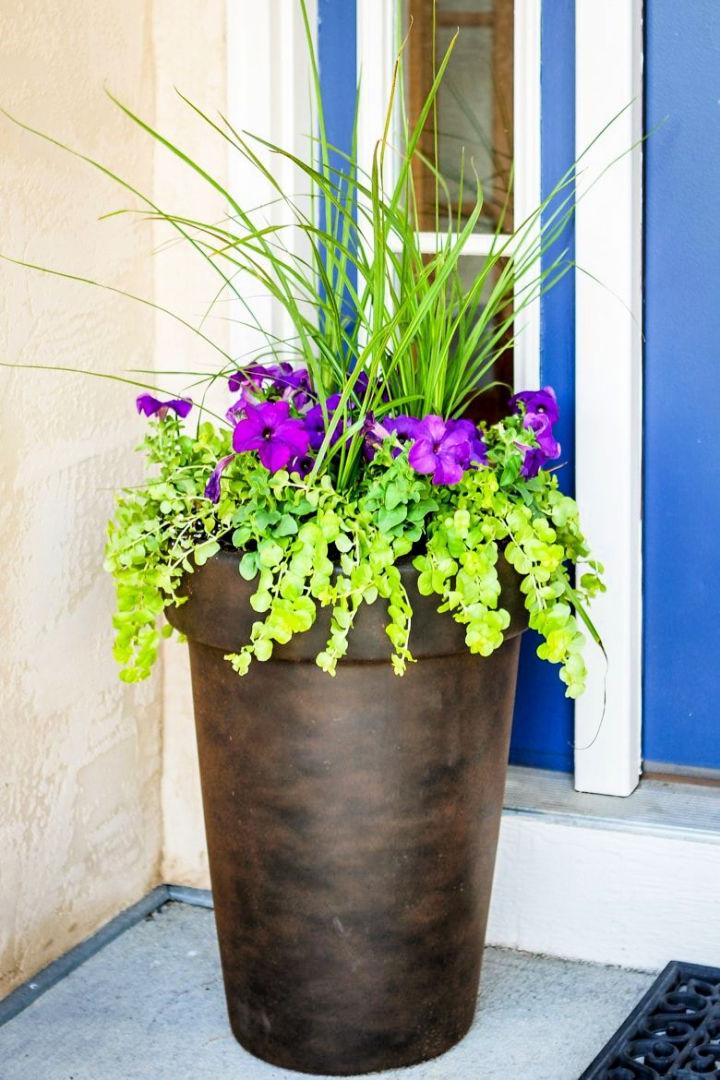 Replace the plants and flowers in the pots, which will also be a smarter way to update your patio plants. So this project will share with you the easiest ways to plant flowers in a pot in 3 easy steps, which will also create so much fun. Before you get into this project, you need large flower planters, potting soil, large dramatic plants, soft billowing filler plants, trailing or spilling plants, lava racks and garden trowels to complete this project with ease. The project is easy yet creative and will bring tons of focal stimulation to your patio. unsophisticook
26. Large Flower Pot Planter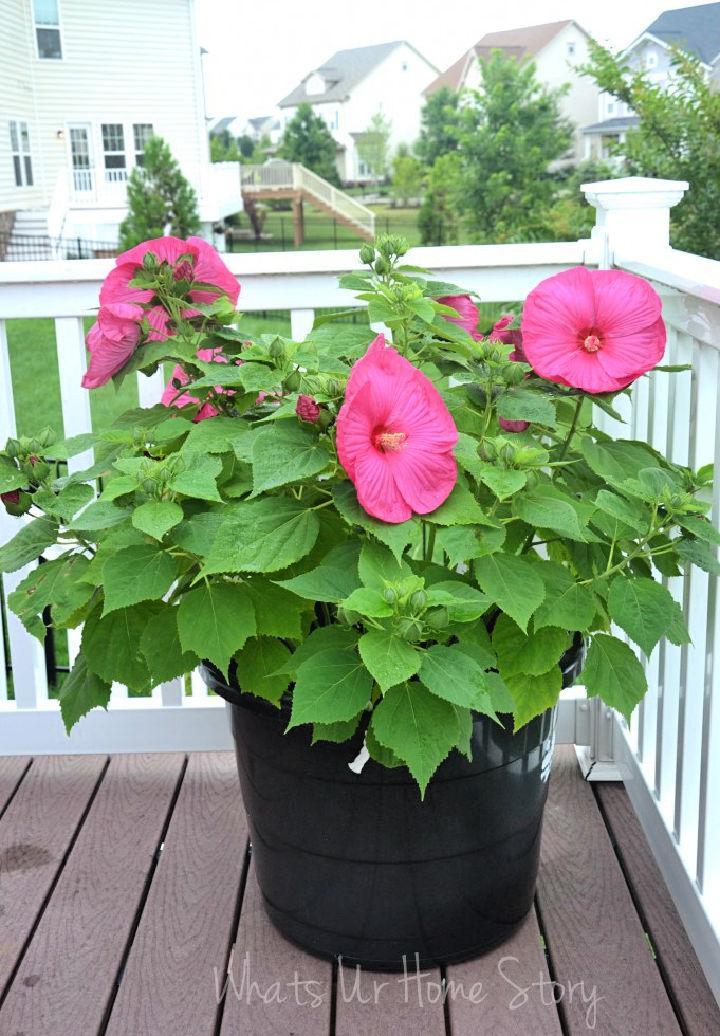 Replace the planters and pots also to make new decorative pots for the patios and porch areas. So, follow these easy to make flower pot ideas to craft the large plant pots at home without getting a bit expensive. Repurpose a rope tub and make a quick giant-size planter out of it. The idea is to drill a hole in the bottom side of the rope tub and then fill it up with the potting soil and your favorite plants and flowers. The whole process will complete at just a drop of the hat, and make bigger changes to your patio and porch decors. whatsurhomestory
27. Blue and White Flower Pot Using Tin Can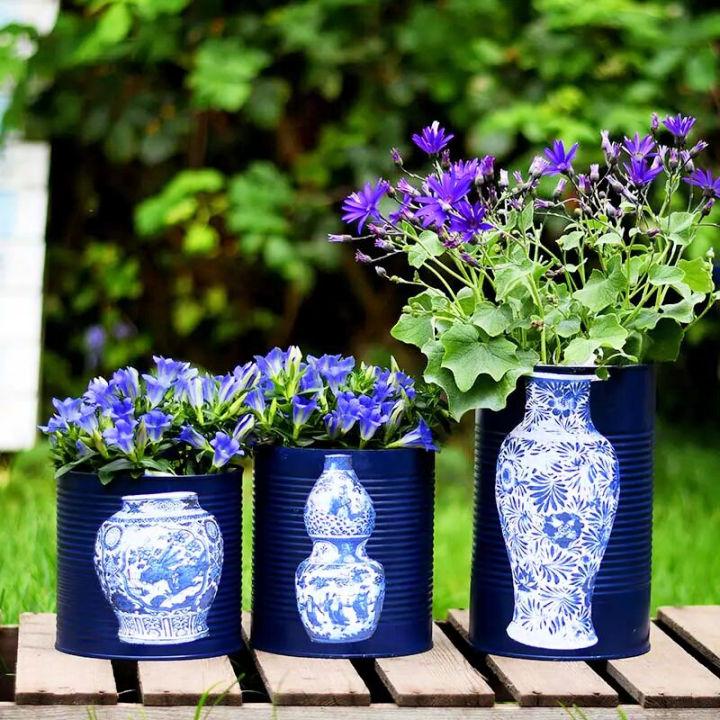 Create a gorgeous divine appeal of your patio with this fun and unique oriental vase DIY flower pots. The most beautiful and gorgeous type of planters ever built, and they will be ready just at the drop of a hat with the provided free guides. Sprucing up your patios will be a lot easier with these divine homemade planters. You need large empty food tin cans, blue spray paint, mod-podge, foam brush, acrylic varnish spray and ming vase printouts to complete this project. Everyone will love making these DIY unique oriental vase flower pots. pillarboxblue
28. DIY Color Blocked Pots for Flowers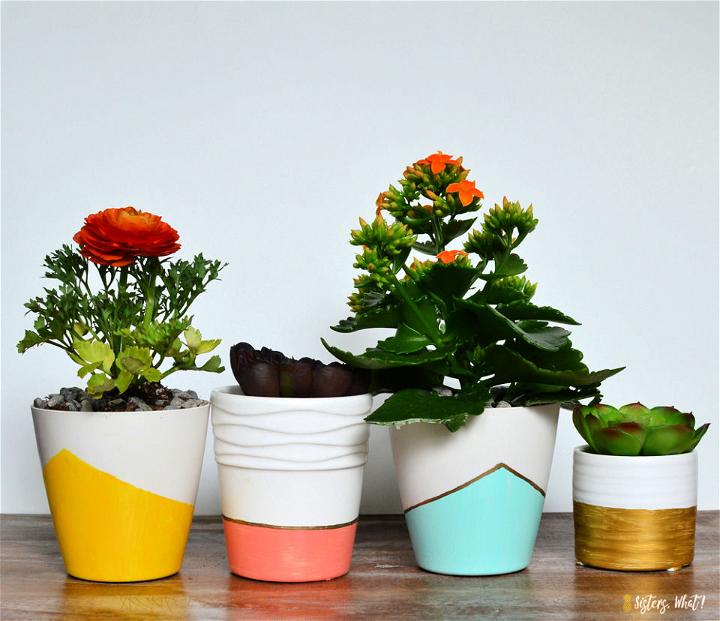 Sorting out the best gifts for Mother's Day? Try making these color-blocked flower pots that will be a great decorative addition to your patio also. These flowers are more than easier to paint and will go for bigger patio decor statements. You need white plastic flower pots, white ceramic flower pots, acrylic paint, paint sealer, gold sharpie, and painter's tape to complete this project. All these pots will look much visually captivating and will make sweet handmade memorial day gifts also. The best DIY planters to bring a big wow factor to your patio. sisterswhat
29. Rustic Flower Market Planter Pots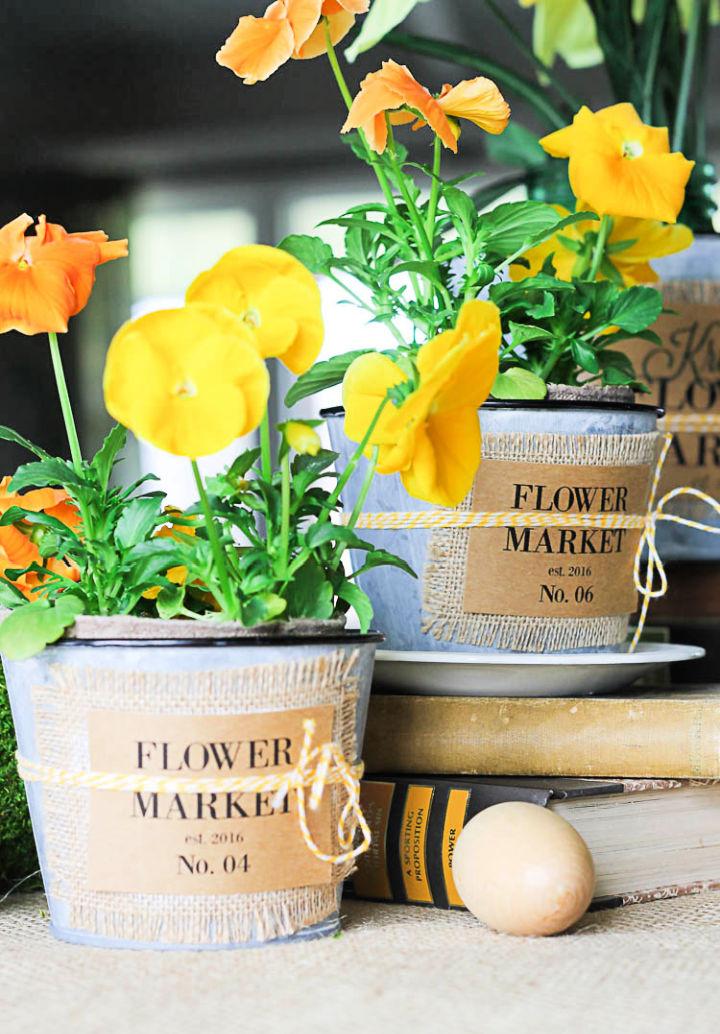 You can simply make all sorts of patio planters at home like rustic, farmhouse style, vintage and modern. Here you will get comprehensive guides to build rustic flower market DIY planter pots that will grab the attention of all onlookers. You need metal flower pot planters with burlap labels, baker's twine, kraft cardstock, paper mache flower pots, flower market labels download and fresh flowers or plants to complete this project. The whole project will cost you next to nothing and will be a superb addition to one's patio or garden. consumercrafts
30. Unicorn Cactus Flower Planter Pot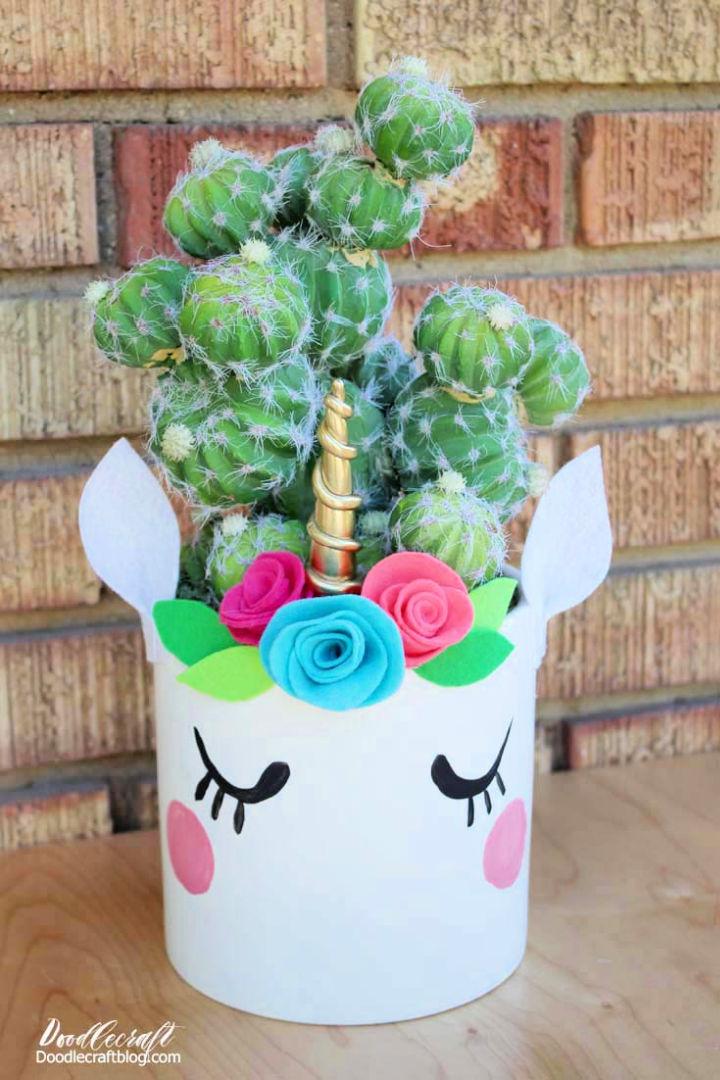 This type of planters will rock for the kids' spaces and rooms and will be more than easier to make. These are here the unicorn cactus flower planter pots that are visually captivating and will bring magical vibes to the targeted spaces. Here you need white ceramic pots, faux cactus picks, moss, styrofoam ball, gold polymer clay, toothpicks, black and pink craft paint, white, pink, green, blue and purple felt, scissors, hot glue and a glue gun to complete these large and big unicorn flower pots. The whole project will be much doable for all. doodlecraft
31. Green Yarn Wrapped Flower Pot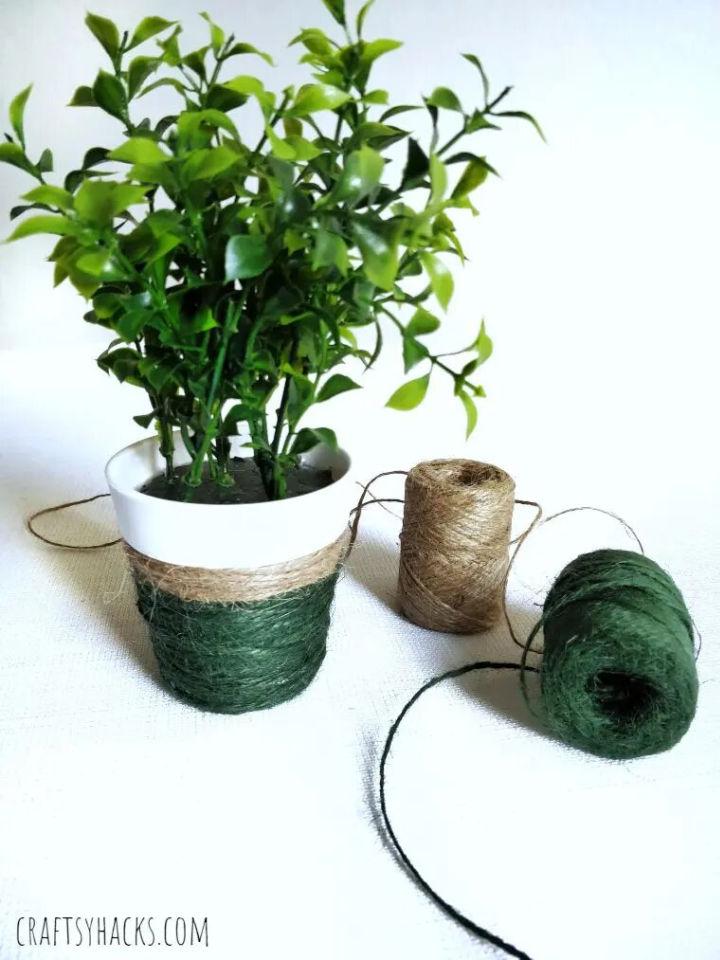 Creating decorative pots for the patio is not a big hassle. You can use various materials to decorate your pots and planters, like paint, stickers, stencils and even yarn. Yes, you can use the yarn also to easily create a beautiful look of your patio and porch pots. The idea is to simply wrap the yarn of different colors around the pots until you are satisfied with the colorful appeal of the planter or pot. You need white terracotta plant pots, green jute twine, natural jute twine and hot glue to complete this project with ease. craftsyhacks
32. Beautiful DIY Cement Draped Fabric Flower Pot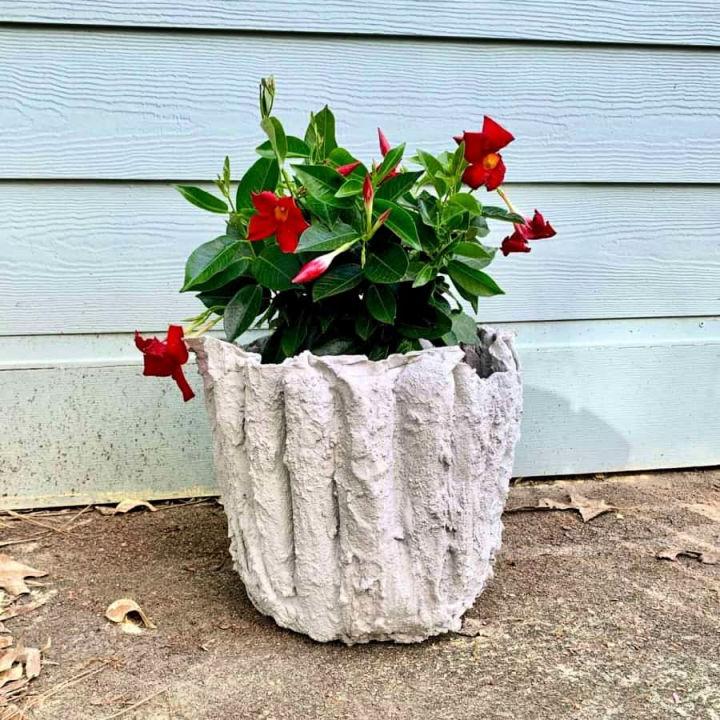 If you are on a mission to make beautiful instant planters using cement, here is a beautiful inspiration. Duplicate this cement fabric flower pot that comes with lovely flowers and greenery and is sure to be the main focus of attention. You need cement, a large disposable bowl, disposable cup, safety glasses, durable nitrile gloves, safety mask, long balloons, bucket, scissors, drinking straw, balloon pump, spray adhesive, x-acto or craft knife, sharpie marker, fabric and power drill to make this super looking pots. The whole project will cost you next to nothing. artsyprettyplants
33. Cheap DIY Flower Pot from Grout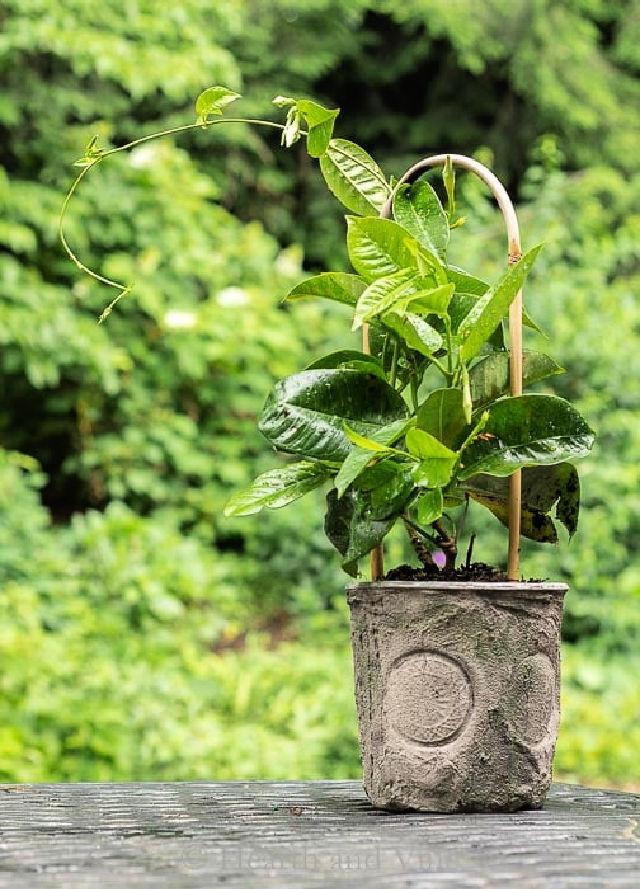 Here is the hack to make the cheapest flower pots that will be a divine addition to any space. The perfect plant to choose for the natural garnishing of a targeted space. This is where the cement planter is made with simple and cheap material like plastic nursery pots, plants, pre-mixed white grout, white paint, and a decorative bowl. The project will cost you next to nothing, and you will love doing this project while following the step-by-step instructions. The planter will rock for every space where you want to feature the cement look or texture. hearthandvine
34. 20 Minutes Flower Pot with Pom Poms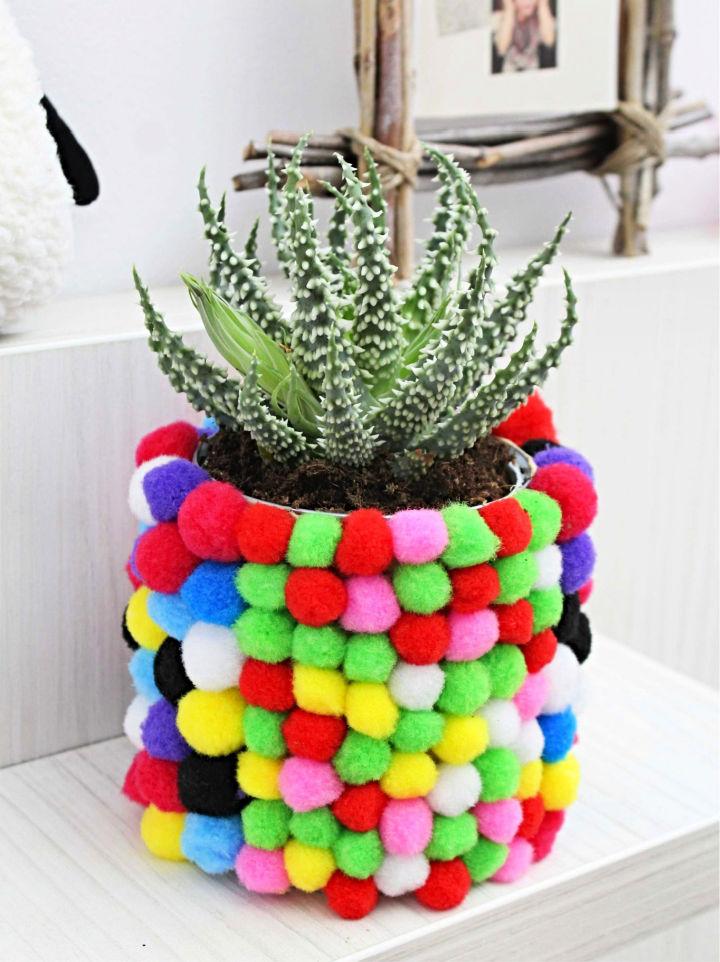 Look at this most beautiful and bizarre DIY flower planter that comes in tons of different colors. The project involves doing a decorative makeover of the pot using colorful pom-poms. Just glue the pom-poms all-around a flower planter and create a gorgeous pom-pom planter for your patio and any other space you want to spruce up. You need a rustic flower pot, mini flower pots, painted tin can pots, succulent planter box, a fabric-covered planter from an ice cream container to complete this project. This pom-pom planter will be a big center of attention and make a quick handmade gift to a favorite person. theseamanmom
35. Marbled Terra Cotta Flower Pots for Decoration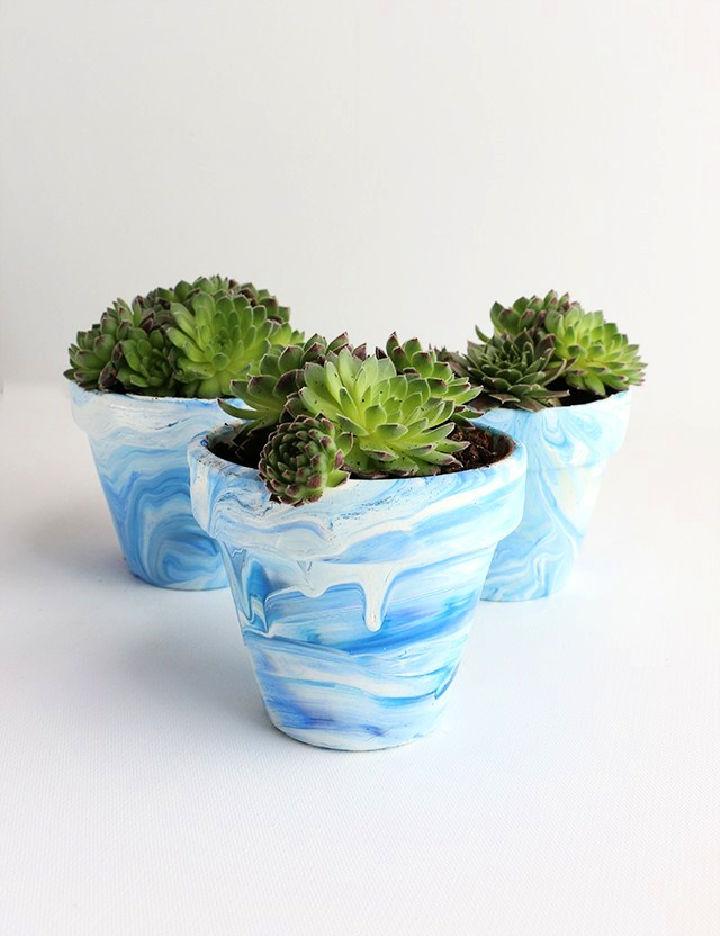 Bring the amazing marble effect to your patio by adding these marbled terracotta pots. It will be super fun to marbleize these planters using paint. Just mix the acrylic paints in colors of choice in the disposable bin and mix well for a marbled look. Next, dip your pots in the paint bin, get the pots marbleized, and finish with varnish or clear spray paint. The project is much doable, and this is the most used technique to get your favorite things marbleized quickly. The best part is that the whole project will cost you next to nothing. So, do give this project a quick try. alanajonesmann
36. Trash Can Into a Long Flower Pots Planter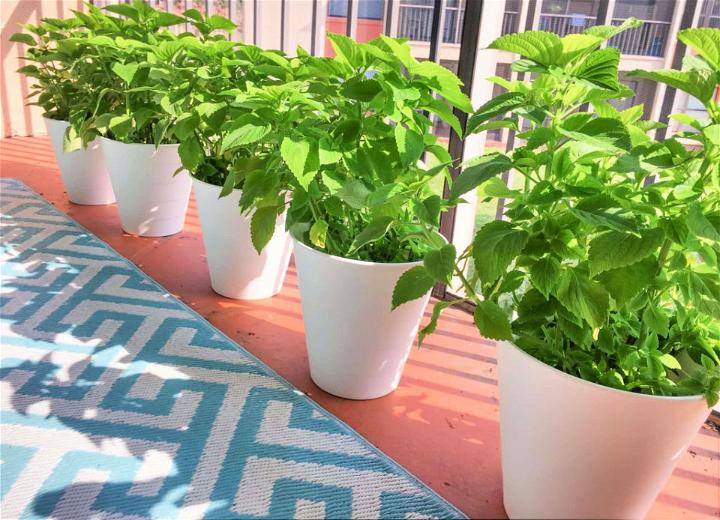 Transform the trash cans into beautiful planters that you can add to any particular interior space for natural decor vibes. You can use various can to make quick planters for your spaces, including the IKEA Fniss trash cans. The Idea is to fill some potting soil in the trash cans and then add your favorite green plans and flower pots in the pot or both at the same time. The finally completed planter will simply cost you next to nothing, and they are more than easy to make also. getgreenbewell
37. Aged Metal Farmhouse Flower Pot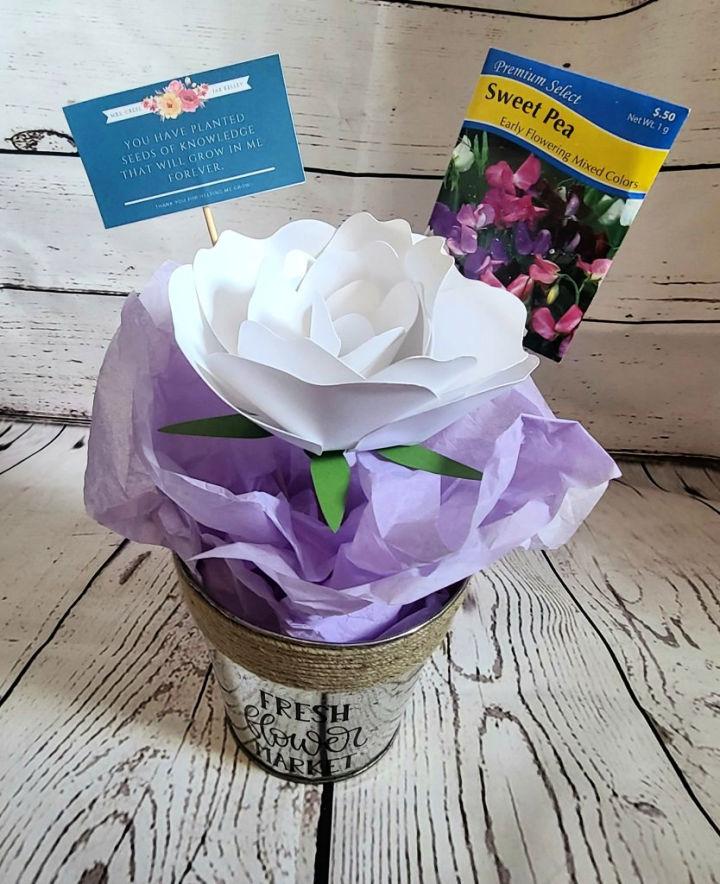 All farmhouse-style lovers will fall for this aged metal farmhouse flower pot that is significantly easy to build. Here you need a galvanized metal pot, distilled white vinegar, hydrogen peroxide, salt, rag, letter stickers or stencils with black paint, Cricut with black vinyl, gift card and transfer to complete this lovely rustic flower pot, which will impress at a very first glance. The whole project will cost you next to nothing, and it is totally easy and quick to make with minimal crafting skills. lifeasaleowife
38. Mothers Day Flower Pot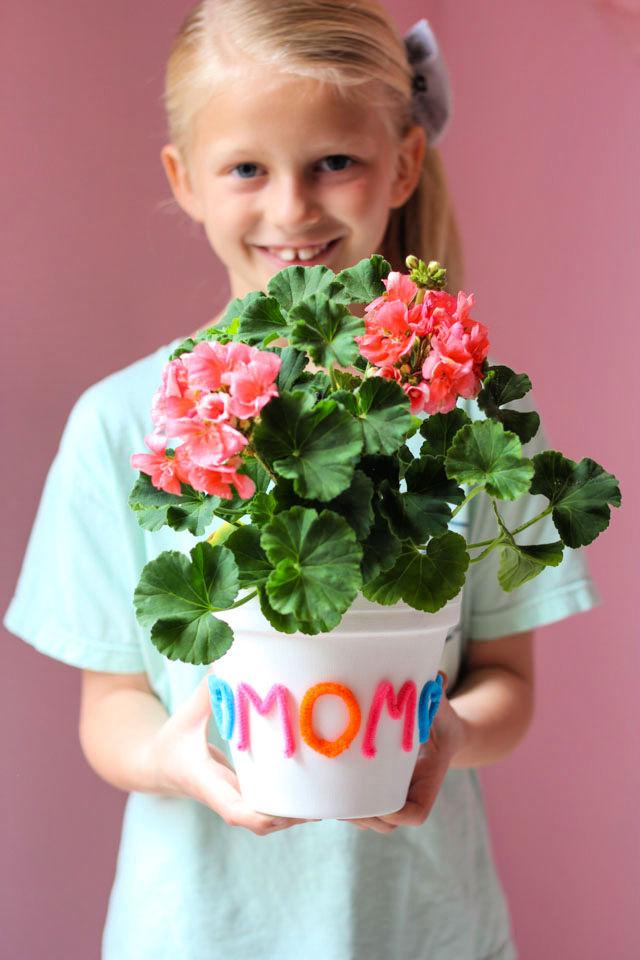 You can decorate the ordinary planter to transform it into lovely Mother's Day gifts also. Peek into details of this mom love flower pot that is easy and quick to make. Here you need kid made modern, bright bundle craft kit, washable paint set, terracotta pot, foam brush and hot glue to make this lovely Mother's Day gift, which will impress all the moms. The whole vase is looking double cute due to being chic white and colorful at the same time. It will not take much time to complete this flower pot project, will also be a great addition to one's patio or porch area. kidmademodern
39. Decoupage Round Flower Pot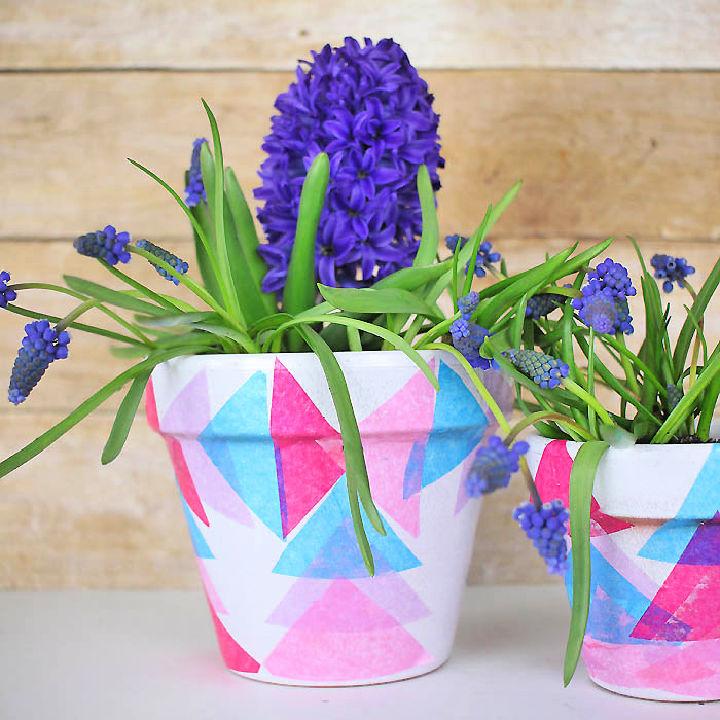 You will fall for the colorful appeal of these planters that also qualify all the features and properties to be the best Mother's Day gift. Here you need to do the colorful makeover of the pots using tissue papers, and you can layer them all around the pots using mod-podge. You also need white spray paint to give a base coat to this lovely Mother's Day gift, will make a great handmade present to all the loving moms. One of the best DIY mother's day gift ideas that everyone can duplicate with ease. gina michele
40. Make Your Own Galaxy Flower Pot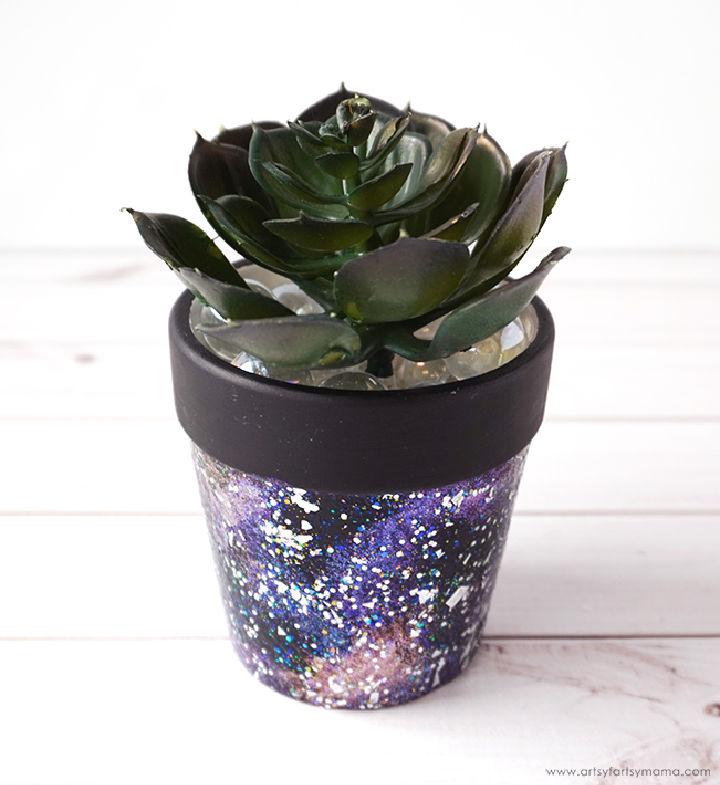 The galaxy pots are always a big center of attention, and they mostly come with high price tags. Follow here the complete guides and instructions to make a galaxy flower pot at home that can be added to your patio or balcony for bigger decor statements. Give also as a great Mother's Day gift, and it will be totally easy and quick to whip up with beginner crafting skills. You need a ceramic mini flower pot, multi-surface paint, dragonfly glaze, glitterific silver paint, nylon brush and sponsors to do the galaxy makeover of the pot. All the supplies are cheap to buy and are easily accessible also. artsyfartsymama
Conclusion:
Have you got bored with the same look and arrangements of the patio or garden pots? Time to lift the mood of them by doing custom makeovers of them. If you are puzzling about where to start it, you can simply head over to these DIY flower pot ideas sharing all the professional and creative ways to decorate your garden. Whether you like the pots with cement look or colorful or are willing to personalize them with custom quotes and letters or intend to make them look rustic, you will get here guides for all.
Most of these flower pot ideas are beginner-friendly and low-budget. So, you will learn all the ways to create custom and adorable DIY flower pots using cheap and recycled materials mostly.