These 40 free DIY planter box plans with detailed instructions are quite fun and easy to build for indoor and outdoor space in the house. Like most people, who prefer sitting in their lawn or backyard when the weather is good, these planter box plans will refresh the atmosphere around. If you ever wanted a garden in your home, these DIY planter box plans will help you get the feel of a garden as well. It is always better to do your project on your own instead of hiring someone else to do it because that way, you can customize your project according to your need and preference.
Moreover, these planter box plans help to create a fun, indoor or outdoor space in the house that can be used for hanging out for a while, doing BBQ, or simply relaxing on your comfy chair, this is perfect for all of the options given.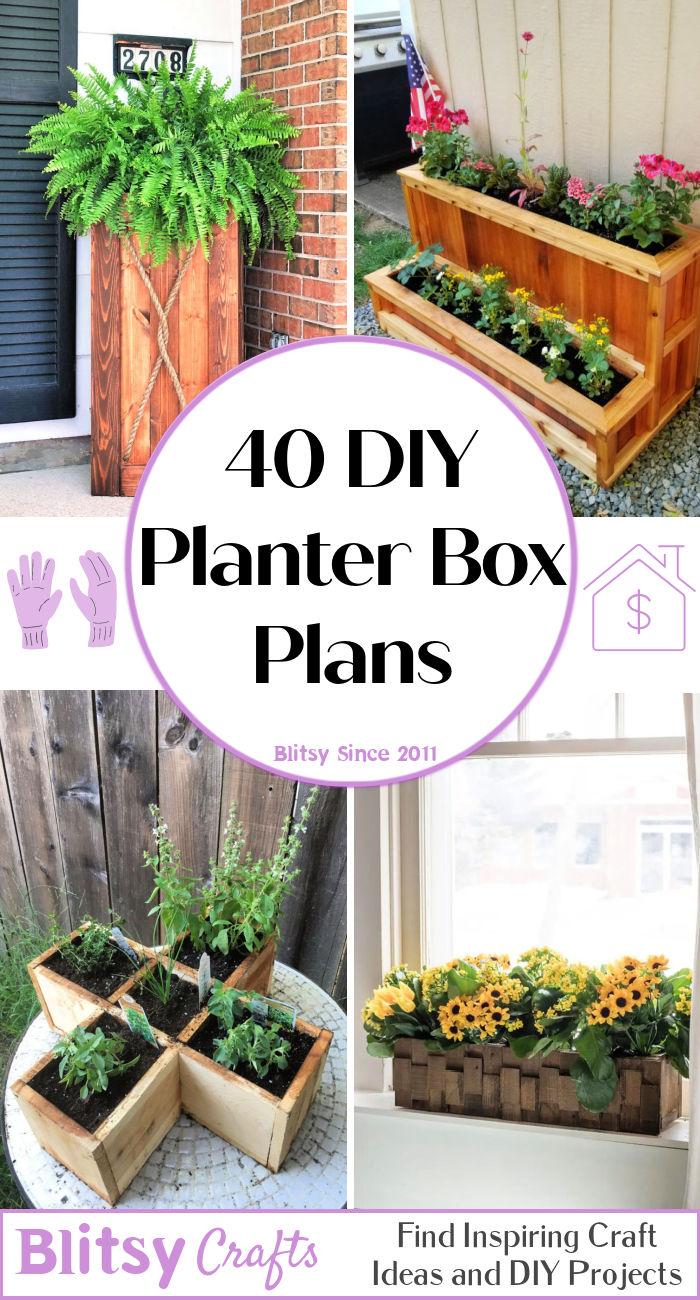 Amazing DIY planter box plans that are cheap and easy to build:
This article gives you a huge variety of DIY planter box plans that you can make and give your outdoor space a better and new look! it covers a wide range of planter boxes like modern cedar, address plaque, raised planter box, patio garden box, wooden planter box, Mario planter box, flowers planter, supersized ones, a simplistic one, window planter box, vegetable planter box, concrete planter box, porch planter box, a standing garden box and what not?
We have it all in these 40 unique planter box plans with step by step details! You just need to make sure that you have all the necessary supplies and tools with you to start working on these plans. Choose the one that fits your budget, space as well as comfort too! Let's start making these fun and exciting planter box plans today which is a nice family activity as well. Hence, without any further ado, shall we start looking at them?
1. Making House Number Planter Box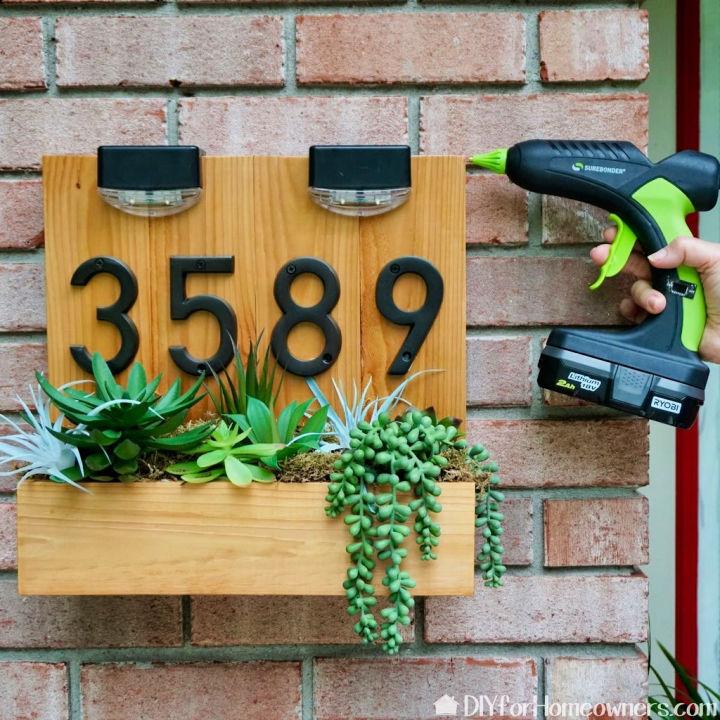 Looking for a gift for someone who has just moved into a new place? Don't worry; these DIY Planters will surely help you stand out among the rest. You will require cedarwood, a hot glue gun, house numbers, woodcutting and drill machine, nails, and some plants of your choice. instructables
DIY hanging planter: These 30 tutorials will help you transform clay, rope, wood slices, and even recyclables into functional, fabulous hanging planters.
2. Modern DIY Cedar Planter Box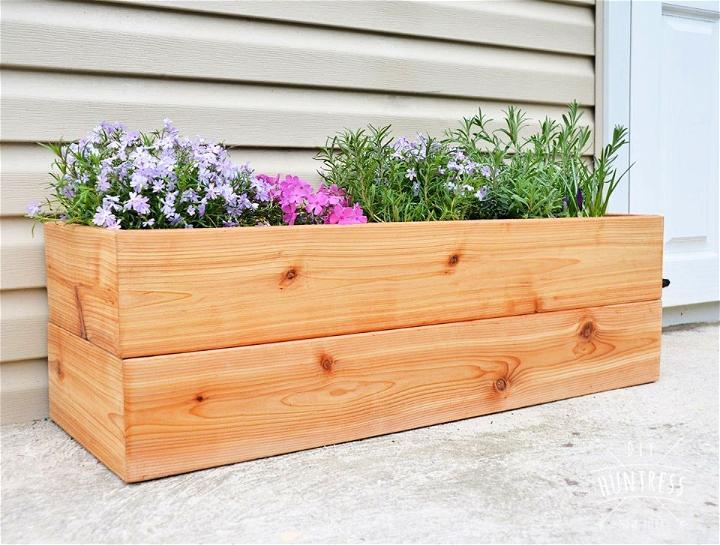 You're a plant lover but don't have much space? DIY Modern Cedar Planter is your ultimate solution. This idea is beautifully crafted to depict modern minimal use of space. All you need are some basic supplies including cedarwood, some beautiful leaves and flowers, wood glue, and a few nails to start working on this project easily. diyhuntress
3. DIY Address Plaque Planter Box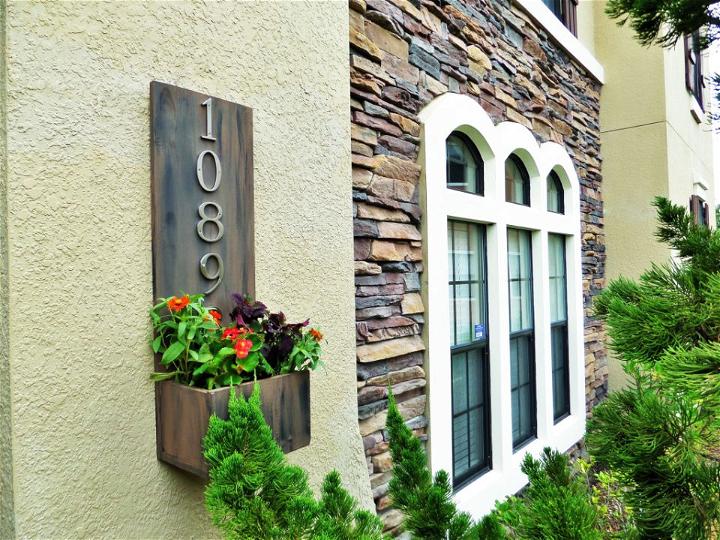 Are you interested in plants and also seek modern sophistication in the number plate of your house? We've got you covered with the idea of Address Planter Box. You need to have wood planks, preferably real flower pots (small ones), nails, wood glue, and a hammer. This surely will add a nice pop of colors to the exterior of your home giving it a fun look as well. bemyguestwithdenise
4. Modern DIY Planter Box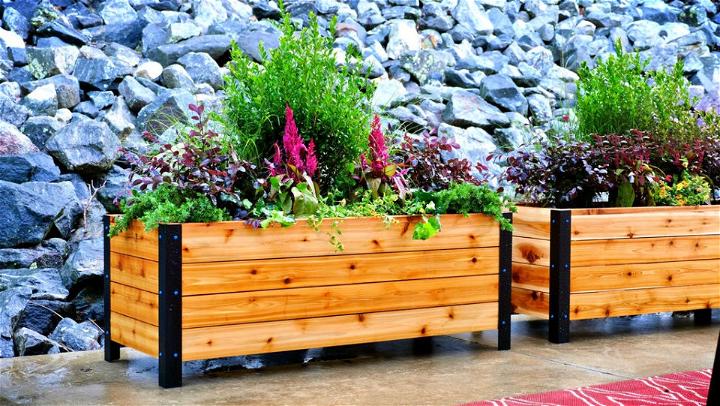 Do you want a long-lasting cedar and metal wood planter? It would be easy to make and what's wonderful about it is that it sustains a longer period and adds beauty to your decor. We need cedar wood blocks, nails and wood glue, pretty colorful flowers (could be any of your choices), screws, galvanized steel mesh, plastic drop cloth, and steel iron. instructables
Free greenhouse plans: If you're looking for simple DIY greenhouse plans to build one in your garden, read this guide of greenhouse plans! PDFs and Videos are included for free.
5. DIY 36-Inch Tall Planter Box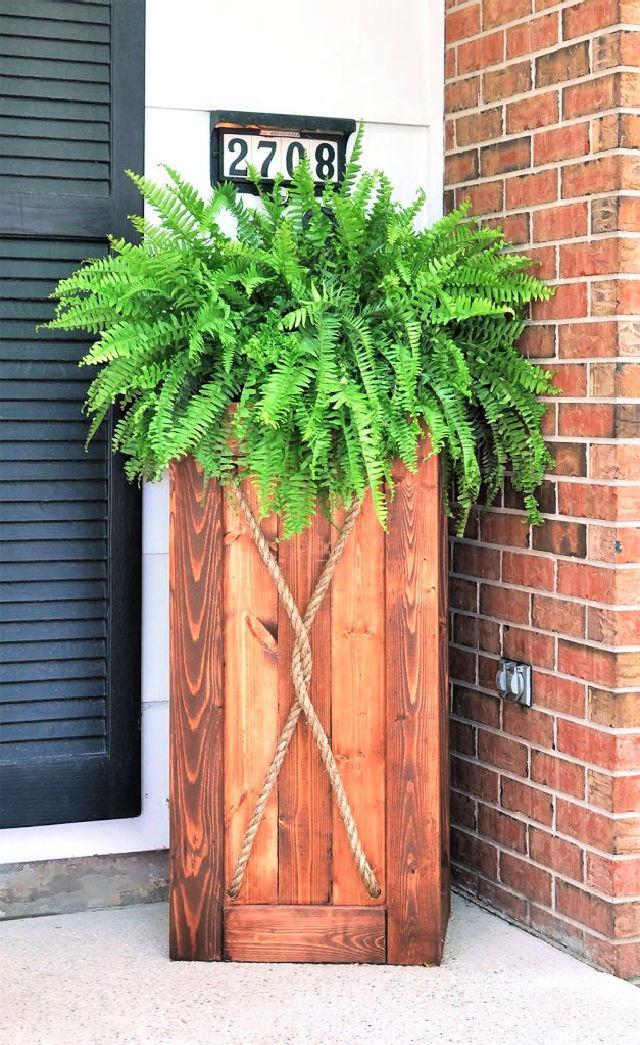 Looking for a unique idea for a DIY outdoor planter box? You can start in no time by making a DIY plant stand plan with your favorite plants as part of it. You will need the basic supplies and tools that consist of wood blocks, saw, hammer, nails, rainbow flowers, soil, clamps, and wood glue to start working on this plan immediately. cherishedbliss
6. DIY Planter Box Made With 2x4s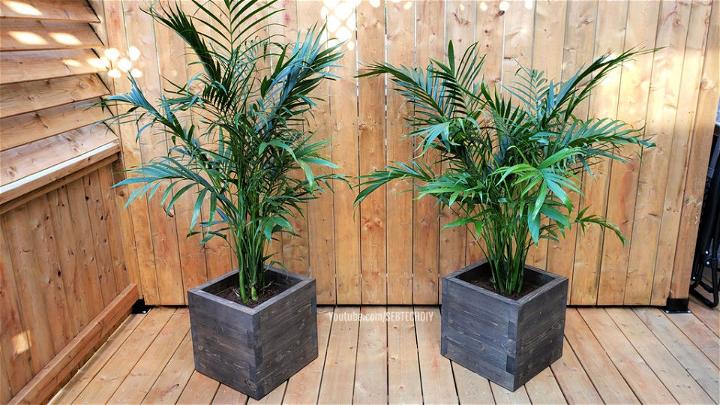 Would you like to have a planter box plan which doesn't take much of your space? We will tell you what you need to have: woodblocks, screwdriver, measuring machine, wood glue, drill machine, paint, plastic sheet, soil and mud, plants preferably large ones. instructables
7. DIY Raised Planter Box

Do you love gardening but find it difficult to lean down over your plants due to backache? We have an alternate idea of the raised garden box which you can easily place in your backyard with lots of seeds of a variety of vegetables. You will need cedar wood, wood glue, screws, drill, trim router, tape measure and saw. instructables
Flower bed designs: In this article, you will find a selection of unique flower bed ideas of various styles, as well as raised beds – including many ideas for upcycling.
8. Patio Garden Box Out of Pallets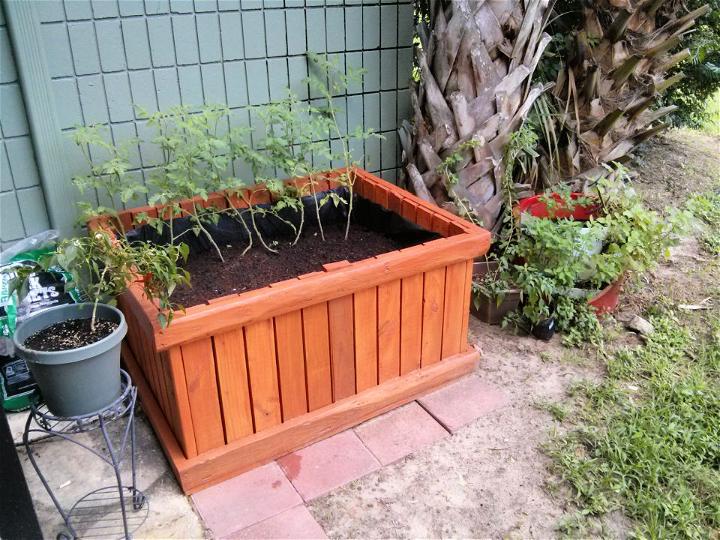 Another idea for a DIY planter box plan is making it with a pallet which is great and cherished by many due to aesthetical reasoning. You need wooden planks, nails and screws, paint and varnish, plastic sheet, mud and soil, and some plants. Viola~ it's ready! imgur
9. Wooden Flowers Planter Box Plans With Glass Jar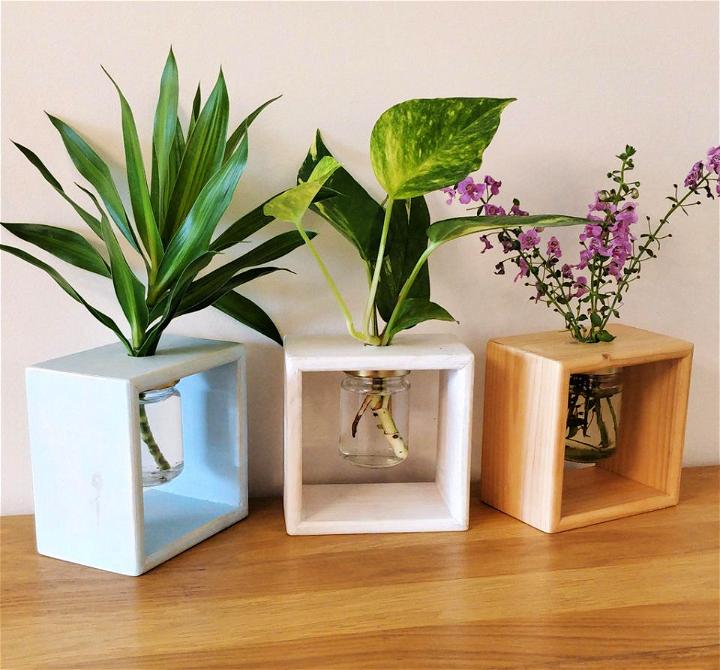 Do you have to go to a housewarming party? A flowerpot with a glass jar is just the best solution for you. It's lightweight, airy, and stands out among the rest of its lot. All you need is a mason jar, some fresh flowers or plants, soil, wooden blocks, nails and screws, varnish and paint, and you're done quickly. instructables
10. How To Build A Mario Planter Box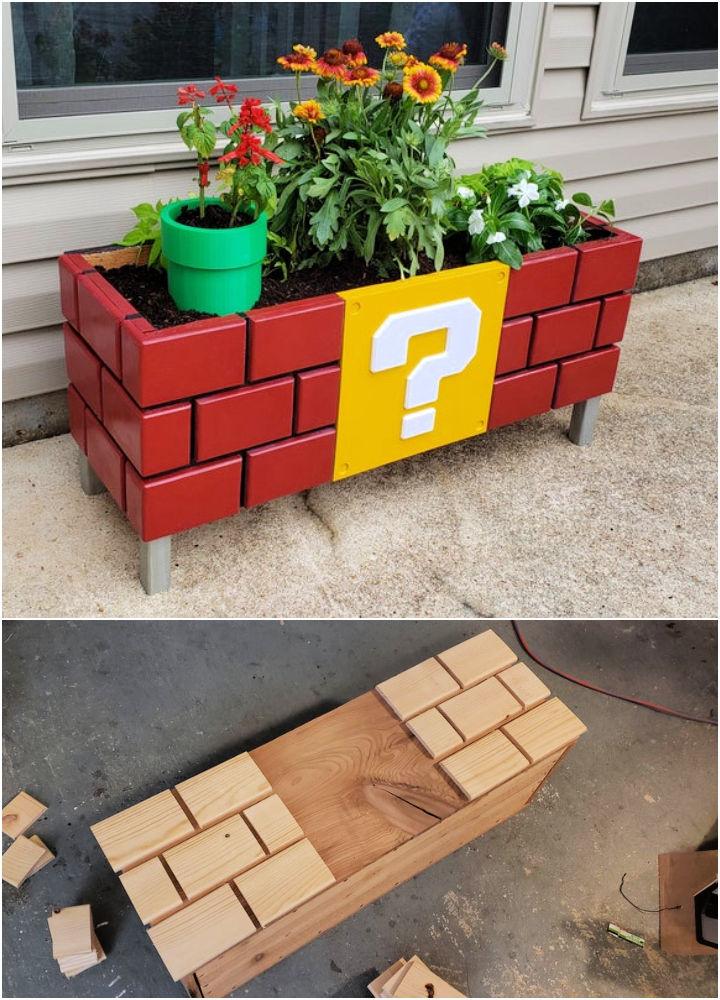 Anybody in your circle likes video games? Mario planter box plan is a special idea to gift your friend. It's lively and easy to make. All you need is red and green paint, a hammer, saw, mud and soil, plastic sheet, nails, and wood glue. This would stand out due to its shiny bright colors and would work as a sight for sore eyes. instructables
11. DIY Self Watering Vegetable Planter Box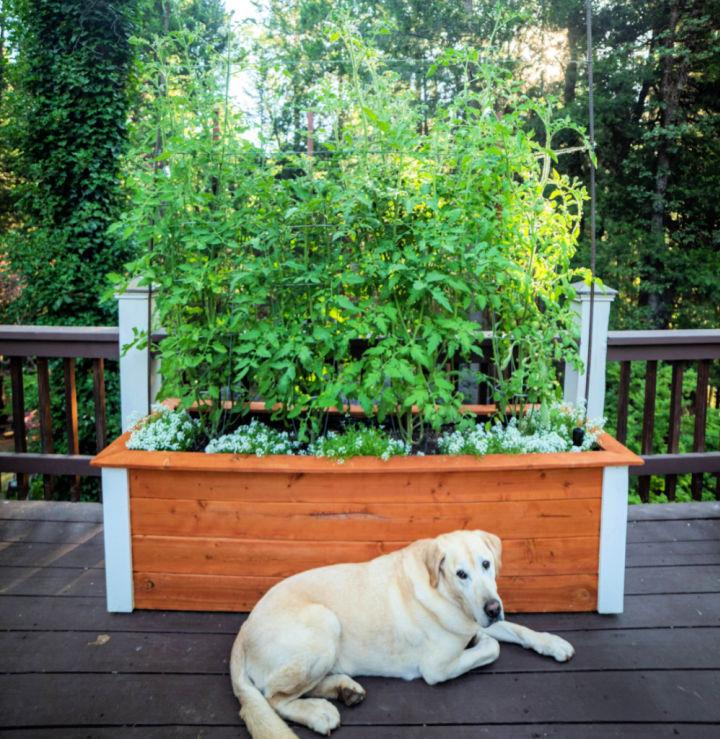 You love gardening but you dread going out in the garden to water the plants time and again? No worry, DIY Self watering vegetable planter box is your ultimate solution. You can make and keep as many to avoid any hassle of moving again and again. imgur
12. Reclaimed Wood Planter Box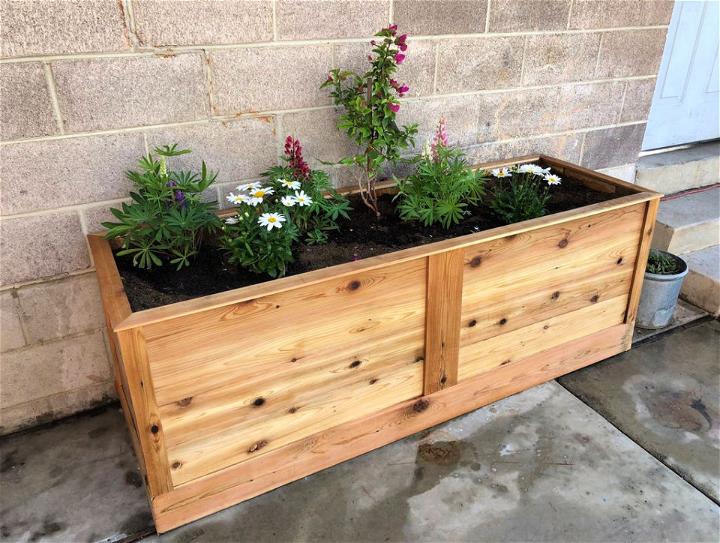 Do you like rusticity more than urban culture? Well, a reclaimed planter box is surely for you with minimum things required and a lot to show. You will require wood planks, varnish, steel nails, and screws, saw, plastic sheet, and your favorite plants, preferably colorful to add grace and rusticity to it. instructables
13. DIY Floating Planter Box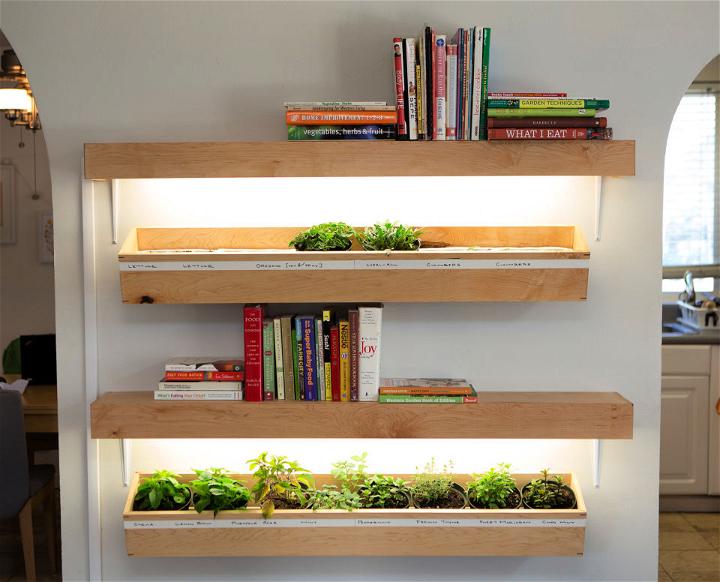 Do you want to plant herbs and seeds simultaneously together and are worried over little space? DIY Floating Planter box is something that would cater to your needs. All you need are the right tools and a variety of seeds that you could plant in one box and you are sorted! imgur
14. Building A Supersized Planter Box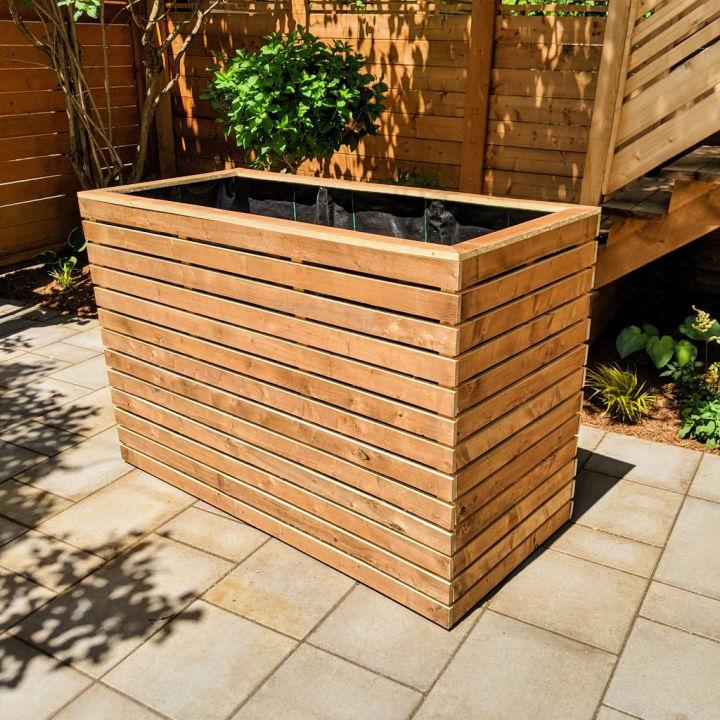 If you love gardening and want something modern in little space, DIY Supersized Planter Box is the right choice for you. It gives ample room for the roots to grow and require the normal things any planter box would need. You can varnish the outside to give it a modern touch. instructables
15. Build an Elevated Planter Box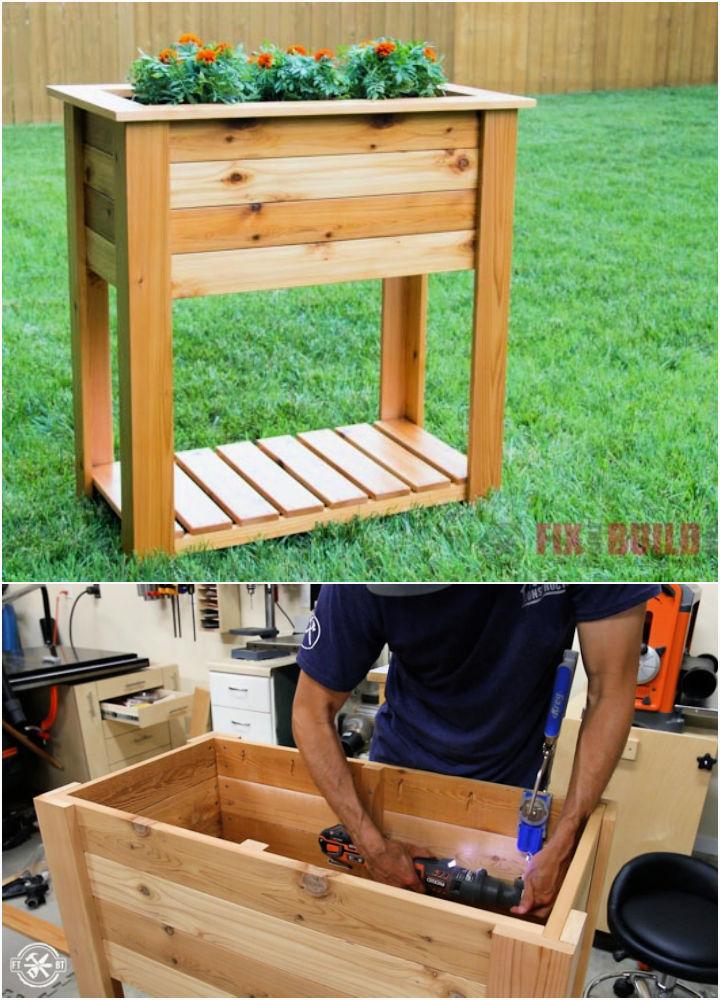 Your dad wants to have a planter box but cannot bend to take care of it? DIY Raised Planter Box plan is something your dad would love to own and flaunt as his own without worrying about bending down or not. You need to have wooden planks, varnish, soil, screws, and wood glue. Add your dad's favorite shrubs and plants to complete the look. fixthisbuildthat
16. Homemade Vertical Planter Box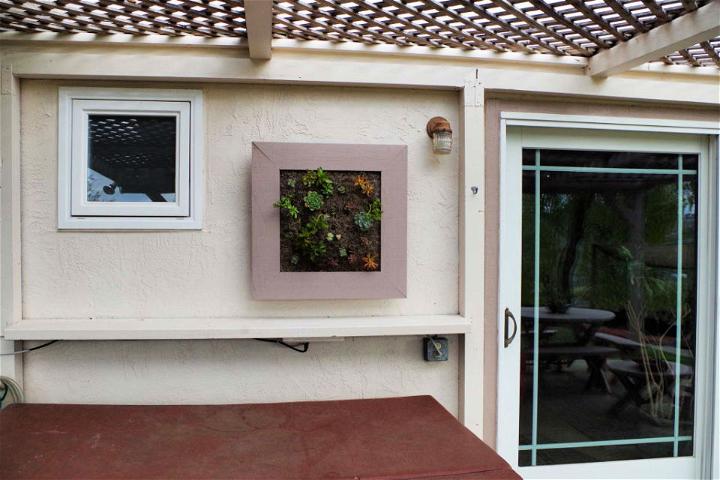 You want to have some greenery around but are scared of those tiny, little uninvited guests that creep into the house? DIY Vertical Planter Box plan is the ultimate solution to your problem. You can always splash water through a bottle which won't create much mess, subsequently control insect moving here and there. Gather all your supplies for this project and get ready to start working on it right away! instructables
17. Window Planter Box Plan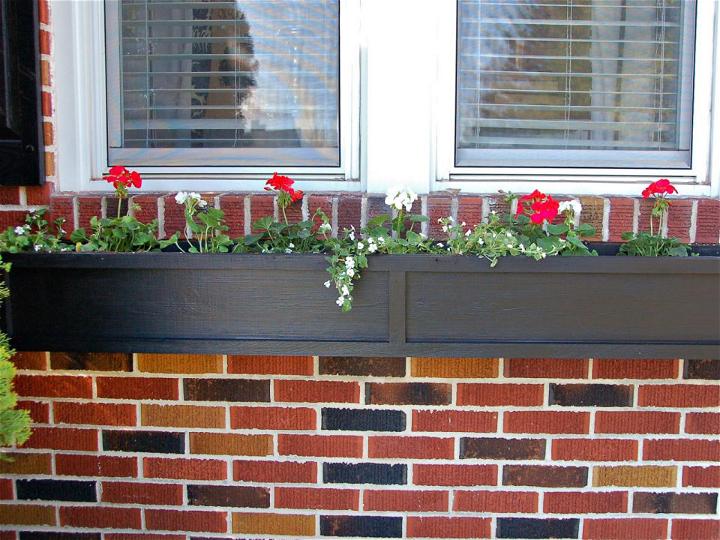 Do you like the idea of fancy balconies but cannot afford to have one? With a DIY window box, you are in a safe place. Imagine opening your window even on some 11th floor of your building and be able to smell fresh plants and flowers of your choice. So hurry and grab your tools and supplies for this fun-filled planter box plan to make. hgtv
18. DIY Cedar Planter Box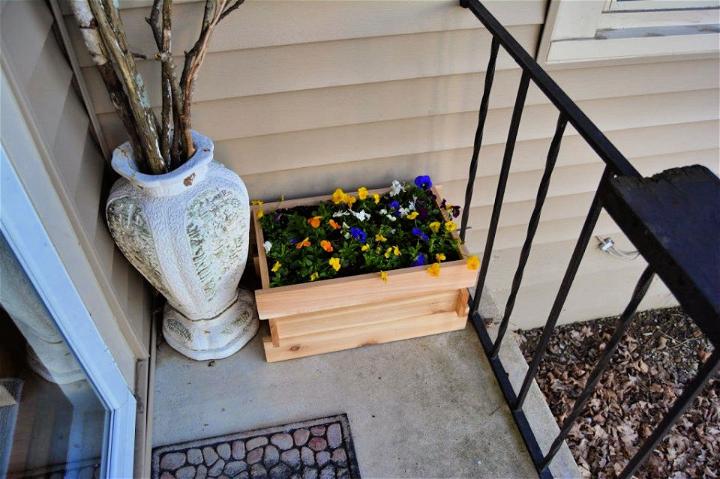 Are you a plant and art lover? DIY Cedar Planter Box is surely what you must turn for. It is way cheaper and different in styling than the regular planter boxes. You can have smaller sizes of wooden planks that could give an artistic effect to your otherwise mundane decoration. Don't forget to add some colorful and gorgeous flowers to add the cherry on top! instructables
19. DIY Vegetable Planter Box

Is there any gardening school project for your child coming up? DIY Planter Box Build is your ultimate solution. It is not only simple to make but you can involve children in the making process. To add a contemporary look, varnish a little and put in your favorite shrubs and plants or vegetables. It will be a perfect venture for a family over any weekend. vintagerevivals
20. Simple Rail Clamped Planter Box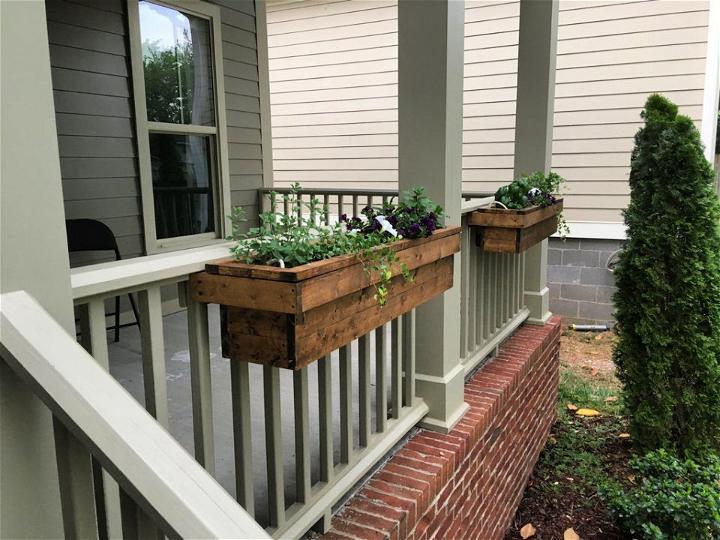 Do you want to renew your front space of the house? How about DIY Clamped Planter Box. The mellow tones of flowers in the clamped planter boxes would give a warm welcome to anybody showing up and adding extra decor to your home which might be much needed.instructables
21. Build A Trellis Planter Box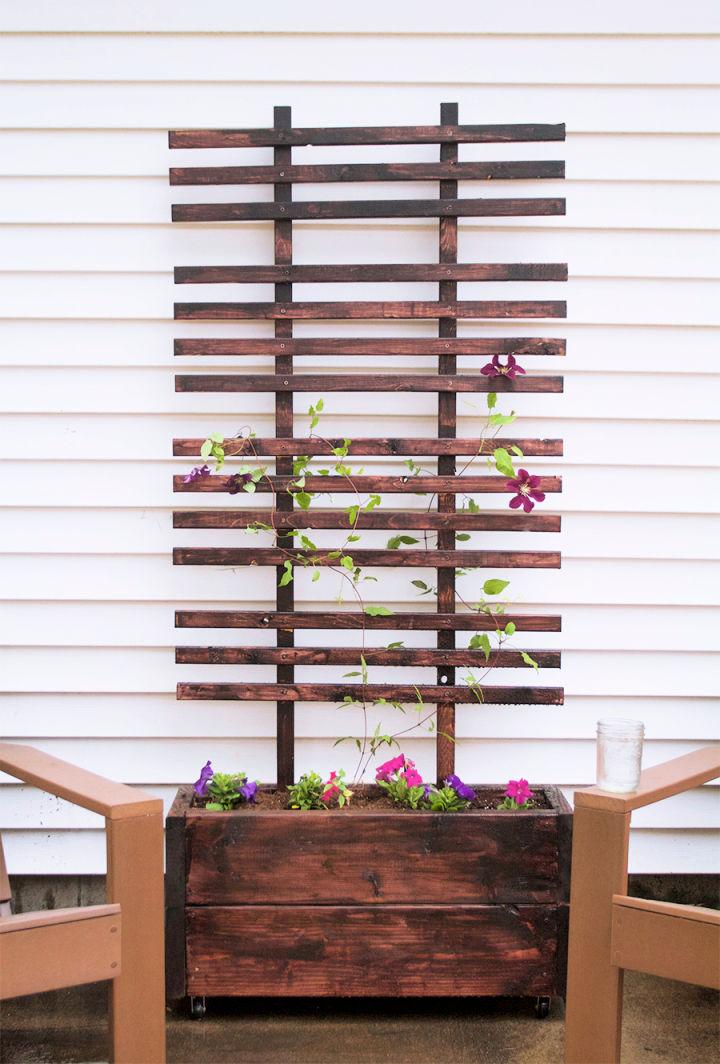 Have you moved to a new place and you have a solid backyard? Do you desire to soften it up while sipping coffee and your kids playing? Trellis Planter Box is what you must have! It requires less space and can be watered through a shower bottle to avoid any mess and hassle. Try making it up and who knows, your kids might want to paint it in queer yellow. deucecitieshen
22. Upside Down Planter Box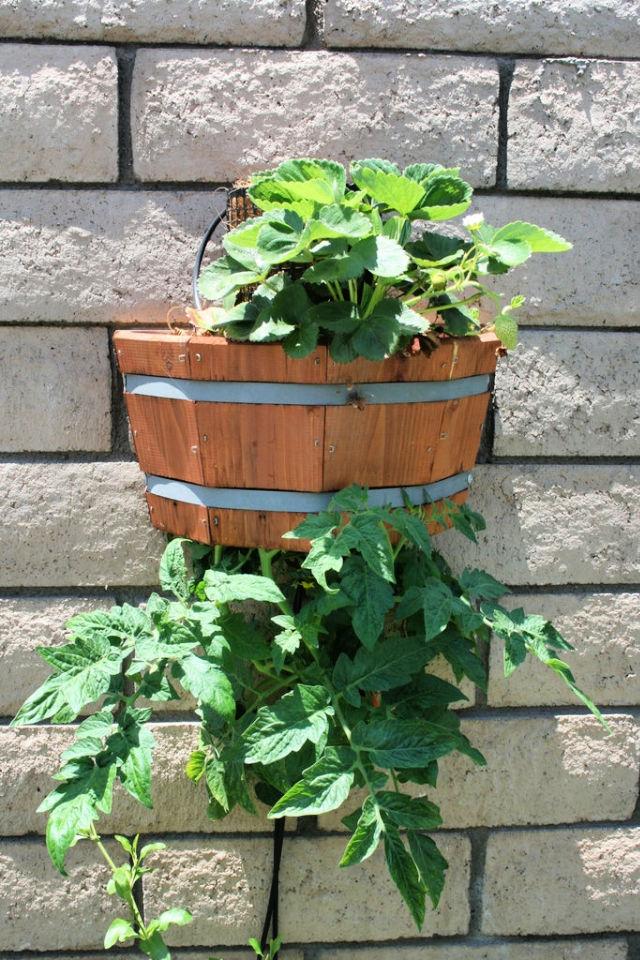 Are you a workaholic who wants to re-do their office but do not get ample time for it? This DIY attractive upside-down planter box plan is what you must really look for as it's handy, not much of a burden on your budget, and can change the look of a certain place completely. In the office, you can stick to a small mess with fewer shrubs that would purify the air yet stay there in all its delicacy. instructables
23. Cedar Planter Box Plan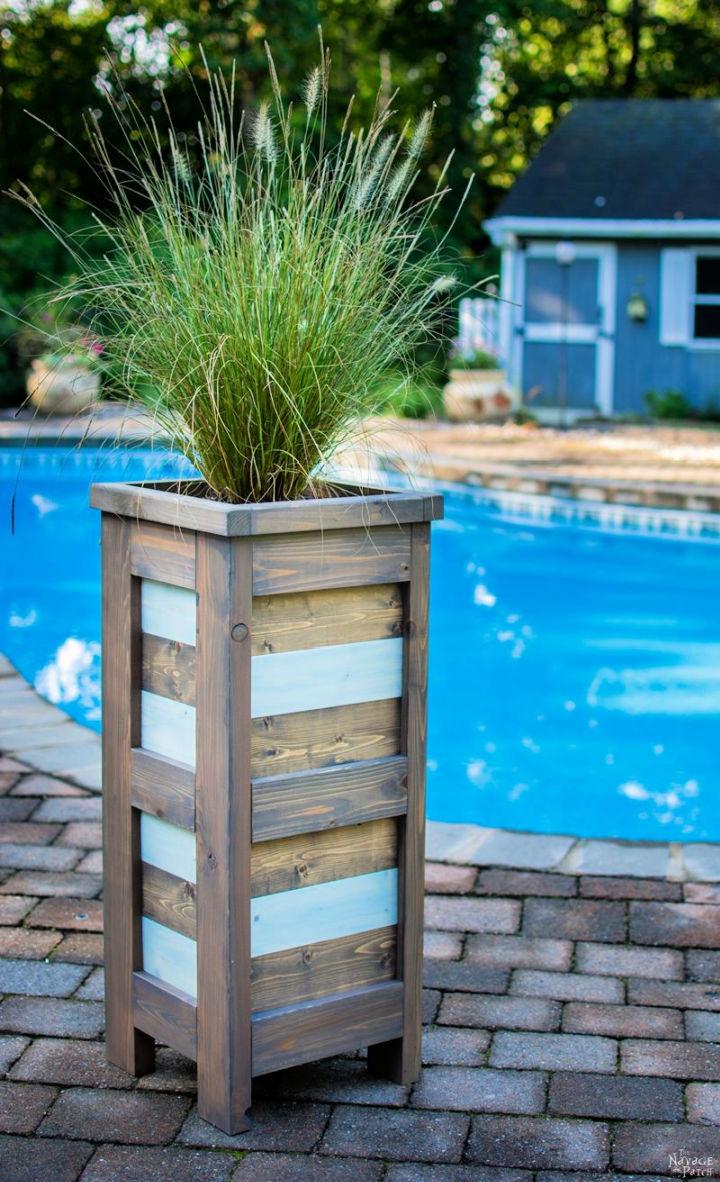 If you have postmodern aesthetics, you're sure the one who would love the idea of having or making a DIY cedar planter. It could be placed on your porch, on the sides of your door, or even at the beginning of your staircase. If small fairy lights are fixed inside, they would glow making everything else dim in the background. Make sure you have all the basic tools and supplies needed for this project to work on. thenavagepatch
24. Planter Boxes for Windows With Bars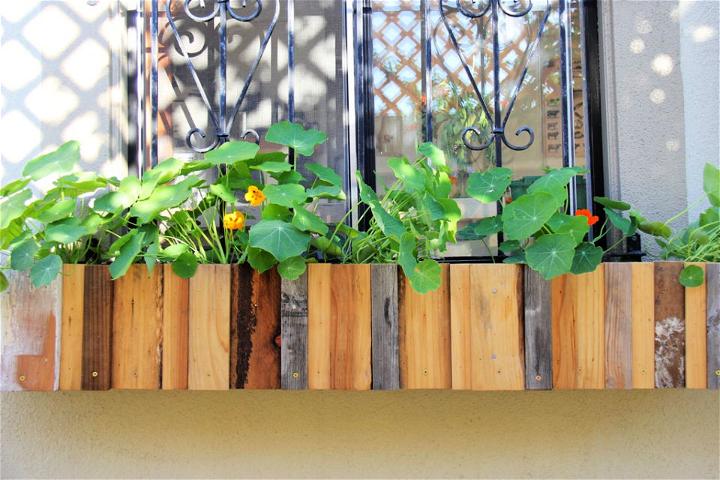 If you have any extra wood or logs and you have no idea what to do with them, we have a solution for you; Planter boxes for windows with bars. Just join them together with wood glue, varnish them and place them somewhere near or in front of your window. Add your favorite flowers and shrubs and you're ready to flaunt your creative idea. So, we hope you are ready to try out this place eagerly now! instructables
25. Pretty Wooden Planter Box

If you have recently moved into a house with large bathrooms or kitchens, you can easily make a pretty wooden planter to make the place so lively. You can even use scraps of wood and saw them to your desired size. Add fresh flowers of your liking and settle them down on the shelves or beside the mirror or where you deem right. Your bathroom/kitchen will have a unique decor. littleyellowwheel
26. How To Make A Concrete Planter Box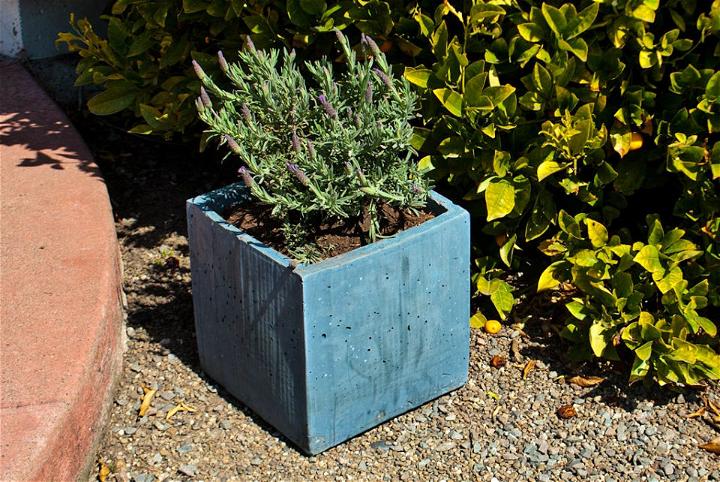 Do you have spare cardboard boxes and duct tape? We have a DIY for you that would add to the greenery to your home; it's called Concrete Planter Box. Duct tape will allow water to say inside the cardboard so that concrete takes shape of the square cardboard box. Add sunflowers for a merrier day. You may customize it a little more if you like to get creative and have fun. instructables
27. Porch Planter Bench Free Plan

Do you often get deliveries tucked in your porch without you being home? Do you like it showing to people passing by? Well if your answer is NO, then your solution lies in this DIY Porch Planter Bench plan. It gives a nice and curb appeal to your tiny porch and seems welcoming to your family and friends or any guests that visit your place. 100things2do
28. Planter Box From Pallets

Is there any scrap of wood lying around your house and you want to put it to use? Planter box from pallets is your way back home; all you need are the common tools and varnish the color of your choice to accentuate the idea of this DIY planter box. Add all the bright colored flowers and enjoy the super cool look at any time you want! instructables
29. DIY Wooden Flower Box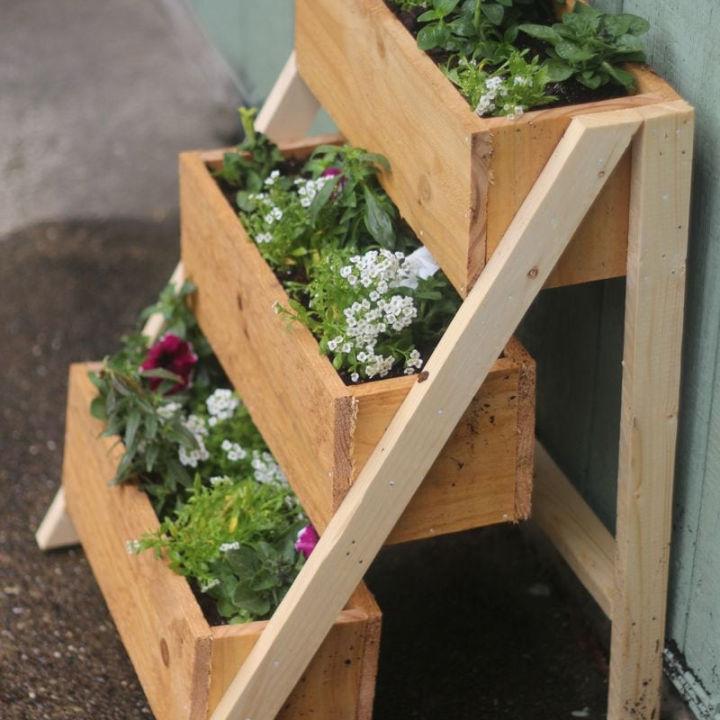 When you don't feel the need to use hooks and nails and still want some flower decoration outside your home, a DIY cedar planter box is the thing for you. You can not only save a lot of money by using things from home, but by adding green and color to it, you can re-decorate any part of your house without making any mess. Make sure you have all the supplies with you before you start working on the planter box plan. homebyjenn
30. Sub-Irrigation Planter Box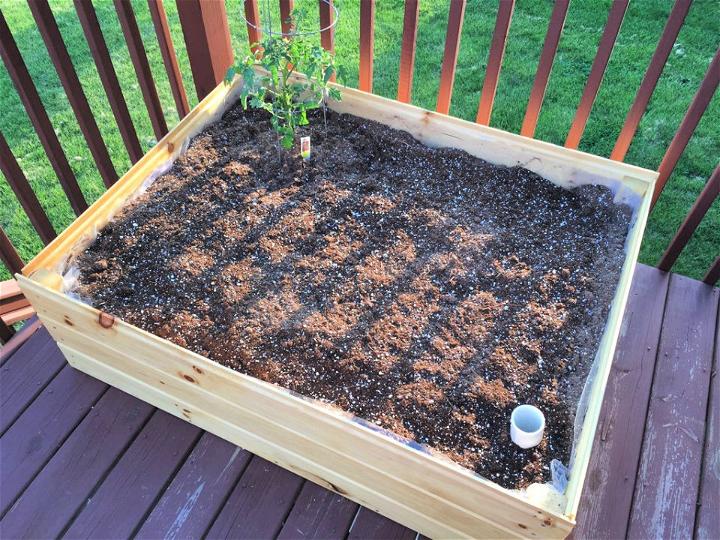 Are you searching for cheap methods to plant your vegetables in your house? Maybe on the deck? Then look no more, these DIY sub-irrigation planter boxes will surely come in handy. Not only can you plant your favorite plants and vegetables and also use and follow the organic food cycle which benefits all and sundry in the long run. Assemble all the supplies needed for the project and get going already! instructables
31. Waist High Planter Box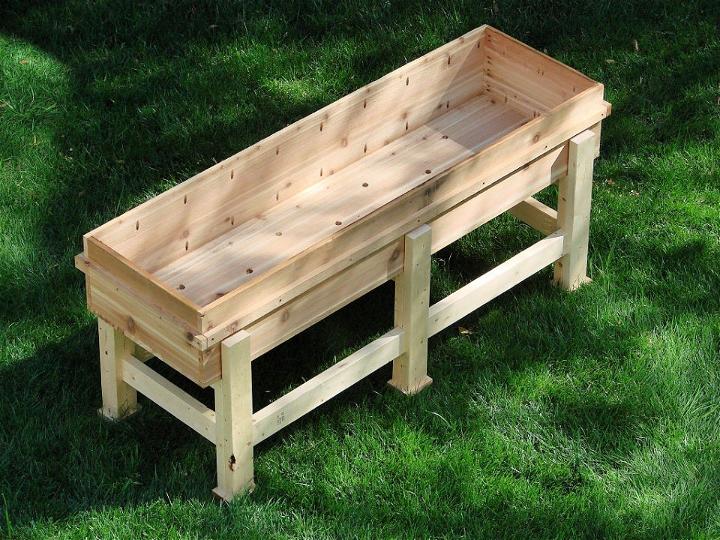 People are moving towards a more organic way of life and somebody who likes gardening can surely give a shot to the DIY high waist planter box. Many people these days feel weak in their backs and can't bend to take care of their beloved organic fruits and vegetables. This particular DIY would let them stand and water and use their products in everyday meals to taste the healthy wholeness of the homegrown environment. instructables
32. Cedar Planter Box Using A Snap Together Frame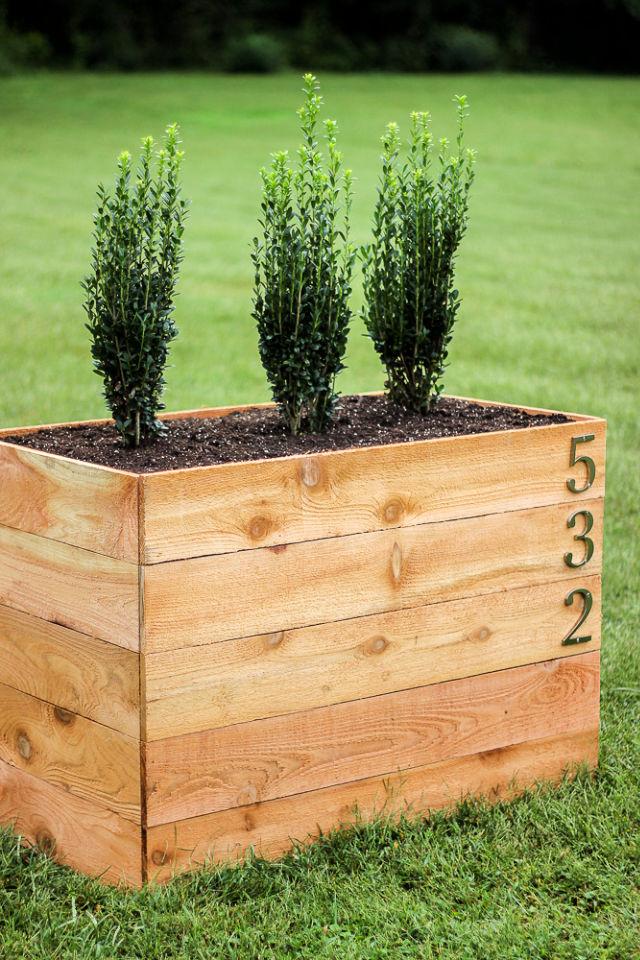 People tend to get bored of basic flower pots in their gardens. DIY cedar planter box using a snap-together frame is an answer to all monotonous queries out there. It adds liveliness and vitality to your garden with a new concept of gardening and it also appeals to the masses due to its modern rusticity. Moreover, you must gather all your essential supplies and tools to start making this plan already. rainonatinroof
33. Rustic Fence Board Planter Box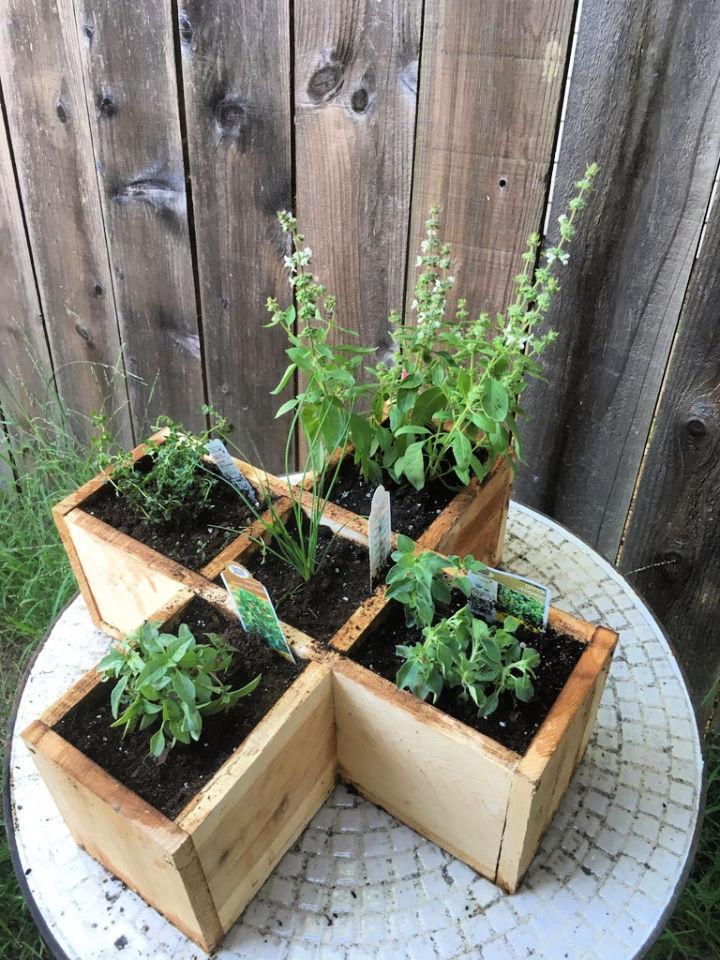 Organic growing is the top-notch niche in the postmodern world and people tend to grow a variety of herbs at home. If you are one such gardener, then DIY rustic fence board planter box is for you. All basic things that you might have at home can be put to use with 4 -5 different herbs of your choice that can be grown in here separately. It is a dream that comes true for people who love homegrown herbs and spices. instructables
34. How To Build A Wooden Flower Box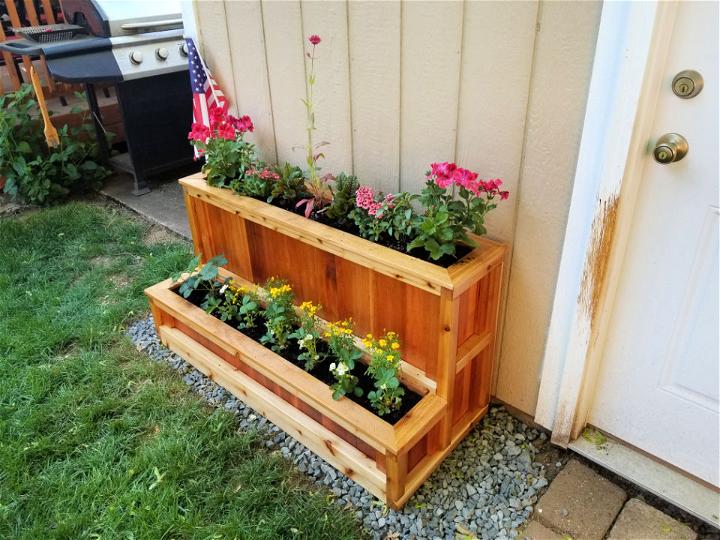 Another contemporary idea for gardening is a DIY wooden planter box. It breaks away the monotony of regular to-do gardening decorative ideas; instead gives a refreshing look where it can be assembled and put with lots of colorful flowers and fresh fragrances. Just assemble all of your essential tools and supplies for the project and start working on it as well. imgur
35. How To Build A Garden Box On Legs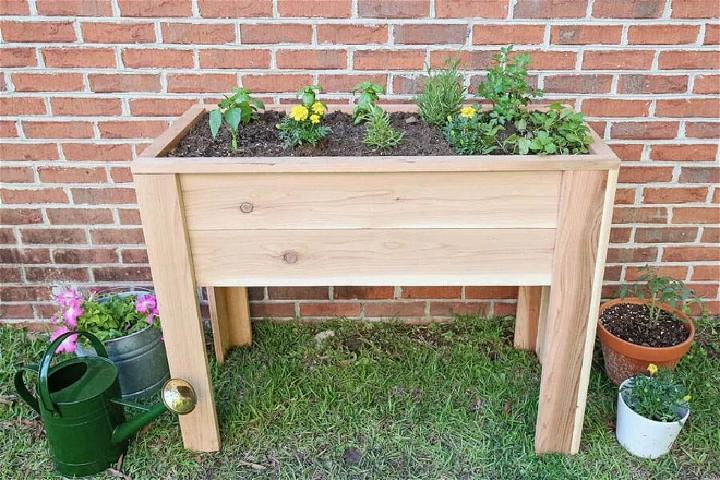 When we don't have large garden beds, we don't need to fret or get anxious. All we need to do is DIY Raised Garden bed with legs. It contains a lot of space to add herbs and fruits to make it last a long time and easier to handle on regular basis. Moreover, you must gather all of the supplies and tools for your plan and are ready to give it a go! angelamarie
36. Patio Garden Box Out of Pallets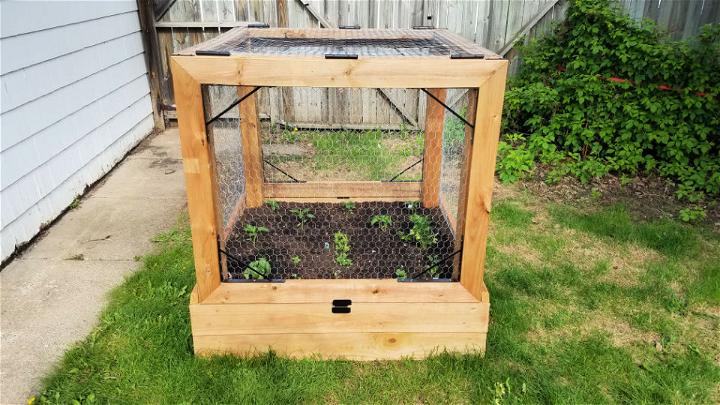 To avoid squirrels, rabbits, and raccoons destroying your hard-earned task of gardening, DIY critter-proof planter box proves to be handy. You can wrap a plastic sheet around it to save the planter from scurrying little animals and keep it out of reach from them. So, ready to try it out already? Keep all essential supplies with you and get going in another minute! imgur
37. Deck Railing Planter Box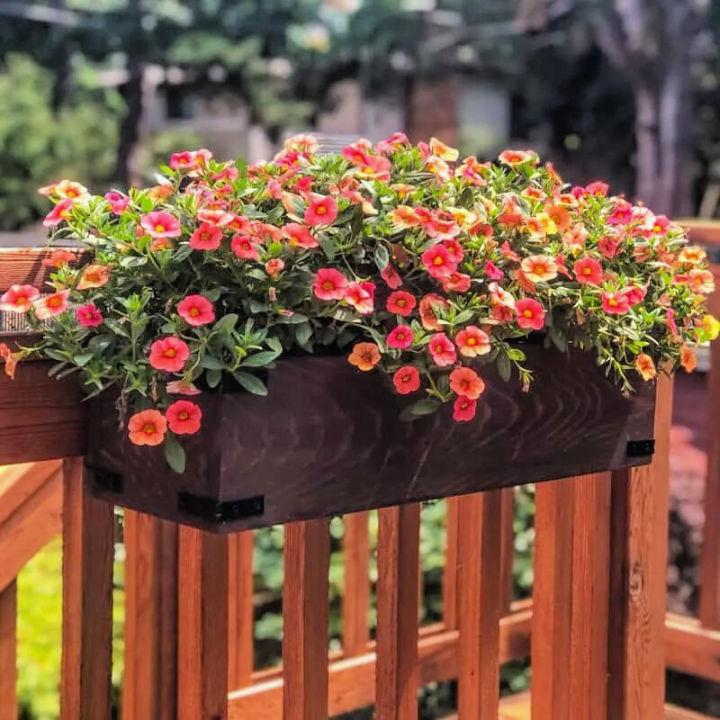 Outdoor all occupied by your furniture but still looking to get hold of some gardening ideas? these DIY planter box plans for your deck and balcony provide you with the chance of living up to your idea for beautiful railing decorations through fragrant herbs and flowers. Make sure to have all the supplies for the project with you which you can get at cheaper rates. thehandymans
38. Above Ground Planter Box Plans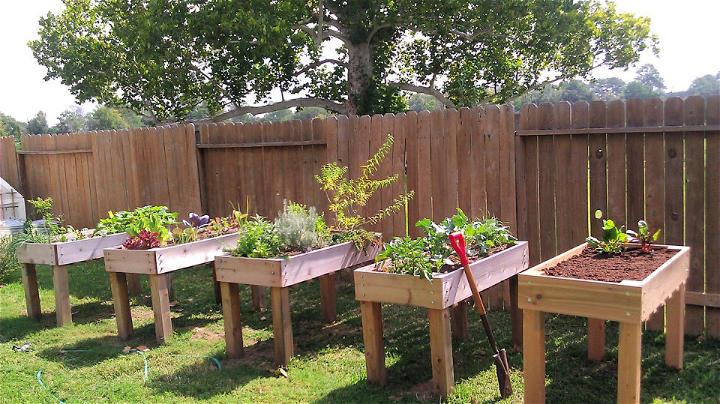 If you are looking for something to gift your grandmother who misses out on her farm life, DIY above-ground planter box plans will surely be something you would want to lay your eyes on. Your grandmother could rekindle her gardening spark if you gift this to her and she may take care of it without hurting herself through bending or stooping down. ana white
39. How to Build Standing Garden Box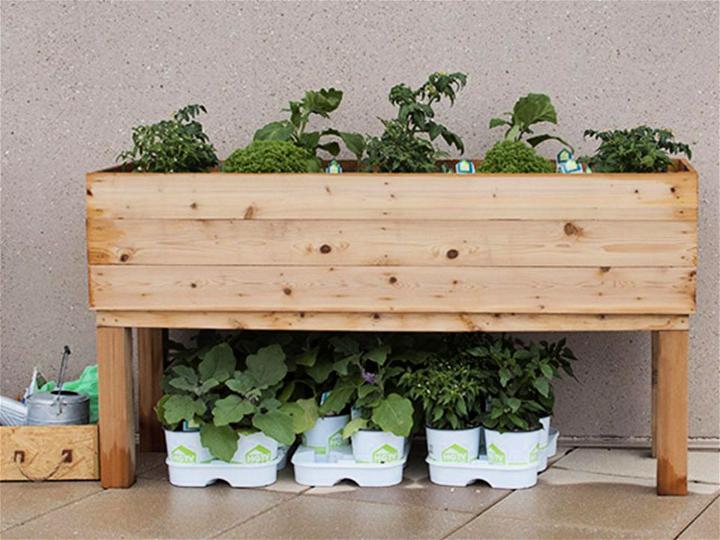 Another idea for a DIY planter box is a standing planter box which can be a home to many plants and vegetables. It can stay indoors or outdoors, depending upon the seeds sown inside the soil. It is another breakthrough idea for planter boxes. Collect all materials needed to make this project and start working on it now! diynetwork
40. Indoor Planter Box Using Leftover Scrap Wood

Last but not least, if you have a lot of scrap wood at your place just lying around all over, or if someone is even willing to lend it to you, making an indoor DIY planter box plan using scrap wood is a must! It not only utilizes your leftover resources but also caters and satiates your thirst for gardening different flowers, herbs, and vegetables! Just gather all the necessary supplies and tools for this project and get going! theaccentpiece
Conclusion:
So, we hope that you have been inspired a lot today to make DIY planter box plans at home for your outdoor space. These affordable and attractive DIY planter box plans are super easy to make and do not require much time as well. They instantly add a style and fresh look to your space. If you are looking for something to decorate your outdoor area with something beautiful and refreshing but at cheaper rates, then these free planter box plans are a must-try for you all.
The most important thing is that you need to choose the perfect DIY planter box plan for your space that will complement your house as well. Are you planning to earn money from this skill of yours? Make DIY planter boxes and start selling them at profitable rates so people can benefit from your work and you can also utilize your potential for the best. Get everything ready and let's start!