Are you looking for easy and cost-effective DIY planter ideas to revamp your garden and plant? Then you should definitely look at these 25 amazing DIY concrete planters for inspiration that are easy to make. If you're someone who loves plants and like to grow them on your own, then you should also try making planters by yourself too. It is not only reasonable but also a quite fun activity to do in your free time. Moreover, the diy concrete planter plans give you more space to be creative and make things according to your preference as well isn't it the best thing? These diy cement planters are quite durable and last a long time too. It's always better to make such small and creative garden projects by yourself. These kinds of DIY projects also enable you to spend some quality fun time with friends and family.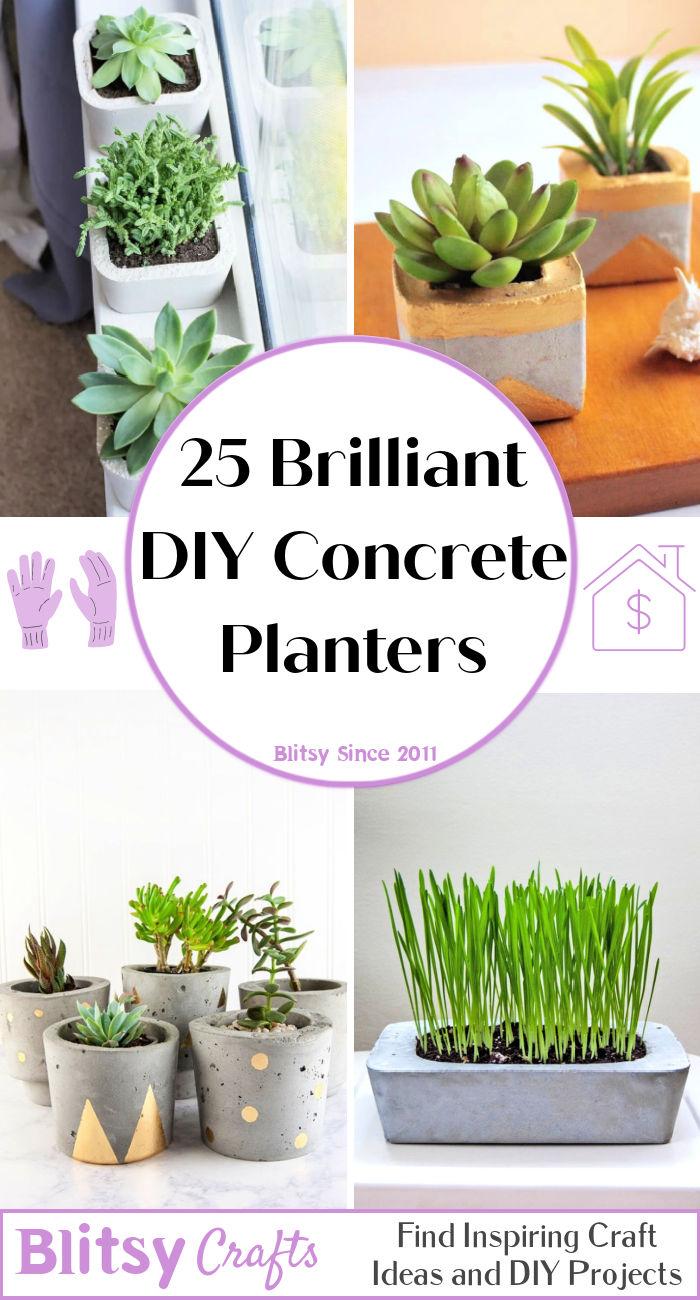 In this article, we have compiled 25 possible ways to make DIY concrete planters. If you're looking to give your plants a new look but are tight on budget, then these diy cement planters will work perfectly for you. The most beautiful diy cement planters are the ones that are detailed and carefully curated with creativity. These diy cement planters come in various designs and sizes, so you can go through all of the plans to look for your favorite ones. You can customize your plans by painting them with your favorite colors, which can also decorate indoor space.
You will find all the necessary tools and supplies your need with each of the mentioned diy cement planters. All you have to do, choose the plan that suits you, your comfort, your space, and your budget the best. So let's get started with these diy concrete planters today and have fun!
1. How To Make Geometric Concrete Planter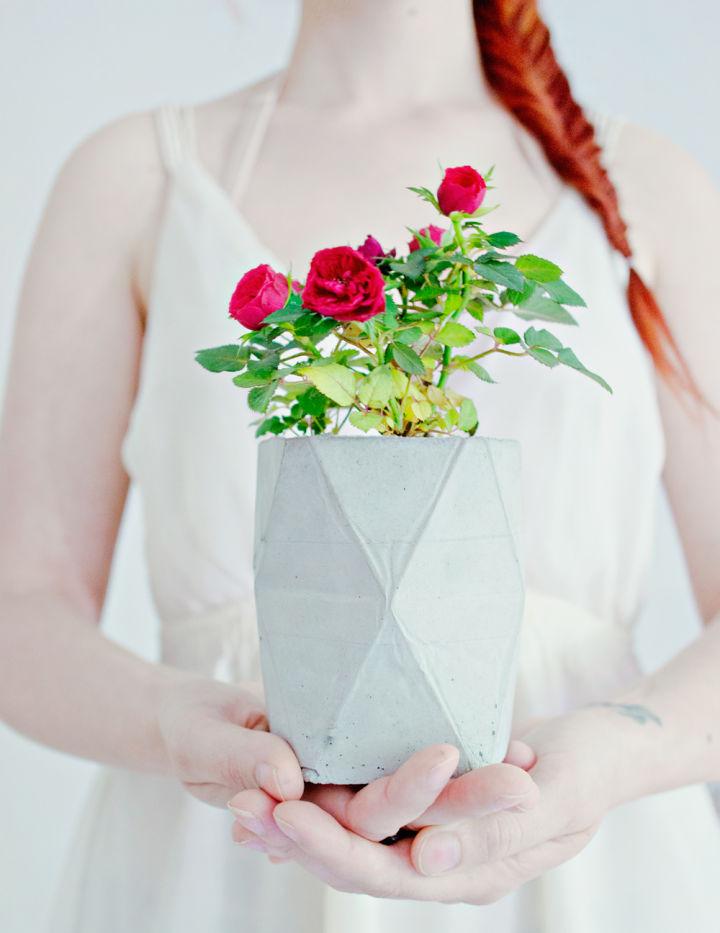 Are you someone who is obsessed with home decor and is always looking for new and creative ideas to add to your house? Then we know that you will absolutely love this DIY geometric concrete planner. Plants give a space that detailed touch without being too prominent. Combine that green with some girly colors, and it will certainly look exquisite. There are so many different flowers that you could add to this beautiful DIY flower planter. You should definitely go for the gorgeous red roses. You will need concrete, a bucket, water, cardboard, scissors, tape, ruler, measuring tape, pencil, and a plant. lanaredstudio
DIY plant stand: Add some style to any place with one of these free DIY plant stands. They can be made in just an hour or so and is a great project for indoor and outdoor.
2. DIY Concrete Succulent Planters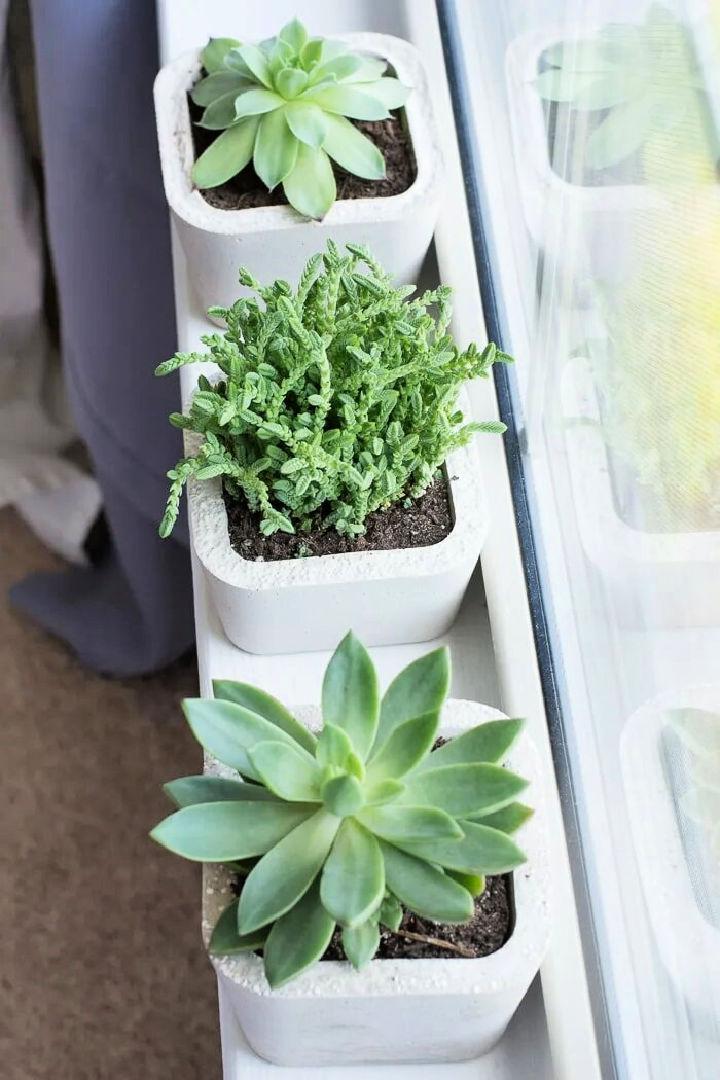 If you have fallen in love with one houseplant, the chances are that your collection is rapidly growing, and you require more DIY planters. This DIY concrete planter is small and manageable. Plant some beautiful flowers of your choice and place them on the side table of your bedroom; it is an undeniable fact that plants add freshness to the atmosphere. The supplies you need to create this planter are mixed concrete, plastic mold, coconut or any kitchen oil, a mixing bowl, measuring cups, water, and a mixing spoon. bybrittanygold
Build a greenhouse: Upgrade your gardening and farming hobbies by growing the plants in the DIY greenhouse. It will help you to harvest a good quality of vegetables.
3. Making Gold Concrete Succulent Planters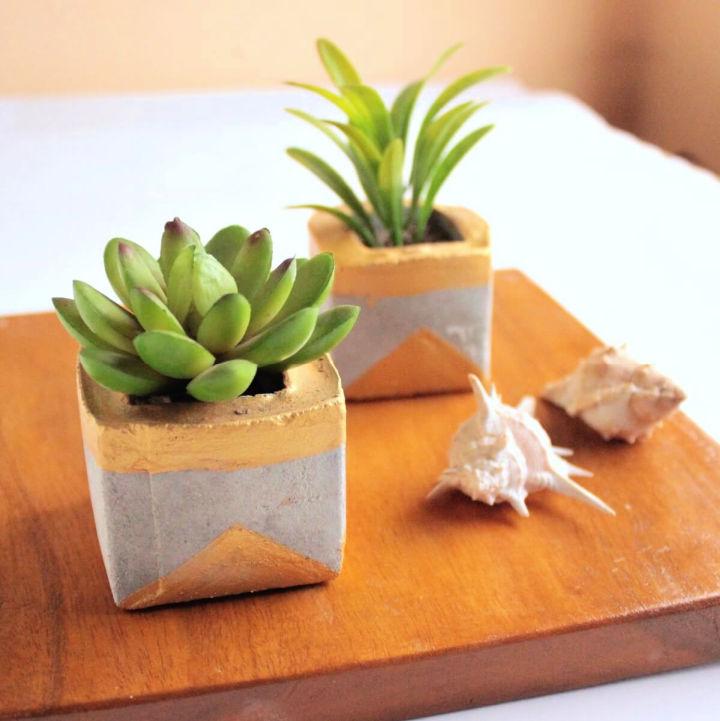 Are you someone known for your green thumb? Well, not literally, we mean your love for plants! Then this plan is the one for you! This DIY concrete planter adds a flattering and sophisticated touch to your home decor and brings greenery and freshness into your house. The golden touch of this planter will add a beautiful element to your living room, especially if the theme is towards colors like white or charcoal. We literally live for these color contrasts! The supplies which you are going to be needing are dry cement, sand, small cardboard boxes, a plastic bucket, a wooden stick or large paint stick to mix cement, scissors, adhesive tape, and gold acrylic paint along with a brush. thesoccermom
4. DIY Cement Planter Using Old Towel or Cloth

Decorative planters add an alluring element to any indoor or outdoor space. Add a personalized touch to your house by creating your own DIY concrete planter and using your love for plants in a more creative way. You can place this planter in your window or your bedroom along with some scented candles. You can also add money plants in your planter and keep watering it to add further freshness. The best part about this planter is that you do not have to use the typical raw materials but any old cloth towel you will easily find at home; therefore, another plus point is that the planter is super pocket friendly. The supplies which you need to make this planter are concrete, a towel, water and a pair of gloves. homecrux
5. Cheap DIY Cement Planters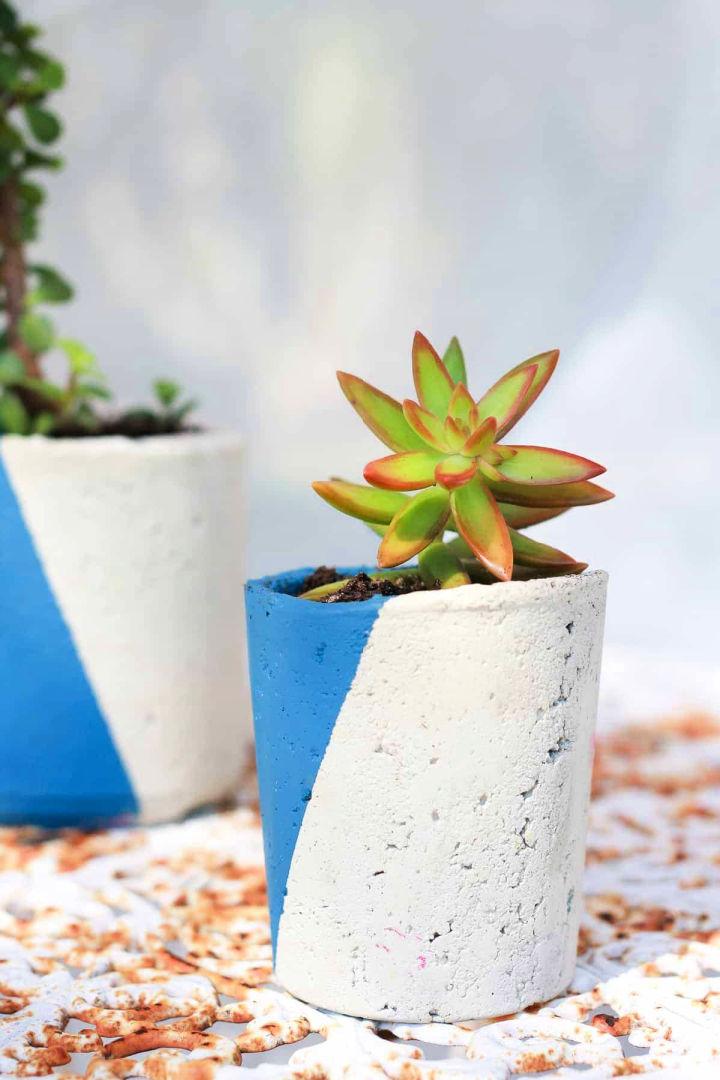 Are you tired of the typical average plastic planters, which look quite dull and sometimes even ruin the theme of your pretty living room? Then unleash your inner artist and showcase your talents by making your own DIY concrete planter which you can customize in whatever way that you like, so why spend money on boring planters when you can make your own at home! This planter is going to add a whole new wave of awesomeness to your garden or living room. Plus, you can make as many planters as you want, all with different plants and colors. You can use chalk paint as it gives a cute artsy look. All you need to make this planter is a concrete planter in cement, water, plastic container, paintbrush, paint, cooking oil, plastic gloves, stick, painter's tape, and small rocks. jennakateathome
6. Make Large Concrete Planters At Home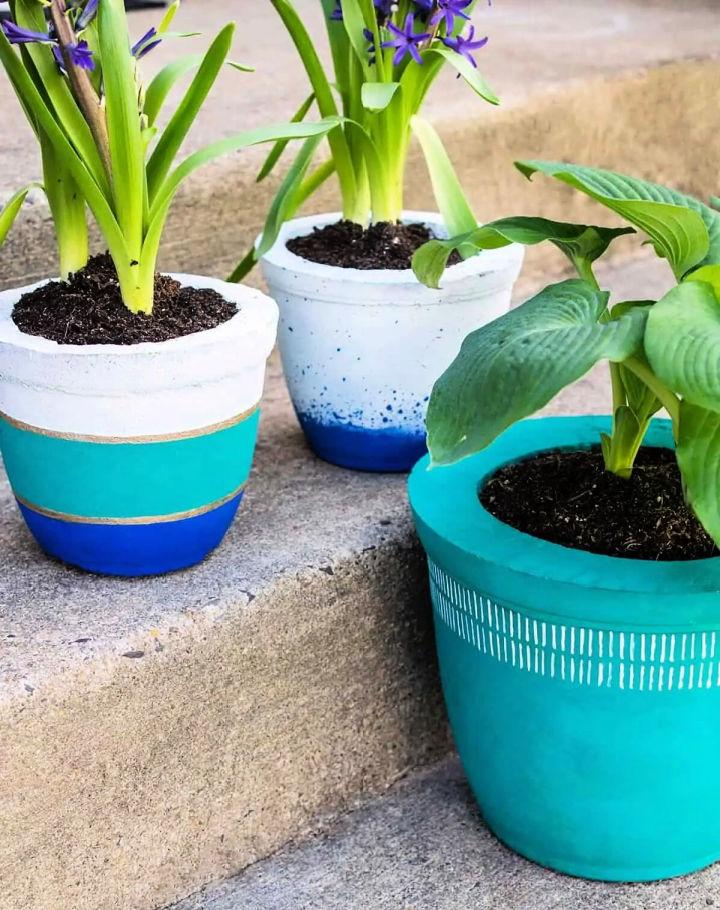 Do you look at the empty spaces and corners in your house and think of filling them up with big fancy planters? Well, you've got a taste, but have you seen the prices of big planters these days? Outrageous! You do not have to worry because we have the perfect DIY concrete planter for you, which is super easy to make, and you can fill up all those empty corners in your house. You can also customize and decorate it according to your taste and keep it on the front door of your house. Ready to get started? All you will be needing is a concrete mix, containers, a towel or hand shovel, a container, and a concrete mold. cravingsomecreativity
7. Concrete Planter With Wood Feet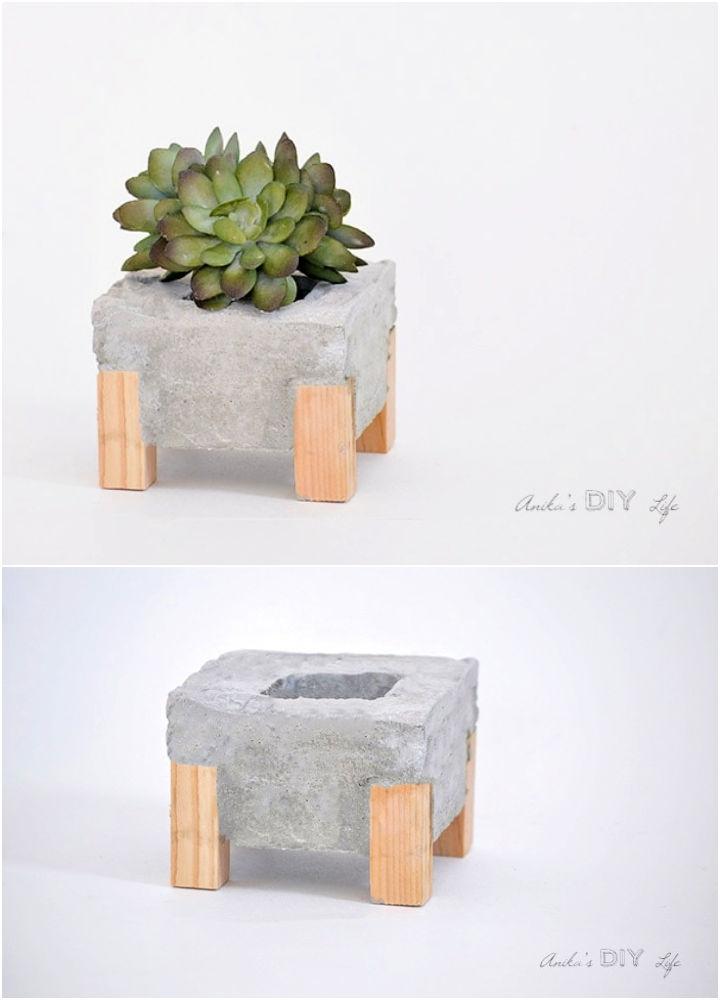 If you love buying different and unique planters, this DIY concrete planter with wooden feet will upgrade your collection to a whole next level. You can place it in your garden, and it will get all the visitors and neighbors wondering where you bought it from. You can also keep it on your vanity table, as a little green always looks good and gives out fresh vibes. The wooden feet are an unexpected twist and will surely look amazing whether you place them indoors out outdoors. The supplies which you will need to work on this DIY are a dowel, miter saw, or hand saw, fast-setting concrete, a box, X-acto knife, cooking spray, and medium-grit sandpaper. anikasdiylife
8. DIY Painted Concrete Planters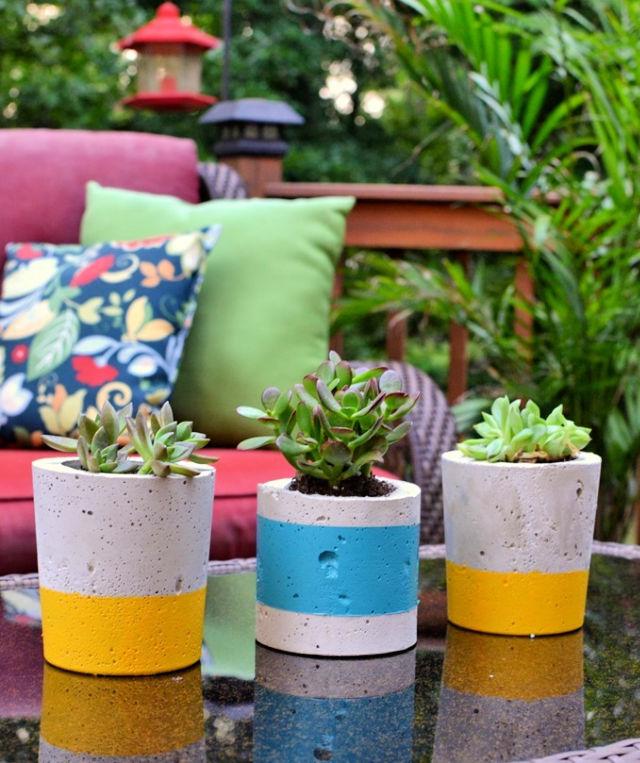 Do you spend most of your day scrolling through Pinterest and looking at cute home decor planters, but you keep wondering where to buy them from? We have a solution, and you do not have to spend lots of money on small planters. We know by now you are curious, so we'll break it for you! Now, you can make a planter on your own! This DIY concrete planter is the perfect home decor element that you have to add to your house. Paint it with funky colors and contrast it with the color theme of your garden. You can even keep these in your kitchen window, and the greenery is undoubtedly a cool wave of freshness. The supplies you will need for this DIY are paint, brushes, cement, water, cooking oil, plastic cups as molds, a bucket, and a wooden stick. thefrugalhome
9. Modular Geometric Concrete Planter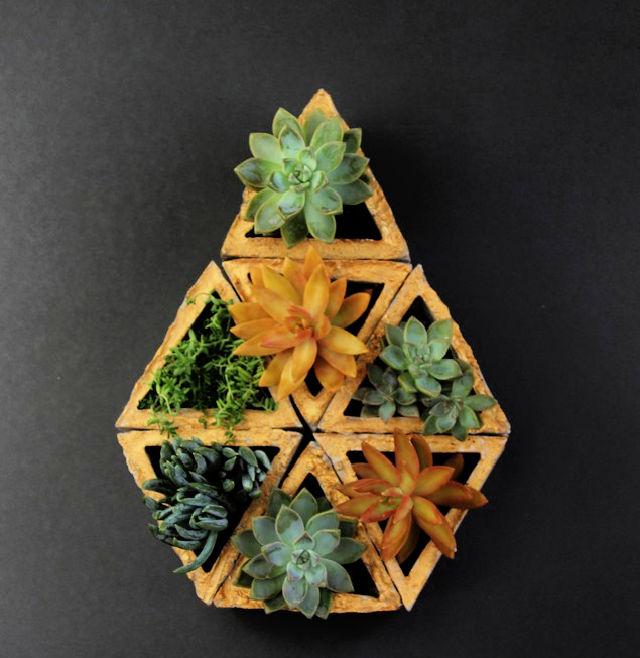 Thinking of the perfect gift for someone who is known for their green thumb? A handmade gift that is made with love is far more valuable than a store-bought one. This DIY geometric concrete planter is a perfect gift and can be made at home easily, and you can also customize it according to the person's liking. Add some pretty red roses or pink tulips to the planters and design them with chalk paint and floral tape or you can also build it a DIY herb garden. It will surely be the center of attention when hung on the wall. You will need the supplies for this one: a concrete mix, cardboard, a template for molds, a plastic container, plastic bags, a box cutter, glue, tape, gloves, and a dust mask. apieceofrainbow
10. DIY Asymmetrical Concrete Planters

If you are into girly and colorful home decor items, you will definitely miss out on some good stuff. These DIY asymmetrical concrete planters are super cute to place in your bedroom, you can customize the colors according to your choice, but funky and bright colors would look amazing. Place it with some fancy glass vases and scented candles, and you are all set with the decor prep before a get-together. The supplies which you will be needing to make these are white concrete, metal or silicone bowls or loaf pan, plastic ball pit ball, vegetable oil, rocks, mixing bowl and spoon, acrylic craft paint, plants. akailochiclife
11. Simple Concrete Pumpkin Planter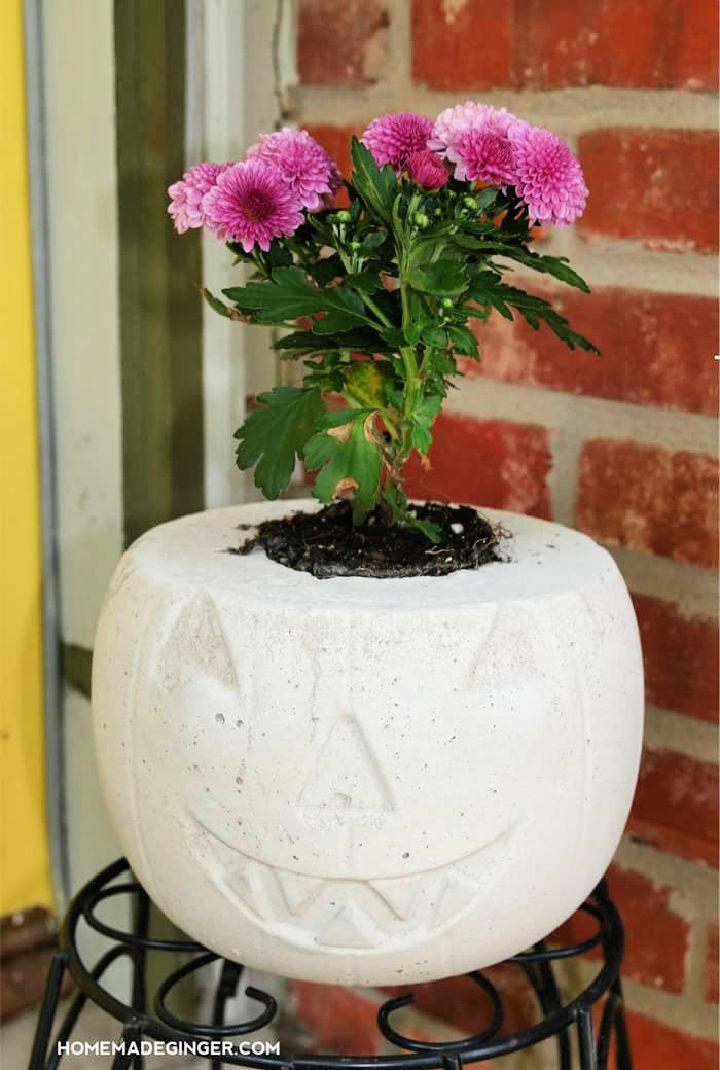 A concrete pumpkin planter – how cool does it sound? Well, as good as it sounds, it is also super easy to make! These pumpkin planters would be a fun addition to your outdoor and indoor decor, especially during the Halloween season when you can even paint the planter orange and black, keep it outside your front door, and plant a cactus inside it. You will totally rock the Halloween spirit. It is also a fun activity to try out with your kids, and they will certainly love to showcase their art on the jack o lantern. To make this, you need cement, water, plastic cups, a bulky chain, a utility knife, and a plastic jack o lantern. homemadeginger
12. Small DIY Cement Balloon Planters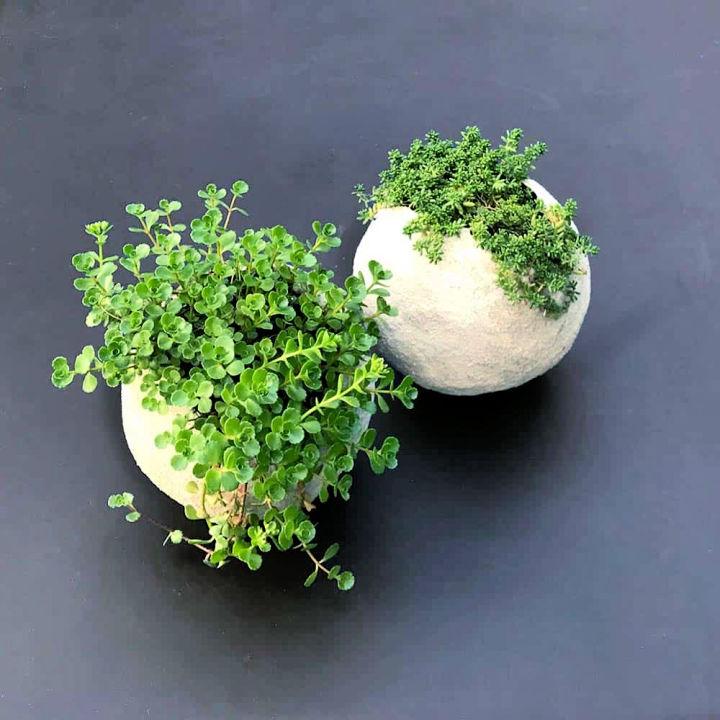 If you are interested in decorating and filling up your balcony or a small terrace, green is the key! Plants look very minimal yet chic, but we are all tired of the usual pot planters, aren't we? It's time to add some fun and showcase your creativity, this DIY cement balloon planter is an adorable addition to your decor, and you can make them at home without spending sums of money. These can also make an adorable housewarming gift, and you can also keep these on your workstation desks. Paint them according to your liking, and they will make adorable colorful semi-circle planters. All you need to make these is cement, water, balloons, double nitrile gloves, a large sponge, Q-tips, succulent plants, plastic grocery bags, disposable measuring cup, mortar mix, and an old wire mesh strainer. artsyprettyplants
13. Make Concrete And Gold Plant Pots

Simple plastic planters can be pretty boring, and it's time to add some glamour to your planters yet making them look elegant and chic. These DIY concrete gold pots are a classy addition to your home decor. Place these on floating shelves and plant red and pink lily's; they look stunning, whether indoor or outdoor. You can apply the gold leaf in different shapes and designs and even paint the background with a neutral color like black or beige. The supplies you need to make these planters are quick-setting cement, plastic outer mold, containers, plastic inner mold, gold leaf kit, and painter's tape. diyinpdx
14. DIY Dripped Concrete Planter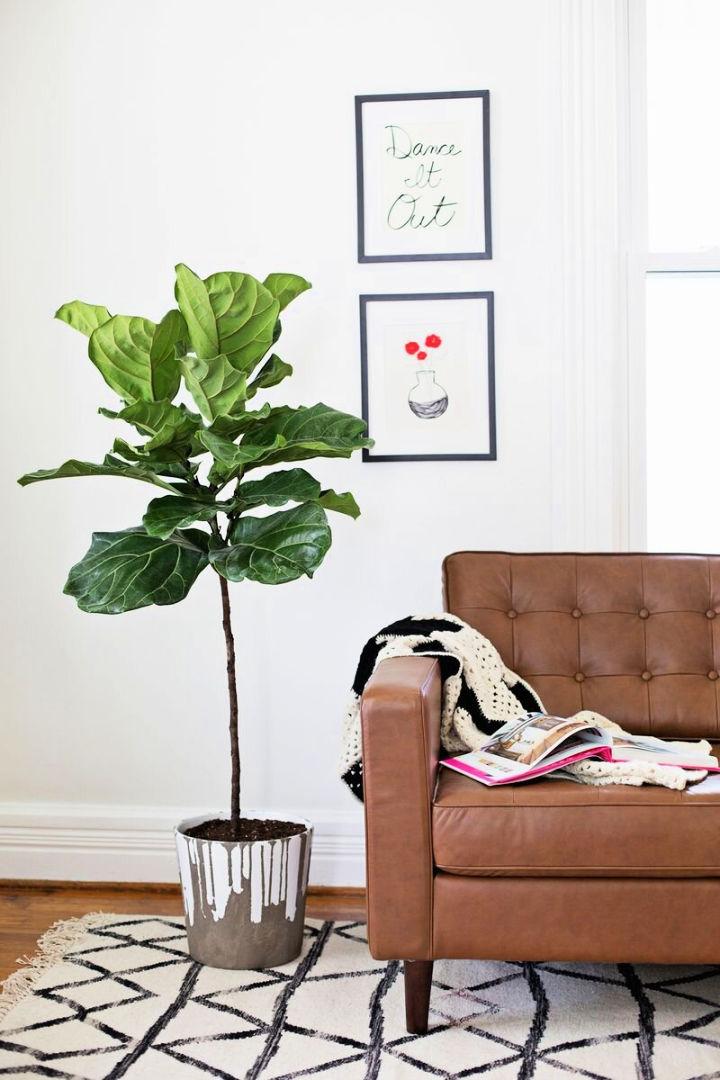 If you have a fiddle leaf fig tree, you already love it. They are very popular because they are statement plants that contrast modern interior decor, we could go on, but you get the idea. But for this special plant, you need a special planter, which is why you will love this DIY concrete planter. This is great for bigger indoor trees like fiddle leaf and amazon lily. You can paint them and personalize them according to your liking. They go very well with couches and carpets in the living rooms. To make this planter, you will need a porcelain planter, andex feather finish, a putty knife, fine sandpaper, and a concrete sealer. abeautifulmess
15. DIY Cement Hanging Planters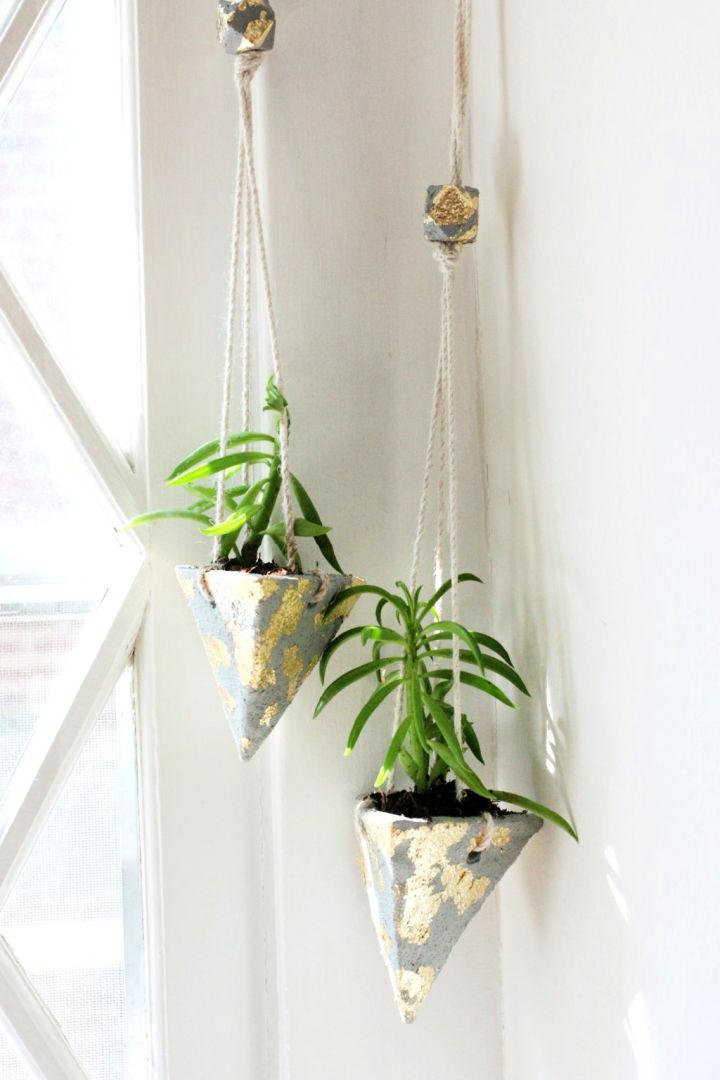 Do you also love planters but do not have enough space on the floor? Well, that will no longer be an issue because this DIY cement wall hanging planter is going to solve your problem. This planter plan has a beautiful and unique shape and freshens up the atmosphere. It would look great at the entrance of your house or on your balcony next to some other DIY hanging planters or fancy birdcages. You can also try out different shapes like pentagonal or rectangular. Hang it using different rope strings and jute to make a statement in your home decor. The supplies which you will be needing are folk-art finishes in concrete, oven-bake clay, rope, gold sheets, gilding adhesive, wooden beads, a small indoor plant, and brushes. prettylifegirl
16. Global Concrete Planter for a Quick Hostess Gift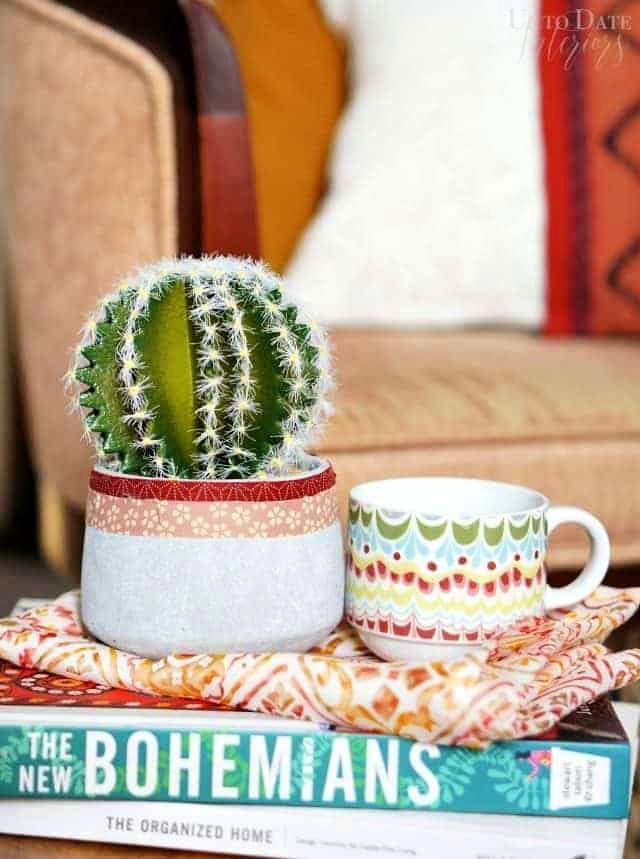 If you want to prepare a quick global concrete planter gift, you need to try this DIY concrete planter makeover; use a concrete planter with a real or live plant, a global ribbon tape, and a pair of scissors to give the planter a whole new look. Use the ribbon to wrap it around the planter if you want or you can also paint it with a neutral color and use a cute indoor plant. Using a cactus would be an excellent option. uptodateinteriors
17. Cat Grass DIY Concrete Planter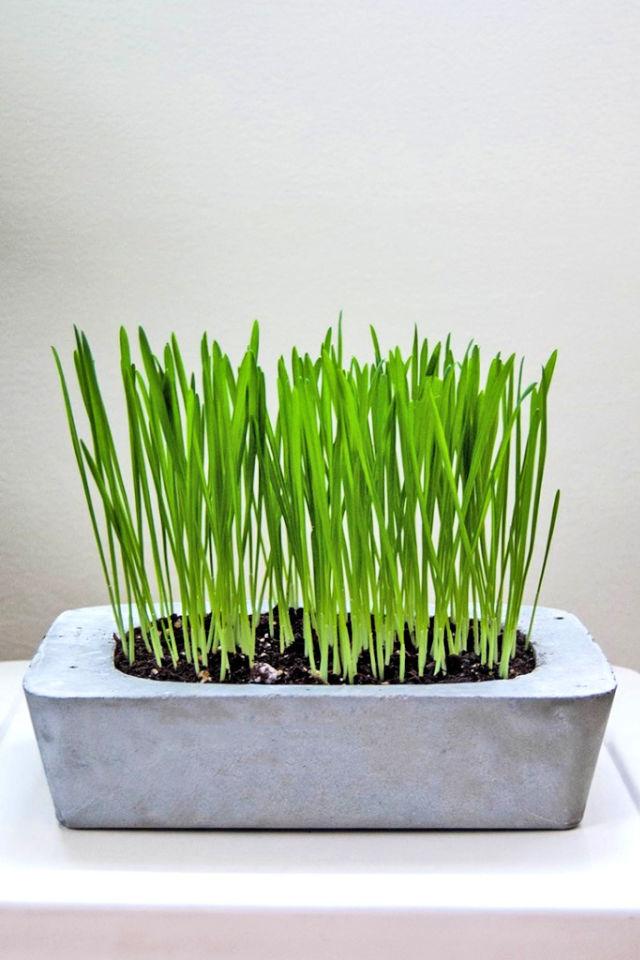 We have all heard of pot planters, small planters, big planters, and wall-hanging planters. But what about a grass planter? Now you can learn to make your own grass planter at home by using some basic supplies like cement, water, mold, and a plastic box. This grass planter can be kept in your garden, windowsill, or a console table inside the house. You can paint it, add glitter or a gold sheet to make it more elegant. This will be a sophisticated statement plant, which will complement any area where it is placed. diyinpdx
18. DIY Painted Cinder Block Planter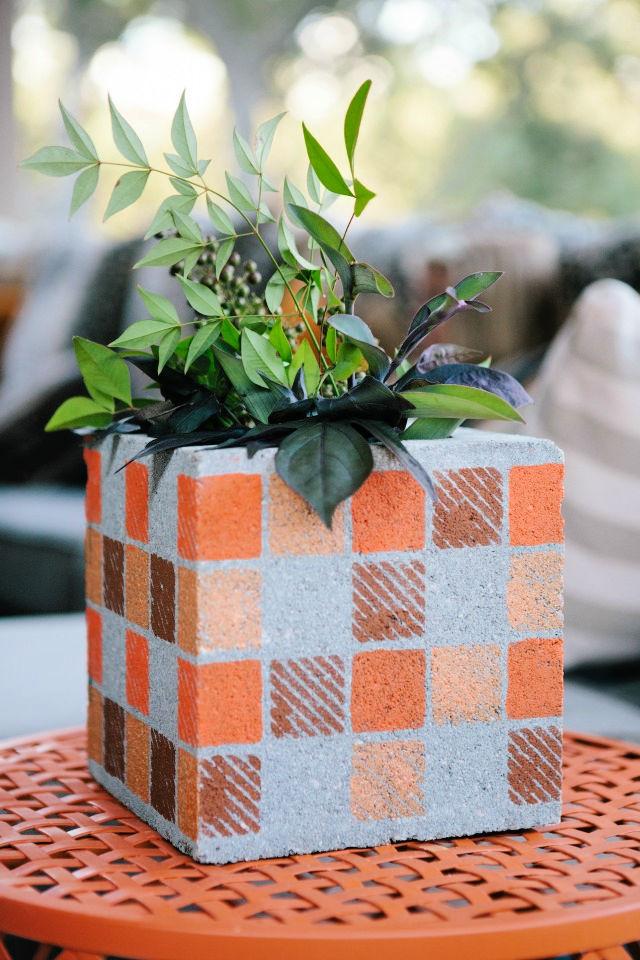 Do you ever look at pictures of those small perfect planters placed on a coffee table on a beautiful table mat, and you cannot help but wonder why can't you find a planter like that? Well, with this DIY cinder block planter, you can actually have one of those pretty planters. Paint tiny boxes on it or polka dots, brighten it up with funky colors or use neutrals to tone it down. Place it on your side table or the Adirondack table in your garden, and it will look perfect either way. Even if the rest of the garden is starting to fade, these planters would steal the show and won't blow off by the wind! The supplies which you are going to need are cinder blocks, stencils, multi-surface craft paint, foam brushes, masking or painter's tape, and a small cup or mason jar. designimprovised
19. How to Make a Concrete Sugar Mold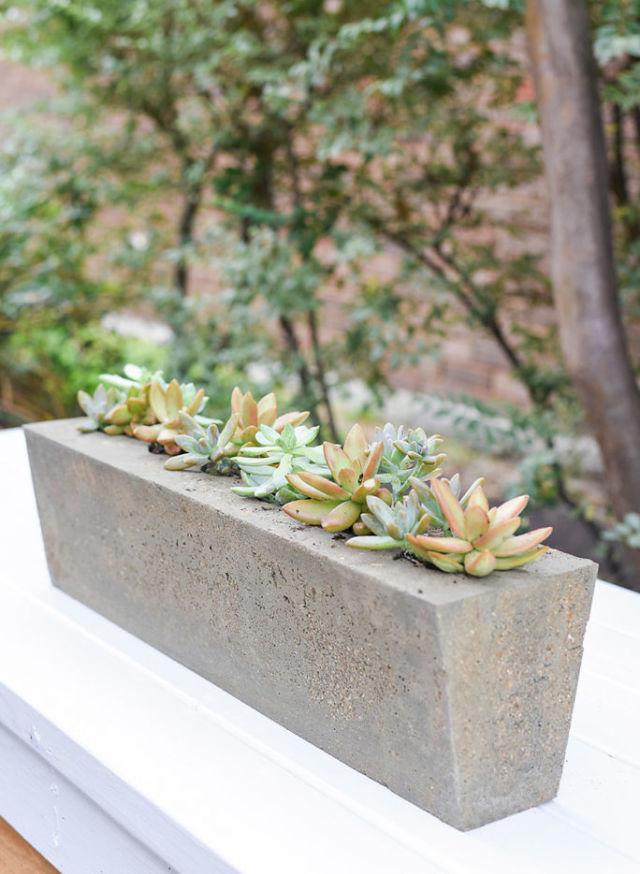 Sugar molds are a piece of history and have been revived in home decor. They give a cute vintage look and are a statement piece. Make your own DIY sugar mold using some supplies like a bag of quikrete ProFinish, a bucket, mini paper cups, finishing paste wax, succulents, clear silicone caulk, and 40 grit sandpaper. They have a modern interior design contrast to place them in your workstations and offices as a paperweight and a decoration piece in your bedroom. ourhandcraftedlife
20. Modern DIY Caged Planters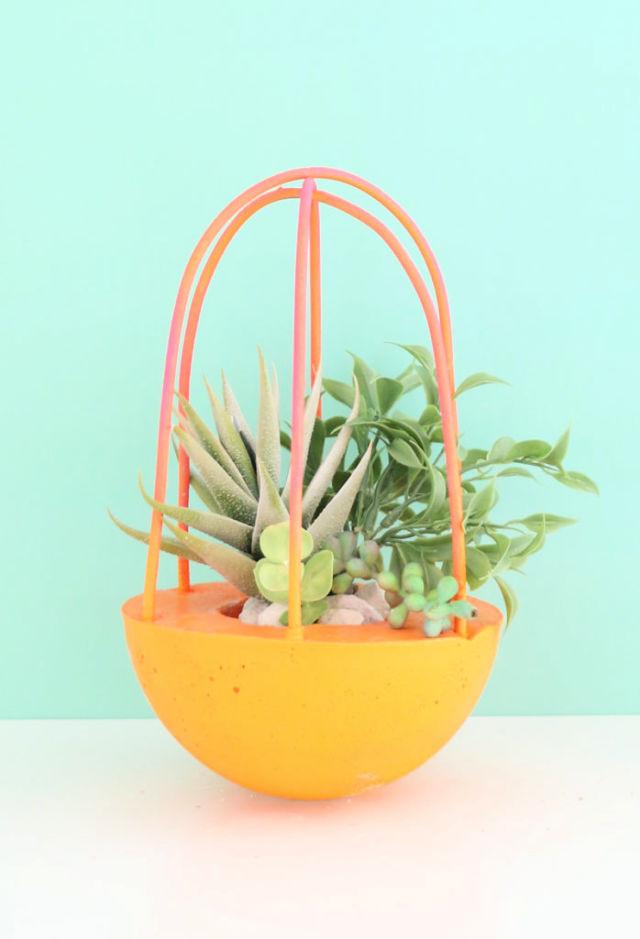 Birdcages and cage-style planters have taken over the internet lately, and people are drooling all over, but since they are expensive, most of us give up on them but don't worry! You can now make your own DIY modern caged planter. This planter is perfect for your living room and placing it on the dining table. You can also paint it with so many different colors. Black and gold would definitely look very royal. Plant a cute and small green plant inside it, and it is perfect for a gift on any occasion. You can also place it in your garden surrounded by some small pebbles and rocks. The supplies which you will need for this DIY are a white concrete mix, round mixing bowl, mixing bowl, half of plastic ball pit ball, 6 gauge copper wire, wire cutters, rocks, vegetable oil, spray paint, and plants. akailochiclife
21. Makers Mix Concrete Mini Planters

These DIY mini concrete planters are great for your interior home decor. Please place them in your washrooms as a natural air freshener, paint them with your favorite colors and keep them on your workplace desks and craft tables. Keep them with scented candles and fancy flower vases. You may plant a cactus or some red roses inside it. They are also great to place on the dining table on a candlelit dinner. The supplies you need are mixed mold, a bowl, measuring cup, plastic spoon, water, gloves, and a face mask. hearthandvine
22. Easy DIY Wood and Concrete Planter

Are you looking for a nice planter box to keep at the entrance of your house? Or as a sidewalk appeal in your garden? Then try this DIY wood and concrete planter box, which is super cute and really good to keep in an empty corner of your bedroom. You can fill it with small stones and a cute plant-like fiddle leaf fig tree. You may also paint it with stripes and triangles to be creative. It also makes a very nice housewarming gift. The supplies you need for this DIY are wood, cement, water, cooking oil, mold, and other basic tools and supplies you can easily find at a hardware store. addicted2decorat
23. DIY Large Concrete Planter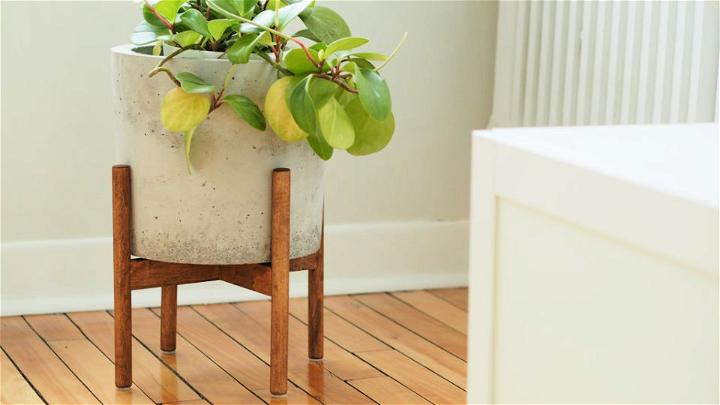 This DIY concrete planter is a perfect indoor planter, which can be placed in your living room next to a cute lazy boy couch. Plant a tree-like amazon lily or snake plant. It would be perfect for your Instagram pictures and will definitely give your garden a new look. The supplies you need for this are a bucket, concrete mix, water, concrete trowel, corner braces, canola oil spray, sheathing tape, utility knife, wood slats, screws, bricks or weights, plastic bag, and sandpaper. instructables
24. Lightweight Concrete Planter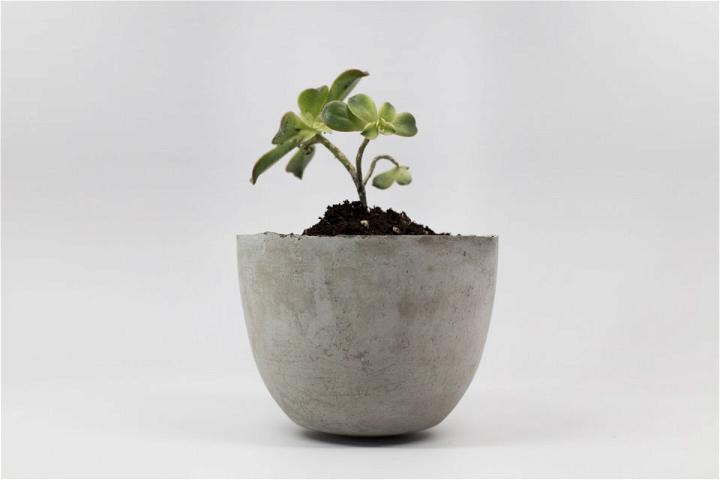 Are you a fan of DIY cement planters? Then this DIY concrete planter is perfect for you to make! Plant your money plants in this and keep it on your terraces and balconies. Paint it with bright colors and keep it in your bedroom or windowsills. You can also place it inside your washrooms, and it will freshen up the atmosphere and instantly make you feel better. The supplies you need for this DIY lightweight concrete planter are cement, water, a bucket, canola oil, stir sticks, gloves, polythene sheets, and plastic cartons. diy dunnlumber
25. Make Your Own Concrete Planters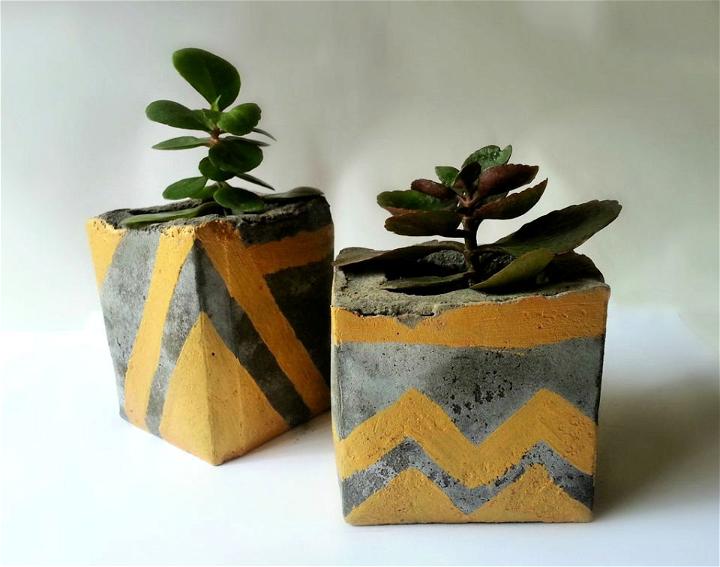 Get rid of all your dull plastic planters, and instead make a new one. This DIY concrete planter can be kept indoors and outdoors. It will act as a natural air freshener and a perfect gift for a greenery lover. Customize it with your favorite colors and designs and get as much creative as you want. The supplies you will need for this DIY are concrete, gloves, glue, scissors, scotch tape, bucket, cement, water, cardboard cartons, sand, and a stir stick. instructables
Conclusion:
So, here we are at the end of our article with the hope that these diy concrete planter ideas must have inspired you to make them for your home as well. All of the above-mentioned plans are carefully picked and presented to you to choose further the ones that appeal to your aesthetic the most. Make sure you choose a suitable plan that fits your budget and space the best! However, you may customize DIY concrete planters yourself without hiring or paying anyone to do it for you. If you are wondering about making money out of these plans, then we have the best option for you! You can practice all the mentioned plans and create custom concrete planters for people looking for something relevant at cheaper rates. Do all the plans seem appealing and fun to you? Have the supplies ready? So without any further ado, let's try these!