The art of macrame is magical. It allows you to change the simple pieces and lengths of cords into many functional and decorative items. These DIY macrame plant hanger patterns are one of the easiest DIY Macrame Projects, and they are also super impressive DIY craft projects. You can learn some basic knots to knot in different patterns to achieve various macrame plant holder designs. At the same time, these diy macrame plant hanger patterns will help you to bring some retro or boho vibes to your targeted interior spaces, and they will never get out of style.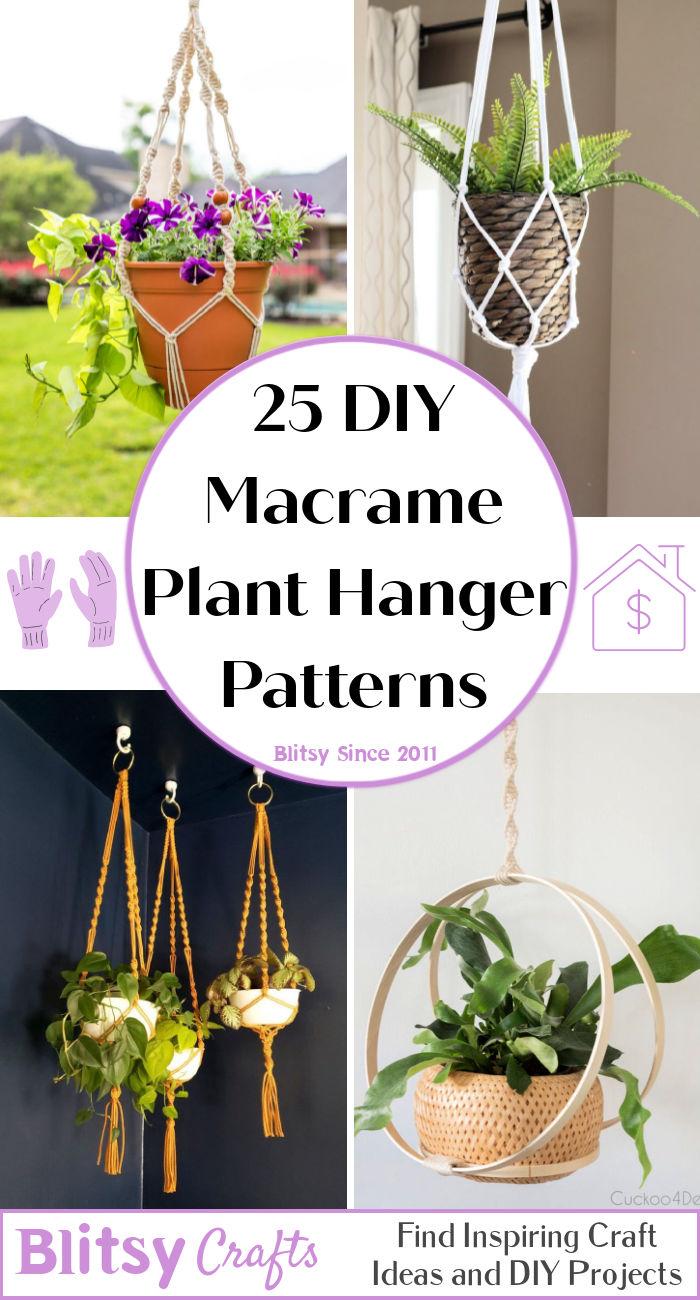 Browse this collection of 25 DIY Macrame Plant Hangers and see various knotted plant holders to choose from. You can choose any rope-like jute, twine, yarn, or paracord to give amazing variations to your plant holders. They can also be added with various beads and colorful yarn for added visual grace and stimulation. At the same time, you can also choose so many different rope colors to match these hangers to your interior home decors.
There are diverse different uses of these plant hangers. They can be put together on a wood dowel or a curtain rod to gain a precious hanging garden anywhere in or out of the home. They are also a smart way to keep your expensive planters away from the kid's and pet's reach. Opt for these plant hangers also to give your space a glam touch of bohemian decor style. Browse this entire DIY Macrame Plant Hangers collection to see a lot more unique designs, and they make the sweet handmade presents.
1. Macrame Plant Hanger for Beginners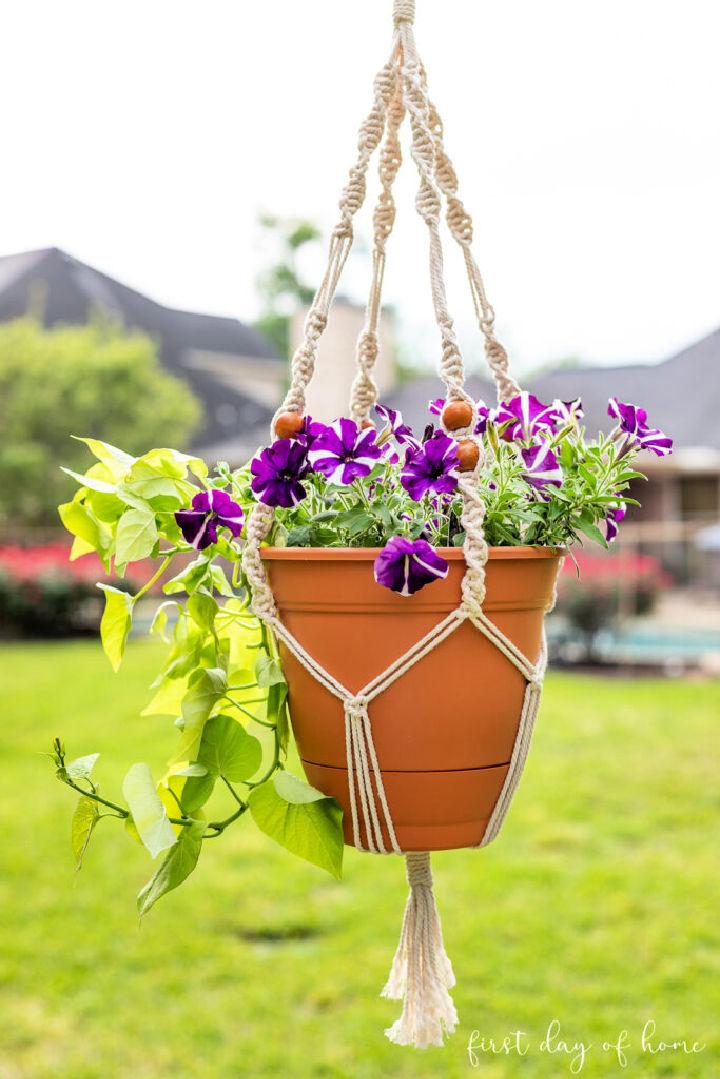 Bring the boho and retro vibes to your interior home spaces by making this macrame plant hanger. The wooden beads create a special appeal to this entire macrame plant hanger, and it also comes with a bottom tassel for added visual charm and grace. Use the macrame cord, mounting rings and some wooden beads to work up this easy yet beautiful macrame planter hanger. You also need scissors and a rod for this project. The project starts by gathering the knots and using the lark's spur knot, gathering knot and a spiral square knot. firstdayofhome
DIY plant stand: If you love plants and gardening, you will be crazy about these DIY plant stand ideas! Learn how to make a plant stand for indoors and outdoor!
2. Easy DIY Macrame Plant Hanger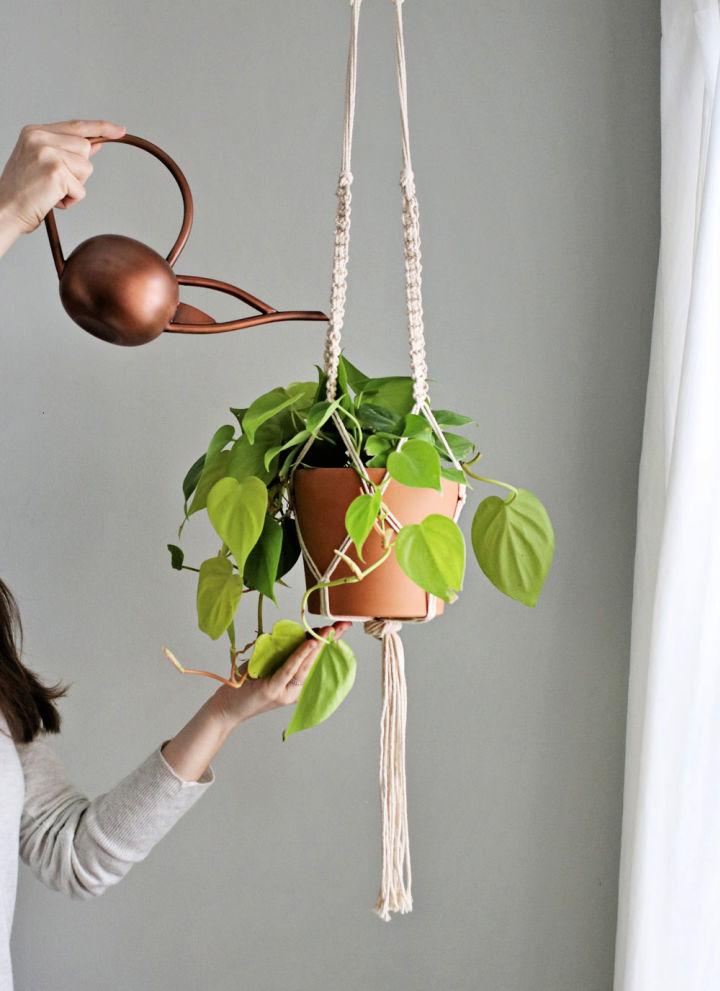 The macrame plant hangers are a big hit, and they work great to give your spaces a glam touch of retro living. But they can be intimidating to make for many of us at the same time. Learn here to make the best macrame plant hanger, which will surely win the heart of a home lover. It will be the easiest holding you can create with an ordinary cord or rope to hang your favorite planters aloft. You need a 3mm macrame cord, scissors, ruler or measuring tape, tape, and a potted plant to make this plant hanger. The larks head, spiral stitch and square knots will be the required knots and skills of this plant hanger. hellonest
3. Macrame Hanging Planter Tutorial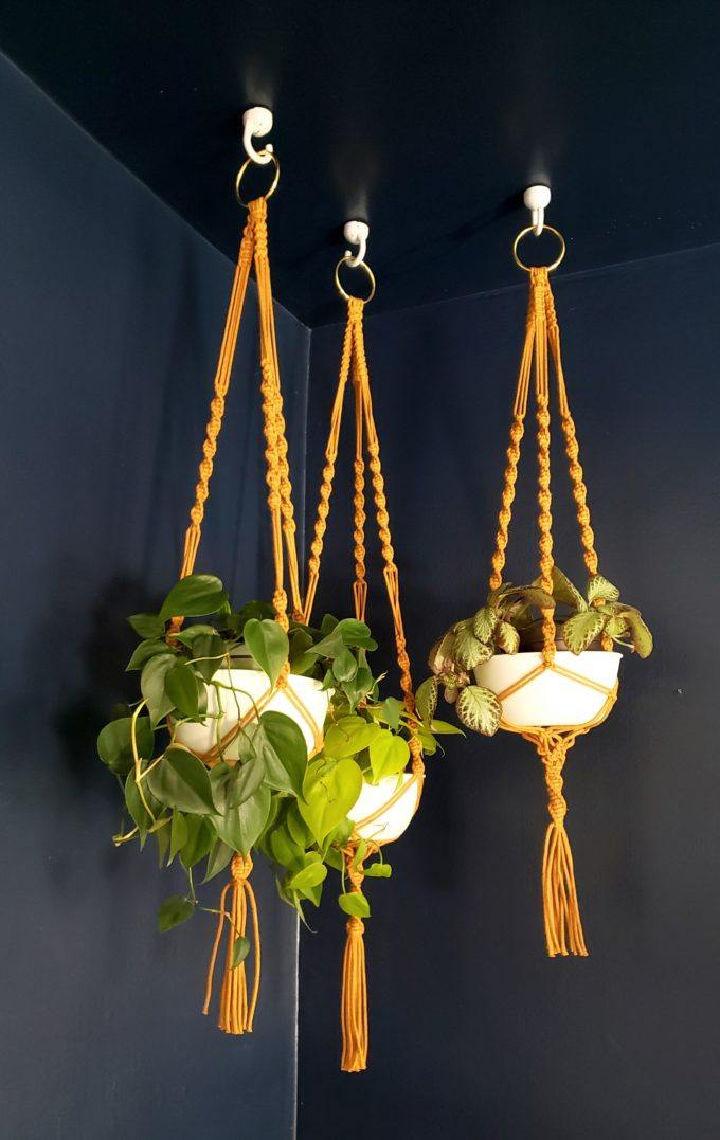 Sorting out the best beginner macrame plant hanger project that will involve using fewer simple knots? Again you can use the 3mm macrame cord to try out this plant hanger project. You also need a planter pot, a plant, sewing scissors, national hardware elephant hooks and brass rings to complete this project. These hangers are guaranteed to impress at a very first glance and will surely grace up any interior at just a drop of the hat. The hangers have a great history and can still be added to your home spaces for added visual grace and a prehistoric touch. realitydaydream
4. Make a Macrame Plant Hanger Instruction

Bring both the bohemian and neon vibes to your home this exceptionally beautiful macrame plant hanger. Knot the neon pink cotton rope to work up this macrame plant hanger, and you can choose any particular color of rope while duplicating this plant hanger. You also need 2″ wood rings and scissors to complete this project. Cut the 54″ pieces of rope and then fold them in half and tie them onto the wood ring to start this project. The neon pink rope goes super beautiful with the white planter, and this plant hanger will also rock for modern home interiors. liagriffith
5. Make Your Own Macrame Plant Hanger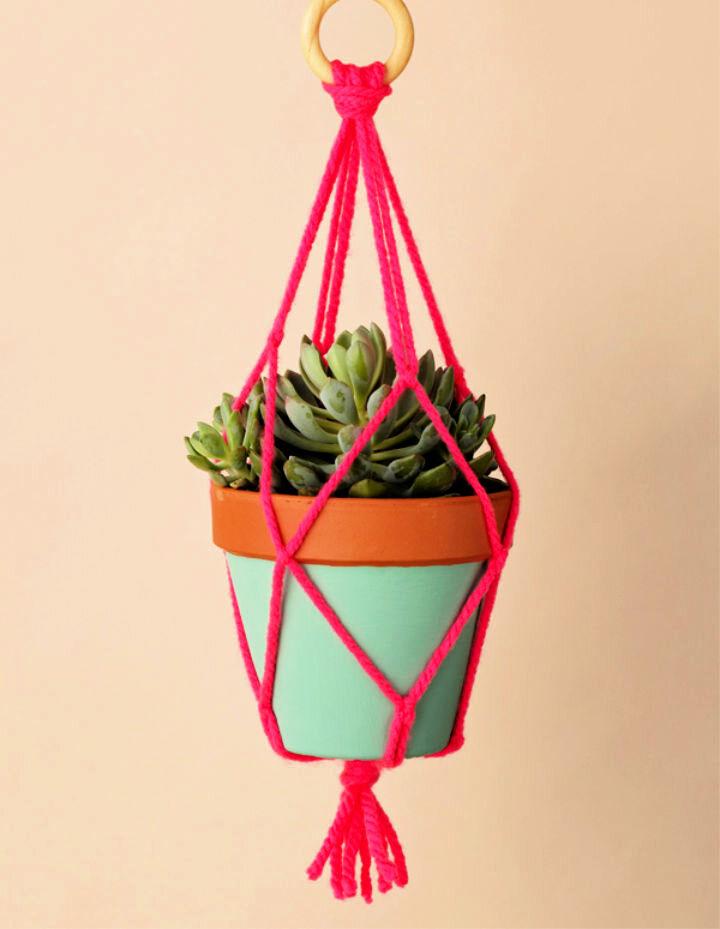 Maybe you are a beginner at making a macrame planter hanger. So, you can follow here the complete guides and instructions to make a quick plant hanger appearing in the 70's neon pink color. The project's very required tools and materials will be a wooden pole ring 28mm, neon pink yarn, tape measure, scissors, plant pot, and it will also complete in an afternoon. The whole project is more than easier to do and will surely be the perfect decor to add to your interiors. gathered
6. Macrame Plant Hanger with Hobbycraft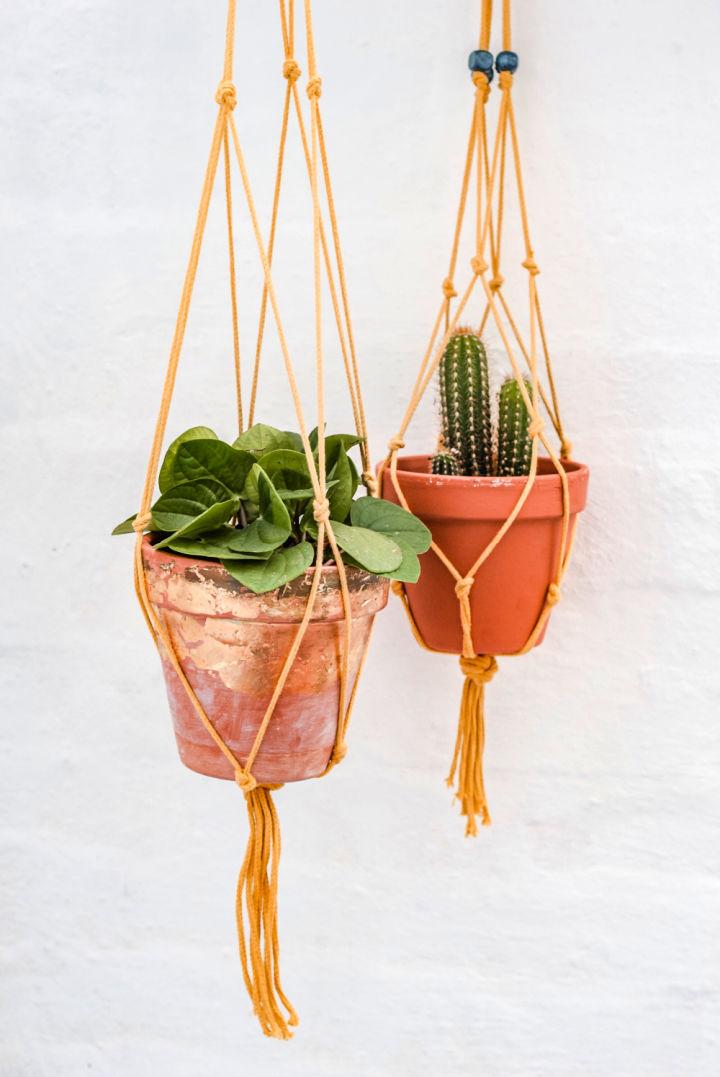 The macrame-ing is an interesting form of art like crocheting and knitting and involves making interesting stuff with simple pieces of ropes or cords. Here the simple rope or yarn is turned into a brilliant plant hanger and will also bring tons of decorative vibes to your home. You need mac yarn, D-ring buckles, assorted wooden beads, scissors, and tape measure to whip up this awesome macrame hanger. It will smartly hold a custom planter inside and gain a stunning visual with decorative wooden beads and the bottom tassel. iamhayleystuart
7. Colorful DIY Macrame Plant Hanger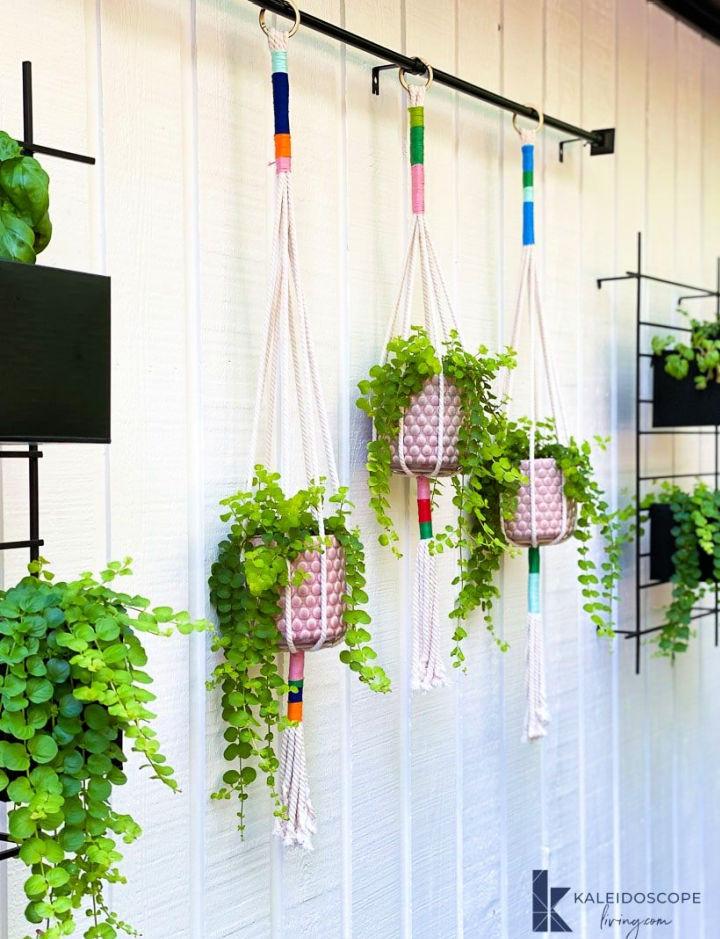 Sometimes adding custom colors is a big need of space. So, if that place needs some decor pieces, we must duplicate these color macrame plant hangers. These plant hangers are made with 6mm cotton rope, fine yarn, carabiner rings, glue, posts and measuring tape. Pick the yarn with your favorite colors you want to see in the finally completed macrame plant hanger. Making this hanger involves much less knotting, and the whole project is straightforward. Hang a set of such macrame hangers on a curtain rod for a great demonstration of greenery. designertrapped
8. DIY Rope Macrame Plant Hanger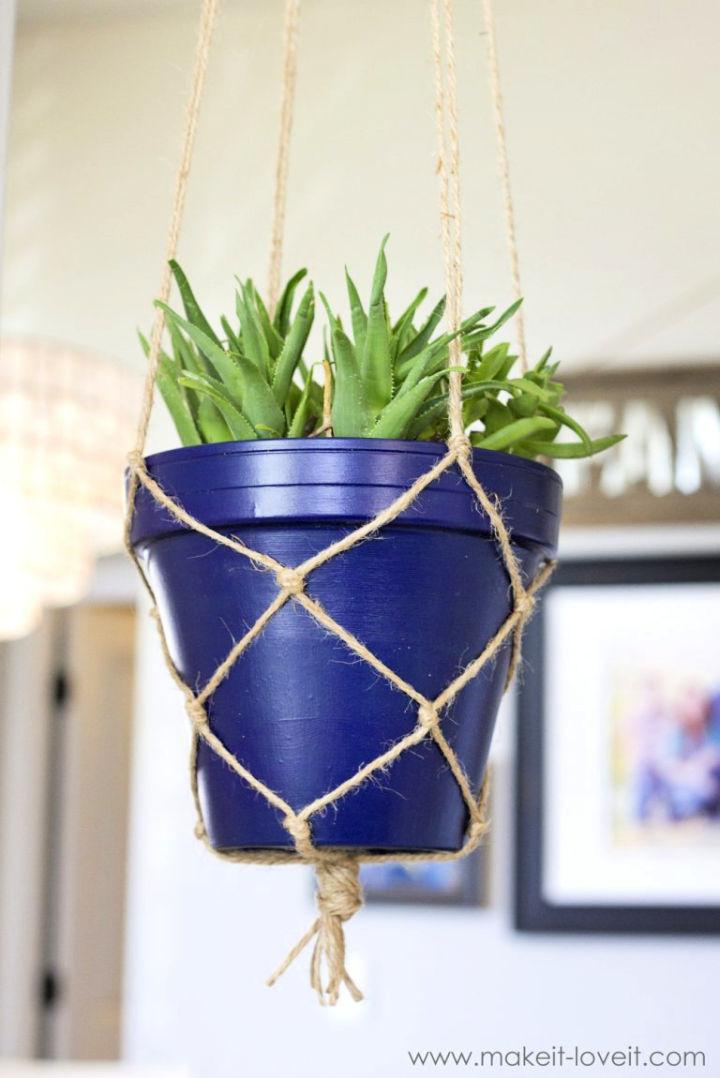 Intending to be an expert in the art of macrame-ing? Then you should start it with beginner diy macrame plant hanger patterns. So, follow the here guides to make a brilliant rope plant hanger that is amazingly cute and beautiful to look at. You can even use the ordinary jute or cord to make this hanger. The very required supplies for the project will be a plant pot, acrylic paint, jute rope, screw hook, scotch tape and potting soil to whip up this hanging decoration piece for your home. The whole project will cost you next to nothing and will make bigger changes to your home decorations. makeit loveit
9. Macrame Flower Pot Plant Hanger Pattern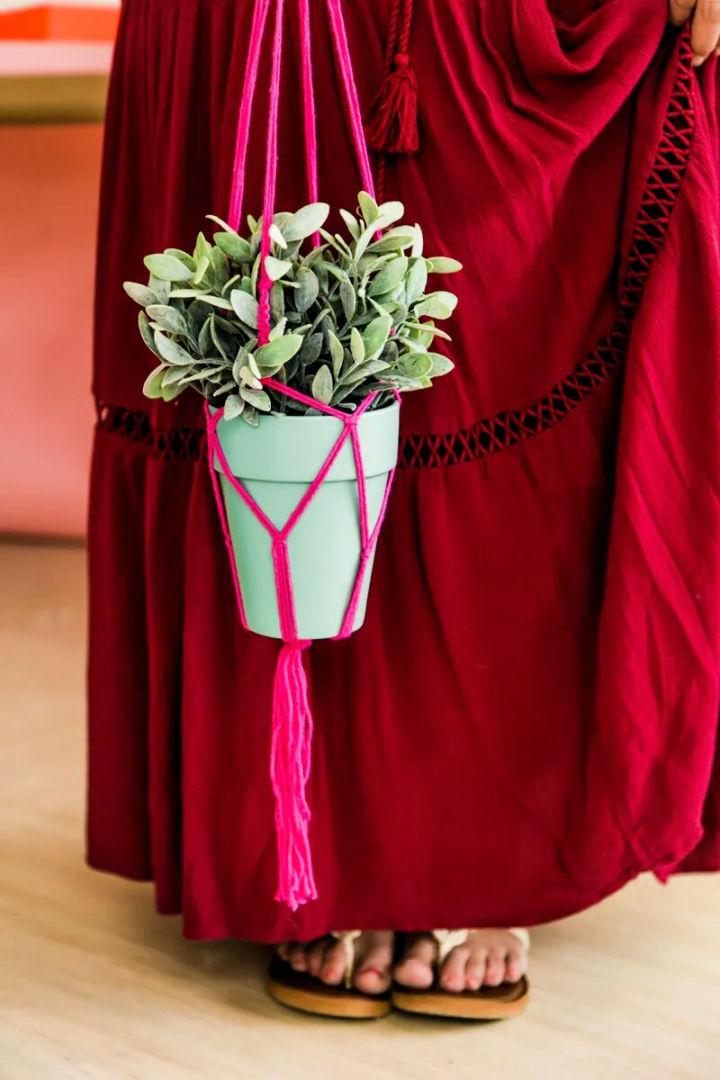 Macrame-ing is the brilliant art of knotting that helps transform ordinary pieces of cord or rope into outstanding things. You will learn how to use the make a macrame plant hanger and a friendship bracelet like a pro. Making this macrame plant hanger involves tying the baby knot, vertical knot, wave knot and square knot. You need a macrame flower pot, spray paint, cotton cording, scissors, and washi tape to complete this project. The project is much doable, even for a beginner. The bracelet is also the easiest macrame project here. asubtlerevelry
10. Macrame Hanging Planter From An Old T shirt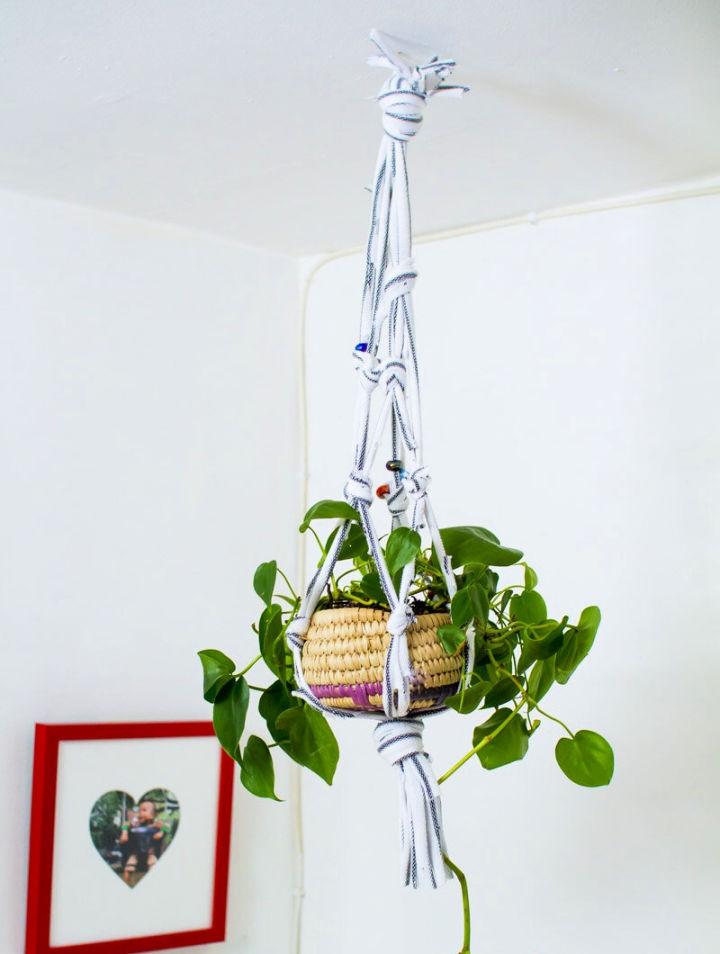 Use all types of yarn to make beautiful and lovely-looking macrame plant hangers. You can even use the t-shirt yarn to make outstanding macrame planter hangers. Peek into details of the given sample that is hilariously beautiful and the best thing to make with your old t-shirts. You need jersey fabric, scissors, measuring tape, beads, plant and round bowl and a hook to complete this project with ease. One of the best DIY hanging planter ideas ever. The best to upcycle your old t-shirts for amazing home decorations. abeautifulmess
11. DIY Macrame Plant Hanger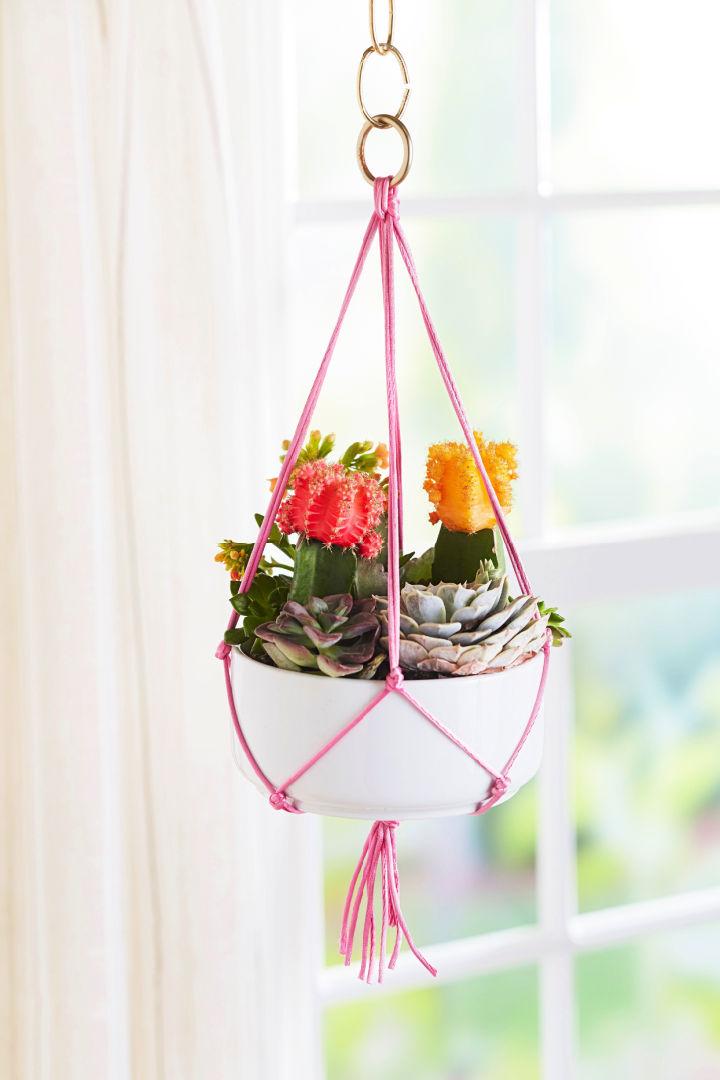 Grace up your interiors with a glam touch of antique and prehistoric decors by adding this macrame hanging plant holder. It will spruce up all the interiors with the accent boho decor touch. The project involves tying the simple knot to your favorite cording, twine or paracord to easily make this brilliant macrame plant hanger. Mainly, you need 10 yards of cording, 1 ¼″ metal ring or keyring, 6″ tall ceramic planter and some macrame-ing skills to duplicate this very beautiful hanger decoration. One of the best DIY macrame plant hangers ever made will never get out of style. bhg
12. Simple DIY Macrame Plant Hanger

Do you love to feature the flowers and plants in your home decors? It will also depend on the way you feature them for a maximized beauty impact. So, go with macrame plant hangers to nicely display the flowers and greenery in your interior home spaces. They are unchallenging to make, even for a beginner. You will get here instructions to make a macrame hanger in the easiest way possible. You need a 50ft rope clothesline, sharp scissors and a ruler to make this simple yet beautiful plant hanger. The whole project is more than easier to do and will complete simply in no time. fiberartsy
13. Macrame Plant Hanger Using Half Square Knots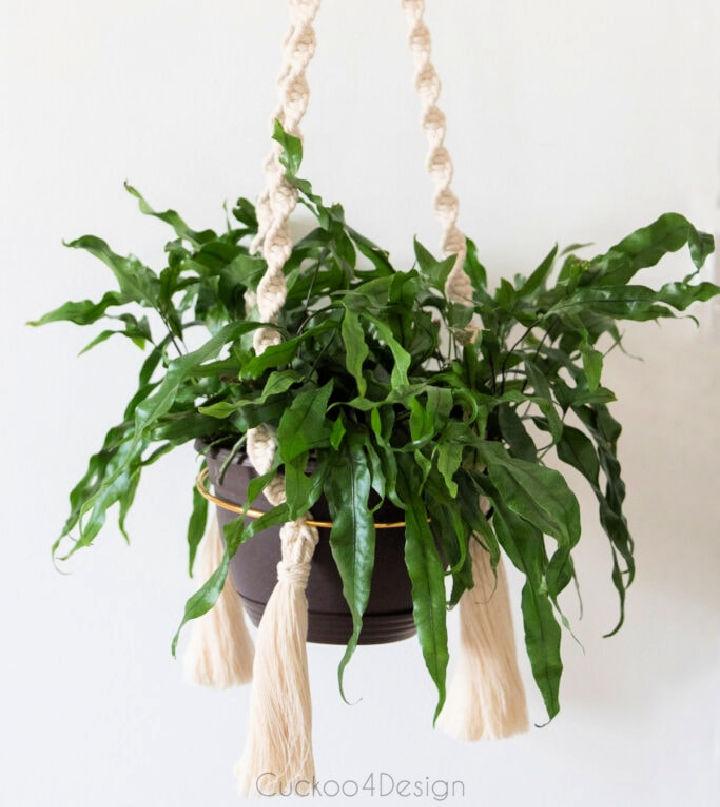 Follow these easy macrame plant hanger patterns to make a quick, beautiful macrame plant hanger while using only a single type of macrame knot. Go with the 3mm or 4mm macrame yarn, 8″ brass metal ring, and plant in plastic plant hanger to make this mind-blowing crochet macrame hanger. You need fabric stiffener, marker, scissors, glue,e and some creativity to make this fabulous macrame plant hange in other tools. You have the freedom to experiment with this project with your favorite type of yarn, cording or rope. The whole project is affordable and much doable, even for a beginner. cuckoo4design
14. How to Make a Macrame Hanging Planter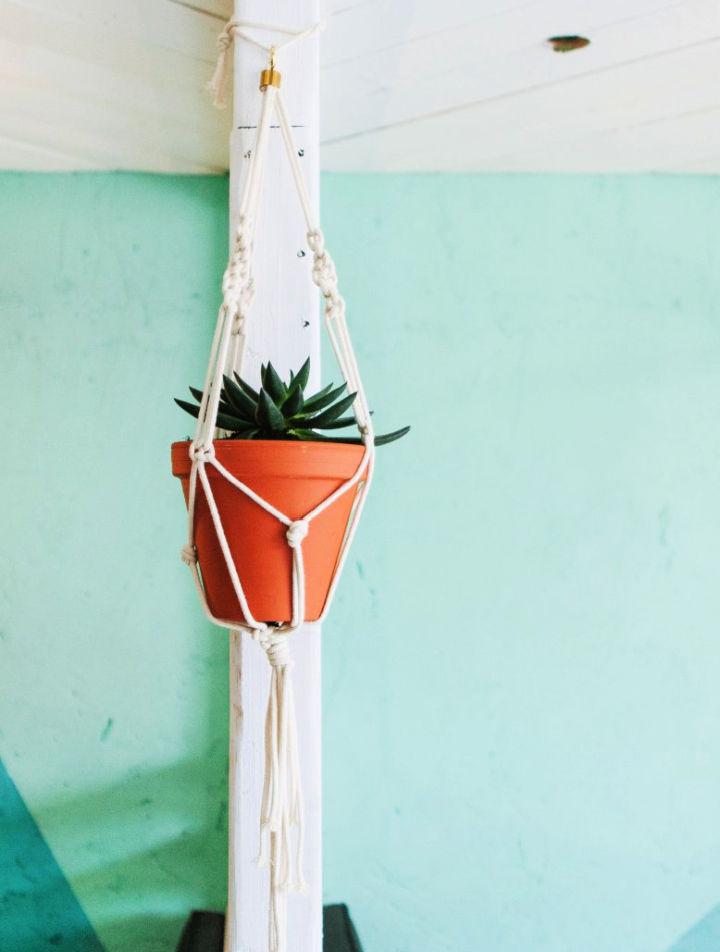 Feel free to duplicate this another sweet macrame planter hanger, sure to be a big love of all the ladies who are on the mission to decorate their homes in a unique but impressive way. You need a gold jump ring, 20m thin rope and a large metal ring to whip up this very beautiful macrame plant holder. It uses a few types of macrame knots, and finally, the finished hanger will be loved dearly by all. The golden jump ring and the metal ring go just amazing with the natural color of the cord. This planter hanger makes a sweet handmade gift also. collectivegen
15. Macrame Succulents Plant Hanger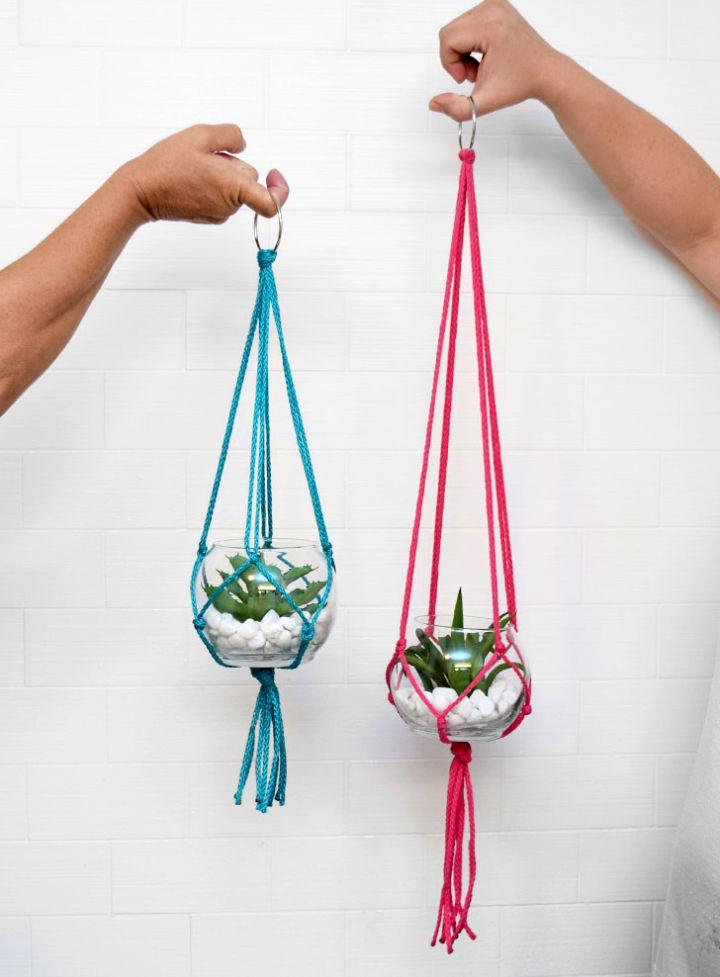 Intending to feature the 70's neons and other decorations in your home? Make these macrame succulent hangers, sure to bring tons of retro decor vibes to a targeted interior space. You need a macrame cord, steel rings, scissors, lighter, faux succulents, glass planters and rocks to complete this project, which will make bigger changes to your home decors. Here the glass planters are from Dollar Tree. These are here the easiest DIY decors to make for your home. All the supplies are inexpensive to buy, and hence the whole project will be super economical also. momspark
16. Decorate Macrame Plant Hanger

Willing to add greenery to your home in a style? Opt for these macrame plant hangers, which will help display your favorite flowers and greenery over the head anywhere in or around the home. You need 4 pcs of 2m cords, 2 pieces of 50cm cord and a wooden ring to make each of the given macrame plant hangers. Choose also the cord in your favorite colors to give amazing color variations to your macrame plant holders. Start the project by giving tying the cord onto the wooden ring, creating the wrapped knot. Use the finally completed plant holders for amazing party decorations also. idealhome
17. DIY Macrame Pot Plant Hanger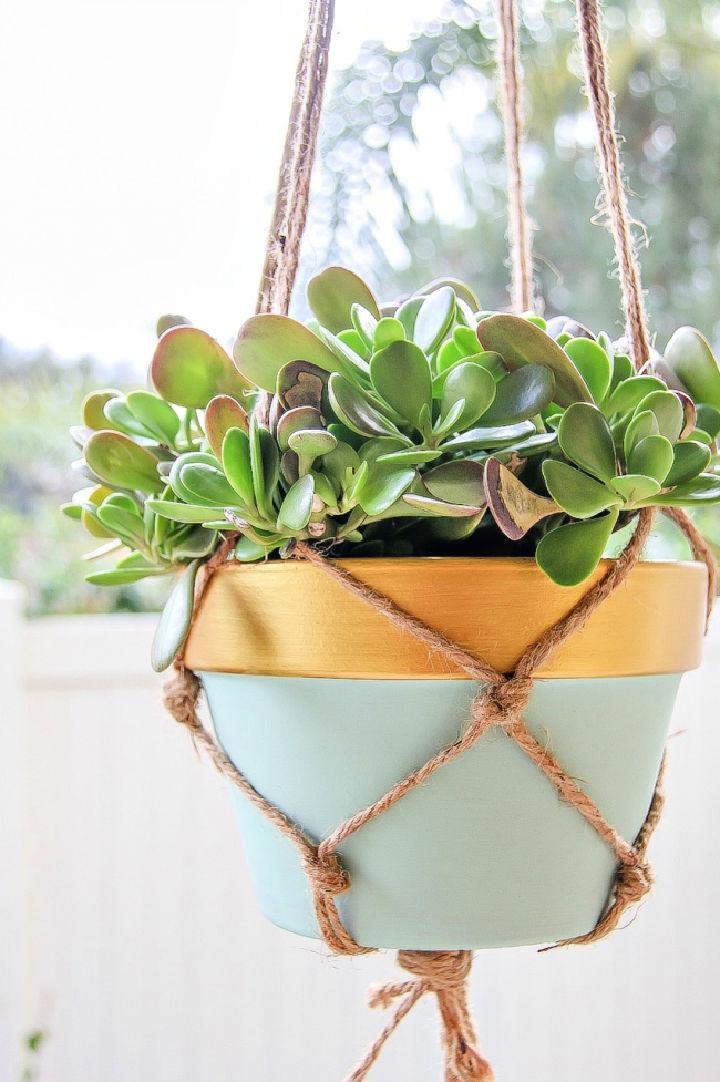 Even if you are very new to the art of knotting, the macrame-ing, you can make this sweet and lovely macrame plant hanger beautifully. You need macrame rope, pot, plant, beads, scissors, tape measure and a large ring to duplicate these macrame hanging plant holders, will be a big love of all. These hangers will be a brilliant way to create a prominent display of all your favorite plant and flower pots. The project is amazingly easy and will complete simply at just the drop of the hat. The project is for all macrame-ing lovers willing to get experts in this specific art of knotting. makeandtakes
18. Mini Macrame Plant Hanger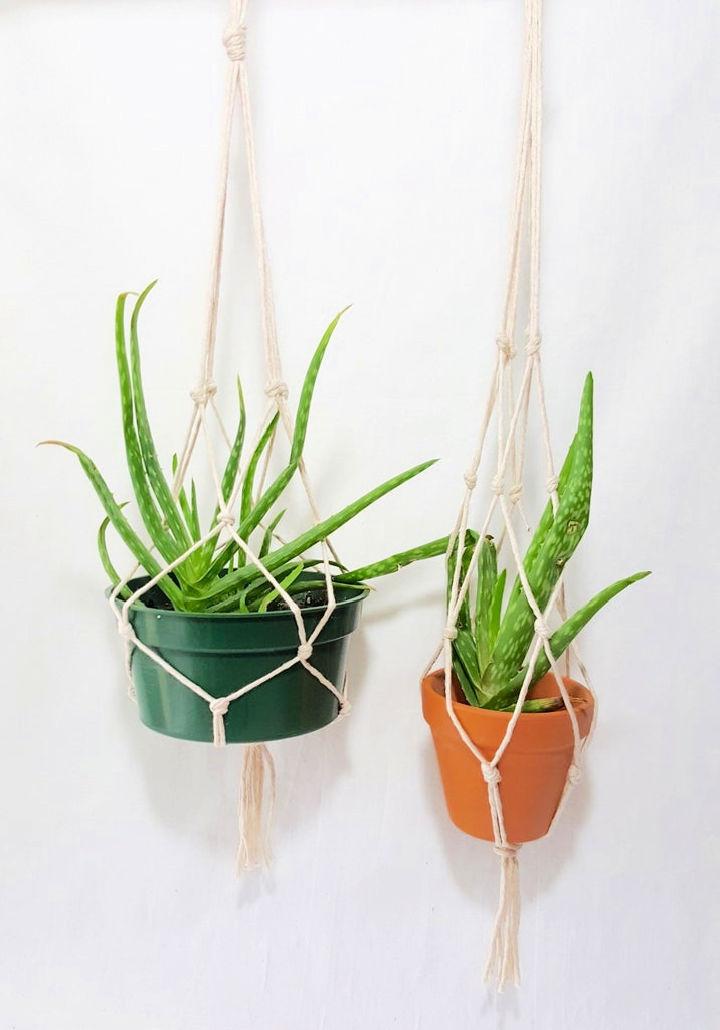 Sorting out the simple but beautiful decors for your home? Nothing will work great, but these simple macrame plant hangers, the traditional but impressive way to display your favorite pots over the head. These potholders feature bottom tassels and can be made with any of your favorite rope, cord, twine, jute or paracord. The project completes quickly, and you can make these hangers hold any pot, including the enchanting glass containers. Use colored yarn, accent metal rings, and colorful custom beads to give amazing variations to these homemade plant hangers. instructables
19. 5 Minute Macrame Plant Hanger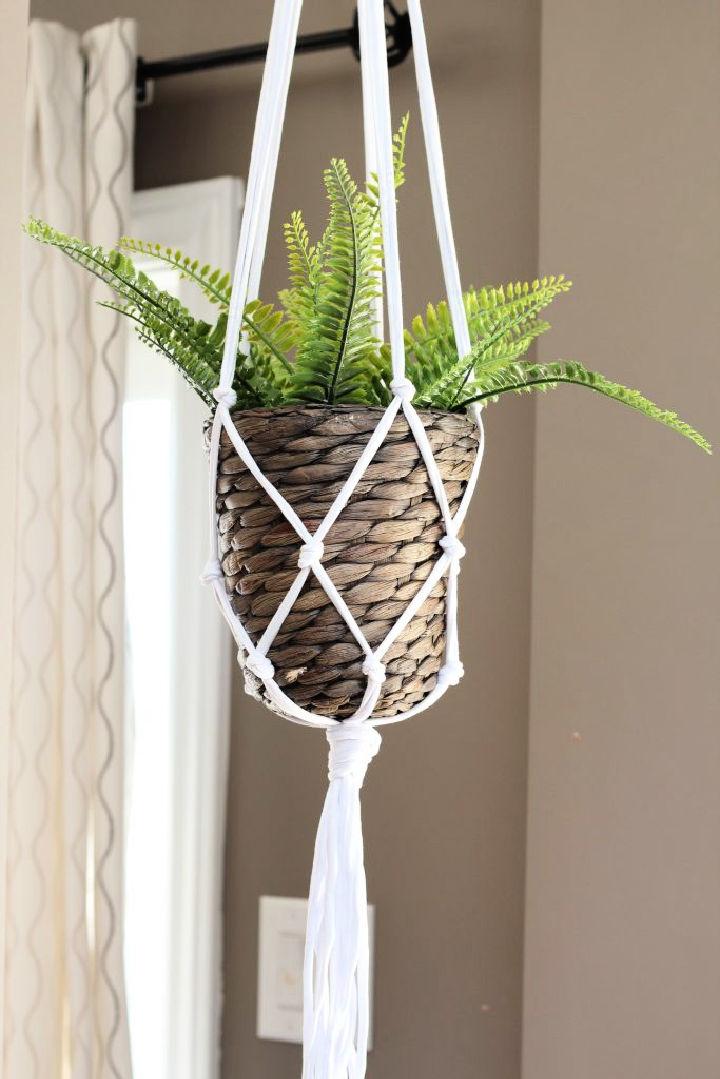 Are you highly obsessed with the hanging planter decors? Install your beautiful hanging gardens in your home with the macrame hanging planters. Learn here to make a hanging macrame planter in just 5 minutes or less, and this will help easy setup a whole hanging garden anywhere in or out of the home. You need 5 pcs of 150″ strands of string, a ceiling hook and a hanging hoop to make this awesome DIY yarn plant hanger. The very required tools for the project will be scissors, measuring tape and masking tape to complete this easy hanging planter. A total beginner macrame project. feelingnifty
20. Hoop Macrame Hanging Basket Planter

Follow here guides and instructions about making a hanging basket planter, beautifully hangs with wooden hoops and is something unique and mind-blowing. This hanging basket planter is different from the macrame hanging planters and is sure to bring a big wow factor to a targeted interior space. Use the rope or jute to easily hang it alof. You need a basket, two large 14″ embroidery hoops, one 9″ embroidery hoop, white duct tape, macrame yarn, scissors, a wooden ring and a hook for a curtain rod to complete this hanging basket with hoops. cuckoo4design
21. DIY Macrame Wall Plant Hanger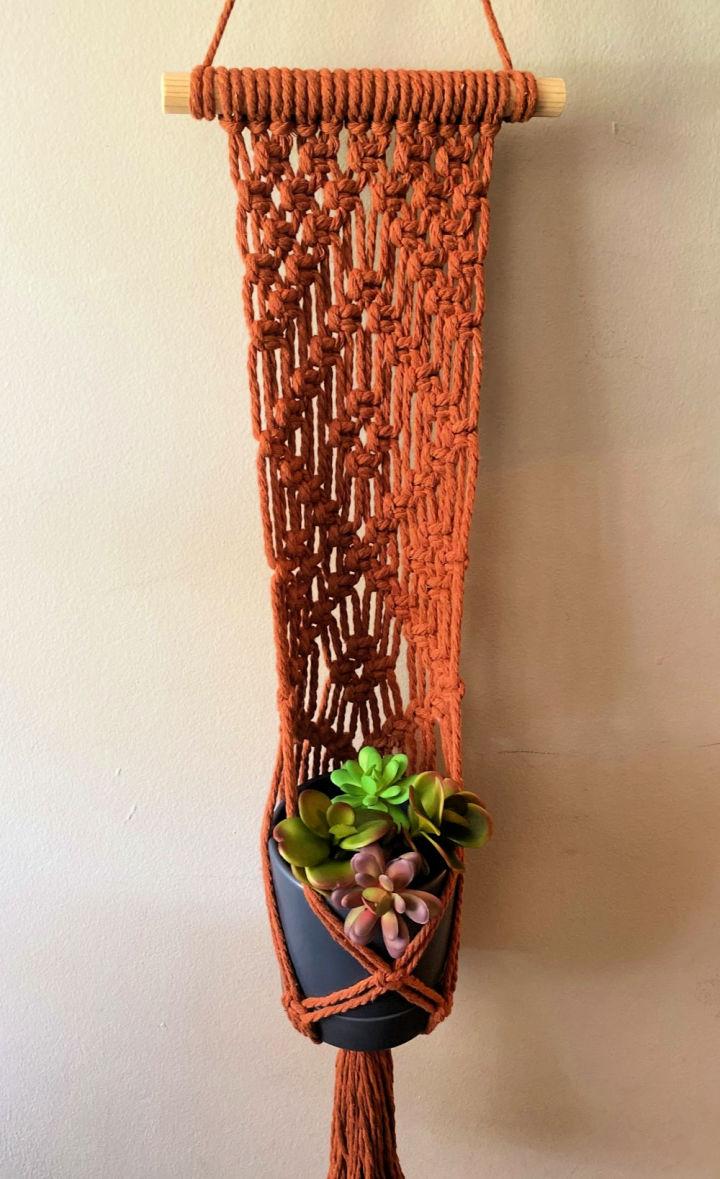 You need higher macrame skills to whip u this macrame plant hanger, appearing with tons of knotted details. You need 4mm twisted cotton macrame rope, wooden dowel, craft glue, sharp scissors, and 6″ flower pot and a plant to duplicate this precious hanging planter. The project starts by putting together the cords on a wooden dowel by giving them the larks head knots. Next, tie a square knot diamond pattern and finish the project with the plant holder section. Pick your favorite planter or pot to sit in the holding section, and that's it. marchingnorth
22. Outdoor Macrame Plant Hanger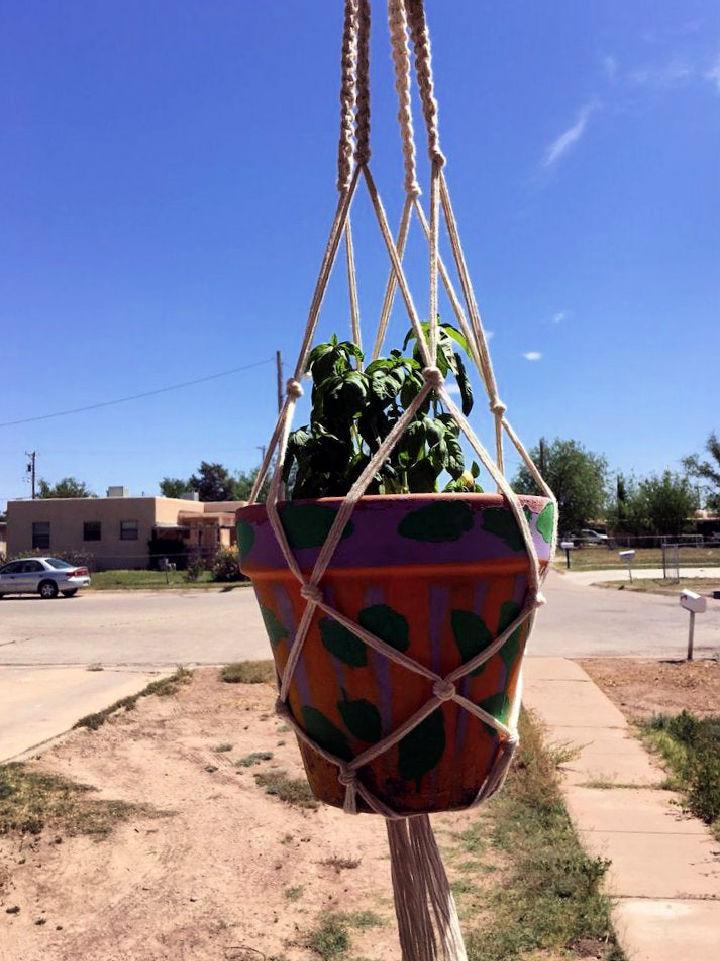 Feel free to duplicate this another fabulous hanging planter that is gorgeous to look at. You need 100% cotton crochet yarn, scissors and measuring tape to complete this macrame plant hanger, will be a big love of all. The thicker twisted and braided top sections create a stimulating visual of the entire macrame plant holder, and it will also make a better handmade gift for a homey person. If you are often to get your pots broken, these macrame plant hangers are the ideal solution to bring them in the airtol get accidental kicks to get broken. The best way to put your planters to an enchanting display. instructables
23. Handmade Macrame Plant Hanger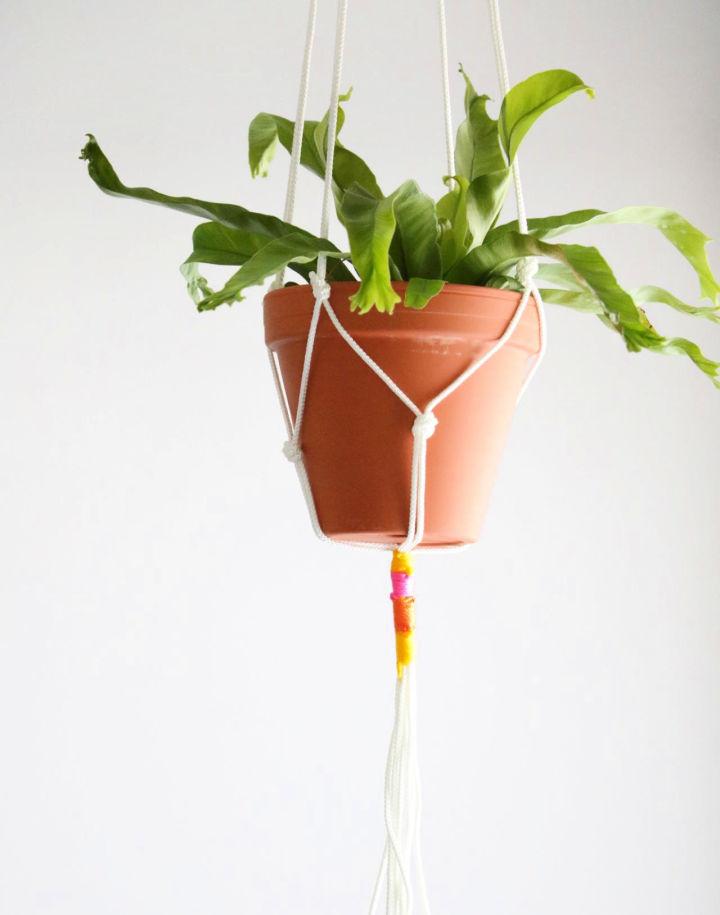 Follow complete diy macrame plant hanger patterns and instructions about making an easy and beautiful macrame plant hanger and never getting out of style. Adding different yarn colors and beads will add to the beauty of the hanger, and it will be big fun to knot the rope or cord for making this pot hanger. You need ¼″ white twisted polyester rope, 3 colors of thinner 1/32″ polyester rope, scissors, screw hook and a carabiner to complete this very beautiful and lovely macrame planter hanger. Start the project by cutting the rope into four sections of 25′ each. The copper, pink and yellow yarn colors add a lot to the beauty of this macrame plant hanger. hgtv
24. Beginners Macrame Plant Hanger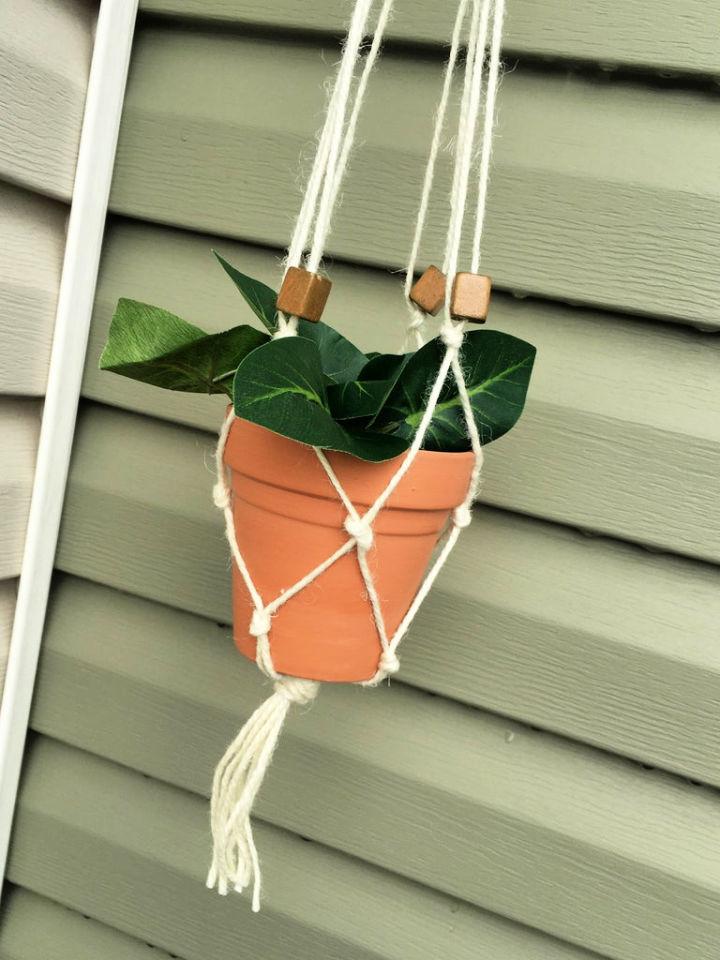 Grab here diy macrame plant hanger instructions and complete guides to make this lovely macrame hanger. These instructions here are for beginners, and they will love making this easy yet beautiful hanging planter, making a sweet handmade home decor gift. You need a potted plant, macrame cord, metal or wooden ring, 4 beads, and scissors to complete this macrame plant hanger. A totally quick and beginner-friendly yarn project that everyone can do with ease. One of the best DIY macrame hanger project that everyone can do with ease. instructables
25. Easy to Make Macrame Plant Hanger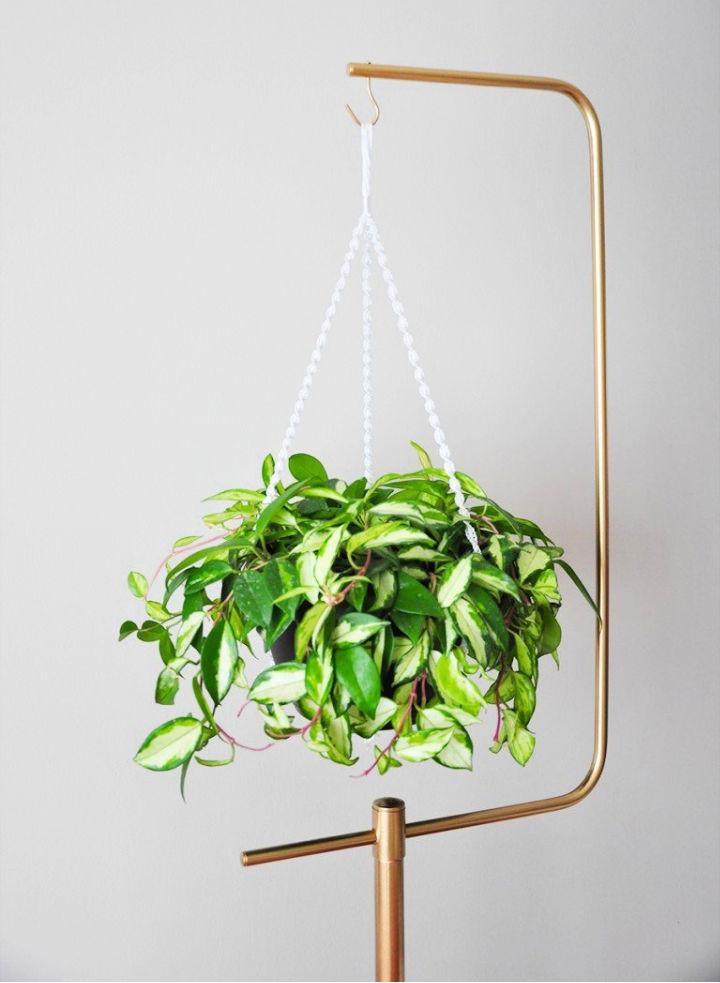 This hanging planter is guaranteed to be an impressive addition to one's home. It gains uniqueness with the beautiful hanging metal frame and is just fabulous with the overloaded greenery. This macrame plant holder will work great to give any interior a glam touch of green gardens and will work great also to bring some life and natural touch to a particular space. This is here the best bohemian home decor to feature in your modern home. You need a vintage plant stand, rust-oleum metallic gold spray paint, washi tape, cords, ruler, scissors and sandpaper to easily duplicate this macrame plant hanger. foxyoxie
Conclusion:
Are you deeply in love with the art of knotting called macrame-ing? You can do wonders using this art form, and these macrame plant hangers are one of the creative macrame-ing wonders. This episode of DIY projects will unveil all the tips and tricks to make beautiful macrame plant hanger patterns to make at home. From easy to intermediate to advanced, there are macrame patterns for all skill levels. These diy macrame plant hanger patterns will explain different knot and knot patterns here to easily achieve the plant hanger design you are obsessed with. These diy macrame plant hanger patterns will share with you the complete material lists, tool lists, step-by-step guides, detailed diagrams and complete tutorials to quickly duplicate any of the given macrame planter hanger designs.