Are you inspired by all the creative Pinterest decor recommendations? We've rounded up 40 unique DIY wooden crate decorating ideas and projects you can easily work on! We are always on the lookout and in search of ways to make things simpler for you. These massively outstanding decorating with crates are super easy to follow. As you know, wood crates are a material which is so readily available, is simple enough to easily work with, super sturdy to last longer, and even light to move. At last, it's a win-win kind of situation in every aspect! Well, who doesn't want that? So, if you are a decorating freak like most of us these small wooden crate decorating ideas are perfect for you. We've got you all covered for your DIY projects this season!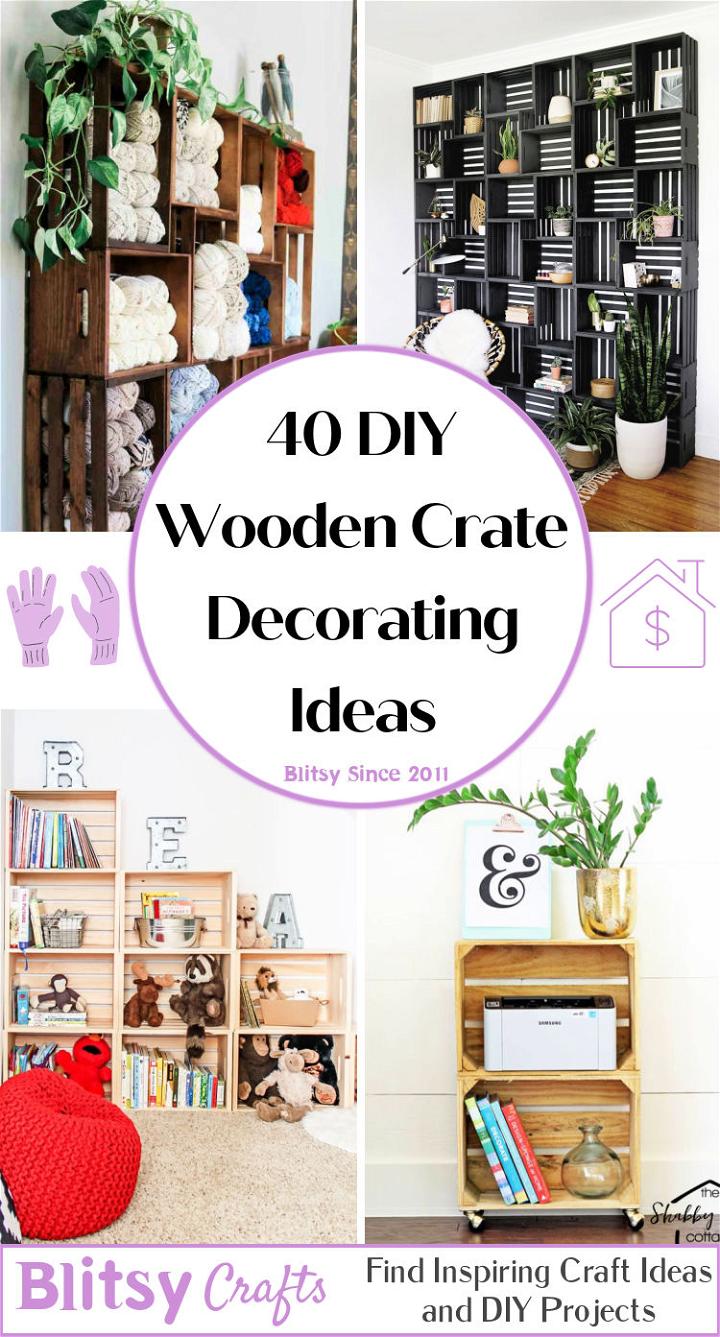 From crate shoe storage display to upholstered wood crate storage seat and the wooden crates tv stand to wood crate platform bed! You name it and we have it. These 40 easy diy wooden crate ideas are all you need to revamp the entire look of your space. After going through all the below-mentioned small wooden crate decorating ideas, you will know that the possibilities to work with a simple wood crate can be endless.
Also, the greatest way there is to get used to all the stocked-up scrap wood crates in your garage. Just with a few common additional supplies which won't even cost you a few bucks, you can turn around a dull place into something stunning. Literally, in the blink of an eye! Besides, saying that this article on wooden crate decorating ideas is going to change your life would be an understatement. Are you excited? Let's start!
1. DIY Crate Shelf Statement Wall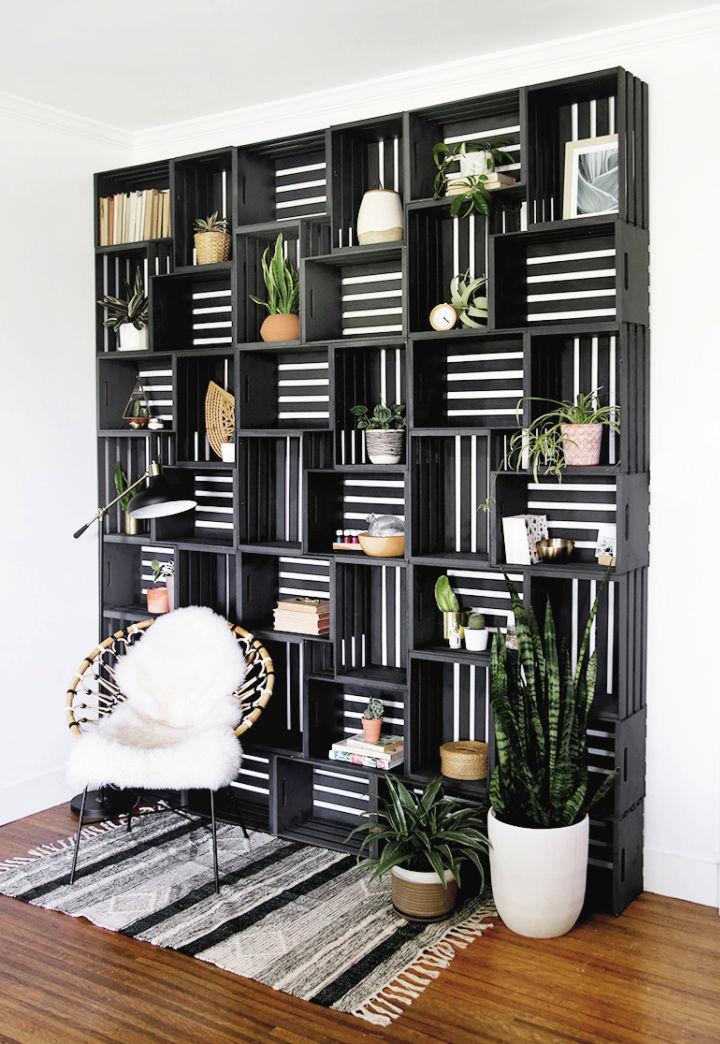 Looking for a new DIY craft to work on? Check out this DIY Crate Shelf Statement Wall! To remodel the look of your bedroom it's the perfect plan to choose. Also, if you want to add a pop of color to brighten up the space this is the way to go. Secondly, all you need is matte paint in your choice of color, wooden crates, a measuring tape, drill, screws, and a countersink bit. themerrythought
2. Wooden Crate End Table on Budget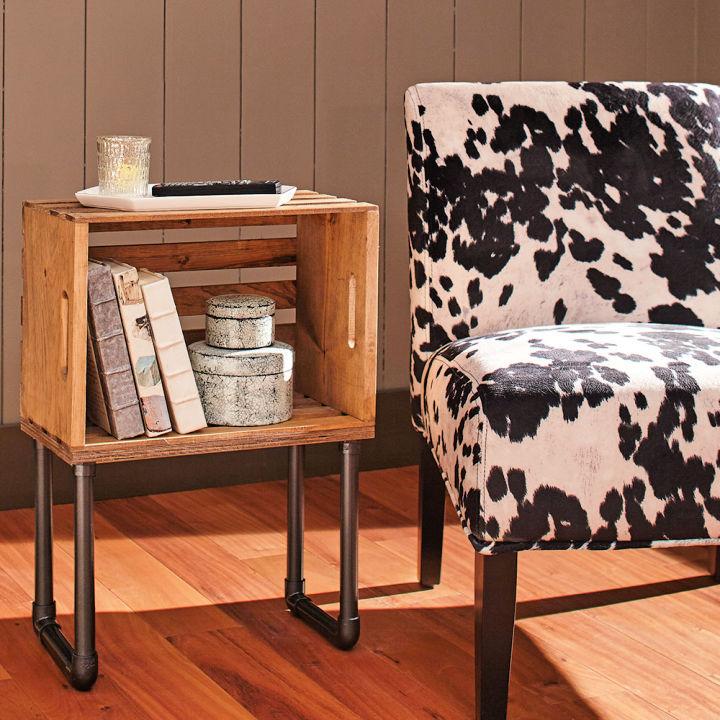 No more online furniture shopping when you can make one yourself! Have a look at this Wooden Crate End Table on Budget giving all the vintage vibes. Consequently, it takes up minimum space and can be made in under an hour. How cool is that? Simply follow the step-by-step instructions and come up with your own. Finish off with a stain coat to give an impressive final touch. homedepot
3. Crate Shoe Storage Display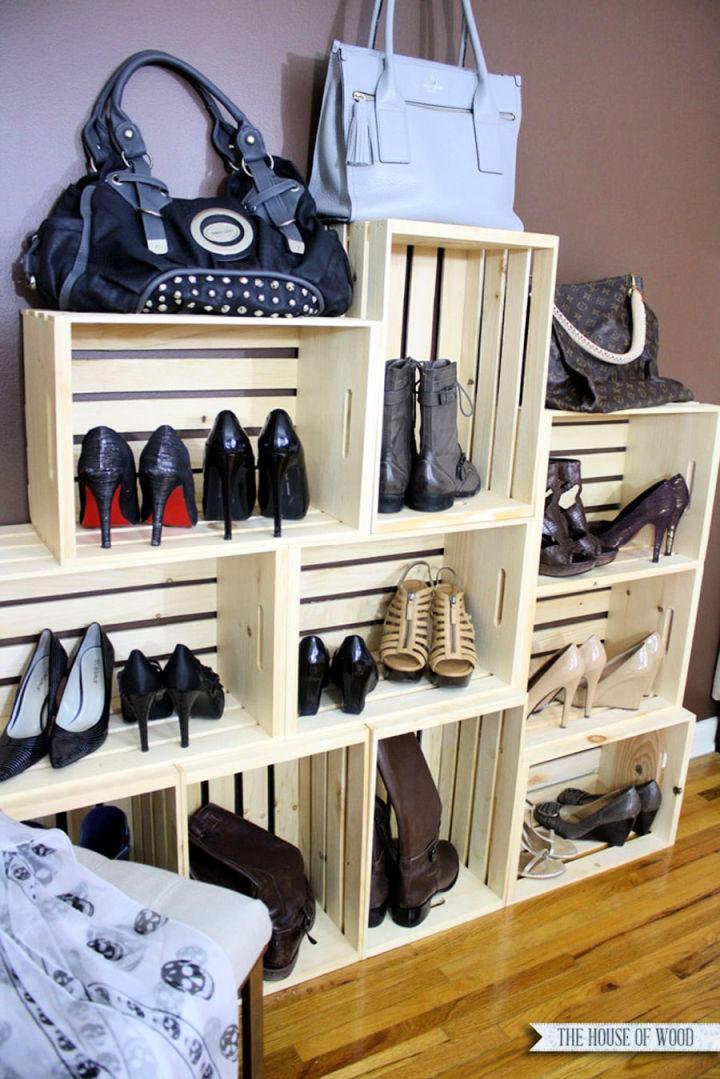 Want to enhance the hallway look and organize your shoes? This wooden crates shoe storage display would do perfectly! Finally, come up with a creative way to manage your organize your shoes and go-to essentials uniquely and get rid of the shabbiness. Moreover, it is such a smart idea to put up with your modern furniture. Simply all you need are small wooden crates to organize all your storage materials divinely. jenwoodhouse
4. Fruit Crate Bench with Shoe Storage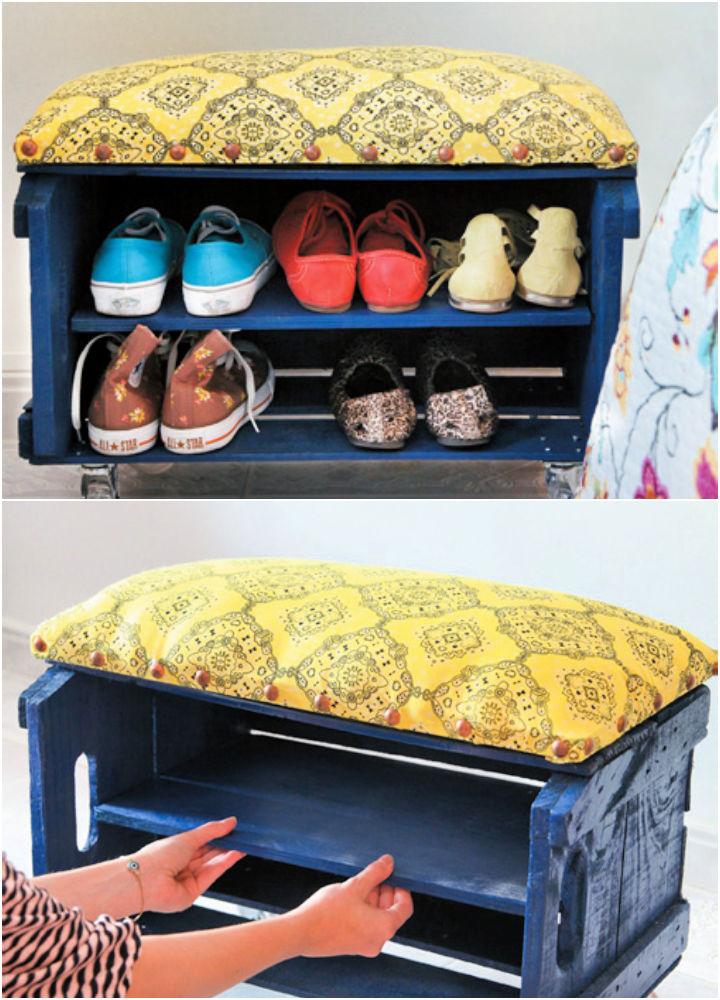 Presenting you a 2-in-1 amaze balls DIY project! This Fruit Crate Bench with Shoe Storage is the perfect fit for your living room or hallway. You can also hide your things by following these hidden storage ideas that are super useful. Not only is this plan incredibly easy to work on but also super quick as well as efficient. All you will need is a wood crate, some spray paint, two wood slabs, wool, cotton cloth, drill, screws, and wheels to come up with this ultimate piece. handimania
5. Stained Navy Wooden Crate Refreshment Station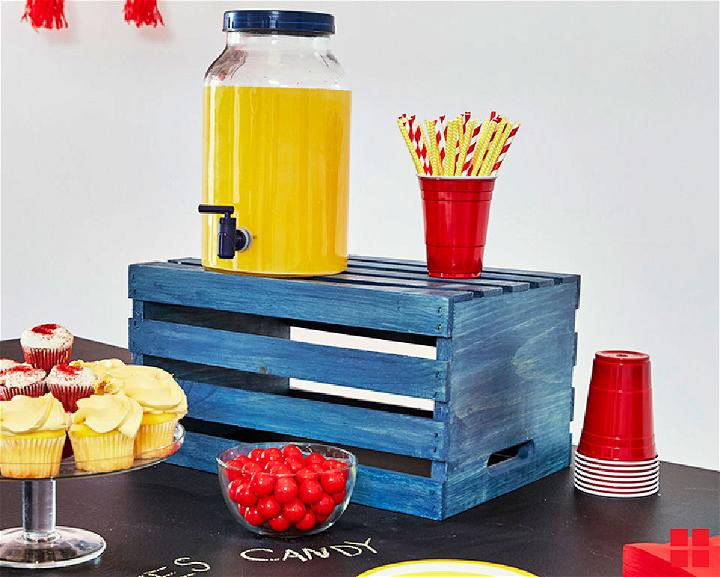 Ready for a super-fun yet, simple craft to work on this weekend? This Stained Navy Wooden Crate Refreshment Station is not unique but also crazily doable. A lifesaver to all your future summer parties! Moreover, it can serve both as a station as well as a utensils storage box for instance disposable plates & glasses. A wooden crate, drop & tack cloth, sandpaper, stir stick, and paintbrush are the required tools. rustoleum
6. Upholstered Wood Crate Storage Seat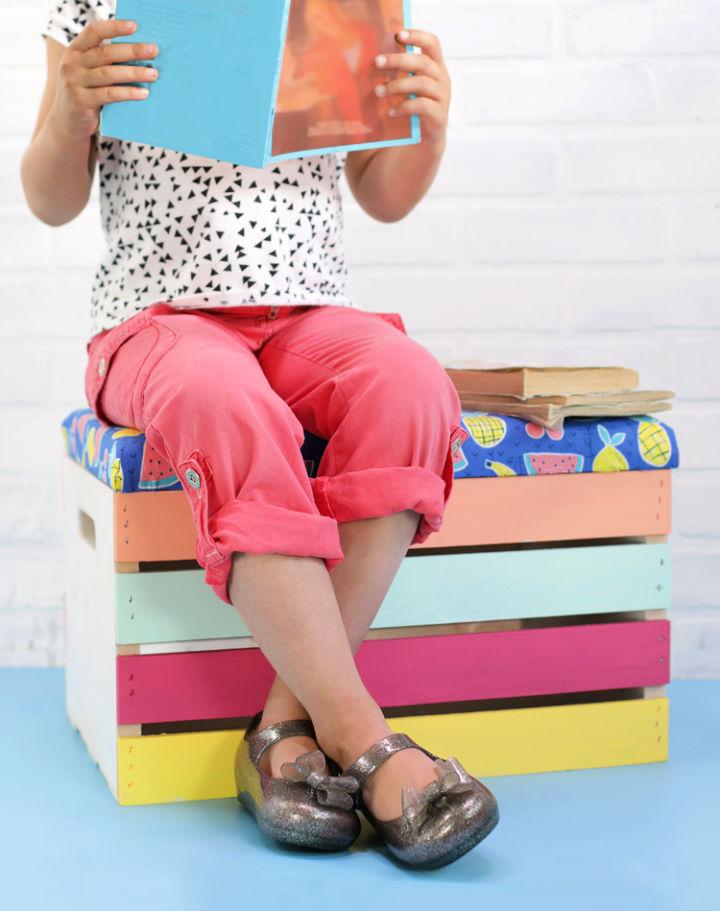 Check out this Upholstered Wood Crate Storage Seat for a fun DIY project. Here's how you can turn a simple wooden crate into an up-cycles storage container as well as a seat. Also, it can be the most basic addition to your kids' room. Be it toys, books, or clothes anything can be stored in it. A crate, upholstery foam, nails, fabric & batting, sandpaper, glue gun, staple gun, and glue sticks are what you need. thecraftpatch
7. Yarn Storage Shelves Using Wooden Crates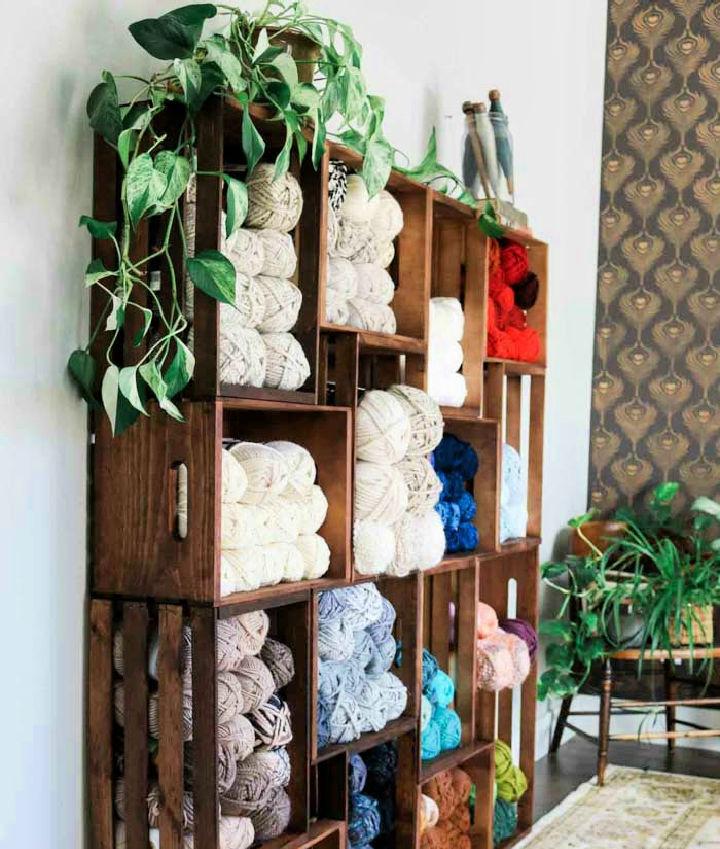 Want to create a yarn storage wall set-up in your room? Check out these Yarn Storage Shelves Using Wooden Crates. Not only do they serve the purpose of storing but also look so stunning. In addition to this, it brings such aesthetic vibes to your room and adds a pop of color. Store your stash in an incredibly beautiful yet, modern way. Wooden crates, electric sander, wood stain, zip ties, drill, wall anchor, and scissors are the materials required. makeanddocrew
8. DIY Kids Crate Craft Table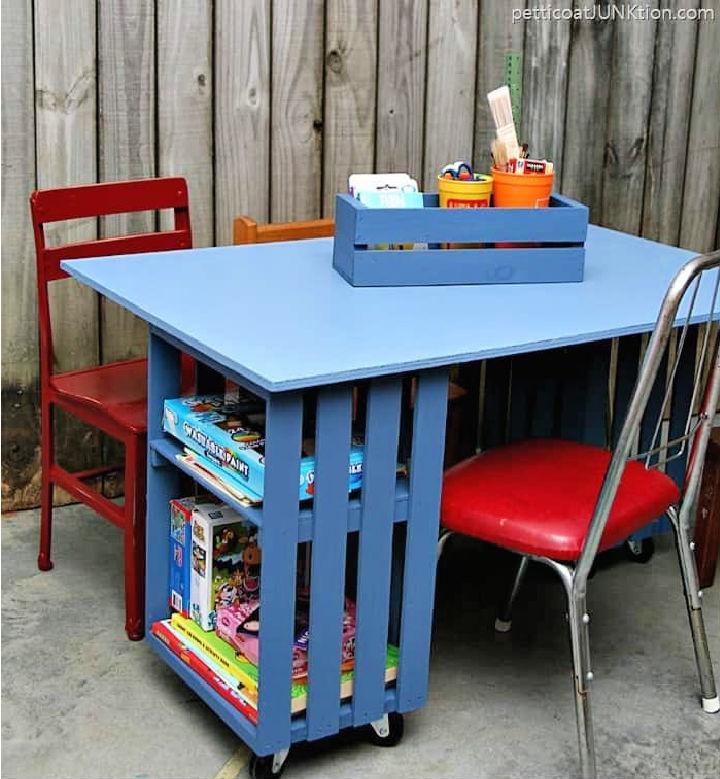 Want to excite your kids and make their crafts more this summer? We have the perfect DIY Kids Table for you which will serve the purposefully! This kids' table also includes room for storage. Moreover, it can be used in any space be it indoor or outdoor as it is easily moveable. 2 large crates, plywood, table saw, 8 2″ casters, drill, and screws are the needed supplies. petticoatjunktion
9. Wooden Crate Planter on Wall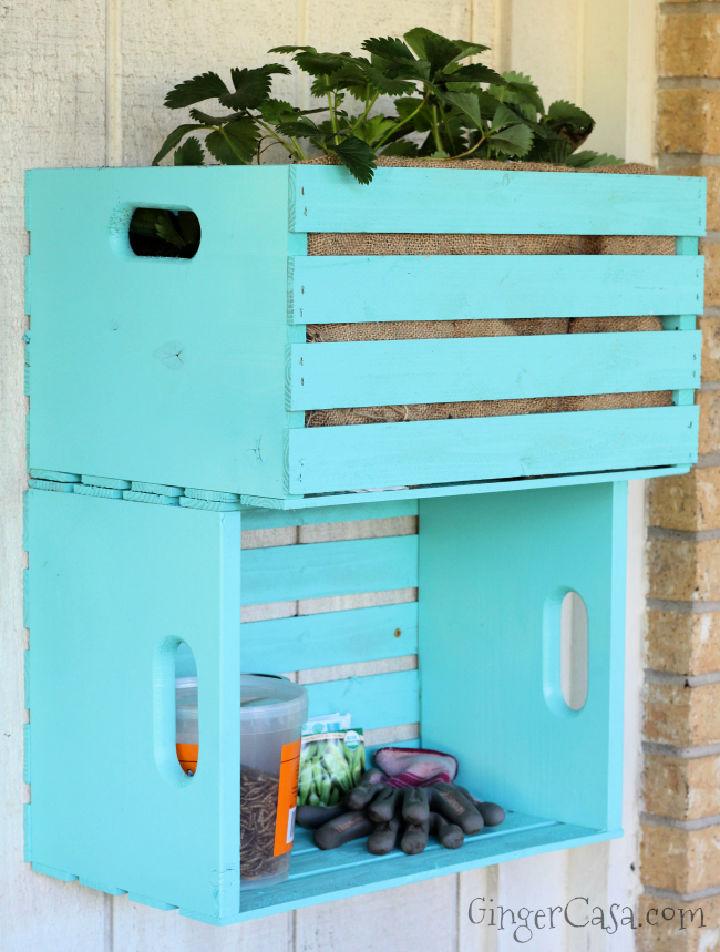 Presenting you a wonderful springtime project worth drooling over. This Wooden Crate Planter on Wall is all your outdoor space requires. To spruce up the garden look as well as having a storage compartment to it, this craft is just perfect. Have as many planters as you wish by following the simplest instructions given. Wooden crates, outdoor paint, 10 deck screws, hammer & nails, screwdriver, and level are the tools required. gingercasa
10. Coffee Table Using Big Wooden Crates

Planning to revamp your patio furniture? Here's a great plan for you! This DIY coffee table using big wooden crates adds a basic as well as a modern touch to any space. Moreover, it gives off all the rustic vibes and creates a farmhouse-style look. All you need for this DIY project are wooden rectangle crates, castor wheels, wood stain, nail gun, and saw. feelingnifty
11. Easy Wooden Crate Shelf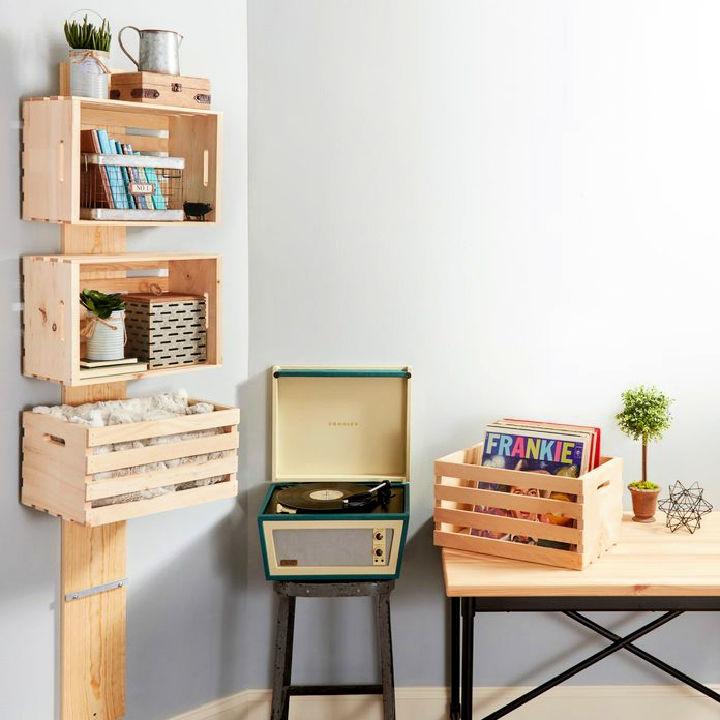 Here's how to easily and quickly make an Easy wooden crate shelf. It is not only very useful but also cost-effective will hardly cost you $30-40. Also, with this simple hanging rack tutorial, you can take down and hang up wooden crates according to your convenience. All you will require are wooden crates, 1×8 pine boards, aluminum bar, spade bit, nuts & screws, hanging hardware, and hacksaw. familyhandyman
12. Wine Crate to Decorative Storage Box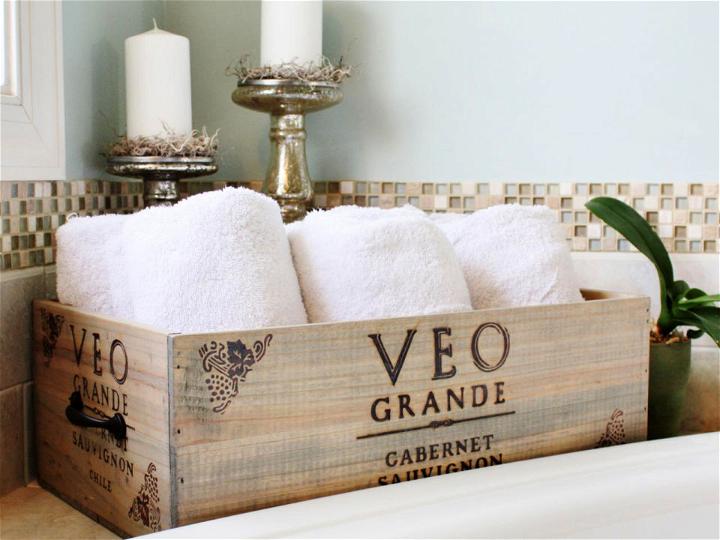 Ready for a super-cool transformation project? Have a look at this divine Wine to Decorative Storage Box! This east craft not only adds a vintage vibe to it but also comes with attached handles for feasible movement. Moreover, it can be used for a long-term period due to its sturdiness. A wine crate, stain, wood glue, 2 cabinet handles, sandpaper, and box cutter are the essential tools required. hgtv
13. DIY Wood Crate TV Stand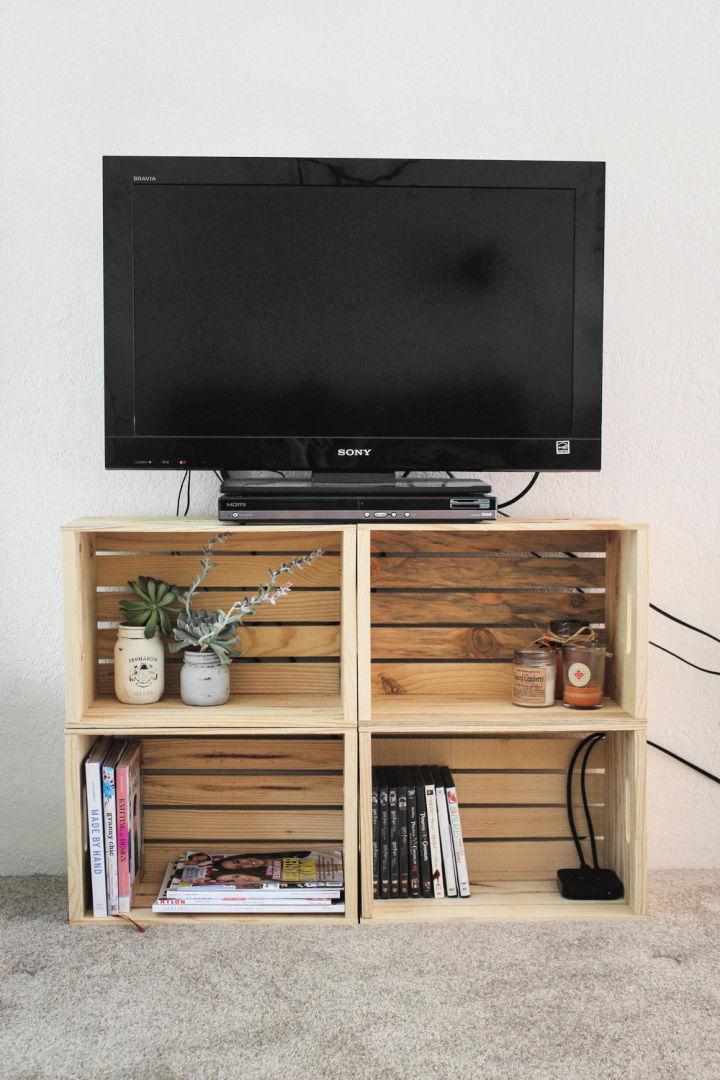 Thinking of giving a makeover to your living room? Check out this DIY Wood Crate TV Stand! With enough room for storage of go-to essentials and less space occupying it turns out to be the cheapest most efficient craft to invest in. If you are a renter or a student living on a budget this project is a life-saver. Furthermore, it requires only a few common tools such as crates, screws, and a power drill. cashmereandplaid
14. Milk Crate Planter with Rust oleum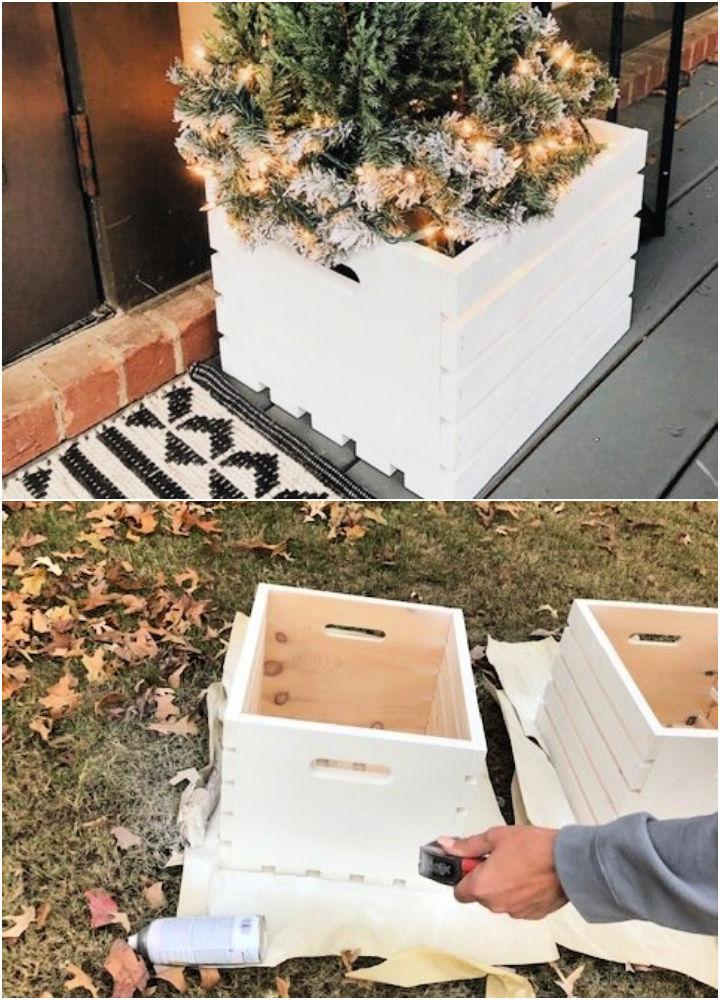 Give your entrance doorway a new look with this Milk Crate Planter with Rust-Oleum. Perfect for holiday party outdoor decor as well as for a modern upgrade. Also, not only is it so simple to make but also highly affordable. To make this DIY planter box, you will need a wooden crate, 2 cans of rust-oleum spray paint, faux plants, and fairy lights to begin with. shegaveitago
15. Sturdy Wooden Crate Cabinet with Sliding Drawers

Here's an inspirational DIY Sturdy Wooden Crate Cabinet with Sliding Drawers. Who knew wooden crates would come so handy? This incredibly gorgeous yet, easily doable cabinet is like a dream come true. Also, suitable for every sort of storage they sure work like magic and also at such a low cost. Wooden crates, planks, ply-board, tape, 4 pairs of drawer slides, miter saw, circular saw, clamps, drill, hammer & screws, and wood glue are the required tools. virginiasweetpea
16. How to Build Wooden Crate Bookshelf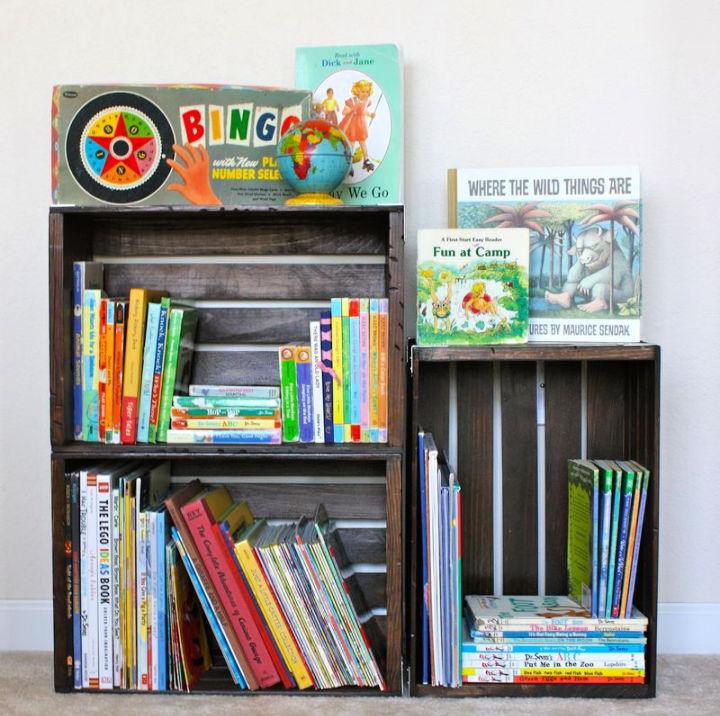 Thinking of having a mini library in your kids' room? Take a look at how to build a bookshelf out of recycled items, like wooden crates. This dreamy little addition to any place adds such a style as well as room for storage. Moreover, it's the easiest and most affordable craft you will find on the internet. All you need are wood crates, a sander, hammer & nails, brackets, stain, and polyurethane. crateandbarrel
17. Nightstand from an Old Wine Crate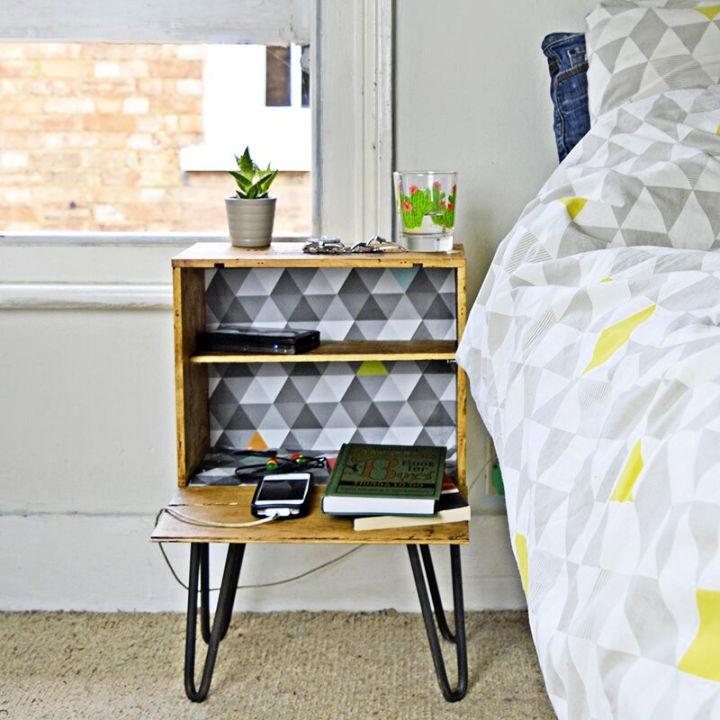 Renovating your bedroom? Here's how you can plan on cutting down the cost. Add this DIY Nightstand from an Old Wine Crate to your bedside and see how it totally transforms the look. Also, wine crates are so vintage-ly beautiful that it's unjust to throw them away. Come up with this craft using only a wine crate, mod podge, hairpin table legs, dark wax polish, and short as well as wide wood screws. pillarboxblue
18. Painted Wood Crate Basket for Bike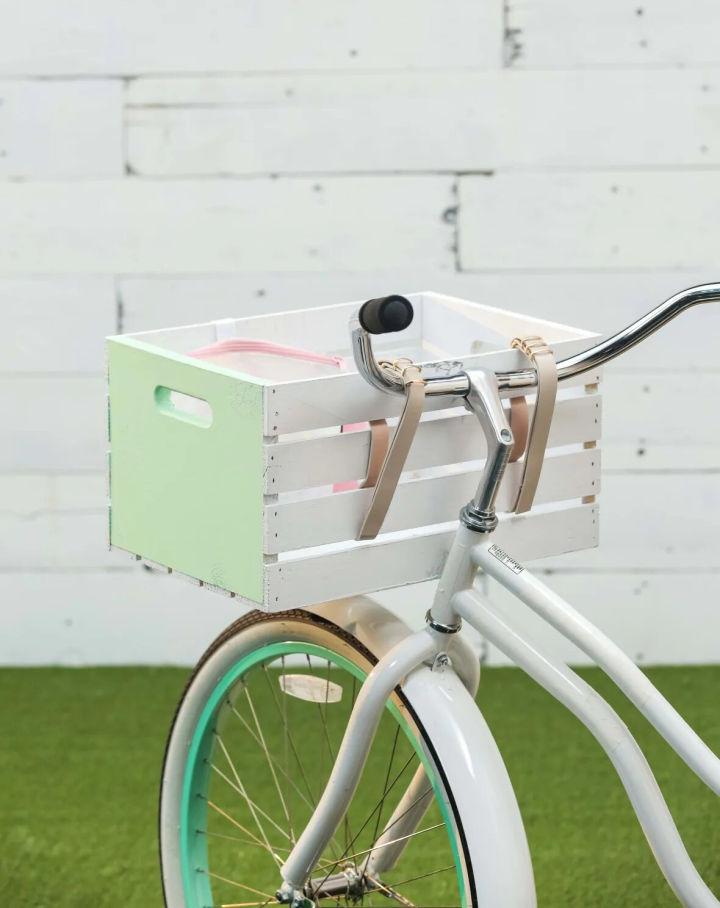 Are you bored of your vague bicycle? Here's how you can revamp it by adding this Painted Wood Crate Basket for Bike. Isn't that cool? Moreover, it helps to store essentials, for example, water bottles, books, or snacks. A wood crate, latex paints & brush, snap fasteners & pliers, painter's tape, drill, hook screw, 2 belts, and a pair of scissors, are the supplies required for this project. cbc ca
19. Wooden Crate Pumpkins Craft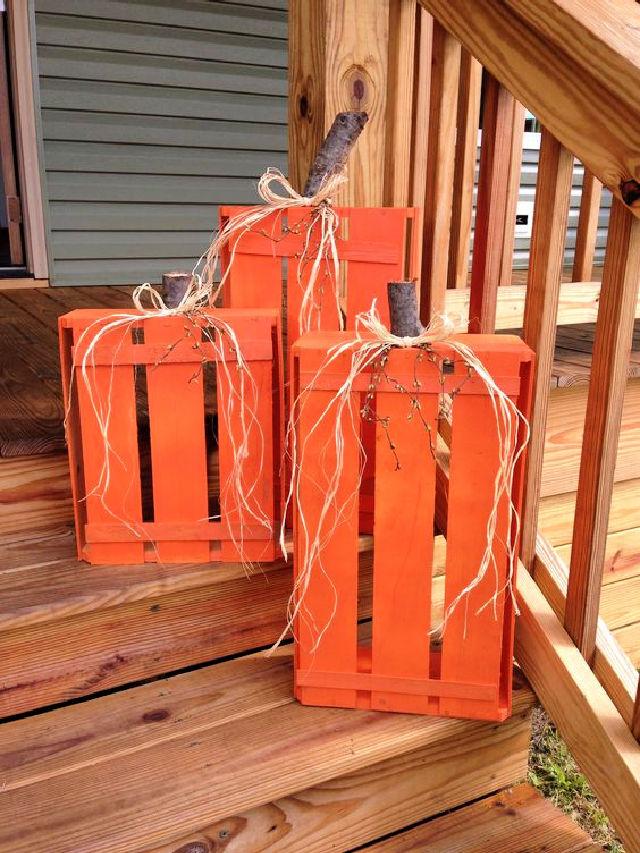 Halloween season is just around the corner, right? We bring you Wooden Crate Pumpkins Craft for some fun! An ultimately easy-peasy project which makes the fantastic Halloween decor as well. 3 different-sized wooden crates, orange acrylic paint, ribbon, and branch stems are all the materials you will need for the following craft. Go by the instructions step-by-step and light up your spooky yet, unique Halloween setup! craftymorning
20. Wooden Crate Toy Box for Dogs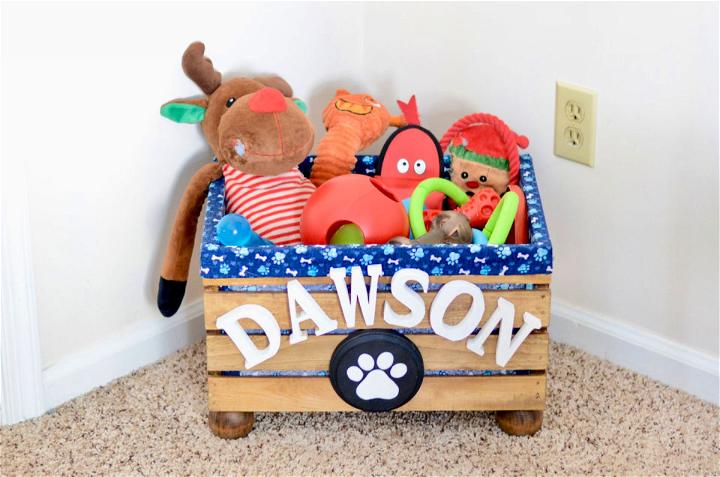 Here's a little something nice you can make up your furry buddy. Check out this Wooden Crate Toy Box for Dogs! In order to stack their toy collection all in one place, this is the easiest possible way there is. Also, it is sturdy, life-long, and convenient, and a rather quick process. A wooden crate, fabric pattern, wooden doll heads, stain, paint, hot glue gun & sticks, paper towels, and a paper plate are the materials you will need. breannaspain
21. Upcycle Wooden Crates to Rustic Bookshelf

Wooden crates can be an amazing thing to make interesting DIYs. Just like this upcycled wood crates bookshelf. This rustic piece of furniture will look great in the living room. Moreover, it is very easy to build with basic supplies so you do not need to be an expert for this project. The supplies and tools include wooden crates, measuring tape, pencil, pine boards, pocket-hole jig, drill bit, pocket-hole screws, and self-boring wood screws. hgtv
22. Industrial Wood Crate Box for Toy Storage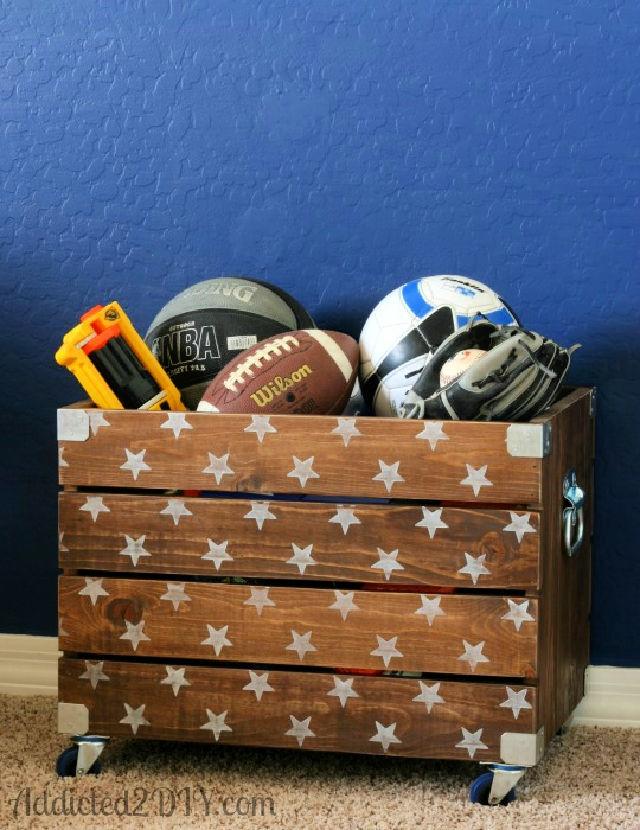 Are you tired of your kid's toys scattered all over the house? Then you definitely need to try this DIY industrial wood crate toy box. You can customize the designs that your kid wants on the crate and make a customized one for them. It is a really fun project and you will definitely have a lot of fun making this one. You will need 4 – 1×8 15" long pieces, boards, casters, corner straps, strong chest handles, brad nails, wood glue, and a hammer. addicted2diy
23. DIY Wood Storage Crate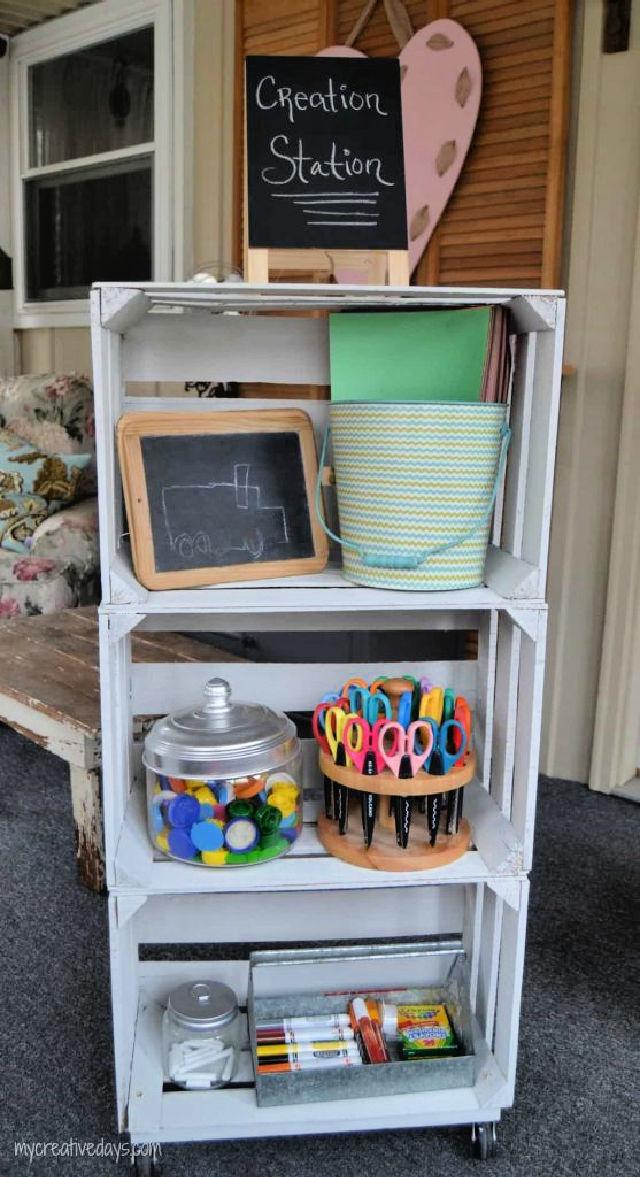 Check out this cool DIY wood storage crate which is great for storing things. You can create your own little artistic corner by keeping all your stationery in this. This project is not only super useful but really easy to make as well! You can decorate it according to your preference and keep anything in it like stationery items, decor items, vases, candles, etc. To make this you will just need construction paper, wooden crates, scissors, chalkboards, chalk, glue, and markers. mycreativedays
24. Wood Crate Rolling Cart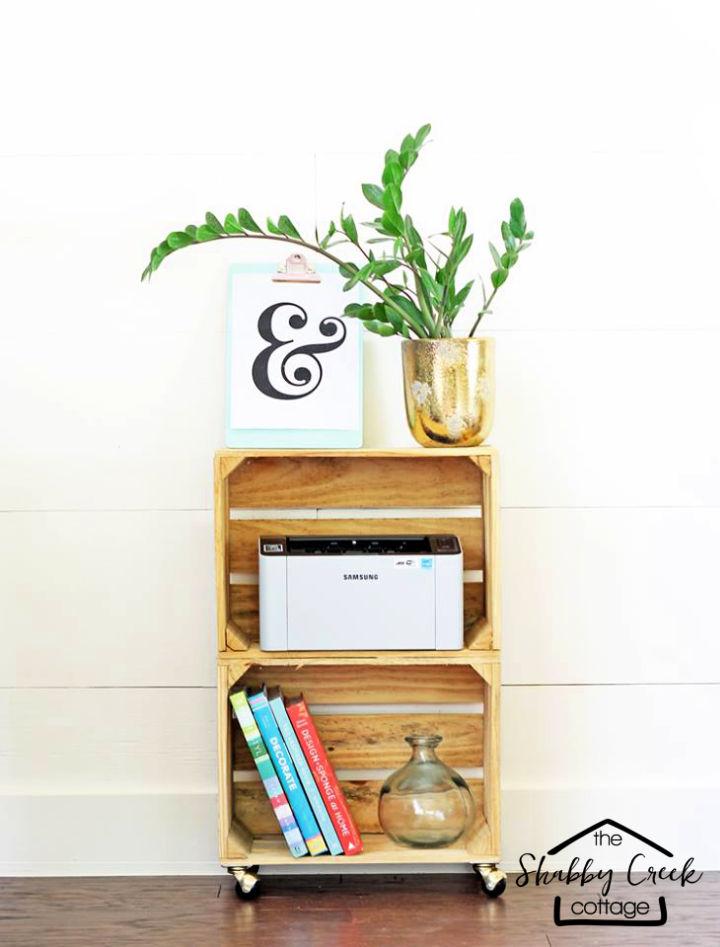 If you love wooden crate crafts, then you will definitely find this wood crate rolling cart super amazing. It is really easy and quick to make. So if you have guests coming over, you can easily make this piece of rustic furniture and impress them with your craft. Then you can decorate the cart with different things according to your liking. The supplies needed for this project include wood crates, ball casters, wood screws, drill with the drill bit, and screwdriver bit. theshabbycreek
25. Ottoman from Small Wooden Crate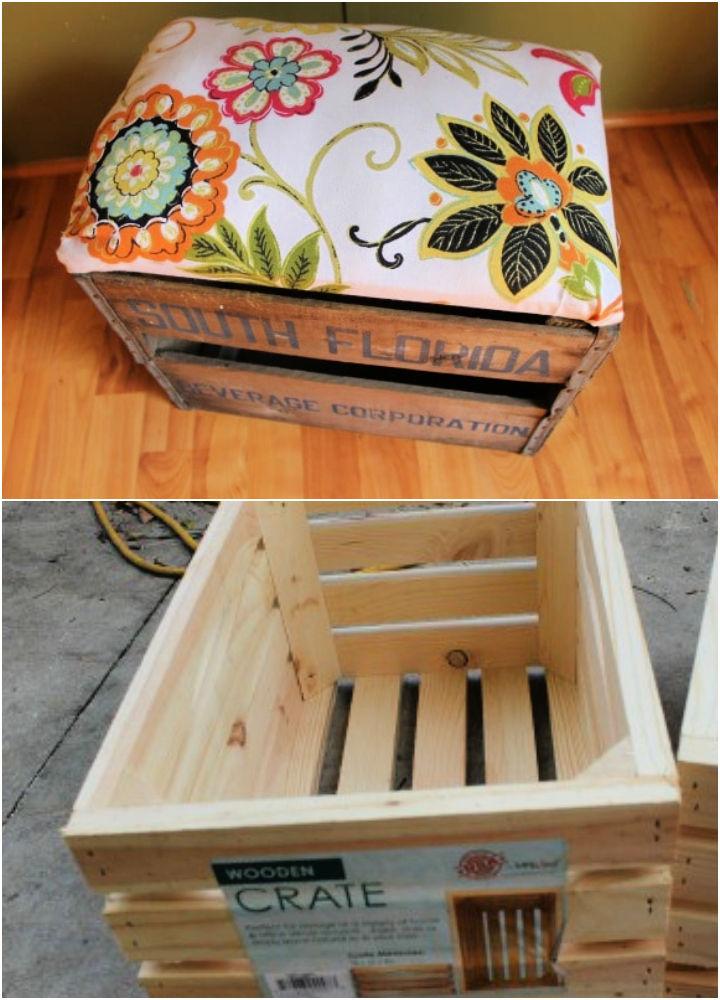 Have a crate lying around the house and don't know what to do with it? Well, don't worry! Have a look at this stunning Ottoman small wooden crate project. You can make a beautiful accent piece of furniture for your home and proudly show off your crafting skills. Surprisingly, this project is really simple to make using supplies like crates, board, cotton filler, fabric, scissors, staple gun, drill, screws, and 2×2's. premeditate
26. Build Your Own Wooden Crate Bookcase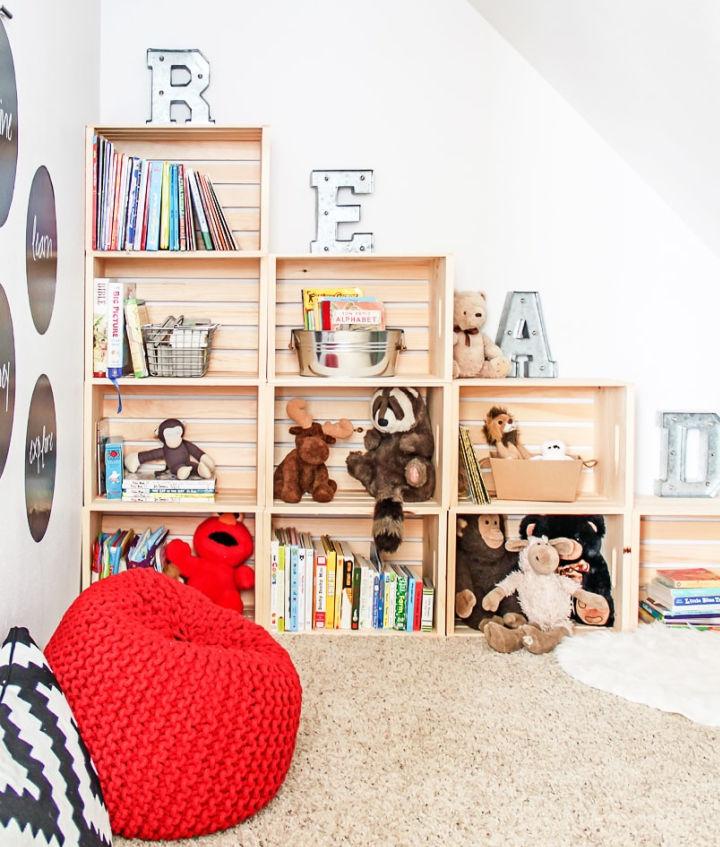 Are you a book reading enthusiast who wants to have a bookshelf on a low budget? Look no further! Try out this amazing DIY crate bookcase project. It is not only super easy to build, but also quite fun to experiment with. If you want, you can also paint the crates with any color and make them colorful and bright. However, the wooden color looks more beautiful and natural. Isn't it the best craft ever? So, let's try it out! maisondepax
27. DIY Painted Wooden Crate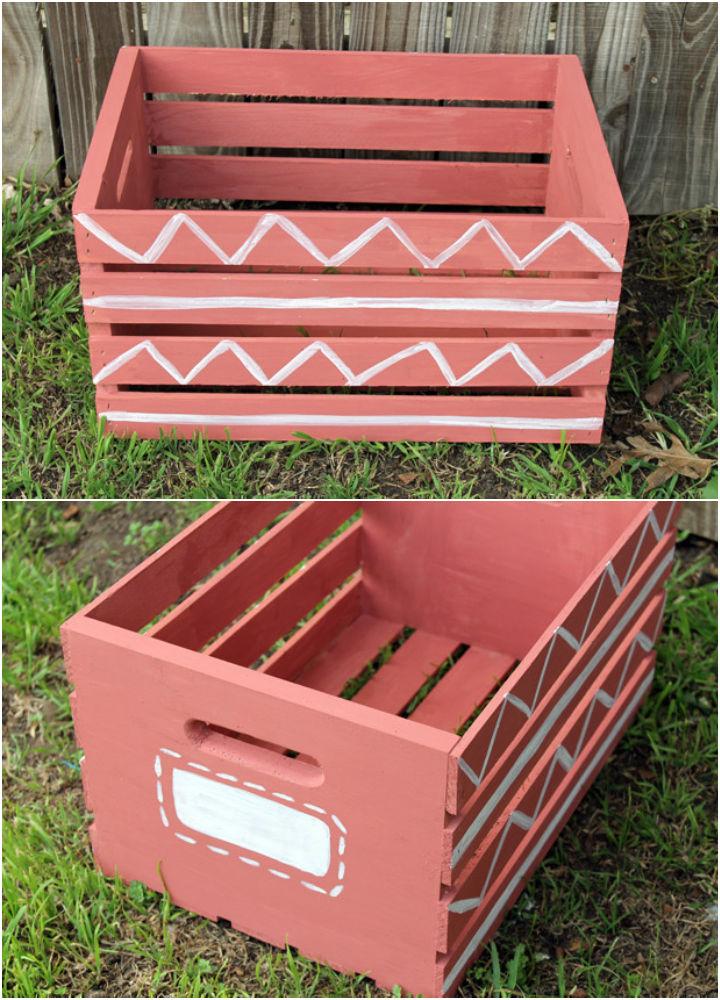 Now you can add some life to your wooden crates by painting them with your favorite colors. These colorful crates can be used as a nice piece of furniture in the home. You can choose any size of crate that you like. Make sure to sand and clean the crate before applying the paint. The supplies that you need for this project include a wooden crate, milk paint, container, paintbrush, and stir stick. cutoutandkeep
28. Repurposed Wood Crate Tote Caddy

Repurposing anything old is a fun and sustainable craft which is a dire need of today's world. Just like this wood crate tote caddy which is made from old fruit crates. If you know some basic woodworking skills then making this craft will not be too difficult for you. However, anyone can try making it as they like using their imagination. So gather the necessary tools and supplies to make this project! lorabloomquist
29. How to Build a Wooden Crate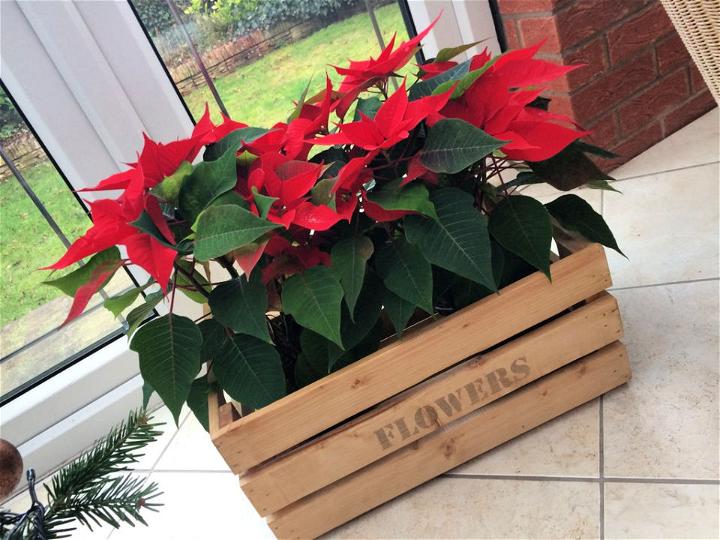 Wooden crate furniture has been the talk of the town these days. If you are someone who loves such rustic and farmhouse-inspired crafts then make sure to check out this plan on how to make a wooden crate. It is a fairly easy project and does not require many supplies to make. So if you have a knack for crafting then you should definitely try this project right now! instructables
30. Farmhouse Style Wood Crates Produce Stand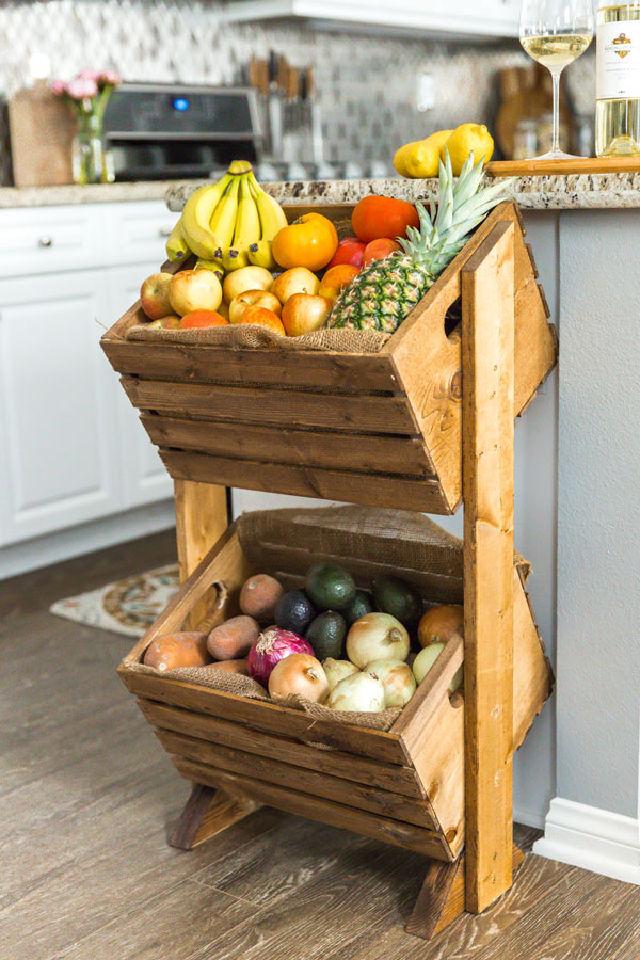 This two-tier wood produce stand is a great way to store fruits and vegetables in the kitchen along with the addition of a super stylish piece of furniture. This makes it easier to grab the fruits or vegetables and saves on counter space as well – amazing, isn't it? Anyone can make this project just by carefully following the plan. To make this, you need wood crates, wood boards, wood screws, and wood stain. kj
31. DIY Dog Crate Console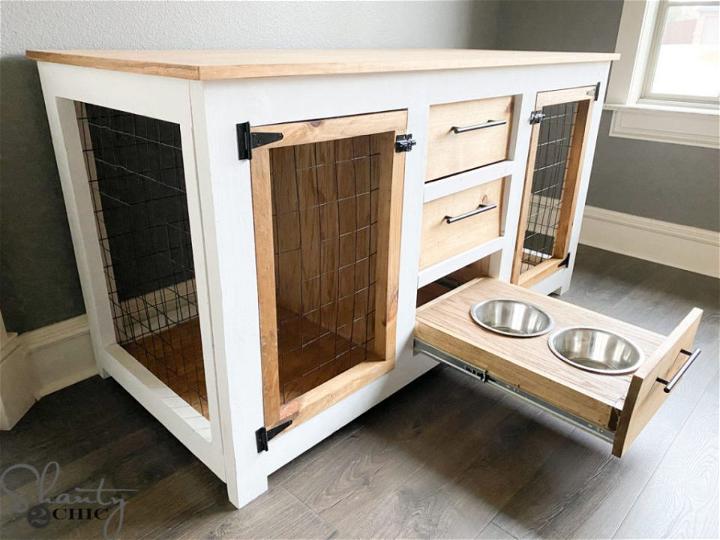 Do you have a furry, four-legged canine at home and want to make something useful and beautiful for them? Then go for this DIY dog crate console which also looks like a nice piece of furniture when not in use. Assemble miter saw, drill, Kreg jig, gauge nailer, table saw, nippers, framing lumber, pinewood, pocket hole screws, staples, pin nails, hinges, wood glue, etc. shanty 2 chic
32. How to Decorate a Wood Crate with Mod Podge

Learn how to easily decorate a simple wooden crate with a mod podge to create a nice decor piece. You can customize and decorate the crate according to what you prefer the most. Along with being really fun, it is also very easy to make! You need to gather supplies for this project including a small wood crate, adhesive stencils, mod podge gloss, paint, scrapbook paper, sand, paper cutter, craft knife, ruler, mat, pencil, and paintbrush. modpodgerocks
33. Mini Wood Crates Organizer for Craft Room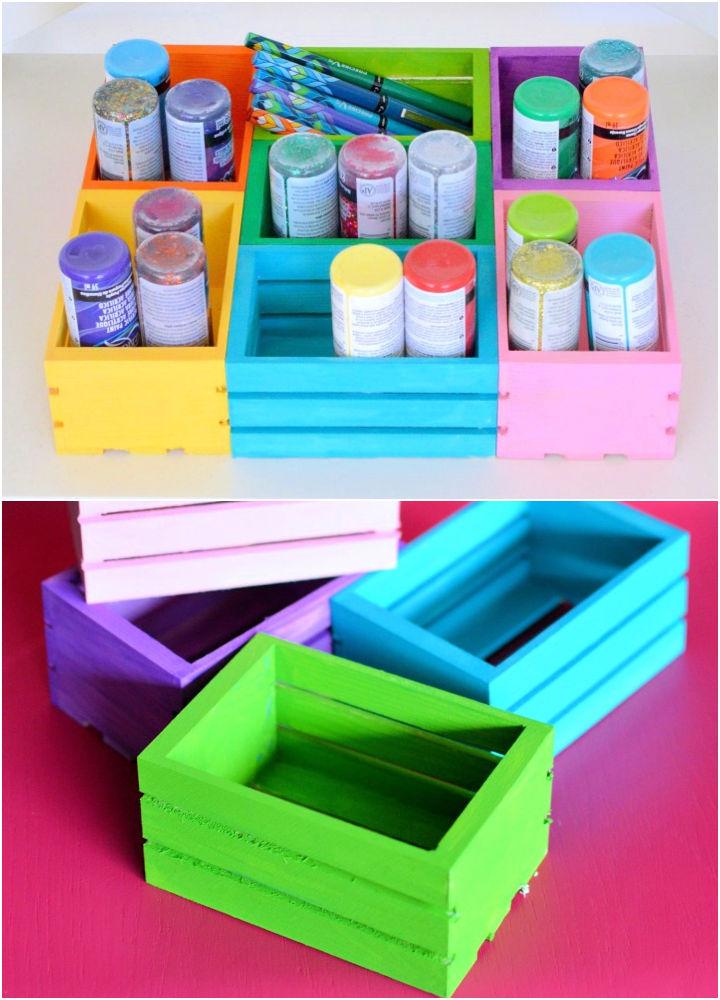 Wooden crates come in different sizes and each of them will have its own use. Just like these DIY mini crates organizers. These help you to organize your supplies in one place and are easily reachable as well. If you are someone who loves to do arts and crafts then this is a must-try project! You will need mini wooden crates, gorilla glue, paints, and paintbrushes. deliciousanddiy
34. DIY Bookshelf Using Large Wooden Crates

Looking for modern and contemporary style furniture for your home but on a low budget? Have a look at this stunning DIY crate bookshelf. The best thing is that they are not only easy to build but also customizable according to your space and budget. You will need unfinished wood crates, sander, sponge brushes, rags, plastic table cloth, Minwax provincial stain, screws, l bracket, and screwdriver. taramichelleinteriors
35. DIY Wooden Crate Bench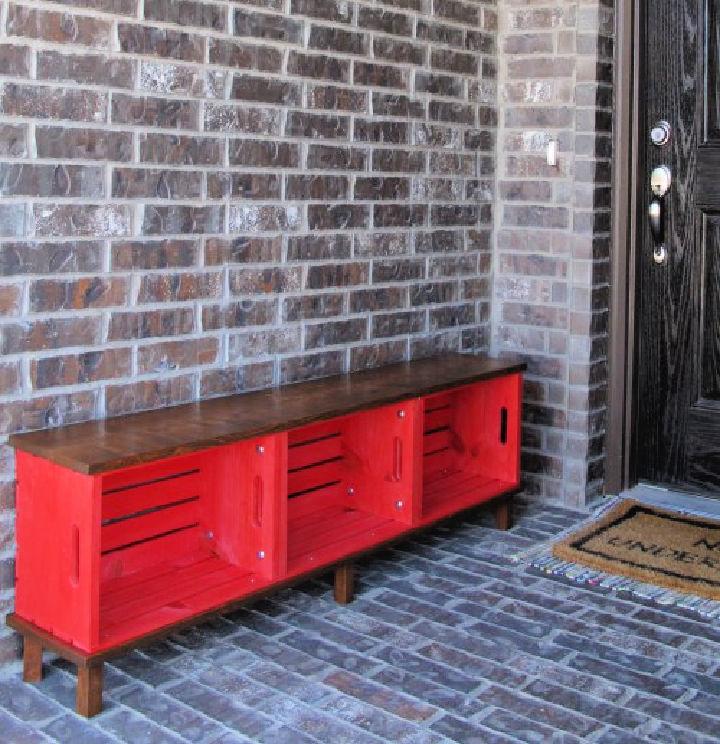 Make your home cheerful and interesting with this bright red DIY crate bench furniture. You can easily add this to your front porch and impress the guests with your crafty side. It is super easy to make and the best part is that it doesn't even require a lot of money! hometalk
36. Wood Crate Platform Bed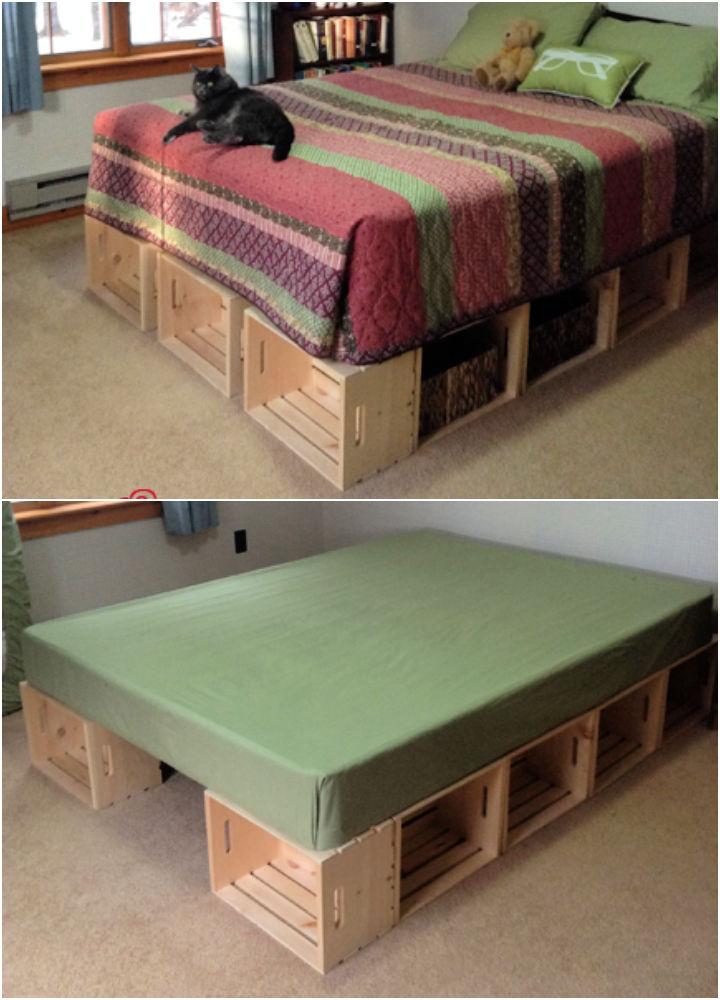 Wood crates can also be used up to make a cute little bed – sounds interesting right? If you are someone who is interested in DIYs and want to make something useful then this is the plan for you! You can paint and decorate it in any way you like! So gather all the supplies and let's start! moved2create
37. Antique Wood Crate Storage

Are you an antique lover? Well, here is something that you can add to your collection – an antique wood crate storage! It is pretty easy to build and also budget-friendly so you won't have to worry about spending a lot of bucks. The supplies that you need for this project include an unfinished wood crate, stain, stencil, black acrylic paint, stencil brush, rags, and latex gloves. diybeautify
38. Build Wood Pallet Crates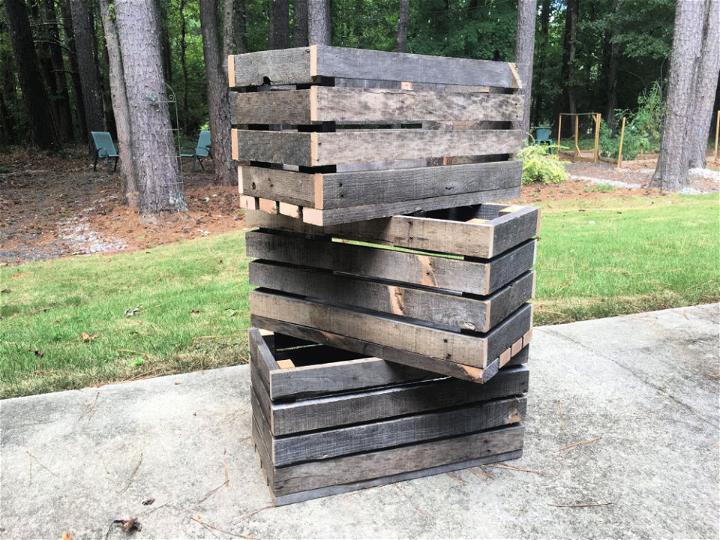 Here is a useful idea to use wood pallets in a creative way! Make crates out of them! They are super useful when it comes to storing different stuff and organizing your space so what could be better than this? Their aesthetic will definitely swoon you can even place them in your rooms as a functional table. The tools and supplies you require are wooden shipping pallets, brad nails, miter saw, hammer, brad nail gun, compressor, carpenter square, nail punch, and a few more things. buildingourrez
39. Stained Wooden Crate for Storage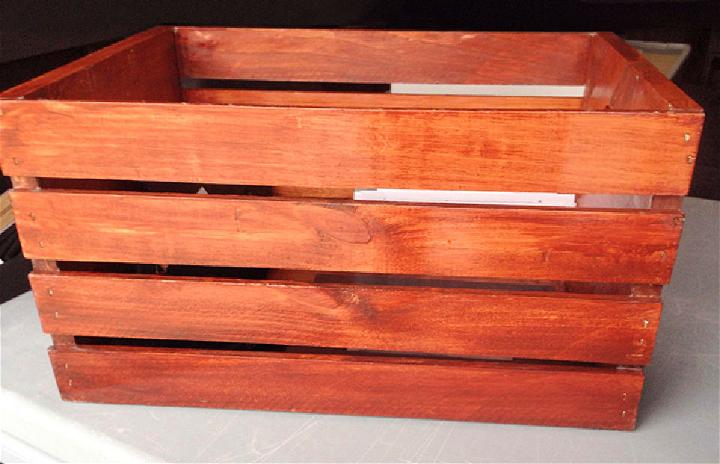 Don't like plain old and boring wooden crates? Then you can stain them in any color you like and use them around the house. Their customizable quality is what makes it the perfect thing to DIY. So start organizing your things in a stylish way with these stained crates. The tools that you need are sandpaper, drop cloth, high-quality synthetic bristle brush, lint-free rag, and wooden crate. rustoleum
40. How to Build a Wood Crate Box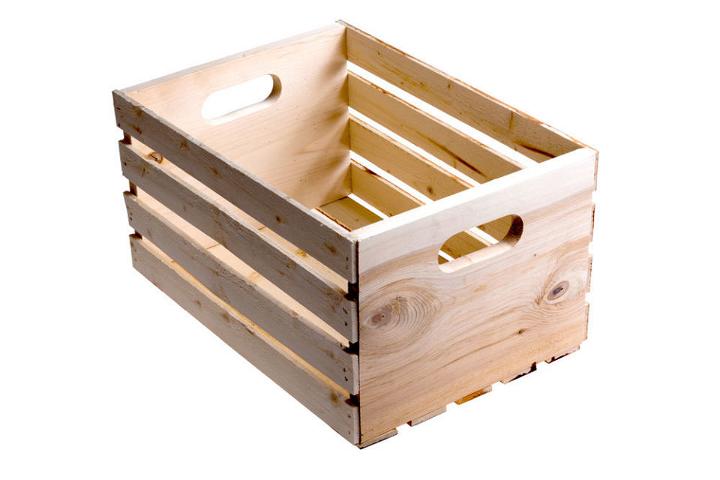 Want something beautiful and sturdy to store things? Here is an easy plan on how you can make wood crates. This guide will provide you with all the relevant details so make sure to follow them carefully. Choose fine-quality wood boards for this project to last a long time. So gather all your supplies and let's start! ana white
Conclusion
Hold your horses! We are aware you just can not wait to begin already, isn't it? Lift the look of your neutral furniture by adding a rustic vibe to it. With these various unique DIY wooden crate decorating ideas, there's no need to spend tons on expensive in-store furniture. Welcome these cost-effective and budget-friendly projects into your life and make them simply beautiful.
It requires just an ounce bit of patience and the right tools to create your masterpiece. Besides, you may reuse, recycle, and up-cycle any and everything you want following these mind-bending schemes. Show your hidden talents and bring out the craftsmanship within you! Choose your best-loved design and start now. Happy decorating with crates! 🙂