Adding hidden storage to your interior home spaces can fore two main reasons. Like, you want to add more space to your home to store the extras neatly, or you want a secret storage space to store your treasures. So, go with these 30 unique DIY hidden storage ideas to achieve all types of secret storage needs, you can make the hidden cabinet, compartments and safe. These hidden storage ideas for the home target the most ignored home space you have not ever thought to use for storage. From building secret cabinets to invisible drawers to completely out-of-sight storage compartments, these hidden storage projects will guide you for all.
To get some genius inspirations, browse this collection of the 30 best DIY hidden storage ideas that are too creative to win one's heart. Whether you want to store your pantry in the kitchen in a hidden manner or sort out a perfect hidden spot to reserve your expensive jewelry, you will get ideas for all your custom hid storage needs. Adding hidden storage will be a smart strategy also to keep your spaces looking neat and clean while getting extra storage space for your home.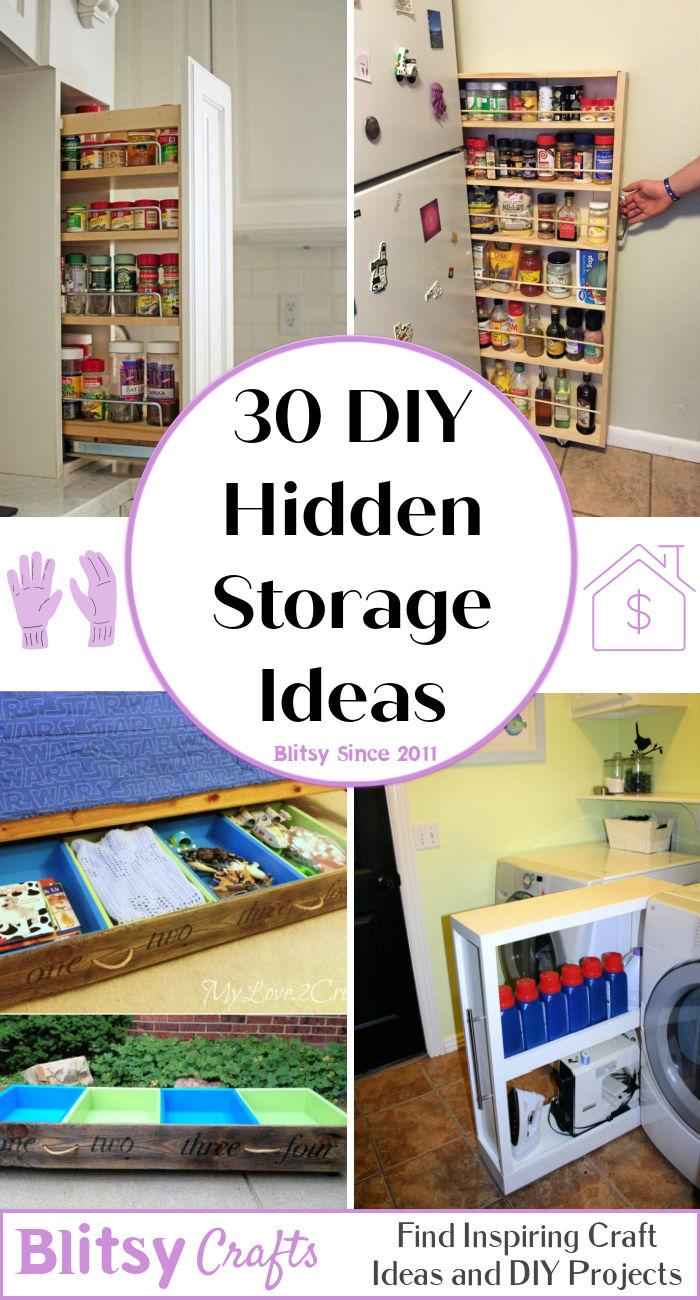 Space Saving Hidden Storage Ideas:
Adding hidden storage to your space can be as easy as building a floating shelf with a secrete drawer or building a coffee table, bed, headboard or even a chair with the built-in storage space. You will get here guides for adding all types of this hidden storage. Construct the mirror cabinets with secret storage compartments and build the sliding out or rolling out cabinets for pantry and laundry storage to fit narrower gaps.
You can build stairs with hidden storage drawers and wall frames with hidden storage cabinets built to the backside.
Look through these 30 DIY hidden storage Projects to know more about maximizing the interior storage space by adding secret storage.
1. Floating Shelf With A Secret Compartment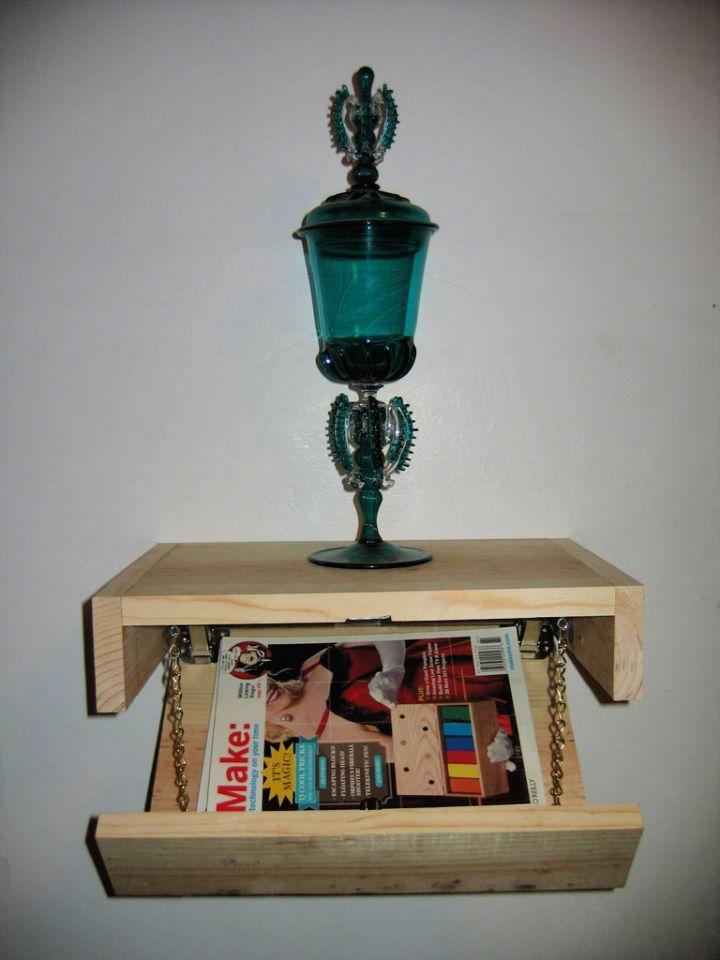 Sometimes you want that secrete storage to store all those accessories and items that you don't want to be in everyone's access. So, it can be done in tons of different ways, just like by building this floating shelf with a built-in secrete compartment. The lower storage compartment is supported through heavy-duty metal chains, and it nicely offers the inside stored items. You need wood, 2 cabinets hinges, wood glue, small finishing nails, 1′ length small chain, eyelet screws, magnetic cabinet latch, heavy-duty keyhole picture hangers and paint of choice to do this project. instructables
2. Hidden Fridge Gap Slide Out Pantry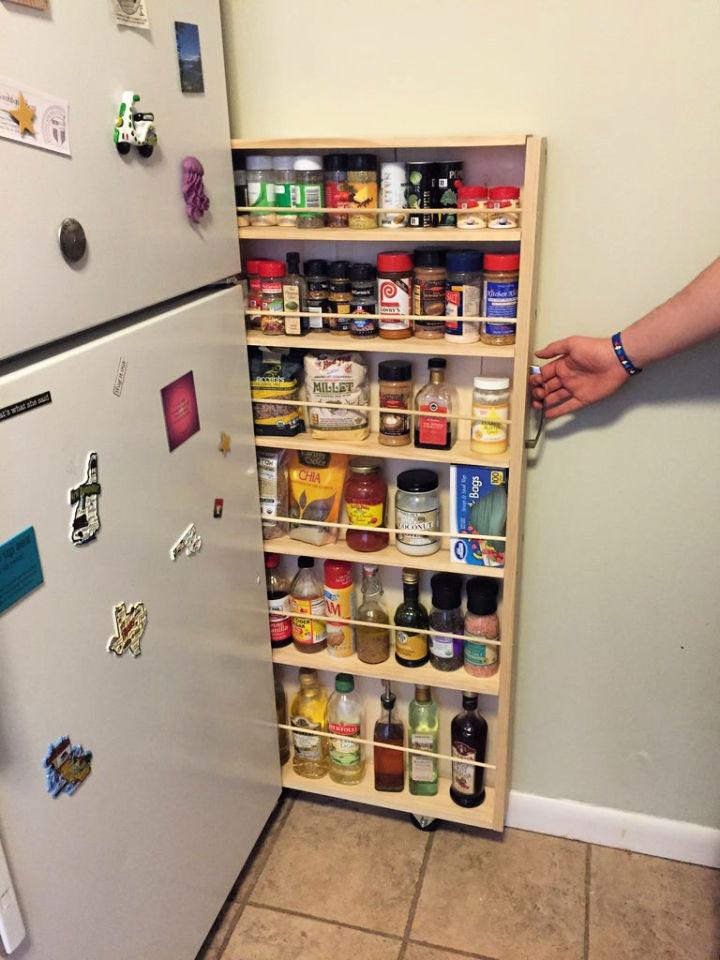 There are always some locations in the home that can be targeted to install some amazing hidden storage options. You will love this slide-out pantry storage cabinet that is installed to the hidden fridge gab. The whole little cabinet comes on wheels and can easily be slid out with light pulling. This secrete storage hack will help manage the pantry storage even in the small kitchen space and is easy and quick to build. You need custom wooden boards, 3″ caster wheels, wooden dowels, wood glue, handles and wood screws to build this fabulous sliding-out pantry cart. instructables
3. Unique Platform Bed Storage Idea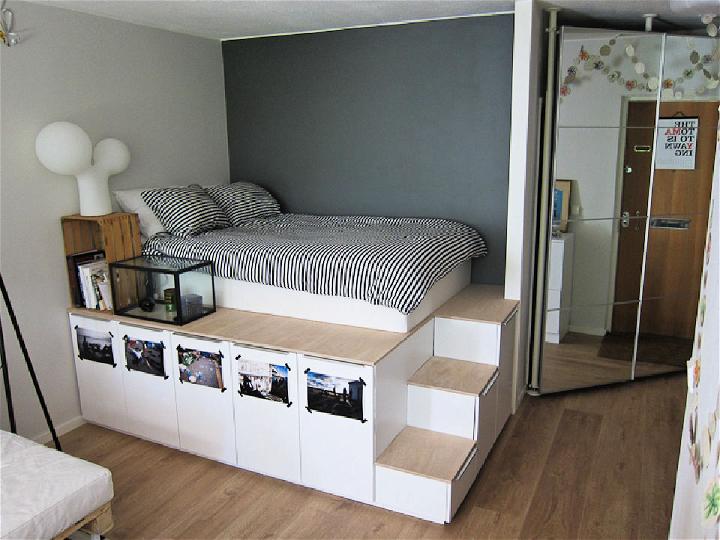 Accomplish your bedroom storage needs with this hidden bedroom storage hack. To build this raised platform bed, build the base using the IKEA cabinets and build the top of the bed with the stairs. Here, you will get completely free plans to build this lasting, longer and beautiful platform bed with hidden storage—the best IKEA hack to get hidden storage and lovely sleeping space at the same time. The best part is that the whole construction will just cost you next to nothing. All beginners can build this extraordinary storage bed design. ohyesblog
4. DIY Hidden Television Cabinet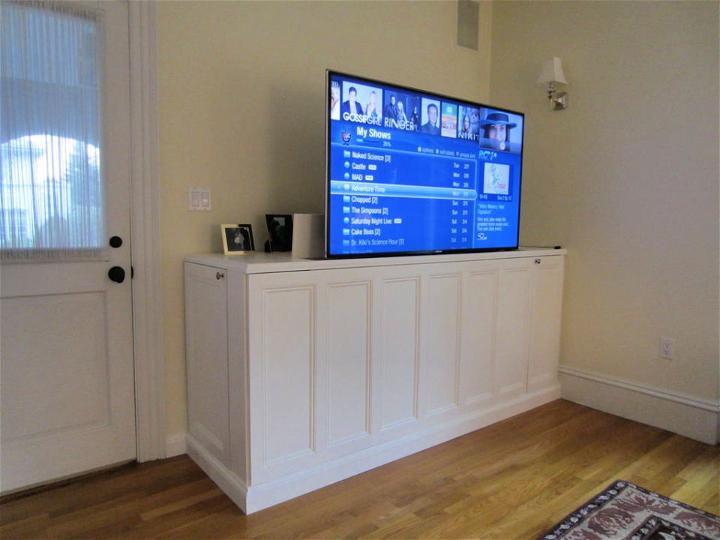 Are you on a mission to maximize your interior storage space? There are tons of different ways shared here to do so. Building this lift TV cabinet is one of them. You can open the front of this TV cabinet to reveal the inside hidden storage space. This idea will rock when you want to create dust-free storage of all computer gadgets and accessories. While building this cabinet, you can leave some hidden holes to make wire connections to the TV, if any. You need a firegelli lift, hinges, birch plywood, bottle wood glue, birch edge tape, wood panel molding, piano hinge, IR repeater to hide components, IR receiver, drawer pulls, and drawer knobs etc. to build this TV lift cabinet, will cost you around $1200. instructables
5. Coffee Table With Storage For Small House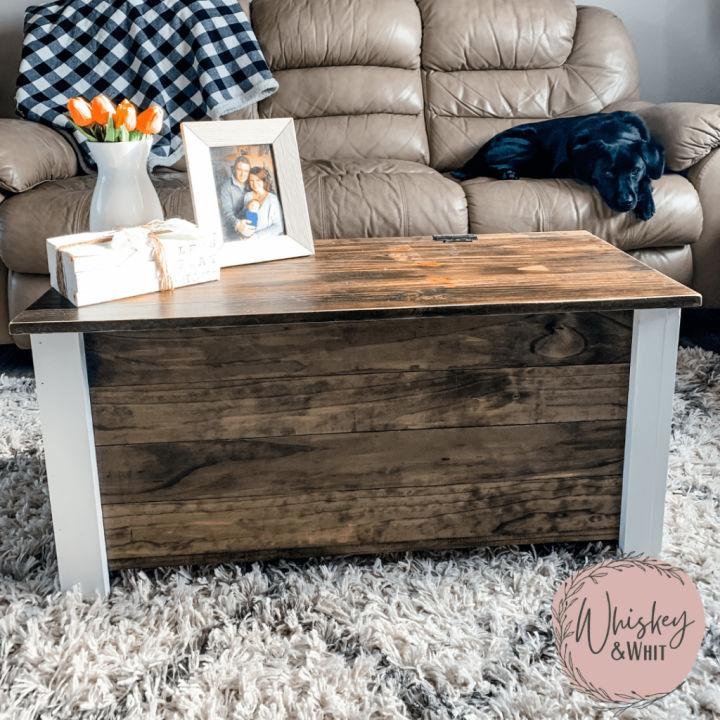 Overcome the living room storage space desires with this specially built coffee table. The design provides built-in secret storage and can store most of the living room extras and essentials. The corners of the table are painted chic white, while the top appears in a rustic wooden tone. The top is hinged in place and can be opened up to reveal the inside storage space. You need 1x4s, 1x2s, 1x3s, 1x8s and a project panel to build this stunning design of storage coffee table like a pro. One of the best DIY hidden storage ideas ever. whiskeyandwhit
6. Secret Compartment Jewelry Case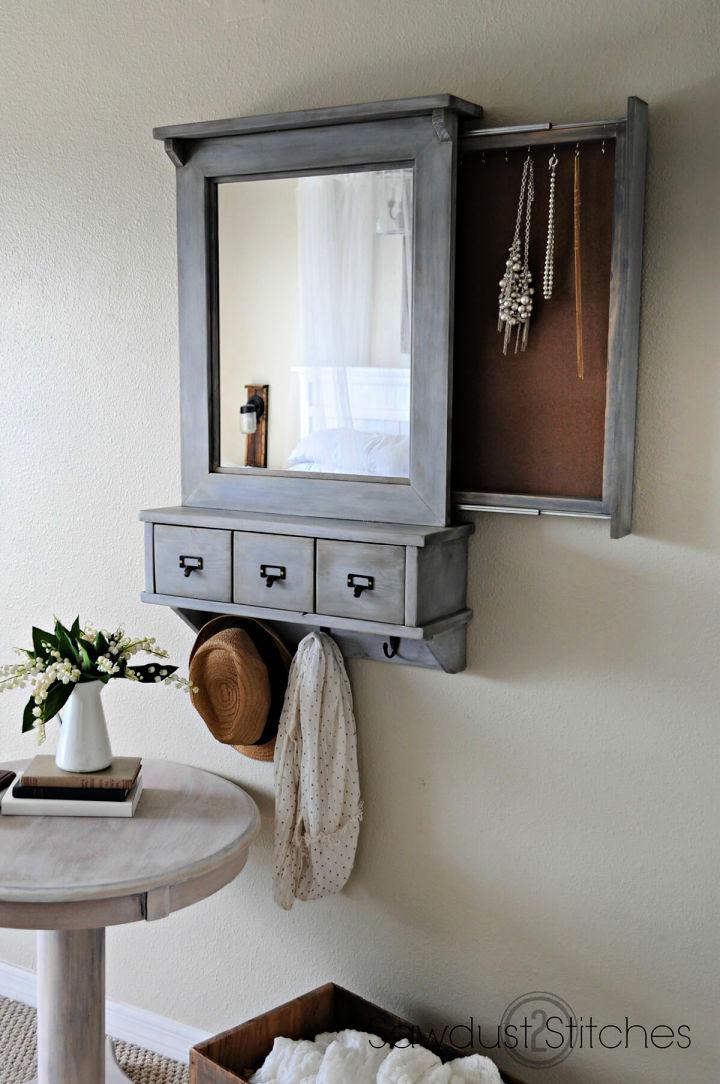 You will love the hidden storage here added to a wall mirror cabinet, the perfectly secrete way to organize your expensive jewelry. This will not let your jewelry catch some dirt also. You need 1x6s, 1x3s, 1x8s, 1x2s, ½" x 3 ½" board, ¼" paneling, cup hooks and a mirror to easily duplicate this wall mirror cabinet. You also need 2″ drawer pulls, coat hooks, wood glue and ball-bearing drawer slide to complete this wall mirror cabinet. The whole project is easier to do and will make bigger changes to one's space. sawdust2stitches
7. Hidden Rollout Shelves For Laundry Supplies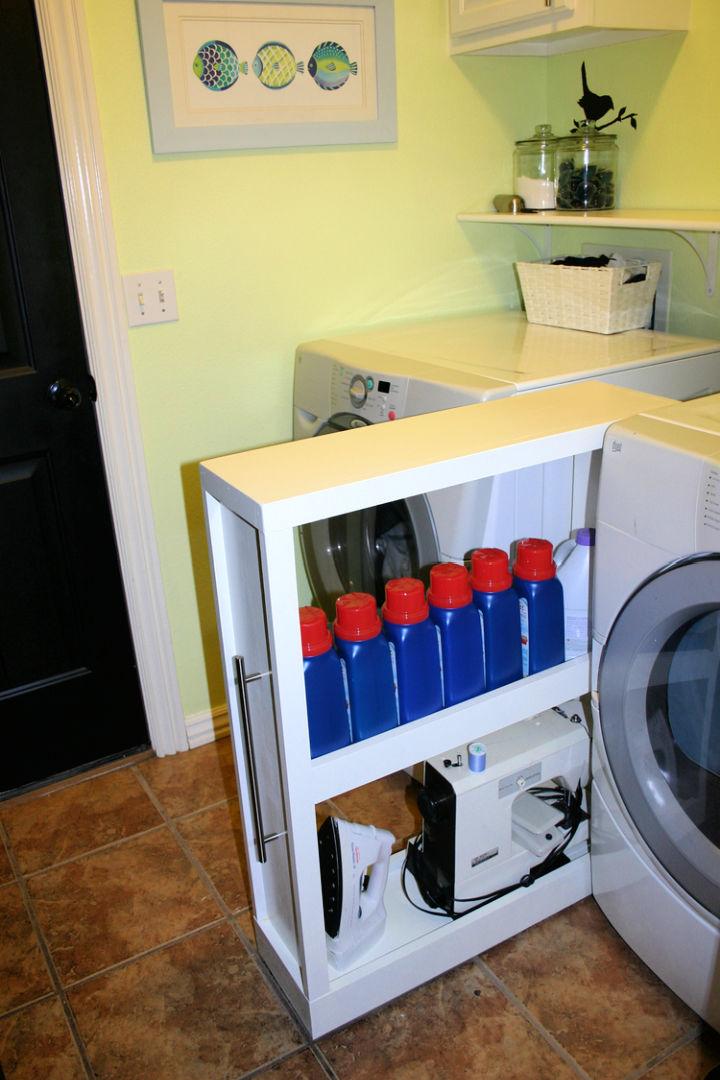 This project will share some amazing hacks about adding some amazing hidden storage in the laundry room. The project is all about adding some lovely display shelves and a slide-out storage cabinet to the gap between the two washing machines. One can easily pull out this storage cabinet to reveal the hidden storage of laundry detergents and soaps. The whole project will complete simply in no time and will go for bigger laundry room décor statements. You can even use the leftover wood to do this project easily. One of the best DIY hidden storage ideas that everyone can duplicate with ease. beckwithstreasures
8. Floating Shelf With Hidden Storage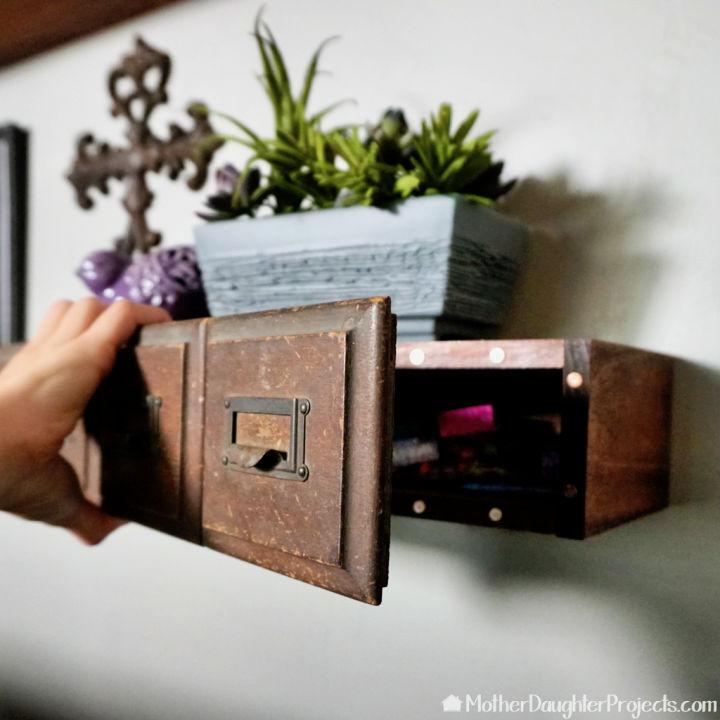 Willing to add some hidden storage to the interior walls? Then floating wall shelves can be the ideal option. So, follow the here guides to install the hidden storage to the wall floating shelves. Look at this sample shelf that comes with a removable front, and you can easily store custom accessories and items inside this floating wall shelf. The shelf allows you to display your pots, picture frames, art & crafts and other items of decors on its top. You need 8 vintage drawer fronts, poplar boards, Minwax red oak stain, rare earth magnets, E6000 glue and wood glue to duplicate this floating wall shelf hidden storage. instructables
9. DIY Hidden Shelf Drawer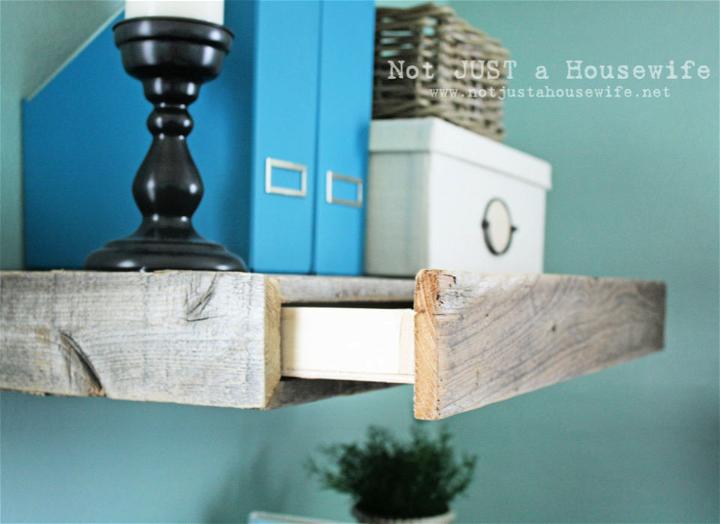 You will surely fall in love with this great hidden storage idea that involves building floating shelves. The idea is to build floating wall shelves with built-in storage drawers. You need 1x2s, 1x3s, plywood, wood screws, miter saw, level, and a brad nailer to complete this fabulous hidden storage easily. The floating wall shelves will rock to display your items, while the secrete items can be stored in the built-in hidden drawers that make great shelf fronts when closed. One of the quick and easy hidden storage solutions for all home lovers. notjustahouse
10. Distressed Coffee Table with Storage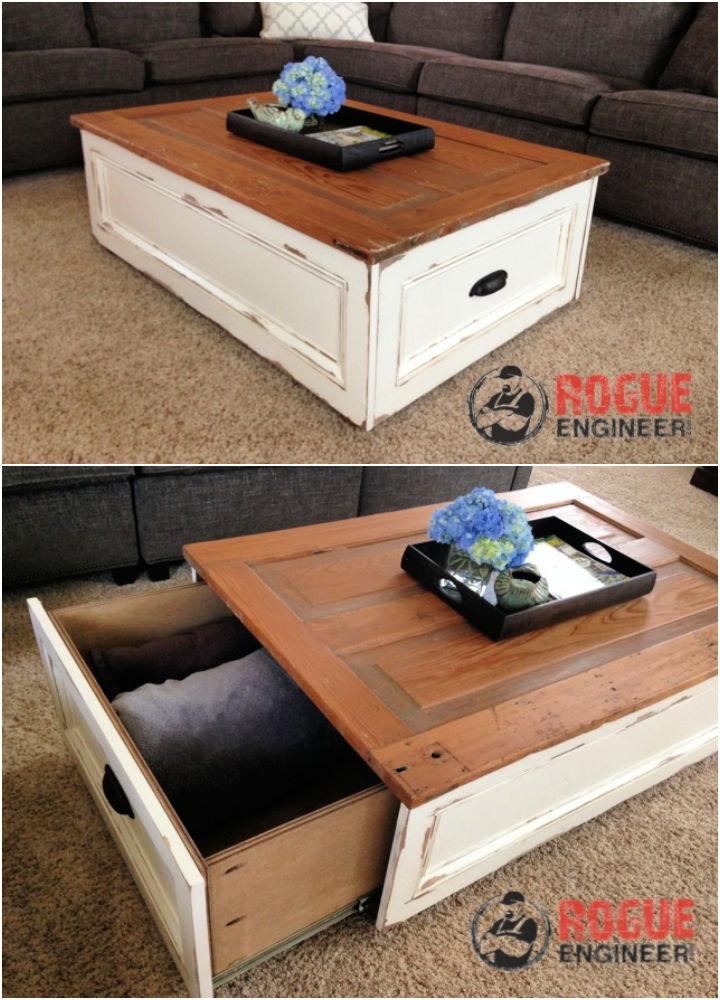 Grab here instructions to build a rustic yet beautiful wooden coffee table with hidden storage. It will help organize all the living room extras and will be a big love of all. You need 2x6s, 1x3s, plywood, cap molding, drawer slides, drawer pulls, unfinished bun furniture feet, custom screws and nails to complete building this solid and beautiful storage coffee table. This coffee table comes with a big built-in storage drawer that provides ample hidden storage space to hold all your concerns secretly. One of the best DIY hidden storage furniture ideas ever. rogueengineer
11. Hidden Key Storage

The keys are not for everyone. They should always be hidden, so they will not be easily accessible to anyone, especially kids. So, follow here guides and instructions to build an instant beautiful hidden storage for the keys. The idea is to hang the keys on the wall using cup hooks and then to cover them with a picture frame that can be hinged on the wall to cover the keys. Here is another creative twist: add up the backside of the frame with the magnetic board to store the receipts, bills, and other secrets paper items. The whole project is more than easier to do and will complete simply in no time. So, you need some hinges, magnetics, a magnetic board, a picture frame, cup hooks, custom key labels and some creativity to complete this project. planq studio
12. Bathroom Mirror Storage Case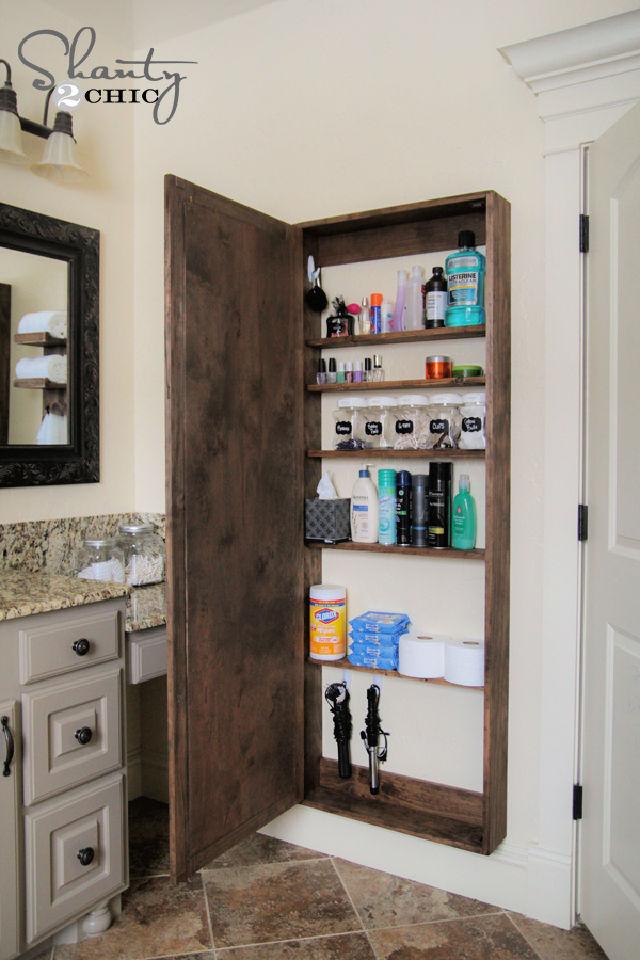 Intending to add some quick hidden storage to your bathroom, build this mirror storage case. It brings a great wooden character and rustic elegance to the entire bathroom interior and comes with a mirror front. The whole mirror cabinet is easier to build with the free provided plans and instructions. You need 1x6s, 1x4s, ¼" hardwood plywood. Full-length beveled mirror, 3M stainable wood filler, painter's tape, 3M safety Glasses, 4 decorative hinges, 1 pull or knob, magnet closures, wood stain and some patience to duplicate this bathroom mirror cabinet. The supplies will cost you around $100. shanty 2 chic
13. The Secret Compartment Furniture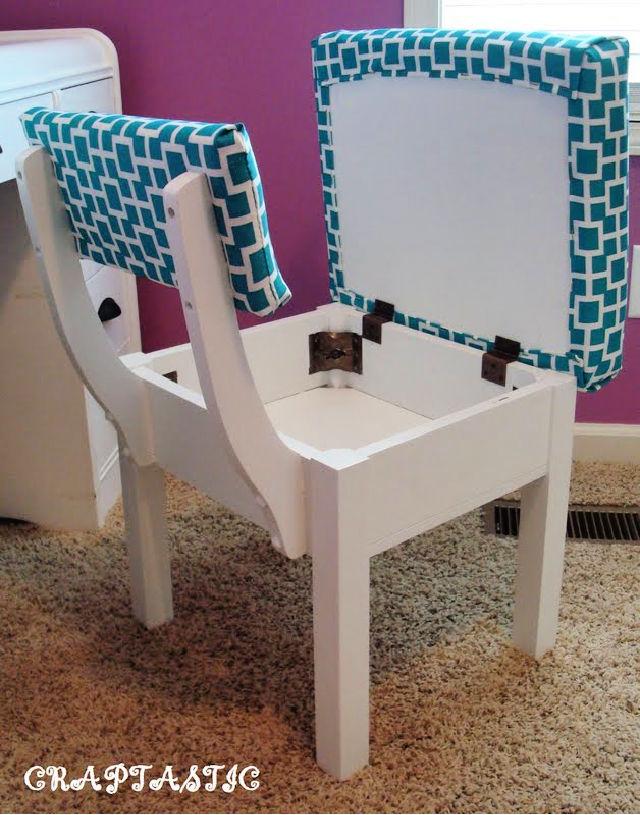 Build this chair that will rock for the kids' desks and is crazily easy and quick to build. What makes this tufted chair a lot more special is its storage in the seat feature. The seat is hinged in place, and the backrest is also tufted beautifully, creating that fabulous appeal of the entire chair. The whole chair looks amazingly cute and beautiful and makes a sweet handmade gift to a favorite person. You can easily build this kind of chair at home, and you can also use some upholstery techniques to work up to get the seat and backrest tufted easily. One of the best DIY hidden storage furniture ideas that are ideally cute and beautiful to look at. craptastickatie
14. Media Console With Hidden Storage Doors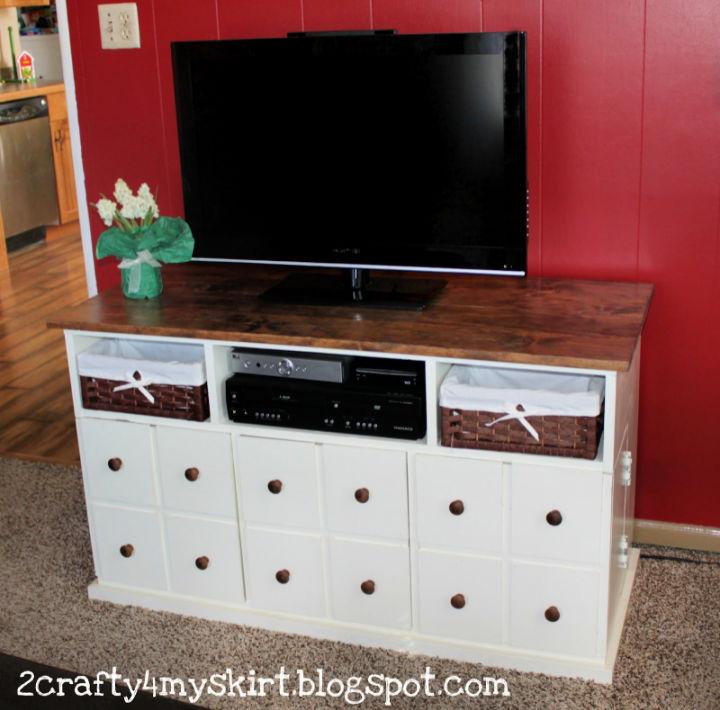 Get complete guides and instructions to build a super beautiful wooden console with the ultimate hidden storage options. The design gains attention with the built-in drawers and also with the chic white painted appeal. The sleek tone of wooden surfaces makes it appear to look extra beautiful. The best and quick-to-build apothecary media console that everyone can build with ease will impress the onlookers at first glance. The design is super graceful and will not take that too long to get completed. 2crafty4myskirt
15. Old Drawers To An Under The Bed Storage

Under the bed, space is often ignored when it comes to adding more space to your bedroom. So follow the here guides about how to build under-bed storage while using the old drawers from home. The design is much achievable and will complete simply in no time. Put together the old drawers and combine them as a single unit using extra wood. Finish the box with wheels and wooden rope handles, and then install the bed to the underside for added bedroom storage space. One of the best DIY hidden storage ideas for your bedroom. mylove2create
16. Basement Steps Hidden Storage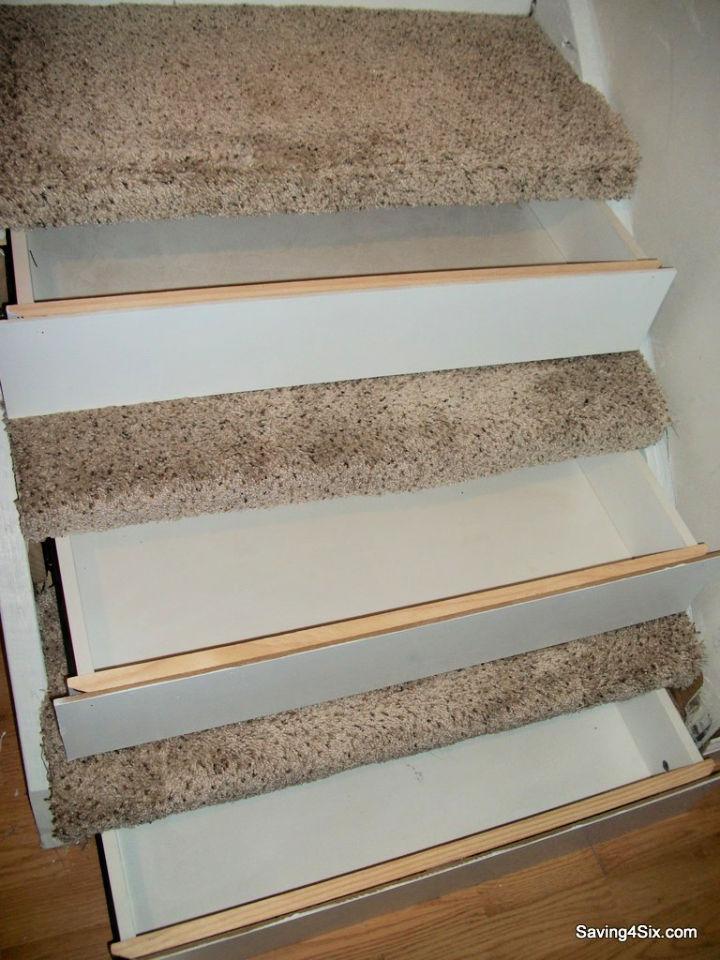 You can also install lots of hidden storage options underside the stairs. So, here you will learn to build custom storage space underside the basement stairs, and this will help organize all your clutters beautifully and elegantly. Here, the idea is to fit the drawers in the stair steps, and you can also recycle the drawers from home. The whole project is more than easier to do and will complete simply in no time—one of the best and quick-to-build DIY hidden storage ideas. The project is much doable, even for a beginner. The smarter way to declutter your home beautifully. saving4six
17. DIY Storage Chaise Lounge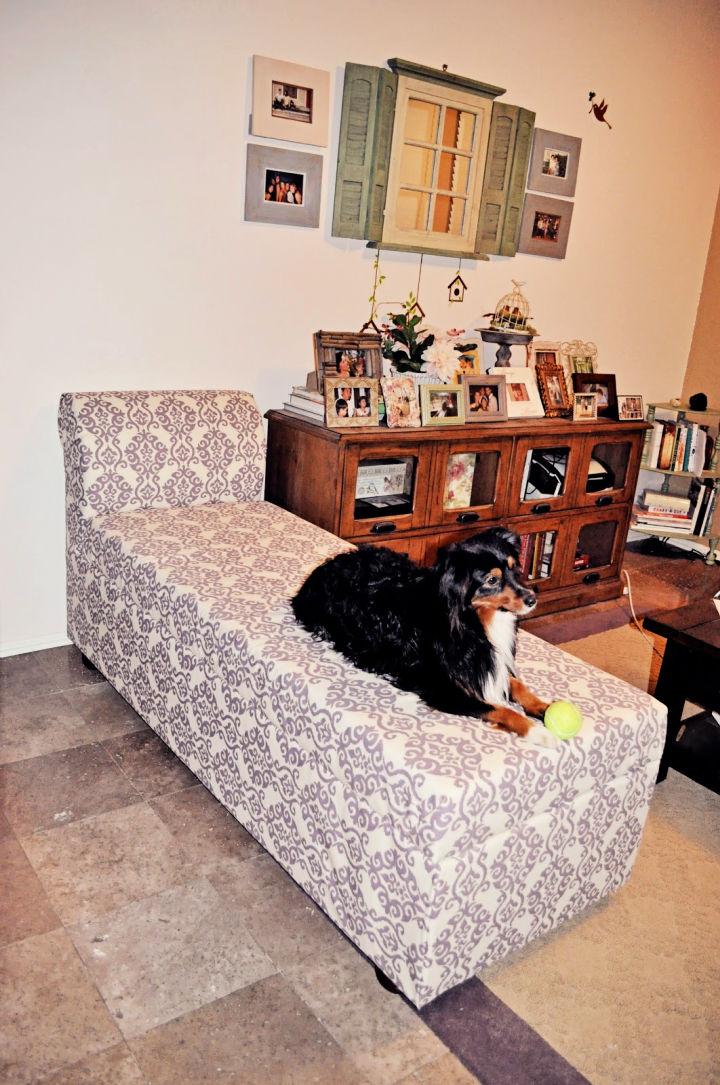 Follow here guides and instructions to build a chaise lounge also with storage in the seat. The whole project is more than easier to do and will complete simply in no time also. The chaise lounge comes with a tufted top and hidden storage in the seat and will be the luxurious item of furniture to make at home in no time. Here, the completed model is finished with the wooden bun feet that make the seat slightly off the ground. One of the best and quick-to-build DIY hidden storage ideas that everyone can duplicate. tonyandkristine
18. In Dresser Hidden Jewelry Storage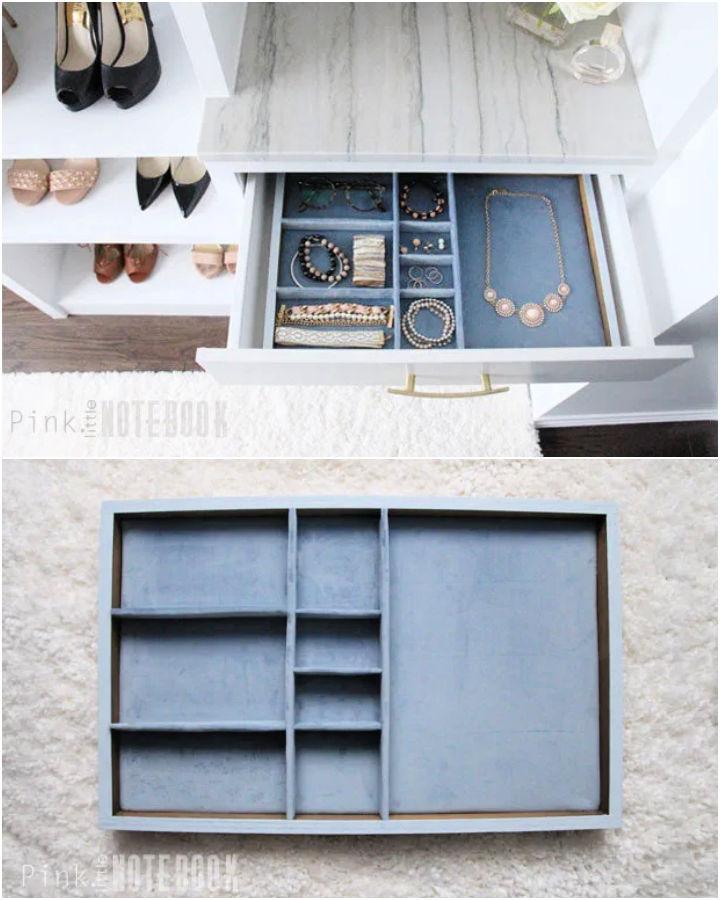 Jewelry organization should be done nicely and carefully as the bad storage can cause big damage to your expensive items of jewelry. So, follow here quick guides and instructions to make a jewelry organizer drawer unit to help create neat and dust-free storage of your expensive jewelry items. You need ½' plywood, stain, cardboard, velvet, spray adhesive, glue and nail gun to build this brilliant jewelry organizer drawer insert. It will be a big love of all. One of the best DIY hidden storage ideas. pinklittlenote
19. Build A Murphy Desk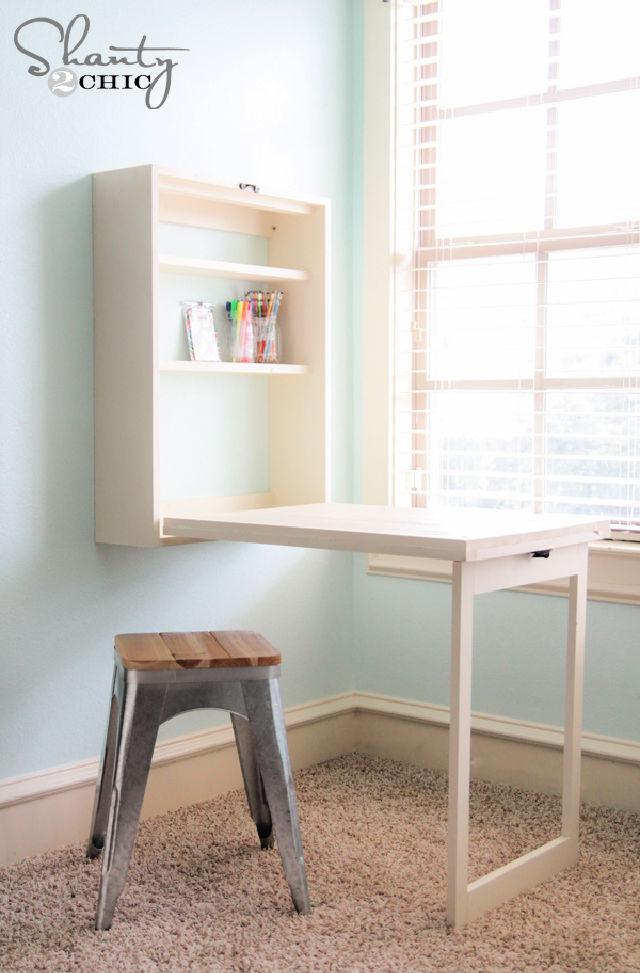 You will surely fall in love with this murphy desk that quickly stores in the wall and elegantly folds out to provide a beautiful instant desk. This smart folding murphy desk is inspired by the murphy beds and will rock for an interior where you want to save tons of floor space. You need 1x8s, 1x6s, 1x2s, 1x3s, brad nails, chalkboard plywood panel, magnets, swivel latch, folding leg brackets, etc. build this awesome folding desk. Finish it up with the custom wood finish, and you can give it a nice finish so that it can last longer than usual. shanty 2 chic
20. Storage Trash Can Cabinet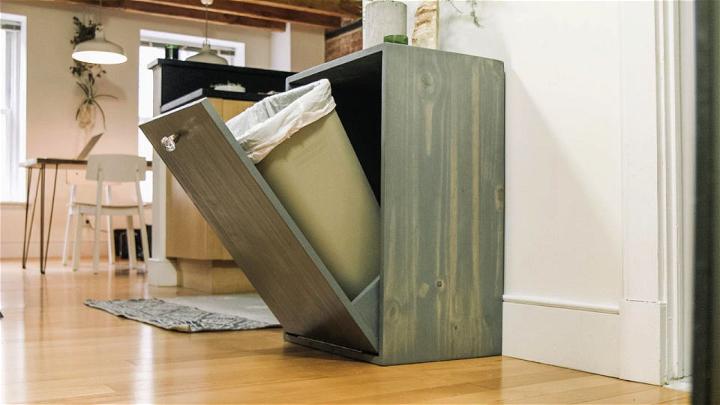 Grab here instructions and guides to easily build a hidden trash can cabinet, which will help keep your interiors neat and clean. You have to build a small wooden box, and then you can install the trash can to its inside door to collect the trash. You need edge-glued panels, finish nails, wood glue, wood filler, sandpaper, stain, clear matte polyurethane, cabinet pull or knob, 12″ continuous piano hinge, drill, and a nail gun to build this fabulously beautiful hidden trash can cabinet easily. Everyone can build it with ease. hgtv
21. Mudroom Hidden Storage Bench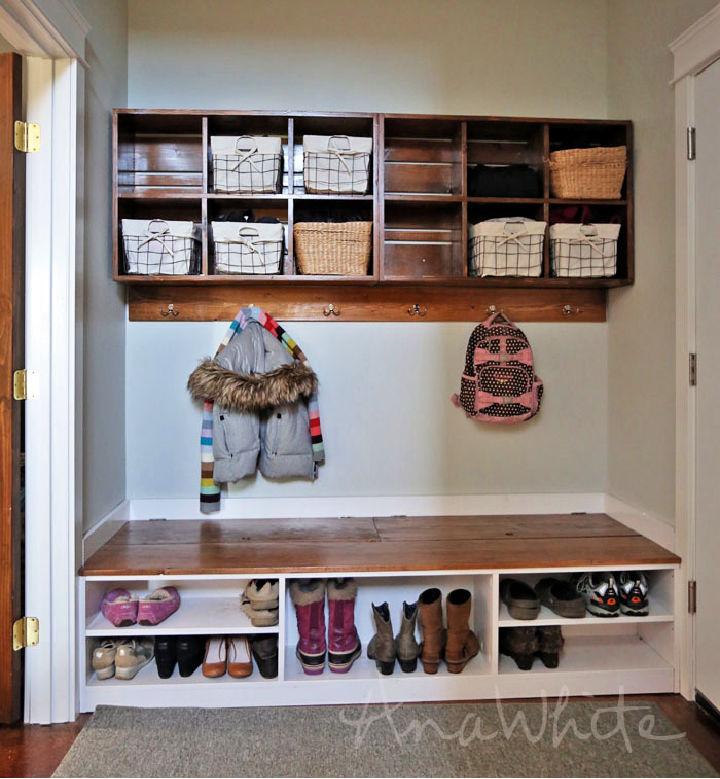 Get here complete guides and instructions to build hidden boot storage in the wasted space of the entry bench. The front of the entry bench comes with a complete showcase of the shoes displayed nicely in different compartments. The wasted backspace has been utilized to store the other stocks of shoes; it can be employed for any other storage purpose. This is here the best hall tree built in the mudroom, and everyone will just building it. Use the leftover wood to install the top wall shelves and coat hooks. The rustic wooden surfaces and chic white storage compartments look great together. ana white
22. Hidden Office Space At Your Comfort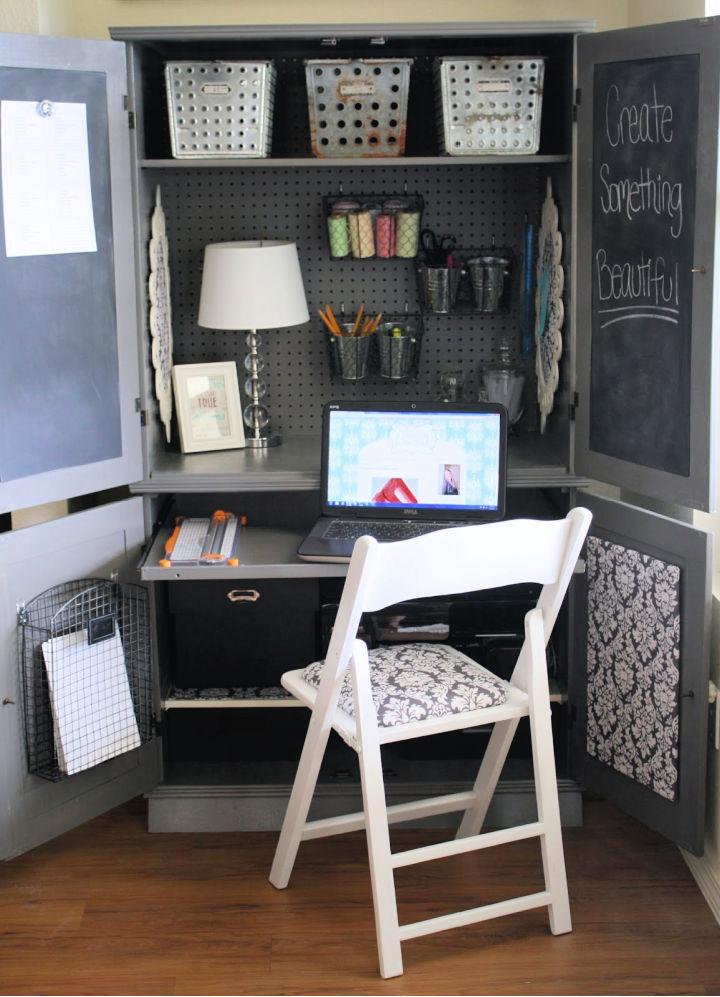 Do you lack a cool office space in your home? Then time to build this hidden home office space that you can also drag to any particular home location. Here the idea is to use an armoire that you can paint and modify to serve as a lovely home office. You need some textured paintable wallpaper, pegboard panel, a keyboard tray and custom storage baskets to build this miniature yet beautiful armoire home office. It enchants with the beautiful homemade designs and will never get out of style. You can close the doors to keep this entire office space neat and dust-free. adiamondinthestuff
23. Unique Book Camouflage Storage Area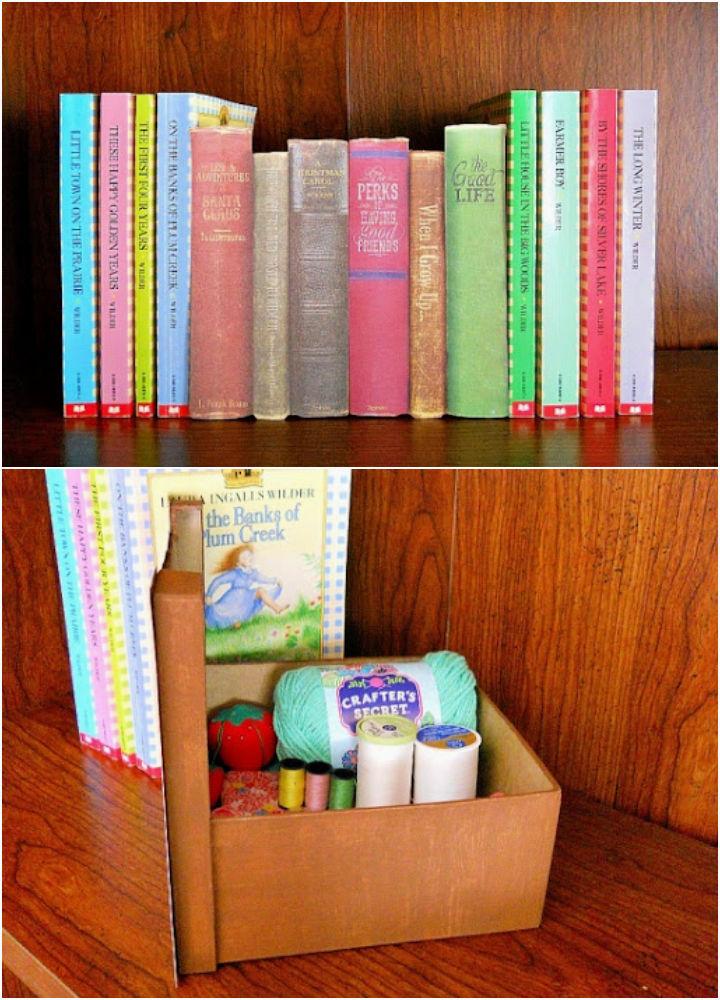 This project will guide you to build an instant beautiful camouflage, the better-hidden book storage. Just grab the glue, book tabs, and paper mache box to duplicate this brilliant hidden book storage easily—one of the amazing DIY hidden book storage ideas that will win the heart of all homey persons. The project uses fewer supplies and a little creativity and will be loved by all the book lovers at home. blitsy
24. How To Make An Easy Hidden Compartment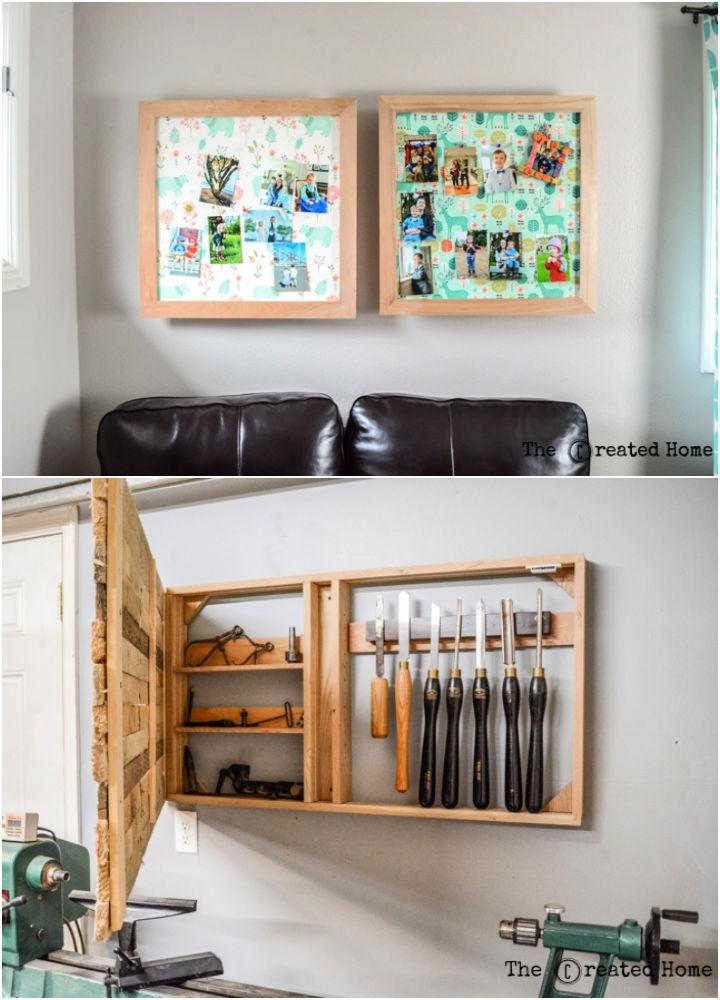 Grab here the complete guides and instructions to build an easily hidden compartment to store and organize your stuff. These boxes are inexpensive and quick to make, and the hidden storage comes right behind the frames. You need wood, glue, screws, piano hinge, and magnetic catch to easily build this lovely hidden storage. First, build the custom square storage boxes and add them with the hinged picture frame door. One of the best DIY hidden storage ideas ever. thecreatedhome
25. Secret Floating Shelf Plan

Sorting out a quick and easily accessible hidden storage for your expensive items of jewelry. This is here the secrete shelf hidden storage that will rock for storing and organizing the jewelry pieces. No one will ever guess that this floating shelf has hidden built-in storage. The entire box is stained dark, and the top panel of the box will rock to display your mural frames, mirrors and other décor and art pieces. You need 1x4s, 1x10s, continuous hinge and left and right friction lid support to build this hidden floating storage shelf. One of the best DIY hidden storage ideas ever. rogueengineer
26. Build Your Own Slide Out Pantry

Are you having an empty gap between the fridge and the wall? Then fill out that space with this slide-out pantry that will beautifully fit that particular space. The idea is to build the bookshelf-like shelving and storage panels that can easily fit the side gap of the fridge for hidden pantry storage. One of the best DIY pantry storage ideas that everyone will love for sure. To build this slide-out rolling pantry storage, you need custom wood slats, dowels, and caster wheels. Stain or paint the completed design to match the fridge to look like a part of it. One of the best DIY hidden storage ideas ever. heathershand
27. Footstool With Household Storage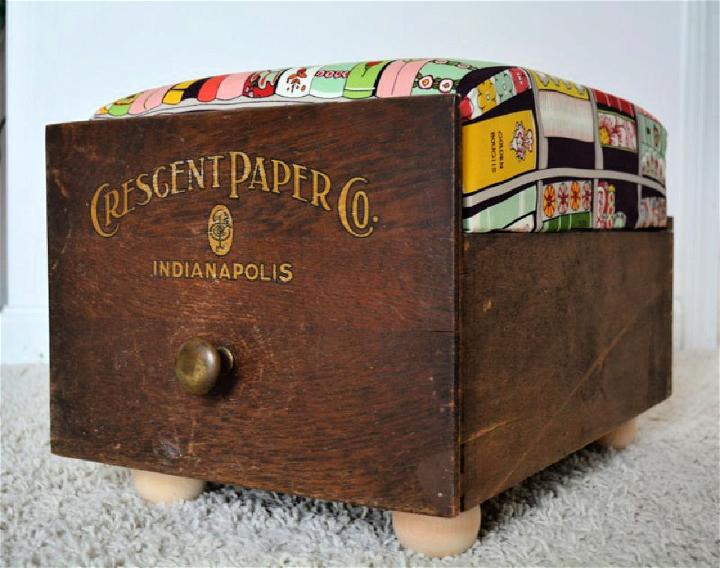 This project is all about recovering a nice piece of furniture out of an old furniture component, and it will provide hidden storage also. Here the idea is to make the tufted footstool out of a recycled drawer, which will rock in the living room. You need a drawer, a small sheet of wood, a strip of wood, saw, screw, drill, 4 wooden feet, 1 yard of fabric, glue, a thick piece of polyfoam, a sharp utility knife and a staple gun to easily clone this fabulous piece of sitting furniture. It will be a big love of all. You can easily store all your paraphernalia in this miniatured little drawer ottoman. christasterken
28. Clever Hidden Kitchen Storage Idea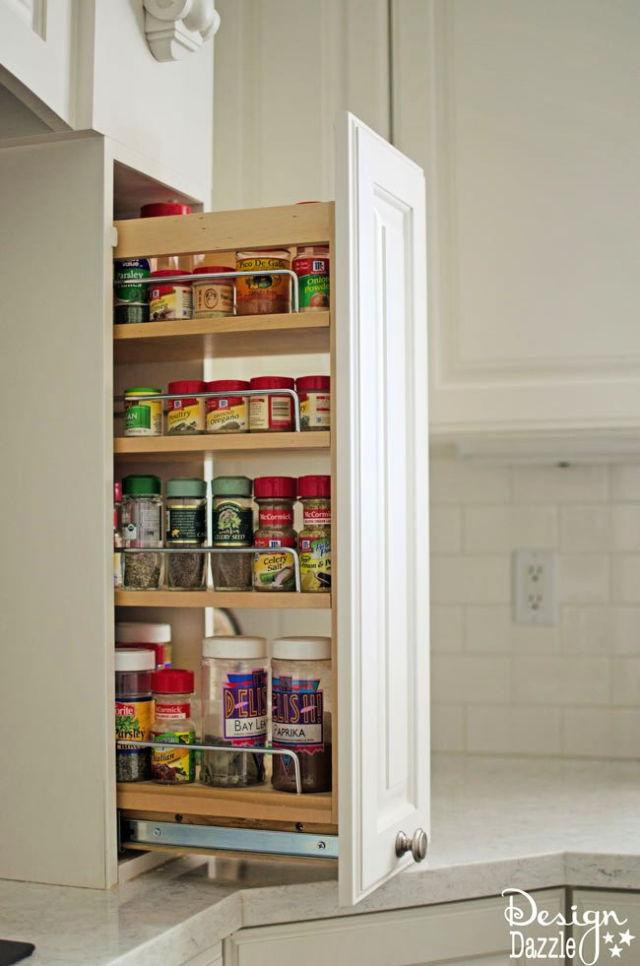 Fall in love with these wonderful and creative hidden kitchen storage ideas that impress all the onlookers. From building a custom pull-out spice rack to an adorable spice jar or knife organizer, you will learn here to build all. At the same time, this smart kitchen also provides hidden storage to the kitchen pots and utensils, and you will love how this smart kitchen will perform. If you are on a mission to keep your kitchen neat and clean all the time, then these projects are only for you. designdazzle
29. Hidden Play Area In Your Living Room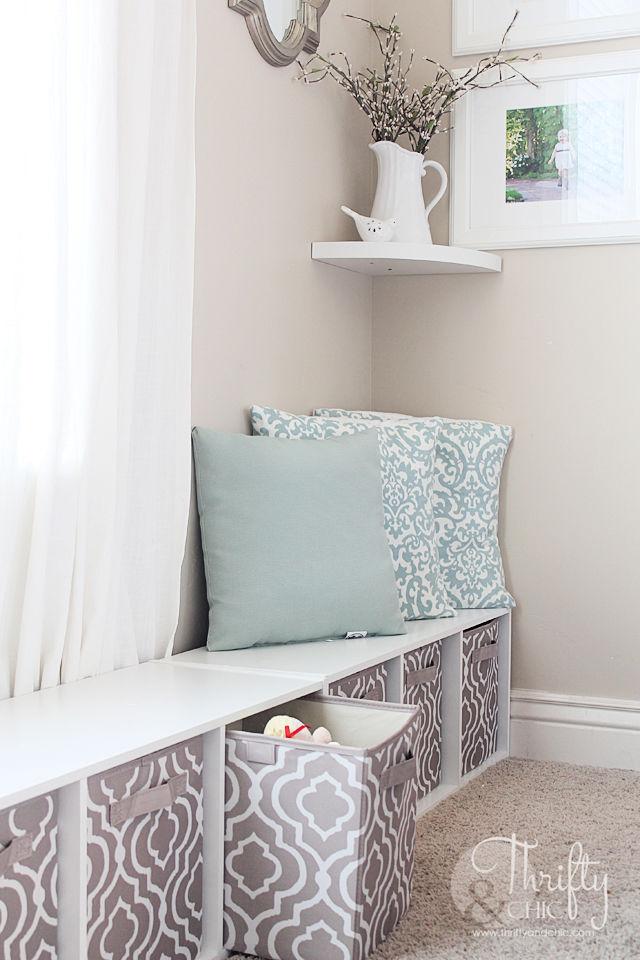 This project will show you how to create a hidden play area with awesome built-in storage options for the kids. This play area also comes with hidden storage options where you can organize all the toy clutters beautifully. Put together the two cube shelves, each having three cube storage compartments, to build this neat and beautiful hidden storage in the living room. The whole project will also rock when you add extra sitting space in the targeted living room. The whole project is more than easier to do and will also complete simply in no time. thriftyandchic
30. Built In Locker Storage Wall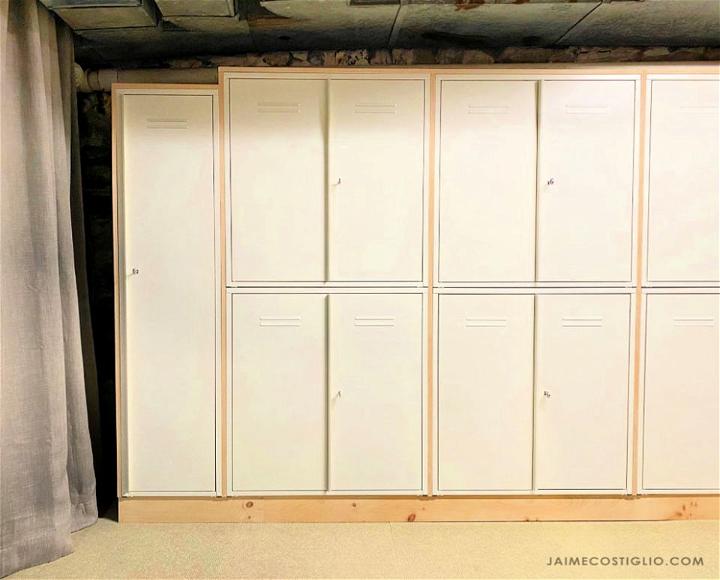 This ultimate hidden storage will impress all and is fairly easy and quick to build also. Here are the hidden storage lockers that you can add to any particular indoor space to organize a hidden and private storage of things. To build this locker storage wall, you need IKEA Ivar metal lockers, 2×4 stud lumber, ¾" birch plywood, wooden boards, custom hardware, miter saw, table saw, drill, and measuring tape easily. You can use this wall to hold all the essentials you want secretly, and each locker can be given to a single family member for secure private storage. jaimecostiglio
Conclusion:
Adding hidden storage to your home can be crucial when you have extra and expensive storage in your home. At the same time, it will increase the security of your home also invest in hidden interior storage. So, these DIY Hidden Storage Projects will help you out in this case. These ideas will give tons of inspiration for adding hidden storage. At the same time, you will get to know many home spaces and locations and that you can target for secrete stockpiling of your favorite items. From sharing the complete material lists & tool lists to complete step-by-step instructions to full free tutorials, these space saving hidden storage ideas for the home will provide you all to add hidden storage to your spaces expertly.