Are you excited to celebrate the spookiest season of the year? So, before you wear the creepy Halloween Costumes, dress up your home in the spooky spirit with these 40 fun Halloween crafts for kids and adults that include making outstanding Halloween decorations, fun faces and Halloween gifts for the kids. Whether you are willing to decorate the front porch or the whole home, there are simple and fun spooky festival crafts for decorating all the home spaces. The Halloween ideas will involve making creepy but cute creations with a sweet and scary touch of ghosts, bats, spiders, monsters, and Jack-O-Lanterns on the top of the list if talking about the DIY Halloween decorations.
So, follow her these 40 simple Halloween crafts that highlight the best traditional and modern crafts for the day. The required supplies will be cheap and accessible, and you can head over to nearby craft stores to restock. From making ghostly decor to creepy functional objects to spooky accessories, you will get instructions for all.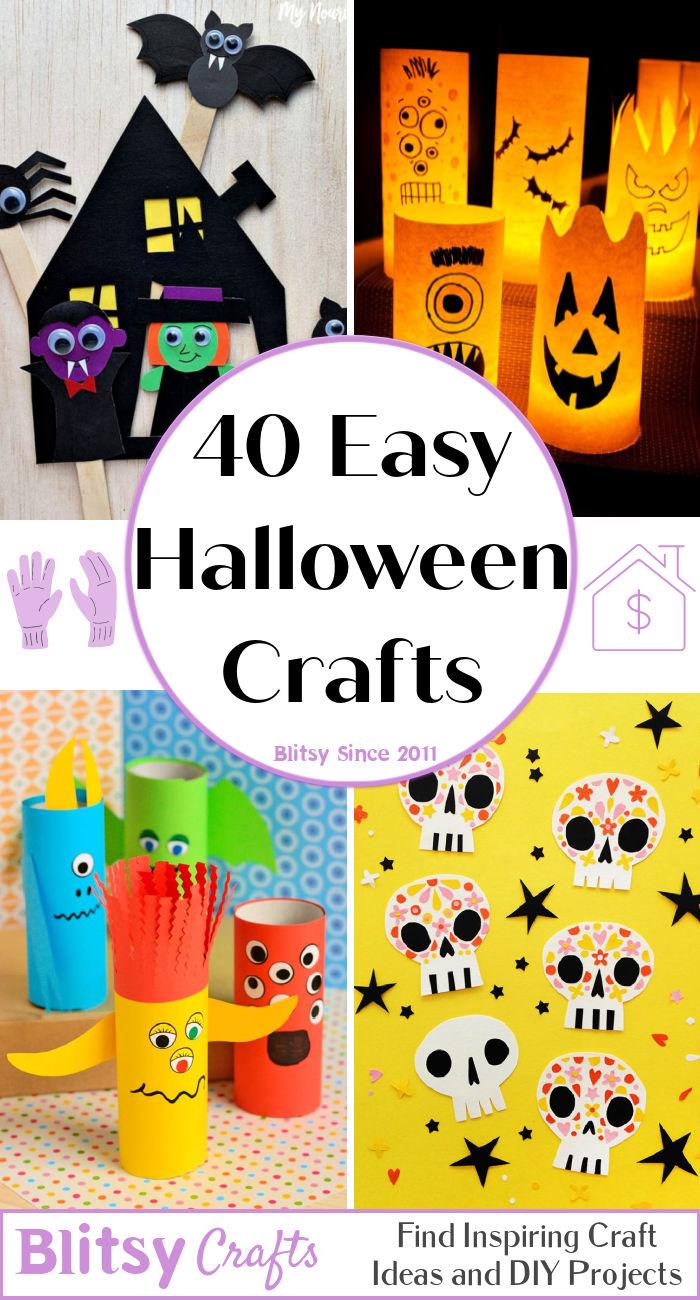 Most of these Halloween crafts involve using cheap supplies and also recycled, reclaimed and repurposed materials. Hence, these cool Halloween crafts become fairly inexpensive to make. The skulls, ghosts, pumpkins, spiders, bats and witches, these projects will share all the easy ideas and ways to bring them to your home and spaces for a haunted appeal. At the same time, they will make sweet, spooky gifts for their friends also.
In addition, you will get here ideas for kids for Halloween party decorations too, a famous one will be the pumpkin pinata. There are Halloween crafts for all skill levels, from easy to intermediate to advanced, but the majority of the projects are beginner-friendly. Time to celebrate Halloween to the fullest with these Halloween Craft ideas, sure to boost your creativity.
1. 15 Minute Halloween Wreath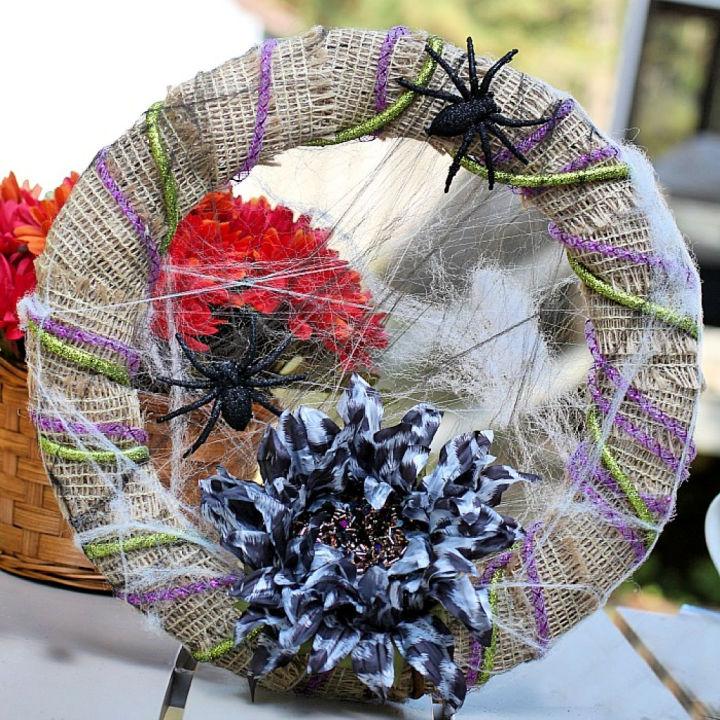 Celebrate the Halloween season with these handmade Halloween crafts. If you are willing to add some spooky wreaths, then find these Halloween wreath ideas that will help you to make these scary spider decorations. After you manage all the required supplies like 1 metal wreath frame, 1 roll of natural burlap, purple deco tubing ribbon, green bendable glitter rope ribbon, artificial cobwebs, artificial Halloween colored flower, plastic spiders and hot glue. It will take tall takes 15 minutes to get completed. Add the spiders at the end right on the wreath. pirateparent
2. DIY Haunted House Mason Jar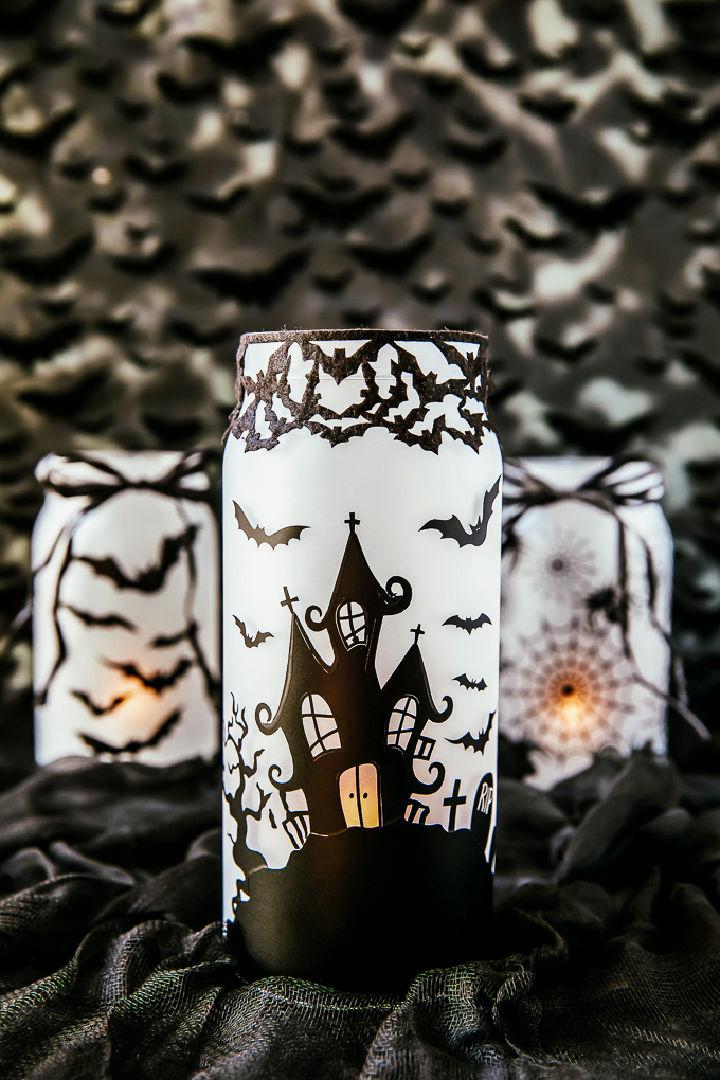 Enhance your Halloween festival decor also by adding these Halloween luminaries. These scary light centerpieces are to make with recycled Mason jars, and they are quite easy and quick to make with beginner crafting skills. Grab the large Mason jars and get them frosted using the frosted spray paint. Next, add the scary Halloween black adhesive vinyl to the jars and finish by adding some battery-operated lights inside. Use the silhouette machine to make your spooky vinyl arts like a pro. The project will be much easier on your wallet and is also much doable for all. apumpkinandaprincess
3. Wine Cork Pumpkin Easy Decor Craft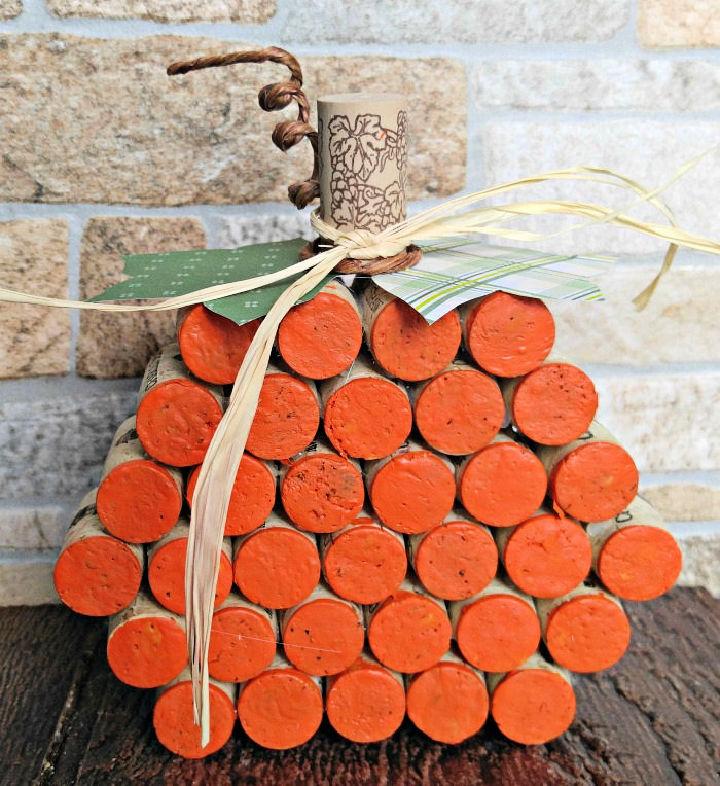 How can we forget about the pumpkins when celebrating Halloween. So, if you are willing to do some fun DIY Halloween crafts ideas, then making these pumpkins is recommended. Put together the wooden corks with tips painted in pumpkin color to whip up this lovely pumpkin decor. Make the pumpkin leaves out of the heavy scrapbook paper and uses the wire rope and raffia for the top. Stack and glue together the painted corks to get the pumpkin shapes. One of the best DIY Halloween project that everyone can do with ease. alwaystheholidays
Learn Pumpkin Carving: These simple pumpkin carving ideas and pumpkin stencils will give this year's jack-o-lanterns distinct character and make your porch the star of the neighborhood on Halloween night.
Painted Pumpkins: Explore some cool pumpkin painting ideas for things to paint on pumpkins this Halloween.
4. Halloween Kindergarteners Handprint Art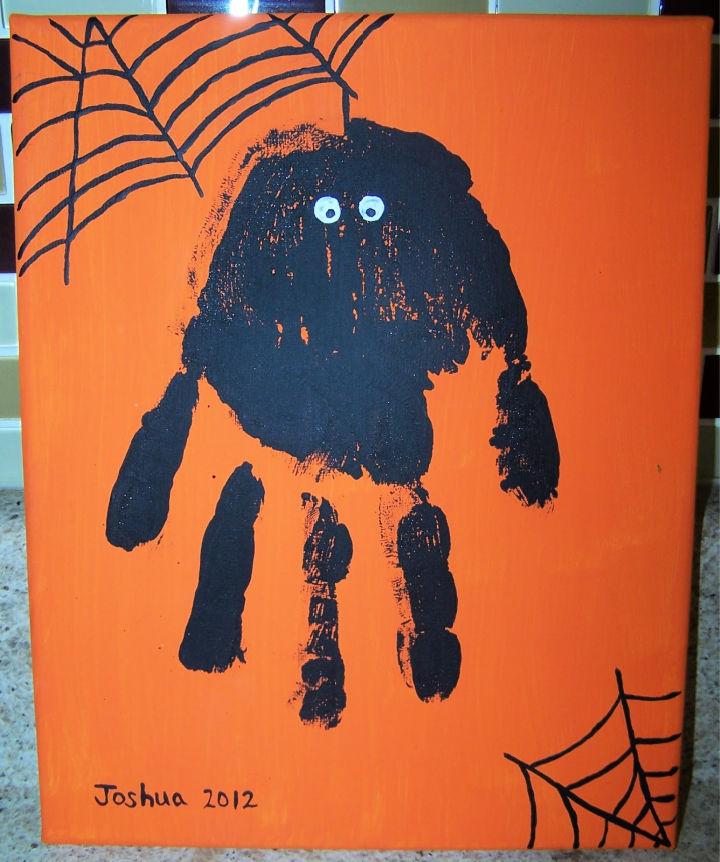 Use also the handprint and footprint arts to make ghostly Halloween knickknacks and decor. Get here some quick inspirations that will impress and inspire. Just take the 2 canvases and paint them for quick background color. Next, paint hands and footprints on them and transform them into beautiful-looking ghosts. The whole project will be easier to do, and all kids will love to do it also. So, mainly you need canvases, black acrylic paint, white acrylic paint, orange acrylic paint and paintbrushes to make these scary Halloween art frames. The best Halloween kids' craft project that will complete super quickly. thebeautifulbudget
5. Terracotta Pot Jack Olantern Craft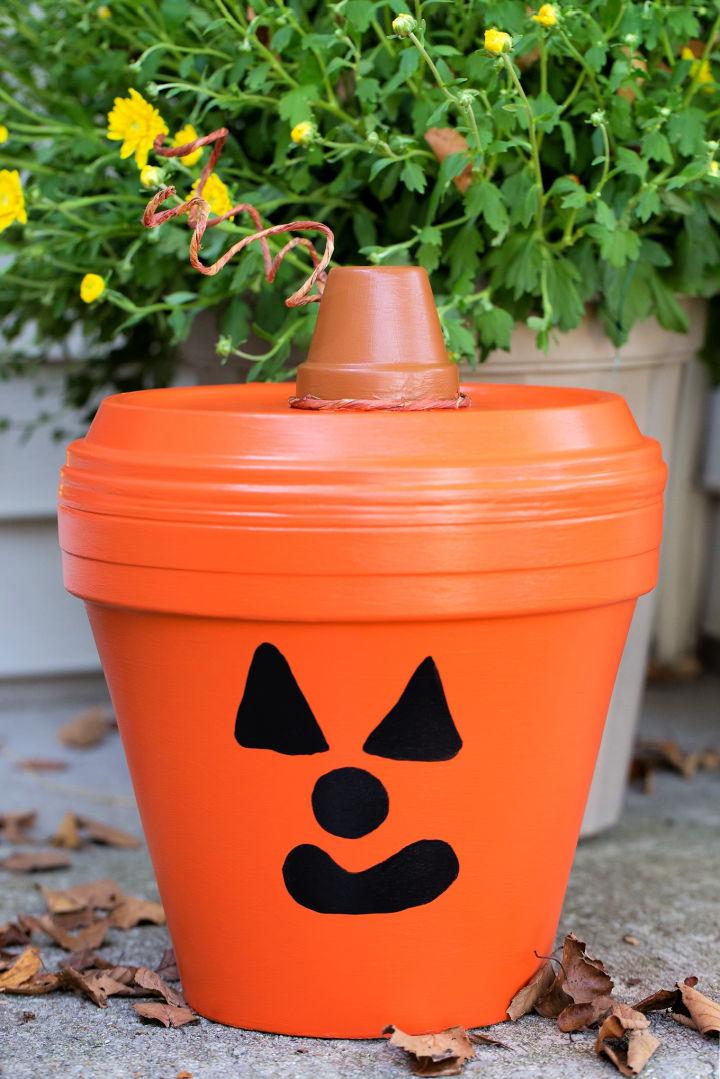 Nothing can substitute the Jack-O-lanterns when intending to feature the scary monster faces in the Halloween crafts. So, presenting here a quick hack for making a lovely Jack-O-Lantern. Just paint the terracotta pots and saucers and put them together for a Jack-O-Lantern, as you can see. Paint the pots in pumpkin color and then paint the scary face features using black paint. Cover the top with a matching saucer and add a mini pot on the top for head details. The best Halloween decor idea for your patio and front porch. The project is much wallet-friendly and beginner-friendly to do. firefliesandmud
6. Popsicle Stick Haunted House Craft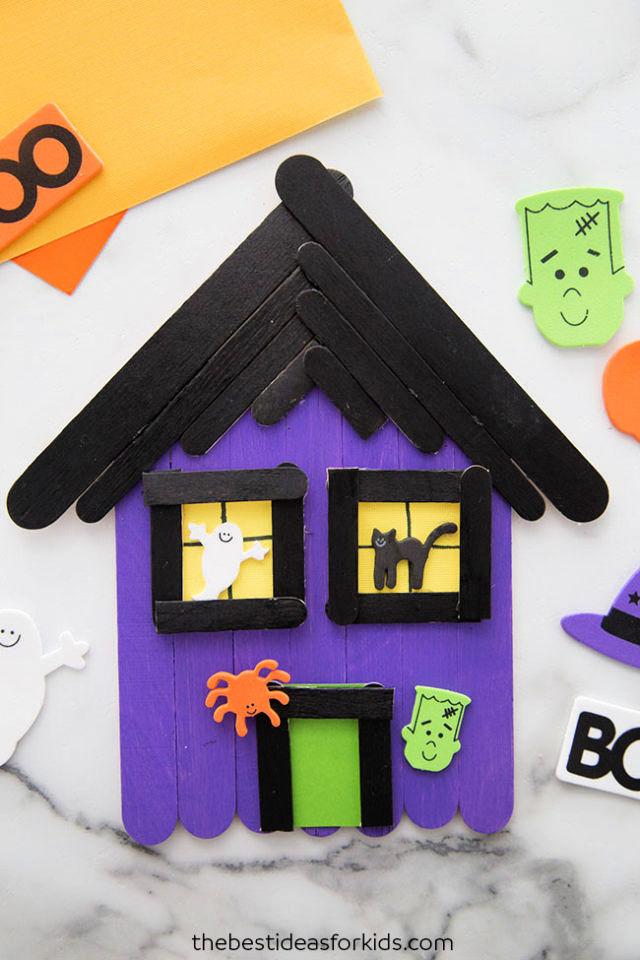 The Halloween crafts are all about making your home look haunted. So, go handmade with popsicle sticks to make this quick, beautiful, haunted house craft. It will be the best creative activity for the kids, and they can do it easily under your supervision. Pick the black and purple painted sticks to make the bungalow. Use also the black painted sticks and paint to add windows and doors. Use the black, white ghost and spider stickers or paper cutouts to add to windows and doors for scary demonstrations. The easy and quick Halloween decor idea. thebestideasforkids
7. DIY Apple Head Doll Witches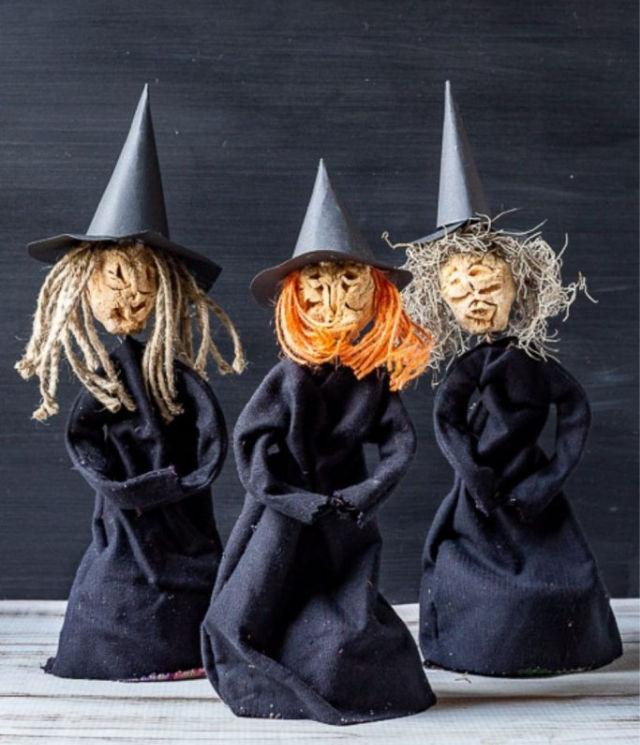 The witches have a great reputation and fame while talking about Halloween. The witch costumes are one of the best Halloween costumes, and if you are sorting out the best Halloween witch decor, then do make these apple head doll witches. You need crisp apples, lemon juice, twine, floral wire, long wooden skewers, round foam pot inserts, black fabric and black cardstock paper to complete these apple head doll witches. One of the best and quick Halloween decor Ideas that everyone will like. The best, quick and cheap Halloween crafts for kids that everyone will like. hearthandvine
8. Make Your Own Spiderweb Coasters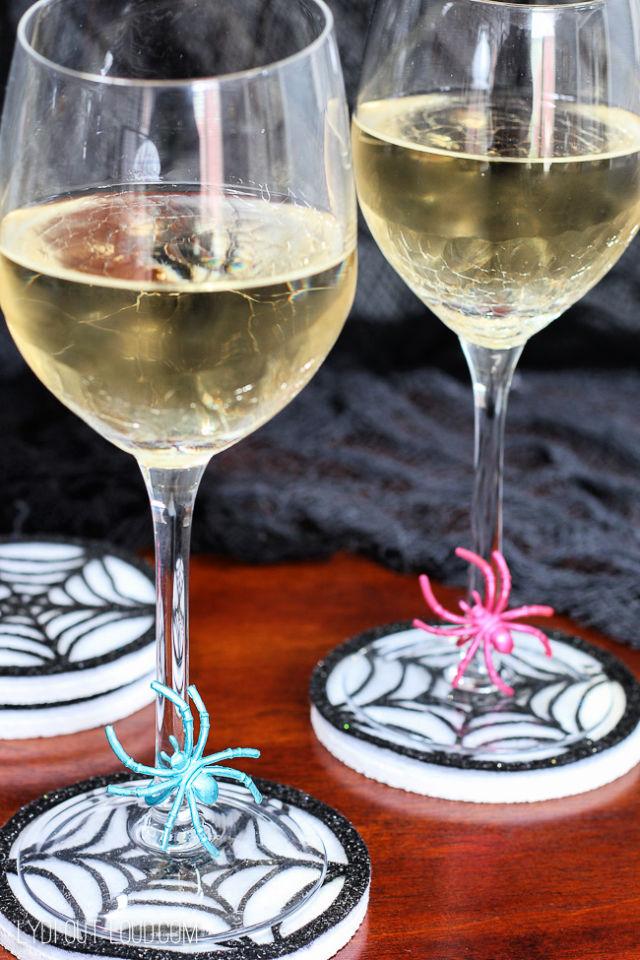 Rock your Halloween parties also by adding these spiderweb coasters to your party tables. The project involves using the Cricut Maker to cut the spiderwebs that you can easily paste on the round base coasters. So, mainly you need Cricut Maker, white acrylic paint, round base coasters, black and white felt, and spray adhesive to complete this project. Pack a set of these coasters to give to a special person also. The project is much doable for all beginners who are handy at operating the Cricut machine. The best to make for the upcoming Halloween party decor, and it will cost you next to nothing for sure. lydioutloud
9. Party Pumpkin Garland for Halloween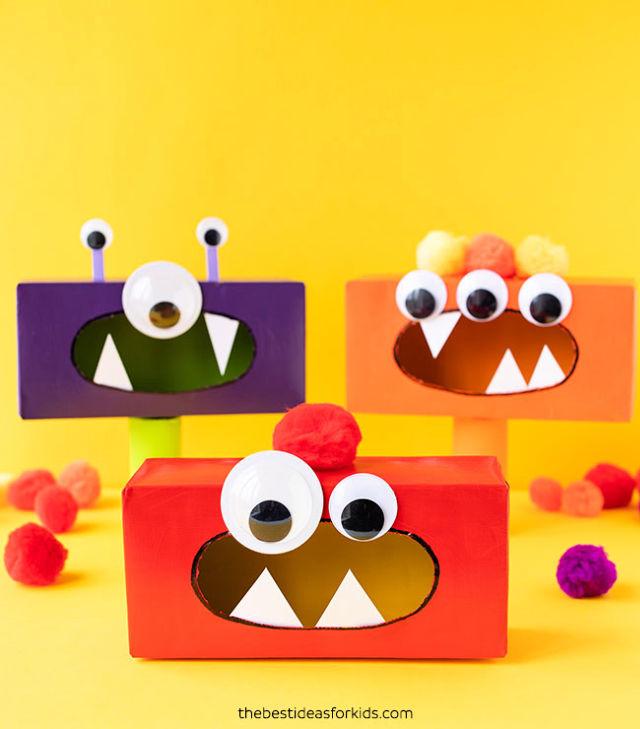 Upcycle also the old tissue paper boxes to make scary Halloween decorations. Get inspired by the given samples that are scary and come with impressive details. You need tissue boxes, colored acrylic paint, white acrylic paint, googly eyes, white cardstock, large pom-poms, black sharpie, 1 popsicle sticks, craft knife and glue to make these monster boxes. Use the white cardstock to make scary monster teeth, and use the pom-poms for head details. Glue one, two or three googly eyes in the same or different sizes for the rest of the monster details. Everyone will love these tissue box monsters for sure. thebestideasforkids
10. Party Pumpkin Garland for Halloween

The pumpkins are a hot motif to feature in the Halloween party, and you can consider making the pumpkin garlands in this case. You will keep staring at these party pumpkin garlands that are quite something easier to build and will make bigger changes to your spooky party decorations. You need acrylic paint in colors of choice, paintbrushes, mini foam pumpkins, googly eyes, mini pom-poms, colored paper, black permanent marker, scissors, hot glue and string to whip up these pumpkin garlands. Use the colored paper to make party hats for pumpkins and top them up with mini pom-poms. handmadecharlotte
11. DIY Vampire Fang Pinatas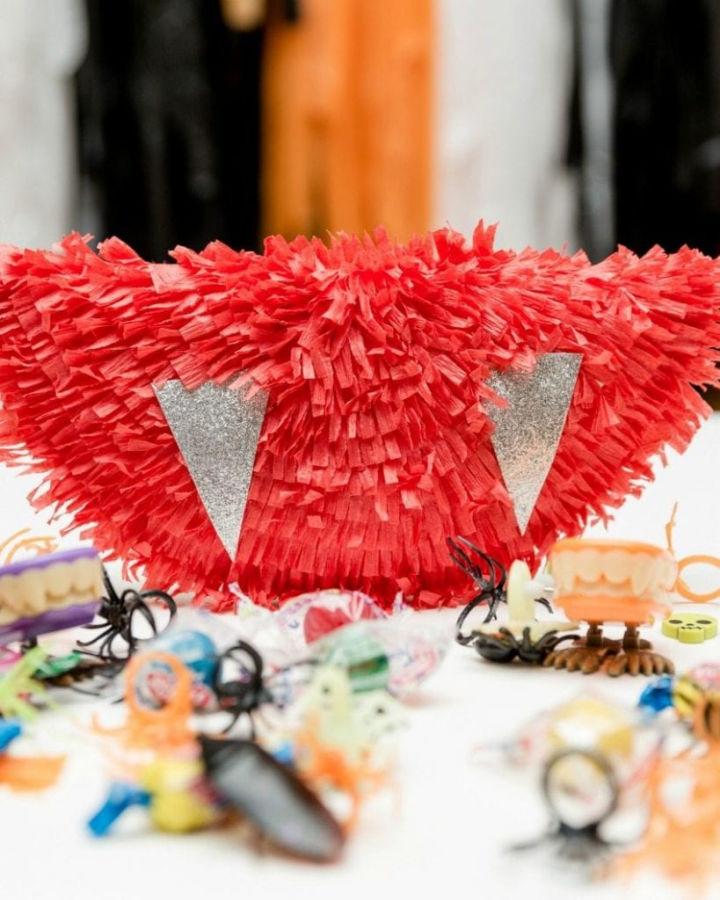 The Halloween party decor ideas are never-ending. Craft the scary pinatas also to give blasts of Halloween happiness to the kids. Let the real party fun start with these vampire fang pinata that is super quick and easy to make out of paper plates. In other supplies, you need red streamers and silver craft paper. The very required tools for the project will be a stapler and scissors. Just fold the paper plate In half and staple the edges to make the basic body of the vampire pinata. Cover it with red fringed streamers and finally with silver craft paper wings. jenniferperkins
12. Fun Halloween Scarecrow Craft for Kids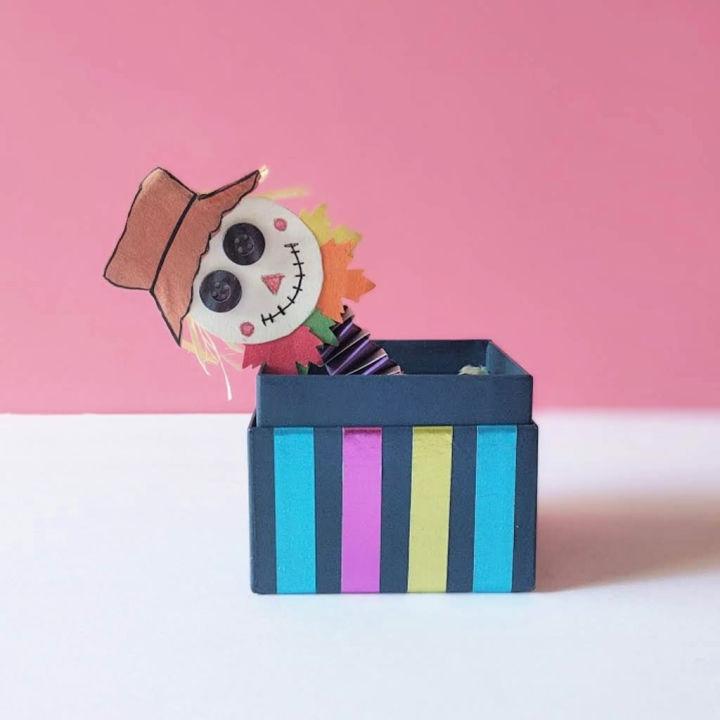 Sorting out the best peek-a-boo scary Halloween crafts for the kids this year? Then do make this scarecrow jack-in-box craft that will rock for both Halloween and fall decor. This will be the best surprise act that kids will love and it is quite easy and cheap to make at home also. Grab the cardstock paper, box, sharpie marker, buttons, raffia ribbon, washi tape, scissor, glue and maple leaf punch to make this fabulous scary surprise for the kids. The project will be much doable for intermediate skill levels and is super budget-friendly. thejoysharing
13. DIY Halloween Night Lights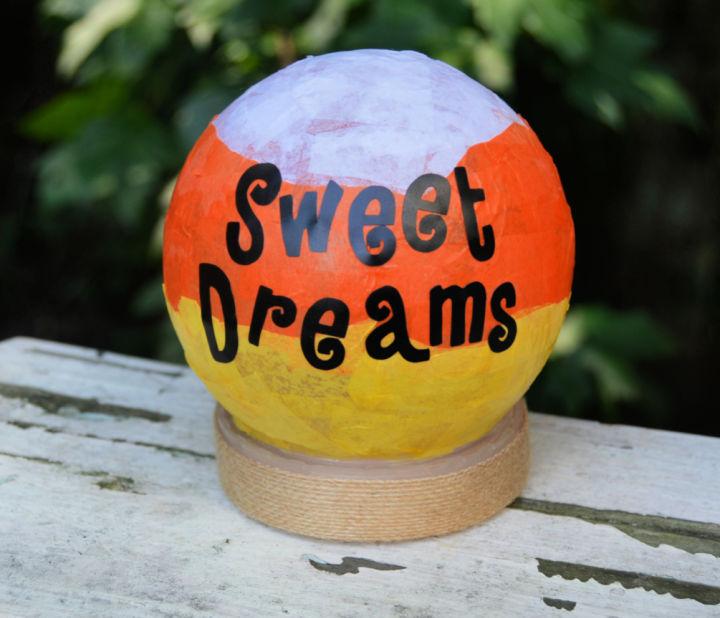 Let your home and exteriors of the home speak volumes for the arrival of Halloween by making these Halloween night lights. Here are the scary Halloween pumpkins and Jack-O-Lanterns that are a breeze to make with the beginner crafting skills. The idea is to cover the plastic snow globes with orange tissue papers to make them look like pumpkins. Next, add the scary details on them using black vinyl, ribbon and other spooky embellishments. Finish the globes by adding battery-operated tea lights, and that's it. Next, you can arrange these lanterns anywhere in or around the home for bigger scary decor statements. amylattacreations
14. Spooky Googly Eyes Picture Frame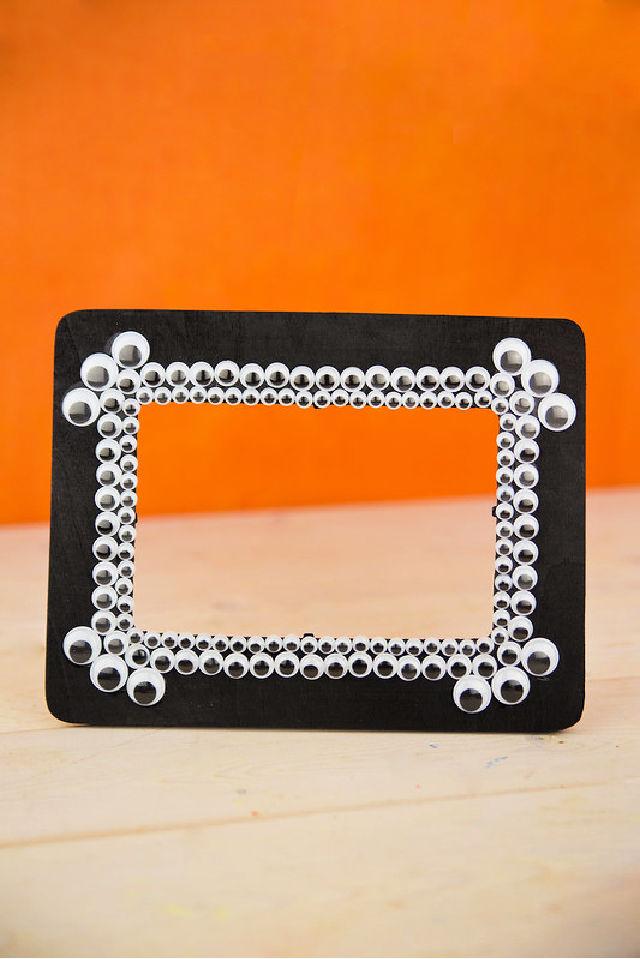 Make spooky frames for the upcoming Halloween that can be around your favorite family photos for some scary effects. The blasting good news is that everyone can make them quite easily and cheaply at home with this fun crafting idea. Just grab the 4×6 wood frame and black paint it for a background color. Next, glue the small, large and medium googly eyes all around for a monster appeal of it, and that's it. It will only take a few minutes to complete this frame, and it will also make a better handmade Halloween gift. thenerdswife
15. Halloween Ghost Button for Preschoolers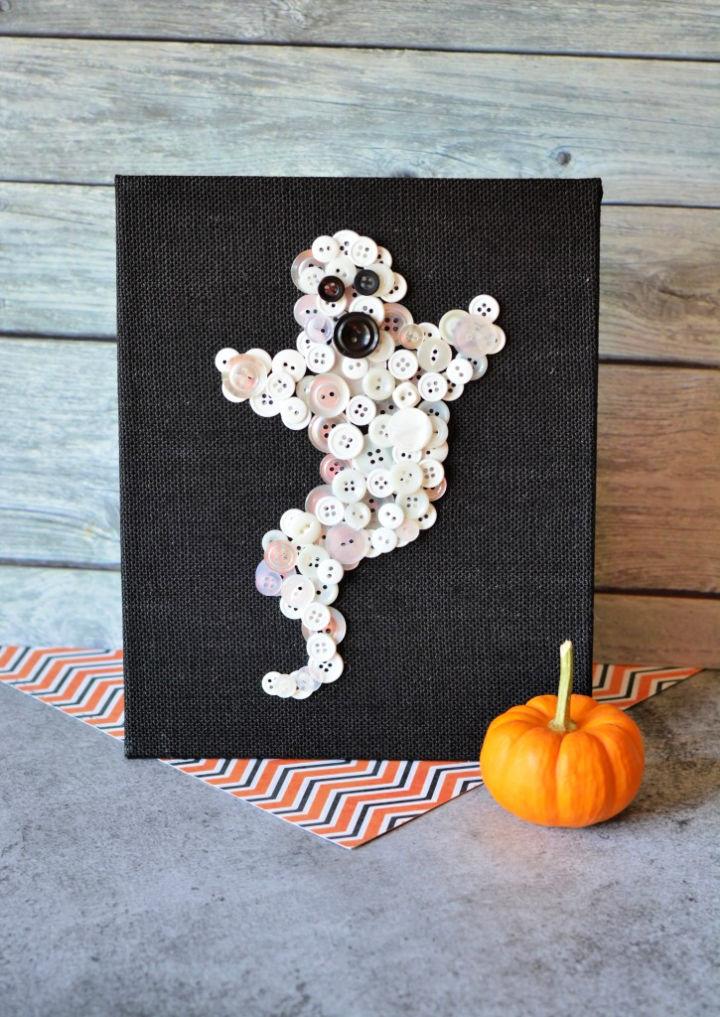 Various items and materials are lying around that you can simply use to make spooky Halloween decor. Peek into details of this Halloween ghost decor frame that is to make with buttons. The entire art comes with a black burlap panel on which you can add the assorted sizes of black and white buttons for a crazy ghost appeal. Choose a ghost template to easily trace the ghost shape on the burlap frame, and next, fill the whole sketch with buttons. So, mainly you need an 8×10 black burlap panel, white buttons, black buttons, template, pencil, hot glue and an old toothbrush to complete this project. livingoffloveandcoffee
16. DIY Spiderweb Cake Toppers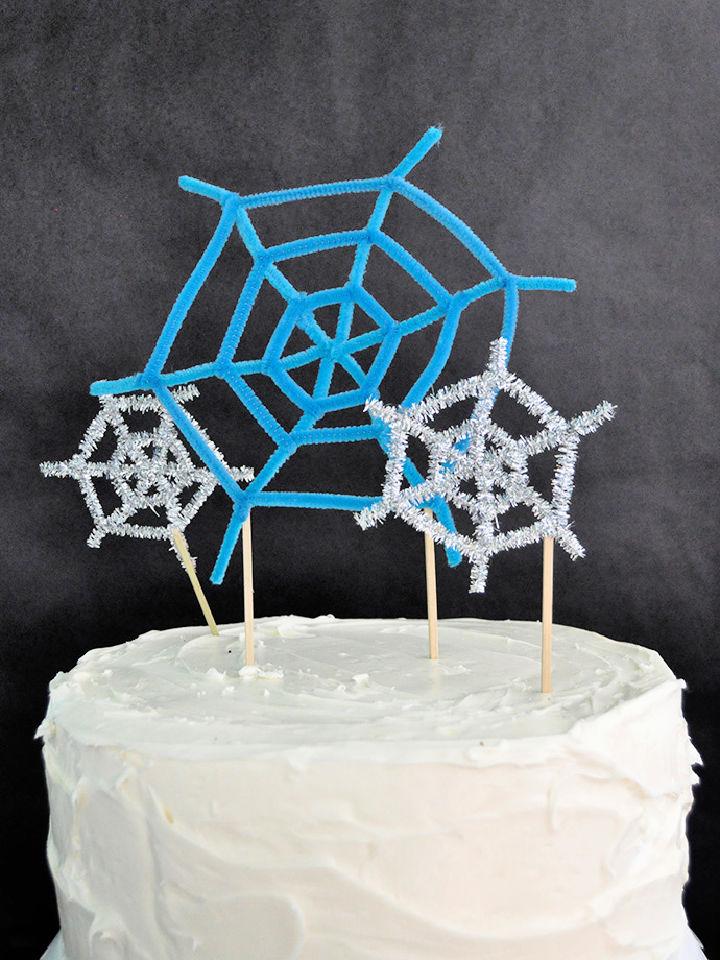 Incorporating spiders and spiderwebs is highly recommended when you need to boost the spookiness of the Halloween festival. So, make these spiderweb cake toppers to bring tons of scariness more to your Halloween parties. Use the pipe cleaners in colors of choice to easily make these spiderweb cake toppers. Once you make the spiderwebs, just add them to the top of the wooden skewers to easily add to the cake. You also need scissors and glue to complete this project. The best DIY Halloween craft idea that will impress and inspire all the Halloween lovers for sure. handmadecharlotte
17. Felt Cute Candy Corn Plushie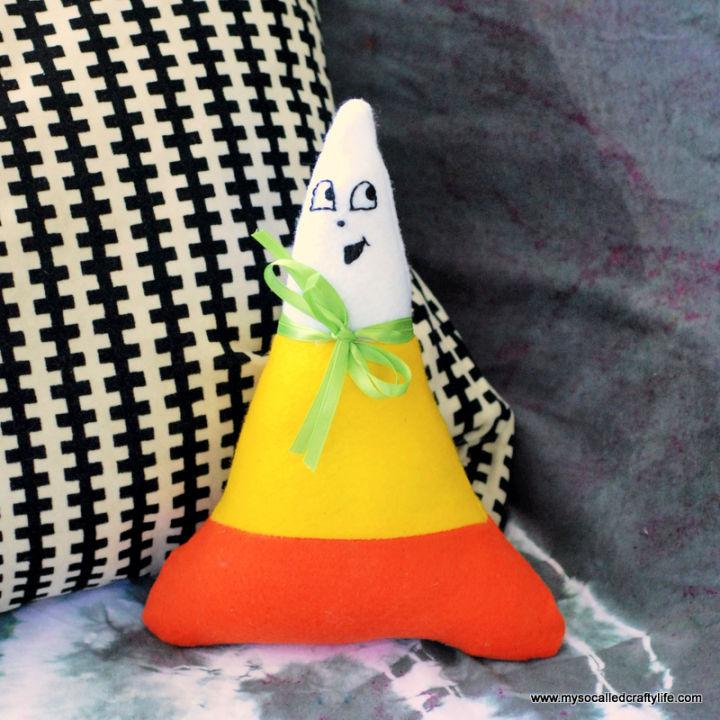 A one of the sweetest Halloween gift and decor idea, the Halloween felt cute candy corn plushie. All kids will love to hug with it, and it will be a great pleasure to make with minimal skills. The very first thing you need is the pattern to make this sweet and beautiful candy corn plushie. Next, you need a marking pen, black and orange embroidery floss, sewing machine, scissor, stuffing and 1 sheet of each white, yellow and orange felt to complete this project. You can easily sew this candy corn plushie even if you are not an avid sewist. mysocalledcrafty
18. How to Make a Spiderweb Doormat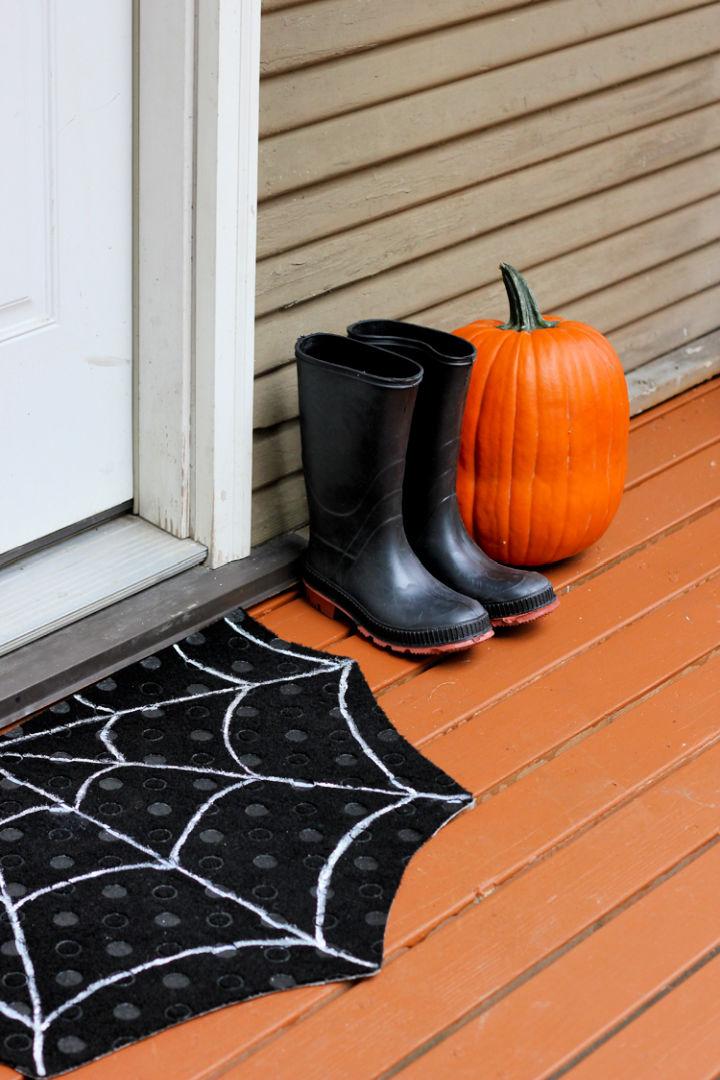 Make your home look haunted this Halloween season with this spiderweb doormat hack. Yes, it is all about creating a scary spiderweb-shaped doormat, and the whole project is beginner-friendly. You need a semi-circle black doormat on which you can easily paint the spiderweb using white fabric paint. You can easily buy a doormat of this type from IKEA for $5 or less and try to use a spiderweb template to easily go ahead. Use a thin but bristle paintbrush to paint the spiderweb. One of the best spiderweb doormats ever made for Halloween. deliacreates
19. Painted Ghost Rocks Craft for 4 Year Olds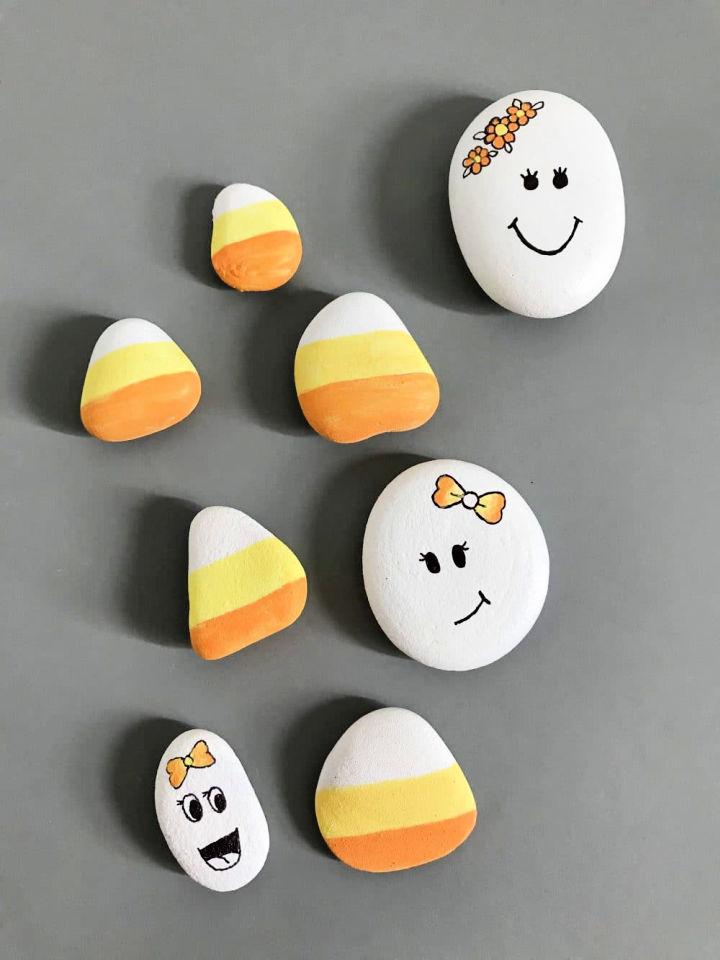 Do you and your kids take great pleasure in painting the rocks? Then time to paint ghostly rocks that can be added to Halloween decor in numerous different ways for some great spooky effects. You need river rocks, white satin spray paint, yellow and orange acrylic paint and a fine point sharpie to paint these ghost rocks. At the same time, you can paint the rocks for candy corn and add them to the Halloween decor. Add custom fun faces to a ghost on the rocks you like for cute and scary rock ghosts. One of the best DIY Halloween decor ideas. thesweeterside
20. DIY Spooky Pumpkin Pinata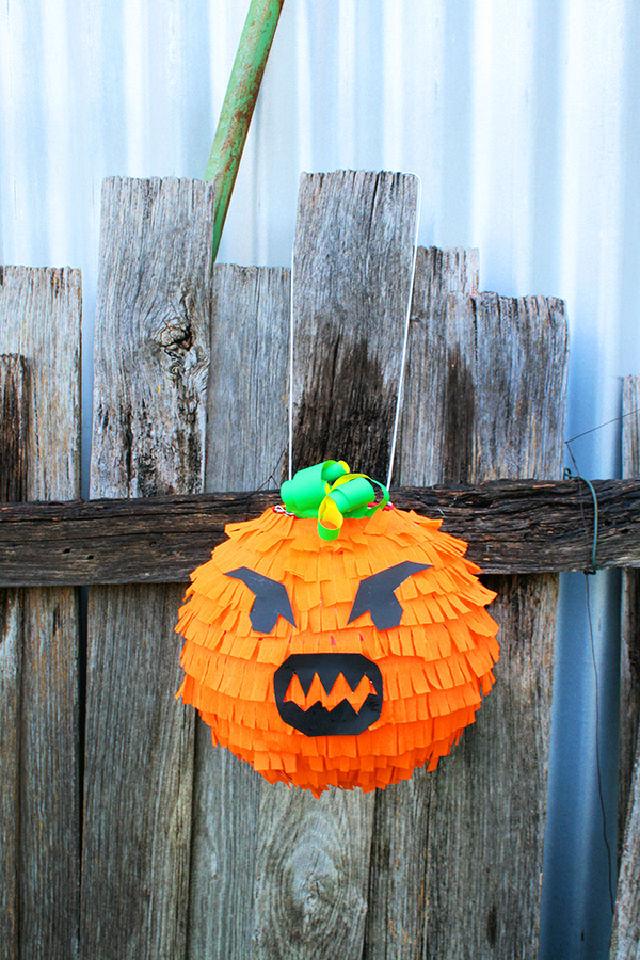 The pinatas are the most loved kids' party decor. So, make also the Halloween parties super kids special by adding this spooky pumpkin pinata. It is handmade and will be loved dearly by all the kids for sure. You need small paper lanterns, green paper, black card, orange crepe paper, twine, scissors, glue, double-sided tape and custom treat like candy, sweets and confetti for filling to complete this project. The project will cost you next to nothing and is much doable for beginners and even for little kids. It will only take a few minutes to make this pinata. crafts tutsplus
21. Happy Haunting Halloween Banner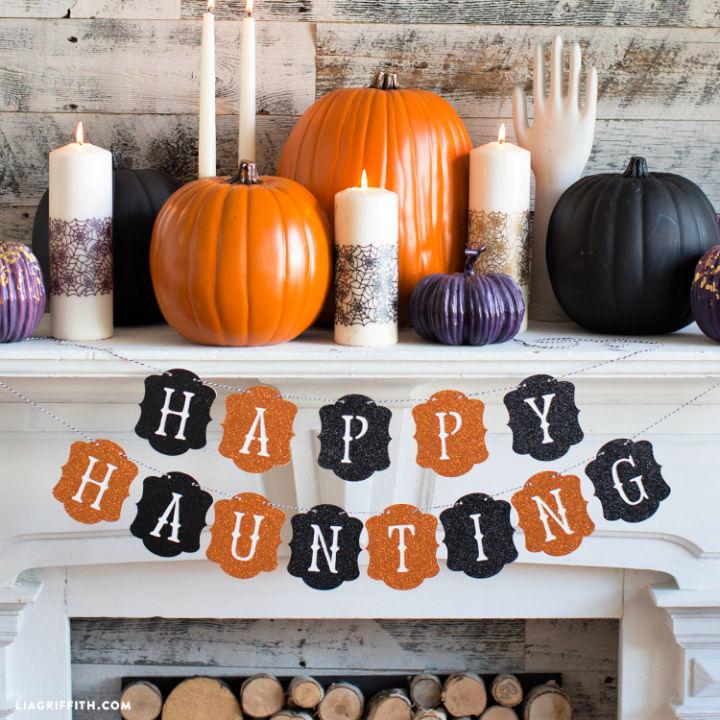 Give Halloween and your favorite season a warm welcome by making this happy haunting banner. You will get free SVD cut files and PDFs for the project that make the project a lot more doable. So, you need 12 x 12 chestnut glitter paper, 12 x 12 ebony glitter paper, white cardstock, cutting machine, hole punch, string and glue to complete this project with ease. After you cut all the buntings with letters, string them up and make the lovely-looking banner. The project is much doable even for a beginner and will impress. liagriffith
22. Bloody Handprint Window Clings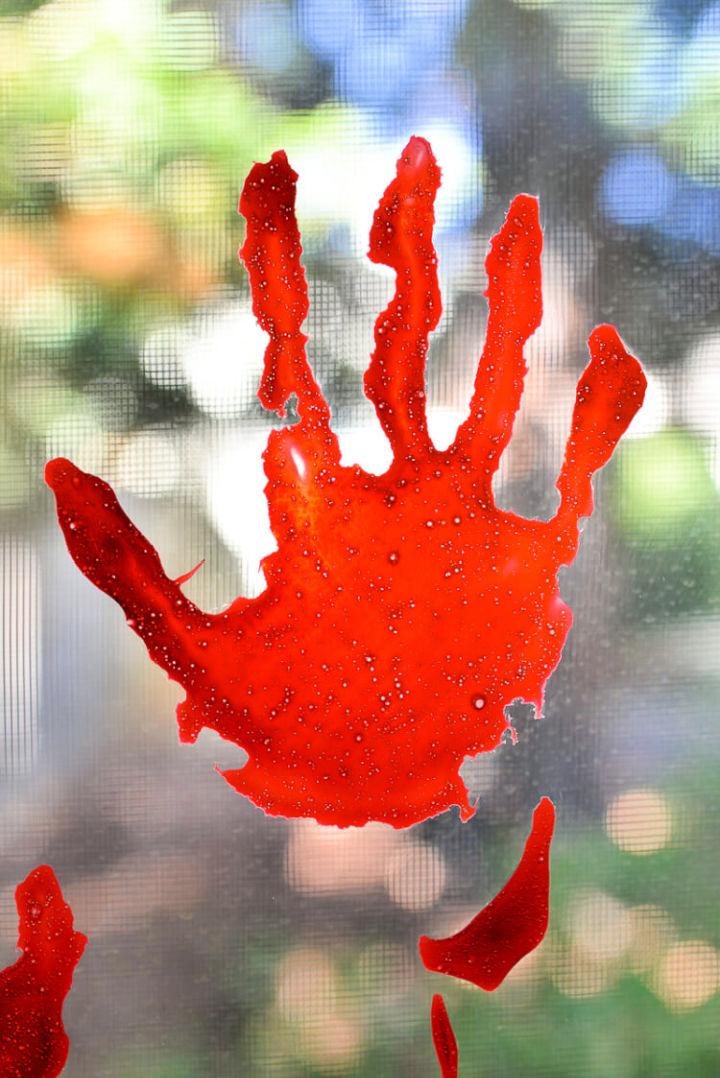 Create a super haunted and scary appeal of your home with these bloody handprint window clings, the easiest yet quickest Halloween project. Here all you need to make the bloody mixture using craft glue, red and blue food coloring and then dip your hands in it and print on the favorite glass door or window. The project is beginner-friendly and is also much doable for kids. You need a few supplies to be easy to do this project, like craft glue, red and blue food coloring, and a silicone baking mat. The easiest spooky effect to give to your home in no time. heyletsmakestuff
23. DIY Paper Pumpkin Wreath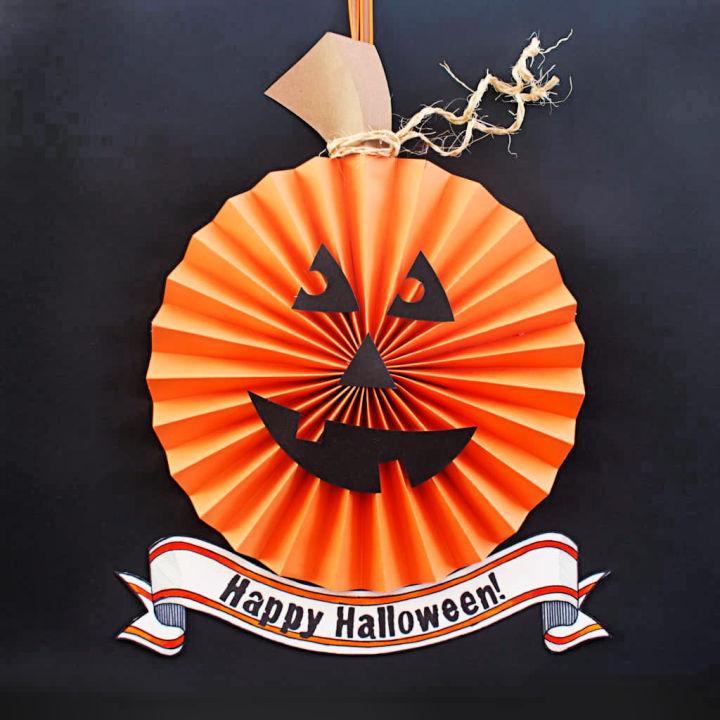 Sorting out the best pumpkin wreath for Halloween? This one will surely get ten out of ten from you. You will love to make it with the free provided printable here, and the pumpkin itself looks like a paper fan. Grab the twine, thin wire, ribbon, hot glue, markers and paper in orange, black, brown and white color to make this Halloween pumpkin wreath. Print out the free printable to easily get the free pattern for the whole pumpkin wreath. This is here the easiest yet beautiful DIY Halloween decor project. craftingcheerful
24. Make a Bat Wings Headband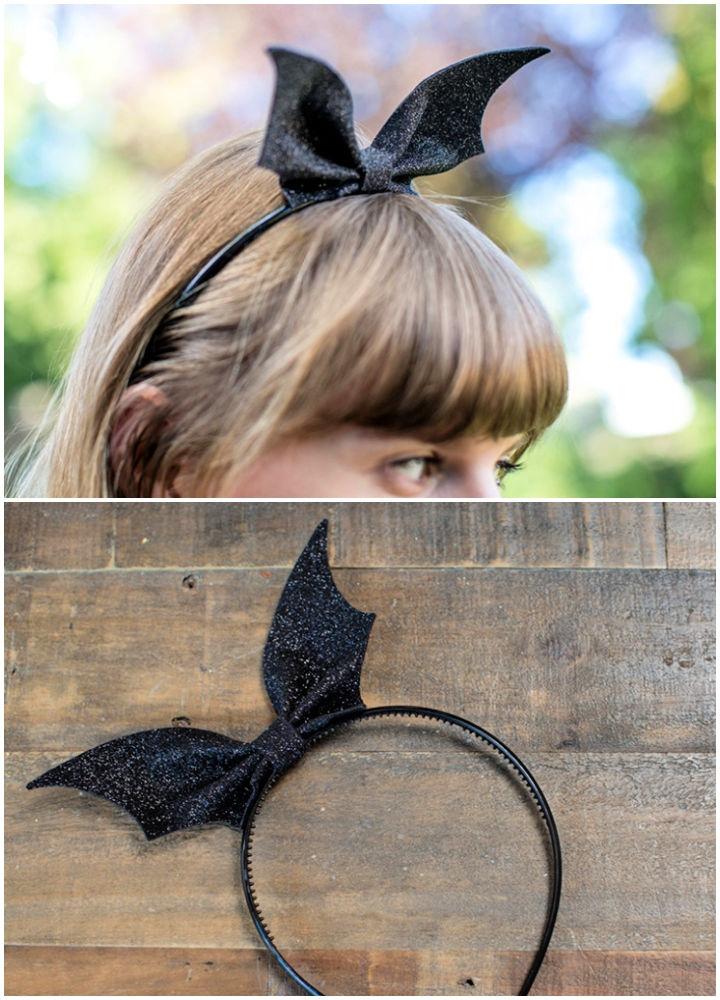 All kids will love to wear this bat wings headband with the scary Halloween costumes. One of the best scary Halloween hair accessories that will complete fast while using minimal and cheap supplies. Use a bat wings template and cut the wings out of the black felt. Add up the wings with glitter iron-on. Just apply to one side only, and that's it. The final step will be to glue the wings on the black headband. This will be the quickest DIY Halloween decor project that everyone can do with ease for sure. The best handmade Halloween gift idea for kids. liagriffith
25. Playful Paper Plate Halloween Craft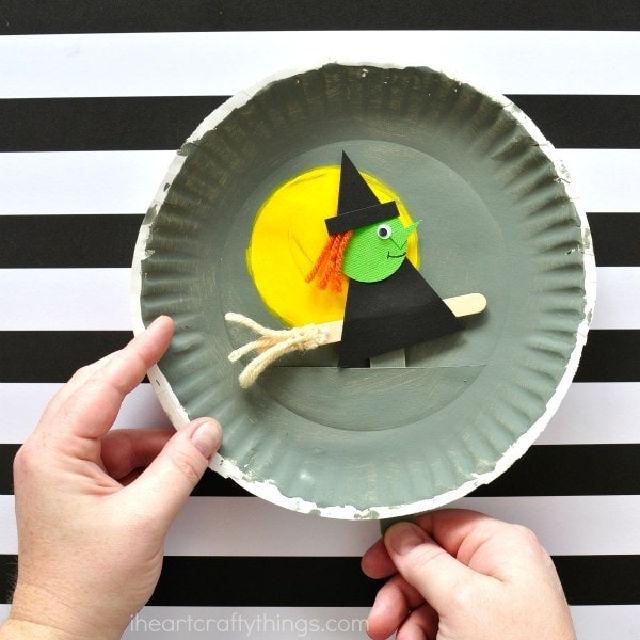 Make also some playful spooky toys for the kids to raise the Halloween fun to the fullest. Take a great start by making this playful paper plate Halloween craft that all kids will love to play with. You need a few supplies to make this toy. You need a paper plate, cup for tracing, pencil, jumbo craft stick, craft stick, black and green cardstock, orange and tan yarn, small googly eyes, black marker, scissors, glue, craft knife, and paint in black, grey and yellow color to complete this project. The whole project will complete simply in no time and makes a cute handmade gift for a kid. iheartcraftythings
26. Make a Skull Stamp Art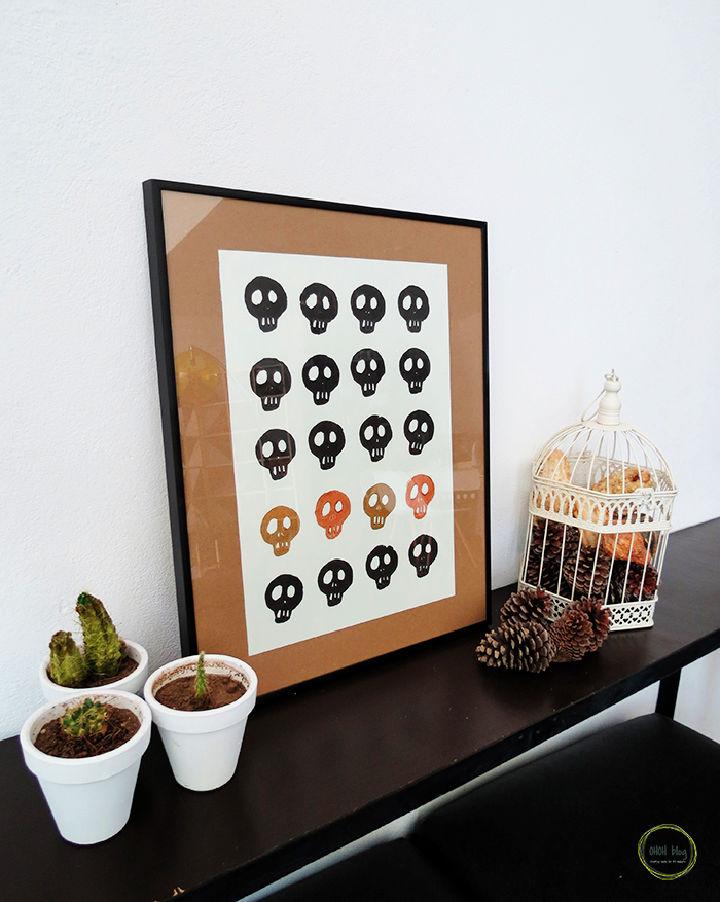 Go also with the stamping to generate lovely Halloween decor. Look at this skull stamp print that is scary and beautiful at the same time. Draw and cut out a skull shape from a foam sheet and then use it as a stamp to fill any paper with skull stamp art. Frame up the finally completed paper and make a gorgeous scary art frame for Halloween. The finally complete frame will rock for the decorative mantles and shelves, and it will complete just at the drop of a hat. Everyone can do this project with ease. ohohdeco
27. Halloween Toilet Paper Roll Craft for 3rd Grade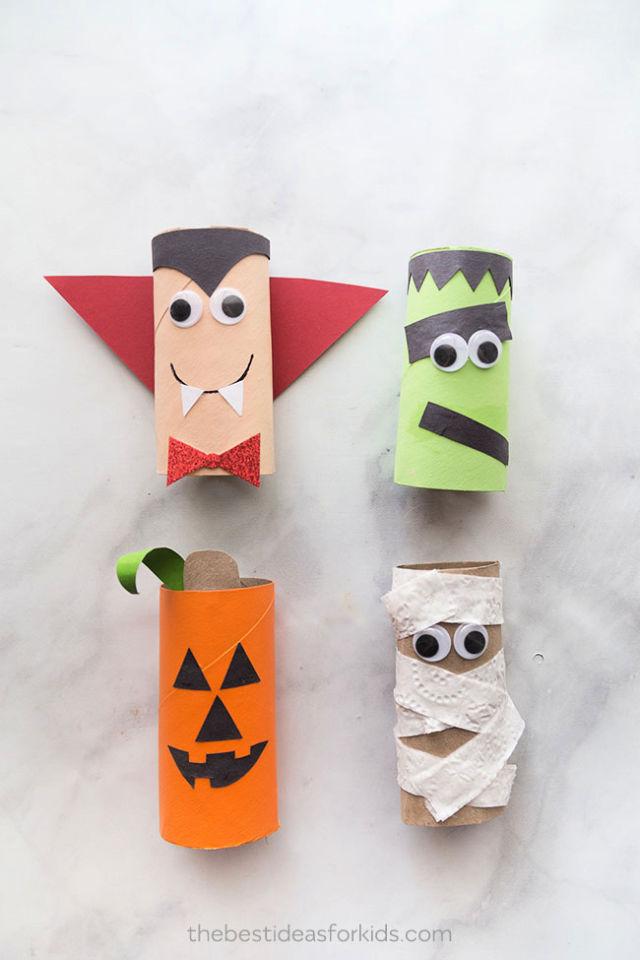 Get also crafty with the toilet paper rolls to make lovely and scary monsters for the Halloween crafts. They will make superb handmade Halloween toy gifts, too, for the little kids at home. You need 4 paper rolls, paint, black construction paper, toilet paper, medium-sized googly eyes, red glitter paper, sharpie and cardstock in green, red and white colors to whip up these monsters. Mount them also on the wall for bigger scary decor statements. The best Halloween decor idea using the recycled reclaimed and repurposed items from home. thebestideasforkids
28. Apple Stamping Pumpkin Craft for Toddlers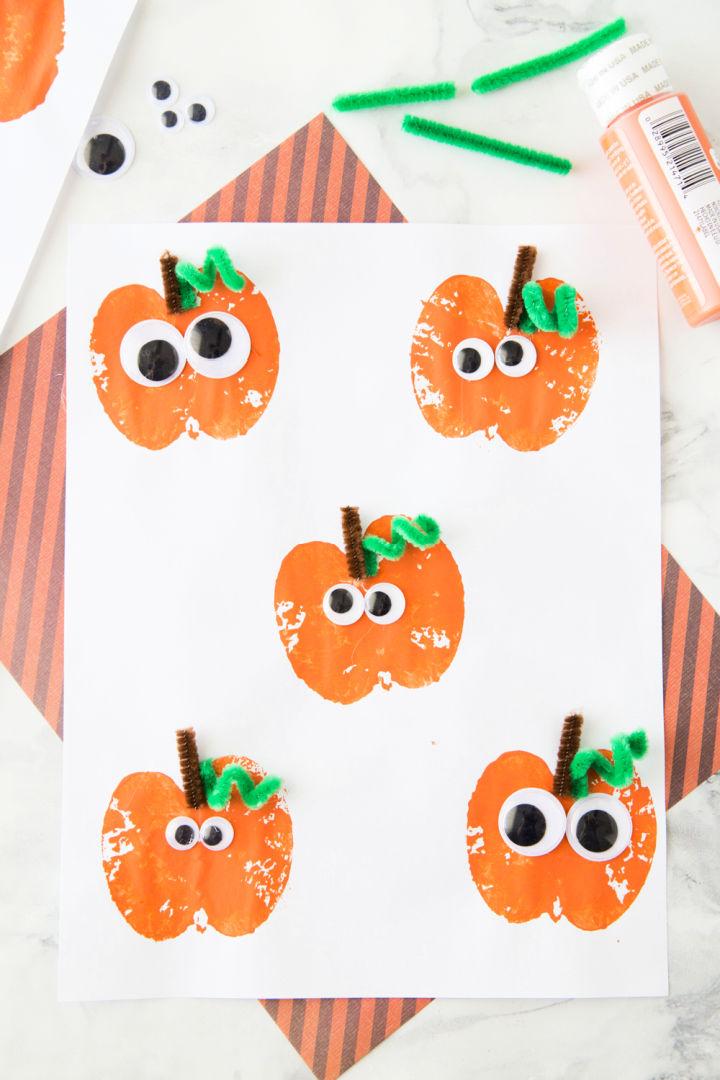 The stamping can be an amazingly quick way to make instant beautiful Halloween crafts in no time. Cut the apple into halves, dip in the orange paints, and stamp the pumpkins on white paper or canvas. Finish each print with the googly eyes and get the pumpkin monsters, and they will be amazing to feature in your spooky Halloween decorations. This is the best craft activity for the kids to do this Halloween, and it involves using cheap supplies and materials. Use the brown and green pipe cleaners to add the stems and other pumpkin details, as you can see. madetobeamom
29. Halloween Paper Lanterns Kid Craft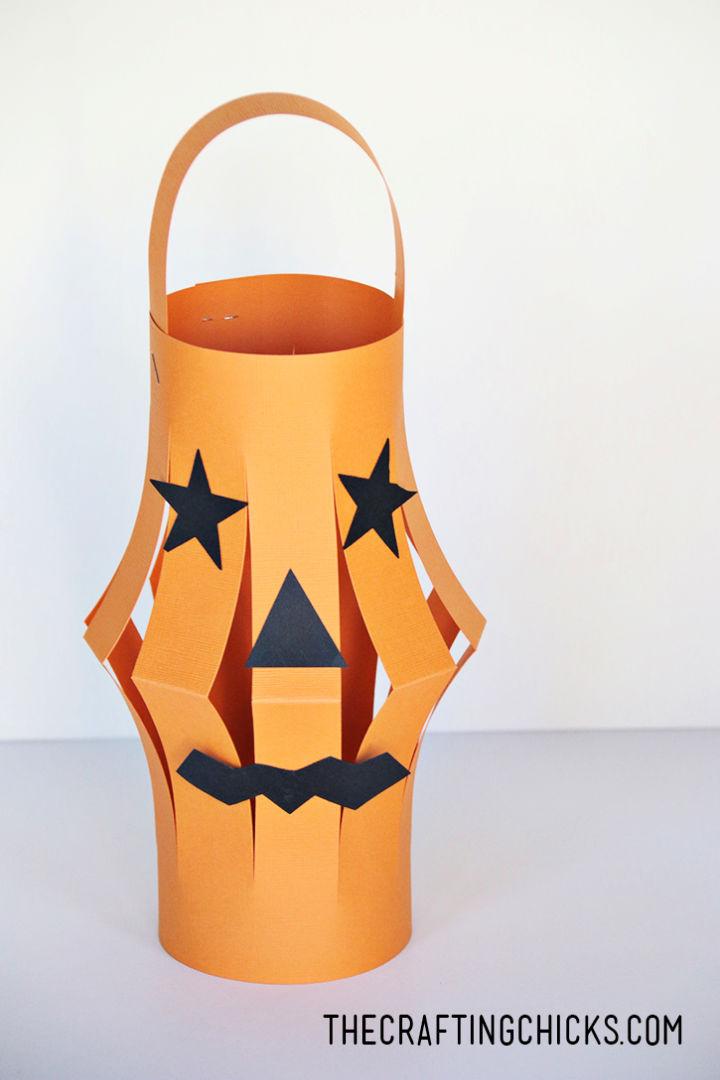 Let your kids make these beautiful Halloween Lanterns, the best Halloween craft project for kids. You only need the papers to whip up these scary Halloween paper lanterns, and they can be added to both day and night Halloween decor for bigger spooky decor statements. Pick the 8.5″ x 11″ paper in orange, black and white colors to make these spooky monster lanterns, which will make lovely night light decor for the spooky festival. You also need a stapler, glue sticks, ruler and scissors to complete this project with ease. Everyone can do this project with ease. thecraftingchicks
30. DIY Spooky Mail Art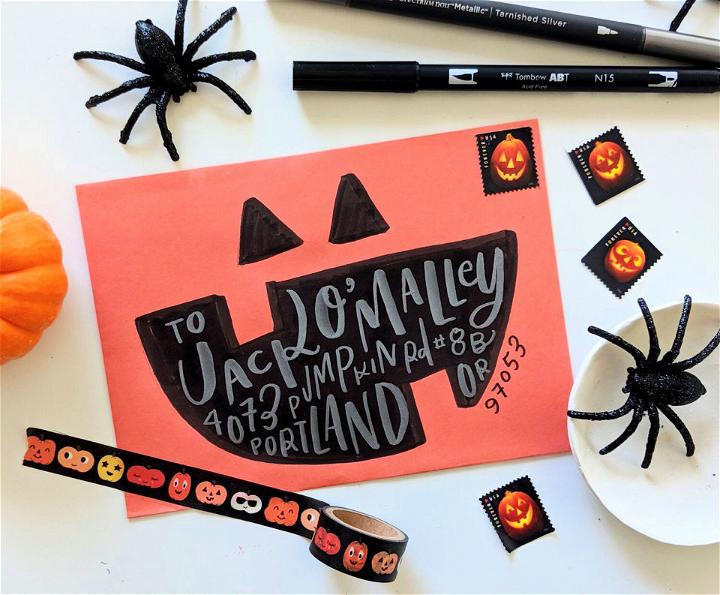 This project will share the ultimate creative ideas with you to make spooky mail arts that you can send to friends this Halloween. You will get here lots of inspiration to get your creativity inspired here. The idea is to make the scary invitations with bloody handprint clings, black cats, ghosts, spider webs, bats and much more. You can also write custom spooky messages, quotes and words on the mails for extra spookiness. Make also the ghostly stamps for the scary mails for extra visual attractiveness. The entire project will cost you next to nothing and will be much doable for all. hooplaletters
31. Inexpensive Printable Halloween Masks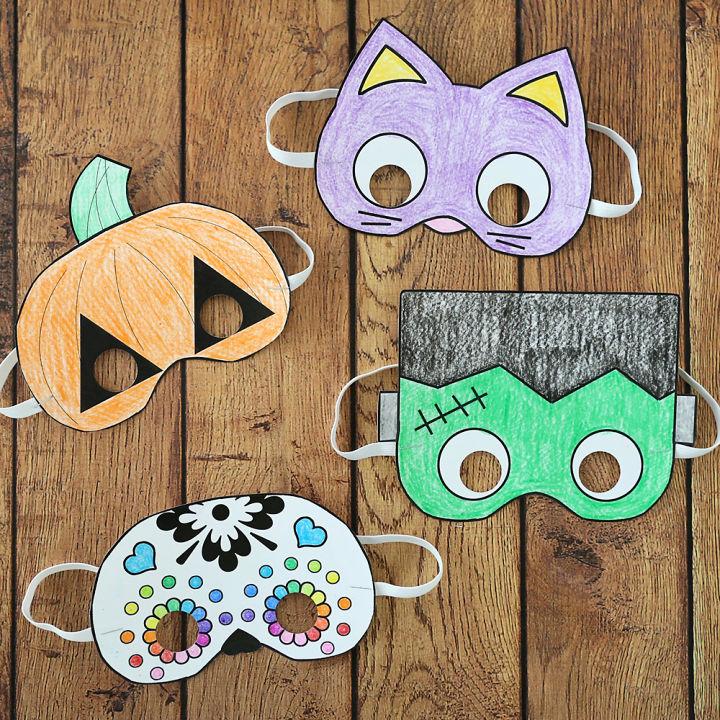 Print out beautiful Halloween masks using paper crafts and make sweet handmade gifts and Halloween party props for the kids. Just print out the scary masks, cut them out and let your kids fill colors in them. Finish by adding elastic and let your kids wear them. You can make a mask inspired by any scary monster, cat, pumpkin and Halloween ghosts. These masks will create so much fun for the little kids in-home and will be ready just at the drop of a hat for sure. One of the best and quick-to-do projects that every kid can do. itsalwaysautumn
32. Paper Ball Bat Craft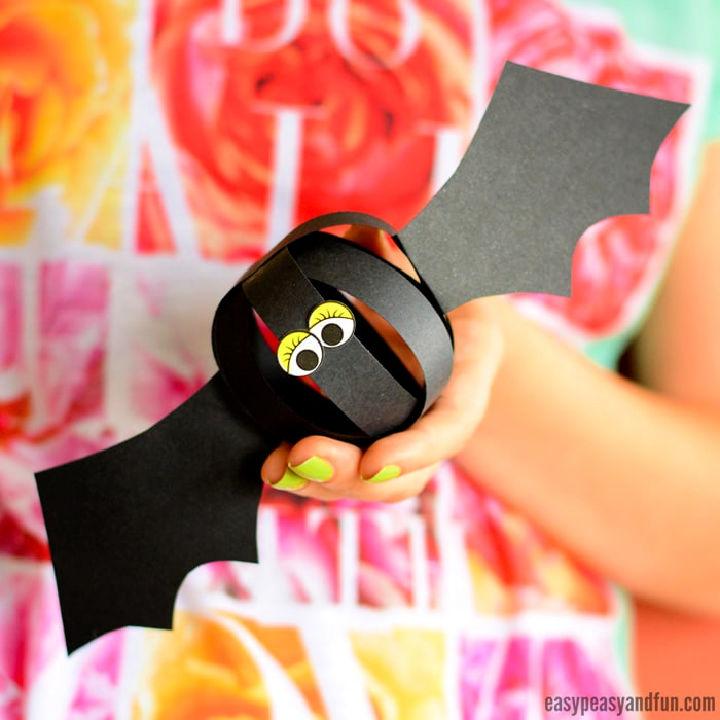 Here you will learn to make the 3D Halloween bats that can be used in numerous different ways for Halloween decorations. The idea is to use black paper to make these paper ball bats that you can string up to make the lovely ball-bat garlands. You need black paper, scissors, glue and wiggle eyes to whip up these bats. It will also cost you next to nothing. You can fix the black paper loops into one another to make the scary bat ball and then add the wings. Use a template to easily trace and cut out the bat wings. easypeasyandfun
33. Upcycled Flower Pots Spiders for Preschoolers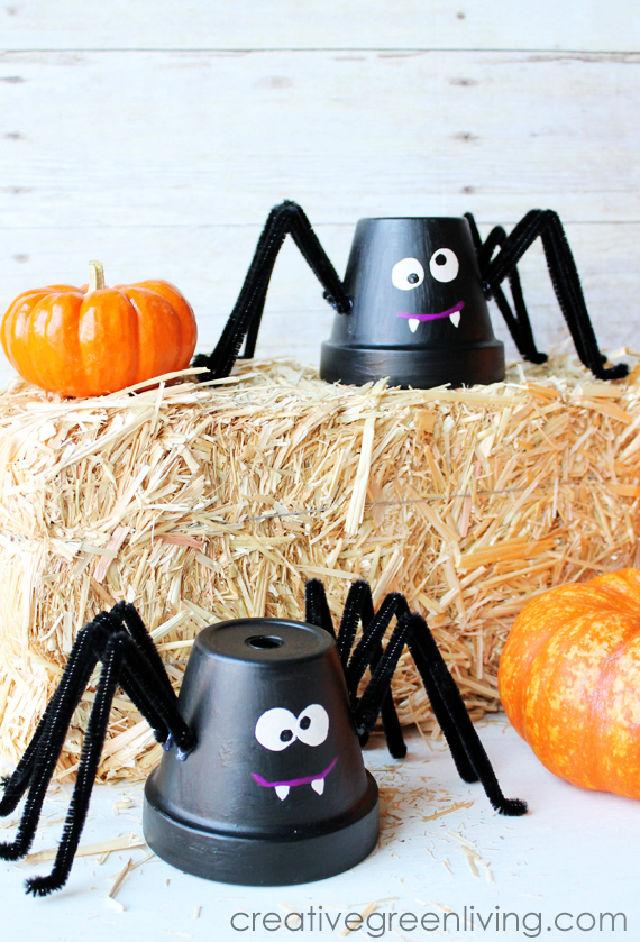 The spiders are a hot Halloween spooky decor, and here is the hack if you want to make them in bigger sizes. Upcycle the terracotta or plastic pots to make instant giant spiders for Halloween. Paint a terracotta flower pot in black and then cut the black chenille stems to size to add as beautiful spider legs. Use glue to adhere them in place. You also need paint in black, off-white and purple to complete this project, will be much easy on your wallet. Use the white, black and purple paint also to paint the spider face, including monster teeth. creativegreenliving
34. Popsicle Stick Spider Web for 5th Grade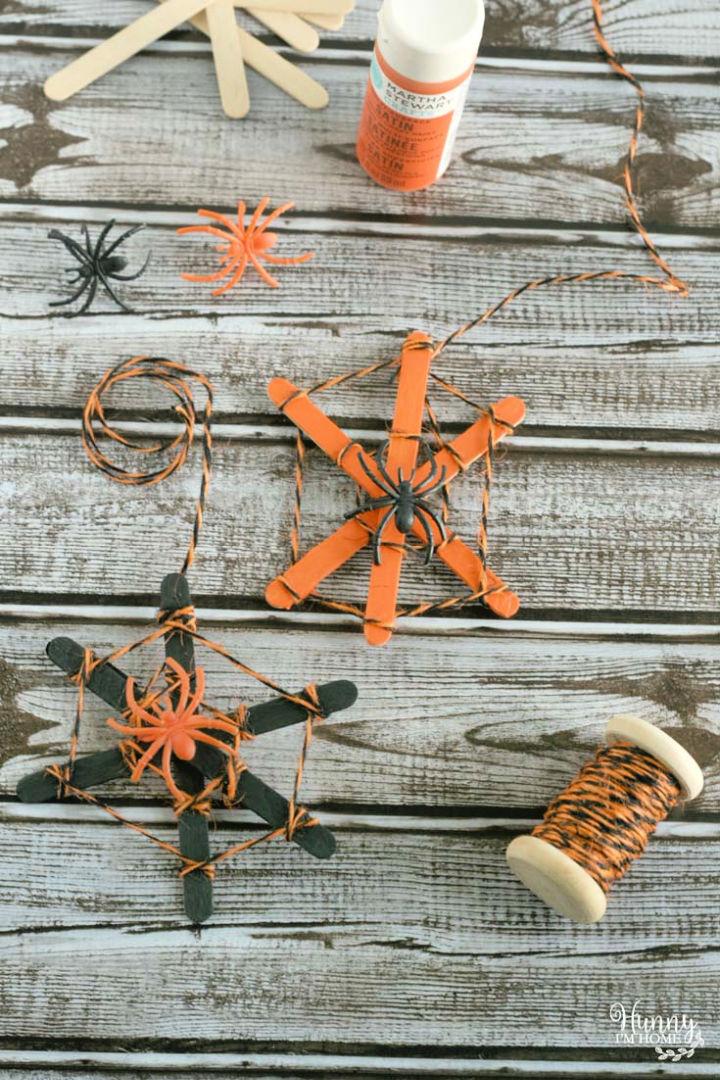 If you include some spider webs in the halloween crafts for kids, you can also make a few ones using the craft sticks. Peek into details of these popsicle stick spider webs that come with faux spiders sitting on their centers and are crazily easy and quick to make. You need craft sticks, faux spiders, orange and black baker's twine, and some creativity to whip up these spiderwebs. A simple yet beautiful Halloween craft that every kid can make with ease and without getting a bit expensive. hunnyimhomediy
35. DIY Bat Corner Bookmarks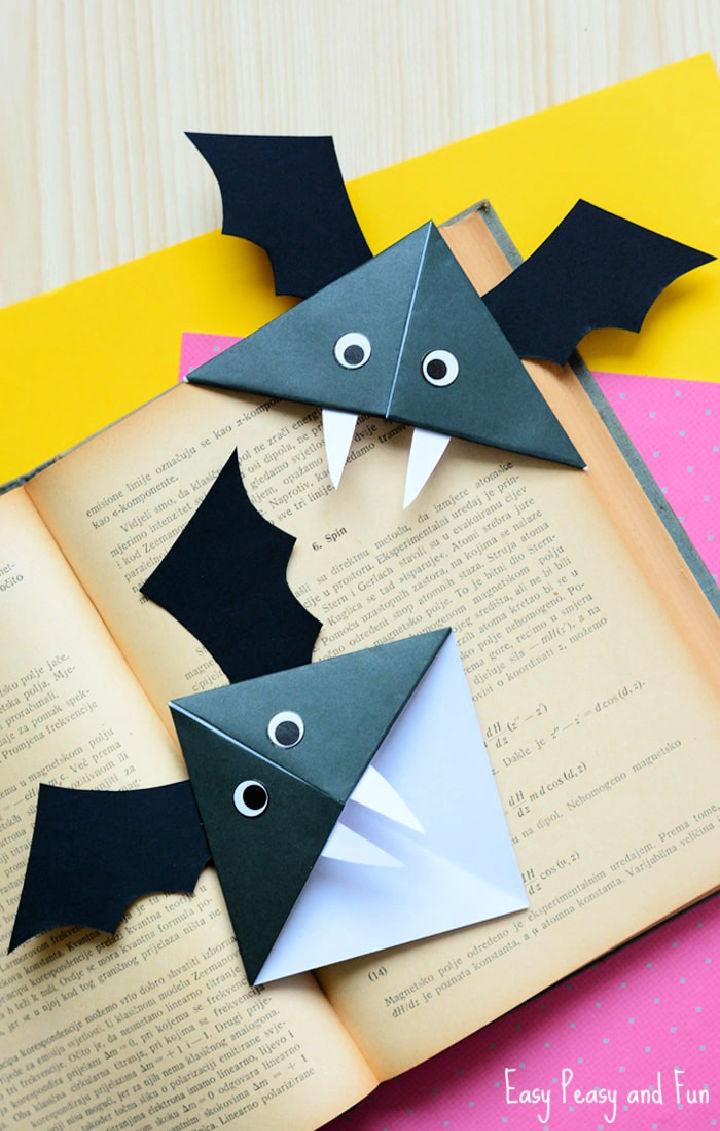 The Halloween craft projects are simply never-ending. You can simply make everything with a spooky glam touch to use for Halloween. An interesting example is these bat corner bookmarks that are just like the little bat scary monsters sitting on the book corners. It involves using a few supplies to easily craft these corner bookmarks. Pick the black origami paper, black paper, wiggle eye stickers, white paper, scissors, glue and pencil to make these bat corner bookmarks, will be a big love of all the kids. One of the best and quick-to-do DIY Halloween decor projects that everyone can do in no time. easypeasyandfun
36. Simple Halloween Wine Glass Candles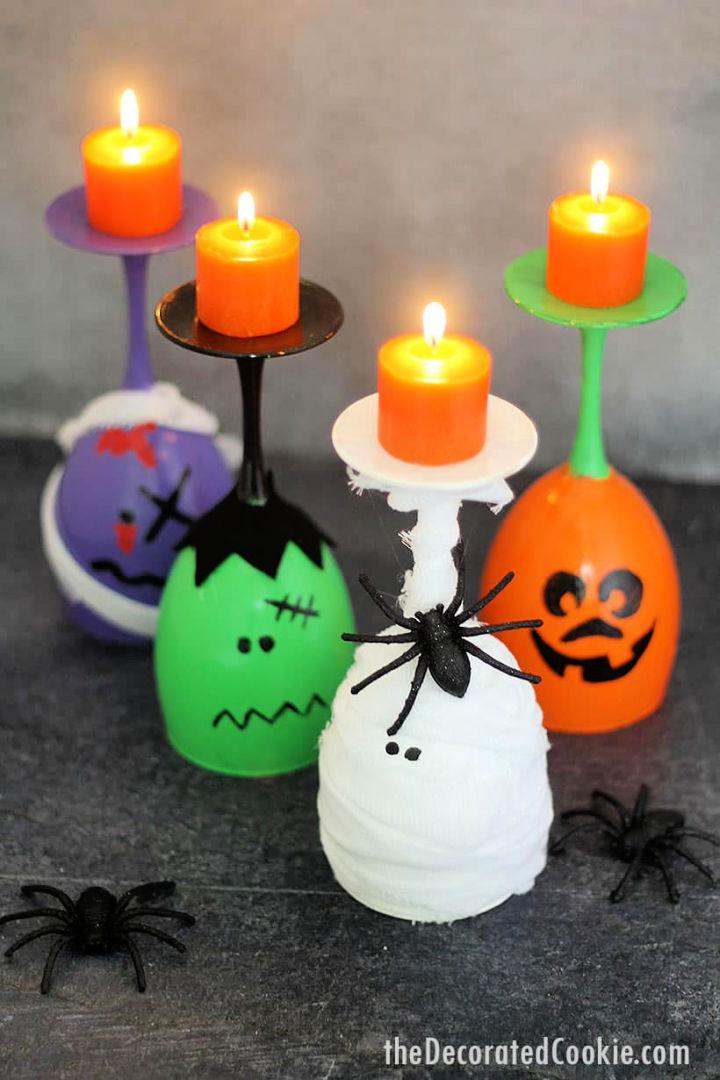 Go also handmade with the drink glasses to make awesome spooky decor for Halloween. You will surely fall for these monster glass candle decor that is just perfect for any dining table and decorative mantel. At the same time, they are a breeze to make also. Just paint the top wide part of the glasses for a scary monster face and then flip over the glasses and place the custom candles on them. Furthermore, you need glasses, rubbing alcohol, acrylic enamel craft paint, gauze, foam brushes, paintbrushes, black felt, hot glue gun, orange votive candles and some creativity to complete this project. thedecoratedcookie
37. DIY Halloween Spider Wreath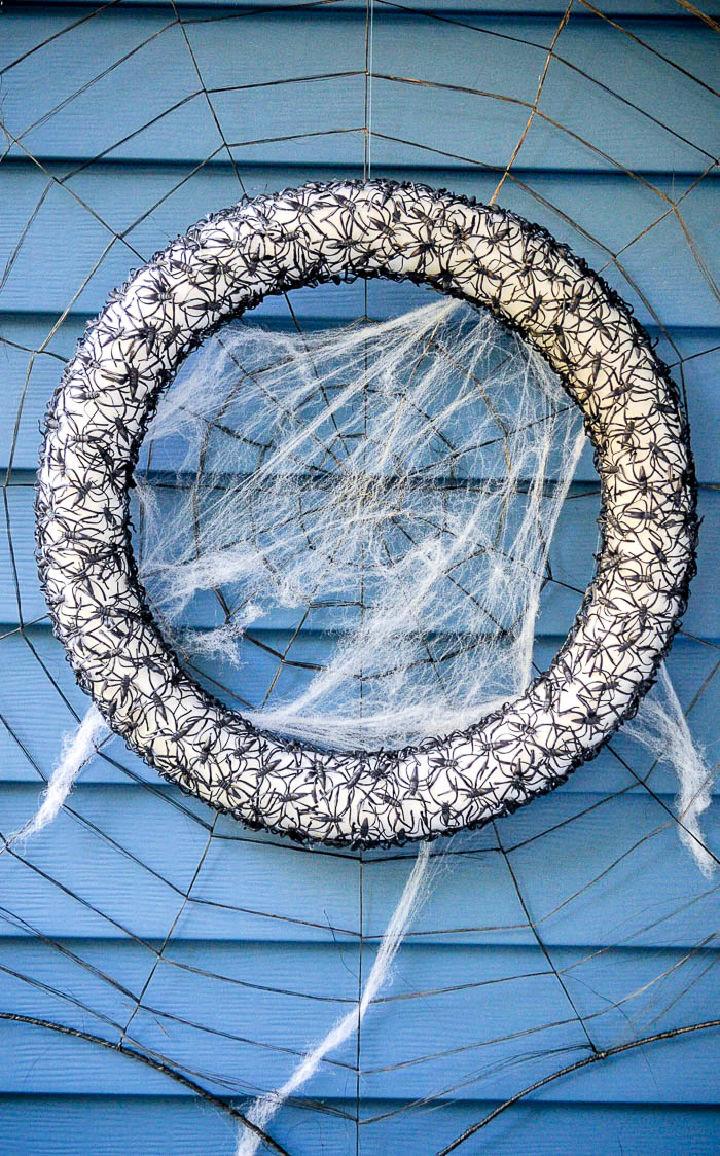 Duplicate this Halloween spider wreath to take your spooky decorations to the next level. You need glue and lots of cheap supplies to easily duplicate this fetching Halloween wreath in no time. What is most important to do this project is the black Halloween spiders, Styrofoam wreath and black ribbon, and every beginner will just love creating this awesome Halloween spider wreath. Here the idea is to cover the entire Styrofoam wreath with the black Halloween spiders using hot glue. Next, you can use the black ribbon to hang it easily in the air and on the main front door for bigger decor statements. thelovenerds
38. Easy Boogie Monster Tissue Holder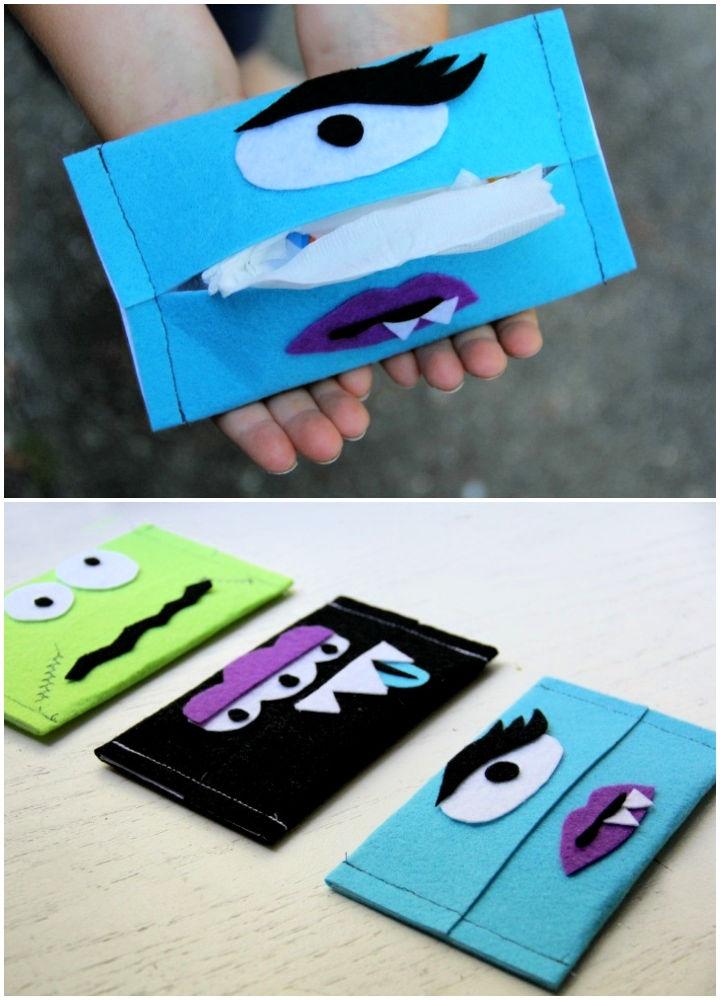 You can simply bring the Halloween theme to any of your party and home decor by making the respective type of crafts. A great example here is this boogie monster tissue holder that will make a sweet handmade toy for the little kids in the home. The project involves using a few supplies to make, and you can also follow the step-by-step instructions to avoid making any mistakes. Grab the sticky black stiff felt, scissors and basic sewing essentials to make this easy monster for the upcoming Halloween. Everyone will just love this project for sure. mesewcrazy
39. Halloween Drawings with Sugar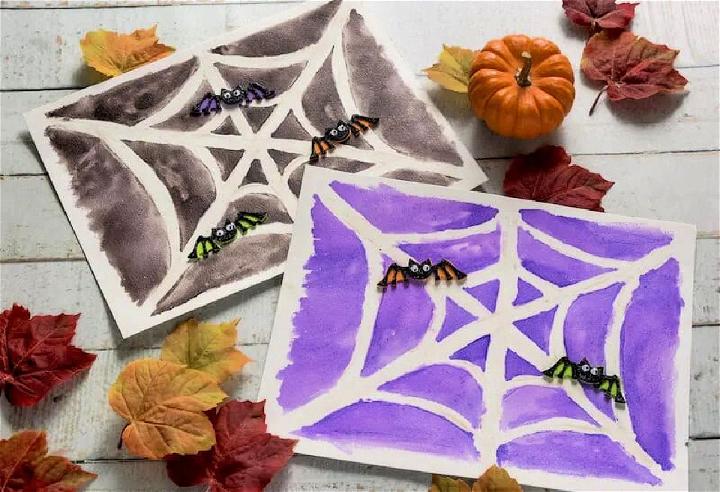 Sorting out the best craft projects for the kids? Let them make these Easy Halloween drawings with sugar. No higher skills are needed for these amazing drawings, and every kid will love to make these fun drawings with sugar. Grab the 1 cup of all-purpose flour, cup Dixie Crystals Extra Fine Granulated Sugar, 1 teaspoon vegetable oil, 1 cup of water, white paper, paintbrushes, orange, black and purple watercolors, spider stickers, and mod-podge gloss to make these easy Halloween sugar drawings. The project is much easier to do and will impress all. modpodgerocks
40. DIY Silly Ghost Balloons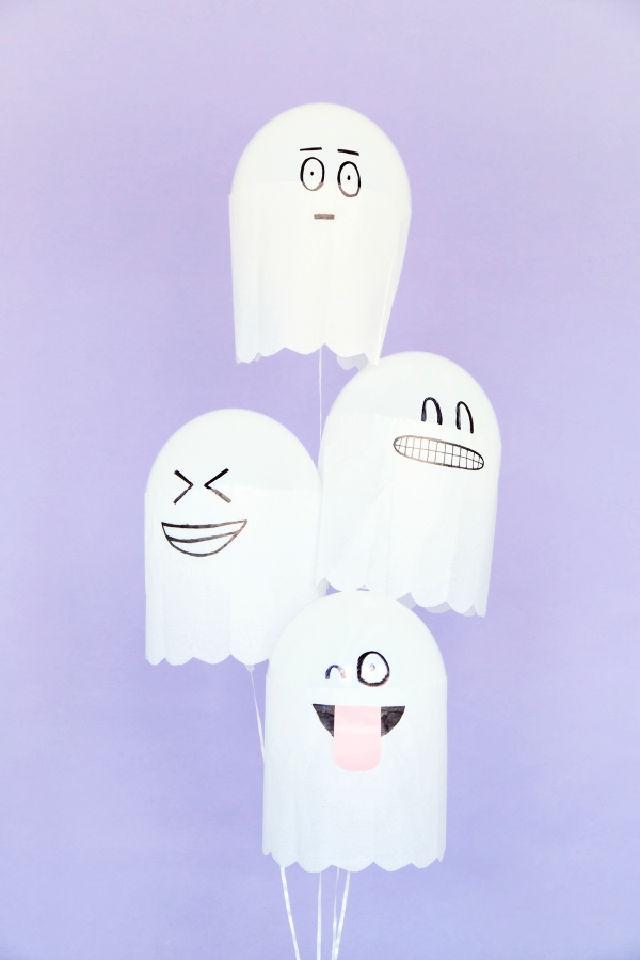 The balloons are the most loved party decor. So, they can be added to your Halloween parties also as fun decor. So, try to make these silly ghost balloons that will be a big center of attention. You need a few supplies to complete these balloon decor for the Halloween party. Pick the balloon time Helium tank, ribbon, white balloons, white tissue paper, double-sided table and pink or red vinyl etc, to make these scary fun balloons for the spooky festival. One of the best, quick and budget-friendly DIY Halloween decor ideas. studiodiy
41. Trick or Treat Halloween Throw Pillows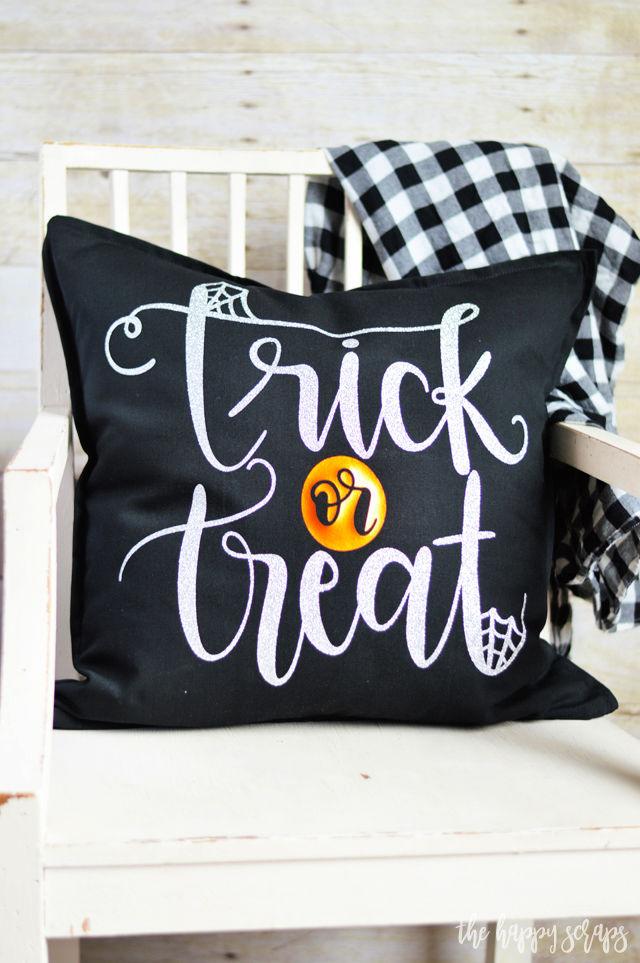 Make also Halloween throw pillows to bring the Halloween love and spookiness in your bedrooms or living rooms. You will get here complete instructions and guides to make a gorgeous, creepy Halloween pillow that comes with custom overwrote Halloween quotes also along with a scary pumpkin monster logo. You need Cricut Maker, or Cricut Explore Air 2, glitter iron-on vinyl, EasyWeed electric orange HTV, weeding tool kit, Cricut EasyPress 2, Cricut EasyPress mat, blank pillow covers and Cricut design space cut file to complete this Halloween Project. thehappyscraps
Related DIY Halloween Ideas
Halloween Painted Rocks – These simple Halloween Painted rocks are a fun, interactive way to celebrate Halloween. Each rock is uniquely painted with a spooky scene for a totally creepy effect.
Free Halloween Coloring Pages – Get free, printable Halloween coloring pages for kids to use during holiday celebrations.
Halloween Bulletin Board Ideas – Here are some simple, easy to make decorations for your Halloween bulletin board. These bulletin board ideas will help you create a spooky fun atmosphere.
Easy Halloween Drawings – Learn to draw these spooky and scary Halloween cute monsters with these easy to follow Halloween drawing ideas for kids and adults.
Halloween Costumes for Family – Looking for some spook-tacular Halloween costumes for your family? Look no further than our collection of the best and most creative family costumes.
Halloween Porch Ideas – Here are some easy Halloween porch ideas to help you get into the spirit of things.
Easy Halloween Face Paint Ideas – Halloween is almost here, are you looking for face painting ideas for kids? These Halloween face paint ideas for kids will keep them busy and having fun while you cook up a tasty treat to try out.
Halloween Origami – With these easy Halloween origami ideas, your children will be able to make paper crafts and other decorations that are fun and festive!
Pumpkin Drawings – This article has simple and easy pumpkin drawing ideas for your kids.
Conclusion:
Intending to make your home and outdoor spaces look haunted this Halloween? Sorting out the best Halloween crafts for kids that will be easy to do and cheap? Go with these 40 unique Halloween crafts to get ideas for all.
Yes, these Halloween crafts here will cover making Halloween decor, gifts, toys, and even lanterns without getting a bit expensive. You will learn to make most of the Halloween items at home that you often buy from the market or stores. So, get ready to bring the spooky vibes to your home by doing these ghostly crafts. The projects here will share the complete step-by-step instructions, tutorials, complete materials lists and tools lists to easily complete a targeted project. So do take a short tour of the entire list of Halloween craft ideas for kids to get your creativity inspired.