If you're looking for some last minute diy Halloween costumes, then these 40 easy DIY Halloween costume ideas for 2022 will have you looking great on Halloween night.
Halloween is a holiday that is celebrated by people of all ages around the world. Every year, people spend hours planning and preparing their costumes, and the results are often amazing. However, sometimes people find themselves short on time and need to come up with a costume quickly. For those in need of some inspiration, here are 40 last-minute DIY Halloween costume ideas.
The last-minute Halloween costume ideas mentioned below in this article are just perfect! Is Halloween already here, and you still haven't decided on an outfit yet? Sometimes it can be hard to find the right outfit that looks great on you and has a nice theme to it, as well. However, you can never go wrong with these amazing last-minute DIY Halloween costumes because they're not only super cute but also really easy to make! You will only need a few hours to make these adorable costumes, and you'll definitely end up getting a lot of compliments on them!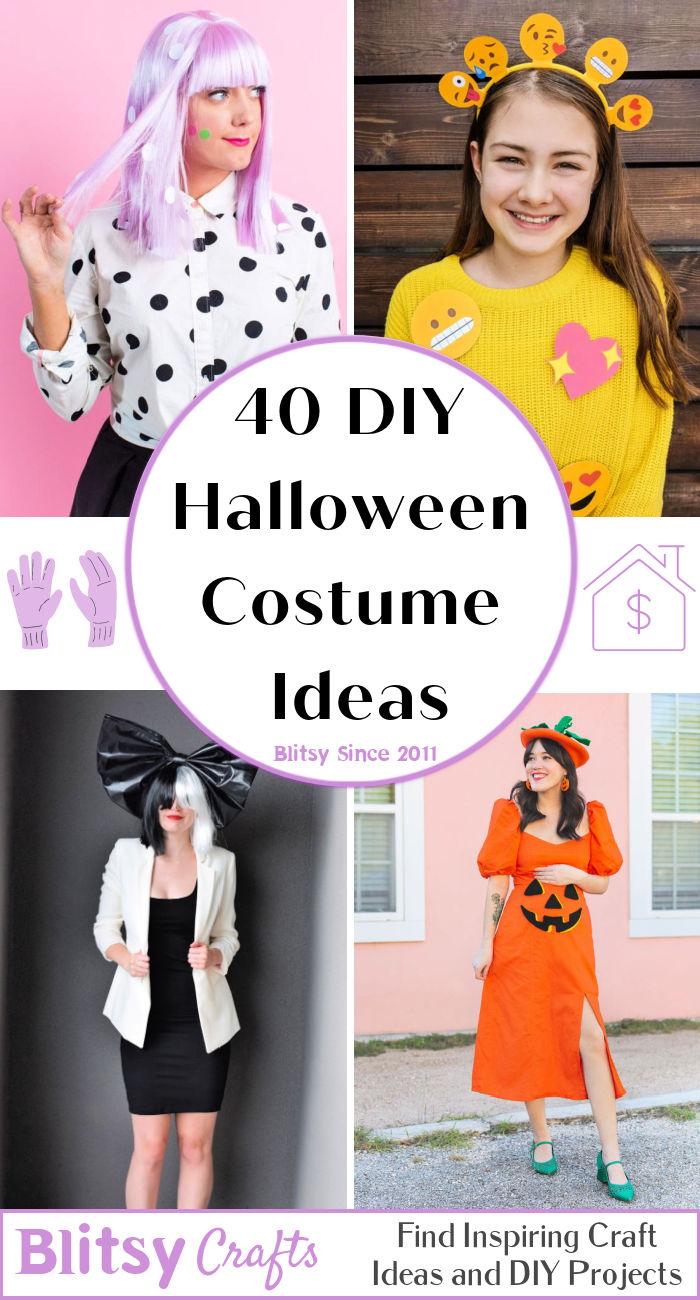 Last Minute DIY Halloween Costumes 2022
Furthermore, these last-minute Halloween costumes are great if you want to save up some money, as the store-bought ones can be really expensive. Moreover, you can also customize them just according to your liking as you will be able to make them on your own and add your own touch to them! Isn't that exciting? You will have a lot of fun going through these amazing diy Halloween costumes and then making one on your own by gathering the supplies and putting everything together.
If you're feeling crafty, you could also try your hand at making diy Halloween costumes inspired by your favorite film or tv character. This article has many different diy Halloween costume ideas – operation costume, 80's rock band costume, family costume, etc. Whatever diy Halloween costume idea you choose, make sure to have fun with it and enjoy Halloween!
1. Last Minute DIY Couples Operation Costumes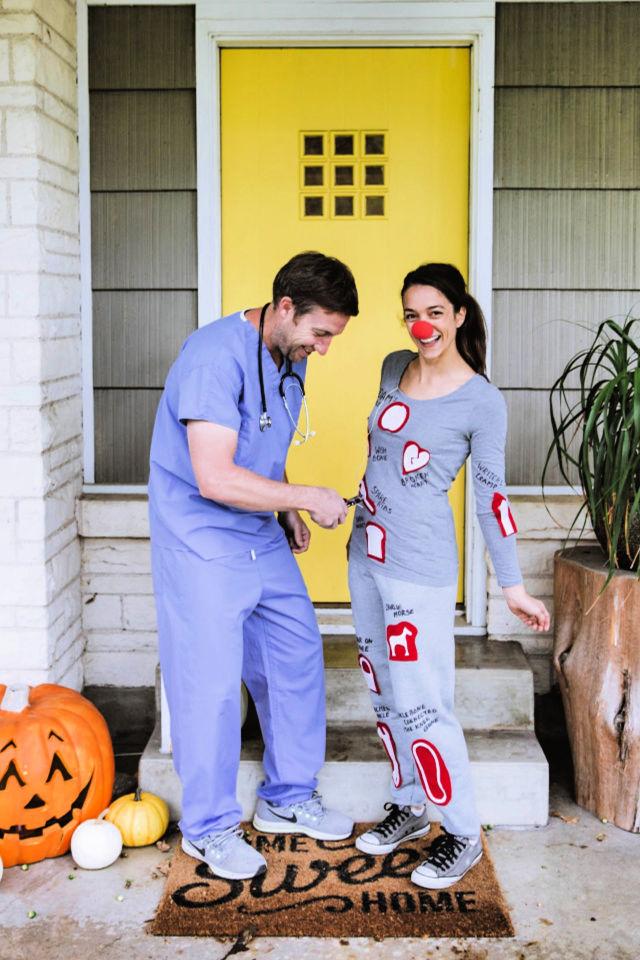 Do you love comfortable and cute Halloween costumes? Well, then here's an adorable operation costume that would be perfect for someone who loves board games, a doctor, or a nurse! Moreover, this piece is also perfect for couples as it would work perfectly with pairs. A few supplies will be required – a t-shirt, sweatpants, red felt, string, scissors, clown nose, etc. creatingreally
2. Wheres Waldo DIY Costume Ideas For A Family Halloween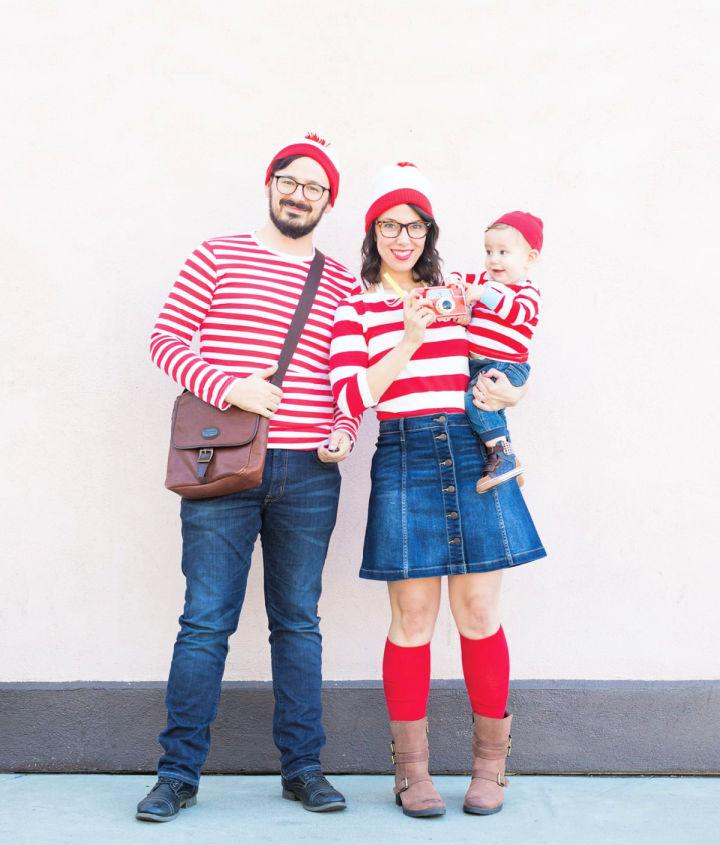 Have you recently introduced a new member into your family? If that's the case, then your family costume needs to be a special one even if it's last minute! Here's how you can make this amazing waldo last-minute Halloween costume! Isn't it just amazing? You can start off by gathering the materials for the costume – beanies, striped shirts, shoes, jeans, glasses, etc. lovelyindeed
3. DIY 80s Rock Band Halloween Costume Ideas for Family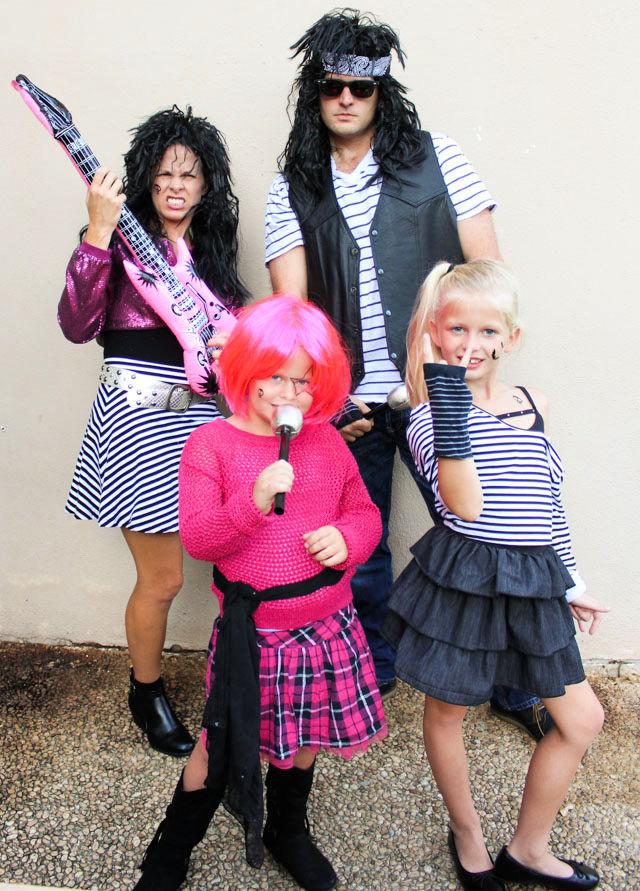 Is your family into rock and roll? Well, then these diy Halloween costumes are just perfect for any family that's looking for a band outfit! It features an 80's rock band vibe which just looks super cool and will definitely make you stand out from the crowd! Not only is this a super creative idea but it's also really easy to make. A leather vest, striped shirt, bandana, and a few other supplies will be required. designimprovised
4. No sew Pac man DIY Costume For Halloween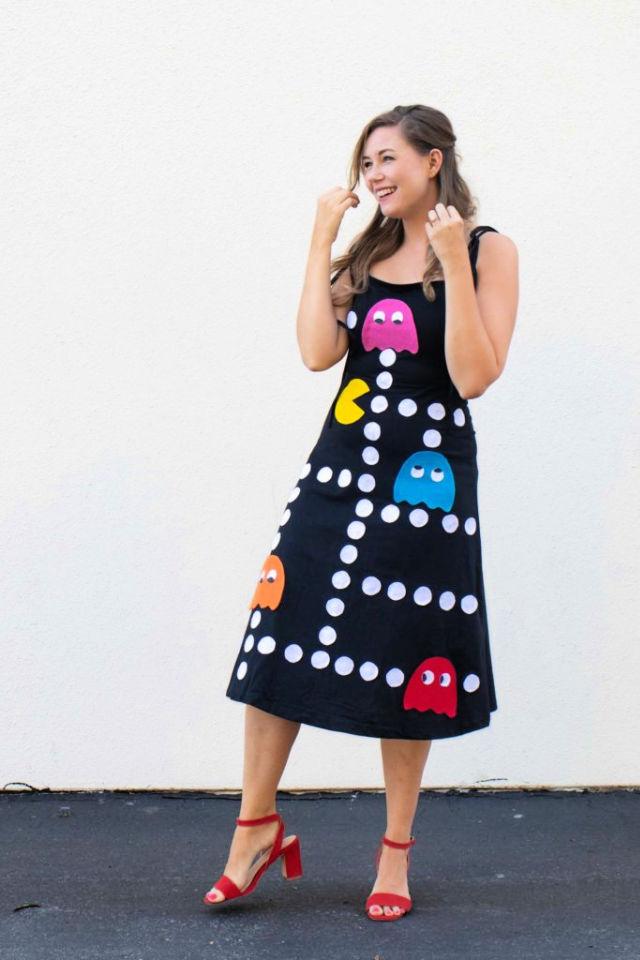 Pac man has always been a favorite game for many gamers around the globe. If you have someone in your life who's obsessed with this amazing game, then this is the perfect Halloween outfit for them! This quick and easy costumes guide features a dress which turns out looking really beautiful. Black dress, felt, scissors, pins, fabric adhesive, tulip slick dimensional paint, and a few other materials will be needed. clubcrafted
5. Free DIY Bouquet of Pencils Costume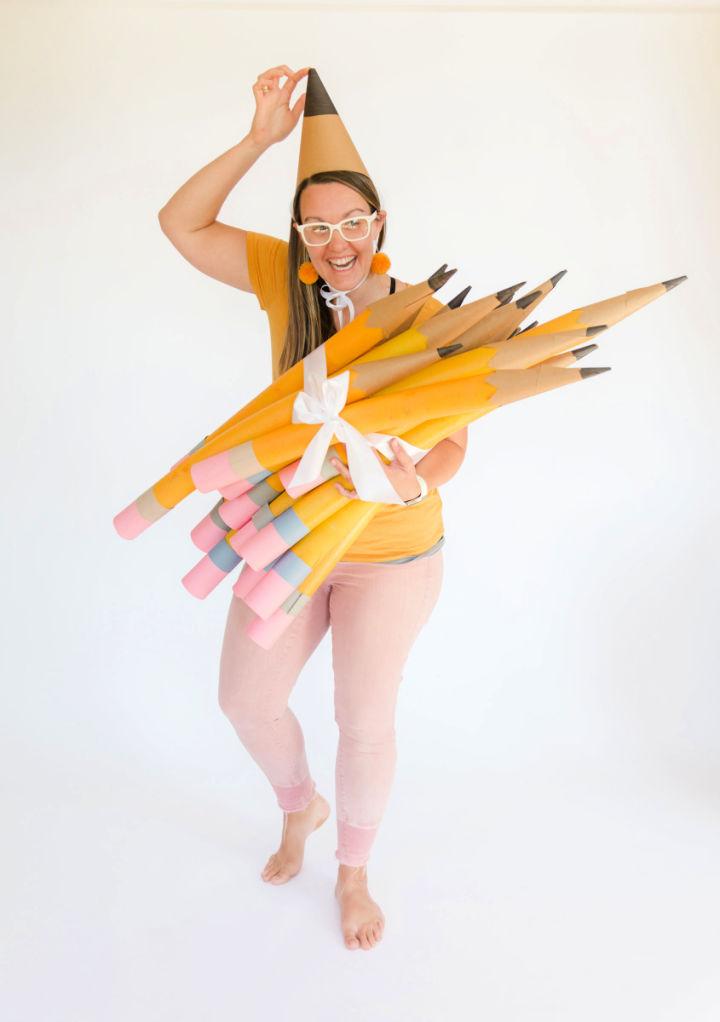 Do you love stationery? Many people tend to have a stationary obsession and they keep stocking it up. It can be really fun to buy stationary but how about you become one, this Halloween? Isn't that just a great idea? Not only will it be humorous but also super fun! Only a few simple supplies are required – noodles, spray paint, construction paper, black sharpie, glue gun, etc. ohyaystudio
6. DIY Firecracker Costume For Halloween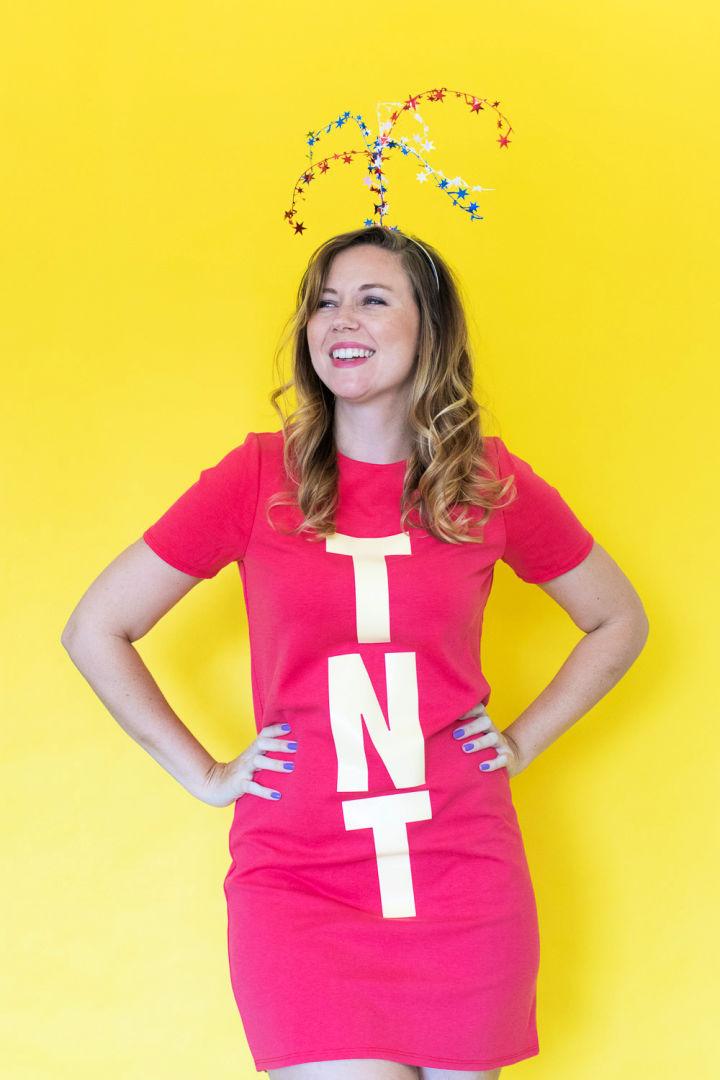 Who knew that a firecracker outfit could look so adorable and pretty? If you want to look beautiful and funny at the same time, then this is definitely the best option for you! Furthermore, it's also really easy to re-create as all you need is a pink t-shirt dress! You will make your own headpiece by following this guide and you're done! Isn't that just so quick and efficient? You will love it! clubcrafted
7. Last Minute Burrito Halloween Costume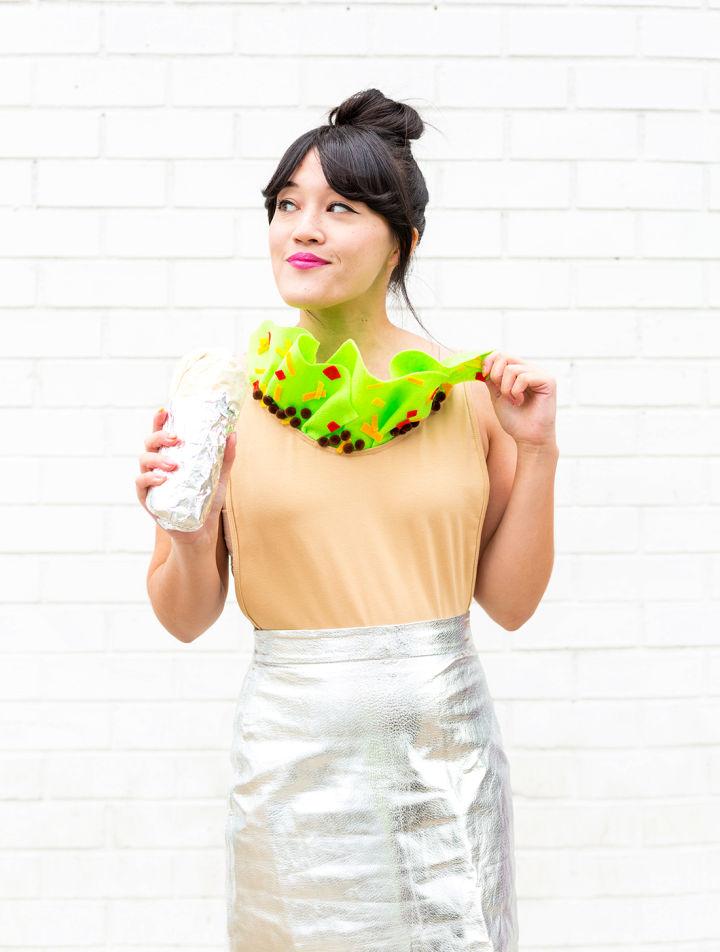 Here's another lighthearted and pretty costume that would perfectly represent a foodie! If you love eating burritos then you are also going to adore this beautiful costume which consists of a shiny silver skirt, peach top with green DIY cardboard, and simple hairdo. You will learn to attach the green cardboard to the shirt and make it look like vegetables in this article! So, are you ready? awwsam
8. Easy Emoji Halloween Costume For Girls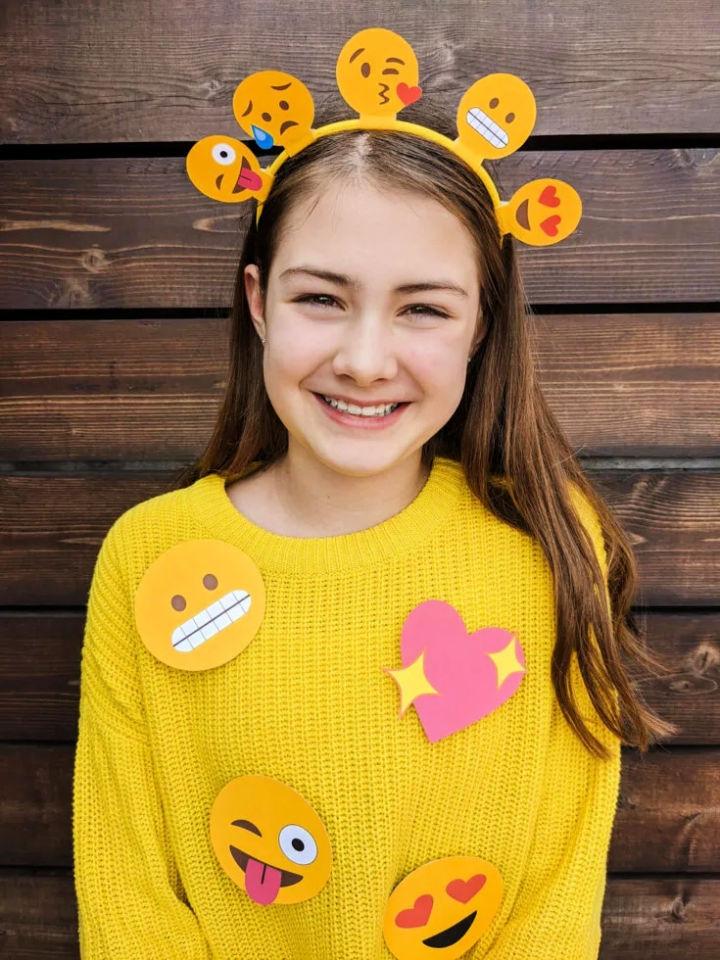 An emoji outfit is a really nice modern option as emojis are really common these days with technology. You can make this for your child and attach their favorite emojis to the sweater. Moreover, only a basic yellow knit sweater would be required along with some emoji prints and safety pins. The headpiece can be made really easily too – if you follow this guide. Best of luck! merrimentdesign
9. DIY Jack OLantern Halloween Costume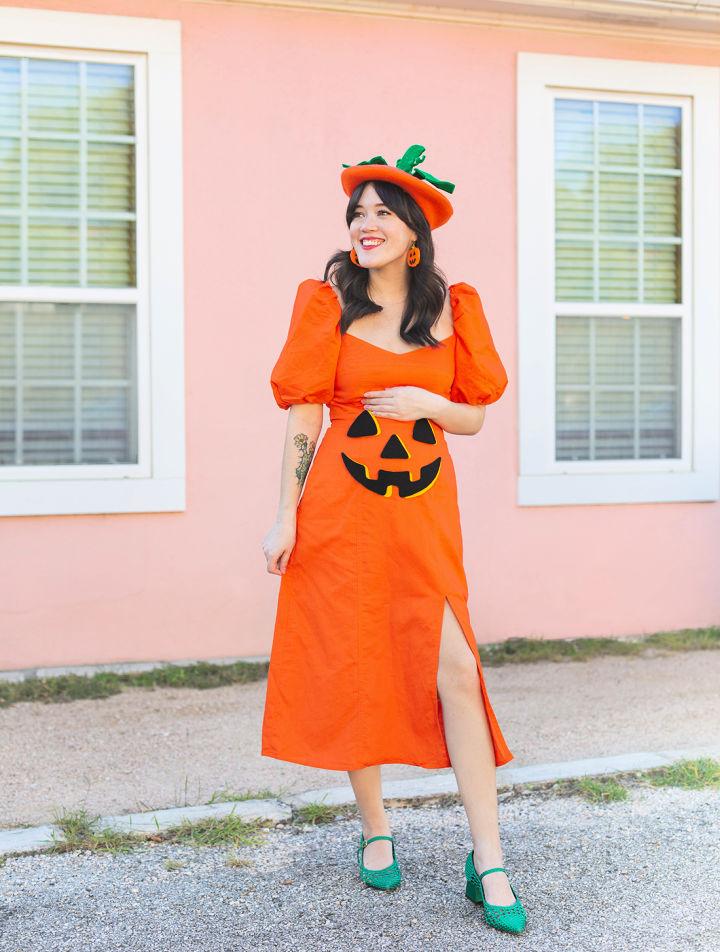 This is definitely a really festive outfit ad it has Jack O'Lantern on it! Don't you just love it? Moreover, it would be really flattering on the body as the dress has a nice snatched waist along with really pretty sleeves. The orange color makes it pop and this color will definitely make you stand out from the crowd! The hat is so beautiful and will look great with any hairstyle. Isn't this amazing? awwsam
10. Cool Cucumber Halloween Costume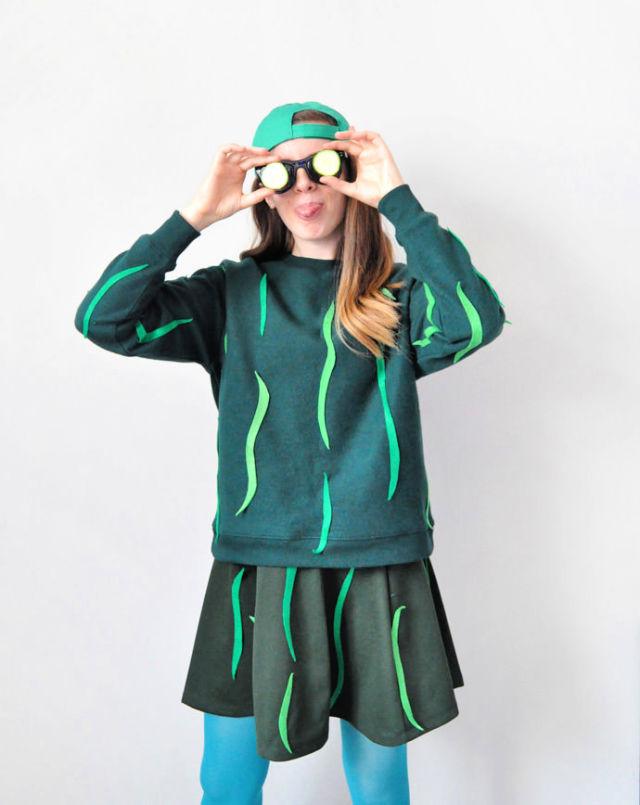 In comparison to the other last-minute Halloween costumes in this article, this one is a little different as you will be sticking cardboard onto your shirts with hot glue. However, there's nothing to worry about if you use old shirts for this costume – that you won't be wearing anymore! This cool cucumber outfit is very unique and looks super cute. handmadecharlotte
11. Last Minute Pineapple Costume For Women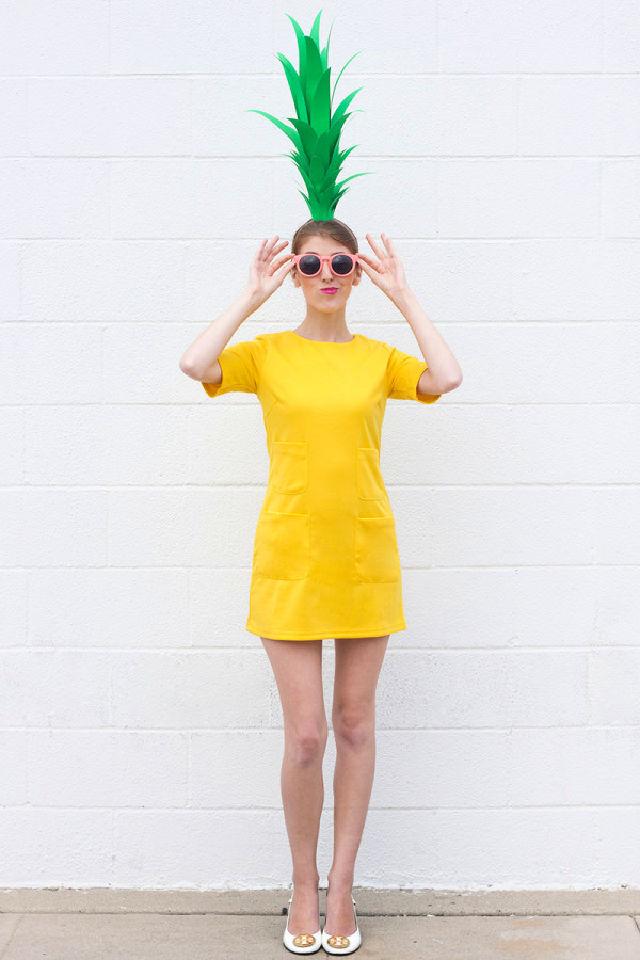 It can be really fun to be a fruit on Halloween as not many people think about this idea. How cool would it be to be a pineapple with a cool headpiece and a flattering dress? The best thing about this outfit is that you can wear it to almost any Halloween party – to school, office, or a party! It follows all the dressing codes and looks very appropriate and nice. studiodiy
12. Plus Size Sandy from Grease Costume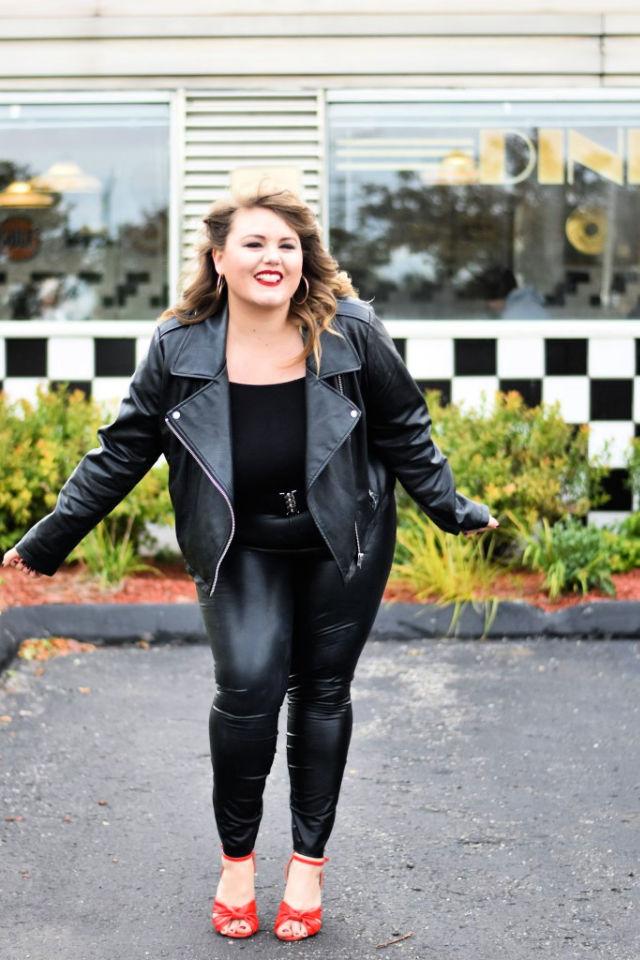 Are you trying to find the perfect plus-size Halloween outfit that will slim you down and make your waist look snatched? Well, then you're at the right place as this adorable sandy outfit is all that you need for this Halloween. It can be really important to give your body a shape, even if you're plus size and this one does that because of the waist-cinching belt and high heel shoes! curlsandcontours
13. DIY Strawberry Costume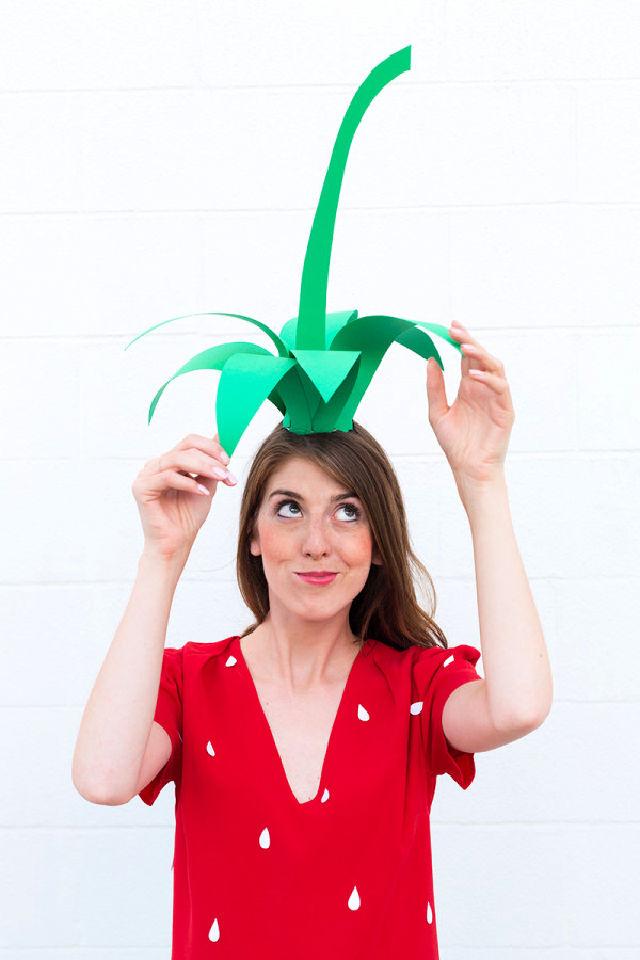 Here's another fruit outfit for you and this one features a really special fruit – a strawberry! Don't you just love how pretty the dress is – red base along with white seeds all over it? Moreover, the headpiece perfectly completed the look and ties everything together! You will need a few supplies – a red dress, adhesive white felt, poster board, ribbon, computer paper, scissors, etc. studiodiy
14. Creative Little House on the Prairie Costume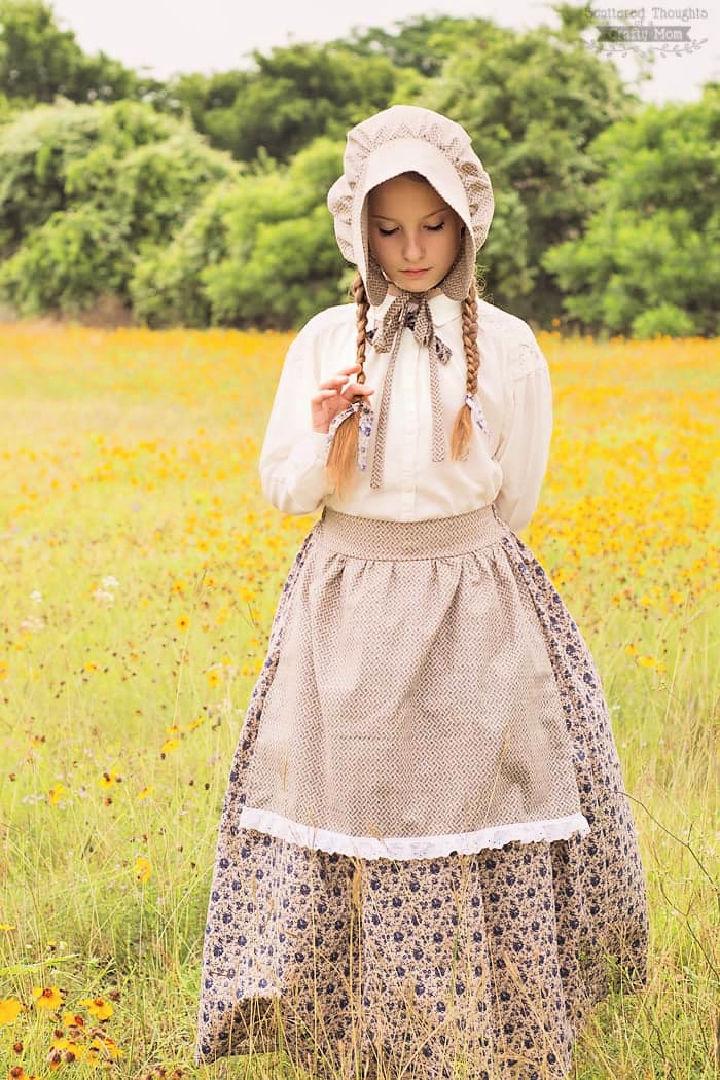 If you're looking for a cottage core Halloween costume that will reflect your true personality and help you express yourself, here's an adorable "little house on the prairie" costume from our list easy diy Halloween costumes! Don't you just love the beautiful hat, the pretty blouses, and the flowy skirt? The pigtail hairstyle really ties this look together and makes everything look beautiful! This is a really feminine and pretty Halloween outfit. scatteredthought
15. Easy Last Minute Halloween Cactus Costume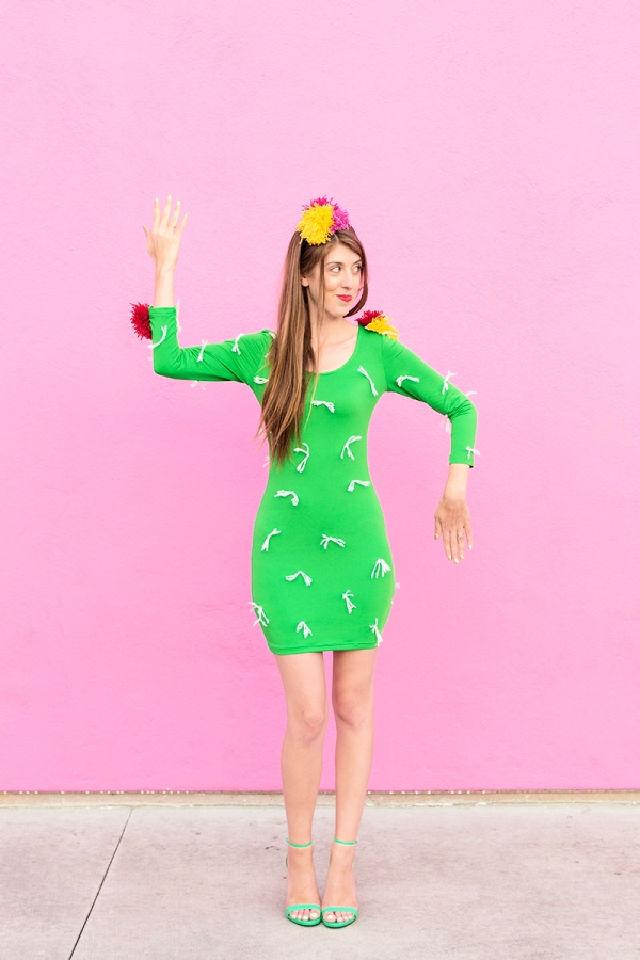 Cactuses look pretty but if you touch them, they can pierce you! Isn't that just so cool? If you love cactuses, then here's a great last-minute option for you! It features a flattering green dress that will slim down the body. The green dress has really pretty white thread-like detailing on it. Furthermore, the floral headpiece pulls the look together and makes everything look perfect! studiodiy
16. Peter Pan And The Lost Boys Costume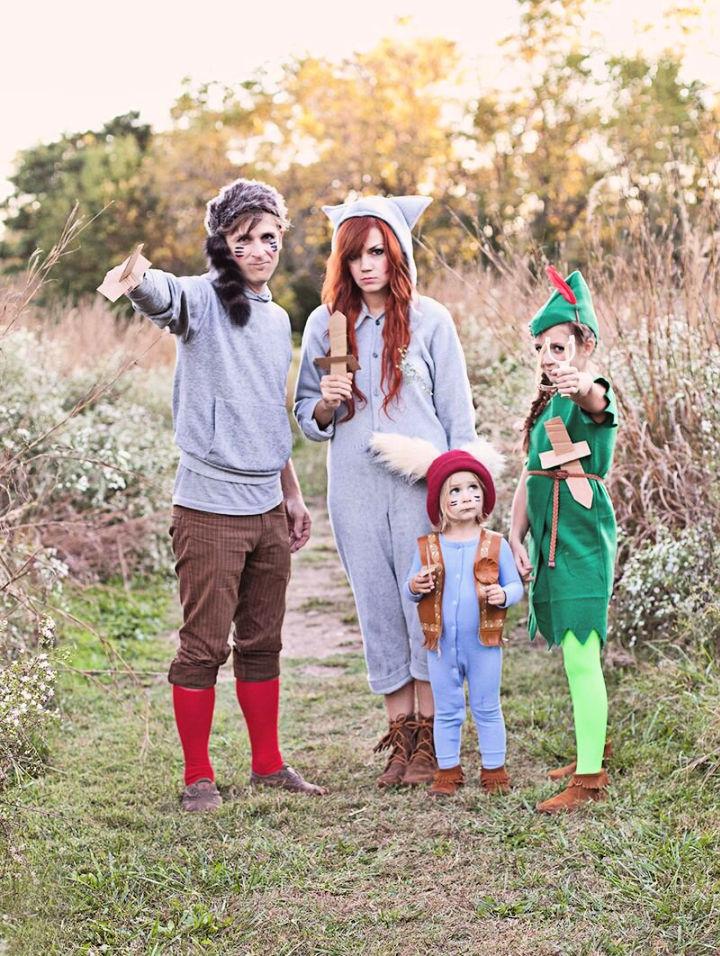 Peter pan is a really famous story and most children have read it and watched it. If your little ones are also huge fans of this wonderful movie, then this peter pan costume would make the perfect Halloween look for your whole family! It's from the sequel "peter pan and the lost boys". Not only are your children going to enjoy making these but wearing them and doing a photoshoot would be fun too! abeautifulmess
17. Felt Feather Wing Costume For Kids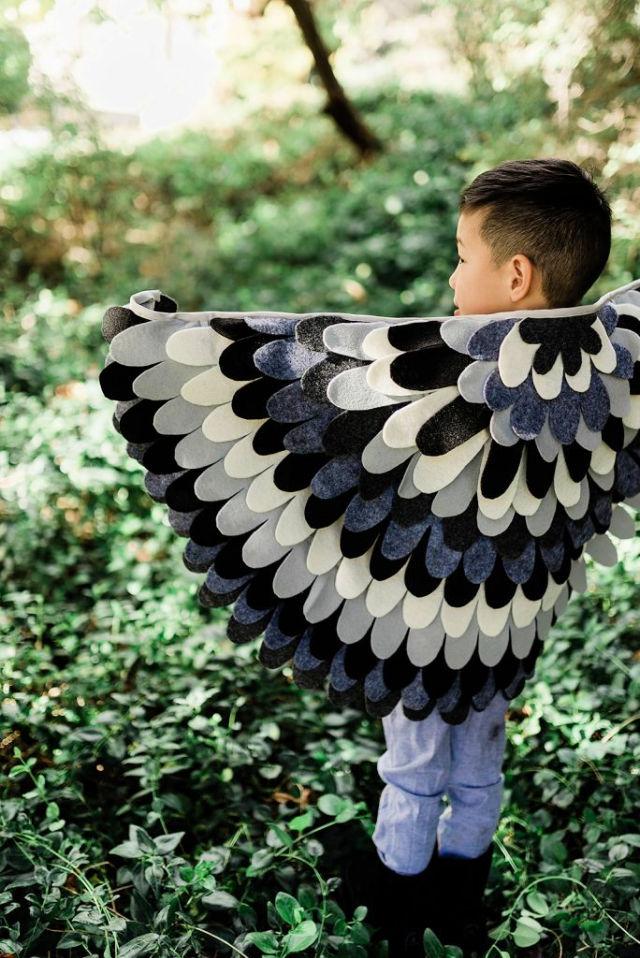 If you don't want to dress up this Halloween season but still want to do a little something to make it look like you put some effort in, then these beautiful felt wings would be perfect for that. You just need to wear a normal outfit and put on these wings and you're done! Isn't that amazing? Moreover, these wings are actually really easy to make and you only need a few supplies – base felt, thread, etc. ourlifeisbeautiful
18. Alice In Wonderland DIY Halloween Costumes For Siblings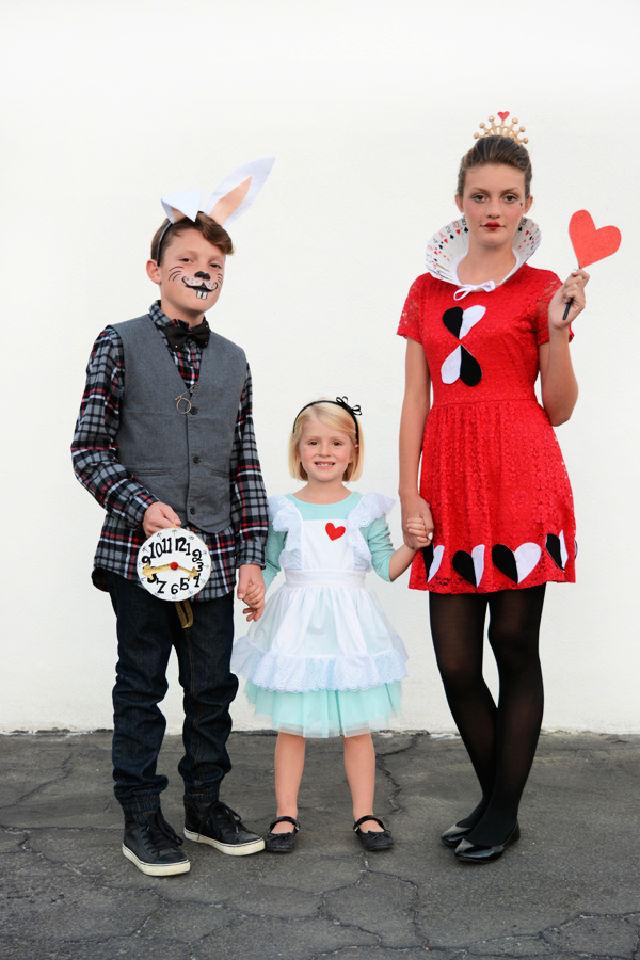 Alice in wonderland is a really beautiful movie and book. Furthermore, it features some really unique and pretty outfits that you can re-create for this Halloween season! Don't you just love these amazing diy Halloween costumes? This diy Halloween costumes guide features Alice, the queen of hearts, and the white rabbit! You can re-create all of these for your family or just one of them for yourself. Start off by finding the clothing pieces required. oleanderandpalm
19. Easiest DIY Halloween Costume Ideas for Friends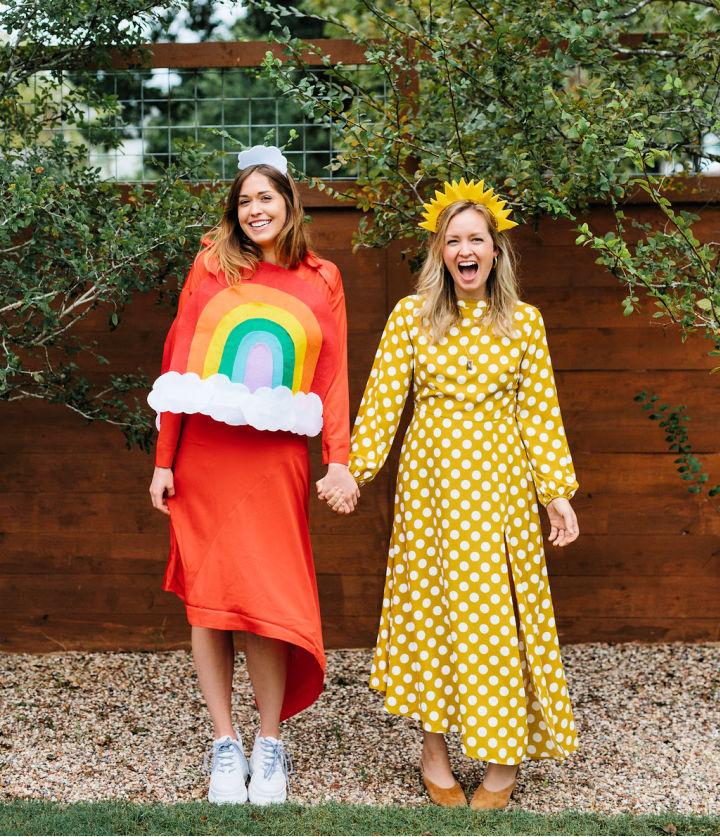 After the rain, a rainbow and sun come up into the sky at the same time! You and your best friend can be really bright and vibrant this Halloween season by wearing these absolutely stunning outfits! Moreover, these will light up the room and make everyone smile as who doesn't love the sun or a rainbow? You will need to start off by gathering the supplies – yellow polka dress, felt, red dress, etc. theeffortlesschic
20. Quick and Scary DIY Mummy Costume Ideas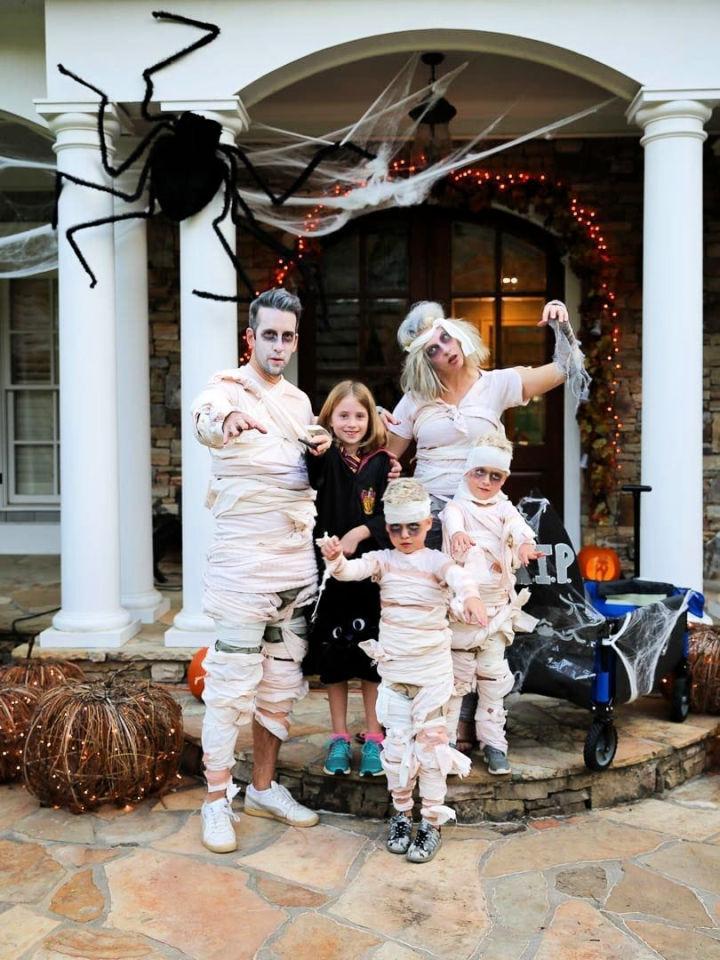 Halloween is supposed to be spooky and most people prefer to follow the horror theme. If you're looking for the perfect horror costume idea for a family, then this one is the one to follow. This guide features a really nice mummy costume that the whole family can wear! Moreover, you will need to gather the supplies first – old bedsheets, t-shirts, hot water, bandages, tea, etc. bluegraygal
21. DIY Gumball Machine Costume You Can Make At Home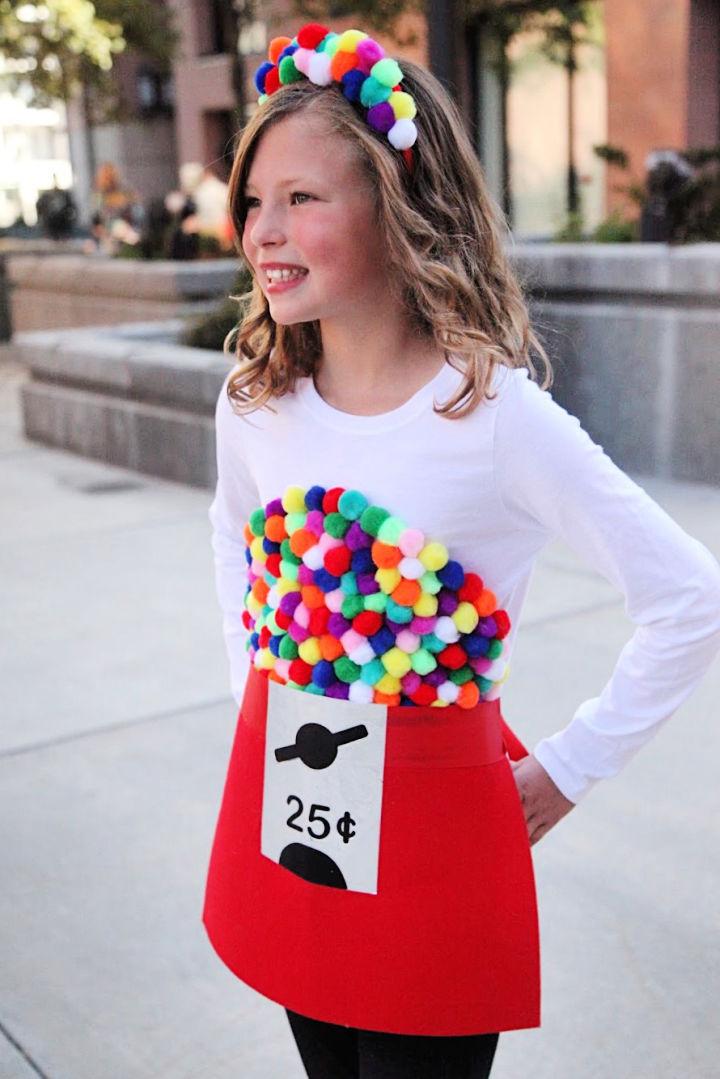 Are you a beginner who's looking for an easy outfit that will take a few minutes to make? If that's the case, then you need to follow this amazing guide. This guide features a DIY gumball machine. Furthermore, you don't really need to have any special skills to make it – it's really easy as no sewing is involved. You only need to use a hot glue gun to stick all the gumballs together. prettylifegirls
22. Simple Western Boxtume Costume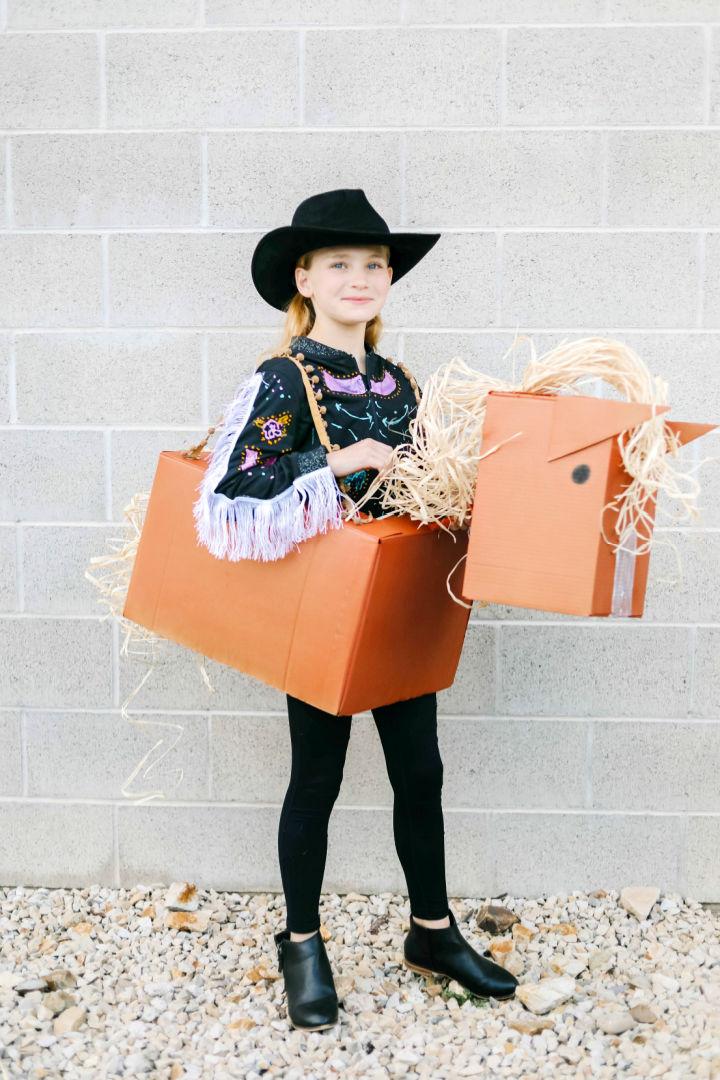 It can be hard to find unique costumes in the market as most of them are usually the same and fall under general categories. However, if you choose to make one on your own, then it would be really fun and easy to do! Moreover, you will be able to re-create this really unique and different idea – a western boxtume outfit! So, are you ready to experiment with this beauty? tatertotsandjello
23. Last Minute Gardener Costumes 2022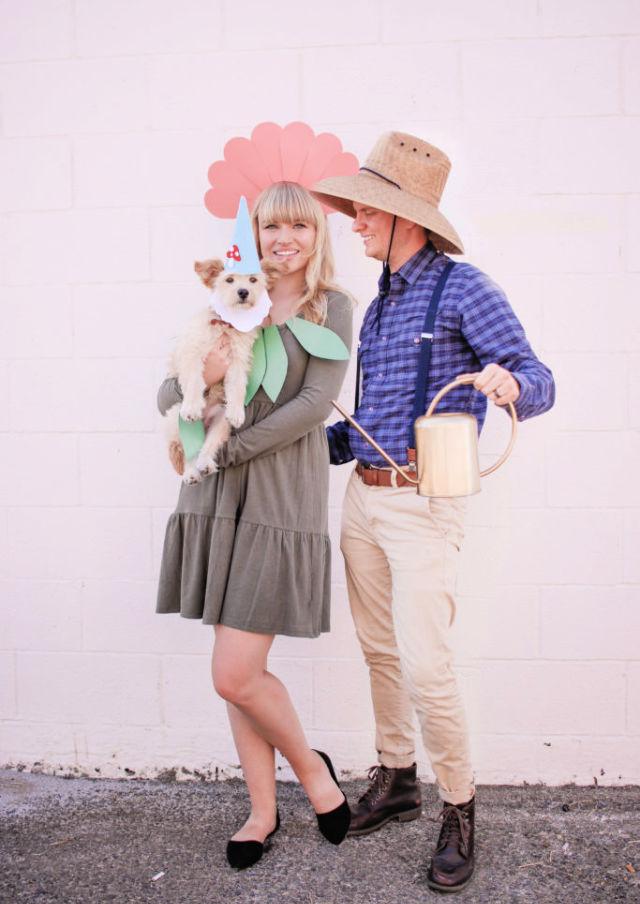 The cottage core theme has been really famous these days and most people love to follow this vintage and pretty theme. However, it can be hard to find a cottage core outfit in the market. Here's a great option that you can make on your own – a DIY family gardener outfit! Isn't it just amazing? The woman can wear a dress with petals attached to it and a headpiece and the man can dress as a farmer! mikylacreates
24. Cute No Sew Ghost Costume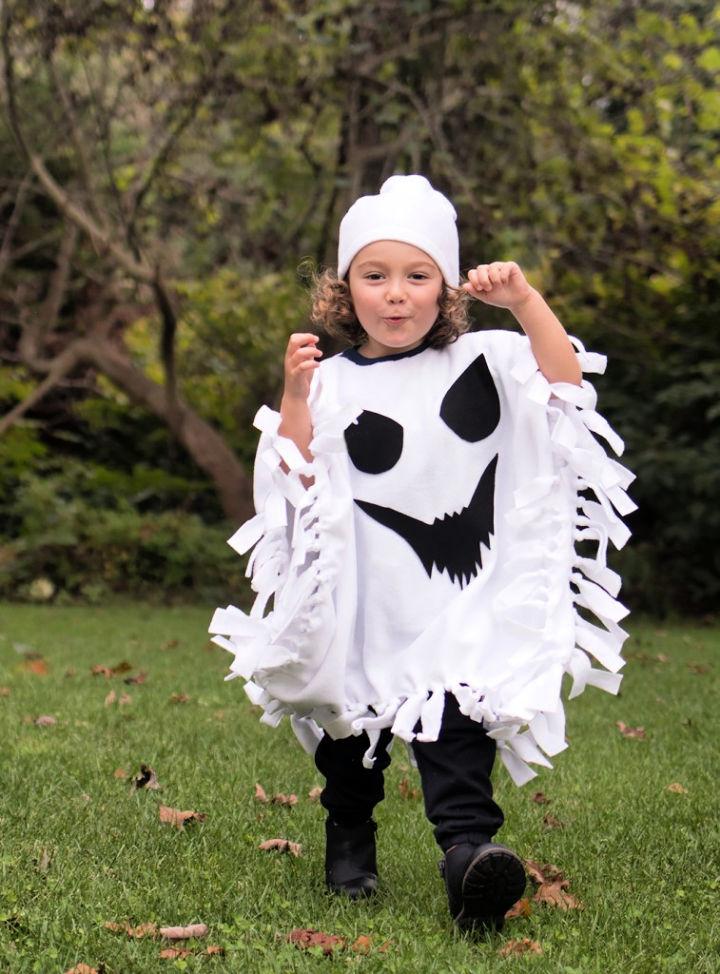 Halloween is supposed to be spooky and if you want to live up to that theme, then this no-sew ghost costume is definitely the one to go for! The best part about this idea is that you don't really need to have any special skills – no sewing, no stitching, etc. It's going to feel very comfortable and also looks really cute! You will only need a few supplies for this project – white fleece, adhesive felt, etc. gina michele
25. Ice Cream Truck Outfits – Halloween Ideas for Kids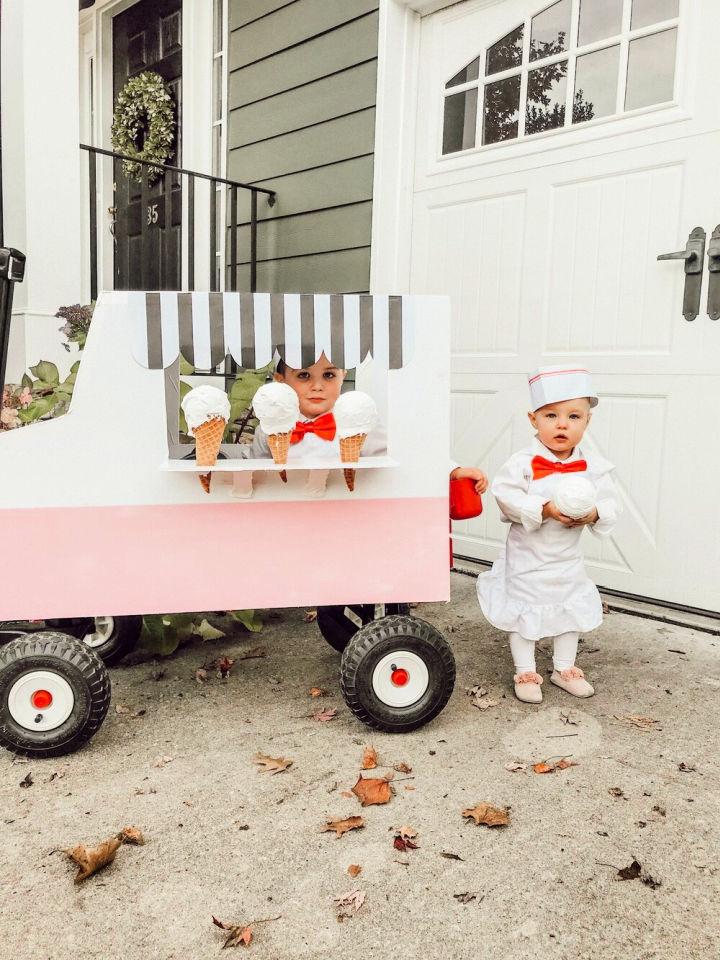 Ice cream trucks can be really exciting for children and you can make their Halloween very exciting by making these ice cream trucks last-minute Halloween costumes! This would be the perfect family outfit as it has many different pieces to it. However, making the truck can be complicated if you're not experienced so you can ask a carpenter to do that for you, as well. mommasociety
26. DIY Minnie Mouse Halloween Costume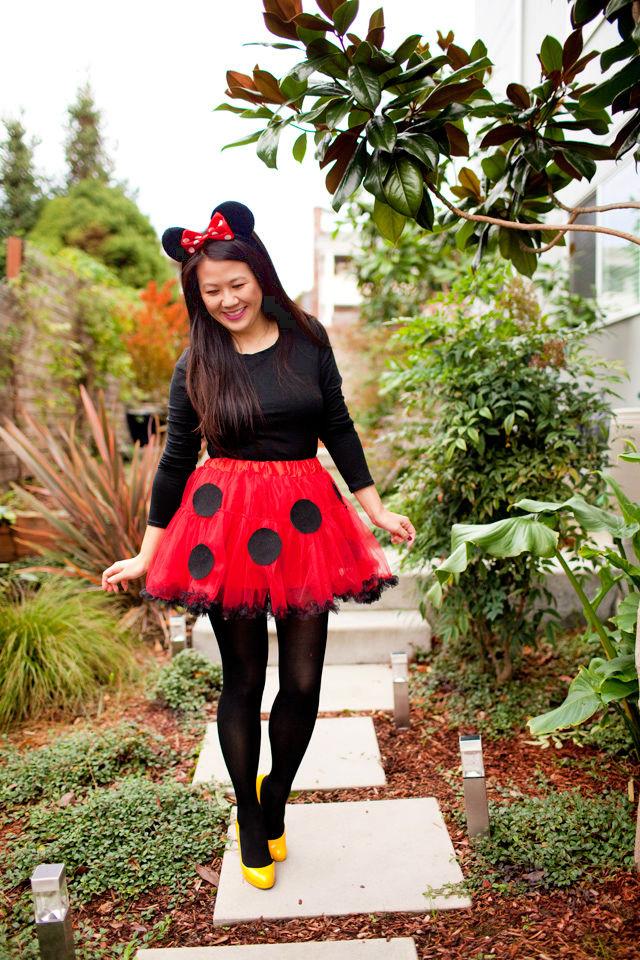 Here's a really common and cute outfit that would be perfect no matter where you're going. You can never go wrong with a Minnie mouse outfit! Don't you just love how cute this is? It has all the right colors for this season – blacks and reds! Moreover, almost anyone at any age can wear this costume and still look amazing – a toddler, grown woman, an elderly woman, etc. iamstyle ish
27. Super Easy Sia Halloween Costume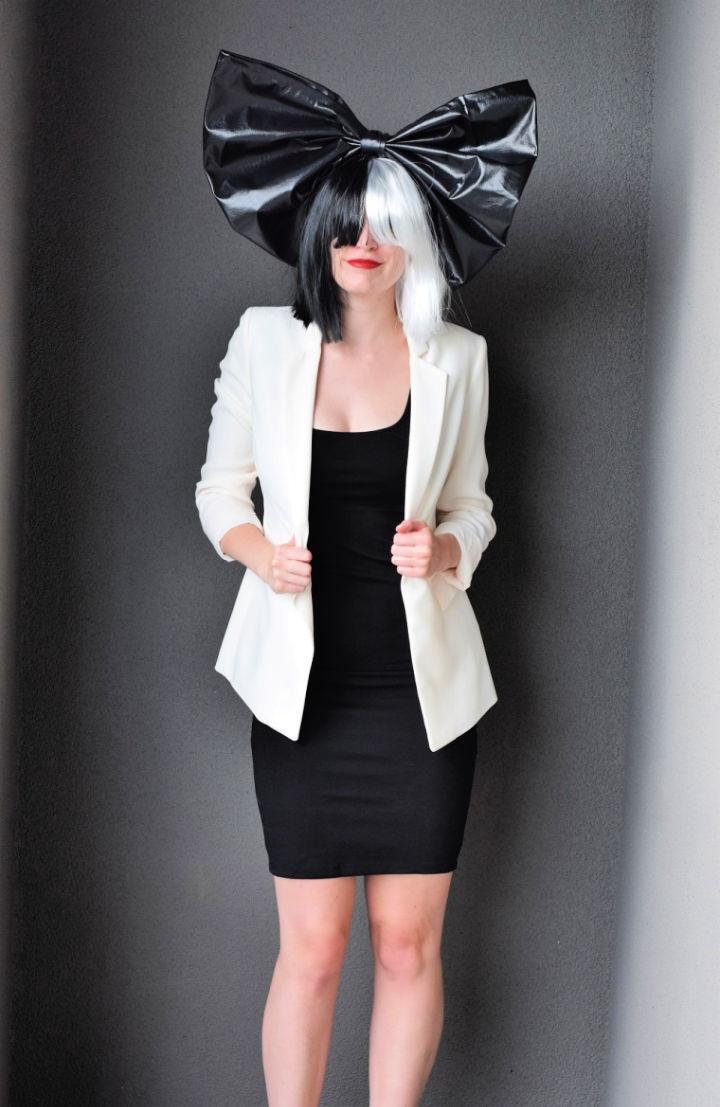 Sia is a really famous American singer who is known for never revealing her face. She hides her face during her concerts using long bangs that cover half of her face and a huge bow on her head – this is the signature Sia look! Are you a huge fan of her music? Well, then you need to re-create this absolutely stunning costume! Isn't this just amazing? You can look mysterious this Halloween season! sewbakedecorate
28. Duct Tape Skeleton Costume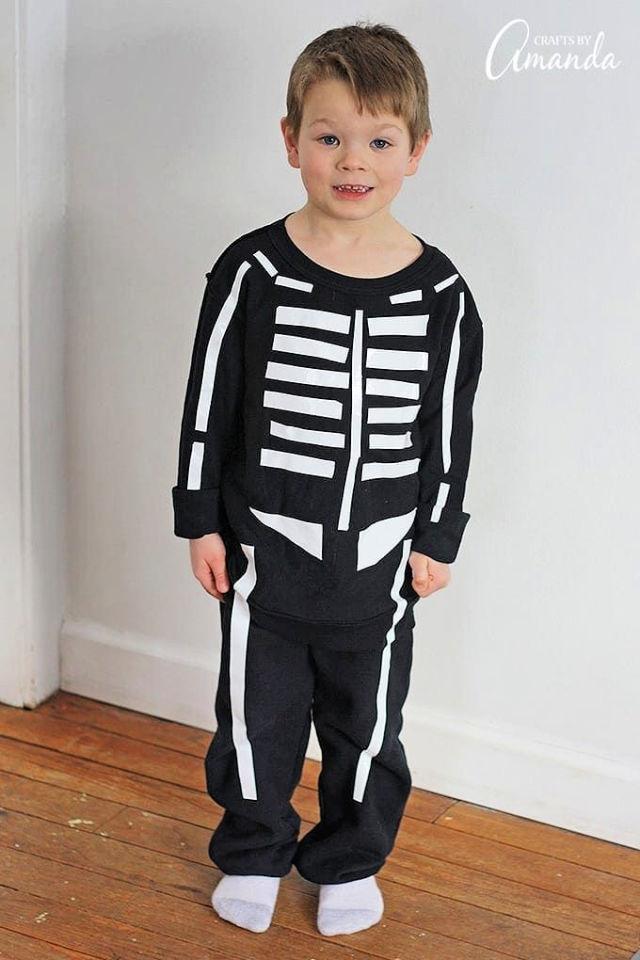 Here's another outfit that features a skeleton! Halloween is supposed to be scary – this is definitely the most festive outfit that you can find! Moreover, anyone can make this easily as you just need to cut duct tape pieces and put them on a black jumpsuit. You will only need a few basic supplies for this project – black clothing, white duct tape, a cutting mat, and a craft knife. craftsbyamanda
29. Best Bomb Pop Popsicle Costume

If you love eating popsicles, then here's a great costume for you! In comparison to the other last-minute Halloween costumes, this one is definitely on the funny side! That's because the popsicle will cover most of your front body and even some of your face! This is a great outfit for little kids too as it can look super adorable and sweet. So, are you ready to try it out? ohyaystudio
30. Scuba Diver DIY Halloween Costume Ideas for Kids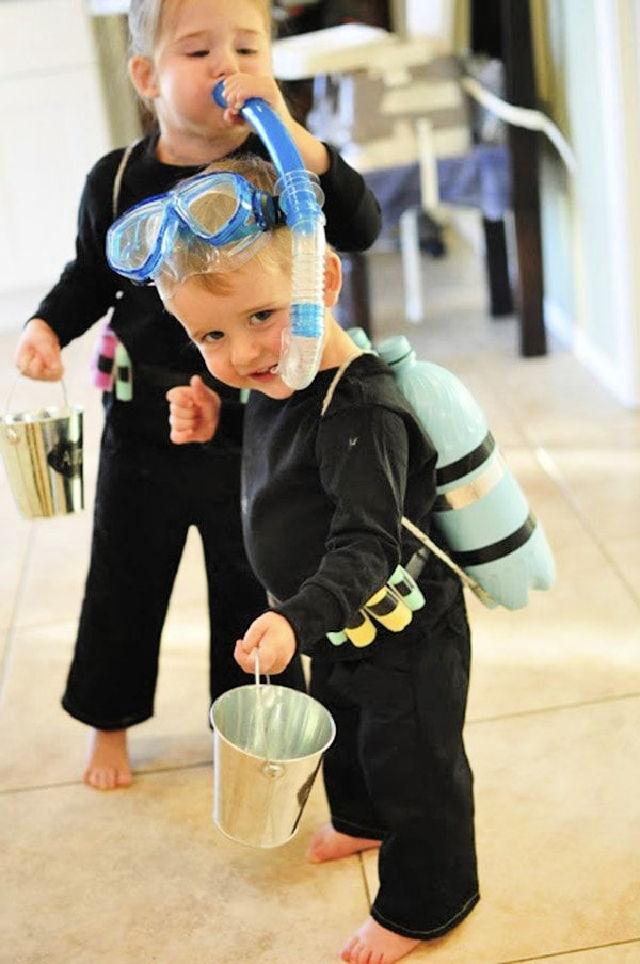 Who doesn't find scuba divers super cool? Scuba diving can be really fun and adventurous. If your little ones dream of scuba diving one day, then this is the perfect outfit for them! You will only need a few supplies – shirts, litter bottles, yarn, spray paint, electrical tape, safety goggles, metal pail, washi tape, hot glue, letter stickers, fishing net, plastic goldfish, foam sheets, etc. delineateyourdwelling
31. DIY Houseplant Halloween Boxtume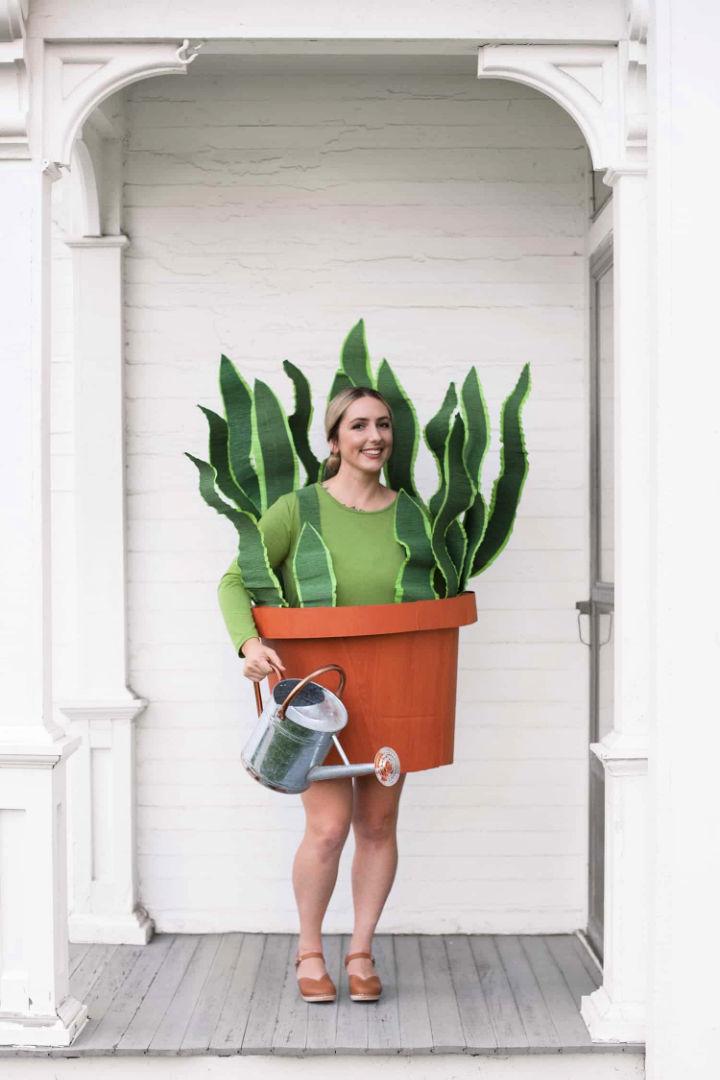 As far as Halloween costumes go, 'killing it' is the ultimate goal. This is true for this Halloween costume idea which includes making a cardboard and paper plant. It's perfect for anyone with a black thumb as this plant prefers not to be watered. The supplies required to make it are smile boxes, reinforced paper tape, durable hot glue sticks, galvanized wire, green crepe paper, terracotta acrylic paint, a green shirt, and terracotta-colored tights for a cooler climate. abeautifulmess
32. Bubble Tea Boba Female Halloween Costume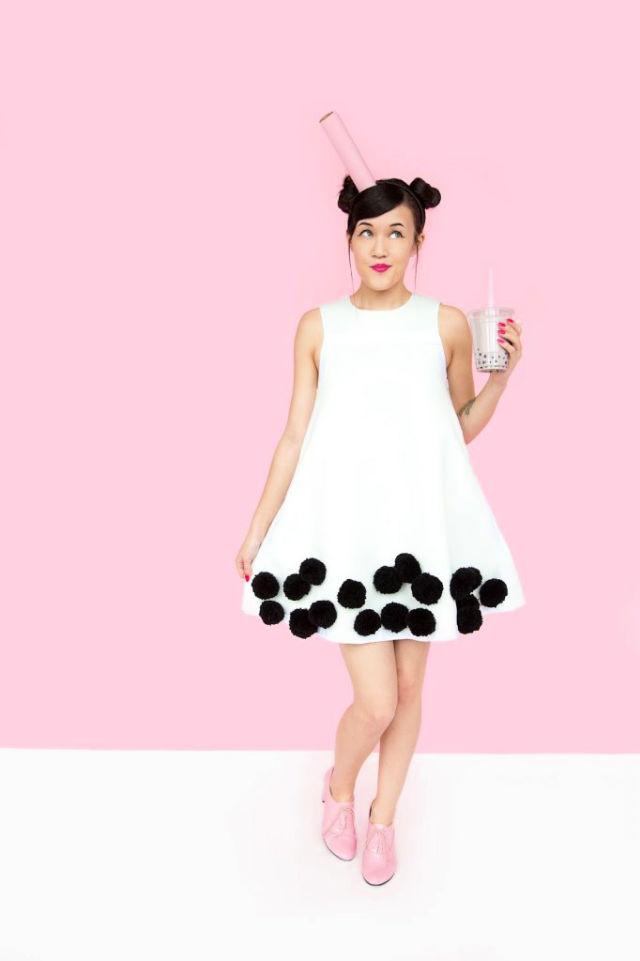 If you love boba (bubble tea), any flavor can be our favorite. The traditional bubble tea flavor that almost everyone loves is milk black tea but taro tea is also quite famous. This Halloween, make the easiest bubble tea Halloween costume with supplies you probably already have at home. You will need black pom poms, white felt, paper towel roll or any cardboard tube, pink wrapping paper, headband, any dress you want to use, scissors, and a hot glue gun. awwsam
33. Last Minute Teen Halloween Costume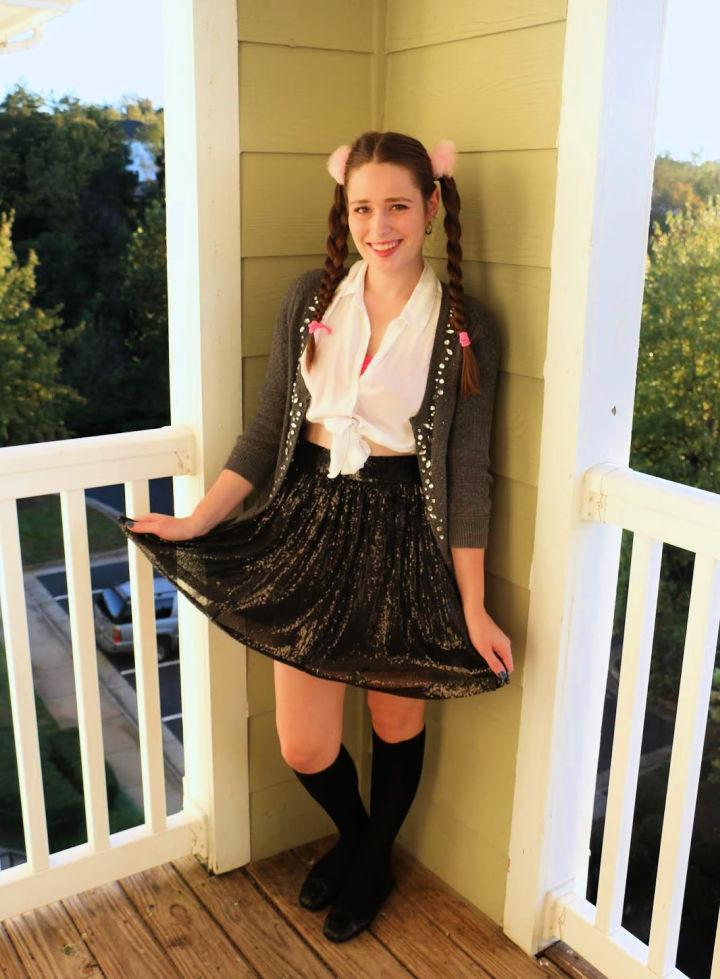 Last-minute Halloween costumes are great if you get to do something that becomes a hit later on. Every girl is a big Britney Spears fan at heart so try becoming the pop icon this Halloween to make your fantasy come to life. To make this costume, you need a white button-up shirt, purple-colored bralette, grey cardigan, black shirt, black knee-high socks, black flats, small silver hoop earrings, pink fuzzy ponytail holders, pink hair tie ribbons, and a copy of Britney hit me one more time CD. southernbellein
34. Low Budget Polka Dots Halloween Costume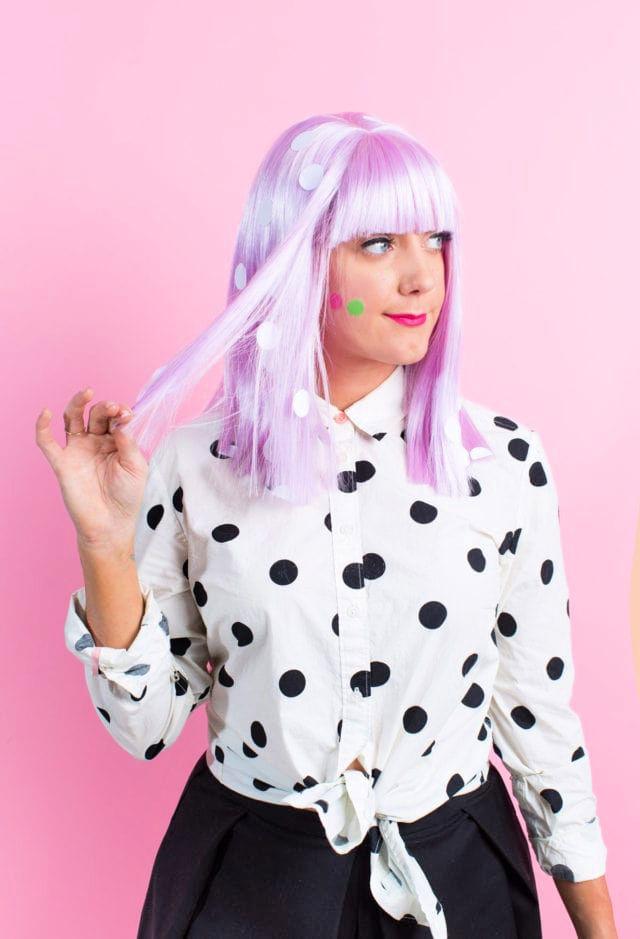 Cute last-minute Halloween costumes make the holiday so much fun as no one knows you didn't have to put in much effort in getting ready. For this purpose, DIY Halloween wigs and lashes are a perfect cute fit. You can create the look by saving yourself a trip to the Halloween store. You only need colorful cheap wigs, some fake eyelashes and any dress you think will go with your look. Knit or yarn wigs can also be used. sugarandcloth
35. Good Last Minute UPS Delivery Costume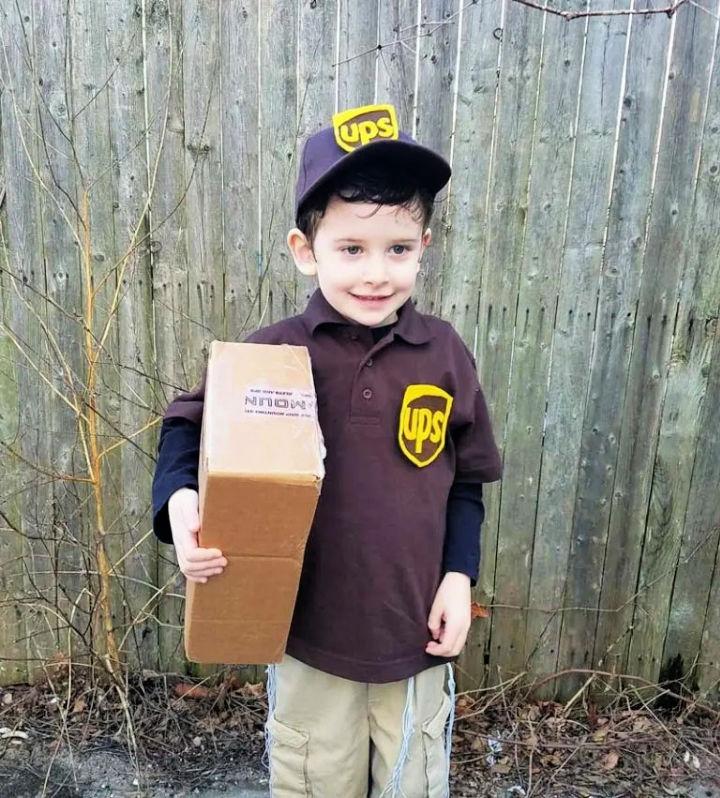 If your child is sensitive and picky with what he wears, you can make a cute DIY UPS costume for him to wear this Halloween. He won't be able to find fault with that and your job can be done easily. For making this cute costume, you need a brown collared shirt and a brown basketball cap, and tan-colored cargo pants. For making badges, use felt, glue, and a flat pad pin. The cap and shirt will be reusable again after the holiday. momsandcraft
36. Crazy Cat Lady DIY Costumes for Halloween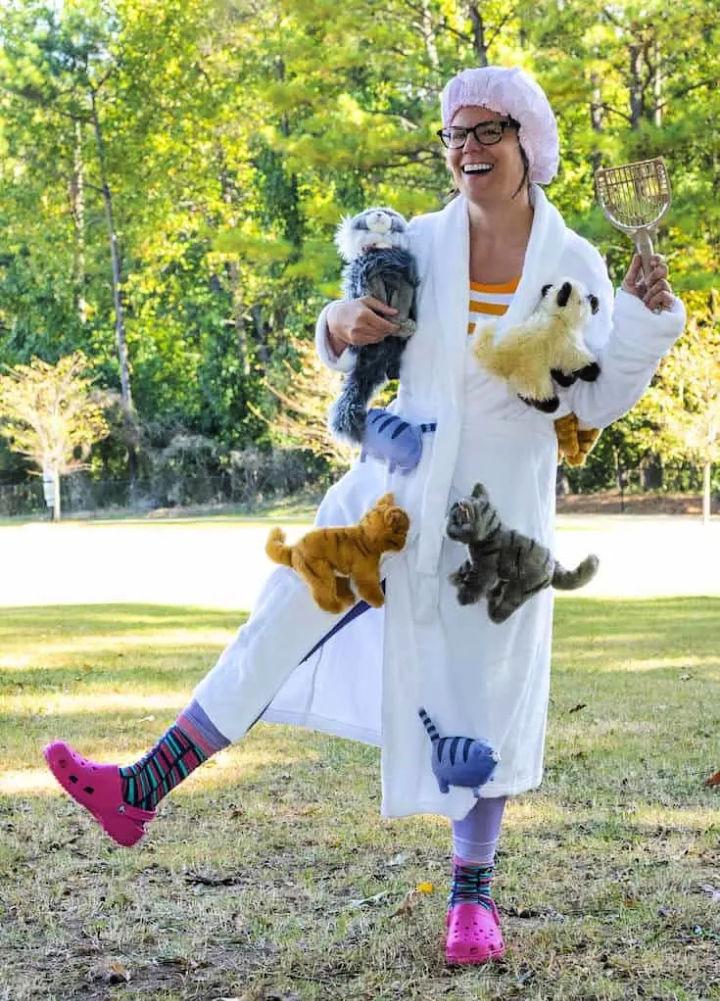 We have all come across a crazy cat in the neighborhood or met one in our childhood. Let's be a little fun this Halloween and create the same crazy cat lady look to wear for the next Halloween party. Complete the look with a kitty litter scoop, fun socks, and a shower cap. Other supplies required are a robe, cat stuffed animals, crazy socks, crocs in a bright color like neon magenta, a hairnet, and a hot glue gun. modpodgerocks
37. Funny Halloween Banana Costume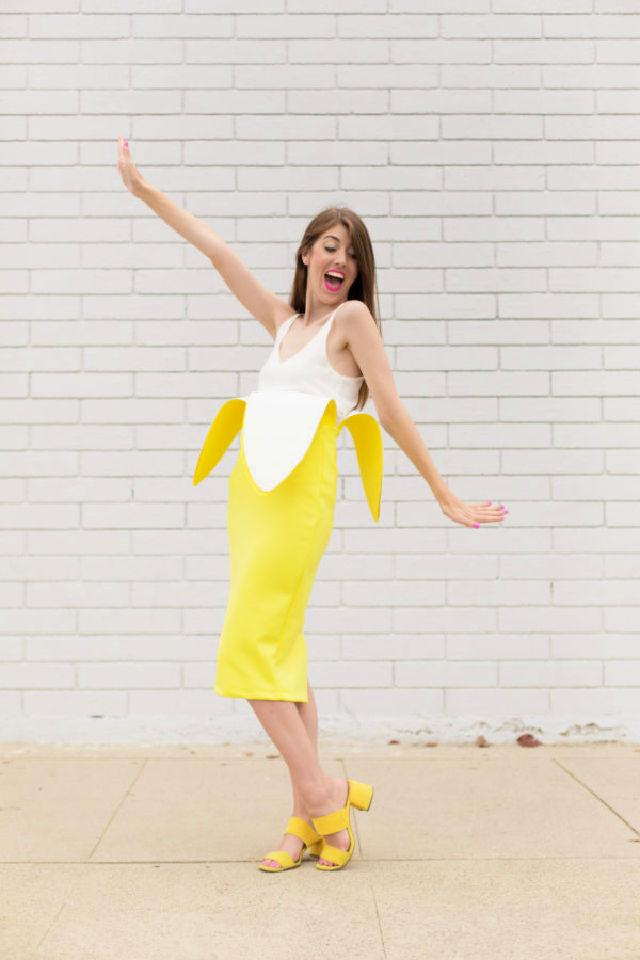 There is going to be a day when people are going to get done with the funny fruit costumes but today is not the day. Create a cute and funny DIY banana costume this Halloween and give a good laugh to your friends and family. You will need supplies like yellow craft foam, white craft foam, hot glue gun, white shirt, yellow pencil skirt, and yellow shoes. From yellow craft foam, you have to cut out four peel shapes. studiodiy
38. Last Minute DIY Halloween Costume for Blonde

There is something so great about dressing up for Halloween and it really gets everyone's creative juices flowing. This year, make a gorgeous Marilyn Monroe Halloween costume that will surprise everyone. Put up a wig and some makeup with the iconic white dress and you're all good to rock the parties. Marilyn Monroe had a lot of different styles so you can easily pull something out of your wardrobe at the last minute too. Just don't forget the blond wig and the beauty mark. pursuingpretty
39. DIY Picnic Table Costume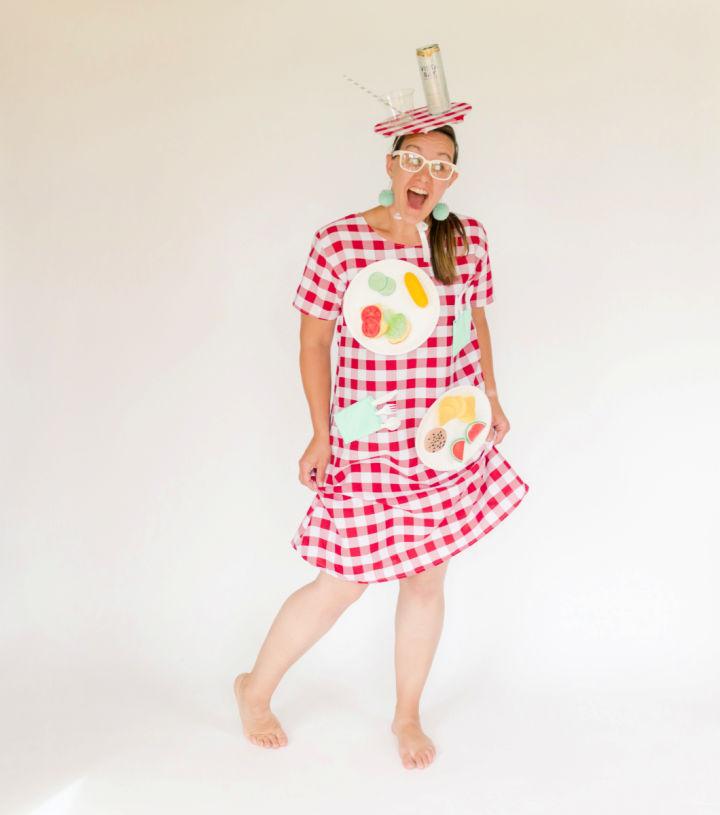 This Halloween, make a homage to the costume your mom made for you when you were at school. It can be a fun picnic table costume with paper plates attached to it. You can use red and white checked gingham fabric to create the t-shirt dress. Then add colorful snacks to paper plates, use disposable cutlery and add a can of sprite with disposable glass on the head to complete the look. Use a hot glue gun to attach these things to the dress. ohyaystudio
40. Easy Last Minute Bat Wings Costume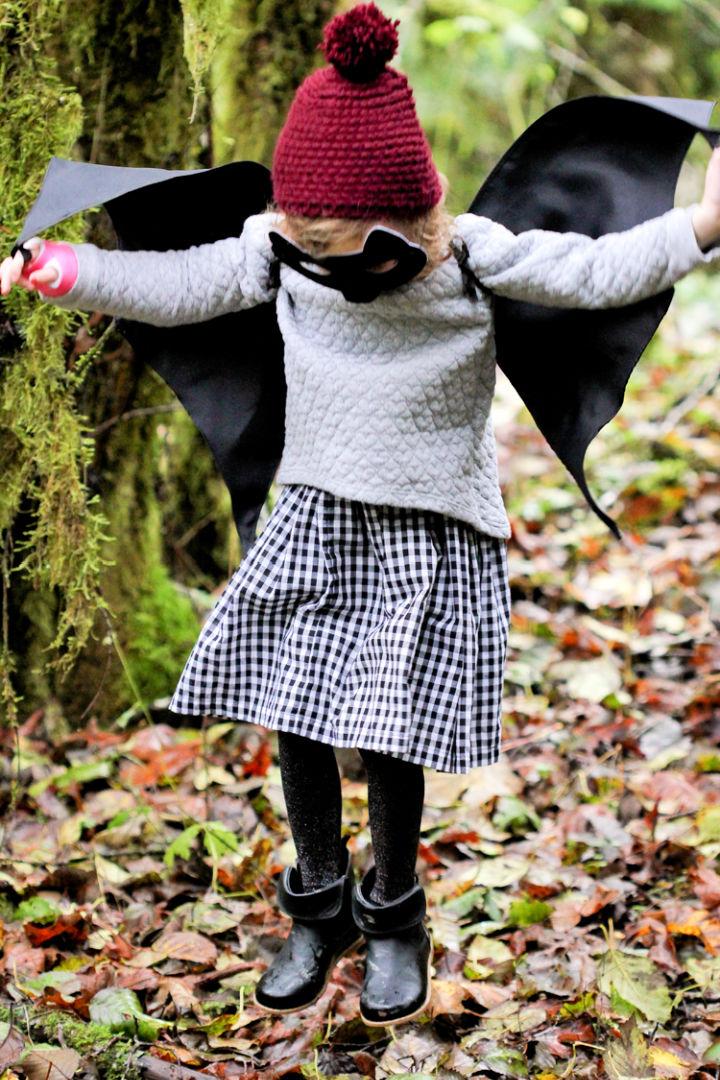 As kids, we were always riding the indecision train while coming up with ideas for Halloween costumes every year. Help your kids come up with a great idea for Halloween that will impress all their friends. Create a bat wings costume that is quite easy to make and is basically hassle-free for you. Use wings that tie up at the shoulders with a loop for little fingers that make it great for wearing over any outfit or a jacket. deliacreates
Related Halloween Costumes:
Poison Ivy Costume Ideas – If you're looking for a fun and easy DIY costume idea, consider these easy poison ivy costumes! You only need a green shirt and some vines or leaves to attach to your hair. You could also carry around a leafy branch to complete the look.
Cowgirl Costume Ideas – You can create a cowgirl costume for Halloween in many different ways. Here are some cowgirl costume ideas to make your own costume.
DIY Circus Costumes – Here's a collection of circus costume ideas to inspire your next family Halloween or themed get-together. From clowns and ringmasters to sword swallowers, you'll find something suitable for all ages!
Halloween Costumes for Women – Find the perfect Halloween costumes for women at Blitsy. Our collection of unique and stylish costumes are sure to get you in the spirit this year!
Couple Halloween Costumes – Find the perfect Couple Halloween Costume Ideas to fright and delight your friends this year.
Toddler Halloween Costumes – Find the perfect toddler Halloween costumes at Blitsy. Our collection of unique and stylish toddler Halloween costumes will hit this year!
Pun Halloween Costumes – Find the perfect Pun Halloween costumes at Blitsy. Our collection of unique Punny Halloween costume ideas is sure to inspire you!
Popular Halloween Costume Ideas
Best Friend Costumes – Get ready for a spooky night out with your best friend with these Halloween costumes! Blitsy has a great selection of costumes that will make you both look great.
Group Halloween Costumes – If you're looking for the perfect group costume for Halloween, Find these group Halloween costumes at Blitsy for adults, kids, and even pets, we've got costumes for everyone.
Teen Halloween Costumes – If you're looking for the coolest teen Halloween costume this year, look no further! Check out our selection best Halloween costumes for teens today!
Family Halloween Costumes – It's that time of year again when everyone is looking for the best family Halloween costumes. But with so many options, it can be hard to know where to start.
Alice in Wonderland Costume – Looking for a creative and unique costume idea? Check out these DIY Alice in Wonderland costume ideas that are perfect for any occasion. These costumes are easy to make and will be sure to turn heads at your next party or event!
Pirate Costume Ideas – Pirate costumes don't have to be expensive or difficult to put together. These DIY pirate costume ideas will show you how to create a pirate costume quickly and easily using things you probably already have around the house.
Conclusion: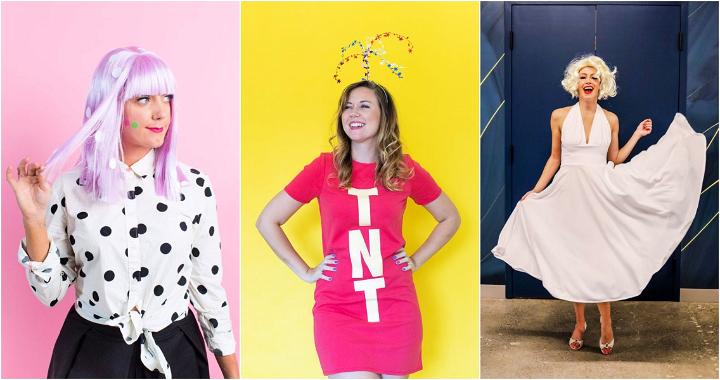 So, are you ready to experiment with these last-minute DIY Halloween costume ideas? You need to keep a few things in mind before getting started, as that will help and make the whole process easier for you! Firstly, you must go through these easy Halloween costume ideas for 2022 and choose your favorite ones. Secondly, you will need to choose the ones that seem the easiest to re-create and the ones that you have the most supplies in common with! Lastly, make sure to have fun by inviting your friends over or making these DIY Halloween costume ideas with your family – it will also make the time pass by fast!