Halloween is the perfect time to get creative and have some fun with your family. If you're looking for family costume ideas inspiration, here are 40 easy family Halloween costumes that are sure to be a hit. From classic characters like Alice in Wonderland and the Tin Man to more modern choices like Monopoly and the Stay Puft Marshmallow Man, there's something for everyone. And best of all, these family Halloween costume ideas can be put together with items you likely already have in your home. So get creative, have some fun, and make this Halloween a family affair!
These family Halloween costumes are perfect for the upcoming festive season when everyone will be dressing up as their favorite characters. Instead of dressing up as different characters, your family can choose to dress as the same character from a show. This will make your DIY Halloween costumes stand out and look iconic. However, there are many different shows, stories, characters, and series. How do you decide? Well, the simple way to do so is to go through this family halloween costume ideas guide and pick out your favorite options.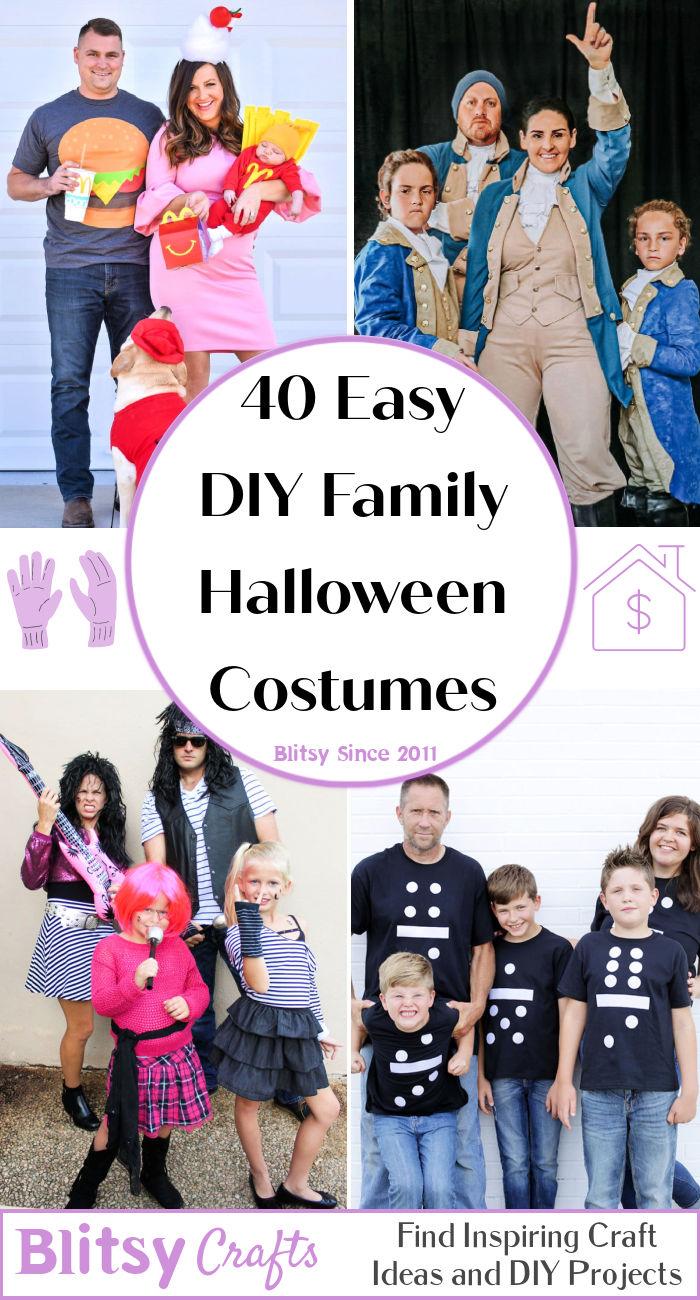 You will have a lot of fun by going through these family Halloween costumes, as they might be nostalgic for old shows, cartoons and stories. Some of these costumes are based on millennial cartoon shows, which can be quite heartwarming and nice to see. However, after choosing out your favorite costumes, you can sit with your family and pick out a joint favorite one so there are no conflicts, and everyone gets to dress as something they prefer! This article has many family Halloween costume ideas for you – Wizard of Oz, Baby Shark, Ghost costume, happy meal costume, Flintstones, Pac-Man, etc.
1. Wizard of Oz Family Halloween Costumes 2022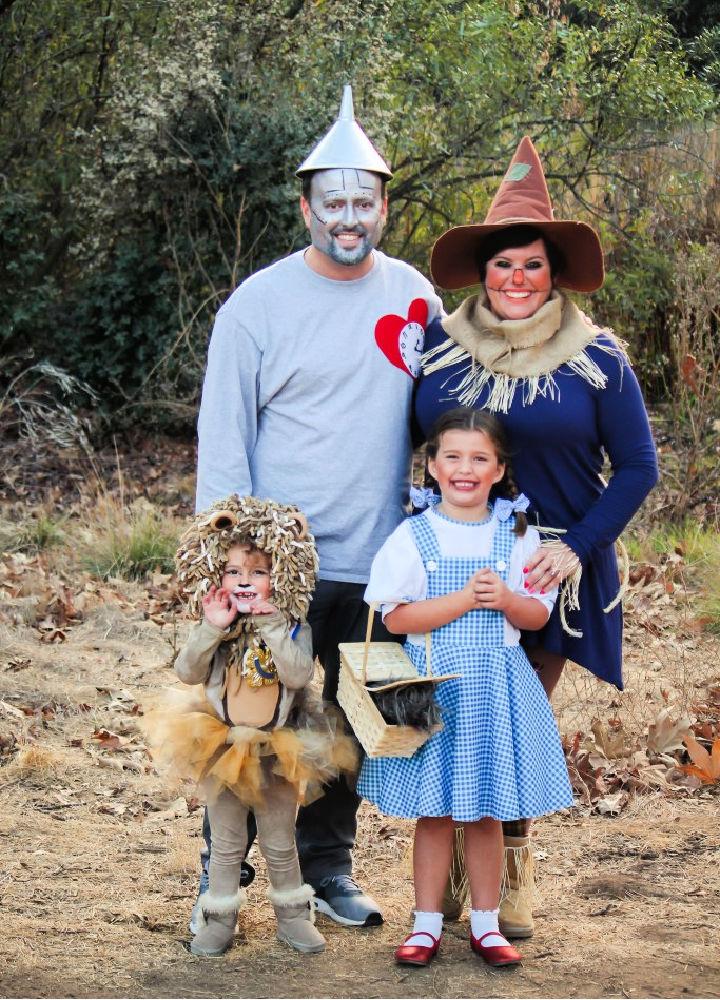 Do you and your children love the "Wizard of Oz"? It's a great book series and movie series that most children are introduced to when they're young. You can make special Wizard of Oz outfits this Halloween by following this amazing guide! Are you all hyped up to give this a try? It's recommended to gather all the supplies and then follow the steps! braveandbright
2. Baby Shark Song Family Costumes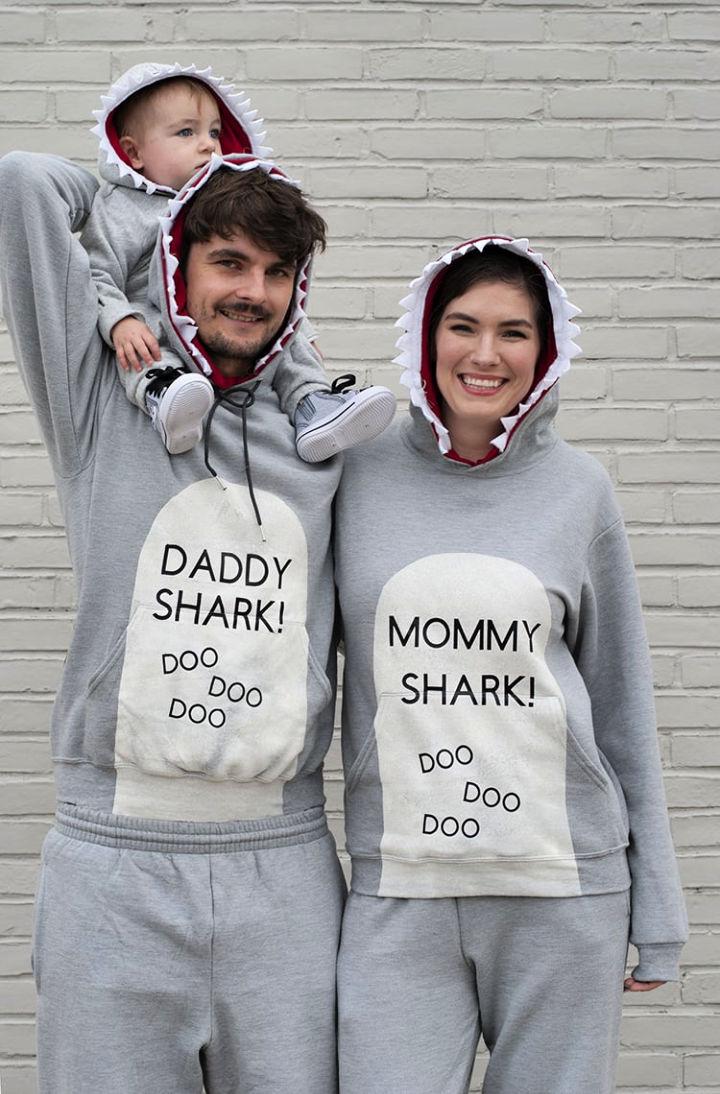 "Baby Shark" is a famous baby tune that children love to listen to. Its beat is quite catchy, and the video is fun for everyone to watch. If your family loves to play it in the car to cheer up your little one, then this Halloween outfit idea is for you! It features three shark costumes – one for the daddy shark, one for the mommy shark, and the little one for the baby shark! shrimpsaladcircus
3. DIY Monster Family Costume Ideas for 2022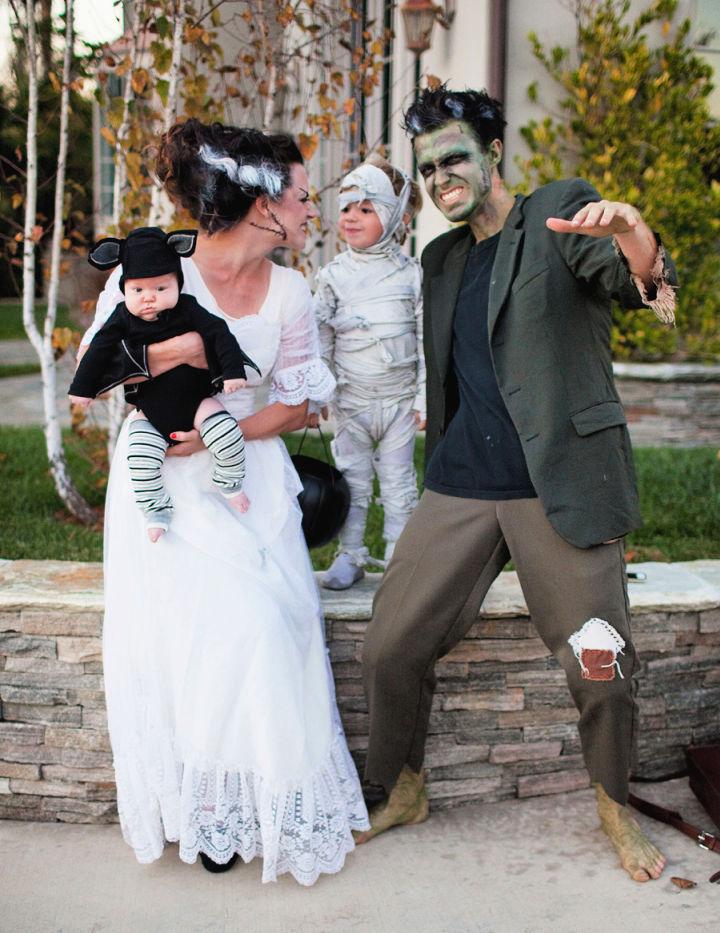 You can be true to the Halloween theme by making this creepy and scary costume for your family – it features all the famous monsters from the iconic Disney movies and animated movies that you see all around. Moreover, these costumes can easily be made in the comfort of your own house without purchasing anything special or spending too much money. tellloveandparty
4. Unique Circus Family Costume for Halloween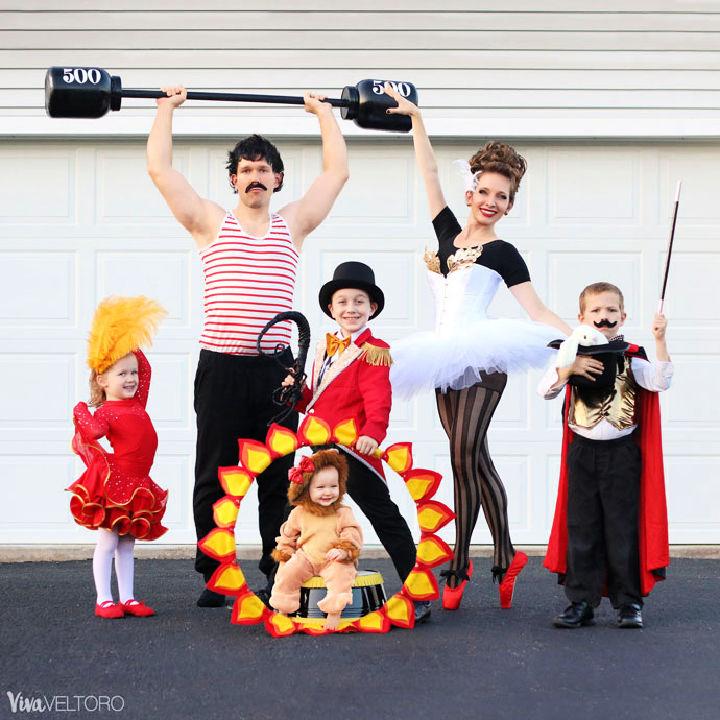 A circus family costume can be perfect for your fun and happy family for this Halloween season. This will be the total opposite of the normal creepy themes, and it will make your family stand out at the Halloween parties! Moreover, this is also a really fun costume to wear for a photoshoot, and remember the time forever by framing the pictures of this enjoyable activity! vivaveltoro
5. Happy Meal Family Halloween Costume Ideas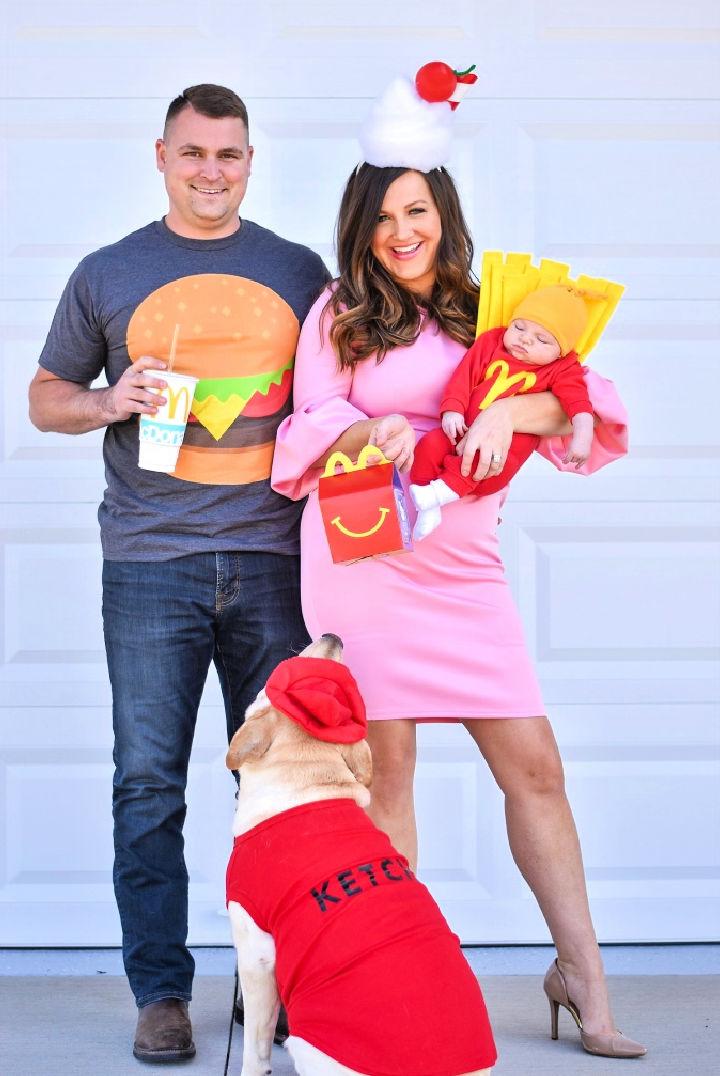 If the happy meal is your child's go-to order at the McDonald's drive-thru, then this is the outfit idea that you can go for! It's a very lighthearted and fun way to bring a smile to everyone's faces and look adorable. Moreover, you won't need to do any intense DIYs as all you will need is a burger t-shirt for the dad, a pink dress for the mom, and a McDonald's onesie for the baby. typeastyle
6. Star Wars Family Costumes for Halloween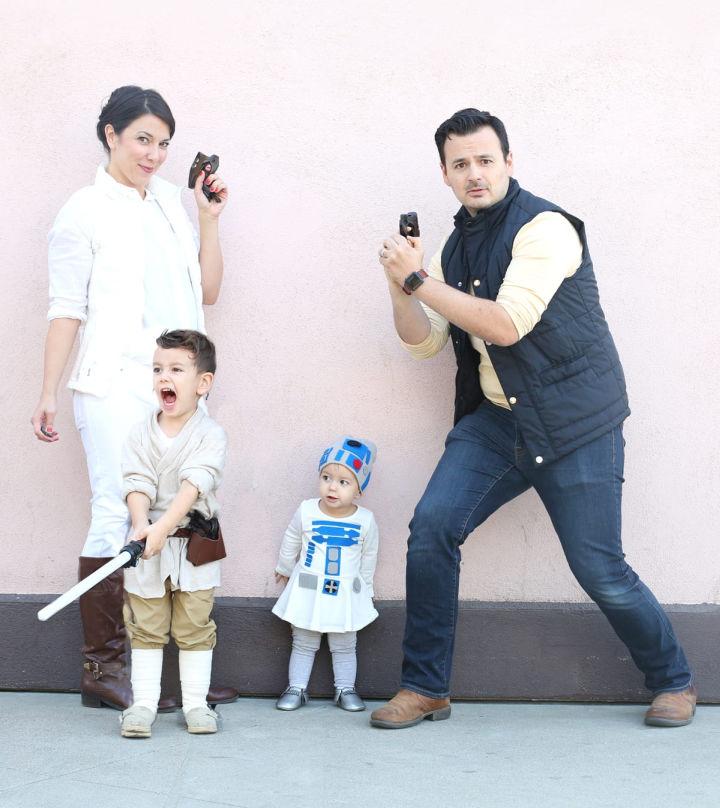 Star Wars is an iconic family series and if you and your family are huge fans – then take a look at this super cool costume idea! It features a cost-effective thrifted way of making a costume. You will only need a few basic supplies to get started on this project – a tan cardigan, white undershirt, khaki joggers, ace bandages, slip-on, woven belt, and a lightsaber – and it is recommended to gather the supplies before getting started. lovelyindeed
7. DIY Queen of Hearts Family Costumes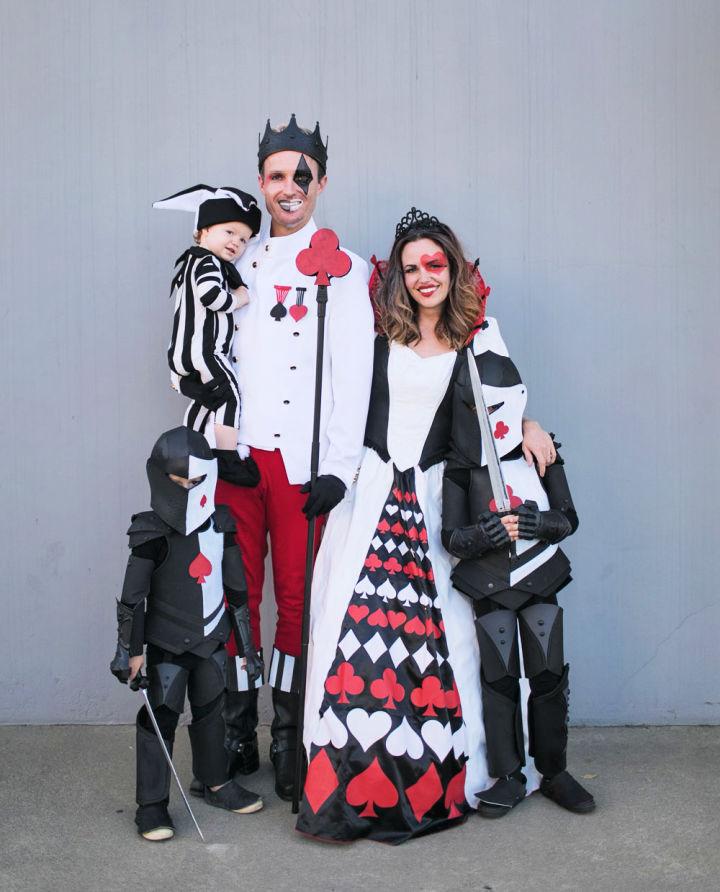 Do you want to go for an eccentric, beautiful, and one-of-a-kind costume? This guide will show you how you can make it for your whole family! Furthermore, this outfit will be spot on for the dark and spooky vibe of Halloween. This idea includes the queen of hearts costume for the mother, the king of hearts costume for the father, the joker costume for the baby, and the knight costumes for the toddlers! tellloveandparty
8. Wednesday and Pugsley Addams Family Costume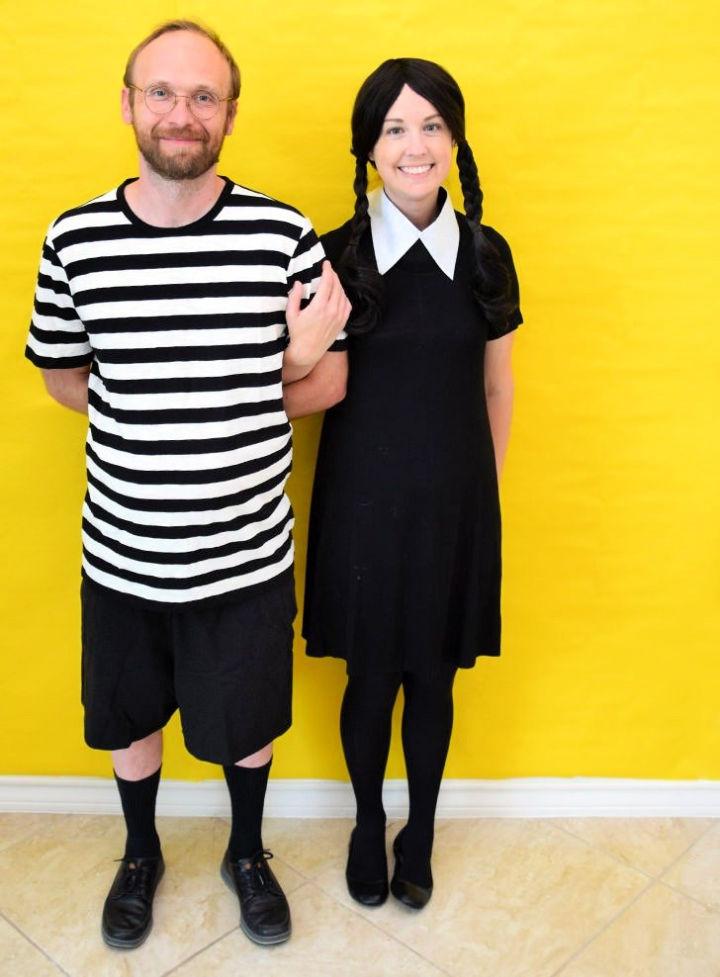 Addams family is a very famous family movie which can be watched for a good and wholesome time. If you love this movie, here's the Halloween outfit idea for you! You will only need a few basic supplies that are probably already at your house – a black and white striped t-shirt, black shorts, black socks, and black shoes. You can easily find these supplies at any store. dreamalittlebig
9. 80s Rock Band Family Costume Ideas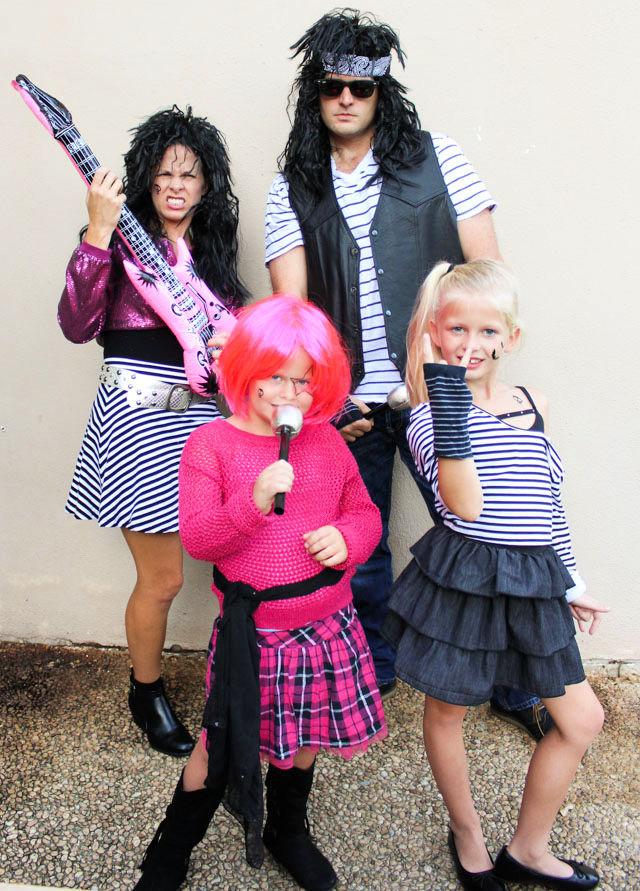 Have you always wanted to be in an 80's rock band and wear all of those gothic and edgy outfits? Well, now is the perfect chance for you to make that dream come true! The best part is that you can do this with your whole family by re-creating these super cool costumes. A leather vest, striped shirt, bandana, rocker wig, pink sweater, pink wig, boots, skirt, scarf, Halloween tattoos, and a few other supplies will be required for this project. designimprovised
10. Family Dominos Halloween Costumes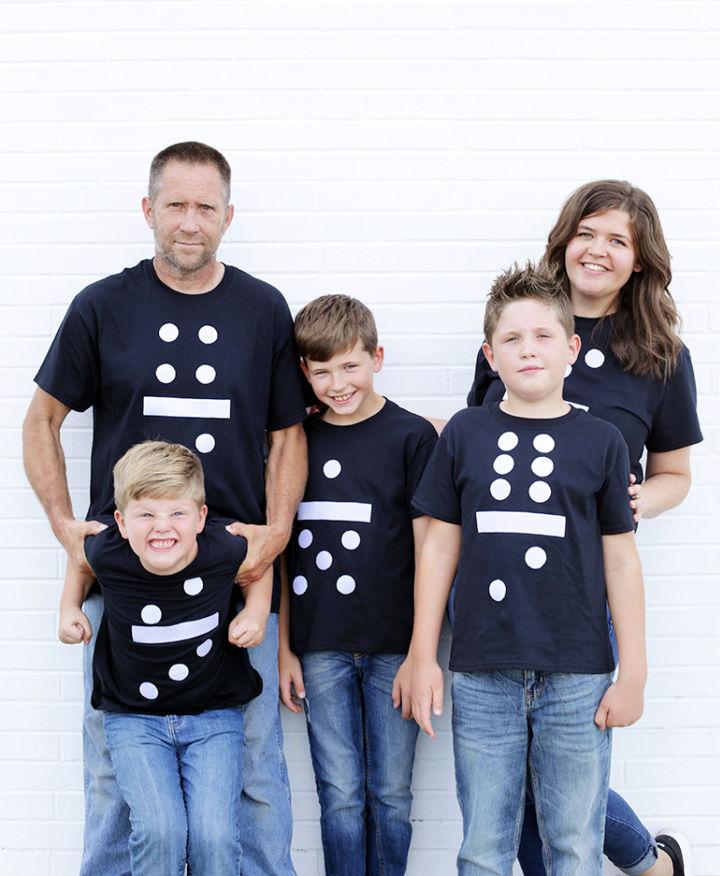 Does your family order dominos every weekend? Well, then you can use it as a costume idea to show your love for dominos and also look super fun this Halloween! All you will need to do is to get customized printed shirts with different dots. The black shirts and white dots paired together with blue jeans. A pencil, ruler, scissors, iron, and a few other supplies will be required for you to follow this project! themerrythought
11. DIY Family Avocado Toast Costume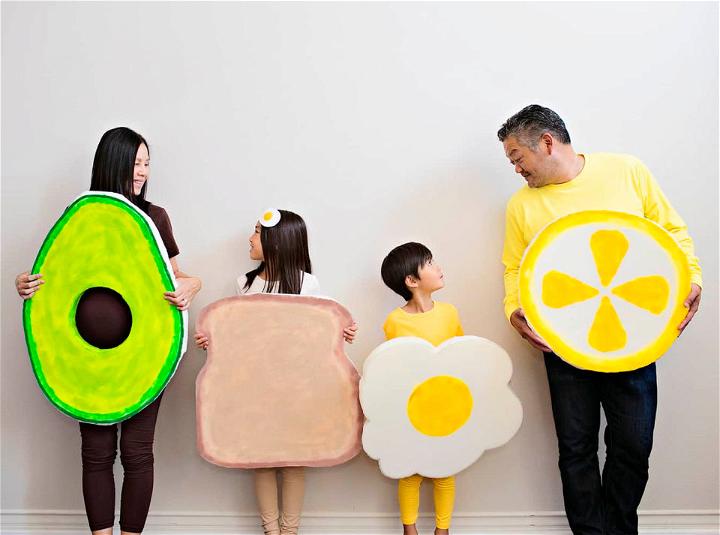 Avocado toast is a staple breakfast eaten by people who want to stay healthy and whole, consuming a good and filling meal. If you are looking for a funky costume idea for this Halloween, then this is the one for you! It features 4 different parts of an avocado toast for four family members – avocado, toast, egg, and lemon! So, are you ready to get started on this amazing project? hellowonderful
12. Family Peter Pan Costume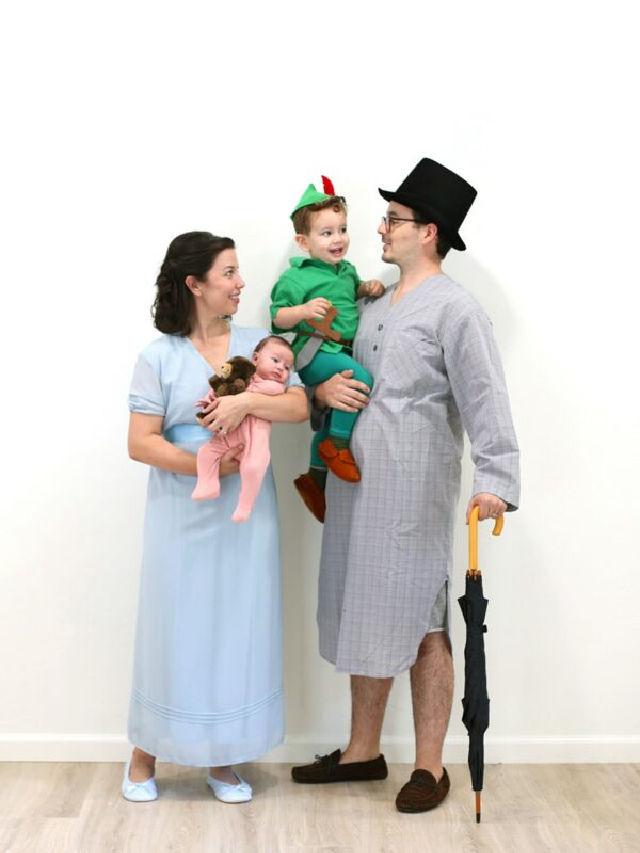 Here's the perfect family costume idea for you and your little ones – it is not only super wholesome but also inspired by a very famous series which is the peter pan! This Disney film has been in many children's and adults' hearts as it is a heartwarming and nice movie. You can even dress up your little ones as peter pan by making this super cute costume – just follow this guide. lovelyindeed
13. Robot Family Halloween Costumes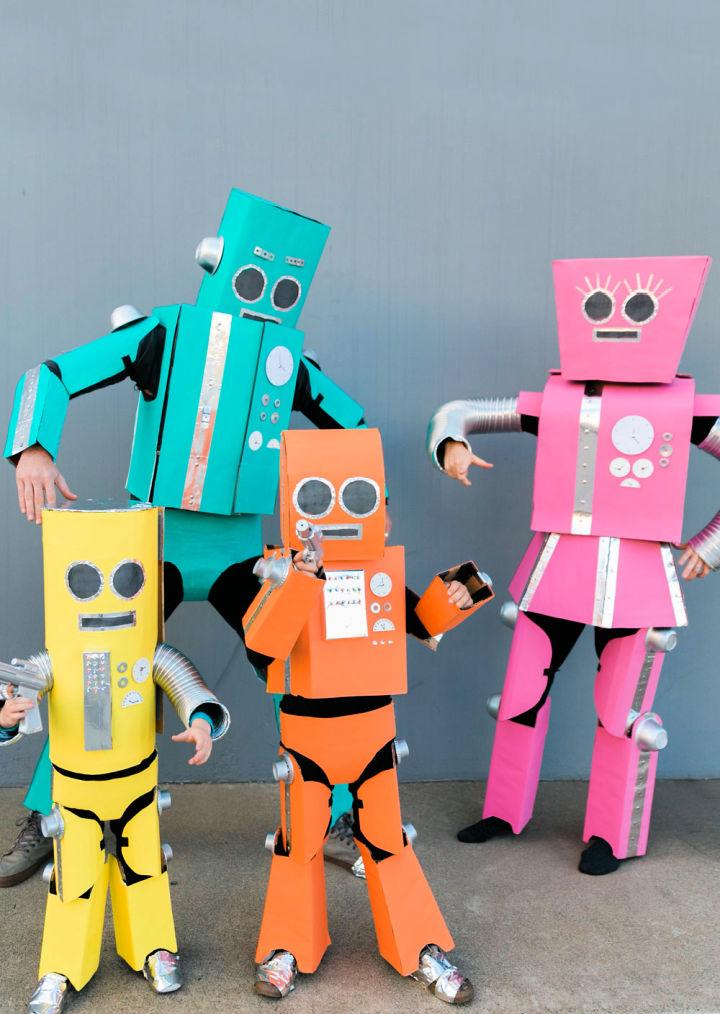 Robots are taking over the world, and you can also do the same this Halloween season by making these robot costumes! This guide features a pink costume for the mother, blue for the father, dark blue for the baby, and orange and yellow for the toddlers! Cardboard boxes, elastic, colored paint, Velcro, plastic bowls, aluminum flex pipe, foil tape, silver thumbtacks, and a few other supplies will be required. tellloveandparty
14. Pinocchio Themed Family Costume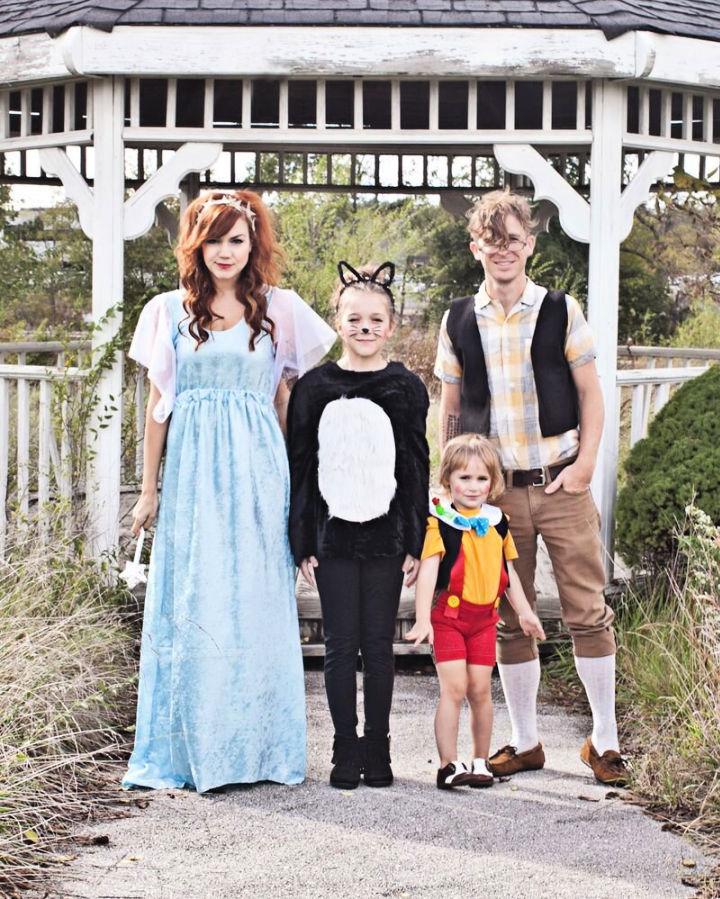 Pinocchio is a very famous movie and story which is introduced to children all around the world to encourage them to stop lying and be good people. A blue fairy dress, cat jacket, and a few other costumes will be made by you to make this project a success and make your family look amazing on Halloween! So, are you excited to give this a try? abeautifulmess
15. DIY Space Matching Family Costumes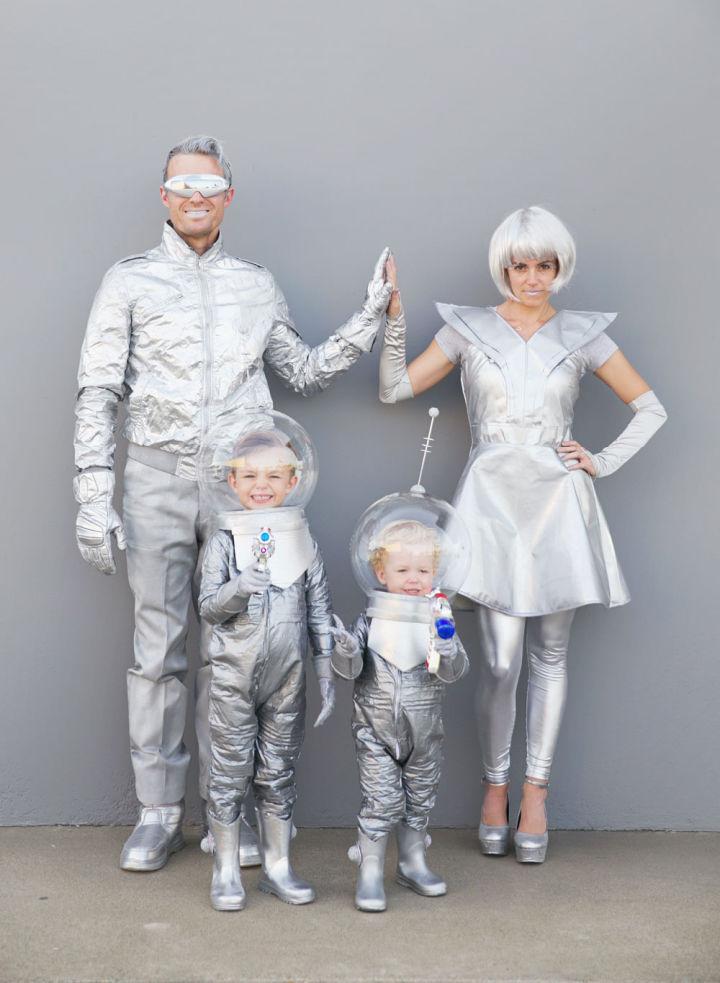 Does your little one dream of going to outer space and taking your whole family with him/her? Well, then you can make them visualize this dream better by dressing up with these space matching costumes! Moreover, you have plenty of time to work on these pieces as this festive holiday is still a few months away. tellloveandparty
16. The Little Mermaid Family Costume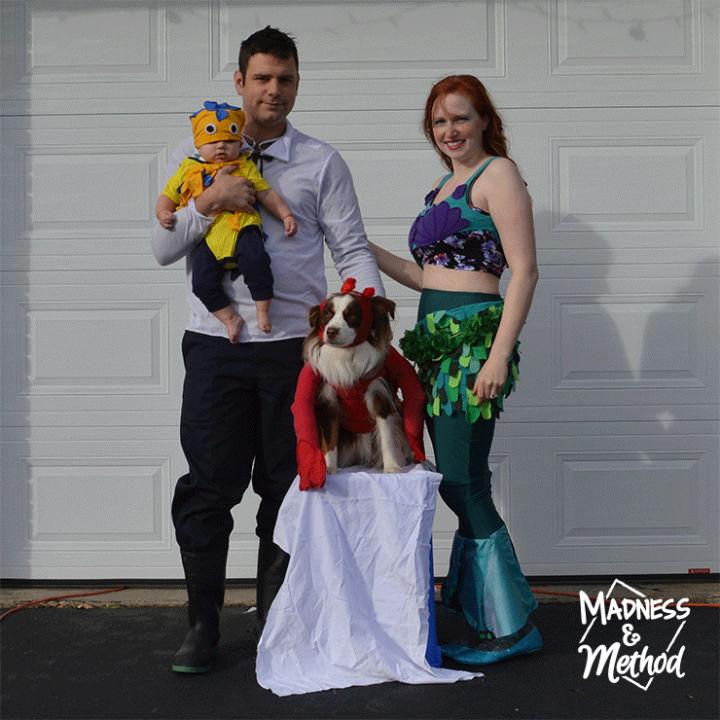 Have you always wanted to be Ariel or just a mermaid in general? Dreams like these are usually only imaginative; however, you can always switch it up by at least making those dreams look like reality – dress up as your favorite little mermaid this season! You will be able to not only be able to dress up like a mermaid but also get to take beautiful and memorable pictures to look back on forever! madnessandmethod
17. Hamilton Costume for the Whole Family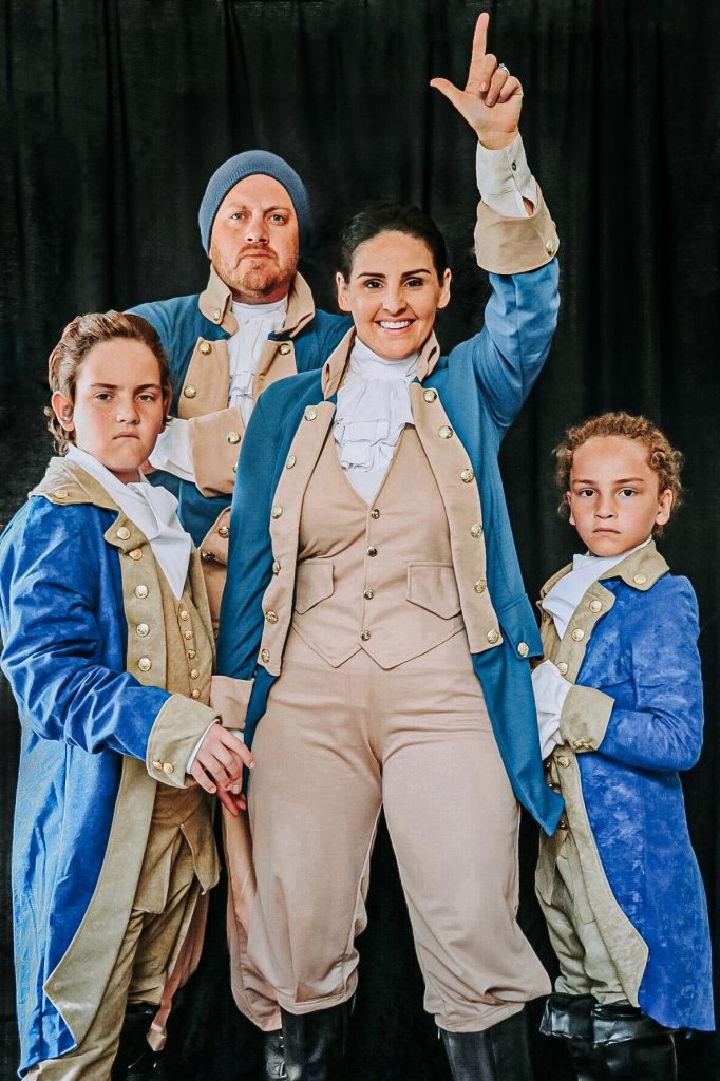 Do you want to look like your favorite series known as Hamilton this season? Well, then you got nothing to worry about, as this guide will back you up and help you learn all the ways you can make that happen! You can purchase all of these costumes by going to the links Amazon provided in the guide linked below. Moreover, you will also have a great time re-creating these pieces. fabeveryday
18. Shark Lifeguard and Surfer Family Costume

If you have a baby in your family and you want to give the little one the best first or second Halloween experience of his/her life – then follow this guide to do so! Moreover, you will also be able to take adorable pictures to look back on – years from now! It will be wholesome and super fun to do this. mlovesm
19. DIY Family of 5 Superhero Costume Ideas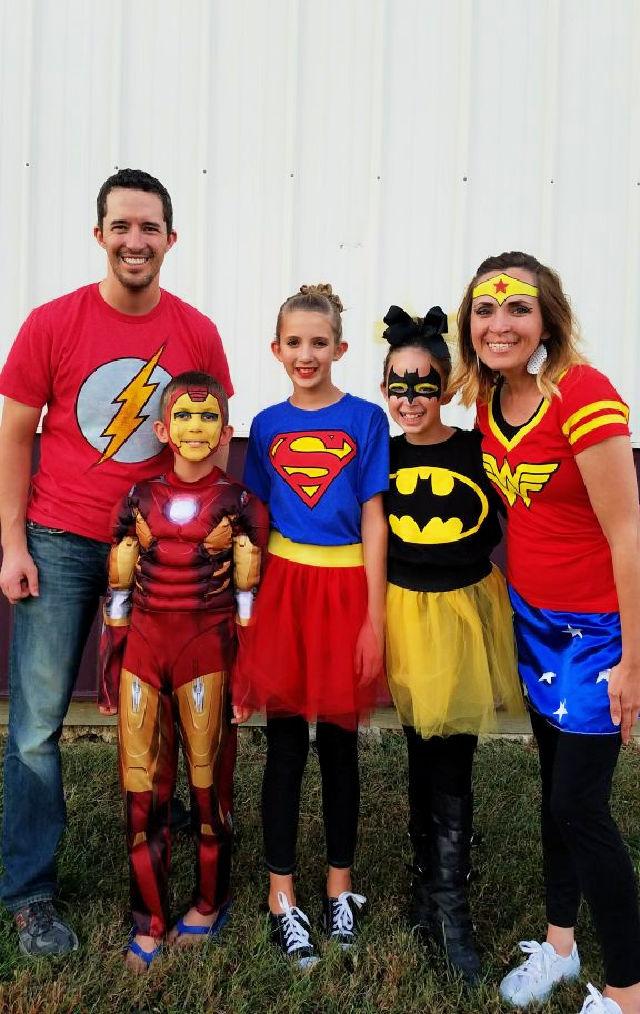 Superheroes have many special powers, which make them each special and differentiate them from the other superheroes. You may think that there is only one hero, but this family costume superhero plan is going to change your views! Flash t-shirt, wonder Woman's shirt, ironman costume, batman costume, and a few other supplies will be required to make this a success. So, are you ready to give this guide a try? sugarbeecrafts
20. Farmer and Animal Family Costume with Cricut Maker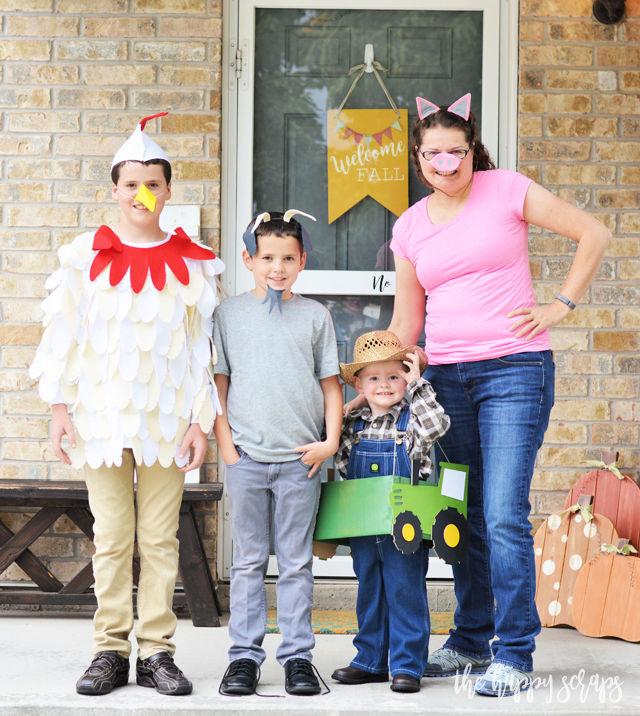 Who knew that using animals to make your costumes will end up with such wholesome and funny results? Take a look at this family, who is one animal each – the father is the hen, the mother is a pig, the toddler is a bunny whole the little boy is a car! Isn't that interesting and amazing? It will be a very good experience to try these projects out and then use these costume's from the festive season! thehappyscraps
21. Rainbow Ghosts Family Costume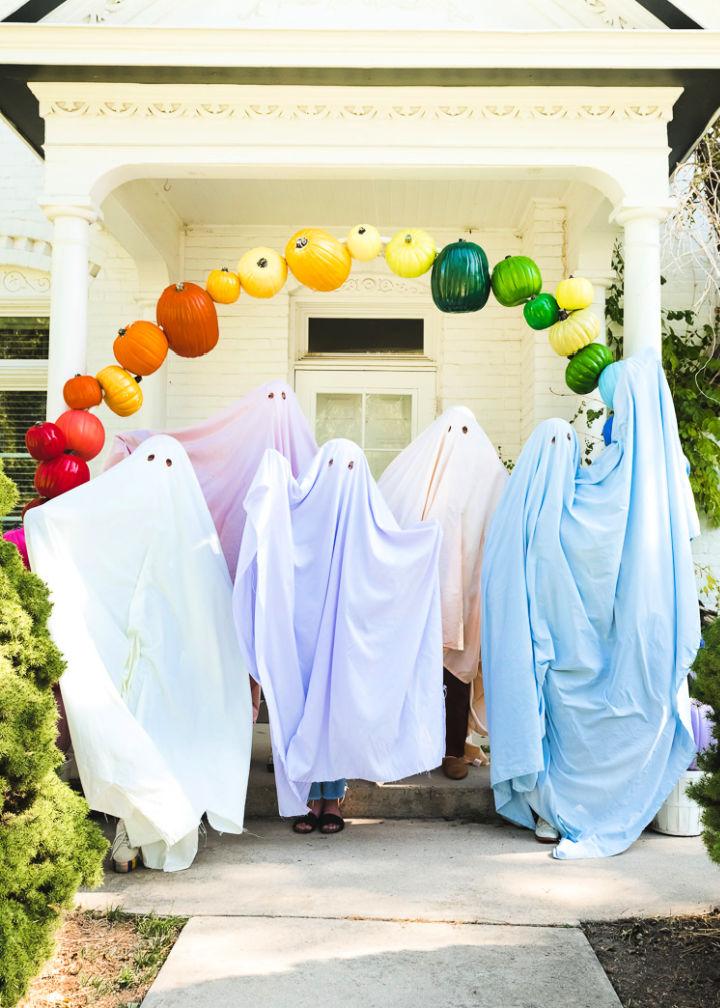 Halloween is traditionally supposed to be a spooky and horror season. You can stay true to the theme by following this ghost family Halloween costume idea! It will be very fun to re-create this costume, and everyone can work on their ghost outfit – it will reduce time and make the process efficient. The ghosts are rainbow-colored, which adds a little fun touch to this spooky look. thehousethatlars
22. Wheres Waldo Costume for Family of 3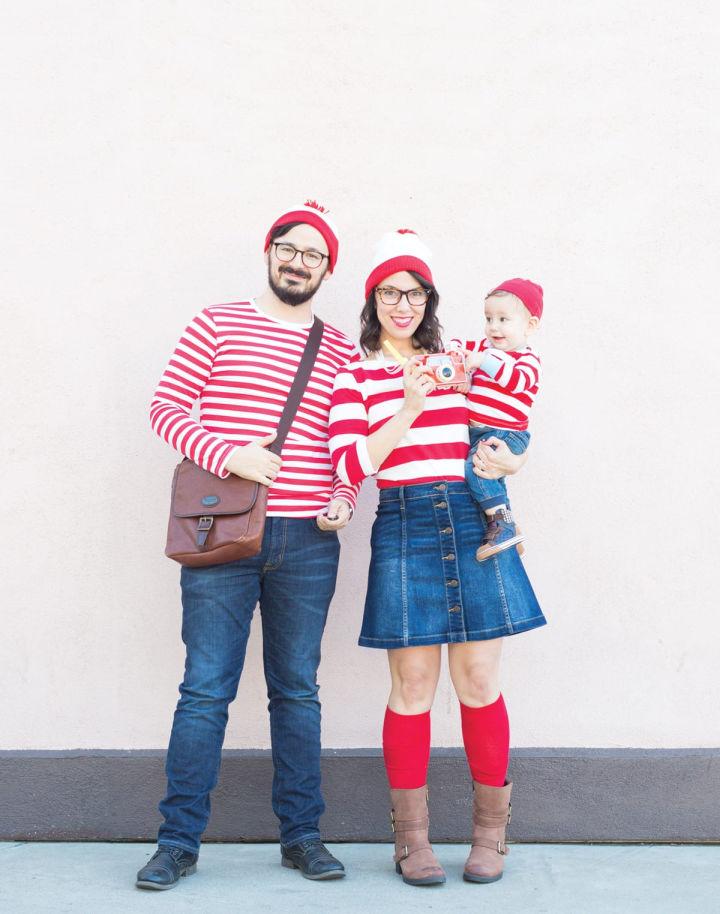 Where's Waldo is always going to be a favorite story for many people as it is heartwarming and amazing! If you're a huge fan as well, then take a look at this adorable outfit! Don't you just love it? It consists of white and red striped matching shirts along with jeans, skirts, and hats! Beanie, striped shirt, boots, shoes, nerd glasses, jeans, camera, and a few other materials will be required. lovelyindeed
23. Family Of 5 Nemo Costume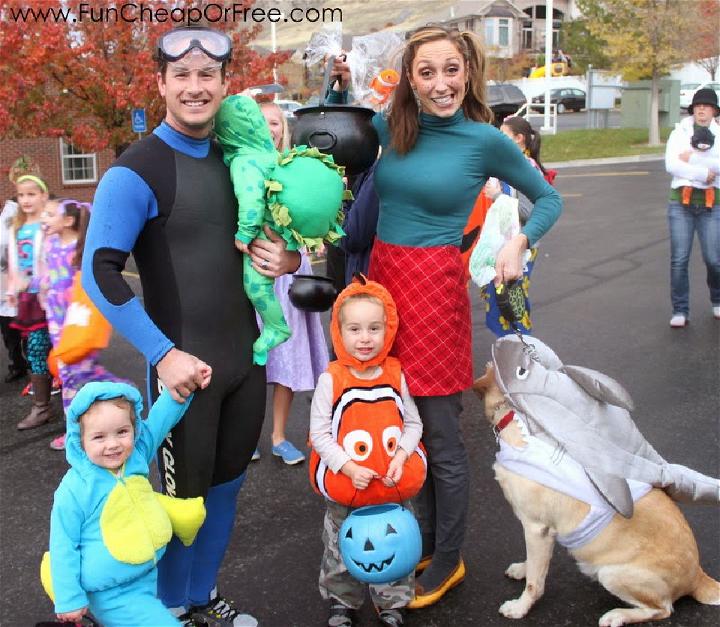 Finding Nemo is a truly heart-touching story that is loved by many people around the world because of its excellent storytelling and adorable characters! Do you love the characters and want to dress up as them this Halloween? Well, then this is the perfect guide for you to follow as it will show you cheap and easy ways to put together these outfits for the festive season. funcheaporfree
24. Mickey and Minnie Mouse Family Costume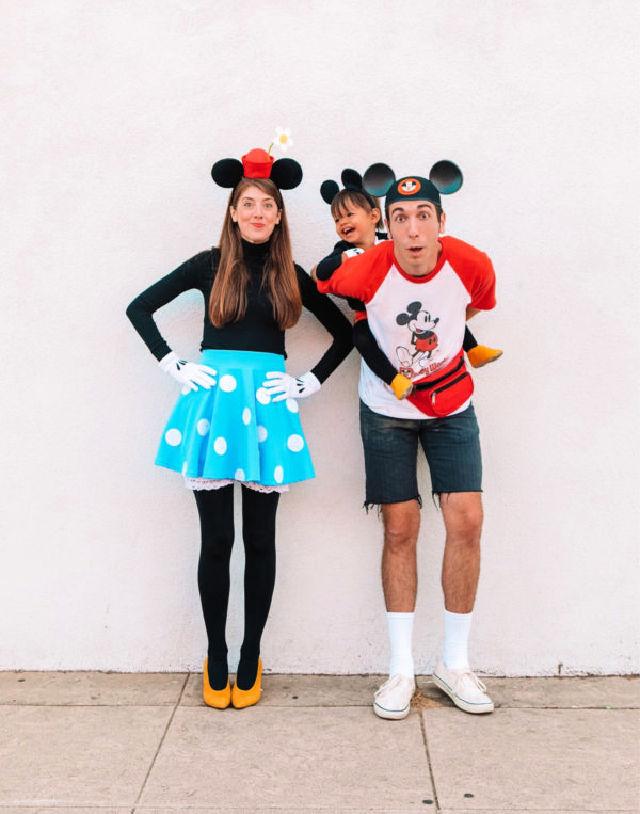 If your children love watching Mickey Mouse, then they are going to find this family costume amazing! It can be quite hard to find the perfect family costume as there are many family Halloween costumes ideas out there. However, you can always base it on your family's interests and favorite characters. A black shirt, red shorts, black tights, hot glue, white felt, Mickey ears, yellow pumps, and a few other materials are needed. studiodiy
25. Little Red Riding Hood Costume for a Family of 6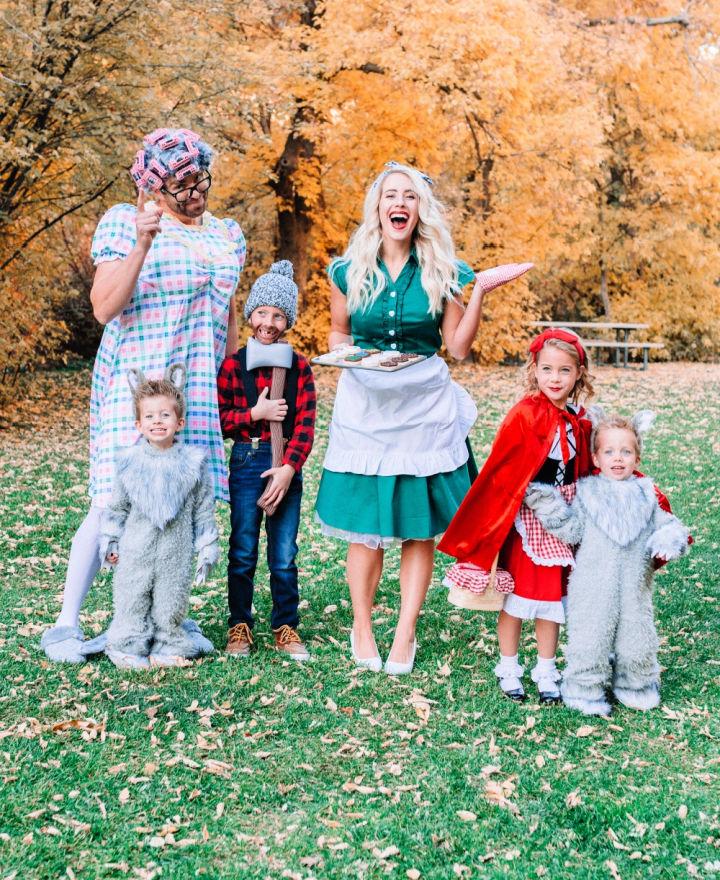 The Little Red Riding Hood is another quote famous story that is narrated around the world; however, the main reason it's so famous is because of the main character. You can dress up as a little red riding hood and ask your family to dress up as the other characters in the story to make this Halloween super enjoyable! Is this exciting? Well, get ready to make this costume after gathering the supplies. twistmepretty
26. Ms Pac-man and Ghosts Last Minute Family Costume

Pac-Man is a game loved by all millenniums and early gen-z as it is a memorable and wholesome memory – playing it on old phones and passing away the time! You can introduce your children to this amazing game by making them dress up as Pac-Man! Isn't that exciting? You will be able to put together these amazing outfits by just understanding this guide and following the instructions. covetbytricia
27. No sew Monster Family Costume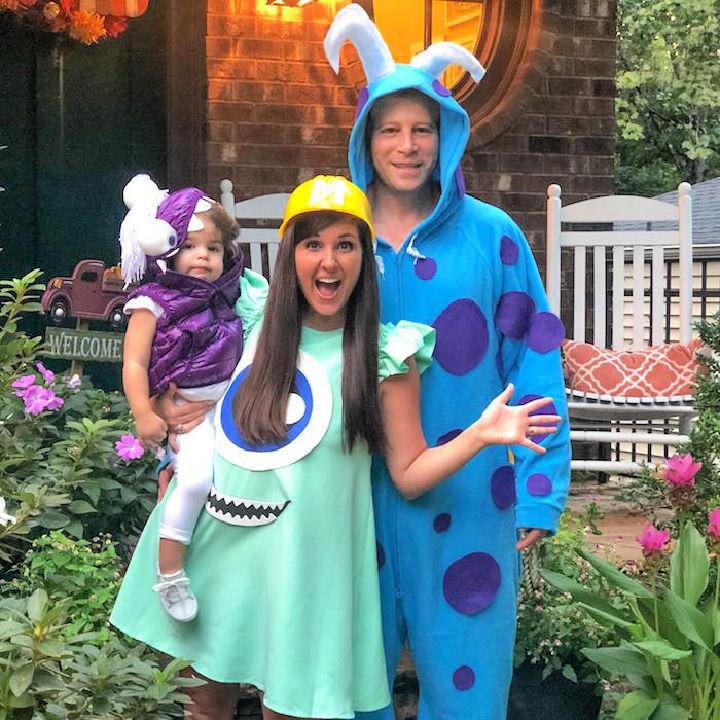 If you have seen this amazing animated movie, then you know just how adorable the bond is between these characters. You will be able to portray the close-knit and beautiful bond between your own family by dressing up as these wholesome characters this season. Fabric glue, puffy purple vest, Styrofoam balls, googly eyes, pipe cleaners, white yarn, mint green dress, yellow construction hat, craft foam, and a few other supplies will be required. craftboxgirls
28. Family of 7 Disney Descendants Costumes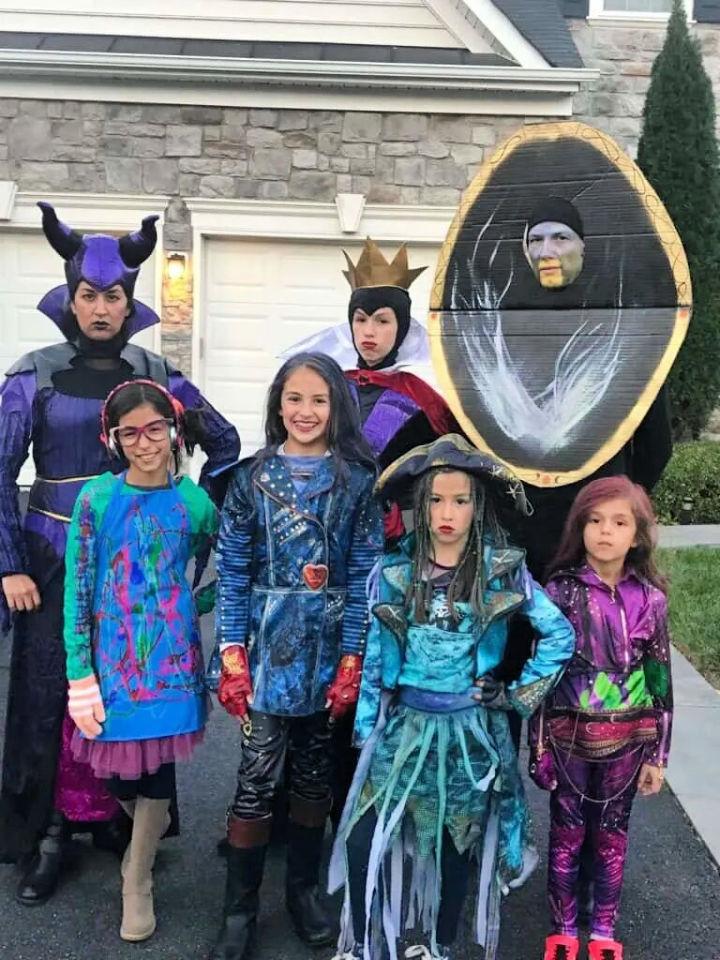 Disney Descendants is another amazing movie that is loved by children and adults equally as it is not only thrilling but also quite enjoyable because of its unique and eccentric characters. You will have to gather all the supplies listed in the guide and then follow the instructions. Make sure that you are aware of the fact that you will need to spray paint your children's hair for this! lolalambchops
29. Cops and Robbers Creative Family Costumes for 4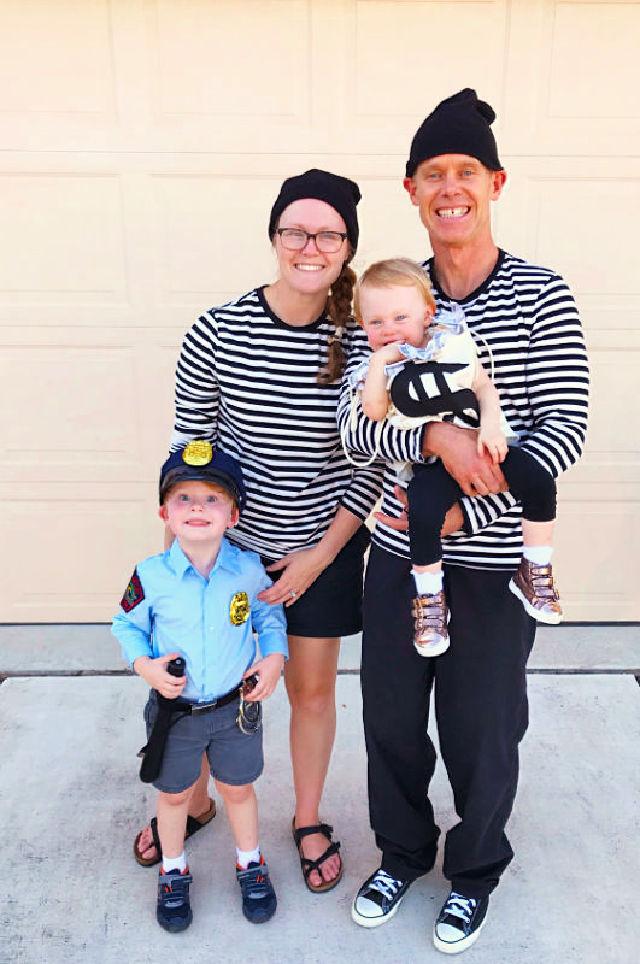 Cops and robbers is a very thrilling and fun show as it features robbers and cops trying to catch them. It will be very fun to dress up as its characters this Halloween season. The mother and father can be cops, the toddler can be the cop, and the baby can be the money! The baby outfit has a cute money dollar sign on it which will make everyone smile just by looking at it! lifeanchored
30. Two minute Tie dye Family Hippie Costume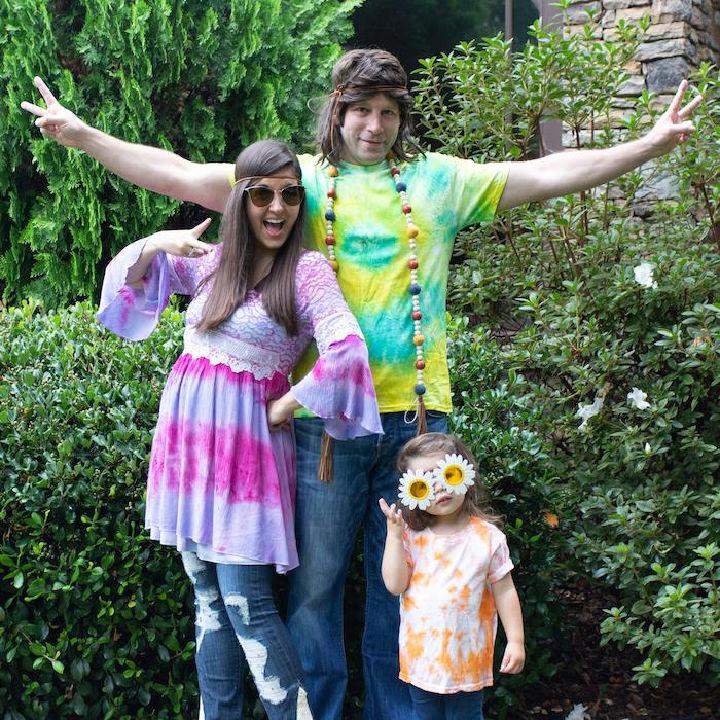 If you have never tried the hipster style, then you probably prefer to dress basic and elegant! It would be super fun to dress up as a hipster for the Halloween season to see everyone's reaction and look amazing! This might even help you understand if you are a hipster at heart? In comparison to the other family Halloween costumes in this guide, this one is a little simple, so you can go for it if you don't want to look dramatic! craftboxgirls
31. DIY Family Muppets Halloween Costume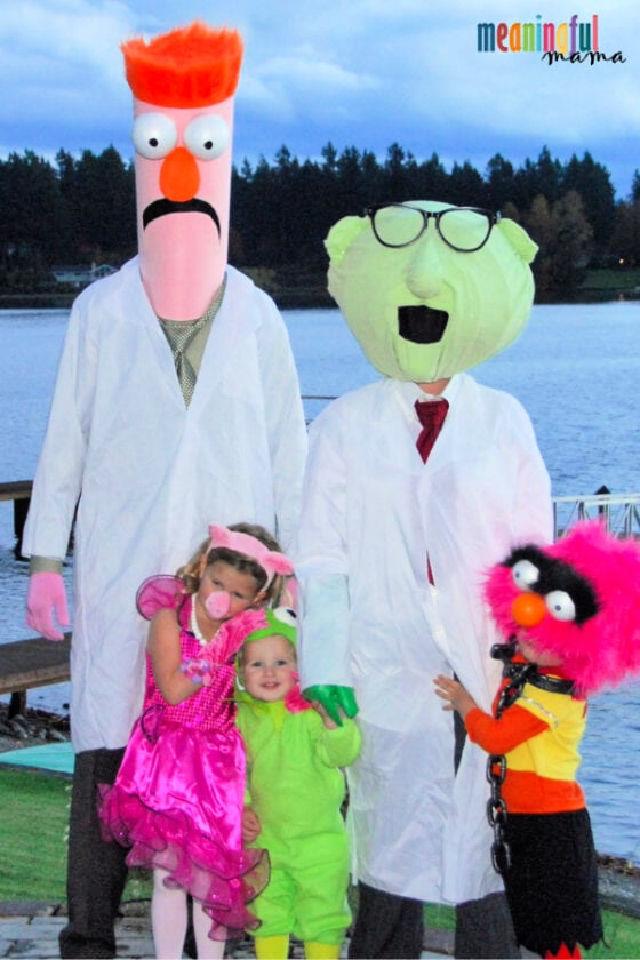 Have you ever thought of celebrating Halloween dressed as Muppets? Sounds interesting, right? Well, you will have a fun time doing so as everyone will not only compliment your family on matching costumes but also not believe it when you tell them that you made these at home! You will need orange fur, egg-shaped foam, foam balls, paper eyeballs, and a few other materials. meaningfulmama
32. The Whole Tangled Crew Costume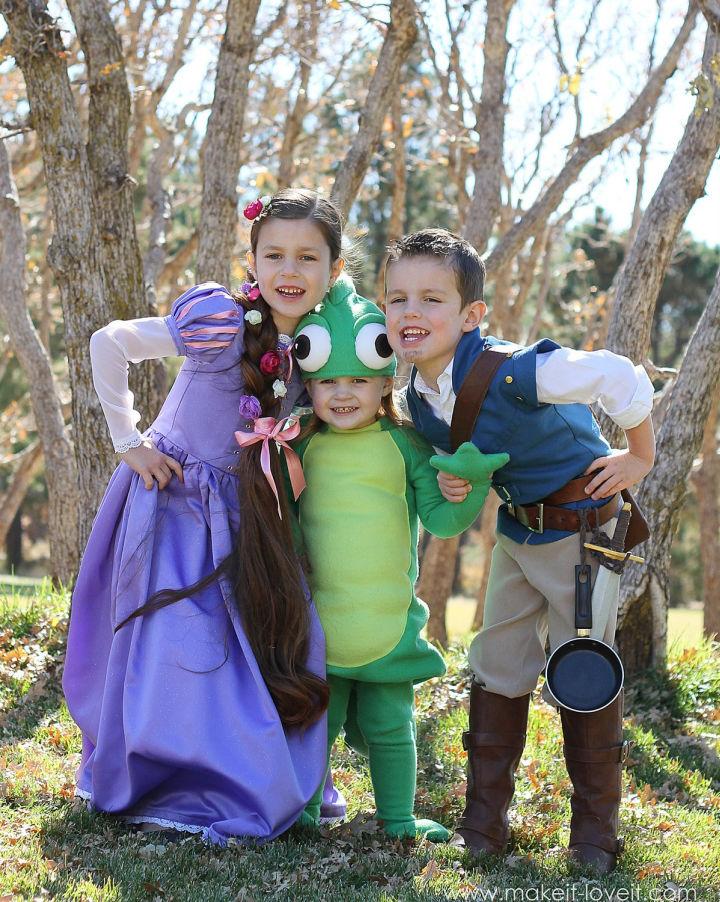 Tangled is a wonderfully animated princess story that every child loves to watch – the long hair of Rapunzel and her way of escaping the castle is quite interesting to little children! You can have your little ones dress up as the characters in Rapunzel this season – it will be one of the best family Halloween costumes at the event, and you will end up receiving many compliments on them! makeit loveit
33. Family Clown Halloween Costumes With Baby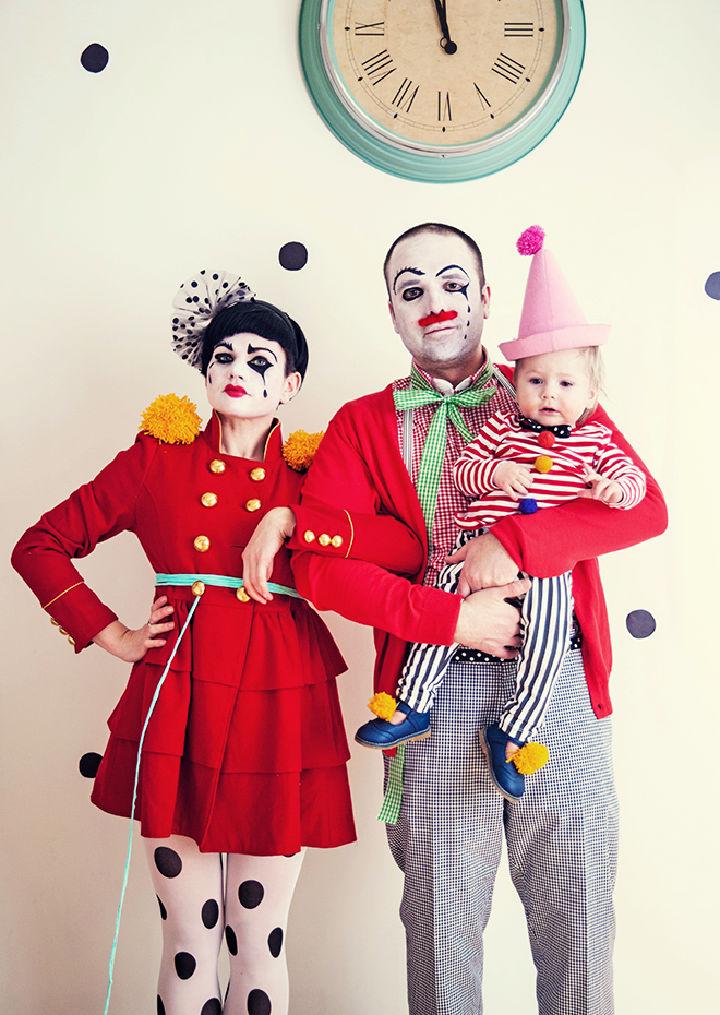 Clowns are said to be the saddest people behind happy faces – this is the reason why clown faces are usually used in horror or scary movies, as they are shown to lose their senses and create terror. This would be the perfect look for Halloween as you will look spooky, horror, and hauntingly beautiful! Moreover, the hardest part of this outfit is the face paint – make sure to get some help with it. kickcanandconker
34. Family Flintstones Halloween Costume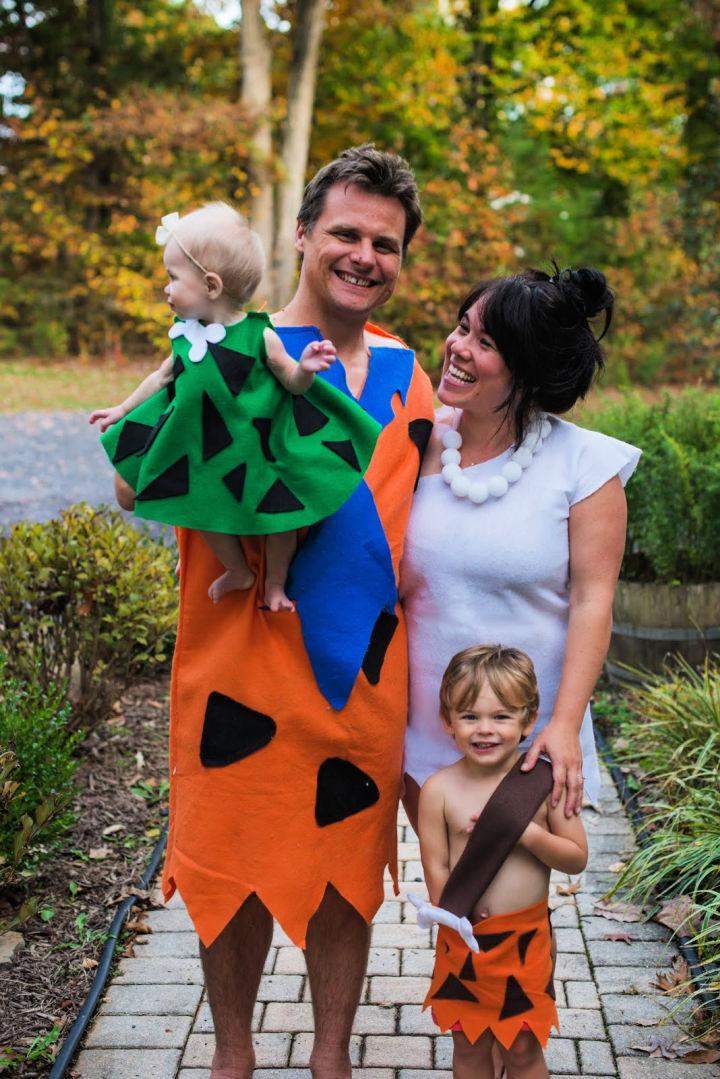 Do you remember watching Flintstones in your childhood? Your children might not be familiar with this cartoon show, but you can always introduce it to them in a fun way, such as dressing up as the characters of Flintstones – this festive season! Since a whole family was shown in the show, you will just be copying the exact outfits for an iconic and original style. domesticfashion
35. Rainbow Family Halloween Costume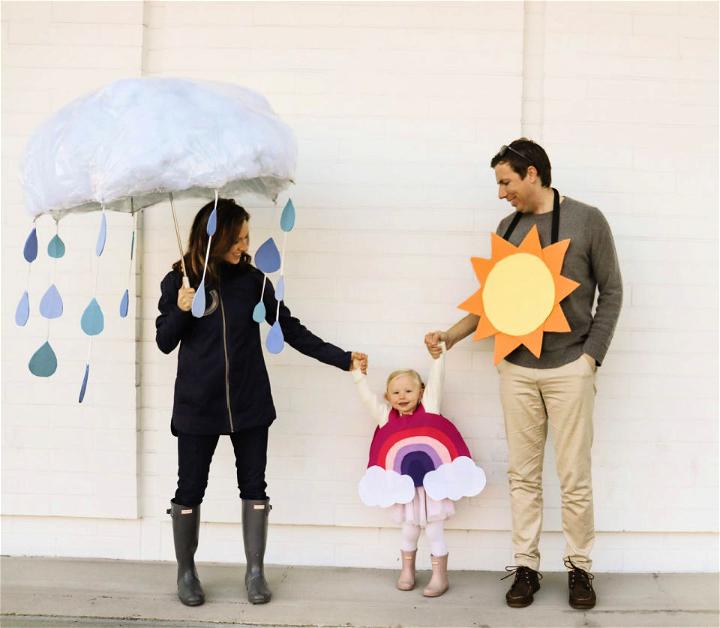 Are you trying to explain the water cycle to your child in a fun way? Well, then you need to make it memorable, and a great way to do so is to dress up as the different components of a water cycle and explain it to your child. In this guide, the father is the rain, after which comes the clouds – mother being the rain, and then the rainbow at last – the child can be the bright and colorful rainbow! mamajots
36. Easy DIY Tweedle Family Costumes for 3 Members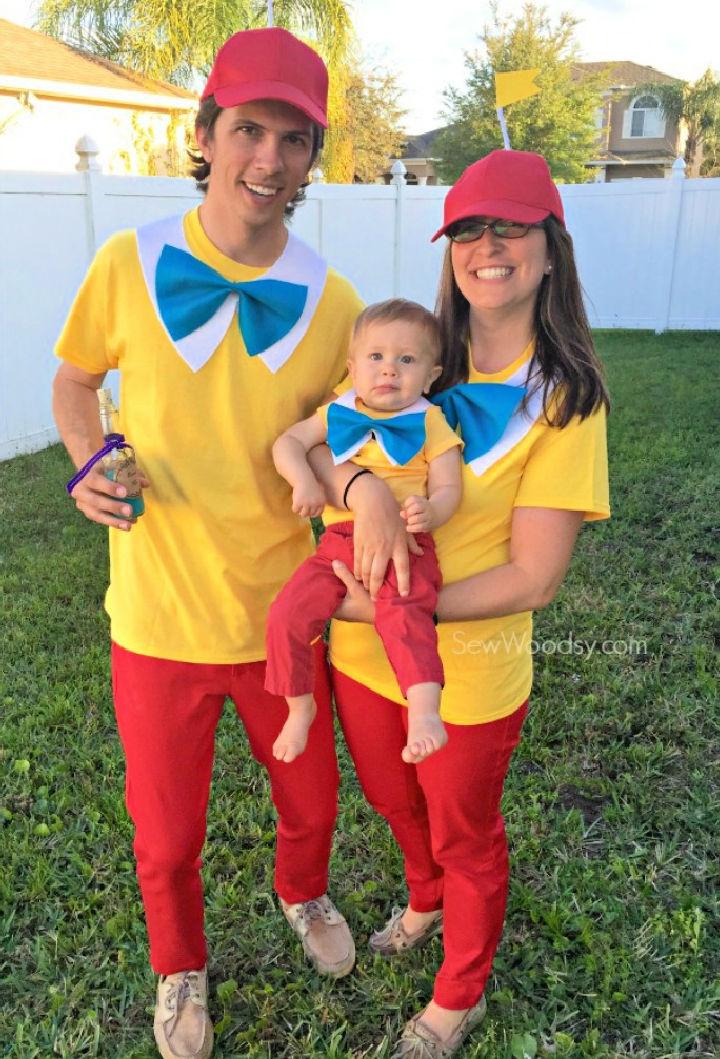 These Tweedle family Halloween costumes are perfect for the Halloween parties and events you will be attending – it does not show any extra skin, is appropriate for formal functions, and you can make matching outfits for your whole family! It would be a great way to introduce your family to your relatives, office friends, etc. Red pants, yellow shirts, red hats, pipe cleaner, yellow card stock, sticker maker, blue felt, scrap card stock, and a few other supplies will be required. sewwoodsy
37. DIY Squid Game Family Costume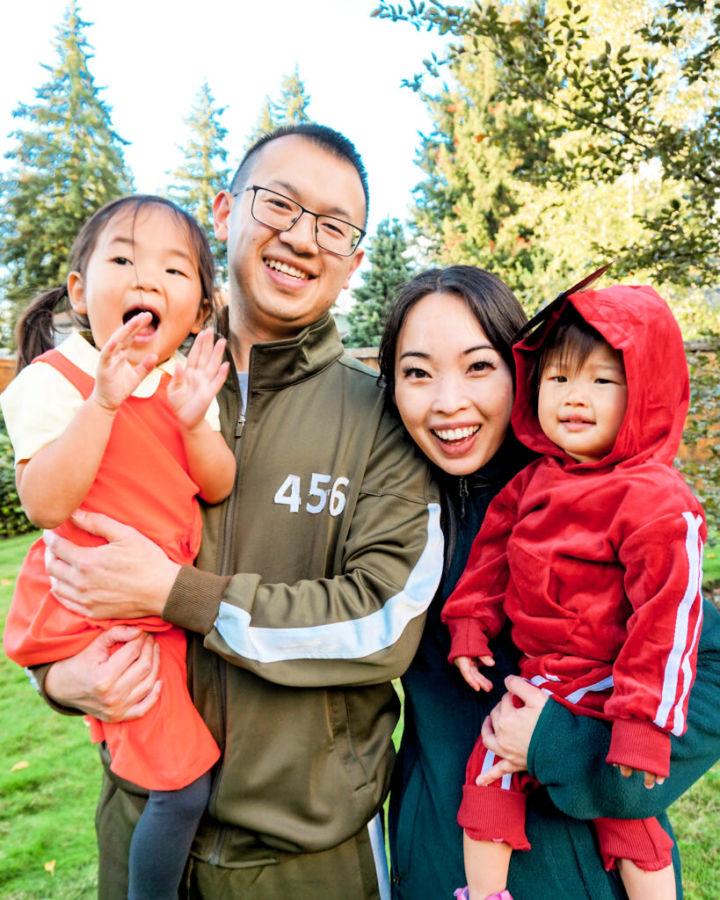 The squid game got a lot of hype at the end of last year – it was the most-watched show on Netflix, and people loved the whole era of the show! If you were a huge fan, too, then this family Halloween costume idea is for you and your family! You will need green tracksuits for the adult outfits, a matching two-piece outfit for the baby, and a dress for the toddler game doll costume. mochimom
38. Family Harry Potter Costume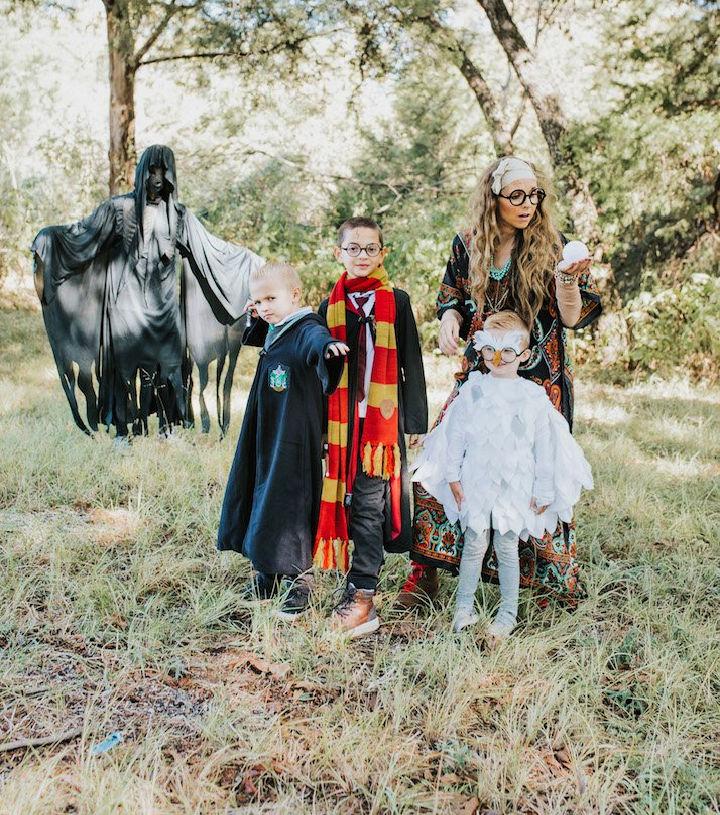 No Halloween can be complete without some iconic Harry Potter costume ideas! In comparison to the other family Halloween costumes, this one would be the most famous outfit! Everyone would be able to tell right away that you and your family are dressed as Harry Potter, and you might even end up making similar potter head friends like yourself! merricksart
39. Birthday Party Family Halloween Costume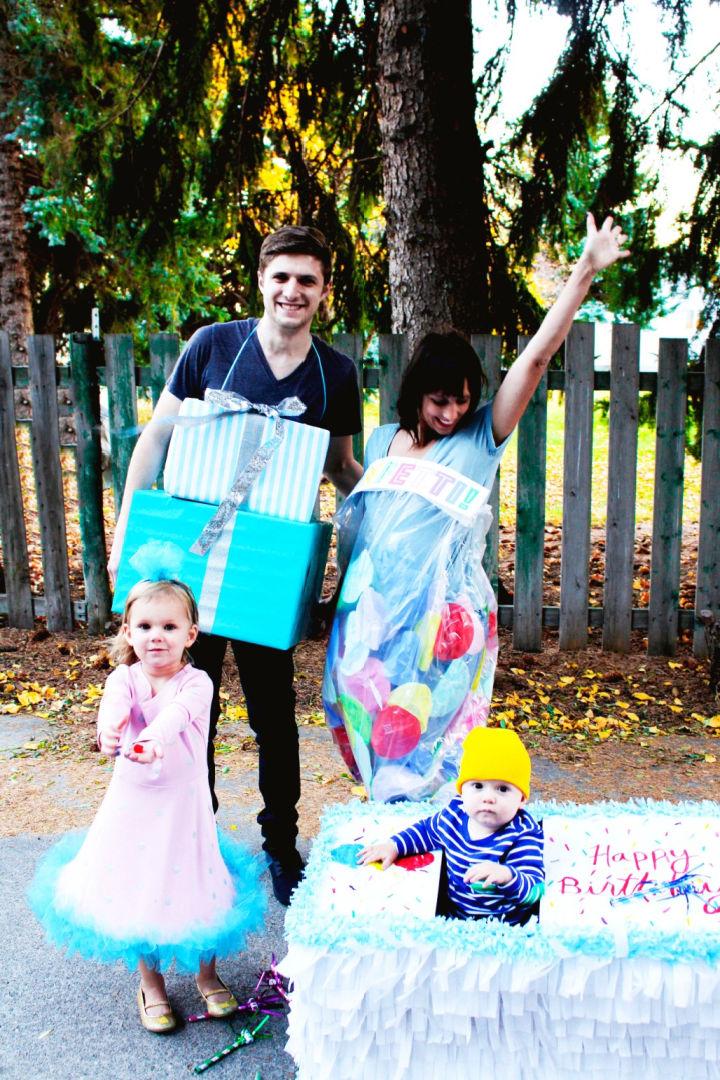 If your family loves celebrating birthday parties and going to birthday parties – you can convey this message to all your friends, so they don't miss inviting you to a birthday by dressing up as the different components of a birthday surprise! How can that happen? Follow this guide to learn how to dress the father as the gift, the mother as the party popper, and the baby as the cake! ajoyfulriot
40. Spider-Man Halloween Family Costumes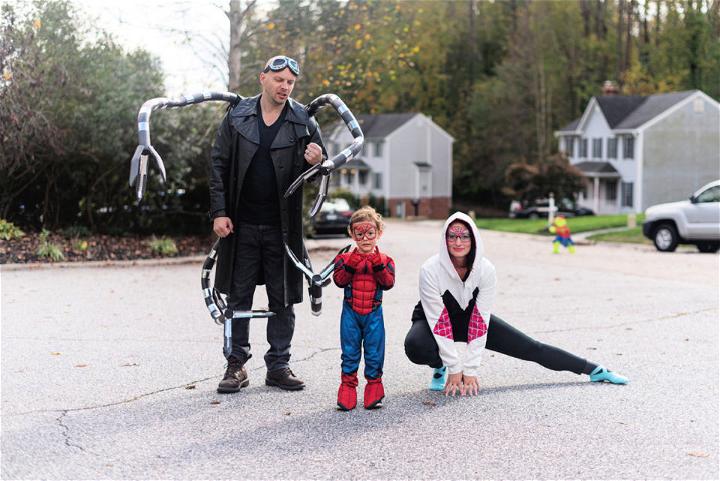 Last but not least – a Spiderman outfit! The recent Spiderman movie was loved and appreciated by almost everyone worldwide, and since then, Spiderman outfits have been trendy on all social media platforms. If you want to do something to impress your social media viewers or friends in real life. This Spiderman costume is the one to choose from all the other family Halloween costumes in this guide. tinatakemy
Easy DIY Costume Ideas
1. DIY Circus Costume – Make this Halloween a special one with these unique DIY circus costumes!
2. DIY Couple Halloween Costumes – Get your significant other in on the Halloween fun with these matching couple costumes!
3. DIY Toddler Halloween Costumes – These toddler Halloween costumes are both adorable and easy to make!
4. DIY Pun Halloween Costumes – Make everyone laugh with these clever punny Halloween costumes!
5. DIY Teen Halloween Costumes – Stand out from the crowd with these cool DIY teen Halloween costume ideas!
6. DIY Cowgirl Costumes – These DIY cowgirl costumes are perfect for a fun night out or a Halloween party!
7. DIY Poison Ivy Costumes – Create your own Poison Ivy costume with these easy-to-follow instructions!
8. DIY Group Halloween Costumes – Match up with your friends this Halloween with these group costume ideas!
9. DIY Alice in Wonderland Costumes – Transform into Alice in Wonderland with this DIY costume guide!
10. DIY Pirate Costumes – Argh, matey! Set sail for Halloween fun with these easy-to-make pirate costumes!
11. Looking for the perfect DIY costume this Halloween? Check out our list of ideas for women, couples, teens, and more! You're sure to find something you love!
Conclusion: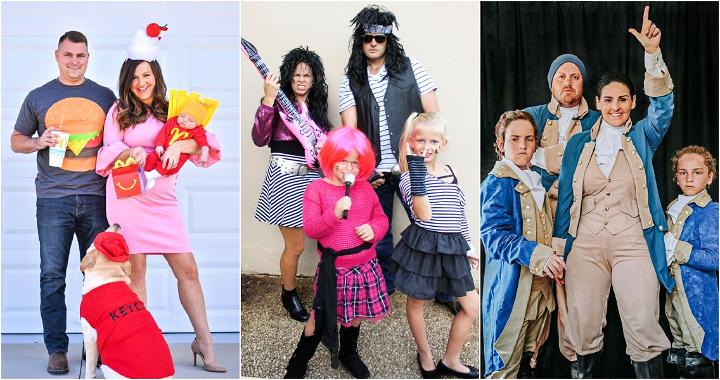 So, are you ready to get started with these family Halloween costumes 2022? You can have a great time after choosing a favorite joint option. Start by reviewing the guide and noting down all the required supplies and materials.
These family Halloween costume ideas include cheap, adorable, and easy-to-find options. You can make a list and find them at your nearest store. After picking out the supplies, plan how you will put together the family costumes with your family, etc. Make sure to have fun throughout the process and on Halloween by creating and wearing these beautiful family costumes.