The fall and Halloween season is one of the year's most awaited and exciting times. Most importantly, the fun DIY Halloween decorations and parties are the highlights of the season. In this guide, we have gathered the 50 best and easy pumpkin carving ideas for Halloween 2022 that you will absolutely love. These unique pumpkin carving ideas gives out perfect fall vibes not just because of their color palette but also because of the fun Halloween crafts to do with the family. Honestly, who wouldn't want such amazing and beautiful decor in the house? However, the most exciting part about the carved pumpkin design is its versatility and the different ways you can alter it. From the colors to the designs and sizes, anything can be customized according to what you or your kids prefer. So let's have a look at the best pumpkin carving ideas mentioned below for you!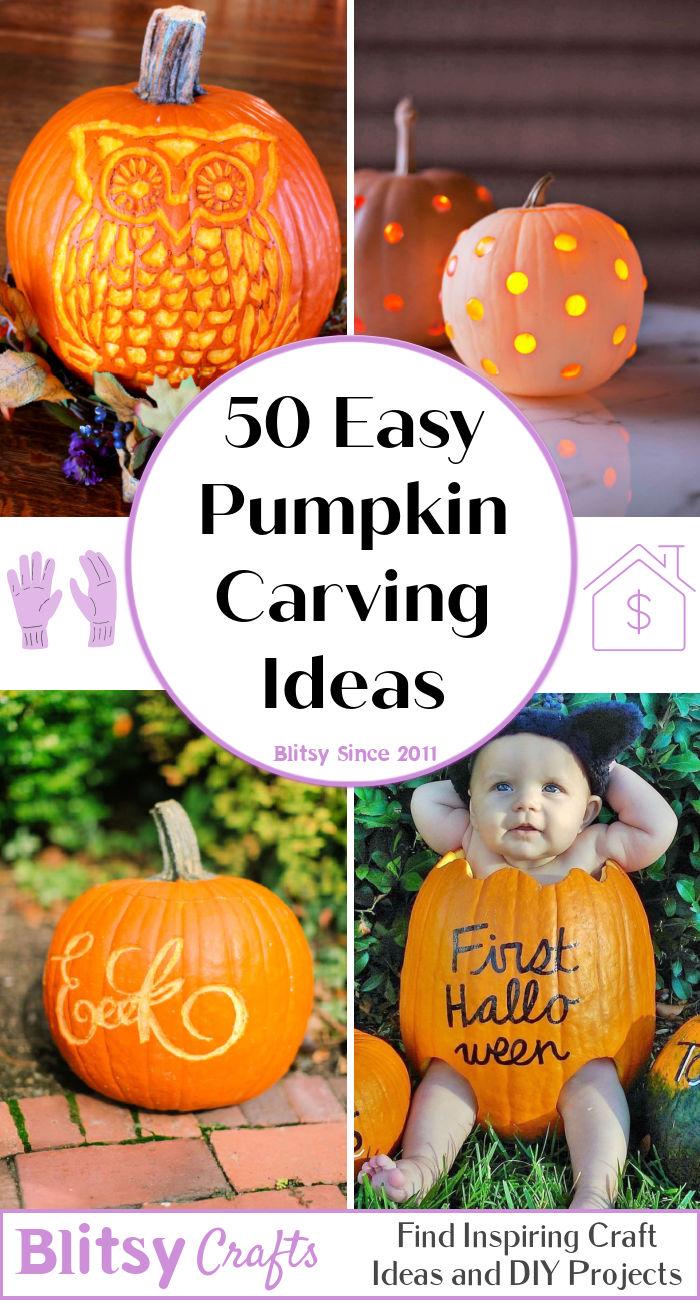 In this guide, we have covered 50 ways to carving pumpkins for Halloween and make some crafts out of them. Pumpkins are quite popular when it comes to fall decor and can be used in several ways. You can use them as pretty decor at your door, some miniature pumpkins for the center table, some medium-sized pumpkins as a door stopper and by making a scary Halloween wreath. Isn't that amazing? How you can use one single object in several ways.
Another thing you can do is make them in bulk and sell them online since some of these cool designs for pumpkins only take up to one hour. It is quite economical, beginner-friendly, and you don't even need some hard-to-get supplies for this. It is pretty simple, and for most of the pumpkin carving ideas, you will need minimal skills only. So what are you waiting for? Grab the necessary items and get started carving pumpkins for Halloween!
1. Carved Pumpkin Emojis for Halloween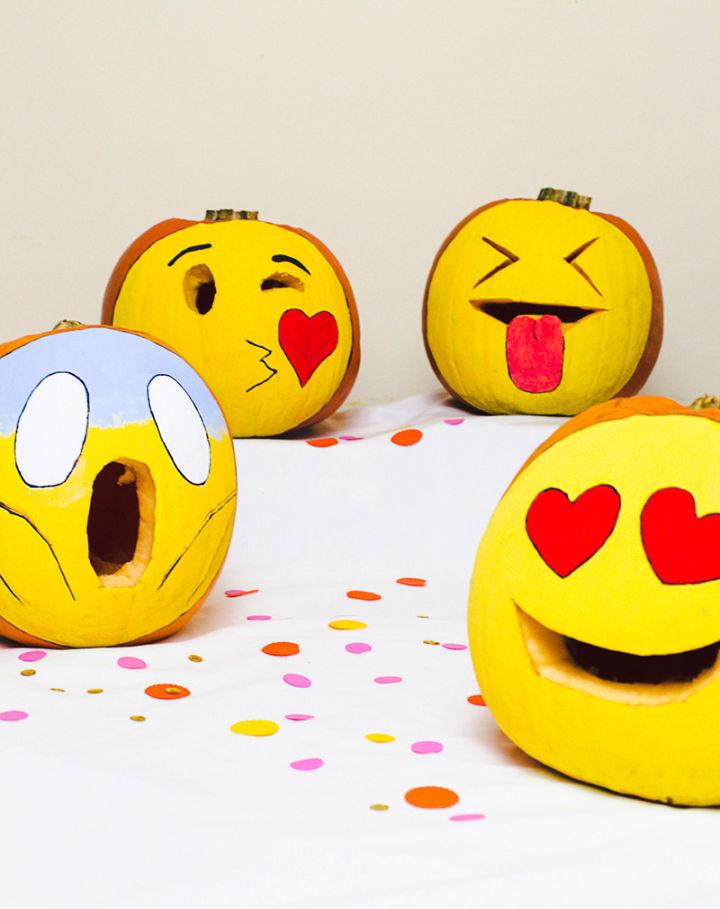 Halloween is just around the corner, which means it calls for fun decor and parties. Find our list of easy pumpkin painting ideas to add fun to your house by making these carved pumpkin Emojis. It will perfectly complement your fun decor and will attract a lot of visitors. Ready to carve the pumpkins? Then grab your supplies, including pumpkins, yellow paint, knife, carving kit, black sharpie, and paints in different colors. bespoke bride
2. Pumpkin Carving Woodland Owl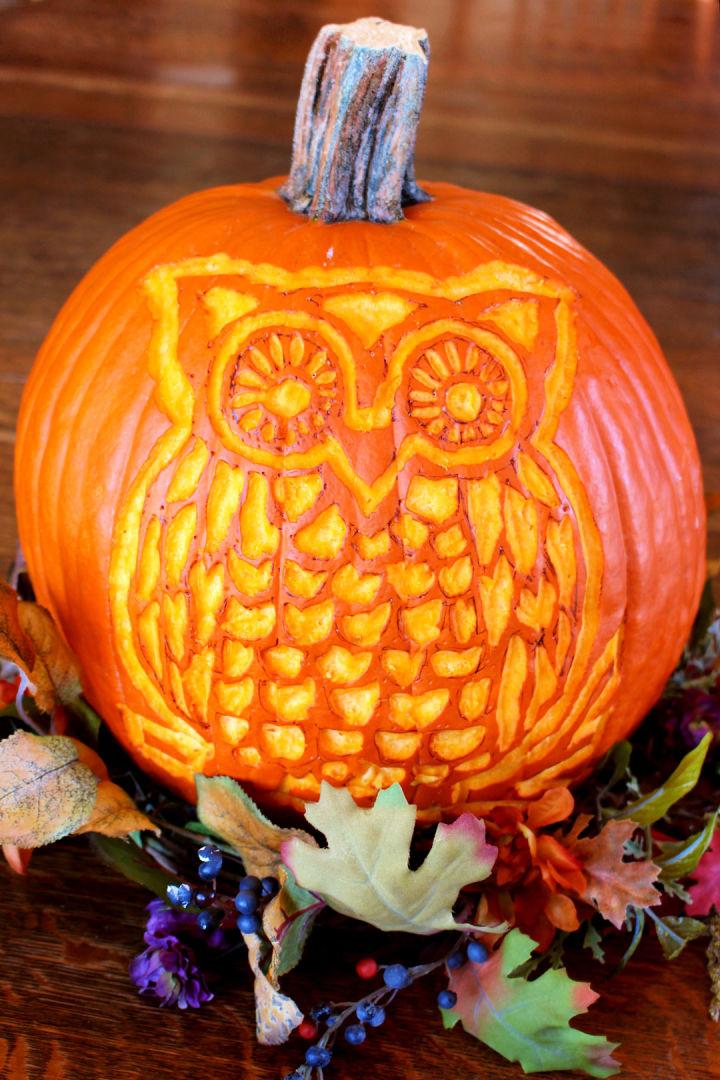 Do you know what season it is? It is the year's most waited, Halloween season! If you are looking for something super unique this year, we have got your back! We have brought these amazing carved pumpkins in woodland owl shape that will fit your Halloween decor quite well. Place it on your porch or in the corner of your living room – it will look great effortlessly. Supplies list include pumpkins, pattern printed, scotch tape, push pin, dry erase marker or pen, wire end modeling tool for clay, knife, ice cream scoop or metal spoon, and spray cleaner product with bleach. welcometonanas
3. DIY Feather Carved Pumpkin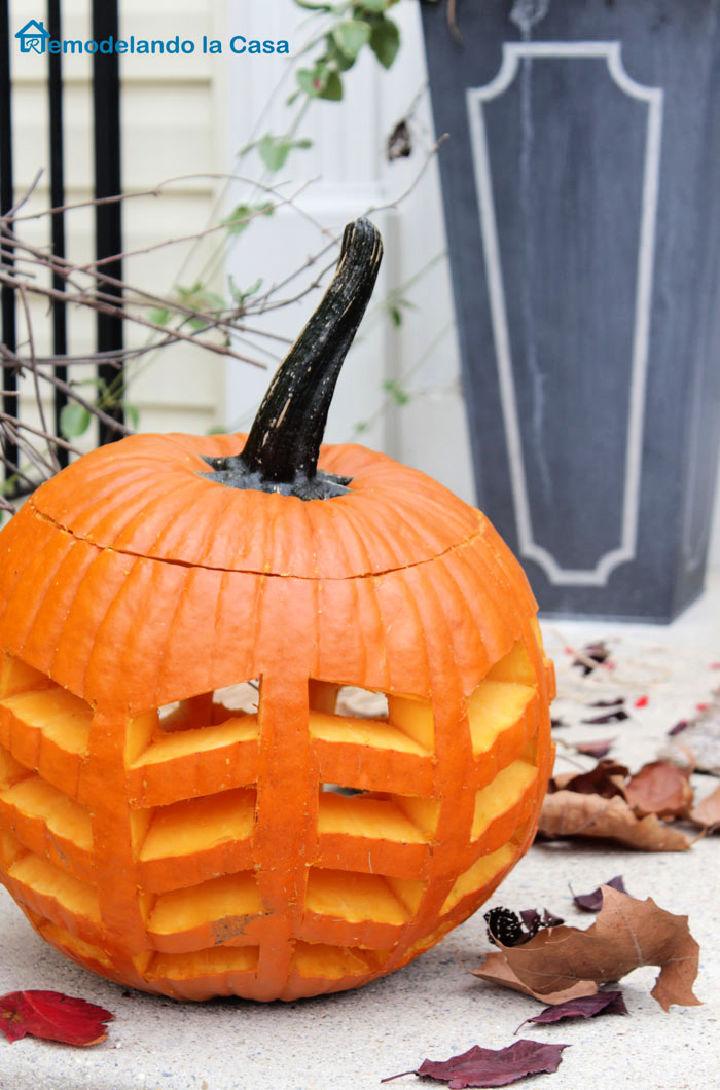 Carving is also a form of art that requires passion and persistence to move forward. If you think you have got the talent, then take a look at this plan mentioned here. This feather-carved pumpkin is a unique and interesting way to customize your pumpkin into a Halloween decor lamp and impress people with your creativity. If you have a Sonicrafter F30 at home, this carved DIY pumpkin can be made within minutes! So let's try it out! remodelandolacasa
4. Spine Tingling Spider Web Pumpkin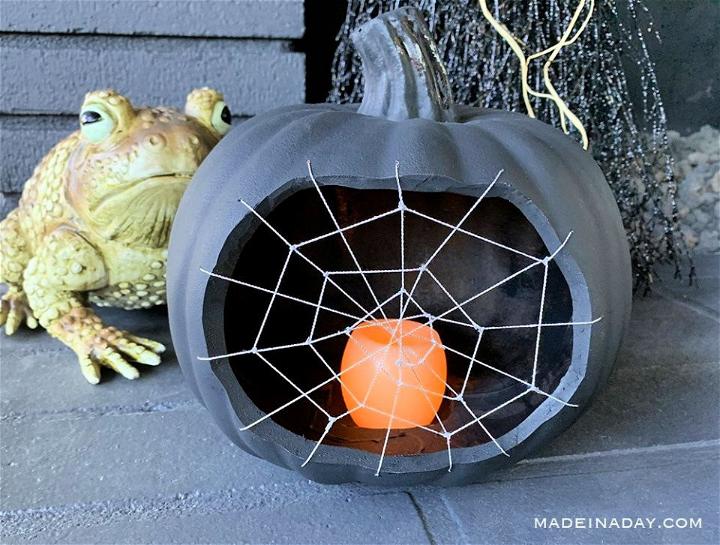 Spooky vibes and chilling atmosphere – that's what Halloween is all about! Do you also want to celebrate Halloween this season with some amazing decor but can't find any in the stores? Well, don't worry! Here we have a spine-tingling spider web pumpkin idea which you can easily make at home with basic supplies, and it won't cost you an arm and a leg. To make this craft, you need important materials like pumpkin terrarium, nylon crochet string, carpet needle curved, acrylic paints, hot glue, hot glue gun, and hot cutting knife. madeinaday
5. Kitty Carved Pumpkin for Kids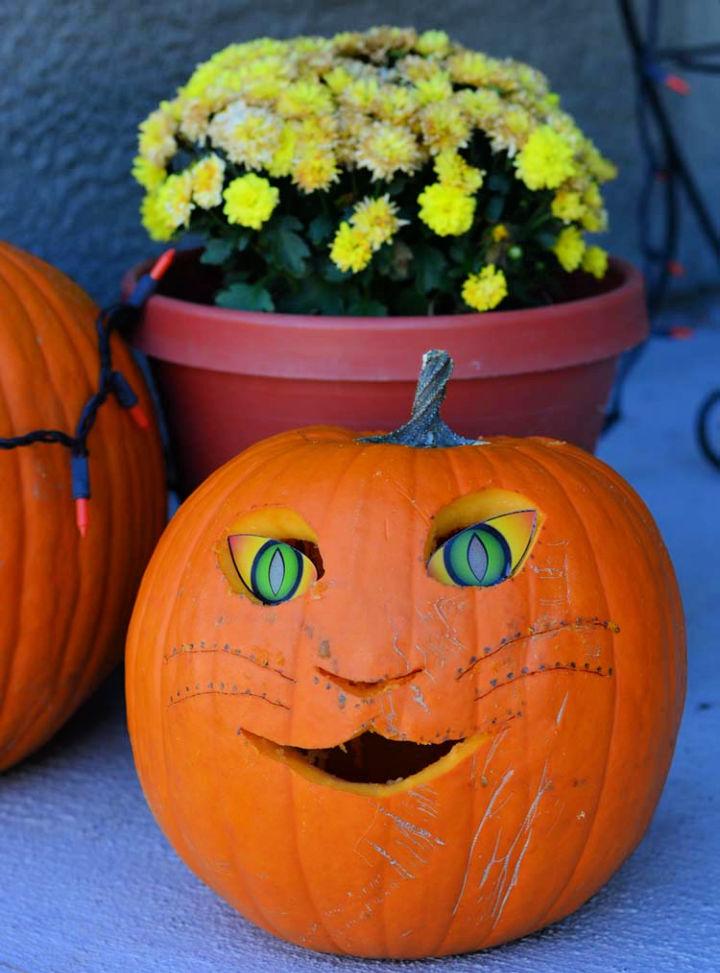 Combine your love for cats and pumpkin carving to make this cute kitty-carved pumpkin for kids. It is super easy to make, and you will have a wonderful time doing this activity with the kids. So grab all the necessary supplies and start right away! growingupgabel
6. How to Make Pumpkin Diorama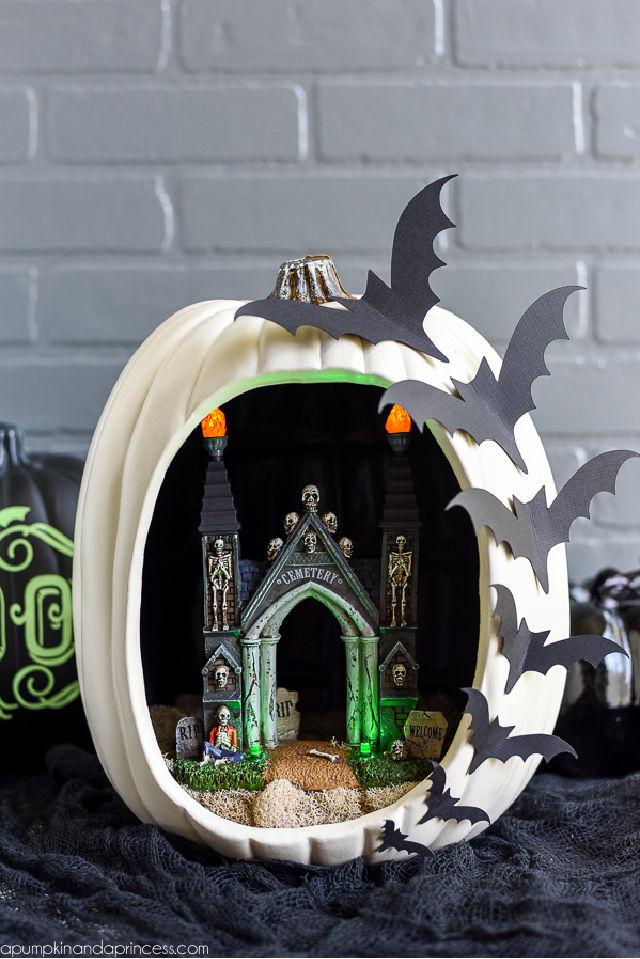 Learn how to make this pumpkin Diorama carved craft and make this Halloween even more spooky and fun using our list of unique pumpkin carving ideas! You might think it is too complicated to make or can cost a lot but trust us, and this is an elementary and low-budget idea to try this year. The supplies list for this amazing craft includes a large pumpkin, black paint, Halloween decor, 1 inch thick Styrofoam block. Moss, hot glue, and bats. apumpkinanda
7. DIY Leaf Pumpkin for Fall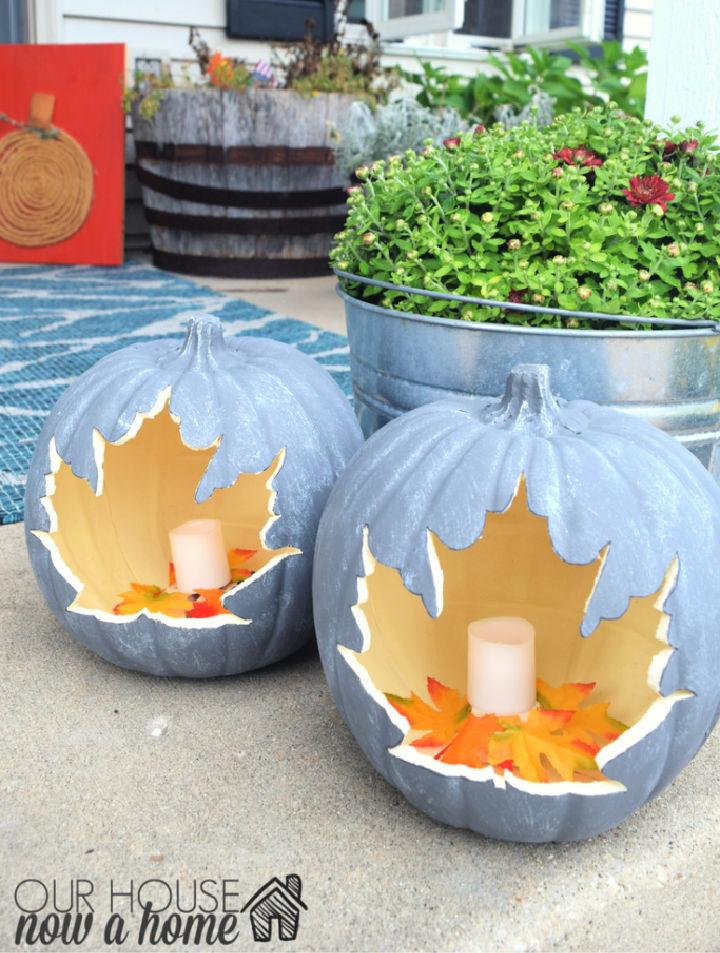 Here is yet another carved pumpkin idea to satisfy your inner artist. These carved leaf pumpkins are a great lamp option for your yard. You can place a candle inside the pumpkin, and it will give the perfect look of a spooky and nerve-chilling night. So what are you waiting for? Grab all your materials and execute this idea now! ourhousenowa
8. DIY Baby In a Pumpkin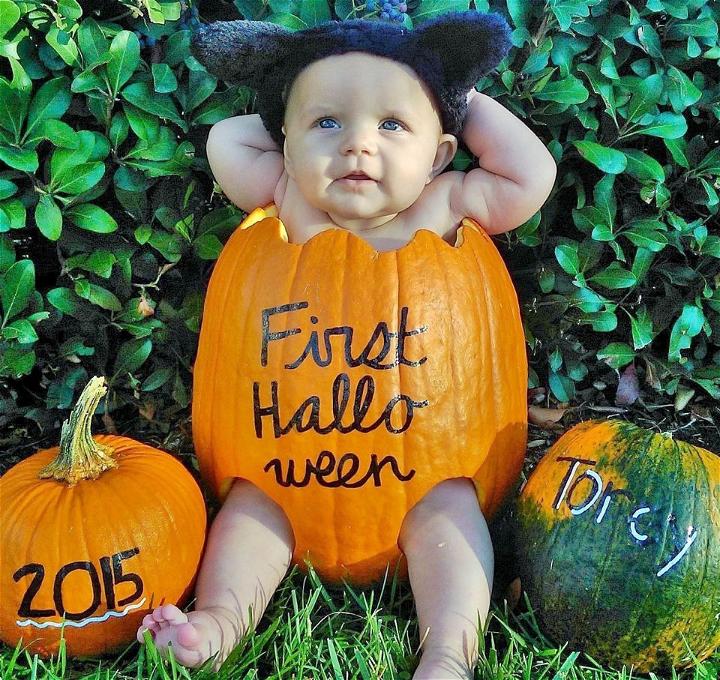 Pumpkins are quite big in size, and you can even fit your baby in them! Speaking of that, here we have a Pinterest-inspired baby costume for your little one, which just involves a carved pumpkin – yes, you heard it right! It is surely something unique but also quite fun to do, which your guests will totally love! Make sure you have supplies like a large pumpkin, washable marker. Paint pen, pumpkin carving toolset, and of course a cute baby! wrightingitdown
9. Halloween Pumpkin Topiary with Spiders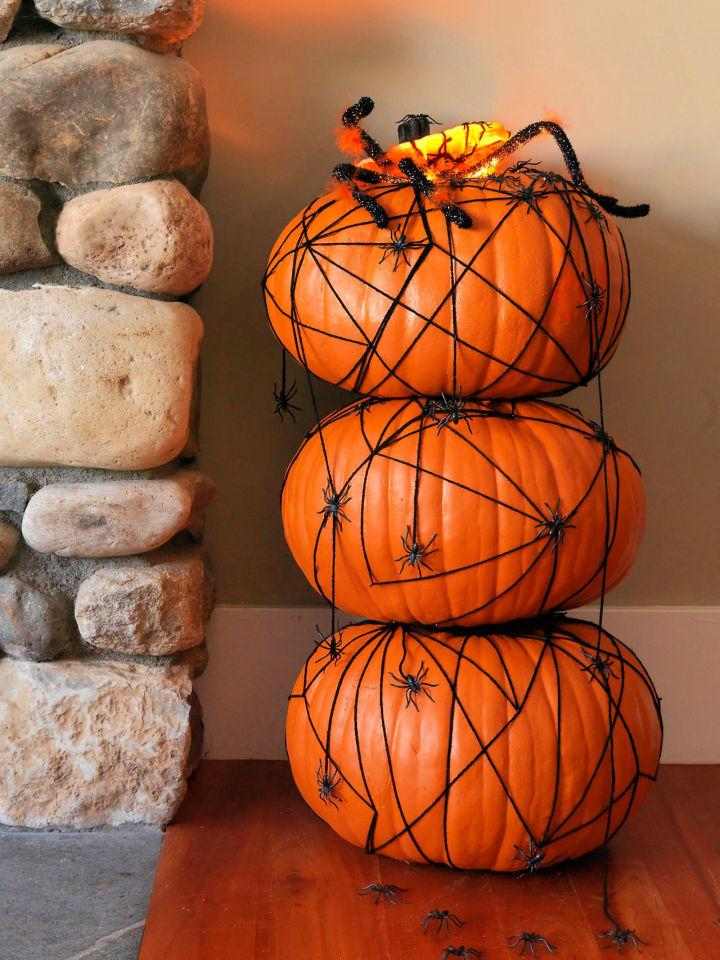 This Halloween pumpkin topiary with spiders is the perfect addition for your Halloween party this year as it is pretty cool and unique as well. This plan is straightforward, and anyone can try it out using obvious and simple steps that do not require any expertise. Moreover, it is a very budget-friendly idea and perfect for those who love Halloween decor but have a low budget to start with. Supplies for this project include carving faux pumpkins, straight pins with black tops, a flashlight, black yarn, plastic toy spiders in small and large sizes, a serrated knife, scissors, and a hot glue gun. diynetwork
10. DIY Gilded Pumpkins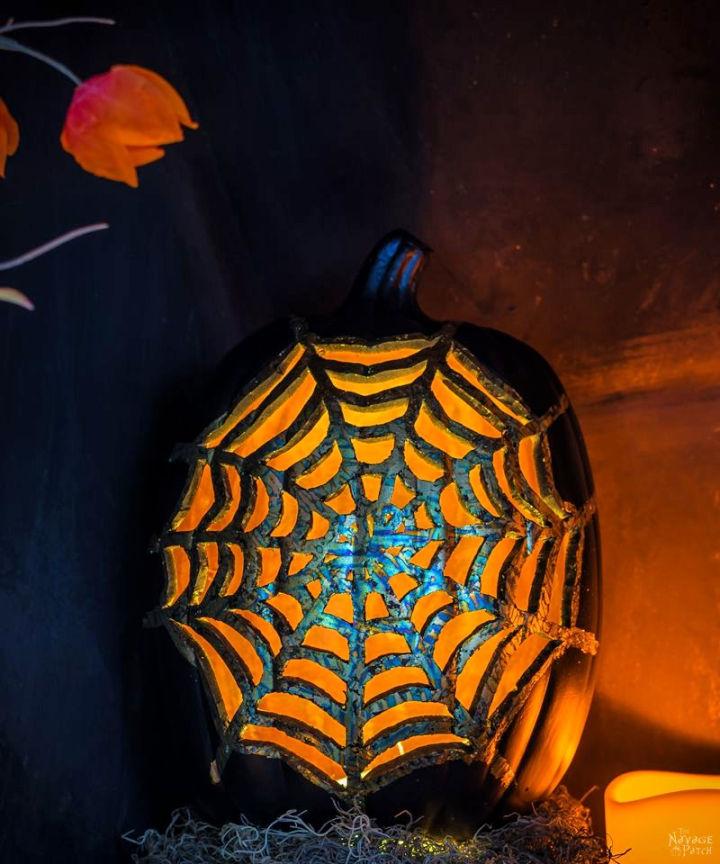 We will teach you how to change any dollar store decorative pumpkin into a gorgeous gilded decor piece in this DIY. You can literally make this craft in under 5 minutes for a quick Halloween-inspired adornment. Moreover, you do not need to break the bank for this plan as it can be made using materials like black spray paint and some gilding sheets – that's it! thenavagepatch
11. Cat Skeleton Jack o lantern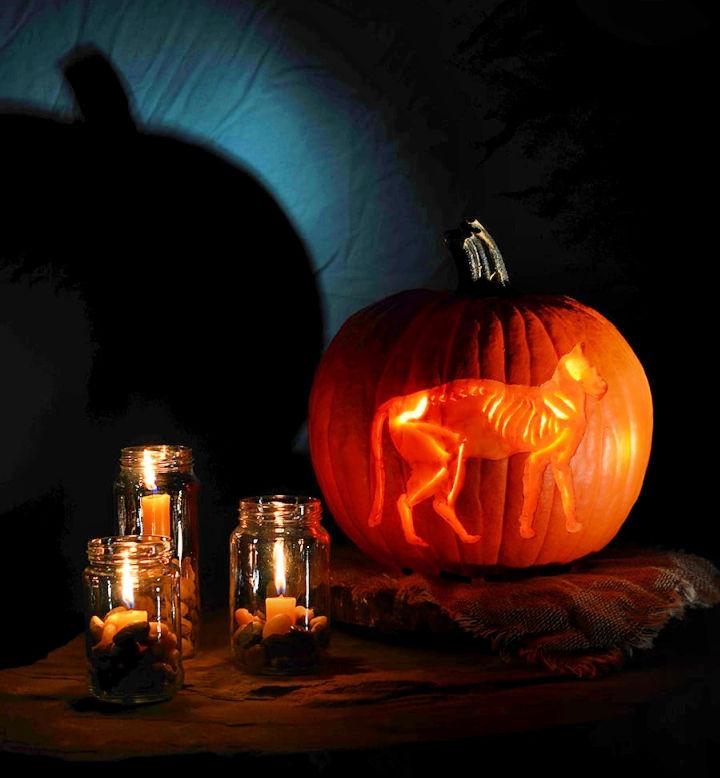 If you are searching for a quick but awesome last-minute Halloween decor idea, then you are at the right place. This scary cat skeleton jack-o-lantern is a great pumpkin carving idea that's not too expensive but looks otherwise. The materials you require for this project are a cat skeleton stencil, rubbing alcohol, sharpie, skewer, scissors, and a battery-powered candle. vintagekitty
12. Haunted House Carved Pumpkins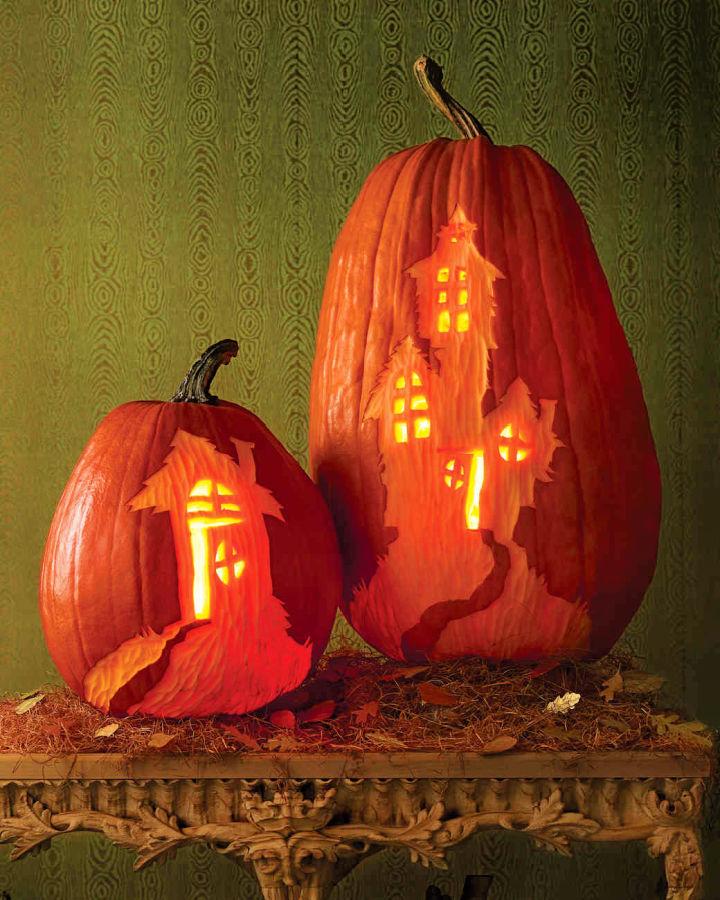 Haunted houses and Halloween are quite related to each other, so why not combine them both. Carve a haunted house on your pumpkin, and make sure to choose the tall pumpkins so your art can look even more beautiful and realistic. So, bring the eeriness into the air with your craft using supplies like haunted house templates, pumpkins, keyhole saw, scissors, fleshing tool, masking tape, T pins, needle tool, miniature saw, Linoleum cutter, electric twinkle lights, and glass jar. marthastewart
13. DIY Vampire Pumpkin Candles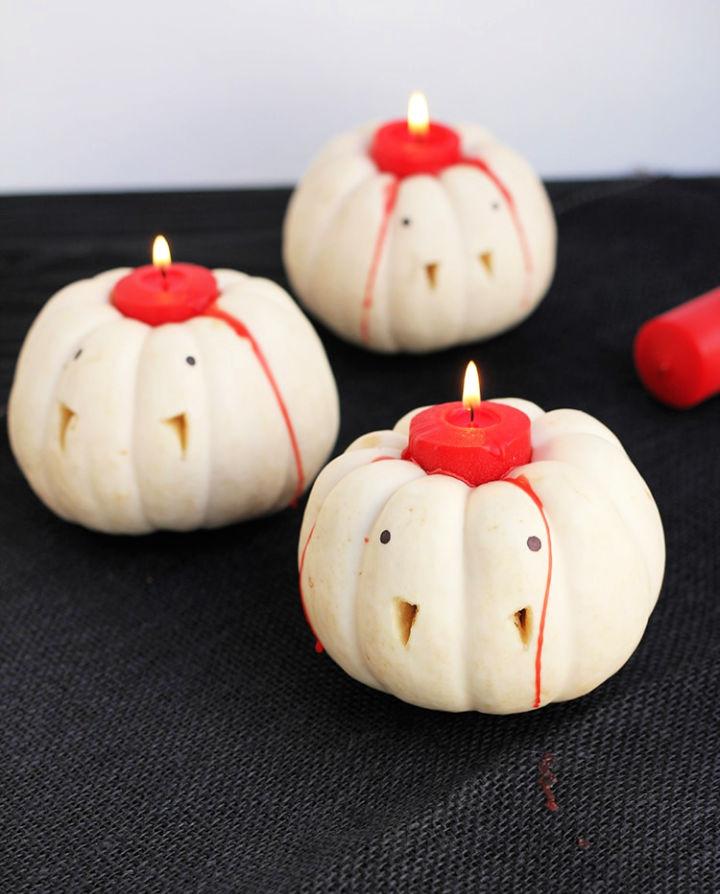 Ditch the gore and fancy decor, instead make these vampire pumpkin candles for Halloween this year. These candles will give the perfect festive flair to your tables and is quite fun to make. Such crafts encourage more creativity in a person, and you get the best thing on less budget – isn't it great? If you're planning to make this, you will need small white pumpkins, red votive candles, pumpkin carving tools, a small spoon, and a black sharpie marker. freutcake
14. Skull Jack O Lantern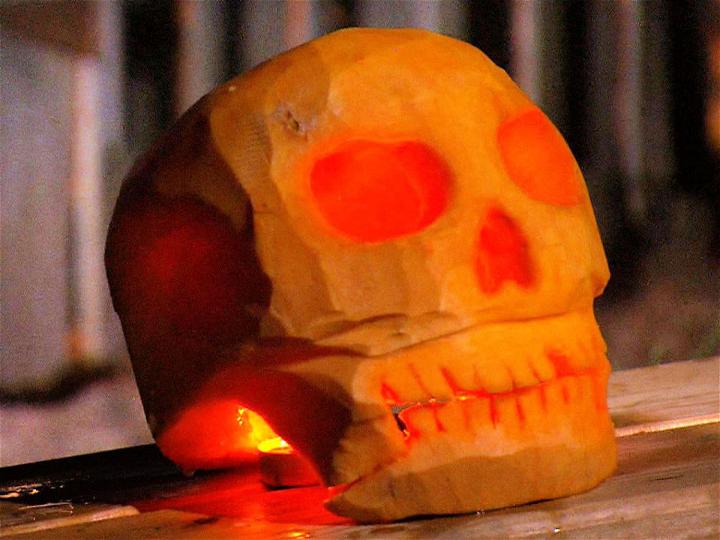 Hosting a Halloween party at your place this year? Add this awesome Halloween pumpkin carving in skull shape to your decor and rock them. Moreover, these are perfect for kicking off the spooky season of the year and are the best thing to make on a low budget. You will surely have a lot of fun making this fun lantern. To create this masterpiece, make sure to gather supplies like pear-shaped pumpkin, votive candle, angle grinder, dry-erase markers, ice-cream scooper, handsaw, sander, carving tools, and knife. diynetwork
15. DIY Cupcake Pumpkin Lantern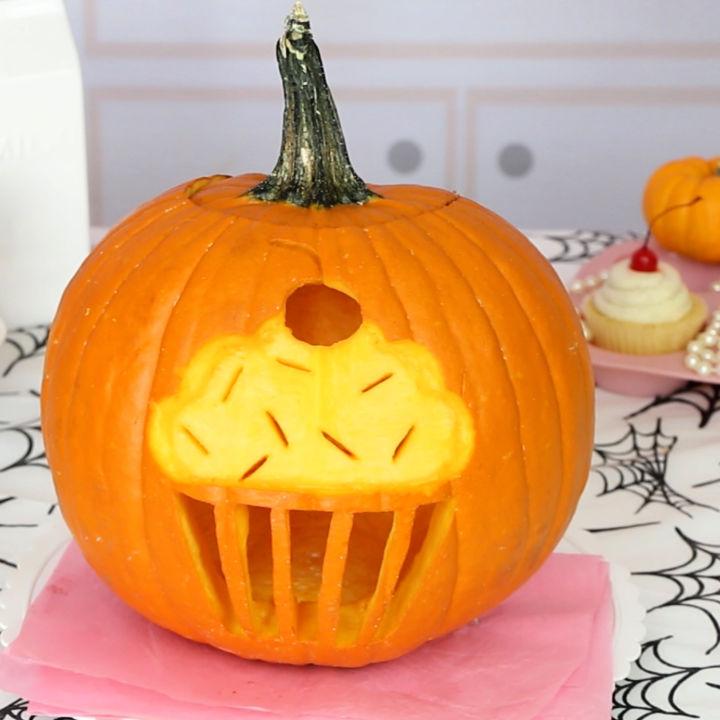 Don't you really want to display a spooky or scary sort of pumpkin for your home this year? Then have a look at this cute and simple cupcake jack-o-lantern DIY to try out instead. You'll be surprised to find out how easy it is to make this craft and only uses supplies including hollowed-out pumpkin, cupcake template, tape, thumbtack, and pumpkin carving knife. lindsayannbakes
16. Mini Playhouse Pumpkins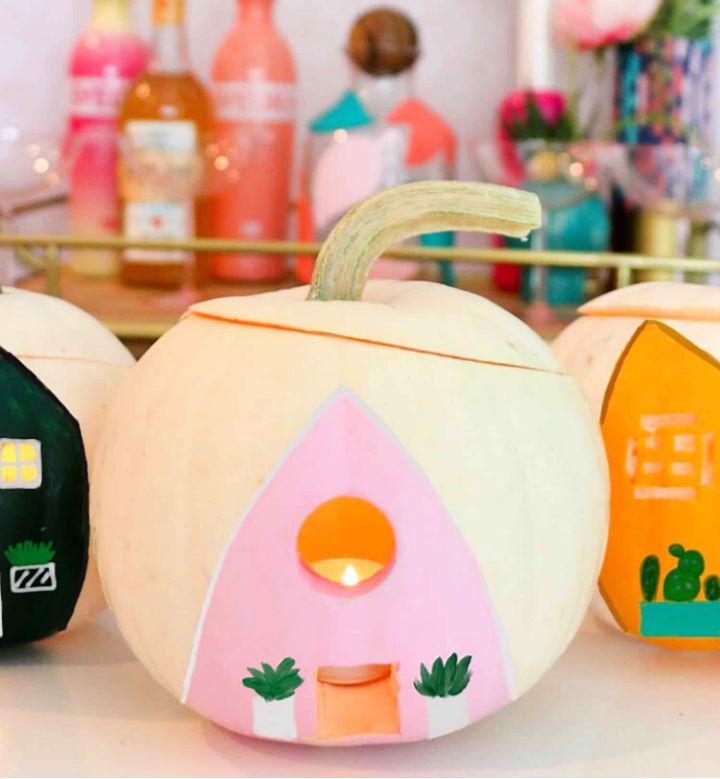 Make these mini playhouse pumpkins with your kids this Halloween if they are someone who loves crafting too. This is easy to make and can be completed with less money – great, isn't it? To make these cute pumpkins, you need supplies like snowball pumpkins, acrylic craft paint, craft paintbrush, sharp paring knife, spoon, and tea lights. abeautifulmess
17. Giant Spider Pumpkin Carving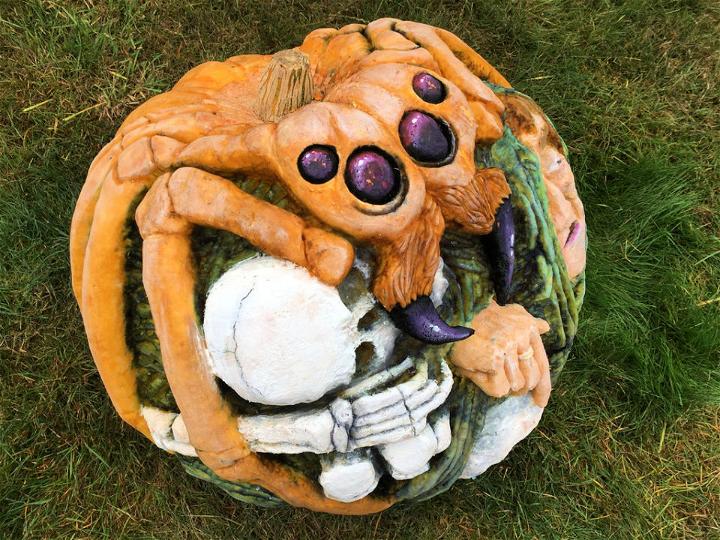 Pumpkins may be a delicious vegetable, but they are also great when it comes to crafting. Have a look at this amazing giant spider pumpkin carving craft which will look hauntingly amazing in your yard. To make this, you will require white acrylic craft paint, a knife to carve, and food coloring. instructables
18. How to Carve a Pumpkin

If you are looking for cool and easy pumpkin carving ideas for halloween this year and don't want to spend much, you're at the right place. This tutorial teaches you to carve a pumpkin in any way that you like easily. Either a creepy face, a haunted house, or anything that you can do easily. jessicagavin
19. DIY Constellation Pumpkin Carving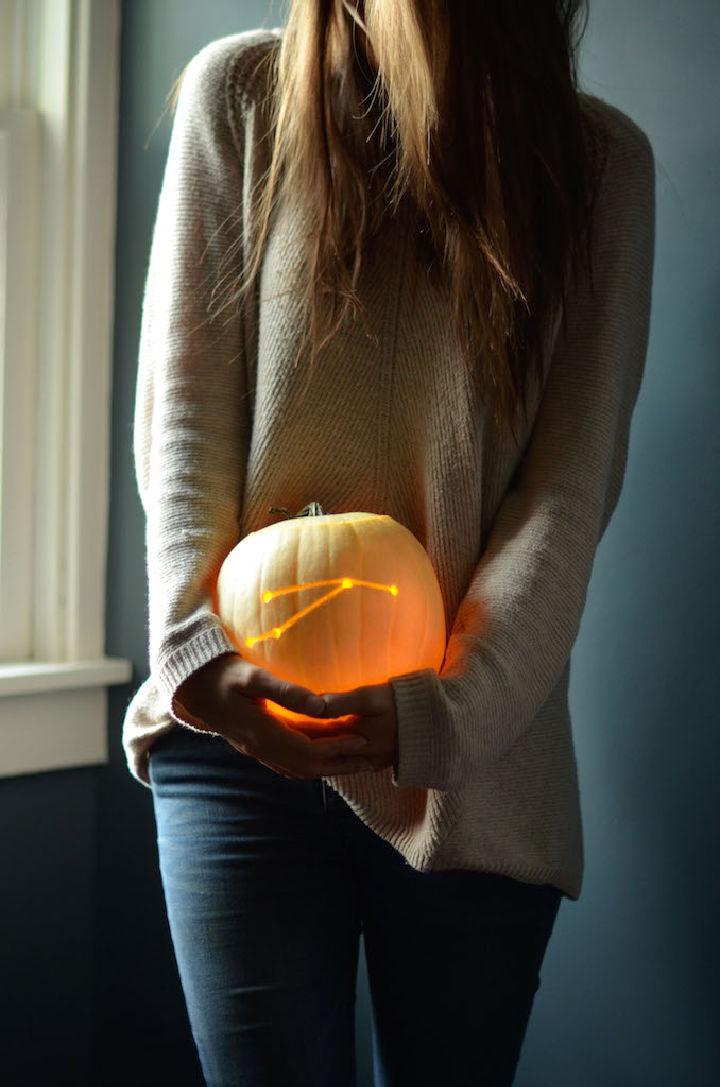 This constellation pumpkin carving is a very dreamy and beautiful craft to make. Since pumpkin season is here, you can stuff your house with such cute crafts and that too without breaking the bank by just follow these amazing pumpkin carving ideas. So, why not try them out? The things that you'll need are a serrated knife for carving, a drill with several different sizes, sharpies, and spray paint. josiemichelledavi
20. Spooky Eyeball Pumpkins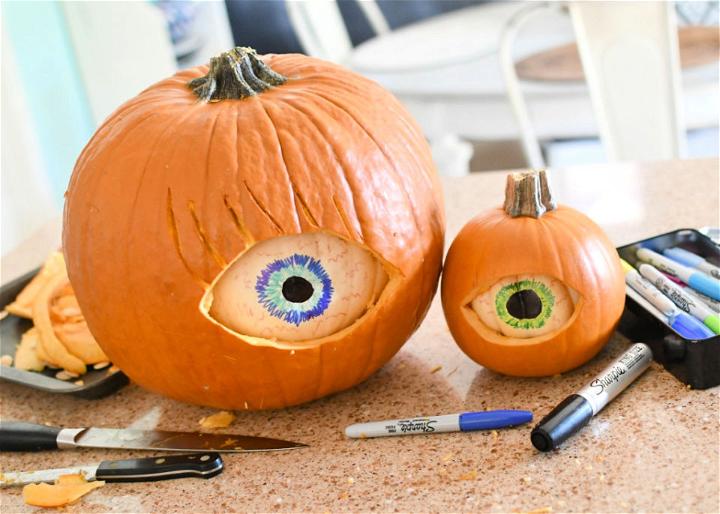 It may look complicated and elaborate, but these spooky eyeball pumpkins are very simple to make. You can place a smaller, white pumpkin inside a big one, giving the eye its realistic look. It is quite fun to make, and you require some basic things like large-sized orange pumpkin, slightly smaller-sized white pumpkin, carving a pumpkin, sharpie markers, or paint. hip2save
21. Music Note Drilled Pumpkins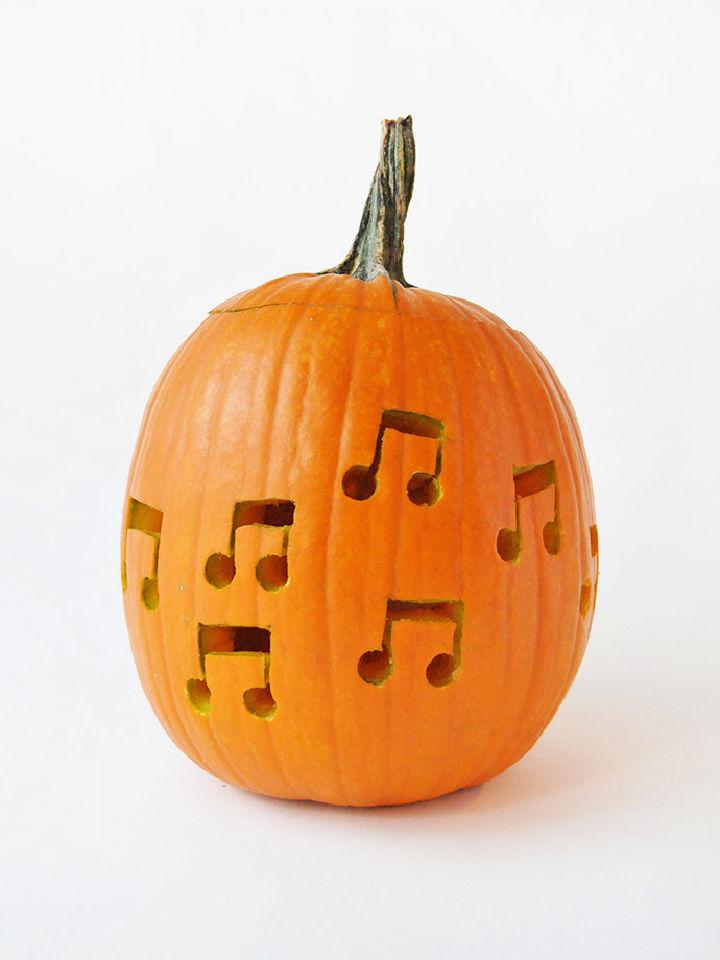 Do we have a singer in the house? Make them these fun music note-drilled pumpkins, which they can place in their rooms as a fun decor. Just follow the given instructions, and you need no expertise for this craft making. Are you ready? Then assemble pumpkins, power drill, wood spade bit ¾", pumpkin carving knife, and a scoop. handmadecharlotte
22. DIY Constellation Pumpkin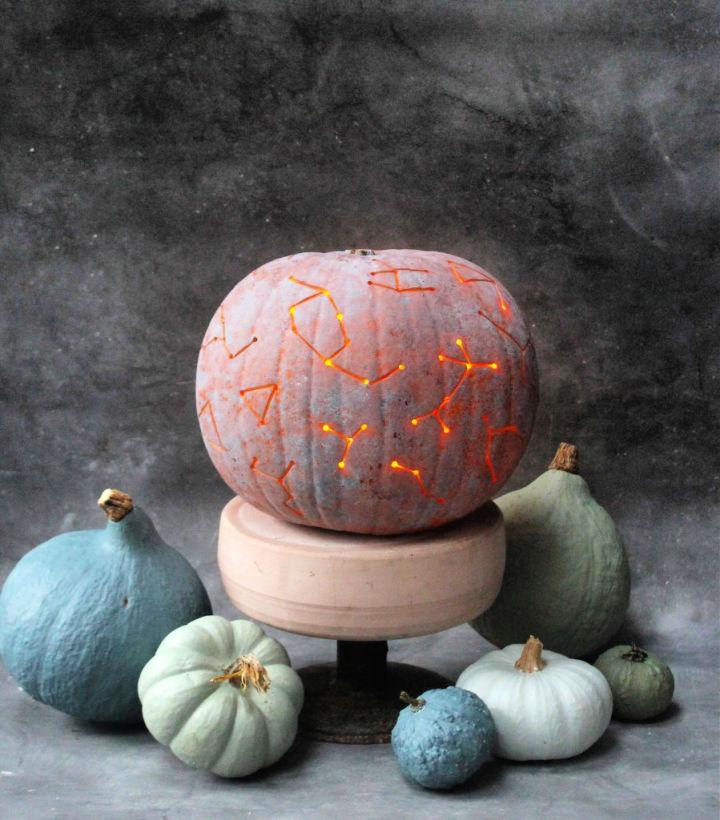 Don't you really like the spooky atmosphere of Halloween? Don't worry, and we also have a plan for you to try. This DIY constellation pumpkin is a nice and vibrant pumpkin that you can place as decor in the home or front of your porch. You can use a lamp and place it inside the pumpkin for the perfect constellation look. Then grab the supplies and start the project right away! katescreativespace
23. Glass Bead Jack o lanterns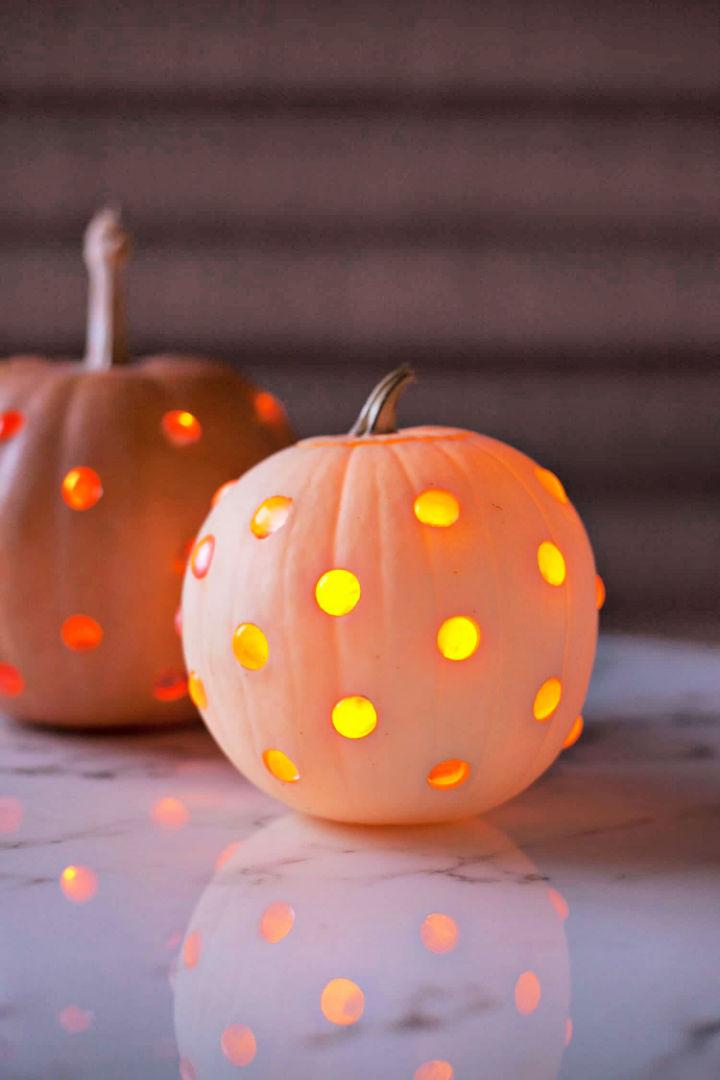 It's Jack-o-lantern season! Don't have much money to buy new ones from the stores? Or looking for something new this year? Then hurry up and try out this glass bead jack-o-lanterns DIY to make at home. It is super simple and unique. You will need pumpkins, a sharp knife, a ⅝″ – ¾" spade drill bit, a power drill, a black marker, and glass gems or marbles. abeautifulmess
24. Unique Kiwico Pumpkin Carving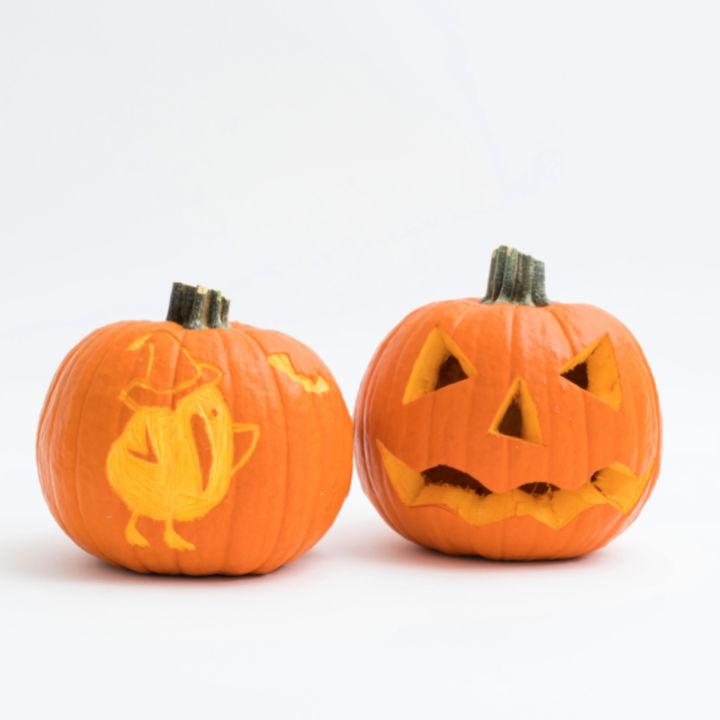 Everyone wants their pumpkins to be unique, and carving them is a fun activity for October evenings. If you want to make one for your home too, we have an option you can try out. The step-by-step guide helps you to follow the instructions and make the project even without any expertise. If you're eager to try, then make sure you have supplies, including pumpkins, design, tape, marker, scissors, pushpins, and carving tools. kiwico
25. DIY Calligraphy Pumpkins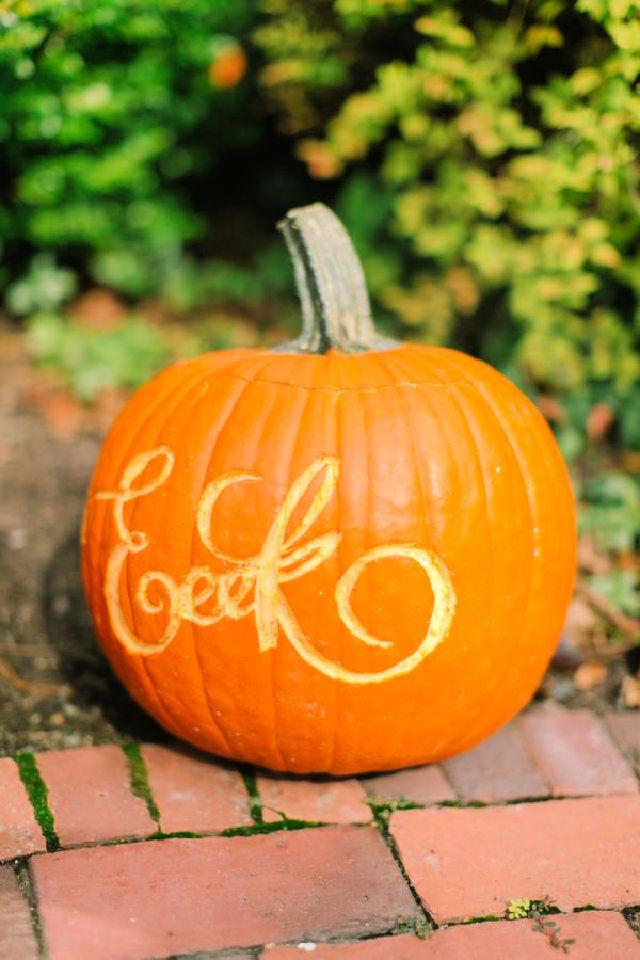 Craft a bewitching and easy display for your front porch by making this DIY calligraphy pumpkin. You can customize your message on the pumpkins and carve whatever you like according to the placement of the pumpkins. This is an effortless project that you can make at home, and it doesn't even require much money. So, assemble the materials like pumpkin, serrated knife, large spoon, linoleum cutter, masking tape, templates, pins, and paint pen. stylemepretty
26. DIY Paisley Pumpkin Carving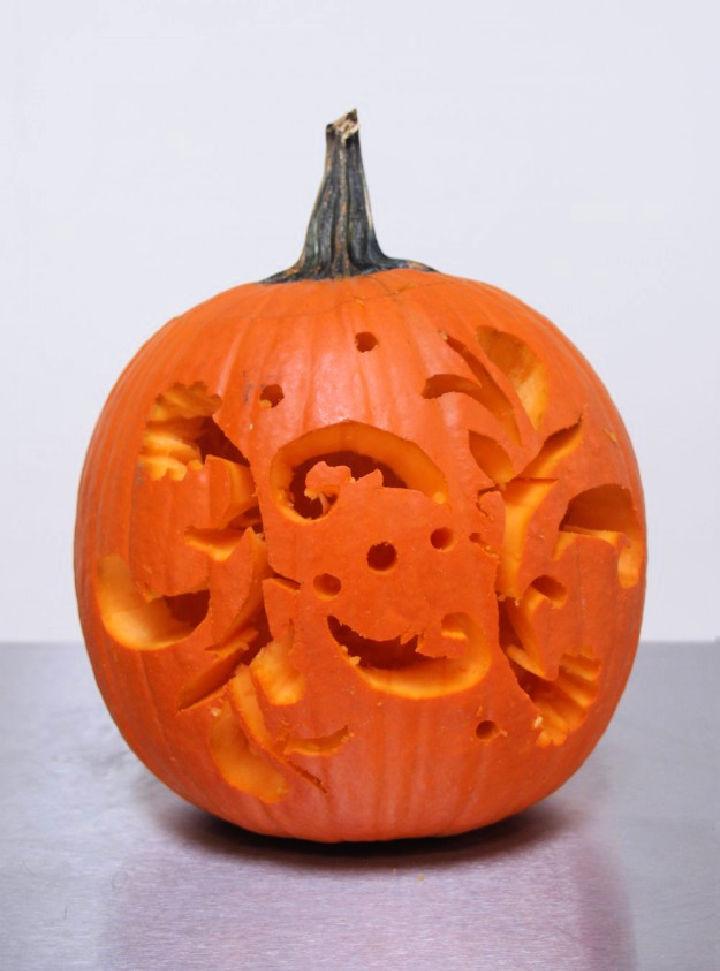 Upgrade your pumpkin carving craft to a new level with these beautiful pumpkin carving ideas. This is an entertaining way to add some fervor to the Halloween season and decorate your house as you wish. Moreover, you can make these plans without breaking the bank, making them easier to try out. Some carving tools, a scoop, and templates are required to make this project. alabamachanin
27. Halloween Harry Potter Pumpkin Carving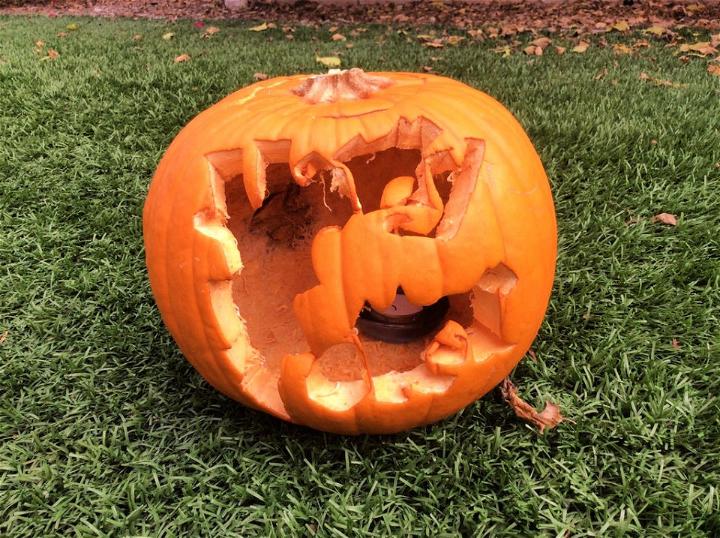 Here's a plan for all the Potterheads reading this article and looking for a fun pumpkin carving plan this year. Make sure to get a big-sized pumpkin so your art will look even more beautiful. However, this can be customized in any way you like and use different colors to make it colorful and cheery. So start now and get creative! instructables
28. DIY Cat Drilled Pumpkins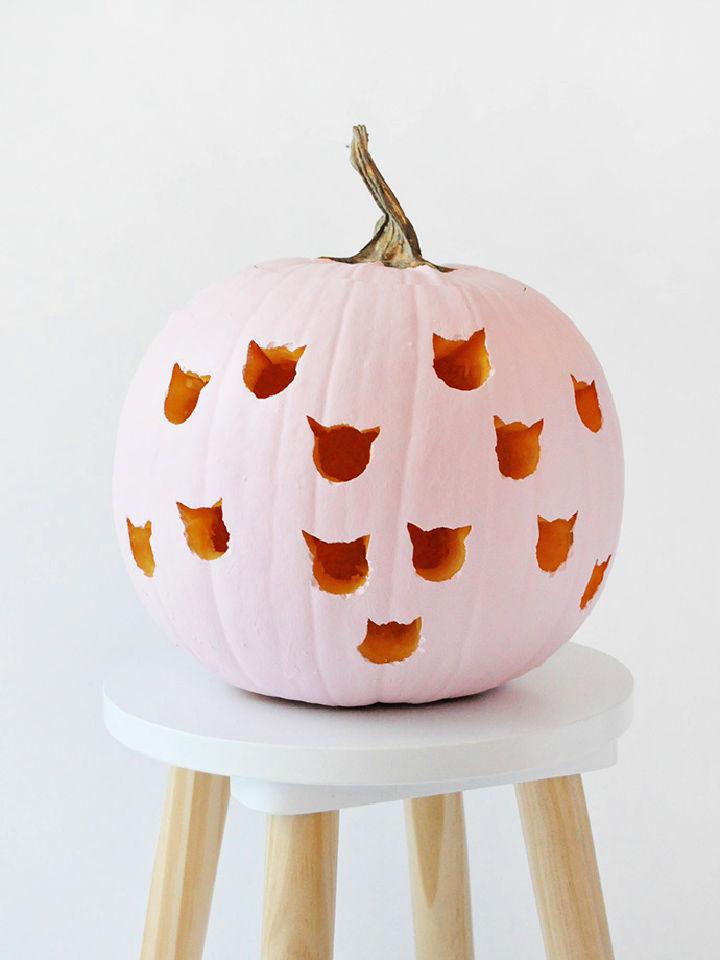 Cat lovers gather here because we have something for you all, too – a DIY cat-drilled pumpkin! How cute is that? Keep your love for cats alive by making this plan and decorating the house proving to be the best cat owner! You will need a pumpkin, power drill, wood spade but, pumpkin carving knife, scoop, folk art outdoor acrylic paint, and paintbrush to make this gorgeous piece of art. handmadecharlotte
29. How to Make Pumpkin Ghost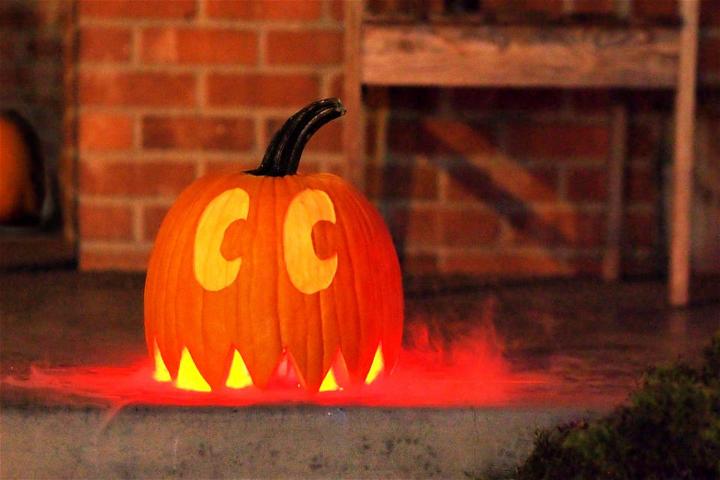 Can't figure out what you can do with all the pumpkins at home? Well, now you do! Make a pumpkin ghost for your lawn! It is a fun and easy craft that will perfectly add an eerie element to your house during Halloween. Clean your pumpkins, scoop out their seeds, carve the faces, and finally, place LEDs or dry ice at the end to give the pumpkin its scary ghost look! instructables
30. Beautiful Pumpkin Luminaries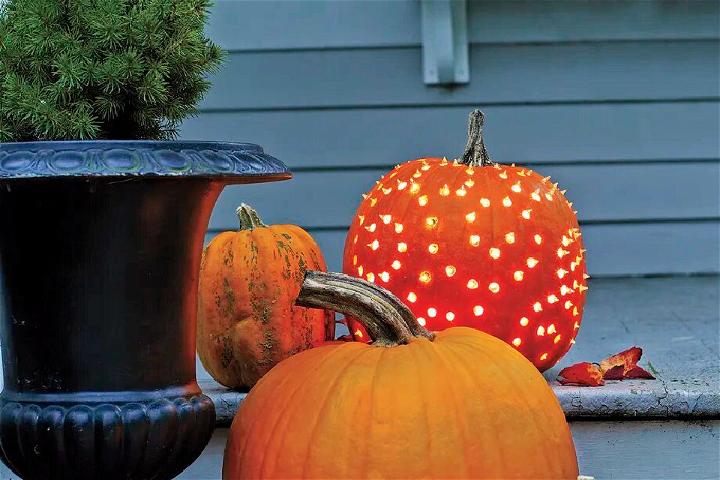 Want something simple yet unique that will help you cover your space in the yard for Halloween? What about a pumpkin carving luminaries idea? It is quick to work and is super simple so that you can give it a try with minimal skills only. Moreover, it is quite a budget-friendly plan. The supplies and tools you need for this plan include a pumpkin, drill or driver, kitchen knife, large long-handled spoon, and permanent marker. thisoldhouse
31. Family Pumpkin Carvings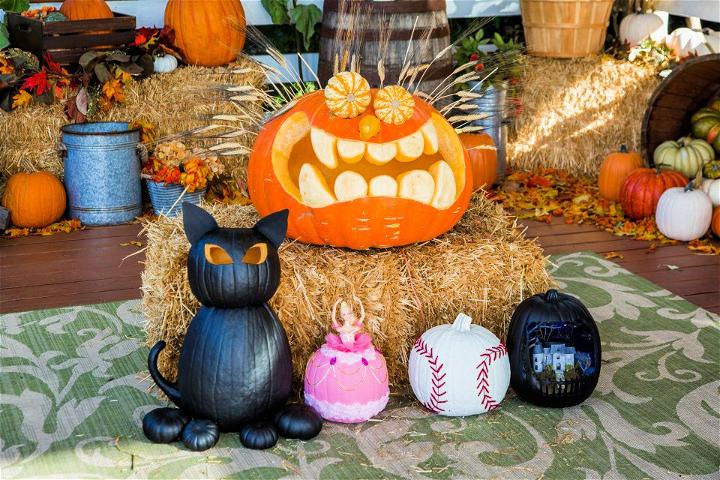 Involve the whole family this Halloween and make this fun family pumpkin carvings. Keep things simple but fun, yet including every member of the family who'll carve their favorite design on each pumpkin. Some basic supplies that you need are pumpkin, paints, carving tools, bamboo sticks or toothpicks, glue scissors, decorative miniatures, pens, rhinestones, lace, or embellishments. hallmarkchannel
32. Adorable Pumpkin Doll House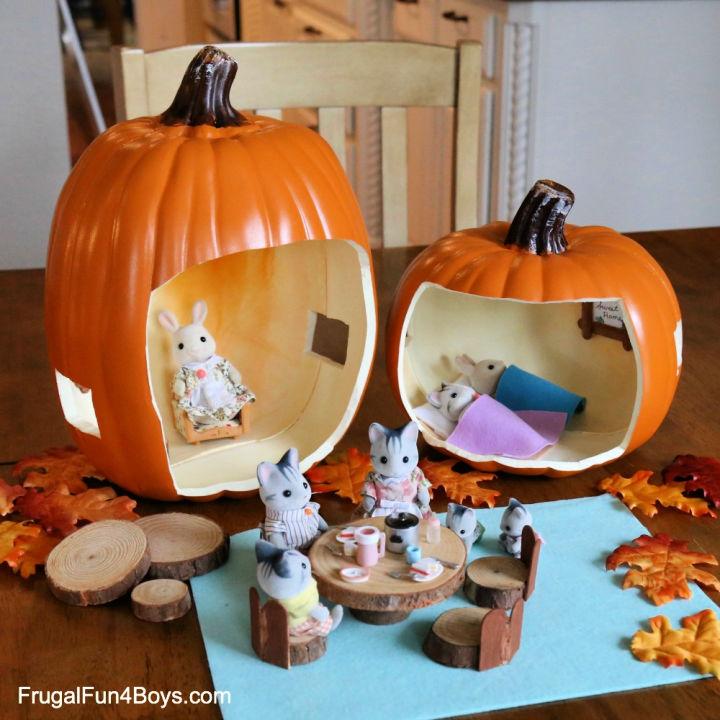 Your kids ask for something new and unique toy, but you don't know what to gift them? Don't worry! Here we have an amazing plan for you – this adorable pumpkin dollhouse will definitely be the one your kids will love. It is not only something different but also a very cost-effective and fun option. So unleash the hidden artist in you to make this beautiful house. You'll need some basic supplies for this, and you'll be good to go! frugalfun4boys
33. Carve a Personalized Name Pumpkin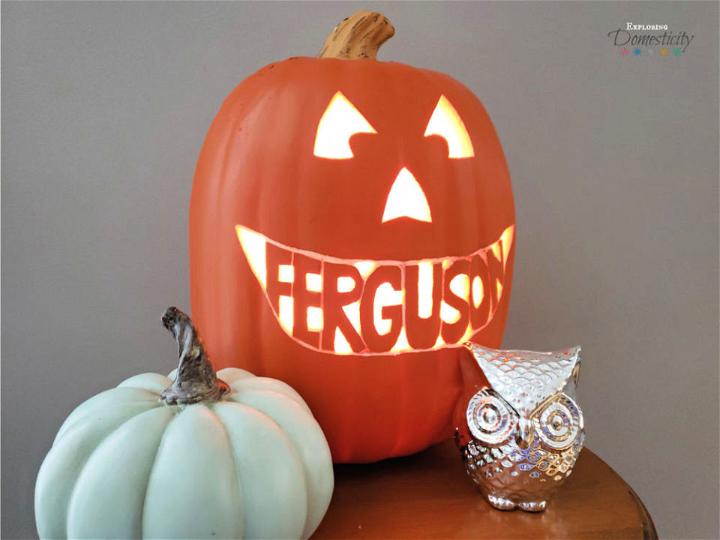 Halloween season is in full swing right now! Have parties to attend but can't think of a present for the hosts? Then, pick up a pumpkin and carve a personalized name for them! It is super easy to build and makes a great decor during this season. Moreover, it is totally doable, and you can add some lights inside the pumpkin so it can also be used as a side table lamp. exploringdomes
34. DIY Electro Jack O Lantern

A scary face and spiked hair – sounds spooky, right? Carve this pumpkin shape and include this in the decor for your Halloween party this year. It is easier than you think and doesn't require any experience to make. You'll need carving tools, a marker, and some LED lights for this fun craft. diynetwork
35. DIY Black Cat O Lanterns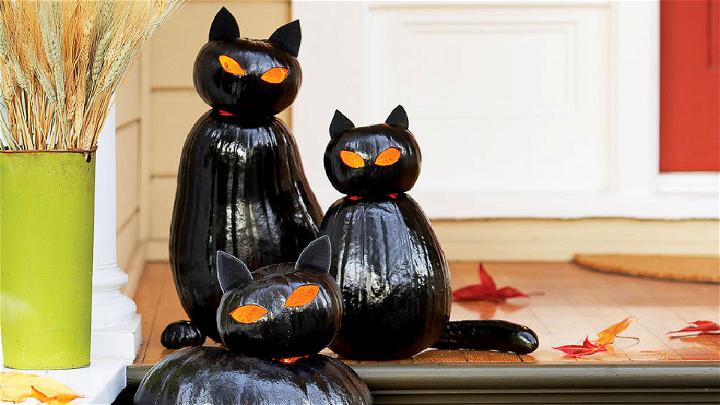 Take your Halloween decorating game to the next level with these black cat lanterns. You can make a scary cats trio to welcome all the trick-or-treaters, but if you want one, this guide can also make one. Assemble basics like pumpkin, scoop, felt cat ears, pens, cucumbers, spray paint, and hammer. sunset
36. Batman Themed Pumpkin Carving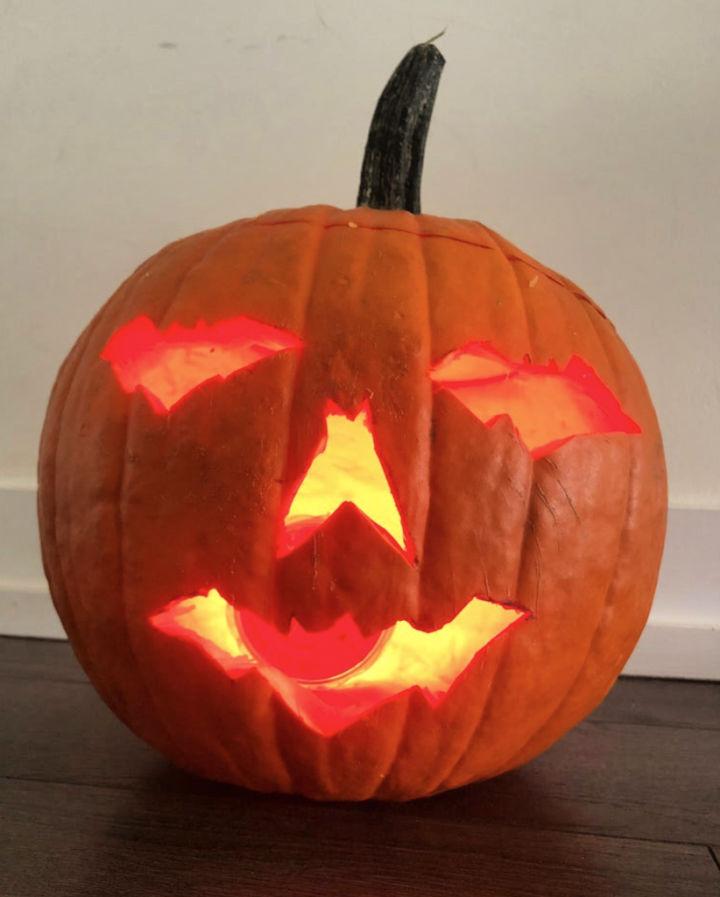 Instead of carving the same boring spooky faces on your pumpkins, be creative and make this Batman-themed pumpkin carving. It will definitely turn all the heads, and people will love your creativeness. Moreover, you need your carving tools and lights for this pretty low-budget project so that anyone can try it. instructables
37. How to Carve a Pumpkin for Beginners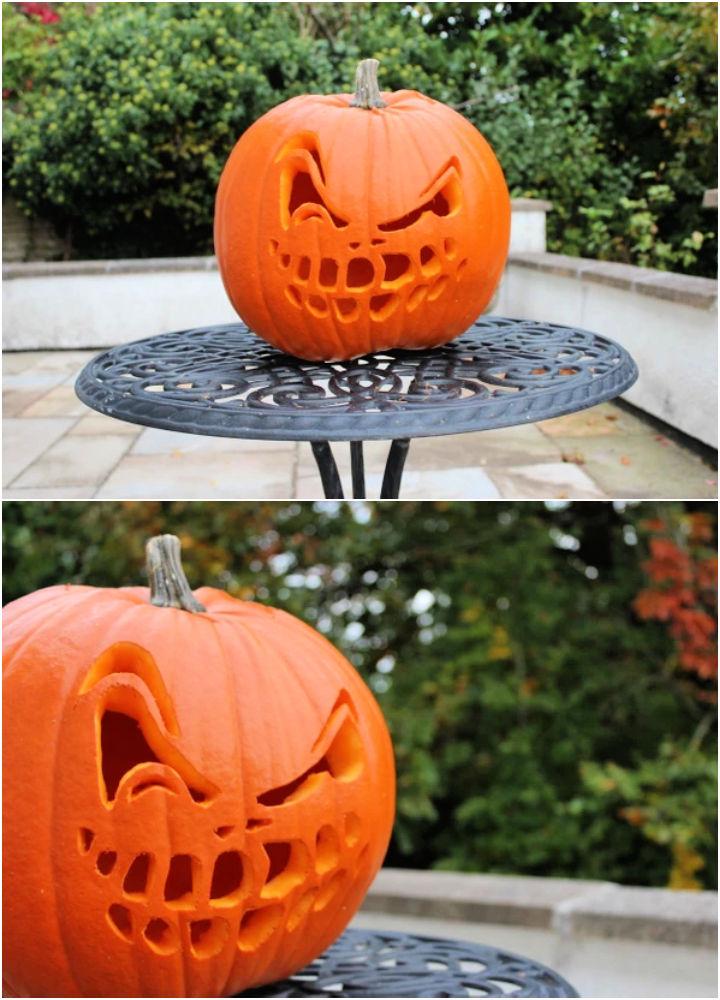 Are you a beginner at carving pumpkins? In this guide, we will teach you how you can start this craft using step-by-step instructions. It includes every detail and tip to start with this project. You can customize your plans according to your preference using materials like pumpkin, food knife, spoon, templates, dry-wipe pens, sharpies, and containers. gathered
38. DIY Emoji Pumpkins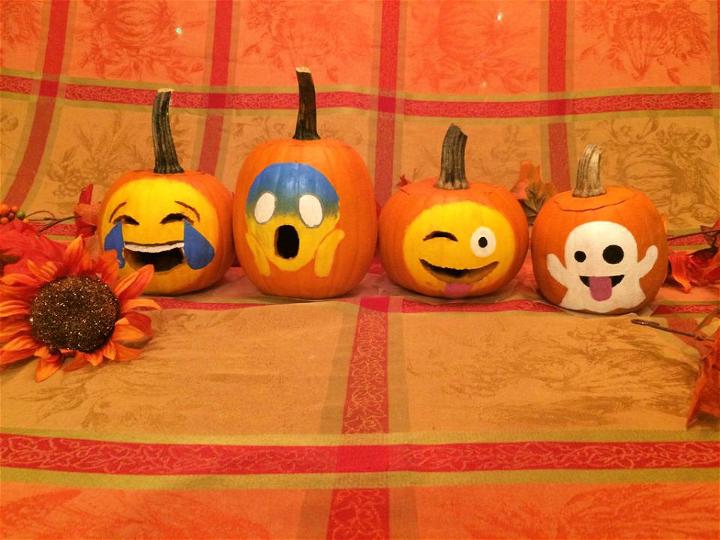 Make these awesome DIY emoji pumpkins and add some light-hearted feel to the Halloween season. Emojis are the popular trend these days, so making this amazing project will be loved by everyone around. Follow the guide and gather materials like pumpkins, carving kit, pumpkin flickering tea lights, acrylic paint, paintbrushes, paint palette, bowl for seeds, tin foil, and paper towels. instructables
39. Creative Pumpkin Carving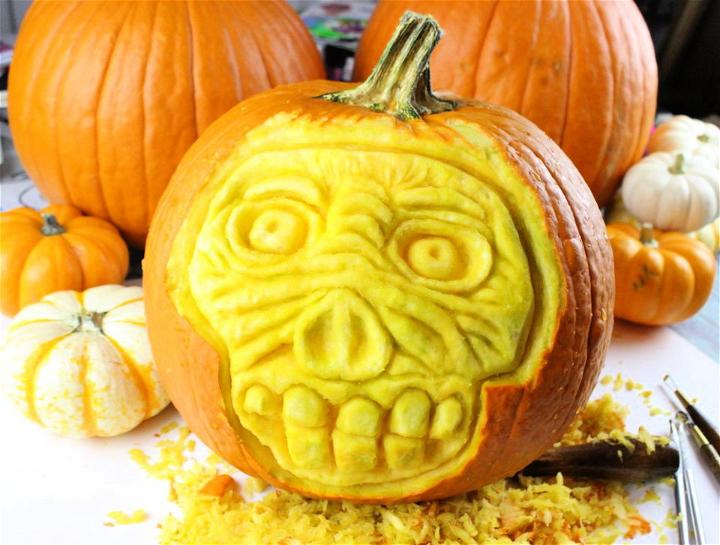 Creativity has no boundaries, so you can imagine anything you want and turn it into art. This craft is loved by all generations, and it is super easy to do for which you do not need any kind of expertise or skills. Materials include a deluxe pumpkin carving kit, medium or large-sized pumpkins, garbage bags, pumpkin light, pumpkin sculpting, scouring pad, and pumpkin carving pattern. kitkraft
40. DIY jack o lantern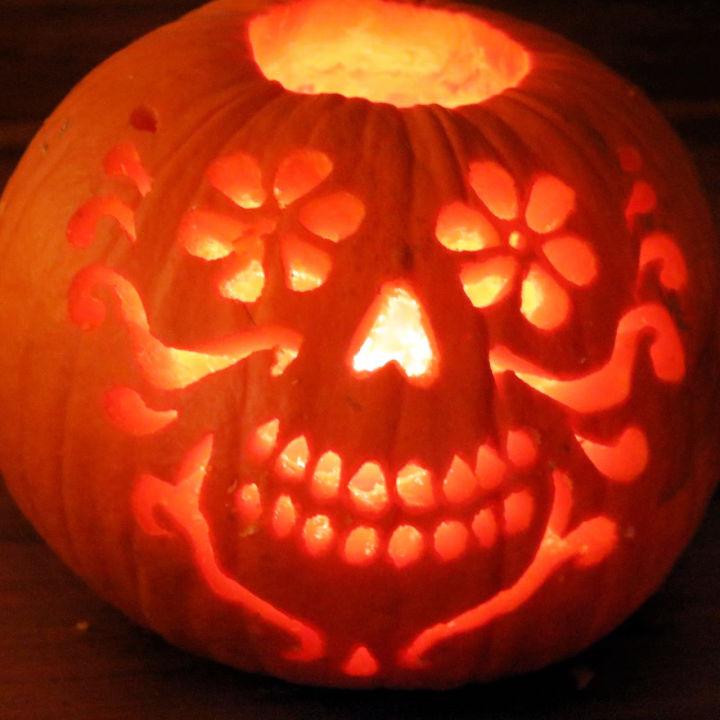 Having the right tools and passion for carving will help you make the perfect pumpkin decor for Halloween this season. Just get these DIY pumpkin carving ideas to make your own at home easily. Jack-o-lanterns are the ultimate Halloween decor, and without those, the parties and decor look incomplete. So grab all the necessary supplies, and let's make this right away. diynetwork
41. Halloween Pumpkin Diorama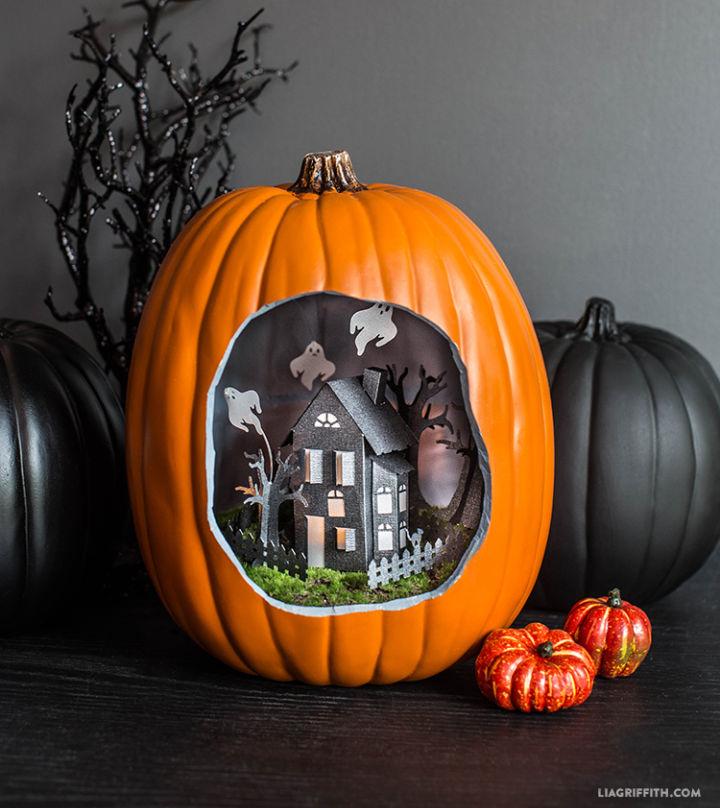 Add some drama to your basic carved pumpkins by filling them with a haunted house and some ghosts. This Halloween pumpkin diorama is the one to go for! It is packed with all the spooky feels and is really simple to make. You can customize the color palette according to your liking. The materials and tools for this project include Cricut explore air 2, craft scissors, low-temperature hot glue gun, craft pumpkin, LED tea lights, air-drying clay, and green moss. liagriffith
42. DIY Creepy Cottage Pumpkin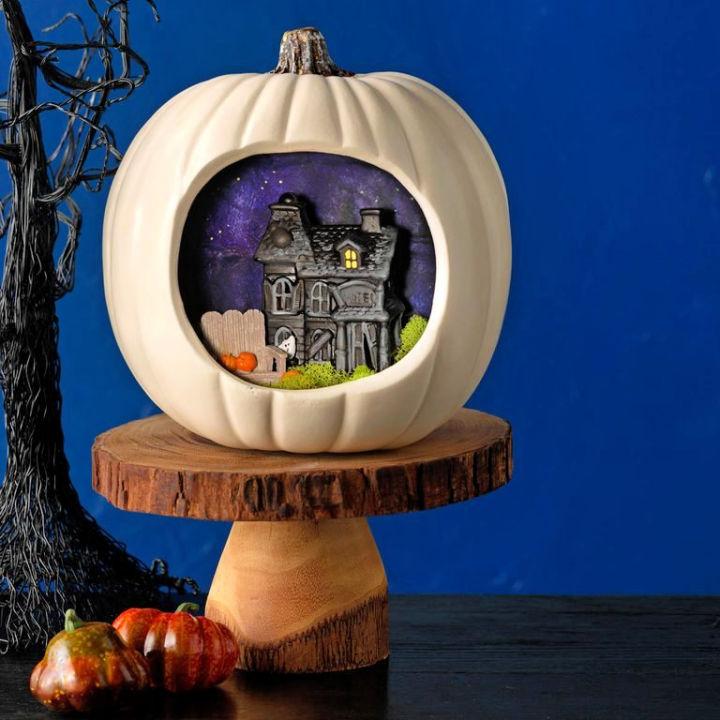 When all else fails, make this creepy cottage pumpkin and add some eeriness to the decor in your home. It is super easy to make and is a fun craft. You'll need a ceramic house, black matte spray paint, acrylic paints, hollow carvable foam pumpkin, battery-operated mini LED light string, fairy garden bench, spice jar lids, moss, drill, glue gun, and paintbrushes. familyhandyman
43. Baby Shark Jack o Lantern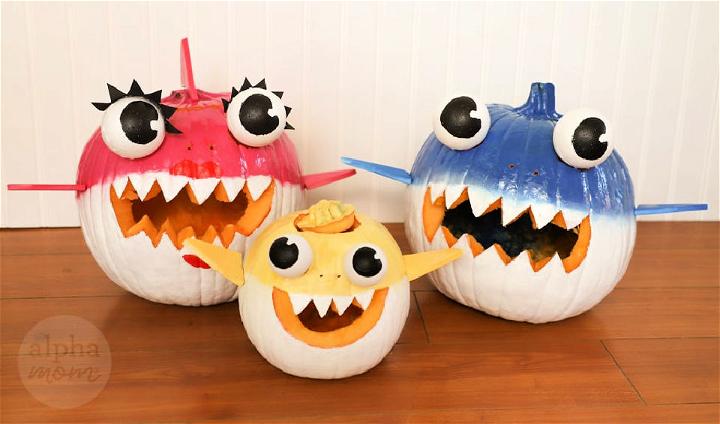 Baby shark song has been record-breakingly famous, so here is a carved pumpkin inspired by the poem. It is super cute, and your kids will definitely adore them in the house. Supplies include pumpkins, spray paint, cardboard, pairs of smooth foam balls, ping pong balls, floral wire, toothpicks, acrylic paint, white craft, black construction paper, scissors, and a paintbrush. alphamom
44. How to Carve a Pumpkin Owl

Decorate your trees with some cute carved owl pumpkins. It is super easy to craft that you can make within hours. Include the whole family and enjoy making this craft before Halloween. The supplies needed for this project include a pumpkin, owl sketch on paper, kitchen knife, apple core cutter, and a small scalpel craft knife. instructables
45. Awesome Pumpkin Carving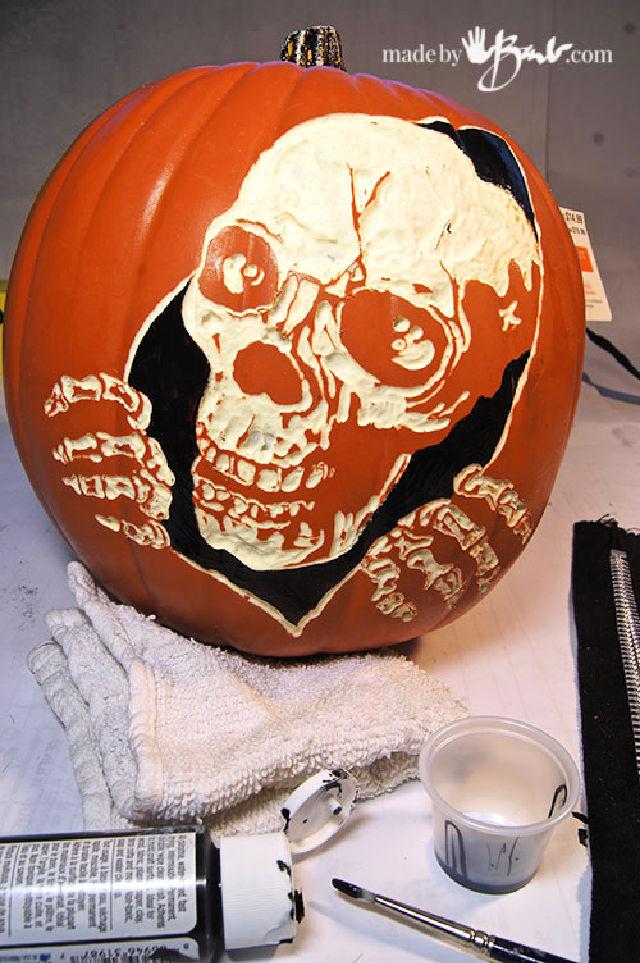 This awesome pumpkin carving DIY looks very elaborate, yet it is effortless to make. You can make this scary skull-carved pumpkin and add to the spookiness of the atmosphere. You need the basic supplies, and you'll be ready to do this project within a weekend. madebybarb
46. DIY Pumpkin jack o lantern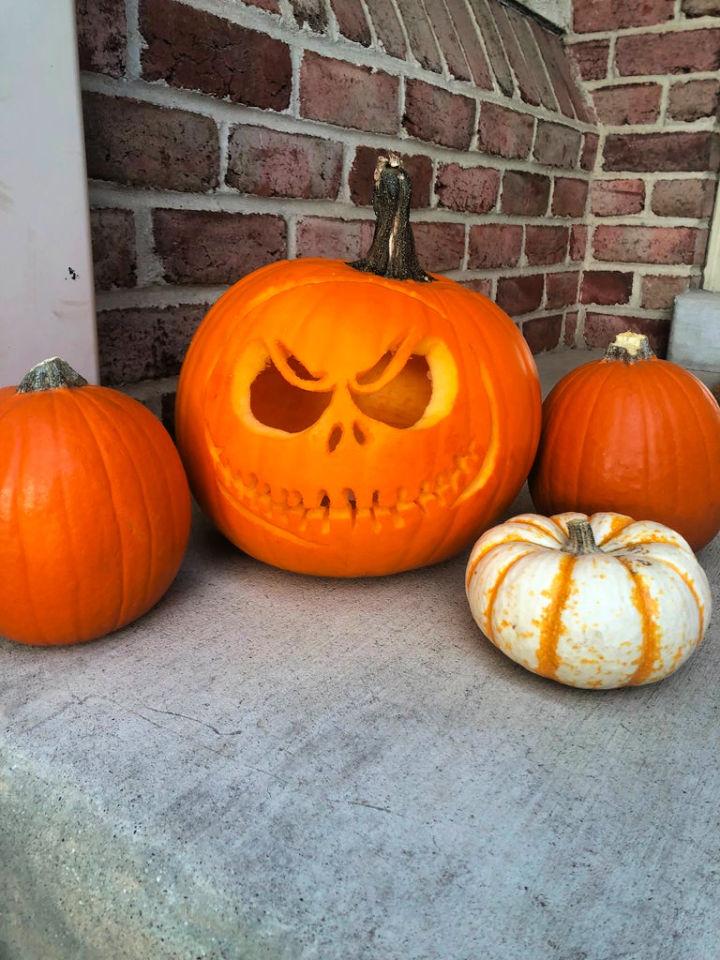 Do you miss the eeriness around the house? Make this DIY pumpkin jack o lantern and set the atmosphere. It is a super budget-friendly project, so you don't need to break the bank! To make these lanterns, you need supplies like plastic bags, multiple carving tools, scooping tools, poking tools with multiple spikes, singular poking tools, scraper, peeler, small blade, medium blade, newspaper, scotch tape, scissors, and black markers. instructables
47. Last Minute Halloween Pumpkin Carving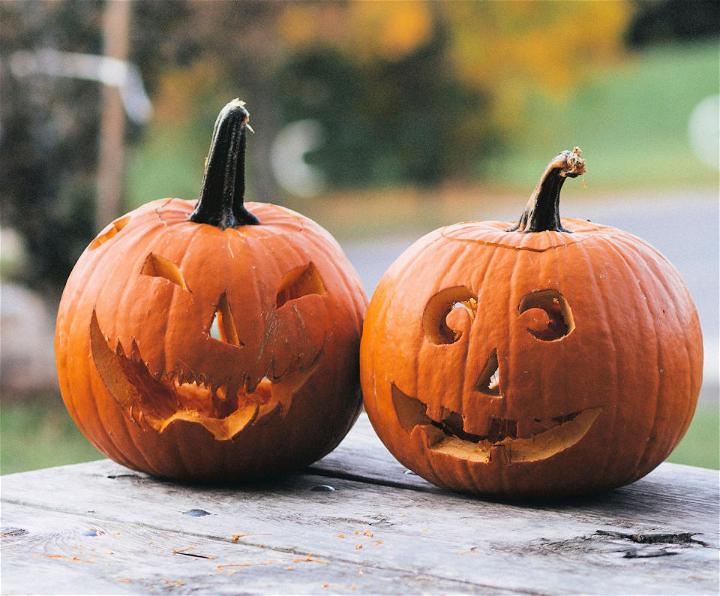 Looking for a last-minute Halloween pumpkin carving? Without any further ado, make this easy pumpkin carving idea by following this tutorial. You will need a large pumpkin, sharp knife, marker, large spoon, and tea lights to start this project. You may customize the pumpkin according to your preference too! hejpix
48. How to Carve a Pumpkin with Drill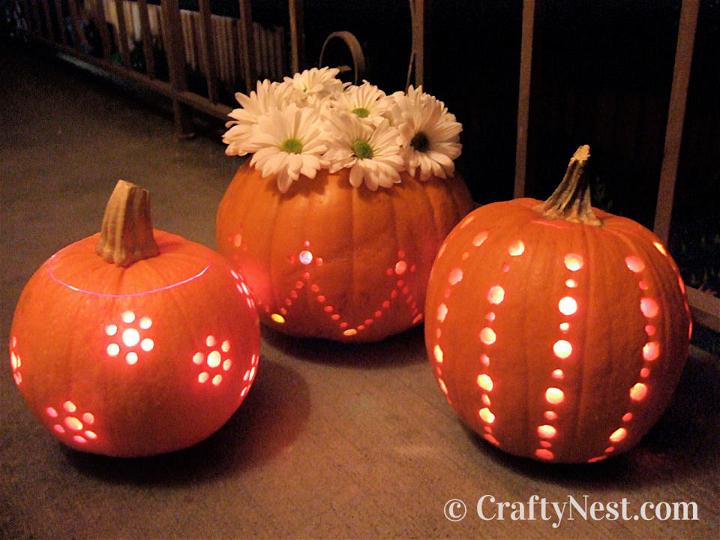 Ready to turn your pumpkin into a piece of art? This carved pumpkin tutorial is a great one to start with. Your drilling machine will be your best friend in these projects! You can drill any shapes you want, either flowers or some polka dots. You can even place them on your porch with some lights inside so they can be used as decor in nigh time too. Materials for this project are pumpkins, glow sticks, flowers, painter's tape, votives, glass jars, drill, drill, scissors, carving knife, and scooping spoon. craftynest
49. Frankenstein Jack O Lantern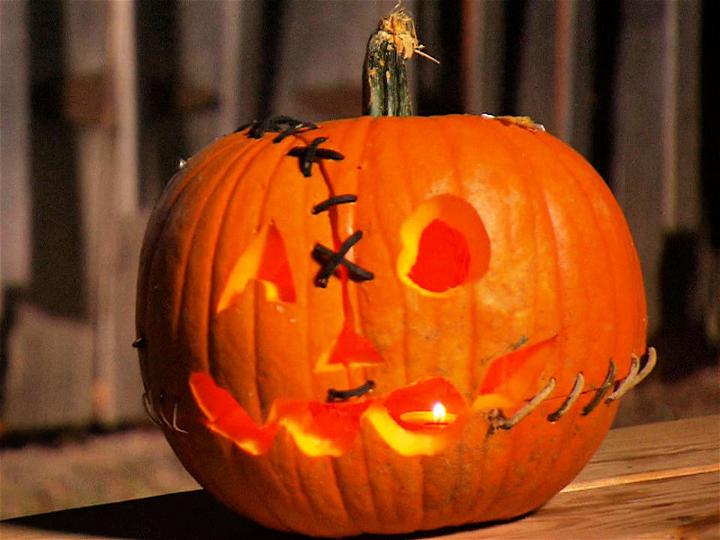 Frankenstein and Halloween go hand in hand! So let's try out making a pumpkin carved in Frankenstein style. Clean your pumpkin with a cleaner, and make sure to scoop out all the seeds, which you can eat separately after roasting them. A carving tool is also needed to make the craft neat and perfect. Make sure you have all the supplies you need so you may start the art right now. diynetwork
50. Last Minute Pumpkin Carving Idea

Last but not least, here is a last-minute pumpkin carving that you can make for your home or yard. It takes passion and some serious focus to make these eye-catchy pumpkins, but they are not too difficult to carve. By following the steps in the guide, you can easily do this project. The right supplies will make the process easier for you, so make sure to have them beforehand. Let's start! placeofmytaste
Related DIY Halloween Ideas To Do
Halloween Painted Rocks – Create your own unique and spooky rocks for Halloween or decorate your garden this fall with a beautiful paint job.
DIY Halloween Porch Decor – Halloween is the perfect time to spruce up your front porch with some festive decor. These Halloween porch ideas will help you celebrate Halloween outside.
Halloween Bulletin Board Decorations – Our Halloween bulletin board decorations are assembled easily with no tools required. They're perfect for any room in your home, school, or office.
Easy Halloween Face Paint Ideas – Need a quick and easy Halloween face paint idea to go with your costume? Here are easy halloween face painting ideas that are spooky and creative.
DIY Halloween Origami – Fall is just around the corner, and Halloween is on the horizon. Whether you're into DIY or not, these Halloween origami ideas are perfect for adding a festive touch to your home decor.
Halloween Coloring Pages – Enjoy these free printable Halloween coloring pages for kids! Print out and color, or use markers and crayons to draw your own unique spooky designs.
Easy Halloween Costume Ideas – Need a costume for Halloween? Don't have time to shop, so check out these quick and easy DIY Halloween costume ideas that will encourage your family and friends to dress up for this spooky holiday
Conclusion:
So let's conclude the article here now that we have mentioned all the 50 best, fun and easy pumpkin carving ideas. We hope you're inspired by these unique pumpkin carving ideas and have already decided on the ones you will be making this year. To make such interesting and unique designs, you need to ensure that you have the creative bug in you. You can also involve all your family members and make decor for the house just before Halloween.
Instead of buying expensive ones from the stores, carve the pumpkins on your own. You can also customize the things to carve in a pumpkin and colors on your own. Moreover, they also make great gifts that can be used as decor items in the house. So pick and choose any design from the above-mentioned beautiful pumpkin carving ideas 2022 and create some awesome decor items for your home this year without spending a lot of money. Let's start! Happy carving pumpkins for Halloween!