As Halloween approaches, many teens start to think about what they will wear for a holiday. While some may opt for a simple Halloween costume, others may want to go all out. To help inspire your teen's Halloween look, we've rounded up the 40 best teen Halloween costumes for 2022. From spooky ghosts to gruesome zombies, there are plenty of best Halloween costumes for teens to choose from. And for those who want to stand out from the crowd, we've included some unique and creative costume costumes for teens. So whether your teen is looking for a classic costume or something more original, there is sure to be an option on this list that is perfect for them. Happy Halloween!
Halloween is the kind of holiday that excites everyone, whether children or teens; everyone wants to enjoy this holiday to the fullest, so we have prepared the best Halloween costume ideas for teens and tweens. Trick or treating seems the most fun part of Halloween, where you get to experience horror with a blend of joy. Knocking on the neighbors' doors for candy seems kind of cliche, but who doesn't love doing that? Whether it's trick or treating or dressing up as your favorite villain for the occasion, everything seems too thrilling.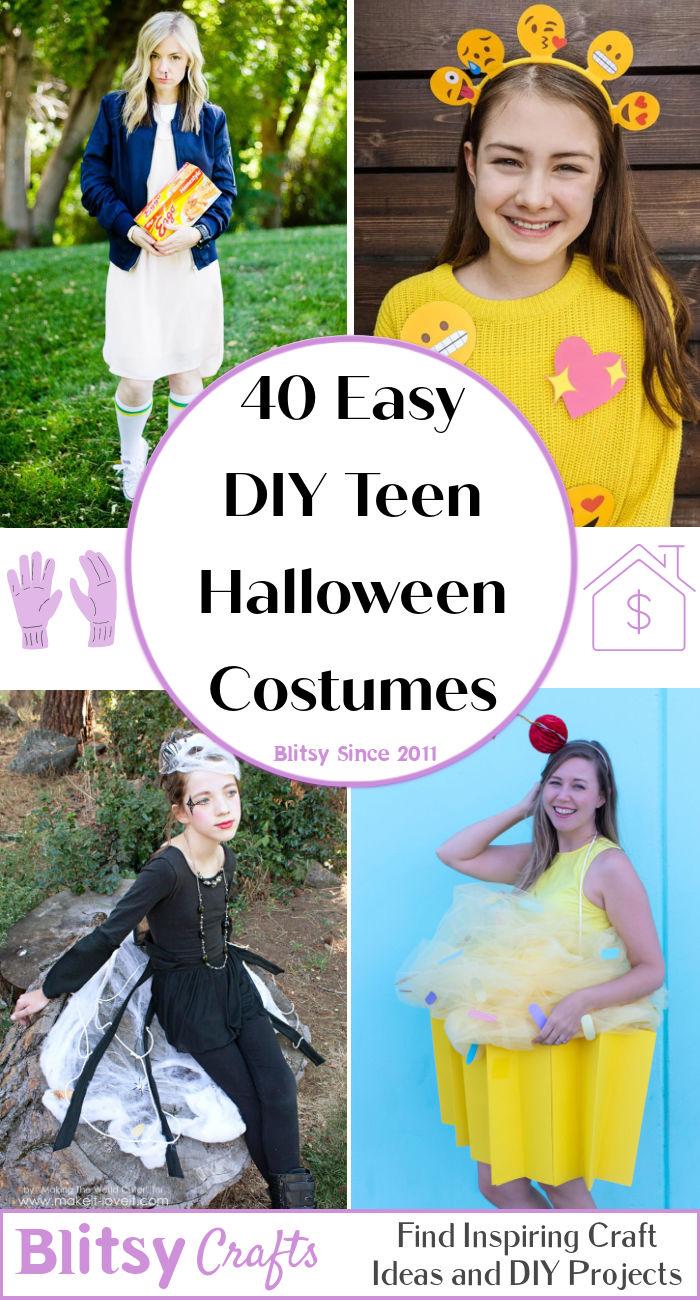 Teen Halloween Costumes for 2022
Sometimes it gets too confusing to choose the right costume for Halloween. Either there are way too many options or none. This often happens with teenagers who want to look scary but cool simultaneously; of course, the teenagers don't ever want to lose the swag and dress up in the best possible way. But if you are a teenager looking for Halloween costume ideas, say no more! We have your back. We have compiled a bunch of different teen Halloween costumes, which will give you inspiration for this Halloween and instigate your artistic side.
1. Unique Deer Costume for Teen Girls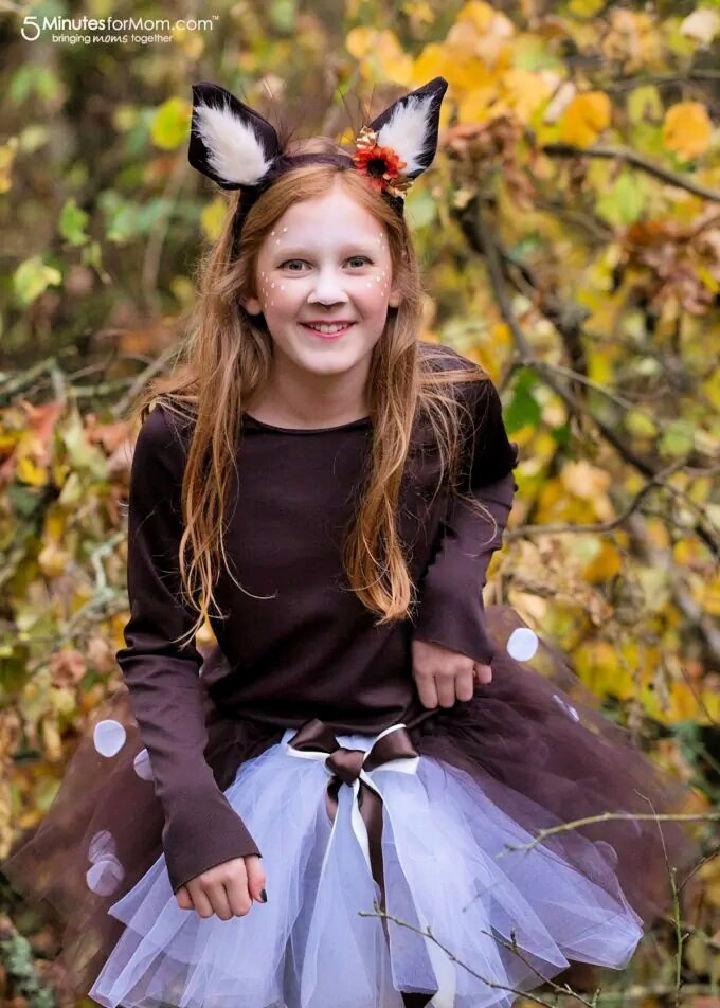 Are you hunting for a cute Halloween costume that will make you stand out? Then have a look at one of these best teen halloween costumes. You can wear a headband, a shirt, leggings, and a cute tutu to give that adorable vibe. Lastly, don't forget to add face makeup to look like a deer and make everyone go for aw! 5minutesformom
2. Cool Emoji Halloween Costume for Teens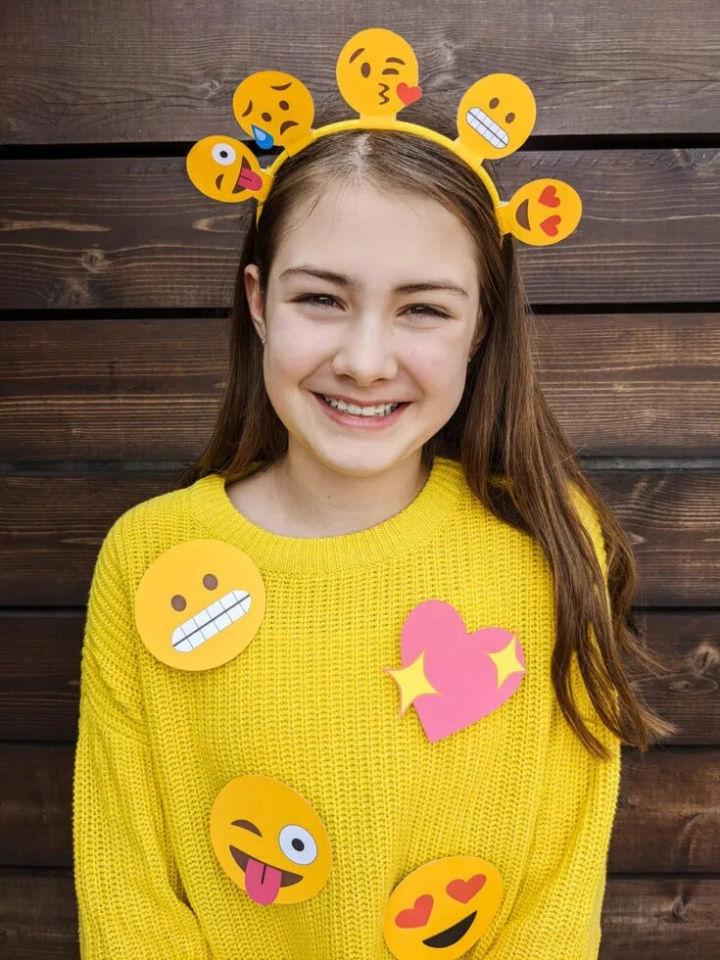 All of us have been obsessed with emojis from the moment they were introduced, and now they have become essential for our chats. So if you are one of the cool teens that want to look different, then have a look at this super cool Halloween costume idea using emojis. Gather supplies like headband, scissors, glue stick and don't forget to download the templates from the link. merrimentdesign
3. Last minute Starbucks Cup Costume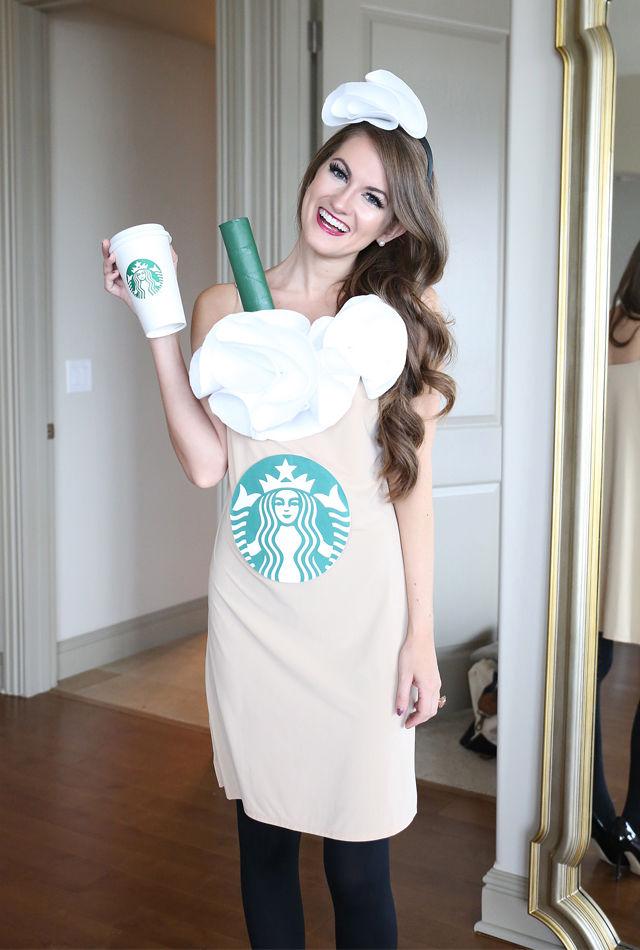 If you are running late for Halloween and are looking for something to pop on at the last minute, then this Starbucks cup costume is perfect for you! Because not only will it take less time, but it will also show your love for coffee. It will surely make you the center of attention at the Halloween party. southerncurlsand
4. Creative Rubiks Cube Costume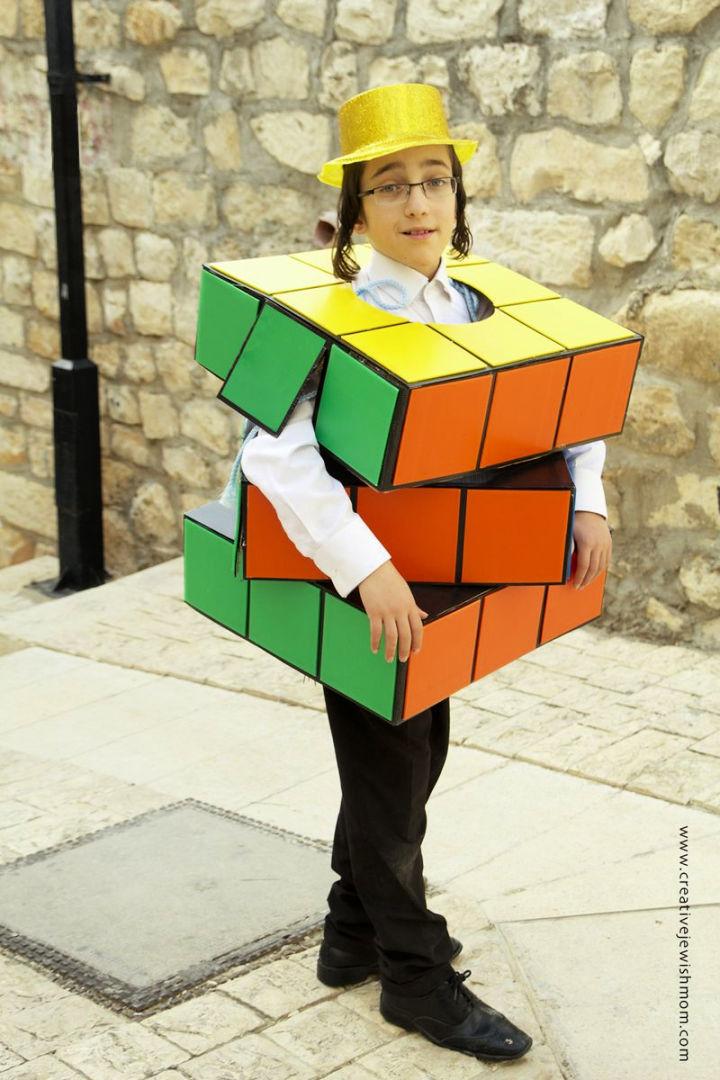 Every single one of us has had our minds tangled up due to a Rubik's cube, and this costume will also give the same effect. This is perfect for the nerds out there and will make everyone have a good laugh. You will need some recycled cardboard boxes, a ruler and a craft knife, a hot glue gun, corrugated packing sheet and a few more supplies. creativejewish
5. Punny Halloween Costume for Teen Boy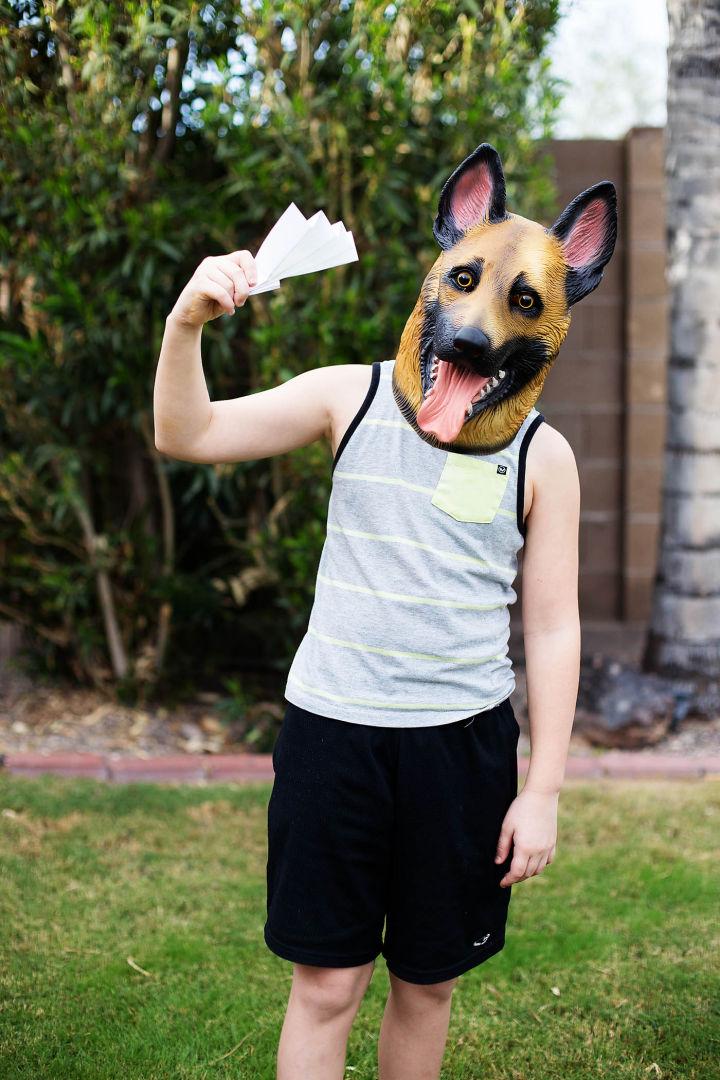 Want to give everyone a good laugh with your Halloween costume? Then add one of these creepy yet funny animal masks to your Halloween look, and this will surely give everyone a good chuckle over your costume. This idea is perfect for teen boys who want to stand out. allfortheboys
6. Mummy Halloween Costume for Teens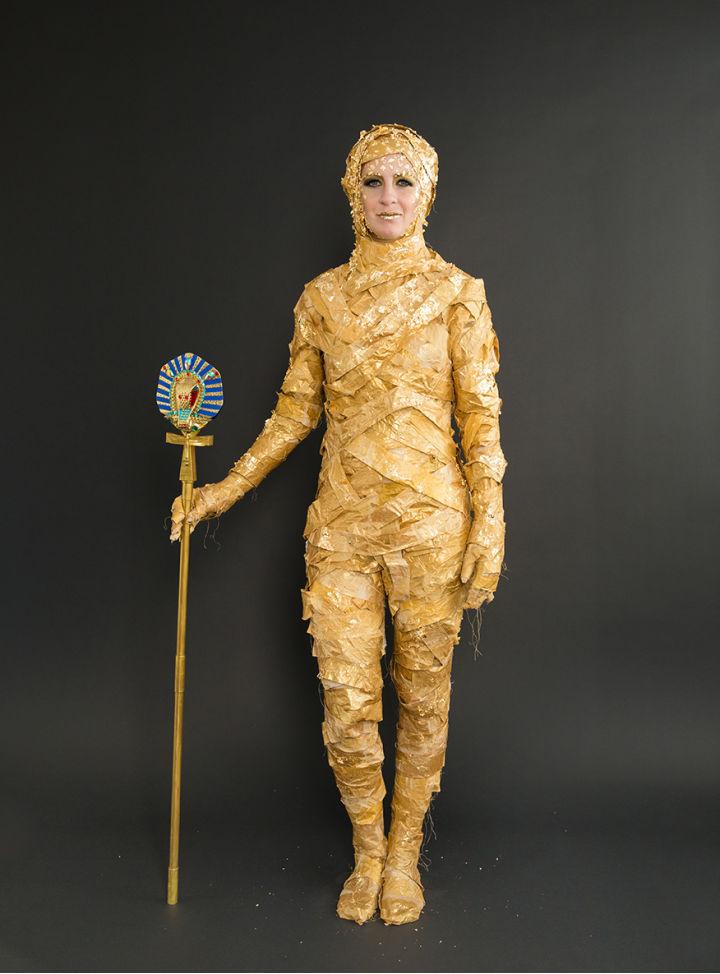 When we think of something mysterious and scary, the thought that's bound to come to us is that of a mummy. These Egyptian mysteries intrigue us, and we love to dress up like them at Halloween. Check out here how you can spice up the mummy look with a little creative spin of your own. thehousethatlars
7. Brown Bear Halloween Costume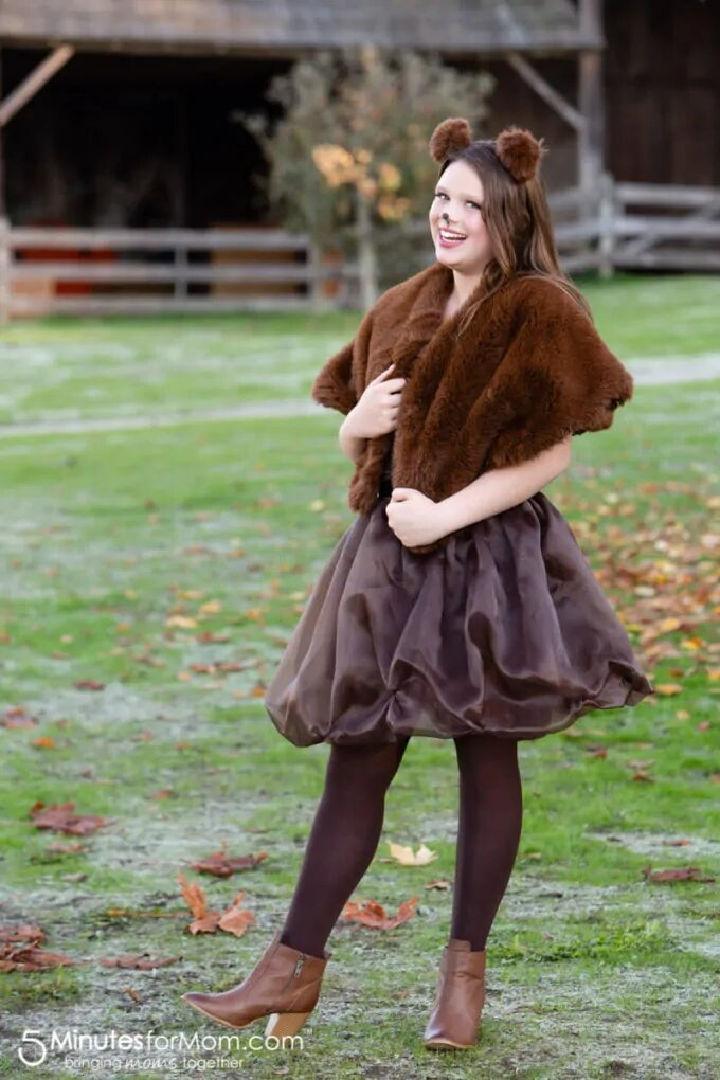 Bears are the new definition of cute, and who won't love to be one for Halloween? You can sew the frock following the brown color scheme and add in a furry coat or jacket to add more depth. Paint your face according to the concept, and pop on a big black nose and little whiskers as well. 5minutesformom
8. DIY Spider Costume for Teens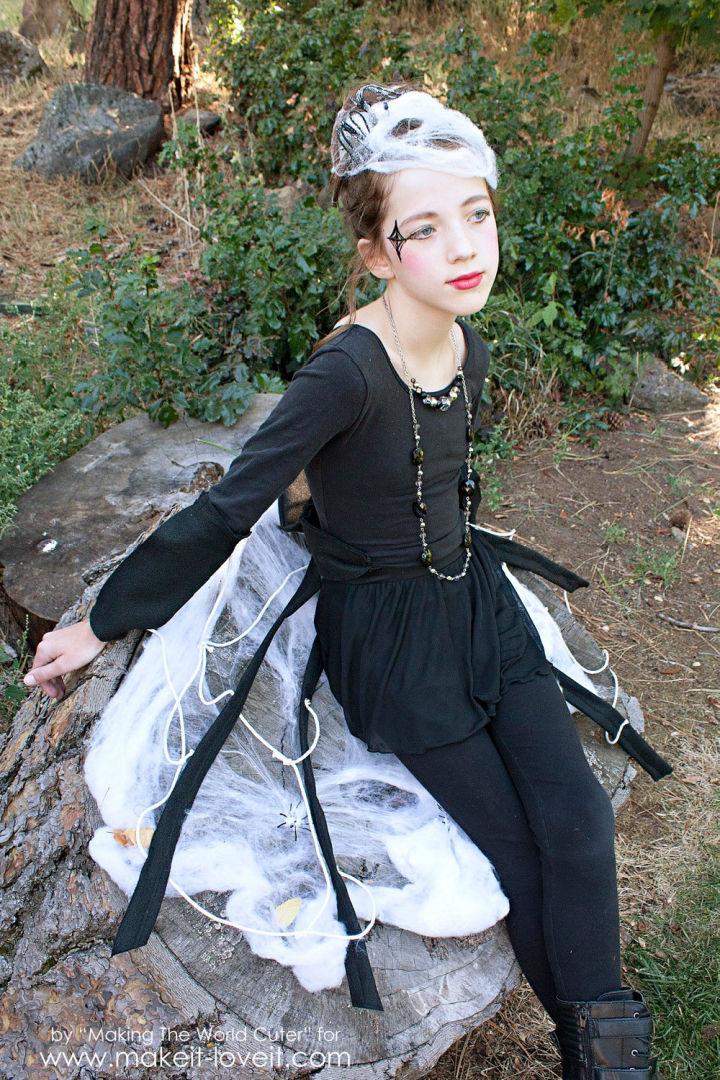 DIYs are revolutionary for people who like to be creative, and this DIY spider costume is perfect for you. This costume is perfect for both girls and boys. The things you will need are 1 yard of black felt, one yard of red felt, a cotton rope, and threads of the coordinating colors. makeit loveit
9. Unicorn Half Up Halloween Costume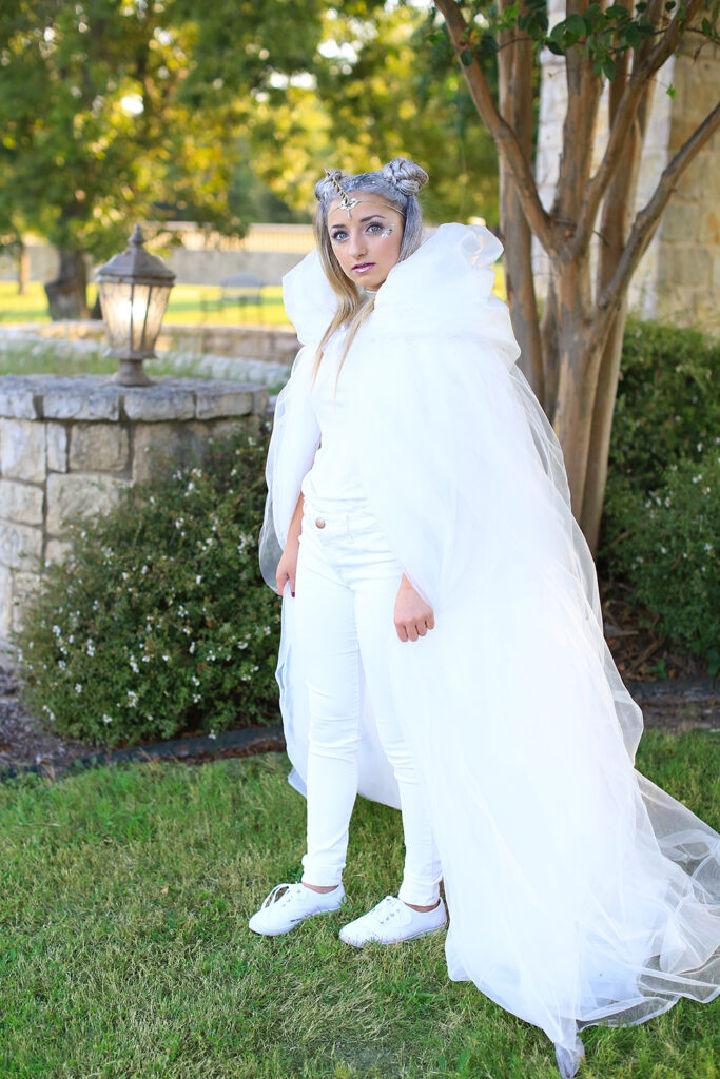 Who does not love unicorns? Well, we are sure everyone does because of the magnificent colors and beautiful wings. They make you believe in the dreamland again. So, if you want to dress up as these wonderful creatures, then have a look at this unicorn Halloween costume idea. cutegirlshairstyles
10. No sew Pac man Costume for Halloween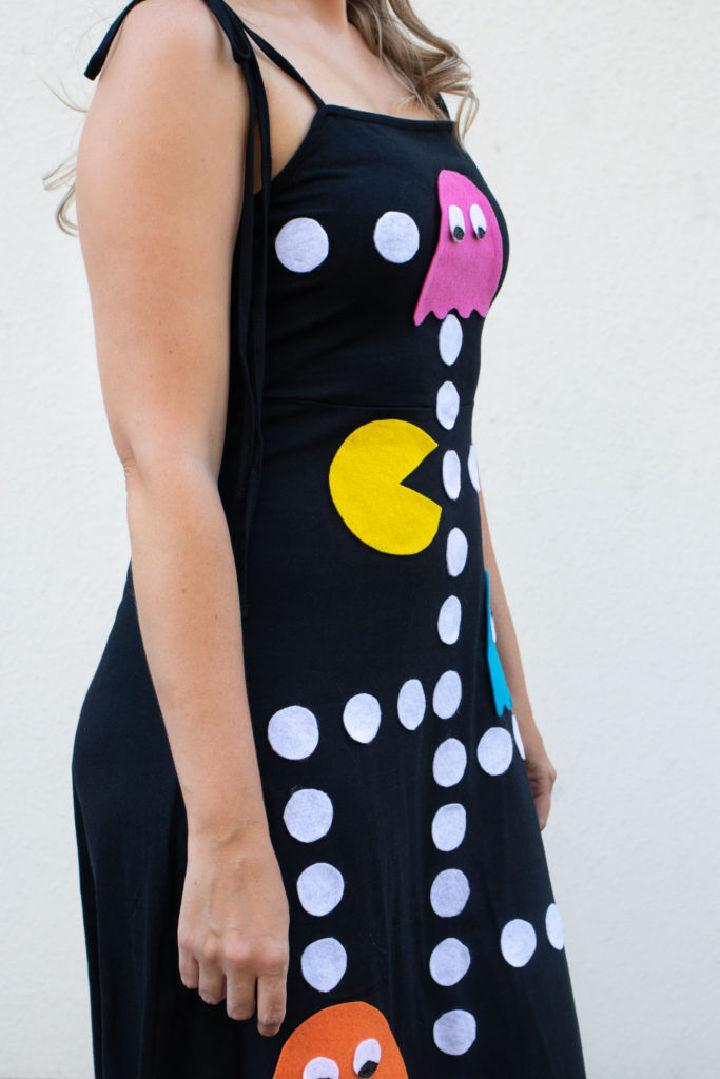 Pac-Man has been our childhood favorite, and what better way to show that than a Pac man Halloween costume? You don't need to sew anything; it will be a DIY costume using only adhesive glue. Click on the link below for details and a video tutorial to create this costume. clubcrafted
11. DIY Ruth Bader Ginsburg Halloween Costume
Ruth Bader Ginsburg had been a role model for all the women out there, and if you want to dress up as her for Halloween, then have a look at this idea. You can add a black gown for the representation of a lawyer and add in glasses for the professional look. Don't forget to be creative and add your touch. genniferrose
12. DIY IM A MOUSE DUH Teens Costume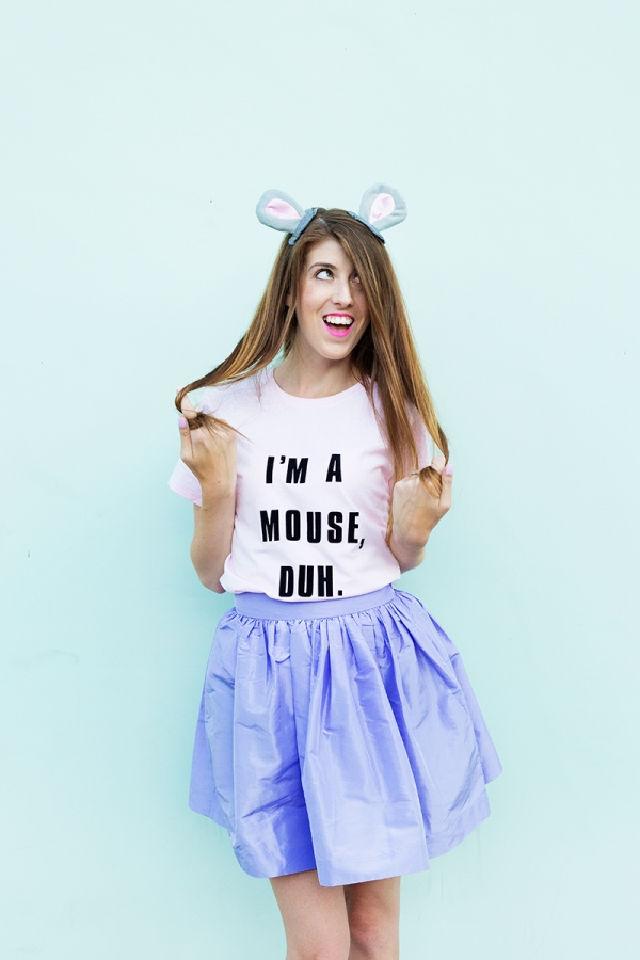 If you are a teen and you are looking for a cool idea for Halloween that is easy to create and does not take a lot of time, then here is the perfect idea for you. You can use a t-shirt with anything funny printed and add a skirt with the face paint accordingly. It will surely save you in a rush. studiodiy
13. Eleven Costume from Stranger Things – Teen Halloween Costumes
Stranger things have soared in popularity in the last few years, and its strange yet cool concept deserves attention. If you are a stranger things fan, then you will love these 11 ideas for stranger things Halloween costumes. Choose any one of the looks or dress up with your friends. doityourselfdivas
14. Harley Quinn Costume from Suicide Squad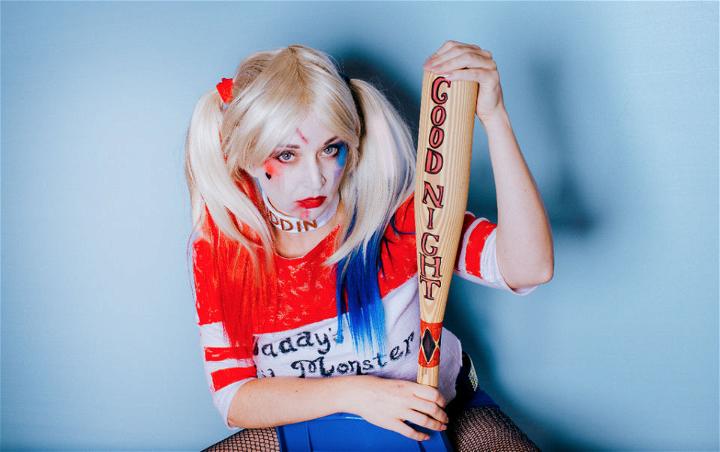 Harlequin surely won our hearts in the movie, and her character fits well with the Halloween spirit. You can add vibrant colors of blue and red to the costume. The key point of the look is the makeup, and you can go crazy with it. Don't forget the legendary baseball bat to complete the look. instructables
15. DIY Instagram Costume for Teens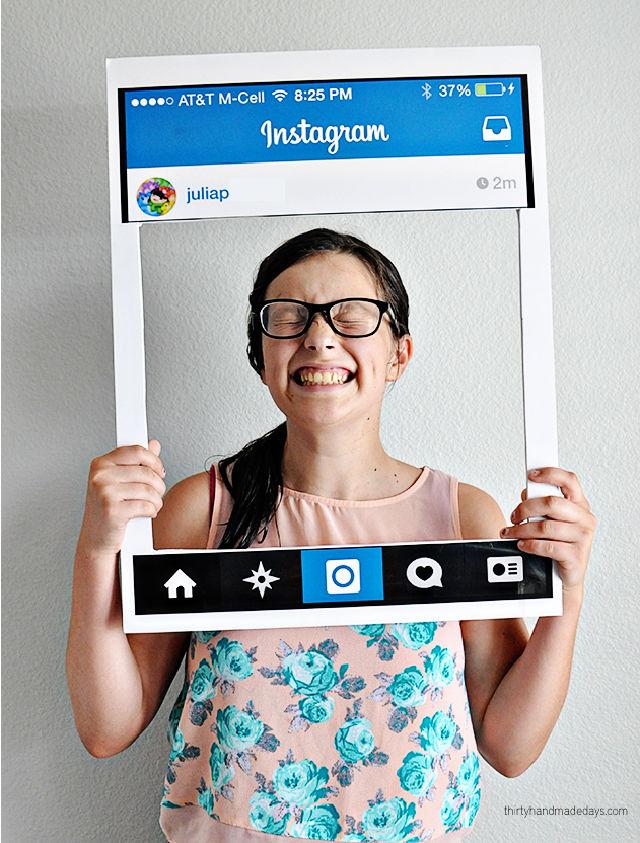 With the rise of social media, one of the platforms that have gained the most attention is Instagram, and everyone loves to spend their time on that. So to keep up with the popularity, here is a Halloween costume that you can make on your own. The cardboard cutout is perfect and super easy to make. thirtyhandmade
16. Cute Giant Pom Pom Costume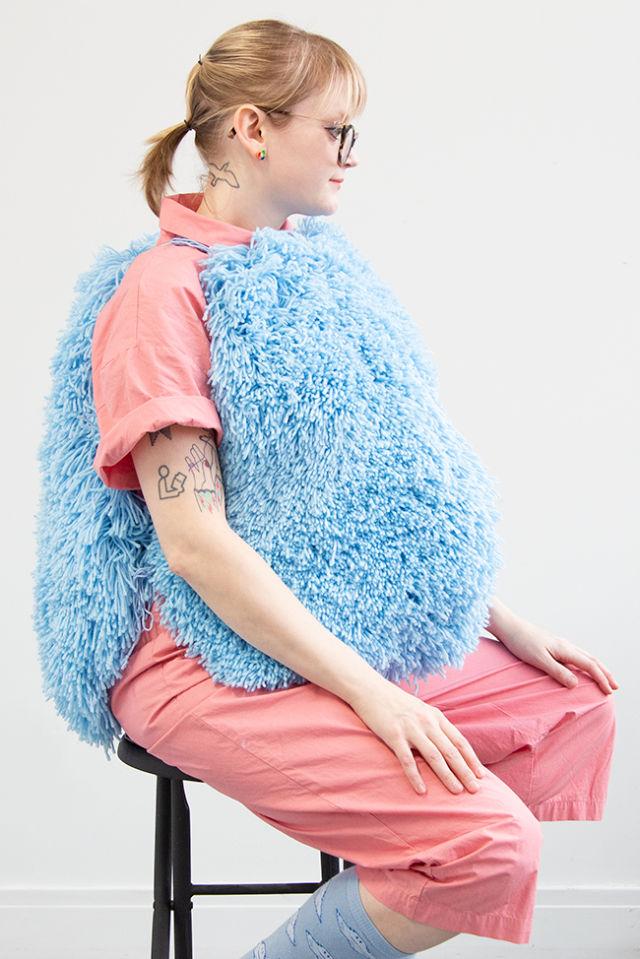 If you are looking for an innovative costume idea for Halloween, then this idea is perfect for you. Who would've thought you could dress up as a pompom? Here is how you can create this look. You need to make two halves of the pompom since it is a 3D costume and tie them to your body. handsoccupied
17. Teens Cupcake Costume for Halloween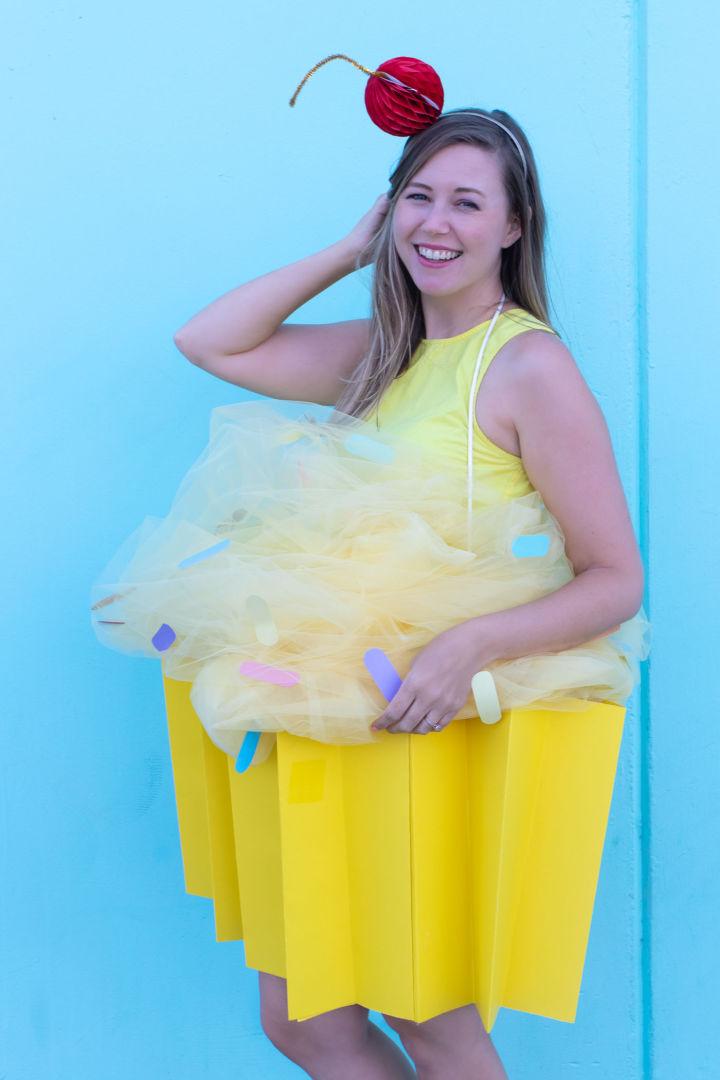 This Halloween costume idea is perfect for those who have a sweet tooth and want to incorporate that into their Halloween costume. Now you can dress up as a cupcake! Gather supplies including 3 colors of poster boards, scissors, glue gun, hole punch, colored cardstock, gold pipe cleaner and a few more supplies! clubcrafted
18. DIY Pineapple Costume on Budget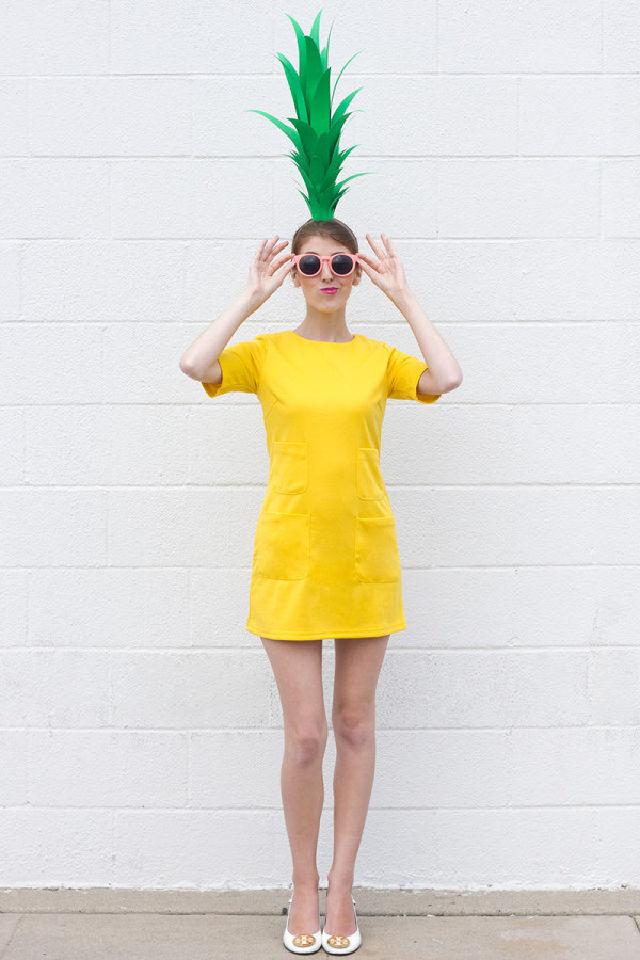 If you are looking for a different costume to wear on Halloween while staying on budget, then have a look at this pineapple costume. You can just add a green DIY hairband to your yellow dress. The things you need to make the headband are a green poster board, a tissue paper roll, a headband, a glue gun, and scissors. studiodiy
19. Essential Oil Halloween Costumes for Teens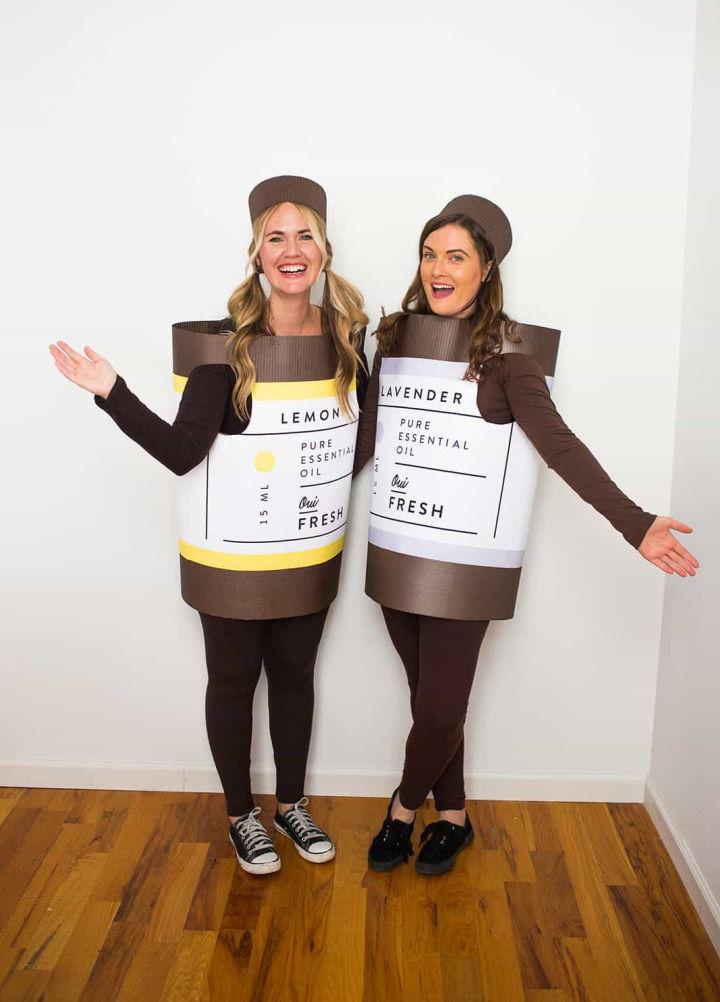 Essential oils make you feel super fresh, and these essential oil teen halloween costumes will surely light up the party. The things you will need are a cardboard roll, brown spray paint, tape, glue, elastic, stapler, scissors, and a brown long sleeve shirt and leggings, and you are good to go! abeautifulmess
20. Disco Ball Costume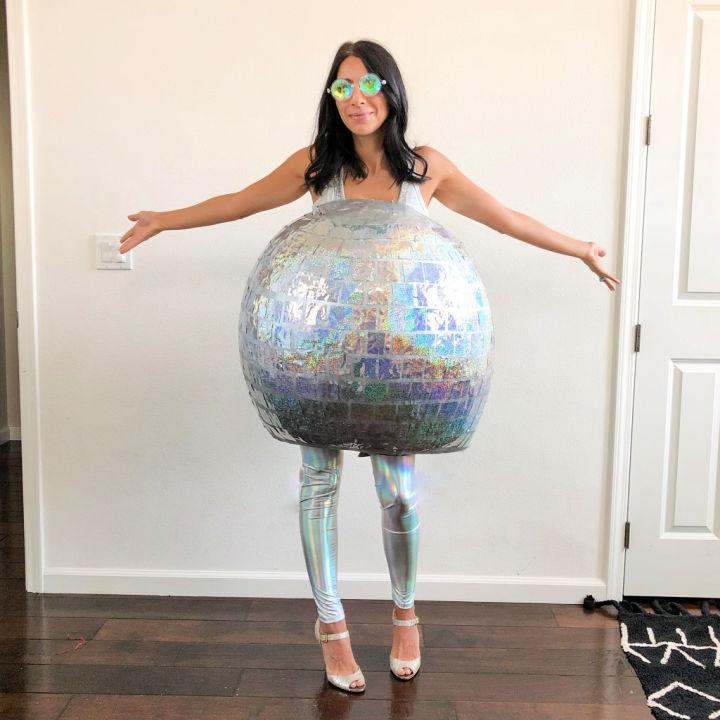 What better way to attend a Halloween costume party than show up like a disco ball and let the limelight shine on you? Well, here is how you can do that. Click on the link given below to have a look at the detailed guide to this costume and let your inner party vibe flaunt. treehousethreads
21. No Sew Minnie Mouse Costume For 13 Year Olds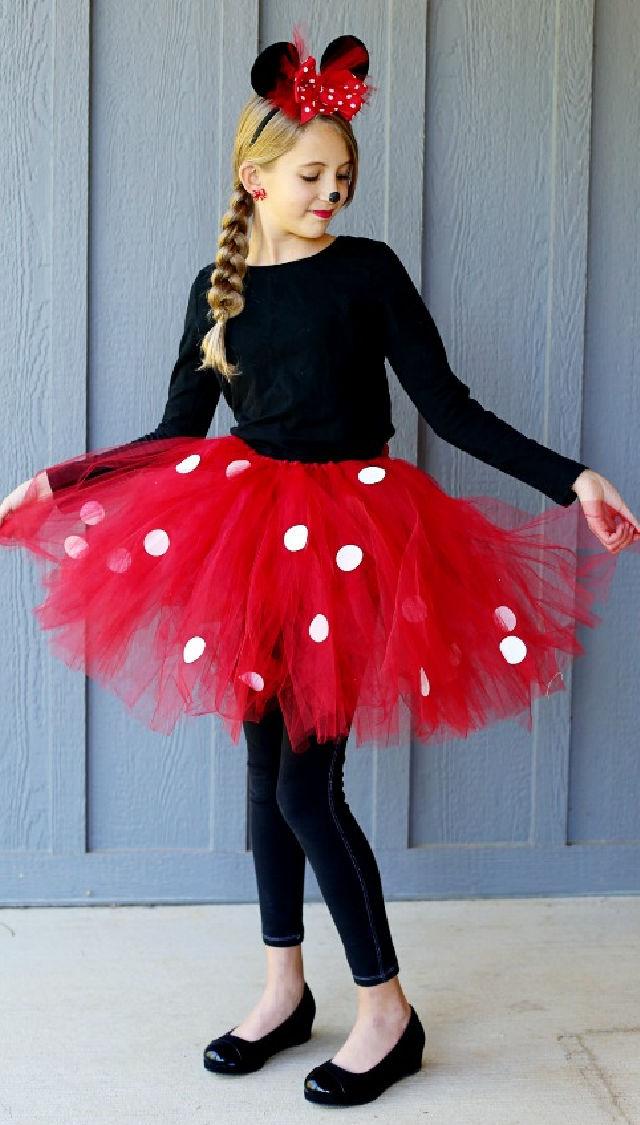 We are sure everyone has loved Minnie mouse in their childhoods, and this Minnie mouse costume idea is perfect for Minnie mouse lovers. It is a no-sew costume and requires little time. The supplies you will need are 2-3 rolls of red tulle, elastic and white heat transfer vinyl. sugarbeecrafts
22. Quick and Easy DIY Flamingo Costume – Teen Halloween Costumes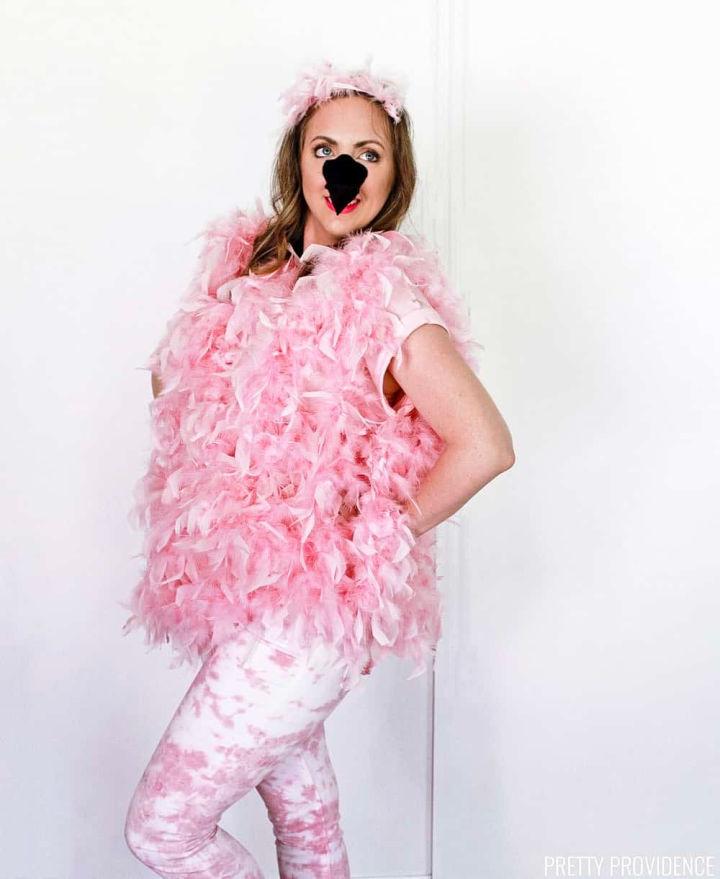 If you want to be something vibrant and colorful for Halloween, then this Halloween costume idea is perfect for you because you can dress up as a flamingo! The things you will need are a pink T-shirt, pink leggings, black felt, scissors, tape, safety pins, and bobby pins. prettyprovidence
23. Funny Taco Halloween Costume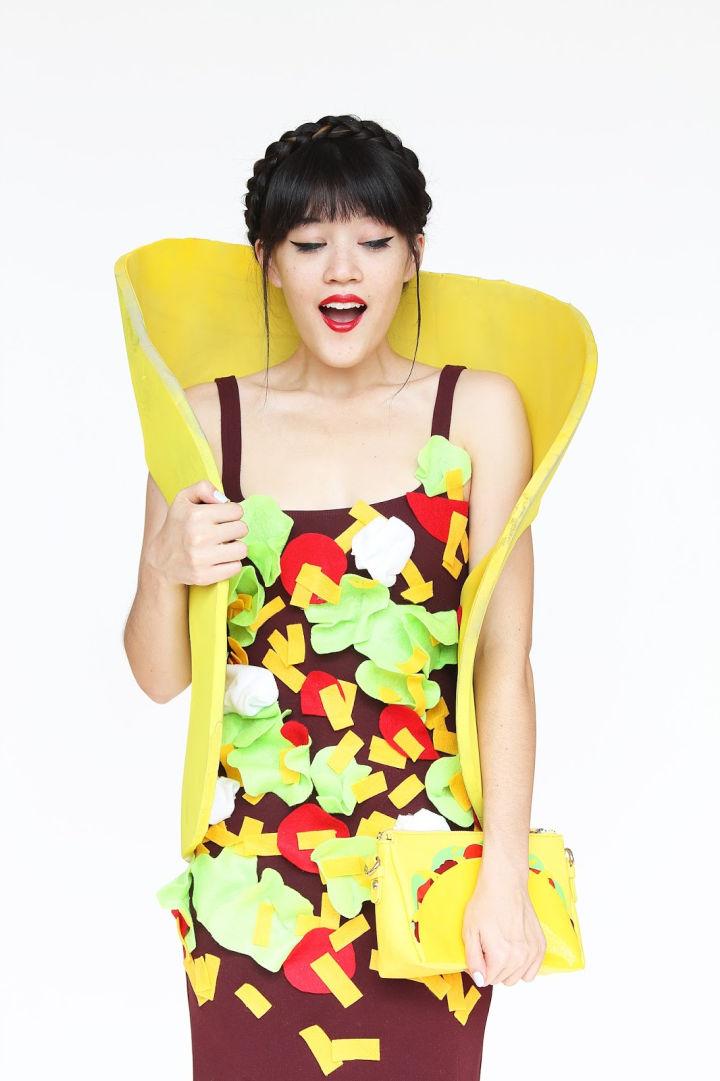 All of us love to have a burst of good laughter over a Halloween costume, and this taco costume will give you all the laughter possible. The things you need are a brown dress, felt, glue gun, foam, and yellow spray paint. In just 7 easy steps, you can create this comical wonder to rock the Halloween party. awwsam
24. Homemade Bath Pouf Costume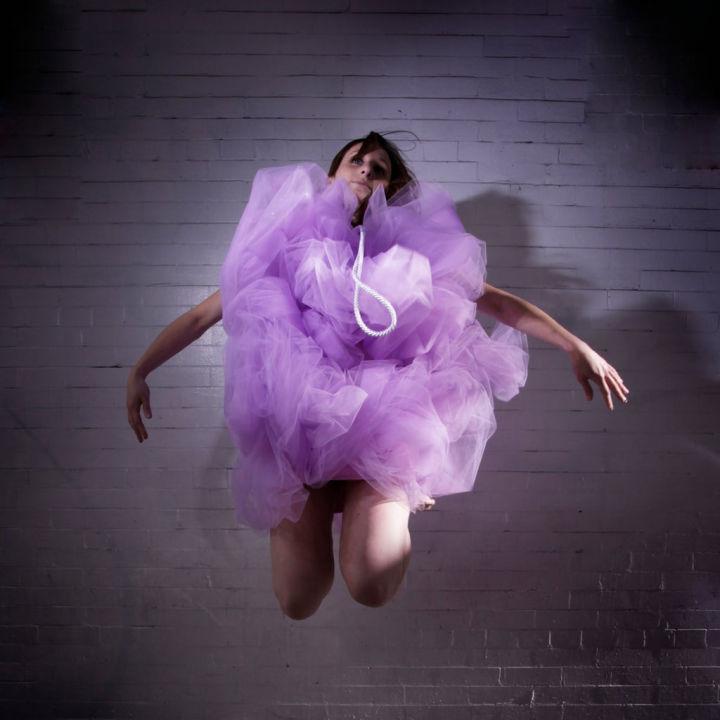 We have seen a pouf in the bathroom, but a bathroom pouf at a Halloween party? That is surely different, and here is how you can make it. You need 2 ft. of rope, 30 yards of tulle, 1 yard of jersey fabric, and a needle and thread. In simple steps, you can attach the tulle one by one to create this super cool costume. instructables
25. Fun Cotton Candy Halloween Costume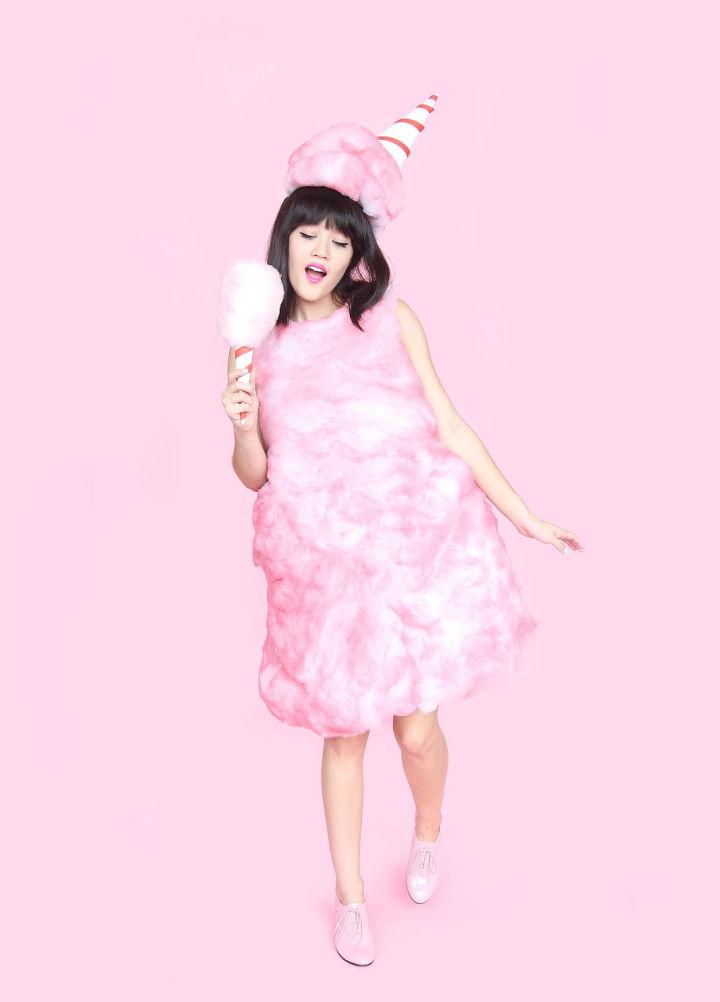 If you want to look sweet and colorful this Halloween, then have a look at this cotton candy costume that will make you shine sweetly. The supplies you need are a shift dress, pink spray paint, polyester fiberfill, a hot glue gun, a headband, and red and white paper for the cone. awwsam
26. Potato Head Teen Couple Costume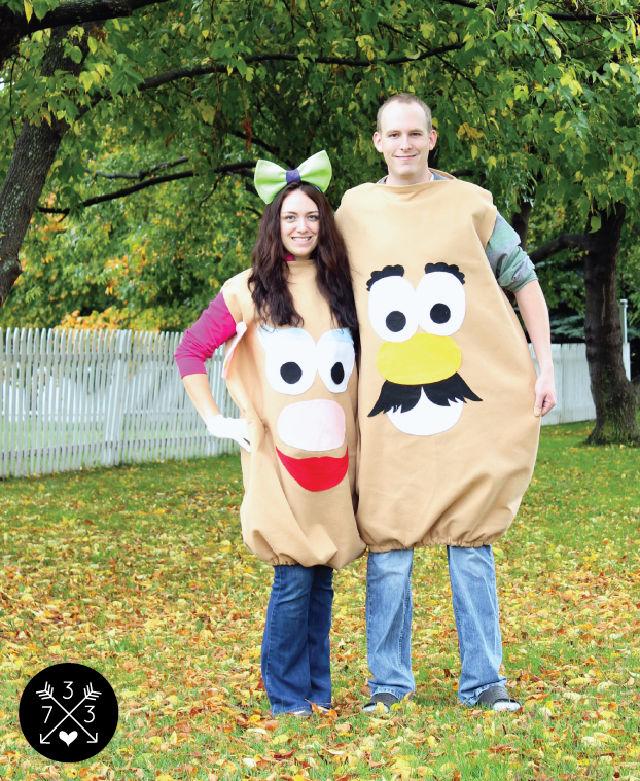 If you are looking for a fun couple matching Halloween costume idea, then this Mr. and Mrs. Potato head costume is perfect for you. All you need is different sizes and colors of felt, scissors, a sewing machine, a glue gun, and a headband to make this fun costume that you can flaunt with your soulmate. inspirationmade
27. Fruit Basket Group Costume for Teens – Teenage Halloween Costumes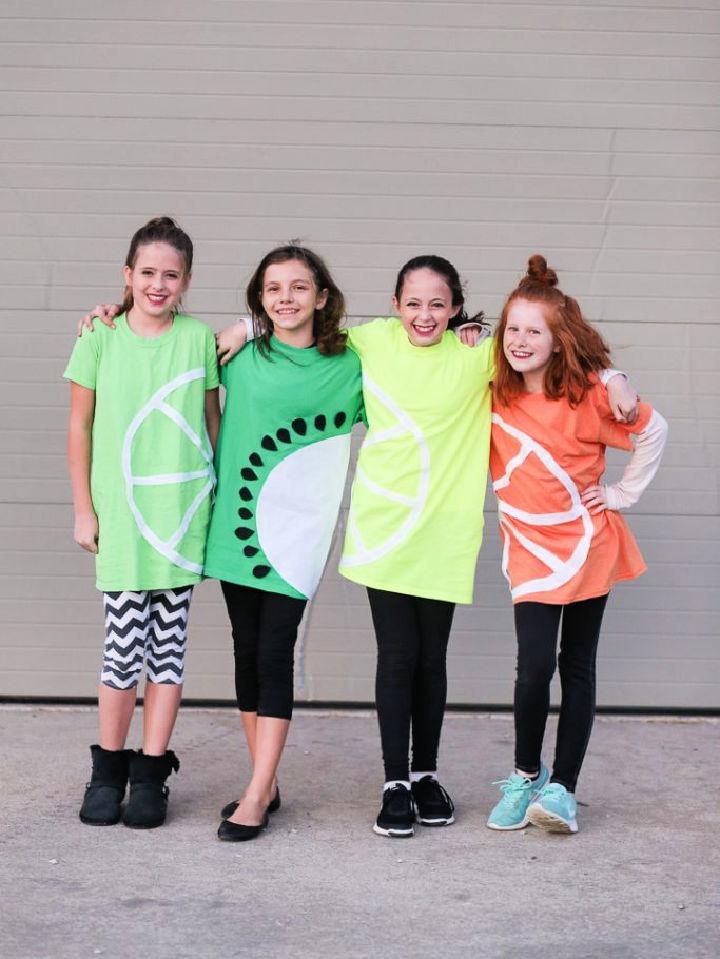 What is a better way to spend Halloween than dressing up with your friends? So, if you want to dress up with your group of friends, then you can follow a fruit basket or a bag of m&ms. You can add different or even the same colors to your costumes. For a fruit basket, you can be different fruits. sugarbeecrafts
28. Easy Disney Costume for Teenagers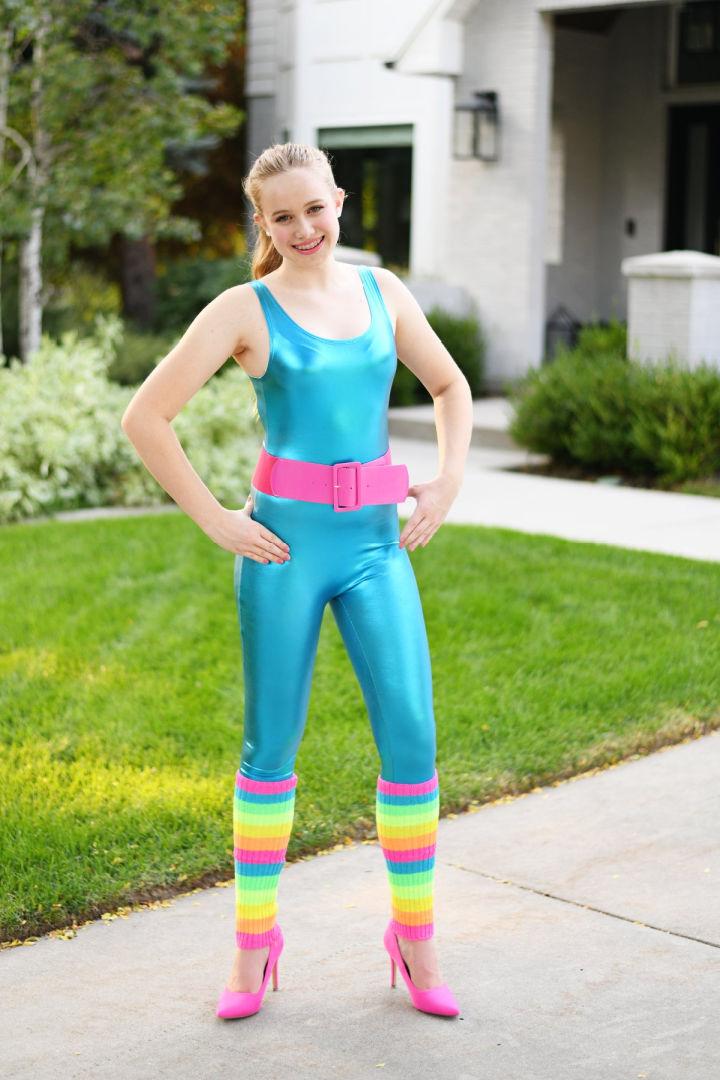 It is every girl's dream to be Barbie for Halloween, and we have got the perfect Halloween costume idea for you. You can flaunt your girly side in this costume. You can order the entire outfit from amazon and pair it up with some cute rainbow leggings and pink heels. pinkpeppermint
29. Creepy Twins Halloween Costumes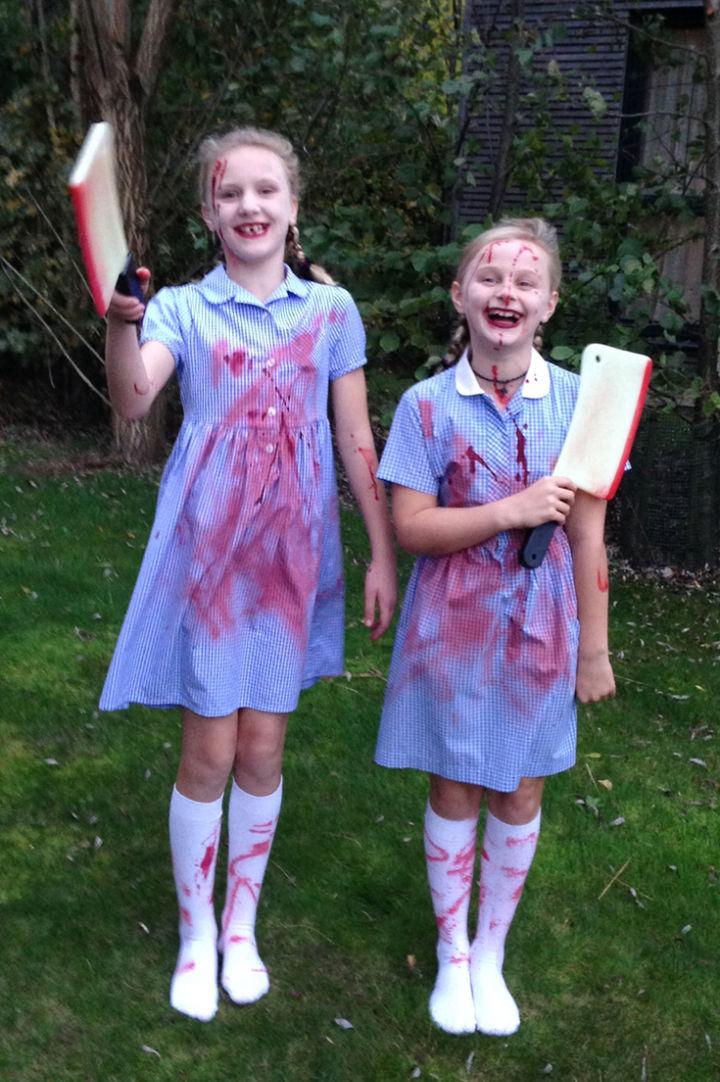 The spirit of Halloween lies in dressing up in creepy costumes, and this twin sister costume will give you freaks. You can do this with your sister and have loads of fun. You need two blue dresses, white stockings, and fake blood for the scary effect. Add in a knife or ax to spice things up. paintsewglue
30. Mad Scientist Costume for Middle School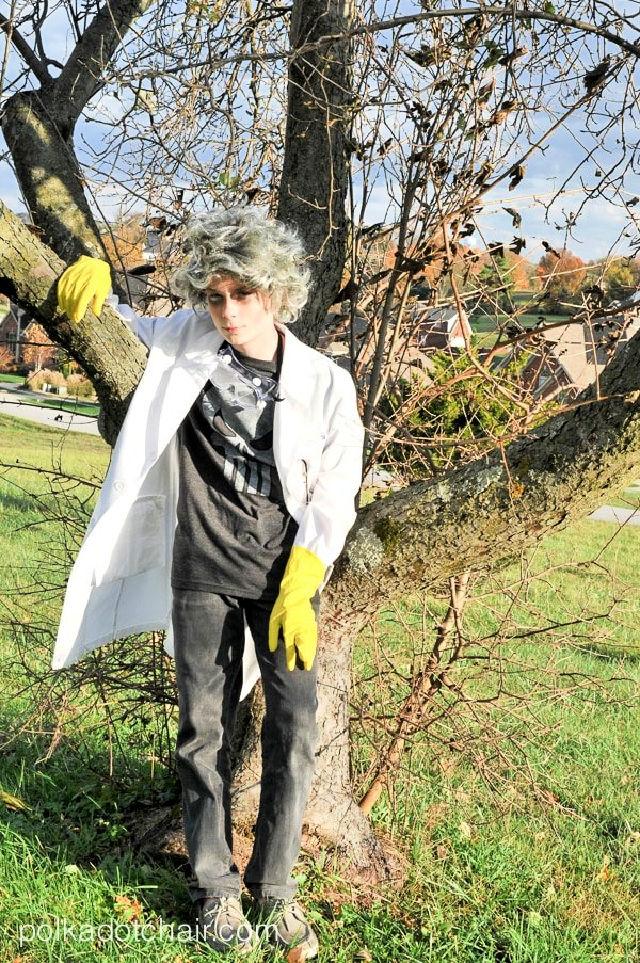 If you are looking for last-minute teen Halloween costumes for your teenager? Then this mad scientist costume idea is perfect for you. You can put together this outfit with simple and easily available things. You will need a wig, safety goggles, a graphic shirt, rubber gloves, and a lab coat. polkadotchair
31. DIY Pinata Costume For High Schoolers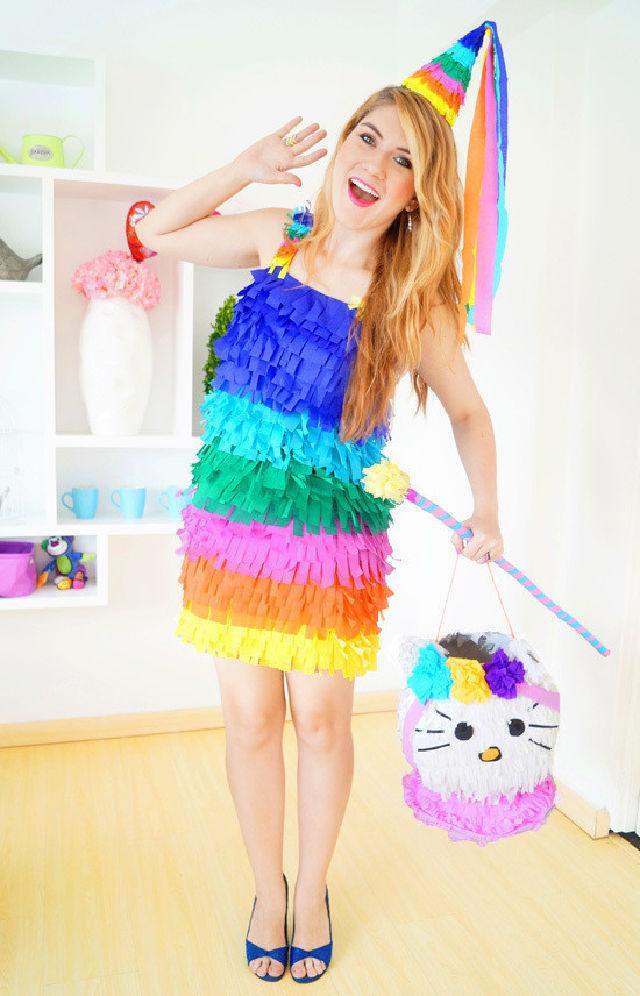 Popping a piñata is a highlight of a birthday party, and you can become this piñata for Halloween. All you need to do is follow five easy and simple steps to make this costume. You can take a dress of yours and cover it with crepe paper of different colors, layer them, and there you have it! A piñata outfit. cutoutandkeep
32. Cute Bubble Bath Teen Costume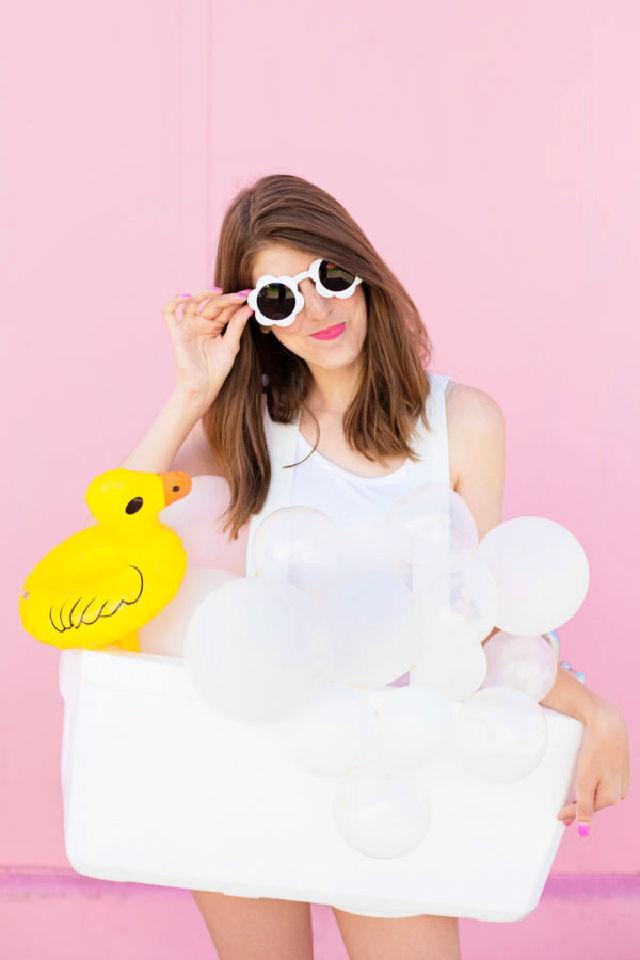 If you are one of those people who love to dress up different and innovative for Halloween, then this bubble bath costume idea is perfect for you. You can head over to the link for the details of the costume for your whole family. All of your family members can now end Halloween with a splash. studiodiy
33. Amazing Photo Strip Costume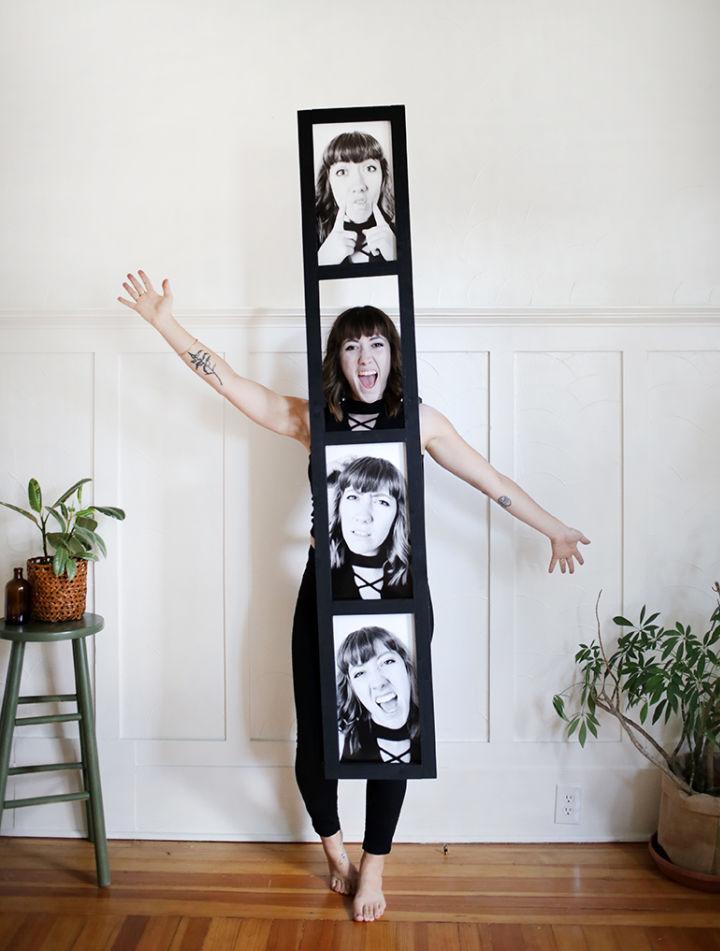 Who doesn't love a photo card or a photo strip you click at a photo booth? We got your back if you do, and here is a perfect Halloween costume idea for you. The things you need are furring strips, saw, sandpaper, drill, pencil, screws, paint, your photos, and measuring tape. themerrythought
34. Hashtag Costume for 14 Year Olds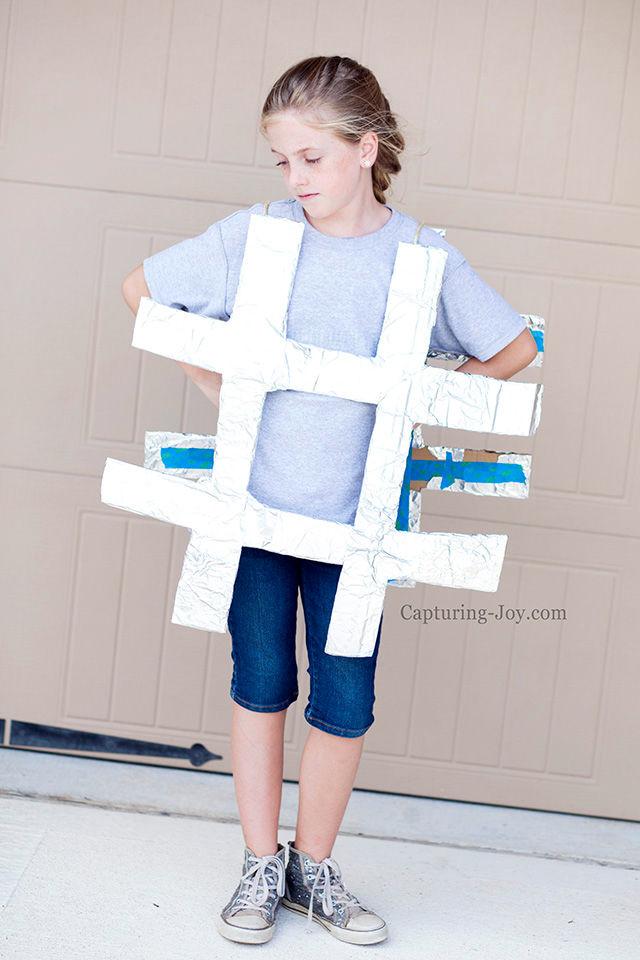 Hashtags started a trend that we couldn't get over even today. This trendy hashtag teen halloween costumes are perfect for teens to be the cool kid in town. You can use cardboard boxes for the hashtag and cover them with foil or paint it. Then drop this hashtag over the shoulders for the amazing finish. kristendukephoto
35. DIY Fortnite Tomatohead Costume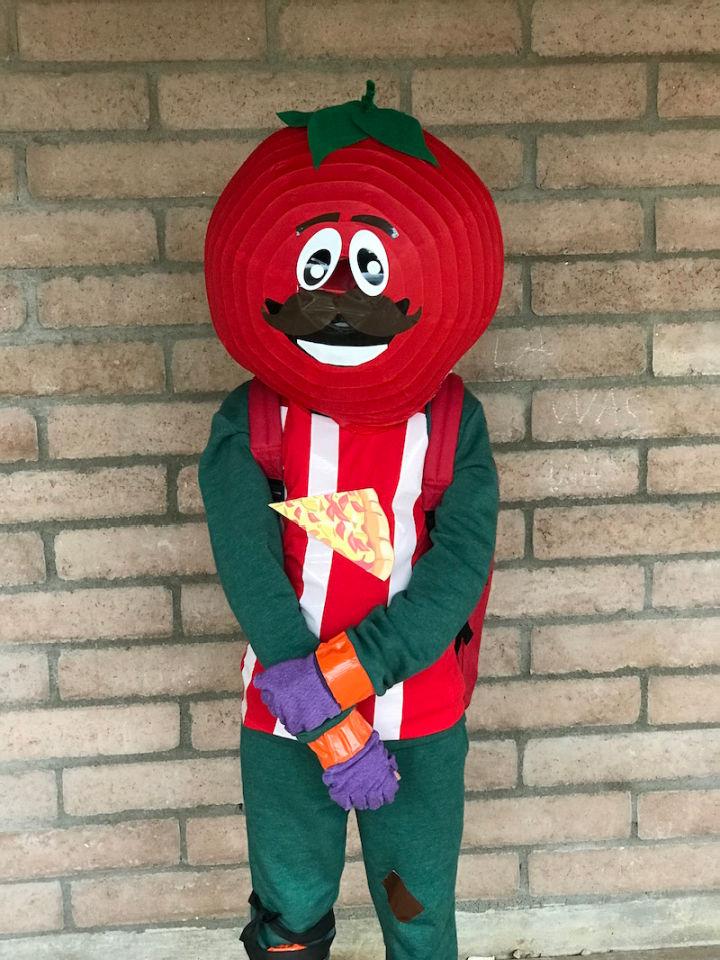 Fortnite has risen in popularity over the few years, and we love to see it enter the Halloween spirit. Now you can dress up as the tomato head guy from Fortnite, and it is a DIY costume. Head over to the link for the complete tutorial of this super cool costume for Halloween. desertchica
36. Scary Ghost Halloween Costume for Teens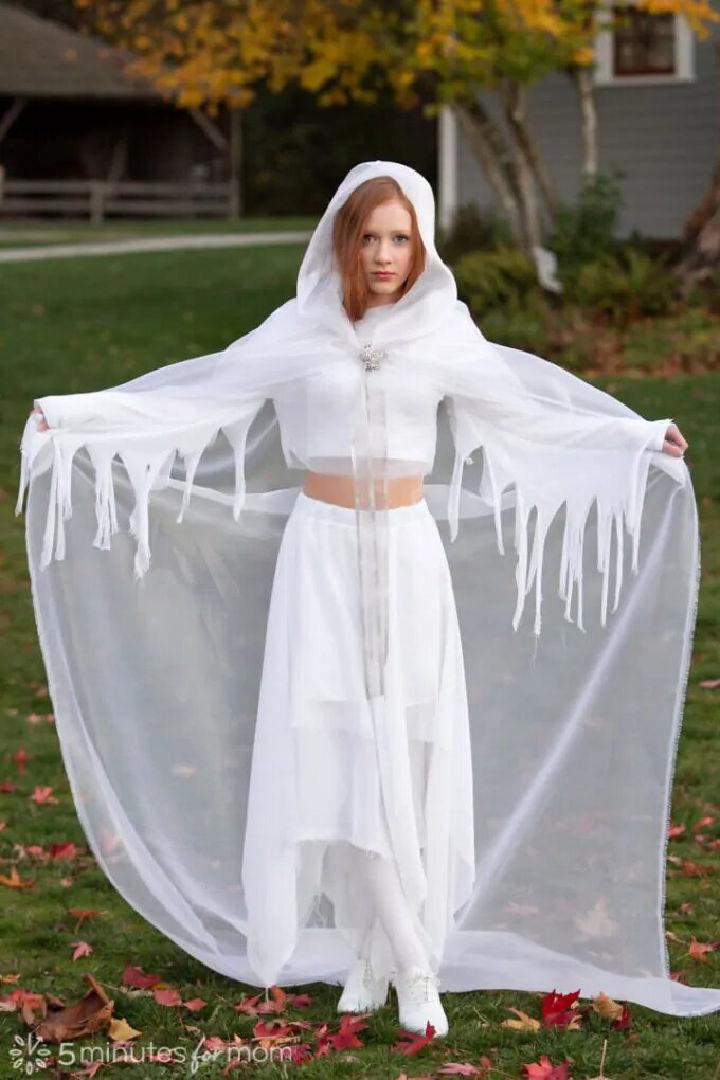 We love a classic ghost costume for Halloween, and so will you when you see this amazing ghost costume idea. This dress includes a hood, draping sleeves, a cowl neck, and a handkerchief skirt. You can always add in accessories you like to give off a classy look. 5minutesformom
37. DIY Frida Kahlo Costume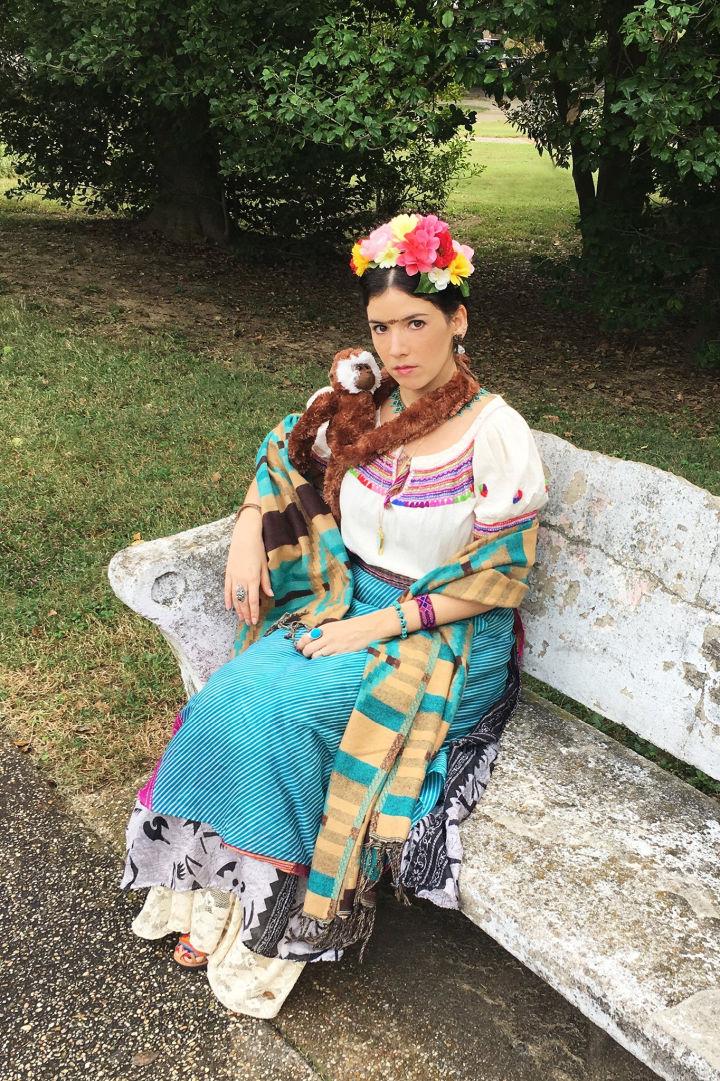 Frida Kahlo has been an inspiration to many out there, and what better way to honor the Mexican culture than to dress up like her. You can pair a traditional dress with a cute flower crown. The things you will need for the crown are faux flowers, a headband, a glue gun, and scissors. shopmucho
38. Pizza Slice Costume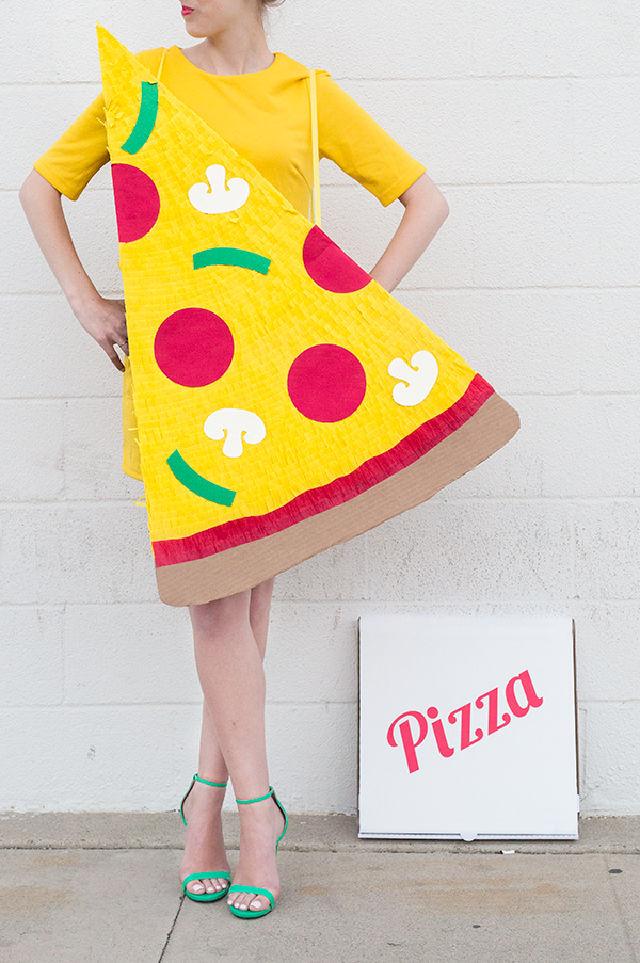 Everyone loves pizza, and that's a fact. What better way to flaunt this love than be a pizza slice for Halloween? You can ask your soulmate to dress up as a delivery boy to make it a couple set as well to make it look super cool. It will be a super different and innovative idea. studiodiy
39. Easy to Make Zombie Girl Costume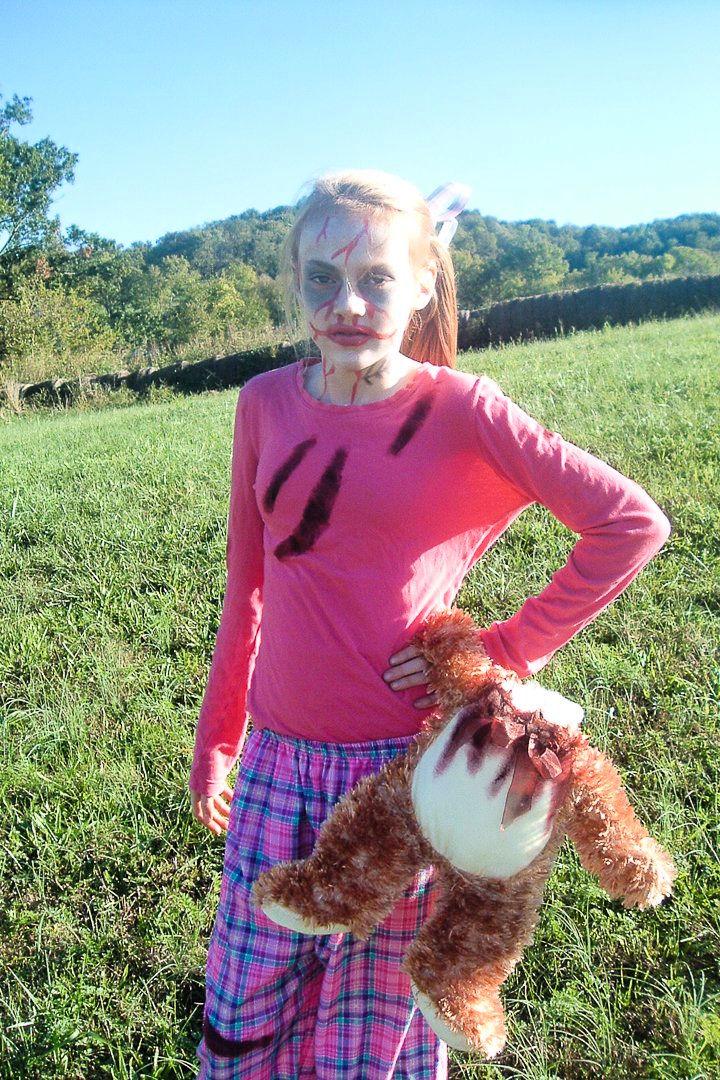 One of the few things that pop up in our mind when we think of Halloween is zombies, and everyone surely loves them. Not only are they creepy, but they make perfect teen Halloween costumes. You can add creepy makeup using fake blood to create an extra horror look. thecountrychic
40. Steampunk Teen Mermaid Costume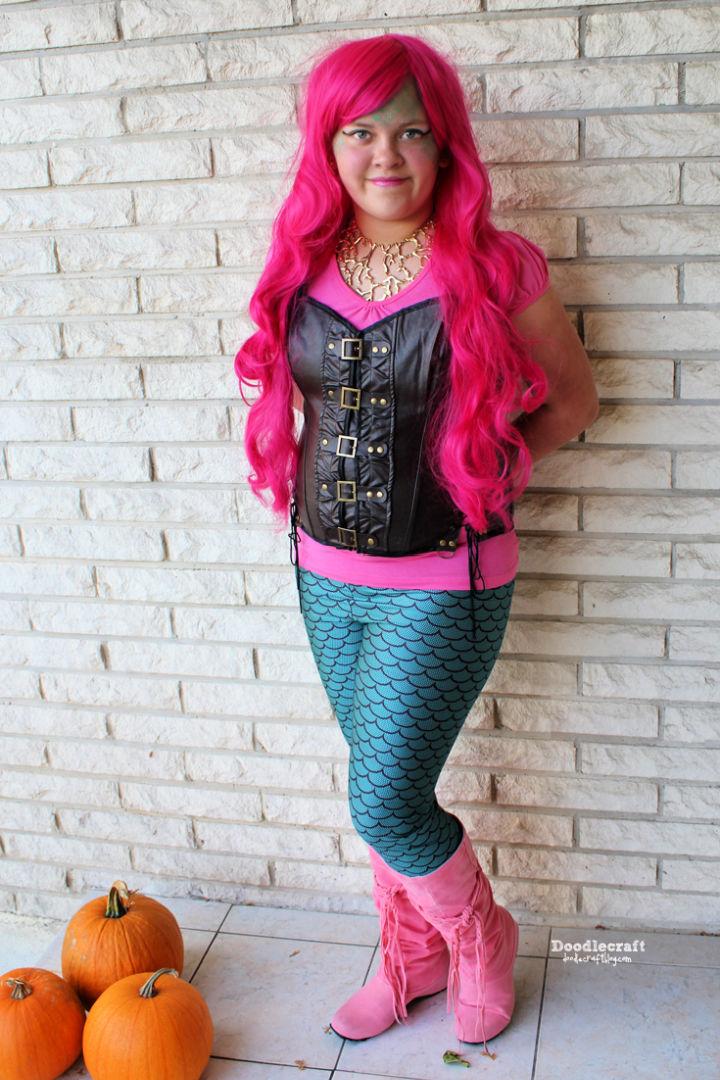 If you want to dress up as a cool mermaid for Halloween, then here is the perfect idea for you. You can order the leggings from amazon. Other than add a corset, a colorful wig, and a cool shirt to your look. You can make it extra vibrant with makeup using glitters and a mermaid scale template. doodlecraft
Cheap and Easy DIY Costume Ideas for Everyone
1. DIY Cowgirl Costumes – Can't decide what to be for Halloween? Check out these DIY cowgirl costumes!
2. DIY Poison Ivy Costumes – Make your own Poison Ivy costume this Halloween with our easy tips!
3. Group Halloween Costumes – Get the whole gang together with these fun and easy DIY group Halloween costumes!
4. Family Halloween Costumes – From witches to ghosts, we've got all the family Halloween costume ideas you need!
5. Alice in Wonderland Costume – Create your own Alice in Wonderland costume this Halloween with our step-by-step guide!
6. DIY Pirate Costumes – Argh, matey! Make your own DIY pirate costume this Halloween with our easy tips!
7. Halloween Costumes for Women – Need some Halloween costume inspiration? Check out these great costume ideas for women!
8. DIY Circus Costume Ideas – looking for a unique Halloween costume? Try one of these DIY circus costume ideas!
9. Couple Halloween Costumes – Make your own couples costume this Halloween with our easy tips and ideas!
10. Toddler Halloween Costumes – Get the little ones in on the fun with these adorable Toddler Halloween costumes!
Conclusion: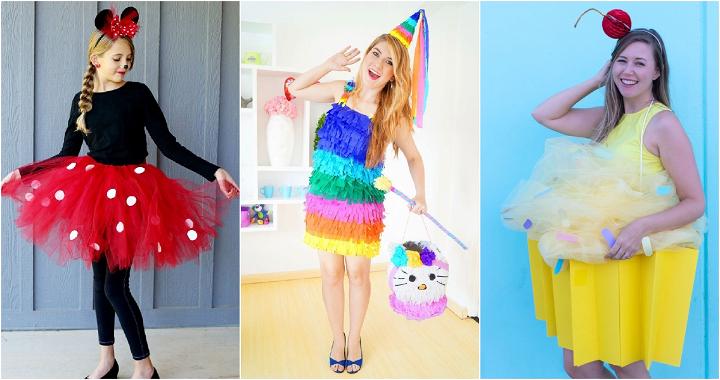 Hence, if you want to look cool, different, and funny this Halloween, pick out any of these teen Halloween costumes and be the show's star. You can always add your details and elements to these teen halloween costumes and let your inner artist flaunt. Each of these teen Halloween costumes is super easy to make and will be fun to wear as well. So what are you waiting for? Pick up any of theseteen halloween costumes and have fun while making these. You will surely rock this Halloween with these looks.