Looking for couple costume ideas? Here are 40 easy DIY couple Halloween costumes for you and your love. These easy couple costumes are all meant to be creative, original, and of course, easy to put together. So whether you're looking for a last minute couples costume or some more unique couples costumes, we've got you covered.
Halloween is the most loved festival of the year. Halloween lovers just get busy with Halloween decorations, trick-or-treating, pumpkin decorating, Halloween haunts and planning the best DIY Halloween costumes. If you are participating in Halloween parties as a couple or in a friend's birthday bash, it will be a great idea to team up with your hubby or boyfriend and the whole family. So, presenting the best 40 last minute DIY Couple Halloween Costumes here will surely bring you great fame as doublets in spooky festival parties. At the same time, it will help build stronger love bonds between you and your partner and will also help evoke those love emotions.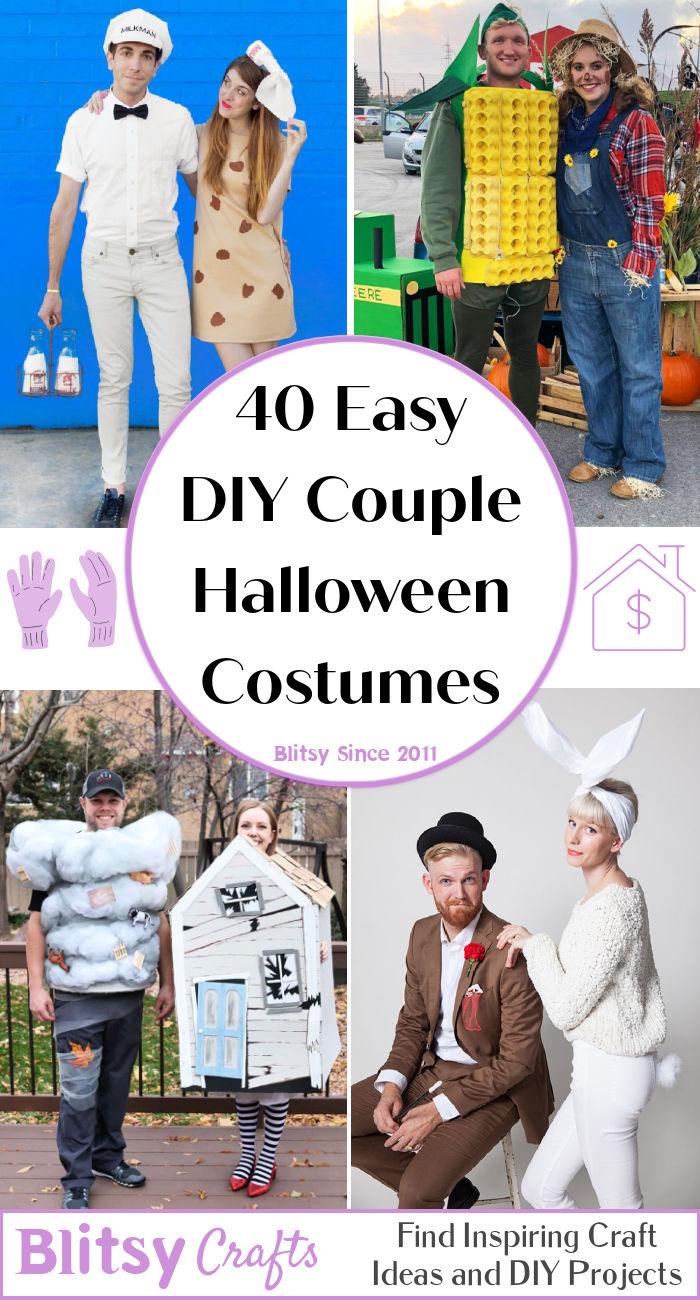 There are lots of characters, things and pairs to choose from when you are to celebrate Hallow's Eve in a two-person getup. At the same time, you will get here amazing funny, scary, trendy, and super unique Couple Halloween Costumes Ideas to choose from. In addition, you will get here costume ideas inspired by so many different themes like space, ocean, school, graveyard, and food etc.
There are Halloween Couple Costume Ideas for all skill levels, from easy to intermediate to advanced. Most of the ideas are budget-friendly, and there are ideas based on recycled items, sure to cost you next to nothing. So, you can take a quick tour of the entire curated list of DIY Halloween Costumes to see a lot more unique and impressive stuff.
1. DIY Wizard of Oz Couple Costume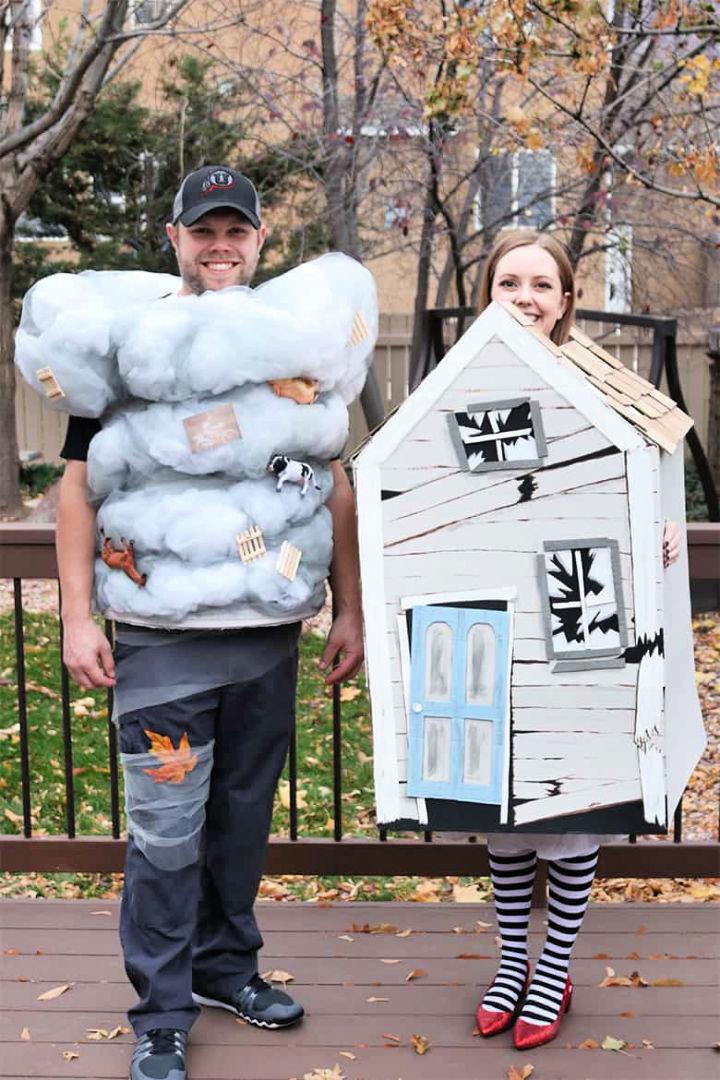 There are various themes out there to choose from for your Halloween costumes. This time get inspired by the Wizard of Oz theme and make this best Halloween couple costume. Here is a tornado costume that every Halloween lover can cheaply make at home. Get crafty with the laundry hamper, old coat hanger, batting scraps, tulle, dollhouse picket fence pieces, plastic animals, duct tape and faux leaves to easily duplicate this couple Halloween costumes. At the same, it makes a heart-winning gift also to give to a favorite couple this spooky season. aubreeoriginals
2. Hot Coffee and Drive thru Duo Costumes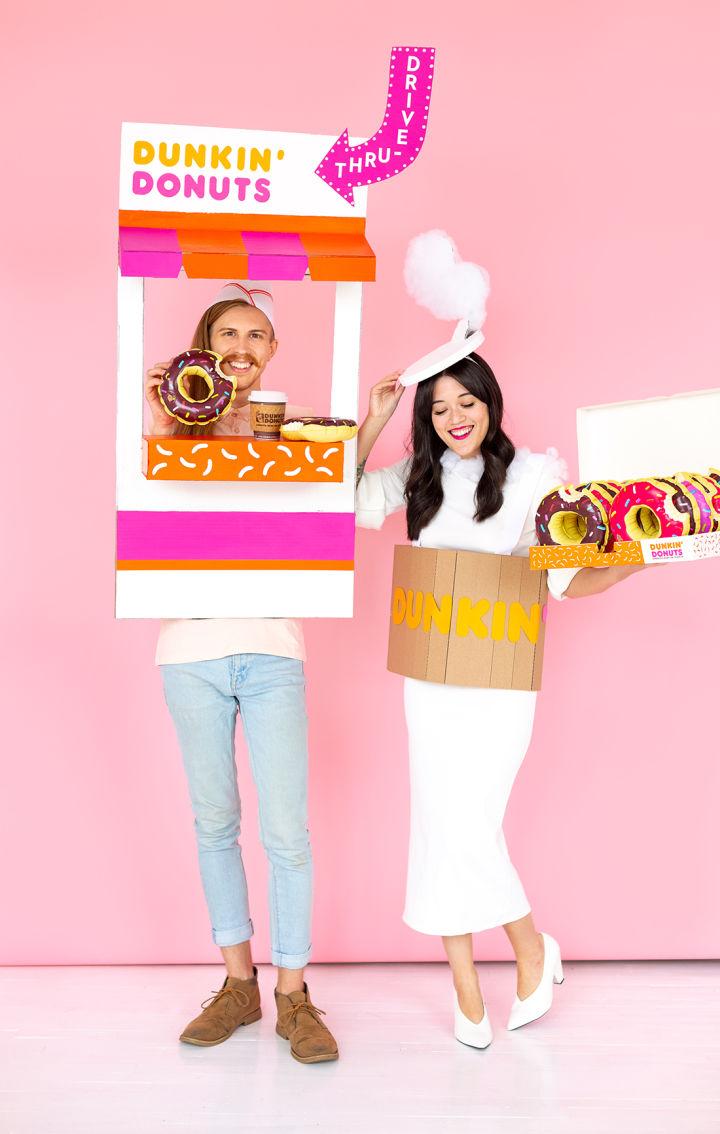 Participate in the cool Halloween parties as a cool couple with this Dunkin' Hot Coffee & Drive-Thru couple costume. The project provides complete written directions and video instructions to easily complete this couple's costume, and it involves many steps. Before you jump into the making process, manage the required supplies. Grab a white dress, cardboard, orange construction paper, polyester fiberfill stuffing, headband, utility knife, hot glue, white acrylic paint, paintbrush and ruler to craft this super cute couple costume for Saint's Day. awwsam
3. Bojack Horseman and Princess Carolyn Couple Costumes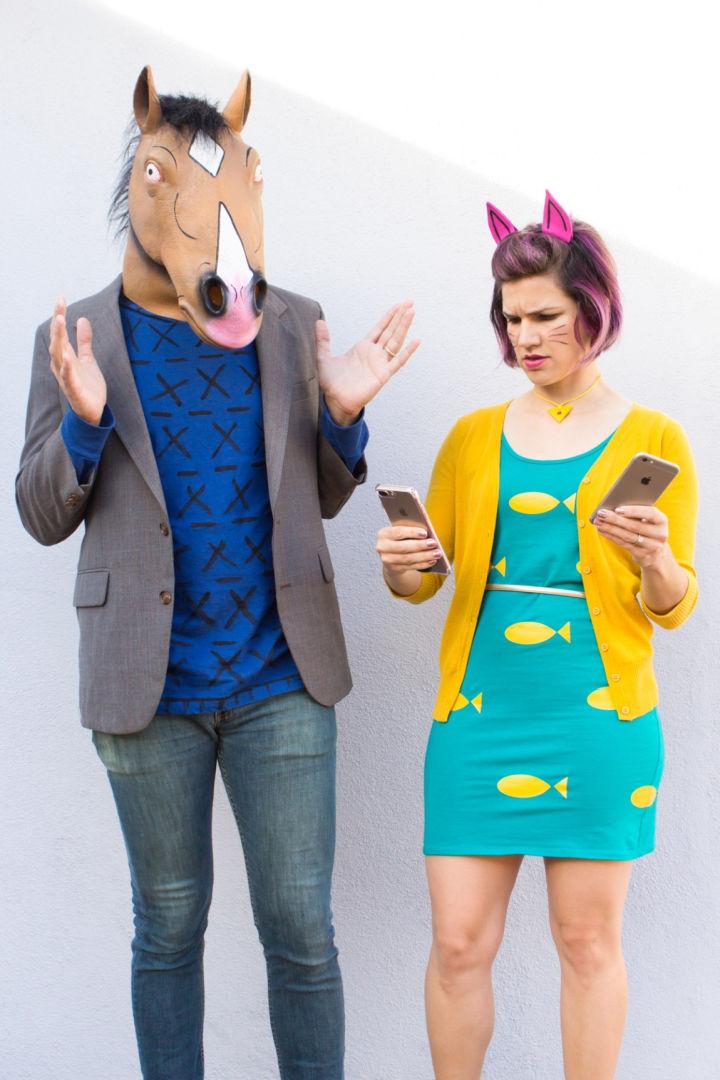 Are you highly obsessed with the BoJack Horseman Netflix series? Then you will love the other fictional character, Princess Carolyn. So, here is how to show your love for the series this Halloween season. Just make these BoJack Horseman and Princess Carolyn costumes and wear them as a couple this Halloween. This will create too much fun, and it will not take that too long to complete this creepy and fun-making couple costume at home. Grab the teal tank dress and add it with the yellow heat transfer vinyl fish patterns to make the princess Carolyn dress. Use the silhouette machine to easily cut the fish pattern. Go handmade with yellow oven-bake clay to make a triangle charm necklace, and don't forget to wear the mustard yellow cardigan. Pink craft foam will work great for making ears. sarahhearts
4. Nintendo Switch Costume for Couples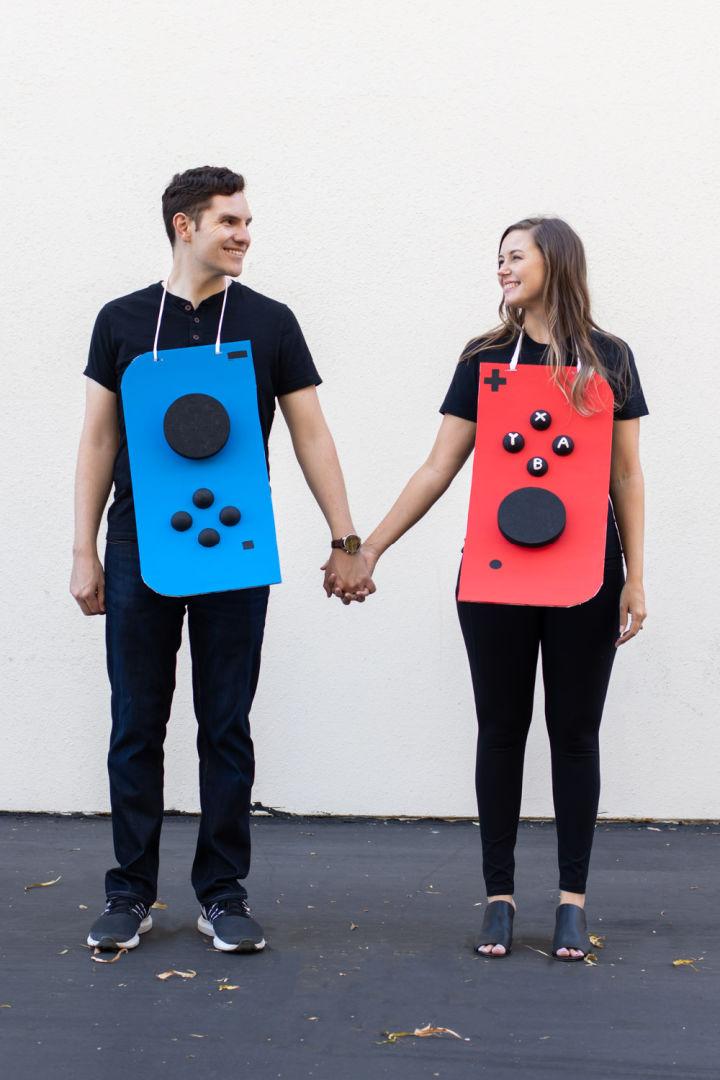 Show your love for the Nintendo Switch video game console this Halloween season by making and wearing this Nintendo Switch couple costume. This will also show how you both are emotionally attached as a couple and will be a cool yet easy thing to make for Halloween parties. In supplies, you need two thick posterboards, a craft knife, red paint, blue paint, black paint, white paint, paintbrushes, small foam spheres, large foam discs, a large craft saw, glue and rope to complete this whole precious Halloween costume. clubcrafted
5. Halloween Mermaid and Merman Couple Costume Ideas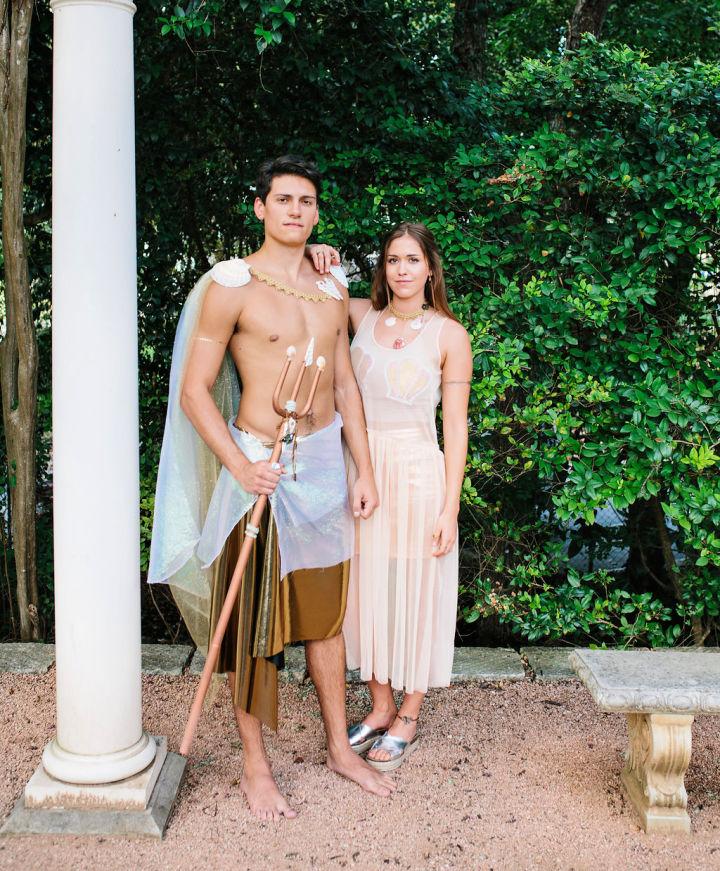 Intending to go for a unique and different type of costuming on All Saints' Eve? This Mermaid and Merman costume idea will do the trick. Wearing these costumes will surely raise you in the entire Halloween party crowd, and it will be easier to make with the provided directions. You will get separate instructions, material lists, and too lists to make both of the costumes and the necessary embellishments, jewelry, and enhancements. You need fabric, tulle, gold trim, seashells for the Merman costume and pipe cleaners, a tulle sleeveless dress, and felt in gold and pink colors for the mermaid dress. theeffortlesschic
6. Sweet Tooth Halloween Couple Costumes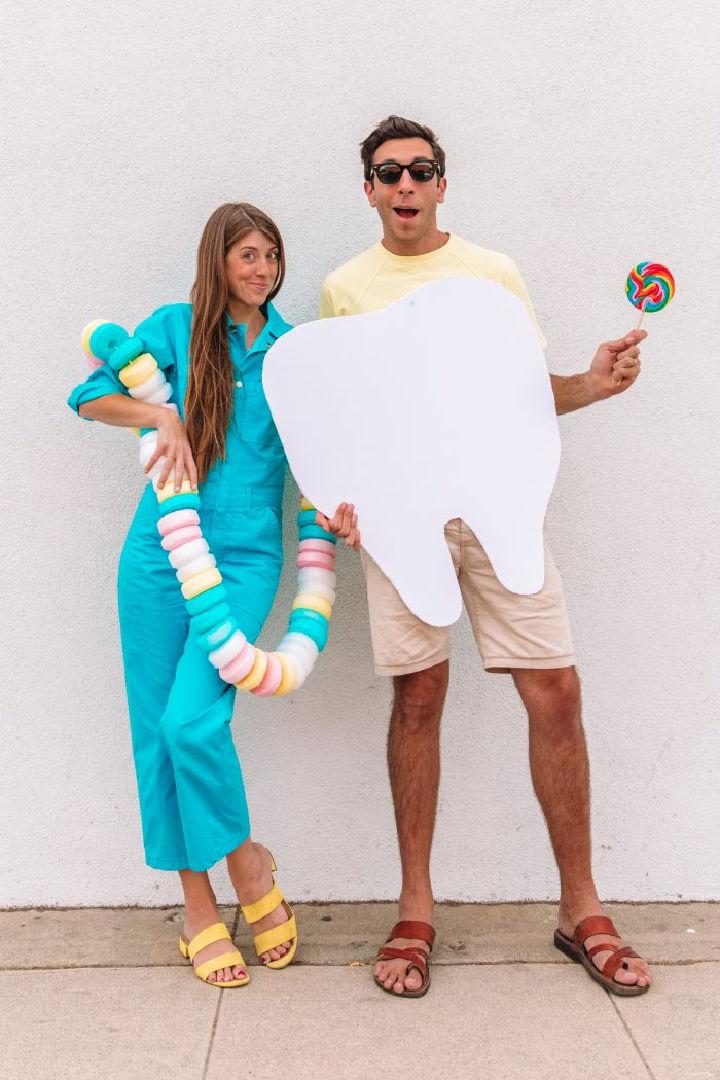 You will love this another Halloween costuming theme that will work great for a couple. Just get inspired by the sweet tooth theme and make these cute couple costumes at home with all the necessary enhancement. The project provides comprehensive instructions and detailed diagrams to easily craft out the costumes and every detail of this theme. Mainly you need, pool noodles, spray paint, box cuter or large kitchen knife, scissors, rope for the candy necklace and pencil, foam board, scissors or x-acto knife, elastic or ribbon, lollipop for the sweet tooth. studiodiy
7. Cool Magician and Rabbit Couple Costume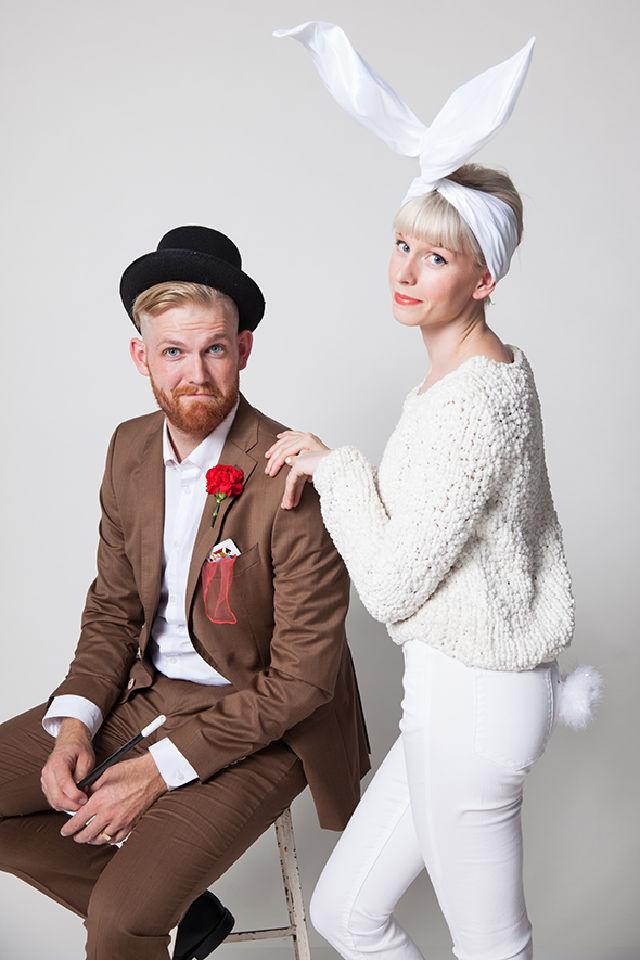 The Halloween festival is all about creepy magic. Here is what you need to wear to bring that necessary spooky spell to a brilliant magician and rabbit Halloween couple costume. You need a brown suit, white dress shirt, dress shoes, assorted vintage scarves, custom top hat with added features for the magician costume. Got rabit costume, you need a textured sweater, white jeans, converse high tops, rabbit ear hat and tail. Paint a dowel to use as a magician stick, and you also need the deck of cards, solo cups and assorted balls to use as props for the costume. sayyes
8. Couple Greaser Halloween Costumes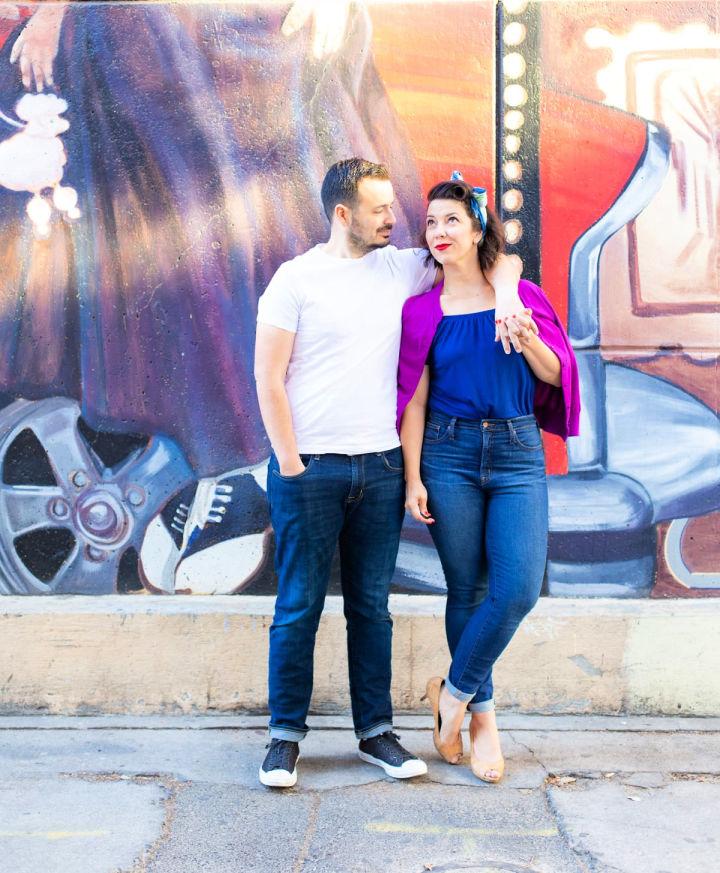 Get inspired by the simple yet elegant Halloween couple costumes, sure to be ready just at the drop of a hat. Here is the Greaser Halloween Couple Costume that does not involve a lot of crafting and is simple and straightforward. You need high-waisted pants or jeans, off a shoulder top or crop top, a cardigan for layering, a scarf for hair, peep-toe heels and red lips for the female greaser costume. Use the white t-shirt, cuffed jeans, white stocks and flat sneakers for the male greaser costume, a pretty simple and easy peasy Halloween costume idea. lovelyindeed
9. Scary Mummy Couple Costume Ideas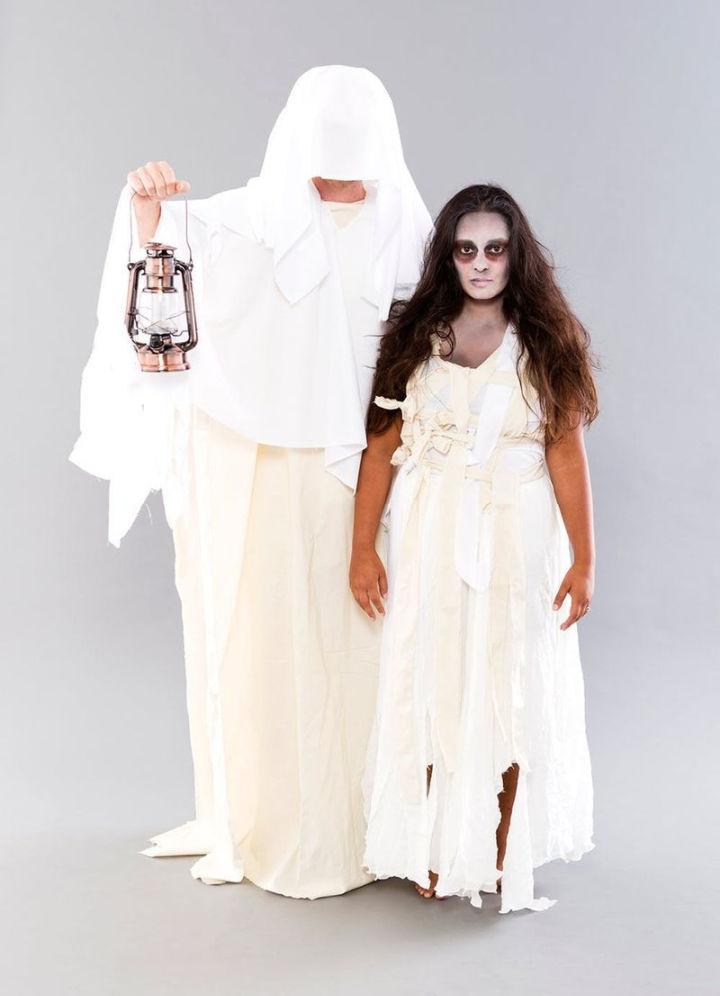 Bring tons of those scares to Halloween parties this spooky season with this Halloween Mummy Costume, not very challenging to make. The costuming project will work great for the lazy girls, and everyone will just love to whip up this sweet and simple couple costume. You need a yard of white and cream cotton fabric, a white tank top and a gauzy white skirt to complete this fabulous spooky costume for the event. This not ends here. You will get a complete Mummy Makeup tutorial here that will help you look like a scary mummy. brit co
10. Funny Campfire and Smores Couple Costume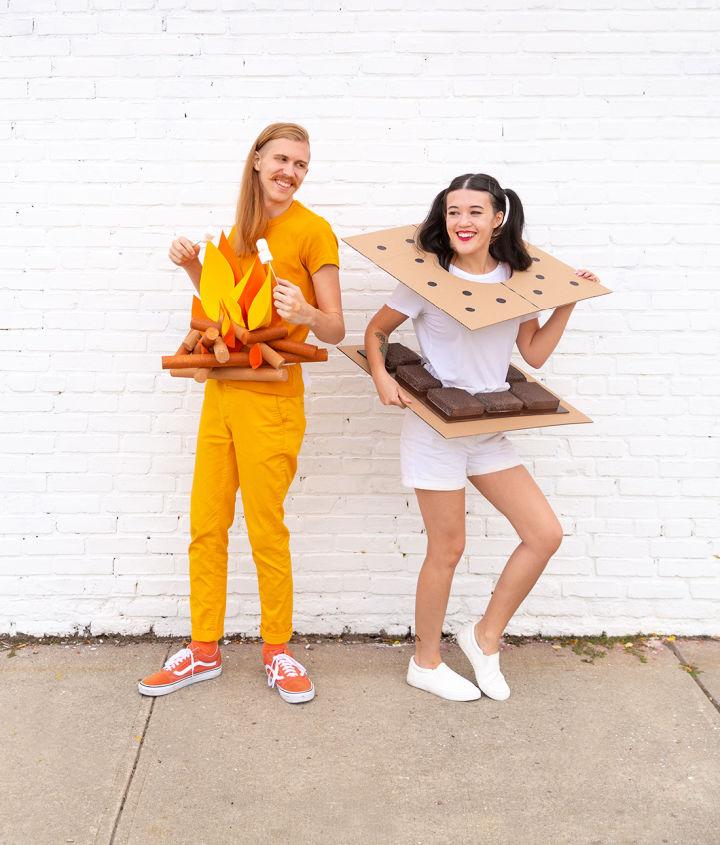 Feel free to duplicate this another gorgeous couple costume for the Halloween parties. It will be loved dearly by all the couples for sure. This is here, the campfire and S'mores couple costume, guaranteed to hold the attention of the entire party crowd. Want to duplicate these outstanding Halloween costumes? Pick the brown acrylic paint in two colors, dark brown spray paint, foam tubes, foam rectangles, foam board, orange and yellow foam, cardboard, white cotton ribbon, hot glue, sharpie, ruler, utility knife, paintbrush and scissors to whip up these cute and lovely costumes for the All Saints' Eve. awwsam
11. Kissing Sailor Halloween Couple Costume Ideas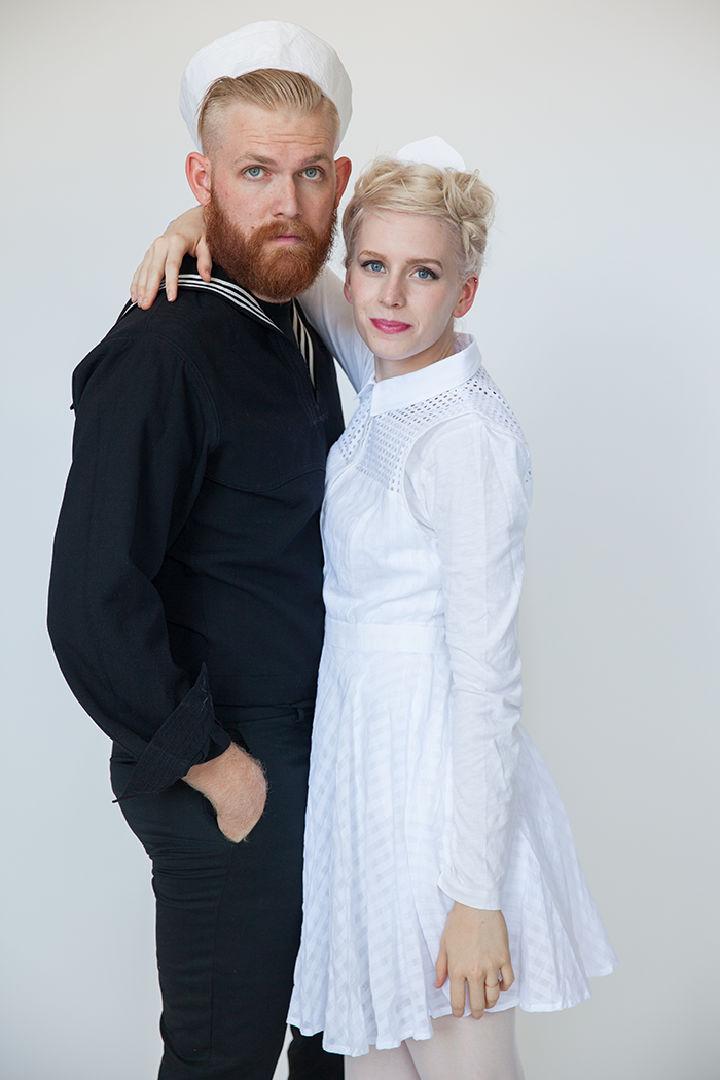 Appear in the kissing sailor avatar as a couple in the spooky Halloween parties with this self-made kissing sailor couple costume. The best part is that you need to do a deep kissing and simple posing to nail the look. Once you make this costuming, you will get all your skills praised for sure. You need a simple white dress, white tights, and white shoes and craft out the nurse clip with the white cardstock and barrette. For the man, grab a sailor top, black pants, shoes and a sailor hat. sayyes
12. Simple Couple Halloween Costume with Colorshot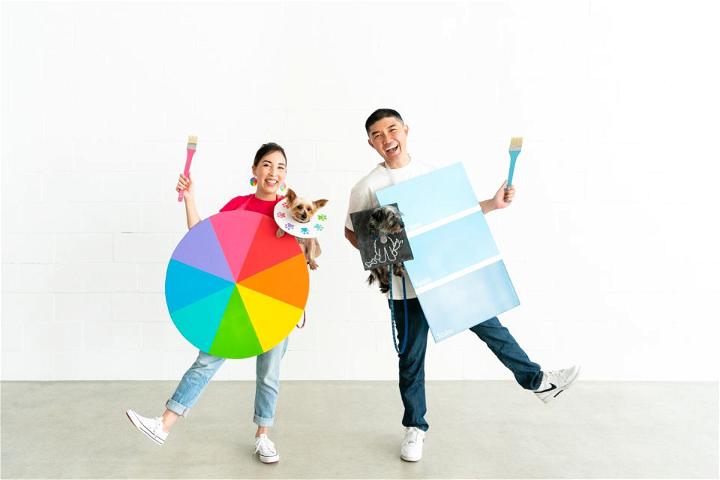 It brings too much fun in the Halloween couple parties to get dressed up in the unique costumes. There are tons of costume ideas to choose from. Duplicate this COLOR SHOT costuming this Halloween. It will be comparatively easy and quick to make these cute, colorful, costuming but rock for all couples. Grab the COLOR SHOT premium spray paints in 3 coordinating colors, COLOR SHOT premium chalk marker in marshmallow, white foam board, kraft paper, surface tape, yardstick, ribbon, hot glue, hook and loop stripes for the paint chip costume. You need chalk markers, acrylic paints, black foam board, white foam board, pencil, ruler, chalk, compass, box cutter, rag and paintbrush for the paint chip male costume. mycolorshot
13. Cookies Milk Adult Couples Costume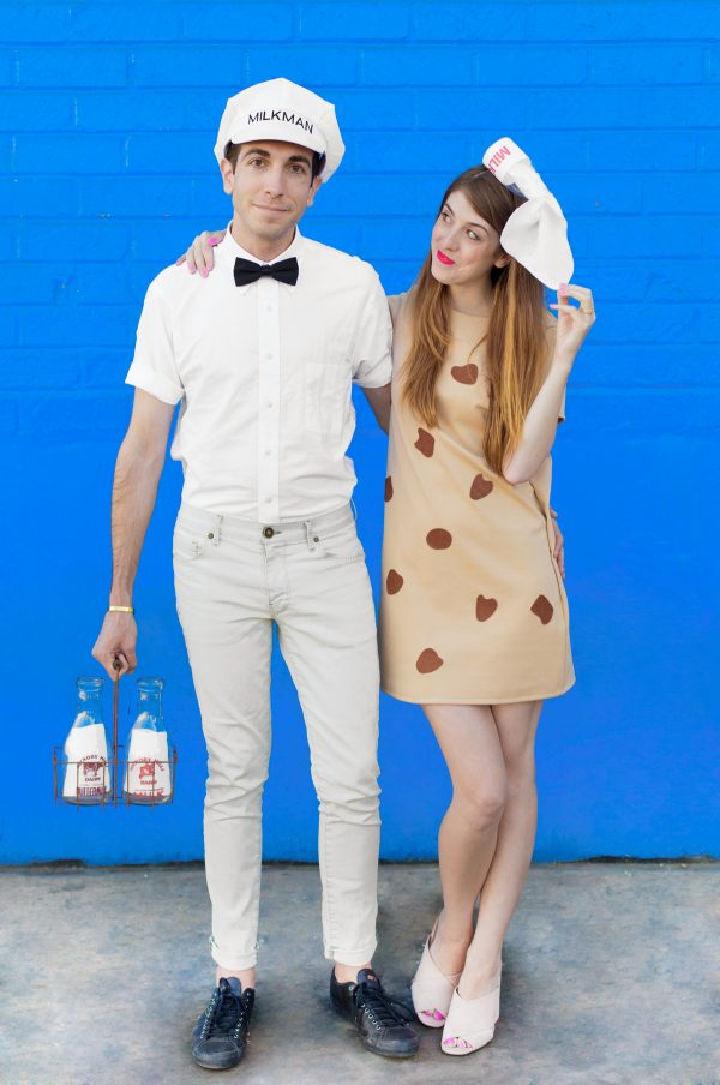 You can make a couple of costumes for the event inspired by things that come as a pair and interconnections. A great example can be a milk and cookie pair and presenting here a brilliant cookies and milk couple costume idea, guaranteed to be a big love of all. It will only take about an hour to complete this milk and cooties couple costumes, and they will make sweet handmade gifts also. You need a tran dress, chocolate chips, plastic milk bottle, white felt, milk bottle label printable, tape, hot glue, scissors, stretchy headbands to complete these Halloween costumes. studiodiy
14. DIY Solar System Couples Costume

Are you highly obsessed with the solar system? Then make these solar system galaxy costumes, sure to impress all the couples for sure. In supplies, you need Rit All-Purpose Dye & Rit DyeMore for Synthetics, white dress, white sneakers, white tights, gloves, headband, yellow construction paper, scissors and glue to complete this outstanding Halloween couple costume. You can easily dye the dress and tights to make the sundress and use the paper cutouts to glue on the hair catcher to make the sun rays. For space costume, you need Rit All-Purpose Dye in Black, white cotton sweatshirt, gloves, felt, hot glue and scissors. thecraftedlife
15. Lumberjack Halloween Couple Costume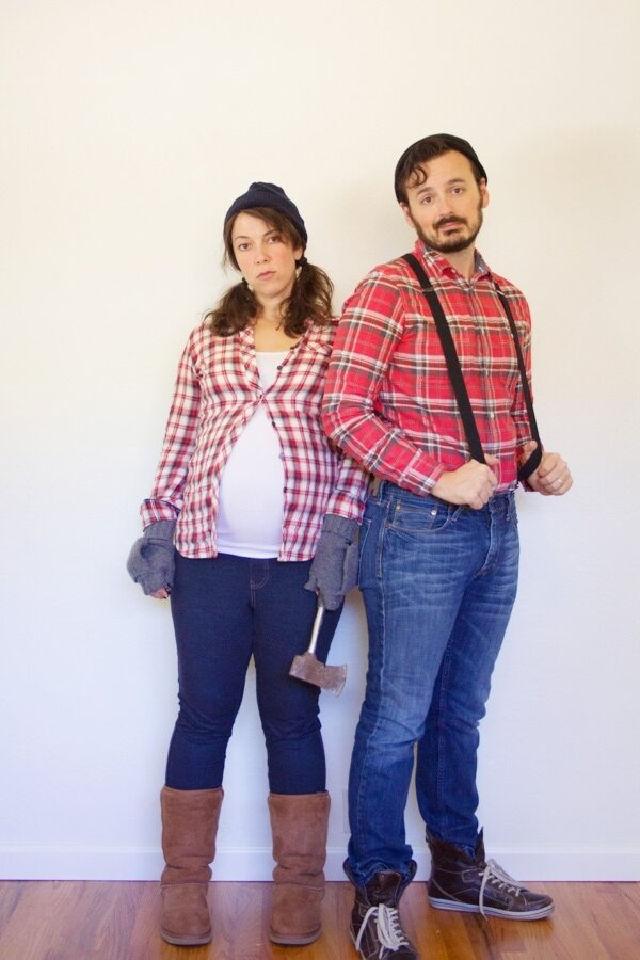 Shine on Halloween Day with these Lumberjacks costumes that are already made in your closet. Yes, you can easily pick the matching shoes, shirts, hats, gloves and shoes from your closet to duplicate these fantastic Halloween costumes, sure to be a big love of all the Halloween lovers. The costumes can be packed to give a sweet handmade gift to a Halloween fan or friend, and this simple couple costume idea will rock for the lazy girls. lovelyindeed
16. Bob Ross Pregnant Couples Halloween Costume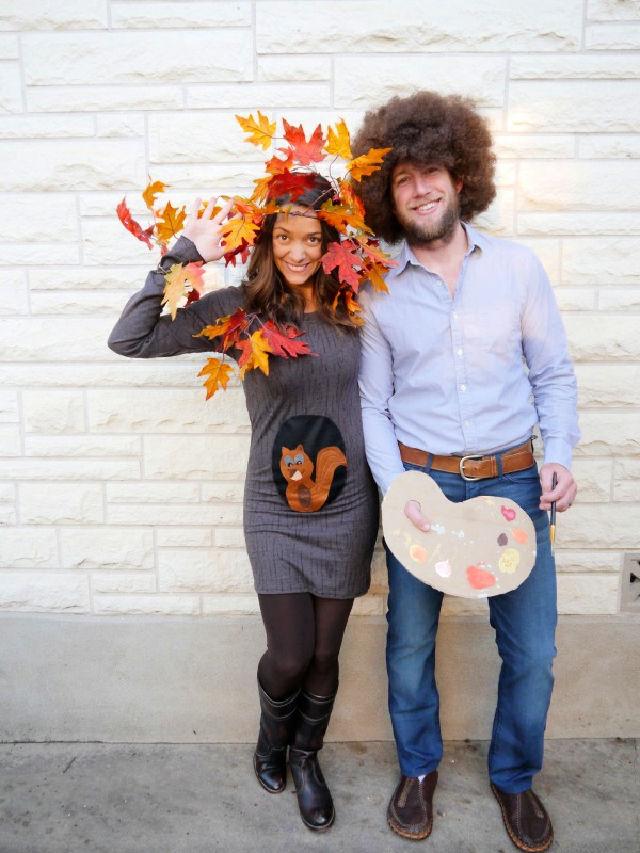 Presenting here another unique and amazing Halloween costume idea that couples will fall in love with. The Bob Ross couples costume is quick and super inexpensive to make at home. You need a brown long sleeve giant man's t-shirt, 4 pieces of felt, a sewing machine, sharpie marker, one fall branch line from Hobby Lobby, cardboard, paint, paintbrush, jeans and brown afro to complete this super beautiful couple costume idea. Everyone will love to duplicate these sweet and simple Halloween costumes. creatingreallyawe
17. Princess Bride Couple Costume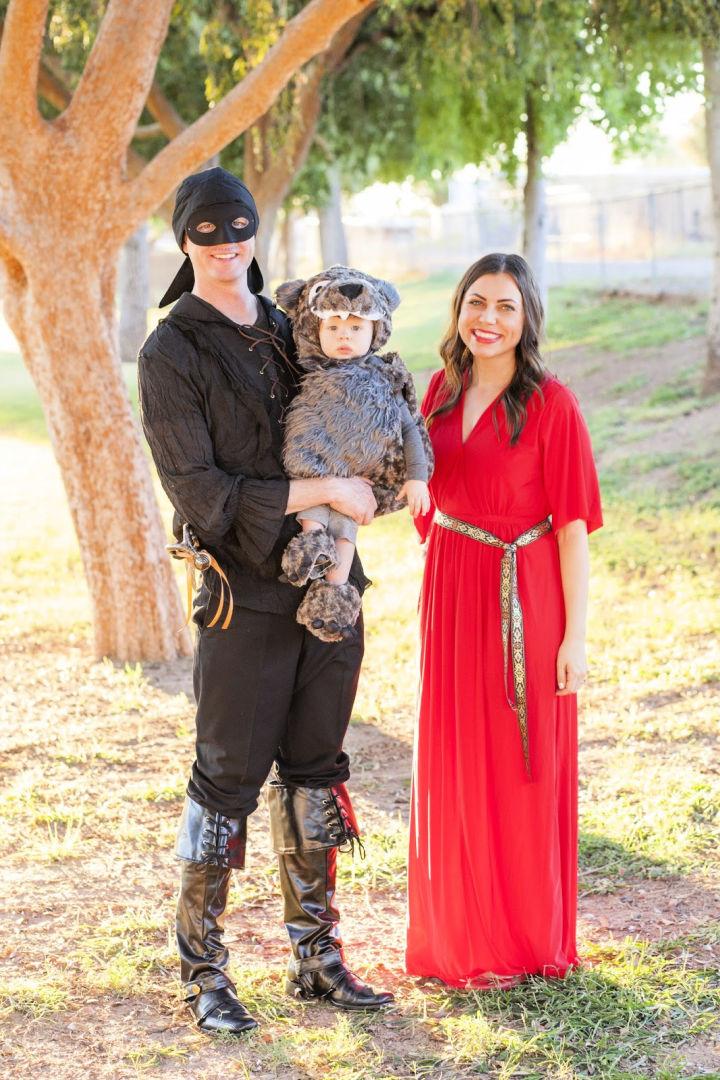 Intending to make those super beautiful and flattering costumes for Halloween that will impress and enchant the whole party crowd? Then duplicate this princess bride costume, sure to be a big love of all the loving couples. You need a costume set, pans, gray shirt, and mocs for the Rodent costume. And for the Wesely costume, you need a head wrap, mask, shirt, pants and boots and finally, you need the dress and belt to make the princess bride buttercup costume at home. One of the most loved DIY Halloween couple costume ideas ever. fridaywereinlove
18. Monsters Inc Mike and Sully Costumes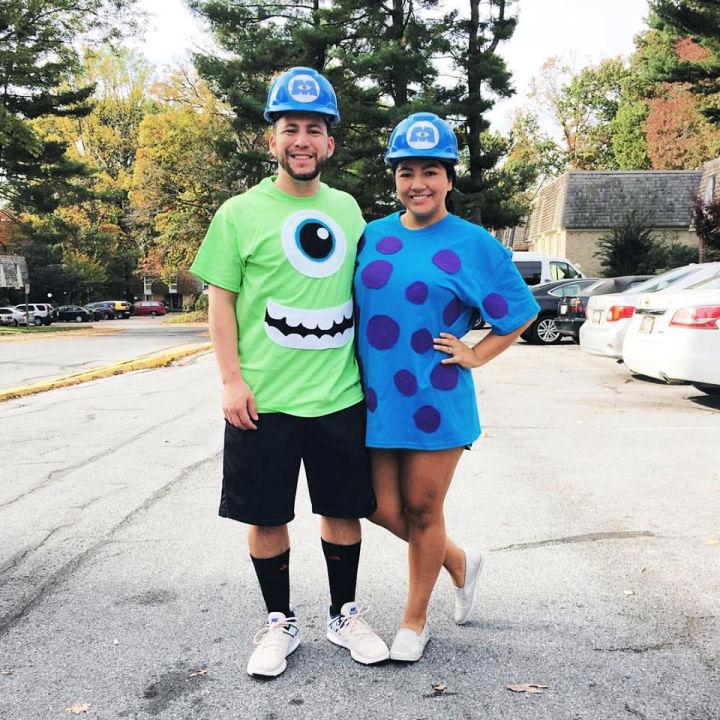 Add up to Halloween scares with these monster costumes specially designed for couples, and each outfit will cost you less than $20. At the same time, even a beginner can quickly duplicate these costumes, will never get out of style. You can easily make the scary monster faces and details that you can add to the t-shirts. This will quickly transform the ordinary t-shirts into scary monster costumes. Wear them as a couple to celebrate the spooky event to the fullest. This will be the best and super cheap Halloween costume idea that everyone will just fall in love with. Don't forget to wear the hats. raquelrickey
19. DIY Farm Couple Costume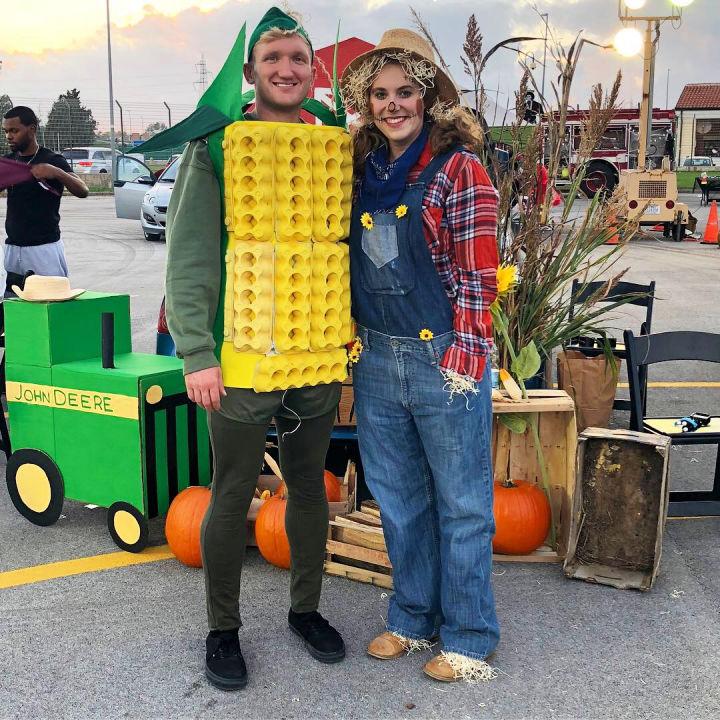 Get also inspired by the family farm and make brilliant Halloween costumes. These scarecrow, corn and tractor costumes will amaze all the couples and will be a great Halloween costume idea for sure. You have to use the common materials and even the recycled materials from home to easily duplicate these couple Halloween costumes, sure to be a big love of all. You need 9-12 egg cartons, paint, big felt, green leggings and green long sleeve shirts to complete these outstanding and visually captivating Halloween costumes. The dog pets can wear the tractor outfit to become a part of a lovely family farm costume. thelittlesloth
20. Lego Halloween Costume Using Recycled Materials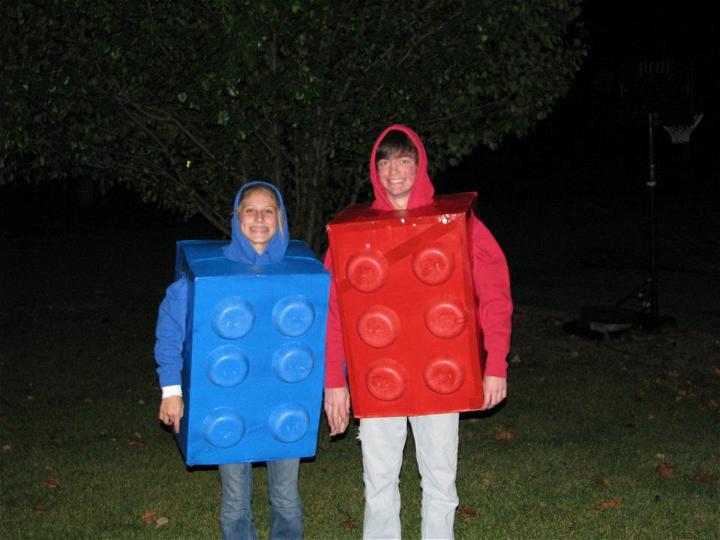 Win the heart of all LEGO lovers and fans by making these LEGO couple costumes that are visually captivating. They will make sweet handmade gifts for little kids, and it will cost you next to nothing to make them at home. Grab a cardboard box, duct tape, 6 paper bowls, string, spray paint and razor blade or scissors to complete these sweet and simple Halloween costumes beautifully and quickly. Paint the bowls and cardboard boxes, and then use the string to hold the bowls in place on the cardboard boxes. Cut the boxes for head and armholes, and that's it. One of the cheapest yet amazing DIY Halloween costume ideas ever. instructables
21. Easy DIY Mermaid and Sailor Couple Costume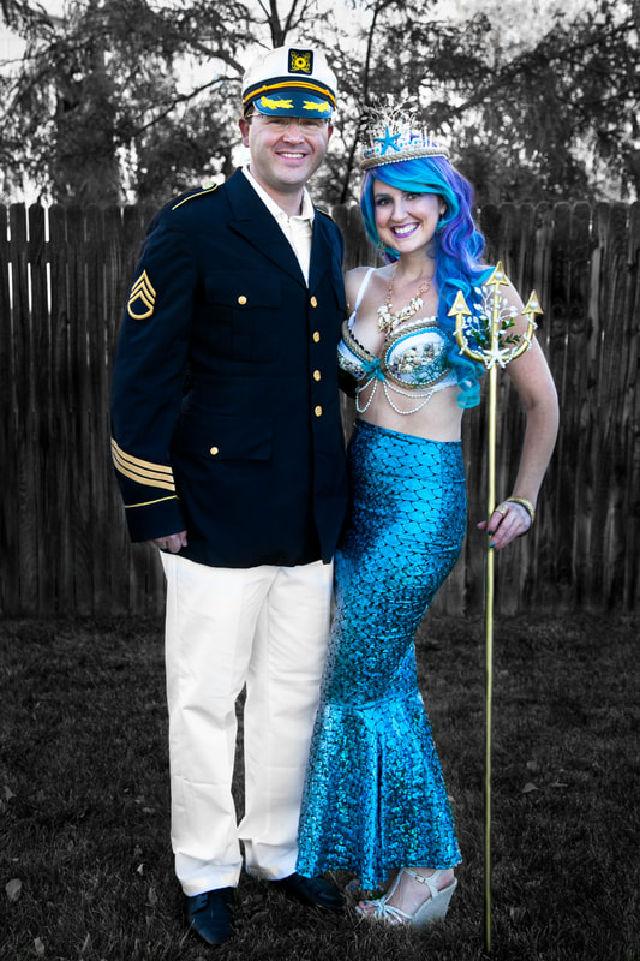 Get ready for the Halloween photoshoot with this extra brilliant Halloween couple costume, the sailor and mermaid couple costume. It will be easier to design this skirt that enchants with the amazing shimmer, and you need a skirt to make the mermaid tail of the costume. Use a custom wig for the mermaid turquoise hair and decorate a blouse with the seashells, custom decorative beads, nautical rope and greenery to make the mermaid costume top. You will get here instructions to make the tiara also. One of the best Halloween costume ideas ever. thefelthabit
22. Homemade School Supplies Couple Costume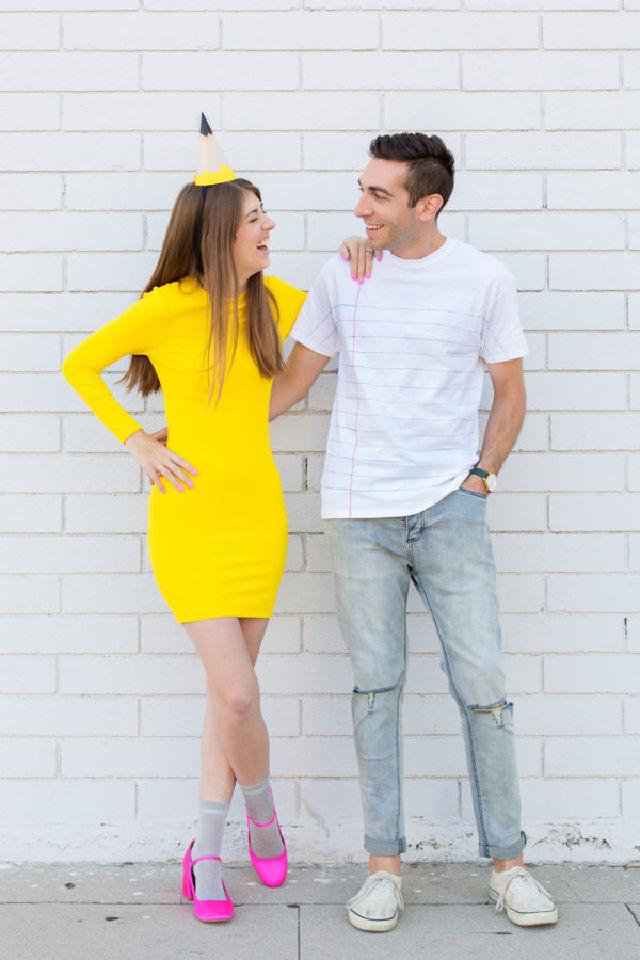 Are you deeply in love with the school time and want to show your love for those school supplies? Then go with the school theme this Halloween season and make the school supplies inspired family costumes, sure to be a big love of all the kids, ladies and adults in a home. This project involves making custom family costumes inspired by the pencil, eraser and notebook, and you will get complete and comprehensive instructions for all. The whole project will be much doable for all beginners, and these costumes will surely make you shine at the spooky festival. studiodiy
23. Couples Operation Last minute Costume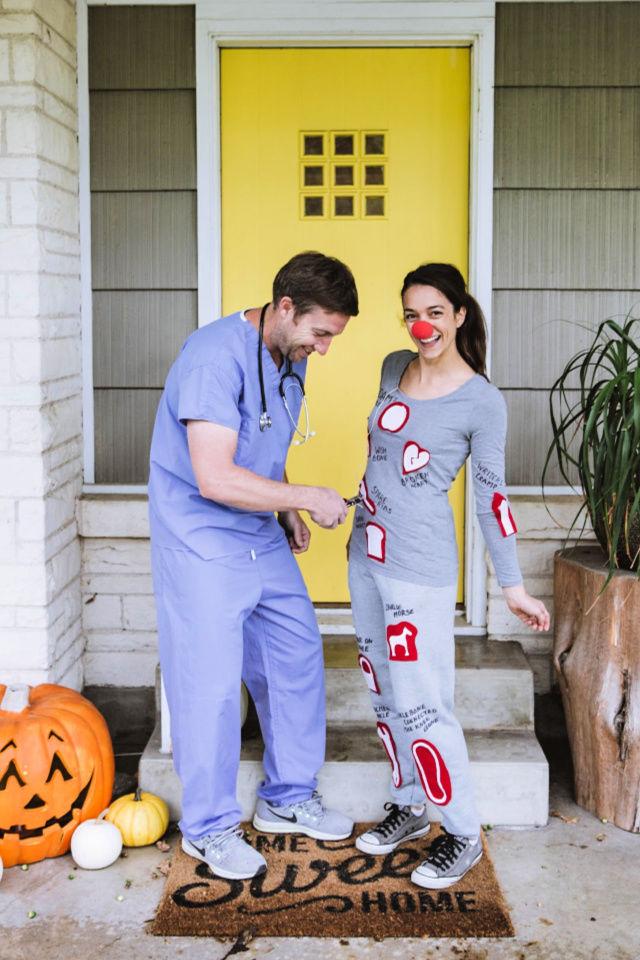 Enter the Halloween parties as cute and impressive operation patients with these lovely patient costumes. There is nothing major or complicated involved in the project, and it will be easier and straightforward to make these unique Halloween couple costumes. This is a sewing project, and you have to sew those cut games pieces like apple, broken heart, piece of bread, wishbone, pencil, bone, basket, wrench, horse, spare rib and rubber band to complete this outstanding Halloween couple outfit. At the same time, this costuming will also make an epic handmade present. creatingreallyawe
24. Day of the Dead Couple Costume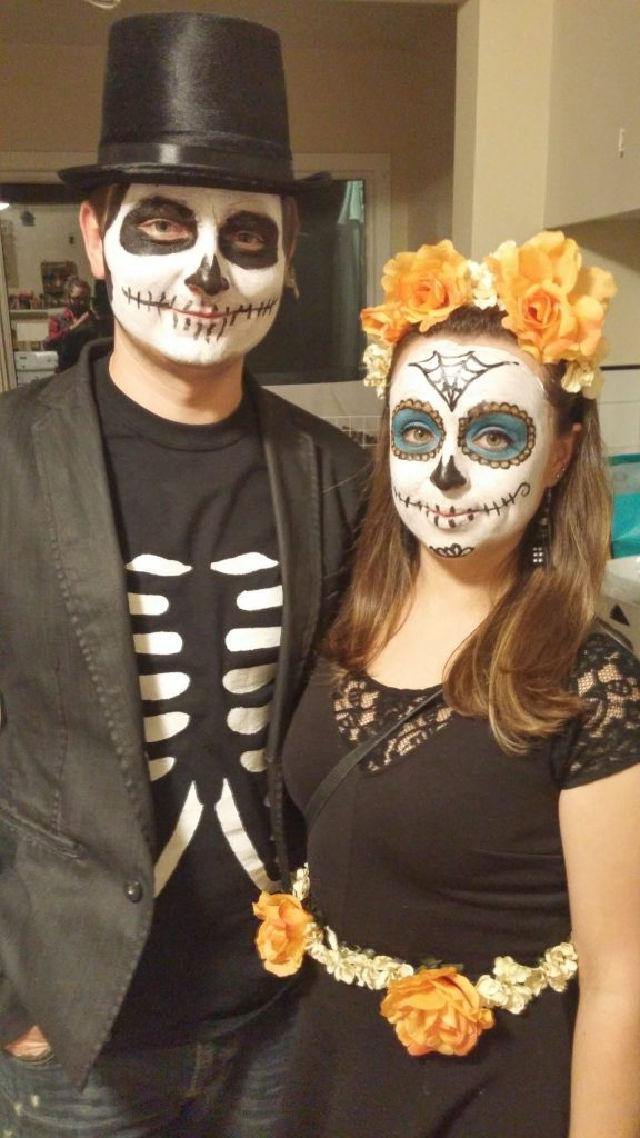 Become the most prominent and scariest couple on Halloween by wearing the Day of the Dead couple costume. The entire costuming is pretty easy, but you have to pay more attention to the Dead Man face makeup. However, you will get here instructions for that too. For a sugar skull costume, you need dollar store flowers, dollar store makeup, plastic headband, glue gun, a cheap black dress, lace t-shirt, skeleton tights, dollar store skull earrings, black shoes and some lace. For men's skeleton costume, you need a plain black t-shirt, white acrylic paint and paintbrush, rib-cage pattern, dollar store black top hat, black blazer jacket, and dark-colored pants or jeans to complete this Halloween couple costume. julieerindesigns
25. Lumberjack and a Tree Couple Costume

Win the heart of all onlookers with this Lumberjack & a Tree couple costume, and this costuming will be super easy and beginner-friendly to make also. You need a plaid jacket or shirt, red hat, fake mustache, brown pants and boots for the Lumberjack costumes. Use the black foam sheet, scissors, wooden stick and hot glue gun to make the axe. You need a brown dress, shoes, and lipstick to complete the costume. Get crafty with the plain headband, faux leaves and hot glue to complete the leaf hair wreath. fishandbull
26. Hilarious Pinata and Birthday Boy Couple Costume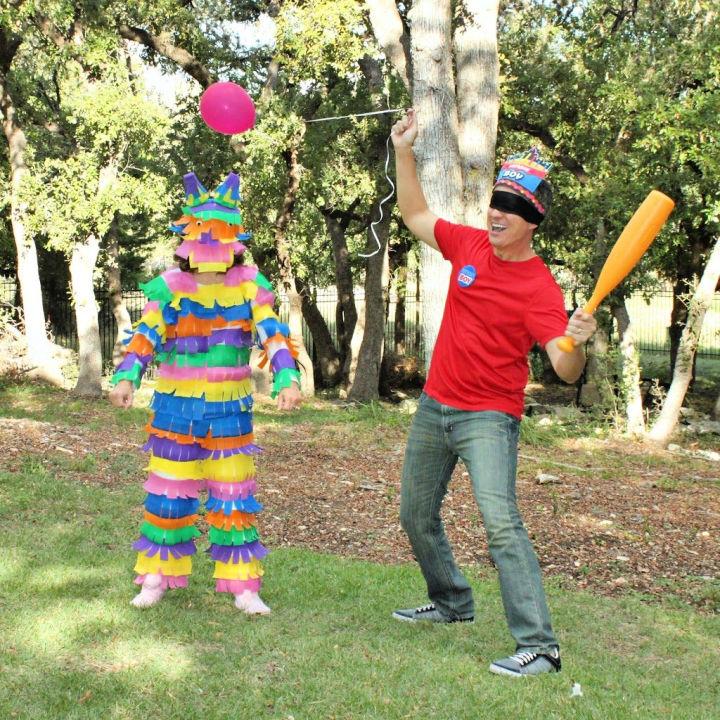 Do you and your husband love to celebrate Halloween and looking for a unique but lovely costume for that? Then time to opt for the pinata and birthday boy costume that looks amazing and is sure to be a big love of all. You need only fun fabric in several colors, sweat pants, long sleeve shirt, cap, glue gun, project foam and googly eyes to complete this entire beautiful Halloween couple costume. You will get step-by-step instructions to easily duplicate this Halloween costume, sure to be a big love of all. morenascorner
27. Punny Hashtag Married Couple Costume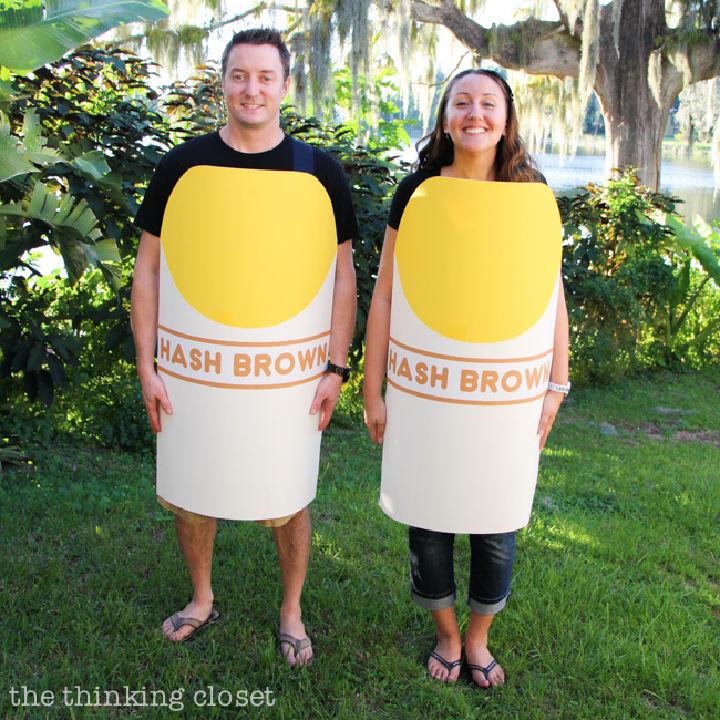 There are so many fun things to get inspired by when intending to make a cool Halloween couple costume. You will keep staring at this punny #hastag couple costume that will make you dress up cool at the event. Comparatively, the costume is easy to plan and make and sure to be super attention-grabbing. In supplies, you need silhouette Cameo 3 machine, roll-feeder, white matte vinyl, transfer paper, hook tool, scraper tool, spray adhesive, double-sided scotch tape, clear packing tape, glue, black ribbon and poster board in white, yellow and brown color to complete this extra brilliant Halloween costume. thinkingcloset
28. Bonnie and Clyde Couple Costume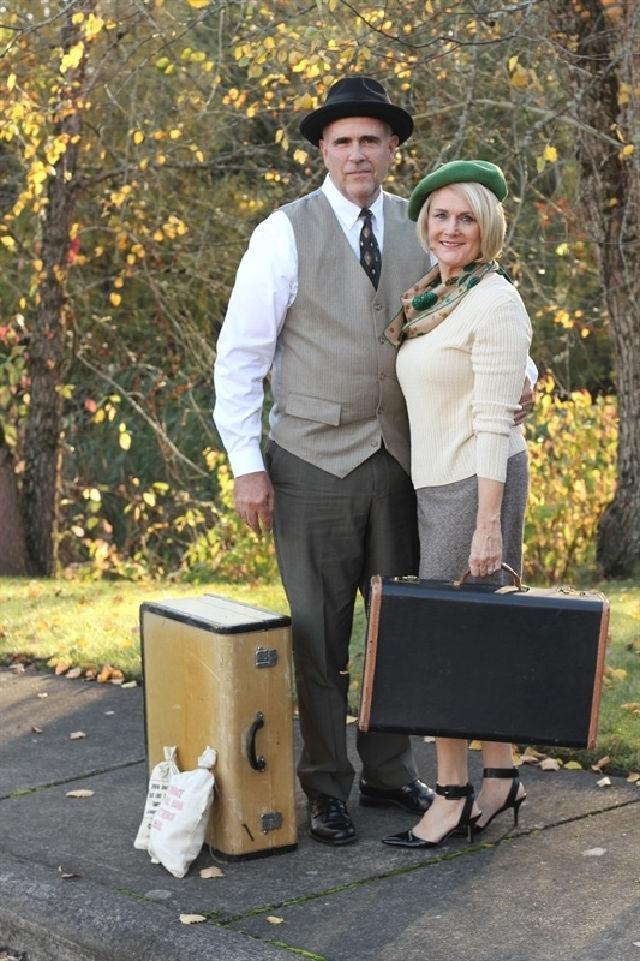 Celebrate the Halloween festival with this Bonnie and Clyde couple costume, the most infamous characters of the 1930s. It will amaze the entire party audience and be a cool way to tell the party audiences about the Bonnie and Clyde robberies. You only need the respective costumes from your closet and some bags filled with robbed currencies, and that's it. Make some drawstring bags also filled with expensive stolen and robbed items. One of the best couple costuming ideas ever, and all beginners can easily complete making this costume. yourhomebasedmom
29. Creative Pizza Slice and Delivery Boy Couple Costume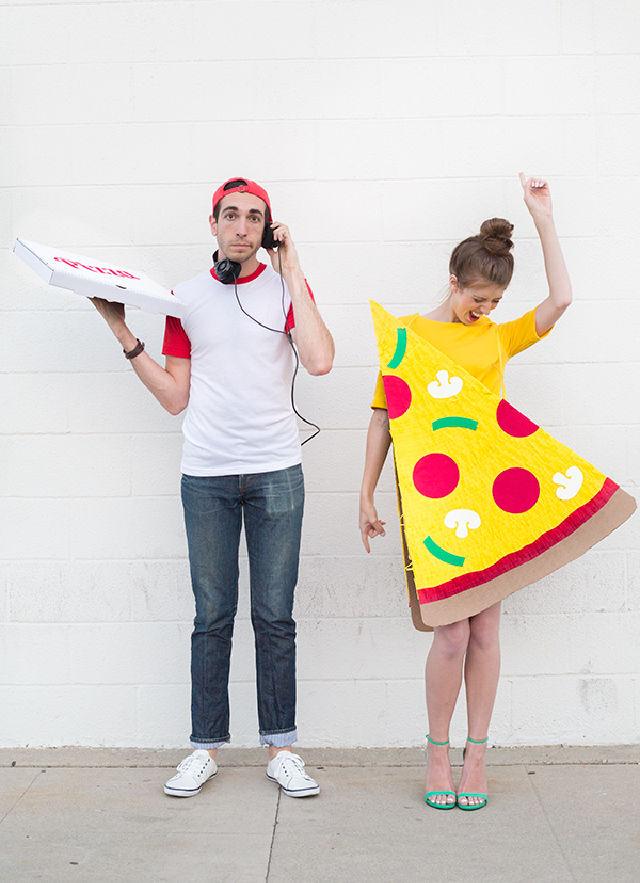 Satisfy your pizza obsession with this pizza boy and pizza slice costume. The couples will love to wear this outstanding and unique Halloween costume, and it is not that difficult to make at home. The entire costume is cool and will be super cheap to make also. The required materials for the project will be a yellow dress, Cricut Explore, mat, cardboard sheets, yellow and red streamers, white school glue, ribbon, stapler, plain white pizza box and cardstock in red, white and green color for this project. You only need a t-shirt, baseball cap, and jeans for the male delivery boy costume. studiodiy
30. Masquerade Ball Couple Costume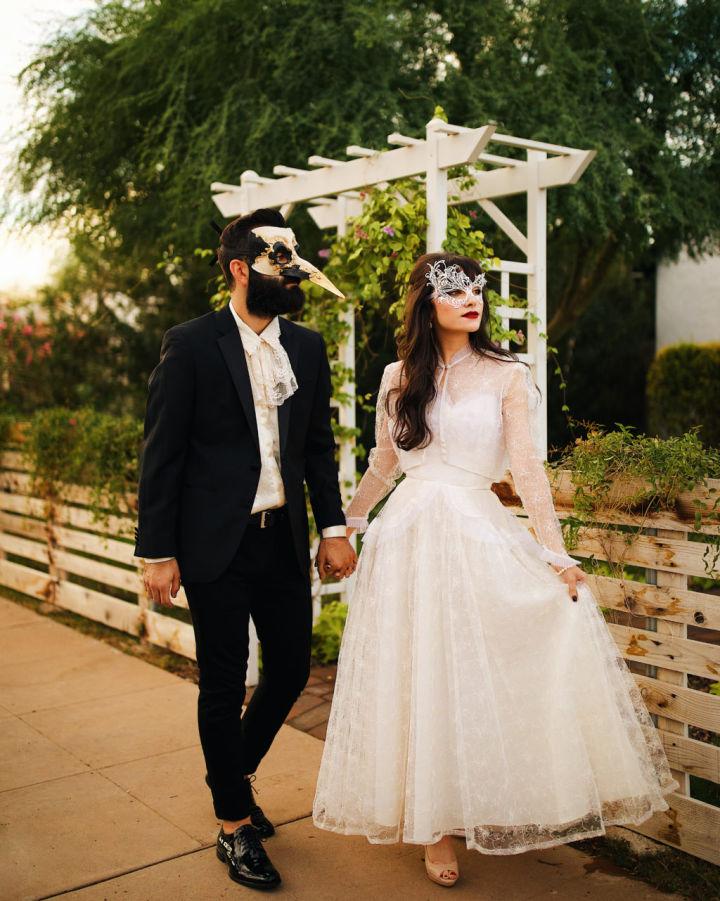 One of the best couple costumes yet to select for All Saints' Eve. This here the masquerade ball costume that will make you both look cool and impressive. The project provides tons of different dress ideas, mask ideas and men's dress ideas to choose from for this special Halloween couple costumes, and it will be loved dearly by all for sure. All the ladies deeply in love with the mask parties will fall for this very special and lovely Halloween costume. It's pretty easy and quick to make and wear, and you can even get it from your closet. newdarlings
31. Stranger Things Costume for Adult Couple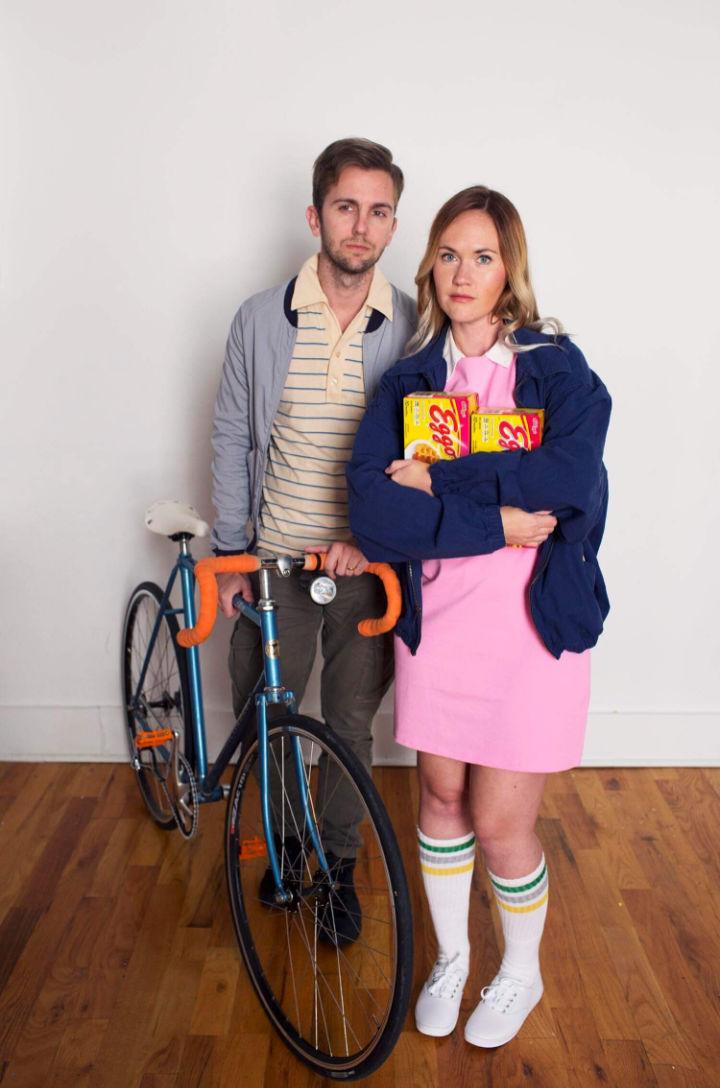 If Halloween is supposed to be the festival when strange things happen, then this stranger things costume idea will be the big love of all the couples who think like that. Not merely for the strange costumes, you will get directions for the respective gift idea here. At the same time, the costume is highly inspired by the Netflix stranger thing series, the best teen TV show to watch on Netflix. Everyone will just fall in love with this extra brilliant costuming, especially the Stranger Things fans at the party. Learn to give strange expressions for those blasts of fun in the entire party. abeautifulmess
32. Scary Squads Joker and Harley Quinn Couple Costume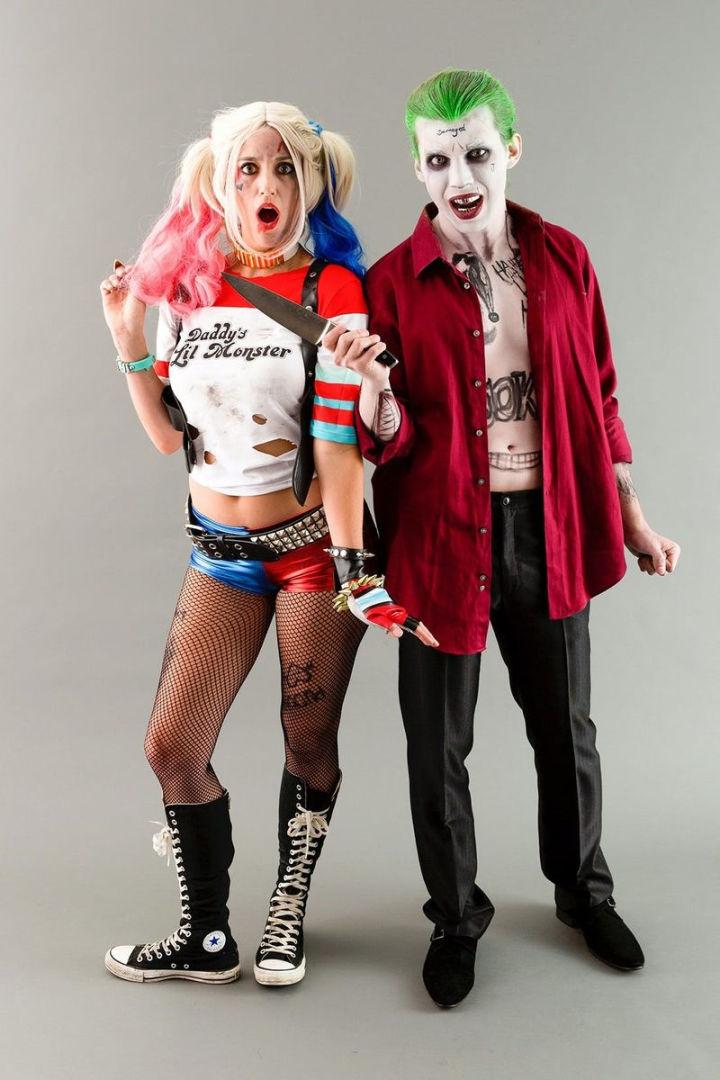 Pay some bigger attributes to the Joker from Suicide Squad and Harley Quinn by making and wearing this very special costume. It will go amazing with the spooky Halloween festival theme, and bring those necessary Halloween scares. You need the respective costume, getup and makeup to look like the characters. Just try to mimic those characters to entertain the entire party audience. If you enter the party with this unique costume, you will get appreciated. One of the best couple of Halloween costumes, and all the boys and girls will love it for sure. brit co
33. Cute DIY Paired Costume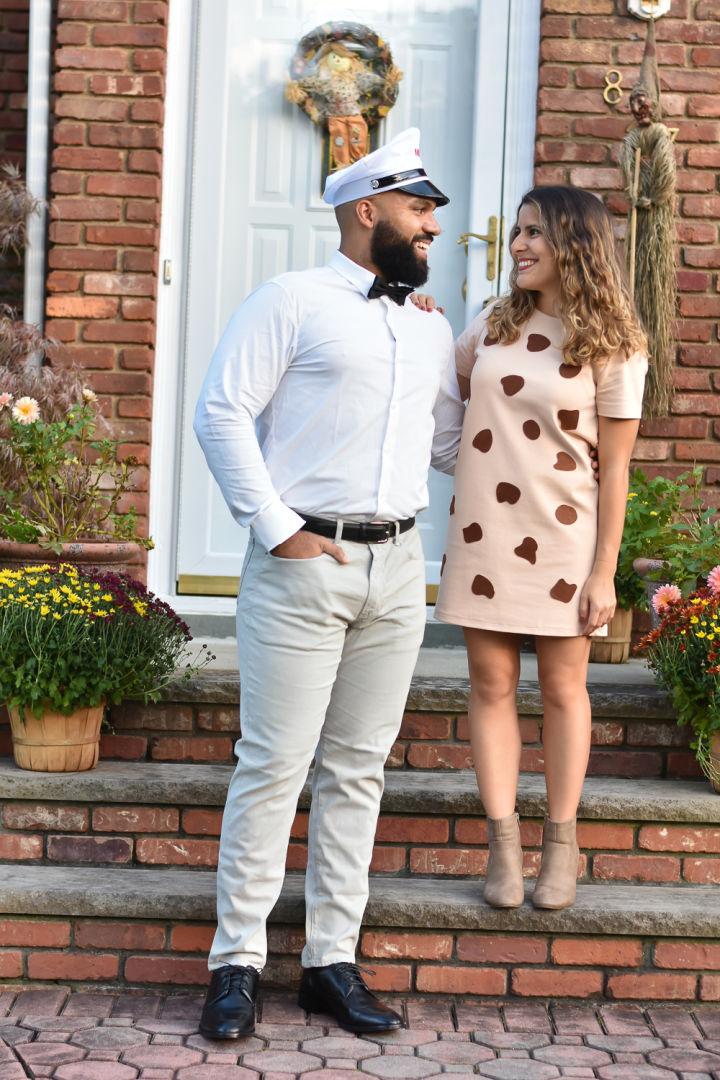 The milk and cookies are inseparable, so you will be after wearing this milk and cookie couple costume. Wearing this dress will make you closer as a couple and help evoke those love emotions. On the other hand, it will also be the coolest costume idea for the Halloween party. You can grab a simple dress and then sew on the custom felt or cookie cutouts on it, and you can also directly purchase this kind of dress from the stores. Use only a sailor's style hat with overwritten milk letters to show your man as milk. An easy and quick-to-whip-up Halloween costume idea. everythingdee
34. Mummy and Pharaoh Partner Halloween Costume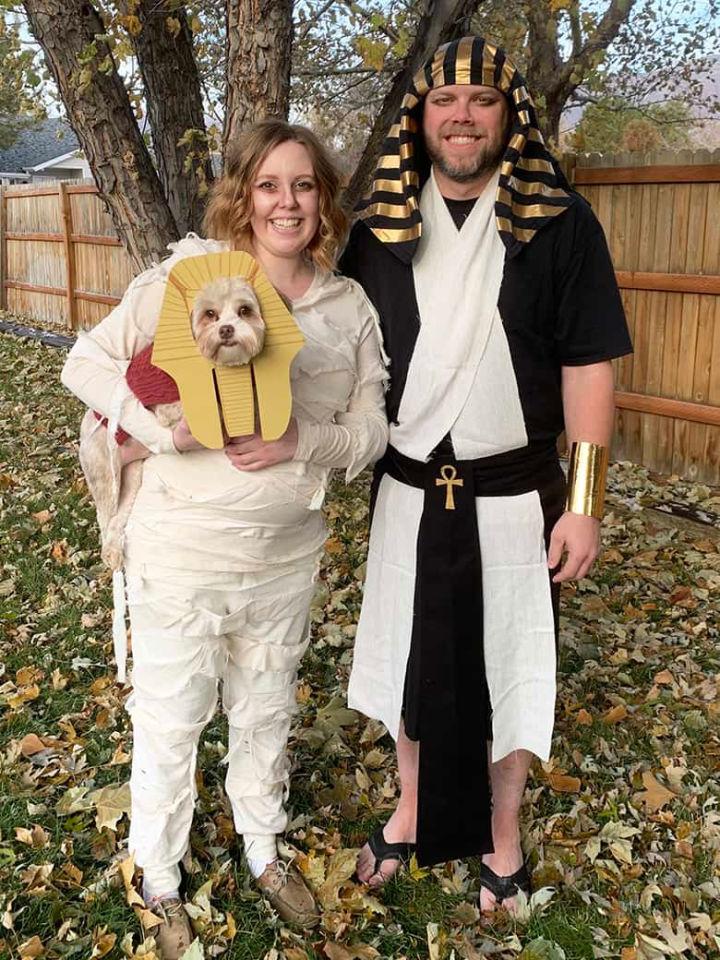 Are you deeply in love with the ancient Egyptian culture or custom characters? Then this Halloween costume idea will surely hit your heart hard. The project involves making the custom mummy dress for the female, the Pharaoh dress for the male and the Sphinx costume for the little doggy pet. This will be a great Halloween couple or family costume idea. You will get step-by-step instructions here to make the mummy dress with all the details and also for the mummy makeup. Moreover, you will also learn about the Pharaoh headdress, bracelet, and other details. aubreeoriginals
35. Carpool Karaoke Couple Costume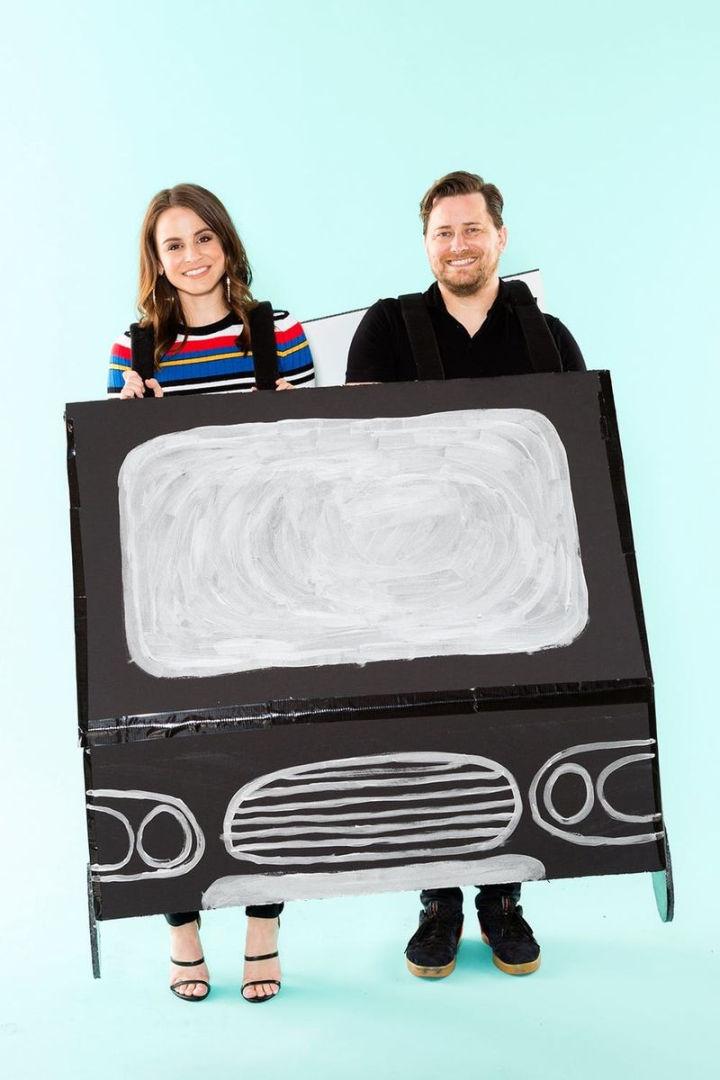 One of the most unique and fun-making Halloween costume ideas for couples. Even the friends can use this costume to rock their entries at the Halloween parties. This is where the brilliant Carpool Karaoke costume that you will love to whip up with the provided instructions and guides. You can easily cut the shapes to put together, and next can use the paint to complete the costume. Use the black felt and cardboard to make the straps, and you can also gift this costume to a special couple at home. brit co
36. Stranger Things Halloween Costume for Couple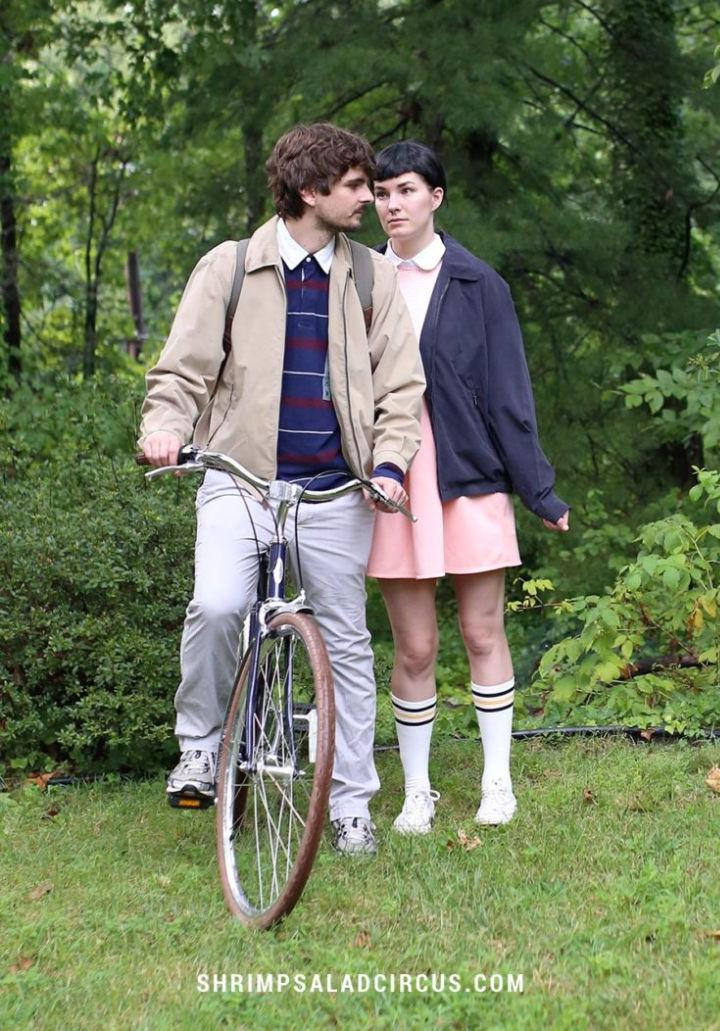 All the Stranger Things fans can try making this couple costume for Halloween, and it will impress all the guests for sure. The Mike & Eleven costume is here and will be a breeze to duplicate. You can easily complete this entire costume from your closet, and there is no prop or special details to add to the costume. The things are easy and simple, and you can get inspired by any character of Stranger Things to whip up this cute and lovely costume. The entire costuming is easy to complete and can also be gifted to a special person. shrimpsaladcircus
37. Wednesday and Pugsley Addams Couple Costume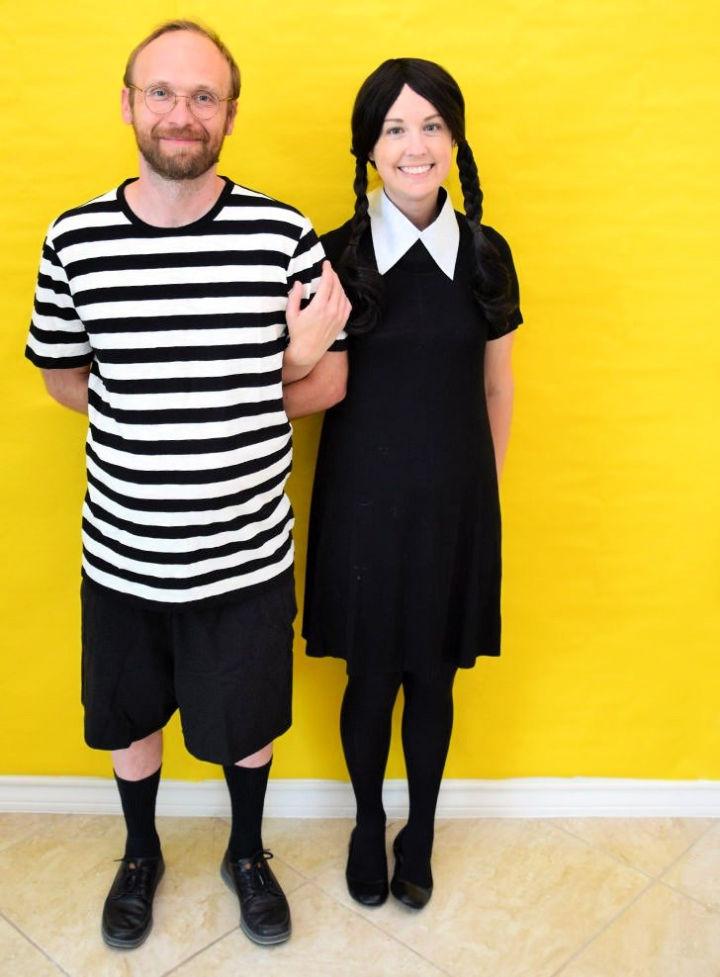 Suppose you don't want to spend hours around a sewing machine or in making props and also in makeup. Then this Addams Family Halloween costume will be your first choice. You can easily take out the items from your closet to quickly duplicate these special Wednesday and Pugsley Addams costumes, sure to get appreciated by all. Here you need a black and white striped tee, black shorts, black socks and black shoes for the Pugsley Addams costume. Grab a black dress, felt collar, black wig, opaque black tights and black shoes for the Wednesday Addams costume. dreamalittle
38. Mimes at the Circus Couple Costume – Teenage Couple Costumes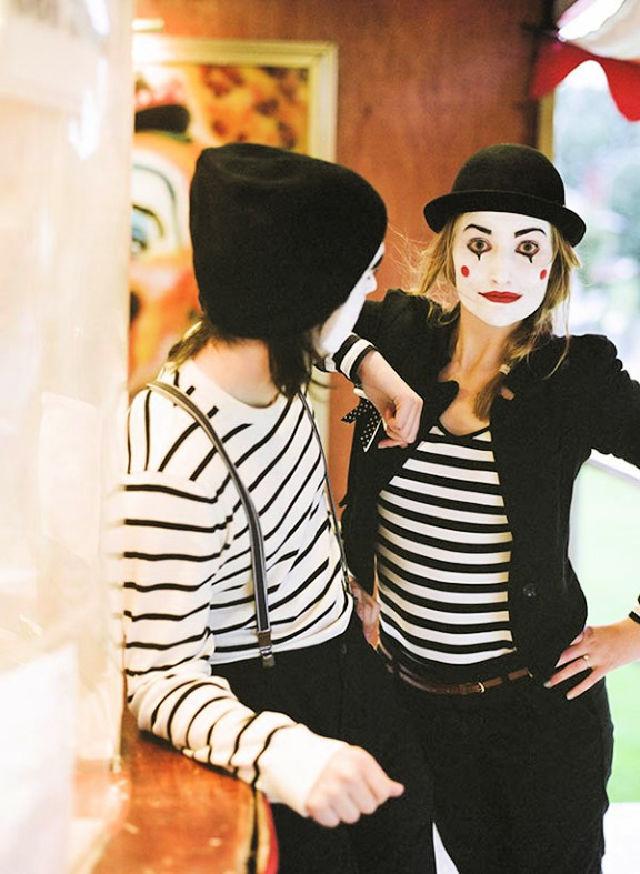 Bring tons of scares to Halloween parties with these Mimes or Circus Freaks couple costumes. All afraid of clowns will also get scared of this unique Halloween couple costume idea. Here you need both respective costumes and face makeup to complete this unique clown costuming. Grab the black and white striped t-shirts, black pants, black hats, black jackets and wear great clown face makeup to easily gain that Neill & Niamh couple look. One of the best DIY couple costume ideas that everyone will love. rocknrollbride
39. Woodland Deer and Lumberjack Couple Costume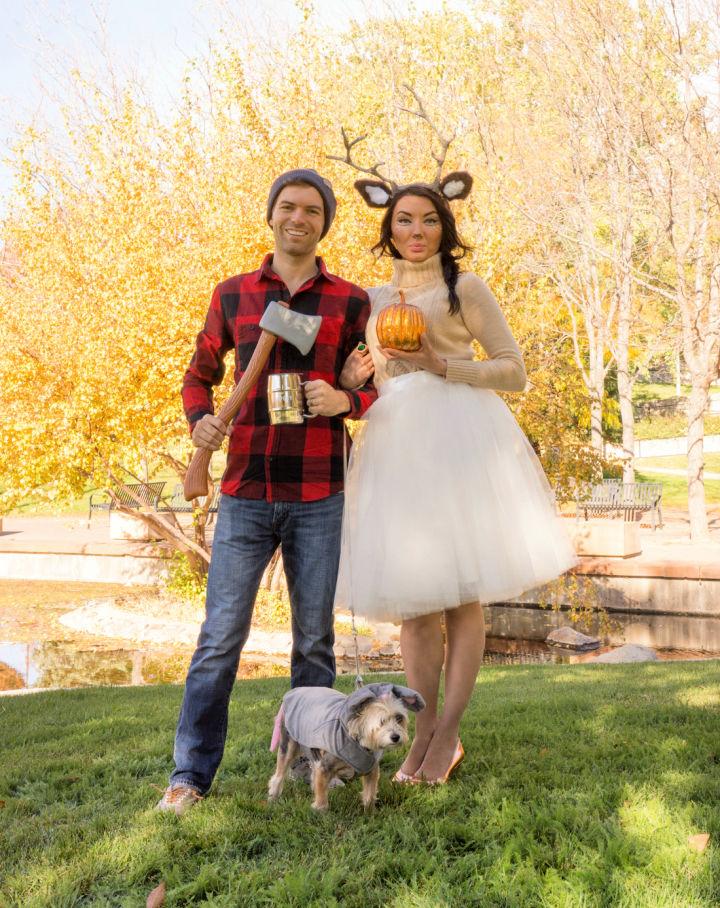 The Lumberjack is the easiest yet beautiful costume idea for all men willing to celebrate Halloween wholeheartedly. So, let your man be the Lumberjack, and you can get yourself transformed into a cute forest deer to be the cutest couple in the entire Halloween party. Use a fake or real axe for the Lumberjack axe. You make those deer ears with antlers to wear with a dress for a cute deer look. Also, use makeup to transform yourself into a cute deer and enhance your look by holding a glittery pumpkin in your hands. A super cute and easy couple costume idea for Halloween. thesugaredlemon
40. A League of Their Own Couple Costume

Also, choose The League of Their Team costumes for Halloween. You will surely fall in love with the Coach Jimmy Dugan costume you can make for your man. This costume idea will make you both super cool at your Friend's Halloween bash. The best Rockford Peach Costume idea for Halloween costuming will also be super quick. You will get detailed guides and step-by-step instructions to make this costuming, and it will also rock for your make and sell the business. livefreecreative
Related DIY Costumes
1. DIY Cowgirl Costume – Get creative with your Halloween costume this year and try one of these DIY cowgirl costumes!
2. DIY Poison Ivy Costume – Create a stunning Poison Ivy costume with unique creativity and some DIY skills!
3. Best Friend Halloween Costumes – Get your best friend in on the Halloween fun with these great best friend Halloween costume ideas!
4. Teen Halloween Costumes – Make sure your teen is the coolest kid on the block with these trendy and unique teen Halloween costumes!
5. Family Halloween Costume Ideas – Get the whole family involved in the Halloween spirit with these great family Halloween costume ideas!
6. DIY Alice in Wonderland Costume – Transform yourself into Alice in Wonderland with this amazing DIY Alice in Wonderland costume!
7. Pirate Costume Ideas – Set sail for an adventure this Halloween with one of these great pirate costume ideas!
8. DIY Circus Costume Ideas – Run away to the circus with one of these great DIY circus costume ideas!
9. Halloween Costumes for Women – Be the best-dressed woman at the Halloween party with these amazing Halloween costume ideas for women!
Conclusion: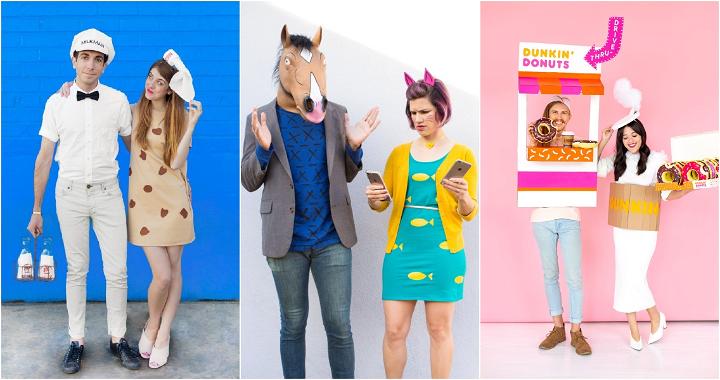 These DIY couple Halloween costumes are to share all the famous couple costume ideas to celebrate the event as great lovers and partners. Dozens of dress ideas are shared here to choose from. Each idea provides comprehensive tutorials, including step-by-step instructions, complete material lists, tool lists and detailed diagrams, allowing you to create that particular couple's costume easily. From last-minute couple costumes to scary couple costumes to best couple costumes, you will find designs and instructions for all.