If you're looking for diy Halloween pirate costume, find these 25 of the best last-minute diy pirate costume ideas for you to choose from. So take a look and see what strikes your fancy. And who knows, maybe you'll even be inspired to create your own homemade pirate costume. Arrrgh matey!
Don't miss out on the fun of making the best Halloween Pirate and International Talk Like a Pirate Day costumes with these DIY Pirate Costume Ideas that mostly use the items around the home and also from your closet to design impressive pirate costumes easily. However, you can use the custom craft store, thrift store and Dollar Store findings to make the custom pirate costume props like swords, guns, jewelry, earrings, boosts and much more.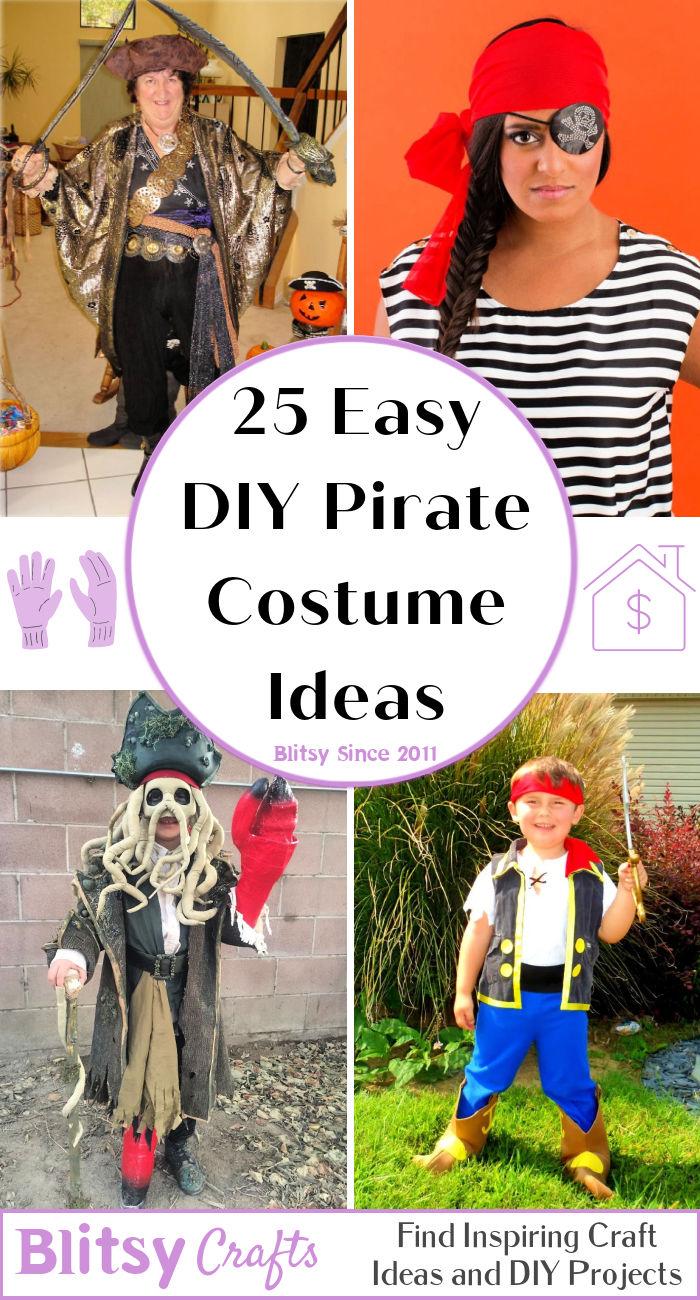 From sewing the best Jack Sparrow costumes to refashioning old clothes to making the best pirate outfits, these 25 DIY Pirate Costume Ideas will provide instructions for all and entertain you with various pirate costume designs made by the world's most genius persons. So, taking a quick tour of these Halloween pirate costumes will make it easy for you to decide on a pirate costume for the upcoming Halloween party.
You will find amazing DIY Pirate Costume Ideas for kids, girls, babies, couples, women and the whole family. The pirate theme is a great pick for the Halloween costume trends, and you will find instructions to make ghost pirate costumes with all the necessary props here. Moreover, these ideas will provide lots of hacks to do pirate hair braids, makeup and pirate costume makeovers. At the same time, you will learn the best uses of duct tape and Cricut Maker to make the best last-minute Halloween pirate costumes for kids and adults.
1. Homemade Pirate Costume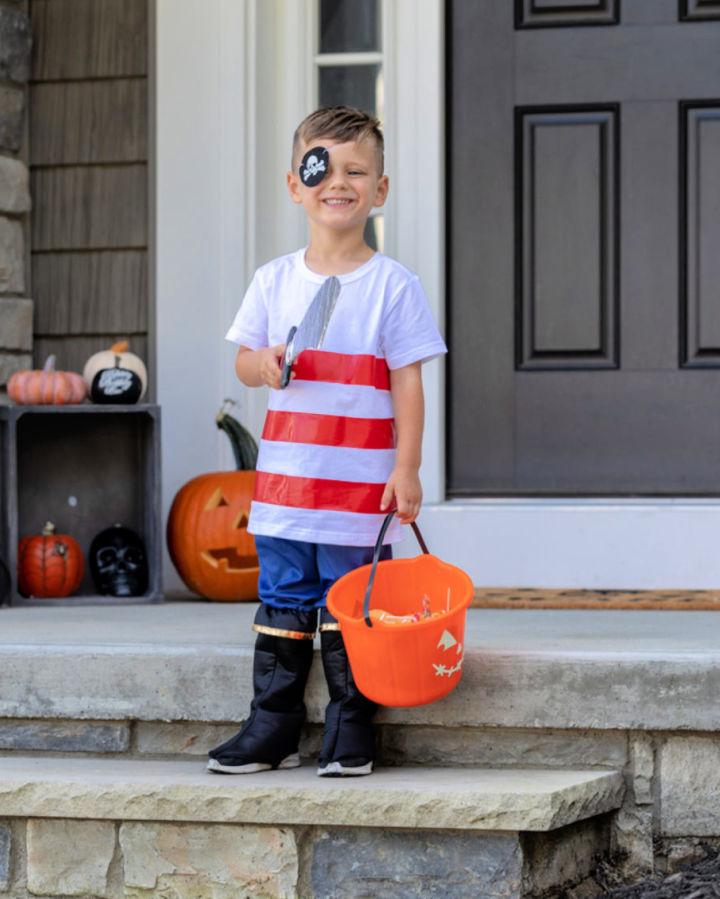 Are you deeply in love with the Pirates of the Caribbean and want to wear some pirate costumes this Halloween season? Then check out here a 15-minute pirate costume idea, sure to impress you all. Just smartly use the duct tape and make a flawless pirate costume in no time. The required tools and supplies for the project will be a white t-shirt, cardboard, crafting board, eye patch, scissors and duck tape in white, red and chrome colors to complete this easy yet beautiful DIY pirate costume. duckbrand
2. Make a Girl Pirate Costume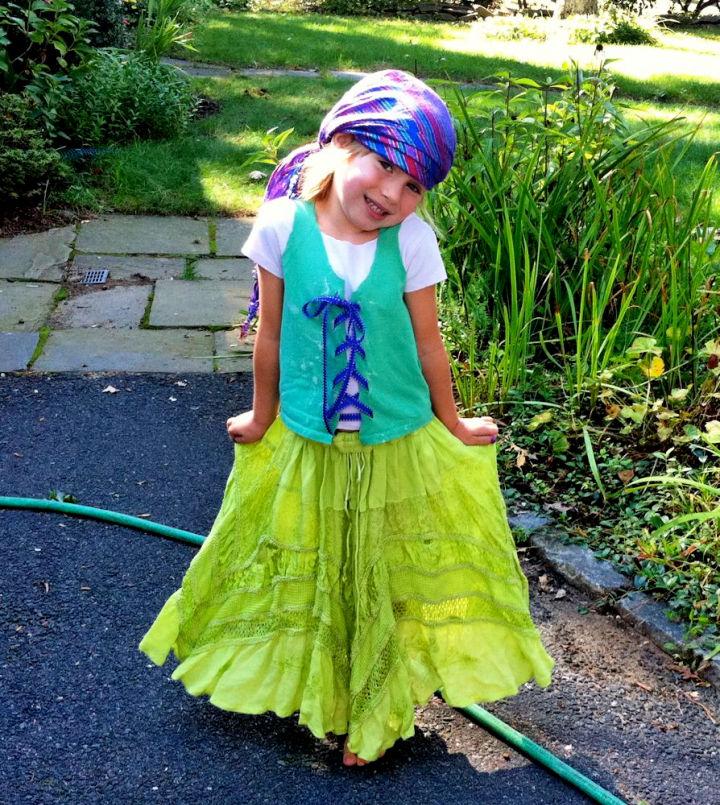 Sorting out the best spooky costumes for Halloween? Then have a great entry to Halloween parties with this pirate costume, designed for the little girls and boys. Here the entire costume will complete in just 10 minutes. So this will be the great last-minute Halloween party costume idea ever. In supplies, you need 2 old t-shirts, 36″ of ribbon, scissors and some creativity to easily complete this entire costume. However, you can also use custom necklaces and jewelry to enhance the Pirate character appeal. The best costume to design for the little girls at home. iceblueberries
3. DIY Last Minute Pirate Costume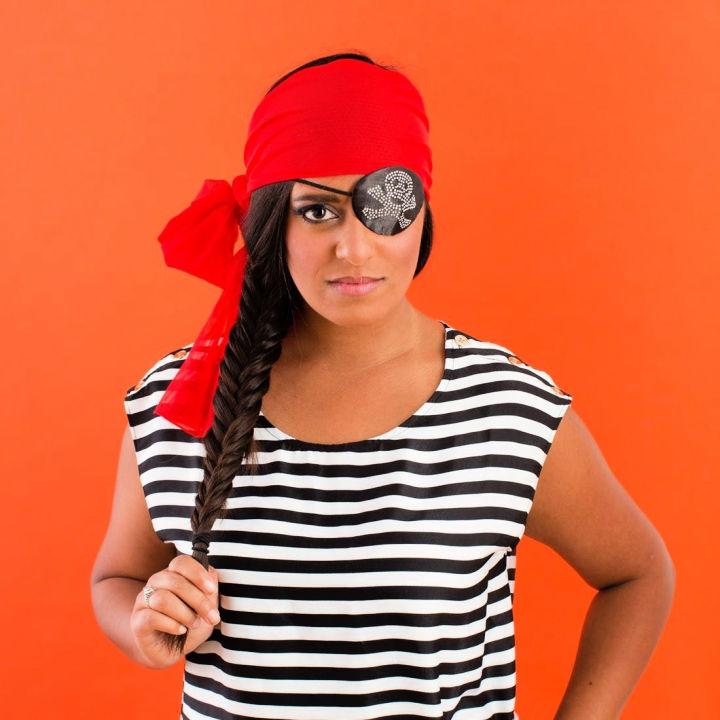 Gain the brilliant Jack Sparrow look this Halloween by wearing this very pretty pirate costume. However, you also need to make a fishtail braid for a full pirate outfit. You need the black and white striped shirt, a red piece of cloth or bandana, an eye patch, and some creativity to complete this pirate costume easily. All the girls and ladies can even make it in the last few minutes. Manage to learn some best pirate poses and look extra cool and lovely in the costume. However, make yourself hook out of paper, wire and silver body paint to easily complete the full pirate look. One of the best pirate costume ideas ever. brit co
4. Make Your Own Pirate Costume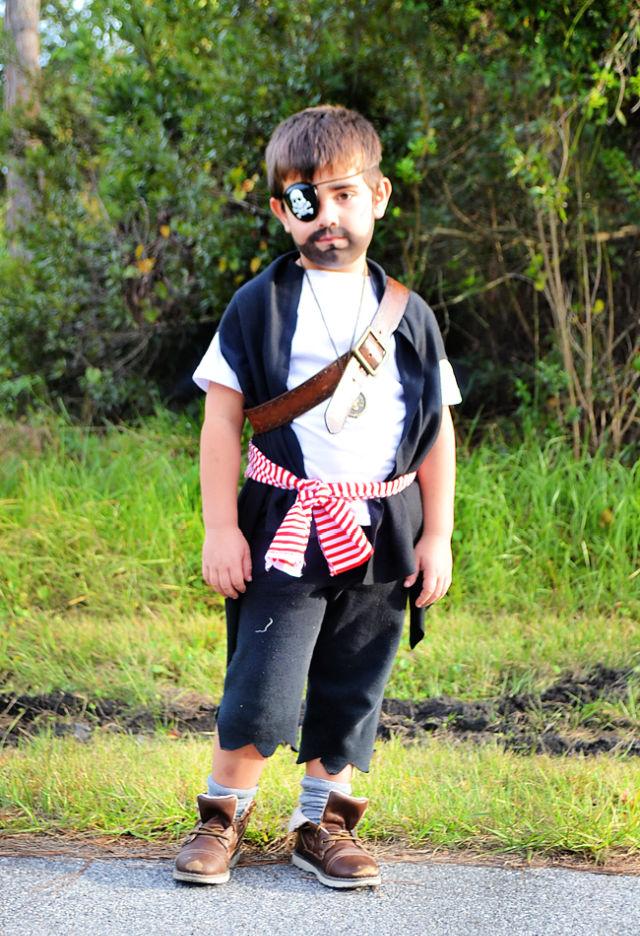 All kids will surely fall in love with these cute and amazing Halloween costumes inspired by ghosts and pirates. You will get here complete instructions to easily draw these costumes, and they are will be a great addition to kids' Halloween closet. Cut the sweat pants for a zig-zag and pair it up with a plain white t-shirt. Next, grab one yard of black jersey knit and cut out two armholes for the vest. Finish with ¼ yard of white and red striped fabric belt, and the pirate costume is just ready. You need 2 yards of white jersey knit to easily complete these ghost costumes for the kids. Don't forget to make up for a targeted look. poofycheeks
5. Halloween Pirate Costume for Teen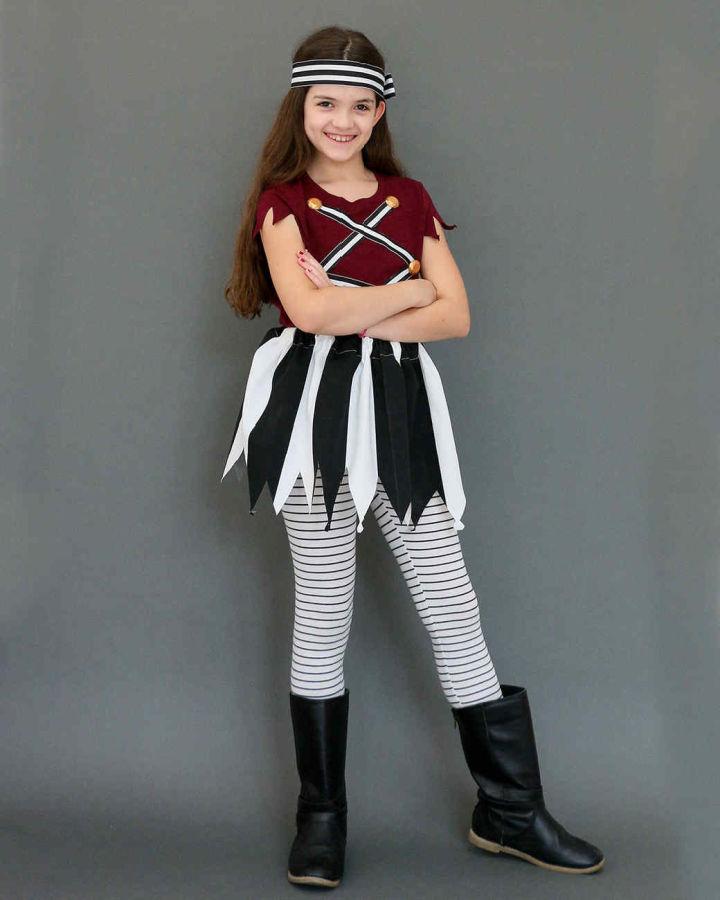 Sorting out the best Halloween costume ideas for the kids? Then win extra love and respect for the little girls by whipping up this pirate costume for them. It features a maroon red shirt, striped leggings and a white and black striped fabric skirt. Also, choose the white and black striped headscarf and matching boots to easily complete your costume. In supplies, you need a maroon red shirt, striped leggings, ½ yard black and white striped fabric, ½" black and white grosgrain ribbon, 1 ½" black and white striped grosgrain ribbon, gem silicone mold, hot glue, gold nail polish, ¾" elastic cord and some creativity to easily complete this pirate costume. marthastewart
6. DIY Pirate Costume for Kids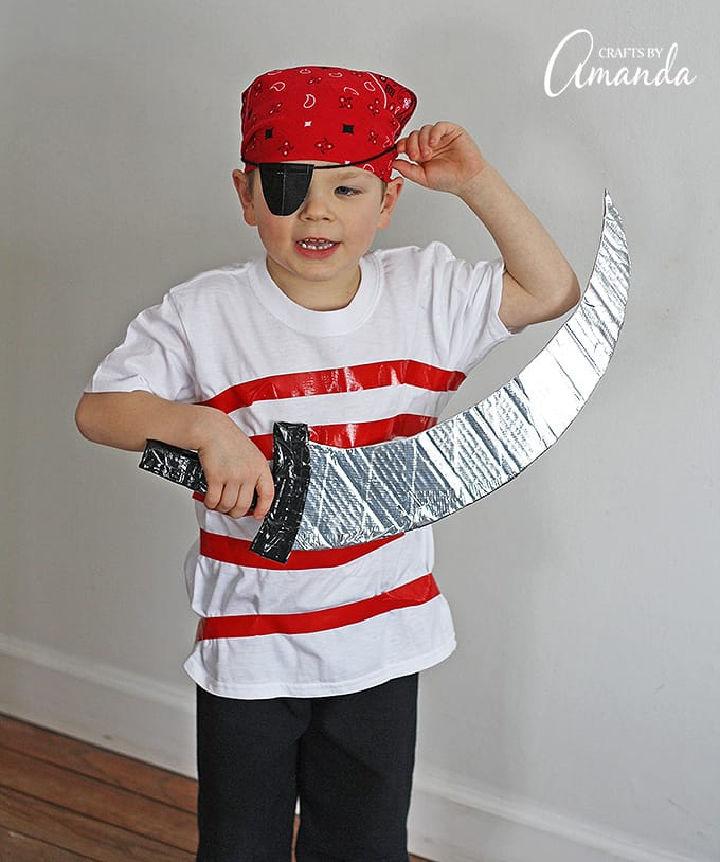 Halloween is around the corner, and have you decided on your Halloween party costume? Are you sorting out some great last-minute kids' Halloween costume ideas? Then nothing will work great, but this pirate kids costume is sure to be a big love of all the little kids and is crazily easy to whip up also. Amazing work is done with the duct tape to make this super cute pirate kids costume. Mainly you need the white t-shirt, red bandana, and duct tape in silver, black and red colors to complete this costume. Use the cardboard or foam core board for the sword prop. Don't forget to make the eye patch. craftsbyamanda
7. Easy to Make Pirate Costume

Are you too busy with the Halloween party decorations and want some quick party costume ideas to keep things easy and simple? Then go with these pirate costumes, beautifully designed for both little girls and boys. However, these costumes are made for the International Talk Like a Pirate Day often to celebrate on September 19th, but you can also duplicate these costumes for Halloween parties. You will get step-by-step instructions to easily design the little boy pirate costume like a pro, including the skull headband or scarf. doodlecraft
8. DIY Pirate Costume for Toddlers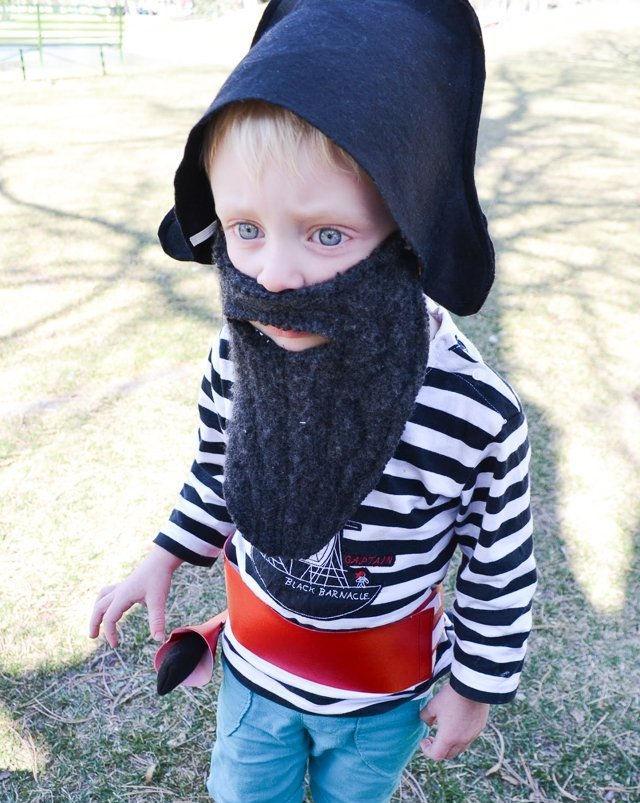 Get here complete directions and instructions to make a super cool pirate costume for a little boy or girl. However, these costumes will make a great gift for the kids also willing to be a pirate. Here you need a white and black striped t-shirt, pirate hat, belt, and a lovely sword prop to easily complete this entire beautiful pirate costume. Grab the black felt and gray felt, stiff interfacing, blue and red faux leather, elastic, polyfil, pirate pattern pieces and sewing tools to complete this project. heatherhandmade
9. Mermaid and Pirate Costumes with Cricut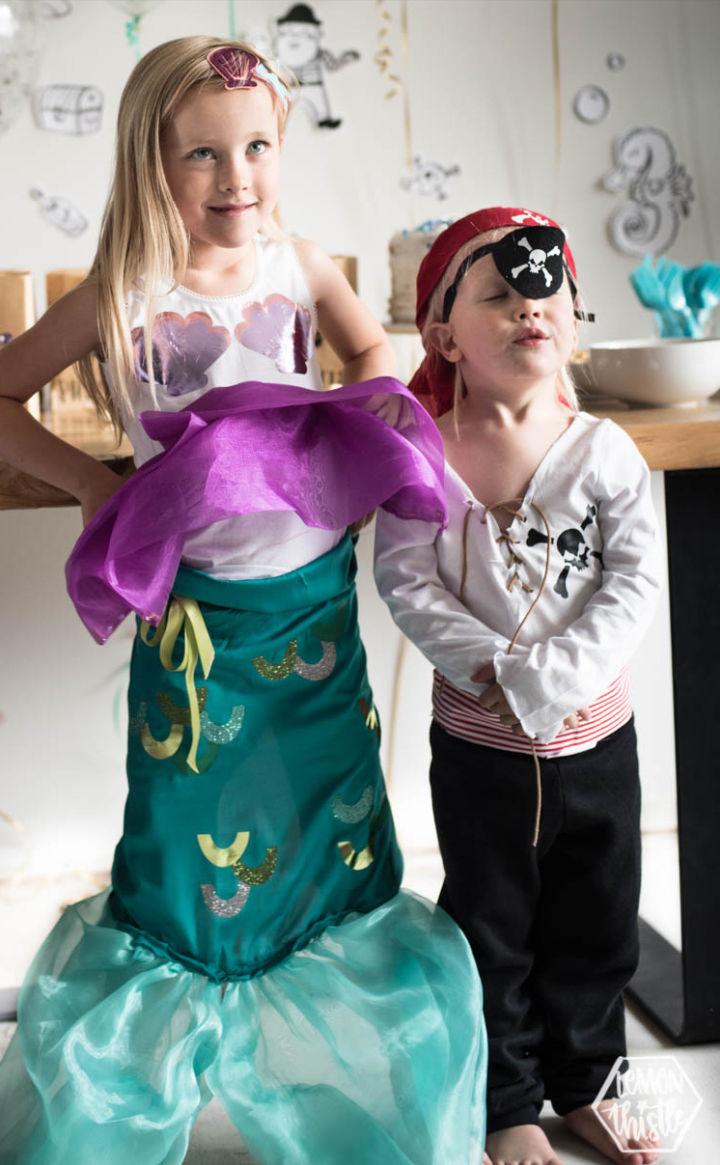 Want to look unique on the International Talk Like A Pirate Day? Then make these mermaid and pirate costumes for the day, and they can be a great addition to your Halloween closet also. Designing these costumes involves using the Cricut machine, and everyone will fall in love with the costumes for sure. For a mermaid costume, you need a white tank top, leggings, headband, purple sheet fabric, sheer green fabric, green costume fabric, sheer green fabric, green ribbon, felt for a headband, foil iron-on pink, glitter iron-on, regular iron-on lite in green, sewing machine, glue, sequins, Cricut Maker, Cricut EasyPress2 and Mat, Cricut BrightPad to easily complete these outstanding pirate costumes. Look through the project details to check for pirate costume supplies also. lemonthistle
10. Jake the Pirate Costume for Boys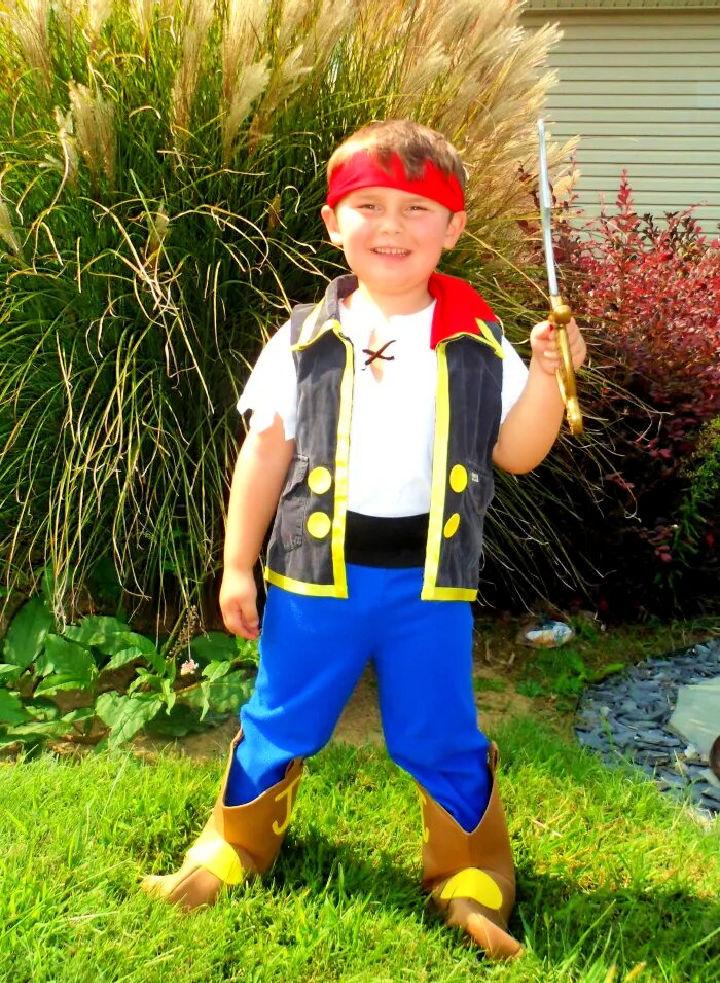 The kids' Halloween costumes are the main thing you most get puzzled at. It becomes crucial to list kids what they want for the spooky party costumes. So, presenting a great costume idea for all the kids willing to be a pirate. The costume is inspired by Jack and the Never Land Pirates costume and will be loved dearly by all the fun-loving kids for sure. In supplies, you need a navy blue button-up shirt, yellow ribbon, yellow craft foam sheets, hot glue gun, scissors, ruler or tape measure, needle and thread and some creativity to easily duplicate this pirate costume. holidappy
11. Cute DIY Baby Pirate Costume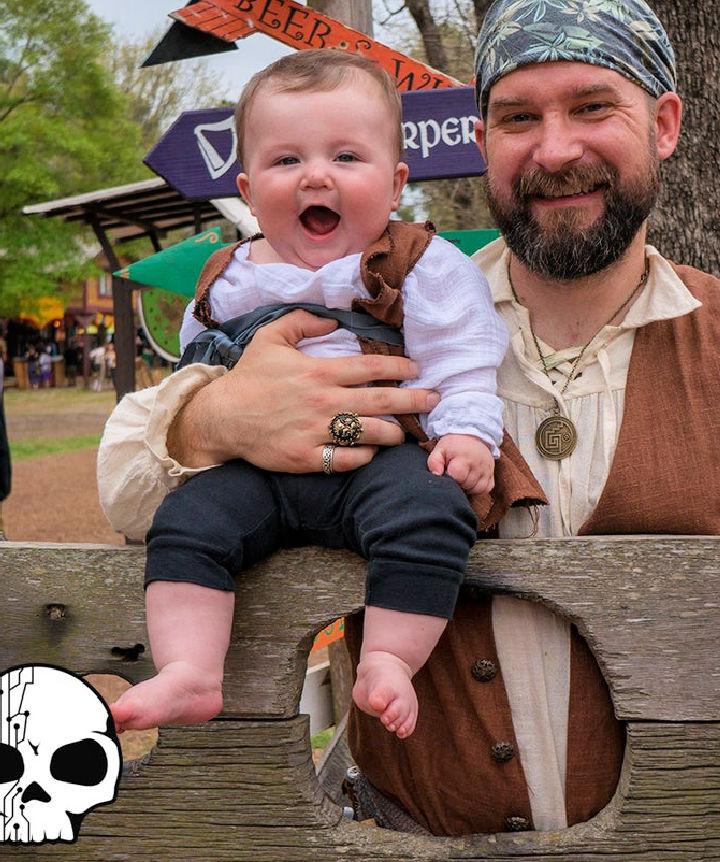 While getting a pirate look on Halloween or Pirate Day, we just can't forget about the babies. So, rock the Halloween photoshoot of the babies with this pirate baby costume, simple and easy peasy to make. You need white or beige muslin fabric, brown fabric, a onesie for template and a onesie for the snaps, gray or silver fabric, thread and rubber bands to easily complete this pirate baby costume. The very required tools for the project will be a sewing machine, scissors, pens and markers. instructables
12. DIY Pirate Costume for Women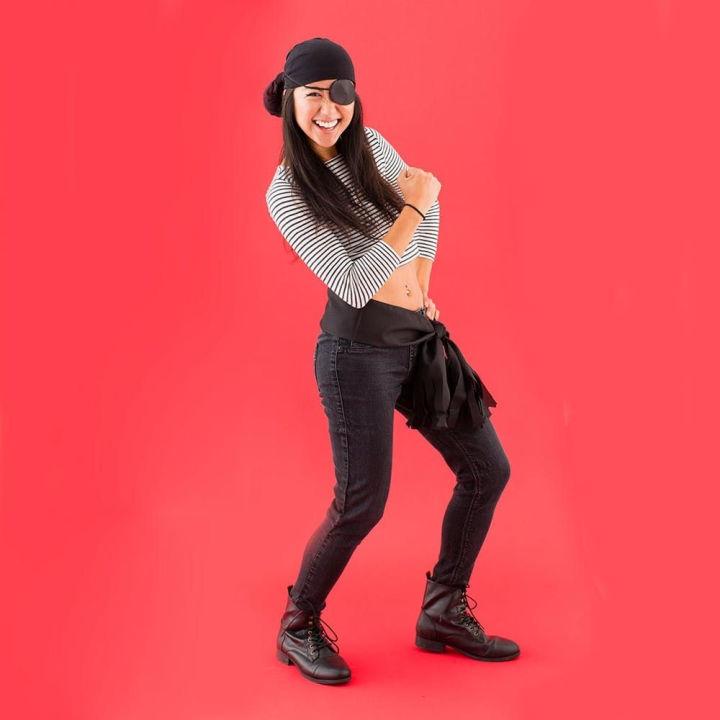 Here is the perfect pirate costume idea for all the girls who love to look stylish and funky all the time. This will be a great Halloween costume hack also. From pirate costume to pirate hair and makeup, you will get instructions for all. Here you only need black leggings, a white top, pirate braid, headband or scarf and a custom waistband to easily complete this outstanding costume. This will be a great last-minute pirate costume idea that will surely impress all. You also need sharpie markers, liquid paper and silver glitter duct tape for this project. brit co
13. DIY Pirate Dog Costume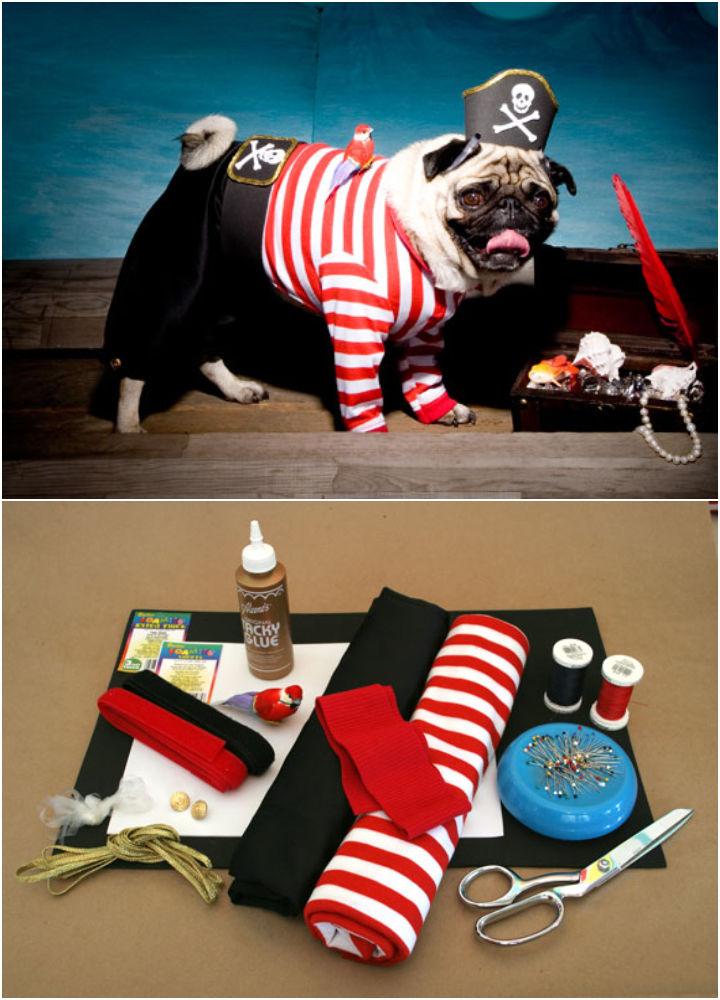 Are you looking for some super cool and beautiful pet costumes for Halloween and Pirate Day? Then get guides and instructions to make a super cute pirate costume for the dog. You will get detailed instructions here to easily make this cute yet amazing pet dress. Manage to have the black satin fabric for pants, red and black hook-and-loop fastener tape, red & white striped stretch knit fabric for shirt, red rib-knit fabric, gold buttons, 2mm white foam sheet, gold braid trim, clear elastic, small fake parrot, glue and 3mm black foam sheet to complete this outstanding dog costume. makezine
14. Dread Pirate Roberts Costume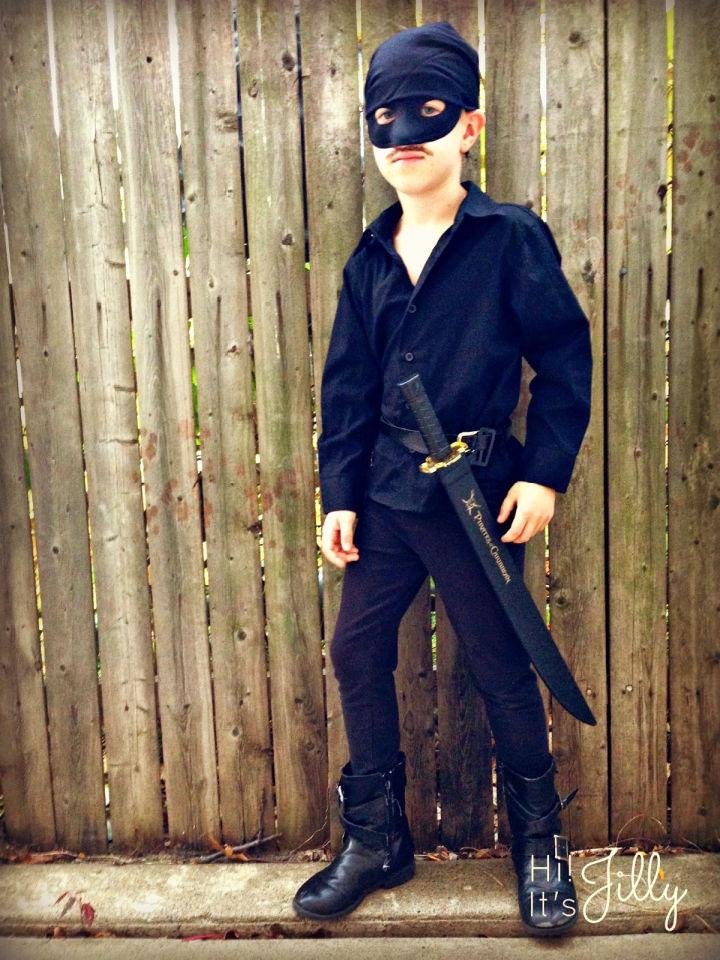 The ideas for unique yet impressive pirate costumes are never-ending. Here is another great inspiration for you. Duplicate this The Dread Pirate Roberts costume from The Princess Bride and also comes with a lovely face mask and will be a big love of all the kids. Here you need a few items to easily complete this costume and the respective getup. Grab a black dress shirt, black pants or leggings, black boots, black bandana, black eye mask, a black belt, sword and a fake mustache to easily complete this pirate costume. hiitsjilly
15. Easy DIY Pirate Halloween Costume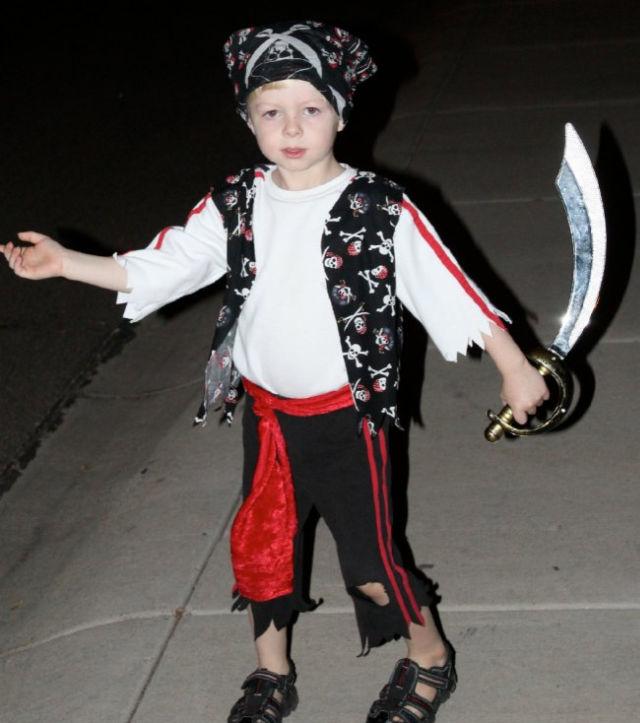 One of the cutest Halloween costumes is to impress all the Halloween party members. The costume is designed for the little boys who are highly obsessed with the pirate look or Jack Sparrow. The white t-shirt graced up with red ribbon, red ribboned black sweat pants, a skull printed vest and headband, a sword and a red waistband are all you need to easily complete this outstanding pirate costume for the little boy at home. Here you have to do some amazing work with the scissor and sewing machine, like cutting the zig-zag shirt and pant ends. momendeavors
16. Last Minute Infants Pirate Costume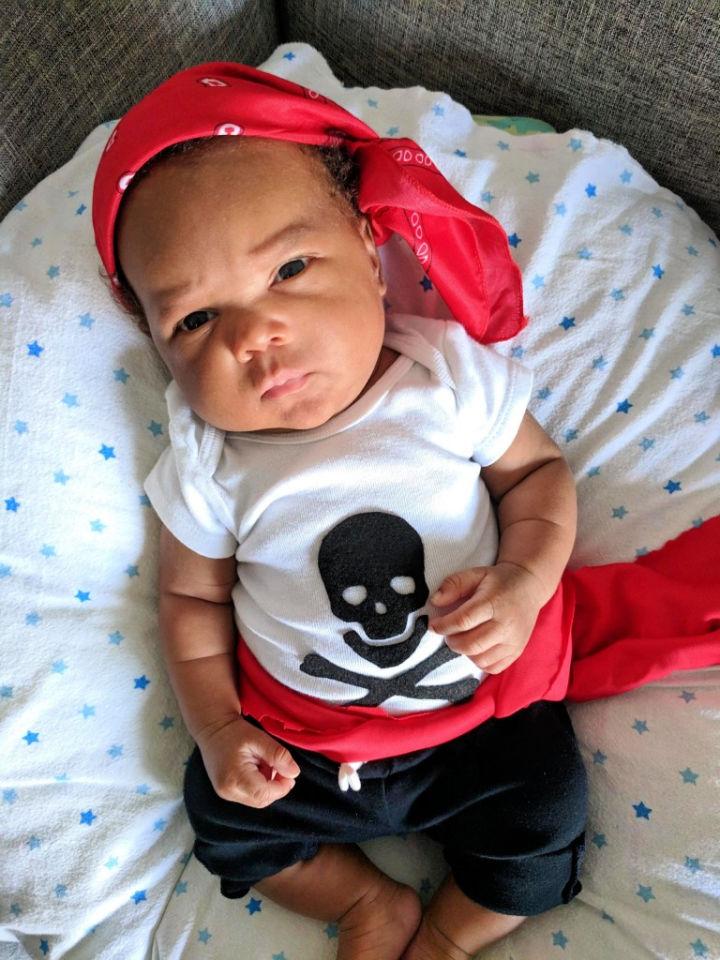 Transform your kid into cute little Jack Sparrow with these pirate costumes that are super easy to plan and put together. To create a pirate look of you, you only need to complete the respective custom items like the waistband, vest, t-shirt, headband or pirate hat and hair braids. Here you need a white shirt, black shorts or pants, red bandanas, temporary pirate tattoos, black makeup, felt sheets, pirate hat, red fabric and eye patch to easily complete this flawlessly cute pirate costume. craftingafunlife
17. DIY Pirate Shirt Costumes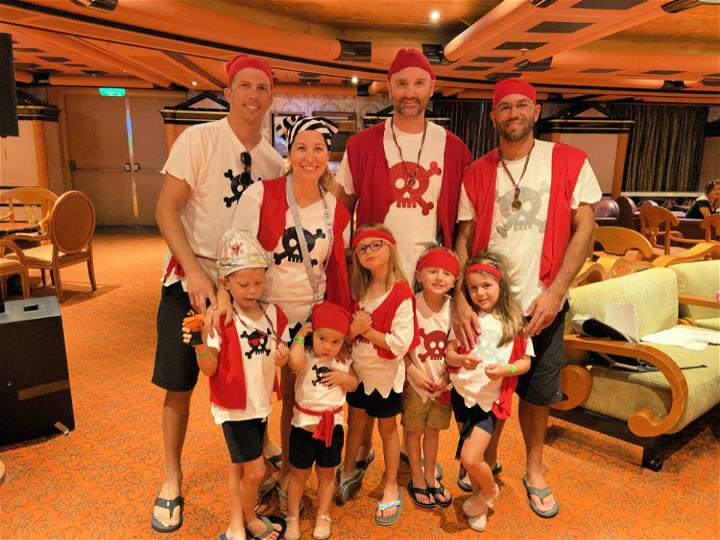 You can easily create pirate costumes for the whole family without getting a bit expensive. This project will explain how to put together some fabric materials even from your closets to easily complete these whole family pirate costumes. Use the Cricut machine to easily cut the iron-on skull logos for the t-shirts, and it will not take too long to design all the small and big costumes. You need a White Cotton Shirt, Red Cotton Shirt, Cricut Explore Air 2, Cricut Design Space Pirate T-shirt, Cricut Mat, Cricut black iron-on vinyl, and Cricut tools. Cricut BrightPad, iron or heat press, Cricut EasyPress Tote and Cricut EasyPress Mat to complete this entire project. sewwoodsy
18. Ghost Pirate Couple Costume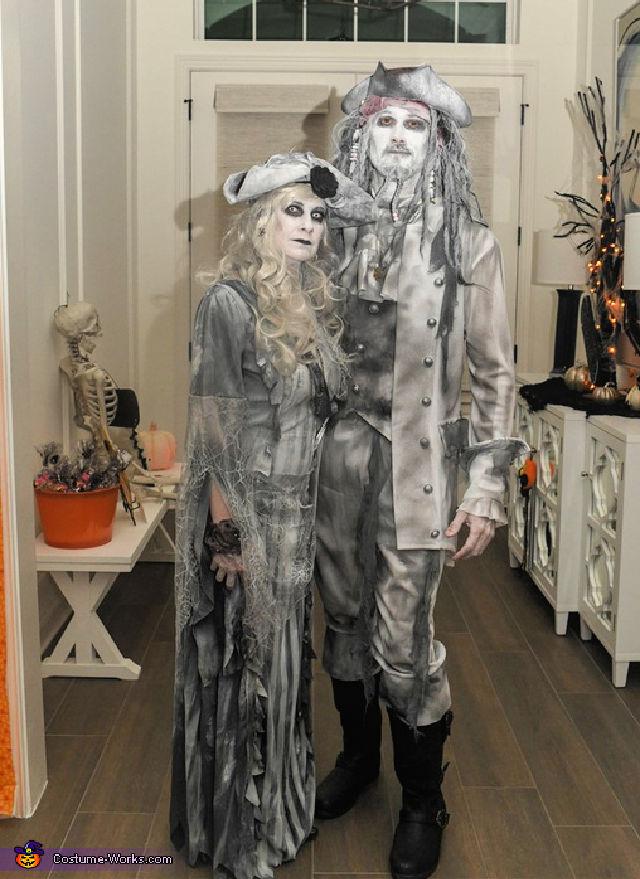 Follow here instructions to make a ghost pirate couple costume, will be a great addition to your Halloween closet or wardrobe. Here the project is all about choosing the ghostly clothes and the ghostly makeup to gain the respective ghost pirate look, and this will be a great Halloween Couple Costume Idea for sure. You can easily design these costumes using your creativity. You can also see some ghost makeup tutorials to easily complete this one of the most outstanding pirate costumes. costume works
19. Women Pirate Costume for Halloween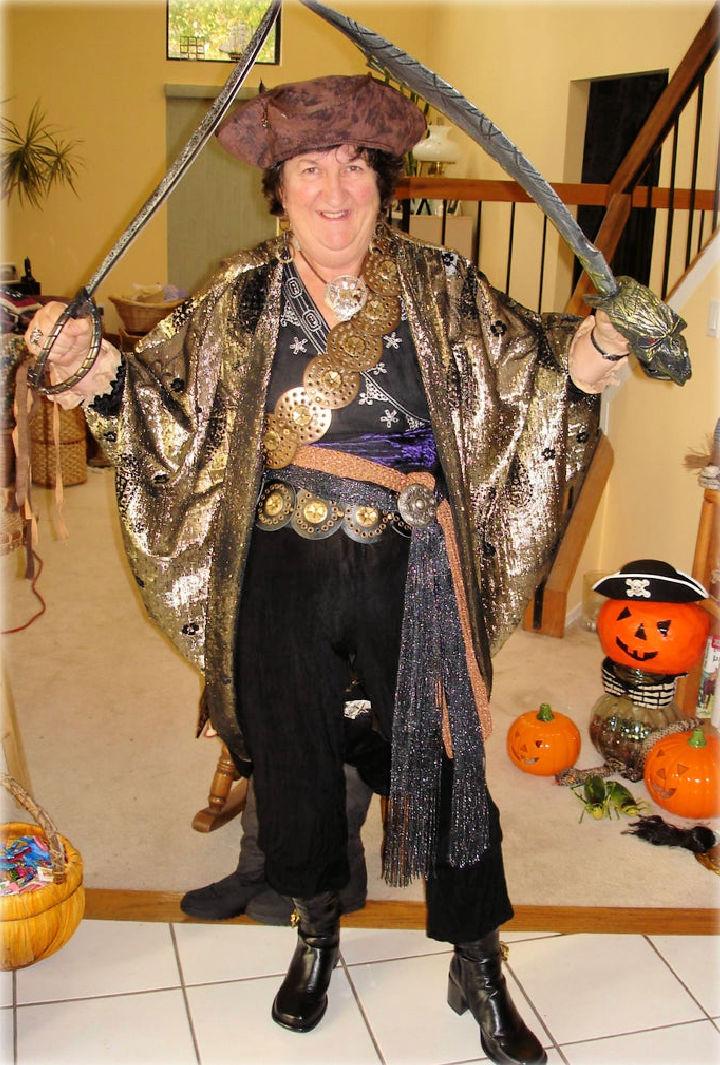 The pirate can be the hottest theme pick for the spooky festival costuming. However, it can be pretty easy and quick to design depending on the type and quantity of the details you are adding. Look at this sample pirate costume that is both lovely and graceful and enchants with precious glitter. The crossbody accent belt, waist belt and glittery vest are the main features of this pirate costume. You will learn to make the whole clock, belts and scarves, boots, wigs, face masks, pants and shirts with step-by-step instructions and detailed diagrams. instructables
20. Scary Ghost Pirate Costume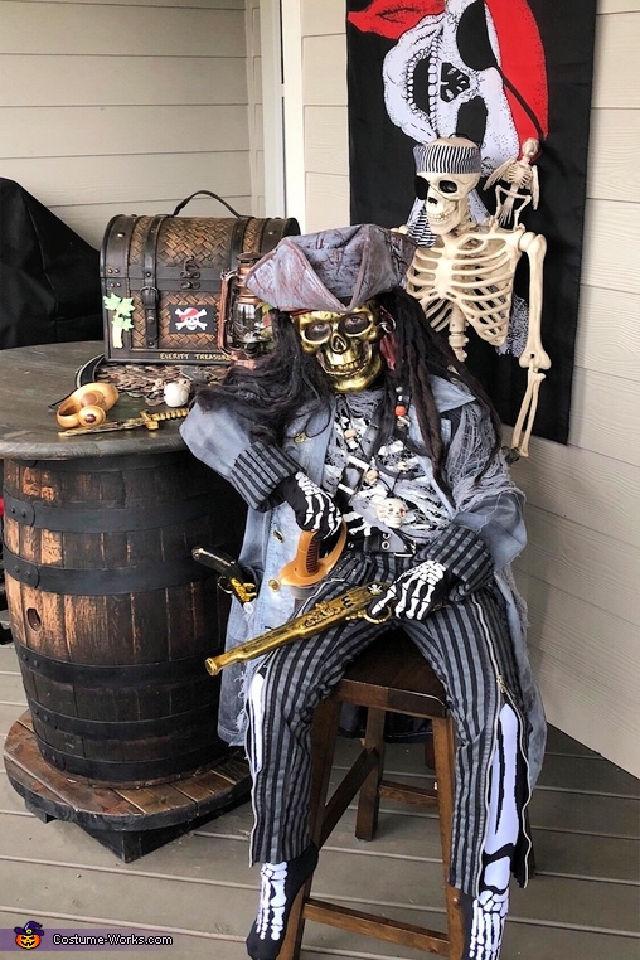 Feel free to duplicate this scary Halloween costume that the ghost pirates inspire. The costume will rock for the boys, and you can also make it for your hubby, little boys, and boyfriend. You can easily find the clothing pieces at Goodwill and in your closet and use the pain for an enhanced ghost appeal. Create an aged appeal of the jacket and also use the paint for a hat to make it look perfectly ghostly. Moreover, use the grey hair color to create that impressive pirate hair color. One of the best Halloween costumes for the boys. costume works
21. Davy Jones Costume from Pirates of the Caribbean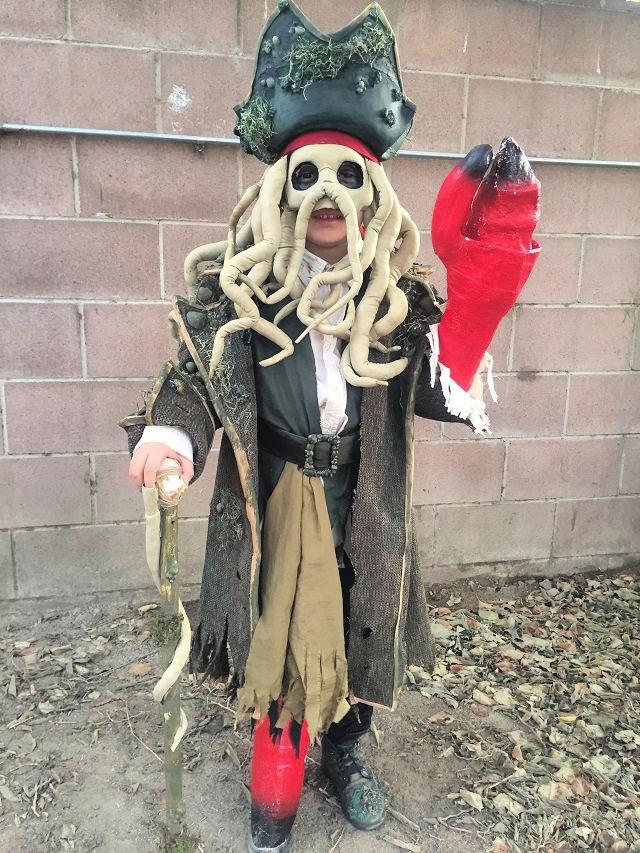 No matter which custom character of Pirates of the Caribbean you are inspired by, you can simply create the best costume for all. Get here instructions for the Davy Jones pirate costume and is the best Octopus Pirate costume that will also work great for the necessary Halloween scares. For boots, grab the old boots, paint them and add them up with moss, seashells and styrofoam. Dye the undershirt with coffee and cut to make the costume shirt, and use old dress pants for the pants. Visit the thrift and craft stores to find more for your costumes like the buckle and belt and make the cain from an old witch broom. One of the best DIY pirate costume ideas ever. costumeyeti
22. Inexpensive DIY Pirate Costumes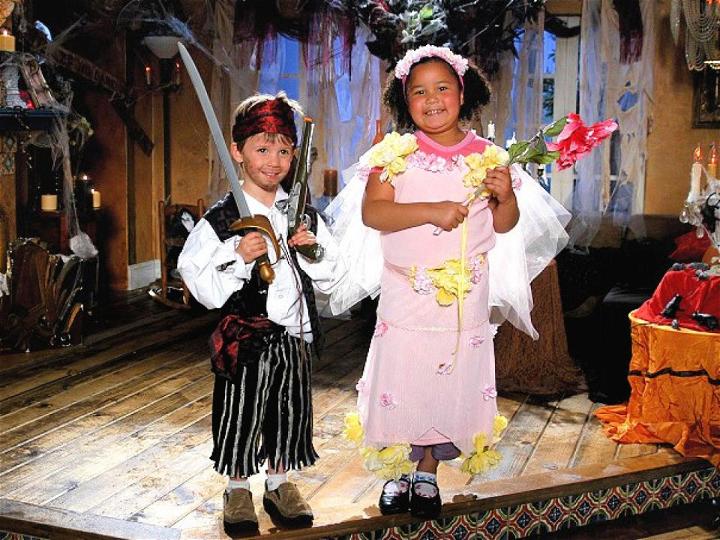 Are you lacking kids' costume ideas for the upcoming spooky festival? Then why not choose the pirate theme for that? Transform your little boy in Jack Sparrow with the given pirate costume and design the cute costume for the little girl loaded with flowers and appears in the glam pink color. Use the custom swords and guns as props for the costume, and also use the Maroon silk fabric for the waist belt and headband. You can easily modify the shirts, sweatshirts and jackets to make the whole costume. diynetwork
23. Kids Pirate Costume from Cardboard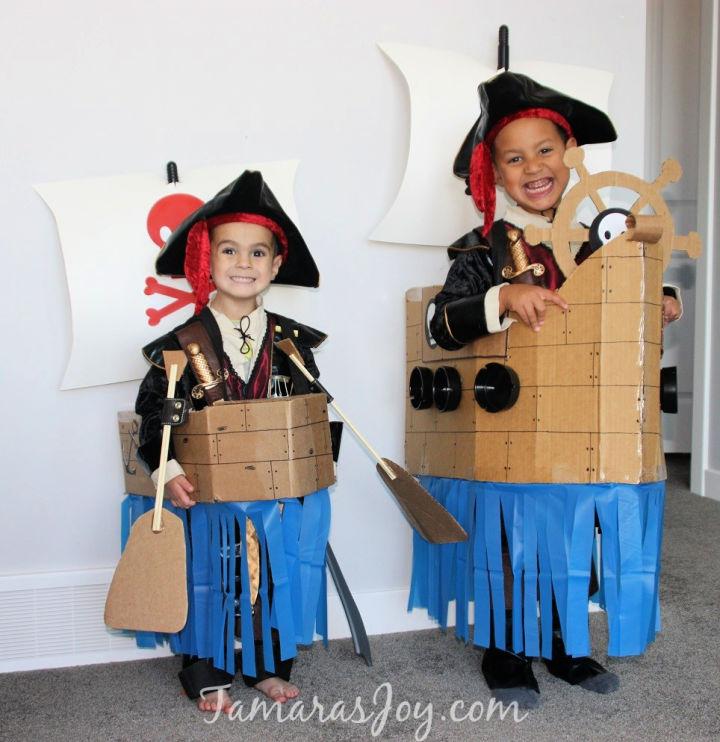 There are never-ending ideas for the pirate costumes, and you will love this another one, the Pirates in the Pirate Ship or Boat costumes that will take the kids to the world of Pirates of the Caribbean. Here these ship and boat costumes are made of cardboard, and you will create them with the instructions. You need a shallow box, reusable grocery store bag handles or strips of fabric, wood dowels, plastic swords, white poster board, plastic table cloth and skull logos etc to easily duplicate these pirate costumes like a pro. One of the best DIY Pirate Costume Ideas ever. tamarasjoy
24. Make Your Own Pirate Costume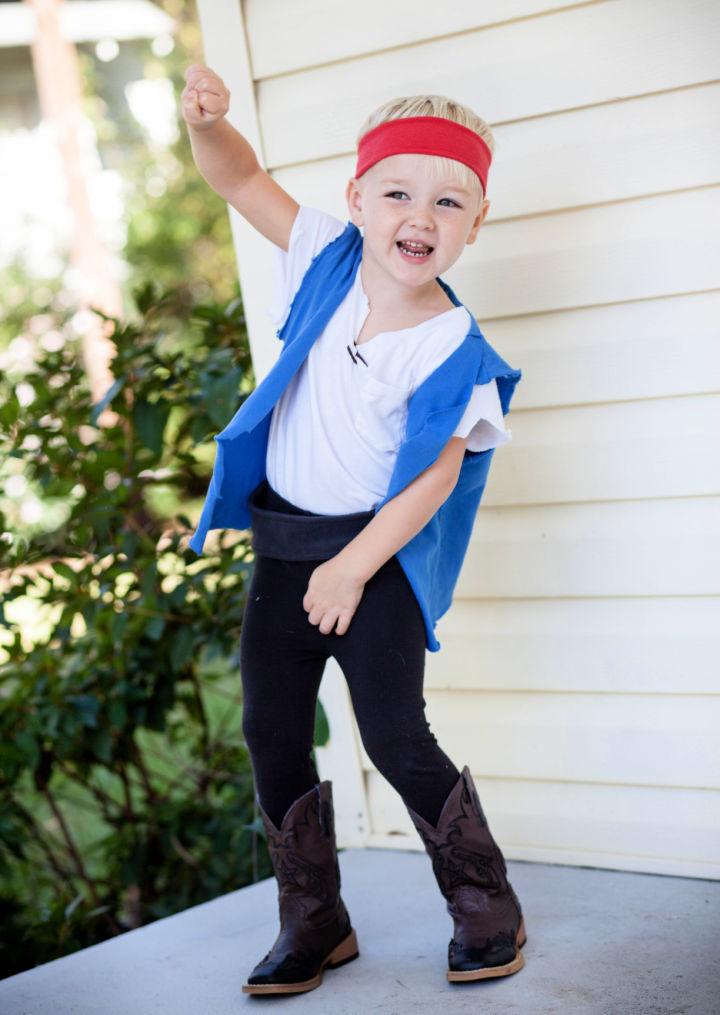 Make the little boys feel more exciting for the Halloween fun with this crazy Halloween pirate costume that is both cute and affordable, and easy to make. You need girl leggings, a t-shirt, string, headband, blue vest, and boosts to easily complete this quick and beautiful pirate costume in just no time. The project is much doable for all beginners and will cost you next to nothing. The costume comes with a red headband, blue vest, white shirt, blue waist belt, and lovely pants and boots. ambertysl
25. How to Make Pirate Costumes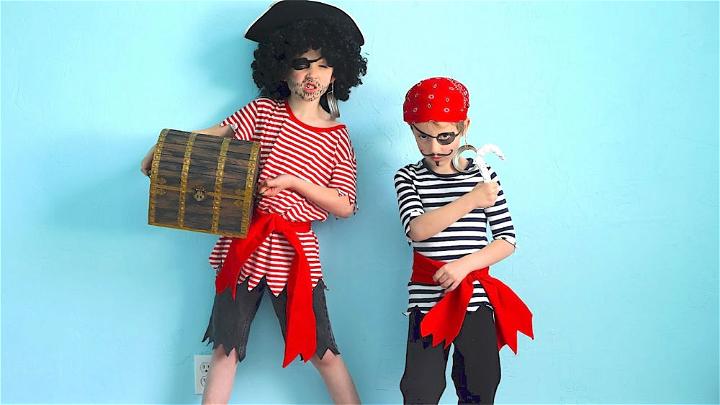 Here you will learn to make the best pirate costumes with the things you already have in the closet or around the home. So, you can hunt those things to easily complete these pirate costumes. You need white and blue striped t-shirts, black pants or jeans with holes in the knee, red striped shirt. Use the scissors and cut some zig-zag edges around the shirt to get the shirt ready for the costume. Do the same thing with pants and use the Mason jar lid ring and rubber bands to make quick pirate earrings. Use a red bandana for the headscarf, and use the red felt for the waist belt.
Related Halloween Costume Ideas:
1. DIY Poison Ivy Costume Ideas for Halloween – If you're looking for a unique and easy to create costume this Halloween, consider making your own Poison Ivy costume.
2. DIY Cowgirl Costume Ideas for Halloween 2022 – Get ready for a rootin' tootin' good time with these DIY cowgirl costume ideas.
3. DIY Circus Costume Ideas for Family – Bring the circus to your home this Halloween with these fun and easy to create circus costume ideas.
4. Halloween Costumes for Women – Whether you're looking for a creative, scary, or just plain funny costume, we've got Halloween costumes for women that will suit your every need.
5. DIY Couple Halloween Costumes – Make this Halloween a truly memorable one with these unique and easy to create couple's costumes.
6. DIY Toddler Halloween Costumes – Get your little ones in on the fun this Halloween with these easy to create DIY toddler costumes.
7. Pun Halloween Costumes – If you're looking for a clever and unique costume this Halloween, consider one of these punny costume ideas.
8. Best Friend Halloween Costumes – Make this Halloween even more special by matching with your best friend with these fun costume ideas.
9. DIY Group Halloween Costumes – Make this Halloween a group effort with these easy to make DIY group costumes.
10. Teen Halloween Costumes – Teens can have fun too! Check out these teen costume ideas that are perfect for any teenager.
11. Family Halloween Costumes – Make this Halloween a family affair with these easy to create family costumes.
12. DIY Alice in Wonderland Costume Ideas – Step into the world of Alice in Wonderland with these easy to do costume ideas.
Conclusion: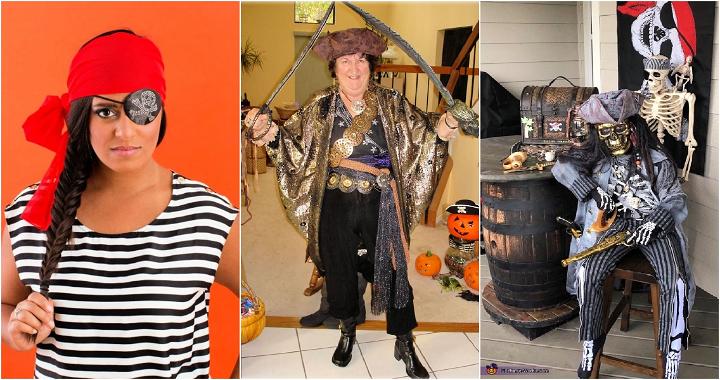 These DIY Halloween crafts aim to make you an expert in planning, designing, sewing and decorating the best pirate costumes that will rock for the International Talk Like A Pirate Day and the Spooky Halloween festival. So you will get complete step-by-step instructions, material lists, tool lists and detailed diagrams, and easily duplicate every of the given pirate costumes. So, take a quick tour of all these diy pirate costume ideas to inspire your creativity.