Learn how to draw a bunny with these 25 easy bunny drawing ideas with step by step simple sketch outline, printables and coloring pages. These 25 ways to draw a bunny are just perfect for any artist at any level – whether you're a beginner or an intermediate, this will be fun! White rabbits were the first ones to be found on this planet and they have been said to be domesticated the first time around the 5th century!
Moreover, these mysterious creatures were introduced in Britain around the 12th century. Many people have started to keep bunnies as pets as they're just so adorable cuddly! Who wouldn't love to own a fluffy little bunny? Bunnies are very famous among children too, because of the infinite number of bunny cartoon characters.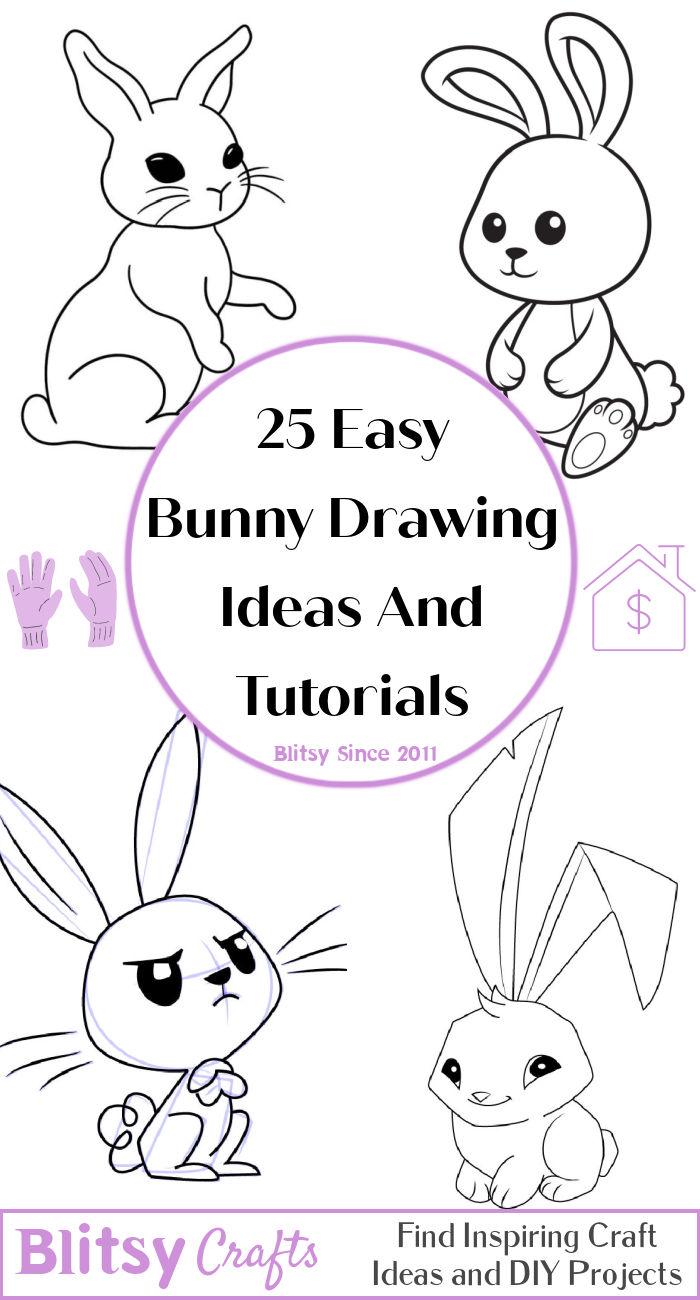 Whether your child wants to own a pet bunny or just likes a bunny cartoon character, these 25 ways to draw a bunny are going to be perfect for you to follow! Who wouldn't want to draw these adorable bunnies with their little ones?
Moreover, if you're an adult and want to relax, then you can follow the adult guides in this article as well. There is a huge variety in this article so anyone can choose their favorite option depending on their art skills. There are many different options such as – angel bunny, cartoon bunny, anime bunny, realistic bunny, etc.
1. Draw a Bunny – Step By Step Guide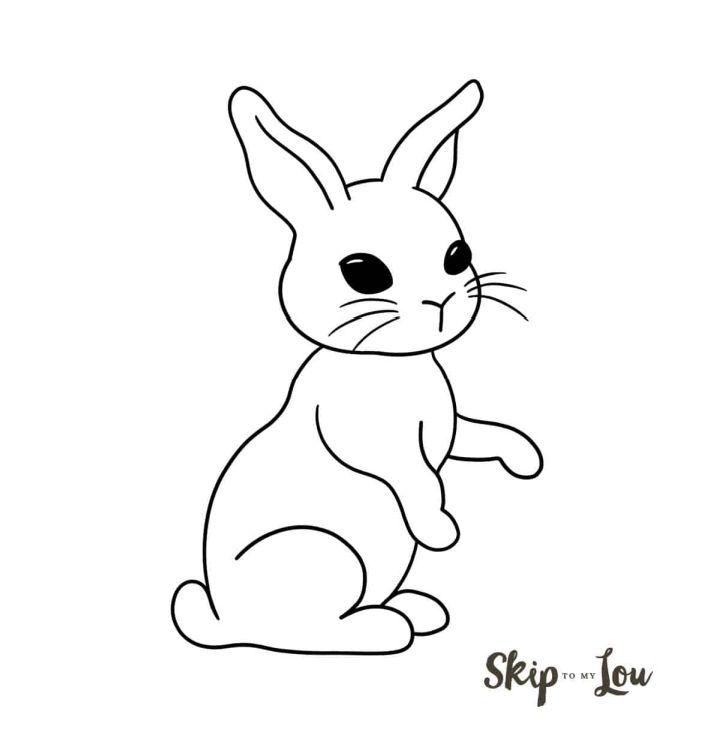 Bunnies are super cute and this is the perfect simple option for you to draw if you're a beginner! It's simply perfect and the final product is just so beautiful. You're going to have a great time following these step-by-step instructions as they're just really easy to follow. Moreover, these instructions are very detailed along with illustrations to make sure that you understand the whole process. skiptomylou
2. Easy Way to Draw a Bunny

Here's an adorable guide that features a really cute bunny with anime-looking eyes! In comparison to the other 25 ways to draw a bunny, this one is one of the popular methods as anime art is famous right now. The shapes are really easy to draw and any beginner can make them, just by following the instructions methodically. This cute bunny has a fluffy tail and his head is turned a little bit. artprojectsforkids
3. How to Draw a Bunny for Kids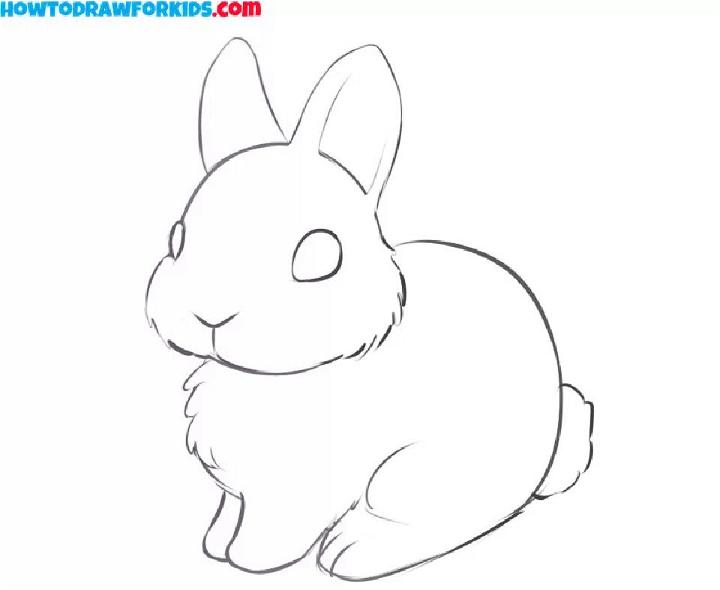 Bunnies are usually really adorable with black eyes and cute little noses. If you want to draw a traditional-looking rabbit, then this is the guide for you! You can start by drawing a circular head omg with the attached body – this would be the basic outline, which can be further detailed. Only a few supplies will be required for this project – pencil, paper, eraser, and coloring supplies. The total work time is 20 minutes. howtodrawforkids
4. Draw a Bunny Face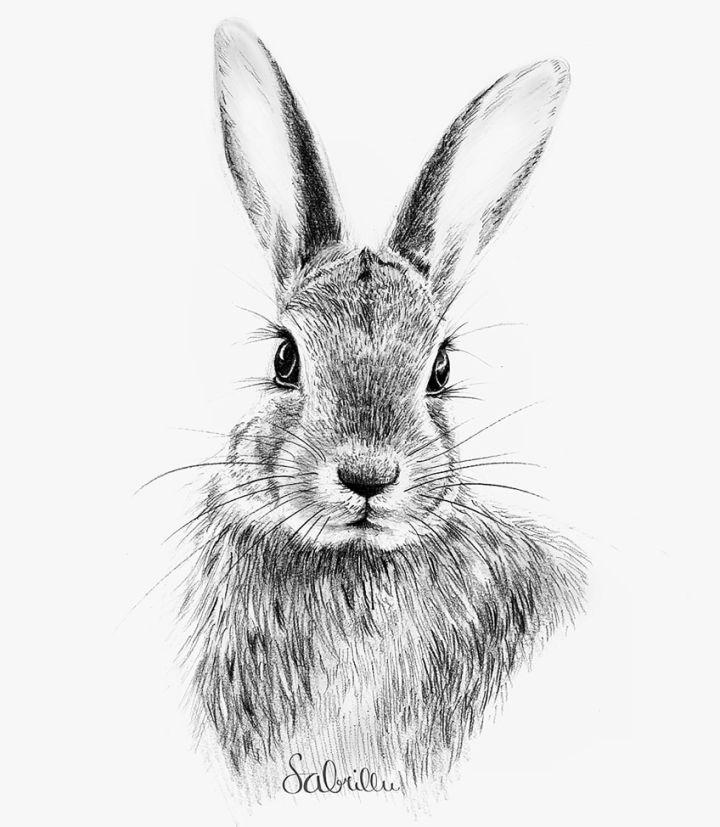 Are you looking for a detailed and beautiful drawing of a bunny? Bunnies can look simple without shading, but if you want to draw a realistic drawing – you will need to shade a lot! Why is that? Well, it's simply because bunnies tend to have thick and fluffy fur, which needs to be detailed along with a mustache. This guide is the perfect one to follow if you're already at an intermediate level. artincontext
5. Draw Angel Bunny from My Little Pony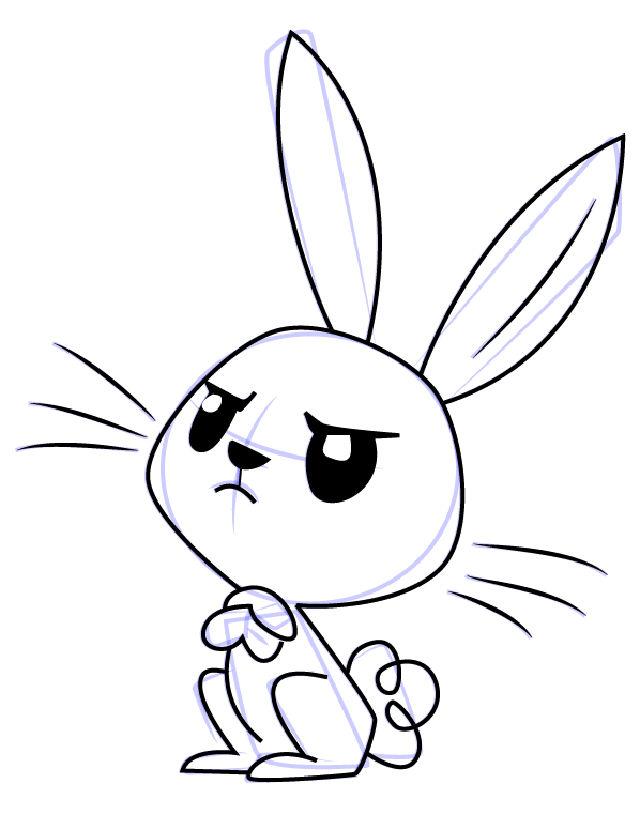 My Little Pony is a famous show right now and mostly, all children tend to love it! You can ask your children about their favorite character and they will say that it's "Angel Bunny" from My Little Pony! This guide has three different options for you, all of them can be accessed with one simple click – standard option, printable option, and the step-by-step option. drawingtutorials101
6. Best Way to Draw a Bunny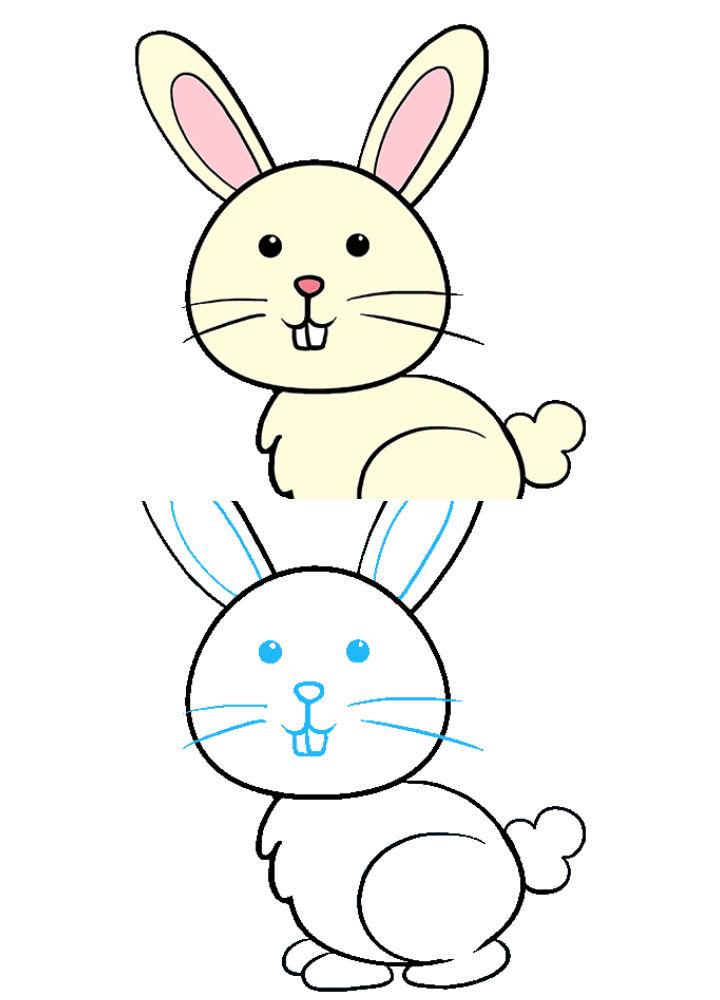 There have been many famous bunnies in the history of the animation industry. If you're trying to get into this industry and want to be well-practiced for the future, then you need to know how to draw the perfect bunny. The favorite bunny of the audience is known as the famous "Bugs Bunny!". The first few steps focus on drawing the exterior and then you can add the detailing. easydrawingguides
7. Draw a Cute Bunny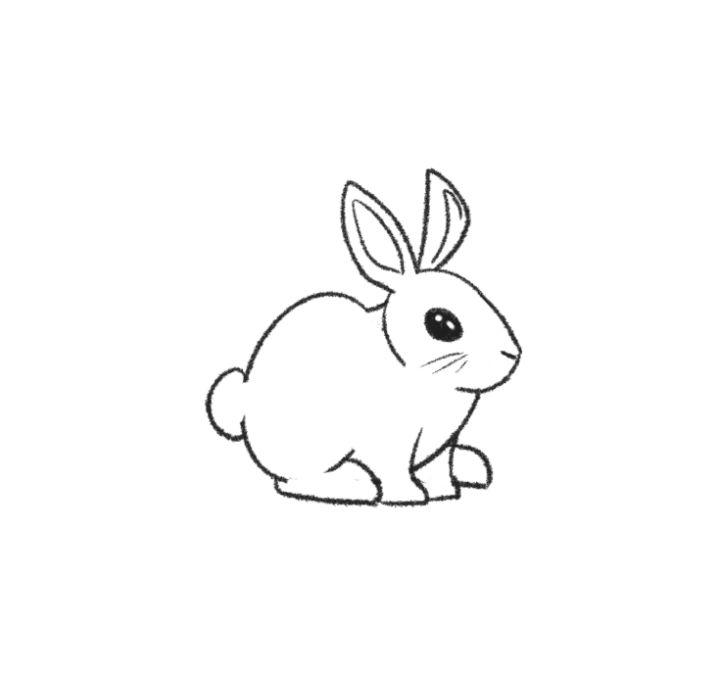 Here's a plan that is different from the other 25 ways to draw a bunny. Why is that? Well, it's simply because this guide features a creature that is drawing from the side-ward view. Bunnies can be cute from all sides but one of the most adorable positions can be when they're sitting by their side as it makes them look chubby and relaxed. The shapes are really easy to draw and any person of any age can re-create them. jaejohns
8. Cartoon Bunny Drawing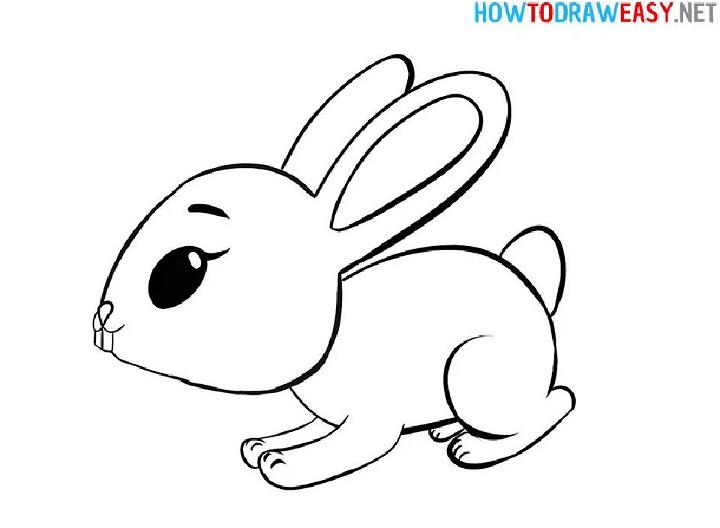 Every artist needs to be good at different types of art, to be successful. A really common and important art to be good at is called cartoon drawing. You can start learning cartoon drawing by first sketching this cute rabbit drawing. The first step is to contour the head and then shaping of the muzzle. Moreover, the third step would be to add detail to the muzzle and the fourth one would be to add eyes. howtodraweasy
9. Draw a Bunny Step by Step Guide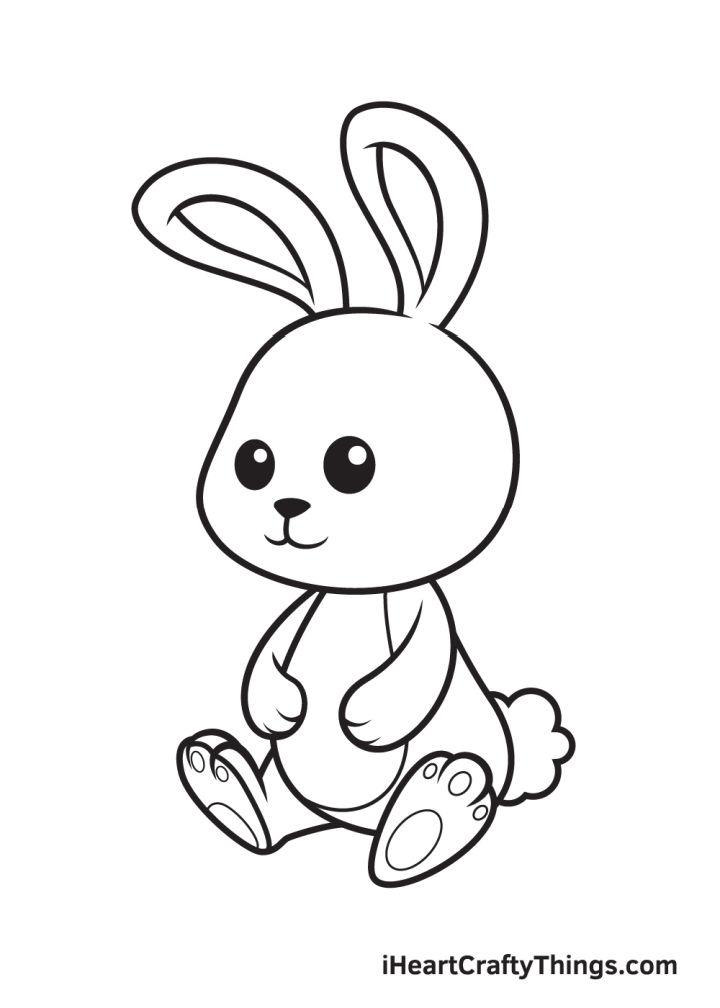 Which kid wouldn't want to draw a lovely little bunny? Bunnies can be fun to make and these lively creatures are a children's favorite! Why won't that be that case? Bunnies have chubby faces along with beautiful eyes. Start by drawing the face, and then the ears, arms, and the whole body. You can start adding details at this point and then finish off with the coloring. iheartcraftythings
10. How to Draw a Rabbit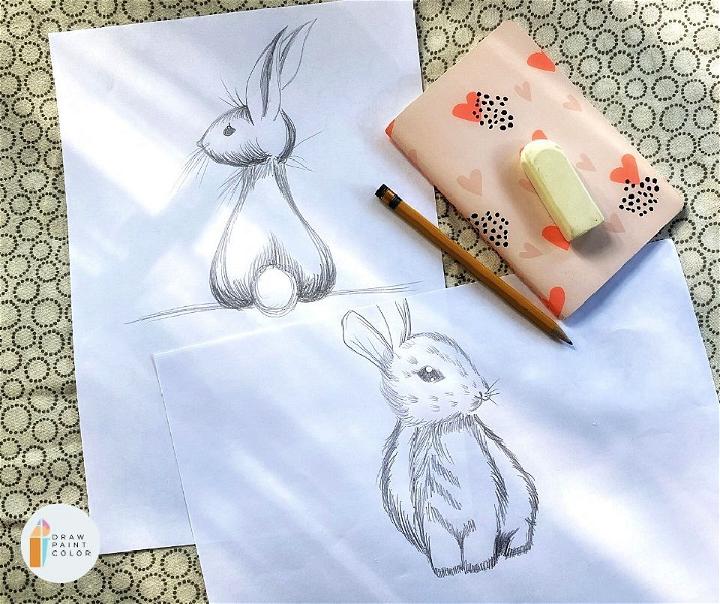 Here's an amazing guide that features a bunny that is not only detailed but also very shaded. Adding shading can make any diagram look professional and beautiful. Moreover, any artist at an intermediate level can easily make this beauty; however, beginners will need some practice to make this. It will be a relaxing exercise to draw this while sitting outside in the sun! Make sure to have fun. drawpaintcolor
11. How to Draw a Bunny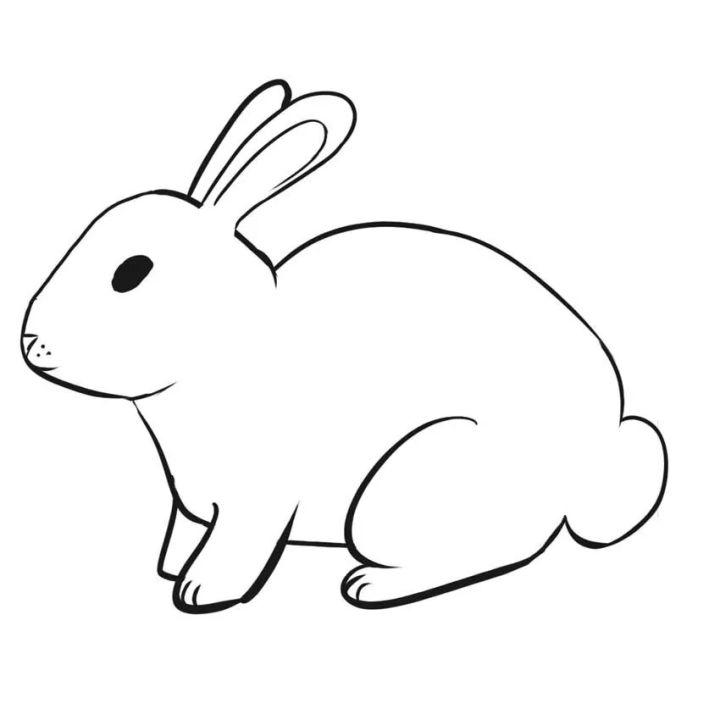 Animal drawing is really popular among new artists – whether young or old. If you want to improve your art, then you need to start somewhere and the best way would be to start by drawing some animals. Here's a guide that features an adorable bunny with very detailed steps and illustrations. It's not difficult and can give you really good tips for drawing and being a good artist. howtodraweasy
12. How to Draw Bunny from Animal Jam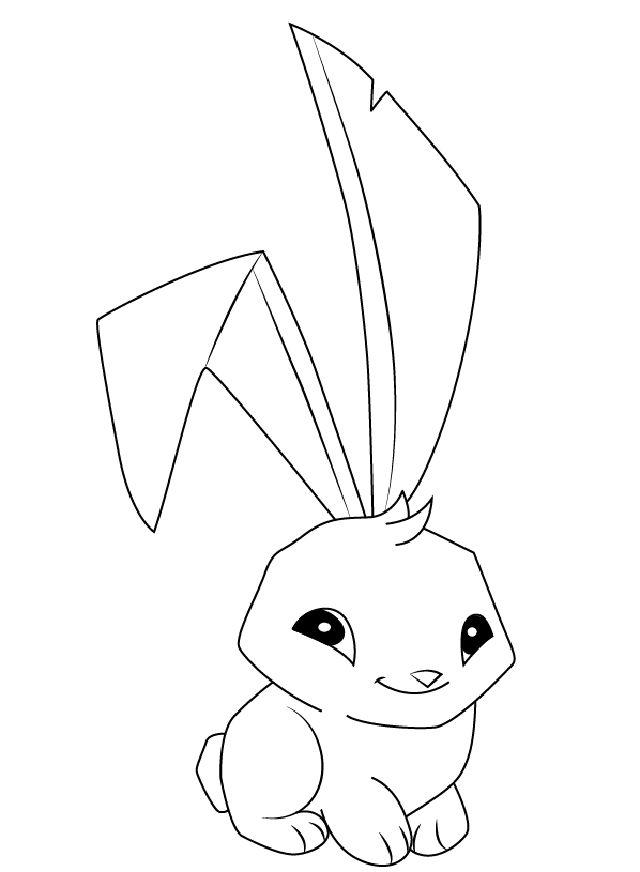 The cartoon movie which is known as the "Animal Jam" has a really popular character who is called "Bunny". Many children adore this character because of its friendly personality and cute face. If your child is a fan of this character too, you can step up a drawing date with him/her and re-create this adorable bunny by following the guide! Moreover, you will also end up having a good bonding session. drawingtutorials101
13. Draw a Rabbit with Pen and Ink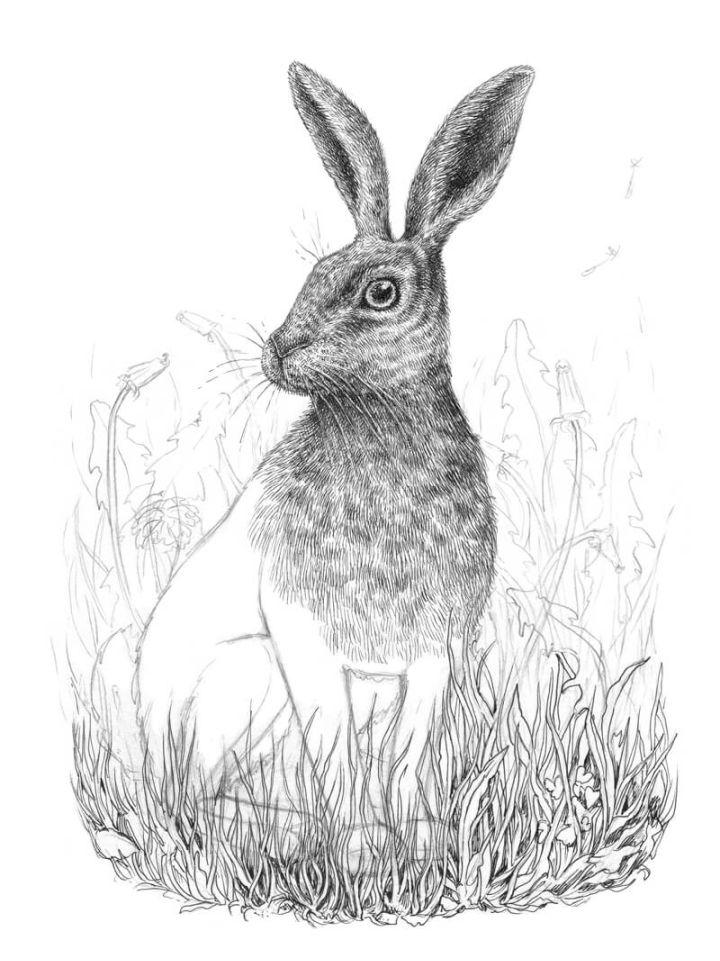 In comparison to the other 25 ways to draw a bunny in this article, this one is different! Why is that? Well, it's simply because it features a bunny which is made from pen and ink. Mostly, all of the bunnies are drawn with simple pencils on paper. However, this is drawn with ink – which can make the drawing look realistic and professional. This guide will teach you the whole process! thevirtualinstructor
14. Draw White Rabbit from Alice in Wonderland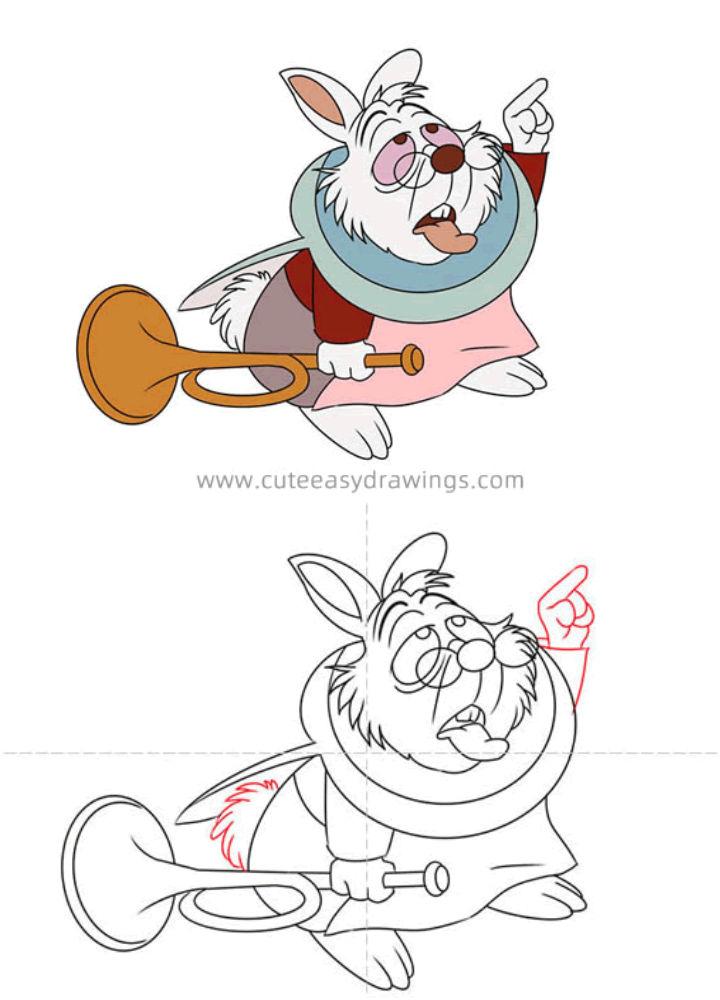 The "white rabbit" from "Alice In The Wonderland" is a famous character and more children are being introduced to it as they watch the movie. If you recently watched this movie or read the book with your child, then you need to set up a drawing date with your little one and re-create the white rabbit on paper! It's not only going to be fun but the final product is stunning, as well! cuteeasydrawings
15. How to Sketch Bunny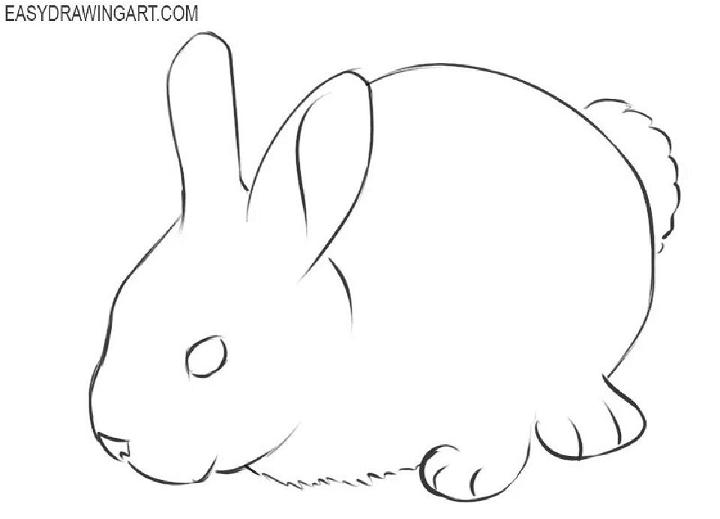 Many people tend to love thicker animals as they can look really cute and adorable. If you're looking for a chubby bunny guide, then you need to follow this one! It features a simple bunny with a cute tail and furry body. Moreover, it also has really beautiful eyes and a small nose. The first few steps focus on outlining the body, and the last few steps focus on the coloring. easydrawingart
16. Draw Little Bunny from Aikatsu Stars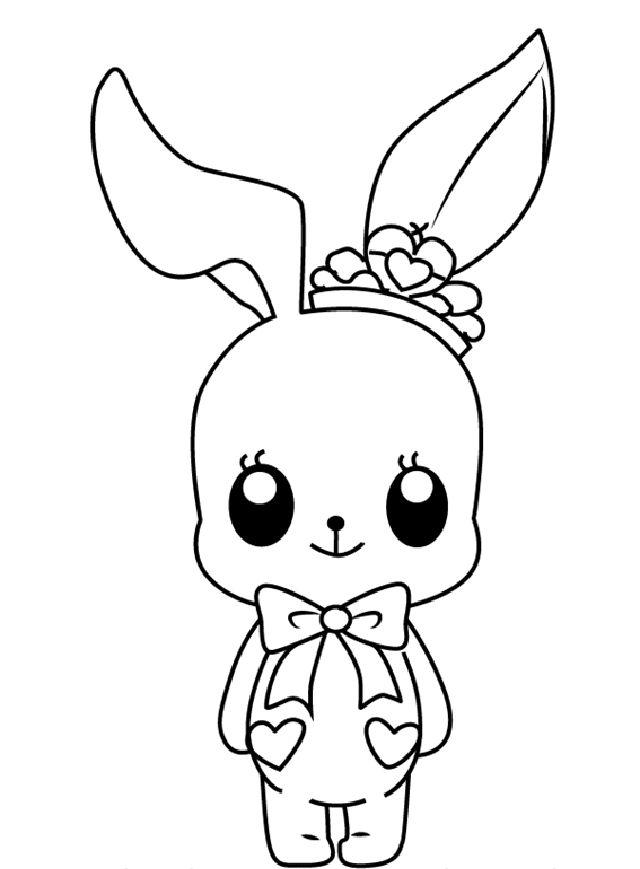 Winter season is all about introducing your children to all these famous cartoon characters and then drawing them after they're done watching the show! This can help your children to improve their motor skills and creative skills. This guide features "Aikatsu Star's" famous character known as the little bunny! Moreover, this plan has three different view options for you – standard, printable and step-by-step. drawingtutorials101
17. Bunny Face Drawing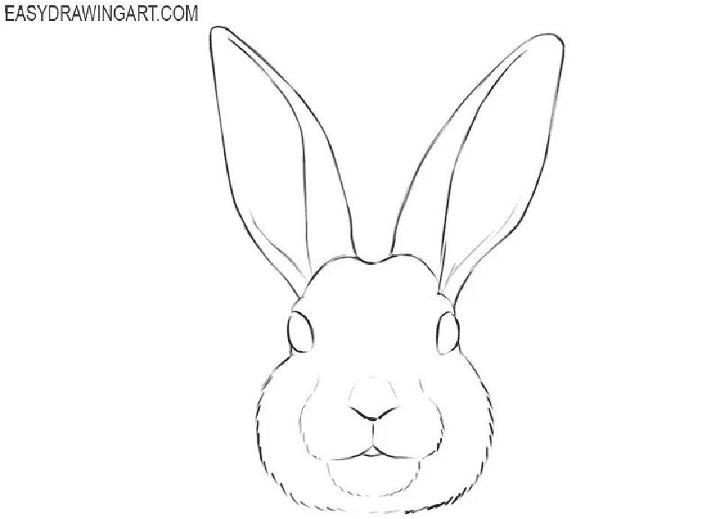 Bunnies can have many different types of ears but if you want to draw a special one with big ears, then this is the guide that you should follow! You will only need a few supplies to follow these steps – a pencil, paper, and coloring pencils. Moreover, you can start by drawing the outlines of the bunny's body and then add details like eyes, nose, mustache, mouth, feet, and fur. easydrawingart
18. Draw a Cute Cartoon Bunny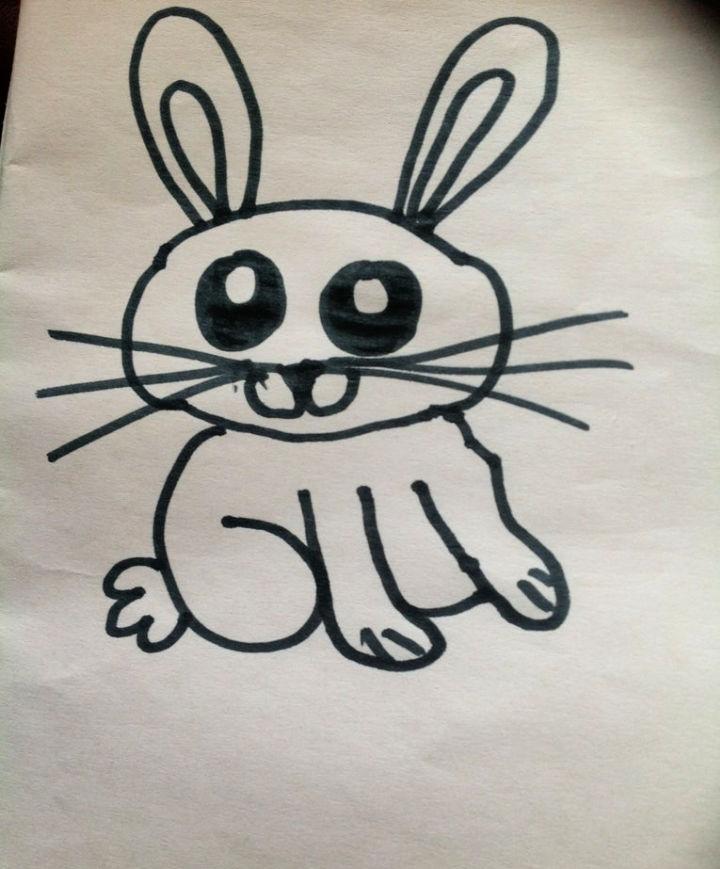 If you have really little children who want to draw cute drawings but you don't know where they should start – here's a similar and basic guide for them. In comparison to the other 25 ways to draw a bunny, this one is unique as it's really quick and easy to make. You will only need a few basic supplies for this guide – a marker, pen, and pencil. You can also draw this in your sketching book. instructables
19. How to Draw a Bunny Face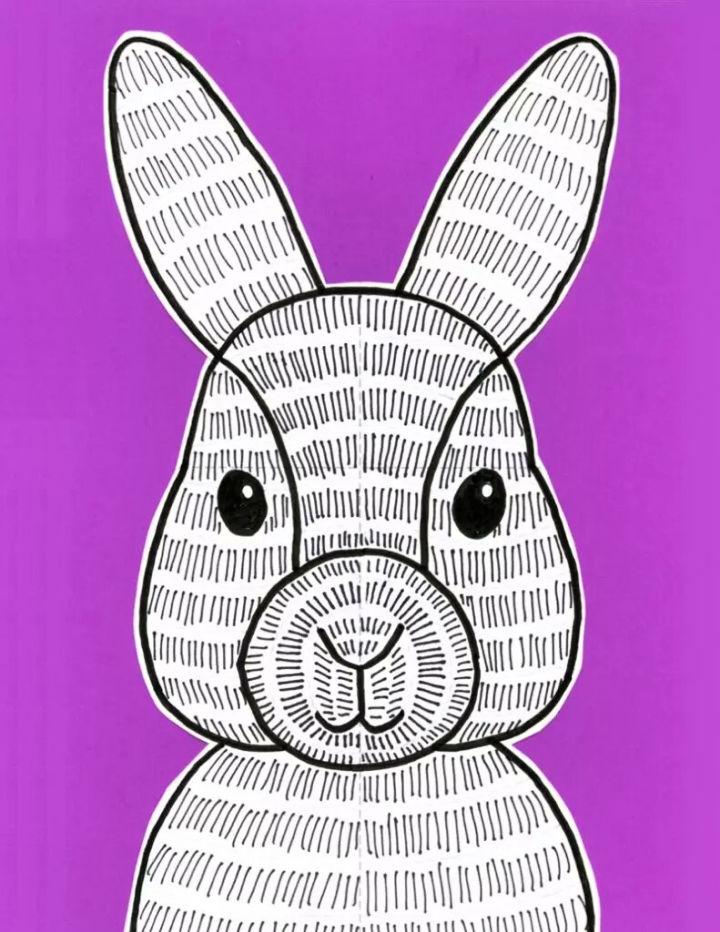 Bunnies can be easy to draw; however, it can be hard to add detailing to the body. If you want to make your bunny look realistic and beautiful, then start by learning to make a lot of skinny lines for the furry textured fur. Moreover, you can also learn to draw the perfect bunny face. Since this is a simple line drawing project, it will be really simple and easy for you to re-create in just a few minutes. artprojectsforkids
20. Cute Bunny Drawing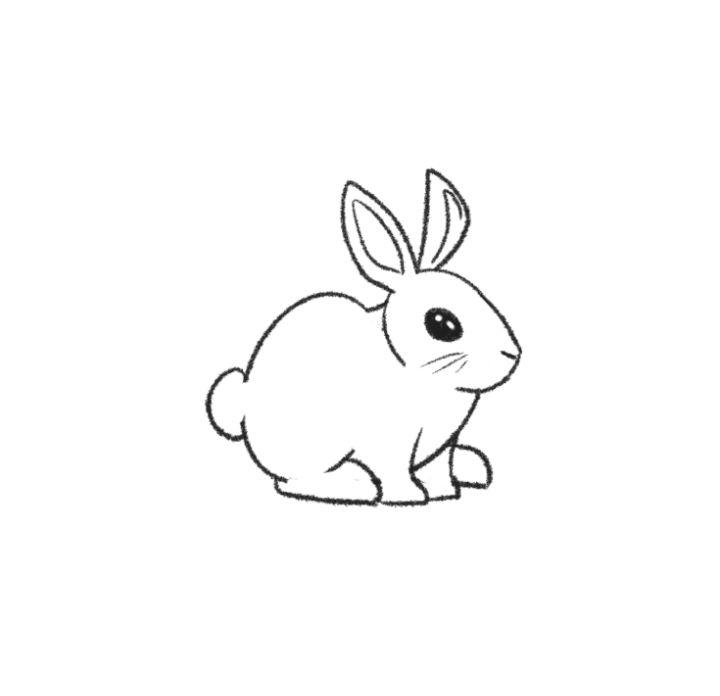 Bunnies can look adorable from the side-view with their fluffy little body and cute shimmery eyes. The best part about this project is that you don't need any complicated supplies to re-create this – paper and a pencil are all that you need! The head will be drawn in an oval shape with an angle facing downwards and then shape for the bunny nose, mouth and jaw can be added. jaejohns
21. Rabbit Drawing Step by Step Instruction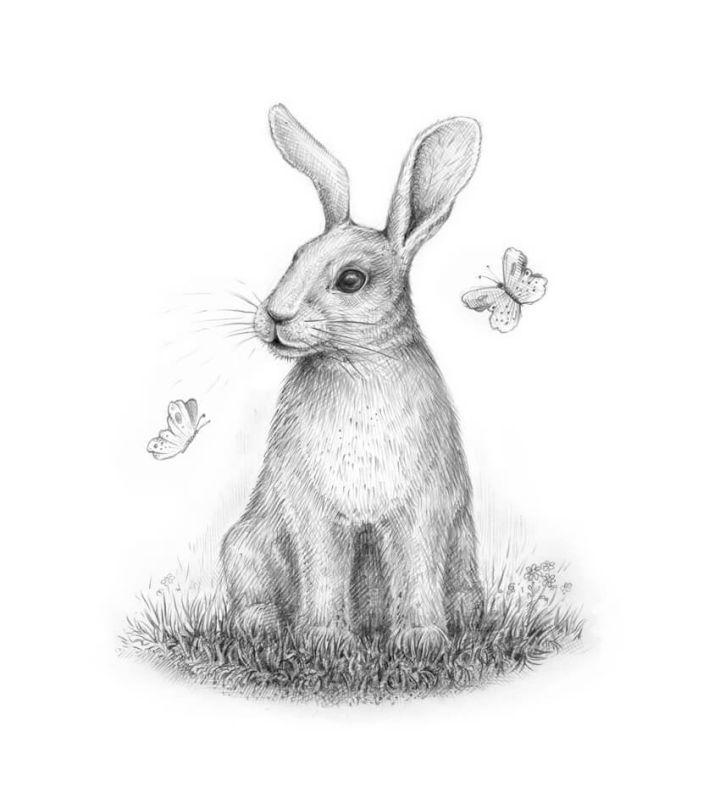 Here's an amazing guide that features an adorable bunny drawing that can be made by following a few basic steps. Make sure to follow the step-by-step instructions to get stunning results! Moreover, since the whole process is broken down into simple steps, it can be really easy for beginners to follow this guide and make this sketch without feeling overwhelmed or intimidated. design tutsplus
22. Draw a Halloween Creepy Bunny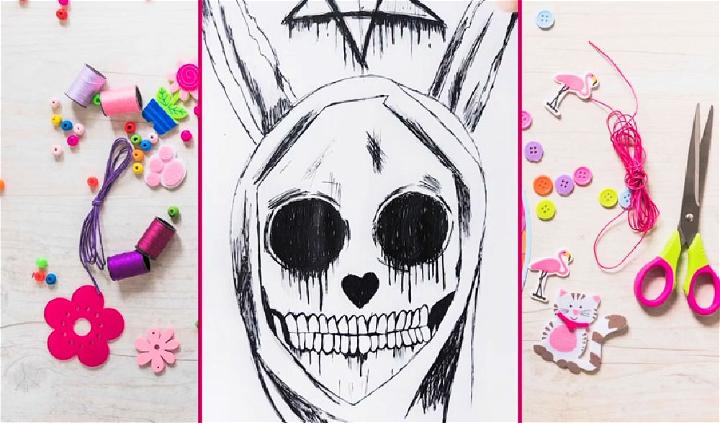 Halloween season is the perfect time to start decorating your house a little spooky. What better way to do so than to make a creepy Halloween bunny and then put it up on the wall? Here's one that features a skull-shaped face along with bunny ears with a star on top. You can draw this on your own or let your little ones make it with you as that can be great for their motor and creative skills!
23. Draw a Kawaii Bunny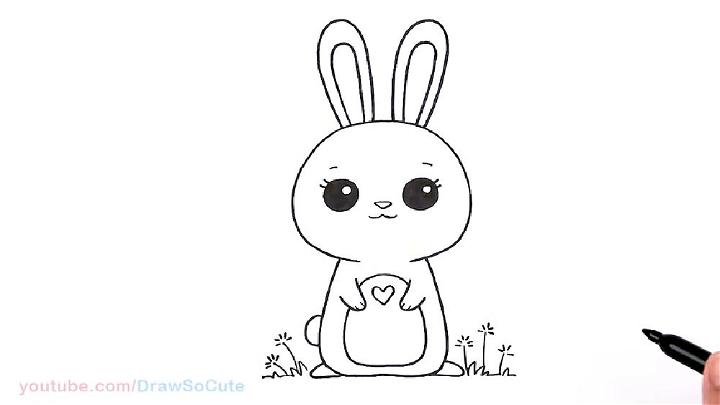 Easter is just around the corner and so is the spring season, this is the perfect time for you to start making these adorable bunny sketches and then use them in your decoration pieces later! Here's a guide that features a bunny that has a pink and white body along with a heart shape on its stomach – which can add a really cute and adorable touch to the whole drawing. Moreover, you can finish off the project by coloring it.
24. Drawing of Bunny with Butterfly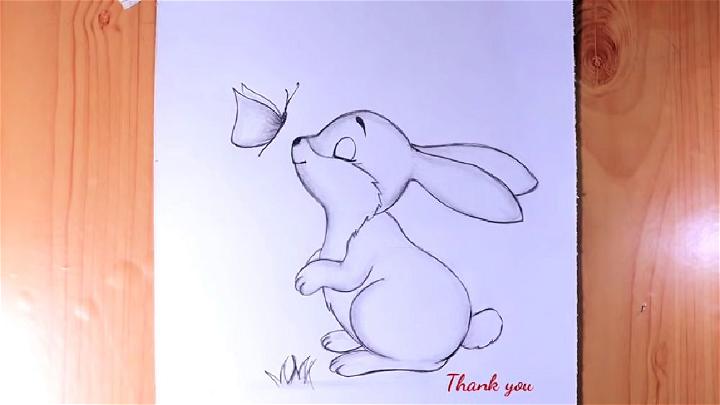 Rabbits are super fun to make and they usually turn out looking adorable – even if beginners draw it! Here's an adorable rabbit guide that features this lovely creature sitting on its left side and smelling a butterfly! Don't you just love the idea of this drawing? It's going to look so cute on a wall or in your decoration pieces. You can also just draw this in your sketchbook to relax.
25. Cute Bunny Drawing

Last but not the least, this guide features a really cute bunny with step-by-step instructions. Furthermore, this is a video guide which makes it easier for the newcomers to follow! You don't need to worry if you don't know where to start – this guide has got you covered! The ears and tail of this bunny are pink while the nose is red. Moreover, the eyes are shine which makes the bunny look cute!
Related Easy Drawing Ideas:
Unleash your inner artist with this collection of easy drawing ideas! Get creative and explore the many possibilities for creating artwork.
Conclusion: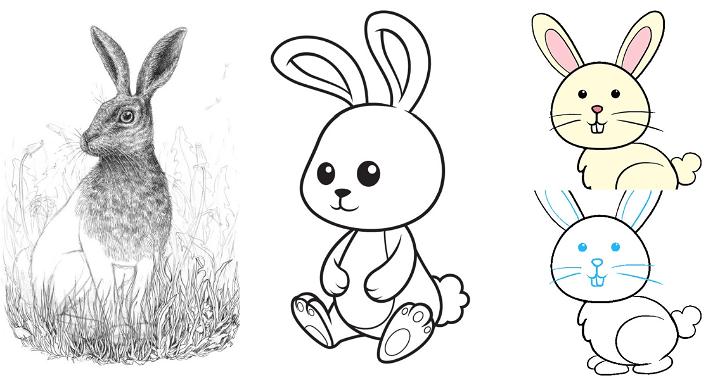 So, are you ready to experiment with these 25 ways to draw a bunny? After going through this guide and choosing your favorite one, you can start making plans on when you can draw it. It is a great idea to choose an evening after work or a weekend as that will give you ample time to not rush the process and relax while doing it. Pour yourself a cup of tea and sit by the fire with your sketchbook while drawing these beautiful little rabbits. If you want to draw it with your little one, it's recommended to do it on a weekend as that's when your child would be free from school. Remember to have fun. Best of luck!