Poolside sitting, enjoying the lake view, catching rays on the deck, enjoying the green outdoor, and the nature scenes are the most loved summer activities that help you relax instantly. So, get comfortable for all the summer outdoor enjoyments with these DIY Lounge Chairs, the best type of chairs to make you live the outdoor luxury. Get these 25 best free DIY chaise lounge chair plans that come with detailed instructions and a PDF guide. All these chaise lounge plans have smartly been built to give the most comfortable half-lay-down sitting position.
Some chairs come with adjustable backrests that can be adjusted to any angle. These chaise lounge plans are introducing tons of different lounge chair designs. See them all by taking by beginning up this collection of 20 DIY lounge chair plants built by the worlds' most genius carpenters and DIYers. So, you can opt for these lounge chairs if you need to accomplish your garden, deck and poolside sitting space designs. So, do browse the entire DIY chaise lounge chair plans list to see all the amazing designs to choose from.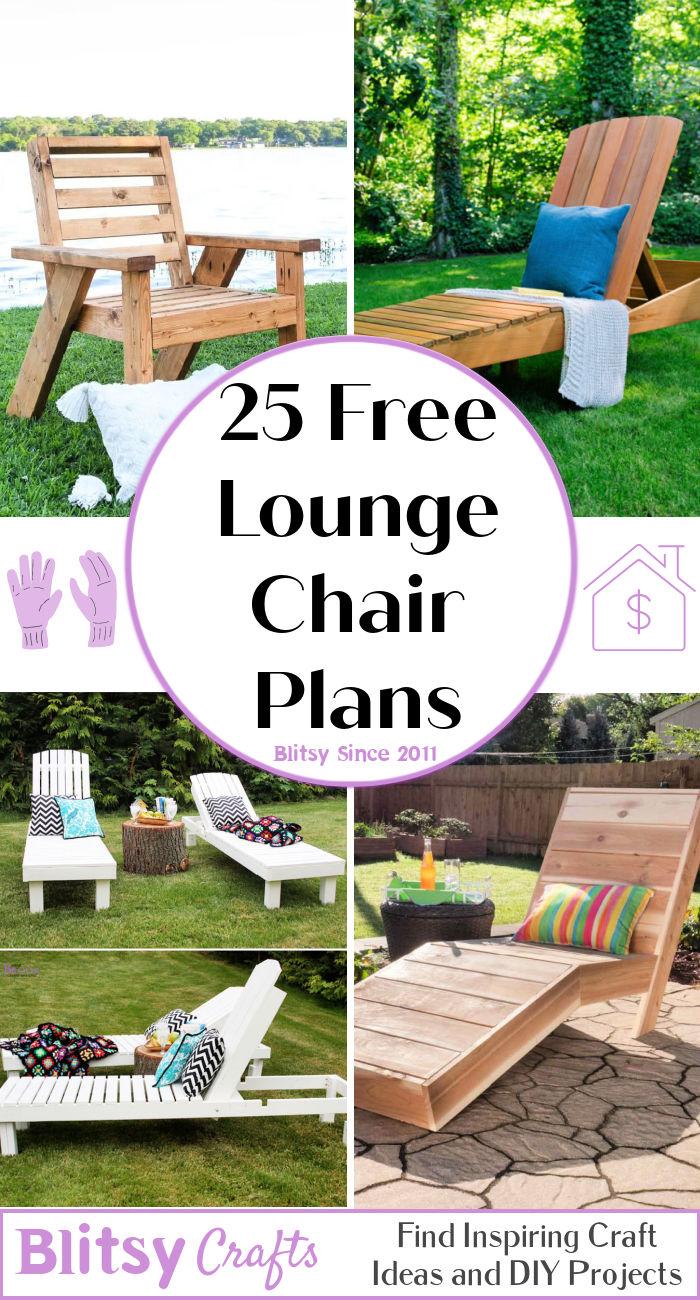 Building your loungers will help save tons of your costs. Constructing an outdoor chair or chaise lounge may seem daunting to many of us. But, it will be all easier and smooth to build one with the help of provided Free Lounge Chair Plans, including the step-by-step instructions, detailed diagrams, and tutorials. For most projects, you will also get complete material lists, tool lists, and hardware lists to make these whole constructions easy peasy.
This does not end here; you will learn to build a storage lounge chair, a hanging lounge chair, a fully upholstered lounge chair, and custom chaise lounge chairs with custom rooftops. So, read through all the diy lounge chair plans to become an expert in building a lounge chair like a pro.
1. How to Build a Lounge Chair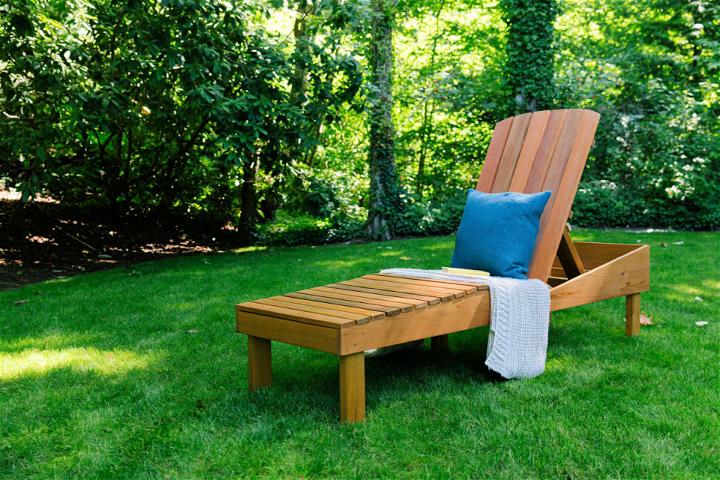 Living the outdoor luxury will require some super comfortable furniture ideas. This lounge chair is one of them. Whether it is placed near a poolside or in the open green outdoors, they will provide you a great sitting experience that you can't get from any other chair. Get here free plans and tutorials about how to build a lovely lounge chair with an adjustable back. It will be a great piece of carpentry art in your backyard also. Inwood supplies, you need 1×10, 2x4s, 1x4s, 1x3s, and 2x2s to build this excellent and durable model of the wooden lounge chair. diy dunnlumber
2. Comfortable Outdoor Lounge Chairs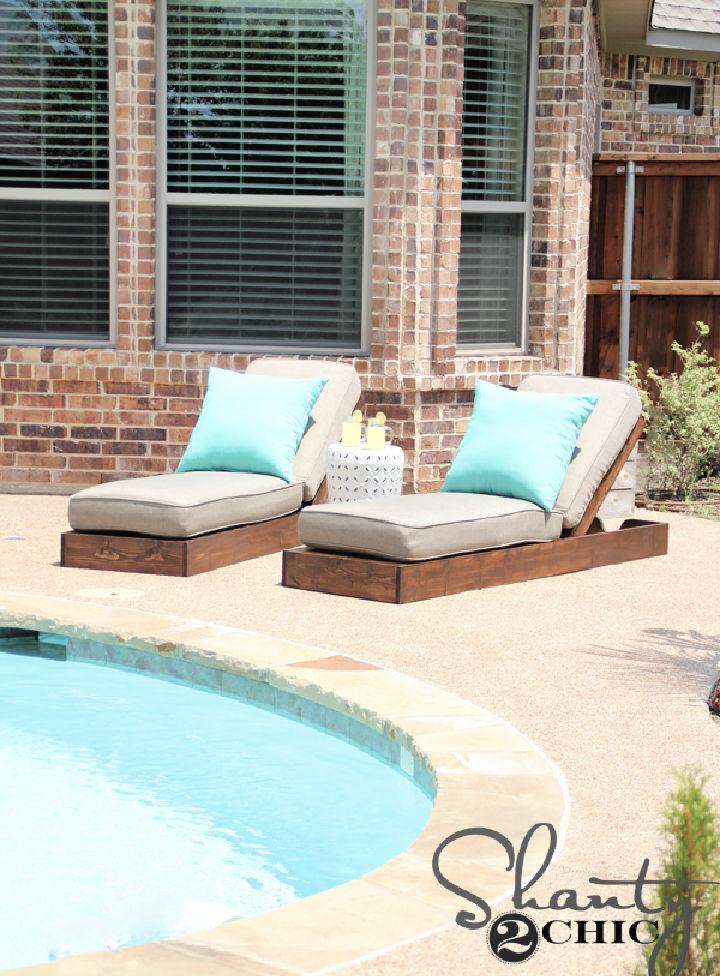 Rock your poolside by installing this pair of hand-built wooden lounge chars, quite something lovely and beautiful to look at. Each of the given chairs will give a luxurious sitting experience with a half-lay-down sitting position! Both of the chairs will cost you about $80. Each given chair is 77″ long, 27.5″ wide, and the bottom frame is 5.5″ tall. Maximize comfort by adding custom seat mattresses and cushions—one of the best and easiest DIY lounge chairs to make simply in no time. You need 1x6s, 1x4s, 1x3s, 2x4s, wood glue, hinges and a custom wood finish of choice to complete this project. shanty 2 chic
3. Luxury Chaise Lounger Chair Plan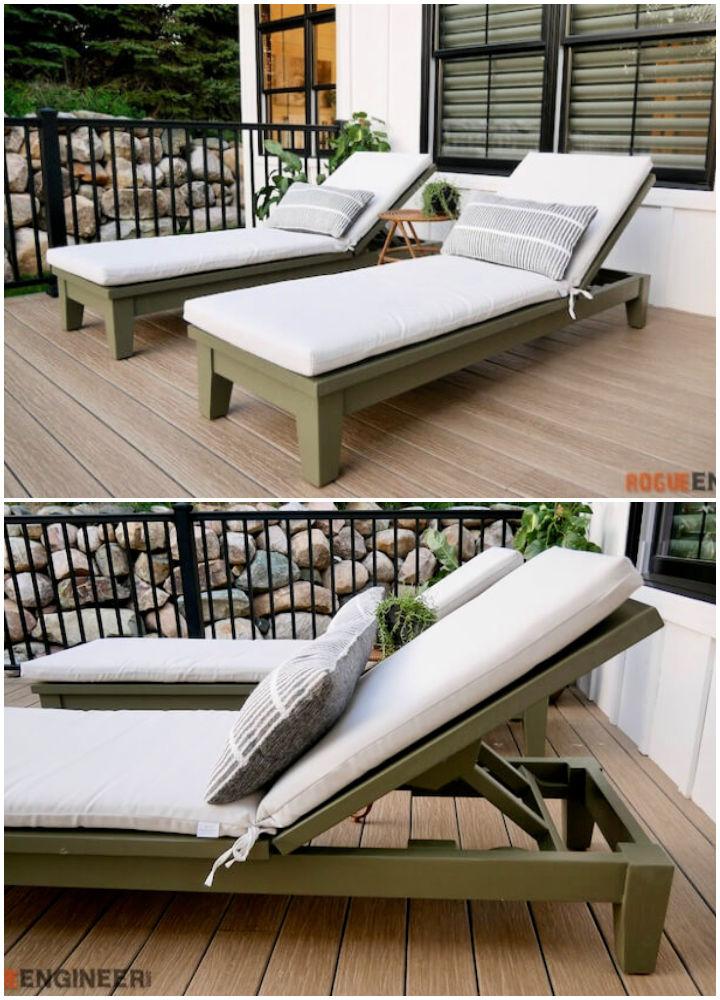 The chaise lounge chairs are a big hit when enjoying the outdoors and poolsides to the fullest. These chairs will rock for a deck also where you love to catch some rays! Adding custom cushions and seat mattresses will surely maximize your comfort. The chair will allow you to sit in a half-lay-down position and fully lay down to sleep. Everyone with intermediate carpentry and crafting skills can duplicate these beautiful chaise lounge chairs, complete in a weekend. The whole project will cost you around $50-100. You need 2x4s, 4x4s douglas fir or cedar, thread stopper, platinum patch, premium wood filler, spray adhesive, primer, paint, hinges and other hardware to complete this project. Each model is 78" long, 24" wide, and 11" tall. rogueengineer
4. Modern Single Outdoor Chaise Lounge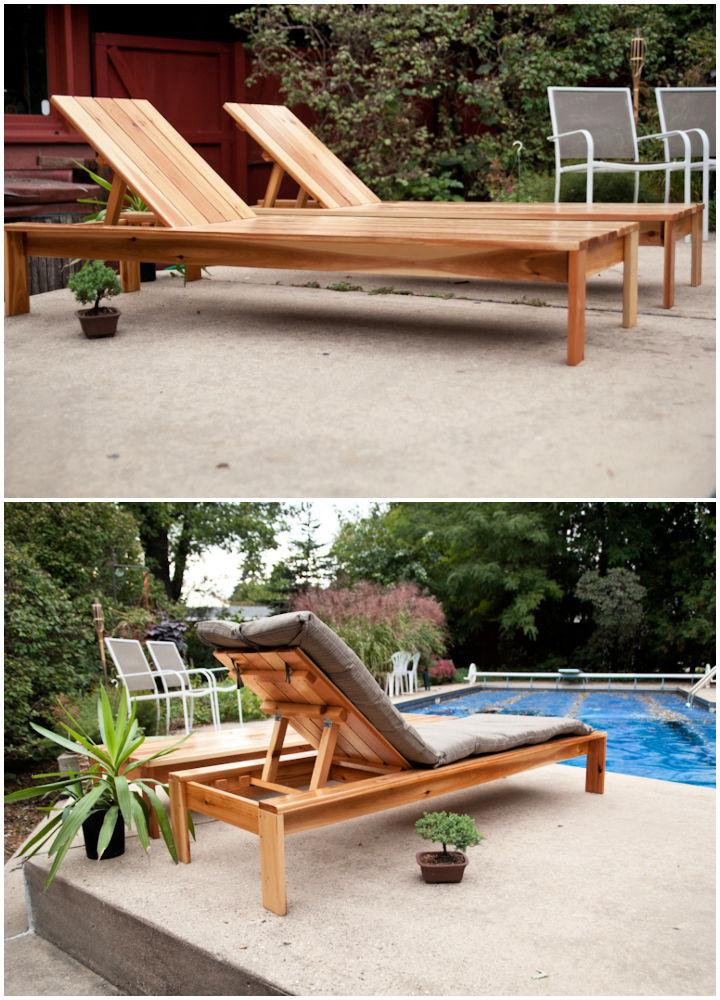 Buying the modern chaise lounges will cost you big. They are often to accomplish the poolside sitting desires and can also be used for deck and garden sitting. So, follow here guides and instructions below to make your own beautiful chair lounge chair. This will help save tons of money, and you will love how it will serve the users. You need an intermediate skill level to duplicate this modern single outdoor chaise longe easily, will be a big love of all. The design is built to fit the stand cushion size, seat with 48″ x 30″ and back 24″ x 30″. One of the best modern single outdoor chaise lounges ever built. ana white
5. Lounge Chair Made of Cedar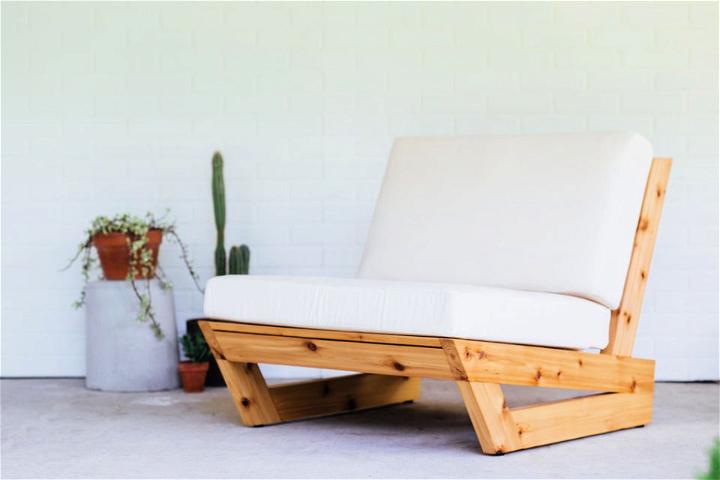 You will love the angle-cut dimensions of this outdoor lounge chair that is aesthetically pleasing and features a bright wood tone. The seat comes with a comfy seat and backrest cushion selected in white that compliments the natural blank tone of the wood. The design is built with cedar and will make a great indoor chair also. Build the design frame using 2x4s and next fill the design solid with seal and backrest slats. Stain and seal the finally completed design also, finish with the furniture feet to avoid getting scratches on your floors. One of the best durable and stylish outdoor lounge chairs that every beginner can build with ease. Making it at home will also help save a handsome amount of money. instructables
6. DIY Lounge Chair from 2x4s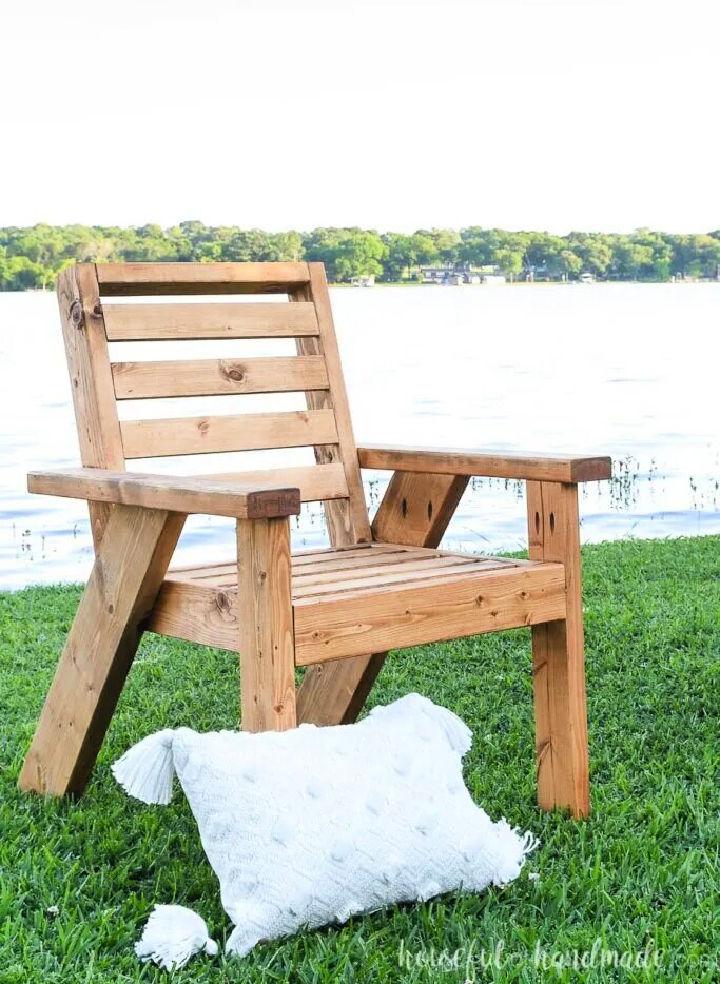 Sometimes the weather is too beautiful to get you outdoor. If you have a pool or live near a beautiful lake, you will love to spend some time there. So, make the poolside or lakeside a perfect place to get relaxed after a long busy day with these outdoor lounge chairs will make you sit in a super comfortable way. This chair is like a normal chair but has an angled backrest to provide a comfortable sitting position. The whole chair design is assembled through a pocket hole joinery system, and hence no hardware is visible in the entire design. The design is built with 2x4s, 2x6s and 1x3s. housefulofhandmade
7. Lounge Chair with Storage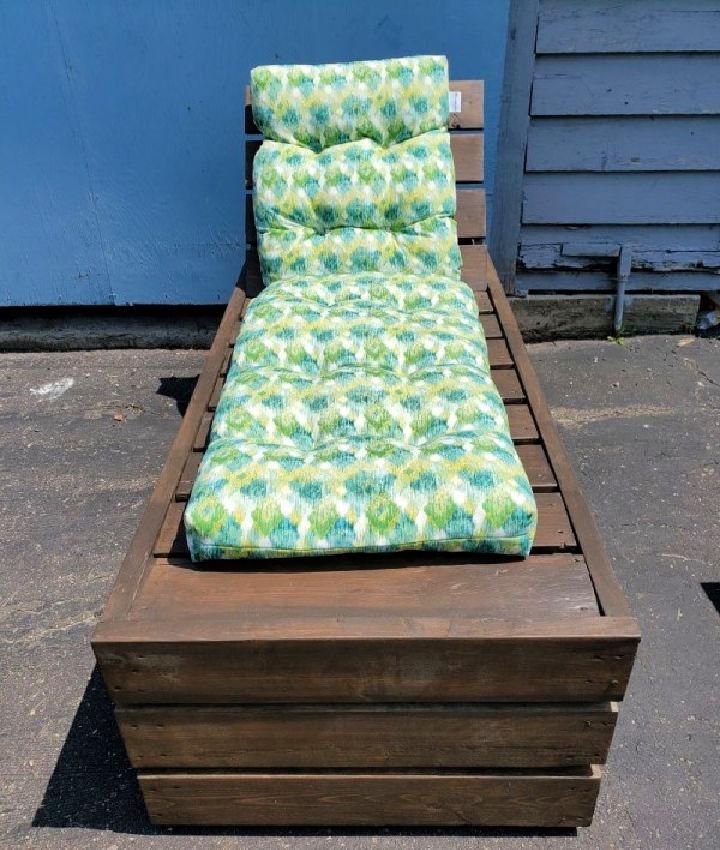 Living outdoor luxury always make you invest in some delicious items of outdoor furniture. The reclining outdoor lounge chairs come at the top of the list for outdoor sitting comfort. So, save yourself a good amount of money by building these reclining lounge chairs at home, which will rock for a poolside and also for a deck to catch some rays. The best part is that each chair provides built-in storage to store all your extras and essentials secretly. Get crafty with the 2x6s, 2x2s, and 1x6s to build these chairs, sure to be a great addition to your outdoor and backyard oasis. remodelaholic
8. DIY Cedar Lounge Chair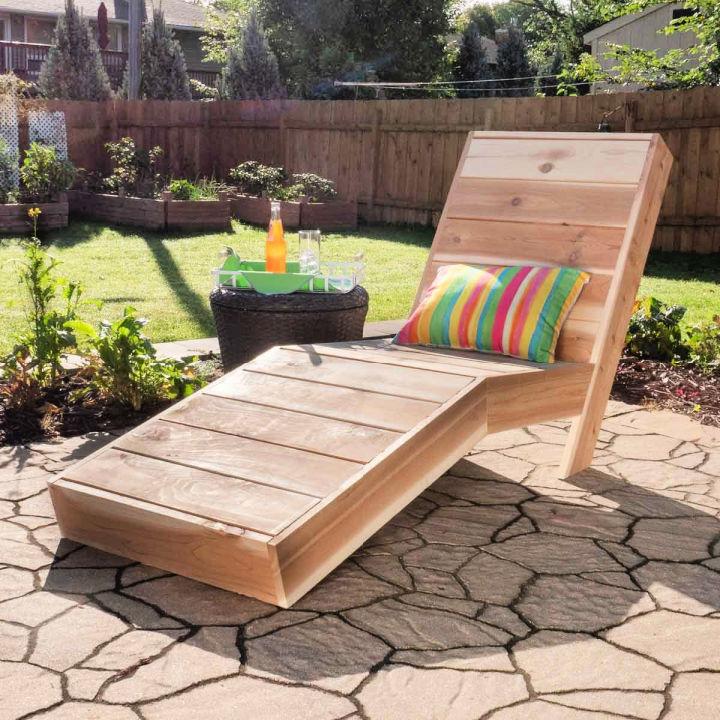 Don't know how to build a chaise lounge chair at home? Learn here to build a one at home from scratch. Look at the fabulous curves of the outdoor chaise lounge, sure to give the user a super comfortable sitting angle. The chair is great for anywhere outdoor sitting like a lake view, deck sitting, and poolside enjoyments. The design is beginner-friendly and will cost you around $51-$100 and complete in a few hours. Use 1x4s and 1x6s to complete this excellent design of the outdoor chair lounge. familyhandyman
9. Homemade Hanging Lounge Chair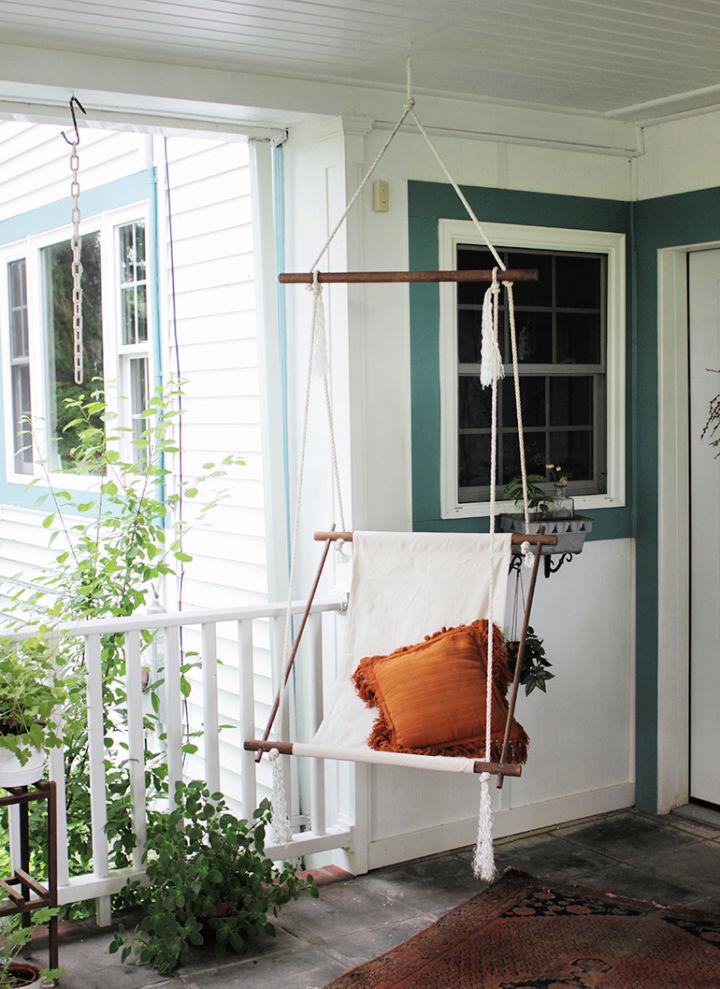 Willing to get a perfect reading nook right in the corner of a room? Build this hanging lounge chair that s just super comfortable to sit in and will be a total breeze to make with the help of free provided plans. You need three 1.25" oak dowels, ⅝" oak dowels, about 20' of ½" rope, canvas drop cloth, sewing machine, drill, tape measure, scissors, stain and some skills to easily build this hanging lounge chair. One of the best and quick-to-build DIY hanging lounge chairs to build in no time will rock for book reading and summer lounging and will not take that too long to build. themerrythought
10. Kids Outdoor Double Lounge Chair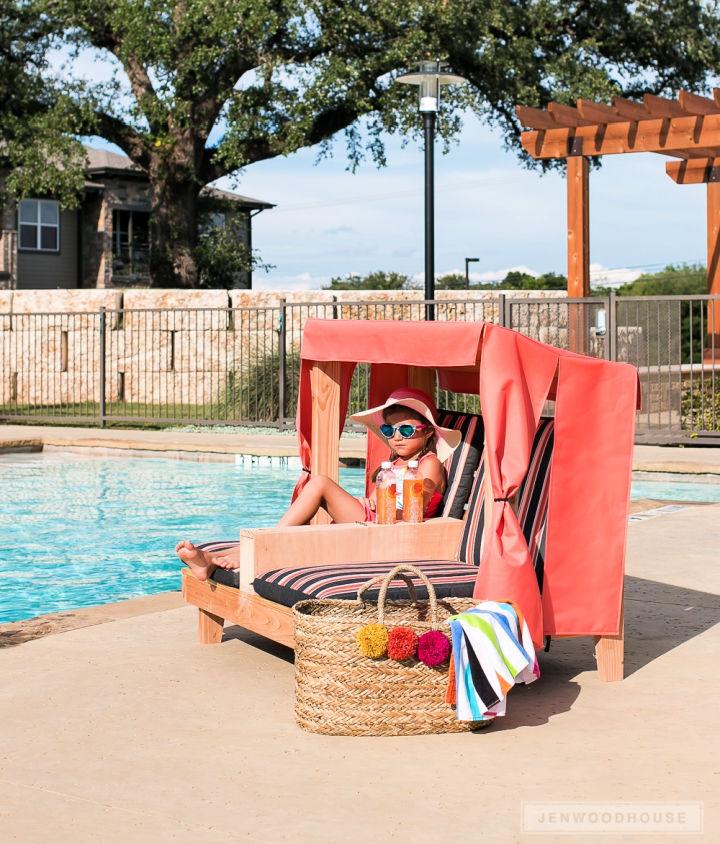 Why should adults have all the fun? Build some luxurious outdoor chairs for the kids also. Follow here guides and instructions to build a double outdoor lounge chair with a covered top roof. The armrests are built to hold the drinks, and there is also a little cubby to store snacks, toys and other essentials. This entire double chair is built with lumber wood, and total lumber wood supplies will cost you around $75. The seats and cushions are from IKEA and can be got for only $30. The fabric for the covered roof or canopy will cost you around $6. The whole project will cost you around $155. One of the best lounge chairs ever built. jenwoodhouse
11. Foldable Outdoor Chaise Lounge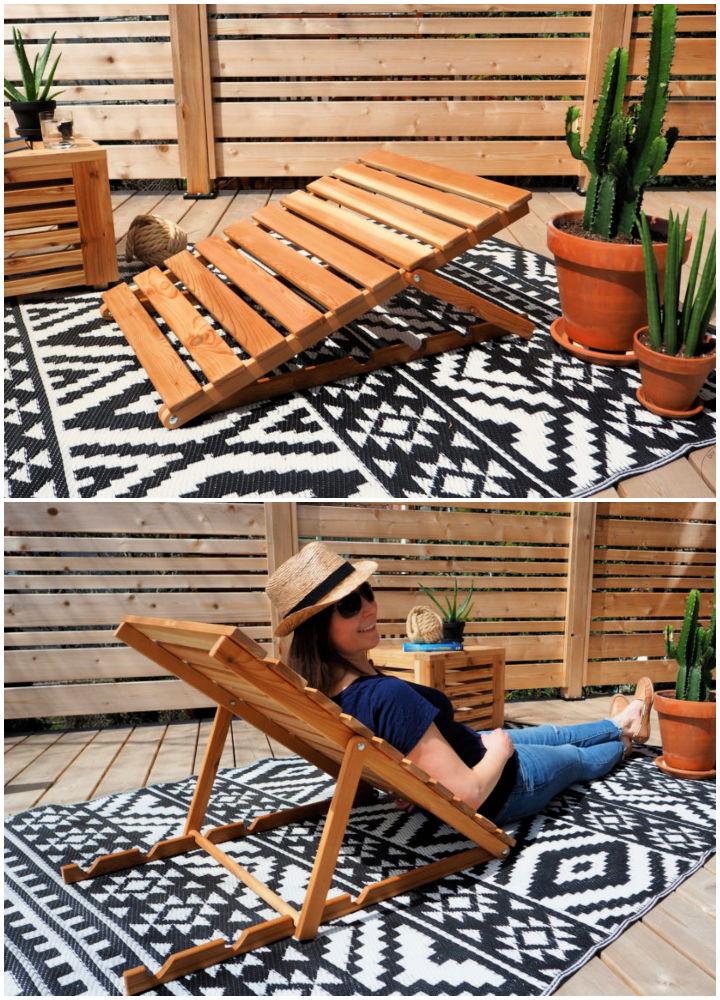 Rock your everyday routines of catching some rays at the deck and enjoy daydreaming with this brilliant design of a semi-chaise lounge. It can be added to your deck to support your back at an angle, giving you a great luxurious sitting experience. The best part is that you can adjust the backrest to any angle to sit or lay down comfortably. You need much less wood to duplicate this fabulous lounge chair design easily. Build it using cedarwood, wood dowel, pocket screws, carriage bolts, nylon lock nuts and teak oil. The project will provide a free PDF download also for the free plans of this chaise lounge. diymontreal
12. Indoor Storage Chaise Lounge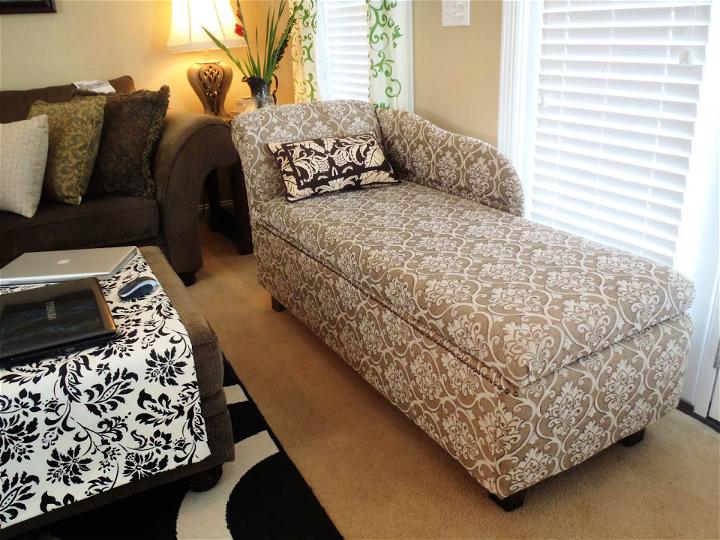 Grab here complete guides and instructions to build a fully upholstered storage chaise lounge. Yes, this chaise lounge will not merely provide the ultimate value of sitting comfort but also a lot of storage space. This is here an advanced-level lounge chair project that will require both carpentry and upholstering skills. You need plywood, other wood boards for framing, 6 yards of patterned fabric, 2 yards non-patterned fabric, good quality foam, glue, staple wire, 4 box furniture tacks, paint, 2 hinges, screws, mending plates, corner braces, batting and webbing to complete this project. lazylizonless
13. Outdoor Lounge Chair Plan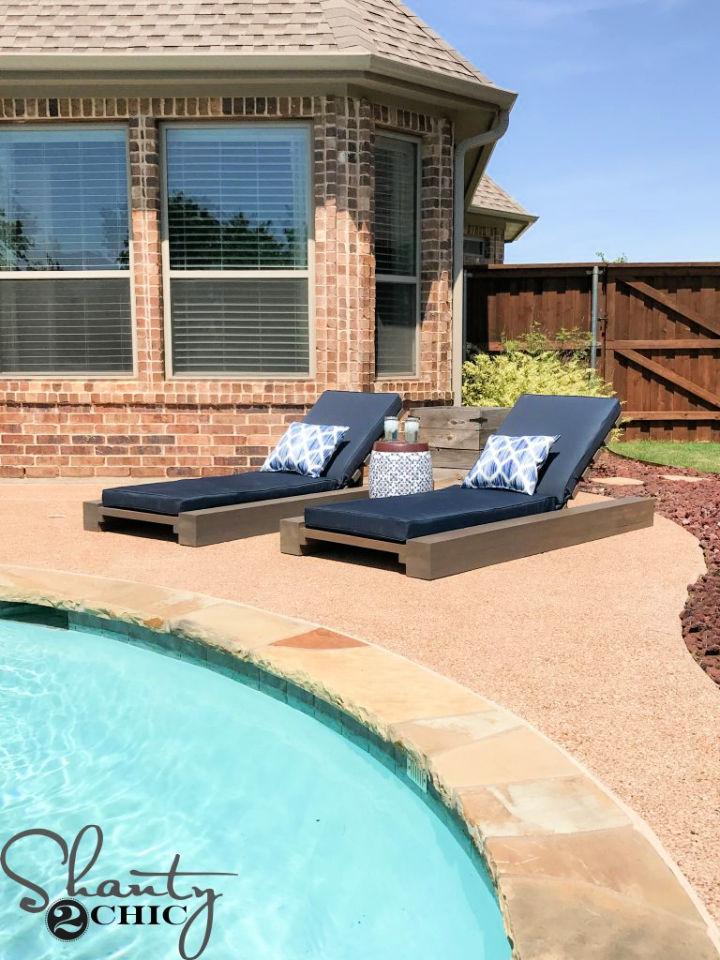 Every outdoor lover will wall for the design of these outdoor lounge chairs, quite something quick and beautiful to look at. Grab the 2x6s, 2x2s and 2x4s to build this lasting longer and beautiful DIY outdoor lounge chair, and It will not take that too long to be on your poolside. Most of the construction is about building the backrest of the outdoor lounge chair that can be adjusted to any particular angle for a luxurious sitting and half lay down position. The seat section is finely slatted, and you can place your favorite mattress and cushion to enjoy it throughout the summer season. Finish the design with stain or paint. shanty 2 chic
14. DIY Plywood Lounge Chair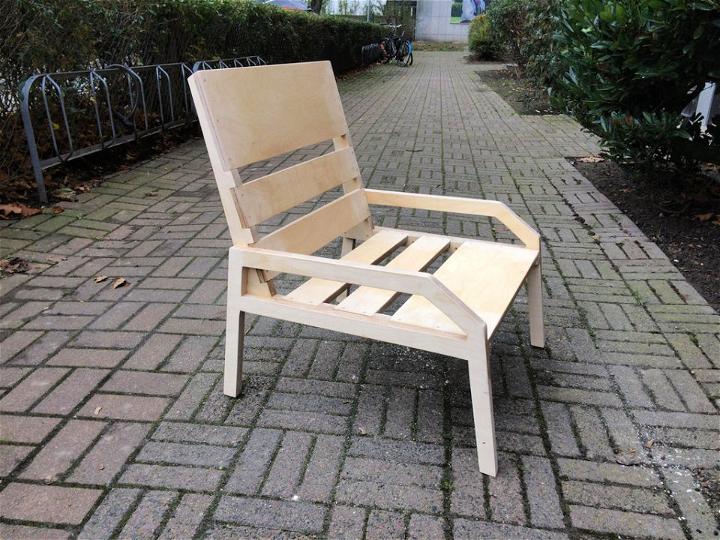 You can use merely the plywood to build fantastic lounge chairs without getting a bit expensive. You will love the precise dimensions, stability and overall luxurious comfort of this lounge chair, built to impress and inspire. Grab the 22mmbirchplywood, 18mm plywood, wood screws, dowels, wood glue, danish oil and some creativity to craft this lounge chair easily. The chair is perfect for both indoor and outdoor use and can also handle a lot of weight. The design curves make this chair an interesting piece of carpentry art. instructables
15. Bristol Outdoor Lounge Chair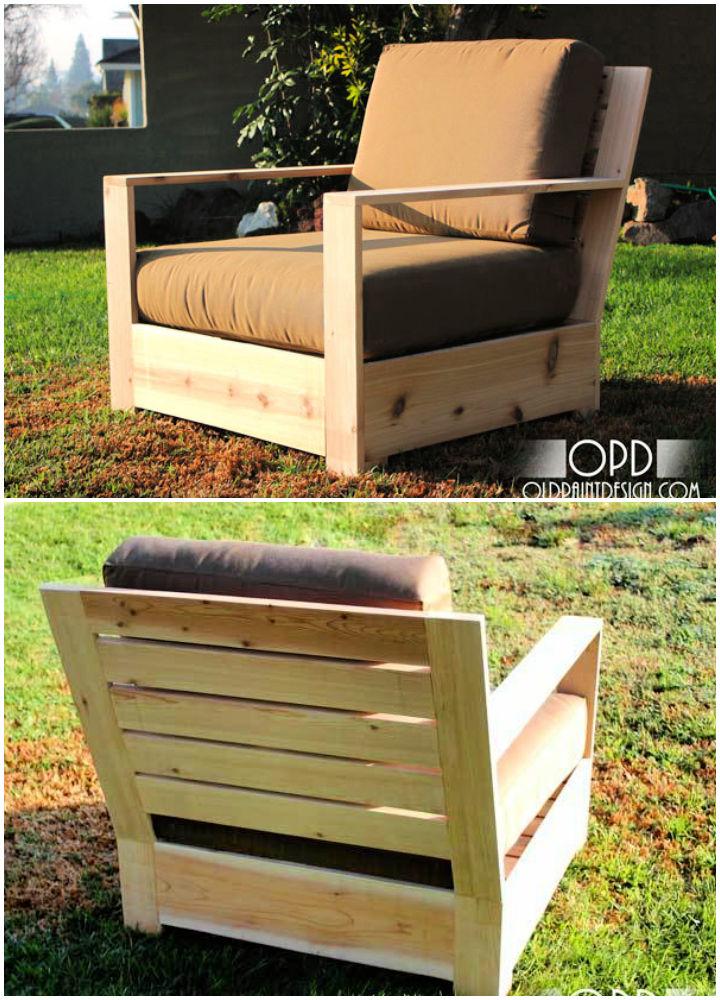 Make it super comfortable to catch some rays or look at the outdoor greenery with this bristle outdoor lounge chair. The design is much aesthetically pleasing, and you will love the slatted look and angled backrest of the design that goes super eye-catching. The chair is 31″ tall, 38″ long and 31." Wide and provides the perfect L-shaped armrests for a boss-like sitting experience. The whole seat is beautifully cushioned, and you will love the final look and appeal of this luxurious bristol outdoor lounge chair. You need 1x8s, 1x4s, 2x2s and some creativity. One of the best DIY lounge chair projects that everyone can do with ease. ana white
16. Make a Chaise Lounge Chair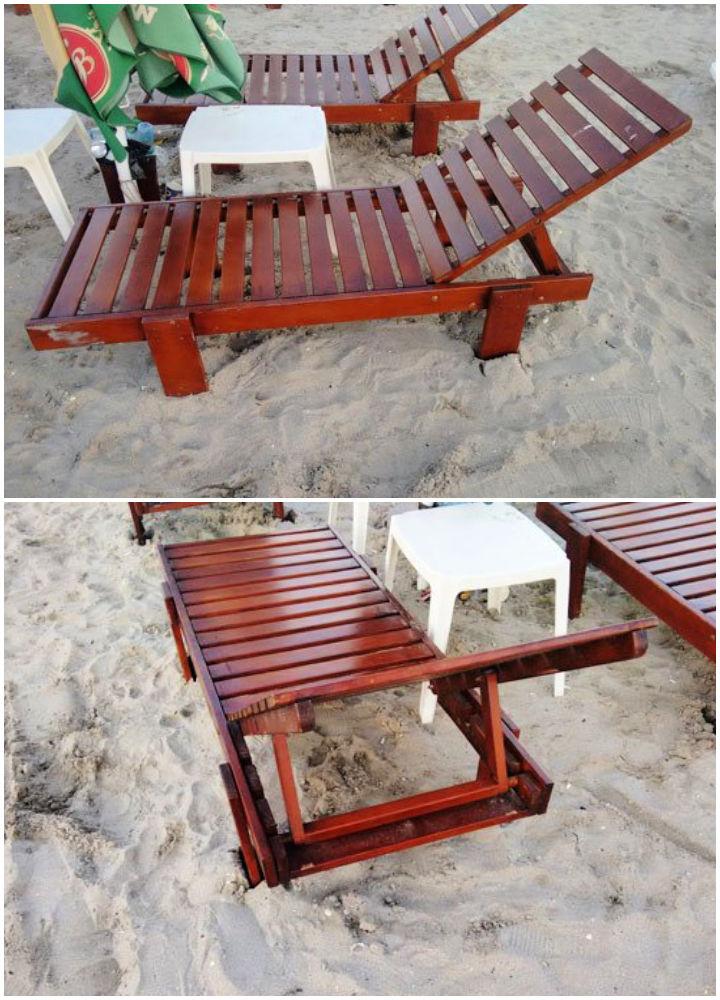 Follow guides and instructions here to build another beautiful, robust-looking lounge chair that will never get out of style. You need 2x4s, 1x4s, 1x1s, 1x3s, 1x2s, stain, wood filler and custom hardware to build this fascinating and phenomenal lounge chair model. From building the whole frame to building the surfaces to giving a custom wood finish, you will get instructions for all steps here. Here you have the freedom to build any particular size of this lounge chair, which will make the user feel super comfortable. The best lounge chair-free plans ever. myoutdoorplans
17. Wooden Outdoor Chaise Lounge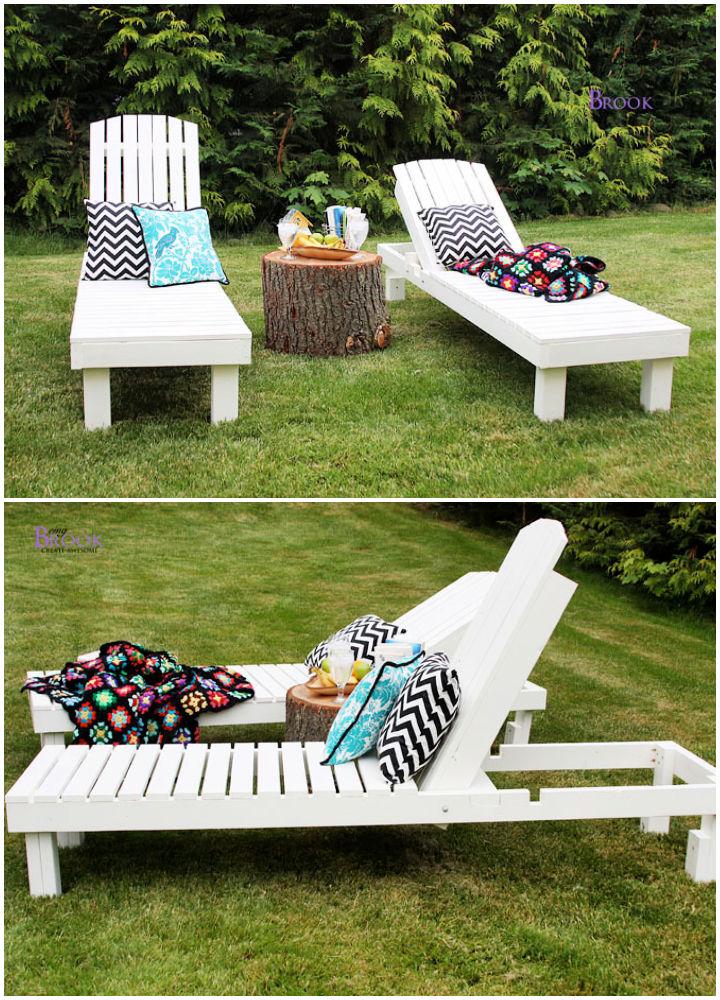 You will surely fall in love with the white chick appeal of these wood chaise lounges that are totally durable and significantly easy to build. With adjustable backrests and slatted appeal, they will surely grab the attention of the onlookers. These lounge chairs will be super comfortable to operate your laptop outdoor, to catch some rays outdoor and also to enjoy the poolside. Adjust the backrest to any angle to get a comfortable lay down or half lay down position. The whole design is made of 2x6s, 2x4s, and 1x3s. One of the best DIY lounge chairs to build at home. The completed design is 85" long, 14 ¾" tall and 24" wide. ana white
18. Chaise Lounge Chair Plan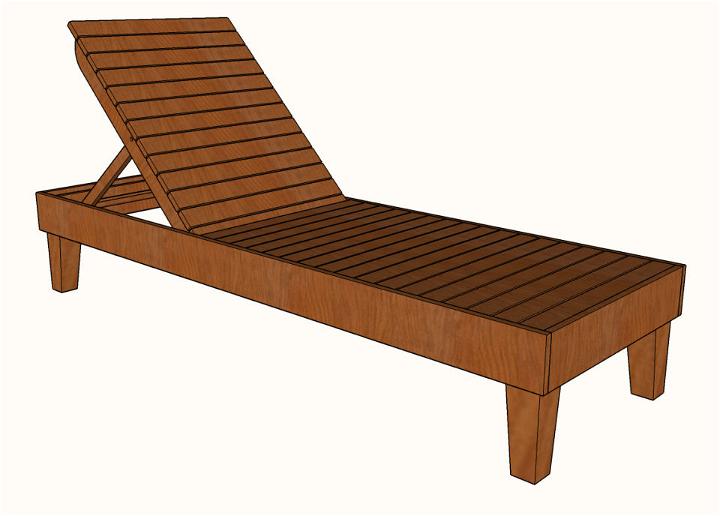 Building a lounge chair can be more than easier when you are provided with complete free plans. So, get here complete free plans about building a good-looking chaise lounge chair, will be a great addition to one's outdoor and is wholly easy and beautiful to look at. You need 1x6s, 1x2s, 1x3s, 1x4s, 4x4s, and wood dowels to build this lasting longer easily and beautiful design of wooden chaise lounge, built to impress and inspire. By following these plans, everyone will build his own beautiful DIY lounge chair like a pro. One of the easiest DIY lounge chair projects that every beginner can do with ease. famousartisan
19. Build an Outdoor Chaise Lounge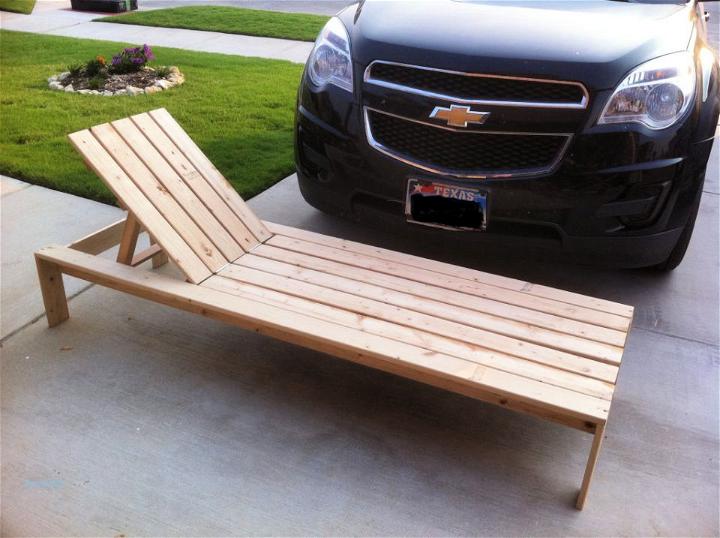 Grab here complete guides and instructions to build an outdoor chair lounge with rare wheels. If the hotter weather has brought you outdoor and you want to get comfortable there in a luxurious way, these chaise lounges are the perfect solution. The well-cushioned seats and backrests and the central umbrella or parasol are sure to give you a luxurious outdoor sitting experience. The rare back wheels will make it easier to drag these chairs to any particular outdoor location easily. Little wooden shelves added insides would nicely hold your beverage mugs. shanty 2 chic
20. Make a Chaise Lounge Chair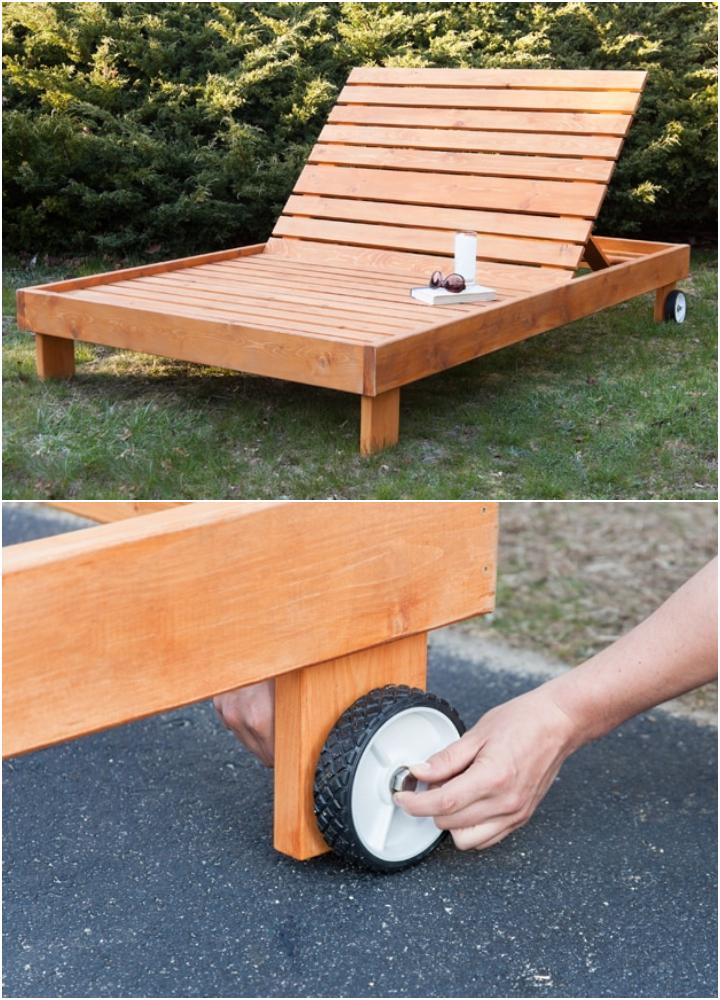 You will surely fall in love with the wide and robust dimensions of this outdoor chaise lounge with rare legs on wheels. The slatted appeal binds an onlooker under its creative spell, and everyone will duplicate this lounge chair. You need 2x6s, 2x4s, 1x6s and 1x4s wooden boards to duplicate this durable and robust wooden lounge chair design easily. The whole lounger is made to impress and inspire, and it will be a great addition to one's poolside and deck. One of the best DIY lounge chair projects that everyone can do with ease. blackanddecker
Conclusion:
The chaise lounge chairs are one of the most expensive items of outdoor furniture. So, the DIY projects here will share the ultimate diy lounge chair plans, strategies and tips to help you build your own beautiful and professional style lounge chairs. Each project shares comprehensive guides to build a unique design of poolside chairs and outdoor loungers.
So, looking into the details of each listed project will give you a vast knowledge of building various diy lounge chair plans without getting expensive. Some lounge chairs come with normal chair-like designs, and others gain attention with the long flat seating sections and adjustable angled backrests. Learning to build a lounge chair will surely help you easily accomplish the outdoor sitting space desires economically.