Naturally, cats scratch on trees to maintain their claws and stretch their bodies. If you do not have a DIY cat scratching post or any other similar outlet in your home, then you must have noticed your cats replicating this behavior on your furniture. You find all types of scratches available in the market, from ones made from corrugated to ones covered with sisal. Therefore, learn how to make a cat scratching post at home using household things and other recycled material. Find these 25 cheap and easy diy cat scratching post ideas that come with detailed instructions and a material list. You can customize them according to your home decor. In starting, your cat might be tentative of the presence of this new asset/element in your house. But be patient and reinforce positive interactions with your cat unit. She gets the hang of it.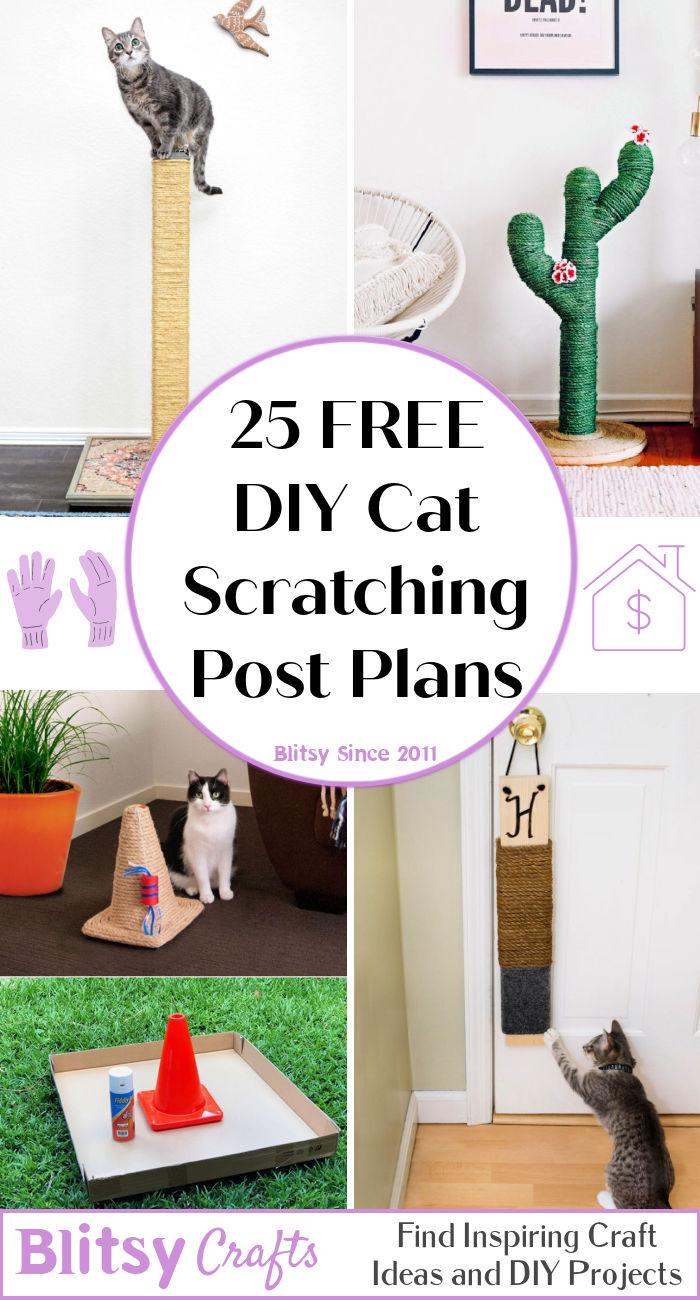 In this guide, we will be covering twenty-five main DIY cat scratching post plans. Are you looking for an inexpensive cat scratch post or craving to make a new one at home? Either you are crazy for cactus DIY scratching or the one made with the wood, the latest modern cat scratcher or the one like a cool tower, Abrasive cat post or a cheap one, small or a super cute sisal scratching post. You will find everything here. All you need to do is, pick up the right plan smartly that suits your ease, your cat's crawling, and your house the best. However, they are super easy to make. Just gather the required supplies and get started right away!
1. DIY Cat Scratching Post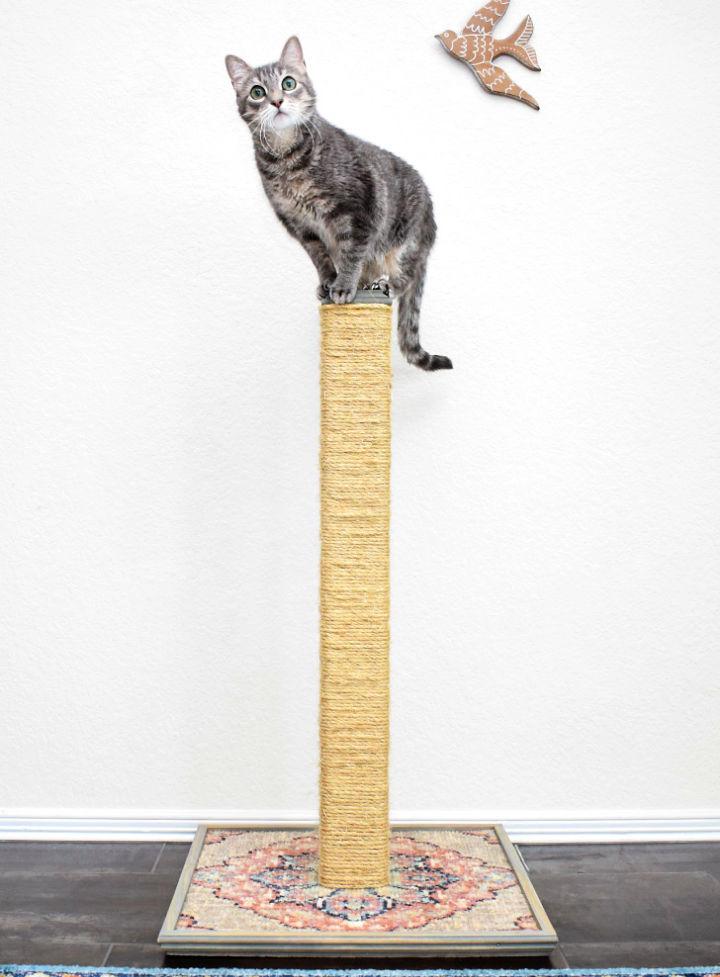 Does your scratch all the time on your home furniture, and you are afraid she will eventually do something wrong? It's time to give your cat something new other than the sofa, and that is a new DIY cat scratching post. Assemble staple gun, small drill, utility knife, miter saw, hammer, speed square, and circular saw. dreamalittlebig
2. How To Make A Cat Scratching Post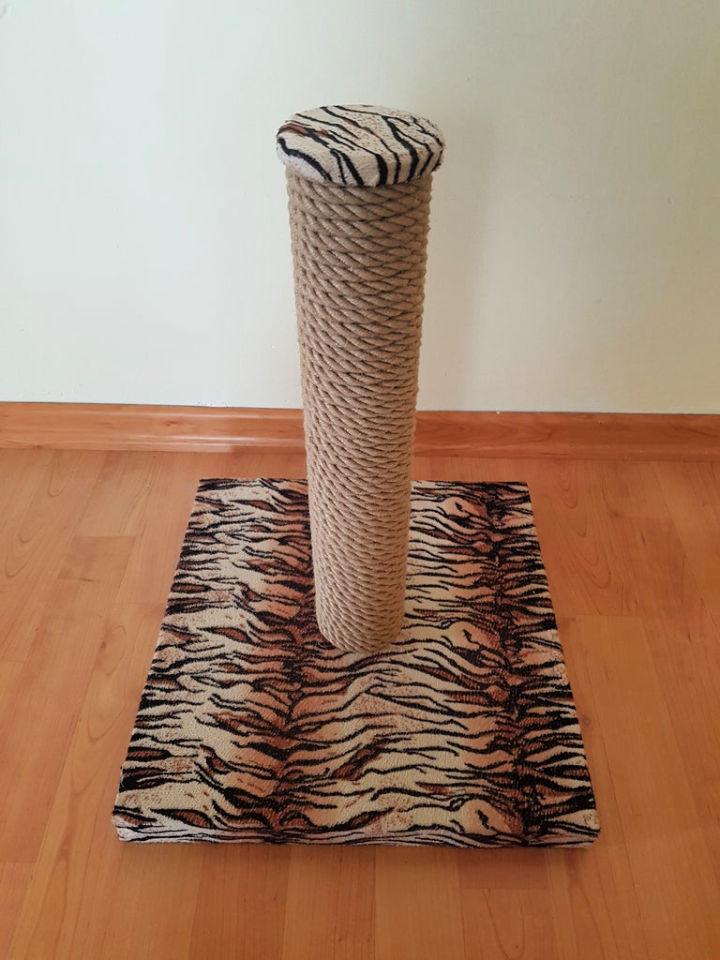 Are you going to buy a new scratching post for your cat to make her happy while climbing and scratching? Stop! Do not purchase a new one from the market because you can make a customized one at home with these few supplies and tools like cardboard tube, rope, cabinet foot, screws, cardboard, scissor, a jar, and a hot glue gun. instructables
3. Homemade Hanging Scratching Post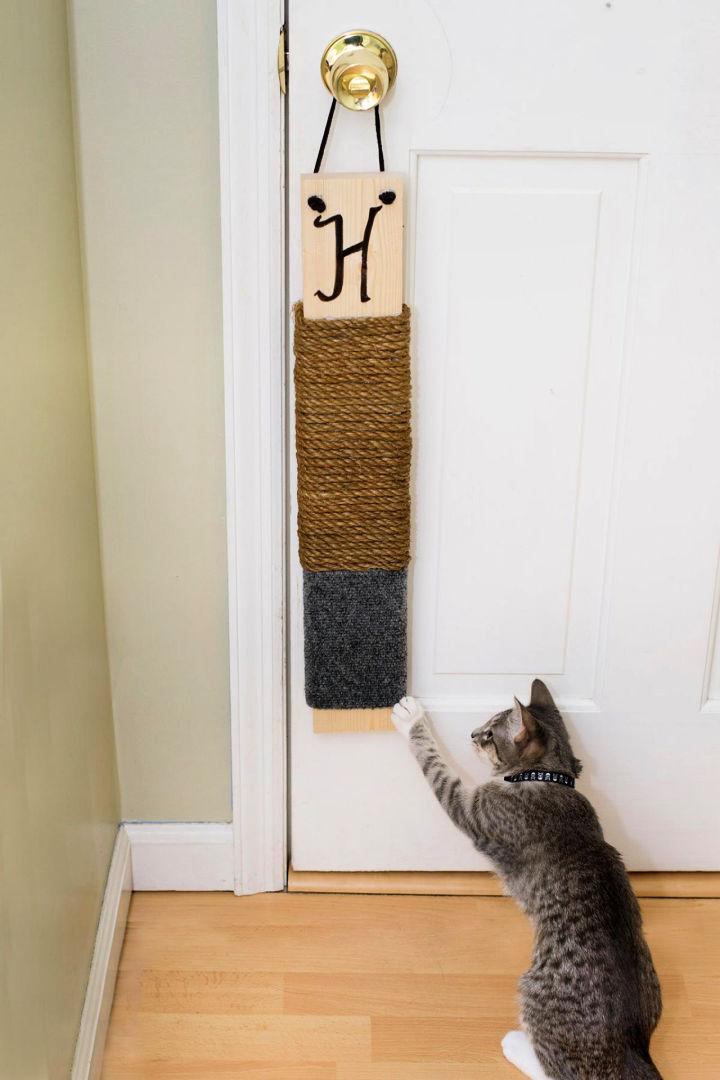 Plan a perfect fun activity at home with your friends or family to make this furniture-saving DIY cat scratching post. Yes, you may make this in few easy steps and easily available few supplies. All you need is a scrap piece, carpet remnant, fiber rope, scissors, drill, hot glue, and leather string. hgtv
DIY cat projects:
What can I build for your cats? Here best ideas for cats to make.
4. Best Scratching Post For Cat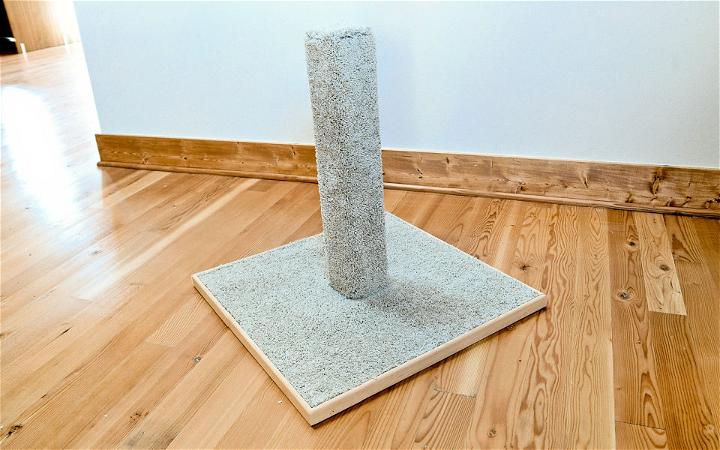 We know that all of us love our pets a lot. Therefore, here we come up with one of the best plans for making a DIY cat scratching post within few dollars and won't take you're a lot of hours too. All you need is these few supplies from the market: adhesive bumpers, screws, carpet. Rope, CDX plywood, nails, drill, etc. diy dunnlumber
5. Cactus DIY Cat Scratching Post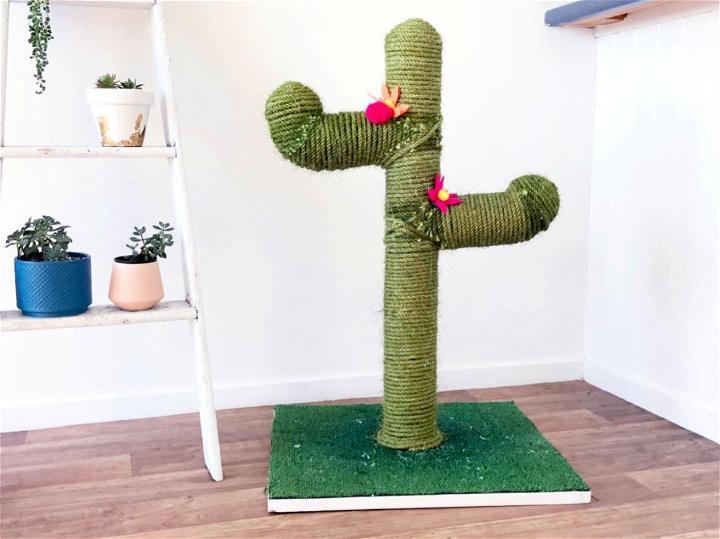 There are so many cat toys, scratching posts, and climbing frames are available in the market. But we believe in art and craft, therefore presenting you another easy method to make cactus. Assemble hammer, electric drill, glue, nails, spray paint, two packets of green dye, natural sisal rope, fake grass, and plywood. createandcraft
6. Wooden Cat Scratching Post

Cats need to scratch for many reasons like to mark their territory, to remove the dead outer layer of claws, and to flex and stretch their bodies. So, your cat might be looking for a similar product to scratch properly. Make one at home with plywood, wood base, nails, hammer, drill, hot glue, sisal rope, and scarp piece. 100things2do
7. Kitty Catcus Scratching Post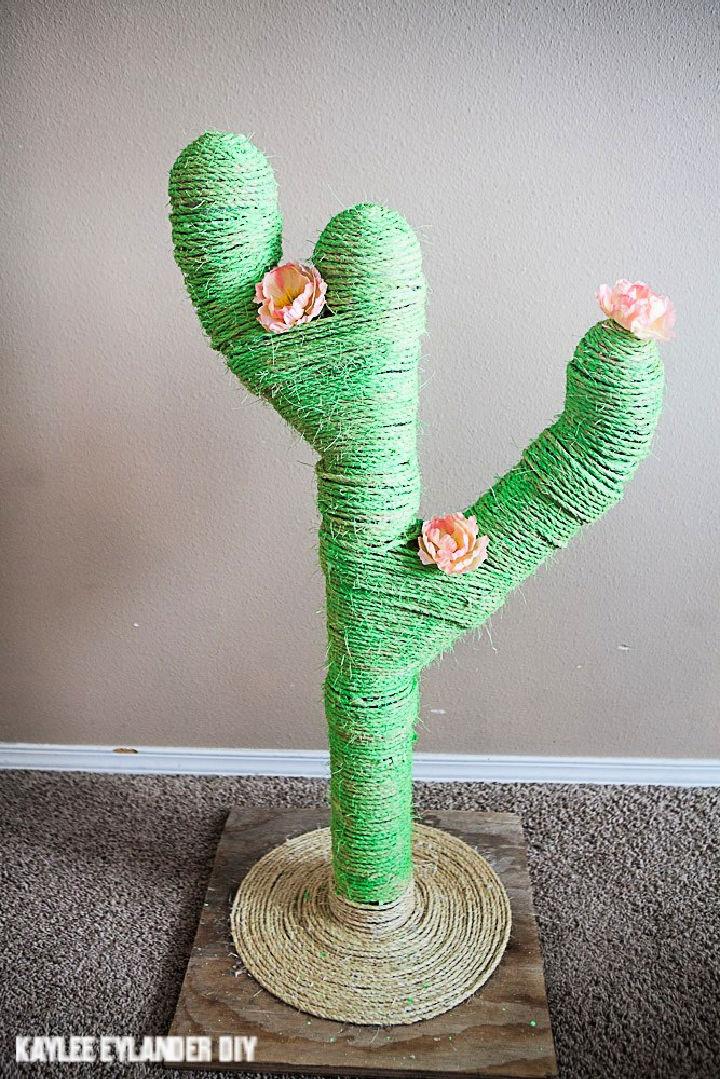 Scratching is normal and instinctive behavior that you should never discourage your cats to perform from. It makes them relaxed and active tool. So, make a new DIY cat scratching post for your small kitty rainbow with these supplies: dye colors, spray paints, sisal rope, carpet, fiber, hammer, nails, adhesive, etc. kayleeeylander
8. Modern Cat Scratcher IKEA Hack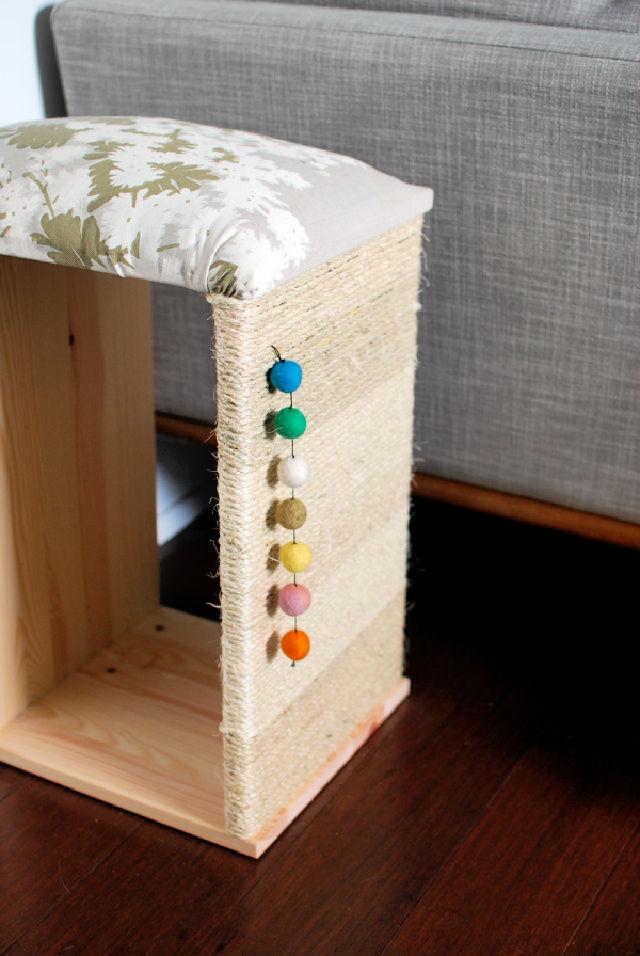 Don't let your kitties scratch on your branded sofa to damage it. However, encourage your cat to scratch on acceptable products like a DIY cat scratching post. Plan it today and start making the one with your kids and family at home. Assemble hot glue or nails, hammer, wood base, carpet, cabinet foot, knife, etc. we are scout
9. Cool Cat Scratching Tower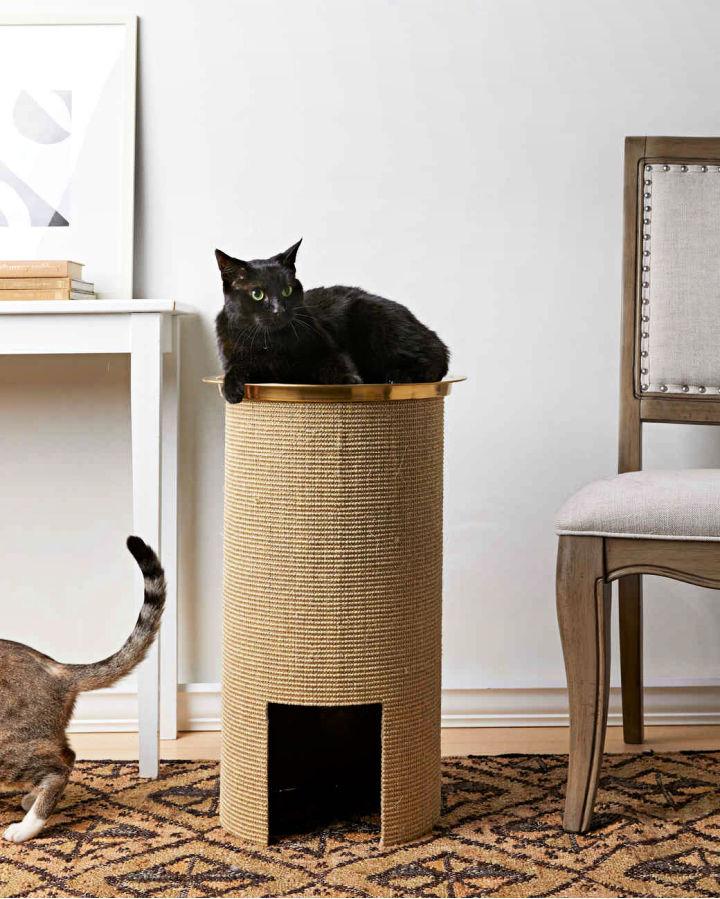 Just going to the vacations and your kids have bought new dogs and cats to let them be with you on the vacation journey? Are you worried if they will damage your trip accessories while doing scratching? Spend few hours and make a scratch post with cabinet foot, wood base, carpet, nails, fiber rope, glue, etc. marthastewart
10. DIY Abrasive Cat Scratching Post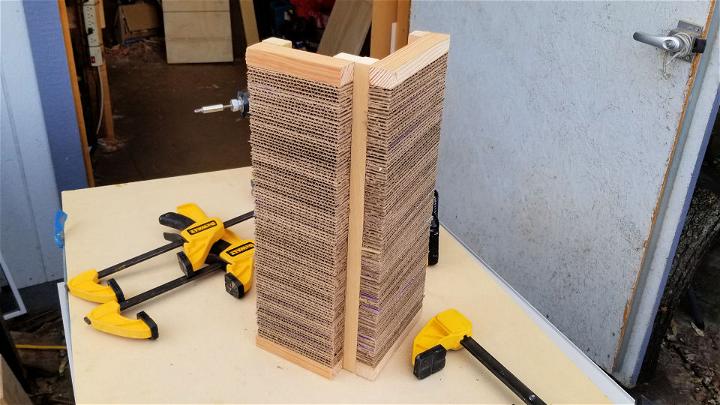 You must be tired of yelling 'Stop Kitty Stop!' and wondering if you can make a perfect DIY cat scratching post at your home to save your furniture from now on. Why not! Collect these easily available supplies from the market like adhesive, nails, hammer, gloves, glue, carpet, wood, sisal rope, and spray paint. imgur
11. Cheap Vase Scratching Post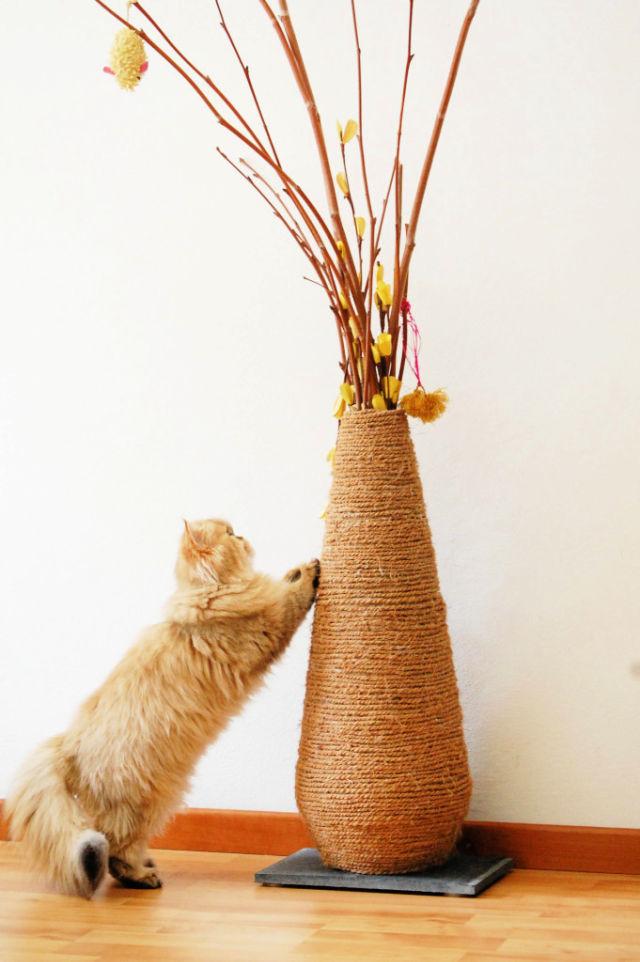 Are you tired of wasting money on cat accessories over the years as they turn out to be junk after some time? Are you the one looking for some cheaper yet reliable alternatives for cat scratching purposes? Gather these supplies and make a new one at home: hot glue, fiber rope, carpet, paint, scissor or cutter, etc. meowlifestyle
12. Small Cat Scratching Post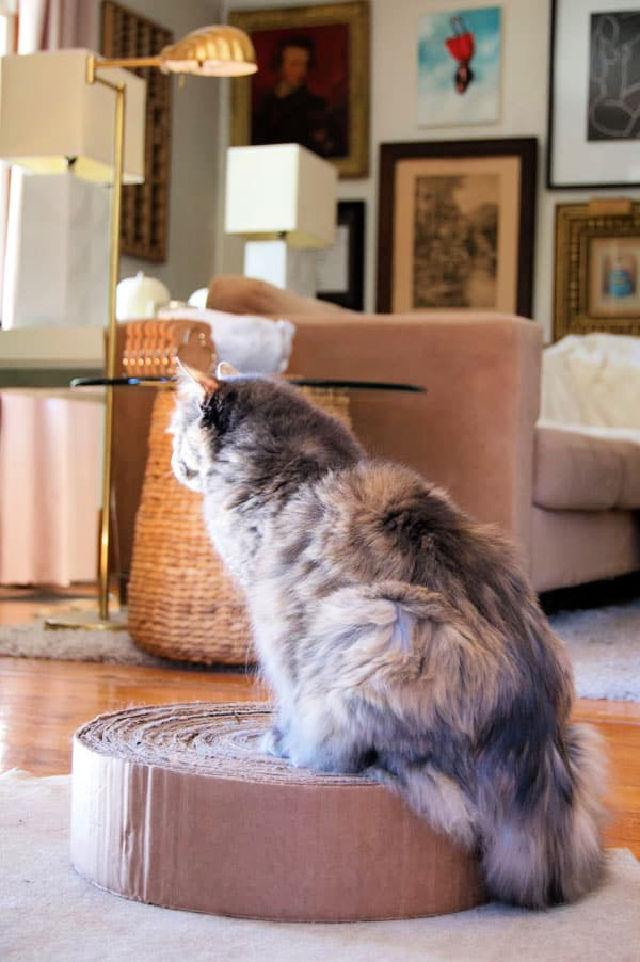 Do you know the fact that a blind cat can shimmy up around 3 feet of scratcher post and it is one of the most favorite cat places all the time. Worrying if your cat is missing this activity because of the in-house environment? Assemble wood base, fiber rope, spray paints, glue, nails, hammer, gloves, cutter, and make a new one. theartofdoing
13. Super Cute Sisal Scratching Post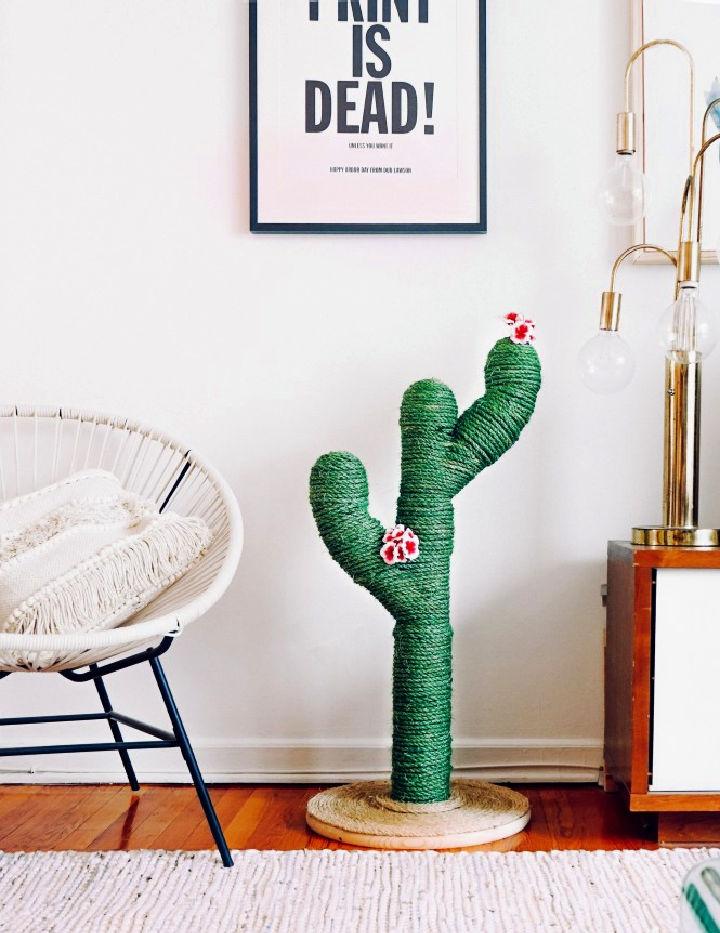 Are you a big fan of the Chicago skyscraper-shaped scratching post that sells for $149? Are you wondering if you can purchase it someday but do not have enough budget? No worries, because you can now make the similar one at home. Assemble adhesive, hot glue, gloves, cardboard, wood base, spray paint, cabinet foot. bestfriendspizza
14. Tall Colorblocked Scratching Post

Do you want to make an awesome scratcher for your little kitty Rockstar? Wondering if it will take a lot of your time and dollars too? Don't worry because it's not only cheap but easy to make too. Go to the market and collect leather cord, dye paint, glue, scissor, fiber rope, wood base, nails, spray paints, and knife. abeautifulmess
15. Easy Cat Scratching Post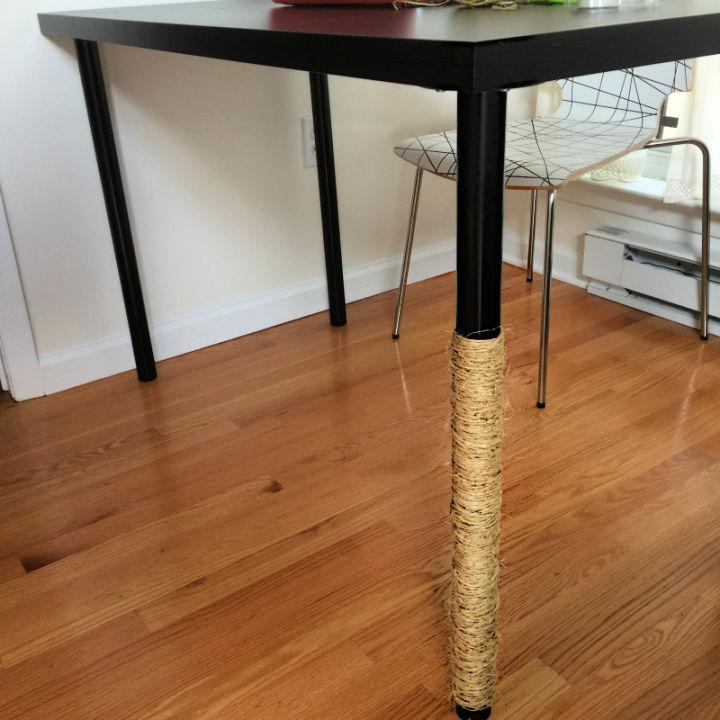 Are you tired of having a family cat because they scratch on your branded furniture all the time and that must trigger you every time, right? You must do not want to damage your furniture more because of the pets? So, spend some time and make a scratching poet with cardboards, wood base, hot glue gun, gloves, bucket, etc. itwasthewind
16. Scratch Posts For Large Cats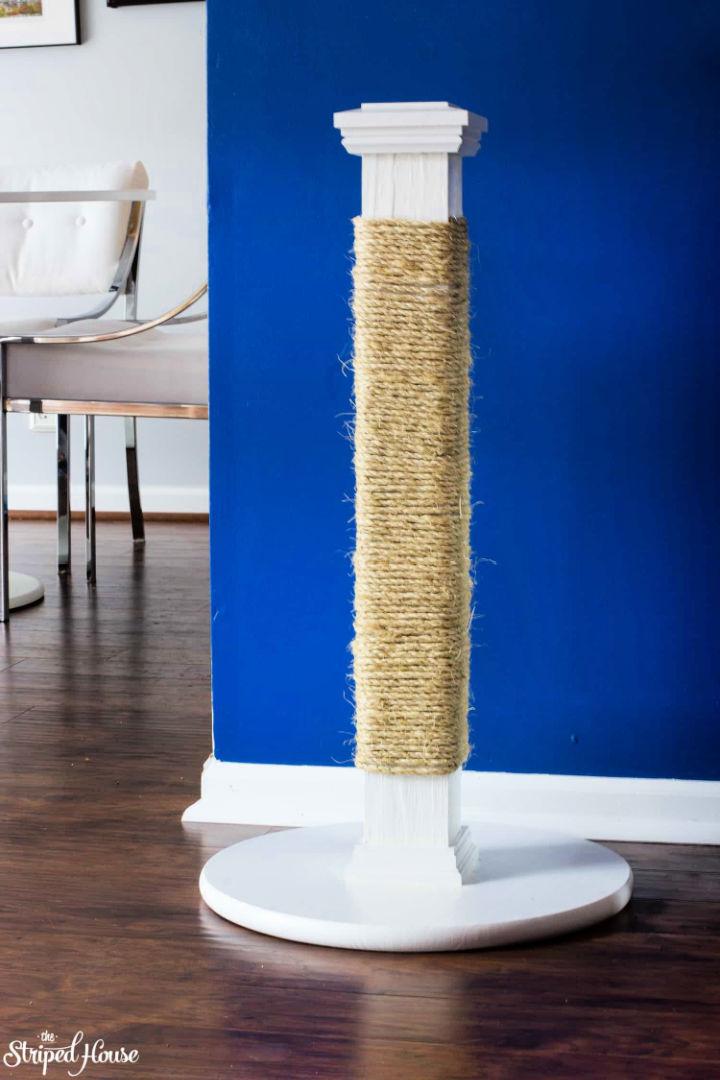 Excited because summers are just around? But this is one of the busiest traveling times of the year and if your kitty is an integral part of your family then you must be looking for a way to take her along with you, right? Let's make a new scratch post for your cat with supplies like sisal rope, adhesive, nails, glue, wood base, spray paints, etc. thestripedhouse
17. How To Make A Cat Scratching Board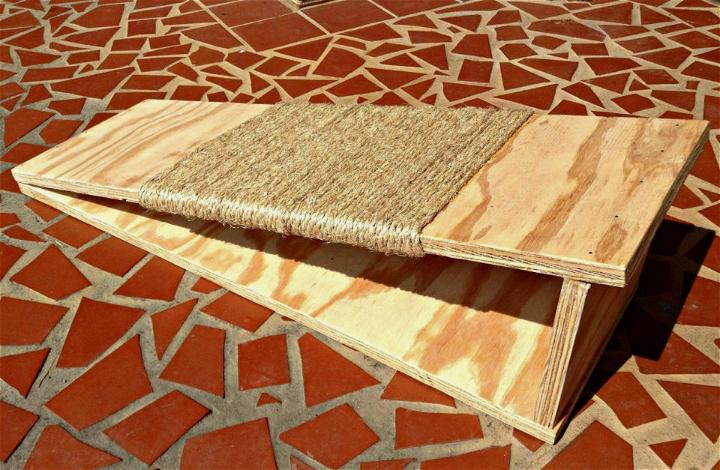 Cats need to have access to trees in order to keep their claws conditioned and healthy, which is of course difficult in a safe home environment. Start working and make a perfect DIY car scratching post for your little active kitty. All you need is cardboard, glue, hammer, nails, spray paints, sisal rope, carpet, etc. cutoutandkeep
18. Modern Rainbow Cat Scratch Post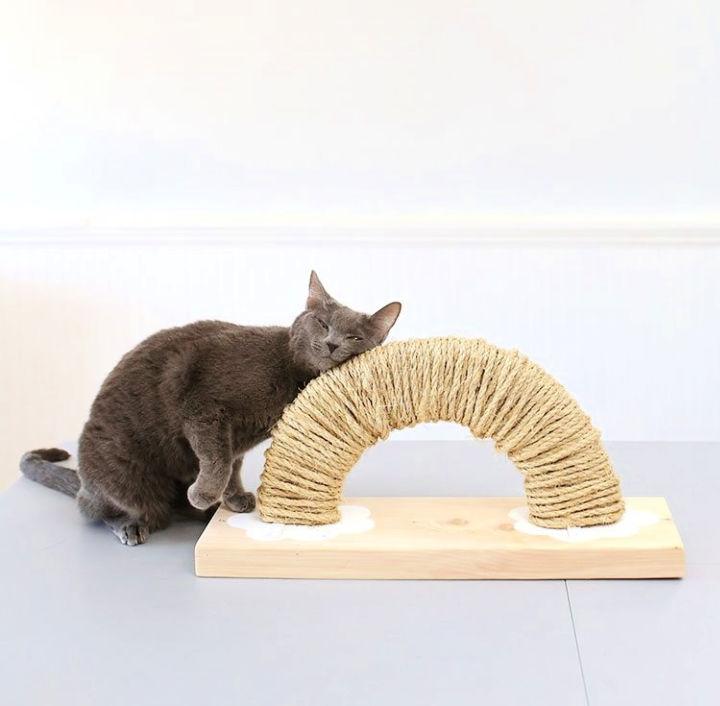 Make a fantastic modern rainbow DIY cat scratch post that your cats will be obsessed with. Make them happy and feel comfortable in a safe home environment too. Collect these essential materials for making a new scratch: screws, drill, glue gun, wooden base, MDF wood for rainbow, sisal rope, chalk, and sandpaper. shrimpsaladcircus
19. Ombre Pink Cat Scratching Post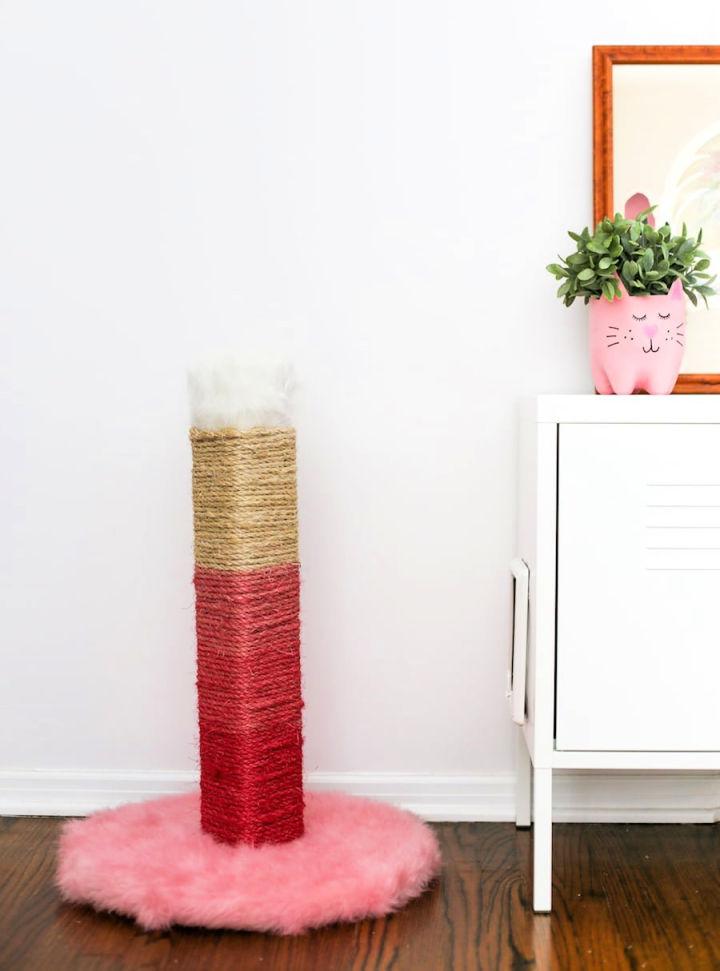 Have you ever experienced that you purchase a scratching post from the market and after placing it at home, it no more looks fine with your home decor? Make a perfect homemade cat scratching post with few supplies: gloves, bucket, a pack of Fuchsia pink dye, spray paint, round table tops, etc. saltycanary
20. Scratching Post for Traveling with Cats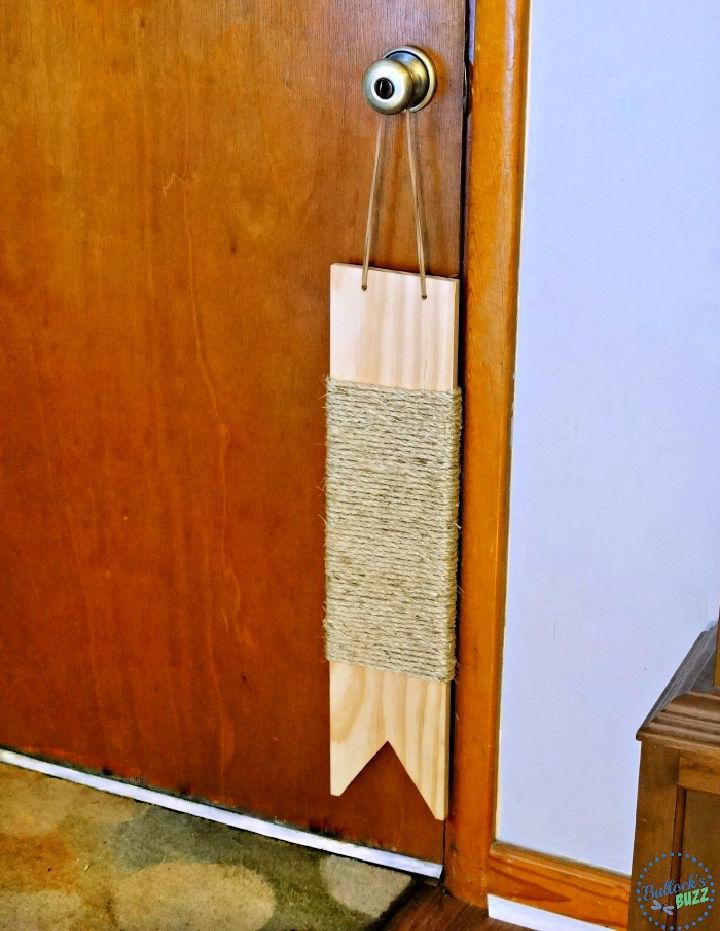 Are you looking for a perfect scratching post to travel along with your cats? Do not have enough budget to purchase a new one? No worries! Because, you can make a new one at home with these supplies lying around you: gardening gloves, wood glue, wood, sisal rope, leather cord, hammer, nails, etc. bullocksbuzz
21. DIY Cat Cardboard Scratching Post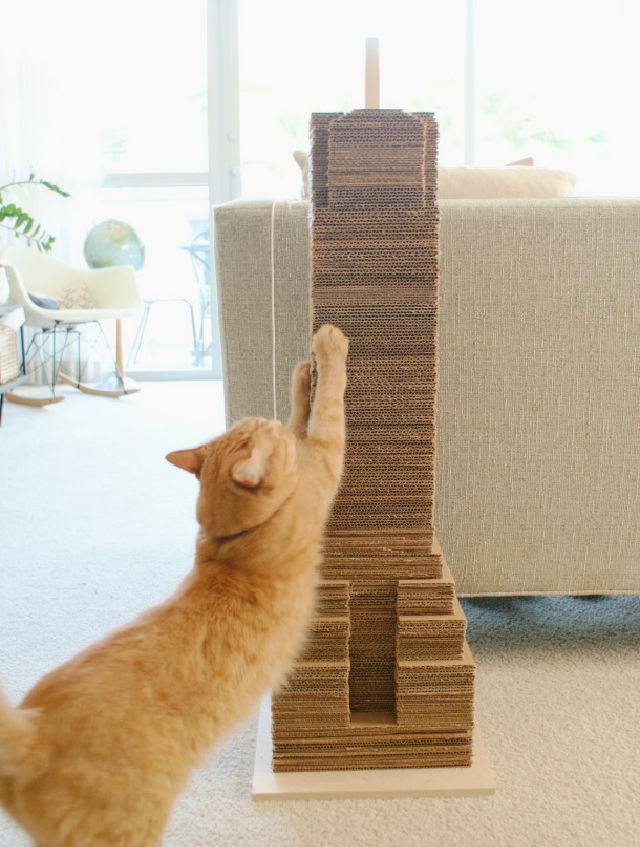 This scratching post is basically inspired by the 'Sky Scratcher' created by Mike Estes, therefore it might look familiar to most of you. It is one of the easiest ways to make a DIY cat scratching post at home using cardboards, power drill, X-Acto knife, cutting mat, wood dowel, plywood, and a wood screw. maisonkuotidien
22. Scratcher Post for Cat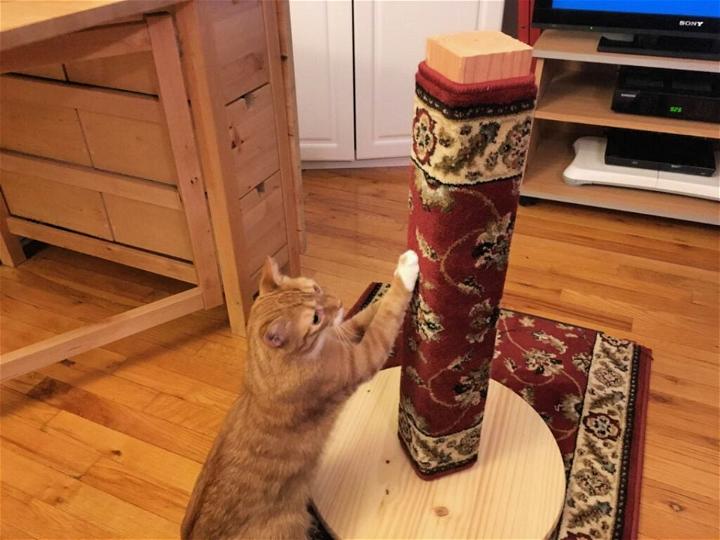 Every cat owner dreams to bring the best out of the best toys and other accessories for his little cat. But every time bringing something new can waste a lot of your money especially when you don't know if your cat will like it or not. Make a perfect scratching post with a drill, wooden post & base, hammer, staple gun, etc. popsci
23. DIY Wood Sisal Cat Scratcher

Has your cat started scratching the furniture a lot these days that must trigger you? Let's make a perfect custom cat scratching post to stop your cat from climbing on your furniture. Go to the market and gather these supplies: sisal rope, natural wood, carper, hammer, screws, nails, spray paint, staple gun, etc. centsationalstyle
24. DIY Cat Scratching Cone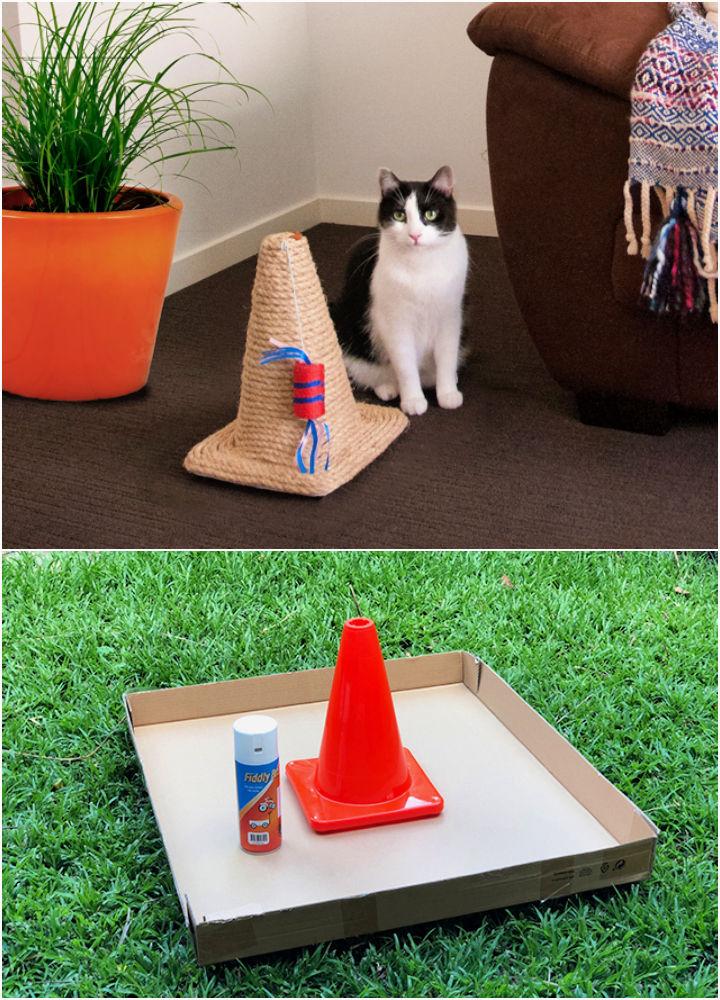 If you are a cat parent, then you must have experienced stopping your cats from clawing at table legs and other furniture. Looking for a perfect alternative? All you need are these supplies: spray paint, a cat toy and string, scissors, hot glue, a sisal rope, and a traffic cone to start the process of making a scratching post. rspcaqld
25. Cardboard Cat Scratcher Tree Stump Shaped

Do you have a wild cat at home? If yes, you need to make a tree stump-shaped cat scratcher because Wild cats like scratching tree stumps. It's super easy. All you need is these few mentioned supplies to make a new one at home; assemble carpet, wood, sisal rope, hammer, drill, glue, nails, spray paint, etc. youtube
Conclusion
You, of course, want your DIY cat scratching post to be at least as long as your kitty from the tip of her nose to the tip of her tail. Well, this is a good approach to make her get a good stretch. All the above-mentioned DIY cat scratching posts are reliable and fun to try at home with few supplies. Always choose a plan that is easy to implement according to your routine. Moreover, if you are free and have enough time to build more scratchers, then do it because you may also find them in the market to the people who are looking for handmade cat scratchers. Furthermore, you may also make one and gift it to your loved ones. Are all the supplies ready? Let's give it a try!