Are you looking for a new and comfortable DIY cat bed for your pet cat? If yes, consider creating it yourself. You can show your love and care for your pet by making a DIY cat bed yourself. So, find these 30 best and simple DIY cat bed ideas that provide the coziest place to your cats affordably and efficiently.
No doubt, pets love playing and jumping all around the house. But the cats mostly prefer to sleep. If you have a kitten or cat, it's the right time to craft a bed for her. You can do it in a lot of ways and designs also with your own creativity.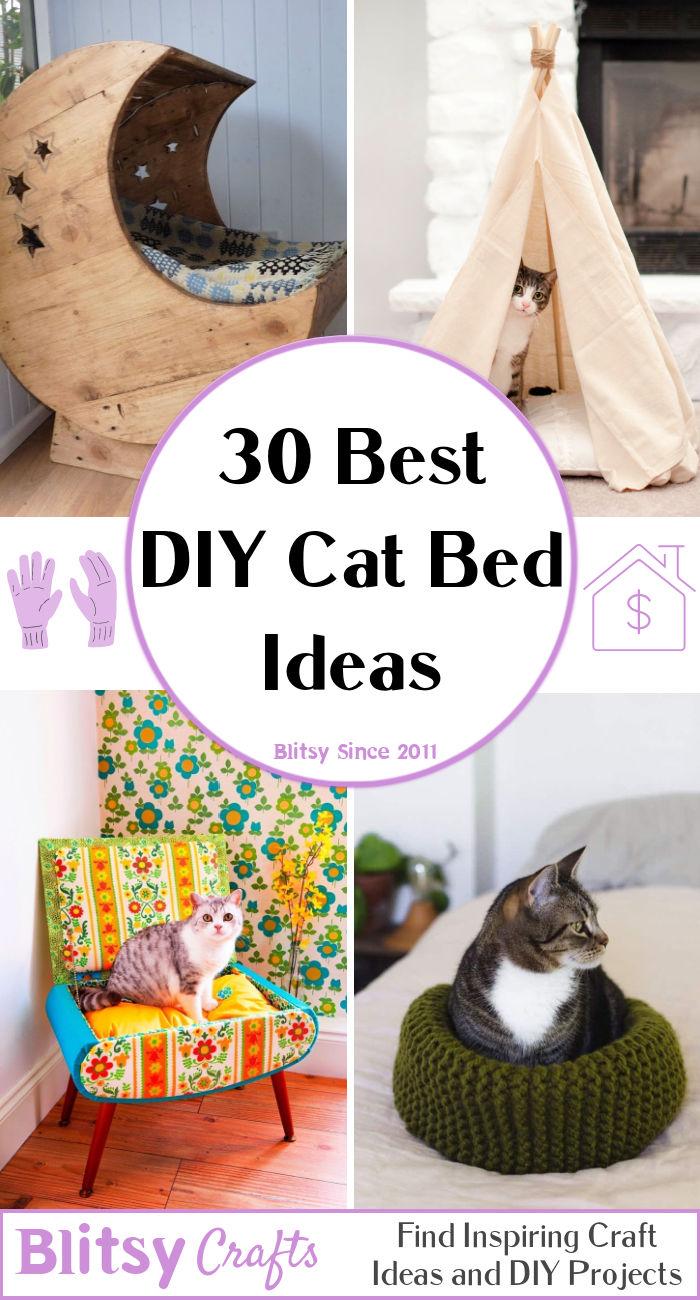 If you are looking for help and guidelines, get it from these simple to make DIY cat bed ideas mentioned below. The best thing about all these DIY cat bed ideas is that you can place them everywhere you want. So, what are you waiting for? Let's get started:
1. How To Make A Copper Pipe Cat Bed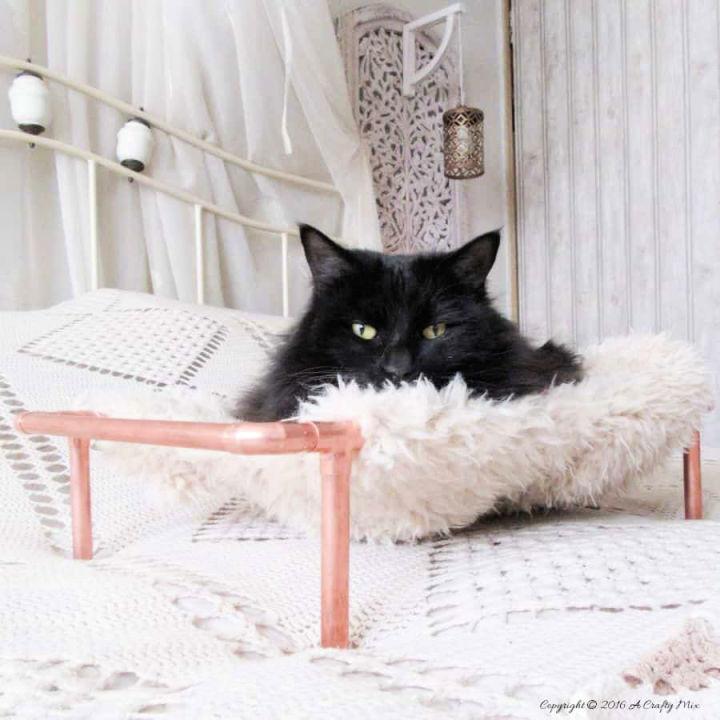 Reuse an old fur sweater and copper pipe to make this super adorable and affordable DIY cat bed. To make this bed for your pet, you don't need to visit any store and buy new supplies. You can recycle all the discarded and useless materials to create this bed. Customize this sitting couch or space for your cat more stylishly by painting the pipes with metallic gold color. However, you can also go for your desired color for painting. The best thing about this bed is that you can even place it near yourself on the bed, as well as on the ground easily. acraftymix
2. Wall Mounted Cat Hammock Bed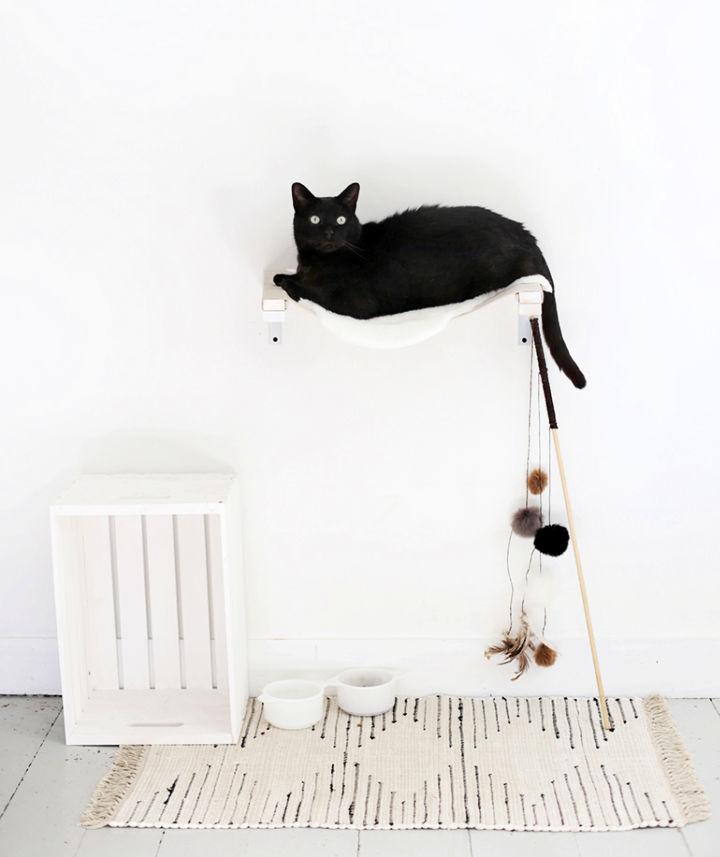 Cat's love playing and sitting in higher places. So, what's about creating a wall-mounted Hammock bed for your pet? Surely, you would love and have fun working on this creative project to make your cat happy. For this, you can use pine or any other wood, miter saw sandpaper, white paint, staple gun, brackets, and drilling or screwing kits. Firstly, paint the wood with white color spray. Use the soft fabric or carpet of your choice to fit on the board. Additionally, use the drilling or screwing tools for fixing this Hammock bed on the wall. themerrythought
3. Printed Pillow Cat Bed With Catnip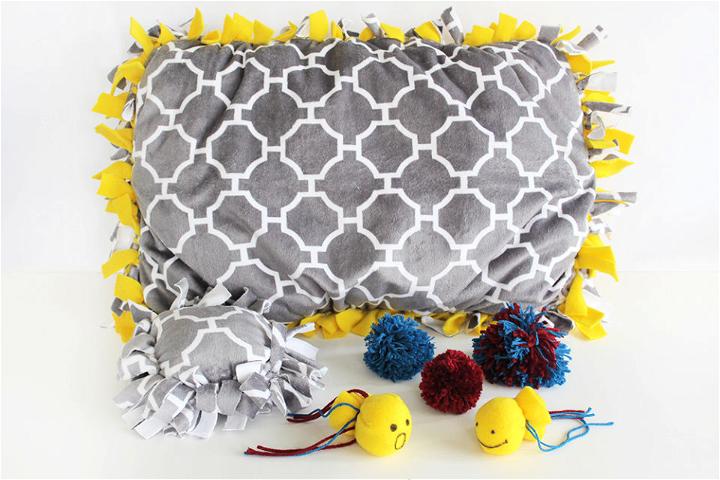 Are you looking for a fun-loving and super adorable cat bed? If yes, you would surely love making and having this printed pillow cat bed with catnip. For making it, you can use the printed fabric of your choice in any color. Additionally, use different color clothing material for making the frill or fringes around this pillow. You can make this couch more attractive for your cat to sit and nap by placing a fewer pom-pom around it. southernmom
DIY Cat House: Find the best design tips from a cat expert will help you plan the best indoor and outdoor DIY cat house that you and your feline friend can dream of.
4. DIY Rope Round Bowl Cat Bed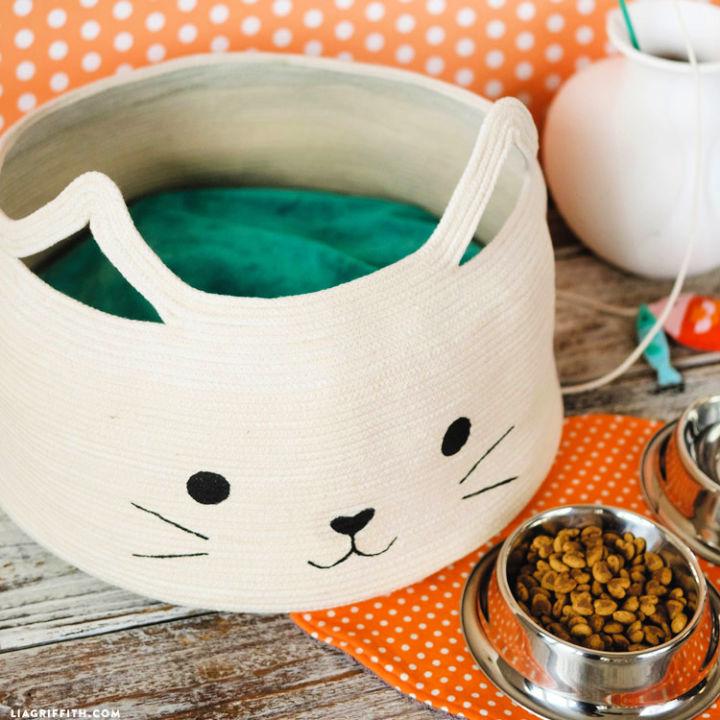 No doubt, there are a lot of household supplies that remained place in our stores. But you can use them creatively and innovatively instead of throwing them away. Similarly, you can reuse the cotton clothesline to make an affordable and comfortable cat bed. If you want to polish your sewing skills, consider this DIY project. You can make a rope bowl cat bed easily and effortlessly using the sewing machine and kit. Use the black marker for sketching the kitten's face on this customized bowl bed. Besides this, make it more comfortable and cozy by placing the quilt batting. liagriffith
5. Sew a Round Cat Bed Bolster Pillow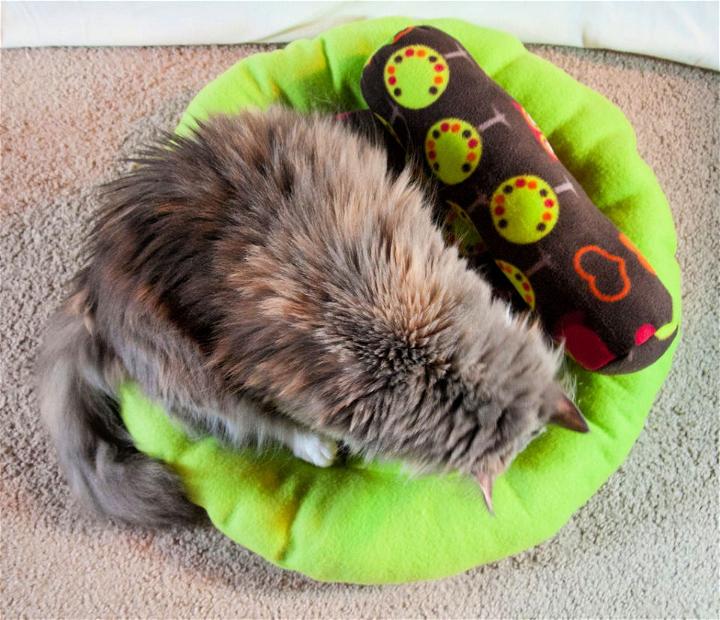 Unfortunately, store-bought cat beds are expensive. Don't worry. You can make them yourself with all craft store supplies. Create this super stylish and striking cat bed and bolster pillow with fleece material. You can cut and sew this material according to the size of your pet. Moreover, use cotton stuffing or quilt batting to fill inside this bed and pillow. However, catnip is optional in this DIY cat bed. instructables
6. DIY Washable Cat Bed

Do you want to sew an easy and affordable cat bed by yourself? If yes, make it with home d??cor fabric. You also require the complementary fabric, zipper, matching thread, sewing machine, and kit for customizing this bed. Additionally, you can fill this sewed cat bed with cotton or batting to make it softer for sitting. Even you are a beginner sewer, and you can work on this project like a pro because of its simplicity. kickingitwithkell
7. Build a Moon Cat Crib From Pallets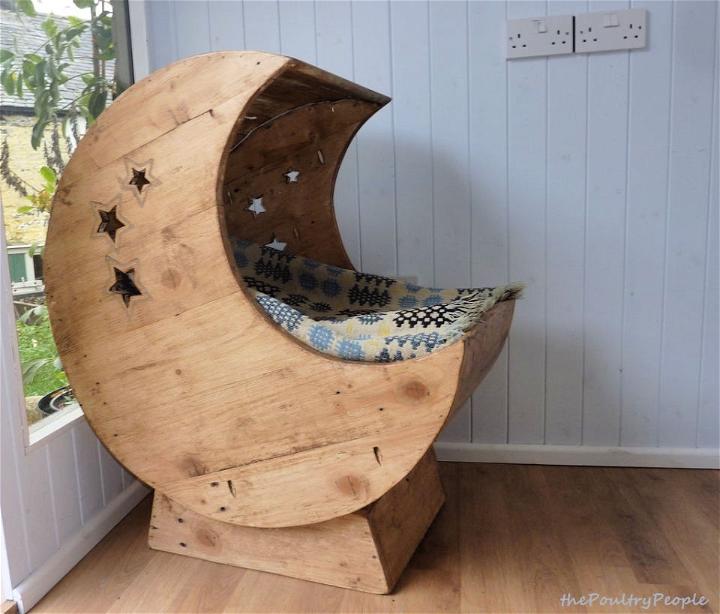 Make a versatile and super gorgeous moon crib for your cat sitting and napping. You can customize these creative DIY projects efficiently with affordable supplies. For sure, this moon crib will cost you less than a store-bought cat bed. Use a circular saw, jigsaw, router jointer, belt sander, drill corded, and screwing supplies for making it. You can also give this crib a natural and stylish touch by embellishing it with LED lights. Moreover, place an upholstery couch on it for cat's sitting. instructables
8. No Sew Pet Teepee Bed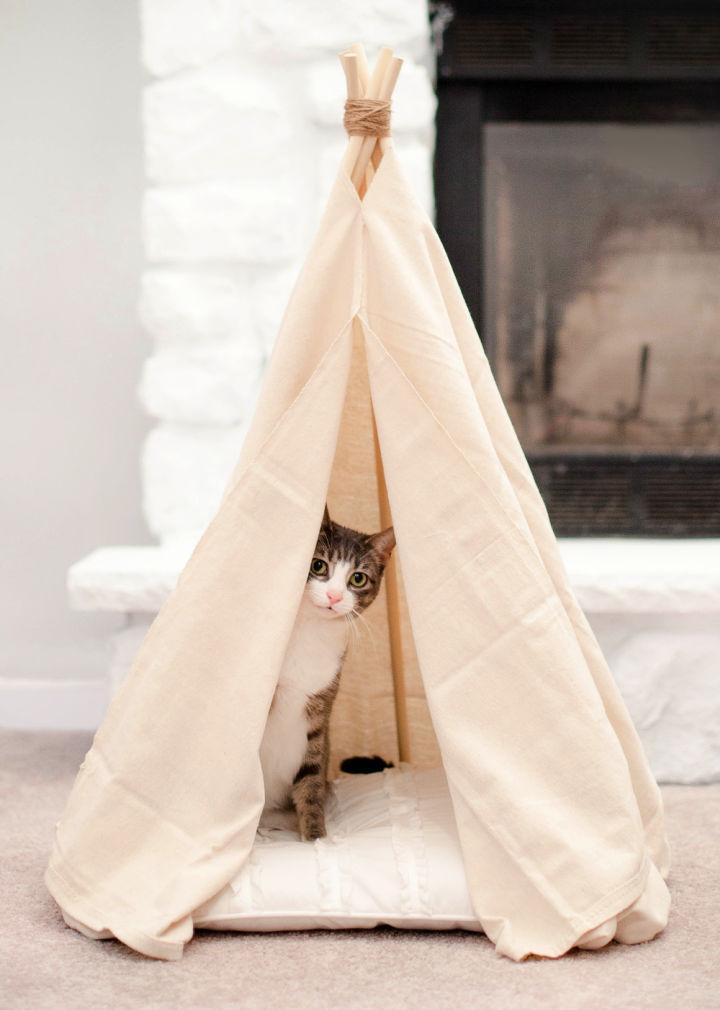 Want to create a quick and easy-to-make cat bed? If yes, you can make this no-sew pet tepee bed in no time and effort. Luckily! You can find all the basic material for customizing this pet place from your home craft store. You can use the decorative fabric of your choice, wooden dowels, power drill, glue gun, and pillow. The only thing you need to do is assembling the dowels in a pattern. Place the couches and pillows inside this handmade Peete for your cat. coffeewithsummer
9. DIY Super Mario Cat Bed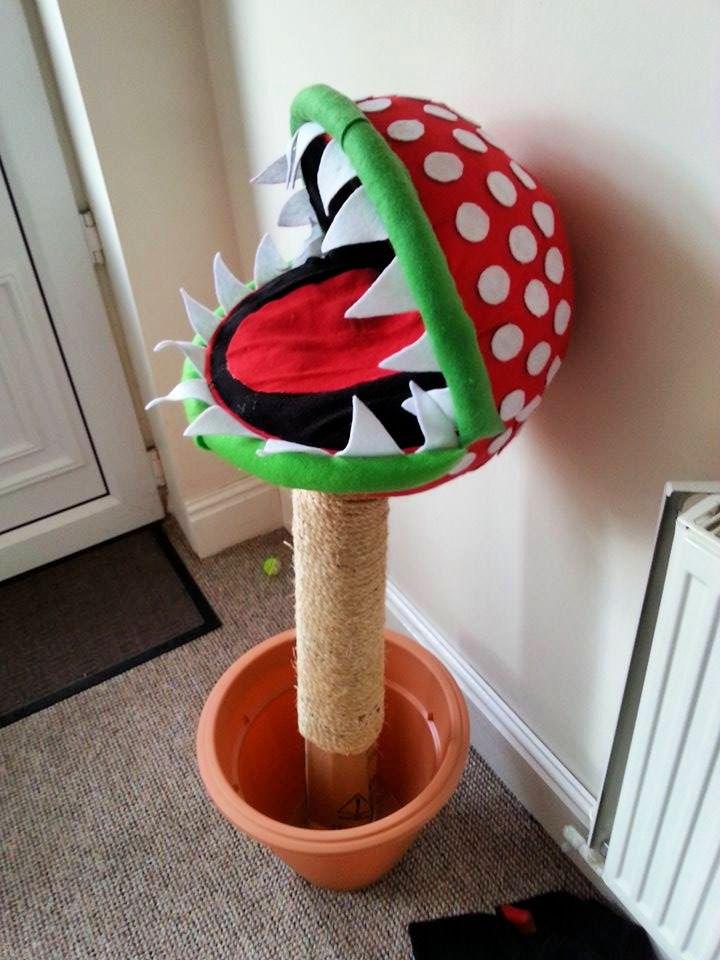 Are you looking for an inspiring and impressive DIY cat bed? If yes, consider this super Mario Piranha plant for your pet. Make it effortlessly with red color dotted fabric, green fleece, wooden broom, hanging flower baskets, cushions, and a terra-cotta pot. All you need to do is covering the baskets with red and green fleece. Use the wooden broom for hanging these customized flower baskets in a pot. instructables
10. Basket Cat Bed Thrift Store Upcycle Challenge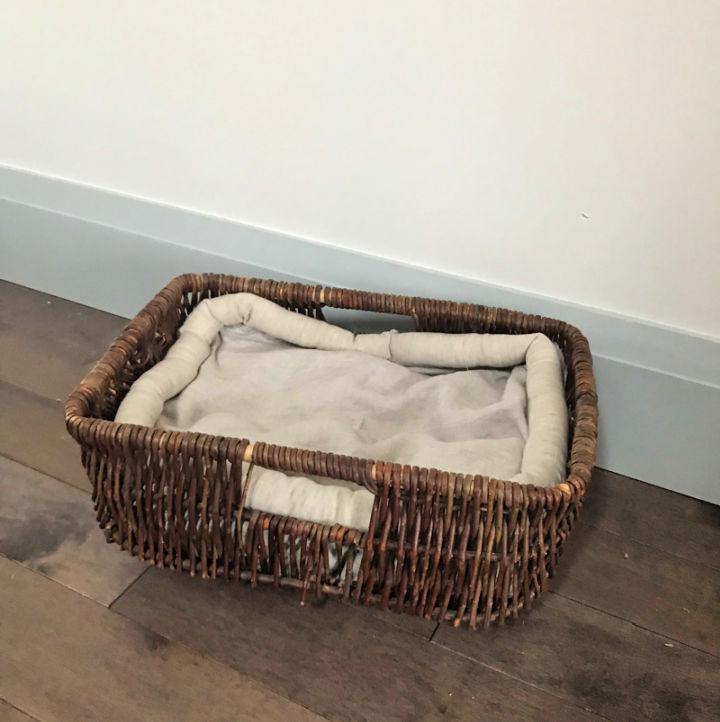 You can reuse an old and discarded wooden cane basket for making a stylish and affordable cat bed. Luckily! You can craft this DIY project for your pet in less than five minutes. The only thing you need to do is placing an old couch or upholstery inside this basket. So, the cat sits and nap inside this basket bed comfortably and pleasingly. housebythebay
11. Glass Mounted Hanging Cat Bed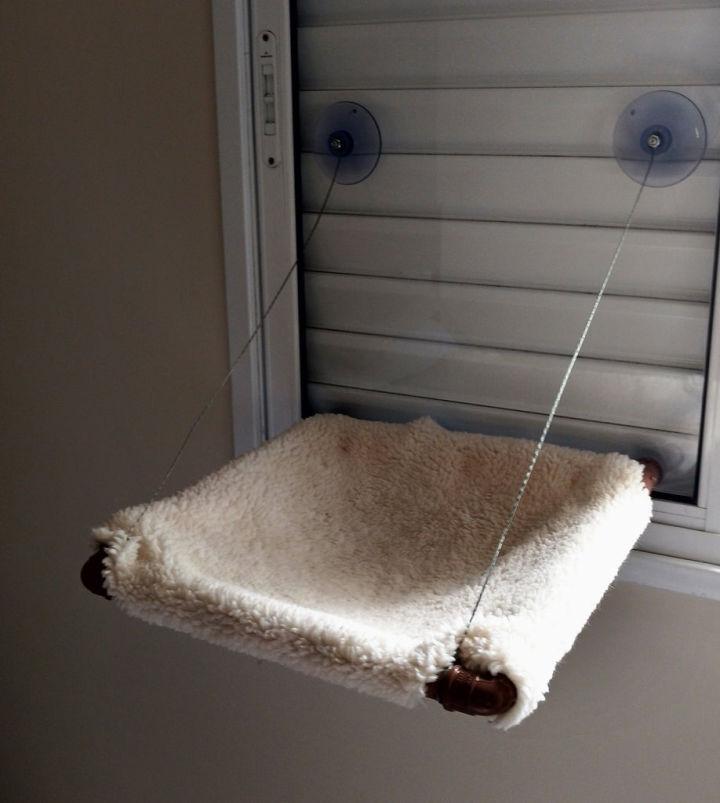 As we all know, cats love sleeping and napping all day. Now, you can make them more active and happier by making customizing a glass-mounted hanging bed. Use PVC pipe, L shape bend, suction cups, 1-tee, woven fabric, and sewing thread. One more thing, you can cut the fabric and make the bed according to the size and weight of your pet. Additionally, use the suctions cups to install this bed on the glass. instructables
12. How To Make A Cat Swing Bed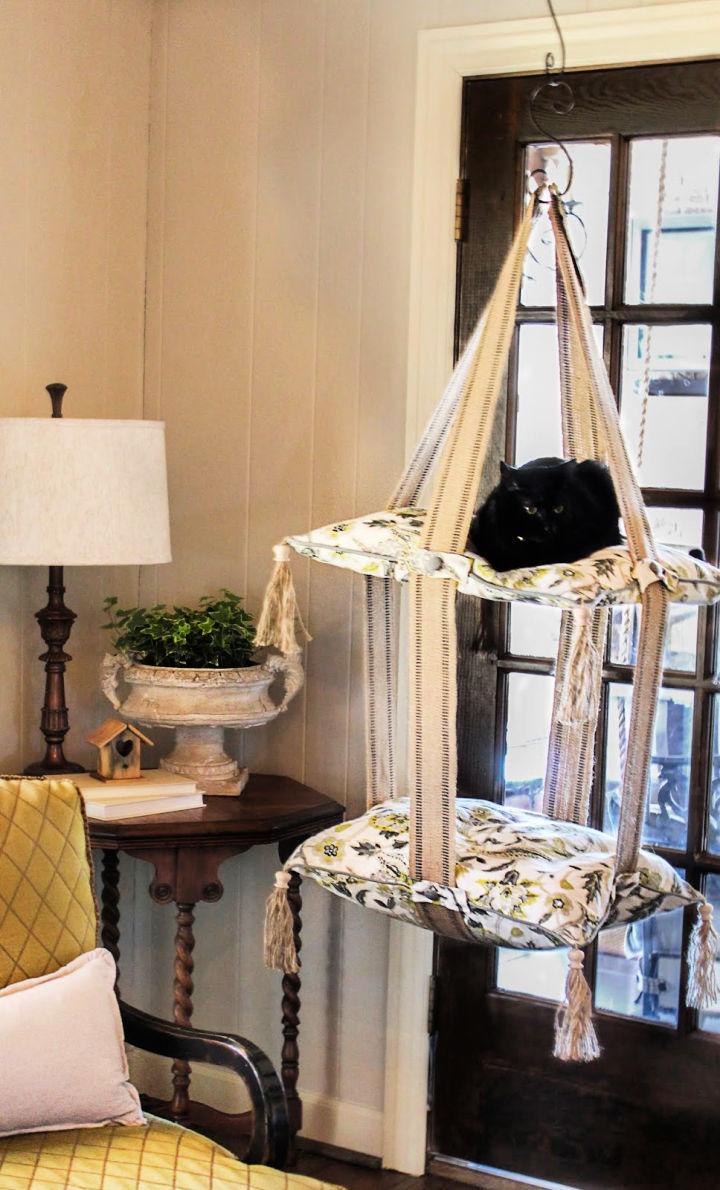 Want to provide your cat with her own place and space for sleeping? If yes, make this swing bed for her. You can make it easily by sewing the pillows. Once you have sewed the pillows, hang them in a tiered structure using a strong macrame cord. Not only the cord, but you can also use any other matching supply for dangling and assembling all the sewn couches. Your cat would love sleeping and jump all over on this two-tiered DIY swing bed. guides brit
13. DIY Fluffy Cat Bed Less Than $8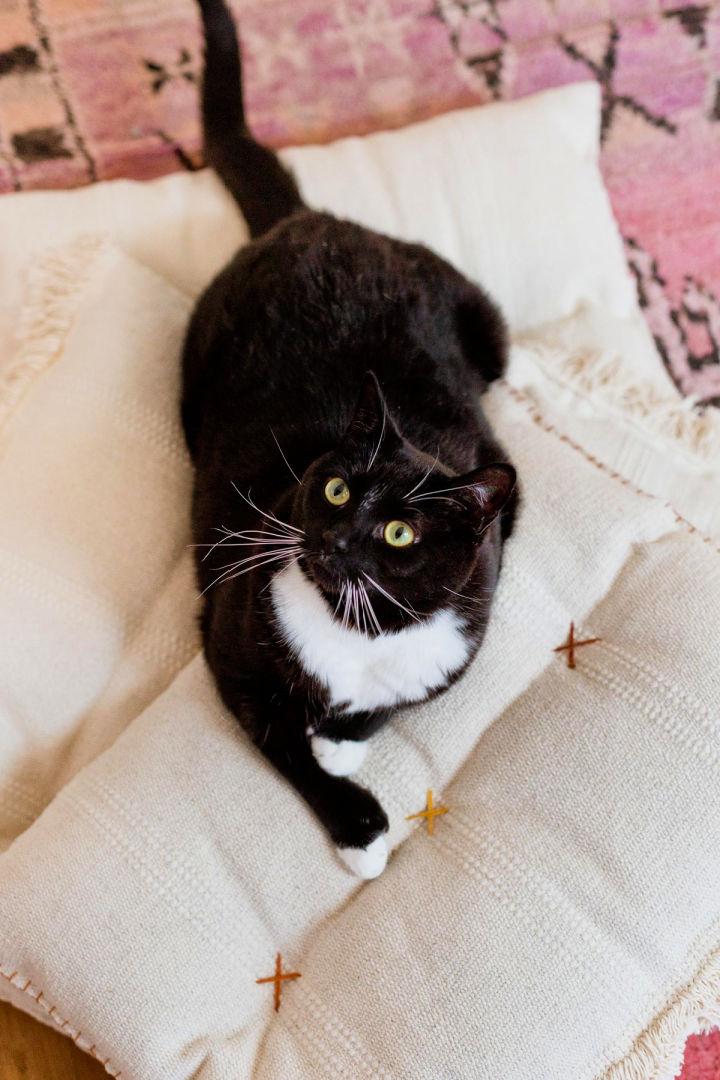 If you are looking for a cheap and super affordable DIY idea for your pet, consider this fluffy cat bed without stepping out of your budget. Make this bed effortlessly and efficiently with the woven rug, cotton filling, matching sewing thread, embroidery needle. The best thing about this bed is that you don't need to sew it with the machine. Cut the woven rug or fabric with a specified measurement according to your pet size. papernstitchblog
14. Make Your Own Knit Cat Bed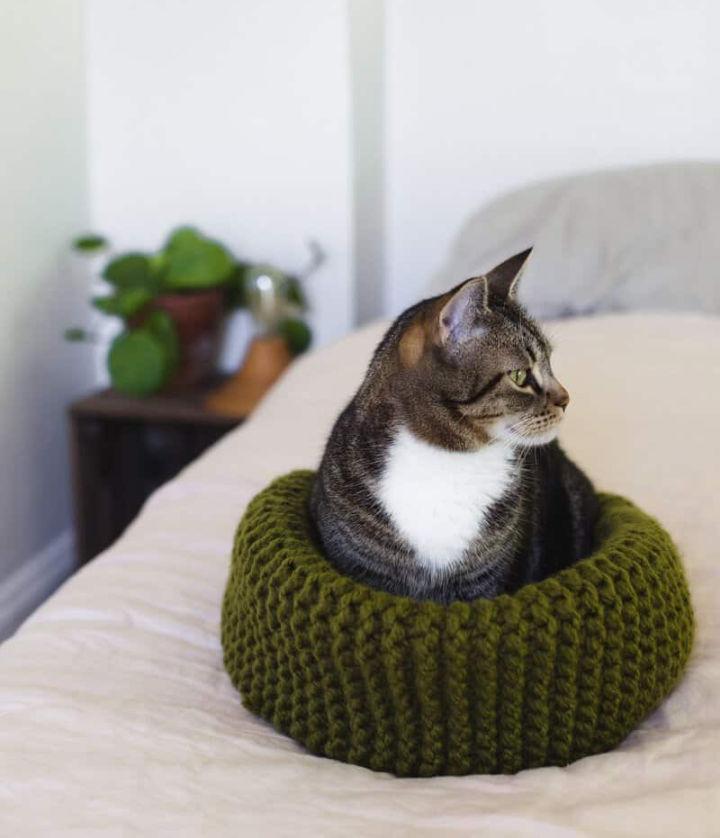 Impress and inspire everyone with your knitting skills by creating a stylish bed for your pet. You can knit a cat bed with an easy pattern. For this, you can use the bulky yarn in dark green color. Moreover, use a 10mm knitting needle with a darning needle to make this modern-looking bed. For sure, your cat would love sitting and napping on this super-soft customized bed. abeautifulmess
15. Covered Cat Tent Bed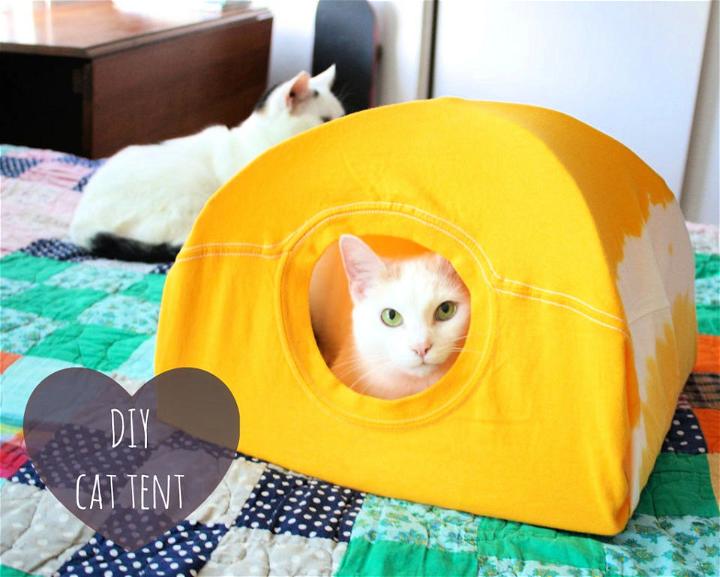 If you want to make a creative and good-looking sitting place for your pet cat, nothing would better than considering this tent. You can make this tent easily and affordably. It may look weird, but you can reuse your T-shirt for creating this tent. Moreover, use two wire hangers, cardboard pieces, and safety pins. All you need to do is making a tent structure with wire hangers. Once you have done creating the infrastructure, cover it with T-shirt. That's all. You are all set to have a new sitting space for your cat. instructables
16. Wall Mounted Cat Bed

DIY a super cute and adorable window perch for your little pet kitten. You require concrete form, carpet remnant, suction cups, synthetic rope, and strengthen glue for making this perch. Draw and cut a circular bed pattern on the concrete form. Later, use the carpet remanet to wrap all around this customized bed. Install this personalized bed on windows with suction cups and rope. hgtv
17. Unique Cat Suitcase Bunk Bed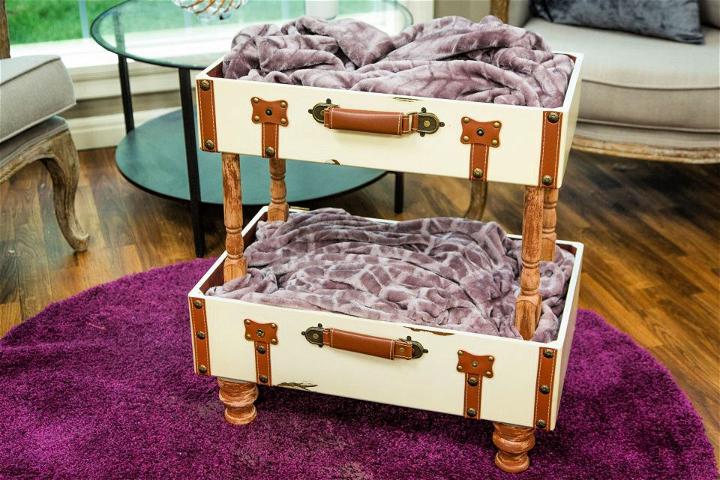 Happy earth day! It's time to reuse the discarded household creatively instead of throwing them. Make this innovative and recycled cat bed with old suitcases and table leggings. Use the screwing tools and kit for fixing the suitcases on the table legs. Once you have done with screwing and fixing, use upholstery couches or pillows to make this bed comfortable to sit for your pet. hallmarkchannel
18. How To Make A Cat Bed Igloo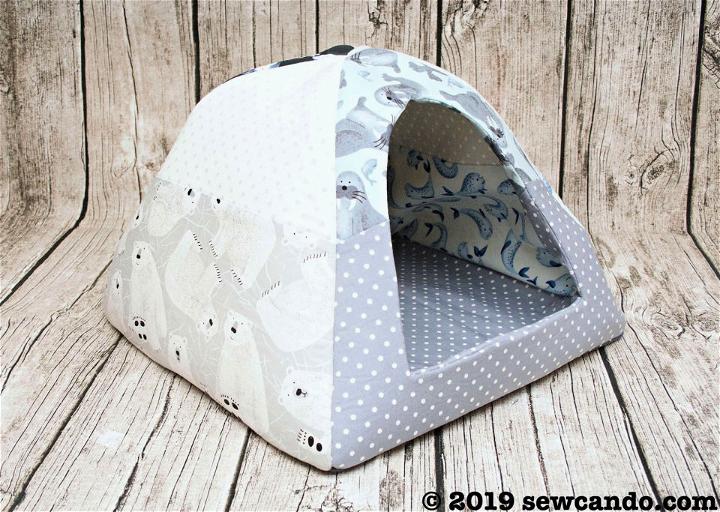 Make this pet igloo for indoor sitting and napping of your cat. Excitingly! You can place this igloo bed wherever you want easily and stylishly. You can customize this creative pet igloo like a pro with a free pattern and fabric of your choice. The best thing about this DIY project is that you can also use it for your kid's room. sewcando
19. Large Cat Bed from Basket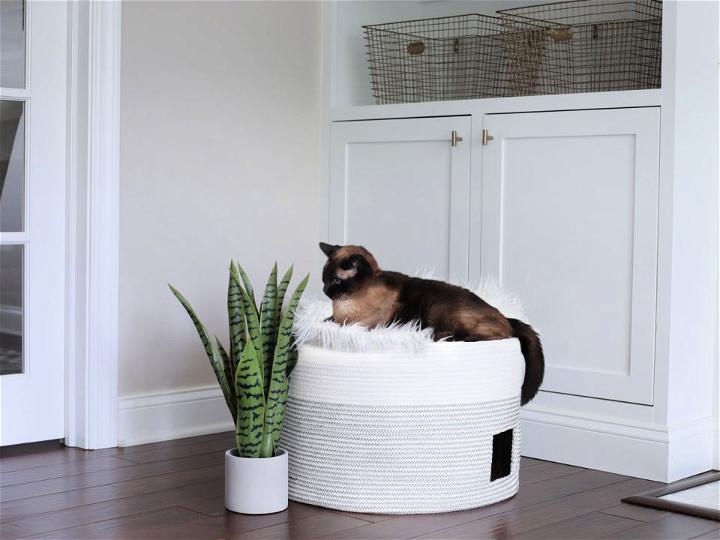 Are you looking for a comfortable and creative idea for your pet cat to nap? If yes, this basket bed is the ideal option to consider for a large cat. Prepare this napping space for your pet yourself with a large woven basket. Additionally, you require plywood, wood glue, nails, sanding sponge, and upholstery or padding for making the top side of this bed. All you need to do is cutting the basket according to the size of your pet. Once you have done with cutting, fit the couch or batting inside it. thisoldhouse
20. Cheap Cat Bed From a Cardboard Box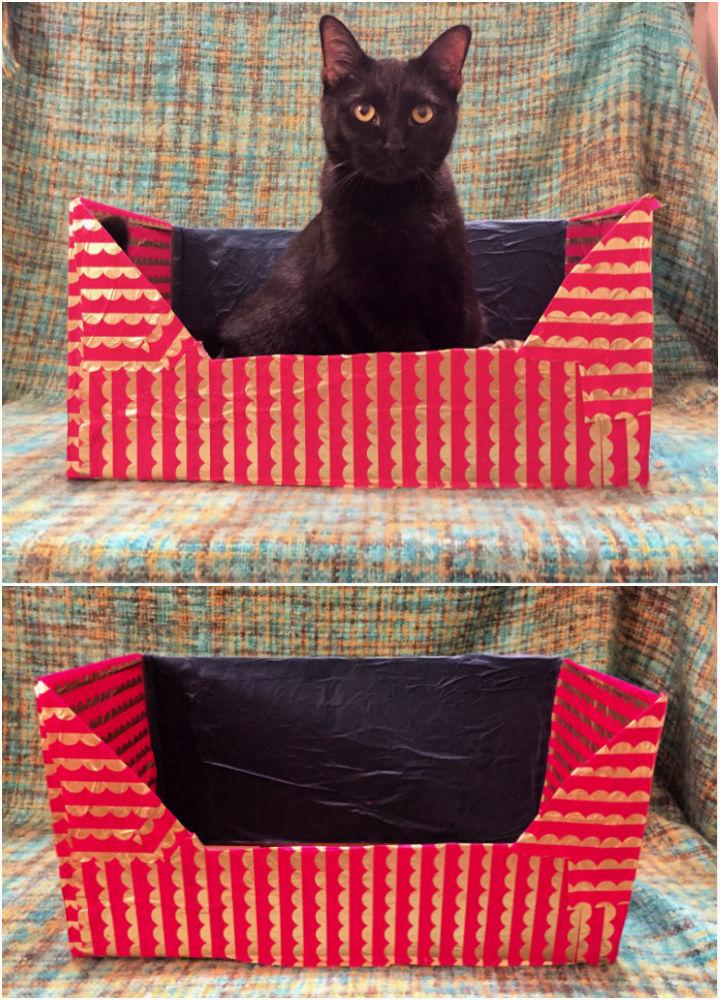 Reuse an old and shipping cardboard box to make an affordable DIY cat bed. The basic thing about this project is its affordability. Moreover, you can design and decorate it with your own creativity. Firstly, cut the box according to a bed pattern according to the size of your pet. Cover the box with decorative paper using glue. Once you have done all it, give this box bed a smooth finishing by placing a couch on it. petful
21. Crochet Cat Bed Free Pattern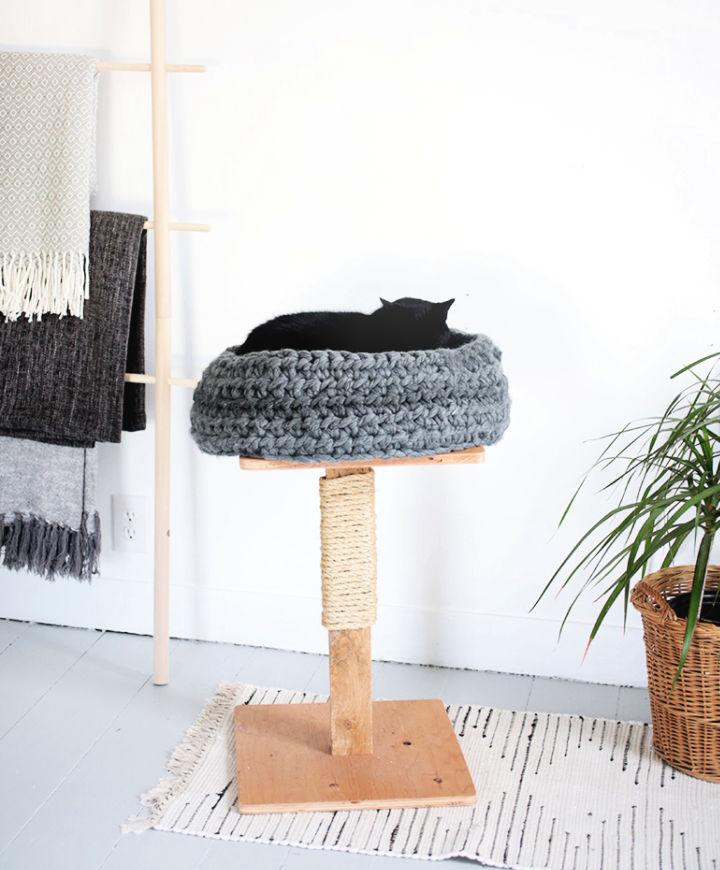 Winter is the perfect and ideal time to polish your crochet skills. Not only for yourself, but you can also utilize your crocheting craft to make a versatile cat bed. For this, use the loops and thread chunky yarn in the desired color with a 15.75mm crochet hook. Furthermore, use a tapestry needle to weaving the ends of this crocheted basket bed. themerrythought
22. Chewy Cat Bed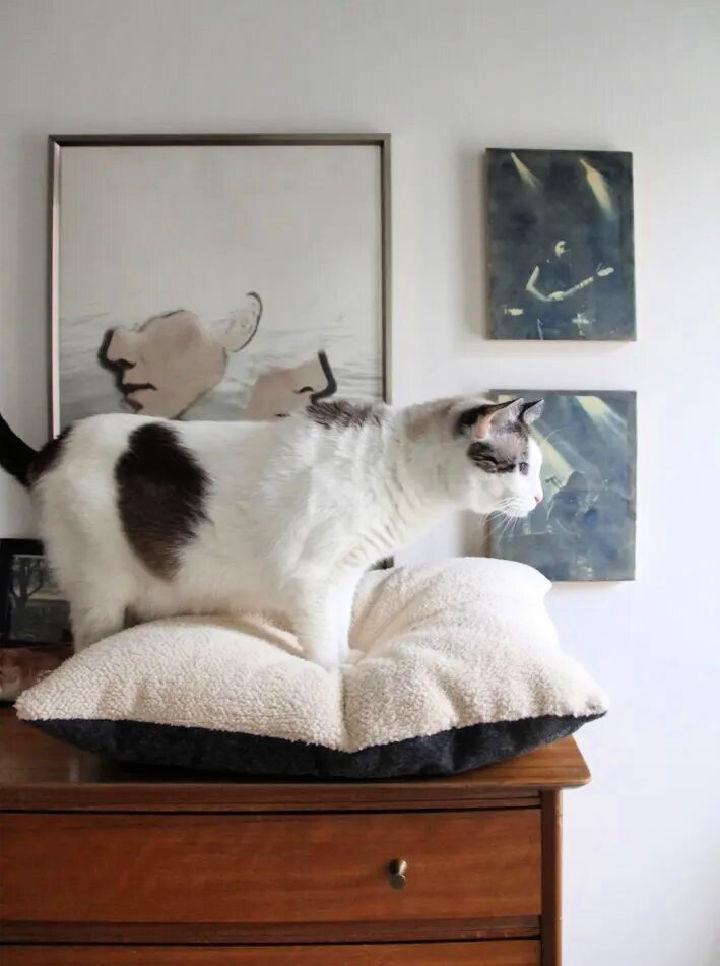 Make this comfortable and easy-to-make chewy cat bed with soft fabric, a piece of felt, polyester fiber fill, embroidery thread or needle, and a sewing machine. If you are familiar with sewing projects, you can get your hands on this super comfortable bed in no time and effort. Consider the size of your pet before cutting and sewing this bed. Excitingly! You can place this couch anywhere you want efficiently. curbly
23. Stylish Cardboard Box Cat Bed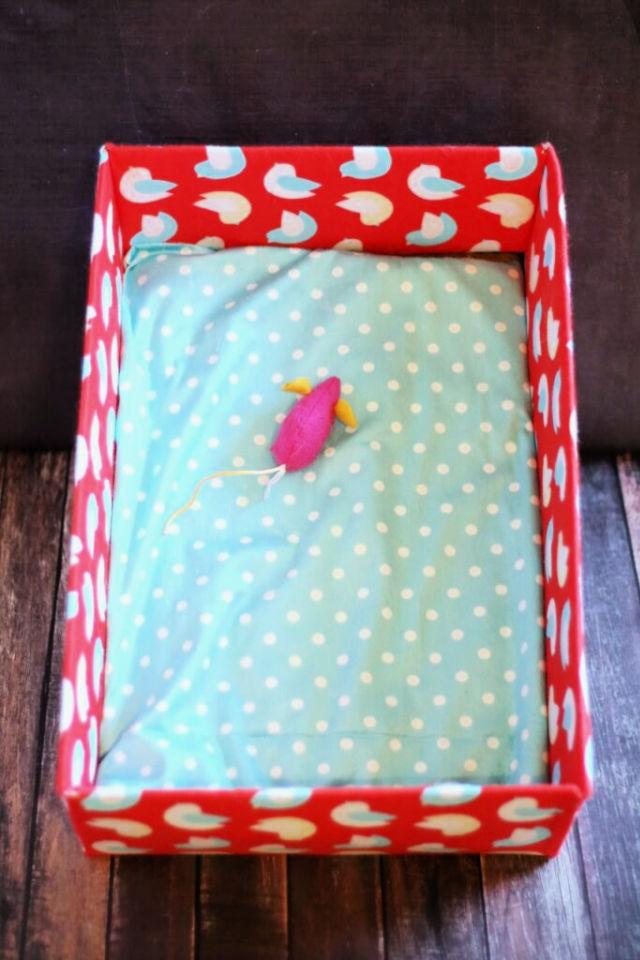 Reclaimed an old and discarded cardboard box to make a stylish cat bed. It's super easy to DIY a new sitting and napping space for your pet with this box. For this, it's better to use the box with flaps. Additionally, use the glue, mod podge, buttons, couches, or pillows and fleece for the box. Cover the box with fabric and stick it using glue. Once you have done making this customized bed, place the upholstery batting or pillows on it. yourpurrfectkitty
24. Elevated Cat Bed Plan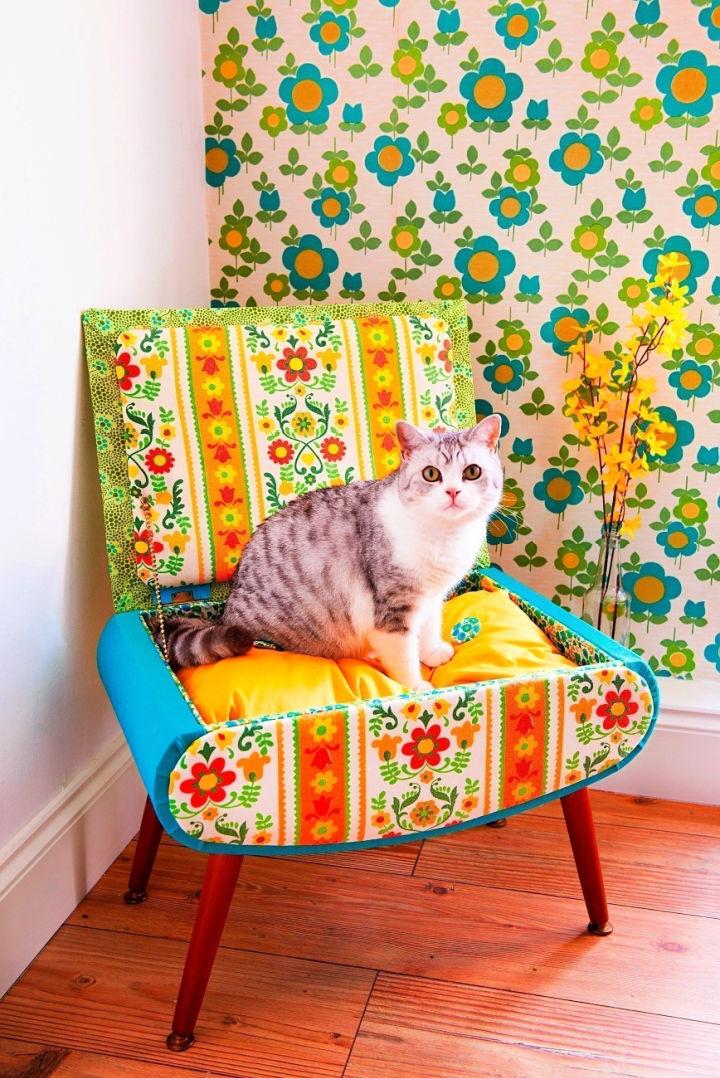 Create this super gorgeous and colorful cat bed with a reused stool, fleece, sewing kit with the machine, drilling tools, foam for batting, ribbons, and beautifully printed fabric. For making this bed, you may require intermediate-level crafting skills. If you are a beginner, you can also work on it with step-by-step guidelines. Your sleepy cat would love napping on this good-looking and elevated bed. cutoutandkeep
25. DIY Hanging Macrame Cat Bed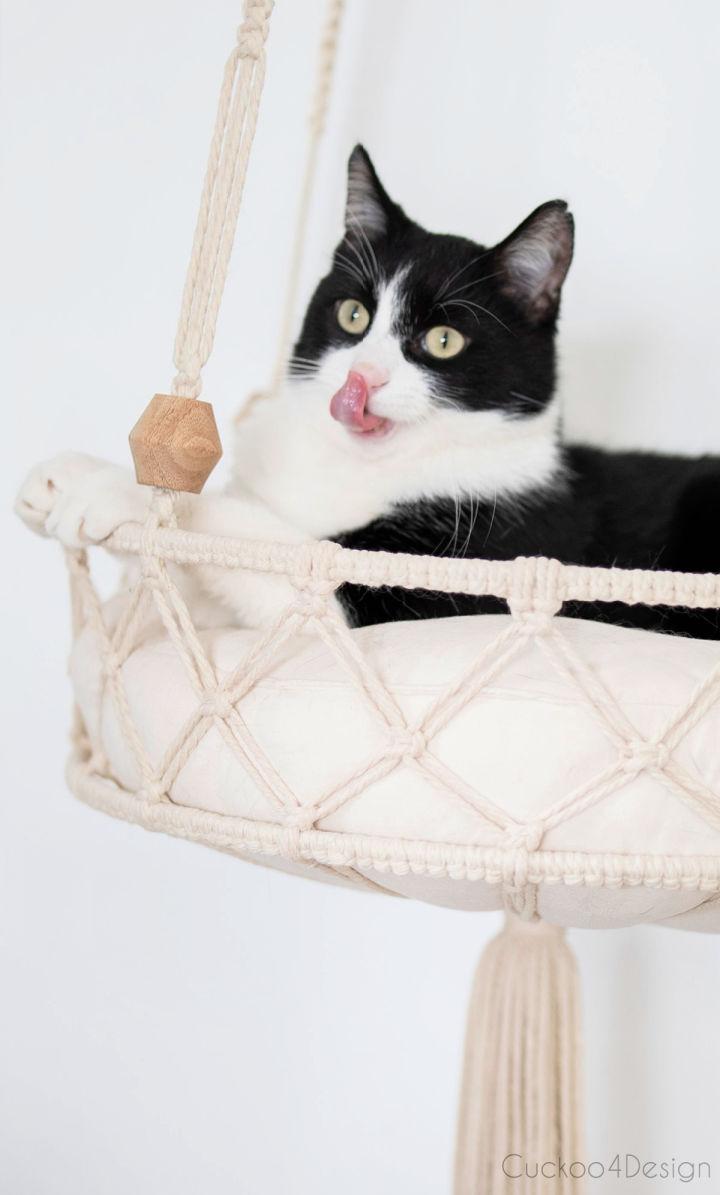 If you are looking for an evolutionary DIY project for your pet, this cat bed is the ideal and more suitable option to consider. You can utilize your macrame crafting skills to make this couch. For this, use the macrame cord, metal hoops for dangling, strong hook for mounting this bed. All you need to do is knotting the cord in a simple pattern. Once you have done with it, hang it with the ceiling. Moreover, place a round couch on this macrame cat bed. cuckoo4design
26. DIY Coastal Cat Bed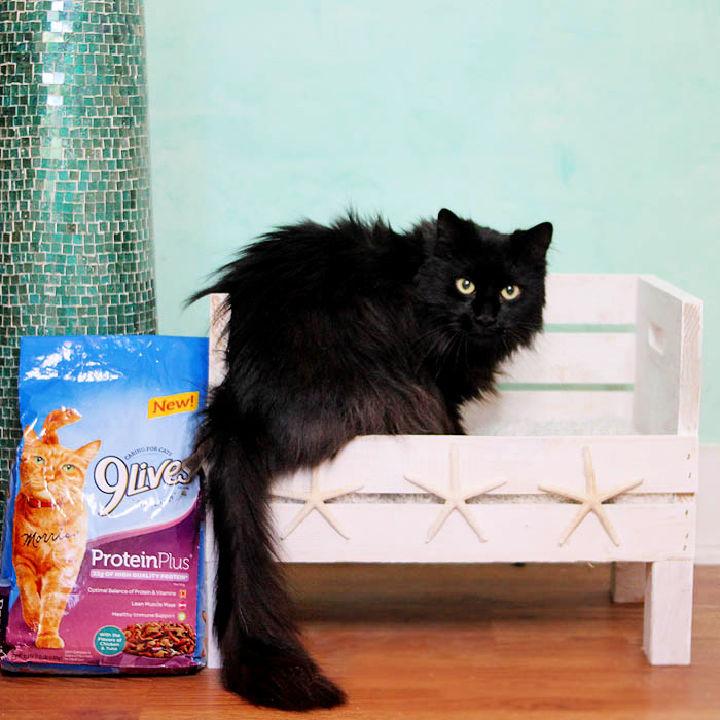 DIY coastal cat bed with a wood crate, wood boards, screws, white or wood stain paint, starfish and glue gun. One more thing, measure your cat's size and assemble the crate planks again according to the measured specifications. So, your pet can sit and nap on this bed comfortably. Place the starfish on the wooden planks. In the end, complete this project by placing the batting or couches on this bed. gina michele
27. Free Cat Bed Sewing Pattern

Make this new style and good-looking cat bed with a free sewing pattern. For sewing and customizing this cradle, you can use the fabric material of your choice. Moreover, change the size of this bed according to your pet's size. Instead of using the batting, you can go with thick foam for filling and placing inside this bed. Even you are a beginner sewer, and you can also personalize this bed for your pet by getting guidelines from written steps. seekatesew
28. Homemade Stargate Cat Bed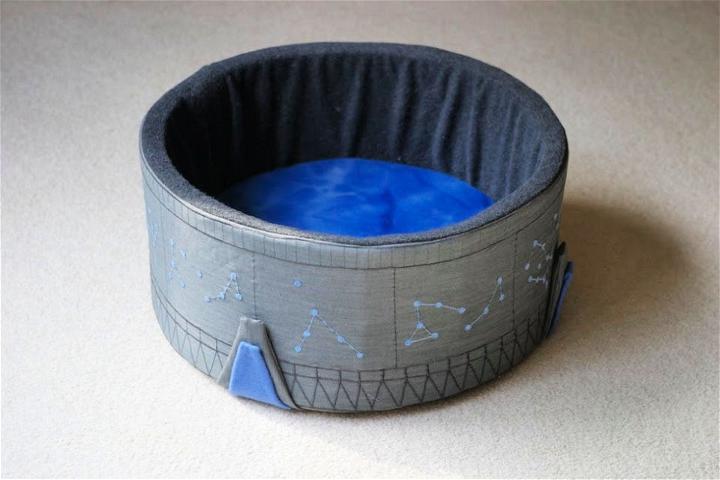 You can scale up and customize a stargate bed for your pet by following the provided guidelines. Make this cradle yourself with foam, grey fabric material for gate walls and chevron. Before cutting and sewing this bed, draw a template on plain paper for your ease. If you are new to this project, you can also go with downloaded gate walls and chevron templates. instructables
29. DIY Elevated Pet Bed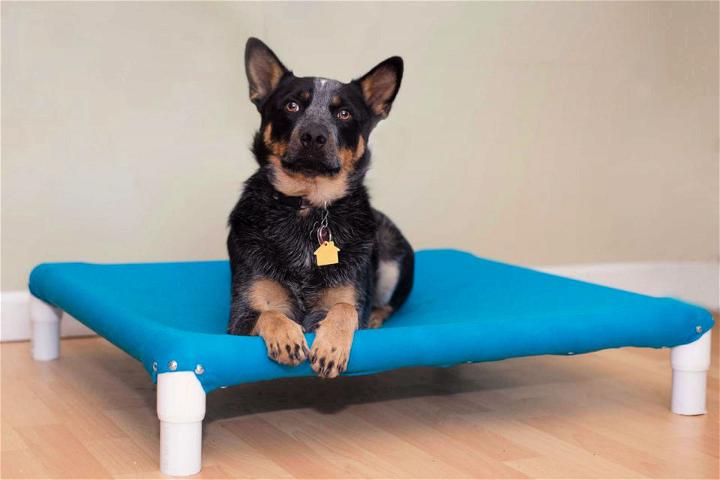 DIY a cot for your raised dog yourself with affordable and already available household supplies. Make this couch using PVC pipes, upholstery fabric, rubber mallet, and lath screws. All you need to do is fixing all the PVC pipes using PVC corner pieces in a square cot pattern. Once you have done it, place the rubber mallet on it using screws. Make this place more comfortable to sit for your pet with an upholstery settee. hgtv
30. Wooden Cat Bed For $12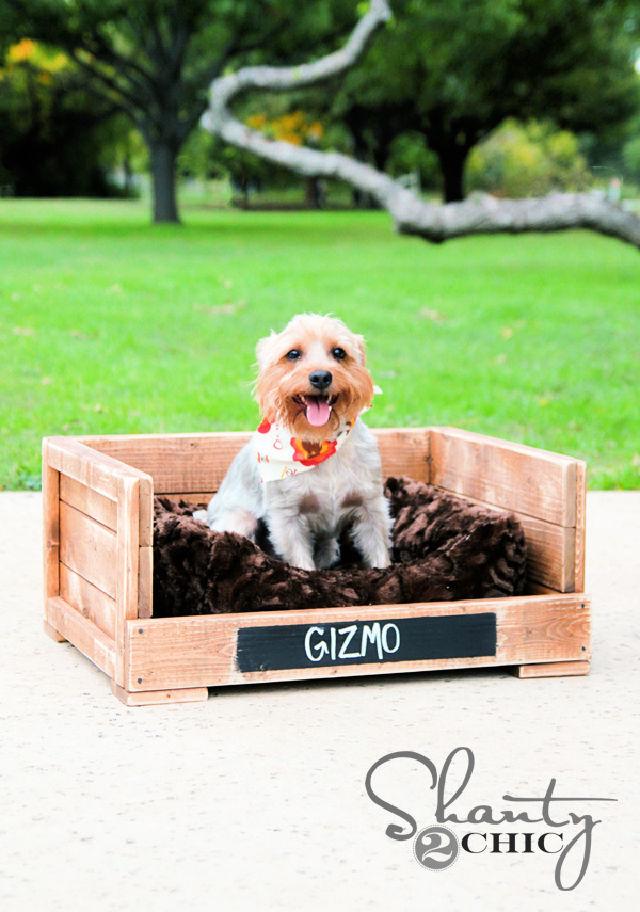 Learn to make this easy and affordable pet bed by getting the guidelines online. For making this cradle, use furring strips in different sizes for making the base, sides, and back support of the bed. After building the bed, paint it with a wood stain or any other color of your choice. Make this bed softer for sitting with batting and a couch. shanty 2 chic