Loving your cat does not mean that you should make her eat a lot. The cat lovers don't want their cats to gain a lot of weight to become lazy. This will cause great health problems to her and make your cat deprived of their hunting skills. So, keep your cats active in the home with these 30 unique DIY cat toys that are cheap and easy to whip up and will provide every cat with hours of fun. You will find here instructions to make all types of cat toys you have seen in the shops and stores. In addition, you will get here instructions to manually build the custom cat exercise stations that will help keep the cats physically fit.
So, just look through these 30 cheap and simple DIY Cat Toys and pick your favorite ones to add to your to-do list of projects. You will get here a variety of stuffed cat toys that you can quickly make out of old fabrics and felt, and they can be inspired by various animals, food items, and other things that are favorable to your cats.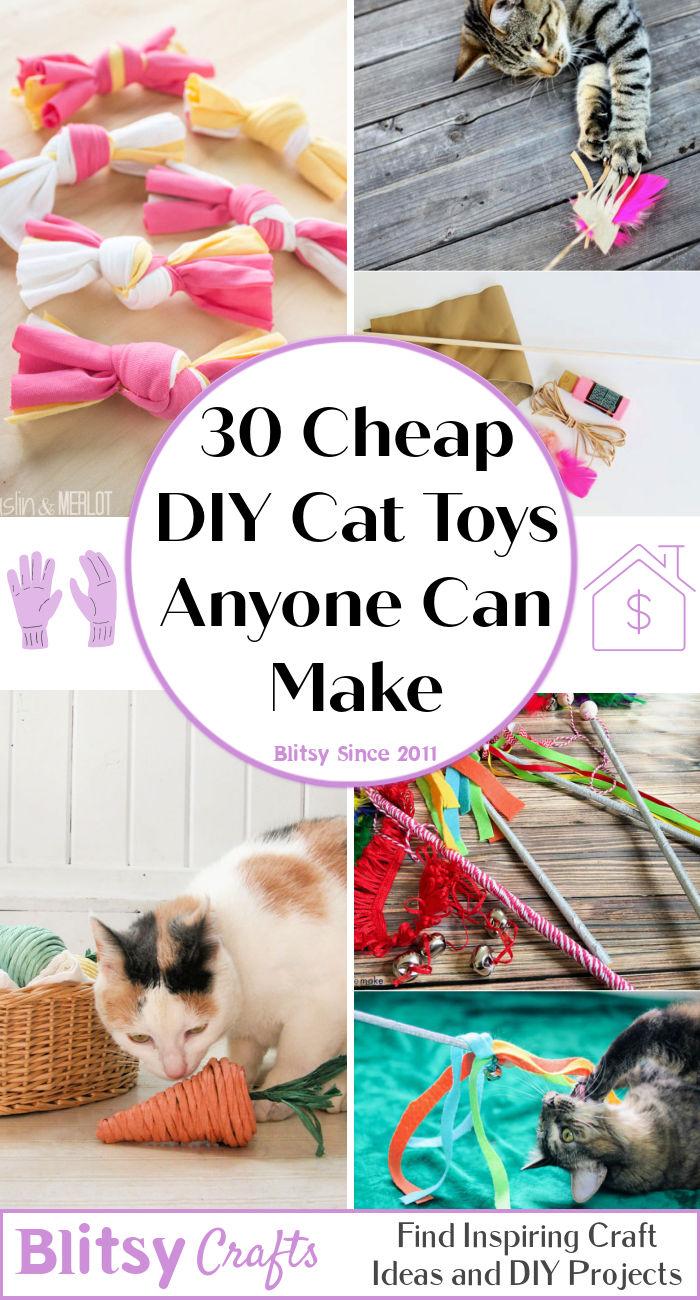 The purpose of these cat toys will be to sharpen the hunting skills of the cats. The hanging toys will make your cats jump, and other little toys will hone your cats' chasing and attacking skills. The cat condos will help keep the cats the perfect hunters if they are kept as pets in the home. You will hear step-by-step instructions and tutorials to build lasting longer DIY cat tree, DIY cat house, DIY cat bed, DIY cat shelves, and other fun stations like a pro.
1. Kittens Teething Toy from T shirt

Honing your cat's hunting skills with these t-shirt cat toys is super easy to make and looks like a big candy. The project involves cutting the t-shirts simply and knotting the pieces together, getting a candy shape. You need 2-3 t-shirts, scissors, ruler, cutting mat, and rotary cutter to which up these cat toys. Cut the t-shirts into 3″ x 10″ rectangles to whip up these cat toys. muslinandmerlot
2. Unique Fishing Pole Cat Toy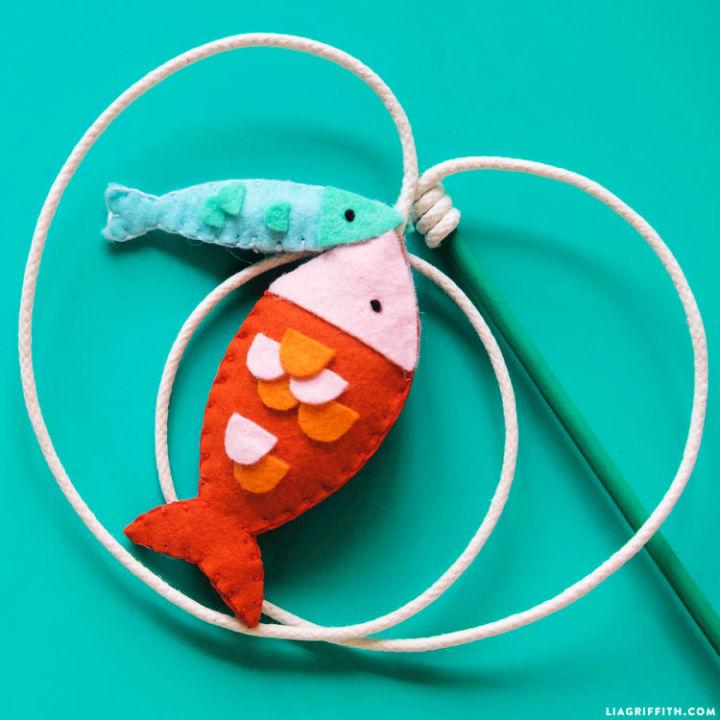 It will be a great idea to provide fun-making toys to cats to make them exercise regularly. It will also help build the confidence of your baby for sure. Grab here instructions to whip up the fishing pole cat toys at home. You need wool, wool blend felt, matching embroidery floss, 16″ wooden dowel, acrylic craft paint, cotton clothesline, catnip, or poly-fill to make this toy. You need craft scissors, a low-temp hot glue gun, a sewing needle, and a paintbrush in tools. liagriffith
3. DIY Feather Cat Toy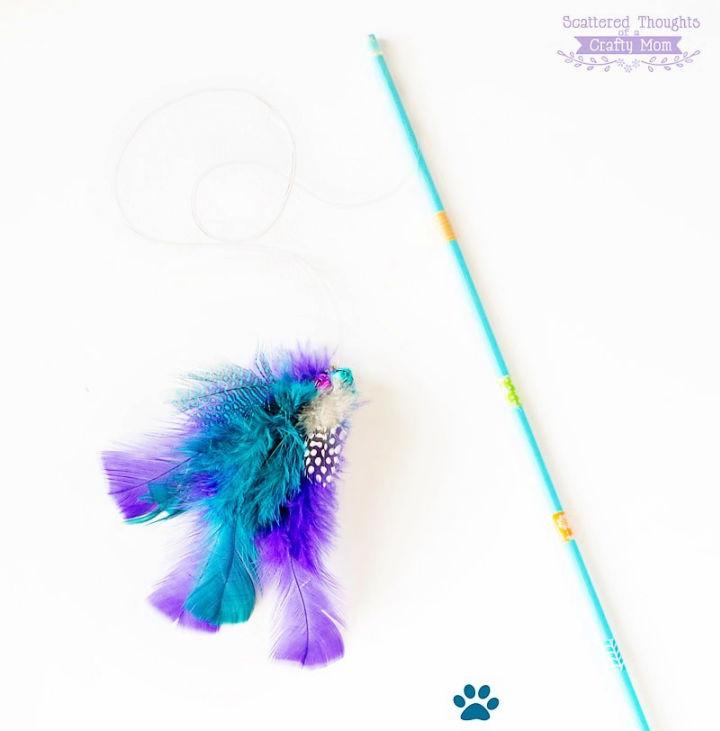 Make also the adorable and lovely cat toys using the feathers. You can hang these feathers anywhere where it be a little challenging for the cat to reach. This toy will keep the cat physically healthy and fit, and it will not take much time to make this cat toy. You need a long stick, feathers, small bells, string, glue, paint, and washi tape to whip up this lovely feather toy. One of the best cat toys ever made will surely please a cat lover. scatteredthought
4. Cheap Felt Sushi Cat Toy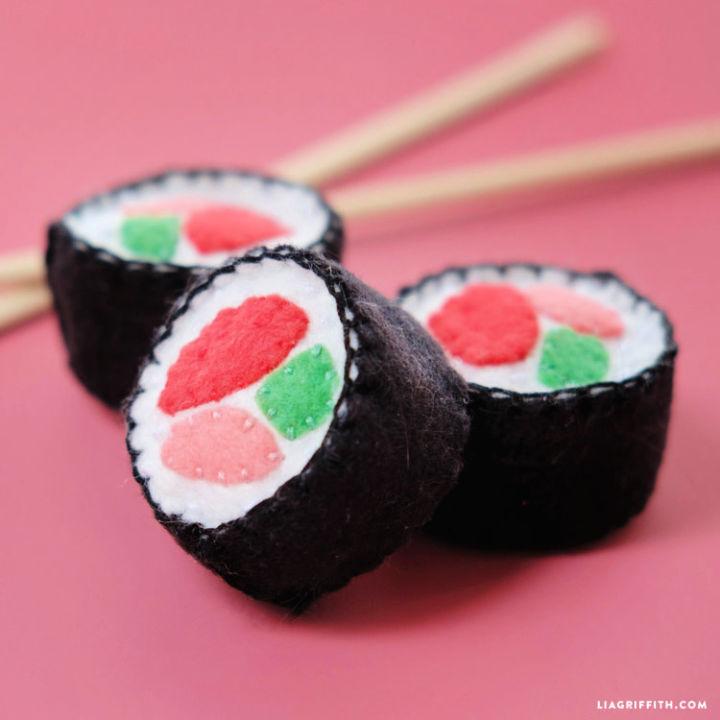 Grab here guides to whip up felt sushi cat toys also, will create too much fun for cats and will be soft and colorful at the same time. You need craft scissors, a sewing needle, wool, embroidery floss, and catnip to whip up this very beautiful felt sushi cat toy. The project involves a little sewing and stitching and will be much doable for all beginners. You have to use the felt in sushi colors for this project. liagriffith
5. DIY Natural Cat Toys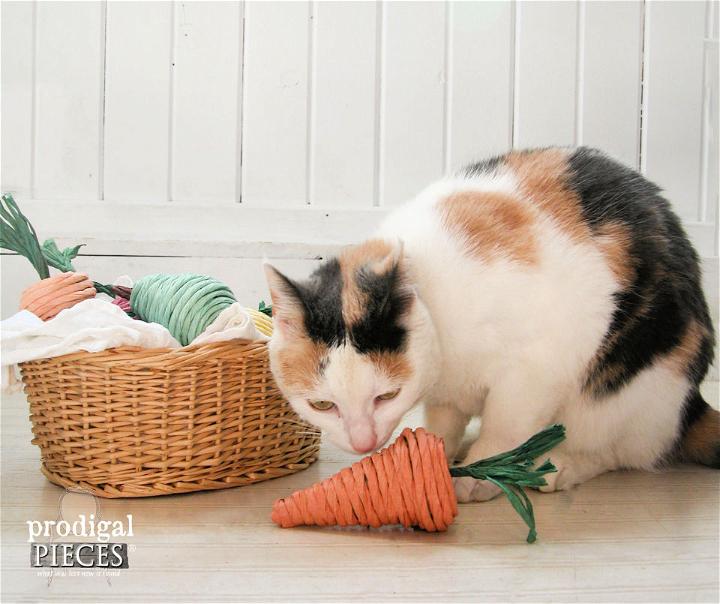 Find here the ultimate instructions to make beautiful natural cat toys inspired by fruits and vegetables. Make a whole basket of vegetable and fruit-inspired cat toys. It will be a total breeze to whip up with the cheap supplies. You need hollow papier mache shapes, craft glue, 6 yards of colored twisted paper, catnip, scissors, drill and drill bit, and toilet paper tubes to do this project with ease. Get also inspired by your favorite fruits and vegetables while doing this project. prodigalpieces
6. Cat Toys For Your Fur Babies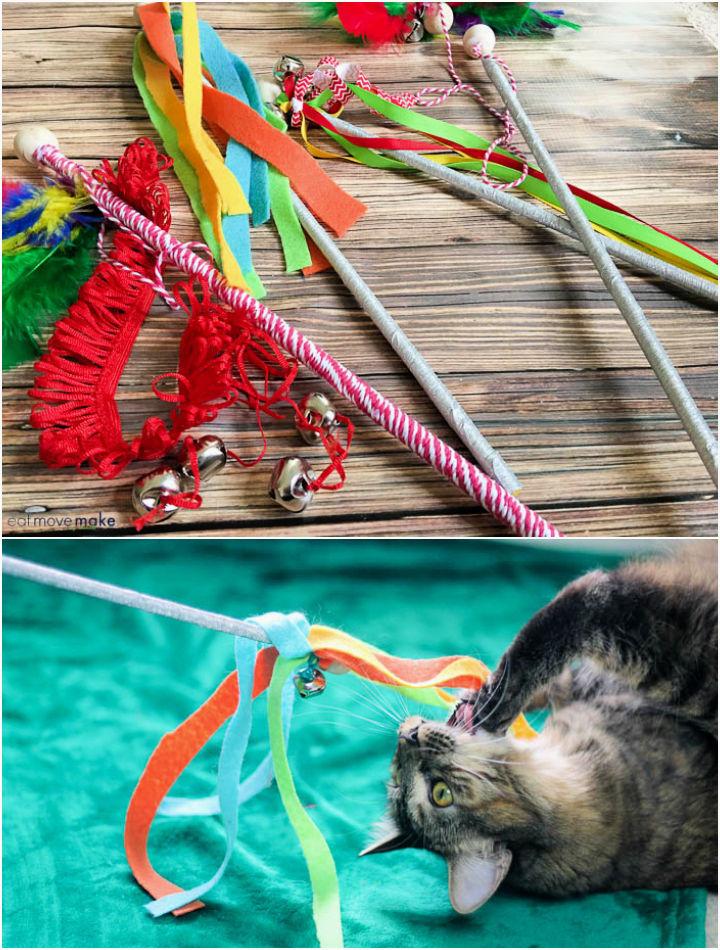 Just like you, your cat should do regular exercise not to get lazy. So, make these cat toys to increase the physical activities of your cat. This will help sharpen the hunting skills of your cat also. You need very cheap and ordinary supplies to whip up these cat toys. Grab the wooden dowels, dowel caps, a bunch of embellishments to make these cat toys. Use the ribbon, twine, bells, feathers, felt, and washi tape to spice up these toys more and a lot. eatmovemake
7. How To Make Cat Toy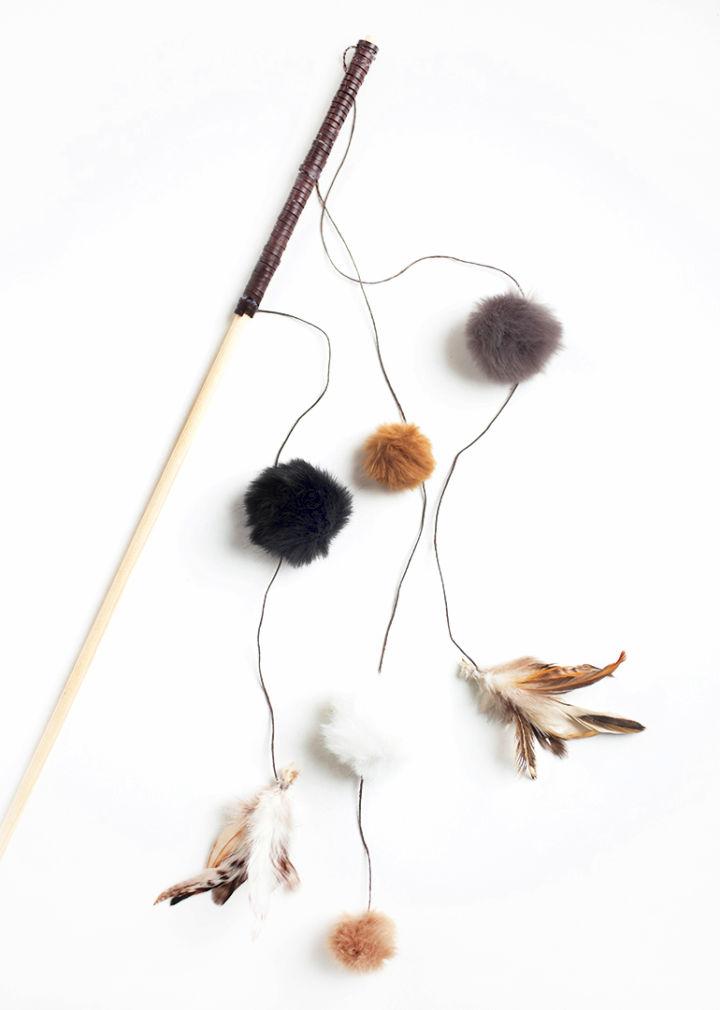 Put your cat on hunting and jumping with this wonderful and lovely cat toy, crazily easy and quick to make with beginner crafting skills. You need a wood dowel, waxed thread, leather lace, pom-poms, feathers, scissors, and a hot glue gun to work up these charming and lovely cat toys. The process of making these toys is pretty quick and simple, and you will have great fun while whipping up these toys. The best gift to make for a cat lover. themerrythought
8. Crinkle Pompom Cat Toys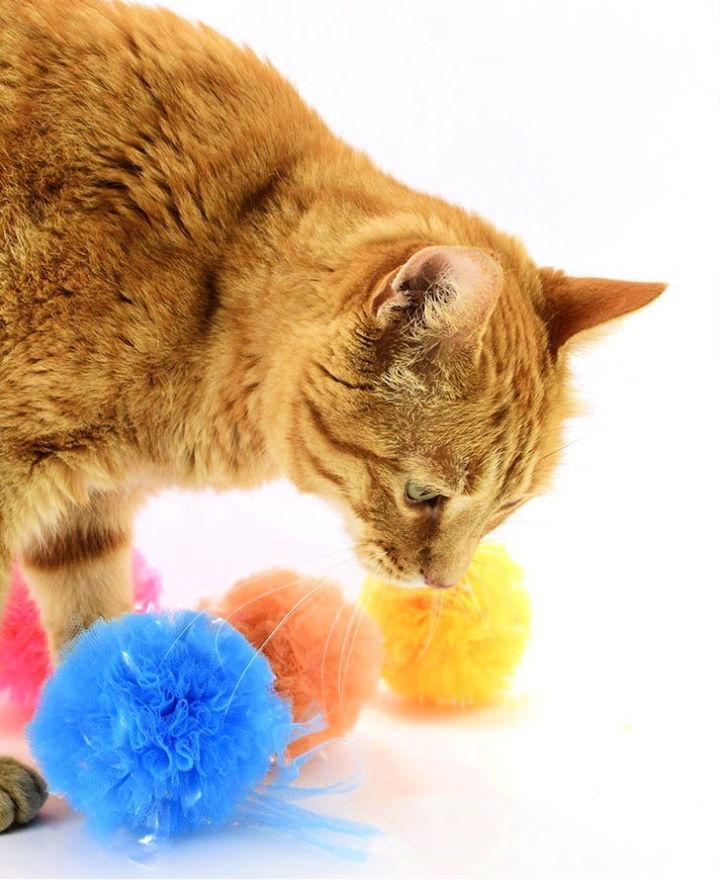 Prevent your cat from becoming lazy and control the behavioral problems in a cat with these cat toys that will improve the cats' circulation. The cat will love to play with these crinkle pom-pom toys, which will improve the blood circulation in the body and hone hunting skills. You need the crinkle material, clover pom-pom maker, tulle, string/cord, and sharp scissors to make these colorful pom-pom cat toys. The project will complete very quickly. dreamalittlebig
9. DIY Knotted Ball Cat Toy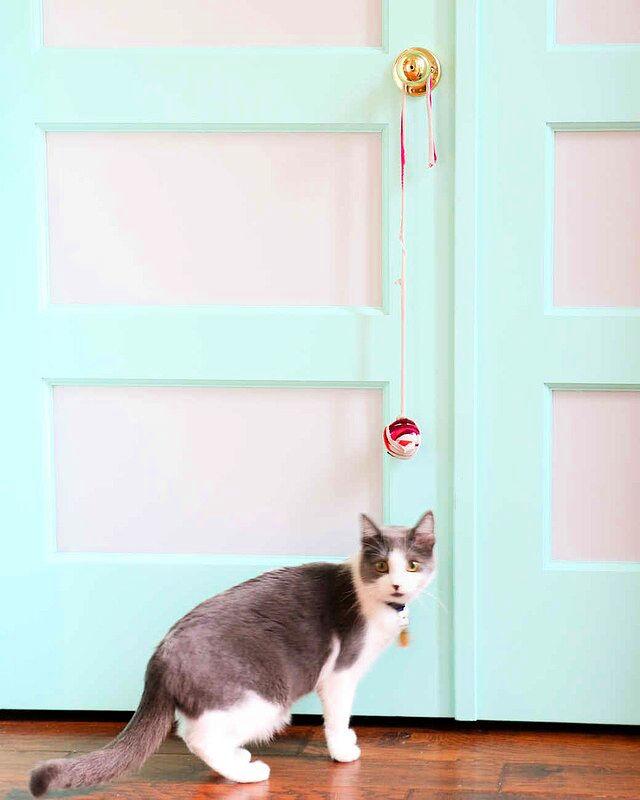 Whip up the knotted ball toys using the old knit t-shirts will provide hours of fun to your cat. This toy will make your cat jump and cause great circulation in the cat's entire body. The toy is lightweight and is super quick and easy to make with the old knit t-shirts. The idea is to cut the t-shirt into stripes and then make a knotted ball out of the stripes, which will create too much fun. You can easily hang this toy on the doorknobs. The best way to repurpose your old shirts. marthastewart
10. DIY Felt Mouse Cat Toy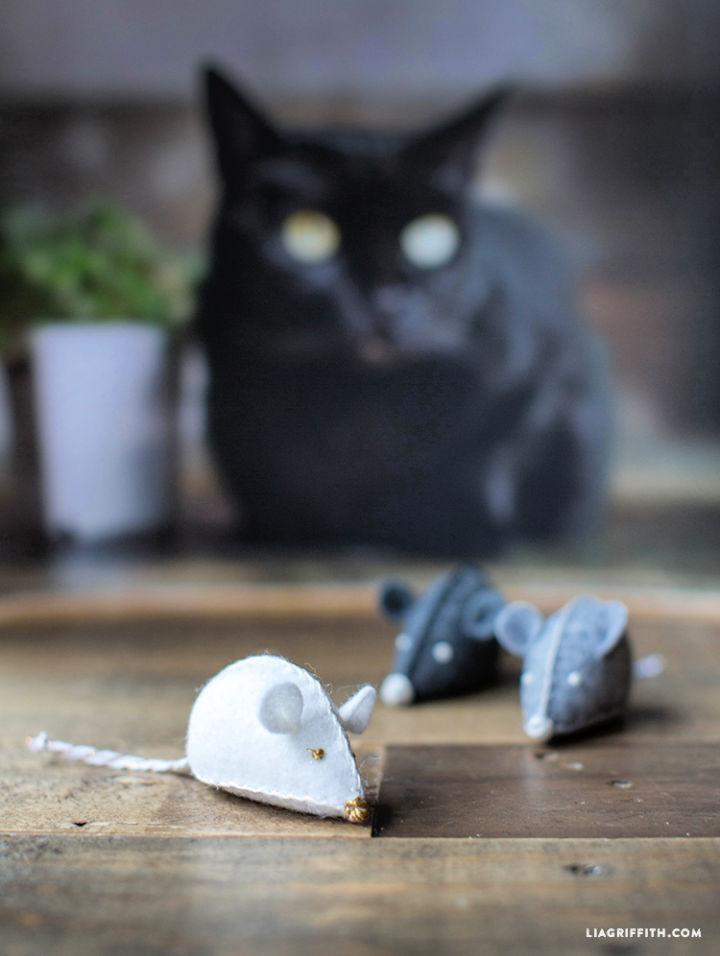 The cats will love to chase and swat these felt mice, and they are truly looking mind-blowing. Here you need the felt in respective colors like white and dark grey, and you will also get the free downloadable pattern for these mice cat toys. Here you need good quality felt, embroidery thread, catnip, stuffing, twine, and some creativity to make these super cute cat toys. These here the toys that will sharpen the hunting skills of your cats. The best handmade gifts to make for a cat lover. liagriffith
11. Cat Toy For Indoor Cats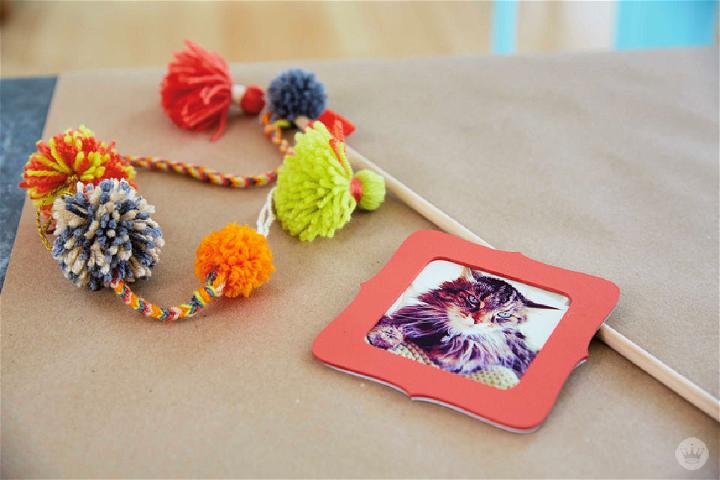 It gives you great happiness to make your pets happy, and these pet toys will make you do so. You will get here many impressive projects to make cuter cat toys while using the old fabric and felt scraps. The very required supplies will be a wooden dowel rod, flat leather cord, scissors, glue, yarn, baker's twine, embroidery thread, and small stripes of felt. The toys also come with colorful hanging tassels and will be a total pleasure to work up with the minimal skills and crafting supplies. thinkmakeshare
12. Cool Cat Feather Toy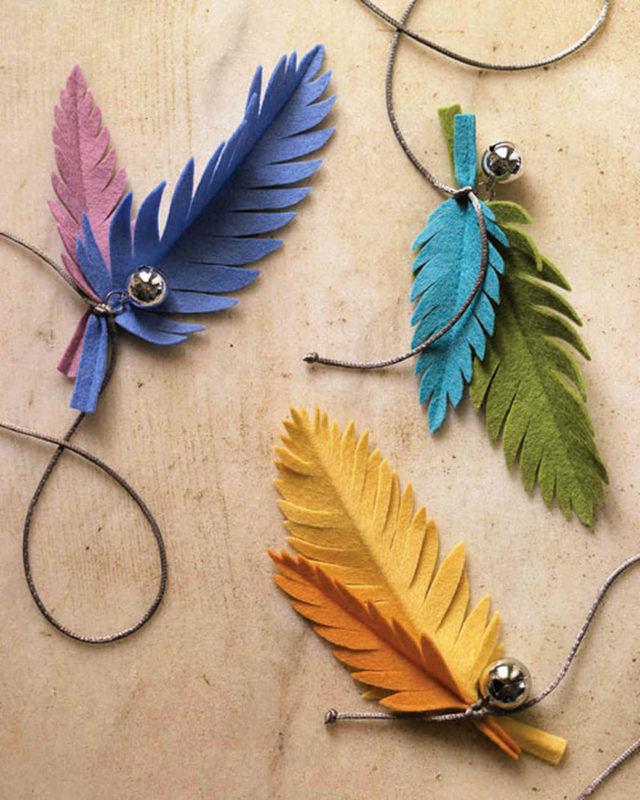 The cats like the feathers-based toys as they look like their prey. So, these feather cat toys will make your cats pounce, chase, and swat and will be easy to make at home. The very thing you need is the cat toy template, and next, you need scissors, iron, jingle bells, and satin cords to complete these toys. Use the felt to make these toys, and they will not let your cat be even a little lazier. One of the best handmade feather cat toys to make in no time. marthastewart
13. Three Ingredient Cat Treats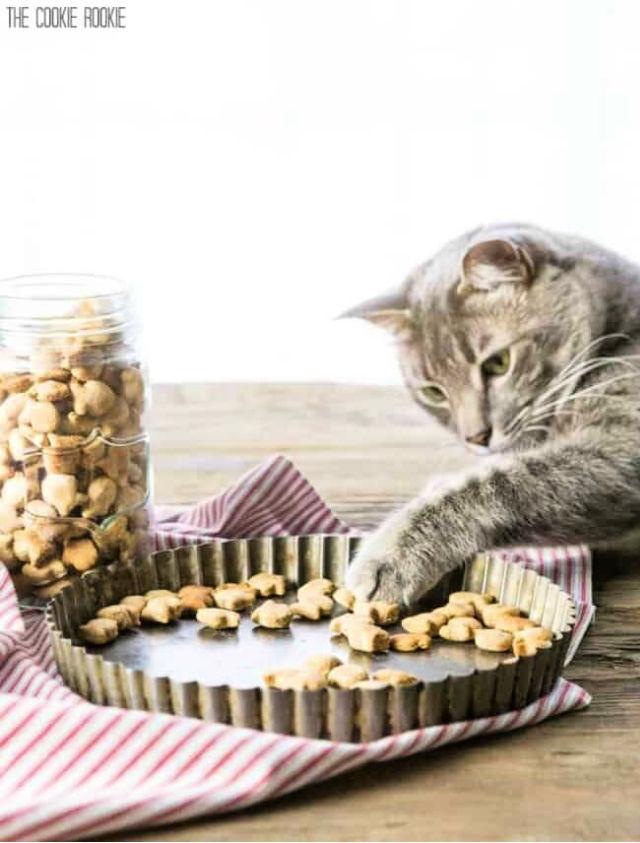 Star the never-ending fun of your cats also by providing them the treats they will love. So, learn here to make the best cat treats using a few ingredients. These treats will make you fall in love again with you, and they are made with all-natural ingredients. The shape of the treats is just cute and adorable. You need salmon, egg, and flour to whip up these cat treats. It will be the easiest ever treat to make in just 20 minutes or less. Chop the salmon and mix in the egg flour mixture, and then bake until lightly browned. thecookierookie
14. Cardboard Cat House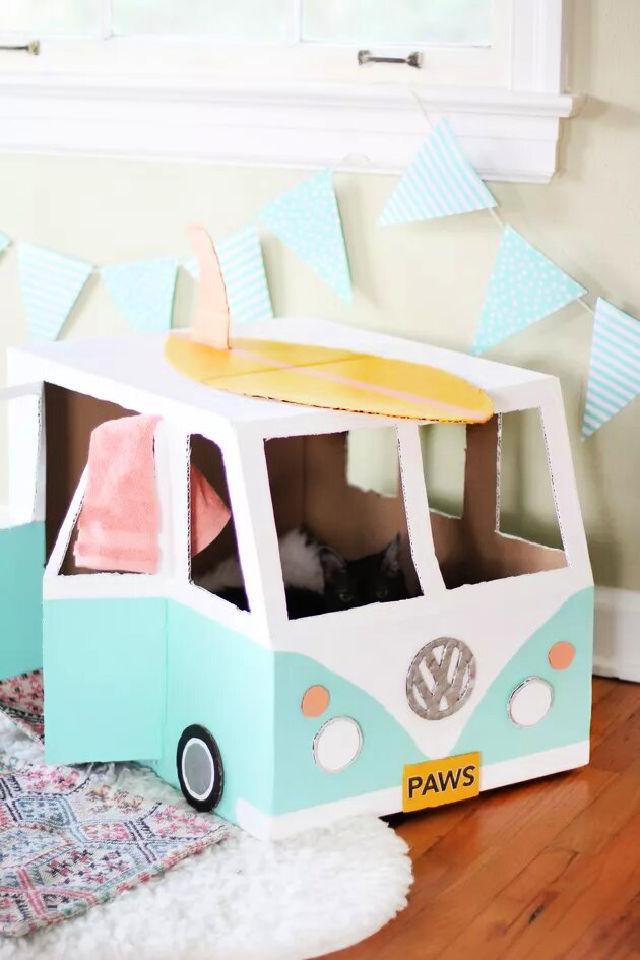 Provide your cat a super comfy cave in the form of this cardboard cat house, which will come with a bed installed inside for the comfortable sleep of your cat. You only need a big cardboard box from home like a big appliance like a refrigerator to whip up this cute cat bus house. It will be a total breeze to whip up. You need a large cardboard box, painter's tape or masking tape, ruler, box cutter, scrap cardboard, glue, and paint to whip up this very sweet cardboard cat house. ehow
15. DIY Cat Chew Toys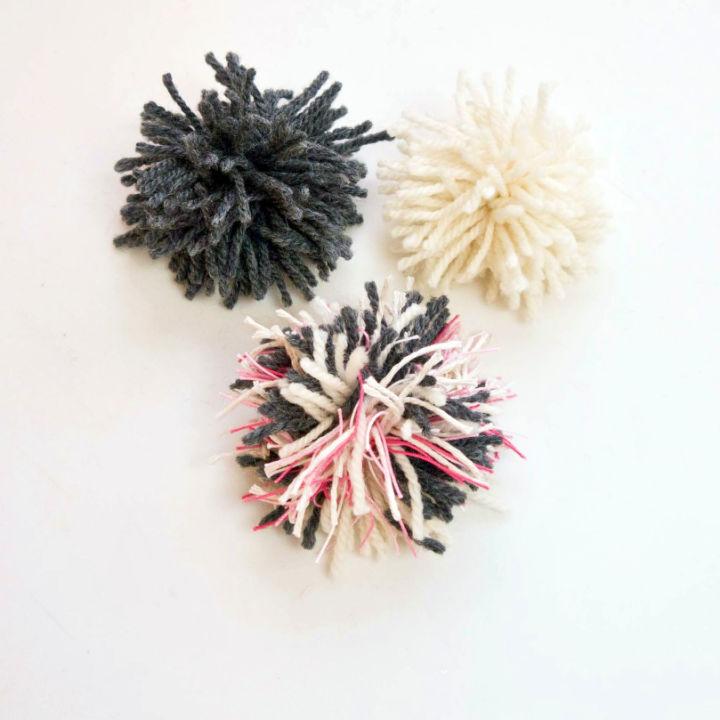 So are you on a mission to win the love of your cat? Then follow the complete guides and instructions to make the best cat toys, which will provide hours of fun to your favorite cat. You need cotton or wool string and scissors to make these toys, sure to make a kitty happier. Just wrap the ropes as loops around the hand and then cut to make a pom-pom. Hang up these pom-poms and let your cat chase and swat them. The best toys to keep your cat exercise every day. popsugar
16. Vase Scratching Post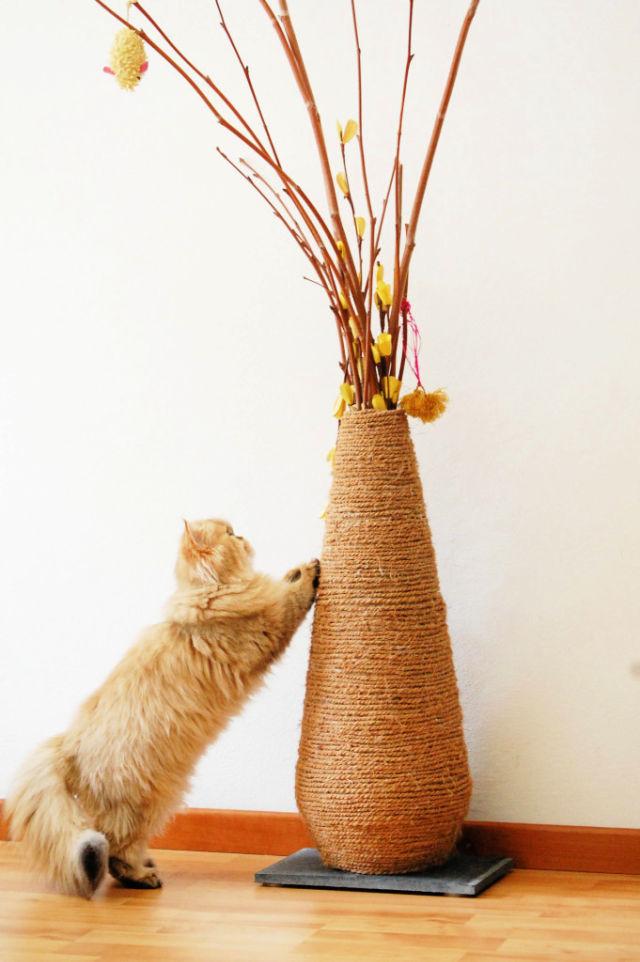 Cats love to scratch, and this keeps on practicing the hunting skills. Let your cat satisfy her whole angriness with this scratching post to make with an old vase and an easier cat toy project. All you need is to take out the branches and cut flowers from an old vase and then wrap the twine all around it to make a quick scratching post. You can easily buy a ceramic vase from a thrift store for almost $5 or less. meowlifestyle
17. Making Menswear Mouse Cat Toy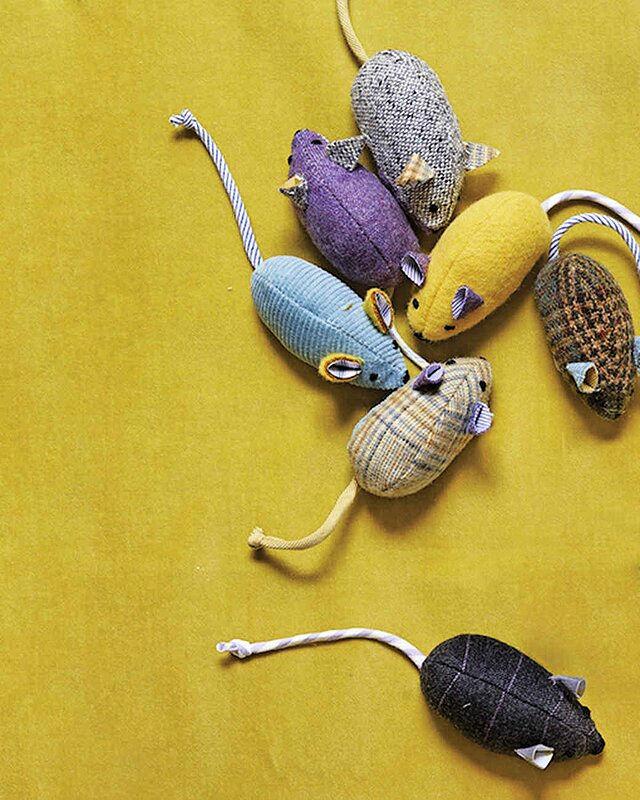 The mice are the most delicious cat prey, so making a mouse-inspired cat toy makes great sense when pleasing a fur baby. Just reuse the old suiting and shirting fabrics and whip up these stuffed mouse cuties, which will make epic handmade presents to a cat-loving friend. You need assorted menswear fabrics like wool suiting, cotton shirting, corduroy, and cotton velvet to whip up these toys. The rest of the supplies will be fusible webbing, sewing machine, sewing supplies, fill, embroidery floss, and iron. Every cat will love these toys. marthastewart
18. DIY Cat Tree From a Real Tree

You will give ten out of ten to this transformation based on creativity. Learn here to build a beautiful cat tree out of the real tree, which will not take much of your time. You need a big tree branch, a paint scraper, Minwax stain, sisal, faux vines, wood dowel, screws, etc., to build this cat tree with a beautiful scratching post. The whole you need to make your cat happy and physically fit. The best to get for your furry friend out of recycled tree branches. bybrittanygold
19. Cat Condo from a Stool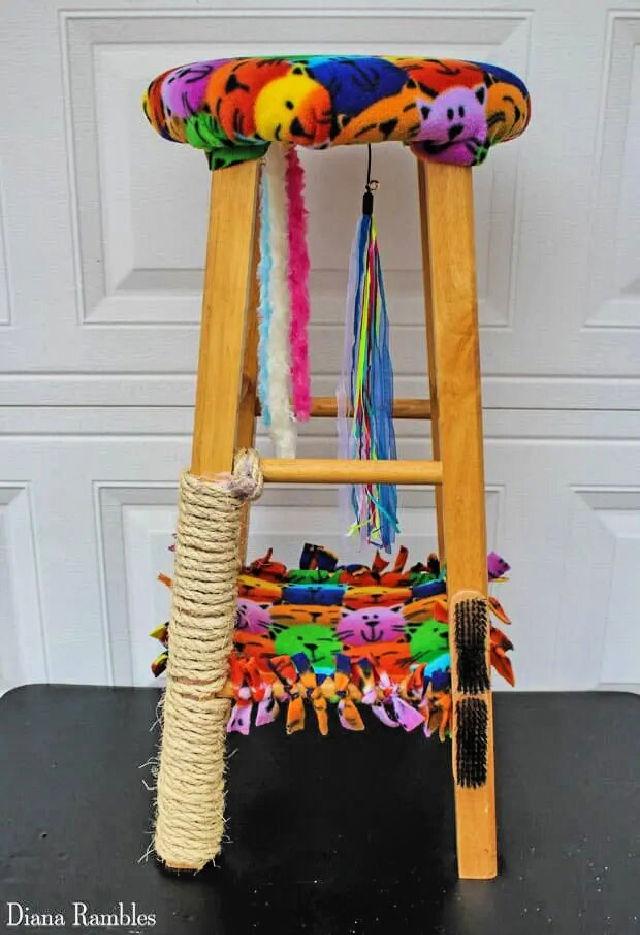 Accomplish your mission of keeping the cat fit with this flawless homemade cat tree. This project is all about making a cat condo out of cheap supplies and home materials, and the whole project will cost you about $15. You will complete the project in less than 2 hours, and this cat tree will also help keep your cat physically fit. You need a stool, pad, cat fabric, jute, hair bushes, cat toys, glue, hand saw, staple gun and measuring tape, etc., to build this fantastic cat condo. dianarambles
20. DIY Junk Food Cat Toy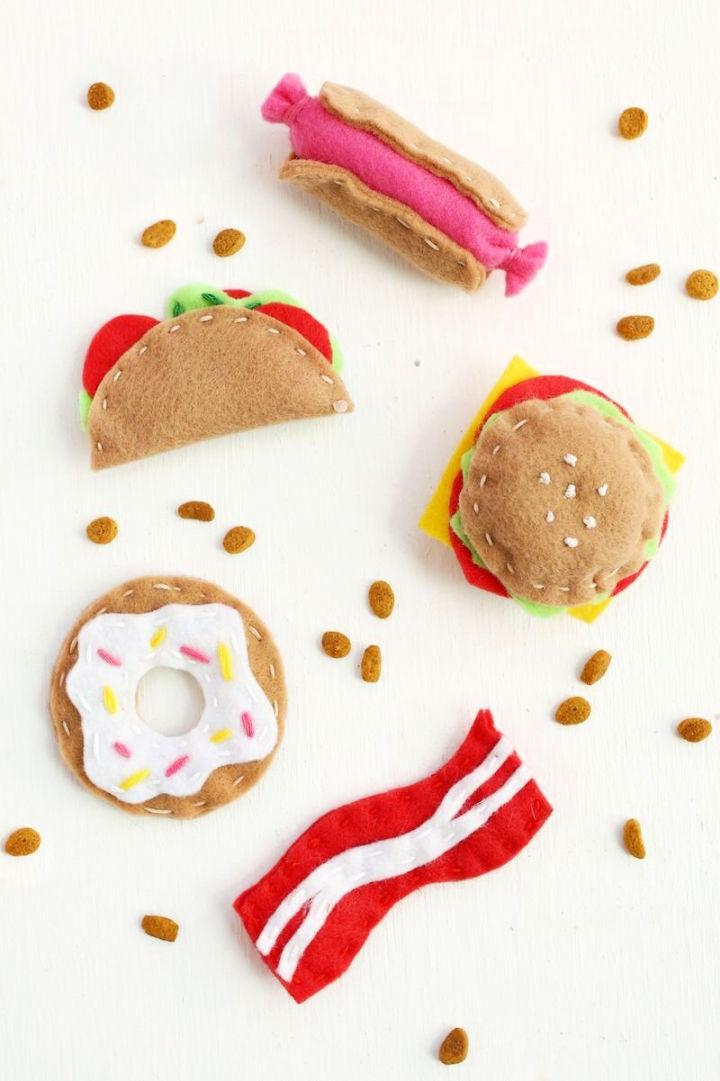 While being on the mission to make the best and fun-making toys for the cats, you can also get inspired by your favorite food items. So, learn here to make the junk food-inspired cat toys will be a total pleasure to whip up with the minimum crafting skills. You need colored felt, colored embroidery thread, fabric scissors, yarn needle, and loose catnip for this easy peasy project of making the best cat toys without getting a bit expensive. The project is super beginner-friendly. abeautifulmess
21. Cute Cactus Catnip Toy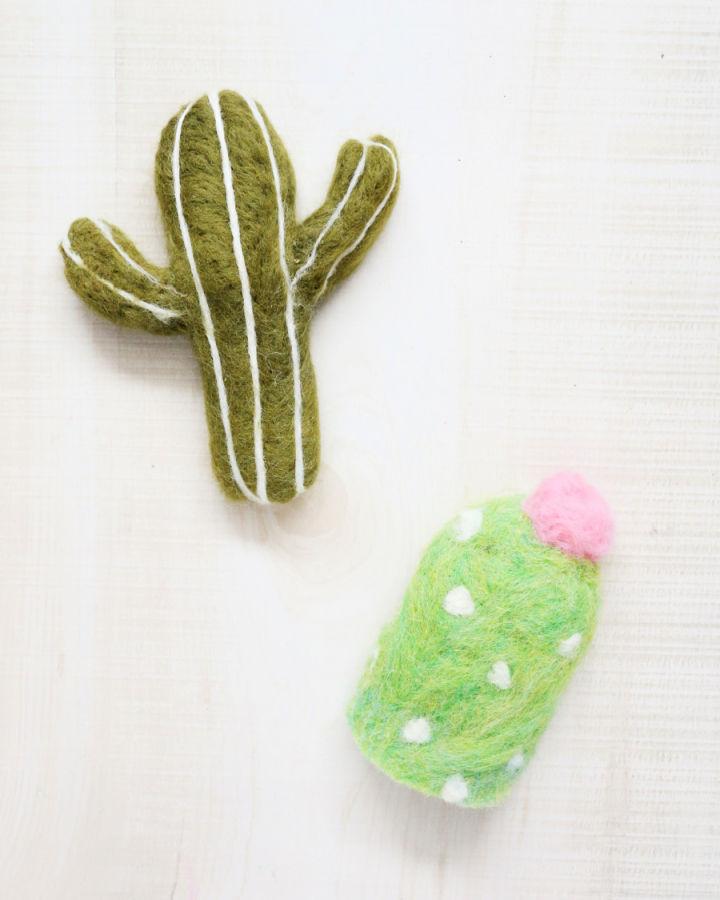 Looking for a soft and colorful toy for the cat in the home? Follow here guides to make a one filled with catnip. You need no prickly needles for this project, and it will be wholly simple and quick to do for all. You need wool roving in green, white, pink for this project, and the rest of the supplies will be felting mat, needle felting tool felting needle, and catnip. It will not take much time to complete this project as it is simple and straightforward. marthastewart
22. Homemade Cat Toy for Playful Cats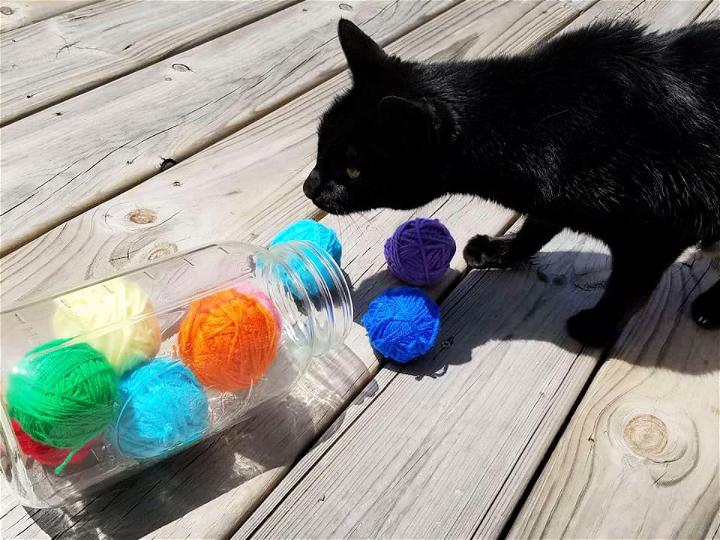 Follow here guides to make a quick and lovely cat toy, will look like a colorful yarn pompom and will also be a total pleasure to whip up. You need the 2″ foam balls, glue, catnip, and yarn, etc., to whip up these very beautiful and lovely cat toys; it will keep your cat busy in a fun way and will be a total pleasure to make with minimal crafting skills. So, this will make your cat fall in love again with you. The best toys to polish the hunting skills of your cats. babysavers
23. Crocheted Balls from A T-shirt Yarn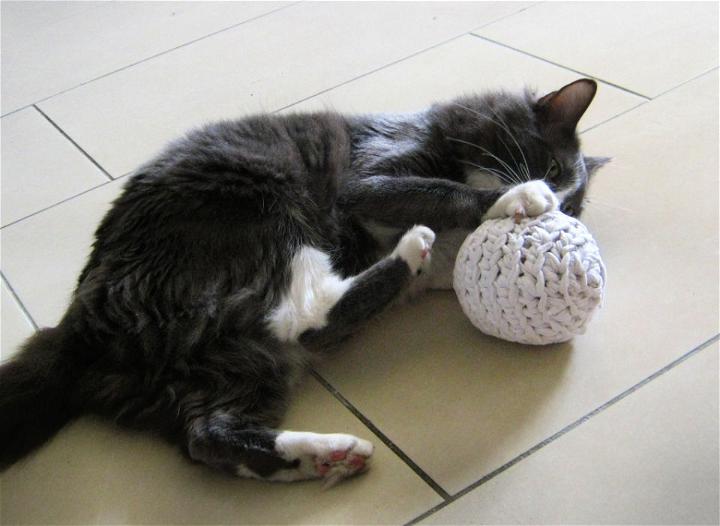 The cat toys list is just never-ending and follows more guides to complete these cat ball toys. Cats will love to pounce, chase and swat these toys and hence boosting their hunting skills. The whole project is simple, straightforward, and beginner-friendly and will also cost you next to nothing. You need T-shirt yarn, 7mm crochet hook, Valeriana root or catnip leaves, fragile material, polyfill, and scissors to complete this very easy cat toy project. toma creations
24. DIY Cat Lady Gift Set

Win the heart of your furry lady with this homemade gift basket that is a total pleasure to whip up. You need sheets of felt, yarn, cotton balls, catnip, nylon thread, other items and embellishments like nylon thread, and other embellishments like feathers, pompoms, and balls, etc., to whip up this cat lady gift basket, will surely surprise a cat-loving friend. The best cat toy to make in no time. Pick your favorite yarn and felt colors for this project. joythebaker
25. DIY Sock Fish Cat Toy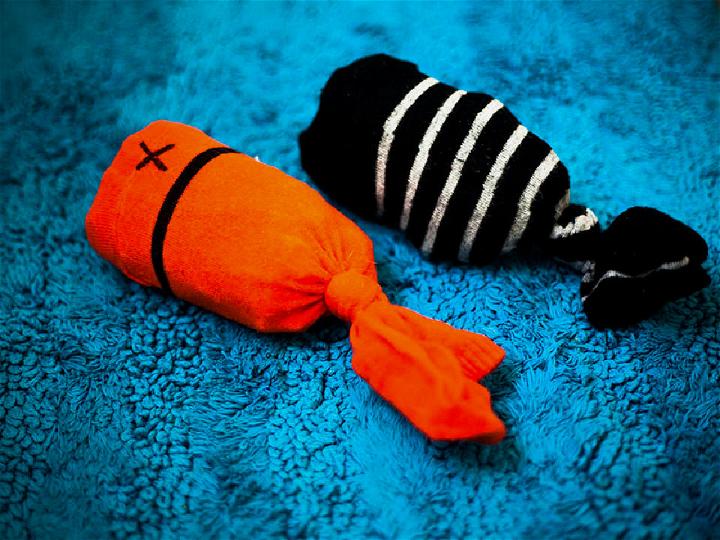 Like the mouse, the cats also love to eat the fishes to make faux fishes toys for the playful cats. Here is the hack to make a few ones at a cost next to nothing. Simple repurpose your old socks and stuff them with your favorite stuffing like paper and batting, and next use the sharpie marker to draw something beautiful and fetch on the sock fishes. You can also add a little bit of catnip to entice the cats more. kittyclysm
26. Food Puzzle For Cats IKEA Hack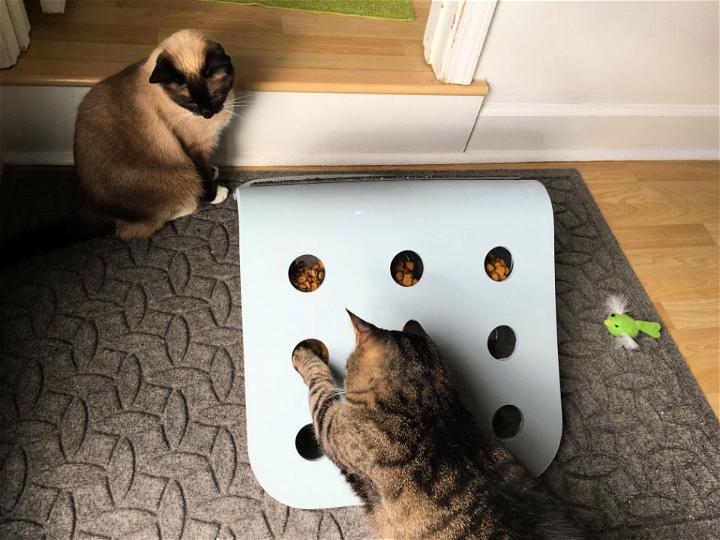 There are IKEA hacks available also to make the very best and lovely-looking toys for the cats. Get inspired by this fantastic IKEA food puzzle, will make the cats busy creatively and help keep your cat busy. You need IKEA "Jules" chair in adult and children's sizes, some sisal carpet, glad and Velcro to make this wonderful and interesting cat food puzzle. The wholly beautiful and precious handmade gift will also help keep your cat active all day long. fundamentally
27. Make Your Own Cat Wand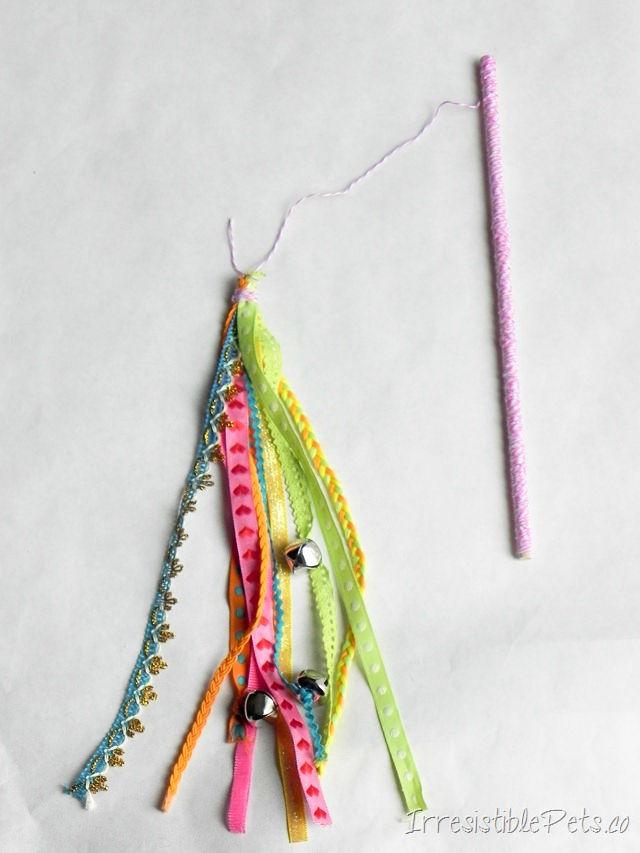 The cat wands are another playful and lovely toy to make for the cats. At the same time, they are pretty easy and quick to whip up also. It will only take a few easily available materials to make a quick cat wand. Here you need a 1 wooden dowel, 3 jingle bells, multiple fabric scraps, 1 roll of baker's twine, scissors, and fabric glue to whip up this very beautiful and colorful cat want. Another best gift to make for the cat's entertainment and fun. Pick your favorite material for this project. irresistiblepets
28. Pipe Cleaner and Plastic Spoon Cat Toy

Craft also great-looking cat toys using plastic spoons. Yes, you have to create an animal or insect-like structure by adding the spoon with a ribbon, pipe cleaners, and small pompoms, and this will be big fun for the cat to chase and swat. Use the glue to adhere all the items in place, and making this cat toy will be big fun for sure. The best and quick DIY cat toy idea, sure to inspire all cat lovers. The matching ribbon makes a great tail of this lizard-like spoon cat toy. creativecynch
29. Leather and Feather Cat Toy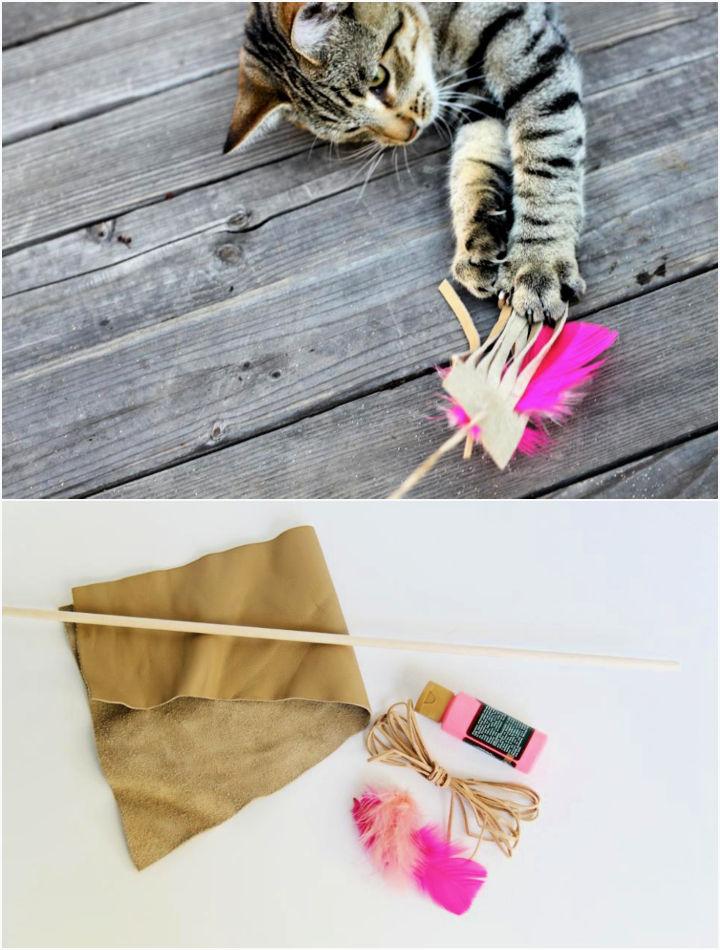 It will be super easy and inexpensive to whip up this beautiful and lovely leather, and a feather cat toy will make a better handmade gift to a favorite person. You need a fringed piece of leather, some rope, and colorful feathers to whip up this very beautiful and lovely cat toy, which will surely sharpen her skills'one of the best and quick-to-make DIY cat toys that everyone can make with ease. The whole project is a matter of minutes to do. diynetwork
30. Best DIY Cat Toy 2021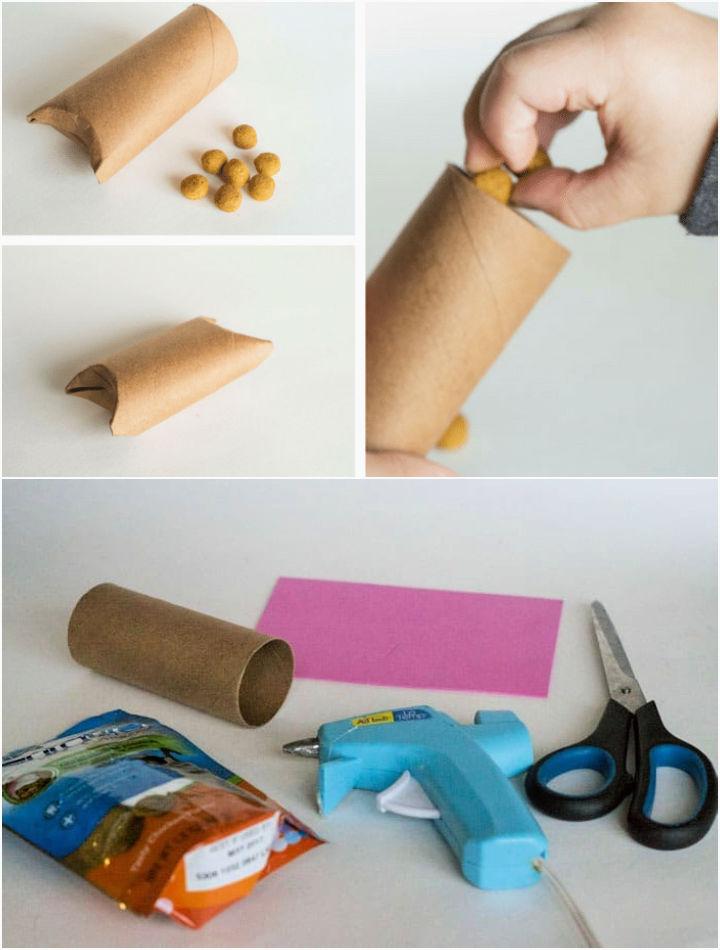 Sorting out the best kids crafting projects? Let them make some cute and lovely kitty toys, which will boost the fun of your kids. The project is much doable for all the kids and involves using a few supplies. You need cat treats, a toilet paper roll, foam sheets, scissors, and a hot glue gun to whip up this very quick and easy cat toy that will sharpen the skills of your cat. It will only take a few minutes to work up this cat toy. The toy will provide hours of fun to your fur-baby. gluesticksgum
Conclusion:
The cat toys can cost you big and if you buy them from stores. But DIY cat toys can be fairly inexpensive to make at home using recycled, upcycled, and repurposed items. You will get here guides to make various food and animal-inspired cat toys, and they will most come filled a little with catnip to be more enticing to cats. From complete step-by-step instructions to complete material lists to tool lists, you will get here all to make very of the given cat toy like a pro.
Make them for your fury baby or your friends' cat. They will just be amazing. Glue, felt, ribbon, feathers, dowels, scrap wood, fabric scraps, stuffing, and scissors will be the most required tools and materials for these kitten toys projects.
This not ends here, and these homemade cat toys project will also help make amazing scratching post-based toys, which cost you next to nothing. So, do take a short tour of all these DIY cat projects to get your creativity inspired.