If you are a cat owner for a long time, you would surely know that cats love playing and ruling all over the household. So, what's about giving cats a more comfortable and stylish place for playing and sitting? For sure, your answer will be yes. If you are also looking for creative DIY cat shelves ideas to build, then get help from these 16 easy and unique DIY cat shelves plan to make playing shelves for your cats. By installing and building homemade DIY cat shelves, you can keep your pets active and mentally fit.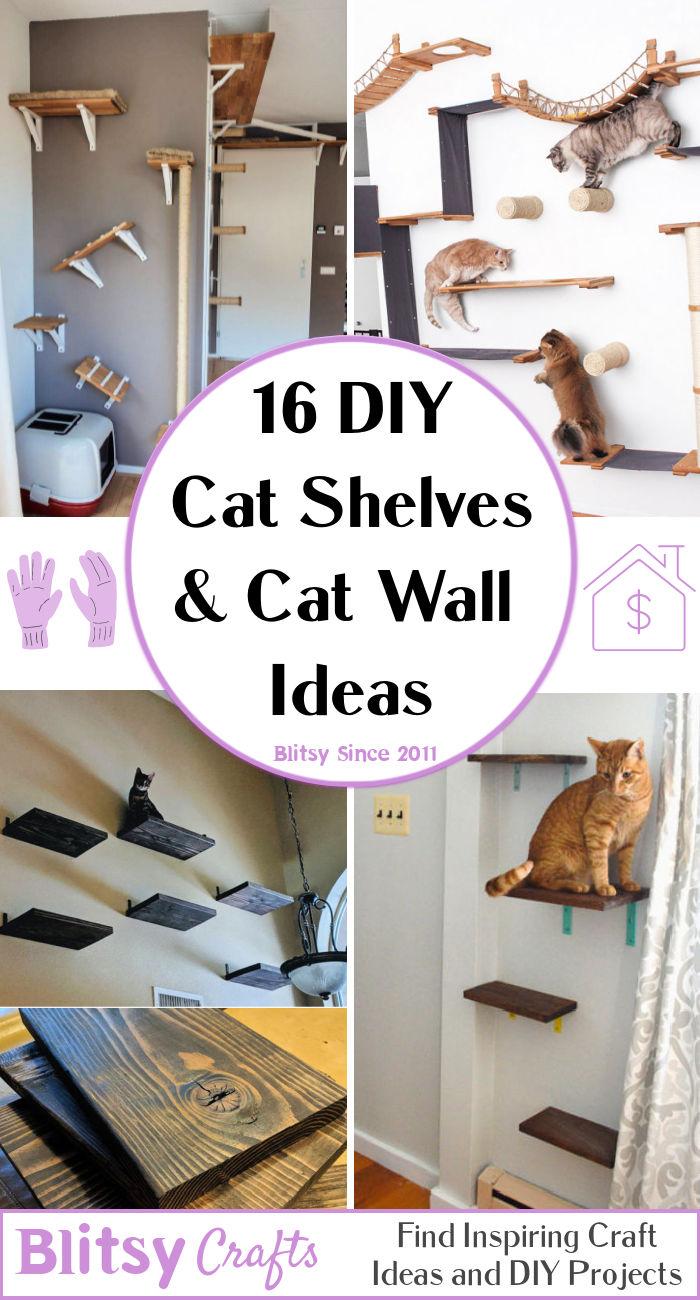 One more thing, cats always feel secure and enjoy playing in the high places than the ground. That's why nothing will be a better gift for your cat than a floating and wall-mounted shelf. There are several DIY cat shelves and cat wall ideas, from which you can make a great place for your cat. But focusing on all the details and basic supplies is also necessary to complete a DIY cat wall like a pro. Therefore, consider all the facts according to the size and the nature of your pet cat.
1. How To Build Cat Wall Shelves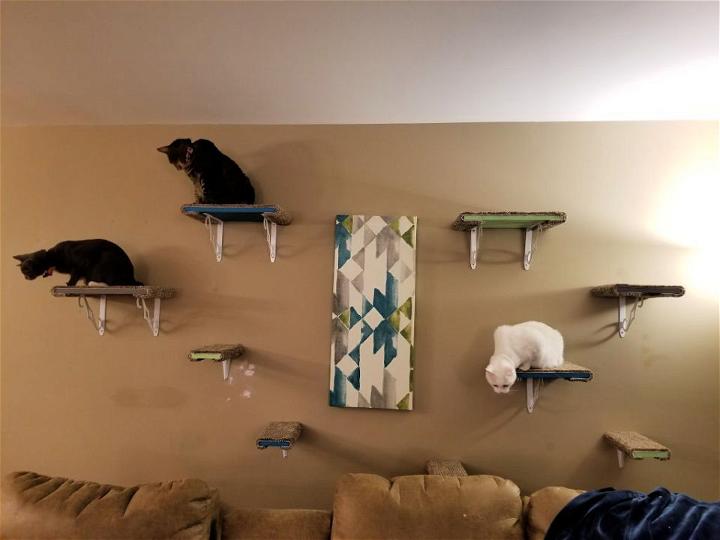 Like human beings, cats also love creative ideas and evolution. You can make your cats happy by building the cat shelves in no time and effort. For this, you don't require too much or expensive supplies. You can create them effortlessly with planked wood, carpet tapes, and nails or screws for fixing. The only thing you need to do is wrap the wooden plank with carpet tape. Excitingly! You can also get help from a carpenter for adjusting these shelves on the wall. lizskittybootcam
DIY Cat Bed: Give your cat a proper place to sleep with these DIY cat bed ideas that will reveal to you how simple it is to make a cat bed.
2. DIY Floating Cat Shelves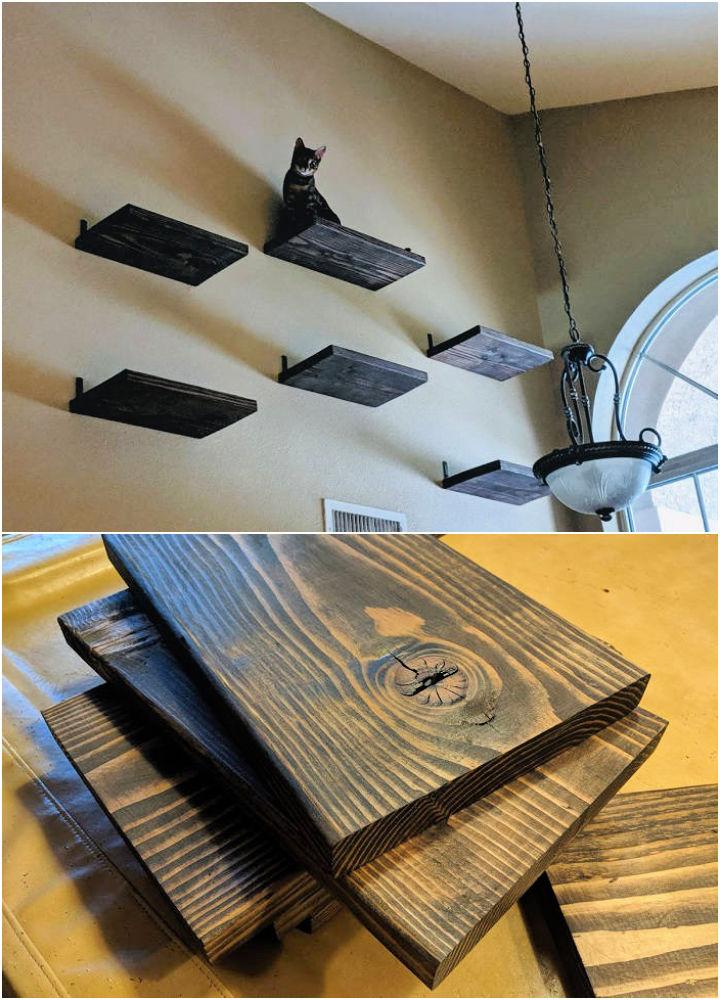 Have you ever thought about building a playground for your cat indoors? If not, you can get inspiration from these DIY floating cat shelves. Cats would love sitting, as well as playing on them. You can make them easily and efficiently with pine wood, sisal rope, reused carpet, and Velcro fastener for attaching the carpets to the wood planks. You would surely love and have fun making these playground shelves for your cats. If you are not familiar with wood-crafting projects, you can also get help from a professional crafter. adventureratheart
3. Wall Mounted Cat Shelves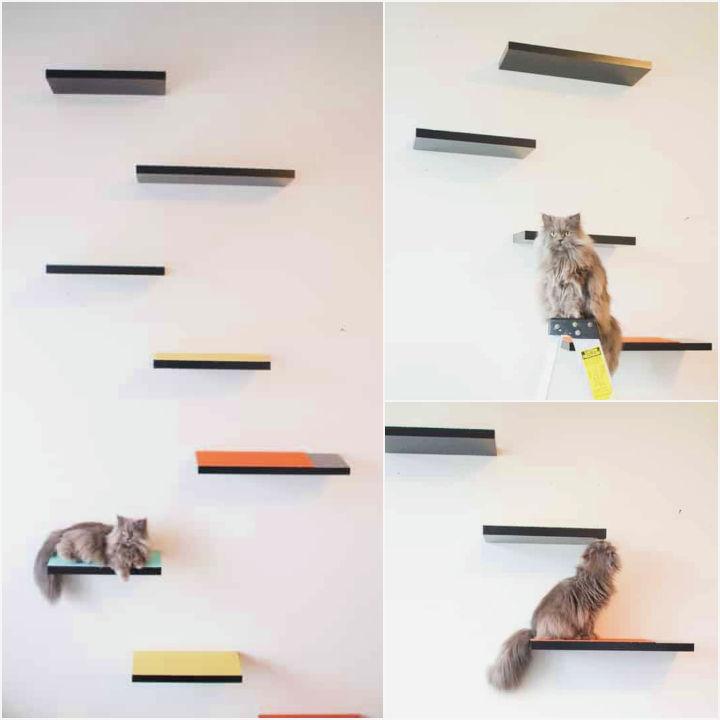 Having a cat as a pet in your home means that you have to owe him in every situation and environment. You can make your pet feel more comfortable and happier indoor by building wall-mounted cat shelves. The best thing about this project is that you can use the wood scrap from your craft store to make these shelves affordable. All you require for this DIY project are different sizes of wooden shelves. The main reason for considering the different sizes is that you can make it more interesting for the cat to jump over them. Moreover, you can use the wall anchor and screwdriver for fixing and mounting these shelves on the wall. brooklynfarmgirl
4. Cat Climbing Shelves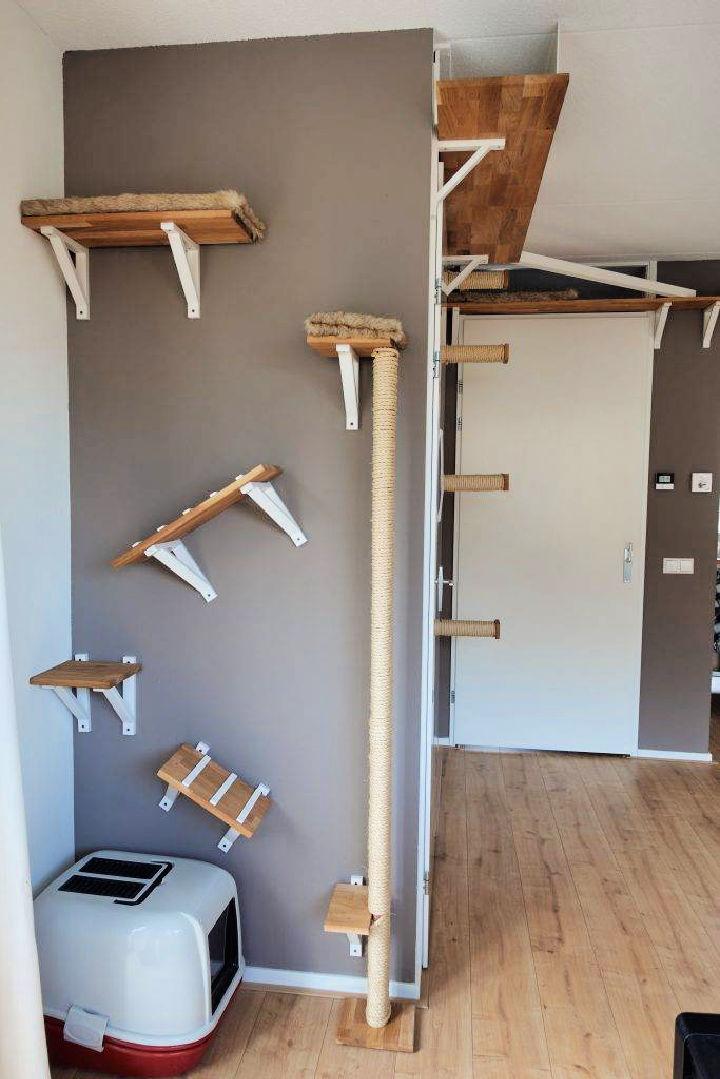 Make these versatile and super cute cats climbing wall shelves for your cats. You can make them in no time and effort with affordable supplies. The best thing about this project is that you can DIY it with your own style and design in whatever way you want to do it. For this, use IKEA shelf carriers, solid oak panels, white primer, paint of your choice, sisal white rope, and screwing supplies. Paint the panels in the desired color before adjusting or fixing them on the wall with IKEA carriers. Additionally, you can also cover the oak panels with recycled carpets if you want. Otherwise, it's not necessary. vivianneyiwei
5. Building The Modern Cat Shelves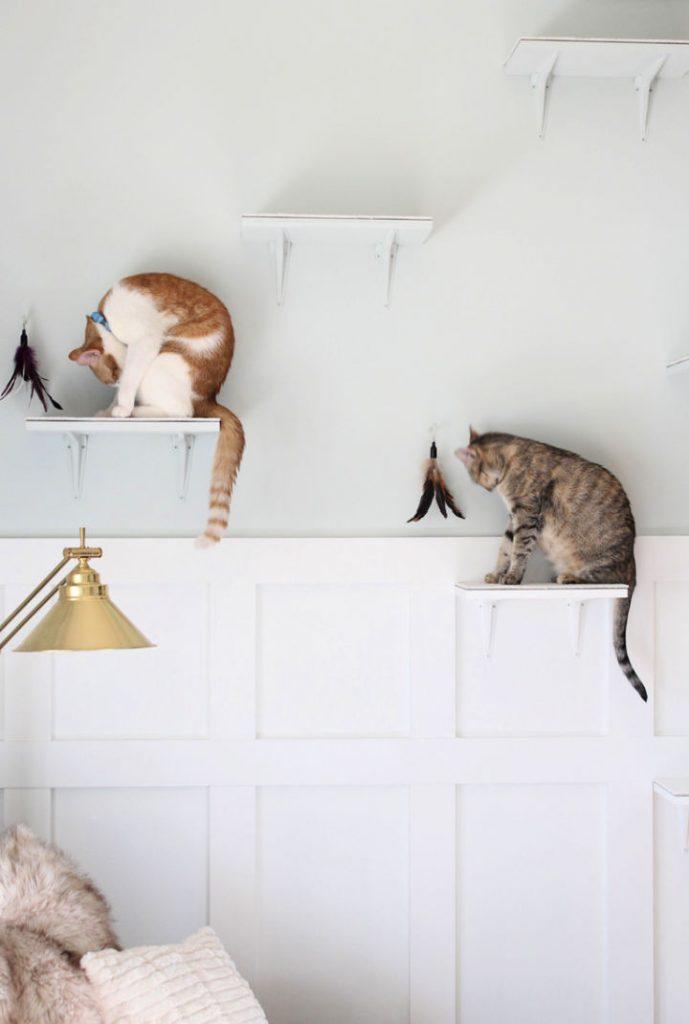 No doubt, cats require their own place for playing and sitting comfortably. You can make and customize a stylish sitting space for your cats effortlessly by creating the DIY pet oasis. You can use desired length shelves, sandpaper, attaching brackets, and paint of your choice for making these oases. One more thing, paint the shelves before adjusting. Furthermore, adjust them once the paint has dried completely. You can also match the color of these shelves with the interior of your place. simplestylings
6. How to Make Cat Wall Shelf

Are you looking for creative and innovative DIY to make your cats feel happy and comfortable indoor? If yes, you can make these super stylish and adorable curvy cat shelves effortlessly. For this, you can choose the wooden supply of your choice. However, it's better to go with a store-bought curvy shelf for building these wall-mounted cat shelves. Moreover, you can use recycled carpet to make this shelf more relaxing to sit and play with for the cat. Use wall anchor according to the weightage capacity of your pet. catladyconfiden
7. IKEA Hack Making Cat Wall Shelves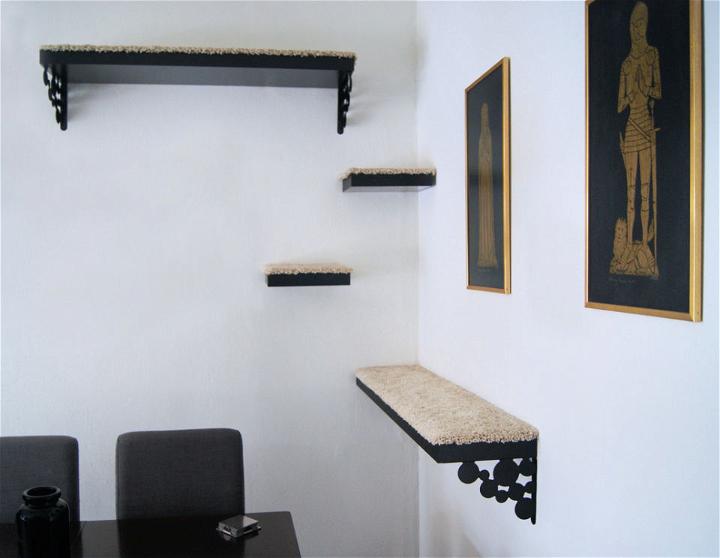 Do you want to reuse your IKEA supplies? If yes, nothing would be better than building the cat shelves using IKEA carriers and small lack shelves. Additionally, use the marker, paint spray of your choice, glue, and screwing tools for attaching and adjusting the shelf. Firstly, cover the shelves with reused carpet with the help of carpeting tape. Once you have done wrapping, adjust the shelf on the IKEA carrier using screws and nails. tatianasdelights
8. Homemade Wall Shelves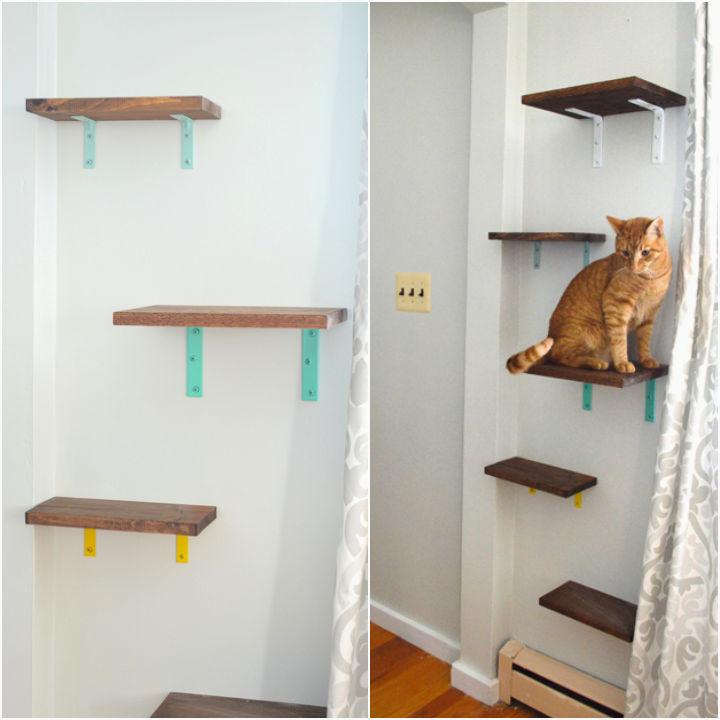 Want to reuse the wooden scrap and blocks from your craft store creatively and innovatively? If yes, you can recycle them to build super affordable homemade cat shelves. For this, reuse the wooden boards and cut them in desired size and shape. Additionally, use the shelves anchors, screwdriver, and paint spray. You can also paint the anchors in different colors and combinations to make these cat shelves more interesting to display in your room. plasteranddis
9. DIY Sturdy Wall Shelves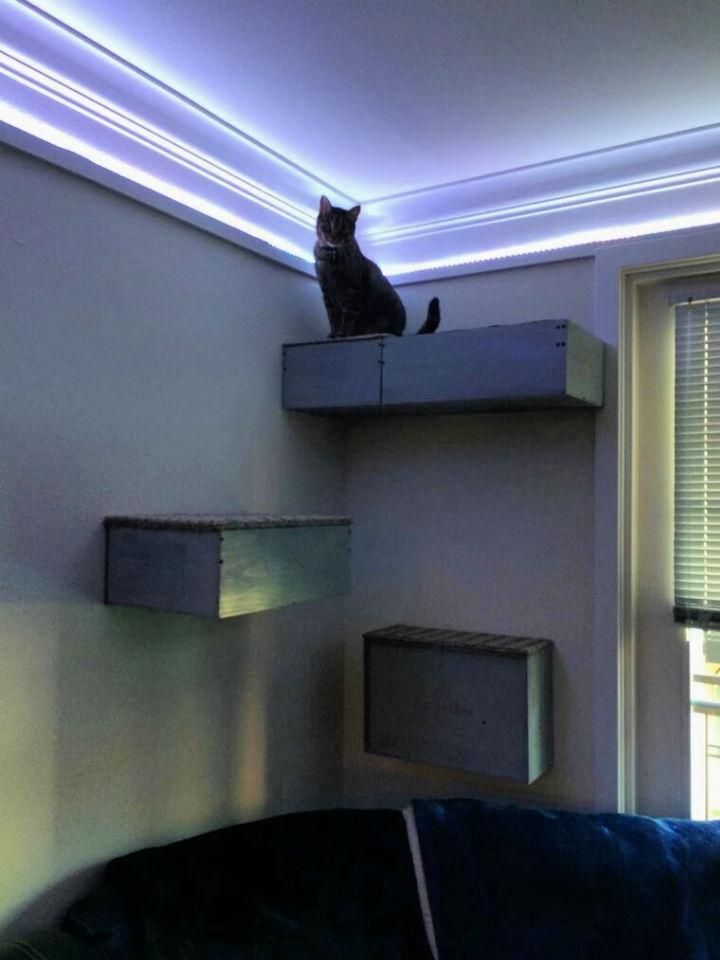 If you have a big collection of wooden wine boxes, you can utilize them creatively to build the cat shelves. You would love to work on this DIY project only for your pet. Instead of throwing the boxes away, reuse them to keep your environment clean and green. Additionally, use carpeting to make these shelves more comfortable and relaxing to sit. For this, the only thing you require is carpeting tape. So, you can fix the recycled carpet on the reclaimed wine box easily. imgur
10. How to Design Your DIY Cat Wall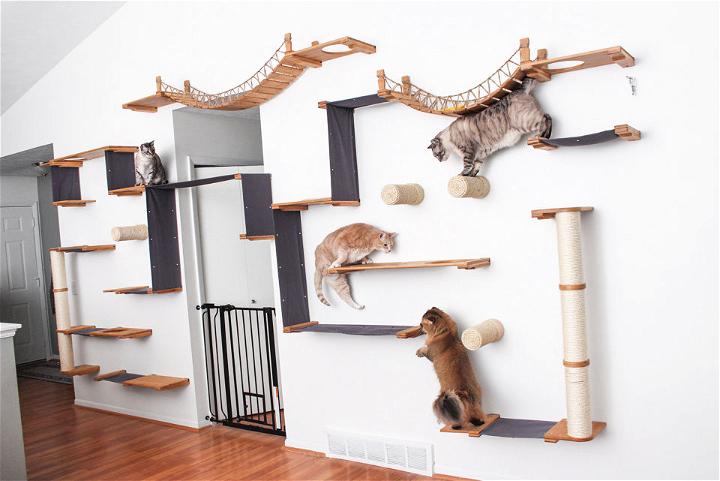 Design creative and good-looking cat shelves on the wall. Cats would love playing and jumping all around these shelves. You can also add a corner, windows, and stairs to this DIY cat wall. For this, use wooden planks in different sizes and dimensions. Moreover, use the shipping pallets for making the steps on the wall mounted cat stairs. Not only for one cat, but this wall is more than enough for playing and sitting more cats comfortably. catastrophicre
11. Cheap Floating Cat Shelves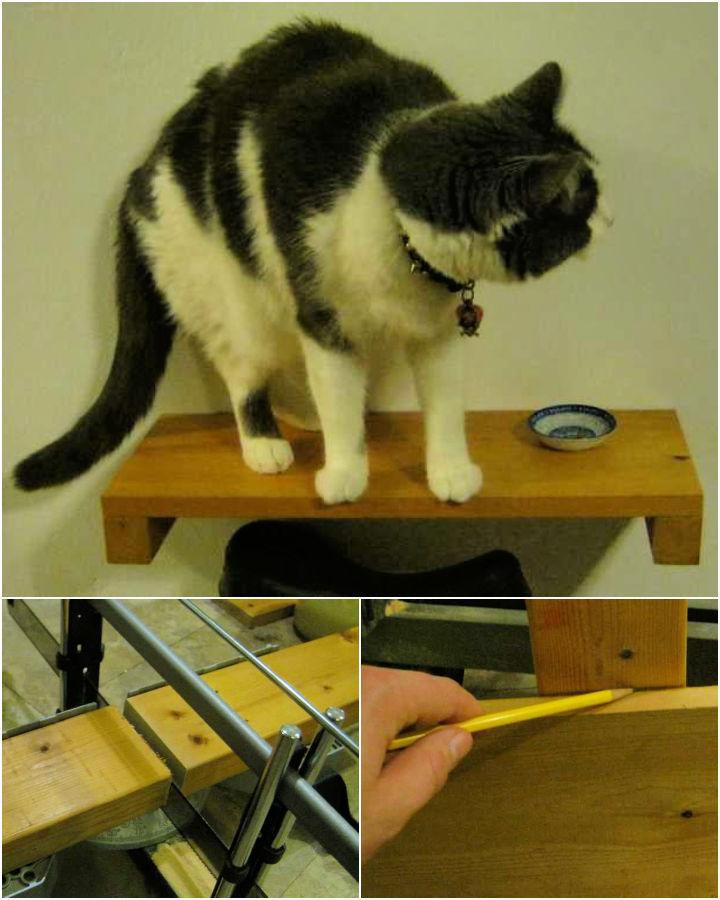 Have you ever seen something cuter than a little kitten? For sure, not. You would love to see the cats playing and sitting comfortably on the floating shelves. Excitingly! You can make these shelves yourself with softwood shelf board, stud wood, metal brackets, and screws. Cut the board in desired size and dimension according to your space specifications. You can also paint the shelves with wood stain or any other color if you desire. If not, it's totally okay to go with the natural rustic look of these shelves. instructables
12. How to Install Corner Floating Shelves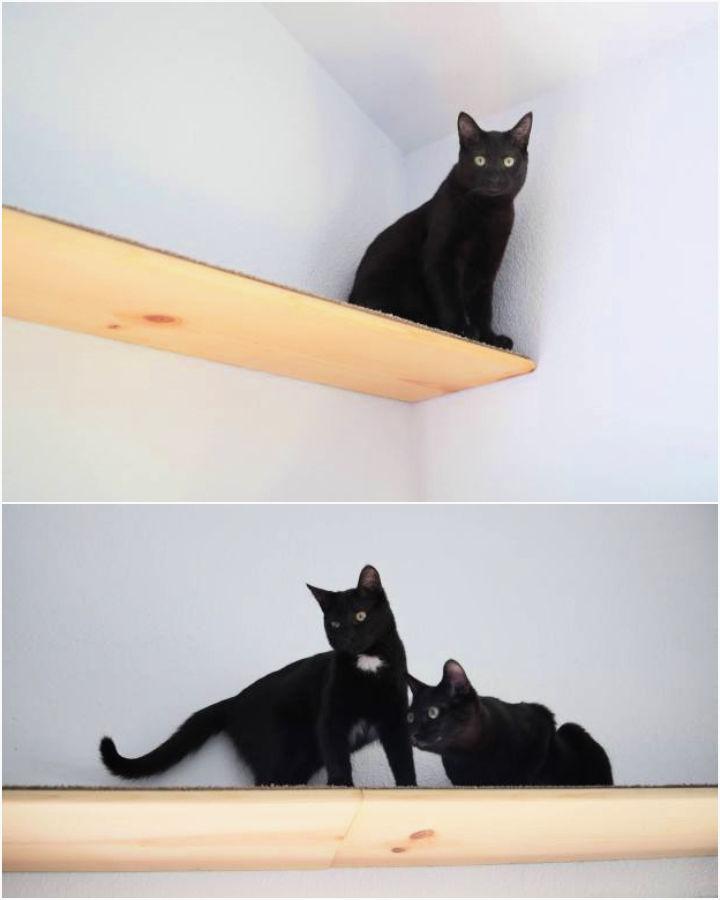 Want to learn how to install the floating cat shelves on the wall efficiently? If yes, get help from provided step-by-step guidelines. For this, you can reuse simple wooden planks. Besides this, you require steel studs for embedding the planks, steel rod, and sheetrock. One more thing, you have to fix the steel rods inside the wall. makezine
13. Building Cat Shelves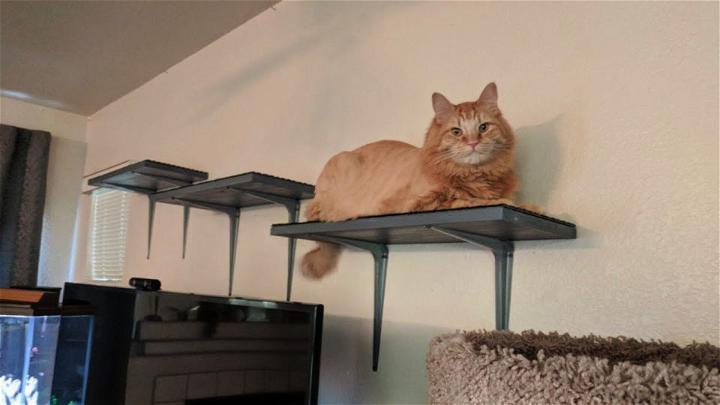 Building the cat shelves are much easier, even for the beginner crafters with tutorial and written guidelines. You can also make a stylish and affordable cat shelf with already available supplies and get guidelines from detailed videos. For this, you can use pine wood and any other type of wooden plank. Use the steel or IKEA anchors for placing and adjusting these shelves with the wall. Once you have got hands-on supplies, you can customize this cat shelf without any difficulty. youtube
14. Building Martha Stewarts Cat Window Perch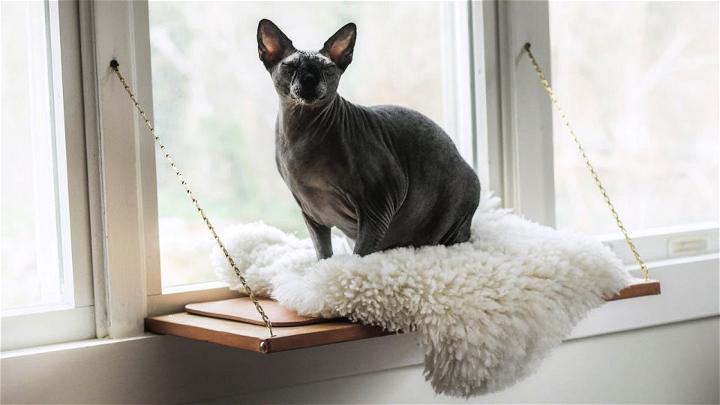 Building the Martha Stewart cat window perch is much easier by getting the guidelines from the tutorial. You can make this perch easily by reusing the wooden supplies from your craft store. Additionally, use an iron chain according to the size and weightage capacity of your pet. Once you have done creating this window perch for your cat, reuse an old piece of carpet to make it comfortable and soft for sitting. youtube
15. DIY Cat Ledge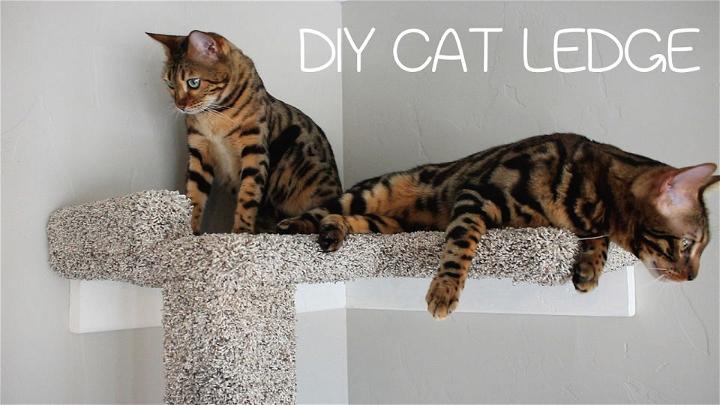 DIY cat ledge in no time and effort by getting all the relevant details and supply's information from the provided video. You can make this shelf or ledge for any cat. Make this shelf more stylish and good-looking by wrapping it all over with a recycled towel or carpet. For this, you can use pine wood boards, carpeting tape, and screws or nails for adjusting this ledge. If you are a professional wood crafter, you can get your hands on this cat shelf in less time and effort. However, the beginner would also enjoy working on this DIY project. youtube
16. Making Cat Shelves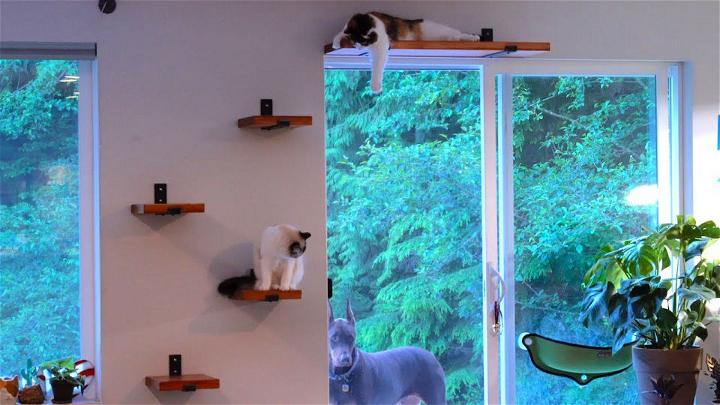 Make these different sizes of cat shelves in less time and without stepping out of your budget. For this, you can consider the store-bought shelves, as well as build them yourself. For making the shelves by yourself, you can use the pine or softwood board. Furthermore, you can customize these ledges more stylishly by painting with wood stain or any other color of your choice. Use the iron anchor painted with the same interior color for fixing these shelves at different spaces on the wall. youtube