Learn how to draw darth vader with these 25 easy darth vader drawing ideas with step by step simple sketch outline, printables and coloring pages. Who isn't a fan of the Star Wars franchise? It boasts one of the most diverse casts of villains and heroes. These Darth Vader drawing ideas will help you draw one of the most iconic characters of the franchise.
Star Wars being a household name, this tutorial will be a lot of fun to draw. Darth Vader has a lot of history in the franchise being the central antagonist in the original trilogy and also a hero of the prequel trilogy. Darth Vader has also been called the most important and influential villain of our time.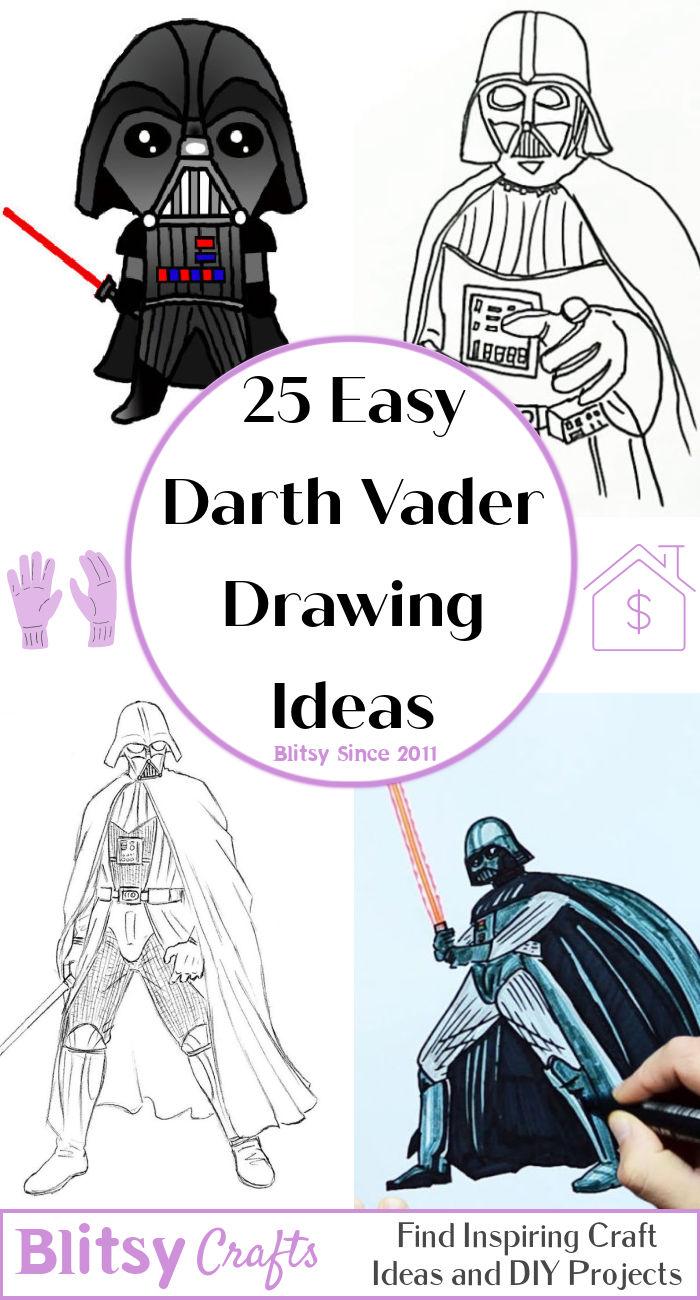 With the full name Anakin Skywalker, Darth Vader has a very interesting story to look at. Portrayed by actors such as David Prowse and Sabastian Shaw, he has been a recurring character in the franchise. Attempt these 25 different Darth Vader drawing ideas to become an expert in drawing the character. There are various styles to approach this character that are all entertaining and lovely to look at. So, have you fun time on these tutorials and pull off these Darth Vader drawing ideas with fun. Don't want any more time, these Darth Vader drawings won't draw themselves!
1. How to Draw Full Body Darth Vader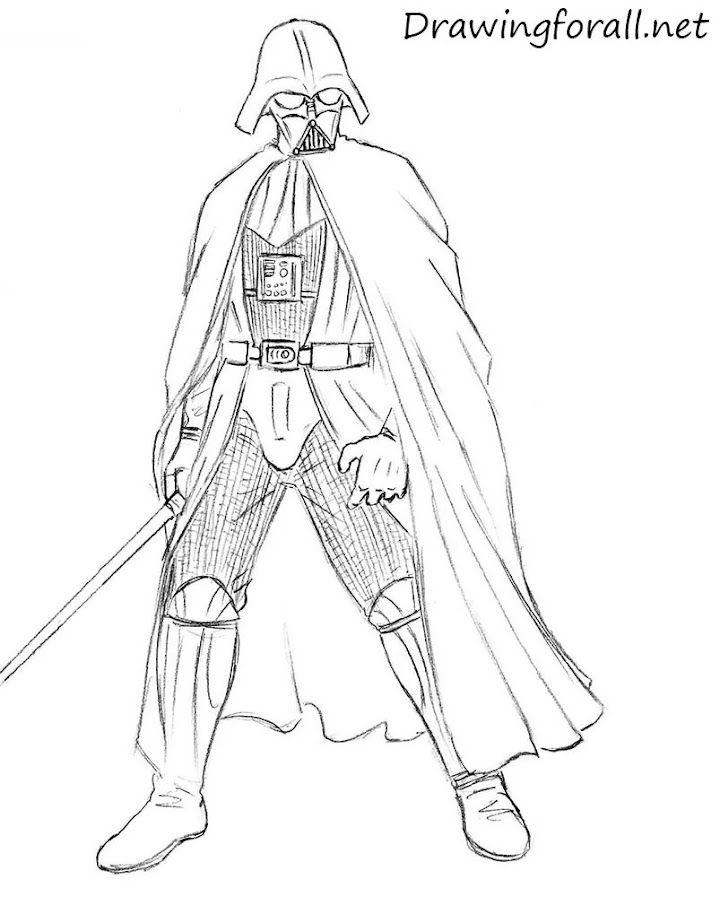 A full armor Darth Vader drawing! Draw this intricate and detailed drawing starting with the stick figure. Add volume to this stick structure by sketching out various body parts of the character. Now you can add clothing items and the cape, detail in the costume and design the iconic helmet. This is how you draw Darth Vader! drawingforall
2. Darth Vader Drawing for Kids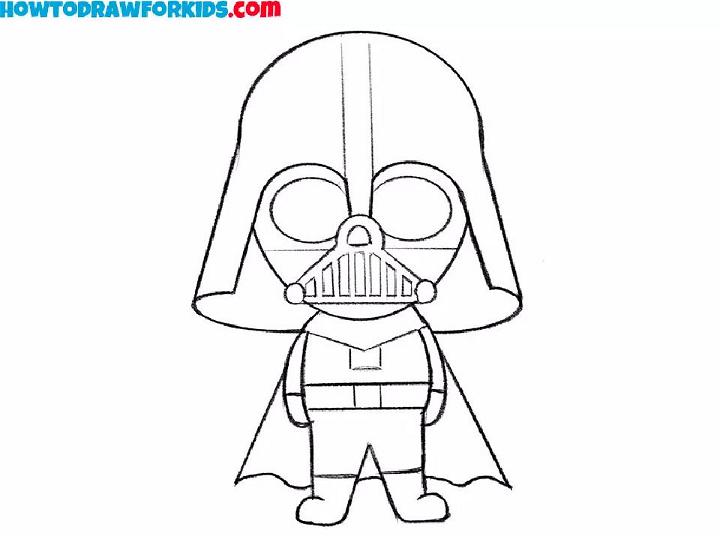 A small Darth Vader logo. The only things required for this one is a pencil, eraser, and some coloring supplies. Start with the miniature head and torso. Attach a couple of lines besides the torse to make arms and legs at the bottom. With a triangle shapes helmet and goggles. You can now begin to color it black and grey. howtodrawforkids
3. Drawing of Darth Vader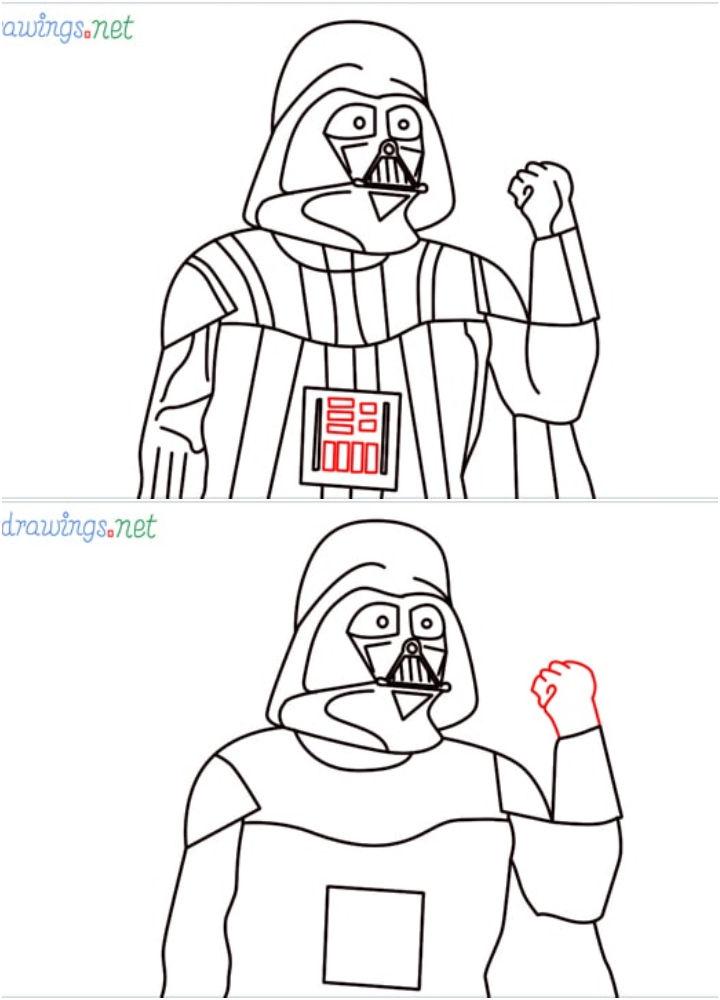 Darth Vader drawing with his fist in the air. Begin drawing the character by first outlining the helmet shape. Use triangular shape for eye sockets and helmet. Draw wide shoulders and a cape on the backside. With lines coming down on the costume complete the final look for it! easydrawings
4. Darth Vader Sketch Drawing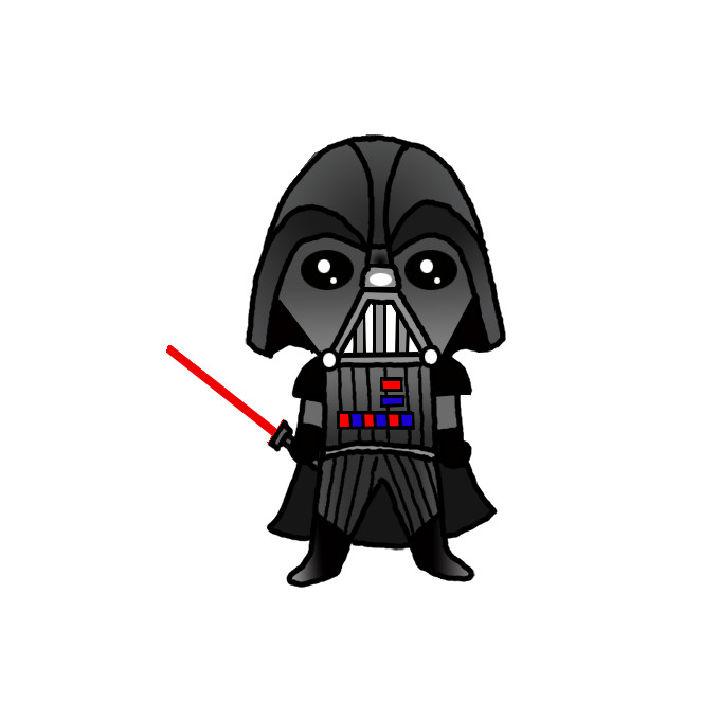 This small miniature Darth Vader can be drawn using a drawing software. Begin drawing the helmet with a couple of 'U' shaped lines. Extend the lines to meet the mouth of the helmet. Draw eyes and mouth area. Then draw the rest of the clothes and armor that covers the body. Place a sword in one hand, that's it! drawinghowtos
5. Easy Darth Vader Drawing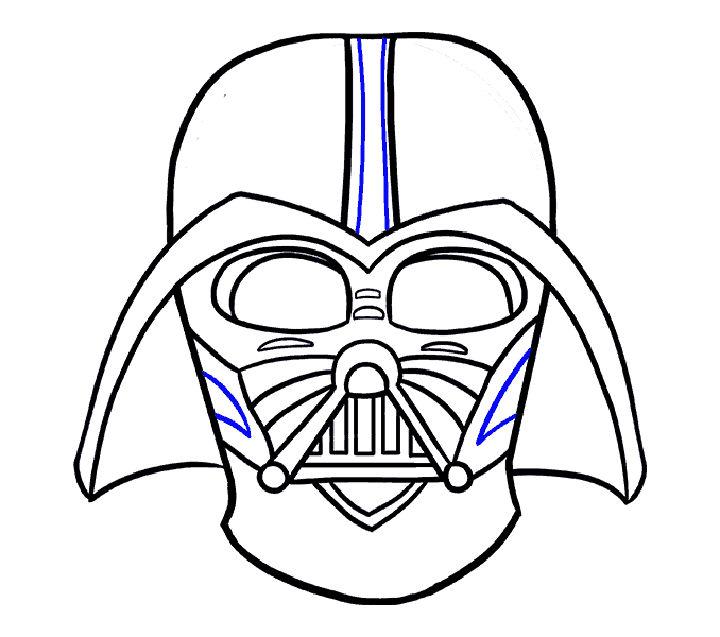 Tutorial to show you how to draw a Darth Vader helmet. First, make a circle and extend lines from the sides diagonally. This will form the bottom part of the mouth, and also join lines to the top to form the helmet. Punch out two eye shapes and a couple of curved lines from the nose. easydrawingguides
6. Darth Vader Drawing – Step by Step Guides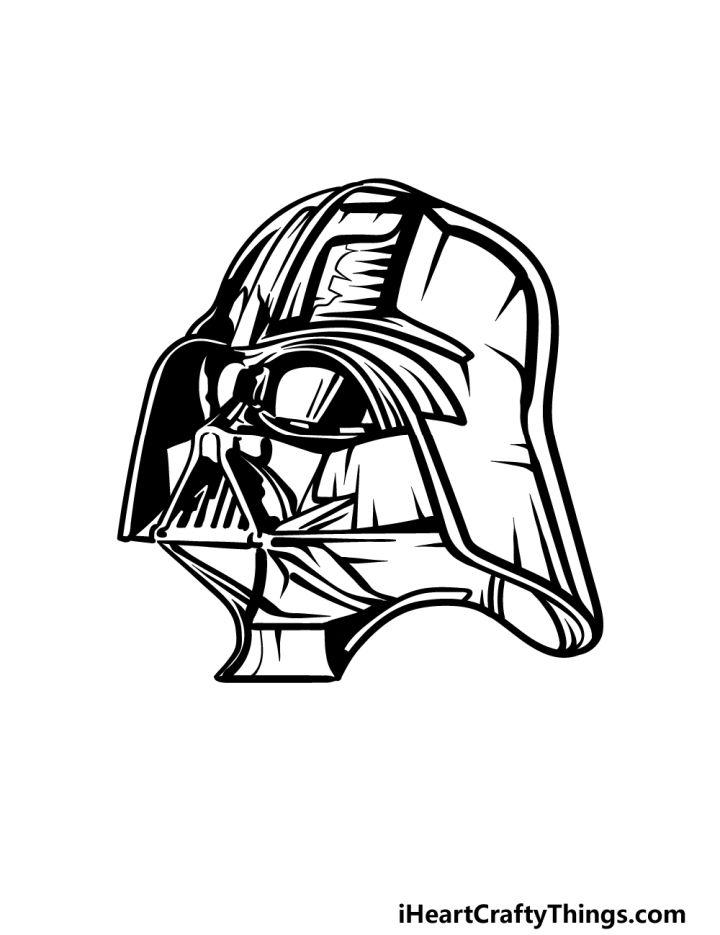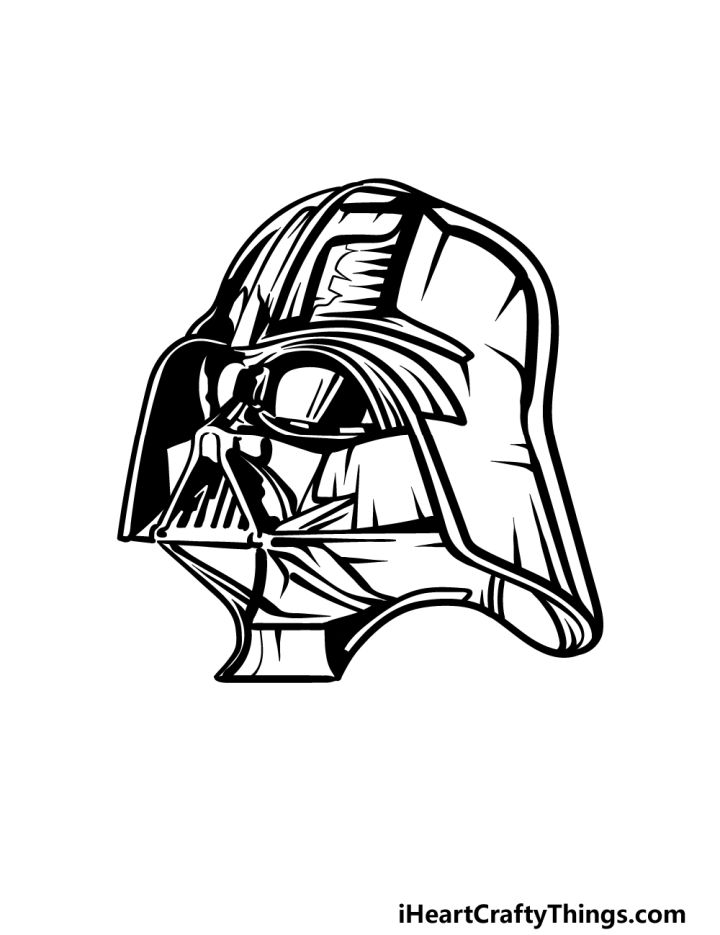 The iconic Darth Vader helmet to get you started. First, try to draw curved lines that extend to form the top of the helmet. Form the gas mask-looking object inside the helmet using thick lines to show the mouthpiece. Draw the rest of the helmet and you're done! iheartcraftythings
7. Easy to Draw Darth Vader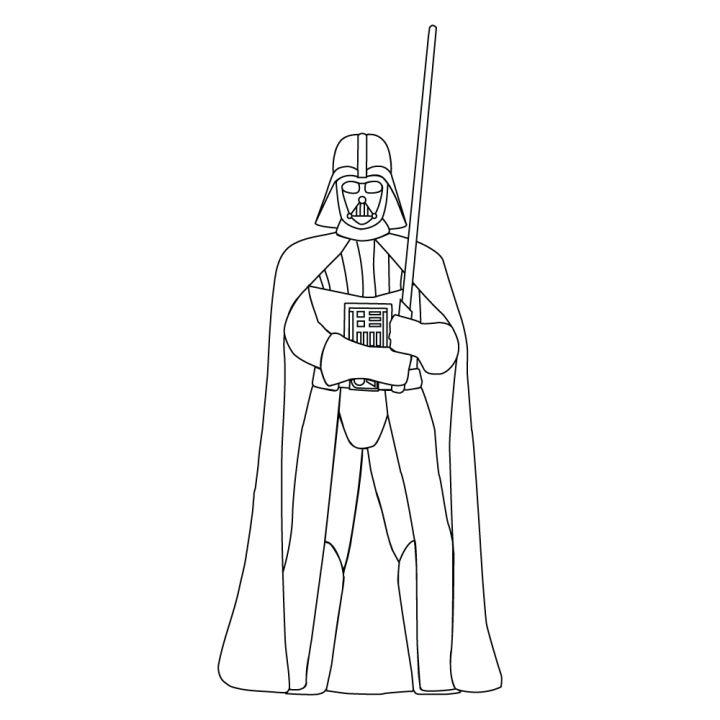 A fully armed Darth Vader with a lightsaber in one hand. Start with the top of the head and then try to draw the cape over the shoulders and back. Then draw hands ahold of a lightsaber. Draw the rest of the body and legs, lastly color the suit black and grey. drawingwars
8. Draw Darth Vader with a Pencil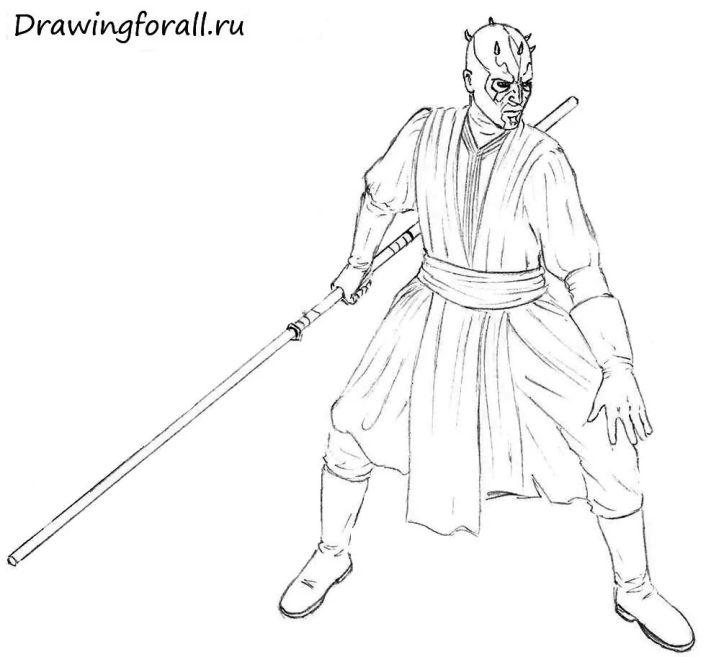 Want to draw an amazing-looking Darth Vader in a fighting pose? First, start with the stick figure. Mark up lines to form face symmetry and eyes. Then begin drawing the rest of the body with leg, arm, and torso lines. Draw the full costume and place the lightsaber in one hand. That's it! drawingforall
9. Darth Vader From Star Wars Drawing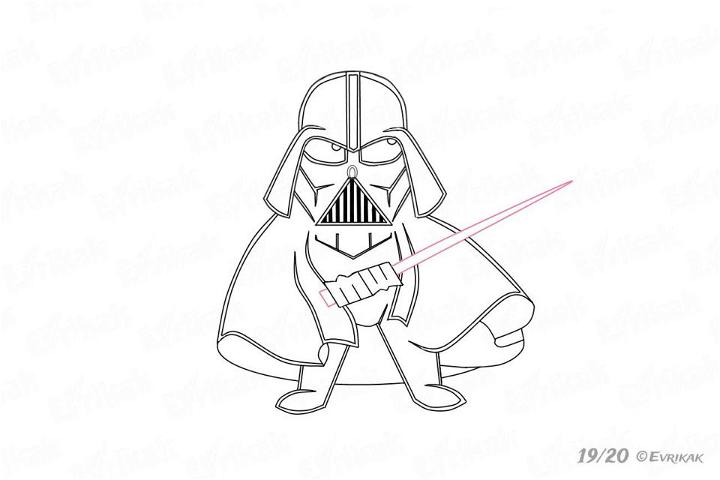 A Darth Vader drawing that only requires a sheet of paper, a pencil, and a ruler. First draw two circles for making the head and torso, then draw a helmet shape over the circle. Draw a horizontal circle and extend the cape to that circle. Place the arms in-between the cape to complete the look. evri how
10. Drawing Guide of Darth Vader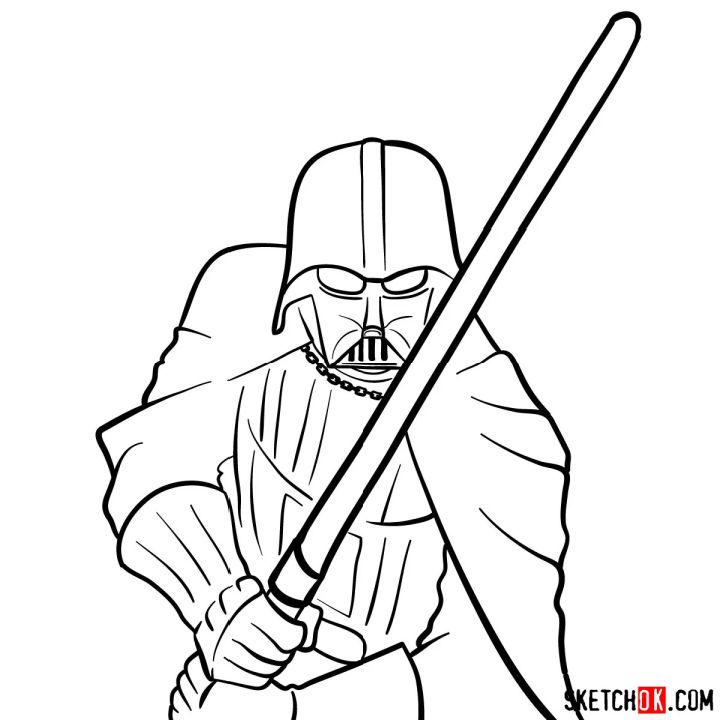 This one is for those who want to draw Darth Vader in a fighting pose. Begin drawing by using thick lines to form the shape of the helmet and suit. Then fill in detail between the suit by small lines. Lastly, color it up and you'll have completed it! sketchok
11. Easy Way to Draw Darth Vader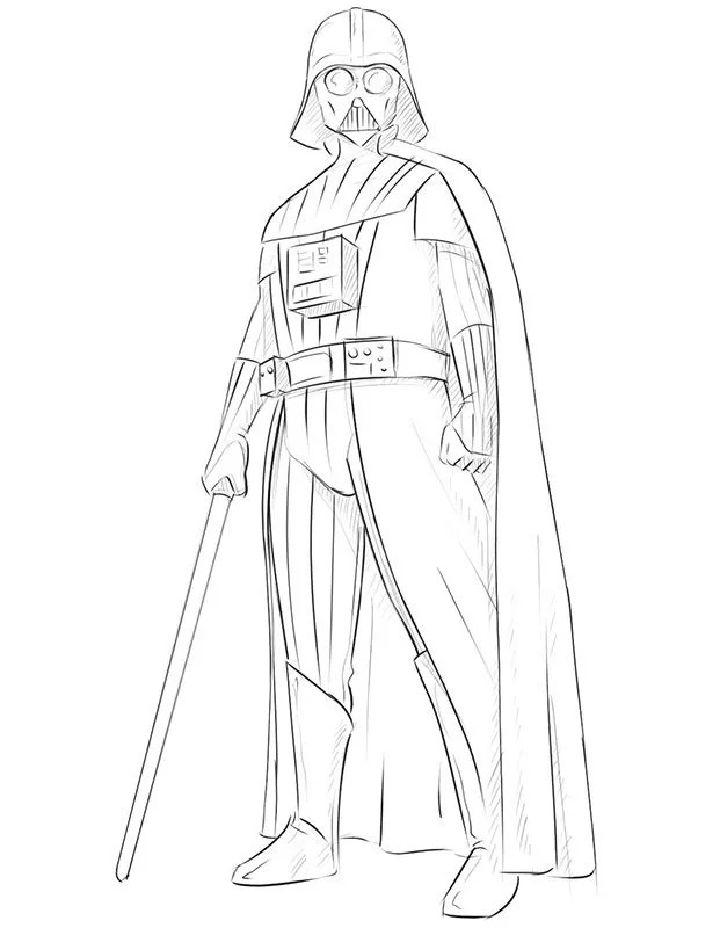 Use a circle and stick image to form the body of Darth Vader! Jolt down lines over legs and arms like cylinders. Then draw the helmet shaped like an arc hovering behind the ears. A long dark cape and intricate lines develop the suit, open the link and get started! geek
12. Darth Vader Drawing with a Pencil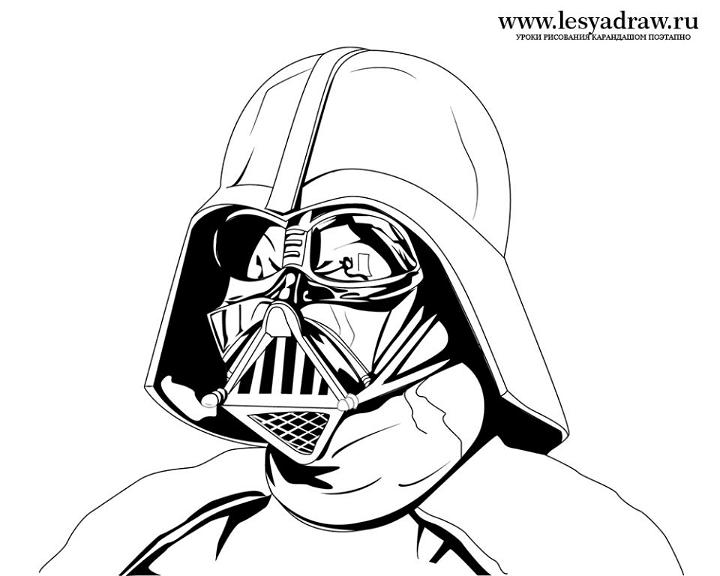 Another dark and heavy-looking Darth Vader portrait. Use a black marker or sharpie pen to draw this one. Begin with the spherical glasses and the hooded helmet shape. Then draw the gas mask shaped mouthpiece and shade in the darker parts to form shadows in it. lesseng jesima
13. How Do You Draw a Darth Vader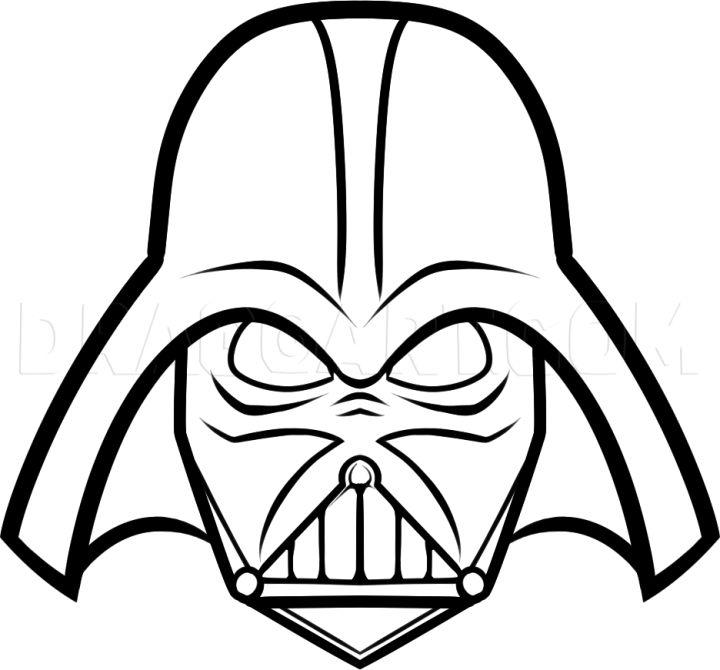 Draw a nice-looking Darth Vader helmet and mask. First of all, draw an oval shape that is connected by two lines in the middle. Then draw a huge arc with flared-out sides. Sketch a rectangular mask in the middle and two eye slits on top. Define details around the eyes and cheeks and that's it! dragoart
14. Draw a Cartoon Darth Vader

Follow this video tutorial to first make a large Darth Vader helmet. Then connect two eyeglass ovals down the helmet and a 'V' shape extending from them. With a small body extruding from the head, detail out using small squares and rectangles, that's it!
15. Darth Vader from Star Wars Drawing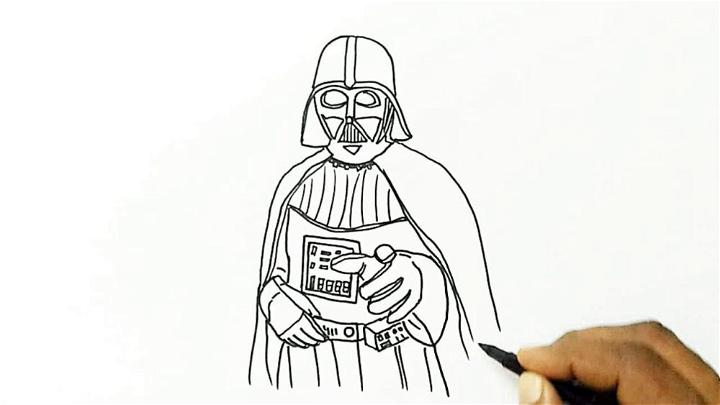 Darth Vader drawing of him reaching out to grab you! Use a black marker to start with the helmet and mask. Make sure to cover the entire shoulders and back with the cape. With one hand reaching out towards the front and another on his belt, you can attempt this one easily!
16. How to Draw Darth Vader Face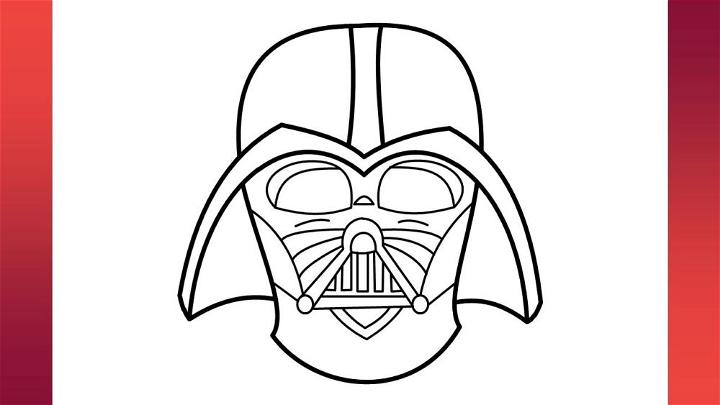 Use a nice computer art software to attempt this one. Use smooth curved lines to form the contours of the helmet. Flare it out to cover the ears and back of the head. Then use two eye circles and a triangle to mimic a gas mask. Lastly, use horizontal lines to connect the whole mask.
17. Darth Vader Helmet Drawing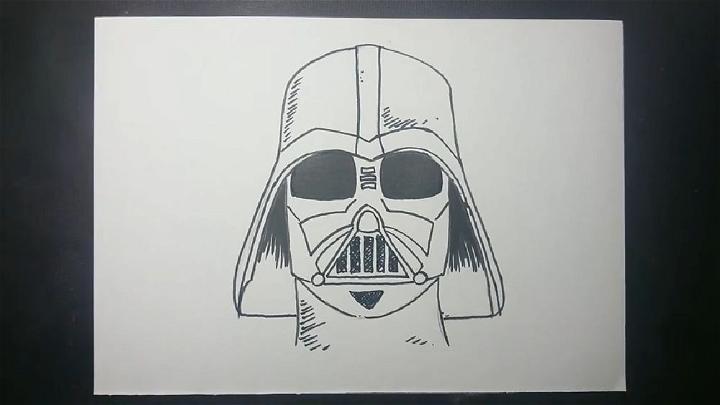 A very dark and scary-looking Darth Vader helmet drawing. Begin with a pencil sketch of the entire mask. Then use a black marker to better define it. As the helmet gets completed, use a black marker to fill in the eye sockets and the back of the helmet. Quite a sight!
18. How to Draw Chibi Darth Vader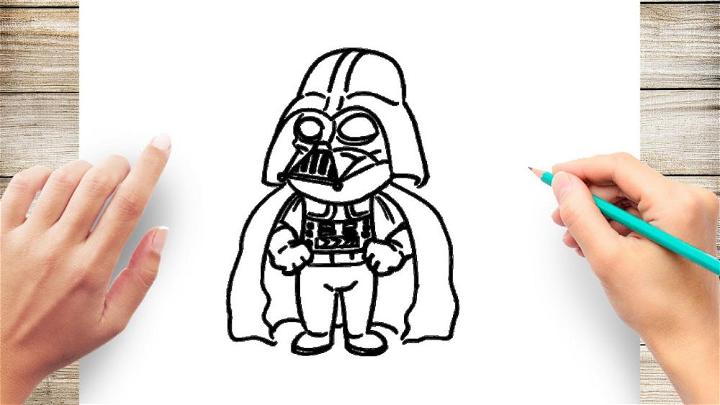 Drawing a chibi Darth Vader with this one! Use a black marker to go over the front of the face as if it's distorted outwards. Keep the shoulder and waist length smaller than the head. With arms flaring out and a cape covering them, this unique look is all complete!
19. Draw Darth Vader with Lightsaber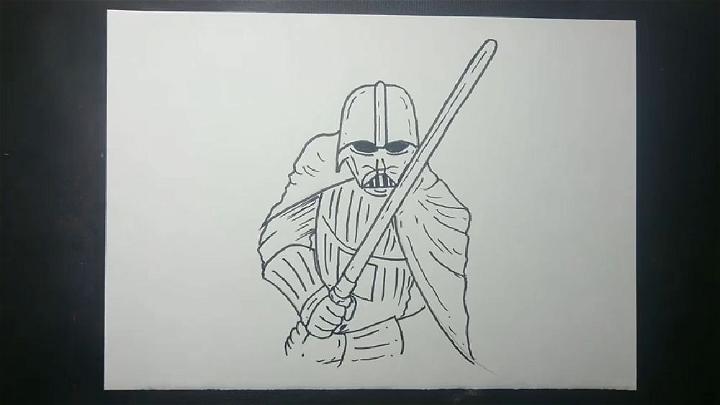 Darth Vader with a light saber in an offensive pose. With the help of a pencil sketch, begin drawing a Darth Vader with an arm in front of the body with a lightsaber in it. Warps the cape around the shoulders with gloves and chest pieces. Open the link to see how it looks!
20. How to Draw Realistic Darth Vader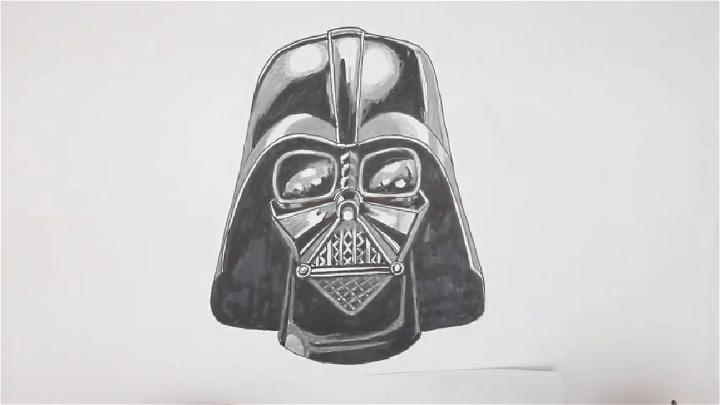 A video tutorial for those who want to draw Darth Vader in his villainous pose. First, use a B2 pencil to shade the contours of the helmet and face. Use it to give detail to the eyes, cheeks, and nose. When down, use a black marker and sharpie pen to further darken the helmet, Goosebumps!
21. Easy to Draw Darth Vader Mask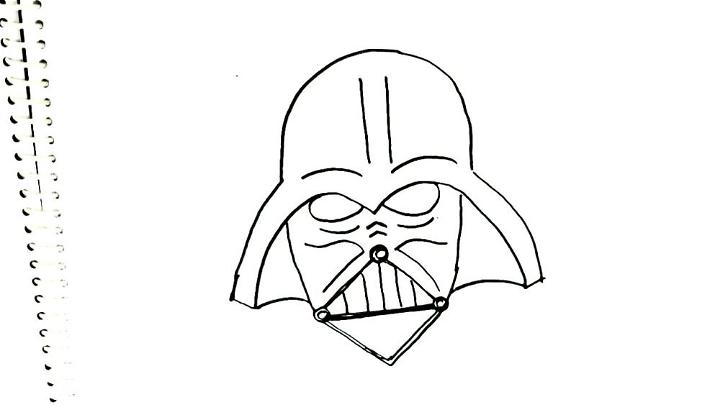 A video tutorial just for children and beginners. It uses a black marker to draw a huge curve to function as a base for the helmet. Then draw the rest of the face with a big triangle in the middle with a mesh of lines. Add detail to the face and you'll be done!
22. Simple and Easy to Draw Darth Vader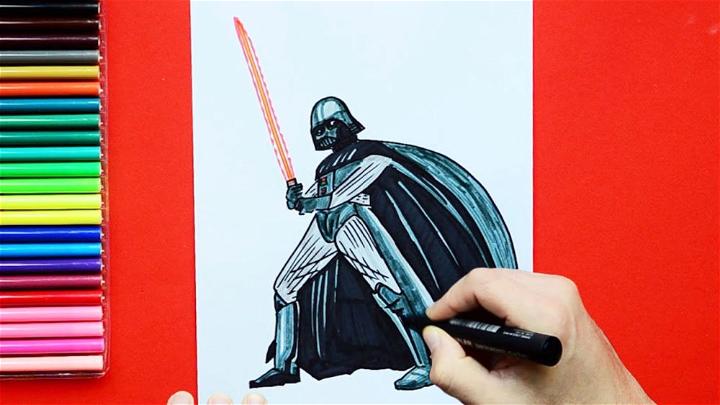 Darth Vader in a hero pose! One of the greatest Darth Vader drawing ideas that are easy to make. Use a back marker to draw out the arms and legs. Then use colored highlighters to color the cape and body armor. Use as much dark color as you can to make it look menacing!
23. Easy Darth Vader Drawing for Kids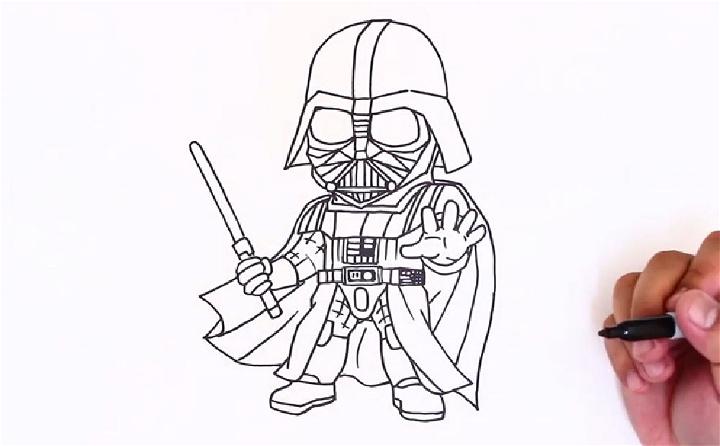 Begin drawing one of the most easily attempted miniature Darth Vader drawings! This one has a lot of detail in making the suit. The head looks bigger than the body. Place the lightsaber in one hand and extend the other one in front, open the link now to try it out yourself!
24. Draw Your Own Darth Vader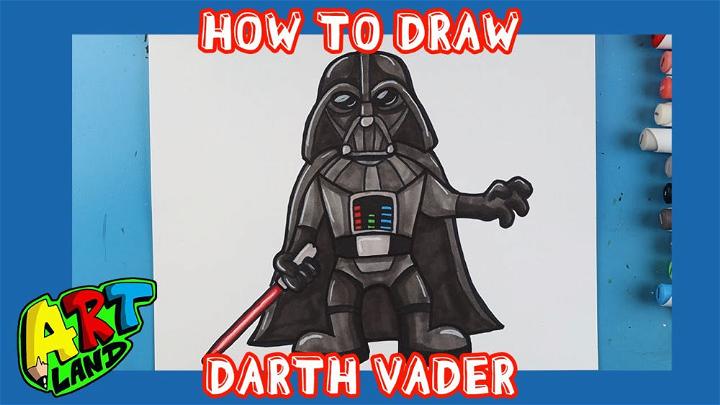 Use this video tutorial to draw a small Darth Vader figurine. It will have a small head and a body in proportion to that. Make sure to draw the shoulder and chest piece, with gloves and boots. After the sketch, you can color it using black and red markers.
25. How to Draw Cute Darth Vader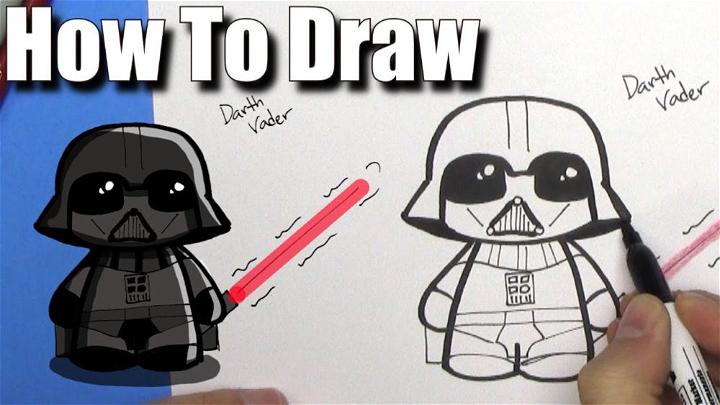 Draw a small Darth Vader figure in this Darth Vader drawing idea. First, begin drawing the helmet. Draw eye as if he has sunglasses on. Next, draw the suit with belts and everything. Lastly, use color pencils to color it all up. That's it!
Conclusion:
Related Easy Drawing Ideas
Drawing is an easy and fun way to express yourself! Look no further than this collection of easy drawing ideas for inspiration. From doodles to portraits, we've got the perfect project for any skill level.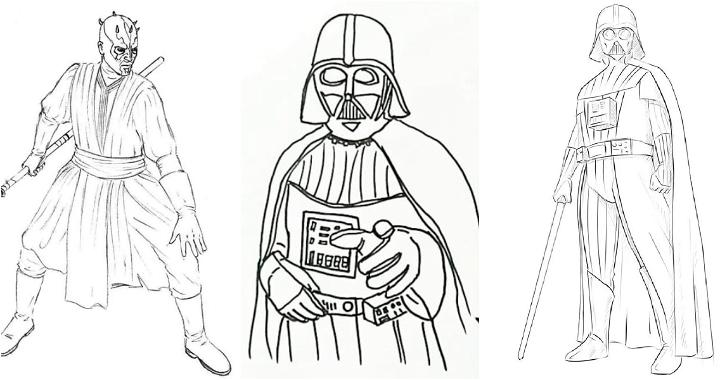 With this, our collection of Darth Vader drawing ideas comes to a conclusion. In this article, you will learn a great deal about how to draw Darth Vader in so many different ways. One can get help from this tutorial at any stage of his or her career. These Darth Vader drawing ideas are just the fun-packed package this is required to make your dull summer into a thrilling one. So just go ahead and begin drawing these tutorials!