Learn how to draw abraham lincoln with these 25 easy abraham lincoln drawing ideas with step by step simple sketch outline, printables and coloring pages. We all know who Abraham Lincoln is; a brilliant statesman, 16th US president and the man who successfully stewarded the US through the civil war. Hence, for every history buff, this collection of Abraham Lincoln drawing ideas is absolutely vital. We have all read about his struggle to abolish slavery and preserve the United States as a union.
He came from a poor background as his father was just a carpenter. He then sought to educate himself and became a really great lawyer. This is where he started seeing the grave inequalities in the US and started his fight against the confederate states for the abolition of slavery. After a costly civil way, the North won, and he succeeded in becoming the president.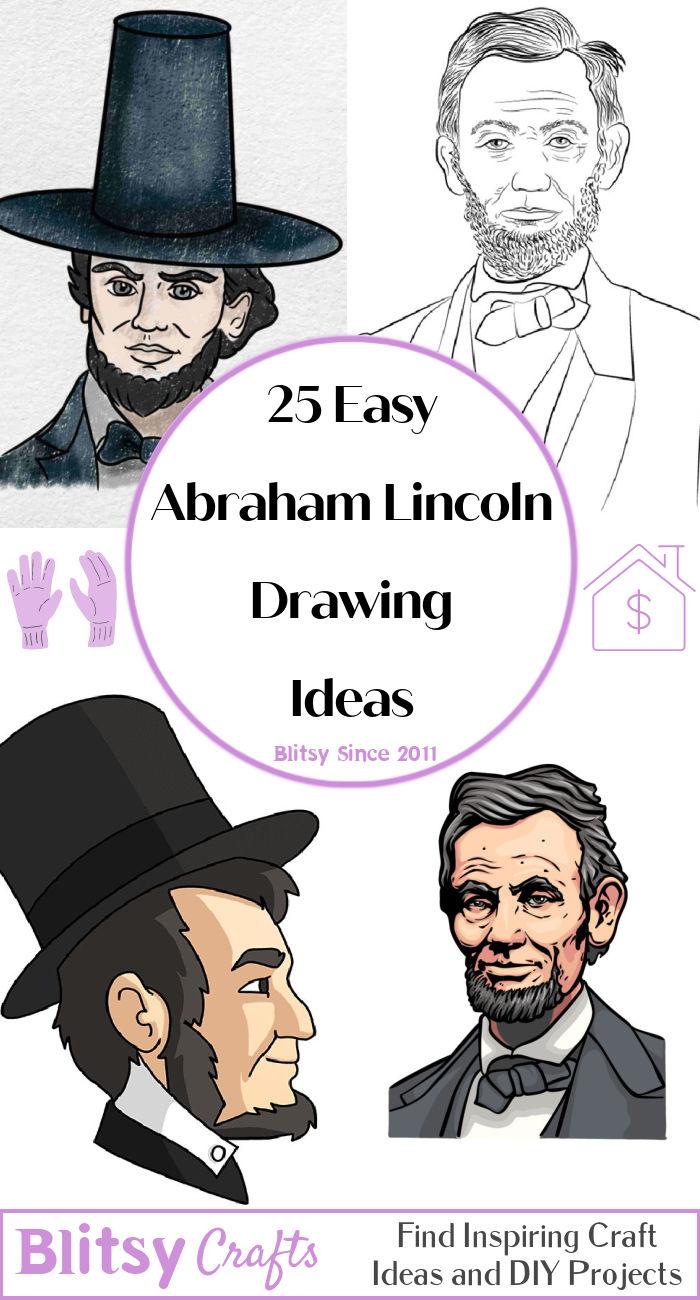 These Abraham Lincoln drawing ideas are a must-have for anyone who is a fan of this man. You can choose from 25 unique ways to draw Abraham Lincoln. Designed for all ages and interests, you can surely pick up the skills to draw with just a little effort. You will find cartoon, animated and sketching tutorials in this article. Make sure to invest some time in these Abraham Lincoln drawing ideas; the end result will be worth it. So, wait for no further and let your hands do the talking now!
1. How to Draw Abraham Lincoln

With this first tutorial, you can make a brilliant drawing of Abraham Lincoln quite easily. Start with making an outline of his hat. Then move to the hair and ears. Finally, complete the other facial features and his collar, and it is done! easydrawingguides
2. Easy Abraham Lincoln Drawing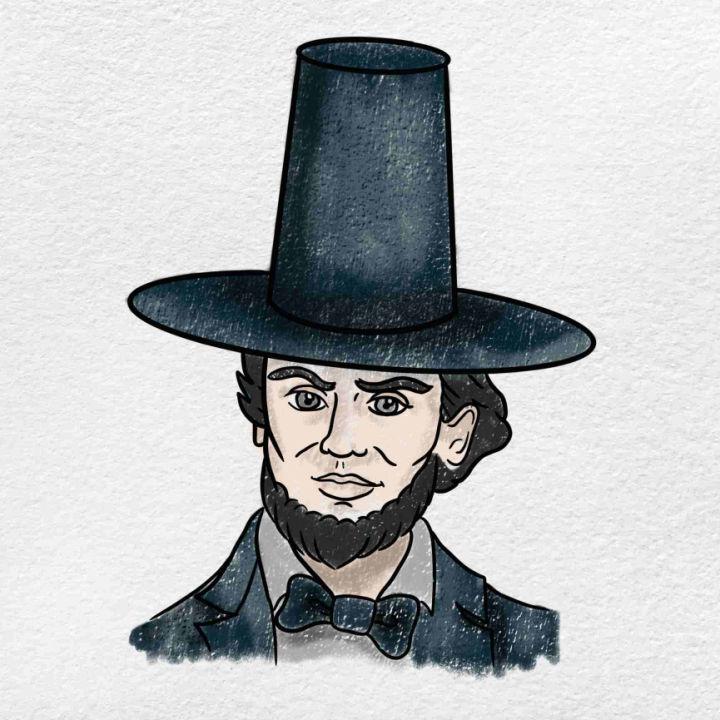 This tutorial is useful if you are just starting to draw. All you will need is a pencil, some colored pencils, or crayons. It will take only 6 straightforward steps to complete this drawing. First, draw his hat and beard. Fill in the details for his face and color it black; your drawing is complete! helloartsy
3. How to Draw Abraham Lincoln Step by Step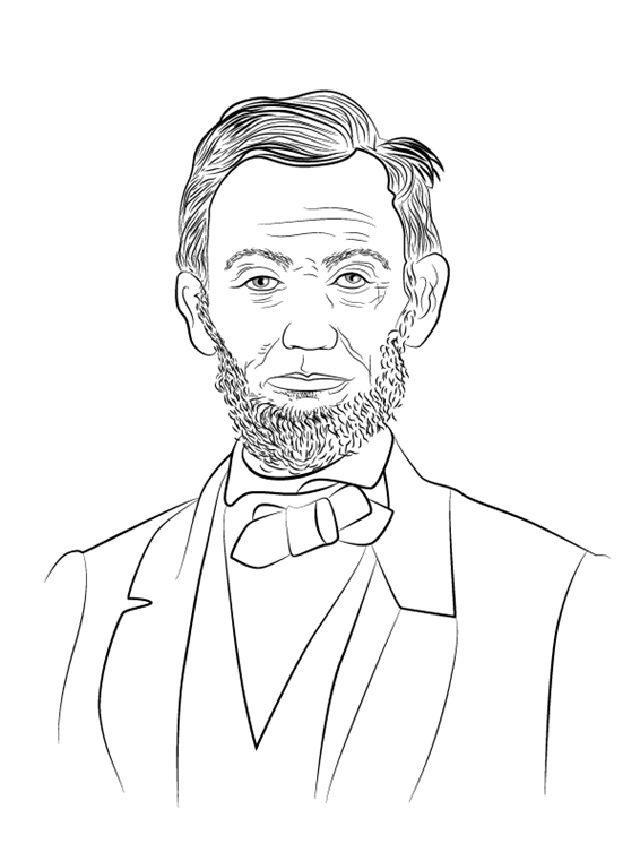 Sketch a life like Abraham Lincoln drawing with this tutorial! Just start with making an oval shape for his face. Draw in eyes and nose followed by his hair. Lastly, draw a suit and a bowtie. Open the link to give it a go! drawingtutorials101
4. Abe Lincoln Drawing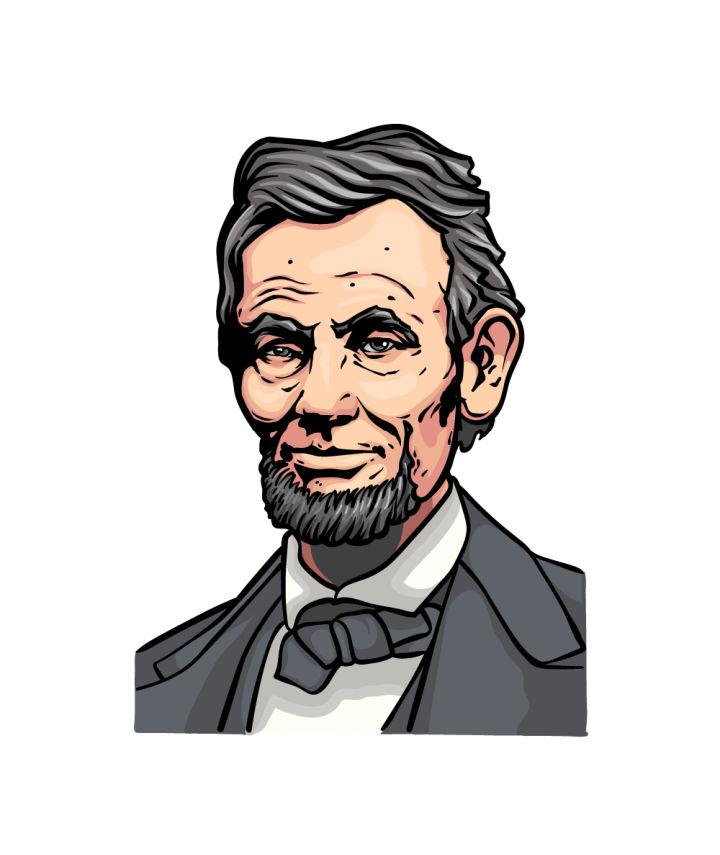 This professional-looking drawing is one of our nicest Abraham Lincoln drawing ideas. You can use a computer drawing program for this one. Just make an outline for his face and suit. Pay special attention to eyes and beard. The end result is amazing! iheartcraftythings
5. Abraham Lincoln Cartoon Drawing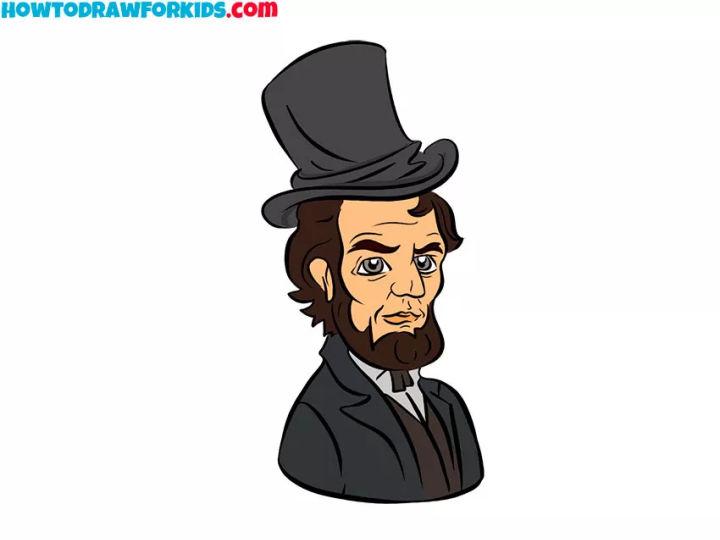 Interested in making a cartoon drawing of Abraham Lincoln? In just 9 easy steps, you can make one in under 30 minutes. The material required for this is a pencil, paper, eraser, and some coloring supplies. Click on the link to see how it looks! howtodrawforkids
6. Abraham Lincoln Drawing for Kids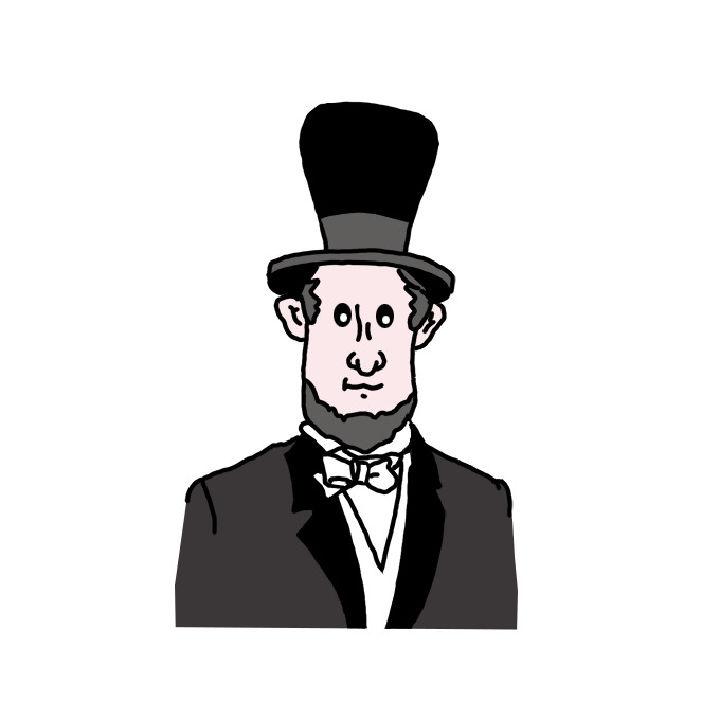 This one is especially for kids. just follow the step-by-step instructions to draw this version of Abraham Lincoln. With just some crayons and a pencil, you can begin. Beginning with the hat, move towards the beard. Add some facial features and make his suit. That's it! drawinghowtos
7. Sketch Abraham Lincoln Drawing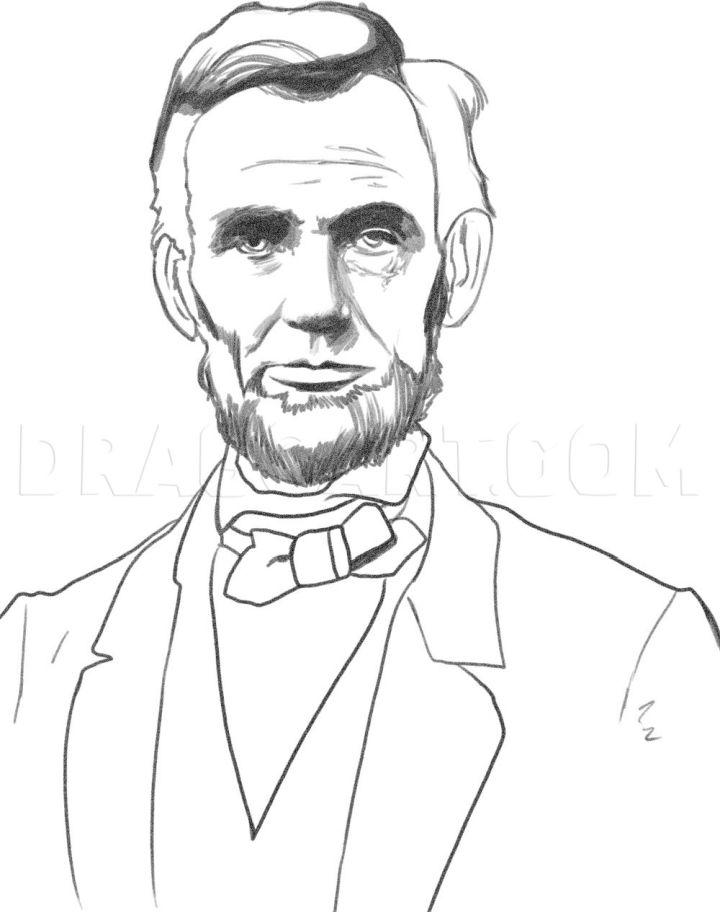 A neat-looking Abraham Lincoln sketch. Begin by making a circle and a stick figure for his body. Use this as a canvas for the next parts. Then go to work on his face by sketching the beard and eyes in dark shade. Click on the link to see how the sketch looks! dragoart
8. Cartoon Abraham Lincoln Drawing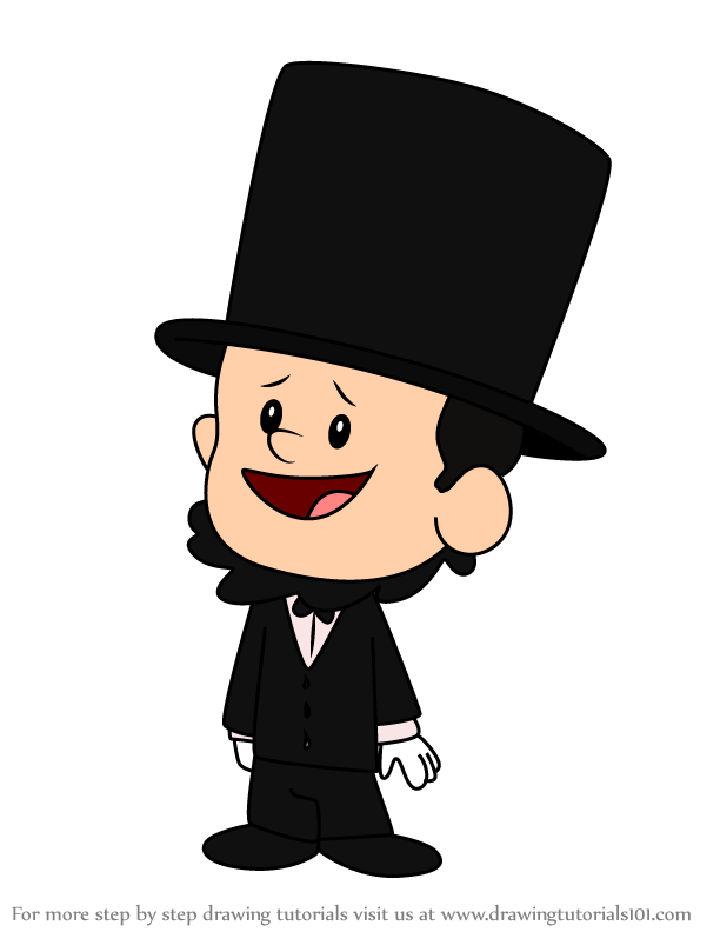 Who does not like a cute short Abraham Lincoln? Draw one with this helpful tutorial. You can make the head and body by putting in small squares and a circle. Use these as a guide to add detail to your Lincoln. Click on the link now! drawingtutorials101
9. Abraham Lincoln Drawing in Easy Steps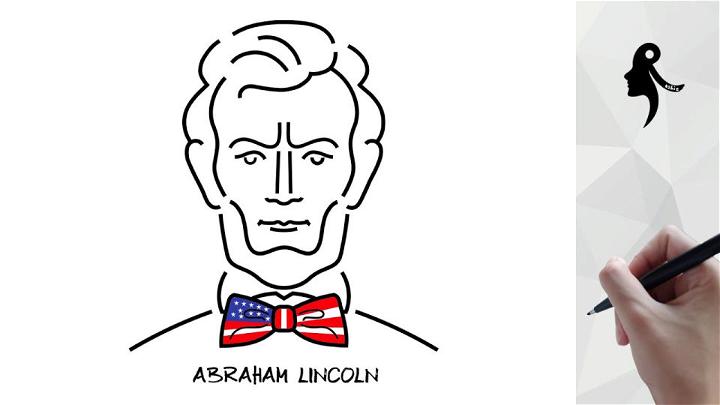 This video tutorial is perfect for those who want to draw an iconic Abraham Lincoln face symbol. Begin from the middle and go over the eyes and nose. Add curves in the form of hair and a narrow jaw. You can complete it by adding an American bowtie.
10. Abraham Lincoln Face Drawing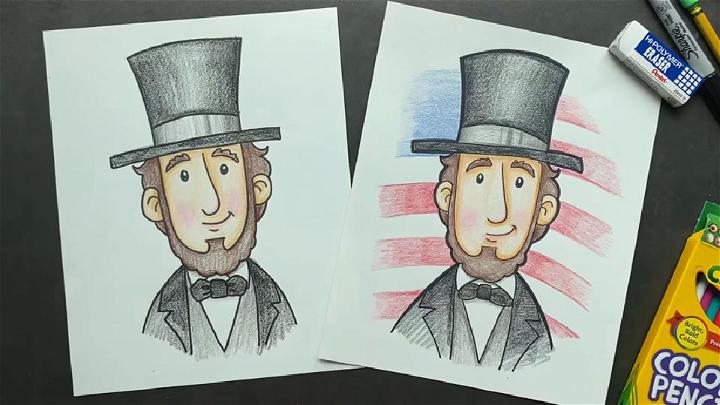 Abraham Lincoln with an American flag background? This tutorial will cover just how to do that. Begin with the outwards features such as the iconic hat and long face. Now you can add two small eyes and a smirk to finish your drawing!
11. Pencil Sketch of Abraham Lincoln Drawing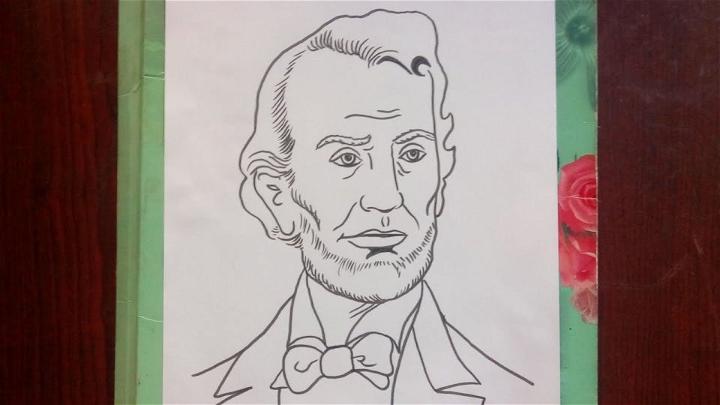 An Abraham Lincoln pencil drawing! Attempt to do this easy and highly detailed drawing with just a sharpie. Pay special attention to the eyes and beard to make it realistic. The final picture is just simply eye-catching!
12. How to Draw Abraham Lincoln Statue

Draw the Lincoln memorial with this easy tutorial. Firstly, create two long slabs of stone and place Lincolns each hand on them. Then attempt to do the body and face. Add some details to the stone body to complete the look. Head over to the link for step wise guide!
13. Abraham Lincoln Drawing Outline for Beginners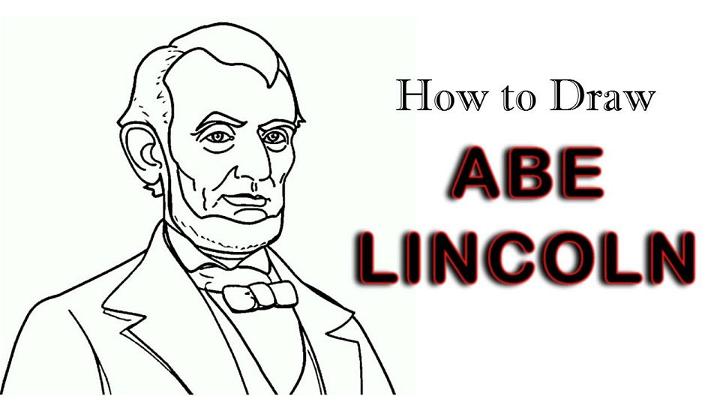 Another one for the beginners! Create the outline for this great man with the help of a pen. You can finish the face first and then move on to the body. Start off by drawing his ear and the chin and face! Click on the link now to see the magic unfold!
14. Simple Lincoln Drawing

This Abraham Lincoln drawing idea will take only 5 minutes! With only a black marker, you can draw his every feature. Color the hat and beard full black. Add a subtle smile to show his memorable look. That's all it takes to make an Abraham Lincoln drawing.
15. Easy Way to Draw Abraham Lincoln

Show the side profile of Abraham Lincoln with this tutorial. You can use a black sharpie pen to begin with, the nose. Follow up the tutorial to see how to draw his mouth and eyes. The final result is worth seeing!
16. How to Draw President Abraham Lincoln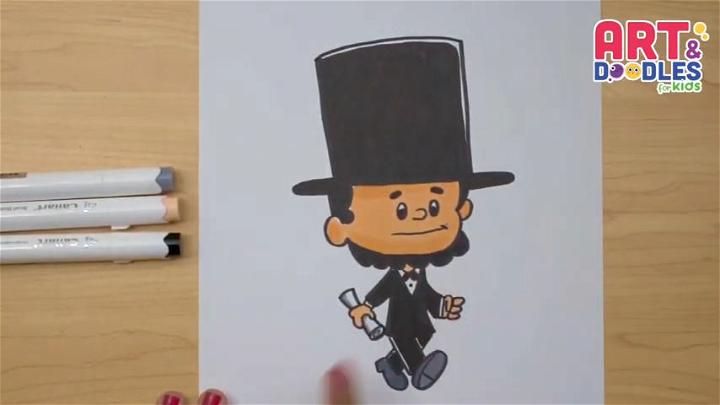 A cute and memorable drawing of Abraham Lincoln! This one will take only 8 minutes. With a little careful precision of your pen, we can make this cartoonish Lincoln. Try to make a face small and make it recognizable through the hat and beard.
17. Drawing of Abraham Lincoln

In just 3 minutes, create this Abraham Lincoln drawing. Try to place extra effort on the outline of his face. When that is covered, go over the defining features of his face, that is, the eyes, cheekbones, and beard. Click on the link to see the final picture!
18. Simple and Easy Drawing Abraham Lincoln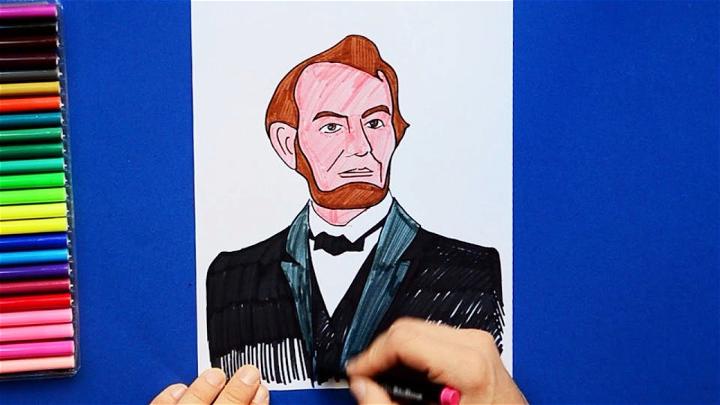 A fan-favorite drawing of Abraham Lincoln using a sharpie and colored pencils. Draw the outline for his face and body. Color this Lincoln using black, brown, and skin colors. Wait for no further and click on the link!
19. Abraham Lincoln Drawing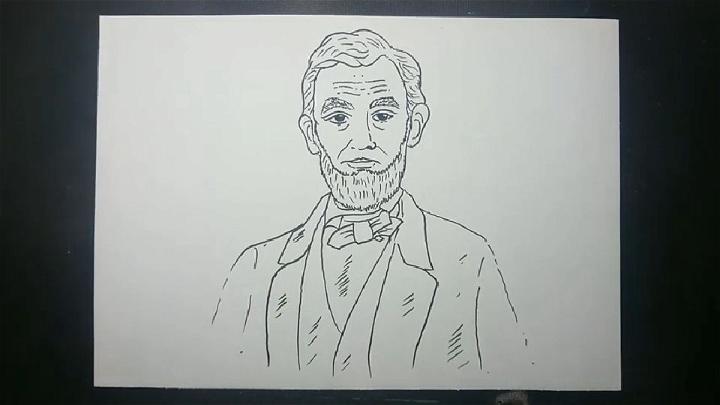 From this Abraham Lincoln drawing idea, you can learn how to draw a black and white Lincoln. Make him look old by adding wrinkles from your black pen. Start off by drawing the eye brows, then move on by making the eyes! What's the wait? Open the link now!
20. Realistic Abraham Lincoln Drawing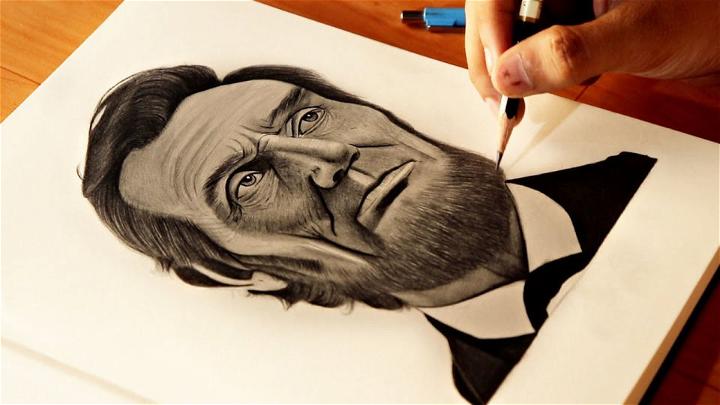 Create this hyper-realistic drawing of Abraham Lincoln with the help of this video tutorial. Use a pencil to shade in the outlines of his eyes and face. Make sure to apply force in shading the beard and hair. Some finishing details and your drawing is complete
21. Abe Lincoln Directed Drawing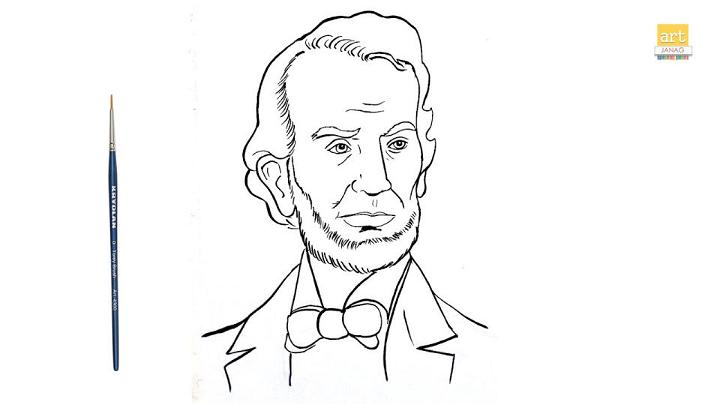 Attempt this Abraham Lincoln drawing idea with the help of watercolors. Chose jet-black paint to draw the outline. This anime-looking Lincoln can be attempted with the help of a few strokes of paint on the eyes and beard. This one can't be missed!
22. Easy Abraham Lincoln Face Drawing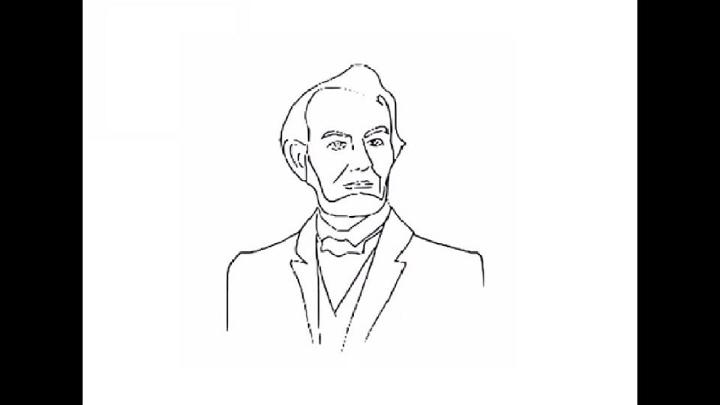 Want to make an effortless Abraham Lincoln drawing? You can do this with the help of a pencil and this tutorial. Follow along to create one of a kind Abraham Lincoln drawing. Try to trace the narrow facial structure with your pencil. Click on the link to be mind blown!
23. How Do You Draw Abraham Lincoln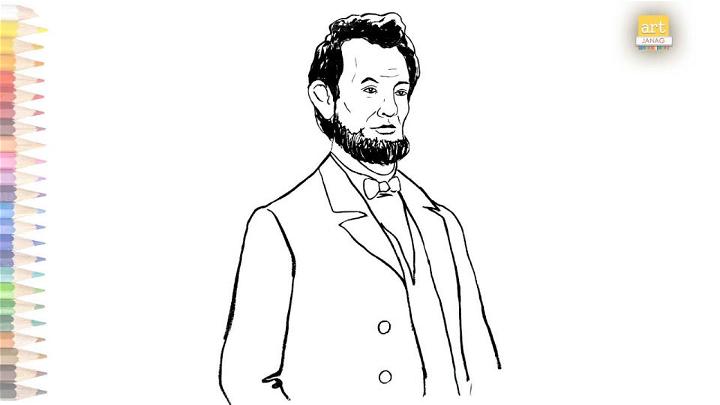 Attempt this drawing of Abraham LincAttempt this drawing of Abraham Lincoln with the help of watercolors. Make sure not to rush with this one; take your time to catch all the details. The beauty of this Abraham Lincoln drawing idea is the sleek paint brush that is used to make it! This one can easily be hung as wall art around your house.
24. Cute Abraham Lincoln Drawing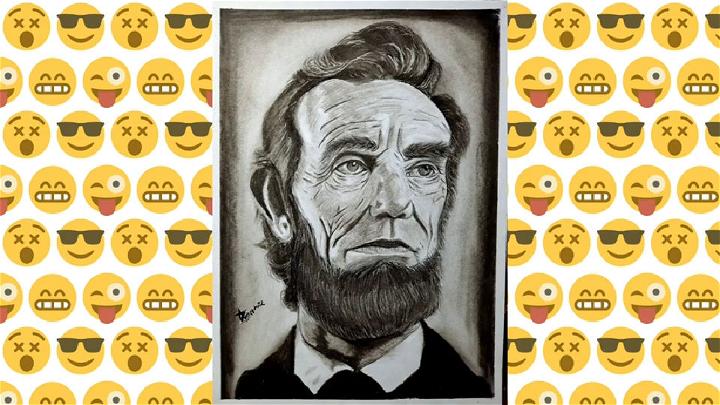 One more realistic Abraham Lincoln drawing. Spend considerable time marking the facial expression and pose. Then shade in using a pen or pencil to create a serious look. You can now draw a collar to solidify the lawyer's look. youtube
25. Abraham Lincoln Sketch Portrait Drawing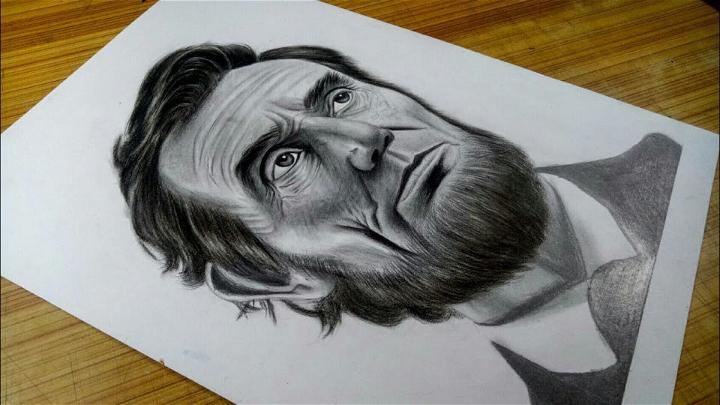 Finish off with one of the most professional-looking Abraham Lincoln drawings. Try to follow the step-by-step technique to create this portrait. You can use the pencil shade to create depth of character and a grim look. Few additional details around the eyes and mouth can cement your drawing as the best!
Related Easy Drawing Ideas
Discover the artistic side of yourself with these easy drawing ideas! Our collection is filled with hundreds of creative designs for you to explore, allowing you to unleash your inner artist. Get inspired and create something beautiful today!
Conclusion: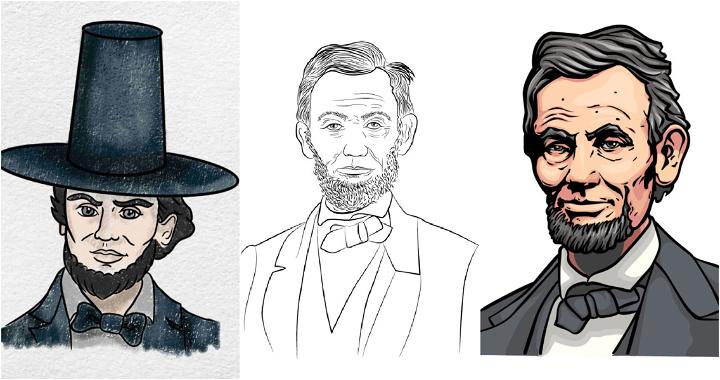 With this, we are now done with Abraham Lincoln drawing ideas. Use any one of these 25 tutorials to make the best-looking Abraham Lincoln in the game. In addition to being a fun use of time, you will also pick up some impressive skills as an artist. Enhance your talent and teach others to do it as well. Come out of these summers with some impressive-looking drawings of your favorite personalities. Go through these articles, and be sure to follow them to the best of your capabilities. We hope you have a blast doing these too. So, bring out your drawing tools and get to it; some of the most impactful actions are done with the stroke of a pen. Good luck!