While being on a purpose to make your kids and toddler learn a lot by crafting, paper crafts for kids are a great way to do this. Find these 30 fun and easy construction paper crafts for kids that will make your kids creative and happy. See some unique and flawless easy crafts with construction paper. These construction paper crafts involve creative folding, tracing, cutting, gluing, layering, and even painting and stamping and hence are guaranteed to work for kids' motor skills development. The construction paper comes in all the colors under the sun, so using different colored construction paper in a single project will also rock for color recognition.
See all the amazing construction paper achievements by exploring this grand list of 30 easy construction paper crafts containing so much amazing and creativity with colored papers. The kids learn a lot from all types of crafts and activities, but these paper crafts will surely fit everyone's bill and sure to make your kids think like a genius.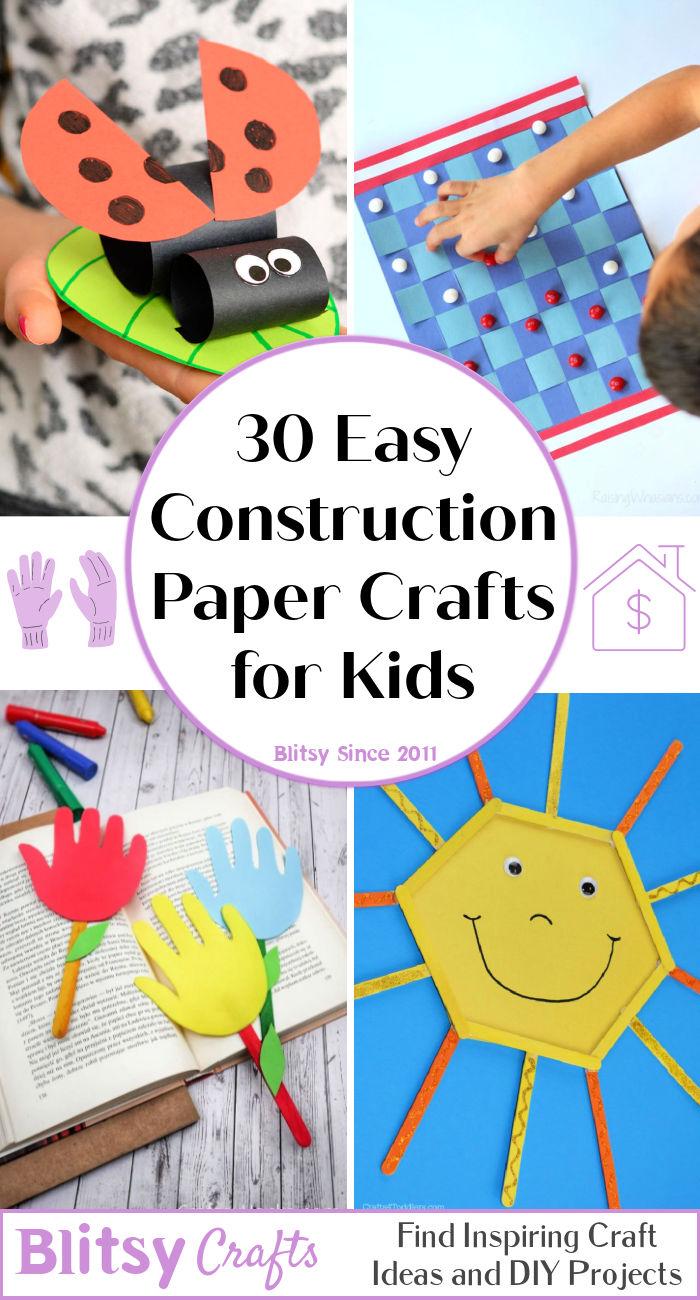 The list will share with you a variety of materials also that can be mixed up with the construction paper to make adorable gifts, home decor, and other products. From making miniature kids' toys to cute Memorial Day gifts to the exceptional festival and home decor, These DIY construction paper craft Ideas will cover all. All the kids will love doing these DIY craft projects for sure. Learn a lot more about construction paper crafting by taking a quick tour of all these projects.
1. Construction Paper Ladybug on a Leaf

Papercrafts are the best way to give that necessary boost to kids' creativity. You can plan the construction paper for making a paper model of anything you like. Learn here to make a construction paper ladybug on the leaf. You need black construction paper, red construction paper, green construction paper, wiggly eye stickers, glue, dark green marker, black marker, scissors, and glue to make this construction paper ladybug. The cute little craft will boost kids' activities and will be a cute handmade toy gift too. easypeasyandfun
Paper Plate Crafts: There are so many crafts that you can make with your kids using the paper plates you already have in your cabinet.
Paper Bag Crafts: Let's pull those paper bags out of the recycling bin and make something creative by following these paper bag crafts!
2. Construction Paper Donut Craft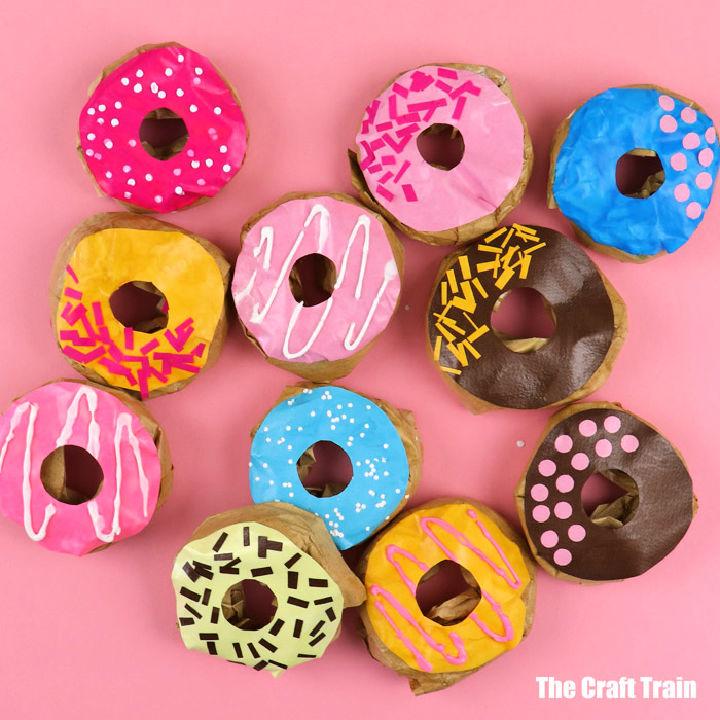 You can try making lots of exciting stuff by using construction paper art. This time gets inspired by your favorite food and try making it with construction paper. Peek into details of these paper donuts that look much near to reality and are one of the easiest DIY papercrafts. You need thin brown paper lunch bags, colored construction paper, scissors, PVA glue mixed with water, hole punch, paintbrush, non-stick baking paper, glue, and puff paint to make this innovative food craft. Everyone will love making it for sure. thecrafttrain
3. Fathers Day Tie Cards from Construction Paper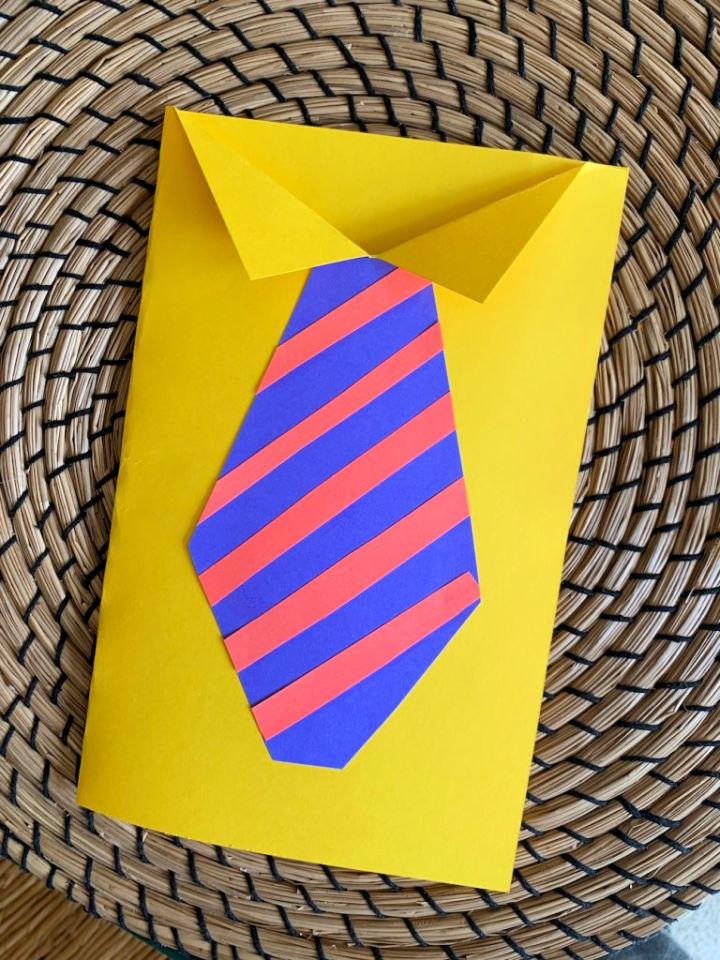 It will be fantastic to get crafty with the construction papers to make some lovely Memorial Day gifts. Get inspired by these Father's Day shirts and tie cards, the cutest little handmade gift for a father. You need colorful construction paper, glue, scissors to easily make these tie cards, will be big love of all. Smartly fold the edges of cards to make the shirt collar. Separately make the shirt ties using different colored construction paper. Cut out a tie shape one color and add the stripes or other tie patterns from a different colored construction paper. honeyandlime
4. Construction Paper Checkerboard for Kids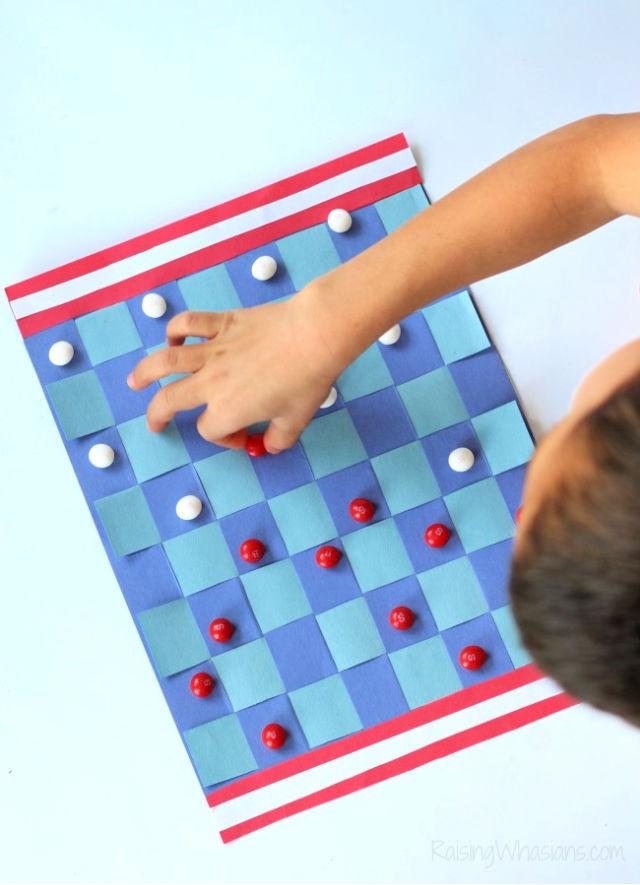 Get also smartly crafty with the construction paper to boost the fun and entertainment of your kids. Learn here to make the checkerboard for the kids, which will create too much fun for them. The finally completed checkerboard can be framed up also to gift to a favorite person or kid. To duplicate this fantastic game, you need construction paper in 2 different colors, scissors, a ruler, a pencil, glue, and a special edition skittles America mix. It comes with a decent striped border also for added visual grace. One of the cutest and beautiful DIY construction paper craft ideas. Even a kid good at tracing and cutting can do this project with ease. raisingwhasians
5. DIY Chalky Fall Leaf Garland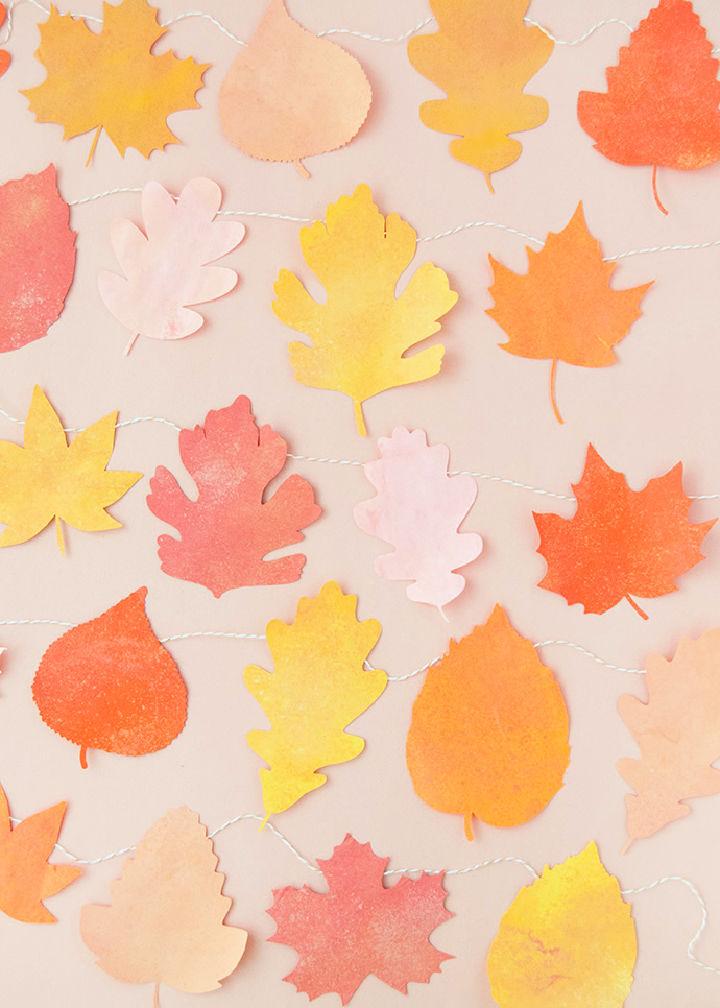 Sorting out the best fall decors to celebrate the arrival of the fall season? Then do make this fall leaf garland that can even be added to fall holiday or party decors. It will be more than easier to make this fall leaves with construction paper. Just use the fall leaf templates to easily trace and cut out the fall leaves of construction paper with different colors. Next, just string them up and make lovely fall leaf garlands in just no time. You need construction paper in colors of choice, chalk, cheese grater, cookie sheet, wire cooling rack, pencil, scissors, and string to make the fall leaves and garland. handmadecharlotte
6. Construction Paper Solar Prints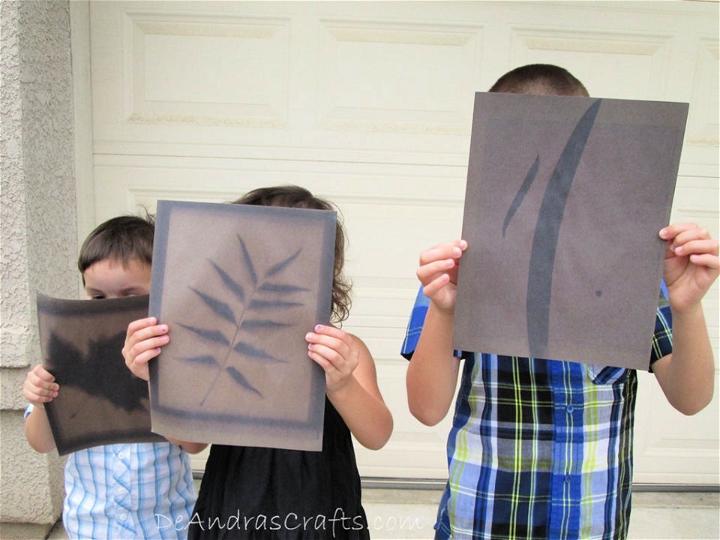 This will be the most innovative and creative construction paper craft that will be big fun for the kids to do. You need black construction paper, leaves of different sizes and shapes, glass, an 8×10 picture frame and a clear sheet protector, rock of various sizes, and some creativity to make these construction paper solar prints. They are going to be one of the best gifts that all kids make with quite an ease. The whole project is more than easier to do and will surely impress all the creativity lovers. instructables
7. Agate Inspired Layered Paper Veneer Jewelry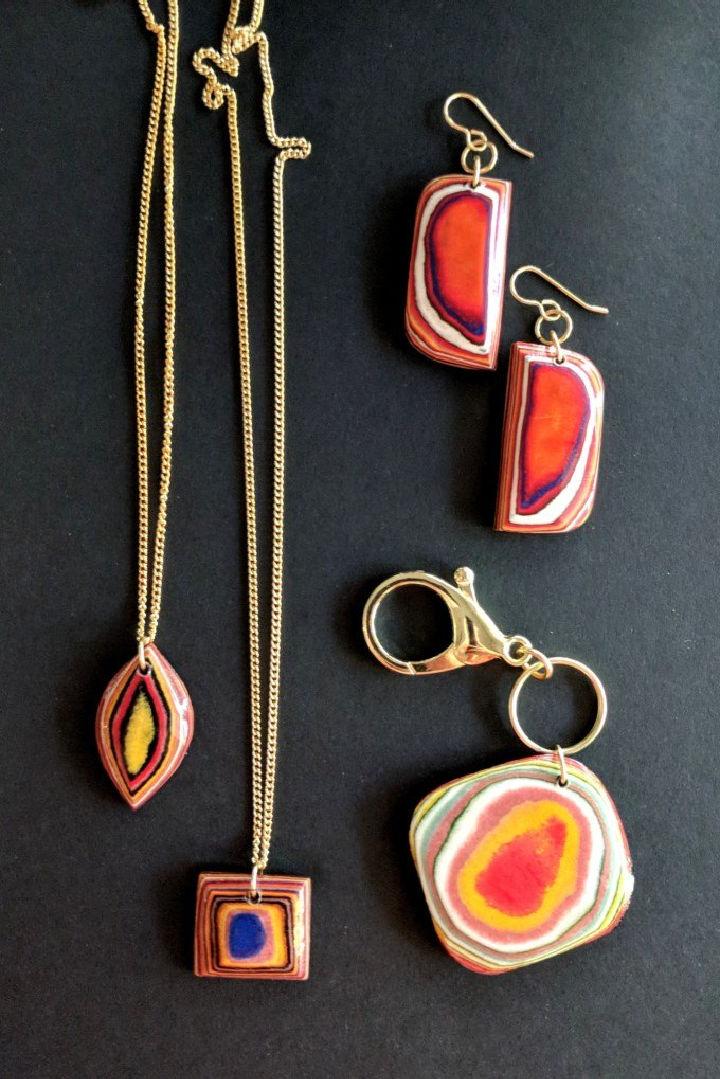 Agates are the colorful rocks and are the most used rocks in making jewelry. However, you can make an agate knock-off also at home using the construction paper in lots of colors. Before you get into construction, just manage to have the very required supplies. You need construction paper, glue, craft paintbrush, belt sander, clear nail polish, 7.7mm jump rings, and necklaces to clone this construction paper layered agate veneer jewelry. Glue the construction paper squares in several different colors. Sand their edges for a rough appeal and sand more to get the desired shapes of agate stones. Make holes in the finally completed agates and use them with earrings, necklace, and keychain pendants. realitydaydream
8. Construction Paper House Craft for Preschoolers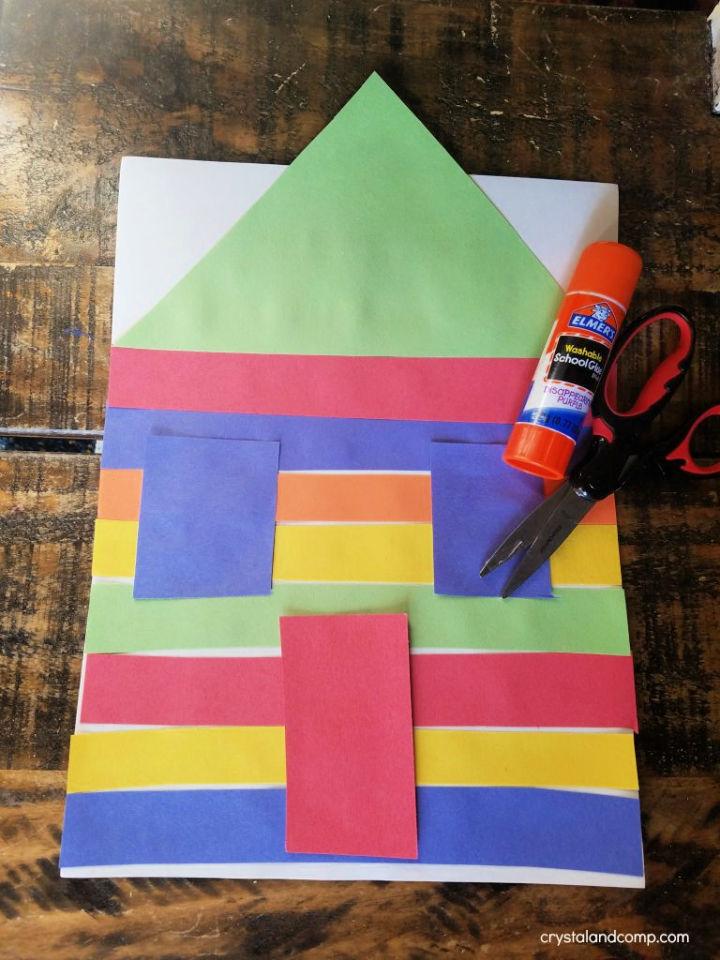 The construction paper is a hard type of paper, awesome for crafting purposes. It comes in all colors under the sun and can be planned for kids' crafts. Let your kids make this construction paper house craft that is significantly easy to make and will enchant with the colorful appeal. The best paper craft idea for the very beginner kids. Just cover the white construction paper with the colorful construction paper strips. Then add the chevron roof and the windows and door cut out from your favorite construction paper colors. crystalandcomp
9. Paper Crown Using Construction Paper

You can make a lot out of construction paper also for the party and celebrations. An interesting example here is this handsome-looking paper crown, a crazy construction papercraft that all kids will love to make. You need a free crown template, construction paper, pencil, scissors, eraser, clear adhesive tape, decorative gemstones, and extra-strong glue to clone this very sweet and lovely crown. Glue the decorative gems on the crown top edges for some bigger and cute decor statements. A creative and genius DIY construction paper craft idea. thecraftathomefamily
10. Construction Paper Monkey Craft for Kids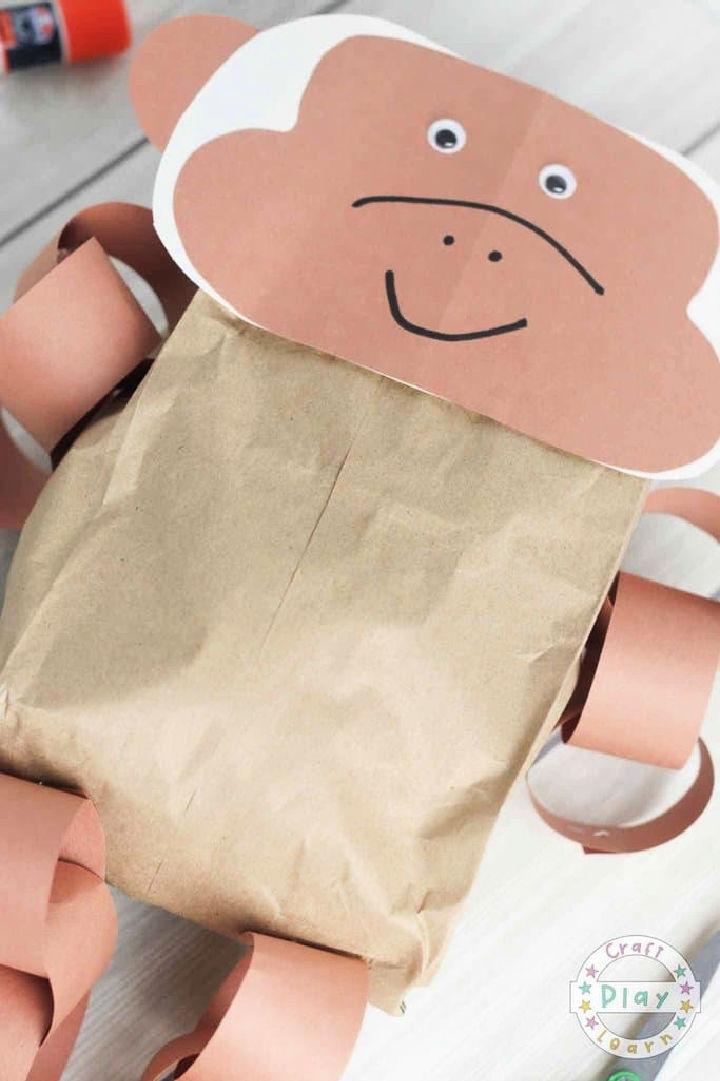 One more cute and fun construction paper craft idea is here to impress you. All kids will take great pleasure in making this construction paper monkey, looks super adorable with googly eyes. You need brown construction paper, white construction paper, plastic eyes, brown paper bags, glue, scissors, and a black marker to easily duplicate this fun paper monkey. You can also use a template to easily cut out the body parts of the monkey, and it will be big fun to assemble all the pieces. craftplaylearn
11. Plan Table Earth Day Seed Paper Craft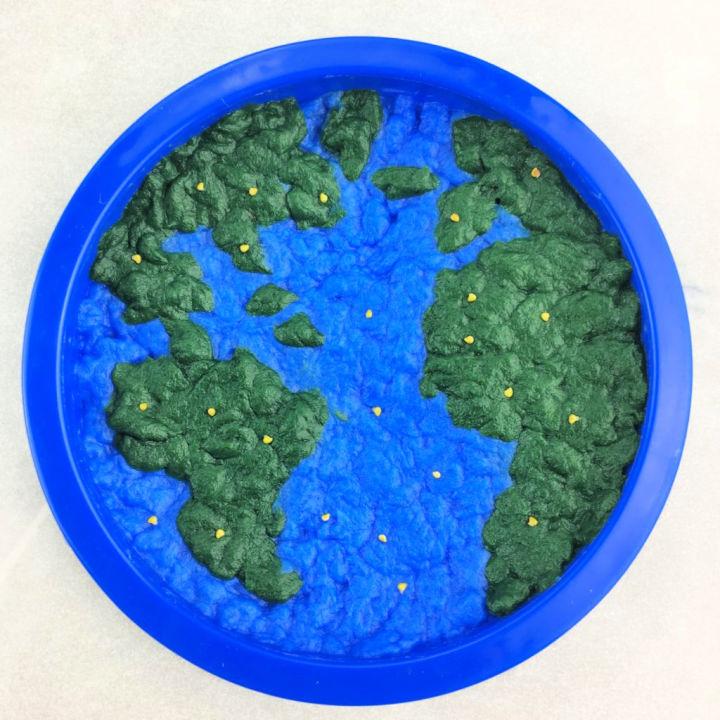 There are various construction paper crafts to do on different memorial days and events. Celebrate Earth Day by making this plant-able seed paper, which will be a total pleasure and easy to make. You need two blue sheets of construction paper, one green sheet of construction paper, two bowls, one fine mesh strainer, one piece of parchment paper, one cookie sheet pan, circle cookie cutter, seeds, blender, spoon, warm water, and some creativity to easily duplicate this seed paper earth day craft. The best DIY kids craft idea using the construction papers. thematernalhobby
12. Cardboard Construction Paper Flower Pots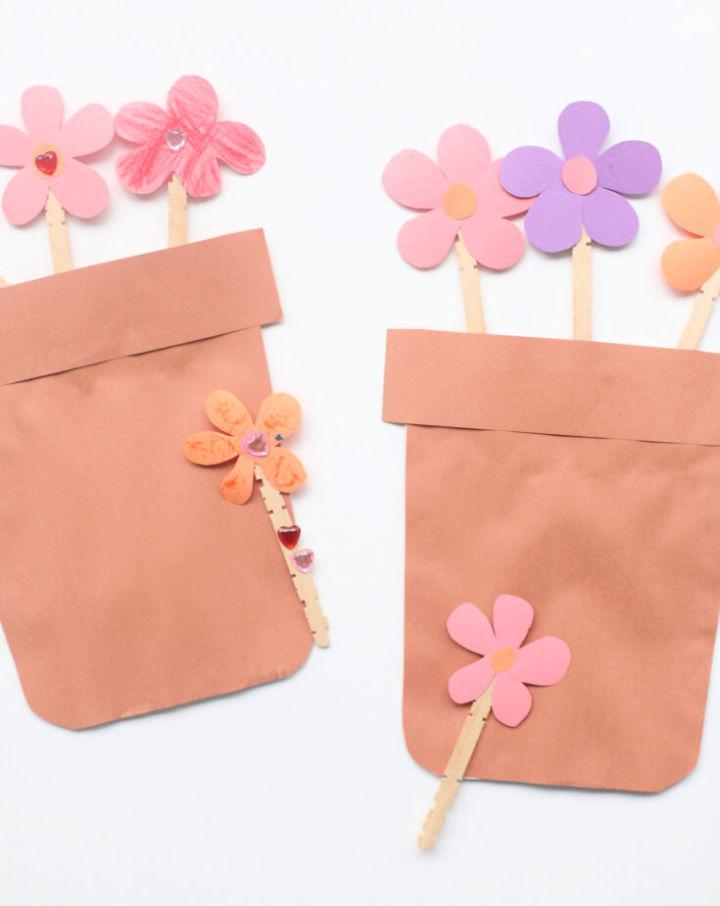 Go handmade with two different paper materials to make innovative paper crafts also. One of the best examples here is these cardboard construction paper flower pots that are insanely cute and beautiful to look at. The best kids holiday and camping craft idea. You need colored construction paper, cardboard or cardstock, popsicle sticks, glue, stickers, and crayons to easily duplicate these colorful paper pot crafts. One of the best and quick-to-do DIY construction papercraft project that everyone will fall in love with. Do try out this construction papercraft project with your favorite colors of construction paper. glitterinc
13. Mothers Day Construction Paper Flower Bouquet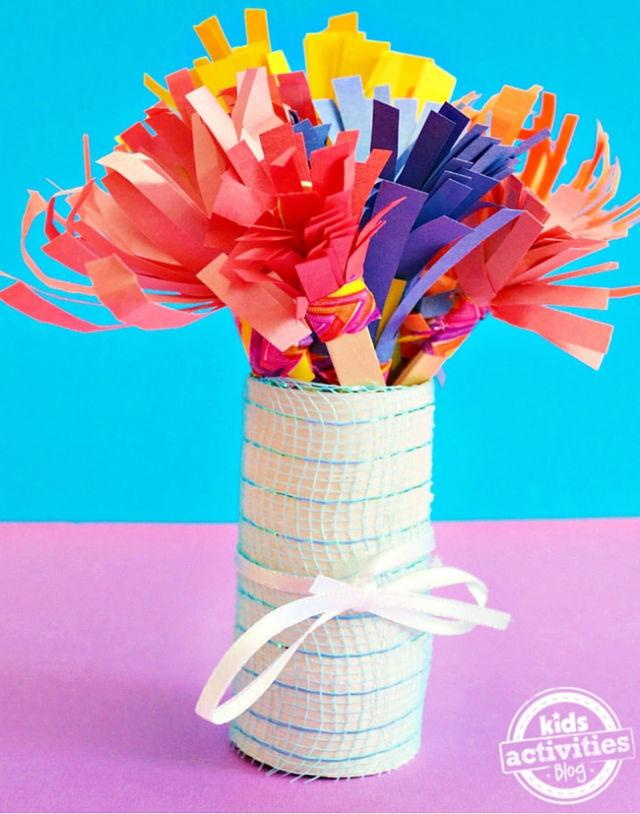 Just like Father's Day, you can think of the construction papers to make lovely Mother's Day crafts also. Surprise your mother by giving this colorful flower bouquet, a handsome paper flower craft that everyone can do with ease. You need different colored construction paper, popsicle sticks, glue, toilet paper roll, ribbon, scissors, duct tape, and some creativity to easily whip up this brilliantly beautiful and colorful Mother's Day bouquet. This handsome bouquet will not wilt or droop and is a totally easy crochet creation also. The kids can try making this bouquet also. kidsactivities
14. DIY Fall Construction Paper Wreath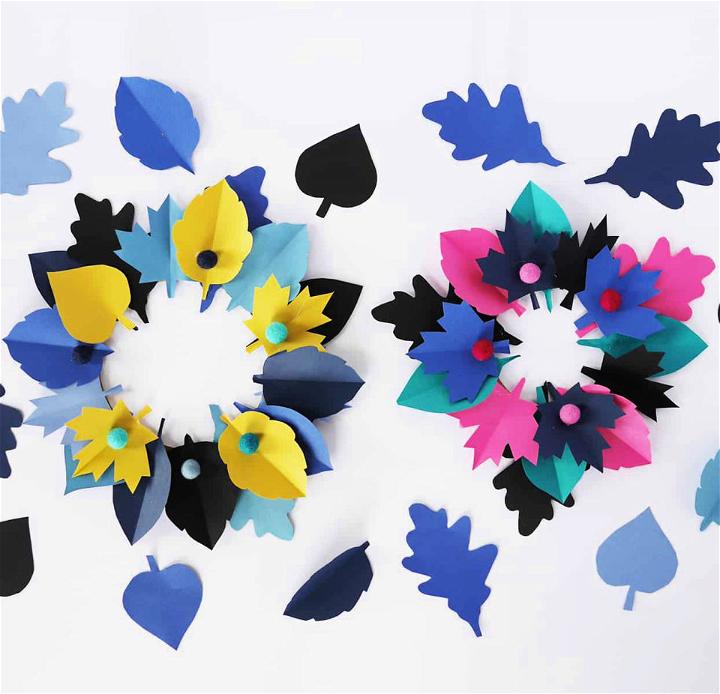 Making fall leaves out of construction paper is one of the easiest kids' craft projects. Now go one step ahead and make awesome decorative items out of fall leaves. Grab here instructions to make the super beautiful wreaths out of the fall paper leaves, which can be added to any party decoration for bigger decor statements. The project is more than easier to do, and each wreath enchants with a variety of colors. You have here the freedom to match these fall leave wreaths with party decors. You need cardboard, colored construction paper, pencil, scissors, compass, glue, felt balls, string, and some creativity to do this project. hellowonderful
15. Construction Paper Pilgrim Hats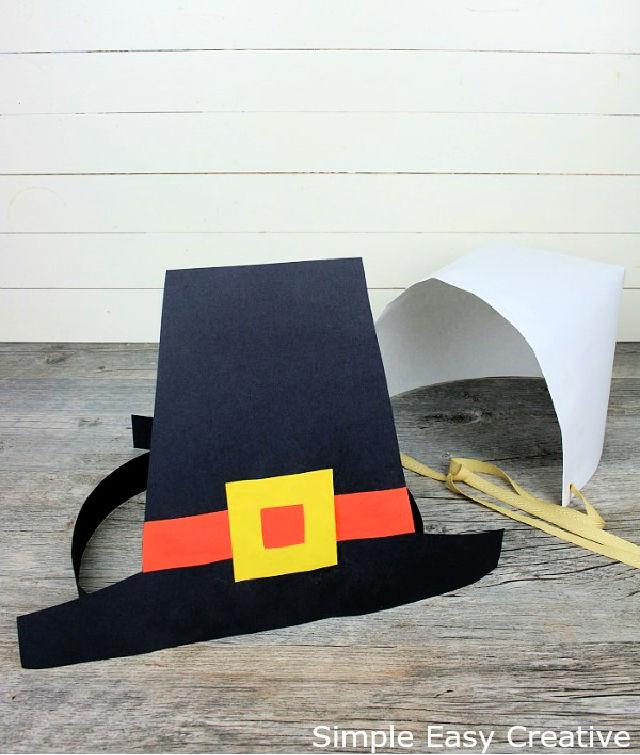 One can do wonders with construction paper. So, check out here this wonderous construction paper craft that is insanely cute. It will be the best handmade gift to a family magician and is quite easy and quick to make. From making the hat to crafting the belt to whipping up the buckle, you will get here guides for all steps. You will also get free printables for the hat pattern, and every beginner can do this project with ease and without getting a bit expensive. One of the easiest DIY construction paper crafts ever. hoosierhomemade
16. Lightsaber from Construction Paper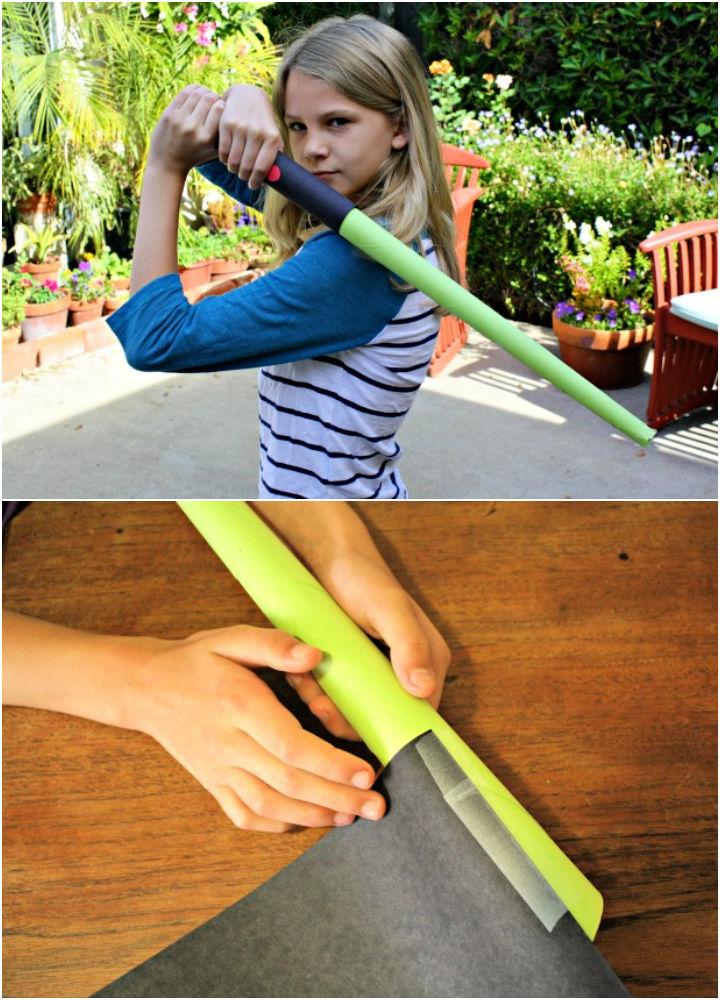 The best handmade gift for all the kids who are highly obsessed with Star Wars. Here this crazy weapon of Jedi is made with construction paper and will be totally easy to whip up also. You need a 12″ x 18″ piece of construction paper in lightsaber color, a 12″x9″ piece of black construction paper, scraps of construction paper, tape, scissors, filling material, pencil, and glue to easily duplicate this mind-blowing lightsaber. So, let the fun Star Wars fight start among the kids with these fantastic lightsabers. The best homemade gift for a kid who is a big fan of Star Wars. lifeasmom
17. Cute Heart Envelope Valentines Day Card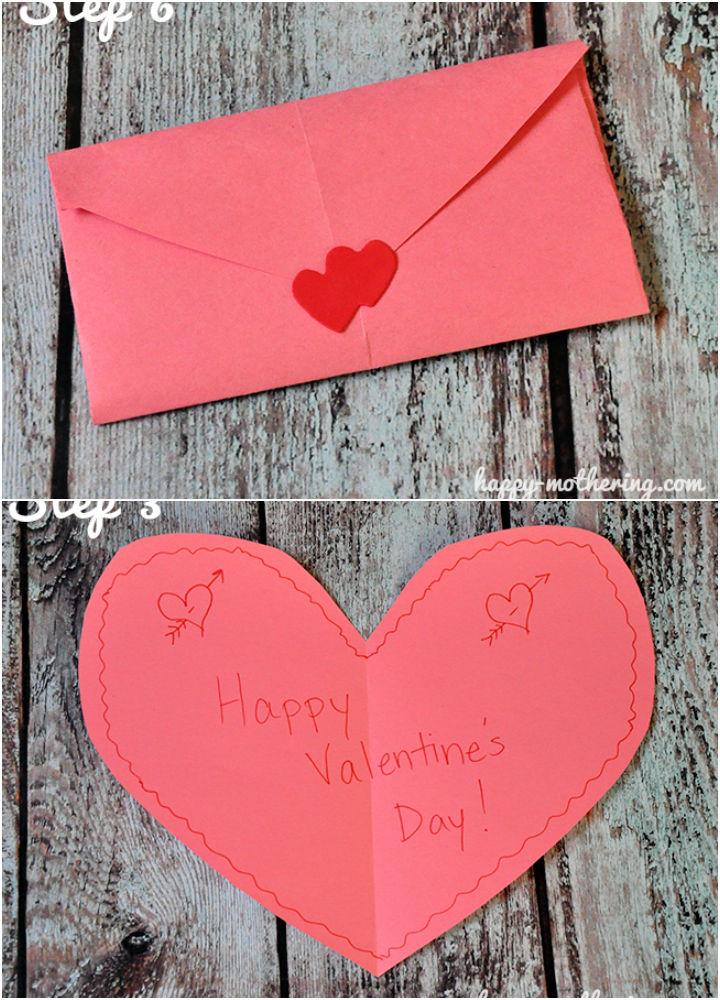 Celebrate Valentine's Day by making this construction paper DIY heart envelope, sure to be a big love of all the lovers. This foldable heart will complete in just 15 minutes and is a mind-blowing construction paper craft that everyone can duplicate in no time. The required supplies for the project will be construction paper, heart stickers, and Valentine's Day stickers to whip up this handsome LOVE Day craft and gift. You have here the freedom to decorate. happy mothering
18. Coiled Paper Snail Craft for Toddlers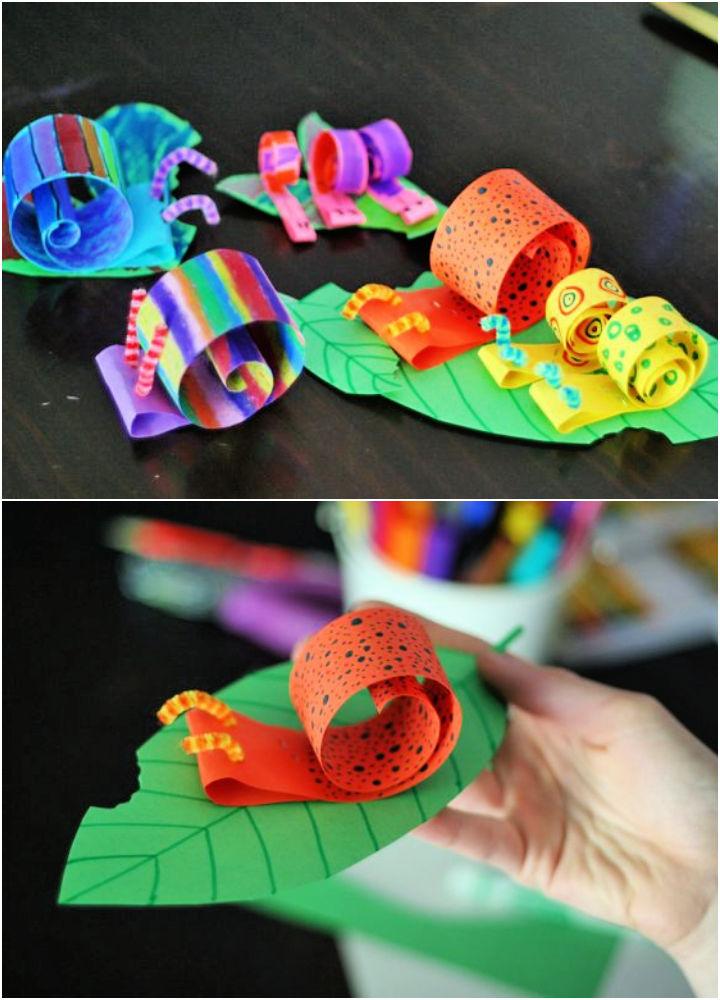 Make super beautiful snails also out of rolled-up paper strips, and they will be a big love of all. Take your favorite colored construction paper into strips and then roll them up to make the whole coiled body of the snail. This whole little creation is crazily easy to whip up with construction paper and will also make a great home and garden decor. You need stripes of colored construction paper 1.5″x12″, stapler, glue, tape, coloring materials, small hole punch, pipe cleaners, pencils, and green construction paper for leaves to easily duplicate these snails. makeandtakes
19. Construction Paper Heart Garland for Valentines Day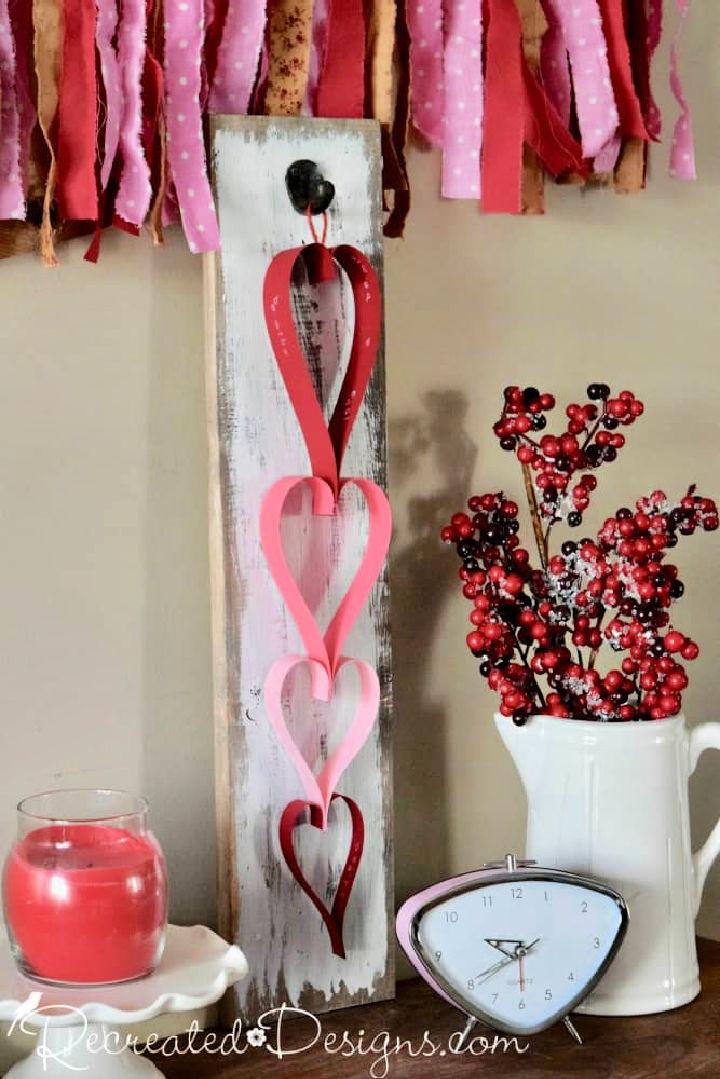 Sorting out the best decors for Valentine's Day? Then head over to paper stripes and try making this precious love heart garland, it speaks volumes for love. The idea is to make lovely hearts out of the construction paper stripes, which can easily be taken into beautiful heart shapes. Staple the paper stripes to the front end of a heart and then bring them down, making the beautiful heart. Hence, you can easily make a chain of hearts that can be hanged aloft on a wall hook for some bigger romantic decor statements. recreateddesign
20. Construction Paper Rainbow Craft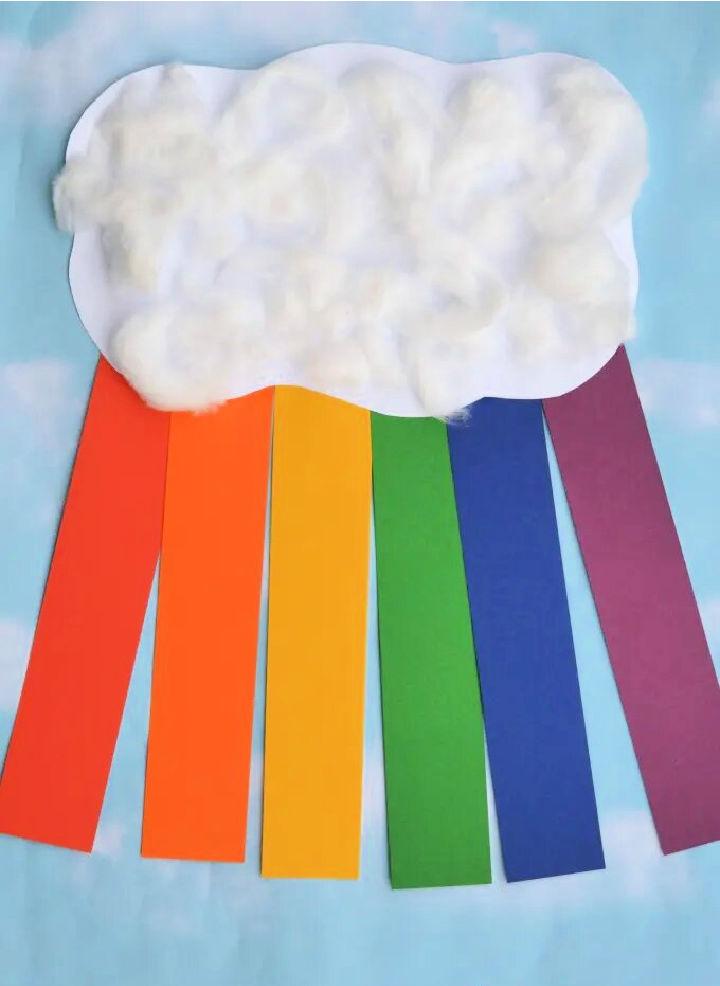 The construction paper is an ideal choice of materials for kids who love to get crafty. So, let your kids make this brilliant construction paper rainbow that is cute and comes with a white cloud top. The design is much achievable, and it all takes some rainbow stripes of colorful construction paper to make this rainbow cloud decor or craft. You need purple, blue, green, yellow, orange, red, white cardstock, cotton balls, glue, and scissors to easily duplicate this precious rainbow craft, sure to be a big love of all. One of the quickest construction paper projects ever. thekindergarten
21. Construction Paper Teepees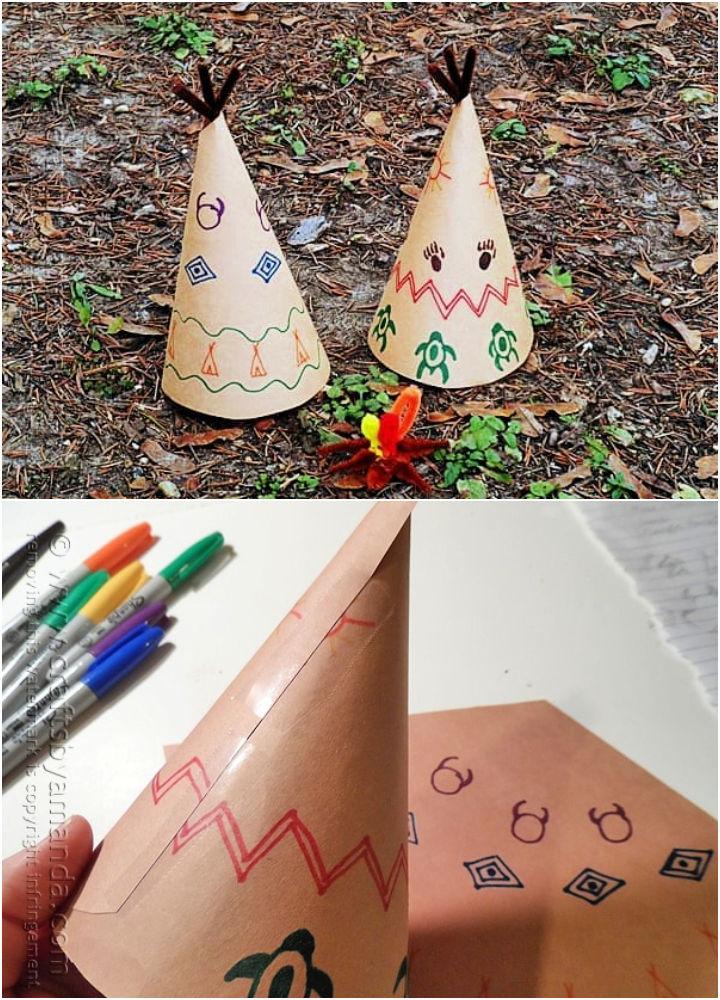 You will love these teepees that are amazingly cute and beautiful to look at. A big thanks to construction paper again for these adorable creations, the best camping crafts for kids. The whole project is more than easier to do and is all about making some paper cones that can then be adorned and embellished for a brilliant decorative appeal. Use your painting skills to draw custom patterns and shapes on the exterior of the cones for an enhanced appeal. The project is more than easier to do, even for a beginner. craftsbyamanda
22. DIY Paper Lanterns with Construction Paper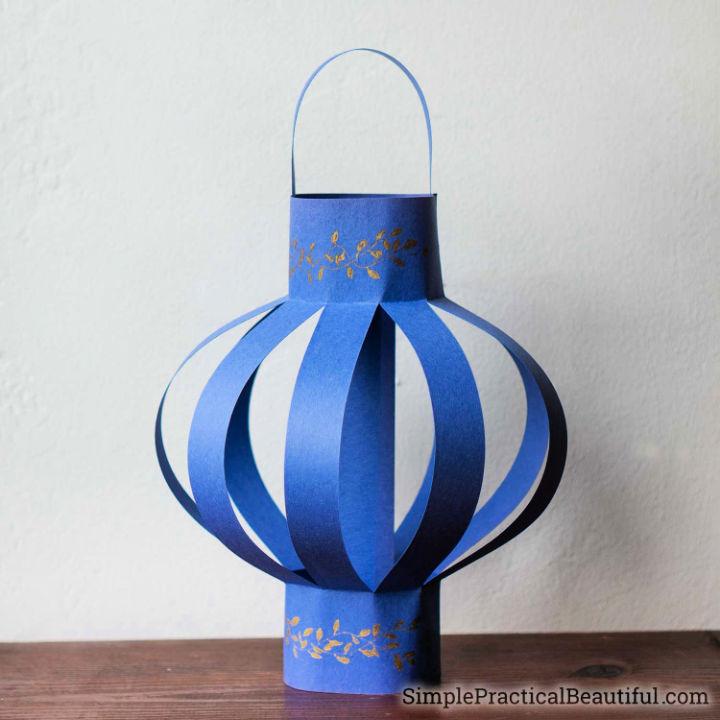 Get also crafty with the construction paper to make adorable decors for different festivals and events. A brilliant example here is these paper lanterns inspired by the Aladdin and many attention-grabbing ones. You need 2 sheets of construction paper or colored paper, tape, a ruler, an X-acto knife, a pencil, and a metallic sharpie to clone these brilliantly beautiful and elegant-looking paper lanterns. Here you can mark the area in the middle of the selected construction paper to cut fringes. Next, take the header and footer into a round shape and tape off in place, getting a beautiful paper lantern will make a great festival decor for sure. One of the easiest DIY paper craft ideas that you can try out with your favorite color of construction paper. simplepractical
23. Winking Paper Plate Leprechaun Craft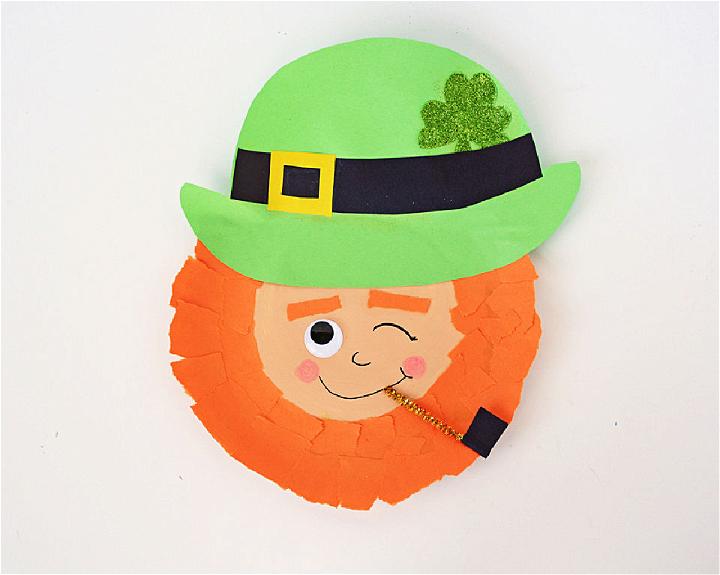 The papercrafts allow the kids to let their creative juices flowing. It will make them think like geniuses to achieve the custom shapes and figures using colorful construction papers. Follow here guides to make this winking paper plate leprechaun that is cute and colorful and will be the best dramatic decor to make this holiday season. You need a paper plate, construction paper in respective colors, green glitter, peach paint, large googly eyes, pink crayon, gold pipe cleaner, black marker, scissors, glue, tape, and a template or pattern to complete this project with ease. kixcereal
24. Fall Construction Paper Pencil Toppers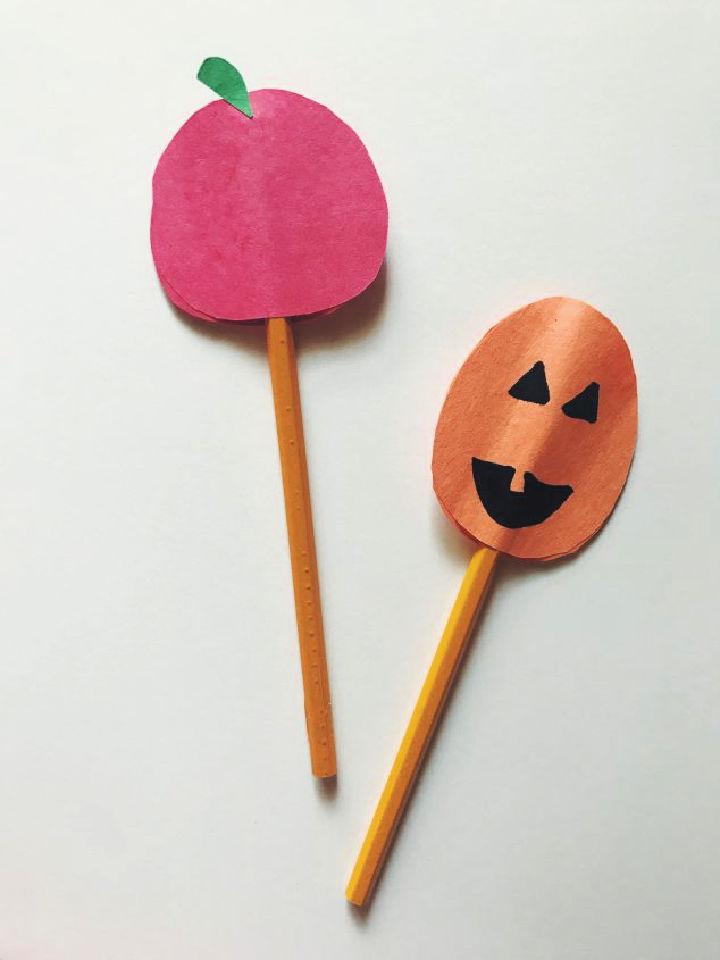 Go also handmade with the construction paper to make adorable pencil toppers also. They will help the kids personalize their pencils and other stationery. Get inspired by the given pencil topper designs that are incredibly cute and beautiful to look at. Grab the pencils, construction paper in colors of choice, glue, and scissors to easily duplicate these precious pencil toppers. Just cut the paper circles out of the construction paper and draw custom faces and things on them. Add them on the top of a pencil as super cute toppers. familyfocus
25. DIY Construction Paper Stones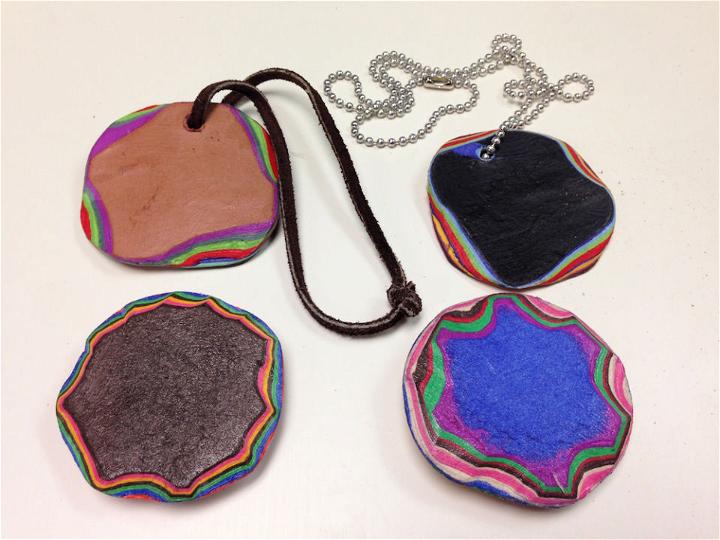 Are you highly obsessed with agate jewelry? Then make the agate stones at home using the construction paper in a variety of colors. Just glue the construction paper pieces selected in custom colors and layer them together. After you get them thick enough, just start sanding the sides to make the quick, beautiful agates. Add them up with the keyrings or necklace chains and with ear wires to make lovely pieces of agate jewelry. Read through the project to see a variety of readymade paper agate samples will be a big love of all the jewelry lovers for sure. mcguffeymont
26. Construction Paper Music Shakers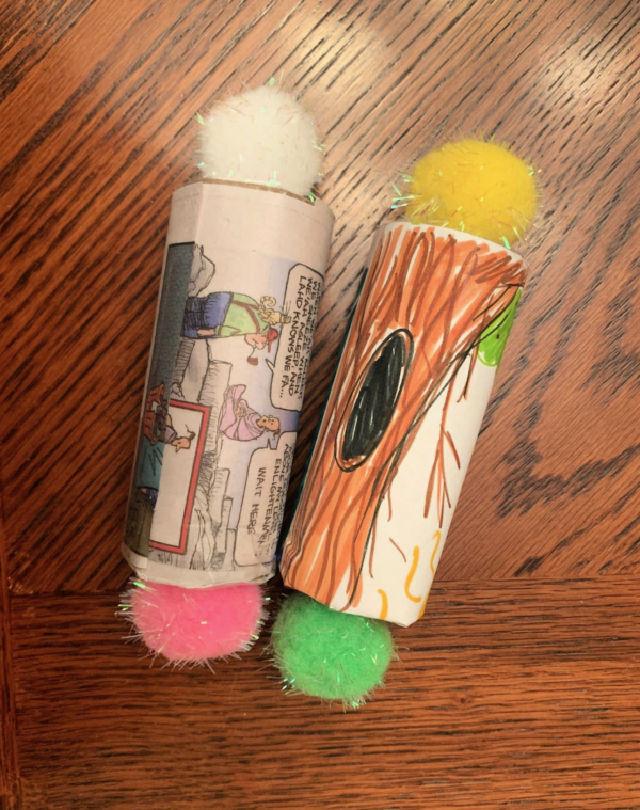 Surprise little musicians in a home with these extra brilliant music shakers, a brilliant construction papercraft project that everyone can do with ease. You need recycled toilet paper or paper towel rolls, cardboard, pencil or pen, rice or beans or paper clips, tape, markers, scissors, liquid glue, decorative paper, and custom embellishments to easily duplicate these music shakers, will be a big love of all the music-loving kids. The easiest construction paper craft that everyone can do with ease. One of the quickest DIY construction papercraft ever. conservancy
27. Construction Paper Heart Garland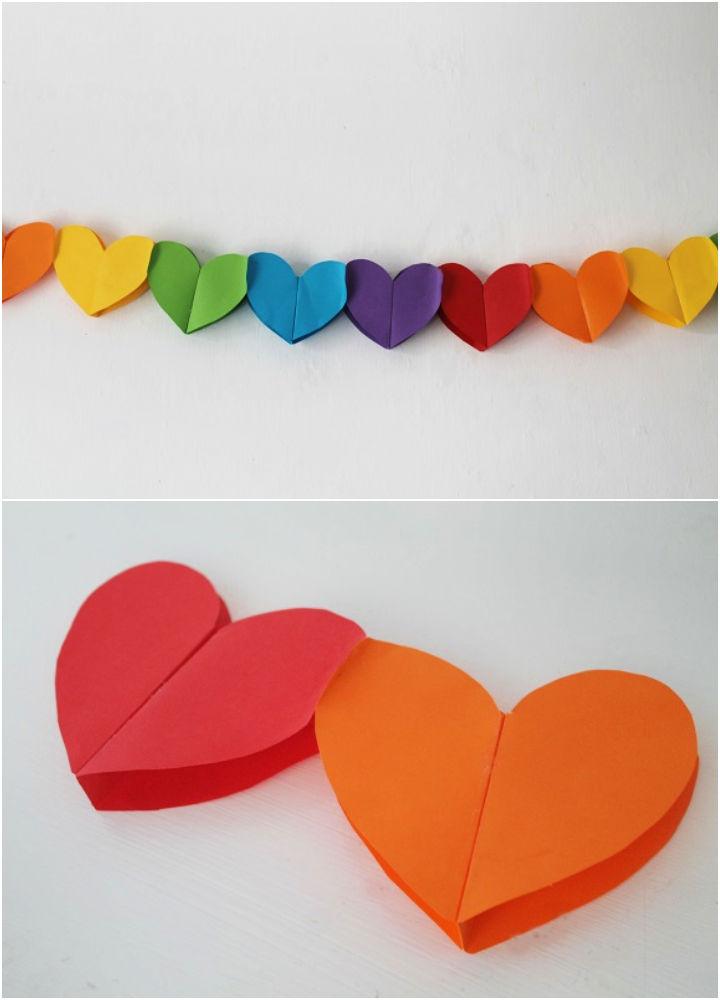 There are never-ending crafts out there that you can do make with construction paper. Rock your Valentine's Day decors by whipping up this construction paper heart garland, crazily easy and cute to whip up. It will speak volumes for the romance and love, and it will not take that too long to duplicate this heart garland. You need to cut a lot of hearts, a double paper heart in each paper color. Next, smartly cut and fold each heart shape in half. Put together two half to make a 3D heart decor. Put together a bunch of such hearts to make a quick, beautiful heart garland in no time. studiodiy
28. Popsicle Stick and Construction Paper Smiley Sun

Mix also the construction paper with various other crafting materials to make innovative crafts, decors, and toys. Get inspired by these popsicle sticks and construction paper sun craft that will say to everyone a sweet good morning. You need 18 popsicle sticks, washable glue, washable paint, paintbrush, marker, googly eyes, scissors, washable glitter, glue, and yellow construction paper to easily duplicate this awesome sunshine craft project. Everyone will fall in love with this sweet and lovely construction papercraft, and all kids can make it during the holiday season. crafts4toddlers
29. Easy Construction Paper Football Banner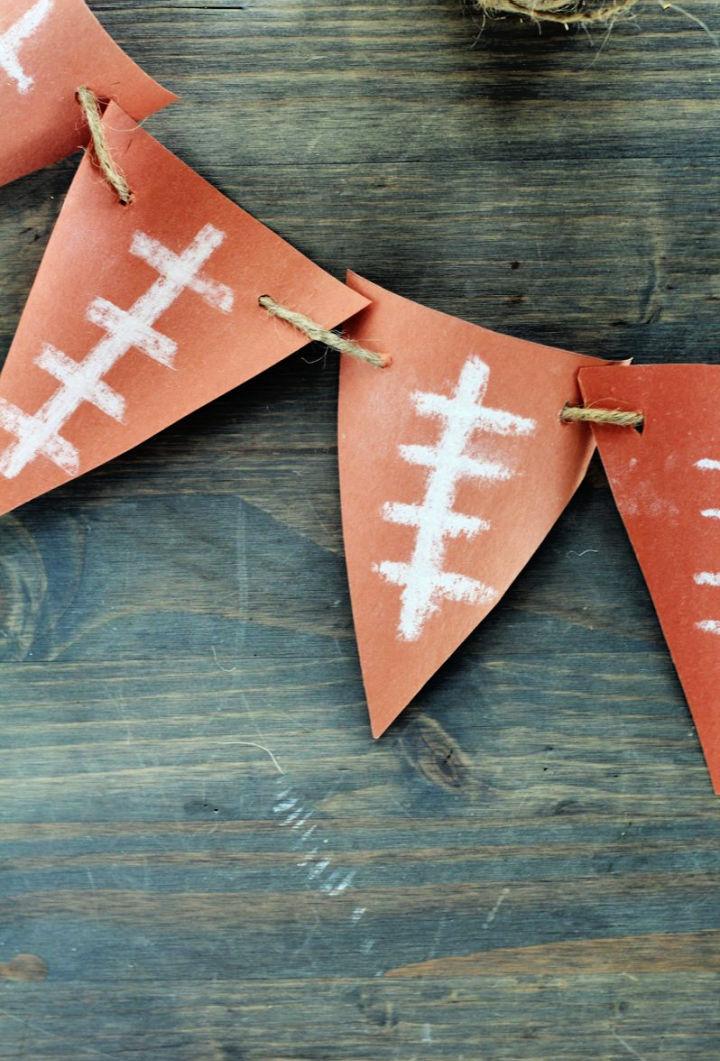 Sorting out the best decorations for the football season and festivals? Then do make these lovely football buntings that are crazily easy and quick to make with the construction paper. You need jute twine or kitchen wire, ruler, hole punch or wood skewer, chalk or white paint pen, brown construction paper, and scissors to easily duplicate and clone this fabulous football banner. The project is all about cutting buntings out of construction paper selected in the football color. Use the white pen to add the other football details. A wholly creative DIY construction paper gift idea. buythiscookthat
30. Construction Paper Bookmarks for Kids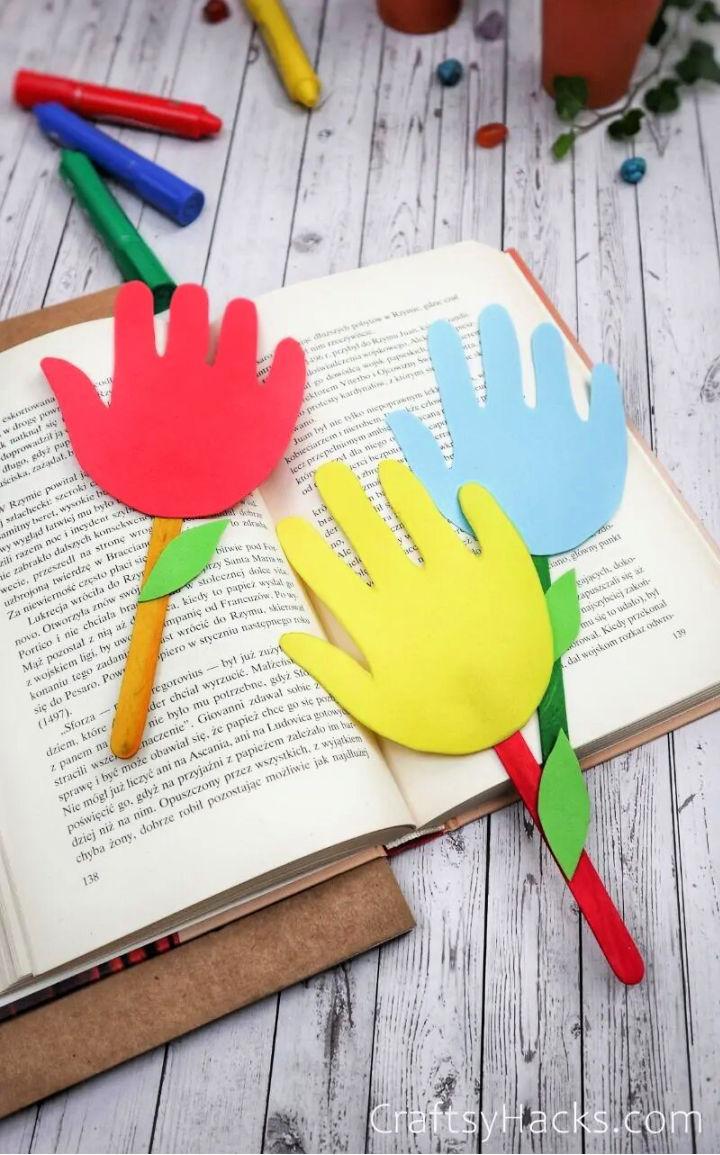 Follow here guides to make sweet and gorgeous bookmarks out of the construction paper. They will be a fun way to remember a book page where you left off. Just trace the hands on the construction paper selected in your favorite colors, then cut them out and glue them on the popsicle sticks to make a quick, beautiful bookmark. Don't forget to add the green leaves to painted popsicle stick stems, and they can easily be cut out from the green construction paper. One of the best DIY craft ideas based on construction paper. craftsyhacks
Conclusion:
Construction paper can be the easiest and cheapest material out there to make crafts with. But many of us are not very familiar with the crafting potential of the construction paper and don't know where to start. So, presenting this big list of DIY construction paper crafts will make it easier for you to get crafty with the colored papers to make innovative things and stuff that all kids will like and love.
These construction paper crafts will share comprehensive written and visual guides to get the art of paper crafts in hands. These easy paper craft ideas will boost the kids crafting activities and can be planned for kids' holiday crafts. Moreover, these kids crafts will share complete material and tool lists to easily understand and duplicate these paper crafts.