Learn how to draw an umbrella with these 15 easy umbrella drawing ideas for kids with step by step sketch guide, free printables and coloring pages. With the world becoming fast and busier, everything has become technology-based. Yet there is still no denying the importance of simplicity of a few things like umbrellas. Umbrella drawing ideas capture the exact simplicity of this tool and help you to draw it in a few steps.
There might be a chance that you would enjoy drawing and coloring these umbrellas so much that you wouldn't want to stop making one. All you need is your drawing pad and a few coloring supplies to try these umbrella drawing ideas and have a bit of artsy fun during a relaxing afternoon. The little ones will also have a fun time working on these simple drawing projects.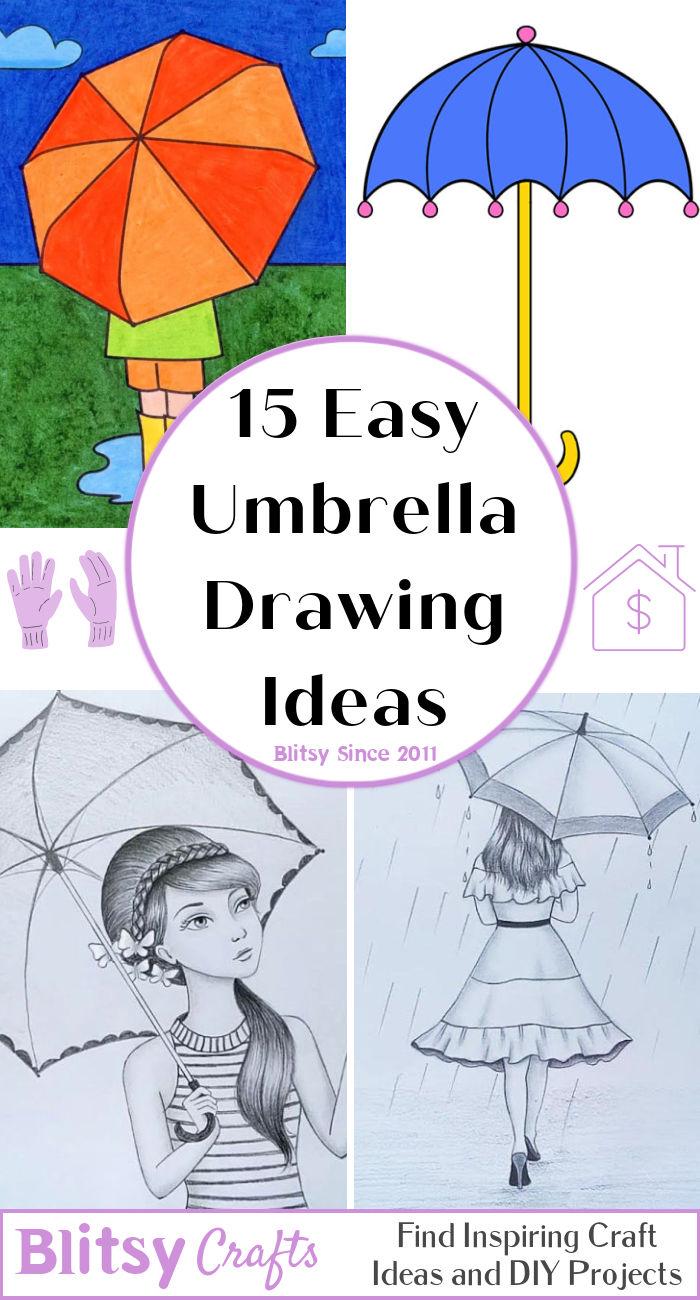 With so many things happening around, a new but simple art project over the weekend can really set the mood. Make sure that you try these umbrella drawing ideas to have some simple fun. Try making easy umbrella drawings or if you are in the mood for sketching, try sketching a realistic-looking umbrella. Make an umbrella that's open to catch the raindrops or use different colors to make a colorful drawing of an umbrella. Follow step-by-step instructions to make an umbrella and don't forget to try making an umbrella used at the beach.
1. Easy Umbrella Drawing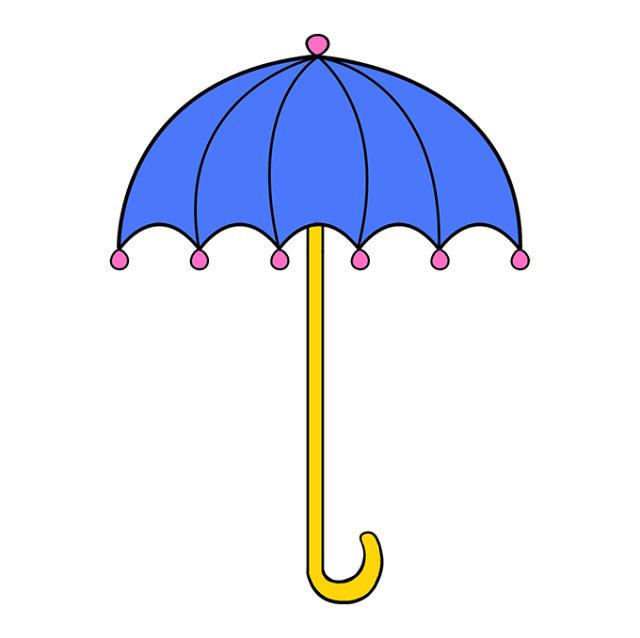 Children want to learn to draw something that is super simple so that they understand all the steps. Try this umbrella drawing idea to learn to make simple drawings of an umbrella and have some fun. We have compiled some easy step-by-step instructions that have broken the drawing of an umbrella into small chunks to help you to draw it easily. Start your sketch by making a straight line in the middle of your paper which will form the base for the umbrella top. easydrawingguides
2. Umbrella Drawing Sketch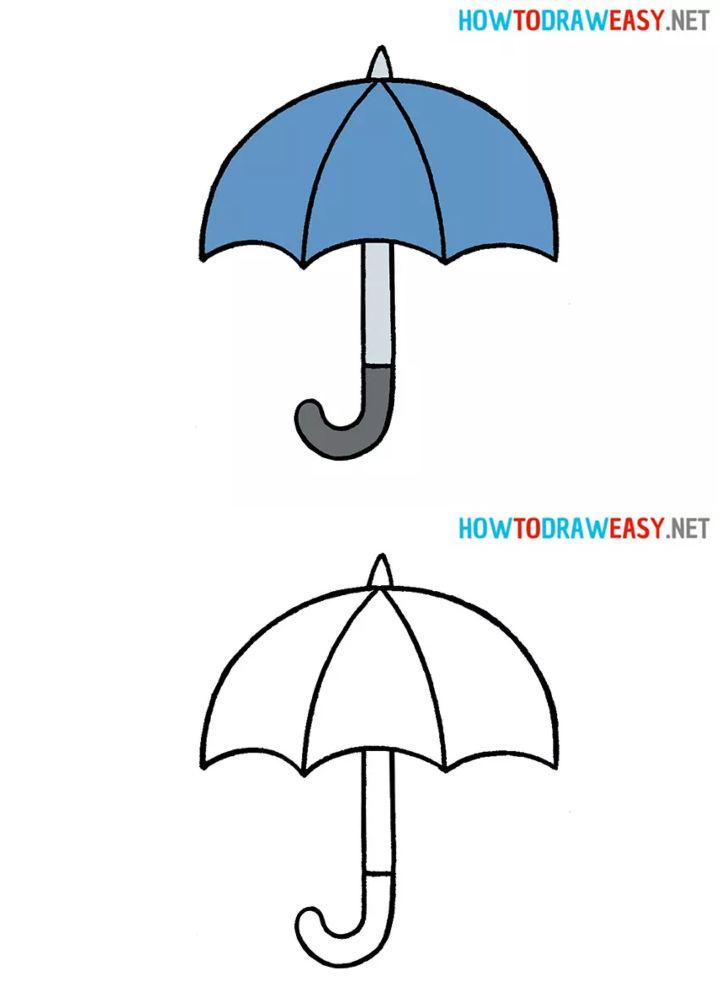 When children are just starting to go to school, they only enjoy doing easy to learn stuff. That forms the base of their learning and they never forget these things in life. For new learners, we are sharing some umbrella drawing ideas to learn to draw an umbrella in a fun easy way. Simple to follow steps will help them draw this raindrop catcher easily and they can be proud of their creation. Let them color it just to make it their own. howtodraweasy
3. How To Draw An Umbrella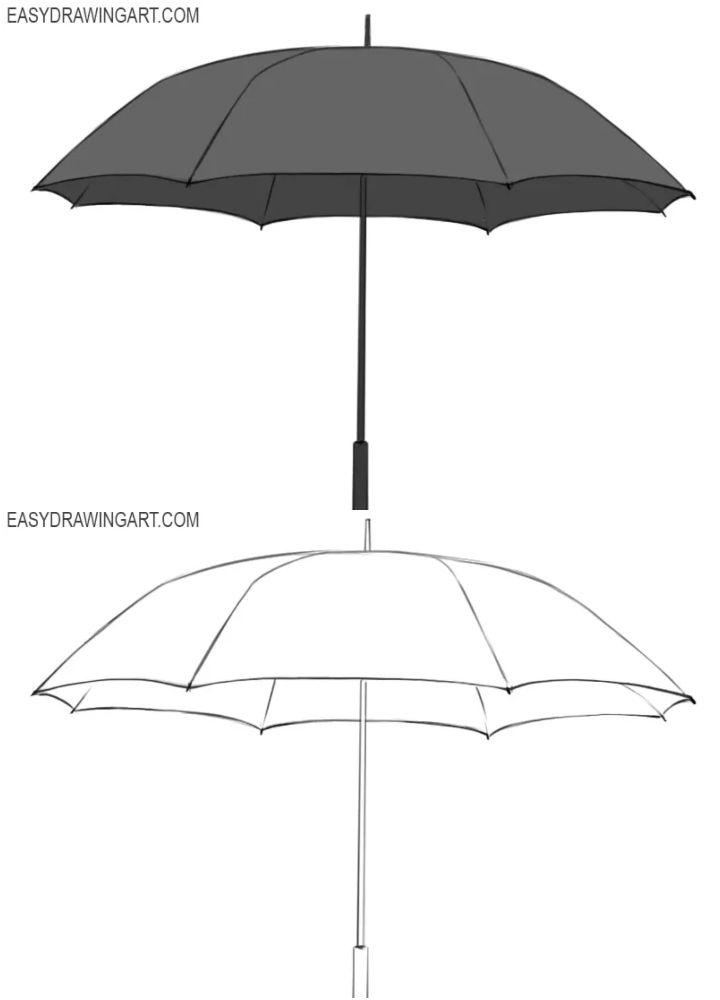 Learn to draw an umbrella in a few simple steps and have some fun doodling away during a lazy afternoon. All you need is a drawing pencil, a piece of paper, and some colors or markers to work on this drawing project. Make sure that you follow the steps properly just so you get the right drawing perfectly even if it's your first try. The easiest way is to start draw an umbrella from its bottom so that you can build on the surface easily. easydrawingart
4. An Open Umbrella Drawing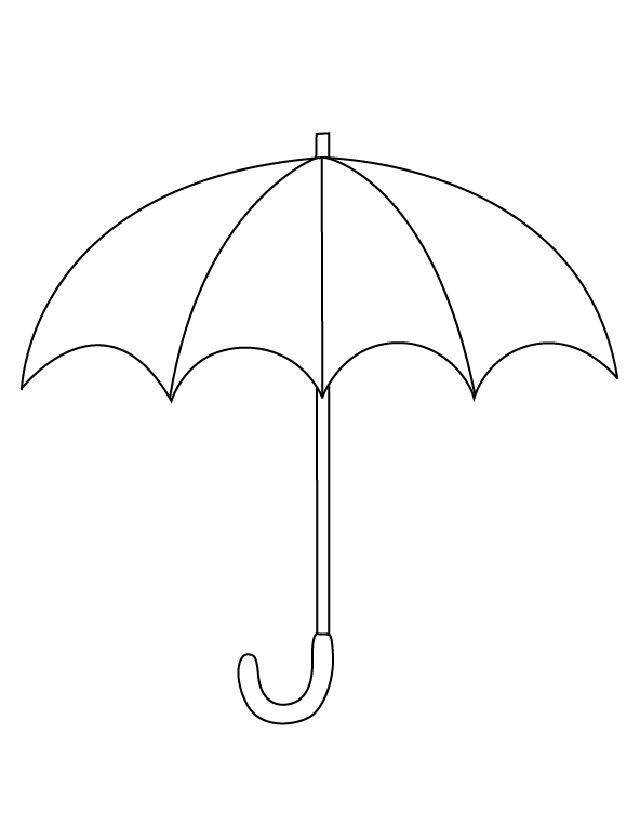 Kids have so much to learn when they first start off so there must be ways that can make their journey fun and memorable for them. Make a beautiful drawing of an open umbrella that can be made as colorful as the kids want. There are various steps shared in this tutorial that will help you to draw this open umbrella easily. You can be done with this project in just one sitting and the coloring choices depend entirely on you too. drawingtutorials
5. Umbrella Drawing For Kids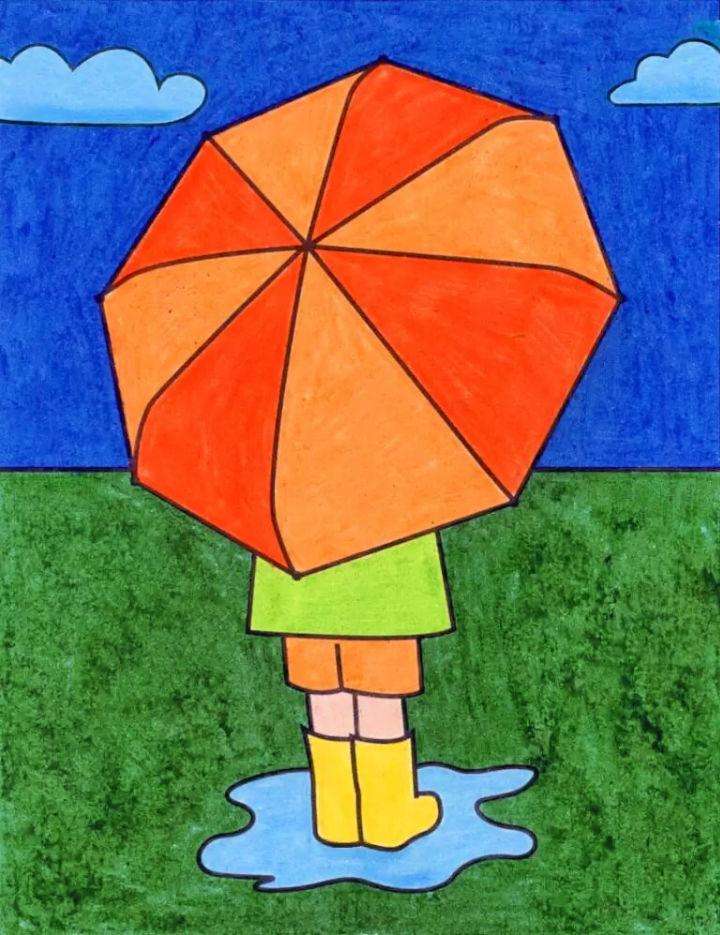 A colorful umbrella is one thing that we all have owned as children at least once in our lives. Now you have a chance to learn to draw this colorful umbrella, that too, in just a few steps. Add a small pair of legs to the umbrella with some water just to add some more color to your picture. The best way to start this drawing is by making one horizontal and one vertical line on your page which will serve as reference lines. artprojectsforkids
6. Colorful Umbrella Drawing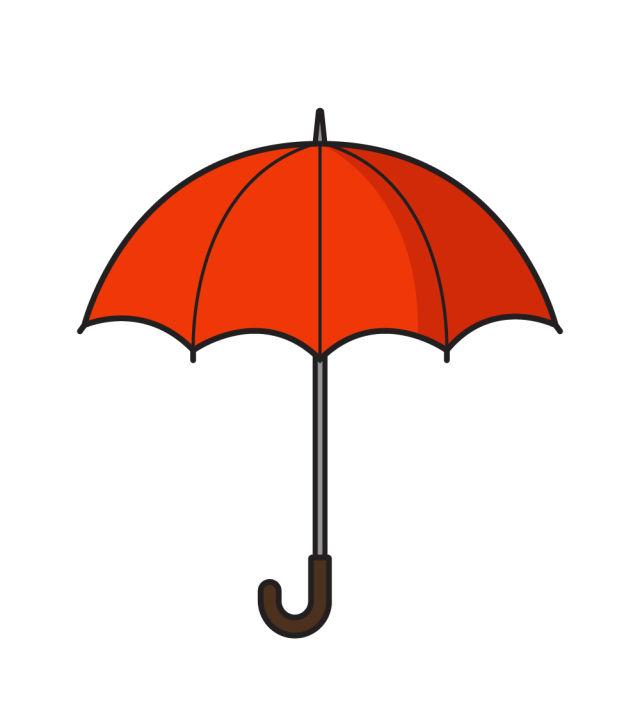 Some use umbrellas to be safe from the sun while some use them to be safe from the rain. No matter how and when you decide to use it, there is no denying its practicality. Here is your chance to learn to make an umbrella and enjoy working on a simple drawing project. With this type of drawing there is a chance to customize it according to your requirements like the size, shape, and color. Go nuts with adding patterns or designs to its canopy. iheartcrafty
7. How to Draw an Umbrella Step by Step

Use basic art skills that can help you make a beautiful yet simple design of an umbrella. Make it in any way you want as there is nothing that can go wrong with this drawing. Start by making thin fine lines so that you can erase them easily as you go on with your project. Make sure that you personalize your drawing by using vibrant colors and attractive shapes of the canopy. This umbrella drawing is really very simple to make for everyone. easylinedrawing
8. Beach Umbrella Drawing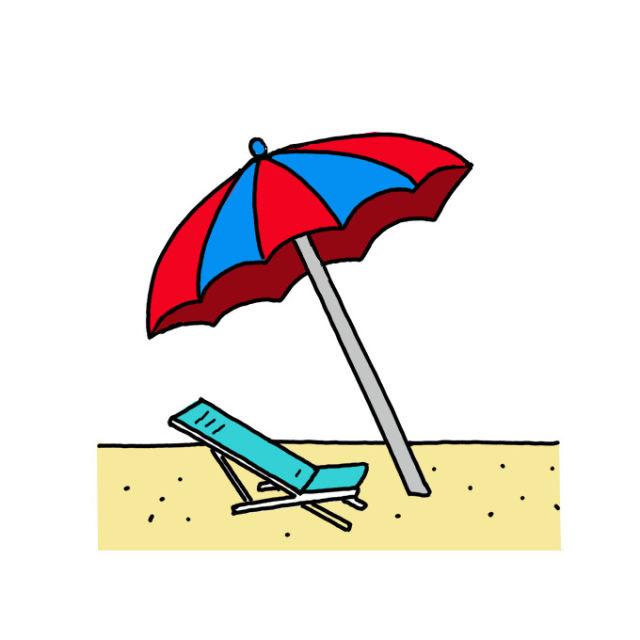 Here is your chance to learn to make a simple and colorful beach umbrella drawing. You can add some water in the background along with a beach chair that will serve as a complete beach scene. Make sure that you make a colorful canopy for your beach umbrella. Start making your drawing by making the beach chair so that you can decide on the exact size of your umbrella canopy. Use marker paper/sketchbook, pencil or sharpie, and coloring materials like crayons or markers. drawinghowtos
9. Girl With Umbrella Drawing

Some things are really very simple to draw. Use these simple umbrella drawing ideas that actually make your umbrella drawing project simple for you to follow but hell fun. Make a beautiful sketch of a girl holding an umbrella that will look like being done by an expert artist. You will need supplies like an ultimate dark pencil, drawing paper, and a blending stump or a paintbrush or cotton buds. The best way to start is by drawing a vertical line in the middle of the paper.
10. Drawing Of An Umbrella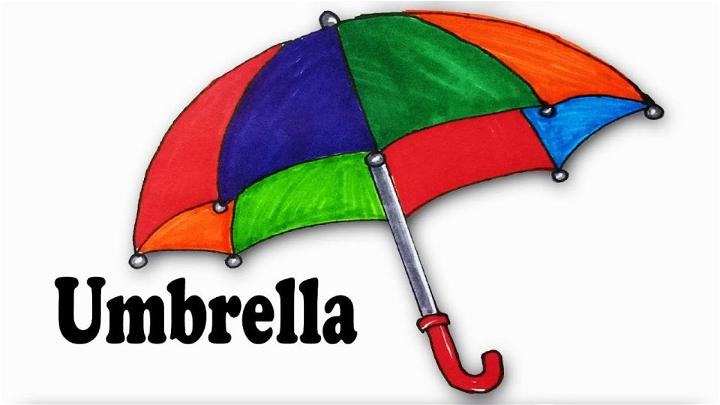 Follow a step-by-step easy method to learn to draw an umbrella that can be done in just a few minutes. This drawing is very simple to make as the umbrella is broken down into small chunks so that even the little ones can follow the process without any difficulty. Draw the umbrella canopy first as the shaft is really just a simple straight line left to make. Make sure that you color the canopy brightly to make your drawing stand out.
11. Holding An Umbrella Drawings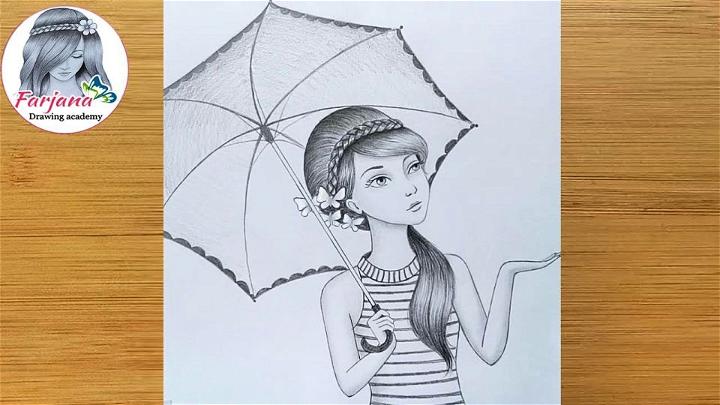 Draw a pencil sketch of an umbrella that can give you some really relaxing time when you are feeling artsy. Grab your extra dark sketching pencil and get down to work. You can also add a beautiful girl holding this umbrella to add some more substance to your drawing. Start by making small fine lines to make the base of your sketch and then proceed on to complete the drawing. This step-by-step process involves making the girl first so make a small half square.
12. Rainbow Umbrella Drawing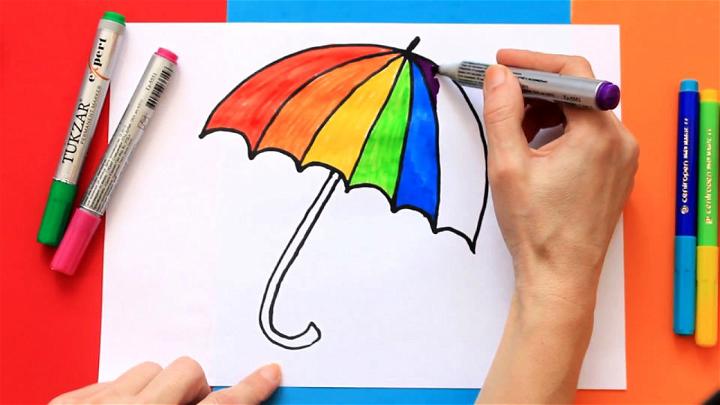 A colorful umbrella can really perk up a gloomy rainy afternoon. Bring this beautiful rainbow umbrella inside your house by drawing it on a piece of paper and enjoying a simple art project. You will need some bright rainbow colors to color the canopy bright. You can start your project by using a thick black marker to make the shaft of the umbrella to proceed on to make the canopy. Any design, shape, or size will be perfect to fit your shaft.
13. Umbrella Cartoon Drawing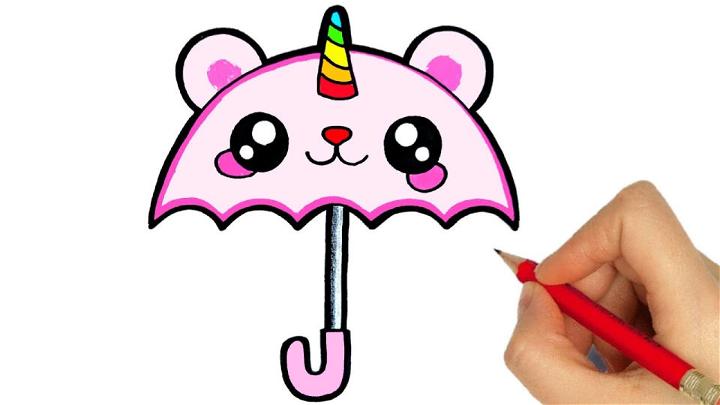 Grab a plain black marker and make a cute umbrella drawing by following a simple step-by-step process. You can use plain paper or sketchbook paper to make this drawing as it can later be used to display anywhere you like too. Start your drawing by making two curved lines on the paper and a small cone in the middle. These lines will serve as the canopy top and then you can add any type of pattern you like to make it your own.
14. How To Draw Couple With Umbrella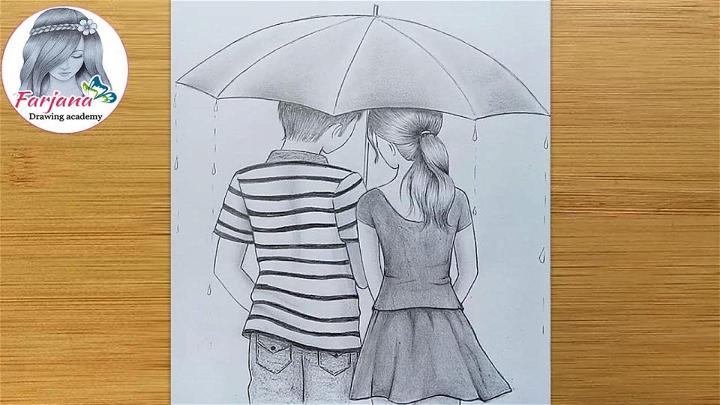 A romantic drawing that can be very simple too is a couple standing in the rain holding an umbrella. You can make a pencil sketch of this couple with an umbrella easily by following these umbrella drawing ideas. Make a large curved line at the top of your paper followed by a zig-zag line which will be the canopy of your umbrella. You can make the couple from the backside easily using some extra shaded lines and the coloring choices also depend upon you entirely.
15. Simple Umbrella Drawing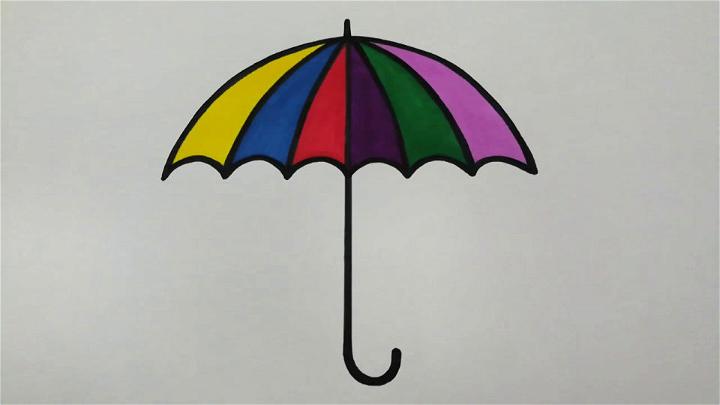 Here is your chance to learn to draw a simple drawing of an umbrella by following a step-by-step method. Use a simple black marker for your drawing and start by making a small vertical line in the middle of the paper. Intersect this line by making small horizontal dots. These lines will serve as reference lines to make your drawing as the vertical line will act as the middle of your canopy to join with a shaft. Divide the canopy into small sections.
16. How To Draw A Girl With Umbrella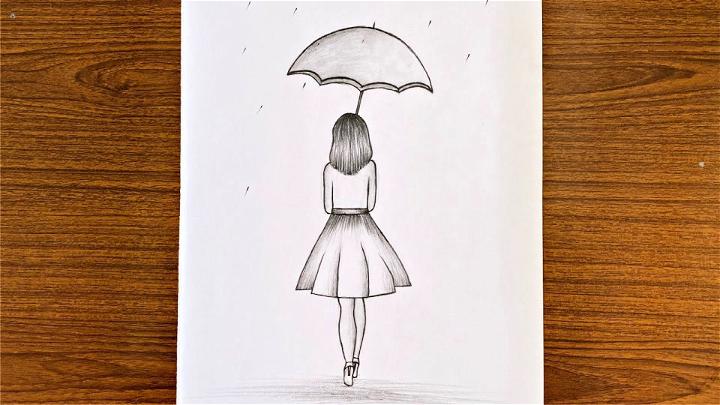 Make an easy drawing of an umbrella being held by a girl enjoying a rainy day. You can add shaded lines to make your drawing look like a sketch or simply make thin fine lines that can be later made darker using a marker or sharpie. This drawing project starts by making the canopy of the umbrella first attached to a small shaft. Customize your drawing y making any size or pattern of the canopy and then make a small arm holding the umbrella.
Related Drawing Ideas:
Guitar Drawings: Learn how to draw guitars with step-by-step video lessons. Drawing tutorials include different angles of the guitar, arpeggios, and more.
Sword Drawings: Here are some of the most popular ways to draw a sword. – pictures and videos – to inspire your next sketching session.
Car Drawings: Car drawings are often used as a method of self-expression and creativity. Here you can find some basic tips to help you draw your favorite car in a realistic way.
House Drawings: Here you will find a collection of house drawing ideas and designs that you can download and use.
Heart Drawings: Draw a picture of your heart in a shape, pattern, or style that's unique to you. The most important thing is to draw something that means something to you.
Conclusion: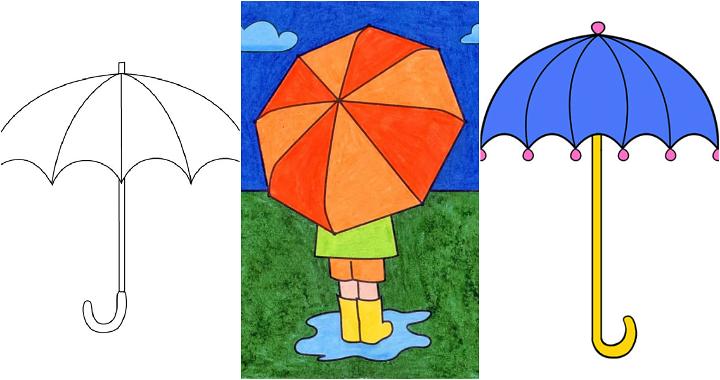 The famous song 'under my umbrella' by Rihanna is much loved by everyone even little children. So you must join the umbrella craze too by trying these super fun umbrella drawing ideas. These umbrella drawing ideas will actually help you make beautiful drawings of an umbrella and that too very easily. Little ones and beginners can take advantage of these umbrella drawings and follow simple steps to learn a simple and fun way of drawing an umbrella. Who doesn't want some nice weekend fun that can be spent drawing and coloring sitting with your loved ones whilst chilling? So these umbrella drawings are a must-try for everyone!