Fond of cars? Well, then you are in luck today! Learn how to draw a car with these 25 realistic and easy car drawing ideas and tutorials include step by step sketch guide, printables and coloring pages that will give you just the proper guidance through which you can sketch any car. Yes, that's right any car! Any car enthusiast is always keen on the little details about cars! The body, the inside sitting space, the bonnet, how the whole shape looks and what not! So, imagine how cool it will be to draw out the sketches of your own favorite cars by following these car drawing ideas and tutorials. You can flaunt your art as an artist and also you can use it as a poster for your room or give it as a gift to someone also.

From easy race cars to police car drawing ideas; or from old cars to cute cartoons looking like cars; we have it all here! Learn how to draw a stunning Porsche car side view or ace at drawing a race car, you can learn it with these easy-to-make stepwise car drawing ideas! So, if you are someone who is inspired by all these exciting cars but just can't the hang of drawing them, worry no more! So are you ready to draw front, back or side sketches of these many cars with these easy car drawings?! Gather around the simple supplies and get racing.
1. Easy Race Car Drawing for Kids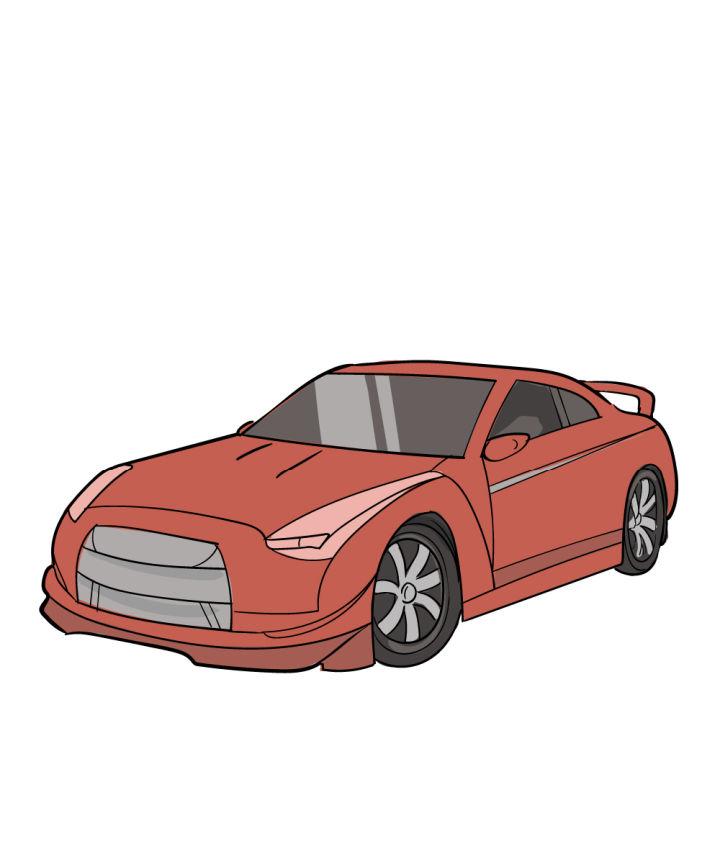 Time to satisfy your car's obsession with this super easy race car drawing guide. You can start off by first drawing the frame of the vehicle itself and then taking it up from there. In 6 simple steps, you can easily ace at this car drawing idea. It is advised to draw first using a pencil and then finalize the drawing with the pen later on. iheartcraftythings
2. How to Draw a Police Car

In our childhood, many of us wanted to become a cop, right? Get ready to draw this funny looking police car with these easy steps! This police car drawing guide is just going to take 45 minutes of your time to get done! You can begin by drawing the top of the car, then move on to drawing the car's body. Finish off by drawing the bumper and the light bar on the top! howtodraweasy
3. Realistic Car Drawing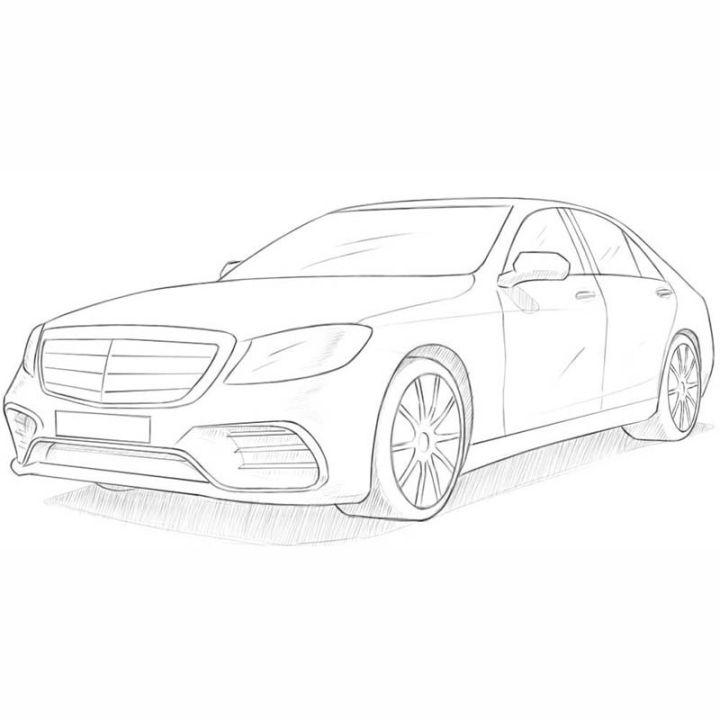 Looking to draw a car looking rather more realistic and appealing? Then you are absolutely going to enjoy drawing this Mercedes car! It involves 9 simple steps to ace this car drawing idea. So, start off by drawing on the various parts of this car, like the bonnet, doors, front and back bumpers, etc., and then begin to smooth it with the cotton pad. Gradually you see the change in your car. drawingforall
4. How to Draw an Old Car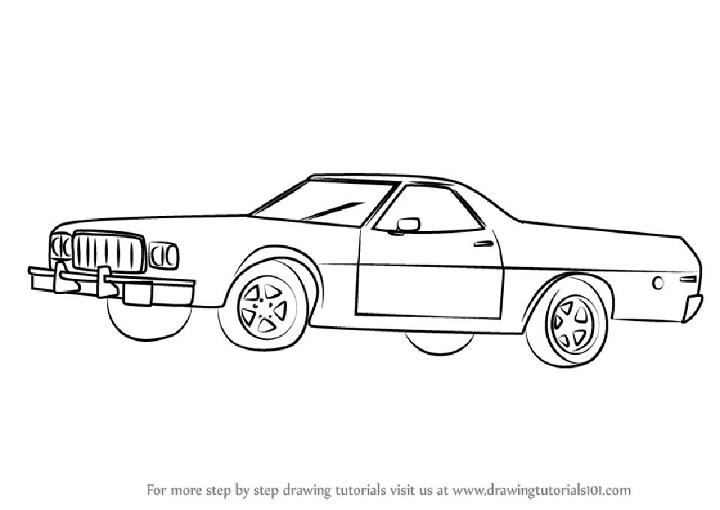 Many people are nostalgic and are obsessed with the old models of expensive cars, especially Mercedes. To draw it, you should know the designs of 80's or 90's cars, like a big flat bonnet, slim shape, and a very antique touch on the front. Keep these things in your mind. You will bang on the drawing of this car. drawingtutorials
5. Cute Car Outline Drawing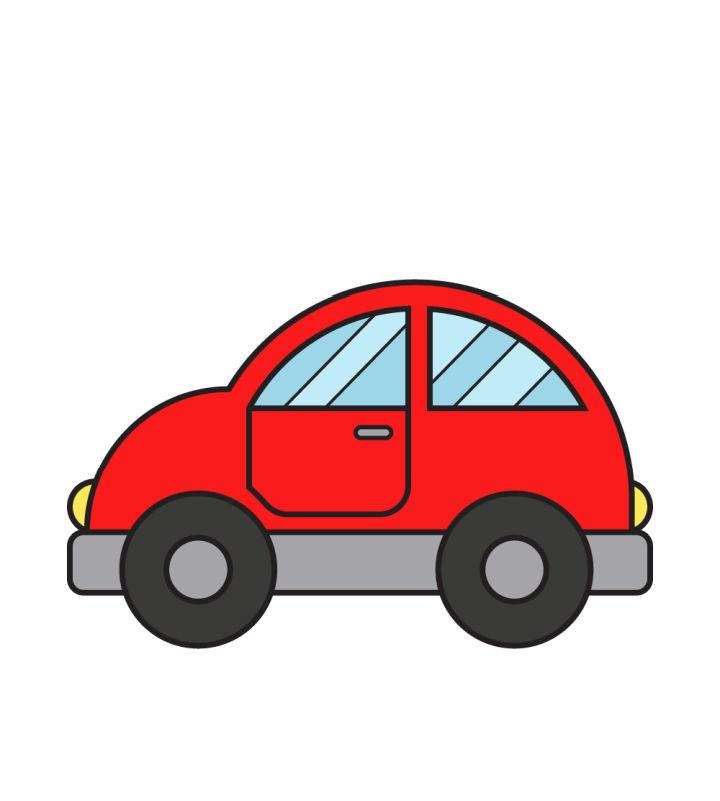 Many people are nostalgic and are obsessed with the old models of expensive cars, especially Mercedes. To draw it, you should know the designs of 80's or 90's cars, like a big flat bonnet, slim shape, and a very antique touch on the front. Keep these things in your mind. You will bang on the drawing of this car. iheartcraftythings
6. How To Draw A Car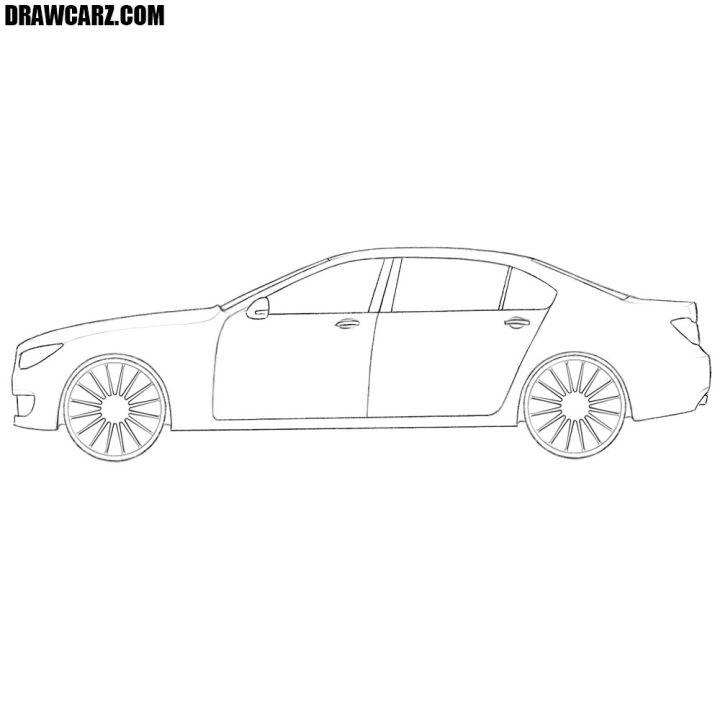 Suppose you are interested in the designs of simple cars. Well, anybody can draw this effortlessly. You need to draw on a simple frame of the whole vehicle first, and for the round tires, you can use the bottle cap. For the doors, the scale is the best option if you can't draw straight lines with your own hands. drawcarz
7. Small Car Drawing Step By Step

Following these simple 10 simple steps, you can easily ace this simple car drawing! Get your hands on a few supplies like a pencil or a marker and paper. Start by drawing a circle and straight line out of it then draw another circle at the other end. Take it up from there! easypeasyand
8. Drawing Of Sports Car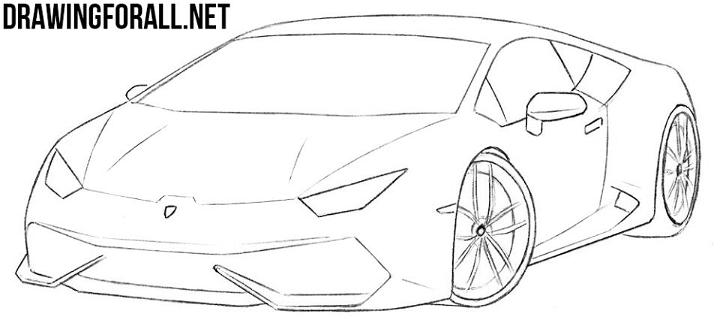 A car that is famous for its dynamic performance, sporty designs mostly look like a beast. In the first step, draw the basic rough outlines and remember the bonnet of this car is vast, and the car is very close to the road from its lower. In the second step, draw the curved headlights and mirrors of the car. And in the final stage, give the final touch through shading, outlining, and clearing the edges. drawingforall
9. How to Draw a Porsche Car Side View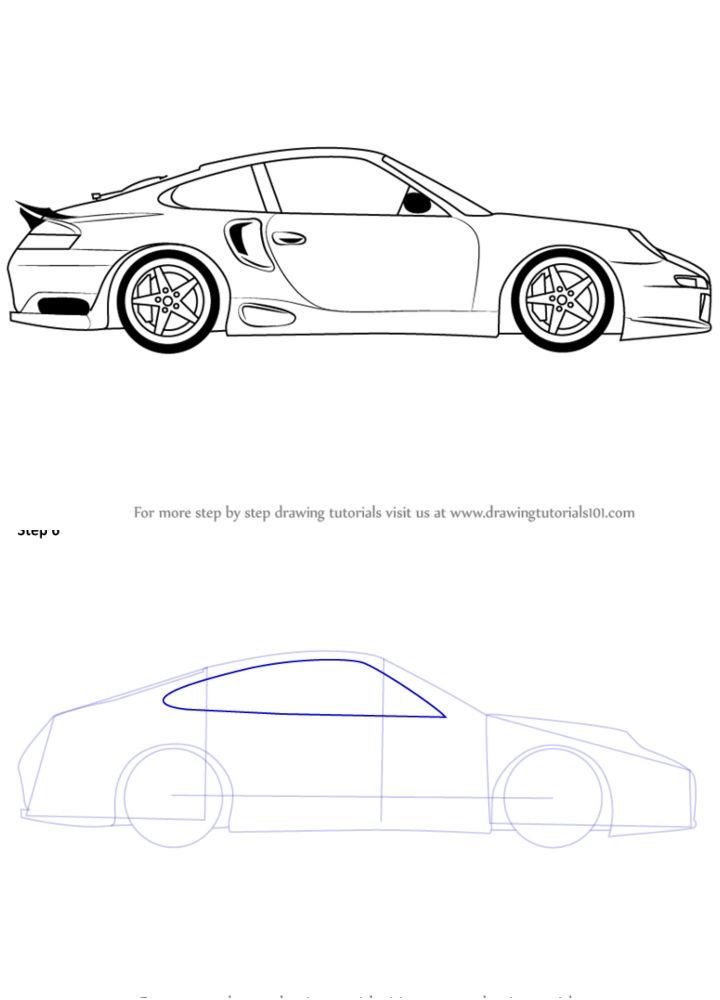 Porsche is clearly a loved vehicle by many! If you are a fan of Porsche as well, get started with this easy guide stepwise. Start by drawing the frame lines, and by following it, anyone can make a classy side view of Porsche's car that looks attractive and catchy. drawingtutorials
10. How to Draw a Car From Scratch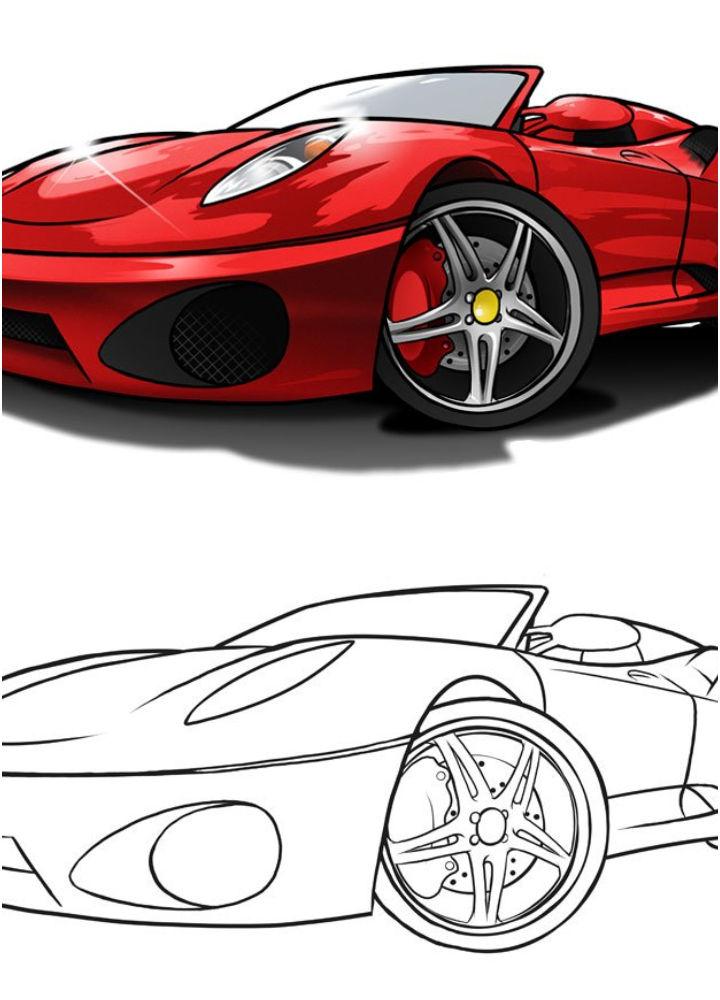 Learning to draw a car from scratch in the most professional manner. Start by drawing some rough boxes in the start depending upon the car type. Or put a horizontal line to finalize the surface distance from the imaginary road! After done with the harsh lines, It's time to mold it in the exact shape design tutsplus
11. Easy Front Car Sketch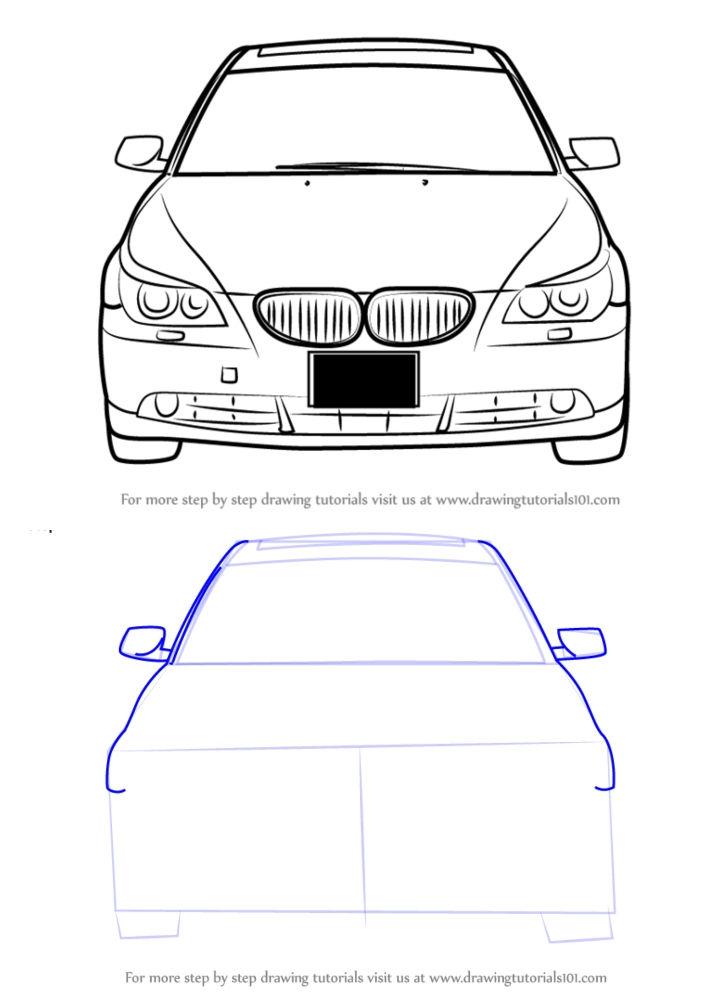 The most detailing area of any car is its front, which describes what sort of vehicle is this? For this, start off by drawing two horizon lines, then go on the headlights and front bumper and finally end up the bonnet and a curve front mirror. Remember, the more the detailing is on the bonnet side and on the bumper, the more this car sketch looks enchanting. drawingtutorials
12. Simple Pencil Drawing Car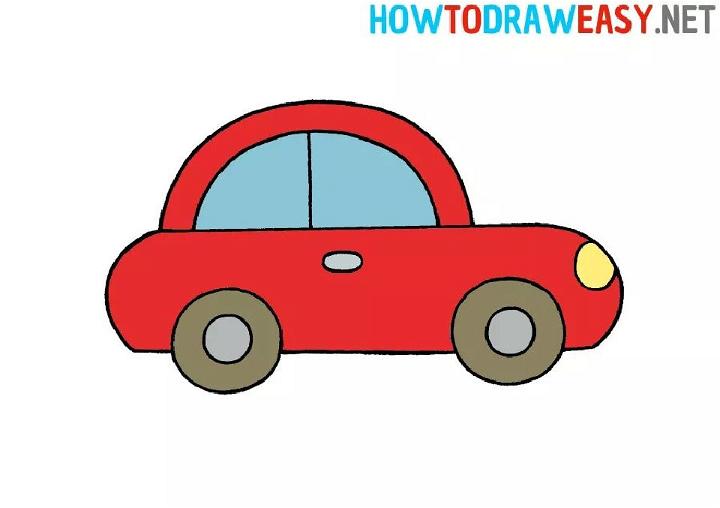 Suppose you are sitting on a chair and you have only a led pencil and a simple piece of paper you don't have any desk or other thing. You can still sketch a car. Draw a big "T" with the two rectangles on both sides and then match it up. Here it is! Your vehicle is ready to go. howtodraweasy
13. Back Of Car Drawing Step By Step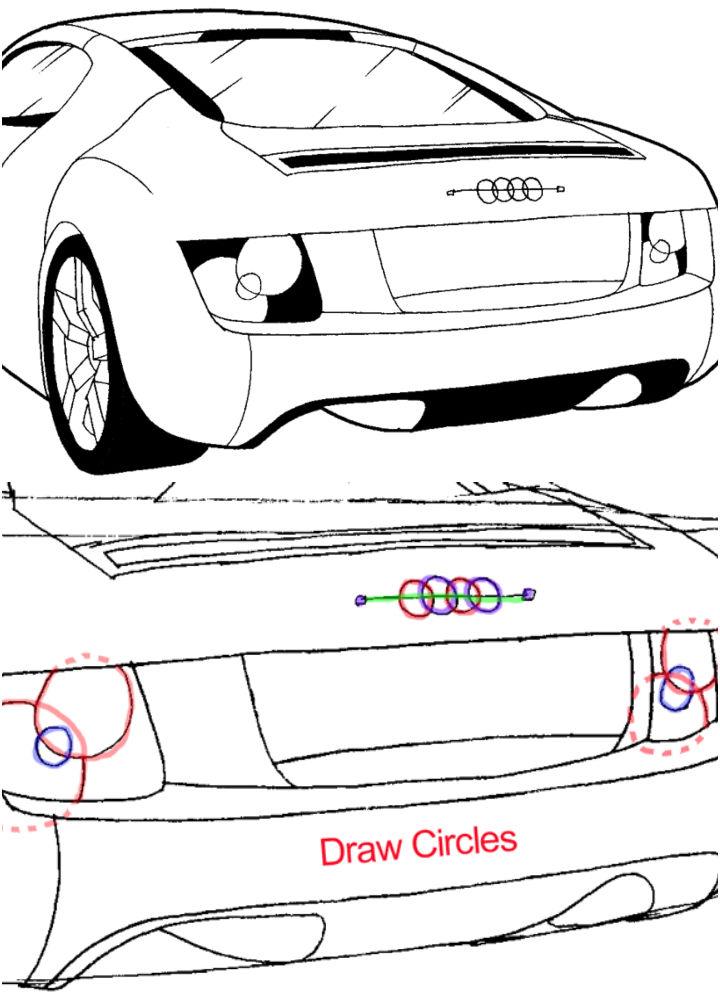 Like the front area of a car, the back part also has its own importance and needs some more detailing. This car tutorial would help adding detailing on the back bumper, lights, logo, name of the car, and mirror, which is slightly different from the front. drawinghowto
14. Basic Car Drawing for Beginners

Get your hands on supplies including paper, a pencil, a ruler, some colored pencils and circles for adding the wheels and other detailing to the car. Start off by drawing the bottom of this car drawing idea using your pencil, ruler and draw two circles for the tires. skiptomylou
15. How to Draw a Cartoon Car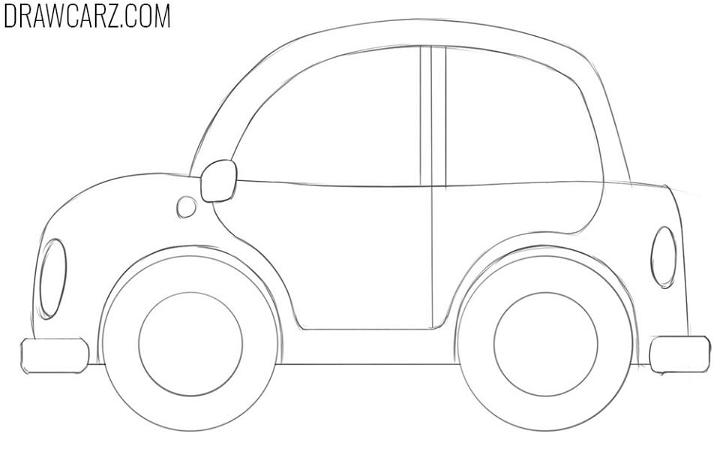 Everybody likes to see cartoons and especially those which have good stories and graphics. Like in our childhood, we used to see "Nody," a boy with a car, and Motorville based on car racing. The cars in those cartoons look very cute. So, to draw it on, you have to keep the round and funny texture in your mind with bubble shape headlights and with some fresh, vibrant colors. drawcarz
16. Cartoon Car On Road to Draw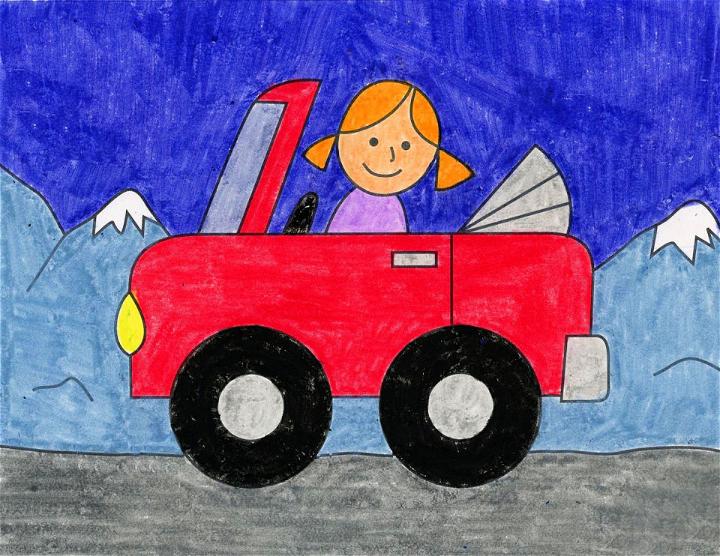 Gather supplies including a drawing paper, some colored crayons, a black marker and don't forget to download the PDF template for this car drawing idea! It will just took 25 minutes of your time to ace this beautiful drawing. Loaded with a colorful background it will be a delight to make. artprojectsforkids
17. How To Draw A Muscle Car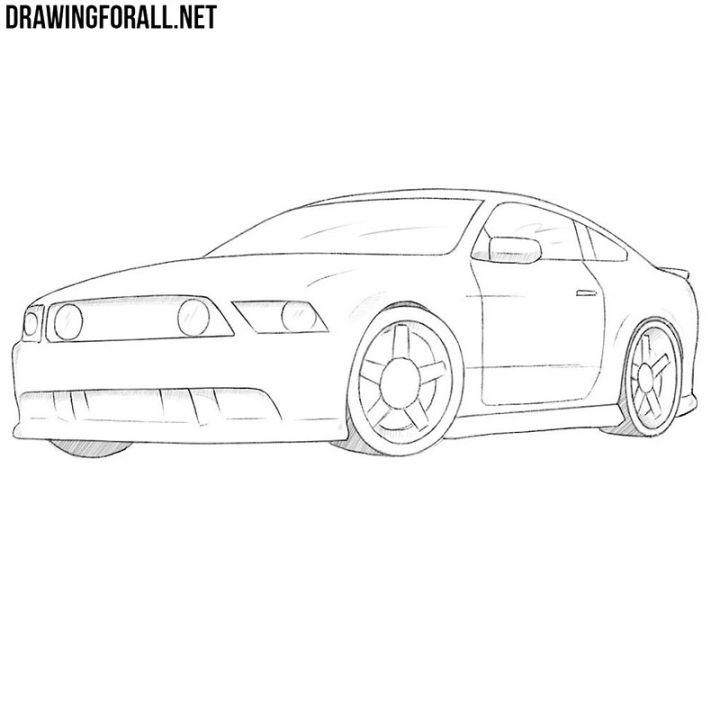 Do you know what a Muscle car is? A high-performance car that you see in the movie or somewhere on any car racing program. We all want to get at least one ride on that type of car because it looks just oh so classy! Head over to this link and get started with this guide right away. drawingforall
18. How to Draw Mini Cooper Sports Car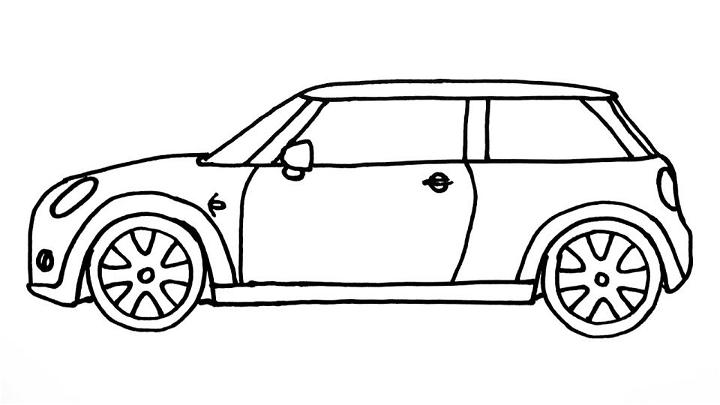 If you are someone who is a beginner in the drawing world, you are going to love this Mini cooper car drawing, which is best for you. This tutorial will guide you on different things you need to ace at sketching! Remember, first to draw it through a led pencil, then to cover up; you can use an outliner.
19. Lamborghini Huracan Sports Car Drawing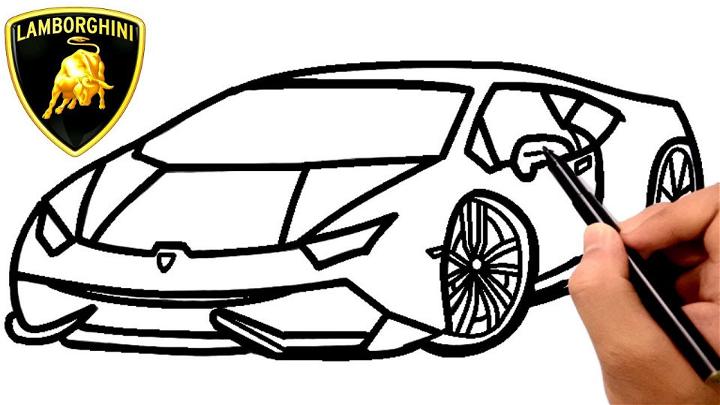 Sports car love is a love that can never be ended. Here we have this perfect guide for you on how to draw a Lamborghini Huracan. The significant cuts on the bonnet and its bull shape make it unique. So, keep the body shape in mind and give many details on its front that will make it look more realistic.
20. King Crash In Car Drawing For Kids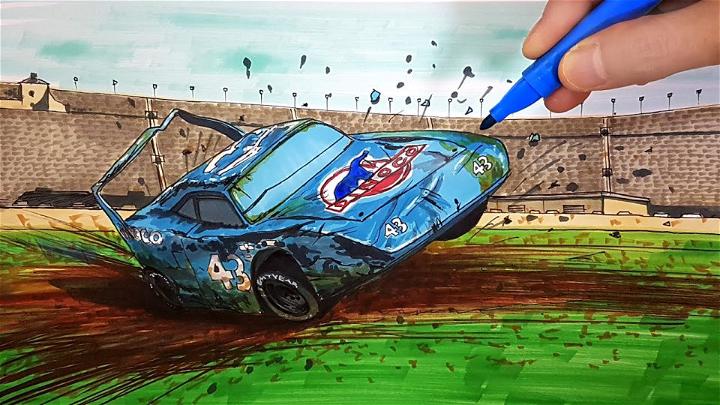 A person who likes to watch action stuff, his mind is thinking all the time about cars drifts and slides and imagining all the dust around the car while drifting it. How cool is that if you draw the same picture which is in your mind right now. Yes! It can be possible with a bit of effort and a bit of knowledge about color grading to make it even more realistic.
21. Jdm Nissan GT R Car Drawing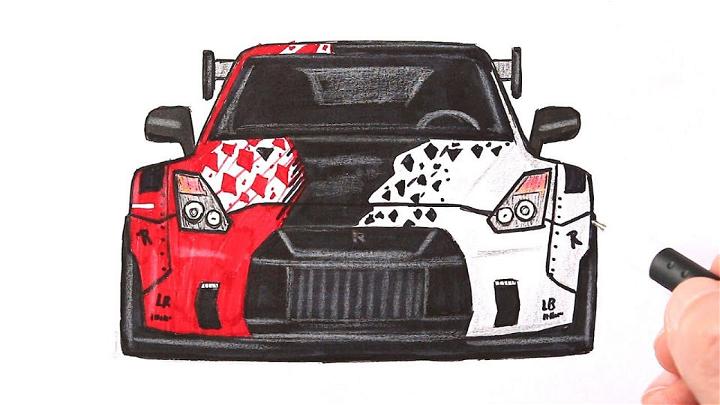 Jdm Nissan GD-R is a car that you mostly see in car racing games. But what if? It has a giant poster that you draw with your own hand on your room wall. This tutorial would help you to draw this car which must be one of your dream cars. Head over to the link right away!
22. How To Draw a Toy Car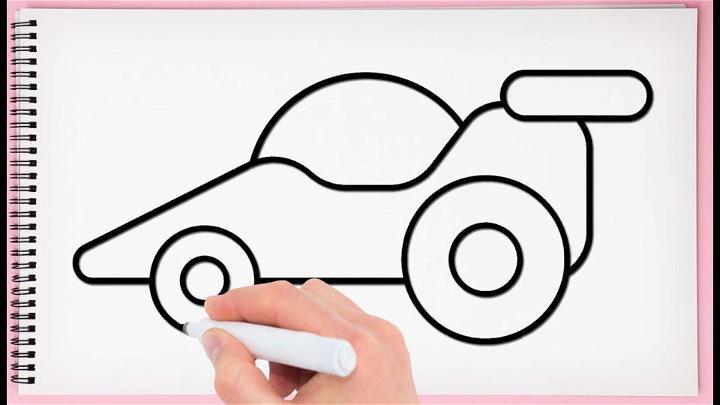 A toy car is the simplest one to draw because you have to imagine the shape of a shoe while drawing it and also remember it has one wheel that is small, which is on the front side, and the other one is quite bigger, which is on the backside.
23. Realistic Classic Car Drawing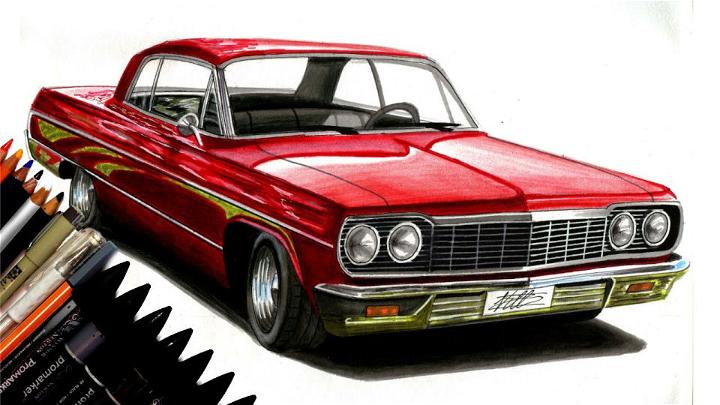 Get ready to draw this realistic looking car in a matter of 4 hours! Since it is such a masterpiece to even look at! This is a Chevrolet Impala. You will need to get started with a pencil and a scale and take it up from there following this video guide!
24. Drawing A Drift Car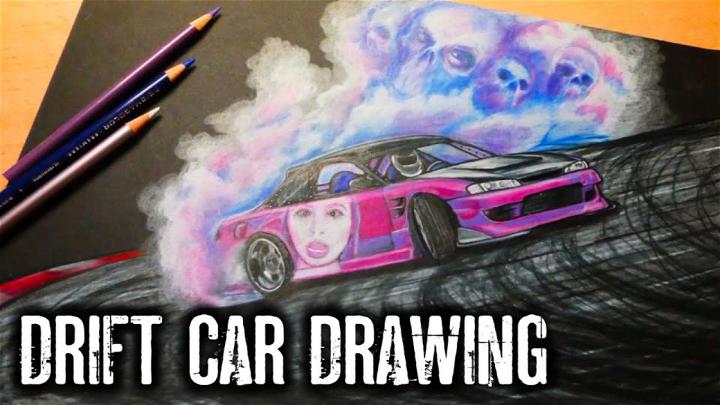 The dream of every car enthusiast is to drift a car once in a lifetime. This dream could be lived truly by drawing the picture of a drifting car. You just need to create some smoky look from the back wheel of the car that shows this car is drifting in the sketch.
25. How To Draw A Bugatti Chiron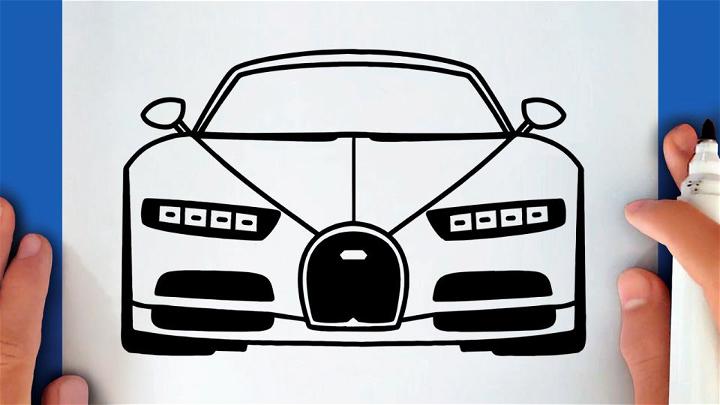 Whenever we hear the name of the fastest sports car speedy Bugatti Chiron is one of the winners! The monster look of this car is quite impressive, and making its sketch is also a little challenging job. Focus on highlighting its bumpers and the detailing of its v-shaped bonnet and do all other things same that you have done to draw a sketch of another sporty car that is flat, broad, classy, and heavy looking.
Related Drawing Ideas:
Earth Drawings: Have you ever wanted to draw on a map of the Earth? Got a favorite landmark, country, or city? Well, now you can draw on the whole planet! Find this collection of easy earth drawing ideas.
House Drawings: This is a collection of easy house drawing ideas for people who are bored and want to do something nice. Perfect for those long weekends with no plans!
Tree Drawings: These tree drawings are a great project for kids of all ages. They're also a beautiful way to decorate your home or classroom. Learn how to draw a tree with these easy instructions and pictures.
Conclusion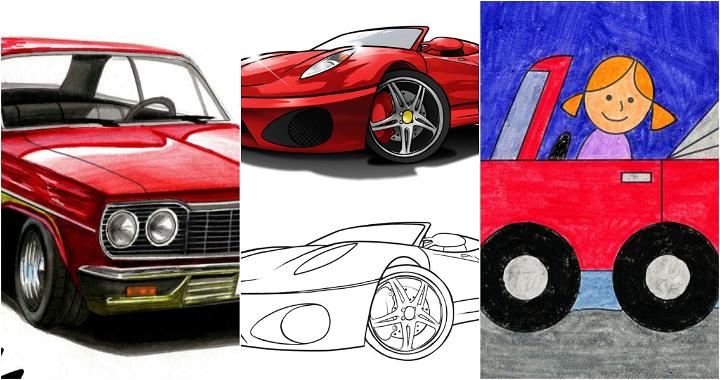 So, what are you waiting for? Are you still thinking that you aren't born to be an artist? We are sure you don't. Because after this exciting collection of car drawing ideas and tutorials, anyone can ace at drawing these car drawings. Now it's time to pick up a pencil and page and draw a sketch of your favorite dream car. Get car drawings, right away!