These DIY Halloween wreath ideas are the perfect thing that says welcome to your guests when hanged on the front door of the house. These diy Halloween wreaths are decorated especially keeping in mind the festive Halloween season, and so the wreaths have spiders, pumpkins, different leaves, etc. If you're a fan of Halloween crafts, this will be your favorite article, including various fun Halloween wreath ideas to choose from.
So rather than purchasing from high-end stores or hiring another person to work for you, it is better that you make these diy Halloween wreaths yourself. It will give you a better idea of what you require, and then you can do your project accordingly. They are beautifully adorned, making them eye-catching enough for people to notice and compliment them. Moreover, these easy diy Halloween wreath ideas are perfect for family time activities that you can enjoy while being productive.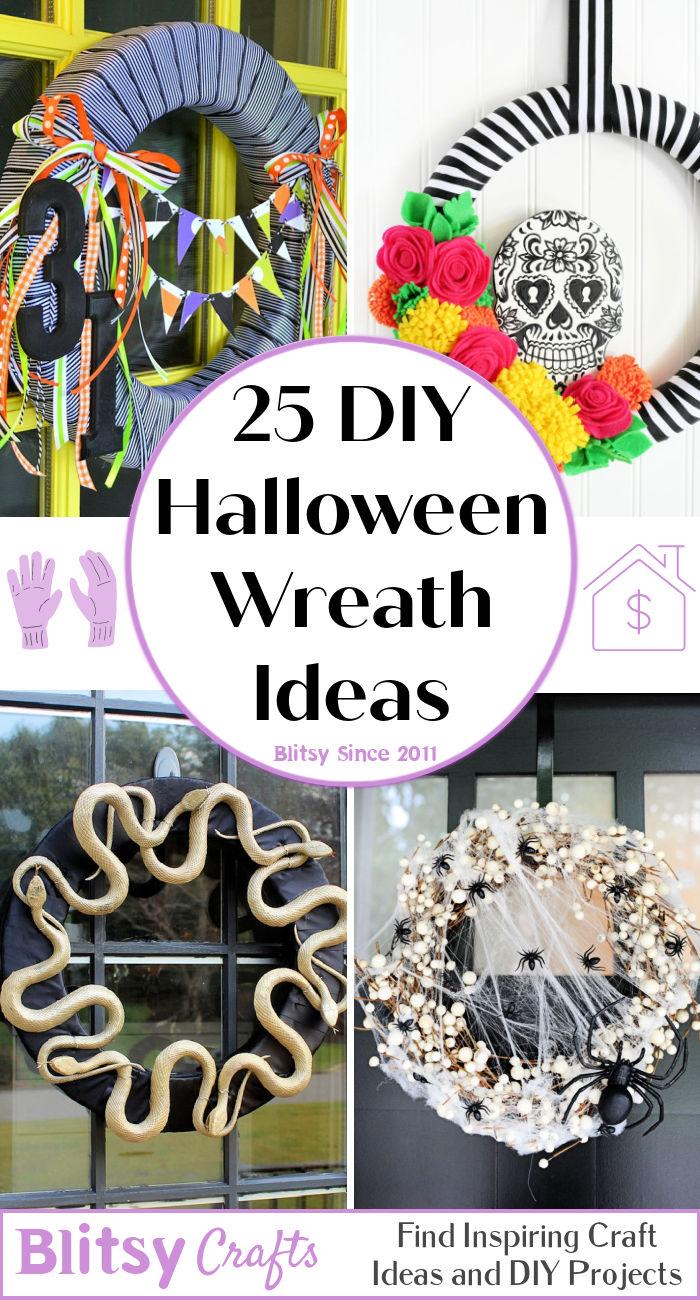 This article covers 25 possible ways of making DIY Halloween wreaths ranging from complicated designs to simple ones, including various designs like spider wreath, pumpkin-shaped, grapevine one, leather made, wood made, ribbons made, deco mesh, leaves, wooden framed, and what not! We have all of these cool and fun Halloween wreaths compiled below.
First, the most important thing you need to do for making these Halloween wreath ideas is to check thoroughly and choose the perfect plan that fits your budget, space, and decor impeccably. Second, you also need to make sure that you have all your supplies and tools ready before you start working on the Halloween wreaths. So without any more delays, let's get started today by looking into the given DIY Halloween wreaths below!
1. Halloween Ribbon Wreath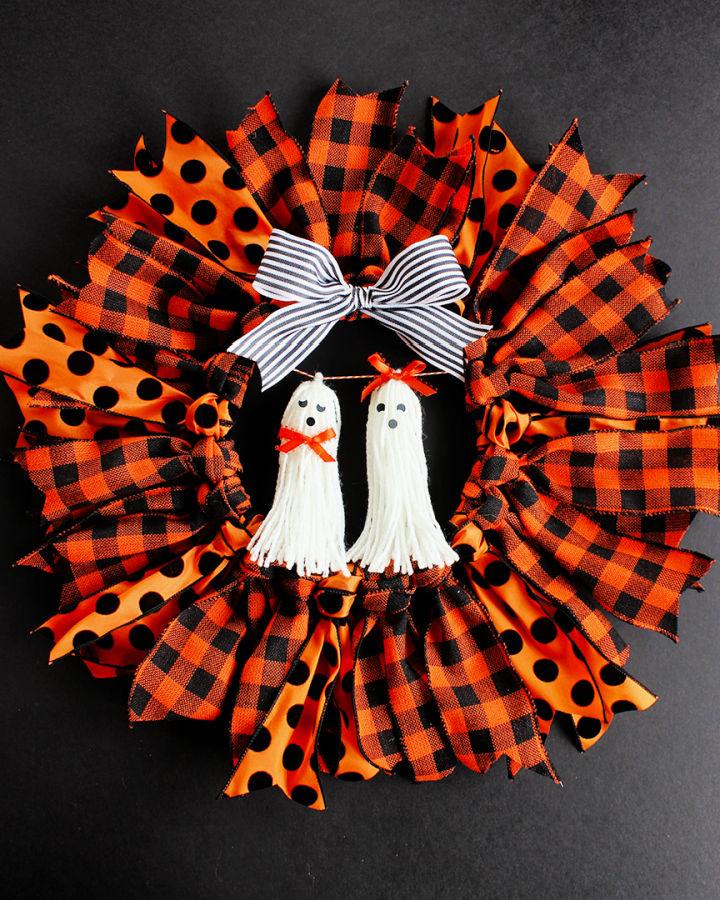 Have you been searching for the Halloween DIY project ideas for your living space for the last couple of weeks? Here is the best plan for you! Make this DIY Halloween ribbon wreath to adorn your home walls or doors easily. The supplies you need for this project include a 7″ embroidery hoop, decorative wired ribbon in assorted designs, sewing shears, and embellishments of your choice! positivelysplendid
Pumpkin Carving: It is unlikely to create a fun Halloween without cool pumpkins. Here are the cute pumpkin carving ideas for this year's Halloween season.
Pumpkin Painting: If you don't have much time and want to paint a pumpkin this Halloween then these pumpkin painting ideas are perfect to help you get some cool designs, mix up your impressions.
DIY wreaths: Everything you need to know about how to make a wreath: bases, styles, types and supplies so you can easily and confidently make any wreath!
2. Spider Wreath For Halloween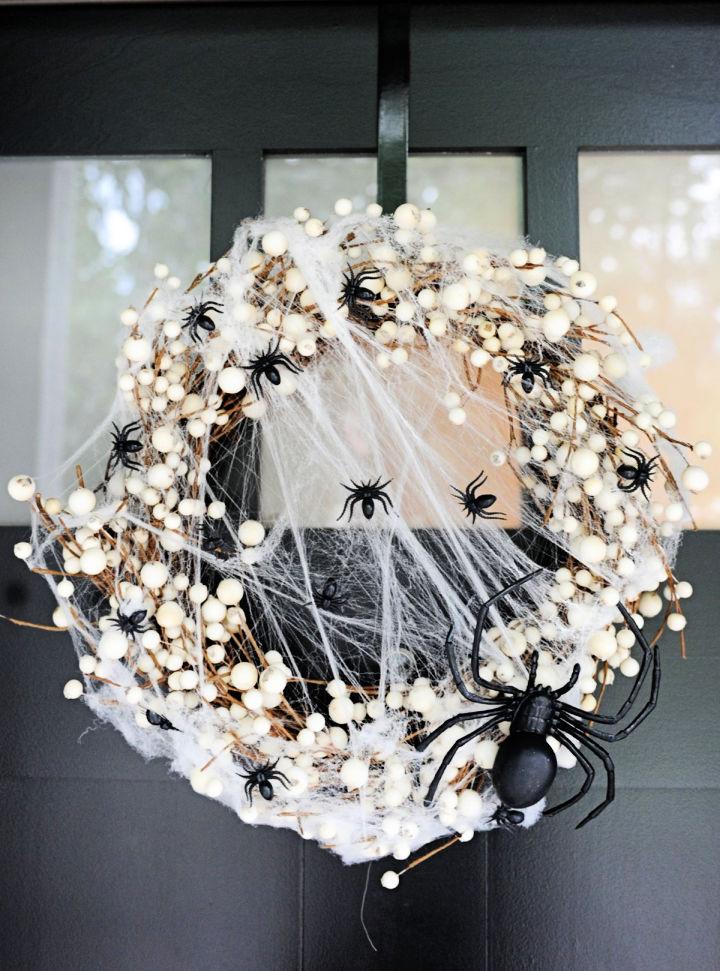 This Halloween DIY project is not only easy but perfect to try out when you have little budget for decor. Make this Halloween spider wreath to put in on any door of your home. All you need are these readily available materials like the white spider web, small black plastic spiders, large black plastic spiders, and a white berry wreath from the nearest craft store. pinkpeppermint
3. Colorful DIY Halloween Wreath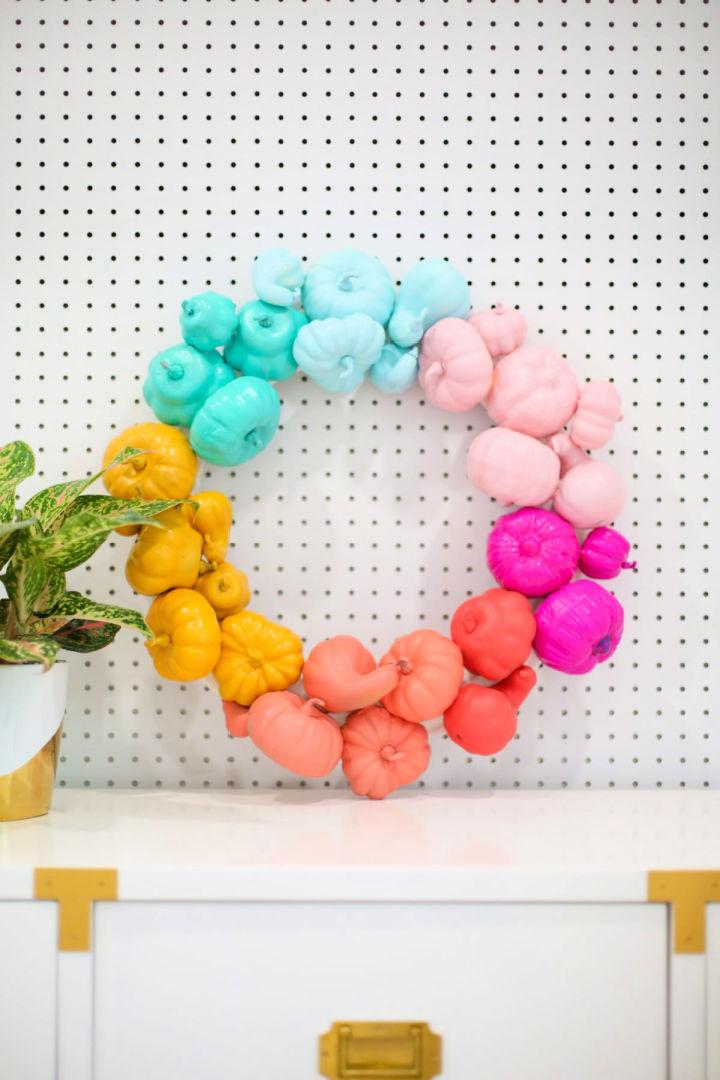 Do you love colorful and bright decor? Well, have a look at this colorful DIY Halloween wreath. It is made out of small pumpkins to keep the fall spirit alive and does not need to be white or black for Halloween. It is modern and very simple to make as well! For this, you need supplies like artificial mini pumpkins, spray paint, wire form, felt, scissors, glue gun, and glue sticks. lovelyindeed
4. How To Make A Halloween Wreath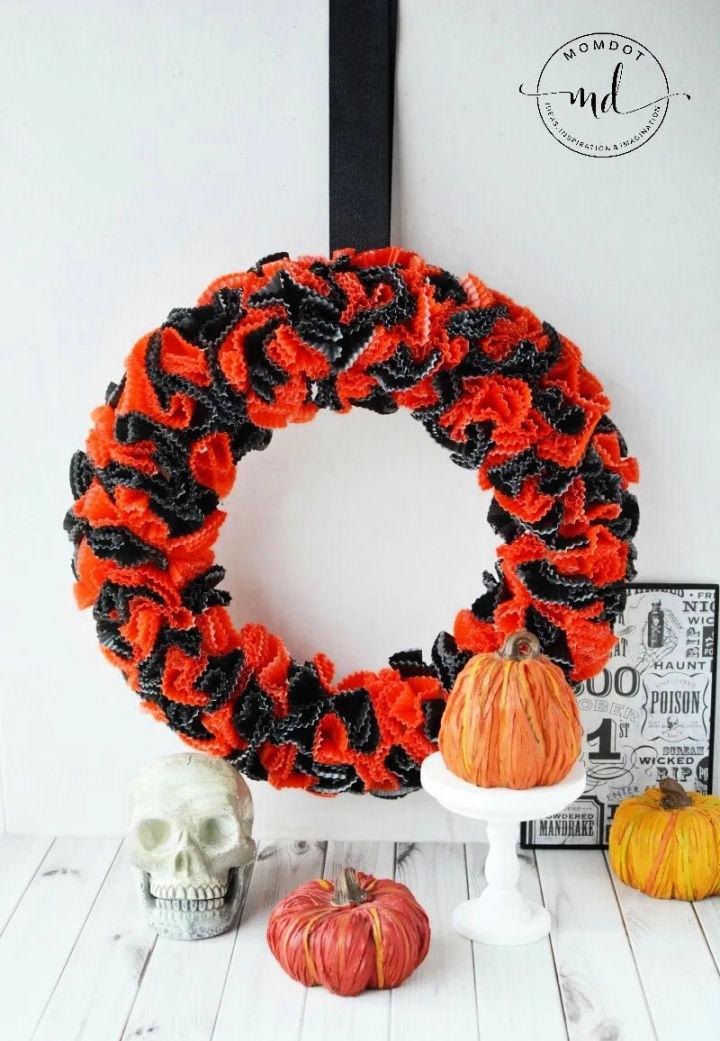 Halloween is all about fun decor and parties! If you want something to decorate the house but are not willing to spend a lot, then try out this super cool DIY Halloween wreath. It can be hanged anywhere around the house or even the front door, so your house gives the guests the perfect Halloween vibes. So gather the supplies like mini orange cupcake liners, mini black cupcake liners, round foam, pins, and 1′ wide satin ribbon for hanging the wreath. momdot
5. Halloween Witch Wreath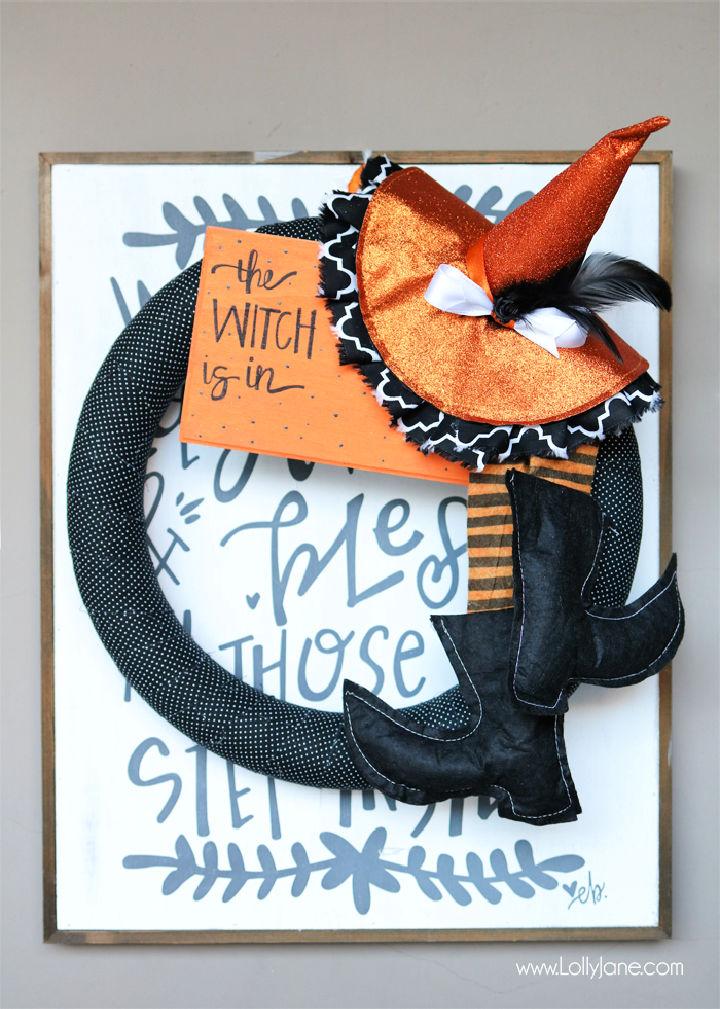 Are you ready for Halloween this year? Then make this easy and fun DIY witch wreath to show everyone that you are officially welcoming Halloween now! This super cool project does not require any sewing? isn't it the best thing? You just need some basic supplies, including Waverly fabric in Halloween hues, Waverly acrylic paints, Waverly ribbon, witch headband, witch legs or boots, small unfinished wood sign, wreath form, scissors, and hot glue. lollyjane
6. Embroidery Hoop Spiderweb Wreath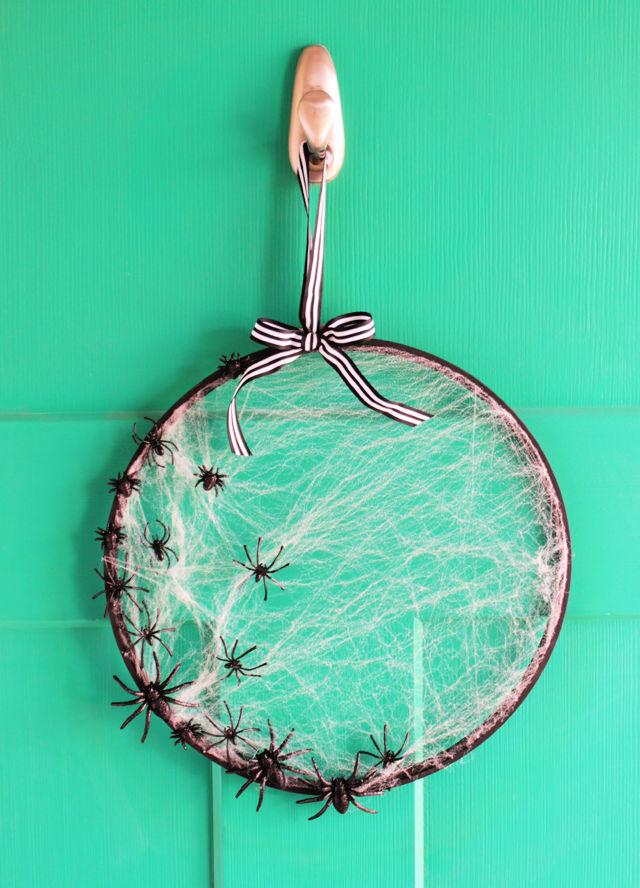 Are you someone obsessed with trying out new DIY crafts every day? With the Halloween season approaching, these DIY Halloween wreaths are perfect for you to try out. It will totally uplift your Halloween spirits, and your front door is going to look the prettiest in the neighborhood. The supplies which you will be needing are embroidery hoops, plastic spiders, black and white ribbon, spider web in a bag, and black acrylic paint. sisterssuitcase
7. Ghost Wreath for Halloween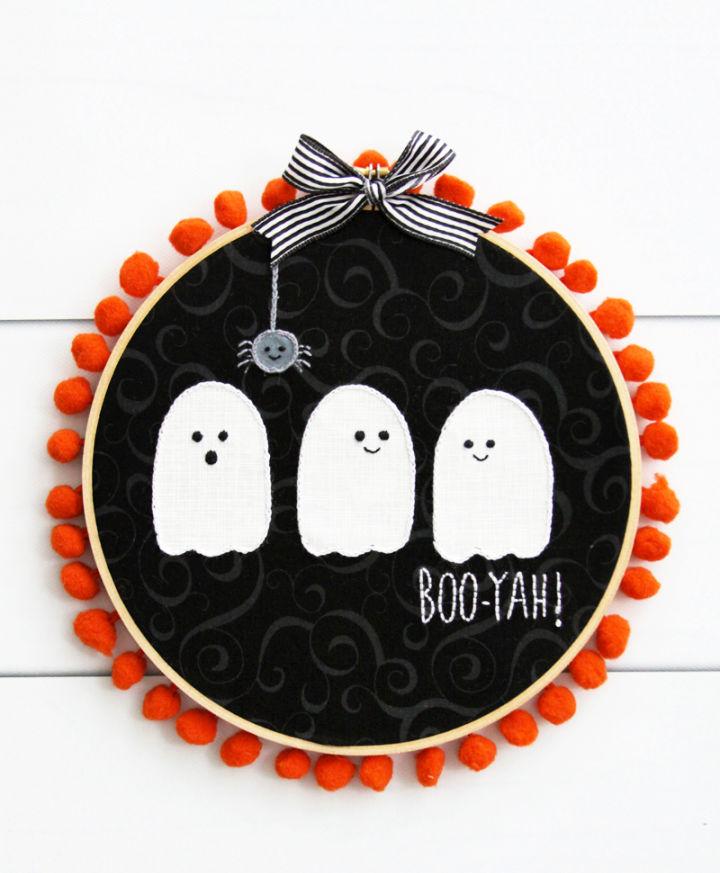 Halloween is all about cute spooky crafts, pumpkins, and ghosts. If you didn't get time to buy your Halloween decorations, we've got you! This DIY embroidered ghost Halloween wreath is super easy to stitch, and it will improve your sewing skills. All you need to make this is an embroidery hoop, black, white, and grey fabric, fusible webbing, ribbon, hot glue, Pom Pom, and transfer pen. flamingotoes
8. DIY Halloween Ribbon Wreath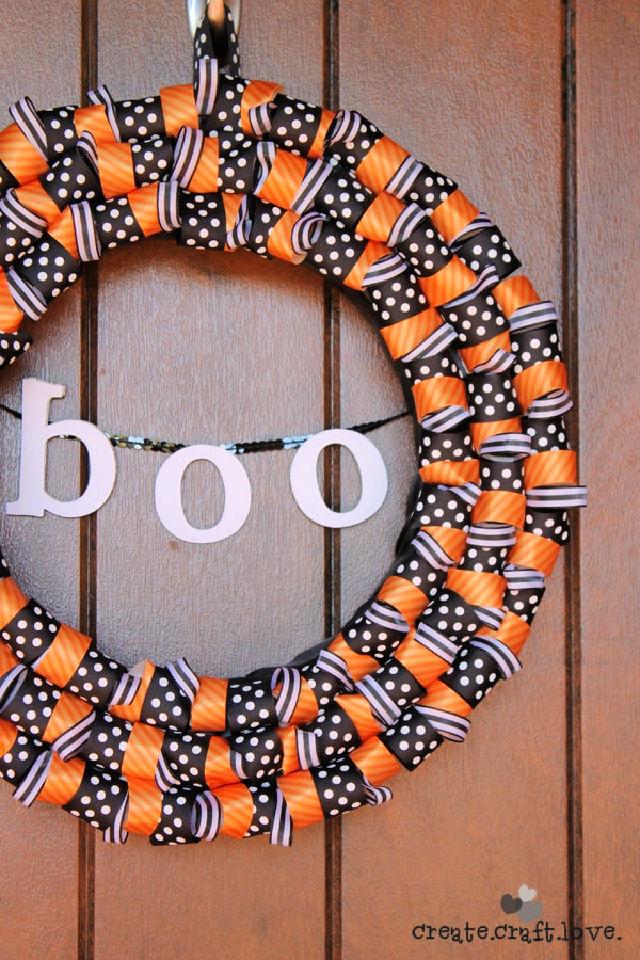 Create this darling Halloween ribbon wreath to greet your trick or treats this fall! It will look super adorable and will get all your neighbors wondering where you bought it from. You can hang it indoors and outdoors and make a few for your friends too! The supplies which you're going to be needing are foam wreath, black ribbon, hot glue gun, chipboard letters, bakers twine, and sequins ribbon. createcraftlove
9. Spider Web Halloween Wreath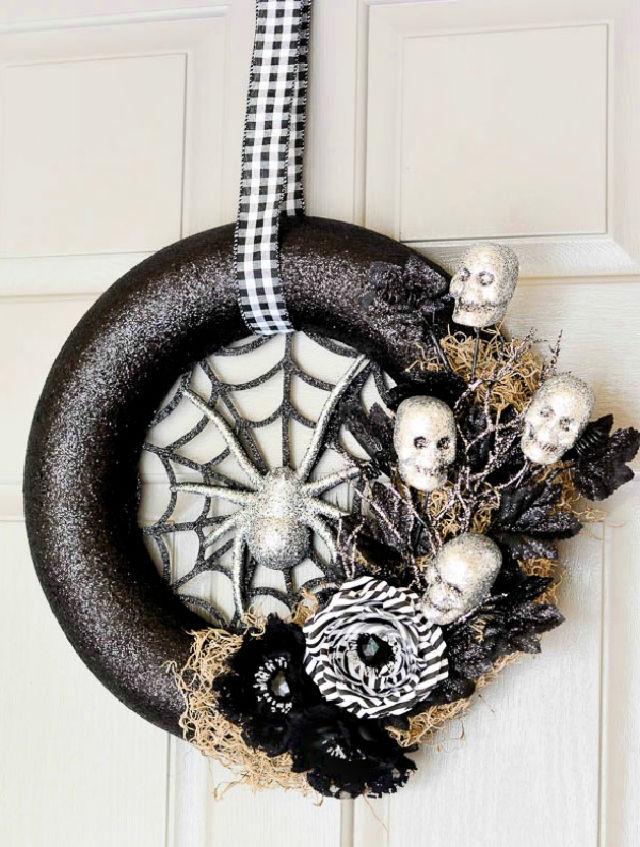 Hey crafty friends! Are you getting the Halloween spirit? We're sure everyone is preparing for their Halloween parties right now, and we have the perfect DIY spider web wreath for your decorations. It gives out a royal yet spooky vibe. It can also be used for any other costume or slumber parties. Glitter and flowers are unique and exquisite ideas for Halloween. Ready to get started? All you need is glitter wreath form, spider web decorations, fabric flowers, Spanish moss, and Halloween picks. apumpkinandaprincess
10. Cool Sugar Skull Wreath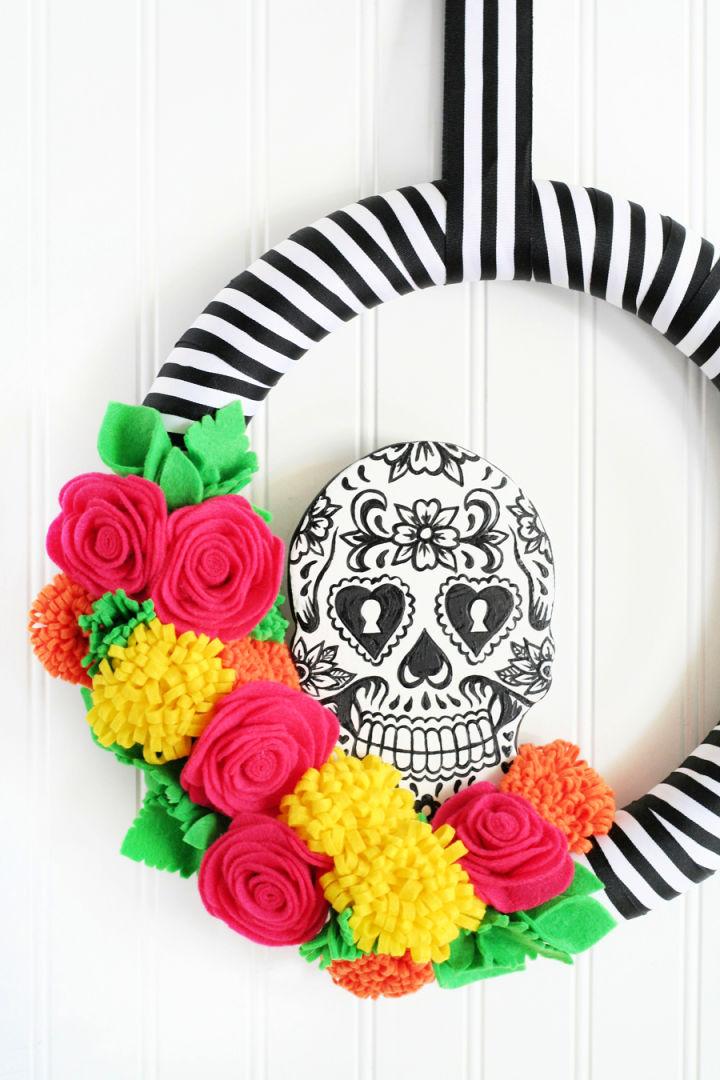 These DIY Halloween decorations are enjoyable, but when you have to buy a dozen, you have to spend a lot of money, which is not the best option to try out this DIY sugar skull wreath. It will give your doorstep a beautiful pop of color, and skulls are always the go-to decorations when it comes to Halloween. The supplies you will need for this DIY are a foam wreath, small spatula, pencil, sandpaper, acrylic paint, skull template, and felt flowers. thecraftedsparrow
11. The Cutest Halloween Paper Fan Wreath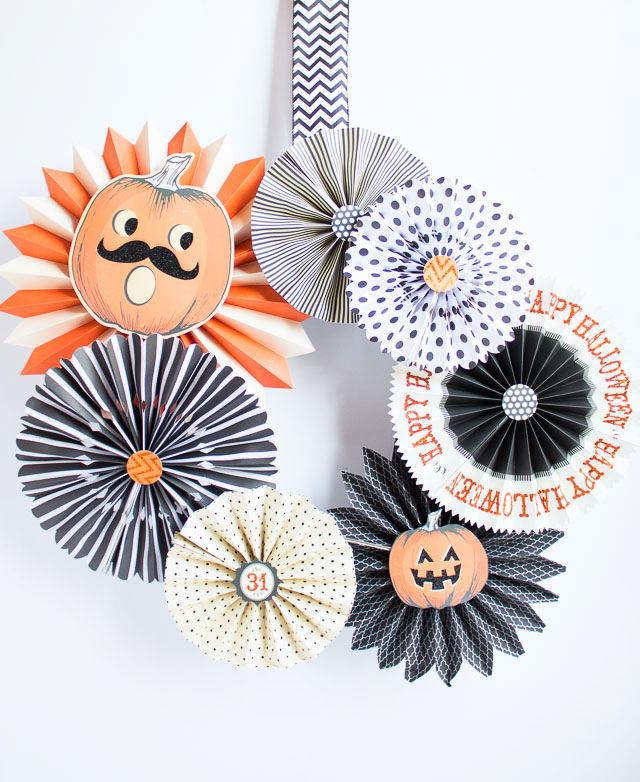 Do you remember the paper fans you used to make out of construction paper when you were little? Well, this DIY Halloween paper fan wreath is an elevated version of the classic paper fans. They are super easy to make and look absolutely adorable when hung on your doors and walls. The supplies you will need to make this craft are a foam wreath, Halloween paper fans, and hot glue. Yep! That's it. designimprovised
12. DIY Halloween Door Wreath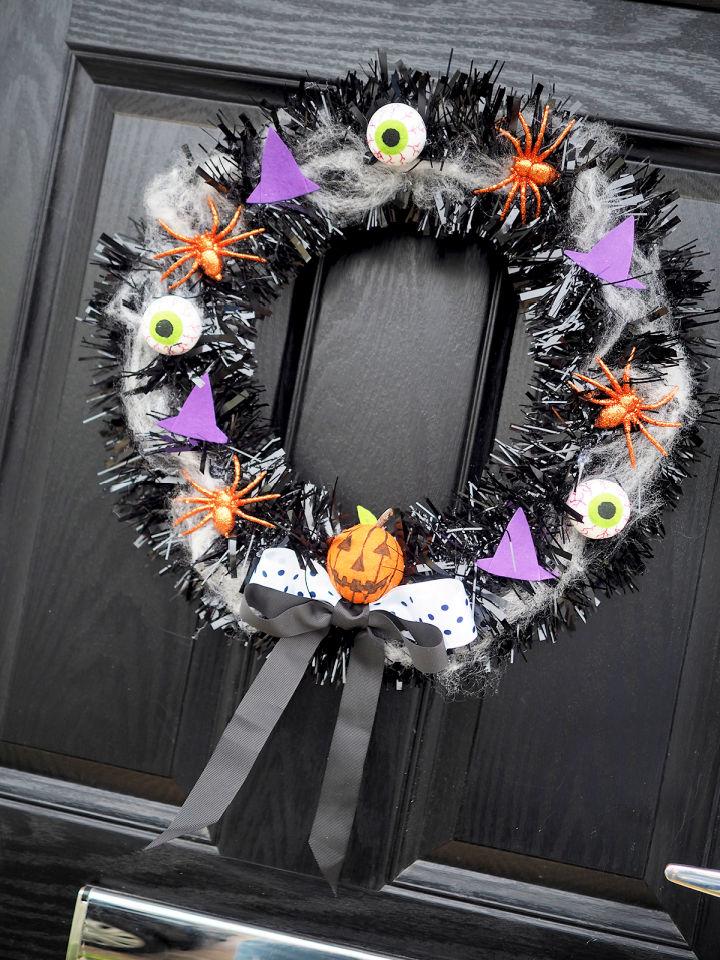 Lift your Halloween spirits by making this DIY Halloween wreath. Showcase your talents and creativity, and customize it just the way you like. You can add all the spooky props like skulls, spiders, pumpkins, bats, and fangs! It will surely be a great way to greeting your trick or treaters. The supplies you will need for this DIY are a polystyrene ring, black tinsel, ribbon, colored felt, polystyrene balls, plastic spiders, fake cobweb, glue guns, and scissors. bangonstyle
13. Copper And Aqua Gradient Pumpkin Wreath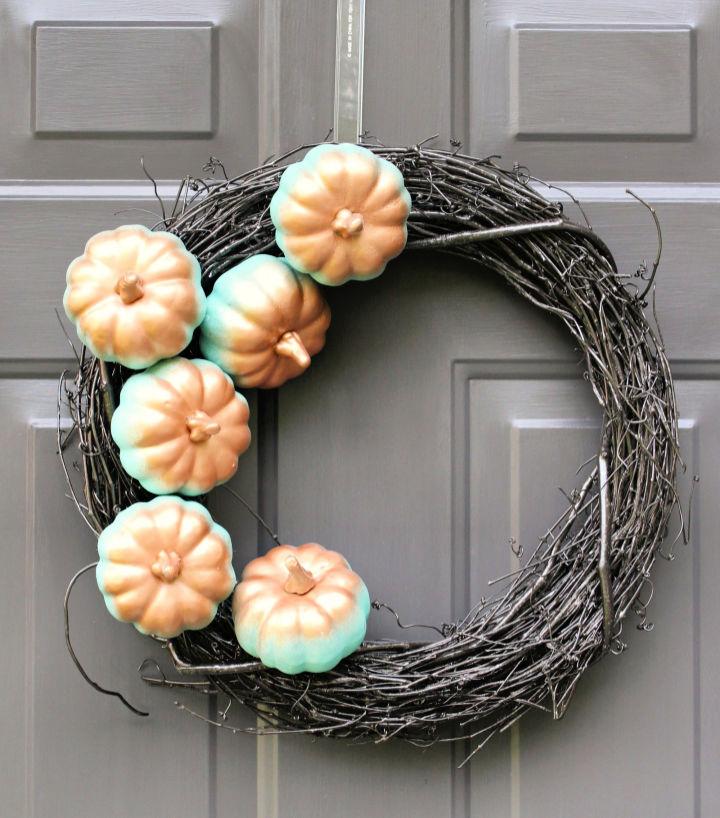 Fall is here, and Halloween is just around the corner. If you have been too occupied with work and it slipped off your mind to buy your Halloween decorations, you don't have to worry because this DIY Halloween wreath is the perfect last-minute craft decoration. It requires minimal effort and cost and is made in almost no time. You can use decent decorations and have them up on your door until you have to replace them with a Christmas wreath. The supplies you will need for this DIY are a grapevine wreath, lightweight plastic pumpkins, lacquer spray, and a hot glue gun. danslelakehouse
14. Halloween Deco Mesh Wreath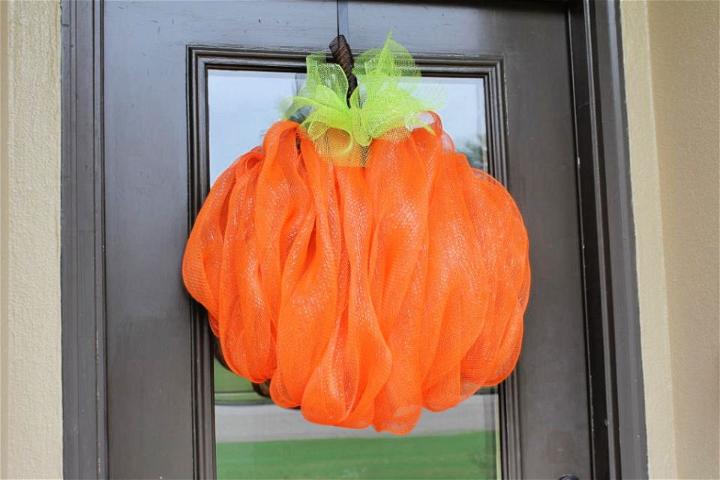 When you think of Halloween, the first thing which comes to your mind is pumpkins! If you are also obsessed with pumpkin decorations for Halloween, this DIY pumpkin mesh wreath is all you need in your life. It is an entertaining and cute craft and is made within an hour or so. You can involve your little ones in this activity and can use the wreath for their bedroom or a funky corner in your house. The supplies which you will be needing are wreath foam, deco mesh, chenille stems, and paint. misskopykat
15. Mesh Happy Halloween Wreath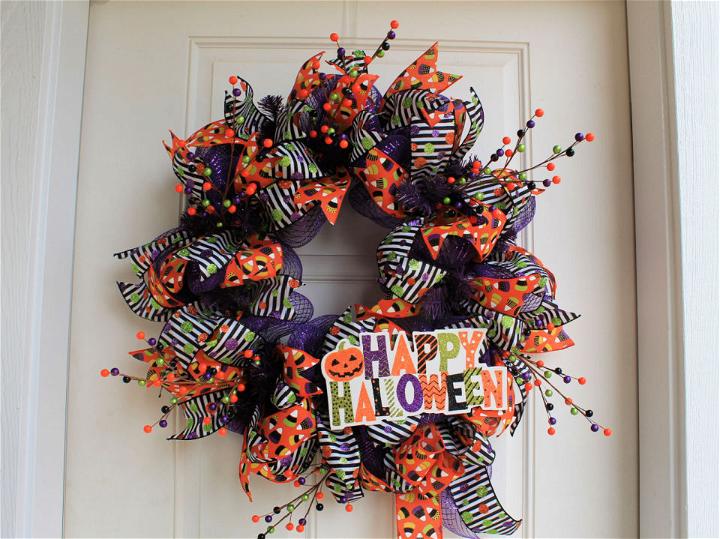 If you are scampering around for those last-minute decorations for your Halloween party, this DIY Mesh Happy Halloween Wreath is a great idea. Perfect for walls, windows, or doors. It gives your door a beautiful pop of color, and the adorable details on it are definitely going to uplift your Halloween spirits. Here's what you need, work wreath, deco mesh, ribbon, berry style picks, and Halloween yard stake. thewreathdepot
16. Halloween Pillow Wreath To Sell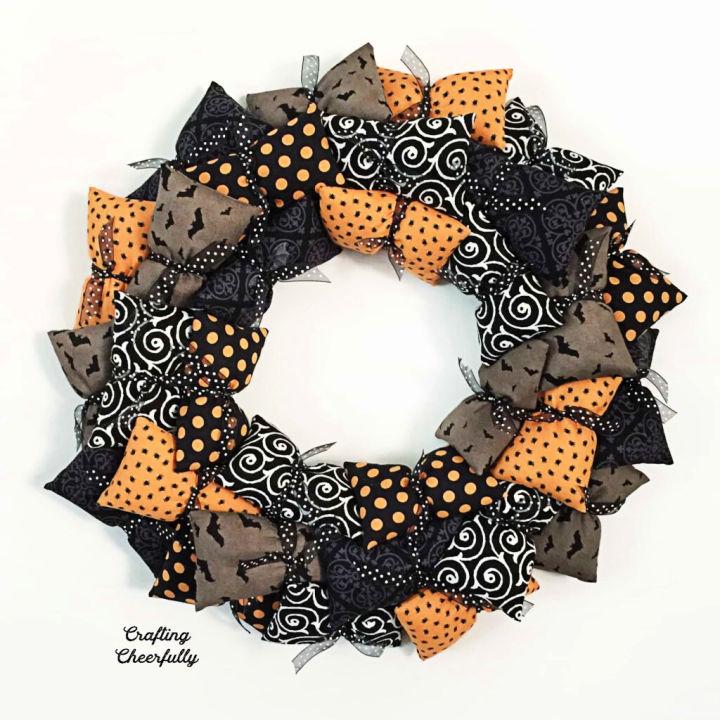 If you are looking for some crafty work to sell to save some extra cash, this DIY pillow Halloween wreath is the perfect idea for you. They are quick and easy to make, and customized to any holiday or event you can imagine! They are also great for all the beginner sewers out there to polish their skills. All you need to make this are a wire wreath, fabric pillows, ribbon, poly-fil stuffing, matching thread, cardboard, and sewing notions. craftingcheerfully
17. Deco Mesh Pumpkin Wreath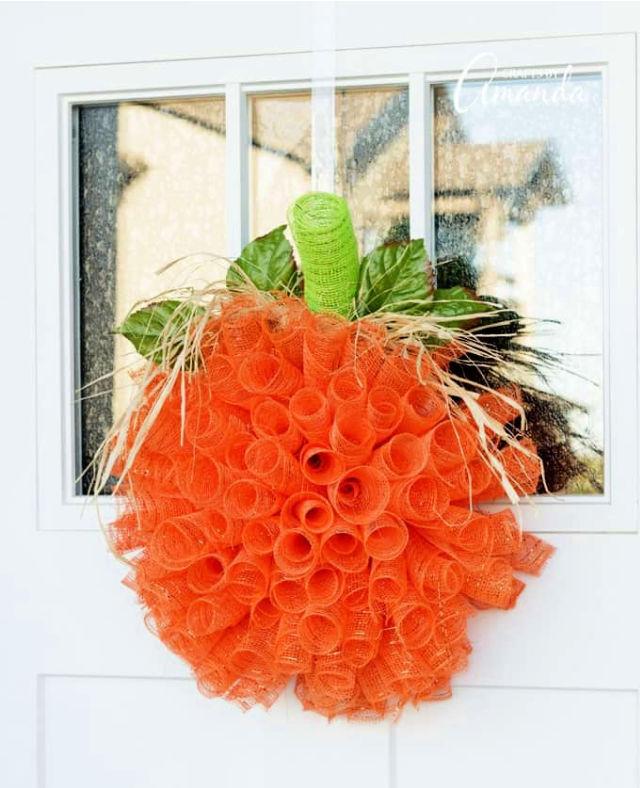 Mesh crafts are the talk of the town these days. This DIY mesh pumpkin wreath is a perfect Halloween decoration. It is unique from all the typical circular wreaths. You can customize it and add many details to it as you want to. Trust us when we say, with this wreath, your door will be the center of attention this Halloween. The supplies which you will be needed for creating this are deco mesh, floral pin, hot glue, styrofoam disc, and scissors. craftsbyamanda
18. Halloween Cotton Wreath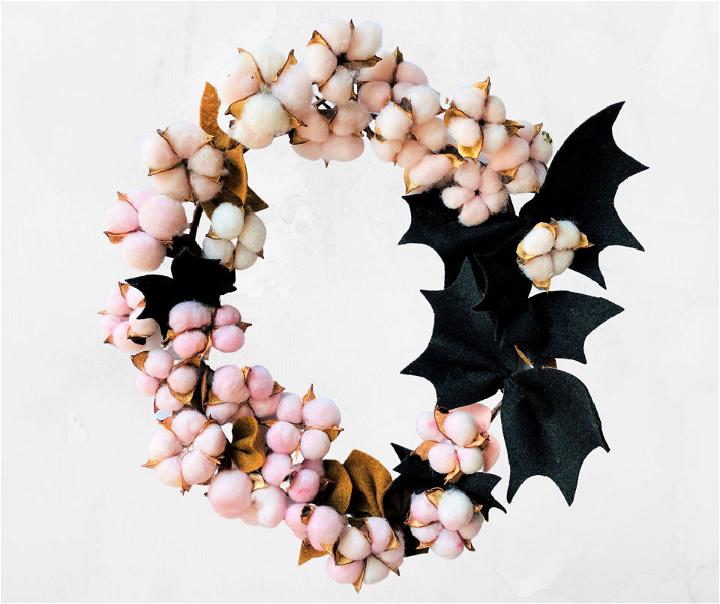 With the Halloween season almost here, most of us are busy purchasing our Halloween decorations. But if you want the cutest, most unique and budget-friendly door wreath, this is the perfect DIY for you. The bats and cotton details look simply exquisite, and pink on a Halloween decoration will surely attract all eyes. Don't you love how this wreath is both simple and sophisticated? All you need to make this wreath is cotton stems, felt, scissors, embroidery floss, and a needle. lostmom
19. Halloween Black Cat Wreath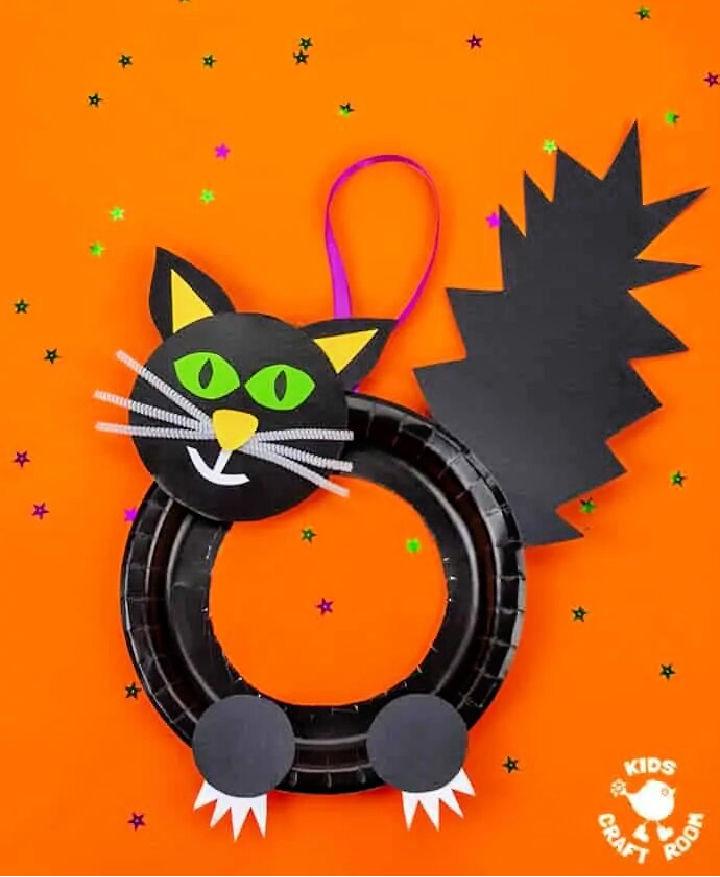 This DIY Halloween black cat wreath is so cool and easy to make! It's a great Halloween craft for kids of all ages and such a fun way to decorate the home or classroom. We just love the cats' bushy tails and feisty claws! We love how the head, claws, and tail can all be put in different positions around the Halloween wreath, so each Witches cat craft is unique and so expressive! You need to make these are paper plates, construction paper, pipe cleaners, sharpie pen, ribbon, glue, scissors, and sticky tape. kidscraftroom
20. Easy Eyeball Halloween Wreath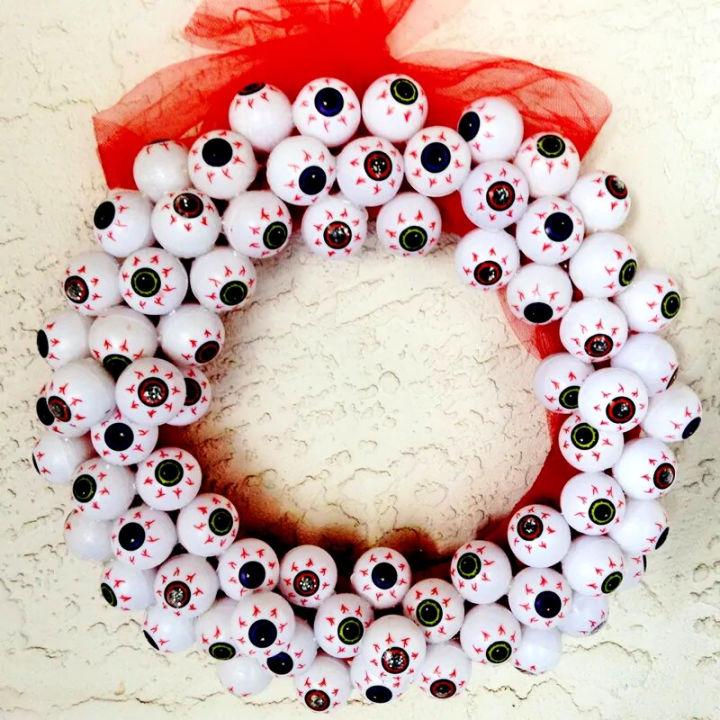 Add a little bit of Halloween flair to your front door with this easy-to-make "always watching" creepy eyeball DIY Halloween wreath. This wreath is ridiculously easy to make. Not to mention super cheap to make as well. You can purchase pretty much all of the supplies needed from this Halloween DIY project at the dollar store. All you need is a foam wreath, plastic eyeballs, red tulle, clear glitter glue, and hot glue. crayonsandcravings
21. DIY Pumpkin Wreath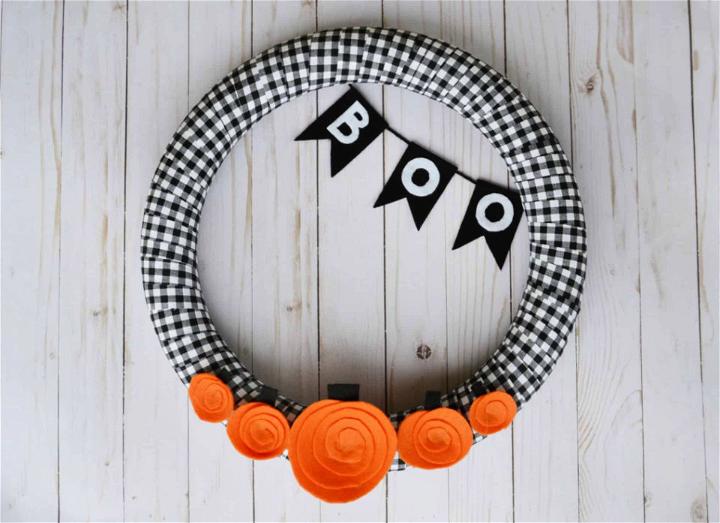 Do you like your Halloween decorations a little sophisticated and not too much decorated? Then this DIY Halloween wreath is just the one for you. It is super easy to make and can be a great craft to do with preschoolers at school. It will also save their parents from buying a new wreath. All you need is a foam wreath, gingham fabric, felt, yarn, hot glue gun, and scissors. marymarthamama
22. Inexpensive To Make Skull Wreath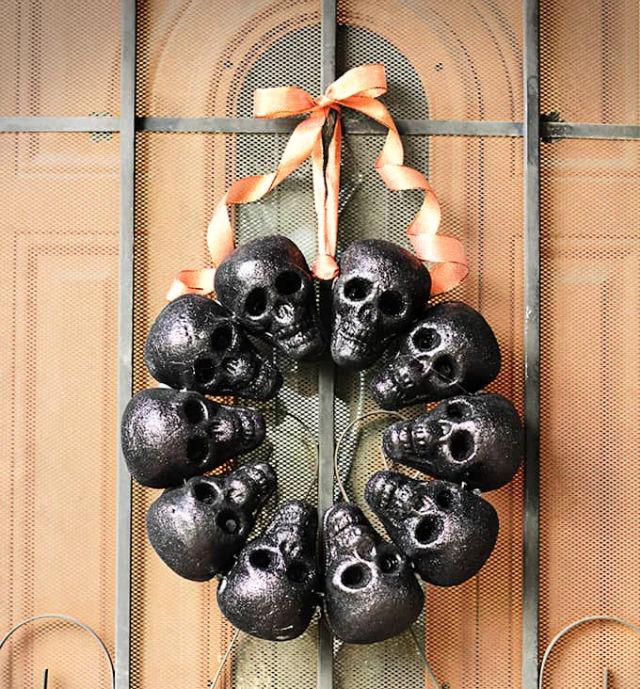 If you're someone like me and are looking for a Halloween wreath that would scare anyone at first sight, this DIY skull Halloween wreath is perfect for you. It is a great craft for home and classrooms. It will also make a lovely gift for your close friends. Encourage your little ones to help you make this, and have the most creative door wreath this Halloween! The supplies which you're going to be needing are Styrofoam mini skulls, gauge rebar tie wire, hot glue, and gun and ribbon. triedandtrue
23. Black and White Halloween Wreath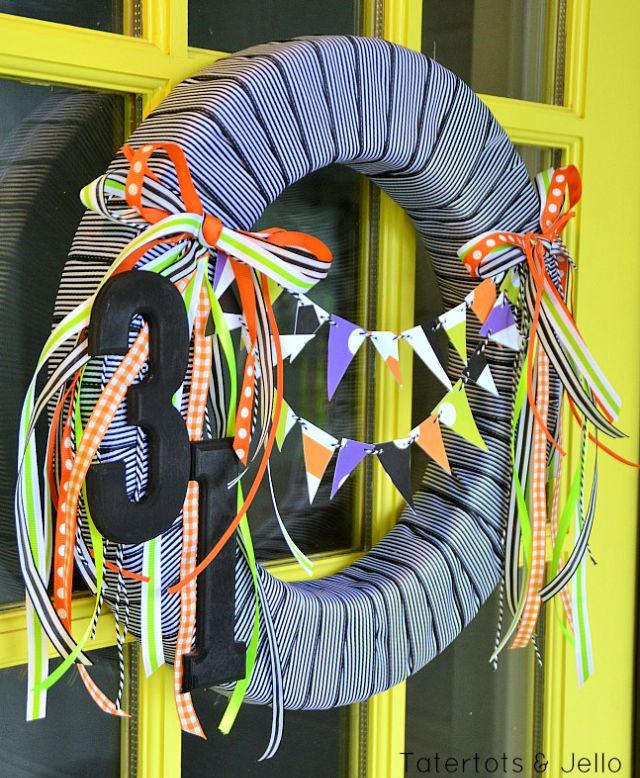 This DIY Halloween wreath is cute yet sophisticated. It gives out very welcoming and homely vibes and, at the same time, looks super festive. You can customize it with your favorite ribbons and colors. We think that black and white colors would look great for Halloween. All you will need is wreath foam, ribbon, bunting, bakers twine, and wooden numbers (optional). tatertotsandjello
24. Creepy Gold Snakes Halloween Wreath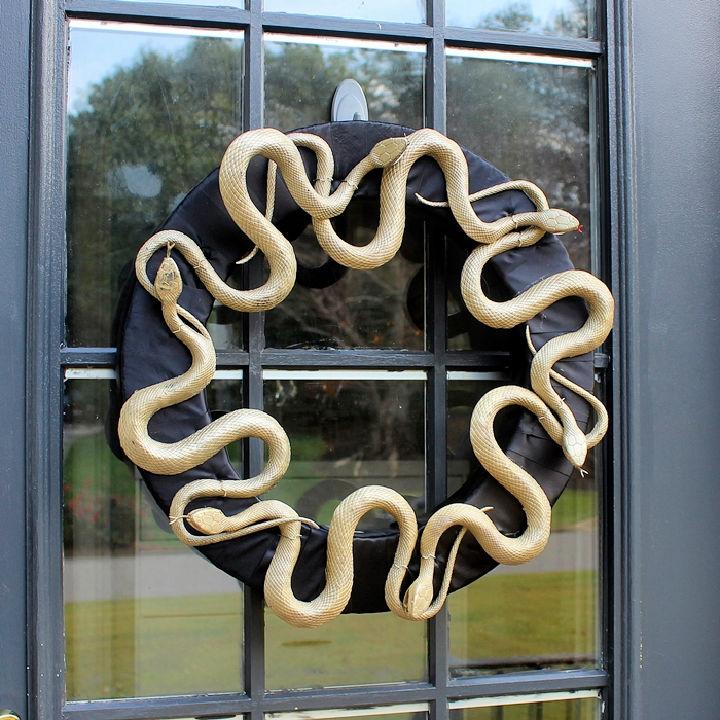 This Halloween, have the prettiest decor in the neighborhood. This DIY snake wreath is the perfect spooky craft for Halloween. The Gold color of the snake pops up beautifully, and it honestly reminds me of the chamber of secrets from Harry Potter. All you need for making this wreath is wreath foam, floral pinks, black ribbon, toy snakes, and gold paint. boxycolonial
25. Candy Corn Wreath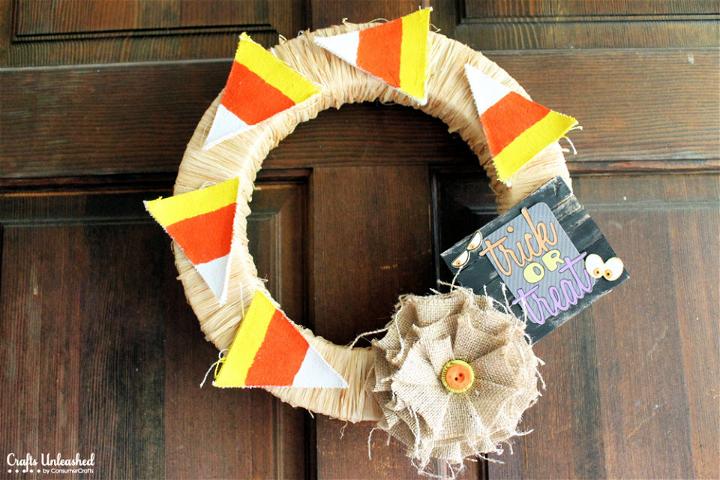 If you do not like black and dark Halloween decorations, then this DIY trick or treat wreath is perfect for you. It looks super adorable and will greet the ghosts and goblins in style this season. Halloween is one of the most fun holidays of the year, and you need to start preparing right away. Bring the candy on! The supplies you will need for this DIY are wreath foam, raffia, acrylic paint, mini canvas triangles, burlap flower, jumbo craft sticks, buttons, and Halloween embellishments.
Related Halloween Ideas To Do
Halloween Painted Rocks – Create a spooky Halloween display with these DIY Halloween painted rocks and paint them in bright colors.
DIY Halloween Porch Decor – Learn How to decorate your porch or front porch in a spooky way. Get inspired by our collection of amazing Halloween porch decor ideas including cobwebs and spooky pumpkins to spider webs and skeletons.
Halloween Bulletin Board Decorations – The perfect way to decorate your home for Halloween or Fall. We have a wide variety of Halloween bulletin board decorations and wall decals.
Easy Halloween Face Paint Ideas – Here are some of our favorite Halloween face paint ideas to help you create the perfect Halloween look.
DIY Halloween Origami – A list of cute and creative origami ideas for Halloween to get creative with this easy craft project that creates an origami jack-o-lantern.
Halloween Coloring Pages – Halloween is the best time of year, and these free Halloween coloring pages for kids to print and color are a fun way to celebrate.
Halloween Costumes – These funny, creative, and spooky Halloween costume ideas will make you look stylish and stand out from the crowd.
Conclusion:
So, now we are at the end of our article. We hope you're quite inspired by our range of Halloween wreath ideas and ready to make your own now! The first and foremost thing to do is, go through all the given Halloween wreaths and choose the one that perfectly fits your style and taste the most. Then you should look out for the supplies and tools needed to make these easily available for every given idea.
Since Halloween wreaths are very cost-effective, you can make any of the wreaths you like the best! Go creative and choose colors and designs that suit your preference and show them off by hanging them on the house's front door. Besides that, these ideas are perfect for making and selling online for people who need economical decor for Halloween this year and looking for pretty and cool ideas!