There is nothing better than a DIY holiday wreath saying welcome on your front door, your windows, your back door or indoors! There is nowhere a wreath does not belong. So, why not start and learn how to make a wreath at home? See these 40 easy ways to make a wreath that are fun to make, inexpensive, and even some homemade wreaths could also be used all winter and summer long for the touch of cheers and colors. If you are not crafty, we have got these 42 beautiful DIY wreath ideas that include simple instructions and a complete making guide.
It's always better to make such things as eye-catching homemade wreaths at home yourself rather than purchasing or hiring someone else to make it for you. Furthermore, these kinds of small DIY activities enable you to spend quality time with your friends and family without any doubt.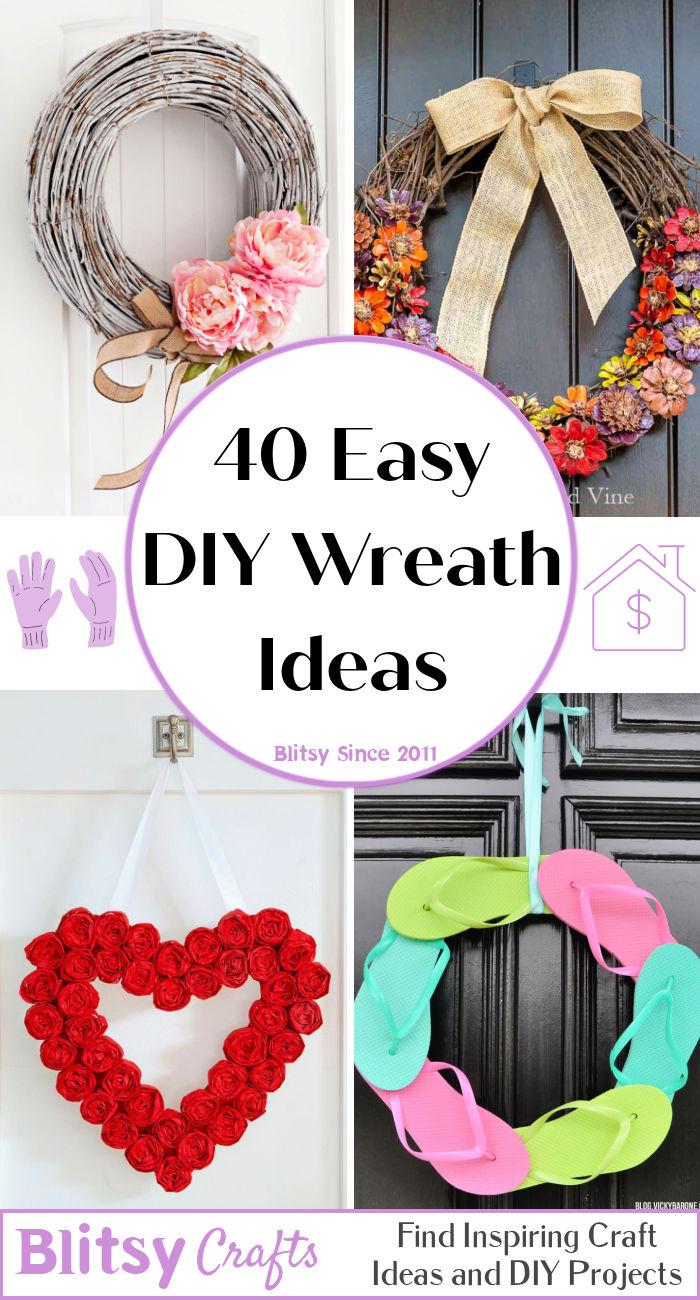 If you are the one who prefers displaying DIY wreath made with greenery as it lasts a long season. Why not! But do you know such DIY wreaths need a lot of care too? In this guide, we will be covering all possible 40 ways to make a DIY wreath. From mesh pumpkin wreath to heart grapevine wreath, from spider wreath to this diy halloween wreath to rainbow patterned heart one, from modern farmhouse fall wreath to DIY lavender wreath, and much more.
We have got all the significant DIY wreath ideas for making a unique, creative and cheap wreath you'll love! All you need to do is check the plans thoroughly and choose the plan that suits your budget, home decor, and space the best. We have also mentioned all the required supplies and tools with each plan to start with. Why wait for more? Let's get started today!
1. DIY Heart Grapevine Wreath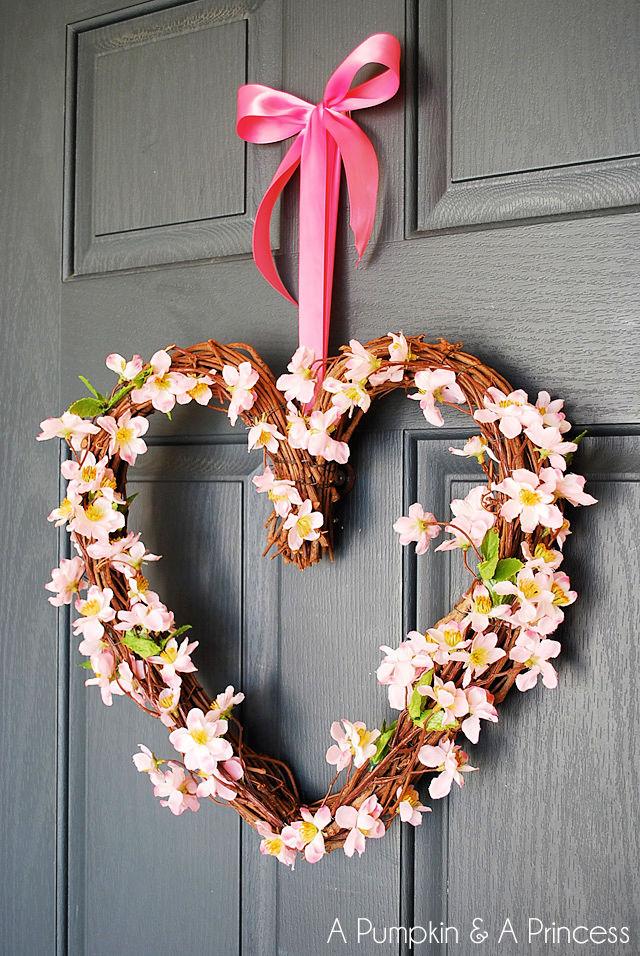 There are very few stores, whole heart-shaped wreaths, so it could be a little difficult to find. Isn't it? Let's plan and start this fun DIY activity to make your DIY wreath using a grapevine garland. It's pretty simple, and you can design it with some gorgeous spring of greenery along with the stunning flower. Assemble floral wire, floral wire cutter, flower stems. apumpkinanda
2. DIY White Pumpkin Fall Wreath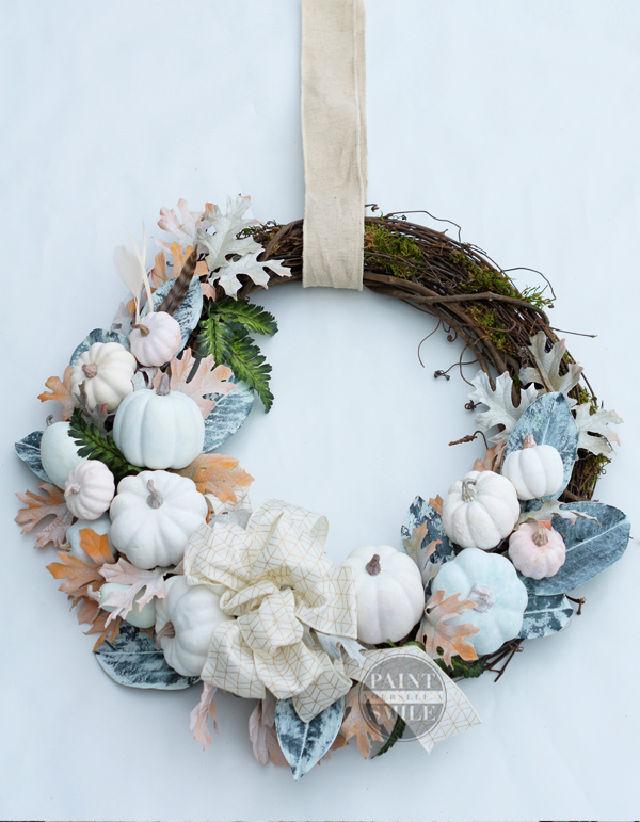 Are you looking to make something exciting to hang on your front door and looking for perfect cheap DIY project instructions to start with? Well, you are going to like this idea. Make an elegant white pumpkin fall wreath with your friends in just a few hours! All you need is little pieces of moss, glue, wire, leaves, spray paints, paintbrush, scotch tape, etc. paintyourselfasmile
3. DIY Spider Wreath For Halloween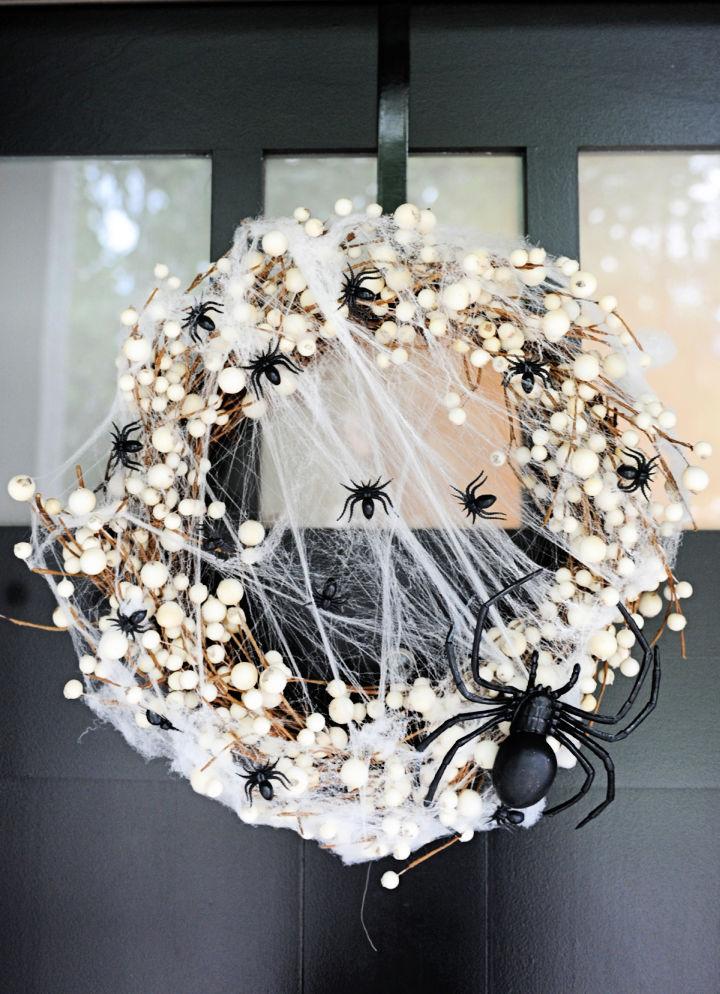 Have you been searching for Halloween decor ideas for your living space for the last couple of weeks? Here is the best plan for you! Make a Halloween spider wreath to put in on any door of your home. All you need are these readily available materials like the white spider web. Small black plastic spiders, large black plastic spiders, and a white berry wreath from the nearest craft store. pinkpeppermint
4. DIY Rainbow Patterned Heart Wreath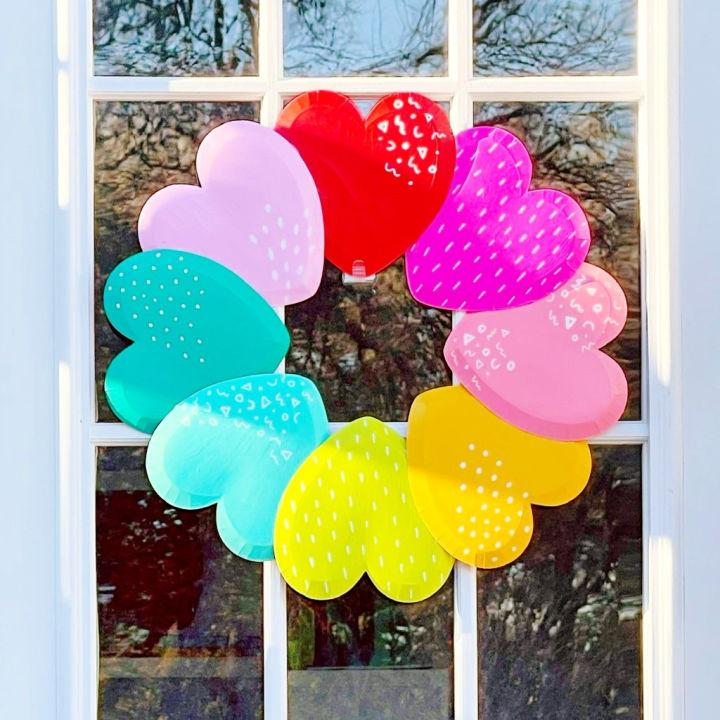 Are you looking for an elegant, cute, and easy wreath to adorn your room door or front door of your home? for this valentine's day? Then, this is the most suitable plan for you. Don't look anywhere else and start making an easy rainbow patterned hearth wreath. Go to the nearest craft shop and gather heart-shaped paper plates, hot glue, white paint marker, paintbrushes. akailochiclife
5. DIY Make A Spring Wreath With Expert Advice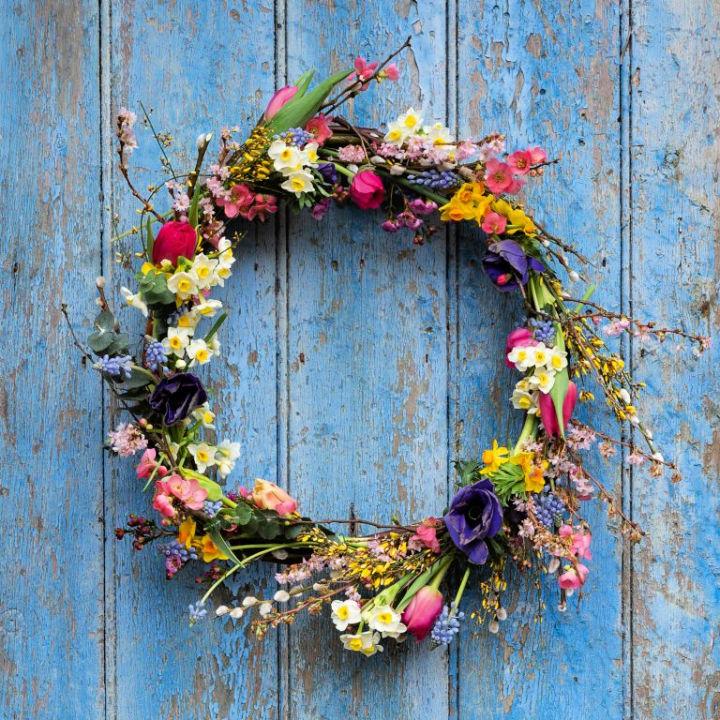 This wonderful spring wreath will surely turn heads with its trendy design. You may also decorate your wreath with natural flowers and leaves and can also paint it o different colors that match your decor. This DIY wreath will give another look to your front door. All you need is a 4-inches length of willow, wax flowers, narcissi, eucalyptus baby blue, pink tulips, etc. realhomes
Find more DIY Home Decor Ideas:
Wooden Crate Decorating: These wooden crate decorating ideas are perfect for upgrading your home on a low budget! Get DIY projects like furniture and organization.
DIY mirror: Learn how to make a DIY mirror with these simple DIY mirror ideas are both beautiful and friendly to make.
Painted pumpkins: Wondering what the best to use as front door decoration is? "Painted Pumpkins". Check out our favorite painted pumpkin ideas featuring the cute decoration pieces for your home.
DIY hanging planter: Make beautiful DIY hanging planters for your home indoors and outdoor! These hanging wall planters and ceiling planters are easy to make!
6. DIY Crepe Paper Lemon Wreath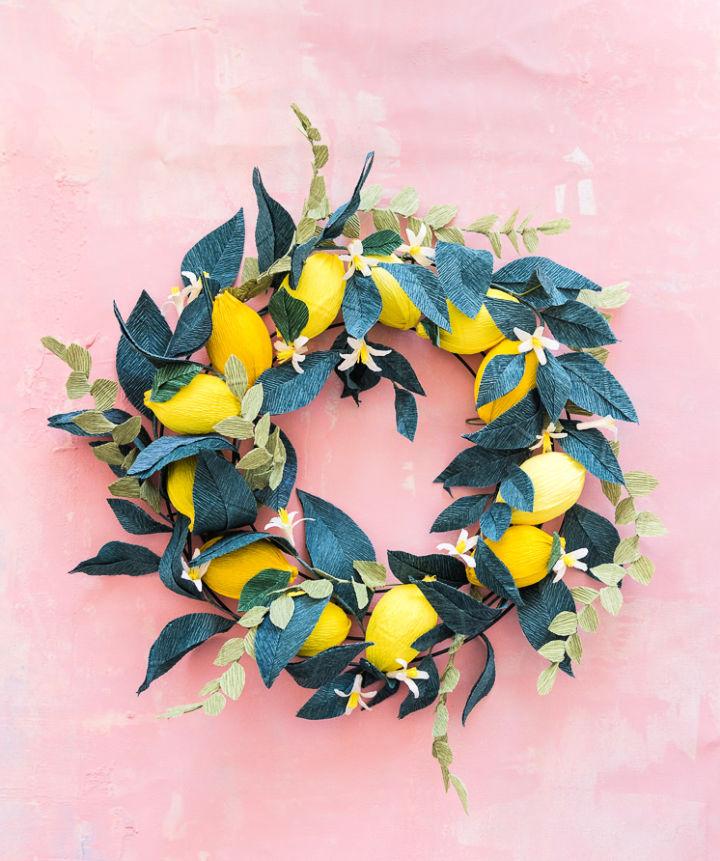 Are you deciding to change your doorbell and decided to change the main door wreath as well? Wondering if you can make one at home something similar nest style but with the blend of a lot of colors? Now, do nesting with the nest with this DIY wreath plan! Start making it with crepe paper in yellow, 12 plastic easter eggs, hot glue, scissors, and a 12-inches wire-wreath frame. thehousethatlarsbuilt
7. Modern Farmhouse Fall Wreath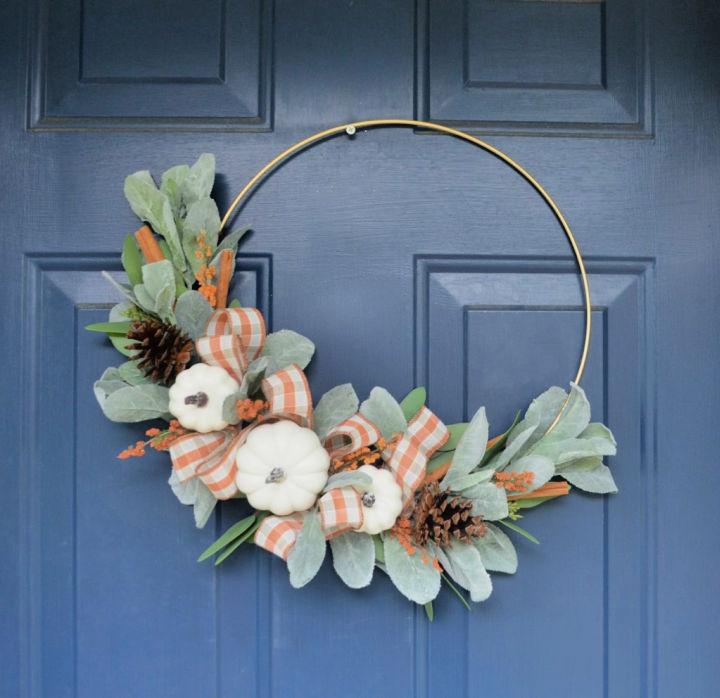 Are you looking for something modern for your door to give it a farmhouse look? Follow this plan and make a modern style wreath by using an embroidery hoop. All you need is these supplies like cinnamon sticks, faux greenery, a metal ring or wooden embroidery hoop, pine cones, faux flowers. You may also make this wreath by using the different crafts of your taste. amylattacreations
8. DIY Lavender Wreath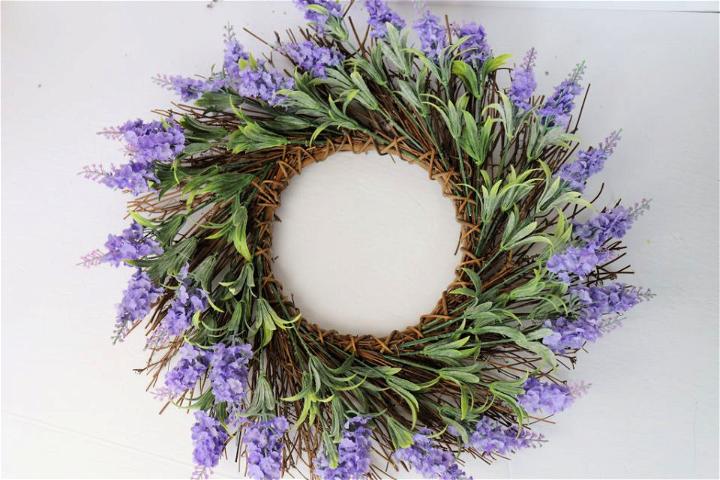 If you are looking to make something unique that can last for years? Then making a lavender wreath is a perfect idea for you to work on! Start and make it with a fantastic spray of colors along with the burst of lavender. Go to the market and assemble these supplies to start the process: grapevine or twig wreath, lavender stems, hot glue gun, and ribbon for blow. niftythriftydiyer
9. DIY Wreath with Double Hearts for Front Door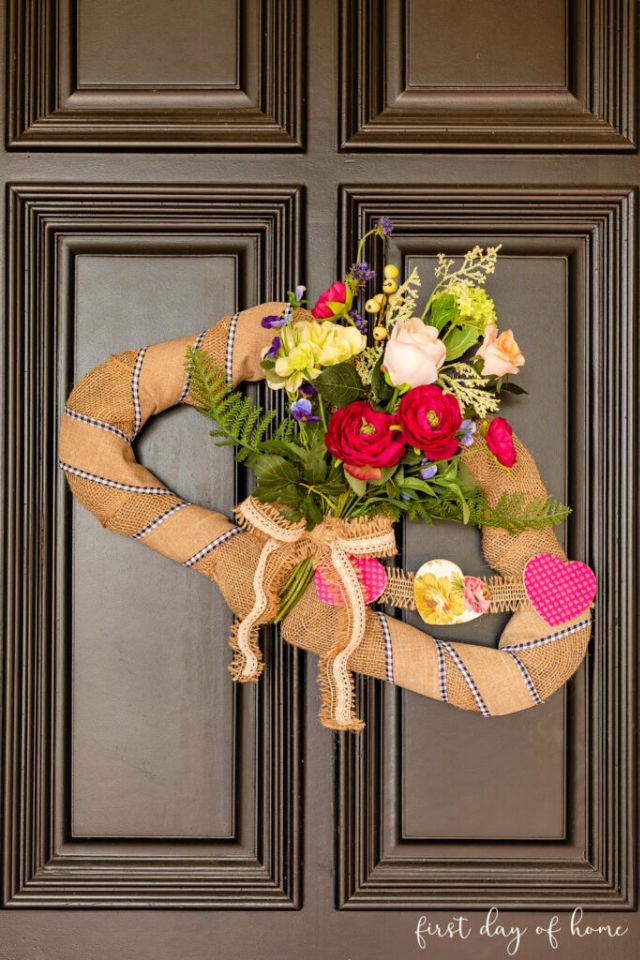 Valentine's day is just around, and the love seems like in the air! Why not adorning the hearts on the doors, too, for your loved ones? Dress up your front door this valentine with the perfect double-hearted wreath. The process is pretty simple. All you need is scrapbook paper, mini heart cutouts, heart0shaped wreath form, scissors, a hot glue gun, and much more. firstdayofhome
10. Clothespin Sunflower Wreath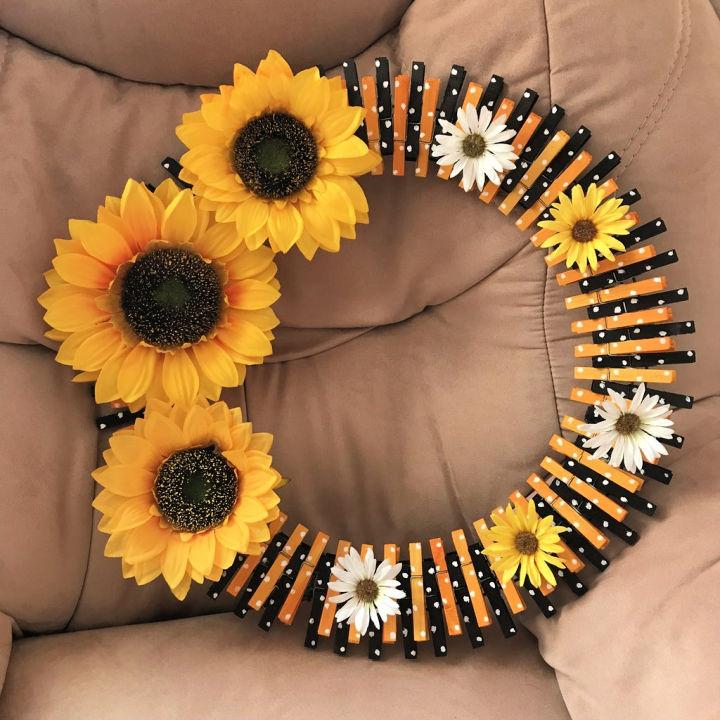 Do you like sunflowers and looking for plans to make a clothespin sunflower wreath for your door? Have you been searching for similar wreaths on the market but couldn't get the desired one? All you need is these few supplies like plastic bowls, Rit dye, hot glue gun, metal wire wreath frame of 16-inches, wooden clothespin, word correction fluid, and faux flowers like a sunflower. instructables
11. DIY Pinecone Flower Wreath for Fall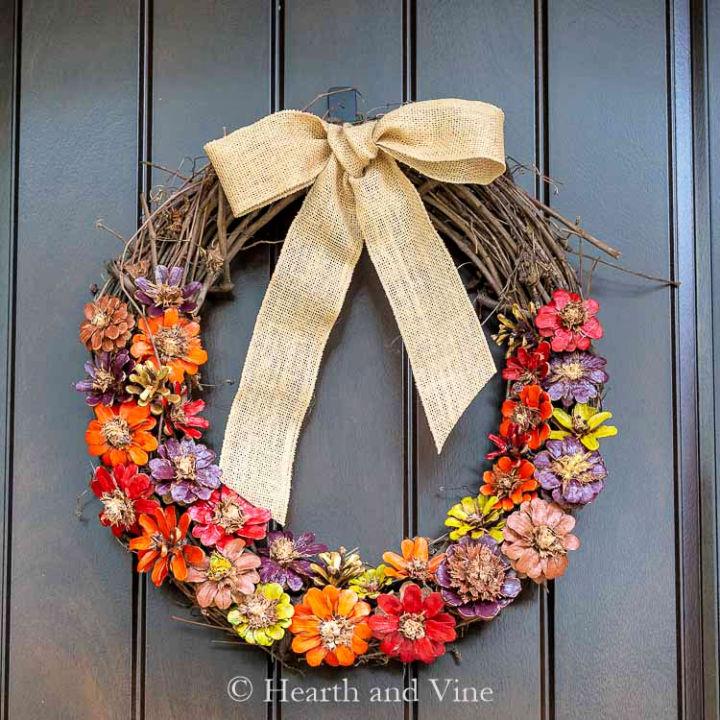 Have you been looking for a perfect door wreath to greet your guests every season? Are you looking for something that looks good all season so you will not have to change it after every few months? Make a wonderful pinecone flower wreath. All you need is burlap ribbon, pinecones, grapevine wreath frame, wire cutters, loppers, acrylic paints, and a glue gun. hearthandvine
12. How to Make Your Own Grapevine Wreath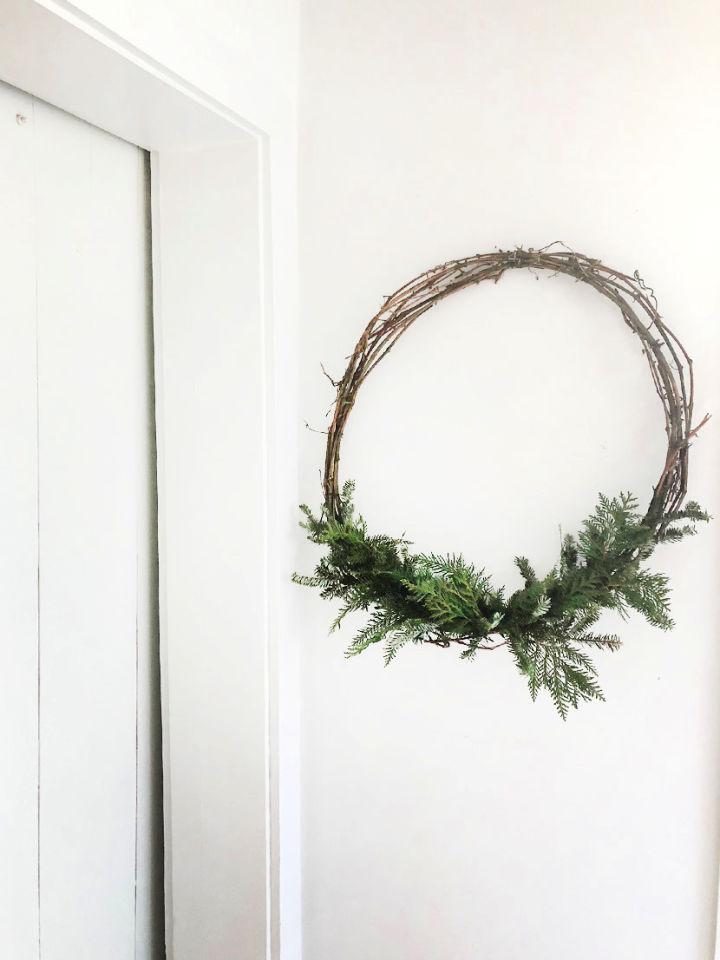 Make this super easy grapevine wreath that brings spring to life with beautiful decoration and shades of flowers. Dress up your door with the fantastic wreath to act as a focal length of an art gallery. This project will take only a few hours. Go to the market and get these materials to make your desired grapevine wreath: floral shears, heavy-duty scissors, floral wire, and grapevine. freshexchange
13. DIY Twig Pom Pom Starburst Wreath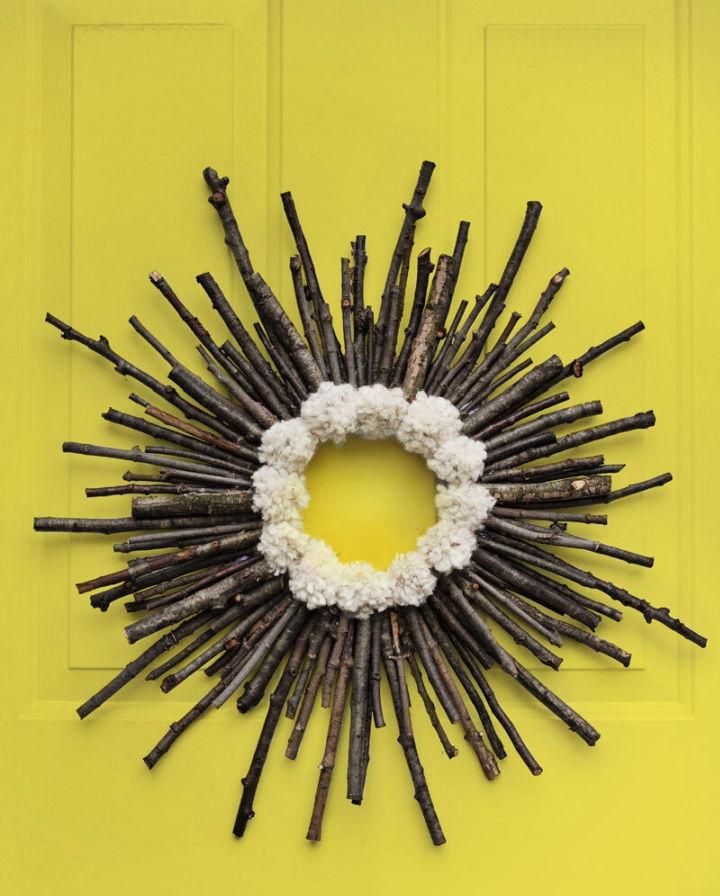 No doubt that fall is the perfect time for some DIY rustic decor activities, isn't it? It's just like a great time to renovate your home with new stuff like a door wreath. Make a fantastic twig pom wreath this fall! Assemble hot glue sticks, cardboard, Masonite, plywood, chunky off-white yarn, twigs, and branches in different lengths, pruning shears, scissors, a big fork, and a hot glue gun. abeautifulmess
14. Beautiful Fresh Magnolia Wreath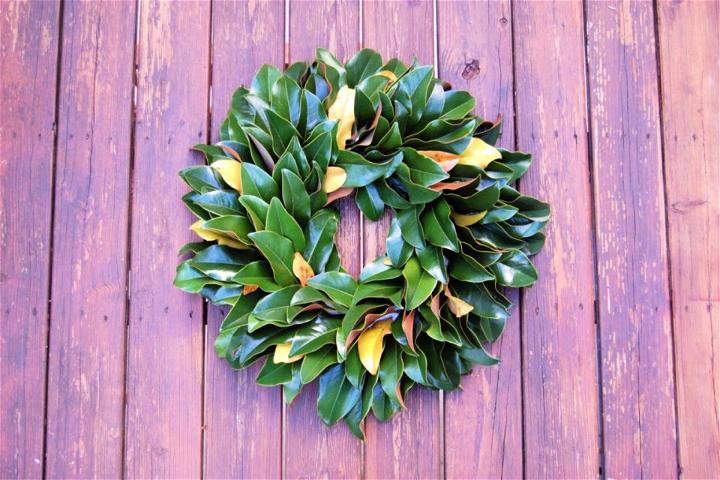 Add an excellent piece of extension to your front door with a thin, elegant yet straightforward DIY magnolia leaf wreath. It's a stunning and inexpensive statement piece that lasts for a whole year and perfect for specific occasions too. All you need is these few easily accessible supplies like a strong metal ring, fresh magnolia leaves, scissors, white paint, cardboard to cover the ring, hot glue. diynetwork
15. DIY Tulle Valentines Day Wreath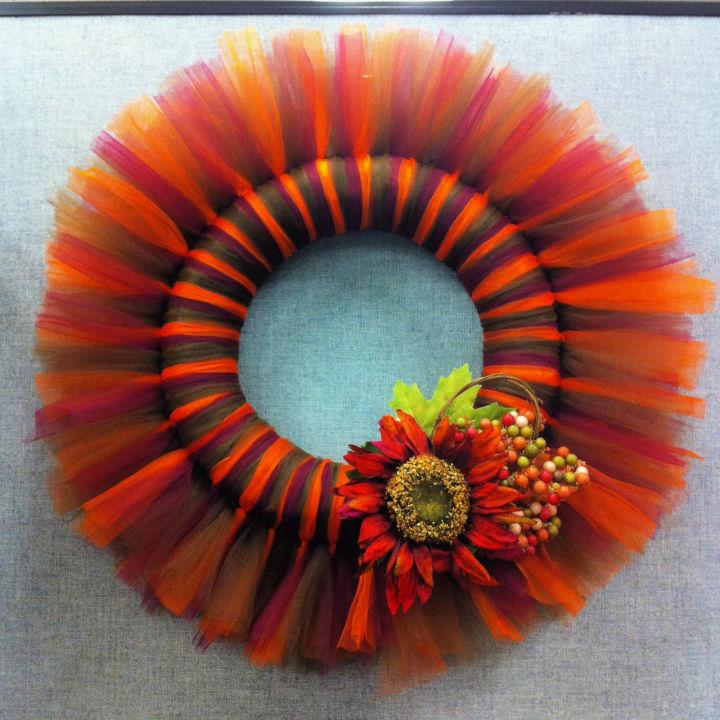 Valentine's day is just around the corner, and you are crawling the internet to find out the best ideas to decorate your home on this day to celebrate love? Well, you are at the right place then. Here is the best valentine's decor plan to greet your guests differently. Make an eye-catching tulle wreath using straw wreath, 6-inches spool of red and white tulle. mohawkhome
16. How To Make A Succulent Wreath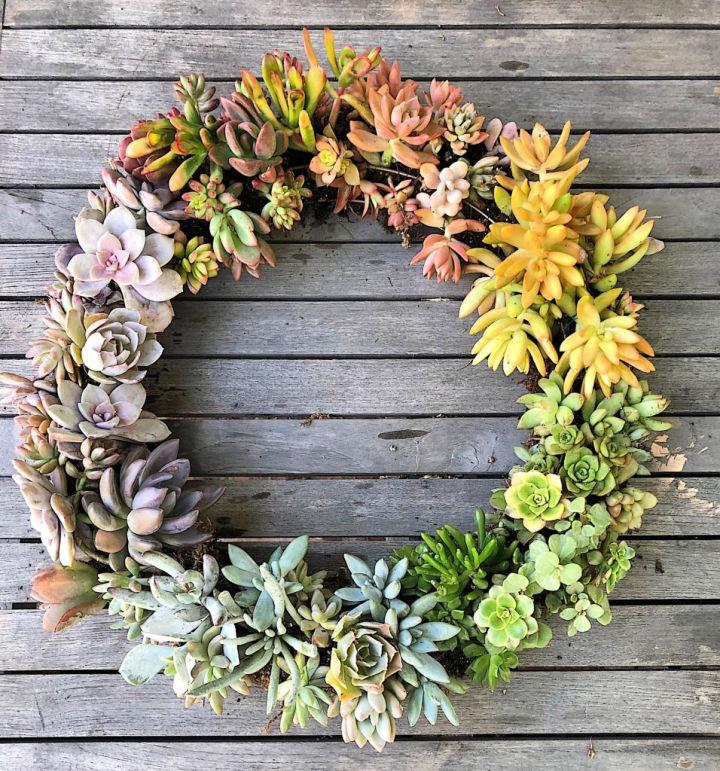 Have you been searching for the best plans to make a door wreath for your home? Are you looking for something very colorful that matches your home decor? Why don't you go with making a succulent wreath this season? It's super easy and inexpensive too. All you need is a fishing line, floral wire, 1–12 wire wreath, about 50 small succulents, and sphagnum moss. my100yearoldhome
17. DIY Flip Flop Wreath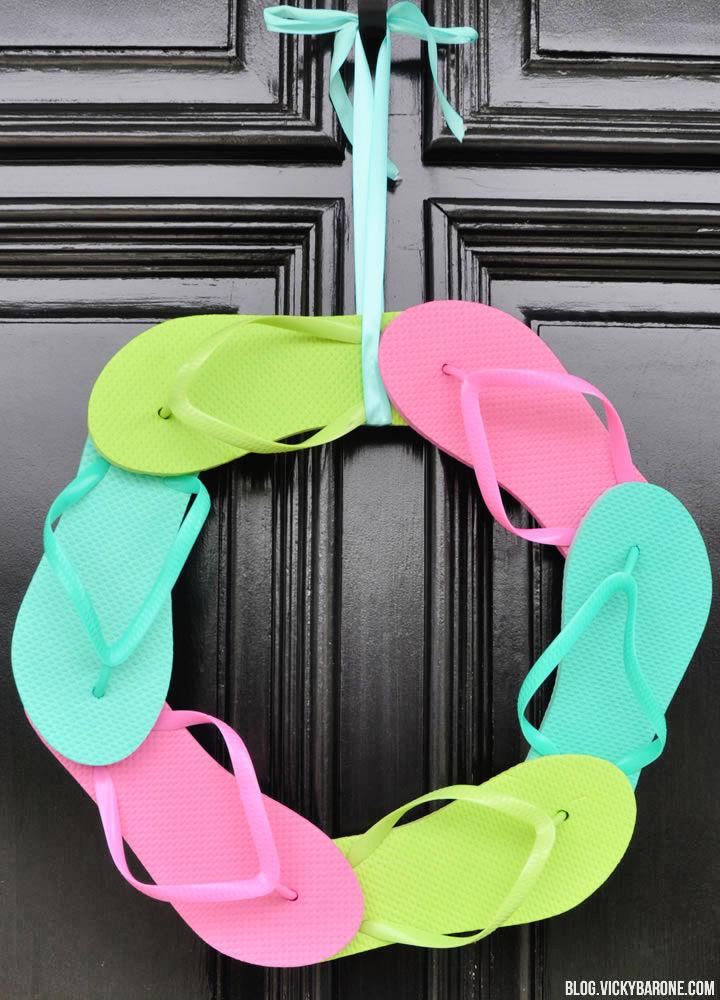 Have you ever wondered about making something decorative by using flip-flops? No? Well, you can make a perfect door wreath for your front door! It is super easy and not very expensive too. All you need to is spend some time and assemble these supplies: six pairs of flip flops (purchase either all of the right feet or all of the left), ribbon for hanging, and hot glue. vickybarone
18. DIY Fabric Wreath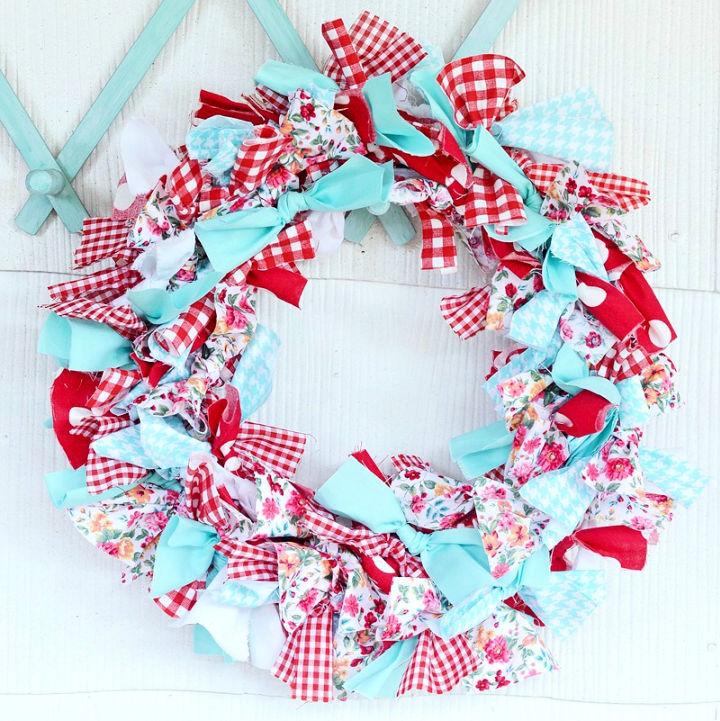 This fun DIY project allows you to show your creativity by making a perfect fabric rag wreath for your front door. This is an easy family fun project that your kids can also help you with. Go to the market and get these materials, including a wire wreath from a craft store, ruler, scissors, fabric straps cut into pieces of strips, medium weight cotton fabric, thread, etc. cottageatthecross
19. Easy DIY Candy Wreath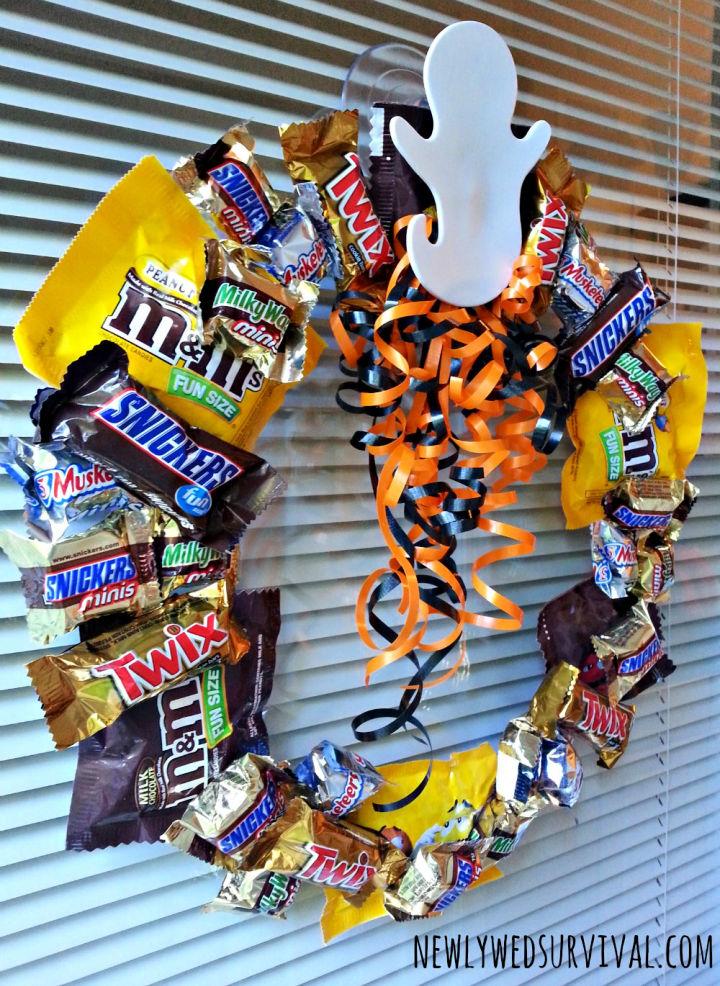 Are your kids the big candy and chocolate lovers? Are you looking for some ideas to update their door wreath with something that matches their taste and interest? We have the best plan for making a delicious and pretty candy wreath to adorn. All you need is scissors, felt ghost cutout, sticky adhesive dots, black & orange curling ribbon, candies, wreath form. newlywedsurvival
20. Wine Cork Wreath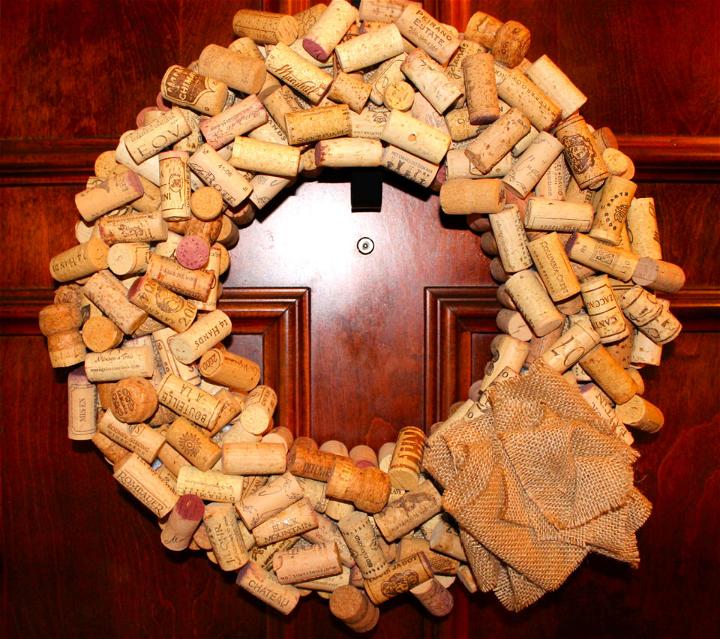 Who doesn't love wine? Are you the one with good crafting skills too? If yes, then why don't you make something creative similar to your taste. Use your artistic skill and make an excellent wine cork wreath to adorn your front door. It's super easy! Get these readily available materials like foam wreaths, corks, toothpicks, at least 5 feet burlaps, hot glue guns, and glue sticks. afreespiritedgirl
21. Summer Seashell Wreath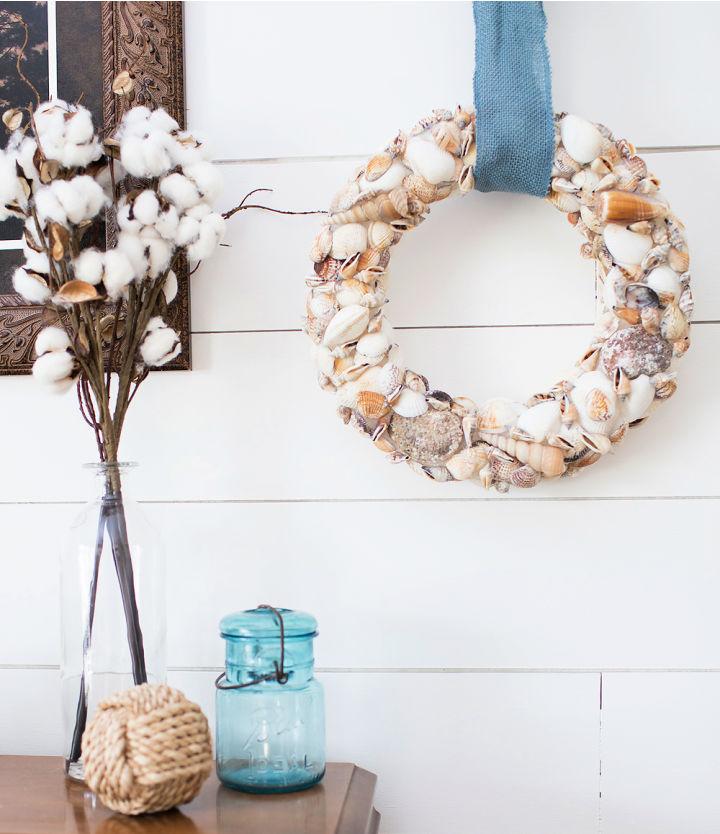 Are the summers just around? Do you like summers and renovate your home decors with a light-colored theme? What about the front door wreath? Upgrade it this season with a cute seashell wreath to give a perfect summer vibe. All you need is few materials like flora craft wreath foam of 14-inches, a variety of seashells, burlap to hang up the wreath, a low-temp glue gun, or a simple glue. makeitfuncrafts
22. Five Minute Hydrangea Fall Wreath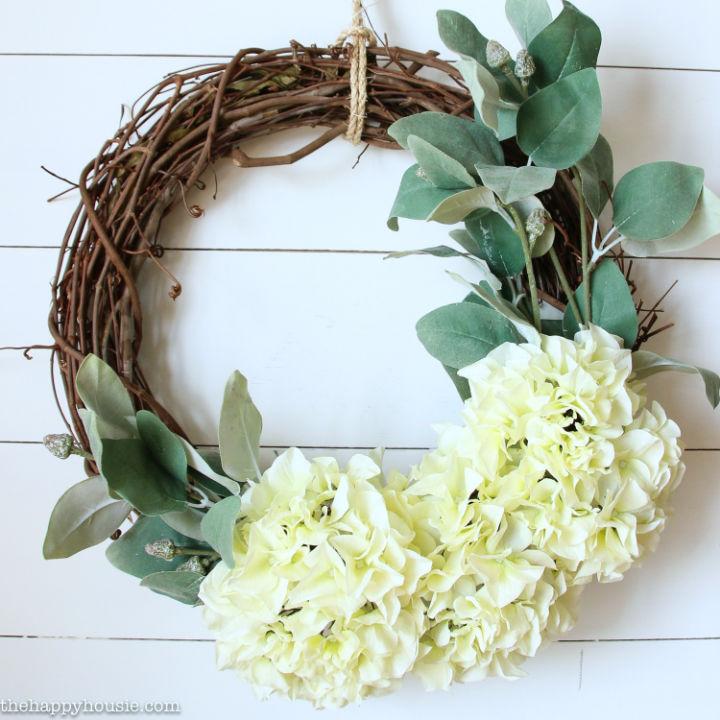 Are you the one who loves Hydrangeas from the collection of flowering shrubs? Do you have these lovely shrubs lying around your garden? Are you wondering if you can utilize them for some home decor purposes too? Why not! Make a perfect hydrangea wreath in just five minutes. Assemble grapevine wreath foam, wire cutters, hot glue gun, hydrangea blooms, etc. thehappyhousie
23. Chalkboard Crayon Wreath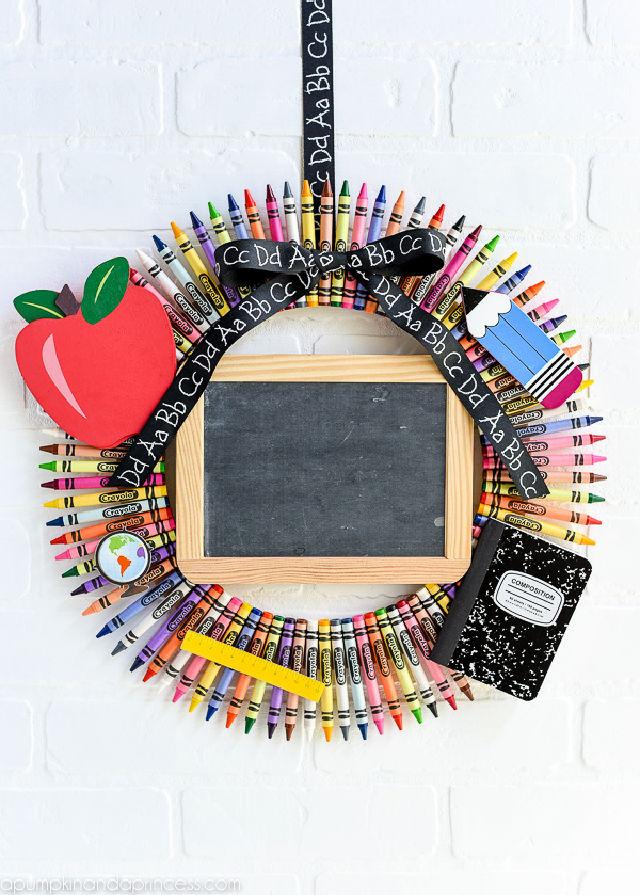 Make an exciting door wreath with shiny rhododendron greenery and cute cotton balls. The wild spray of cotton ball on one side of the wreath and chalkboard on the other side. This DIY project would also let you write anything you want on the chalkboard, like a greeting. All you need is chalkboards, scissors, spray paints, paintbrushes, hot glue guns, leaves, artificial flowers, etc. apumpkinanda
24. Baby Shower Wreath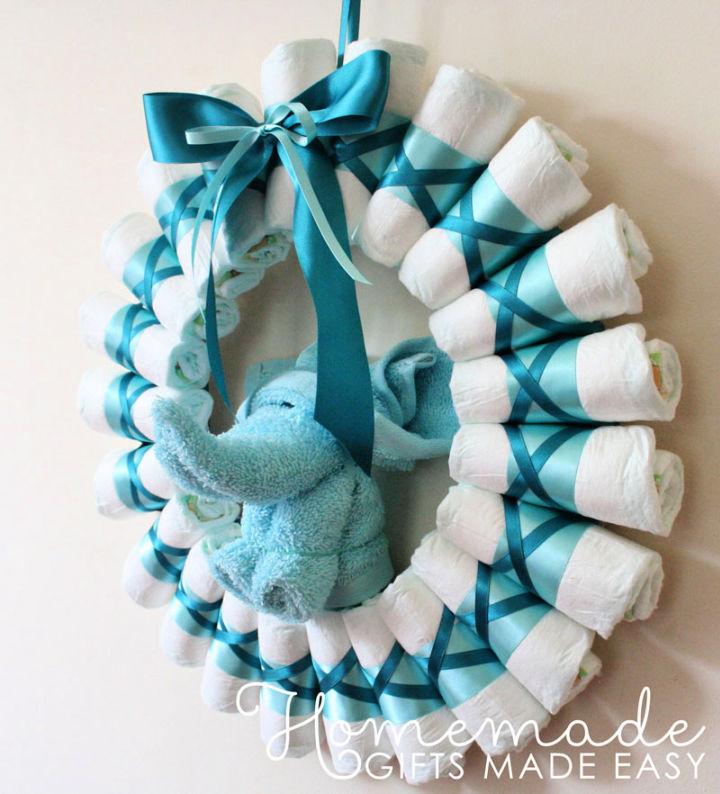 Are you looking to gift something different to your friend at her baby's shower gathering? Follow this pan and make an easy diaper wreath to make her day even more memorable. It's expensive too. All you need is 22 diapers, a glue stick, a narrow ribbon, a hot glue gun, three sheets of white office paper, a wide ribbon, thick cardboard of an old box, and rubber bands. homemade gifts
25. How To Make A Valentine Wreath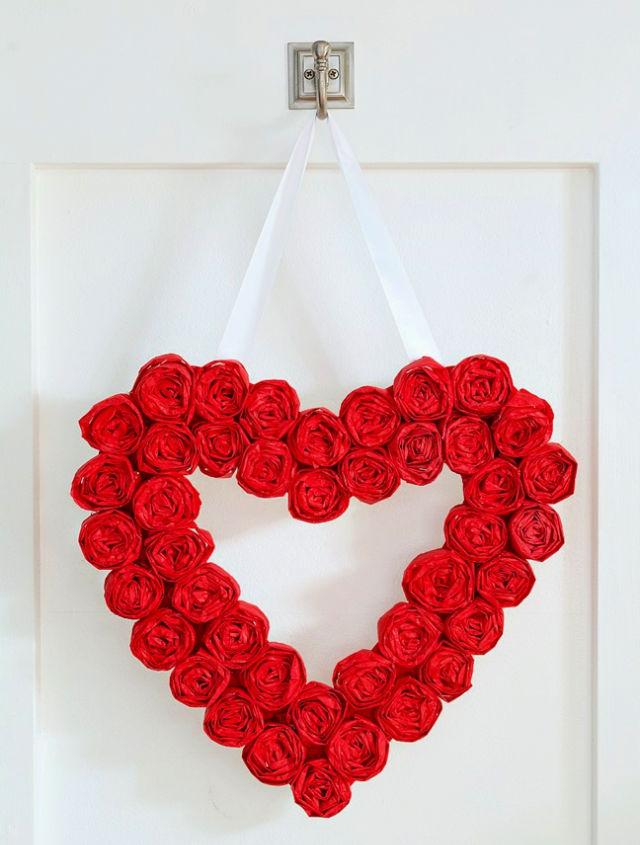 The love is in the air because valentine's day is just around! Are you looking for some DIY wreath ideas to git your loved ones on this special day? Make this day even more memorable with your spouse by making a beautiful heart-shaped rose wreath. All you need is wreath foam in heart shape, artificial rases, scissors, hot glue gun, adhesive, a colored ribbon of your choice. itallstartedwithpaint
26. Horse Head Wreath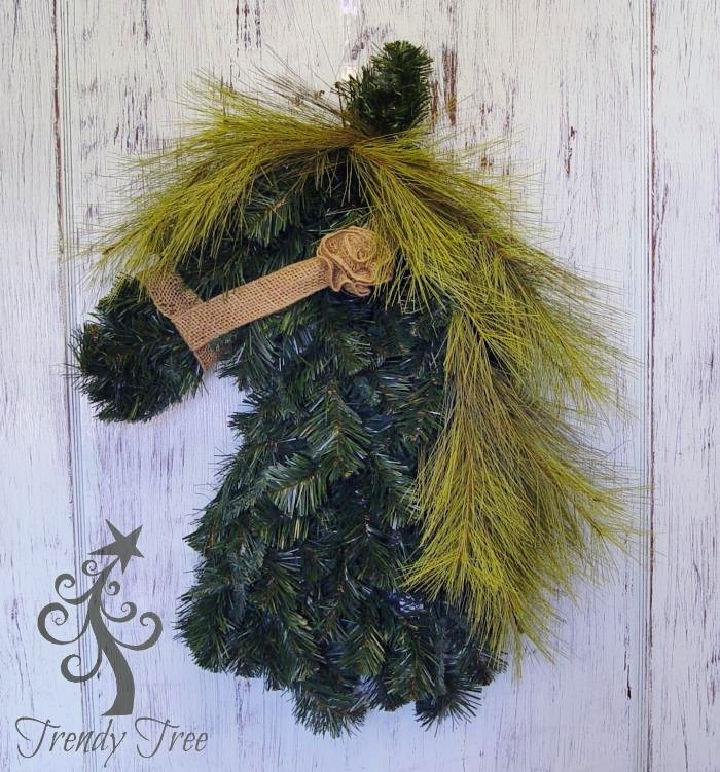 Have you been looking for a door wreath to hang on your backyard garden gate? How if you make a horse head wreath with greenery that matches your garden theme? Are you wondering if you can make it at home without any DIY project experience? Yes, because it's super easy! All you need is leaves, wire wreath form, a hot glue gun, scissors, a thick long silk ribbon (optional). trendytree
27. Spring Peony Wreath in Under an Hour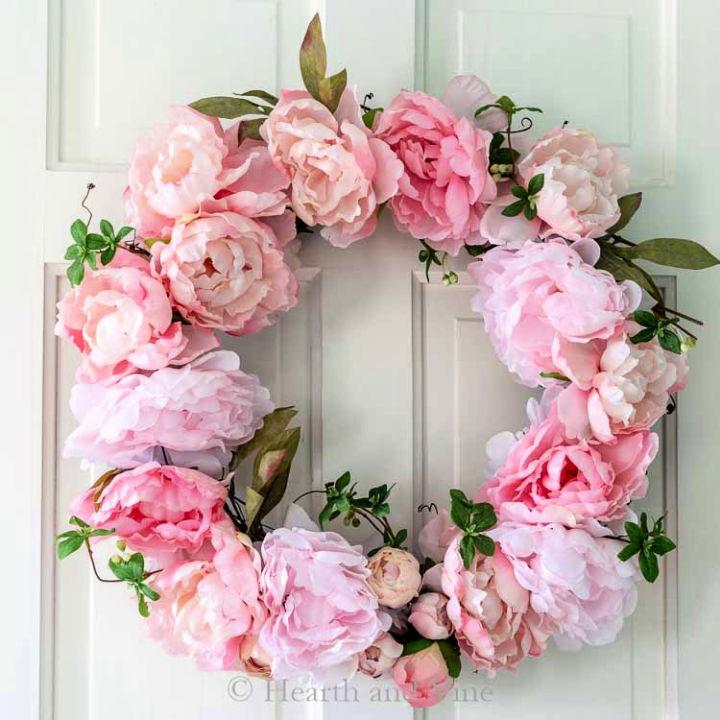 No doubt that peonies are some of the most favorite flowers of all time. Do you have a garden at home along with the several shrubs growing in it? Let's plan and make a perfect spring peony wreath this weekend in just a few simple steps. All you need is a 19-inches grapevine wreath, mini peony stem, two pink peony bushes, Gypsophilia leaf stem, and wire cutters. hearthandvine
28. Making A Living Succulent Wreath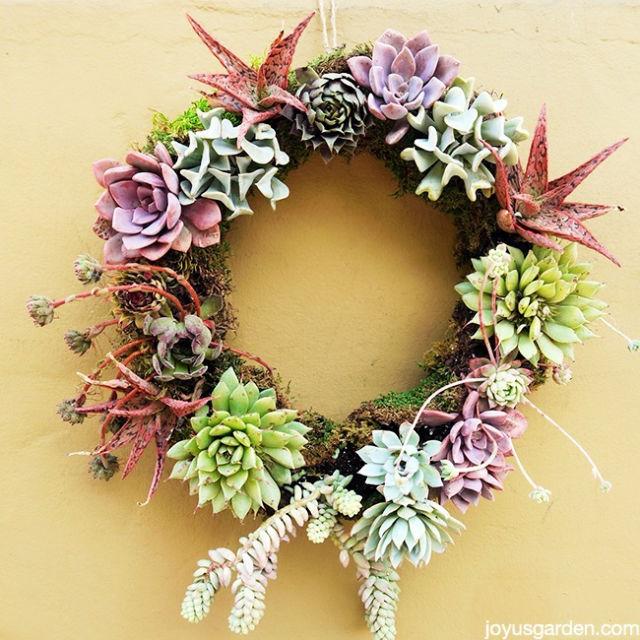 Do you love succulents and have also planted a lot in your garden? Are you looking for possible ways to use these durable, engaging, and visually diverse plants to decor home? Don't go anywhere because here is what you are looking for so long! Make a perfect wreath for your door and wall decor with few supplies like metal wreath form, succulent scissors, hot glue, etc. joyusgarden
29. Modern DIY Floral Wreath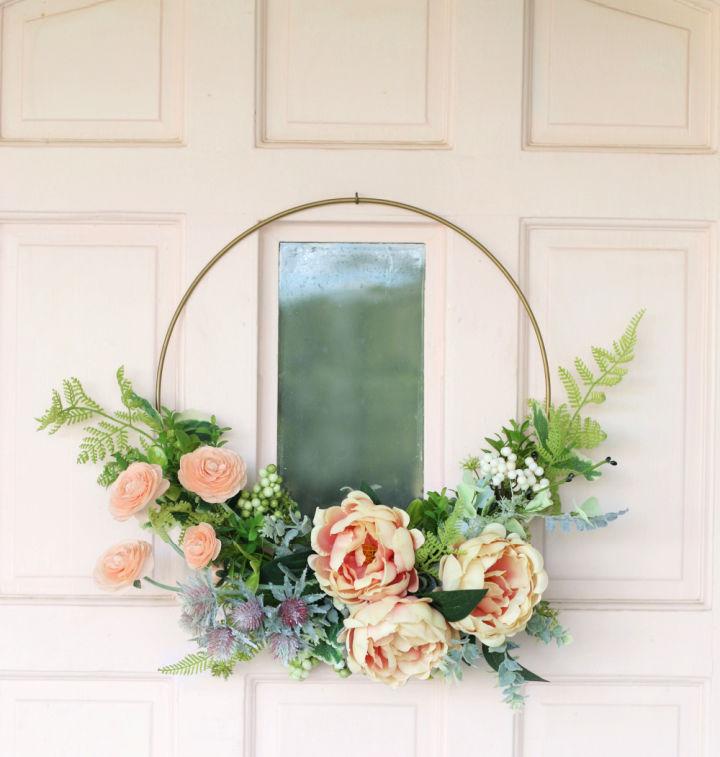 Springs are here, so let's make a decent yet modern wreath at home that matches the season outside and inside of your home. This plan is pretty easy, simple, and inexpensive too. Spend an hour or two and add a perfect extension to your home decor. Assemble these readily accessible materials like a 20-inches greenery wreath, hot glue gun, metal cutting snips, and faux floral picks. lollyjane
30. Deco Mesh Pumpkin Wreath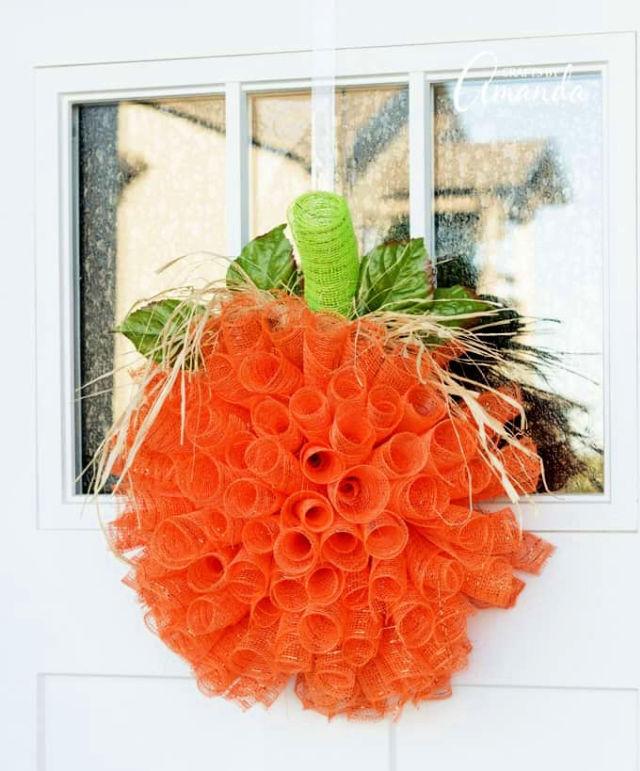 Do you love working with deco mesh? Are you looking for the perfect plans to make a deco mesh, deco mesh poinsettia, and deco mesh wreath for your door too? Let's start with creating an ideal front door wreath using deco mesh. It's super easy! All you need is a cutter, deco mesh in the small square size, floral pins, hot glue gun, Styrofoam disc, scissors. craftsbyamanda
31. Peony Spring Wreath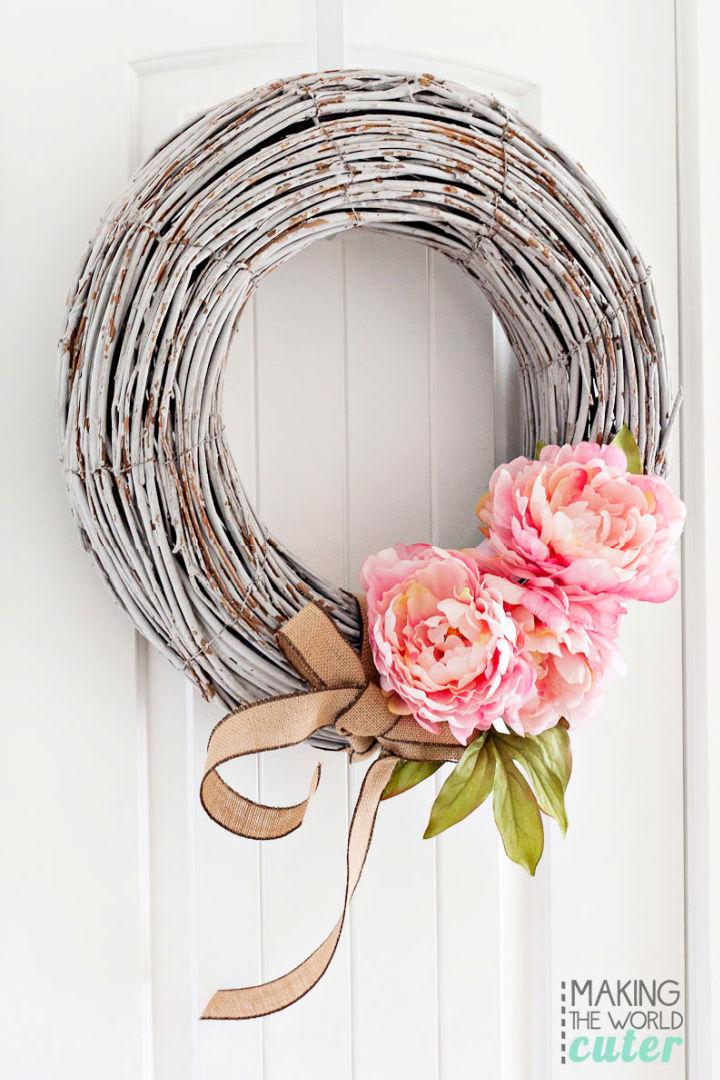 make a natural-looking door wreath with the help of fresh green moss, greens, and a spray of colored flowers. Do you know that the moss is super easy to work with? Start working on this project by gathering the supplies, separate the moss, and then use adhesive to attach it to the wooden wreath foam. Assemble floral pins, adhesive, hot glue, wreath foam, pink flowers. makingtheworld
32. DIY Birdhouse Wreath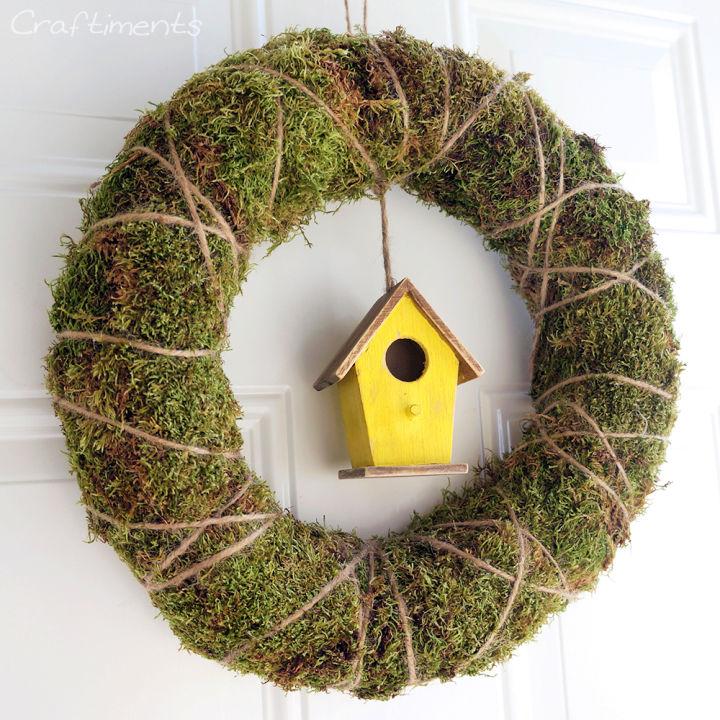 Make a sweet wreath wrapped with a moss sheet. Now, you can make a door wreath using fresh moss rather than using the dyeing variety that keeps the wreath looking fresh even when it gets wet. This rustic-looking wreath with the double-wrapped twine gives an adorable look to our door. All you need is wreath foam, a large bag of moss, a small birdhouse, yarn, hot glue, and paint.??craftiments
33. Simple Eucalyptus Wreath

Do you have a lot of eucalyptus trees in your backyard and looking o find possible ways to utilize the clipping at home? Why not! Are you looking for perfect DIY projects to decorate the walls? Don't go anywhere because here is the best plan for you by making an elegant eucalyptus wreath. Assemble a large embroidery hoop, clear scotch tape, and eucalyptus trimmings. abubblylife
34. Colorful Palm Leaf Wreath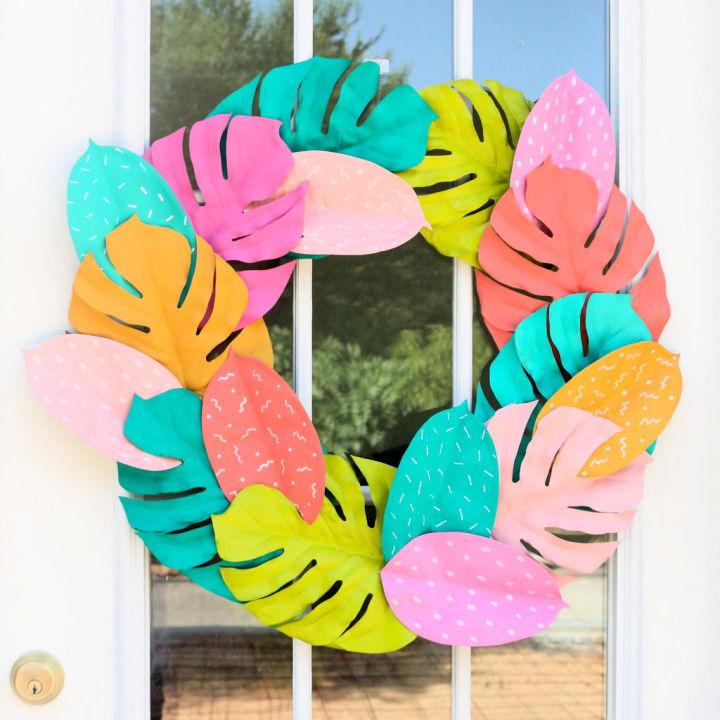 Palm leaves always look good, either in a natural form or even in the crafted form too. Are you free this weekend and looking for the perfect DIY project to add some decor extension to your home? Make a colorful palm leaf wreath for your front door. Go to the craft shop and assemble cardboards, floral pins, marker colors, circle wreath foam, scissors, hot glue gun, etc. akailochiclife
35. DIY Mixed Pampas Grass Wreath

Have you been trying to find out how to use pampas grass for crafts and decor? Well, pampas grass adds natural beauty and softness to your home, and here we come up with the best plan for you. Make a unique pampas grass wreath for your door. All you need is ring wreath form, scissors, craft wire, a variety of pampas and other grasses of your choice, and glue. aprettyfix
36. Pom Pom Wreath with Chunky Yarn

Christmas is just around, and looking for some decor ideas? Are you searching for some DIY wreath ideas to decor your home this year? Why not! Make a beautiful ed pom wreath using the wire wreath and thick wreath for a beautiful and lush Christmas setup. All you need is a 16-inches wire wreath frame, three packages of chunk tarn, floral wire, cardboard pieces. hearthandvine
37. Modern 4th of July Floral Wreath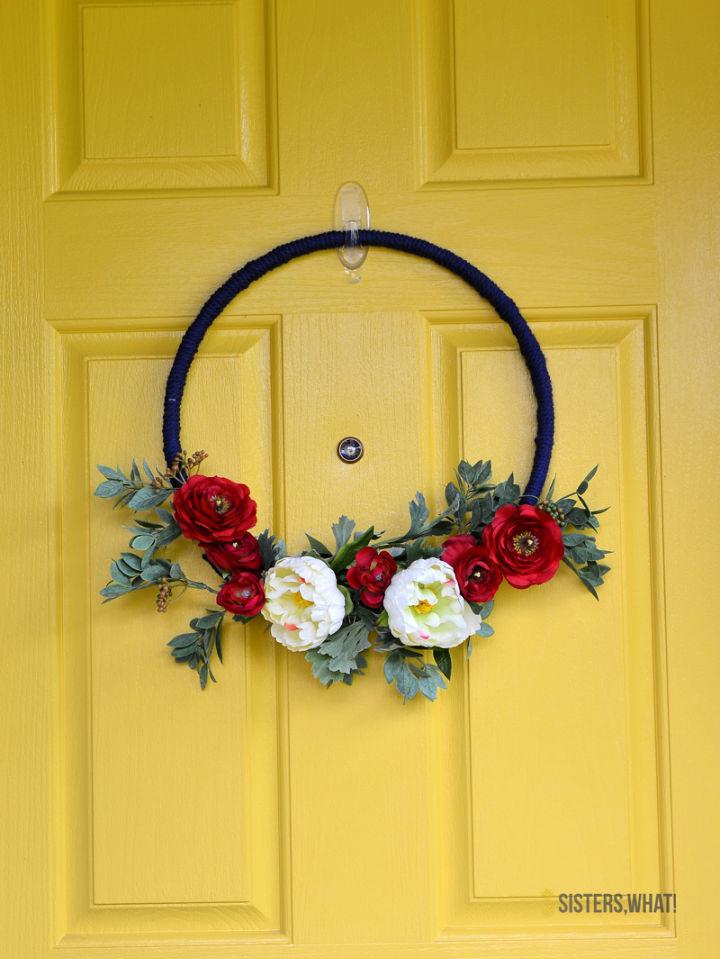 Do you already have a wreath, but that doesn't match with your new home decor? Are you looking to replace it with the latest modern style floral DIY wreaths that meet your needs and fit your home decor too? It's easy! Assemble these supplies, including floral wire, blue yarn, a large embroidery hoop, scissors, hot glue, floral pins, an assortment of white and red flowers. sisterswhat
38. DIY Hair Bow Wreath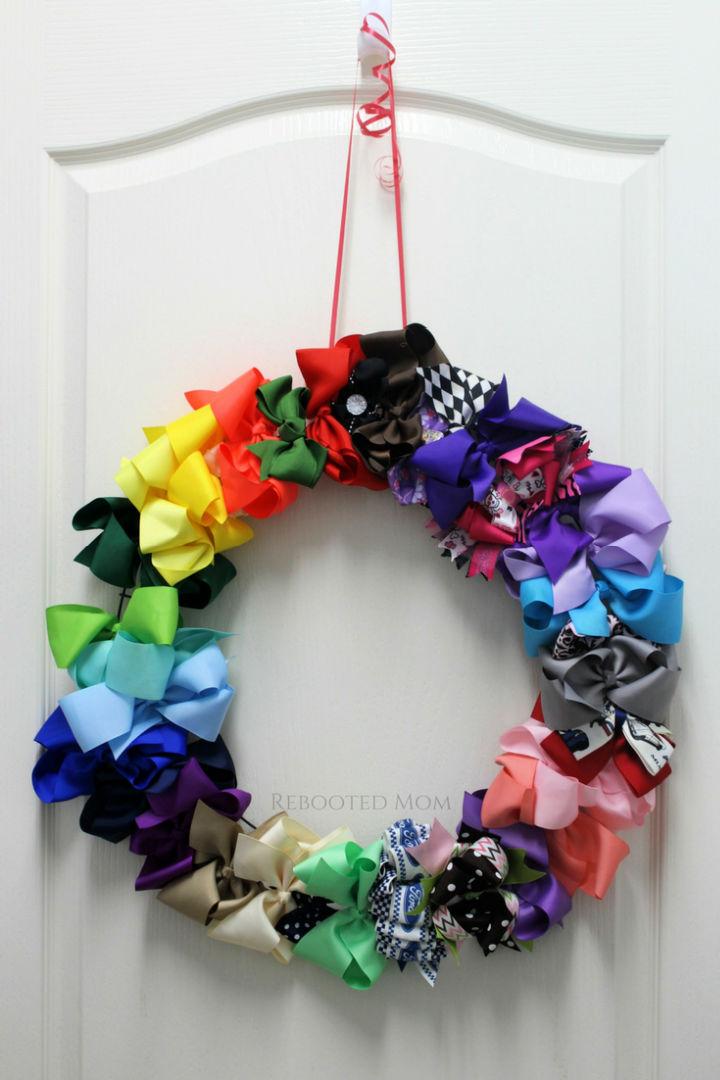 Hair bows can be found in any house sometimes lying in the bedrooms, in the bottom of the purse, and sometimes scattered in the bathroom drawer. Now you can make a decent and colorful DIY hair bow wreath for your front door. All you need is a circle wreath form, a lot of different colored hair bows, a hot glue gun, pins, scissors, and a ribbon (optional). rebootedmom
39. Burlap Wreath With Accent Ribbon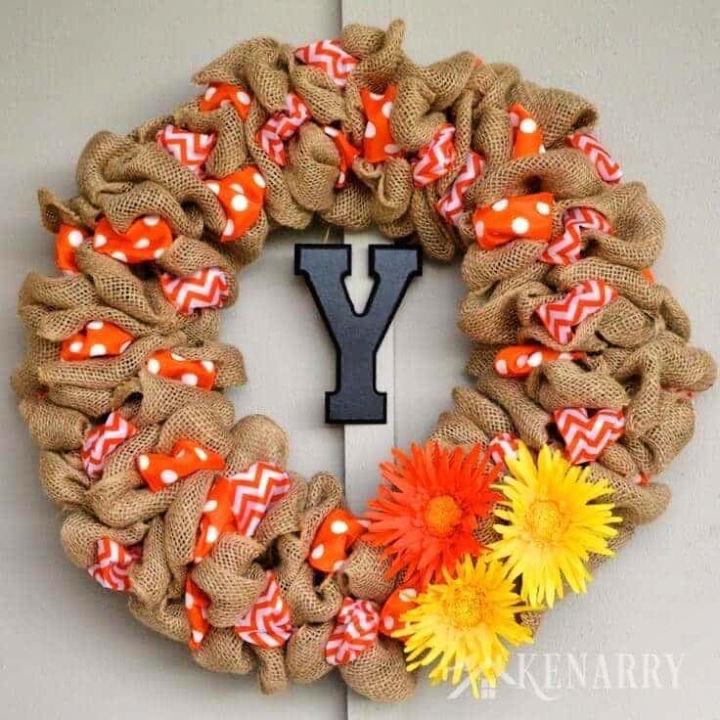 If you are the one with good craftsmanship skills and already have been doing DIY projects, you would know how many ribbons are being used to decore and crafting. Here is another best DIY plan of making a summer burlap wreath in few steps. All you need is these supplies like burlap ribbon, 16-inches wire wreath, twine, Glue sticks, hot glue gun, and spray paint. kenarry
40. How To Make A Mesh Wreath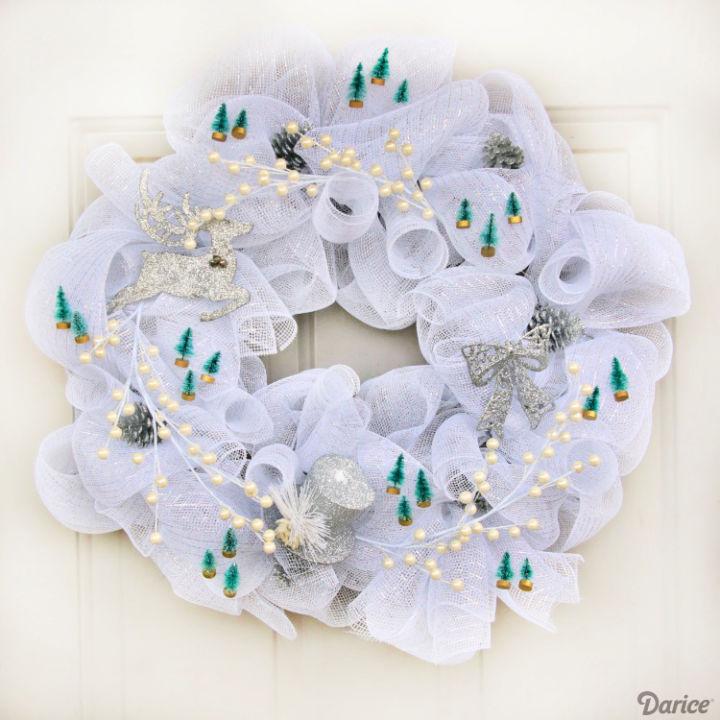 Upgrade your current wreath with the technology and design. Spend a little time over the weekend and make a perfect whimsical winter wreath that gives a fantastic look to your front door to greet the guests. Assemble Darice metal wreath form, white iridescent floral mesh, Darice silver tinsel stems, pearl berry sprays, wire cutters, hot glue gun, and sisal bottle brush trees. darice
41. DIY Ribbon Wreath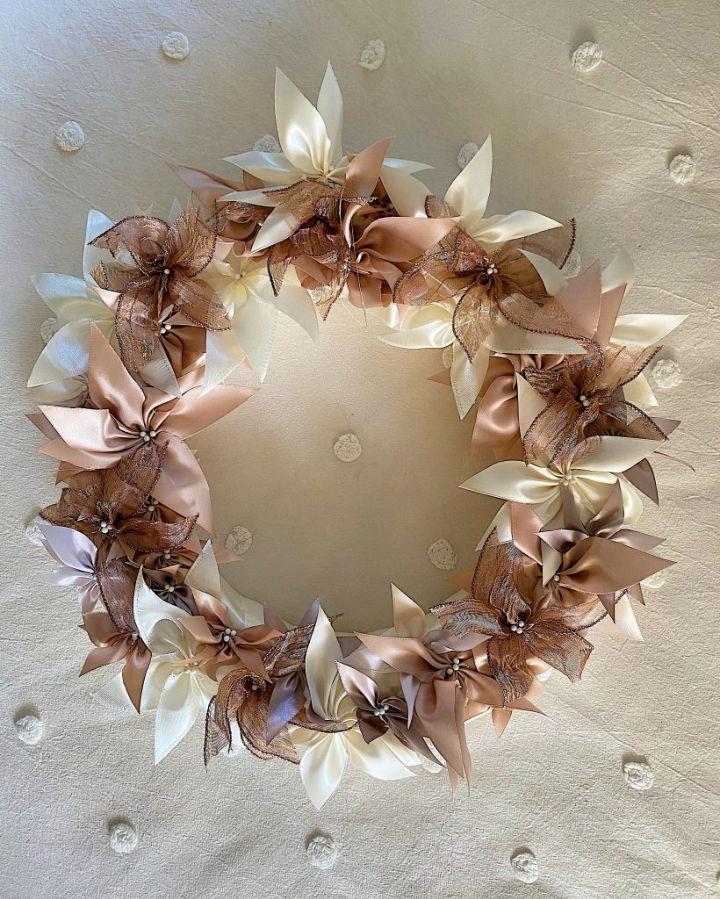 Are you looking for an easy and inexpensive DIY holiday craft? How about upgrading your wreath with a DIY ribbon wreath that you make in just an hour or two. Follow this plan and add a perfect Christmas decoration! Assemble a cutting mat, satin ribbon with assorted colors, white pearl head straight pins, flat edge wreath form, scissors, hot glue gun, and adhesive. my100yearold
42. Deco Mesh Wreath Step by Step Instructions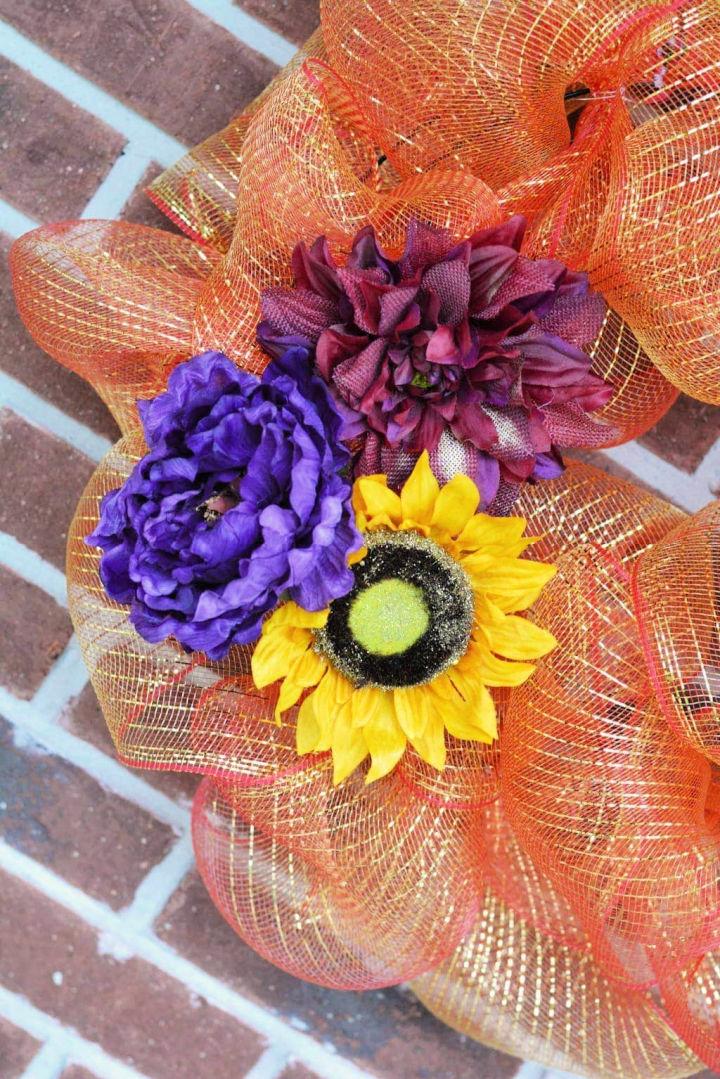 Do you know that deco mesh wreaths have become very popular these days? Are you looking to buy a gift for one of your family members on their Birthday or any other special occasion? Why do you make a DIY wreath which looks more valuable than the market-bought gift? All you need is a wire wreath frame, scissors, tube ribbon, door hanger, mesh ribbon, pipe cleaner. lifefamilyfun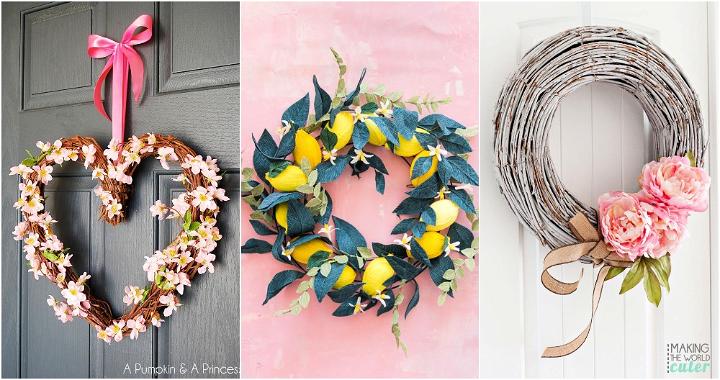 Conclusion:
Let's wrap up here with the hope that you have found all of the diy wreath ideas inspiring and have also found your desired plan. All of the mentioned diy wreaths have their features and specifications. All you need to do is choose the favorite diy wreaths that suit you, your home decor, space, and your budget the best. It's always pleasant to do such stuff at home as these activities let you spend some quality time with your family and mates both.
After picking your favorite diy wreath, go to the market and get the supplies and tools according to the selected plan. Another exciting thing is you can also make money out of these diy wreath ideas. Just learn the plan thoroughly and sell the fancy wreaths to the people looking for cheaper DIY decorative stuff in the market. Have all the materials ready? Let's give I a try then!