Boost your wardrobe with a fashionable crochet crop top pattern, perfect for showcasing your unique style and crochet skills. Delve into 30 free crochet crop top patterns, each complete with detailed instructions, making it a breeze for both novice and skilled crocheters. From ribbed crop tops to off-the-shoulder designs, these crochet crop top patterns cater to various preferences and fashion trends.
Explore free crochet crop top patterns for summer vibes, crop tops, granny square variations, and long-sleeve options, providing a diverse selection for any season or occasion. The crochet crop top patterns also include styles such as boho fringe, sunflower, and checkered cropped tops, ensuring a plethora of options to choose from. Many patterns offer customization options, allowing you to adapt the design to your desired size, color, and yarn type.
The 30 free crochet crop top patterns provide a comprehensive resource for creating stunning and unique pieces for your collection. Regardless of your expertise in crochet, these patterns offer clear, step-by-step guidance, ensuring a seamless and enjoyable experience. Embark on your crochet journey today and craft beautiful crochet crop tops that capture your individual flair.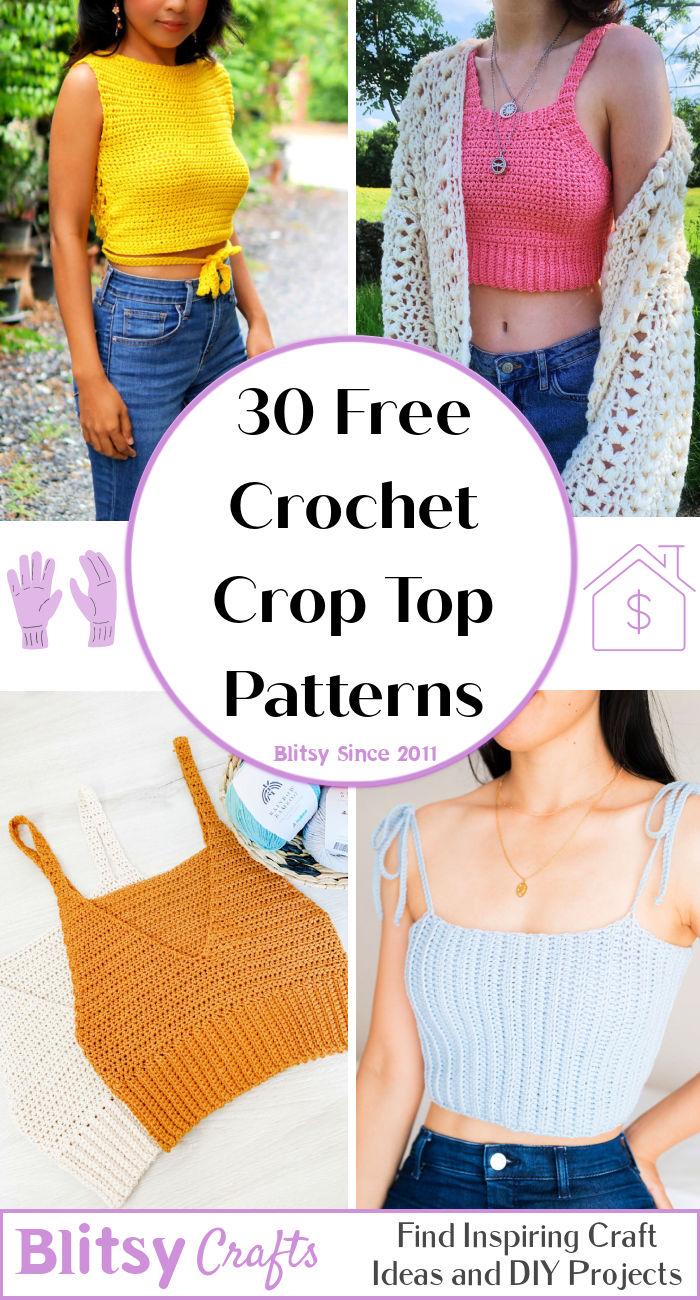 Uses and Benefits of Crochet Crop Top
Crochet crop tops are not only stylish and fun to make, but they also have some uses and benefits that you may not be aware of. Here are some of them:
Crochet crop tops can help you stay cool and comfortable in the summer heat. They are made of breathable and lightweight yarn that allows air to circulate and prevents overheating. They also cover just enough of your torso to protect you from sunburns while showing off your midriff.
Crochet crop tops can help you express your creativity and personality. You can choose from various colors, patterns, and styles to make a crop top that suits your taste and mood. You can also customize your crop top to fit your size and preferences by measuring yourself and adjusting the pattern accordingly.
Crocheted crop tops can help you save money and reduce waste. Instead of buying a new crop top from a store, you can make your own with a skein of yarn and a crochet hook. You can also use leftover yarn from other projects or recycle old clothes into yarn. This way, you can avoid spending money on fast fashion and contribute to environmental sustainability.
Crochet crop tops can help you improve your mental and physical health. Crocheting is a relaxing and rewarding hobby that can reduce stress, anxiety, and depression. It can also improve your focus, memory, and cognitive skills. Crocheting can also enhance your hand-eye coordination, fine motor skills, and dexterity.
As you can see, crochet crop tops have many uses and benefits that go beyond their appearance. They are a great way to enjoy your hobby, express yourself, and take care of yourself. So why not give them a try? You might be surprised by how much you love them!
What is the difference between a crochet crop top and a crochet tank top?
A crochet crop top is a short top that ends above the waistline, while a crochet tank top is a sleeveless top that covers the waistline. Crochet crop tops are perfect for summer and are easy to wear, flattering, and comfortable to make you look great while keeping you cool in the summer heat. Crochet tank top patterns aren't just for summer; they can also be worn over long-sleeved shirts during cooler months. They come in different yarn weights and fiber contents such as lace weight to worsted weight and cotton to bamboo to acrylic.
How to make crochet crop tops more fashional and unique?
Crochet crop tops are very fashionable and unique, especially for summer. You can make them in different styles, colors, and patterns to suit your taste and personality. Here are some tips and ideas for making crochet crop tops more fashional and unique:
Choose a yarn that is soft, breathable, and lightweight. You can use any color you like, but avoid 100% cotton yarn since it will shrink in the dryer. A cotton-synthetic blend is a good choice for a soft and durable crop top.
Use a simple stitch pattern that creates a nice texture and drape. You can use basic stitches like single crochet, double crochet, or slip stitch, or try some variations like shells, clusters, or bobbles. You can also mix and match different stitch patterns for more interest.
Add some details and embellishments to your crop top. You can crochet straps, edgings, borders, or fringes to give your crop top some flair. Add buttons, beads, sequins, or embroidery to make it more sparkly and fun.
Experiment with different shapes and necklines for your crop top. You can make a square, ruched, or sweetheart neckline for your crop top by changing the number of stitches or rows you crochet. Adjusting the straps or sleeves, you can also make a halter, tank, or off-the-shoulder style.
Have fun and be creative! Crochet crop tops are easy and quick to make, so you can try different designs and see what works best for you. You can also customize your crop top to fit your size and preferences by measuring yourself and adjusting the pattern accordingly.
1. How to Crochet a Ribbed Crop Top – Free Pattern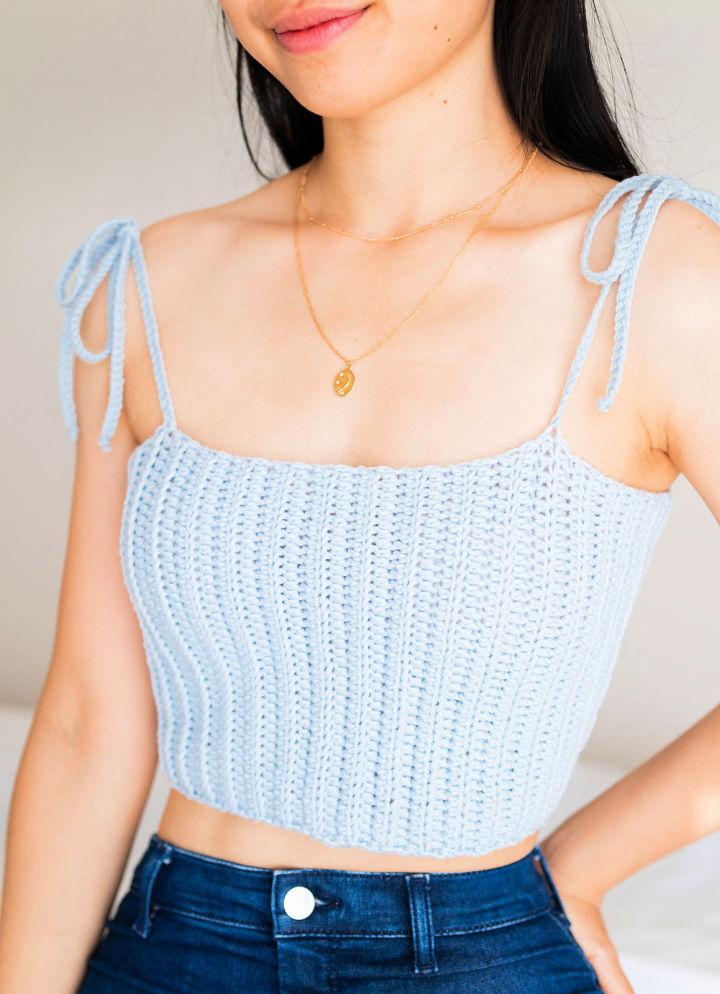 Learn how to crochet a stylish and comfortable crop top for summer with the skylar crop top pattern! This easy pattern is great for beginners, requiring only half double crochets. With the free video tutorial, you'll have your ribbed singlet quickly!
Easily customizable to fit any size or body type, this camisole features braided tie straps and can be worn as a top or extended into a crochet singlet – perfect for beach days. Get ready to make the most of summer with this beginner-friendly project! All you need is some worsted weight yarn, a 5mm hook and creativity – get started today! forthefrills
2. Crocheted Off the Shoulder Crop Top Pattern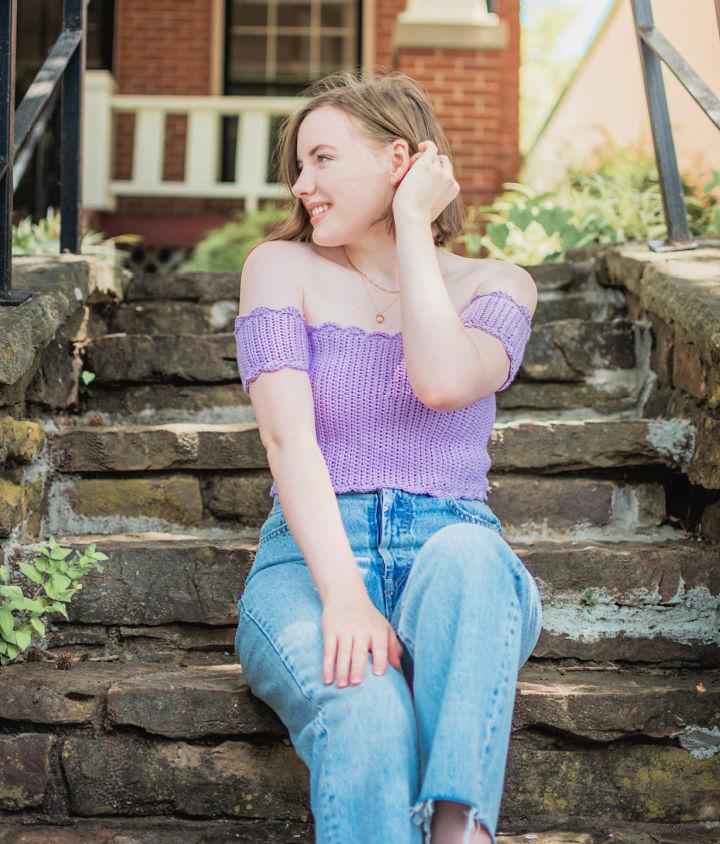 Create a stunning and unique off-shoulder look with the audrey top! This free crochet pattern is perfect for beginners and features an easy yet elegant design. With mostly half double crochets, this top is easily customizable, making it fit your style. Scallop edging adds an extra special touch but can be omitted if desired. Make this beautiful piece using DK/Light yarn (3) and hook size 4.00mm – get ready to show off in this beautiful top today! hayhaycrochet
3. Easy Crochet Summer Vibes Crop Top Pattern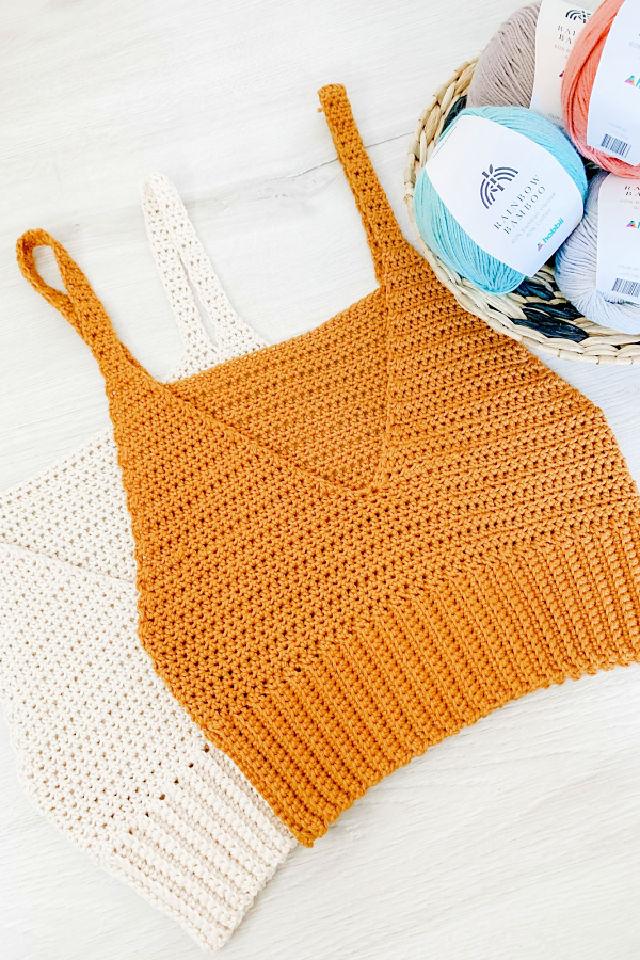 Crochet the perfect summer look with this crochet summer vibes top pattern! This easy-to-follow crochet pattern is designed for beginners and uses simple stitches such as single and half double crochet. The cropped top works great paired with jeans, shorts or under a cardigan in cooler weather. Have fun crafting this must-have wardrobe staple using 2/sport/fine yarn and a 3.5mm or 4mm crochet hook! Get ready to make your summer style pop with this amazing design! crochetwithcarrie
4. Free Crochet Granny Square Crop Top Pattern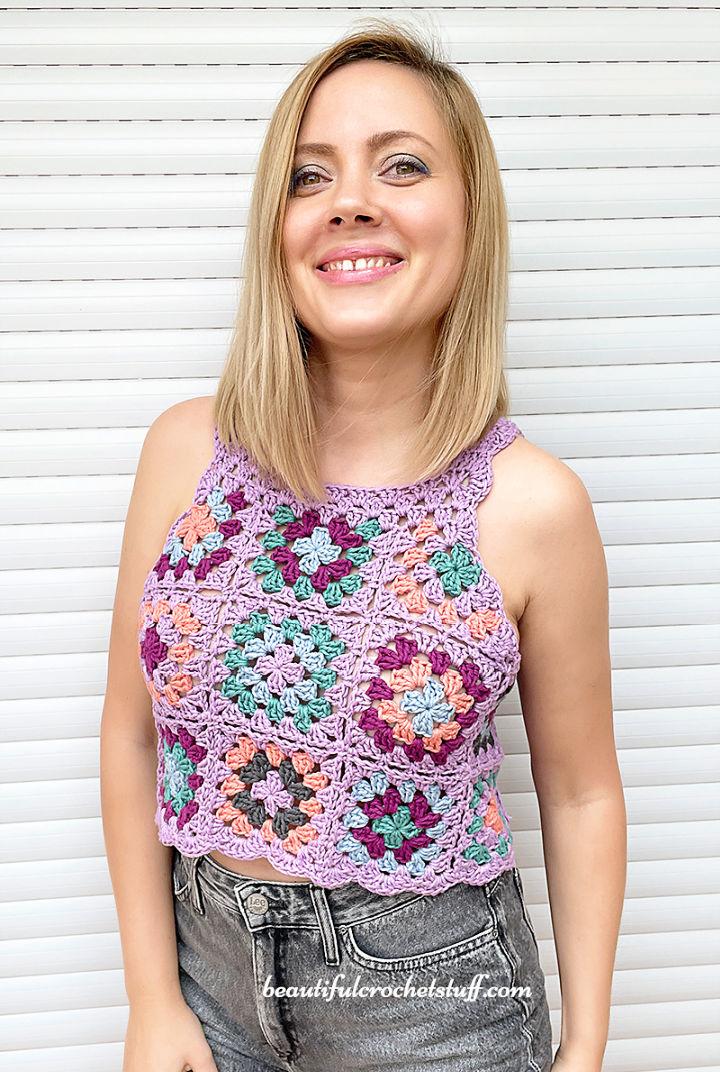 Craft a fashionable, flattering, eye-catching crochet granny square crop top with this free pattern! The detailed instructions make it easy to follow while watching the video tutorial. This project is perfect for intermediate crocheters – all you need are drops, yarn, a 5.0mm (G) hook, and 100% cotton fibers! In this free pattern, you get step-by-step guidance through every stitch of the 10×10 squares required for your crop top in size S-M. Enjoy the finished product, which will measure 39 cm long and 42 cm wide. Get ready to show off your beautiful handmade creation! beautifulcrochet
5. Crochet Summer Fruits Cropped Tank Top Pattern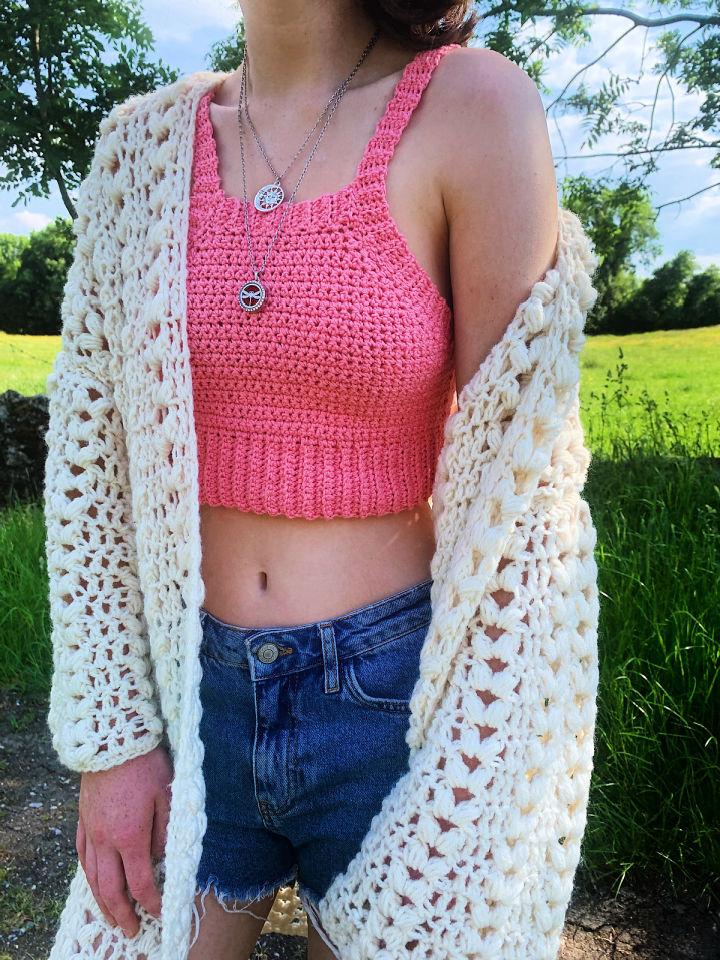 This crochet summer fruit top is the perfect way to beat the summer heat and show off your love of crochet! Worked from the bottom up, this top starts with ribbing for a comfortable fit. Sections are then worked in rounds before turning into straight rows. To complete it, decreasing rounds finish off the design beautifully.
Materials needed include any weight 3/DK/10 ply yarn of your choice and 4 mm & 5mm crochet hooks to help you achieve correct measurements (to fit bust: 34(38, 42, 46, 50) inches). Get creative and make something special this summer! crochetwithcarrie
6. Beautiful Crochet Mya Crop Top Pattern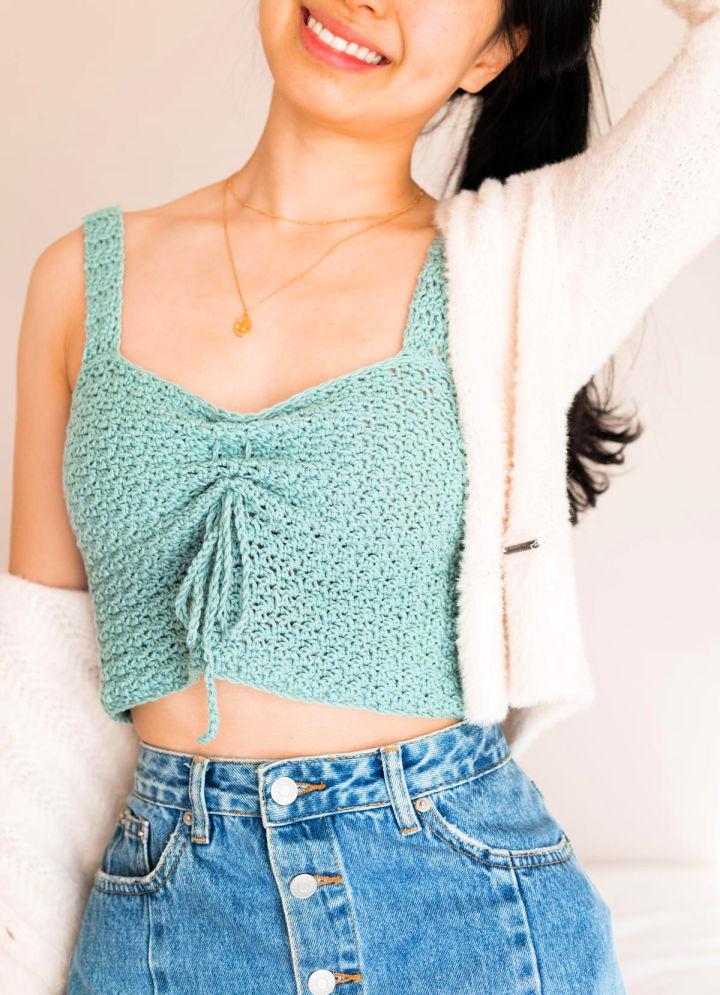 Are you looking for an easy but stylish project? Look no further than this mya crop top! This beginner-friendly crochet pattern comes with a free video tutorial and 4 different neckline options – square, bow, sweetheart or gathered. You'll love this versatile crop top with thick straps and a fitted look to flatter your summer wardrobe. Plus, it only requires 3 pieces of fabric, so construction is simpler than ever! So grab your DK/light (3) 5mm crochet hook and make the perfect addition to any outfit today! forthefrills
7. Gorgeous Crochet Tie Front Crop Top Pattern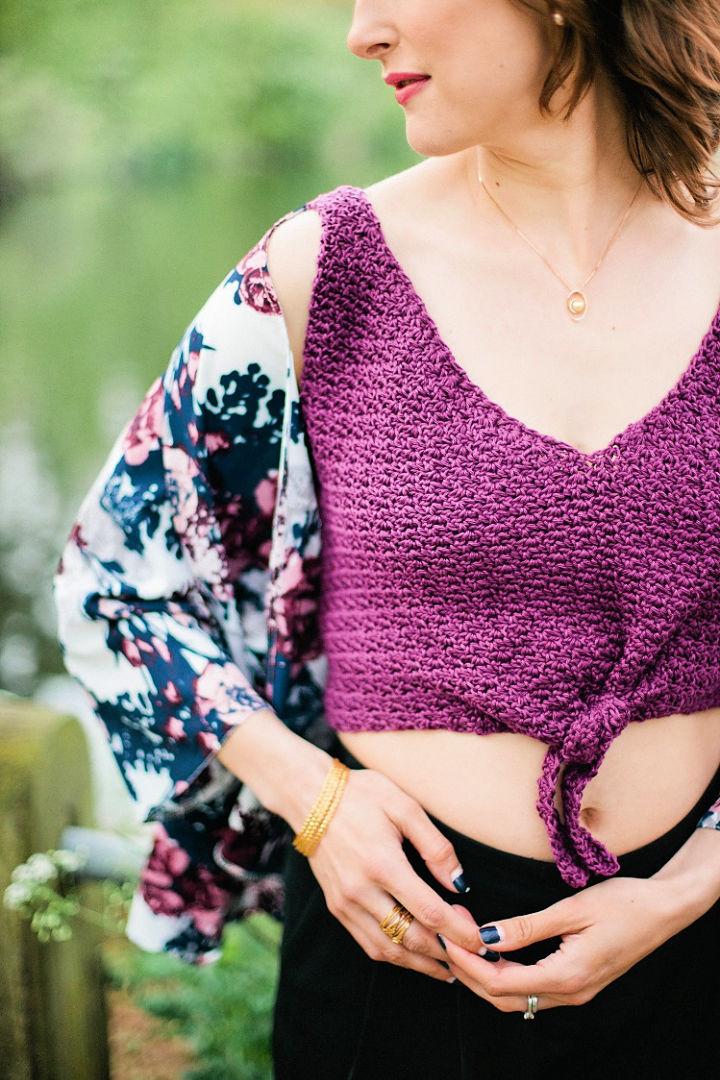 Opt for this crochet cropped tank top that is the perfect blend of casual and stylish. Crafted from a fine crochet fabric with delicate clusters for texture, it's finished with a tie front detail, making it an ideal choice to pair with your favorite high-waisted denims. Layer this sleeveless crop top over your summery blouses for a more playful look! Easy to make with a 4.5 mm hook size, this comfy and fashionable tie front crop top will surely become one of your go-to pieces for day-to-day wear or night-outs! ravelry
8. Free Crochet Long Sleeve Crop Top Pattern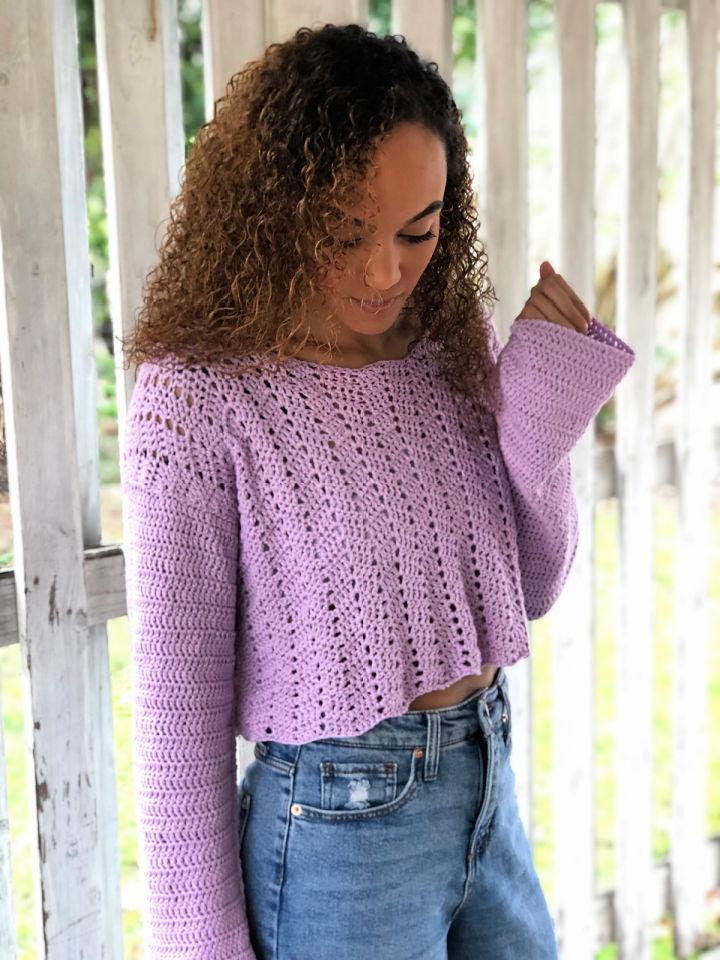 Get ready to stay cool and stylish in the hot summer with this free customizable crochet top pattern. Easily choose the length and sleeve type you desire – cropped silhouette with bell sleeves or a full-length variation with short or sleeveless options. All crafted from worsted weight yarn and a size H (5.5 mm) hook, it's perfect for any beginner crocheter looking to take their skills to the next level. Get creative while staying comfortable all summer long! makeanddocrew
9. Crochet Casual Top – Free Pattern

Want a perfect crochet pattern to add to your summer fashion wardrobe? This free crochet top pattern is the perfect summer staple! Keep cool in this light, airy design, easily adjustable to your desired length. Whether for a hot day at the beach or a night out on the town, this simple pattern will make an impact.
With just elastic yarn and your 2 mm crochet hook, you can create a flattering piece that will seamlessly transition into autumn when paired with high-waisted skirts and cardigans. Make this stylish casual crochet top now – download your free pattern today! beautifulcrochet
10. Crochet Sweet Tea Tank Top Pattern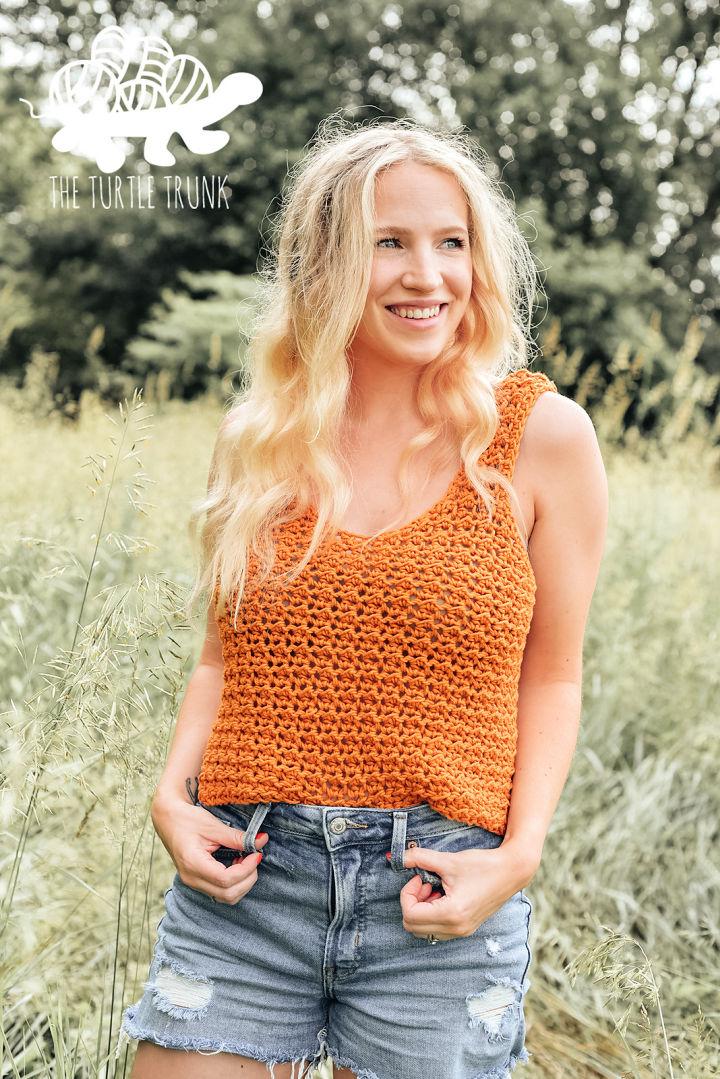 The sun is shining, and it's time to get your crochet hook ready because the sweet tea tank pattern is here! This airy, lightweight tank top features a beautiful texture and V-neckline. It comes in 9 sizes to make it cropped, full-length, or anywhere between. Make with your favorite medium/worsted weight cotton yarn and large crochet hook for a quick project – perfect for all skill levels! Create an eye-catching piece you'll love wearing this season – get the sweet tea tank pattern today! theturtletrunk
11. Crochet Everyday Crop Top Design – Free Pattern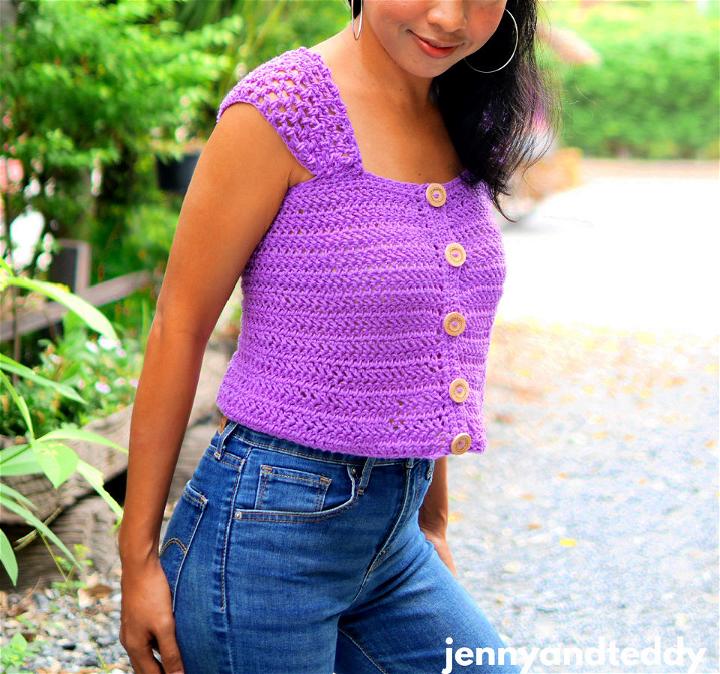 This everyday crop top free crochet pattern is perfect for the summer months. With a big lace cap sleeve, this adorable crochet crop top is made from cotton yarn and finished with cute wooden buttons – the perfect combination of style and comfort! The entire piece is easy to make, using just one rectangle of Aran weight 4 in any color you like – sew on five 1 inch wide buttons and let your creativity do the rest! This simple but chic design can be styled with shorts or jeans for an effortless look suitable for any occasion. jennyandteddy
12. Boho Style Crochet Crop Top With Fringe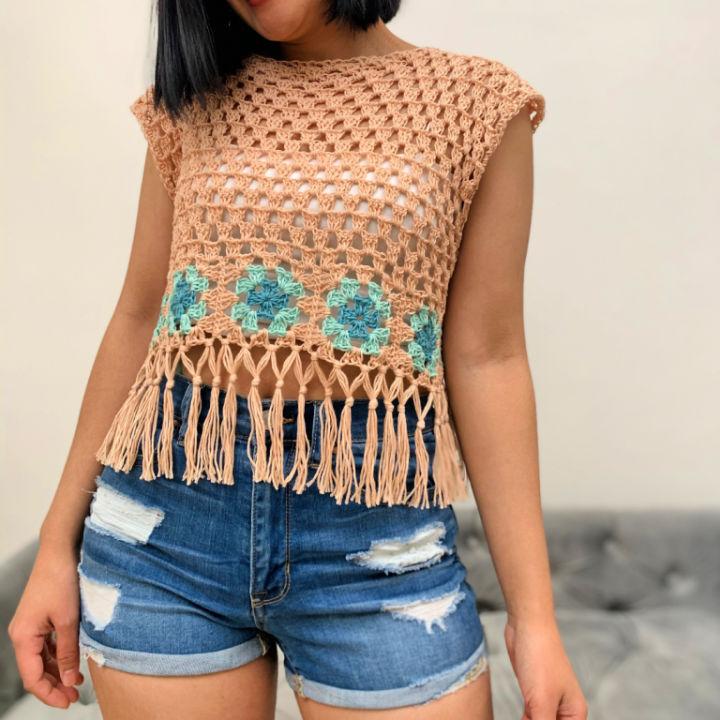 Crochet your unique summer style with this simple boho-style crop top pattern with fringe! This easy-to-follow pattern includes everything you need, from materials to detailed instructions on creating a beautiful and stylish garment. All you need is sport weight yarn in three colors and a crochet hook of size 5mm. Create an eye-catching piece that will get everyone talking – make it yours by customizing the fit and color or adding extra fringes! Have fun creating and show off your fashionable handiwork when done. knitcroaddict
13. Crochet Rusty Road Crop Top Pattern for Beginners

Looking for a fun and easy project to crochet? Look no further than this rusty road crop top pattern! This free pattern includes step-by-step instructions with a helpful how-to video. Whether you're an experienced crocheter or just starting, this beginner-friendly pattern is perfect for all levels of crochet expertise. With sizing from XS – 5X, the Medium size crop top has a finished size of 48.5″ modeled on a 36″ bust, so it's sure to fit your style perfectly! What are you waiting for? Get started on your own rusty road crop top today! mjsoffthehook
14. Free Crochet Sunflower Crop Top Pattern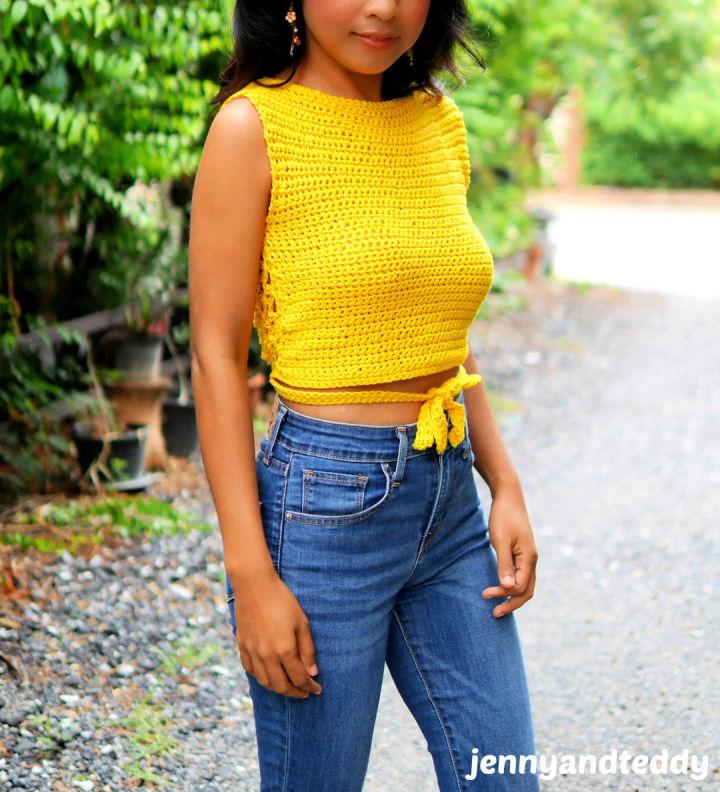 This beautiful "sunflower crop top free crochet pattern" will take your summer style to the next level! This open back design is perfect for flaunting your gorgeous skin on those hot days. It's beginner friendly and uses 3 rectangles of cotton yarn weight 4 aran and a 4.25 mm crochet hook – no experience necessary! Plus, it's finished off perfectly by adding a little peek-a-boo lace detail in sunny yellow that'll add a bright pop of color to your outfit. Crochet this crop top now, and you won't regret it! jennyandteddy
15. Free Crochet Halter Crop Top Pattern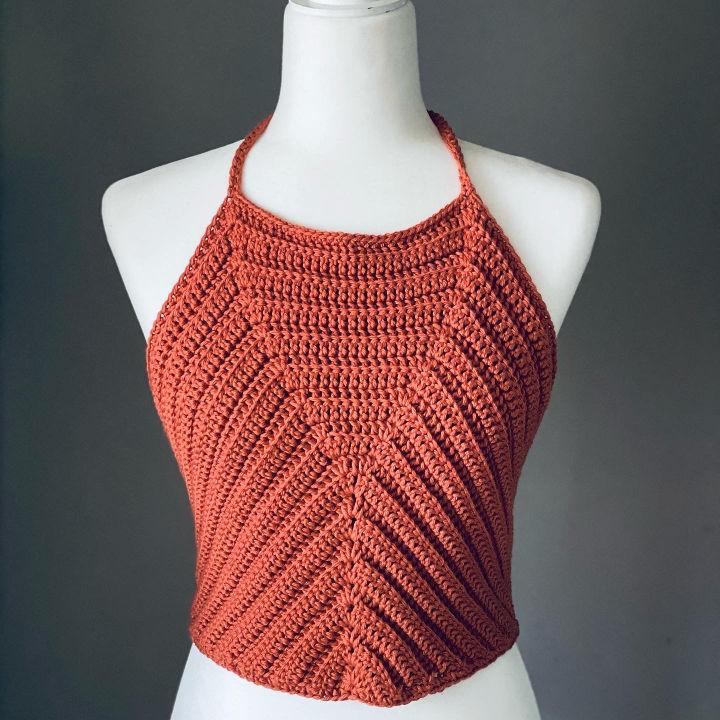 This summer, stay cool and stylish with the little grace halter top! This free crochet pattern crop top is easy to make, using only medium/4/worsted cotton yarn and a 5 mm (H) hook. Double crochet in the back loop creates a stunning textured fabric for the illusion of a V-neck without compromising coverage across the chest. The halter tie at the neck and waist makes it adjustable for XS-XL sizes so you can find your perfect fit! Advanced beginners will love this chic halter top – get crocheting now! carlieflo
16. Easiest Crop Top to Crochet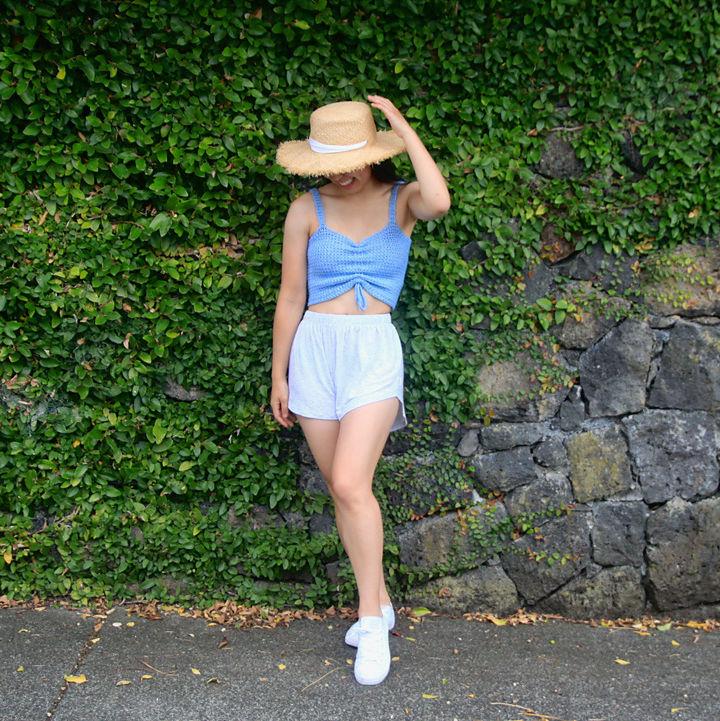 Put together a fun, stylish crop top this summer with this easy crochet pattern and video tutorial! Perfect for beginners, you can easily alter the design to fit your exact measurements for a flattering look. Choose from three different styles: square, ruched or sweetheart. With no bra straps, this is suitable for all shapes and sizes – perfect for all occasions! You only need worsted (10-ply) yarn and a 5mm (US H/8) crochet hook for an effortless fashion piece. Get creative with colors to create a unique finish that's just right for you! forthefrills
17. Crochet Eucalyptus Crop Top Pattern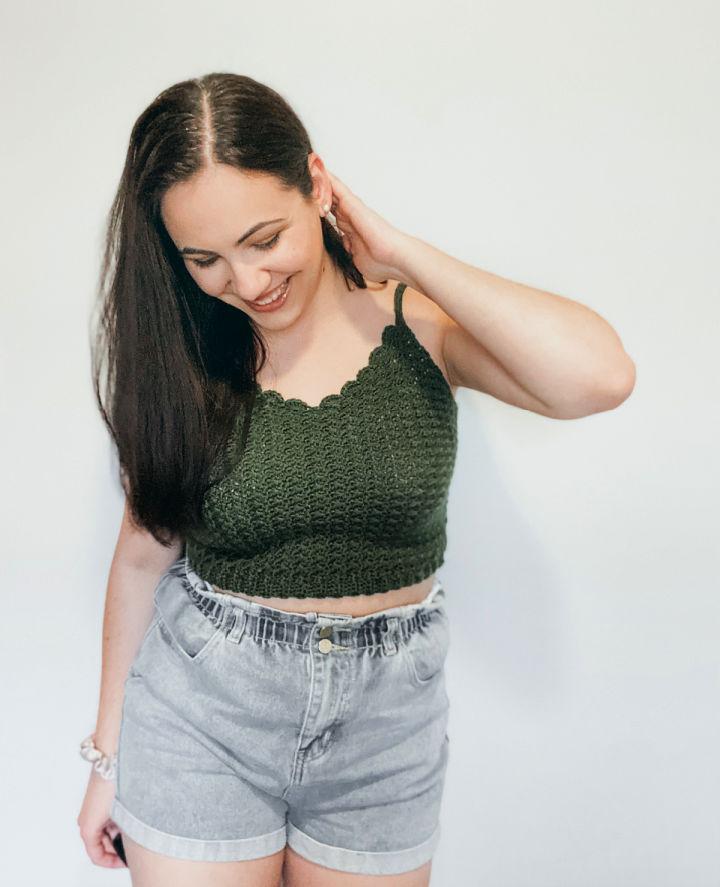 Stay cool in the summer with this gorgeous eucalyptus crop crochet pattern! This perfect cropped tank top features adjustable-length straps and shell-edge details to create a staple piece for your wardrobe. The sedge stitch, made of single and double crochet, is ideal for beginners – it's simple yet stylish! Plus, this pattern can fit women of all sizes from S through 5X. All you need is sport weight 2 yarn and a 4mm crochet hook – get ready to start creating something special today! hookedonhome
18. Crocheted Lace Shell Flowy Tank Top Pattern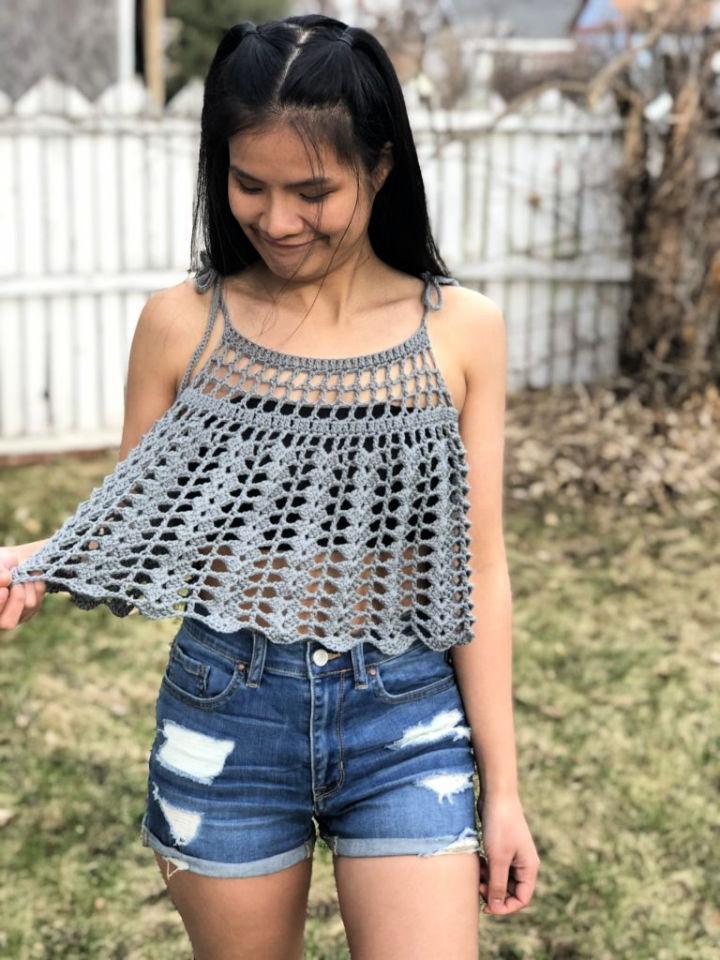 Go crochet and make the perfect summer tank top with this lace shell crochet pattern. Step-by-step instructions and an accompanying video tutorial make it easy for beginners to learn how to create this stunning piece of clothing.
All you need is #4 medium-weight yarn and a 5 mm crochet hook, and you'll be ready to start your project. This classic look can be worn all year round and will always stay in style. Get creative with different colors or textures – whatever suits your tastes! Enjoy showing off your handcrafted fashion statement in no time with the pattern of lace shell crochet tank tops. knitcroaddict
19. Pretty Crochet Rainbow Mesh Crop Top Pattern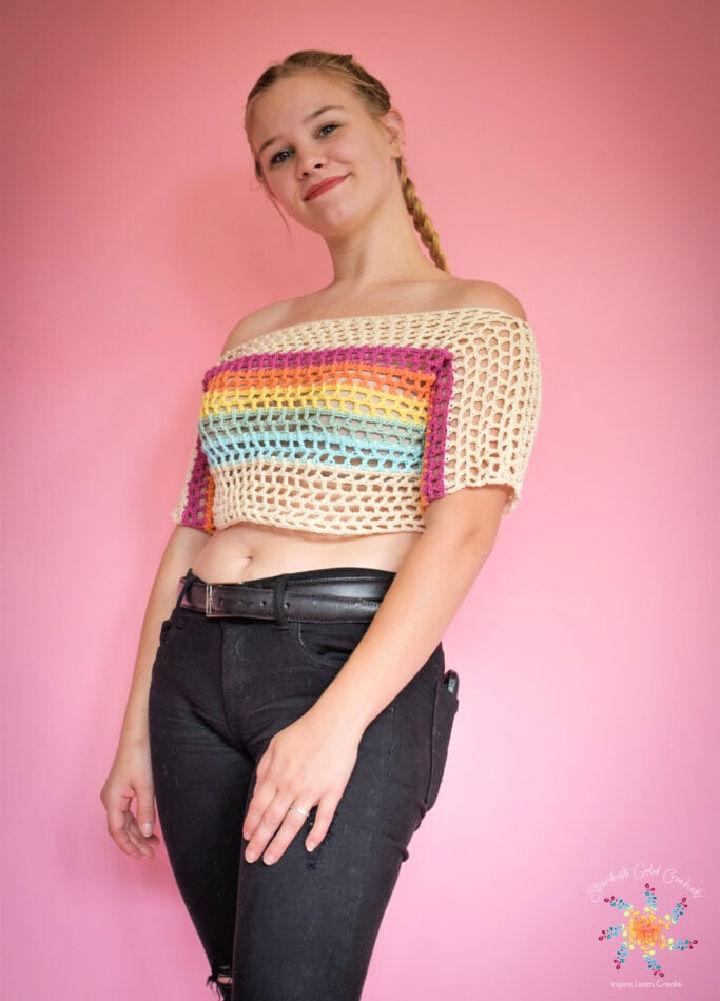 This free crochet crop top pattern, the rainbow mesh tee, is perfect for summer and great for beginners! Featuring easy-to-follow chains and basic stitches like single crochet and double crochet, this project is sure to be a hit. With lion brand 24/7 cotton yarn, you can bring color to any wardrobe. The skill level required is easy, and the gauge needed is 4.5 mm (US G). Get ready to show off your new look with this stylish yet simple free crochet pattern that puts the fun in functionality! stardustgoldcrochet
20. Cool Crochet Flower White Crop Top Pattern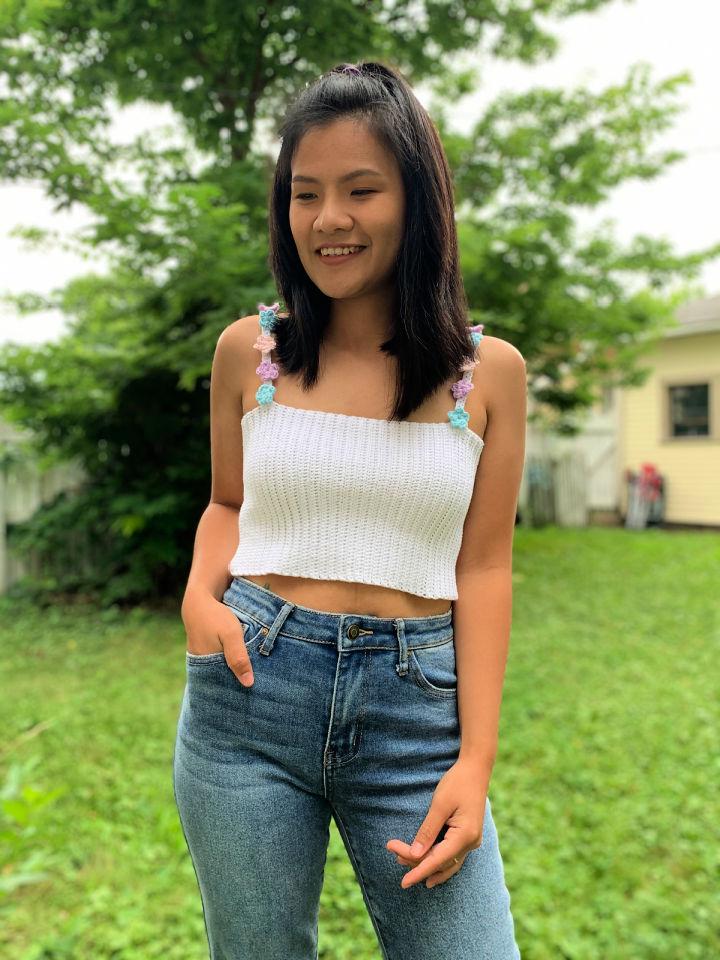 This crochet crop top is the perfect addition to your summer wardrobe! It features simple, little flowers sewn into the straps for a unique look. This project is beginner-friendly and can be customized in several ways by using different types of yarn or crocheting hooks. All you need is #3 light/DK weight yarn and a 4 mm crochet hook, and you're ready to start crafting this beautiful flower-inspired top! Get creative with it and make something unique today! knitcroaddict
21. Cute Crochet Cable Crop Top Pattern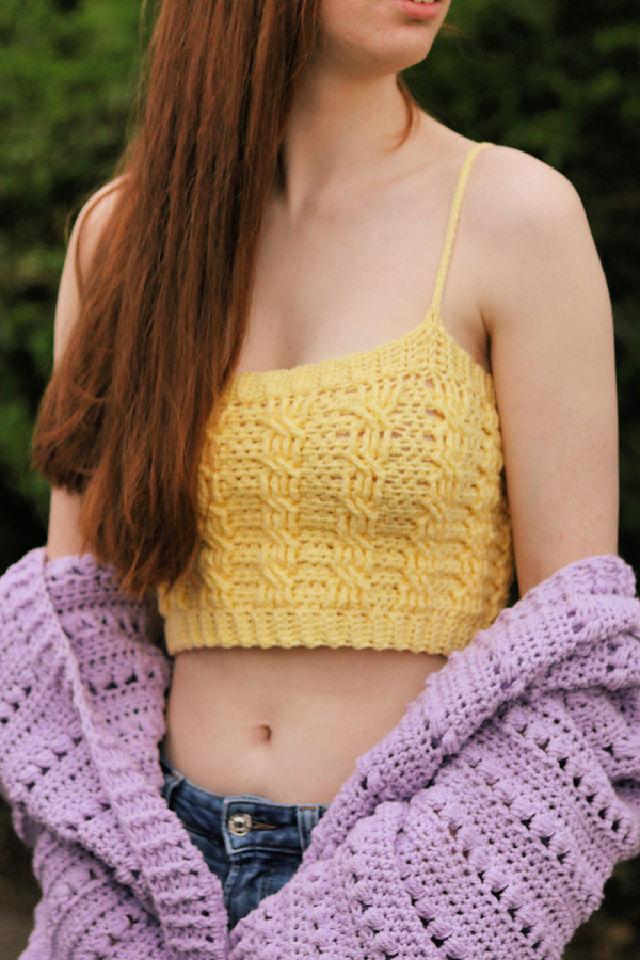 This beginner-friendly crochet cable crop top is a modern and stylish way to stay cool in the summer. It's fast and easy to make with simple stitches such as single, half-double, and treble crochet. The top works up from the bottom up in rounds for added convenience, making it ideal for any level of crafter. It looks great when worn with jeans, shorts, skirts or under your favorite cardigan on cooler days.
The ribbed hem can be customized as you like – all while working the body in one piece! So grab your 100% acrylic yarn (3/Dk/8 ply) plus a 5mm hook, and get ready to create this beautiful crop top with heads turning wherever you go! crochetwithcarrie
22. Crochet Spring Valley Bandeau Top – Free PDF Pattern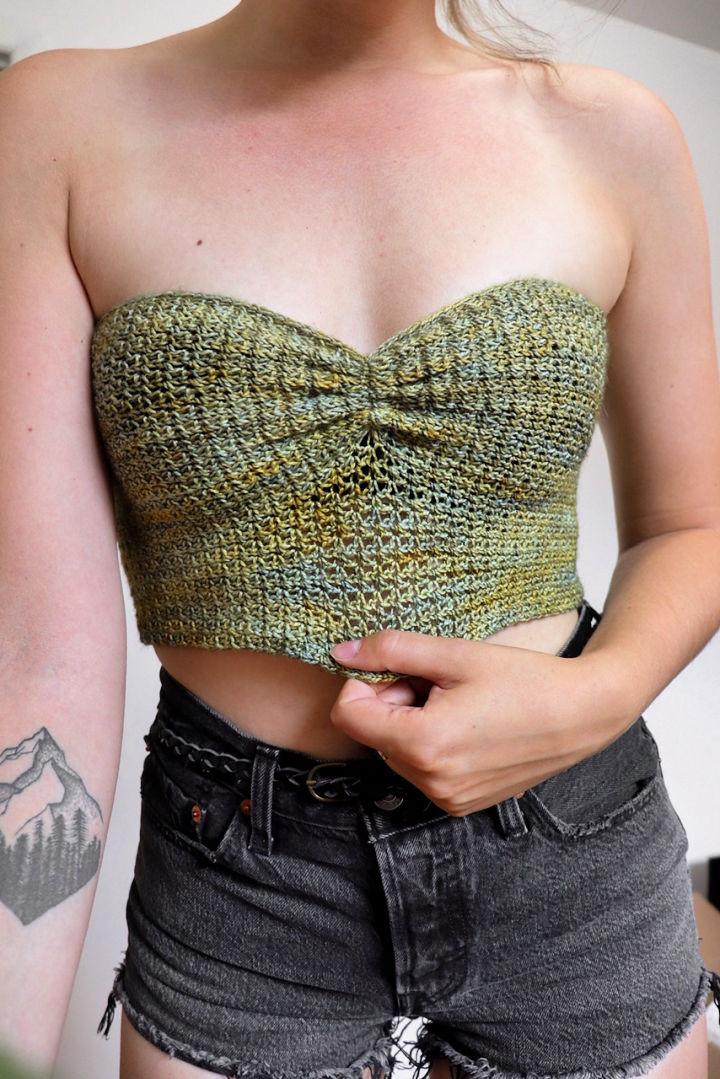 Crafting a bandeau top has never been easier! This free crochet pattern for a ruched summer tube top is the perfect way to make your summer top. With this simple template, you can use any stitch pattern with any fingering weight yarn to craft the perfect fit that will surely be a showstopper. The sample shown was crafted with a 34″ bust and measures 29″ in circumference, worn with approx 5″ of negative ease – allowing it to be worn braless or overtop of bra or pasties. You'll only need one 3.75mm crochet hook, and you're ready to start this fun project today! knitsnknots
23. Crochet Into the Forest Crop Top Pattern for Plus Size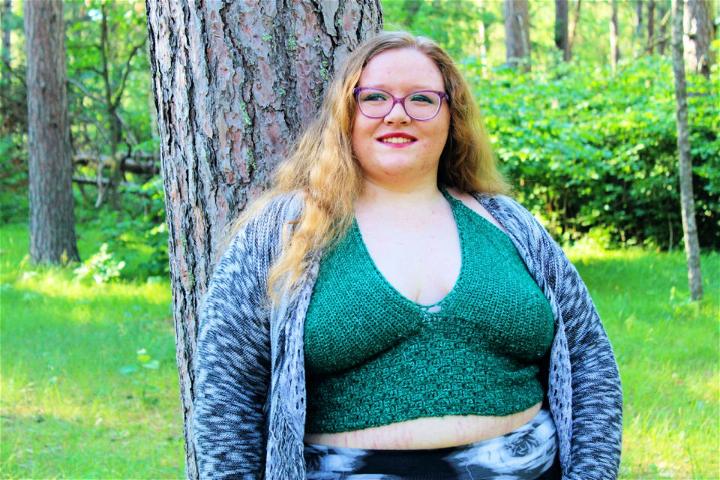 Everyone will fall for this forest crop top free crochet pattern perfect for layering your look! It's comfortable, supportive and soft with breathable fabric. This pattern has sizes ranging from XS to 3X to fit any shape or size! To get started, you'll need a 4mm hook, a 3.75mm hook and any weight 2 yarn of your choice. So why wait? Start crocheting today and make this Into the Forest Crop Top that you won't want to take off! crochetwithkim
24. Gorgeous Crochet Ribbed Crop Top Tutorial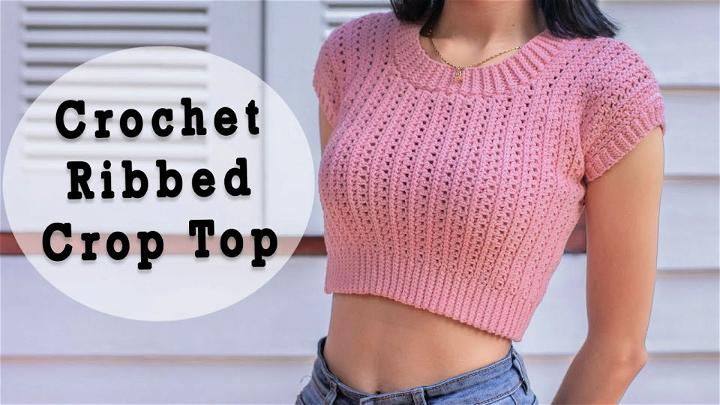 Embark on your crochet journey with this easy-to-follow ribbed crop top tutorial! With this tutorial, some milk cotton yarn (size 4 ply, 250g), and hooks in sizes 4.5mm & 3.5mm, you can easily make an amazing ribbed crop top! Follow each step of the instructions to create a unique piece you'll enjoy wearing or gifting to someone special. With only basic knowledge of crochet stitches required, try making this beautiful and stylish piece today!
25. Best Crochet Boho Crop Top Diagram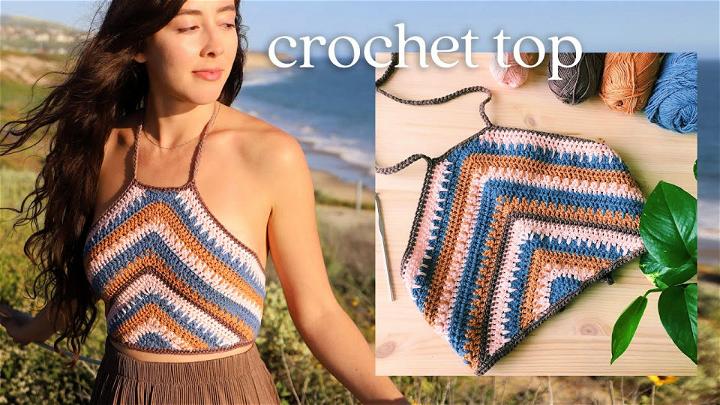 Create the perfect summer top with this easy-to-follow crochet tutorial. Learn how to make a beautiful boho crop top with adjustable straps and stunning stitch work. Get the written pattern in sizes S – 3XL and find out what materials you need, such as medium worsted weight yarn in 4 colors and a 3.75 mm hook. Make your stylish look for summer with this gorgeous halter top!
26. Crochet Checkered Cropped Top Tutorial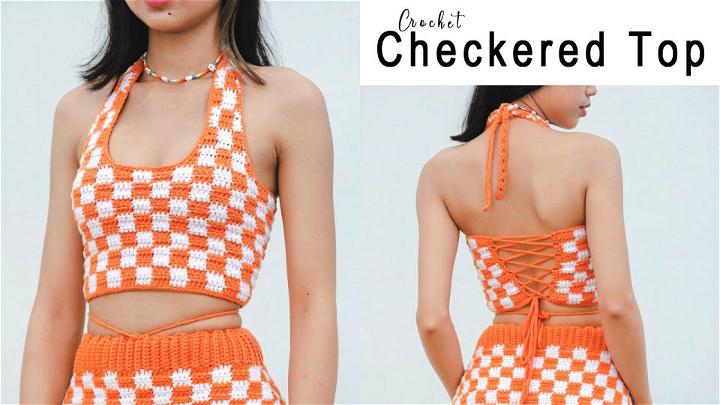 Bring out your inner fashionista with this easy-to-follow crochet checkered crop top tutorial! You can make a beautiful crop top quickly with an easy pattern and materials such as milk cotton yarn (white yarn 50g, orange yarn 100g) and a 4mm crochet hook. This tutorial will provide step-by-step instructions to create a stylish checkered crop top that will stand out! Get creative with the colors of your choice; this project is perfect for experimenting with different shades of yarn. Start crocheting today and show off your new handmade look!
27. Herringbone Crochet Wrap Crop Top Pattern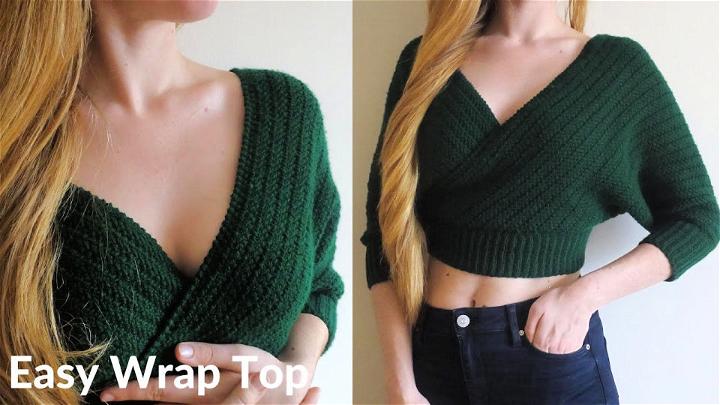 Crochet your way to winter warmth with this Easy Wrap Top! This beginner-friendly pattern features a textured herringbone stitch and is designed to be chunky enough to keep you cozy. Tutorial included, so all you need are DK acrylic yarns and a 4mm/4.5mm crochet hook for the perfect beginner's set! Perfect for layering under jackets or as part of an everyday outfit, crocheting this wrap top will give you that feeling of accomplishment every time you wear it.
28. Crochet Summer Mesh Crop Top Pattern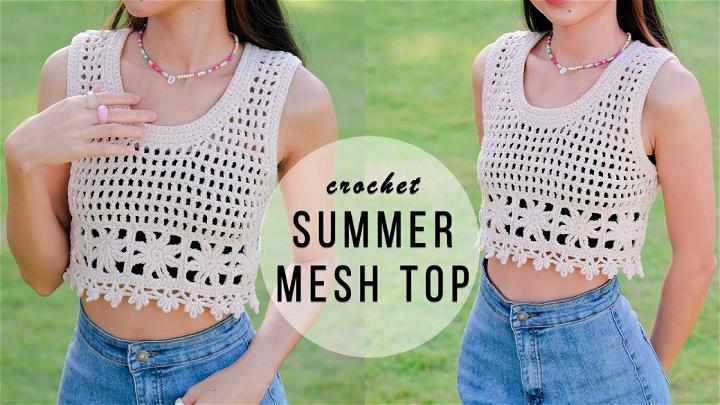 Start your journey into crochet with this simple and welcoming summer mesh top pattern! All you need are 200g of milk cotton yarn, size 5 ply; a 4mm and 3.5mm crochet hook; plus a measuring tape. This beginner-friendly design will teach you the basics of crochet quickly and easily as you create something beautiful that will be cherished for years! Plus, with its minimalist style, this crochet mesh vest is also fashionable enough to show off your creations!
29. Crocheting a Crop Top With Bell Sleeves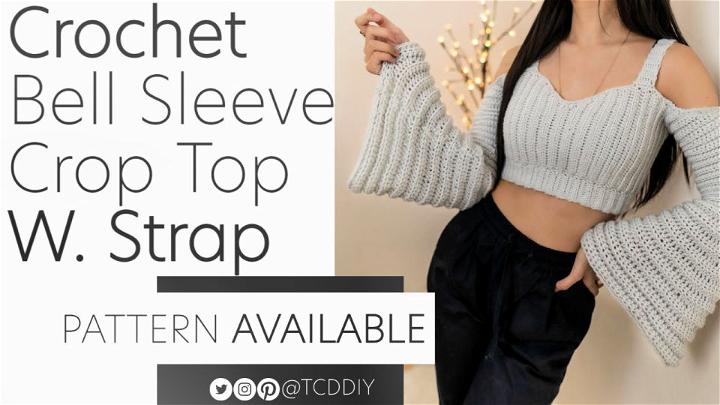 Discover how to crochet a stylish and summery bell sleeve crop top for your next date night or festival with this DIY tutorial! Get ready to have some fun as you learn how to create this unique garment step-by-step. Follow the detailed pattern, instructions, and tips for customizing it according to your style. Enjoy the feel of lightweight yarn while making something special — perfect for those warm summer days when all you want is something comfortable and pretty. Show off your creative flair with this easy-to-follow guide!
30. Easy Crochet Crop Top Pattern for Beginners

Are you a beginner in crochet and looking for an easy project? This DIY, easy crochet crop top is the perfect place to start! This step-by-step tutorial makes creating your own stylish and comfortable crop top simple. With only basic crochet knowledge, even novice crocheters can make this beautiful piece of clothing quickly and easily. Whether you want to look great at the beach or feel fashionable around town, the detailed instructions will help you easily create a unique and stunning crop top. Try out this fun project today and show off your new style!
Related Free Crochet Patterns
Discover free, creative crochet patterns perfect for all skill levels. From modern to classic, find the pattern that fits your style and get started on a beautiful project today!
Conclusion: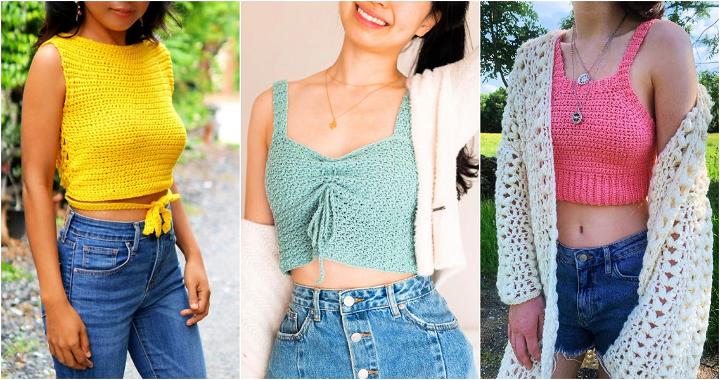 In conclusion, crochet crop tops are a fashionable and versatile addition to any wardrobe, perfect for warm weather or as a layering piece. With 30 free crochet crop top patterns, you can create stunning designs such as ribbed, off-the-shoulder, granny square, and even long-sleeve styles. These crochet crop top patterns cater to crocheters of all skill levels, offering both beginner-friendly and more intricate designs. Embrace your creativity and explore these delightful crochet crop top patterns to make your own unique and stylish creations.