You can create stylish and comfortable lingerie with a few simple stitches and the right crochet bralette pattern! Learn how to crochet a bra with 25 free crochet bralette patterns that are perfect for creating a beautiful and unique bra top in no time! Each crochet bralette pattern includes step-by-step instructions in PDF and detailed diagrams that will give you all the details needed to craft your own gorgeous crochet bra tops easily. With so many styles and sizes available – from plus size crochet bralette patterns to lace crochet bralettes – we got free crochet bra patterns for everyone! So don't wait any longer – learn how to crochet a stunning bra top pattern today with our selection of free crochet bralette patterns.
Making your own crochet bralette can be a fun and creative way to express yourself. With these 25 free crochet bralette patterns, from beginners who are just starting out to experienced crocheters. Whether you're looking for a stylish and everyday wear crochet bra top, or a unique bralette top, these free crochet bra patterns will surely have what you need.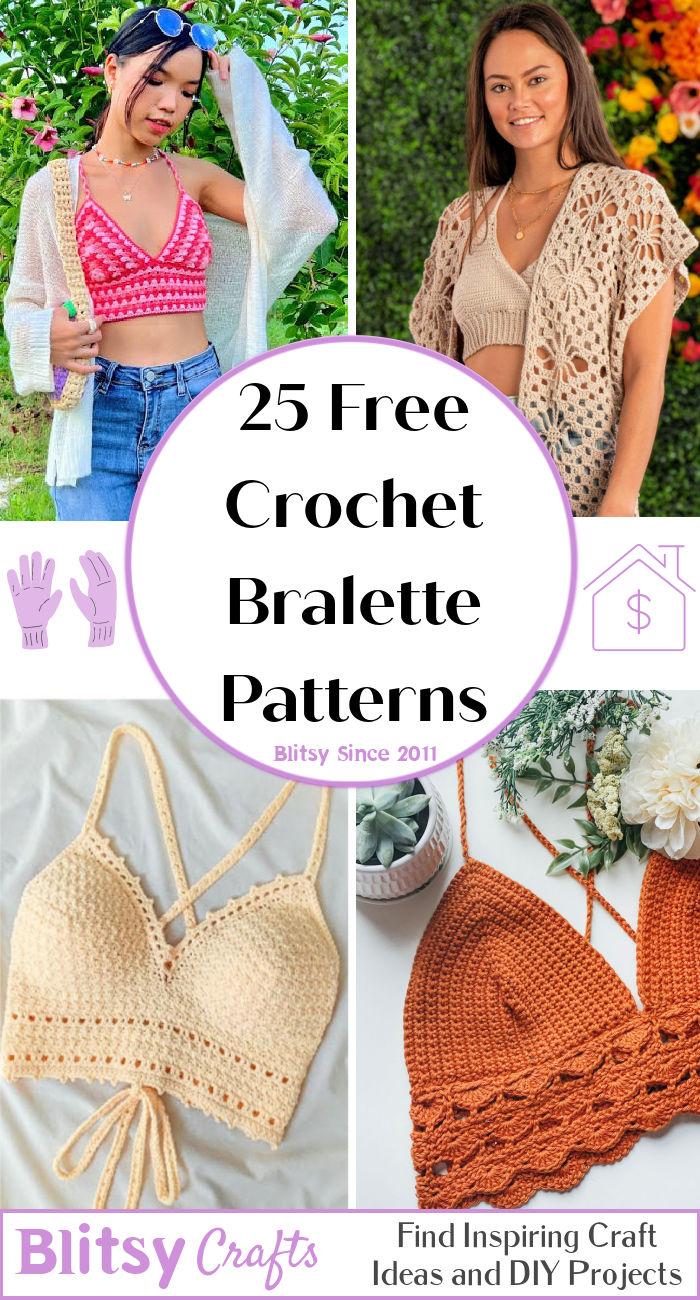 Measuring and Sizing a Crochet Bralette
Learn how to measure and size a crochet bralette with our step-by-step guide, ensuring a perfect fit for any body type.
How to Determine Your Chest Measurement
Determining your chest measurement before starting a crochet bralette pattern is crucial to ensure the finished garment fits you perfectly. Here's how you can measure your chest:
Use a measuring tape: You will need a flexible measuring tape that can wrap around your chest. If you don't have one, you can measure a piece of string or ribbon later with a ruler.
Stand straight and relaxed: Stand in front of a mirror with your arms at your sides. Make sure your posture is straight and natural. This will help you get an accurate measurement.
Wrap the measuring tape around your chest: Start at the fullest part of your bust, usually the nipple line. Wrap the measuring tape around your chest and ensure it's parallel to the ground. The tape should be snug but not tight. You should be able to breathe comfortably.
Record the measurement: Look straight ahead and read the measurement from the tape. Make sure it's not twisted or bunched up. Round the measurement to the nearest half-inch or centimeter.
Check the sizing chart: Once you have your chest measurement, check the sizing chart provided with the crochet bralette pattern you're using. Please choose the size that matches your chest measurement or the closest size above it. If you're in between sizes, it's best to go up a size to ensure a comfortable fit.
Following these simple steps, you can determine your chest measurement and choose the right size for your crochet bralette pattern. This will help you create a comfortable and well-fitting garment you'll love wearing.
Crochet Bralette Size Chat
Crochet bralettes are popular for summer outfits and can be customized to fit different body types. Here is a crochet bralette size chart in chart form to help you choose the right size for your body:
| Size | Bust (in inches) | Underbust (in inches) |
| --- | --- | --- |
| XS | 30-32 | 24-26 |
| S | 32-34 | 26-28 |
| M | 34-36 | 28-30 |
| L | 36-38 | 30-32 |
| XL | 38-40 | 32-34 |
| XXL | 40-42 | 34-36 |
It is important to note that this size chart is a general guide and may not apply to every individual. To ensure the best fit, it is recommended to take accurate measurements of your chest and consult the pattern for specific instructions on how to adjust for your size.
Additionally, different patterns and designs may have different sizing requirements, so reading the instructions carefully is always a good idea before beginning your crochet bralette project.
By following this size chart and taking the necessary measurements, you can create a beautiful and comfortable crochet bralette tailored to your unique body shape.
How to choose the right crochet bra pattern?
If you're interested in creating your own crochet bralette, you'll need a pattern. We've curated 25 free crochet bralette patterns below, each offering its unique style and difficulty level. It would be best if you keep these tips in mind when searching for a free crochet bralette pattern:
Level of Difficulty: Before selecting a pattern, consider your own skill level. If you're new to crochet, look for a beginner-friendly pattern that is easy to follow. On the other hand, if you're an experienced crocheter, you may be interested in a more complex pattern that offers a challenge.
Materials: Look for a pattern with a list of materials and tools you'll need. This may include specific types of yarn, crochet hooks, and any additional embellishments required for the pattern.
Style: Consider the style of the bralette that you want to create. Many different styles are available, including halter neck, triangle, and bandeau, among others. Choose a pattern that matches the style you're interested in.
Sizing: Make sure that the pattern you select includes sizing information. This will ensure that your finished bralette fits properly.
Reviews: Read reviews from other crocheters who have completed the pattern. This can give you an idea of any potential issues with the pattern and help you avoid common mistakes.
Regarding crochet bra patterns, we have many options for all skill levers. Considering the above tips, you can select a crochet bra pattern matching your skill level, style, and size requirements. With some practice and patience, you can create unique crochet bra tops that you can wear with pride.
1. Free Crochet the Jasmine Bralette Pattern

Are you looking for a stylish and breezy summer wardrobe addition? Check out the jasmine bralette crochet pattern! This cute and comfortable bralette is made with drops love you 7 yarn in light blue and a 4.00 crochet hook – perfect for staying cool without sacrificing style.
It features a unique design and longer length, making it a great option for those who struggle to feel fashionable in typical summer attire. Customizable measurements mean you can create the perfect fit for your body type – no more worrying about uncomfortable tops or ill-fitting bras! Add fun to your look this season with the jasmine bralette crochet pattern. casalecrafts
2. Crocheted Heatherette Bralette Pattern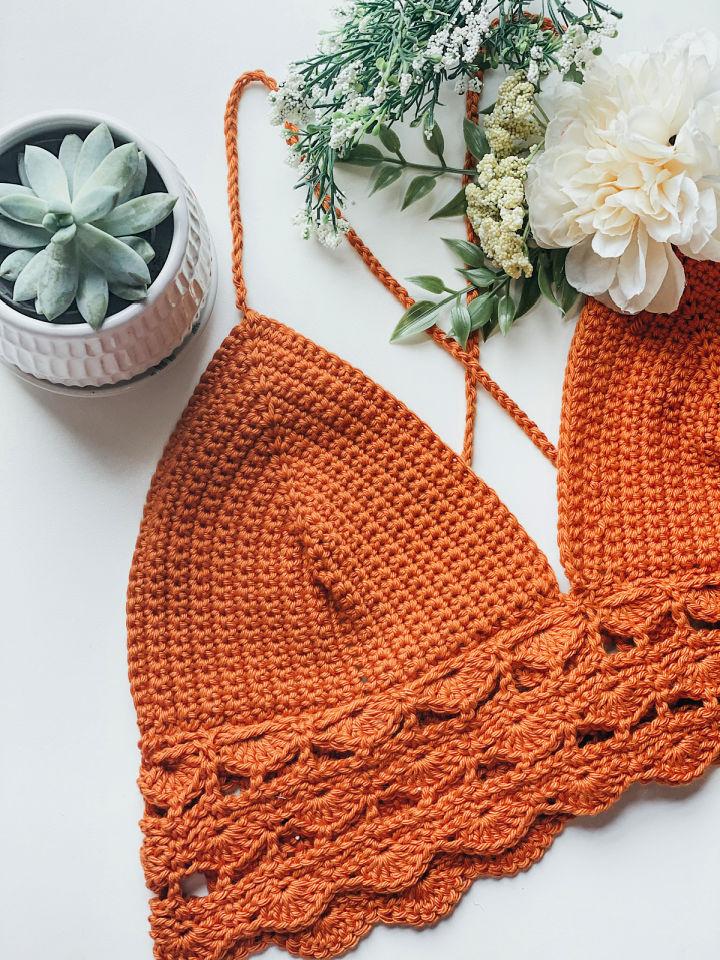 Searching for the perfect summer top? Look no further than the heatherette bralette! This free crochet pattern is versatile to fit any cup size, with an included size chart and cup instructions. Any sport weight yarn that meets gauge will work for this crochet pattern. To get started, you'll need a 3.5mm hook. The 17 sts x 21 rows = 4″ in single crochet gauge makes this pattern ideal for every woman's wardrobe! yarnthrift
3. Free Crochet Pattern for Festival Bralette

Get ready for the festival season in style with the crochet festival bralette, crocheted with bernat softee cotton! This intermediate-level pattern involves feather gray yarn and a US G/6 (4mm) hook – perfect for those looking to up their crochet game. With customizable sizing, you can create a comfortable and stylish bralette that's sure to show off your unique style. Take advantage of this fashion essential for festivals! Get everything you need today and start creating your unforgettable look. yarnspirations
4. Easy Crochet Bralette Pattern for Beginners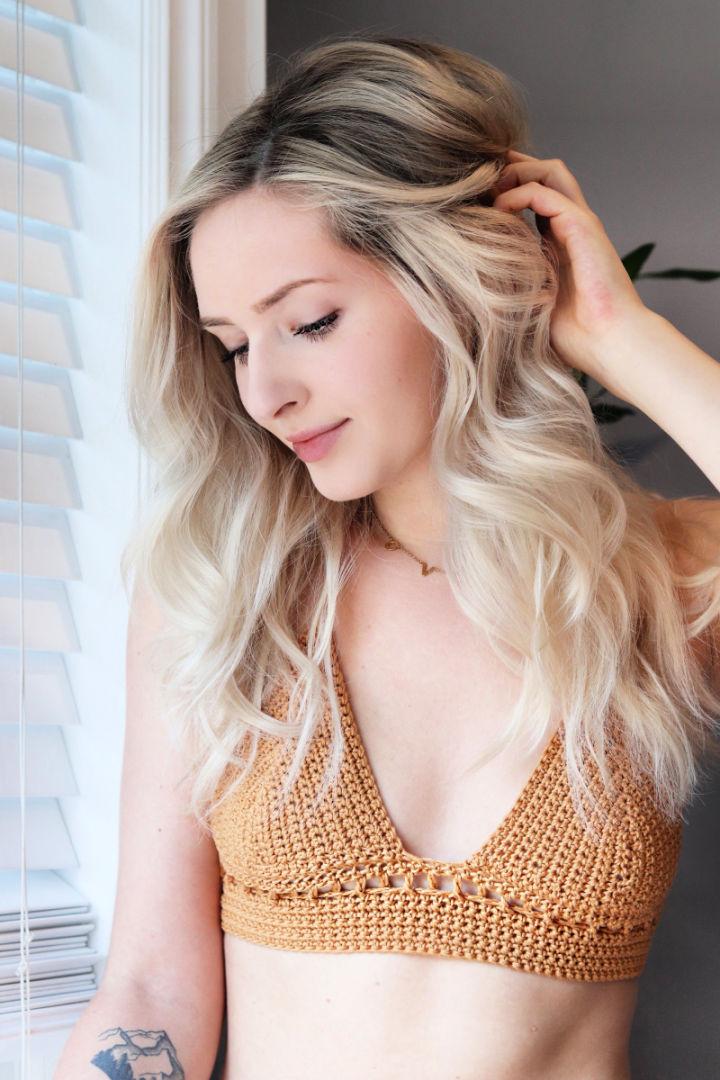 Make a stylish beginner bralette with this easy crochet pattern! The top is designed to be form-fitting and tied behind the neck and back to stay in place. With this photo instruction included, you can make any size of bralette that suits your body best! All you need is 24/7 cotton yarn and a 3.75mm crochet hook. Dare to show your confidence by wearing an original handmade piece of clothing created by yourself? Get started now with this quick, simple pattern that is perfect for beginners! knitsnknots
5. Pretty Eyelet Stitch Crochet Bralette Pattern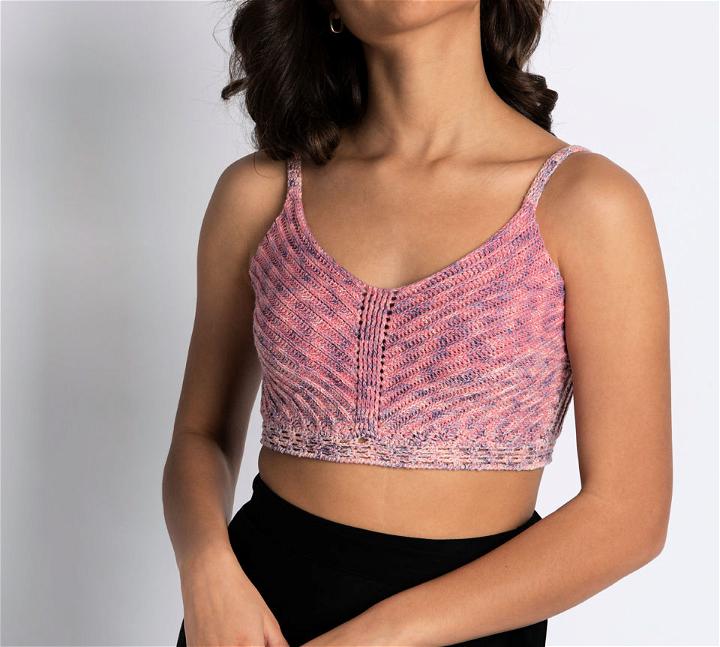 Level up your crochet skills with this stunning eyelet stitch crochet bralette! Made using red hearts and its wrap sprinkles in peach cobbler, this intermediate-level pattern is perfect for adding an extra touch of style and comfort to any wardrobe. All you need to complete the project are US D/3 (3.25mm) and G/6 (4mm) crochet hooks, plus your favorite yarn.
The eyelet stitch creates a unique and eye-catching texture, while adjustable tie closures ensure a perfect fit every time. Whether you're dressing it up or down, this bralette will make heads turn – take advantage of this trendy and fun project! Get started enhancing your look today with this one-of-a-kind eyelet stitch crochet bralette! yarnspirations
6. Simple Crochet Sunday Morning Bralette Pattern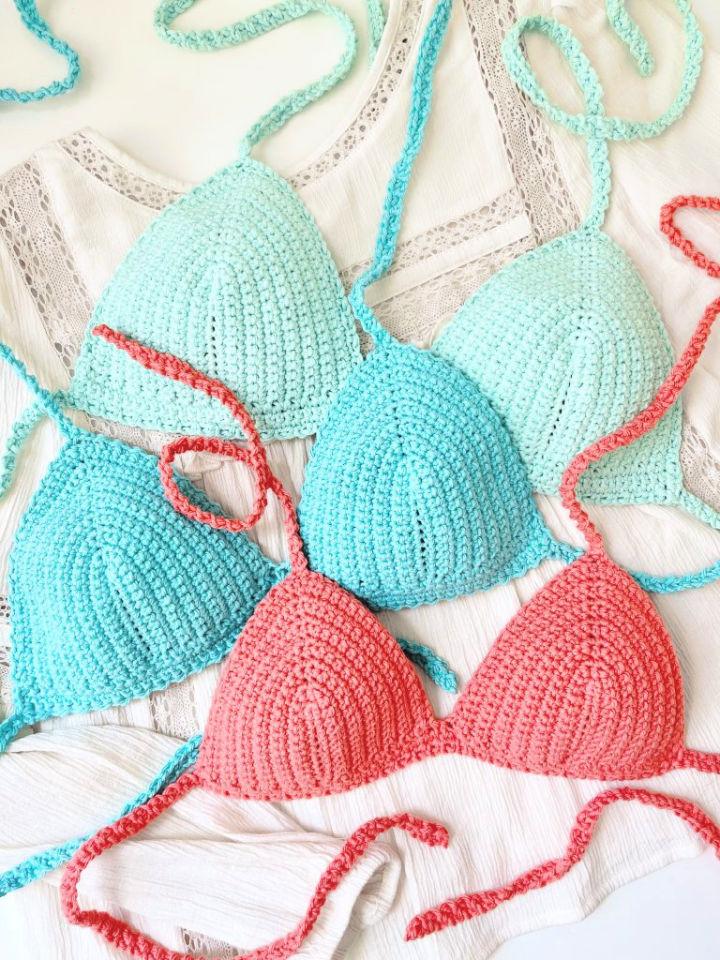 Whip up your own cozy and stylish crochet bralette with this free pattern! Designed with thicker straps, a delicate trim, and unique measure-yourself instructions, the sunday morning bralette is size inclusive in sizes XS – 5XL. Easy to make with just a 4.5mm crochet hook and worsted weight cotton yarn – you'll stay comfortable all day long! With detailed instructions for pre-sized patterns and measure-yourself options, creating your beautiful bralette has never been easier or more fun! Get started now on your perfect comfy look! noelebellecrochet
7. 2 Color Crochet Dahlia Bralette Pattern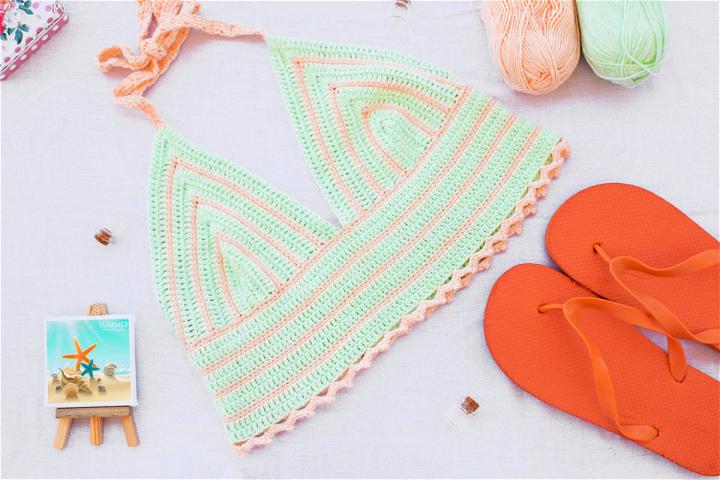 Are you ready to make a fashionable statement this summer? Look no further than the dahlia crochet bralette top push up! Crafted with DK summer yarn, this unique and stylish piece will bring some serious vibes to your wardrobe. It's easy to crochet using a 4mm hook for 10×10 cm/4*4 inch – 20 sts x 12 rows in dc finish. Show off your flair for fashion by rocking this gorgeous bralette top push-up today! myaccessorybox
8. Crochet Popcorn Fringe Bralette – Free Pattern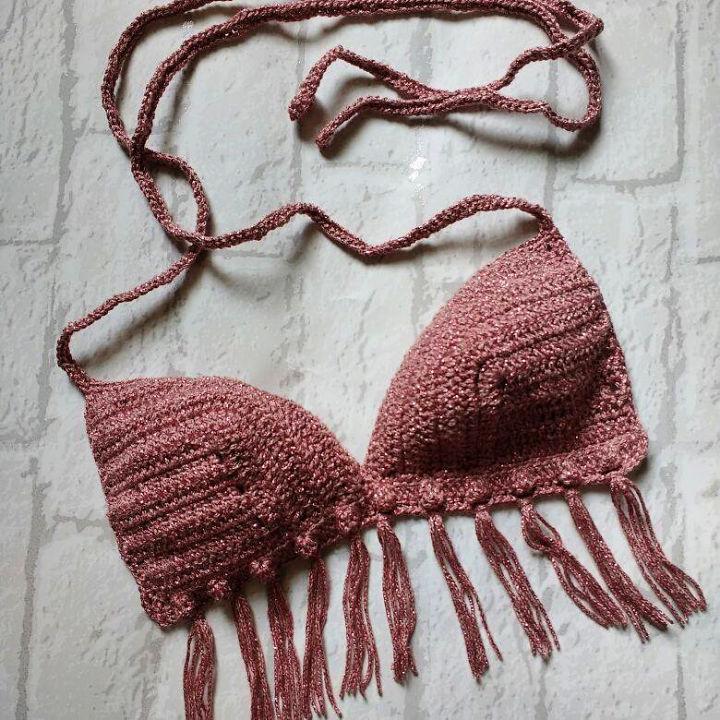 Create an eye-catching boho-style top with this popcorn fringe bralette pattern! This easy-to-follow crochet pattern uses sport weight yarn and a 3.5 mm (E) hook to make the size small but can be adjusted for larger sizes using thicker yarns or bigger hooks. You'll need less than 100g of sportweight yarn to complete this project – perfect for any summer wardrobe! The detailed popcorn stitch design creates texture and movement, while the optional fringe adds bohemian flair. Get creative and make your unique look today! ravelry
9. How to Make a Kaylee Bralette – Free Crochet Pattern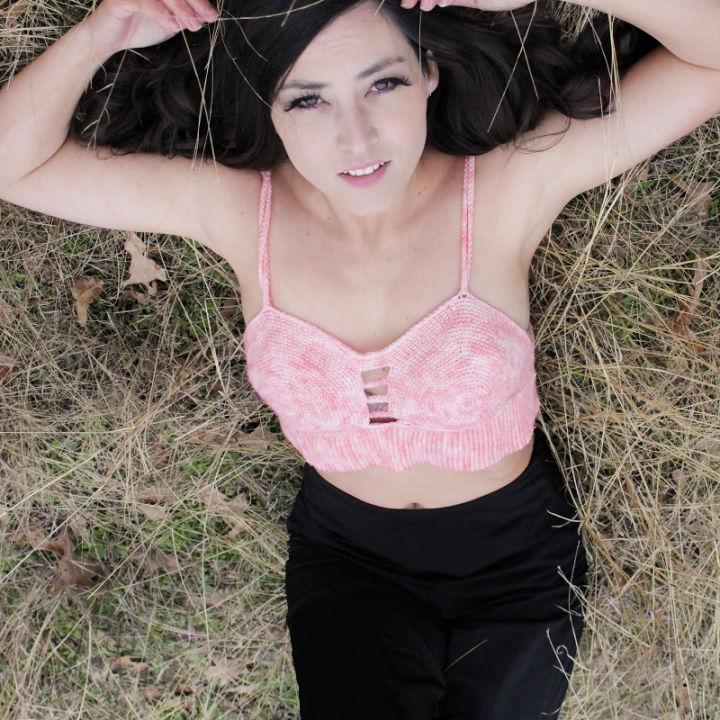 Introducing the kaylee bralette – it's time-consuming but worth it, perfect for warmer temps and with a knit look that drapes beautifully! The adjustable straps make it easy to customize, while its lightweight design styles well with high-waisted shorts or pants. You'll need around 1-4 hanks of fingering yarn weight (3.75mm hook size) depending on your size – the sample was made using one hank for a B cup size. Get ready to show off your fashionable glam side of crochet! ravelry
10. Easy Crochet Goldstone Bralette Pattern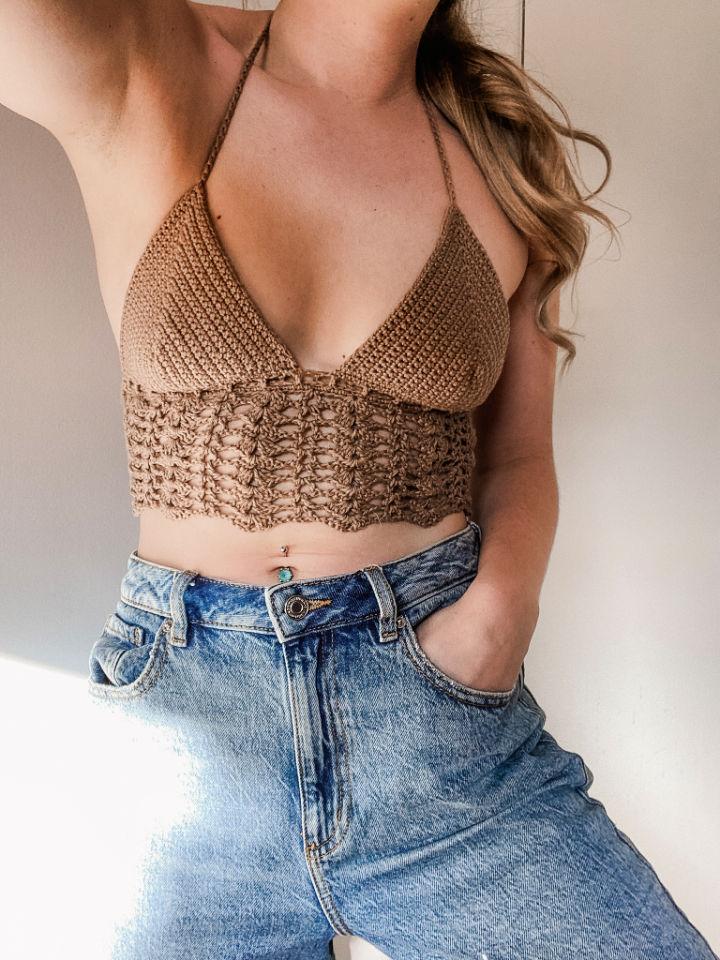 Craft the perfect summer look with this goldstone bralette crochet pattern! This adjustable boho design is made in any size to fit you perfectly. Choose from a variety of light, breathable yarns like cotton, linen, bamboo, hemp & more for your crocheted masterpiece. Crochet the DK-wecrochet cotlin in cashew to add a touch of texture and femininity to this versatile piece. Remember your US C/2 (2.75 mm) hook, and prepare to stitch away on this fun project! Create something special to turn heads with the goldstone bralette adjustable crochet pattern! knitsnknots
11. Free Crochet Granny Merge Bralette Pattern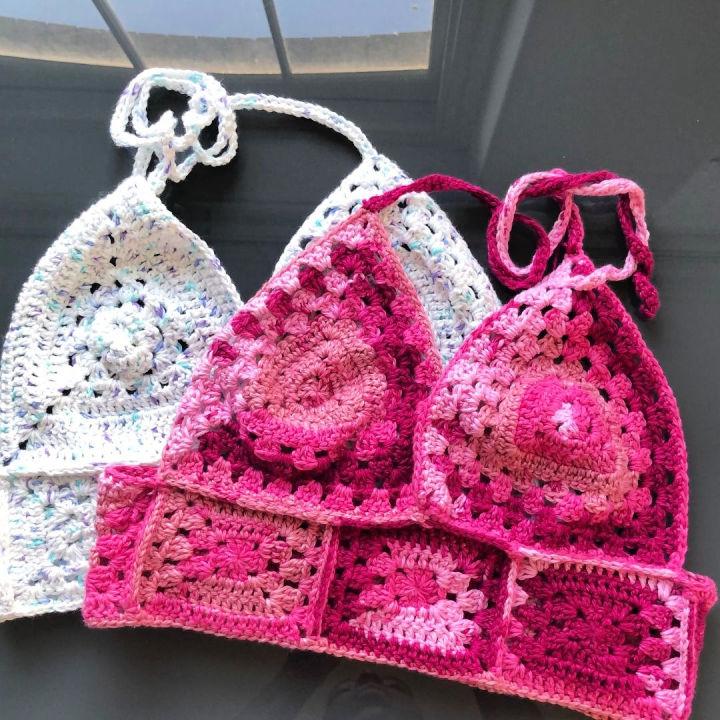 Are you looking for a free, easy crochet bralette pattern? The granny merge bralette is the perfect option! This beginner-friendly pattern uses just two motifs to create an eye-catching piece that's both comfortable and fashionable. All you need is one or two balls of DK yarn, or around 100-200g of any DK or 3-weight yarn, plus a 4mm hook. Give it a go today and make your stylish statement with this free, easy crochet bralette! menmyhook
12. Crochet the Cold Shoulder Bralette Pattern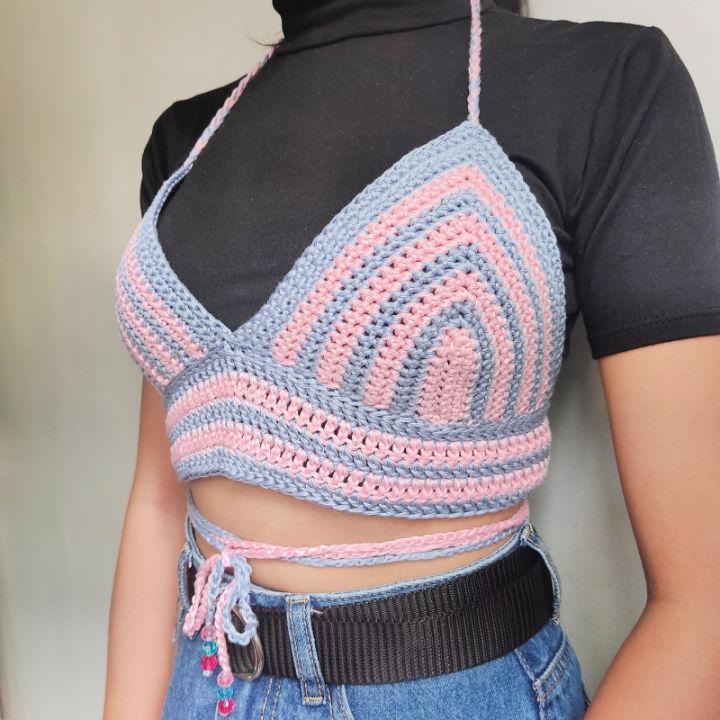 Try the perfect cold shoulder bralette crochet top pattern that is suitable for beginners and intermediate crocheters! This sleeveless top can be made to measure 75-350 grams of #2-4 weight yarn (1 or multiple colors ) in 3-4 mm hook size. This pattern includes a tester lookbook, which you can refer to for inspiration, yarn usage, and more. Learn to easily create this stylish wardrobe staple using aran weight yarn and a 4.0 mm (G) crochet hook today! ravelry
13. How to Crochet Bralette – Free Pattern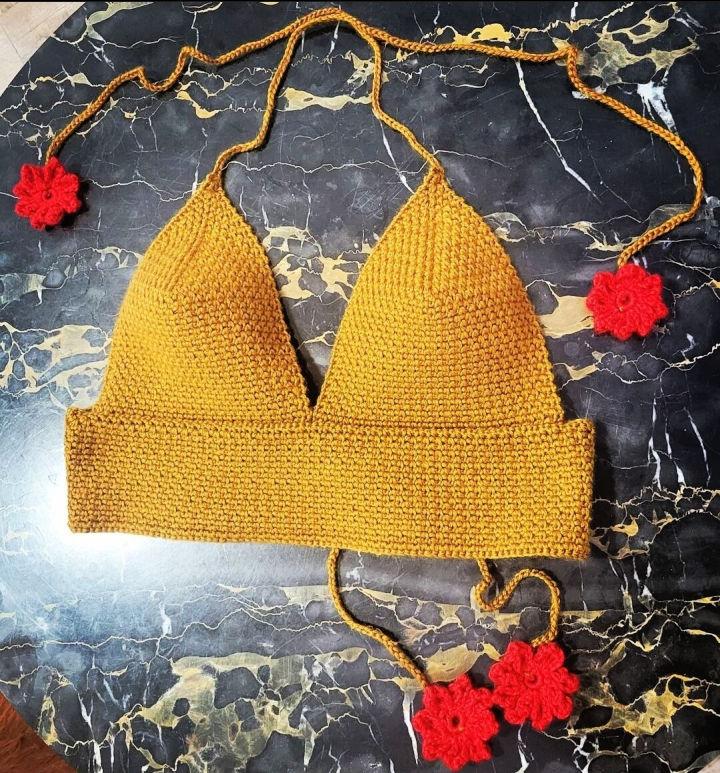 This free crochet bralette pattern is perfect for anyone looking to add a stylish and comfortable touch to their wardrobe! With cups fitting most all and vintage borders, you'll have a lot of fun with this project. Medium weight 4 yarn is recommended for this pattern, and the materials needed include an F 3.75 mm hook and 200-350 yards of medium weight 4 yarn. Whether you're experienced or just starting crocheting, this pattern will look great! Get ready to create your unique piece that everyone will admire when they see it! chardecrochets
14. DIY Sunrise Bralette – Free Crochet Pattern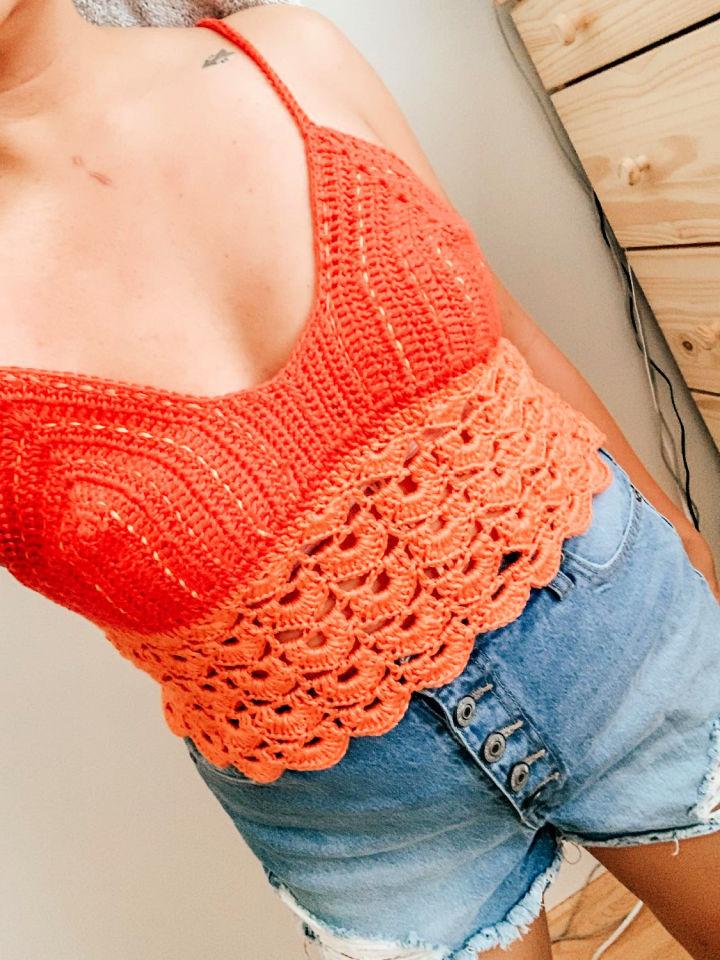 Need a flirty and adjustable summer piece? Look no further than this stunning sunrise crochet bralette! Crafted with basic crochet stitches, it provides just the right amount of stretch for a perfect fit. Plus, you can get the free pattern to make your own – all you need is measuring tape, DK weight cyc level 3 yarn and a 3.5mm crochet hook! Get creative today – make your sunrise crochet bralette to take summer days up a notch! knitsandknot
15. Crochet Meadow Tie Top Bralette Pattern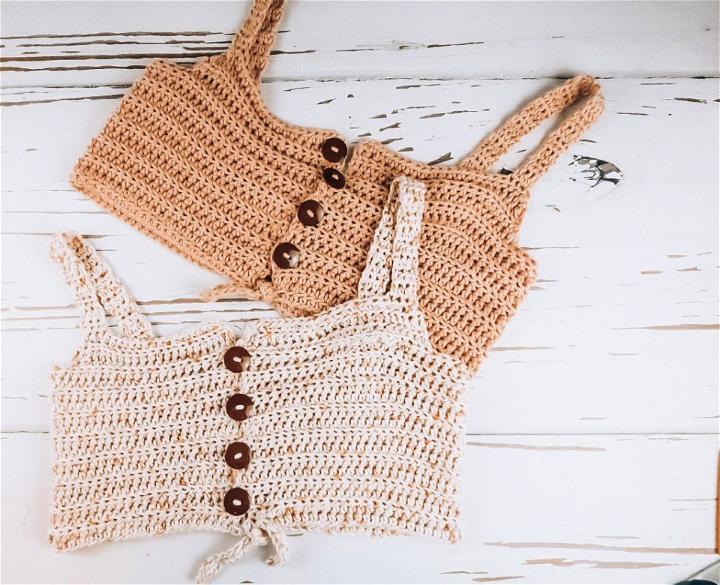 This stylish meadow tie top crochet bralette will take your summer look to the next level! This free pattern is perfect for any occasion, from a day at the beach to a music festival. With basic stitches and progress photos throughout, it's an easy-to-intermediate pattern that anyone can learn. Pair it with swim bottoms, shorts, or full-length skirts for a fun and fashionable look. Don't forget the materials list: 5mm hook/US H8 hooks and 4 – 5 buttons. Get ready to rock your summer style in this beautiful meadow tie-top crochet bralette! taylor lynn
16. Beautiful Crochet Velvet Bra Pattern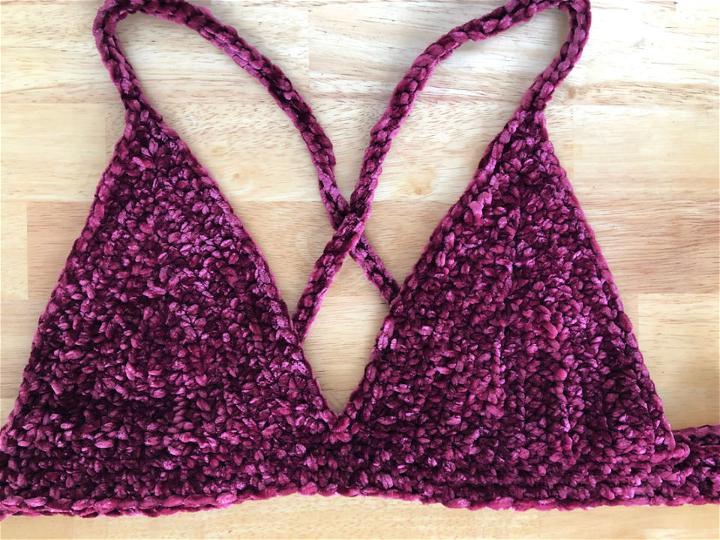 Sorting out the perfect summer top or a stylish festival outfit? This adorable velvet bralette! Crafted with luxurious bernat velvet yarn and a J hook, it only requires one ball of yarn to complete, leaving plenty extra to make matching scrunchies. With adjustable widths and cup sizes ranging from A-D, you can customize this crochet bra pattern for the perfect fit. Crochet one cup at a time, then join them with criss-cross straps for extra style points! Get ready to look effortlessly cool and fashionable this summer with your handmade velvet bralette. beaniesandwee
17. Crochet White Bralette PDF Pattern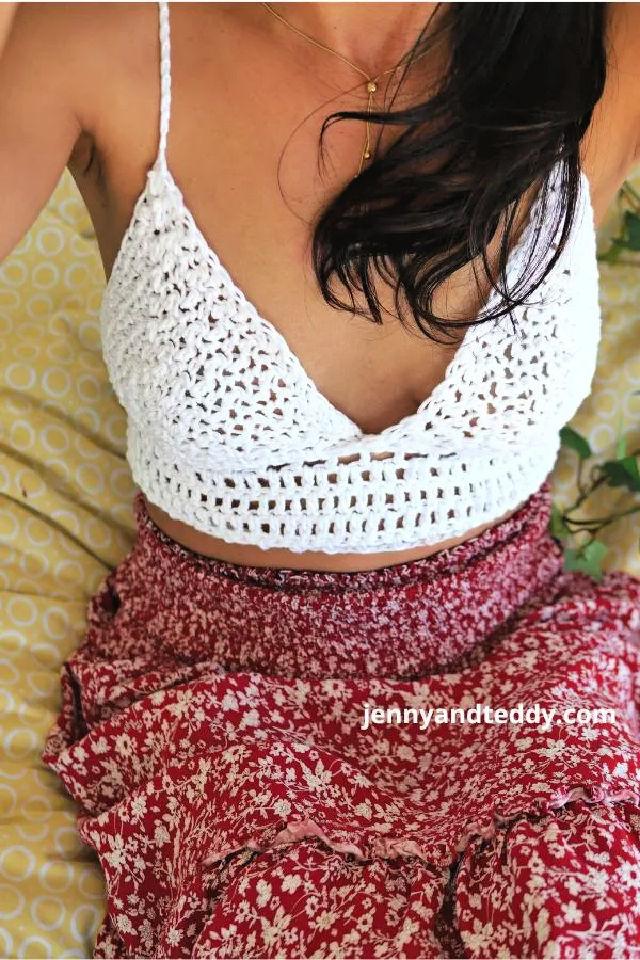 Crochet your summer season perfectly with this easy and cute bralette free pattern! This pattern is perfect for beginners who want to make their own garments – it has adjustable straps, a complete step-by-step video tutorial, and can fit any bra cup size. Just grab around 500 yards of DK weight yarn and a 4.0 mm crochet hook to get started – you'll surely have a beautiful garment that fits perfectly in no time! Don't miss out on this great opportunity to make your extra summer special – try the easy and cute crochet bralette free pattern today! jennyandteddy
18. Gorgeous Crochet Crop Top Bra Pattern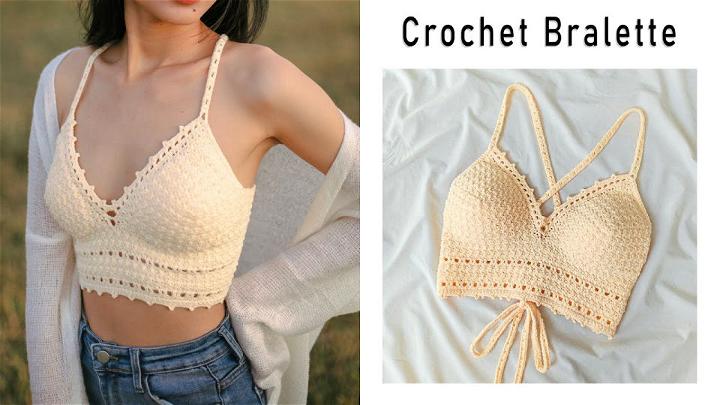 Do you want to make a crochet bralette or crop top that is easy to make? This tutorial is perfect for beginners and will help you create the perfect piece in S-XL sizes. You'll need a 3mm hook, 110g of milk cotton yarn, and size 3 ply. Follow this step-by-step guide today, and your finished product will soon be ready to wear! Create something special with this easy crochet bralette tutorial – get started now!
19. Beautiful Crochet Granny Bralette Tutorial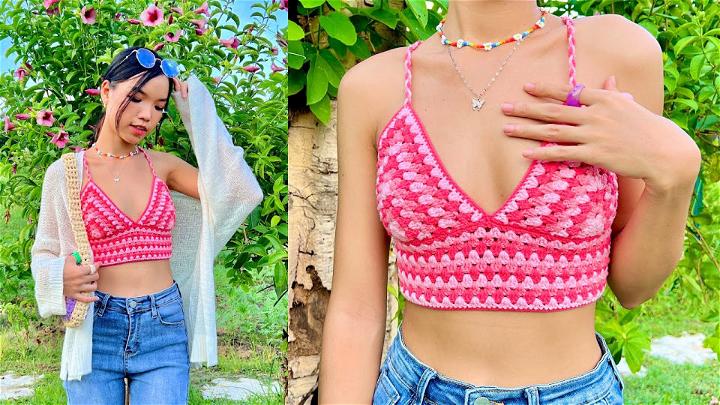 Crochet a unique and stylish granny bralette with this easy tutorial! This tutorial is perfect for beginners. This tutorial includes everything you need to know – from what materials to use (milk cotton yarn and 2.5 mm hook) to how many grams each color is needed. This step-by-step guide will help you make the most beautiful crochet bralette in no time! Get creative with your design – treat yourself or give it as a gift to someone special! Start now and try out this amazing project today!
20. How Do You Crochet Bra Cup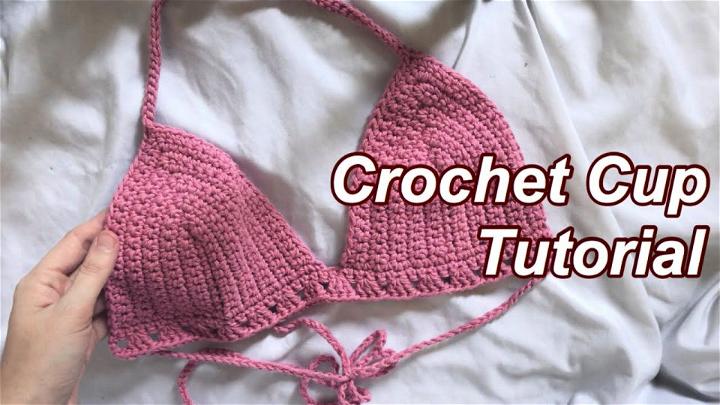 Start your crochet journey with this easy-to-follow tutorial for making beautiful bralette cups! Learn how to make the perfect design for a beginner-level project. This step-by-step guide will walk you through all the basics, from choosing materials to stitching each cup together. Plus, get creative and customize your look with different colors and styles of yarn. Whether you're looking to add a handmade touch to the lingerie or want an introduction to crocheting, this tutorial will satisfy you!
21. Crochet Lace Detailed Bralette Pattern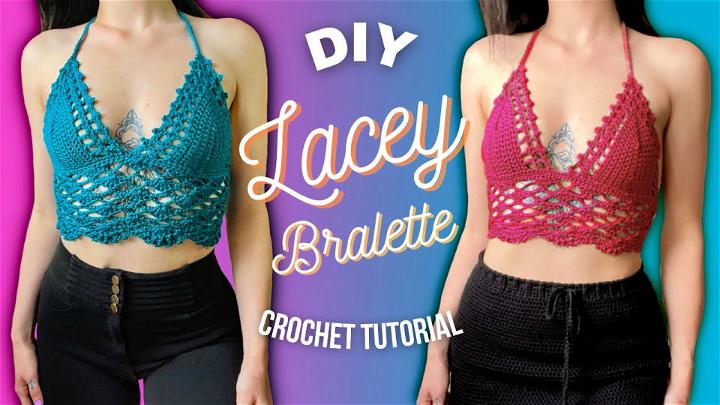 This DIY crochet tutorial will help you create a beautiful lace detailed bralette for all sizes! With this easy-to-follow guide, you'll have your handmade lingerie. All the stitches used are included: chains, single crochet, double crochet, slip stitch and picot stitch. The starting materials are weight 4 yarn and a 5mm crochet hook. Get creative with colors and designs to customize your very own unique bralette! Start crocheting now!
22. Free Crochet Scalloped Bra Top Pattern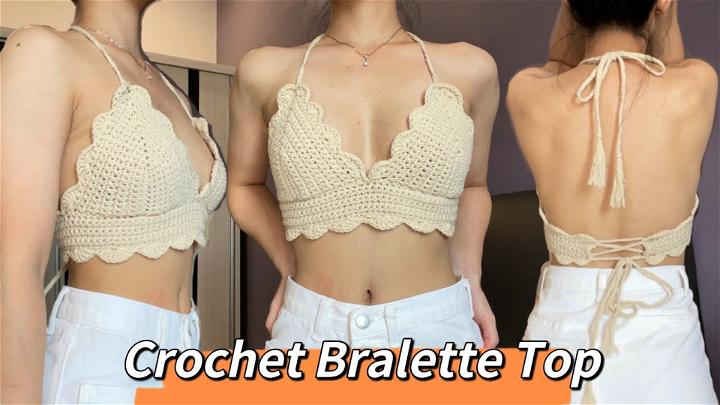 Every style lover will love this gorgeous crochet bralette top with scalloped edging that is perfect for summer! It's a great way to show off your style while staying cool and comfortable. You need 100 grams of 5-ply light khaki milk cotton yarn, a 4.0 mm crochet hook, and your favorite crochet tools and supplies to create this beautiful top. The scalloped edging goes perfectly with any outfit for a feminine flair. Whether for the beach or everyday look, this bralette top will make heads turn!
23. Beginner Friendly Crochet Bralette Pattern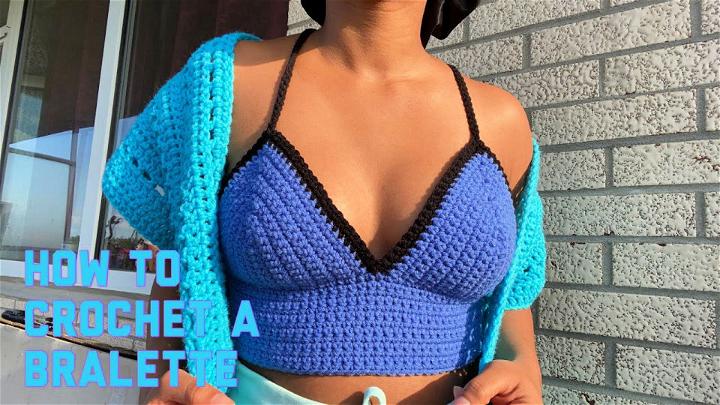 Let your imagination be the fabric of your fashion! This beginner-friendly tutorial will teach you how to crochet your very own bralette! All you need is two colors of yarn, blue and black. Follow the easy steps in this guide, and in no time, you'll have the perfect handmade accessory to add some flair to any outfit. With this project, you can show off your creativity while adding comfort and style, all with just a few simple stitches. Get started creating a one-of-a-kind piece that will be an instant favorite!
24. Cool Crochet Sports Bra Pattern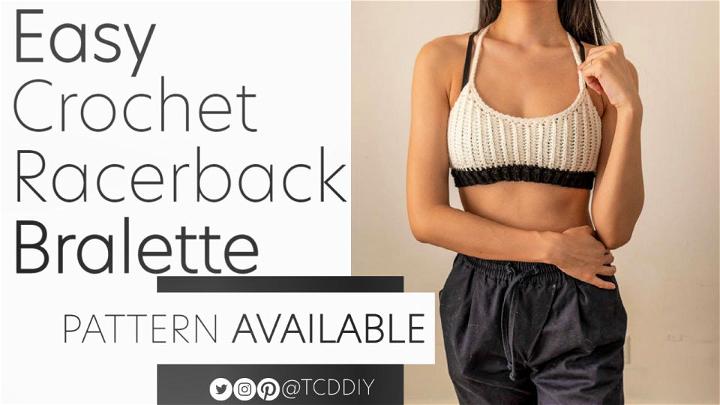 With this easy pattern tutorial, learn to crochet a stylish and comfortable DIY bralette! You can have an affordable top perfect for any casual occasion in just a few hours. Using the durable red heart super saver jumbo yarn in off-white and black shades, follow the simple instructions to create a unique look that is sure to be your favorite go-to piece of clothing. Stop wasting time trying to find something special; craft your custom design today!
25. Plus Size Crochet Bralette Pattern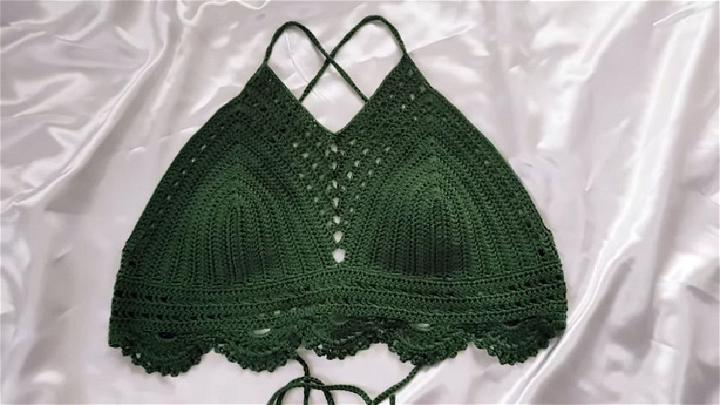 This crochet top tutorial is perfect for crocheting a plus size XXL bralette and is great for beginners! With only sportweight yarn and a 3.5mm hook, you can make this stylish and comfortable garment in no time. The project tutoriasl provide different starting chain sizes so that the fit will be perfect – 13 chains with 7 rows for small sizes, 15 chains with 8 rows for mediums and 16 chains with 9 rows for large sizes. This beginner-friendly tutorial makes it easy for anyone to create this beautiful summery top quickly!
26. Crocheting a Lingerie Under $10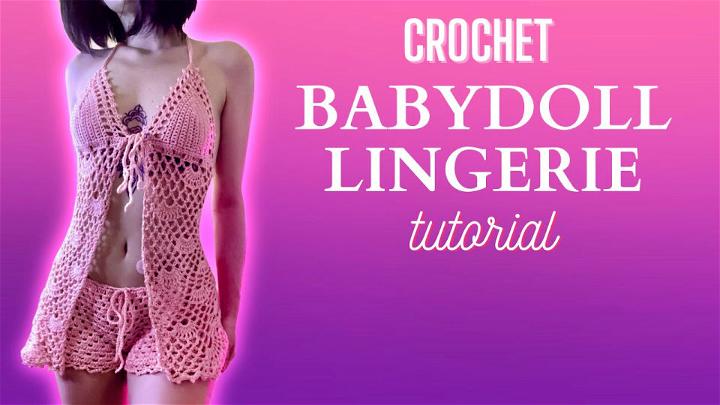 Indulge in the luxury of handmade lace lingerie for less than $10 — an affordable crocheting tutorial awaits! You'll need materials like weight 4 acrylic yarn in soft pink and a 3.75 mm crochet hook. Follow step-by-step instructions to help create the perfect lingerie pieces without breaking the bank. Perfect for beginners or experienced crocheters, these tutorials will surely make you feel beautiful in no time! With just a few simple supplies and some creative flair, you can craft your own one-of-a-kind lingerie right at home!
Related Free Crochet Patterns
Related Free Crochet Patterns for Everyone:
Unleash your inner fashion designer with our amazing selection of free crochet patterns! Create stunning, one-of-a-kind apparel for any occasion.
Conclusion: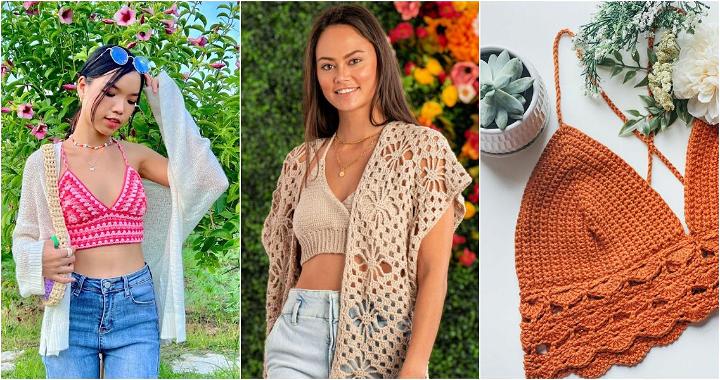 In conclusion, finding the perfect crochet bralette pattern to fit your needs and style can be daunting. Thankfully, our list of 25 free crochet bralette pattern options available above that provides detailed instructions for beginners and experienced crocheters alike. These free crochet bra patterns offer step-by-step guidance for beginners and size variations for each pattern. Whether you're looking for a lace crochet bralette or a basic everyday bra top pattern, these 25 free crochet bralette patterns will have something to suit everyone's taste. With so many versatile styles, you can craft the perfect crochet bra top quickly!