Step up your summer wardrobe with these 25 free crochet halter top patterns catering to novice and proficient crocheters. Craft your own fashionable crochet halter tops that are perfect for beach outings, festivals, or casual everyday wear. These free patterns offer a variety of styles, from bohemian chic to modern minimalist designs, ensuring there's a crochet halter top pattern suited for every preference.
Among the 25 free crochet halter top patterns, you will find options like the ocean waves crochet halter top, the light and airy crochet halter tank top, and the colorful crochet halter crop top. Each crochet halter top pattern provides detailed instructions, including stitch explanations, material lists, and gauge requirements. Many free crochet halter top patterns even come with step-by-step tutorials or PDF downloads to make the crocheting experience seamless and enjoyable.
Customize your crochet halter top by selecting your preferred yarn colors, textures, and weights. Don't hesitate to get creative with your patterns and tailor them to your unique style. By following these free crochet halter top patterns, you can create stunning and comfortable tops perfect for the warm weather season. So grab your crochet hook and some yarn, and start exploring the world of crochet halter tops today!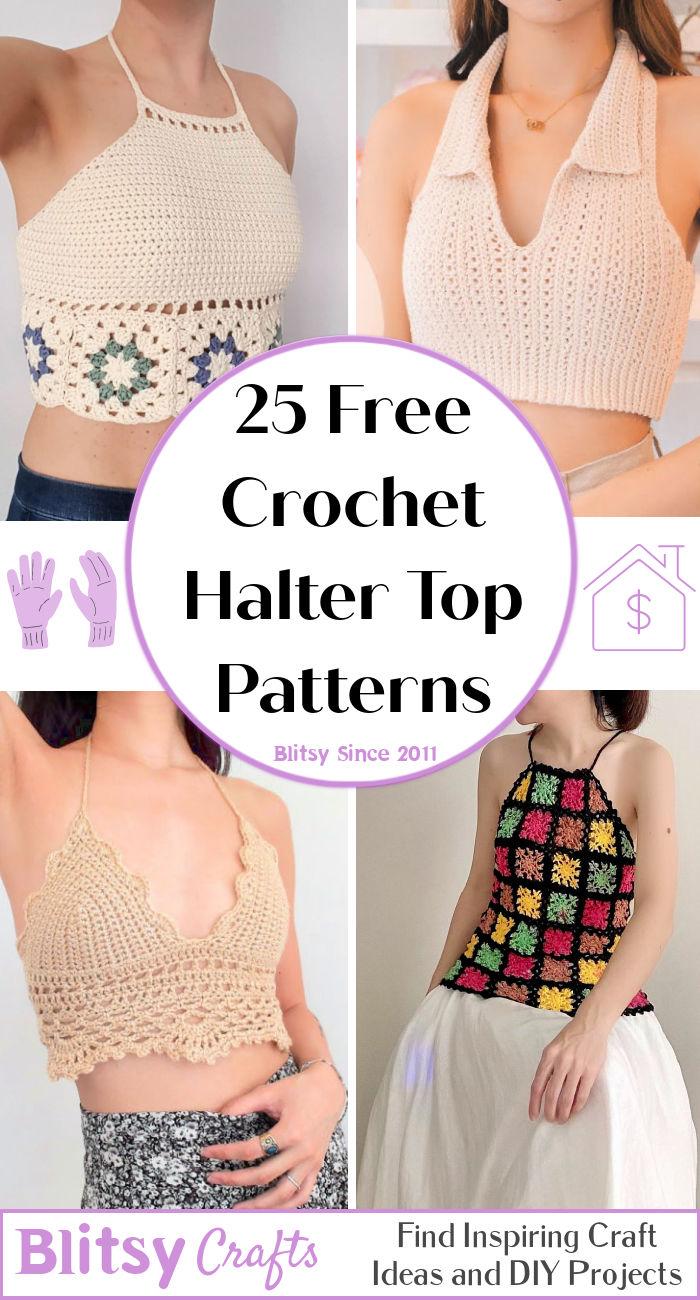 Crochet Halter Top: A Trendy and Versatile Summer Garment
Crochet halter tops are one of the most popular items to make and wear during summer. They are stylish, comfortable, and easily customized for any body type and preference. Whether you want a simple and classic design or a more intricate and bohemian one, you have a crochet halter top pattern.
We've shared 25 free crochet halter top patterns that are available below, as well as some tips on how to wear them and how to make your own. Let's get started!
What is a Crochet Halter Top?
A crochet halter top is a type of sleeveless top with straps that tie behind the neck, exposing the shoulders and back. It can be cropped or longer, depending on your choice. It can also have different shapes and styles, such as triangles, squares, rounds, or hearts.
Crochet halter top is usually made with cotton yarn, which is lightweight and breathable, making it ideal for warm weather. However, you can also use other types of yarns, such as acrylic, bamboo, or linen, as long as they are soft and comfortable on your skin.
You can wear a crochet halter top with almost anything, from jeans and denim skirts to thin summer pants or shorts. It can also be layered over a dress or a shirt for a more modest look. You can accessorize it with jewelry, hats, sunglasses, or scarves to add some flair to your outfit.
How to Make a Crochet Halter Top?
To make a crochet halter top, you will need some basic crochet skills, such as chaining, single crochet, double crochet, slip stitch, etc. You will also need a crochet hook that matches your yarn weight and gauge, scissors, a tapestry needle, and measuring tape.
Choose Pattern: The first step is to choose a crochet halter top pattern that suits your level of experience and style. There are many free patterns online that you can follow along with written instructions or video tutorials. Some of them are beginner-friendly and use simple stitches and techniques, while others are more advanced and require more skills and patience.
Measure Size: The second step is to measure your bust size and adjust the pattern accordingly. Most patterns will guide you on how to make your halter top fit your body shape and size. You can also customize the length of your halter top by adding or subtracting rows or rounds.
Start Crocheting: The third step is to crochet your halter top according to the pattern. You will usually start by making the cups or the front part of the top, then join them together at the center. Then you will work on the straps around the neck and the back. You can also add some edging or embellishments to your halter top if you want.
Finishing: The fourth step is to weave in all the ends and block your halter top if needed. Blocking is the process of wetting your crochet piece and pinning it into shape on a flat surface until it dries. This will help smooth out any wrinkles or unevenness in your stitches and make your halter top look more neat and professional.
The fifth step is to enjoy wearing your crochet halter top!
The History of Crochet Halter Tops
Crochet halter tops are not a new invention. They have been around for decades and have been worn by many celebrities and fashion icons over the years. Some of the most notable examples are:
In the 1960s, crochet halter tops were part of the hippie and bohemian culture, expressing freedom, creativity, and individuality. They were often paired with bell-bottom jeans, long skirts, or maxi dresses. Some of the famous women who wore crochet halter tops in this era were Janis Joplin, Cher, and Joni Mitchell.
In the 1970s, crochet halter tops became more mainstream and glamorous, as they were featured in magazines, movies, and TV shows. They were often embellished with beads, sequins, or feathers and matched with disco pants, shorts, or mini skirts. Some of the famous women who wore crochet halter tops in this era were Farrah Fawcett, Diana Ross, and Olivia Newton-John.
In the 1990s, crochet halter tops made a comeback as part of the grunge and alternative fashion trends. They were often worn with ripped jeans, flannel shirts, or leather jackets. Some of the famous women who wore crochet halter tops in this era were Courtney Love, Gwen Stefani, and Drew Barrymore.
In the 2000s and 2010s, crochet halter tops became more diverse and versatile as different cultures, styles, and occasions influenced them. They were often worn with denim skirts, leggings, or bikinis. Some of the famous women who wore crochet halter tops in this era were Beyoncé, Rihanna, and Taylor Swift.
Crochet halter tops are still popular today, as they are timeless and flattering garments that can suit any season, mood, or personality.
The Benefits of Crochet Halter Tops
Crochet halter tops are fashionable and have some benefits that make them a great choice for your summer wardrobe. Some of the benefits are:
They are comfortable and breathable. Crochet halter tops are usually made with cotton yarn, which is lightweight and airy, allowing your skin to breathe and stay cool in the heat. They also have a soft and smooth texture that feels good on your skin.
They are versatile and customizable. Crochet halter tops can be worn with almost any outfit, from casual to formal, depending on how you style them. You can also customize them to fit your preferences, such as the color, size, length, shape, or design. You can add accessories or embellishments to make them more unique and personal.
They are easy and fun to make. Crochet halter tops are a great project for beginners and experts alike, as they use simple stitches and techniques that are easy to learn and follow. They are also quick and satisfying, as they don't require much yarn or time. You can enjoy creating your own crochet halter top and express your creativity and personality.
They are eco-friendly and sustainable. Crochet halter tops are a way of reducing waste and saving money, as they use up leftover yarn or recycled materials that you may have at home. They also last longer than mass-produced clothing, as they are more durable and can be easily repaired or altered if needed. By making your own crochet halter top, you support the environment and your well-being.
25 Best Free Crochet Halter Top Patterns
Here are some of the best crochet halter top patterns that are perfect for beginners:
1. Free Crochet Granny Square Halter Top Pattern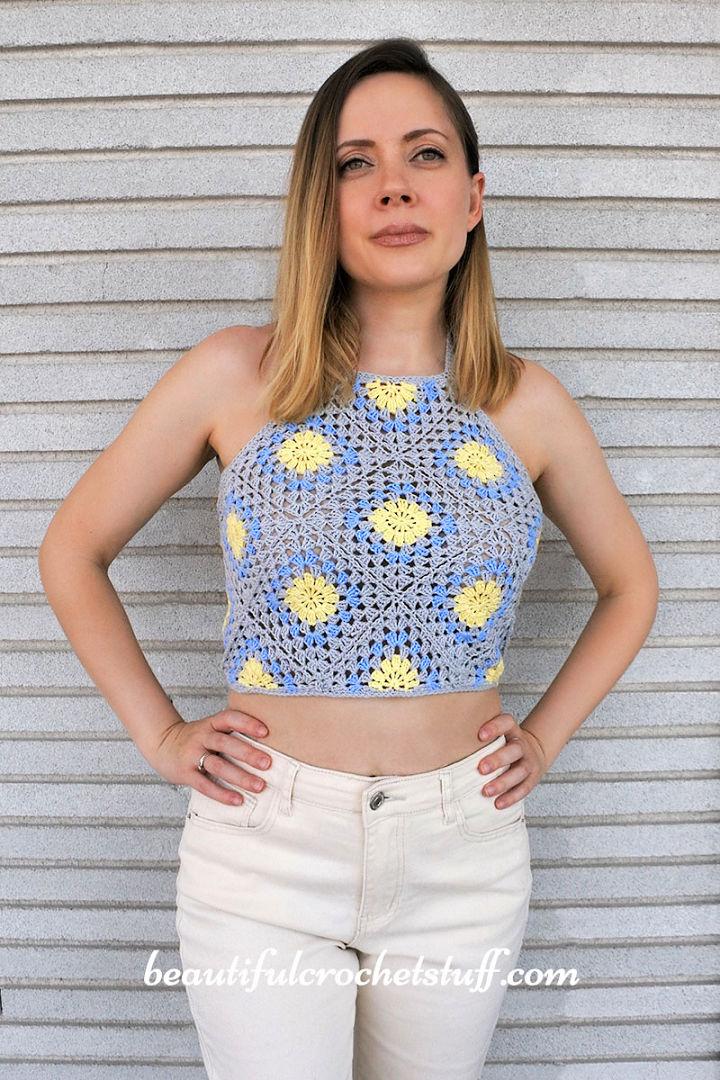 Create a stylish and comfortable halter top with ease! Get this free crochet pattern for a granny square halter top made with soft and breathable hobbii rainbow cotton 8/4 yarn in light grey, pastel yellow, and light sky blue. Adjust the size to fit you perfectly by following the detailed instructions and stitch diagrams. Chain, slip stitch, single crochet, double crochet – master these simple stitches to make yourself a fashionable and functional summertime favorite! beautifulcrochet
2. Gorgeous Crochet Halter Neck Top Pattern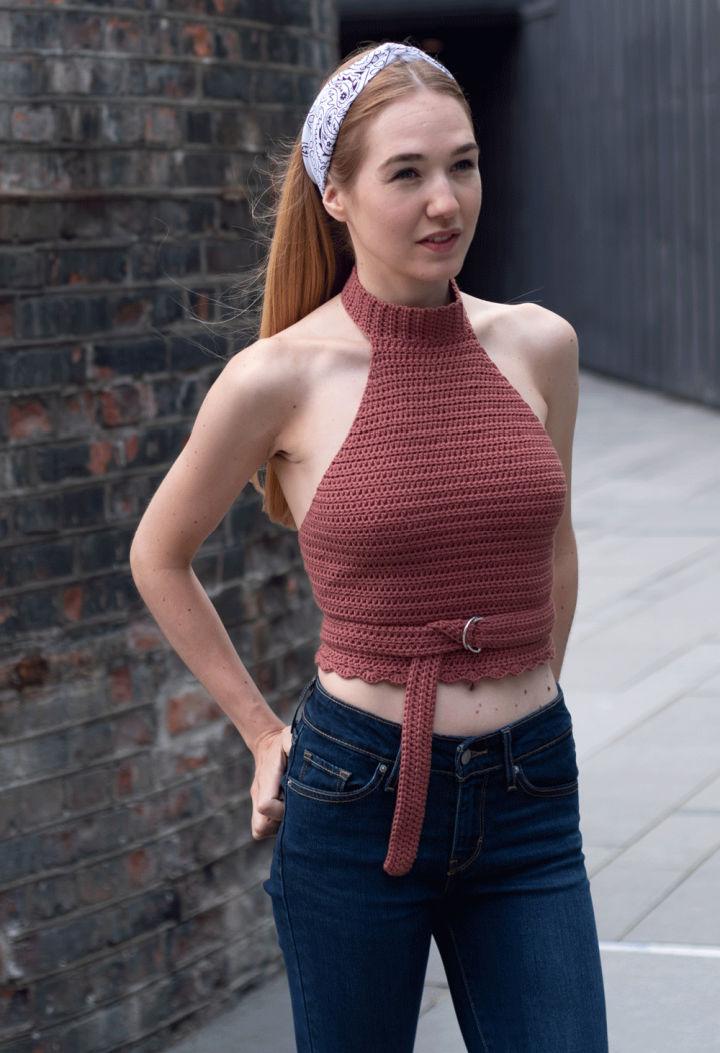 Unlock your inner fashionista with this unique and stylish crochet halter top pattern! With the help of a creative math-meets-crafting approach, you can craft a beautiful garment with just 160 grams of cotton yarn and a 3.5 mm hook. From detailed instructions on adding a double d-ring buckle to two sew-on snap buttons, every step is designed to produce an eye-catching yet comfortable top that you'll wear repeatedly. Take advantage of this easy but rewarding crochet project! thehooknooklife
3. Easy Crocheted Summer Striped Shirt Pattern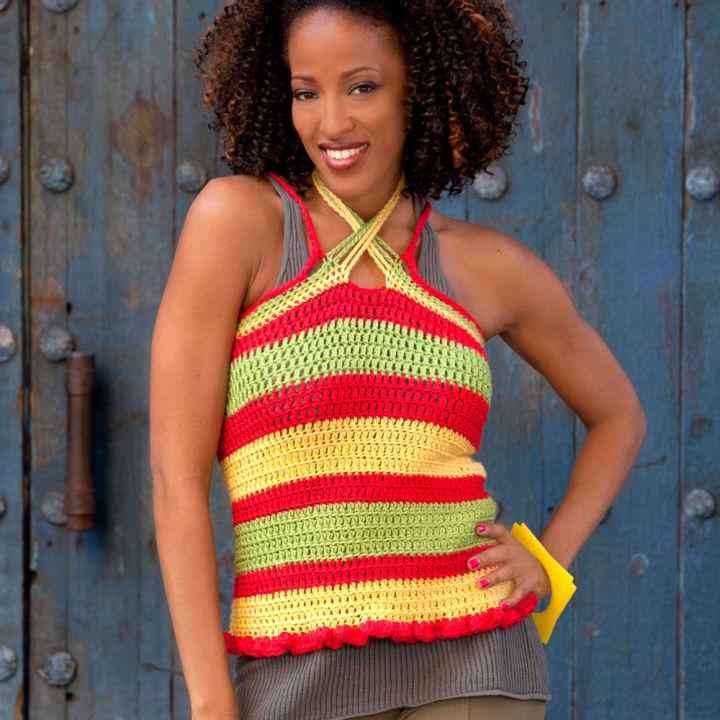 This summer, unleash your creative spirit by making a stylish crochet top! This summer striped top pattern uses debbie stoller's "bamboo ewe" yarn in geranium, sprout, and buttercup to create flattering stripes with a ruffled edging that falls at the hip. The pattern covers sizes small through 2x and features negative ease for comfort. All you need is a 5.5mm hook, stitch marker, and yarn needle to get started – easy peasy! Make your unique statement piece: perfect for any warm-weather occasion! yarnspirations
4. Ocean Waves Crochet Halter Top Pattern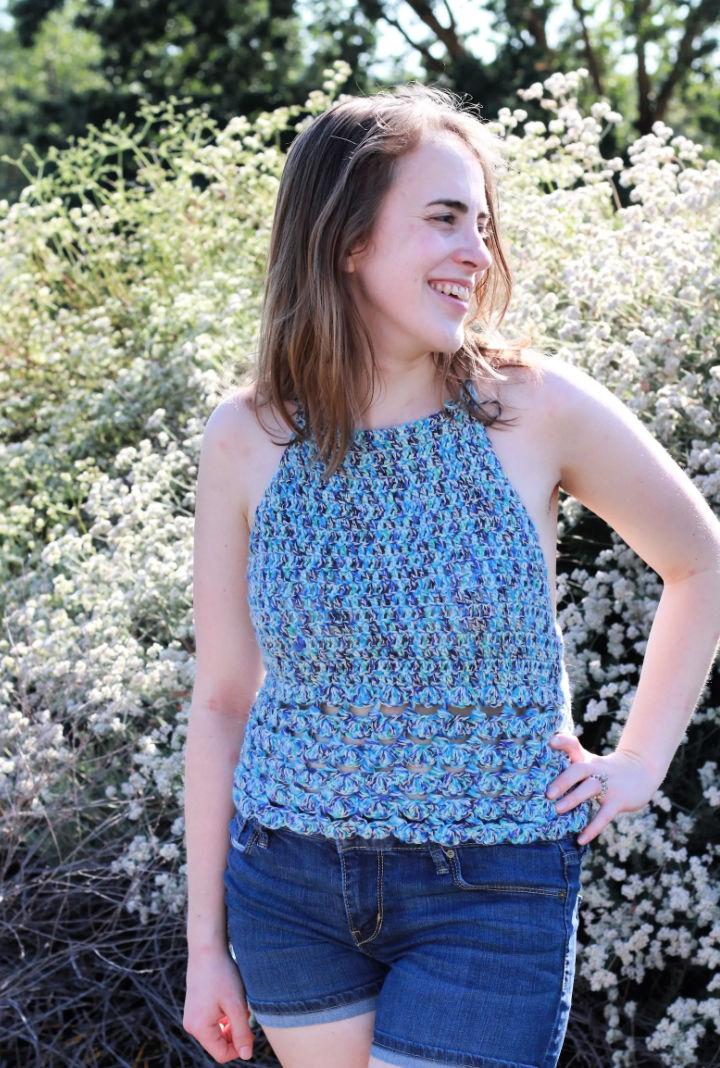 Summer is closer than you think, and this gorgeous ocean waves halter top is a must-have! Perfect for beginners, this easy pattern uses minimal seams and lightweight cotton yarn. Choose from sizes xs to 3xl for the perfect fit. All that's left to do is get your size 6mm crochet hook and lion brand comfy cotton blend in ocean breeze ready – it's time to make this summer top yours! joyofmotioncrochet
5. Crochet Granny Motif Squares Halterneck Top Pattern

Let your creative juices flow and craft an amazing halterneck top out of granny motif squares! With this free pattern, you can mix and match different colors to create a unique look. All you need is fingering or sport weight yarn, a crochet hook size f (4.0mm), approximately 175 grams of yarn, and the motif pattern chart. You'll have a stylish 15-inch bust by 17.5-inch length top that fits just right in no time. Make it your own with this easy-to-follow pattern today! znooicraftcorner
6. Free Crochet Kismet Halter Top Pattern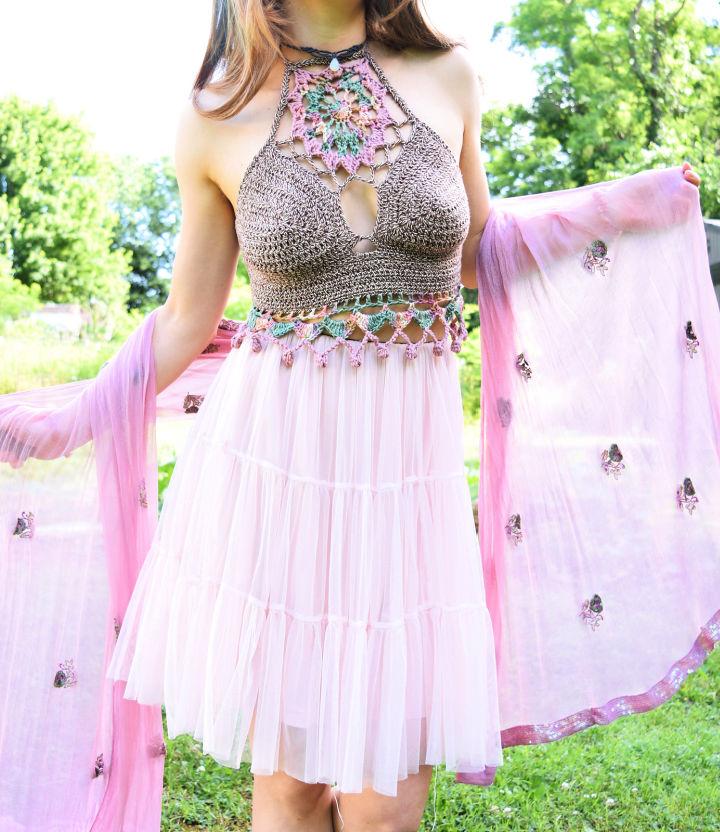 Stay cool and comfortable this summer in the kismet halter top! With its stunning design, you'll find all-day support, coverage, and criss-cross-lacing ties that won't pressure your neck. From a to dd cups, xs to 2xl bands, the perfect fit is yours. Plus, with mandala center & mehndi border options, 90 tutorial photos and detailed instructions – you can make this top as unique as possible! moralefiber
7. Cute Crochet Halter Flower Top Pattern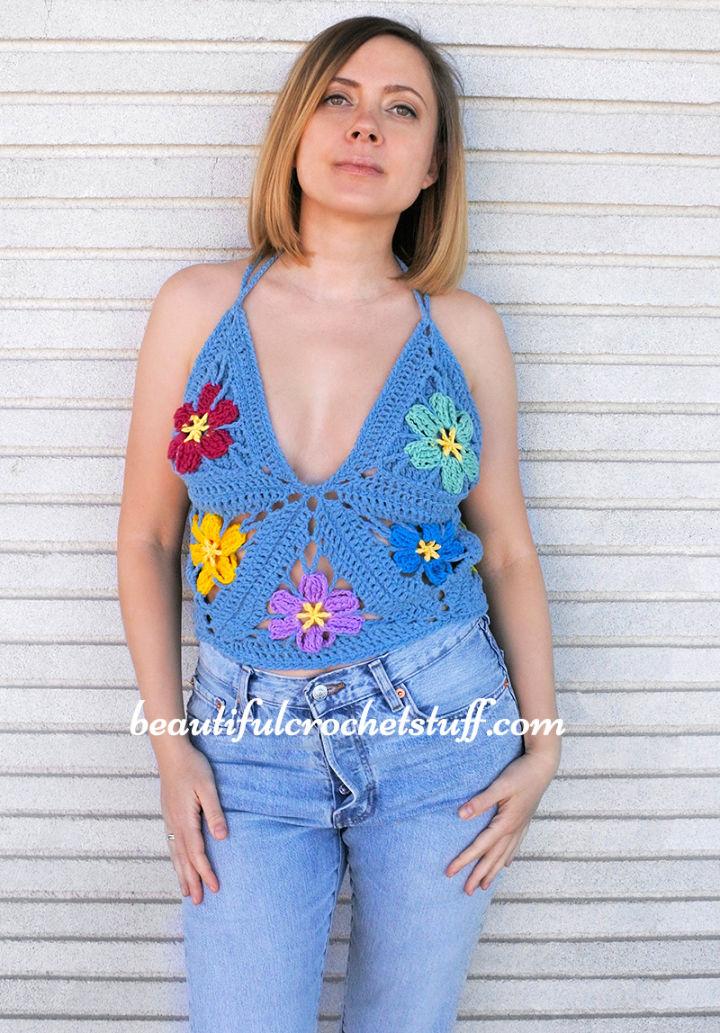 Elevate your style this summer with a unique crochet halter flower top! Crafted with drops paris recycled denim and drops love you 8/8 yarn in 9 colors, this two-triangle pattern is designed for size s-m – or get creative by repeating round 5 for a bigger fit. Fashionistas everywhere love this statement piece with its 38 cm width and 40 cm length. Get yours today before they're gone! beautifulcrochet
8. Easy Crochet Halter Neck Top Pattern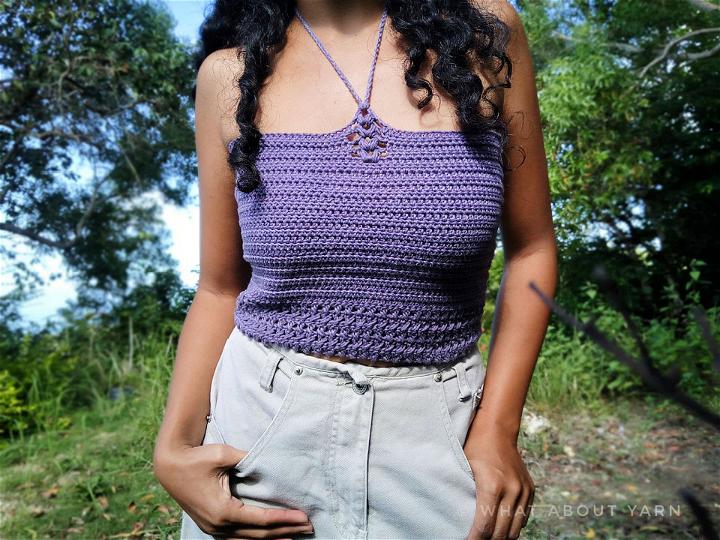 Look no further for the perfect look of love halterneck to express your love of crochet and music! This advanced beginner+ pattern is designed with #3/light worsted/dk 100% cotton yarn and an e-4 (3.5mm) hook, ideal for a bust/chest size of 28″-30″. Named after the iconic song 'look of love', this project will put your skills to the test – but don't worry; the pattern is easy to follow! Add this beautiful halterneck to your wardrobe today. whataboutyarn
9. Simple Crochet Ronjas Summer Halter Top Pattern

Turn up the heat this summer with ronjas summer top! This chic sleeveless crochet top features a halter neck, lace edge design, and beads for an extra touch. Perfect for advanced beginners, this pattern comes in one size (12 years/158cm) but can be adapted to other sizes. Get creative with lightweight sportweight yarn and a 3.0mm hook – perfect for warmer weather! Start your stylish summer top today – it's sure to turn heads! ravelry
10. Crocheting a Halter Top With Granny Squares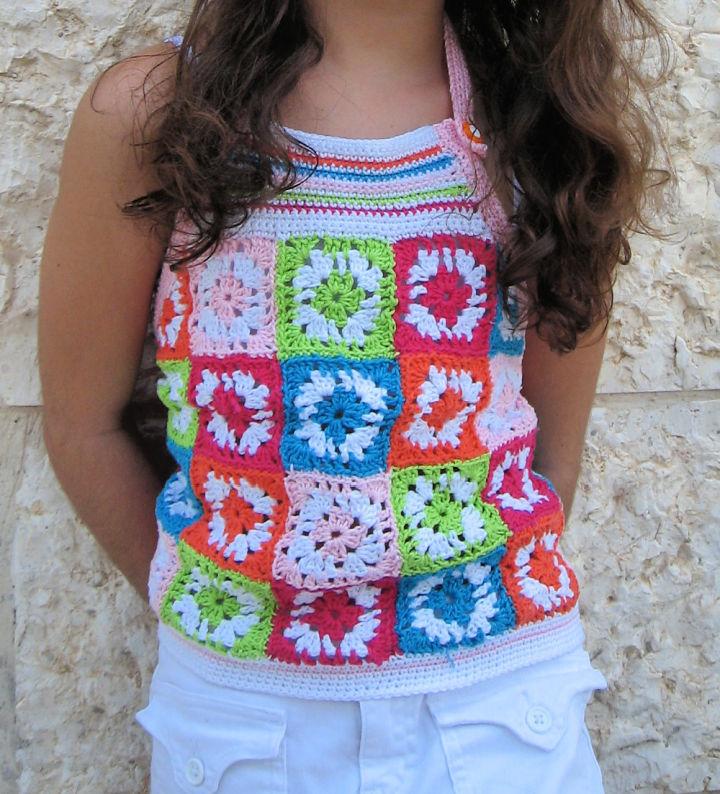 Welcome the summer with this vibrant crochet halter top! With dk weight cotton yarn and a 3.0mm hook, you can make this sleeveless top designed for ages 4-6 with a 22 ½″ chest size. The pattern includes instructions to create the colorful 2.5″ x 2.5″ granny squares and assemble them into a 12″ wide and 11″ long top with 9″ straps. Don't forget to get your hands on elastic thread and a ½″ button – essential items for the finishing touches! craftpassion
11. Free Crochet Pattern for Halter Top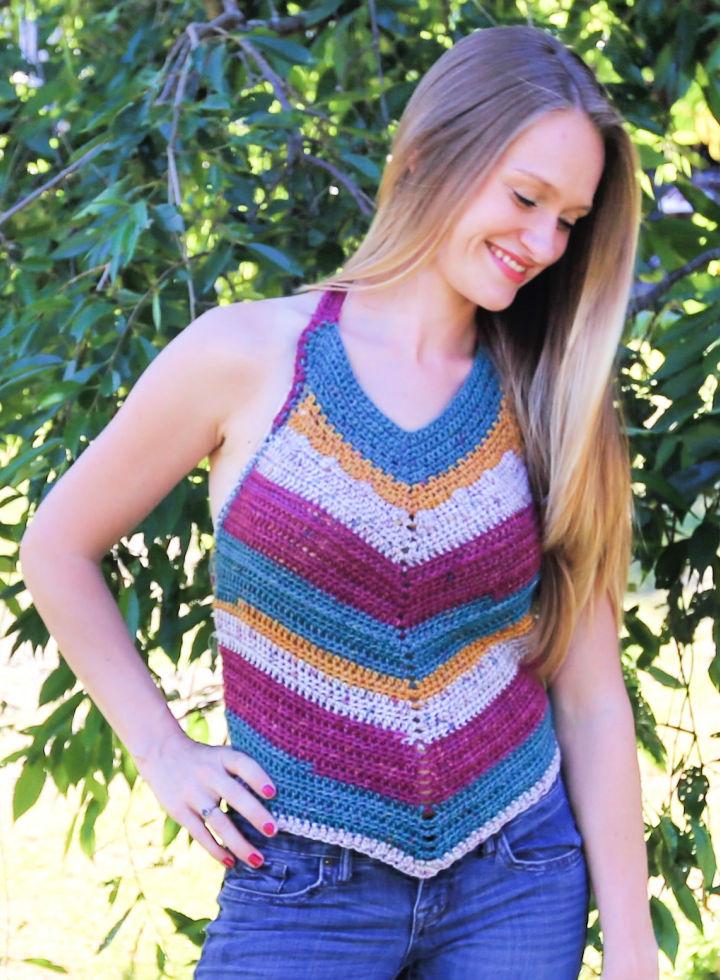 Take your summer wardrobe up a notch with the harper halter! This free crochet pattern is perfect for advanced beginners and adds style to your closet. All you need is #3 light weight yarn, a 5.00 mm crochet hook, and a gauge of 14 sts x 13 rows in hdc. The finished size ranges from 390-530 yards, depending on your size – with an end product of 4″ x 4″. Make this fun and stylish halter top today, and turn heads wherever you go! lifeandyarn
12. Crochet Teardrop Halter Top Pattern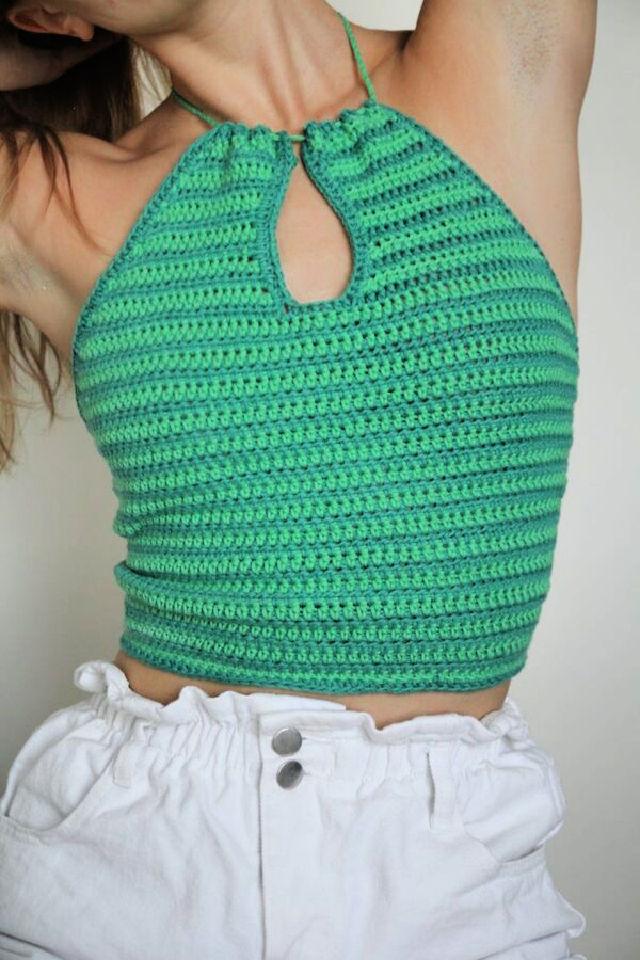 Embrace the summer in style with this teardrop crochet halter top pattern! Perfect for advanced beginners, you can customize your sizing to get the perfect fit. And with a video tutorial featuring paintbox yarns cotton dk yarn, and a 3.5mm crochet hook, you will want to experience this stylish and comfortable addition to your wardrobe. undergroundcraft
13. How to Crochet Halter Top – Free Pattern

Be the talk of the town with little grace halter top! Advanced beginners can make this chic crochet halter top pattern featuring double crochet stitches in the back loop to create a unique texture. The adjustable ties at the neck and waist ensure the desired fit, while the v-neck illusion adds flair. With medium/4 weight cotton yarn and a 5mm (h) hook, the pattern comes in xs-xl sizes for 28-30″ busts. Get ready for summer – add this must-have top to your wardrobe today! carlieflo
14. Crochet Hepatica Granny Blouse Pattern Diagram

Make springtime magical with the beautiful hepatica granny top crochet pattern! Constructed from rows of granny squares, this halterneck top features blue floral patterns evocative of anemone hepatica. Perfect for advanced beginners, use soft unmercerized worsted cotton yarn and a 4.5mm/us size hook to get started on sizes up to 90 cm/35 inches in chest measurement. Best part? The pattern is all yours for free – so do add it to your to-do list of crochet projects! hookedbyanna
15. Crochet the Pucker Up Halter Top Pattern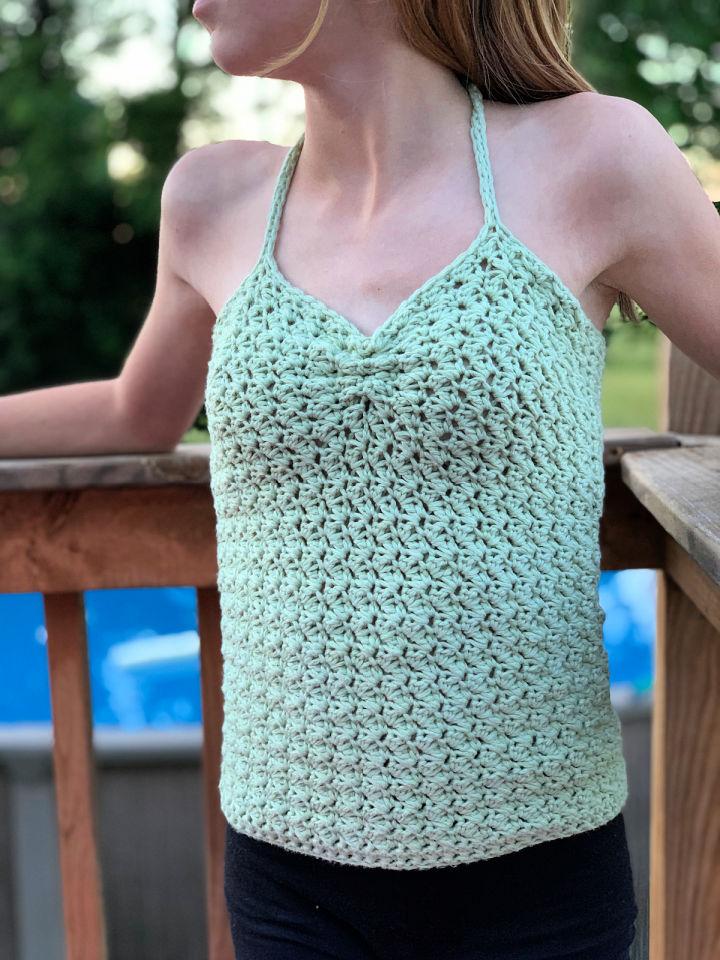 Forget the summer heat and get ready to rock your wardrobe with the pucker up halter. This easy-to-crochet beginner-friendly pattern is perfect for any body type, crafted from medium-weight cotton yarn and crocheted using a 6mm hook. With a simple stitch pattern, this stylish top will be finished quickly! Follow the instructions to achieve the right gauge of 12 stitches x 8 rows in a 4″ x 4″ swatch, then finish with a yarn needle – it's that easy! Look good and feel great in your new crochet halter top this summer. carlieflo
16. Crocheted Triangle Halter Top Pattern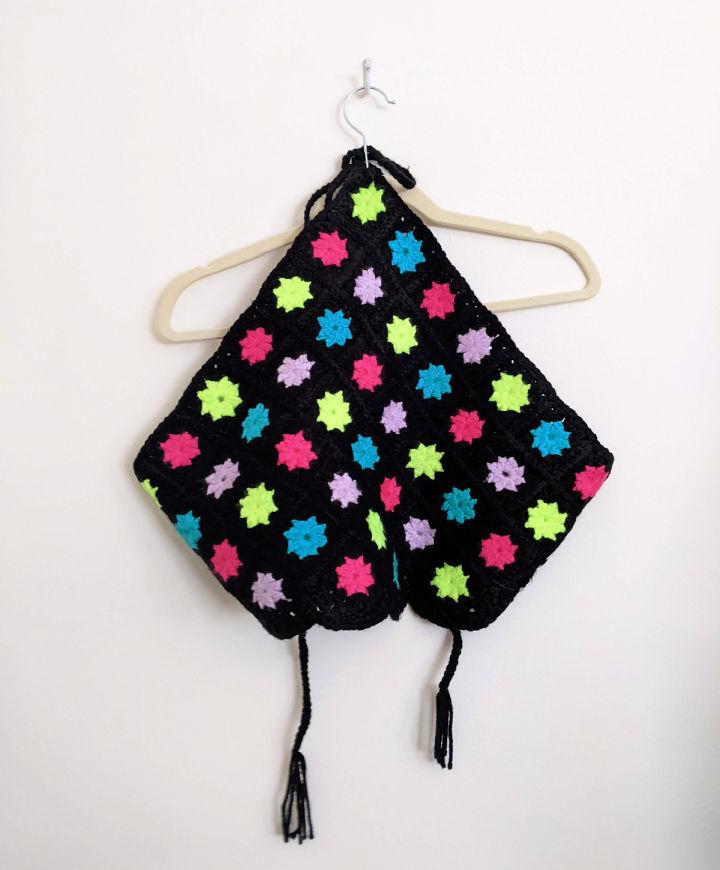 Be bold and show off your style with this stunning crochet triangle halter. Featuring 21 granny square motifs sewn together to form a triangle, the halter chain ties at the back of your neck for a secure fit. The two rows of shells along the bottom edge complete its one size fits all silhouette. Crocheted from sport yarn in any desired color and using crochet hook size h, it's an easy yet chic addition to any look. cei
17. Light and Airy Crochet Halter Tank Top Pattern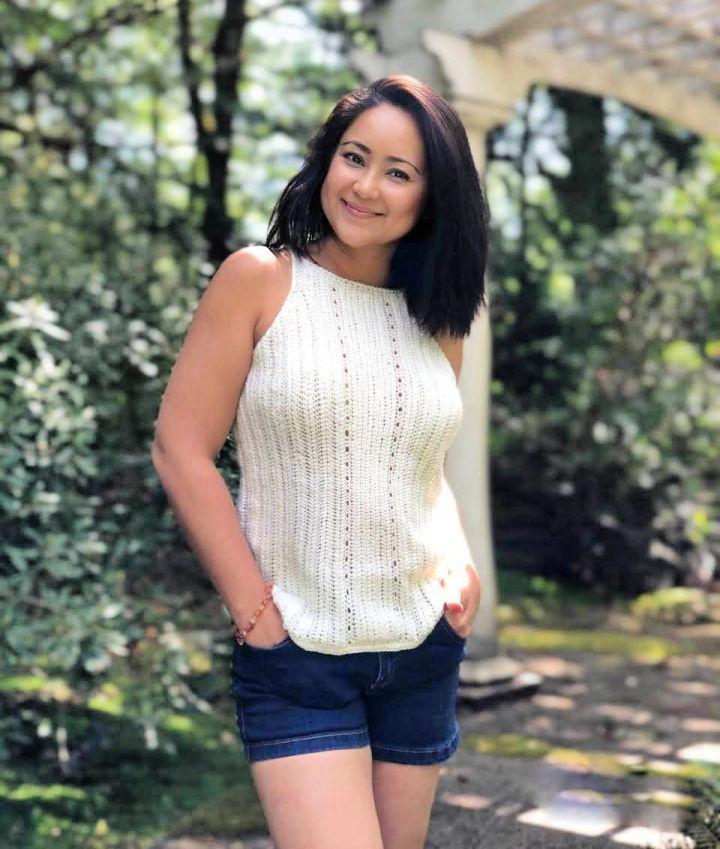 You can make this beautiful crochet halter tank top in no time and with minimal effort! Lightweight and airy, you won't have to worry about layering or the extra weight. All you need is woolike simili-laine yarn in ivory color (fingering weight) and a 3.0mm crochet hook to get the perfect texture for your summer fashion statement. Get ready to show off your stunning creation! theknottylace
18. Easy Crochet Halter Top Pattern for Beginners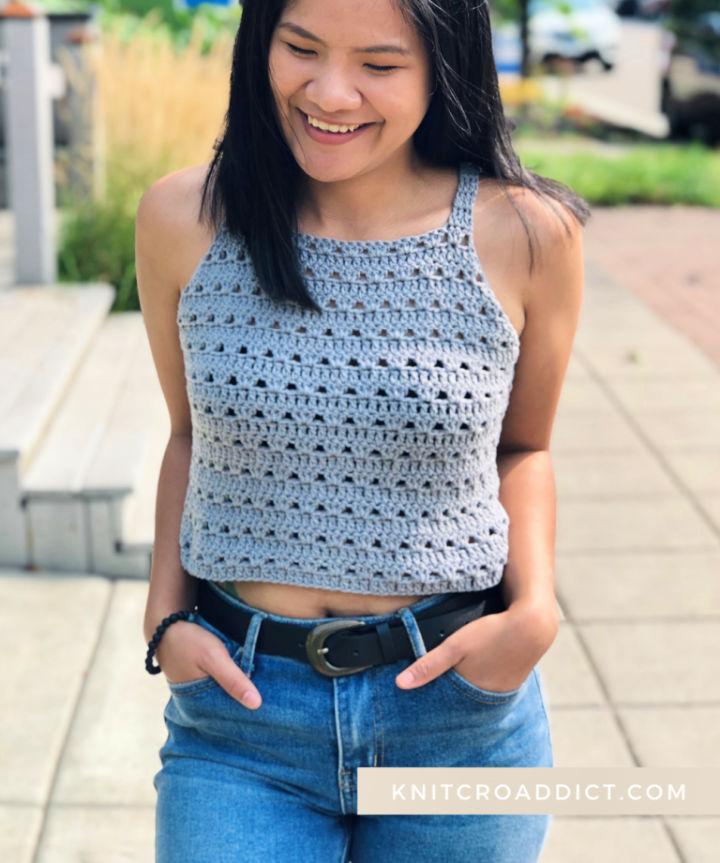 This fun and free crochet halter top pattern brings sunshine to your wardrobe! Perfect for the use of #4 medium-weight yarn, this easy-to-follow pattern is ideal for new crocheters. With sizes ranging from XS to XXL, you can craft a summery top that fits quickly. Worked up with a 4 mm crochet hook and achieving 14 DC over 8 rows = 4″ when blocked, ensure you are ready for those warm days in style! knitcroaddict
19. Crochet Boho Child Halter Top – Free Pattern

This summer, make your toddler stand out with a free crochet pattern for a Boho Halter Top! With a combination of stitches, this halter top is stylish and perfect for keeping your little one cool. This one-size pattern is suitable for toddlers aged 12 months to ⅔T. If you prefer more coverage, you can easily add a fabric lining to the back. The pattern is designed using Dishie Cotton yarn in white, which is perfect for summer wear. Create a boho chic top for your toddler today with just a few supplies and some crocheting skills! hearthookhome
20. Colorful Crochet Halter Crop Top Pattern

Get ready for summer with this colorful crochet crop halter top! The simple pattern uses just two tones of sky blue and is made with half double crochet stitches in the back loop to create a beautiful ribbed effect. The top is constructed from the bottom up and features a triangle point at the front. Use any DK weight yarn and fiber content for this project, and you'll need less than 600 yards for a size small to medium. Follow the step-by-step instructions and video tutorial to create your own beautiful, summery halter top! jennyandteddy
21. Crochet Halter Top Pattern for Beginners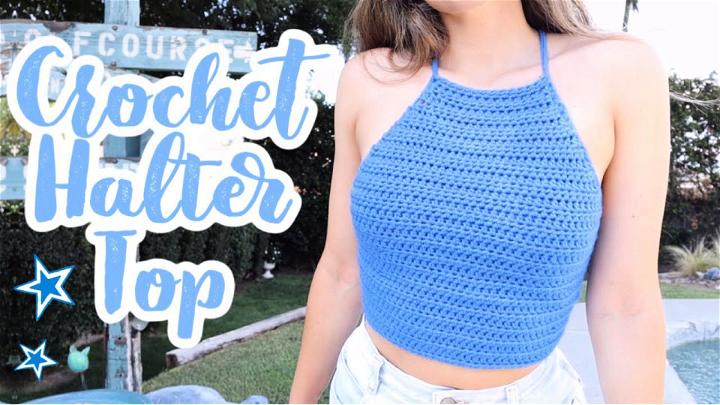 Unlock your creative side and take on a new crochet project with this beginner-friendly tutorial. With light blue yarn, a 5mm crochet hook and this step-by-step guide, you can easily create this beautiful crochet halter top! This is the perfect pattern for all those starting in crochet or looking for an easy yet stylish summer top. Download the pattern today and get started!
22. Easy Crochet Festival Halter Top Pattern

Open up your creativity and make this season's most stylish festival look by crocheting a beautiful halter top! With red heart super saver jumbo yarn in the shade buff, you can create an exquisite design with lots of pretty details on the bottom. Follow this step-by-step tutorial to crochet a stunning halter top perfect for standing out at any event.
23. Free Crochet Collar Halter Top Pattern

Love to learn how to crochet a collar halter top? This easy pattern is perfect for beginners! Get ready with your milk cotton yarn (size 4 ply, 150g) and some hooks – 4.5 mm & 3.5 mm hooks should do the trick! Enjoy this step-by-step tutorial and create your own beautiful collared halter top in no time. Get creative with colors, shapes and styles depending on what you like!
24. Pastel Pink Crochet Halter Bra Top Pattern

Transform your wardrobe with this unique crochet top created in luscious pastel pink and white! You can easily create this stunning piece of crochet art using 100% acrylic yarns and a size 5mm hook. Follow the free crochet tutorial and learn how to make the perfect summer top to turn heads wherever you go.
25. Bohemian Crochet Hippie Halter Top Tutorial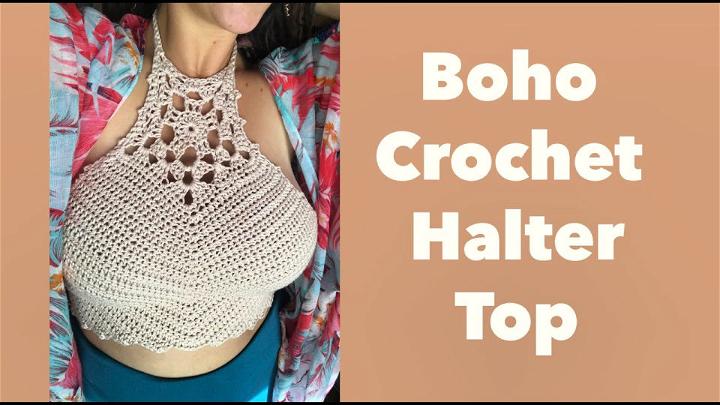 With a simple tutorial, you can now learn how to make your own stylish crochet halter top! It's crocheted with lightweight, breathable and super soft cotton wool blend yarn. You'll need a size 4mm crochet hook and basic knowledge of double crochet stitches, chain and half double crochet stitches to crochet this intermediate crocheting pattern. So why not try out this boho crochet halter top today – it's sure to add some pizzazz to any outfit!
Related Free Crochet Patterns
Discover an incredible selection of free crochet patterns, from beginner-friendly projects to complex designs. Unleash your creativity and stitch something special today!
Conclusion:

In conclusion, these 25 free crochet halter top patterns offer diverse styles and designs for crochet enthusiasts of all skill levels. The selection contains various fashion trends and preferences, from simple crochet halter top patterns for beginners to intricate crochet crop top designs for seasoned crafters.
Crochet halter tops are a great way to show off your crochet skills and your summer style. They are versatile, fashionable, and fun to make. You can choose from many different free crochet halter top patterns, colors, and yarns to create your own unique halter top. So, explore these patterns and embrace your creativity today!