The DIY boutonniere is one of the divine flower accents to wear in coat buttonholes on every special occasion. They are often to see on the dresses and coats of both groom's and bride's wedding squads. They are often pinned on the left coat lapel and a ring bearer and ushers even both sets of dare also the prominent candidates for wearing a boutonniere. Along with being a graceful flower decoration or accent, they have some meaning, too, just like the wedding bouquets. They can be on your dress on any special occasion and event. So, why spend on the boutonnieres as you can make them at home?
Find these 20 simple DIY boutonniere ideas and learn to make your beautiful boutonniere at home like a pro. These diy boutonniere projects will sare the complete how-to boutonniere guides to help you quickly make the corsages, boutonniere with ribbon, and the greenery boutonnieres that are among the most popular types.

Using custom flowers, foliage, and fillers, you can make a boutonniere in lots of different ways. After you complete the boutonniere, finish it with the rope or ribbon and custom clips and corsage pins to easily fit in the buttonholes. You can also make a boutonniere for funerals and homecomings with the help of these DIY Boutonniere Projects that help make all sorts and types of them at home. A boutonniere with faux flowers will be long-lasting, and you can replace the real flowers with faux ones to make them.
Wedding decorations: Trying to stay within your wedding planning budget? Get our best ideas for DIY wedding decorations, like centerpieces, party favors, flower arrangements, and wedding decor right here.
1. Simple to Make Boutonniere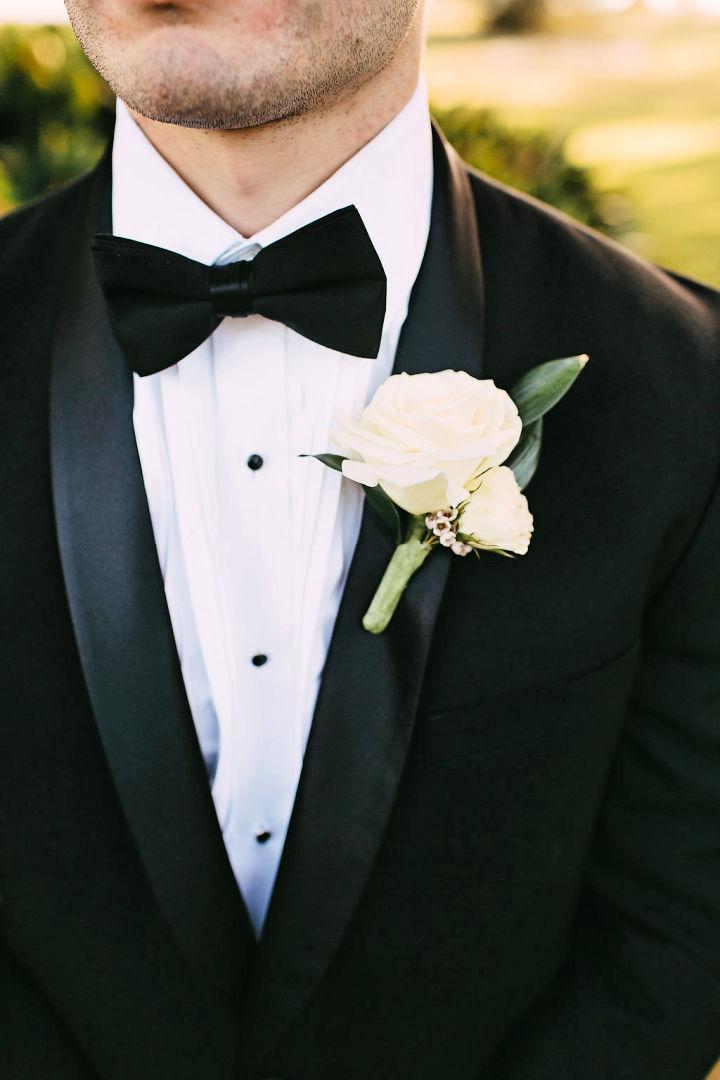 Make your man look gorgeous with this lovely boutonniere for a wedding, a formal dinner or even for your own wedding. Not only this gorgeous boutonniere, but you are also going to learn the proper way of pinning up this boutonniere too. So do check out all the details of this idea right on the link here! southernliving
2. DIY Grooms Wedding Boutonniere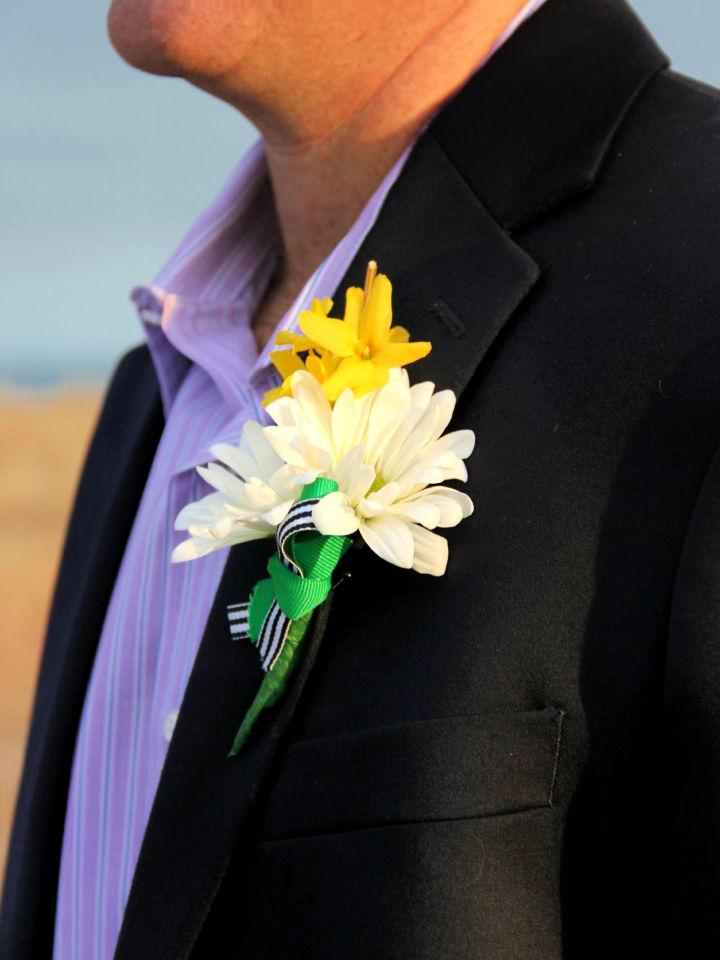 Here is this gorgeous DIY groom's wedding boutonniere that will add oodles of charm and beauty to his look. With only a few things on hand like the flowers, tape plastic wrap and scissors you can easily make this prettiest wedding boutonniere in just a few minutes. Check out the detailed idea right here! diynetwork
3. Crepe Paper and Rosemary Boutonniere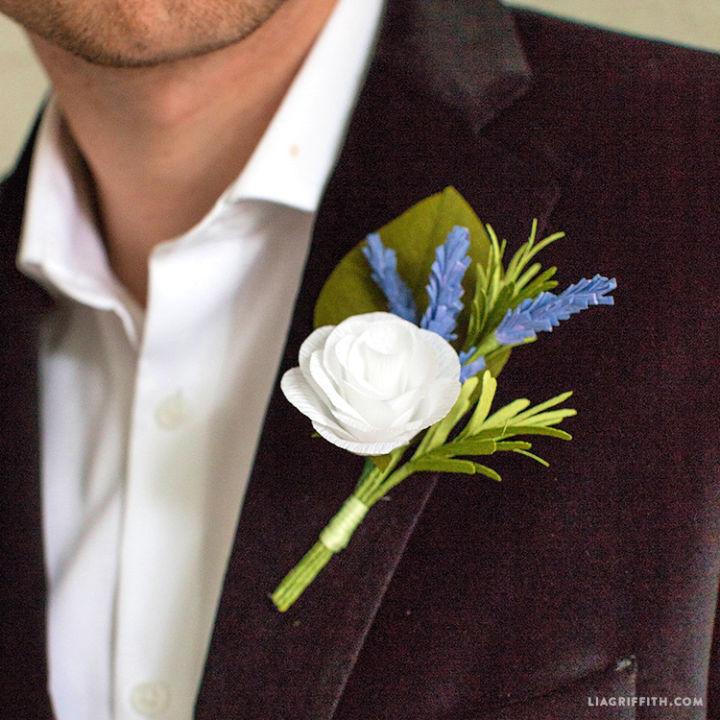 Want a gift for your groom which is special and could be memorable for years to come? Here is this crepe paper and rosemary boutonniere to make and pin on the groom's jacket to enjoy a moment of intimacy with you. The crepe paper flowers include the lavender and the rosemary, along with floral tape and the wire. Check out the details of the idea here! liagriffith
4. DIY Wool Felted Ball Boutonniere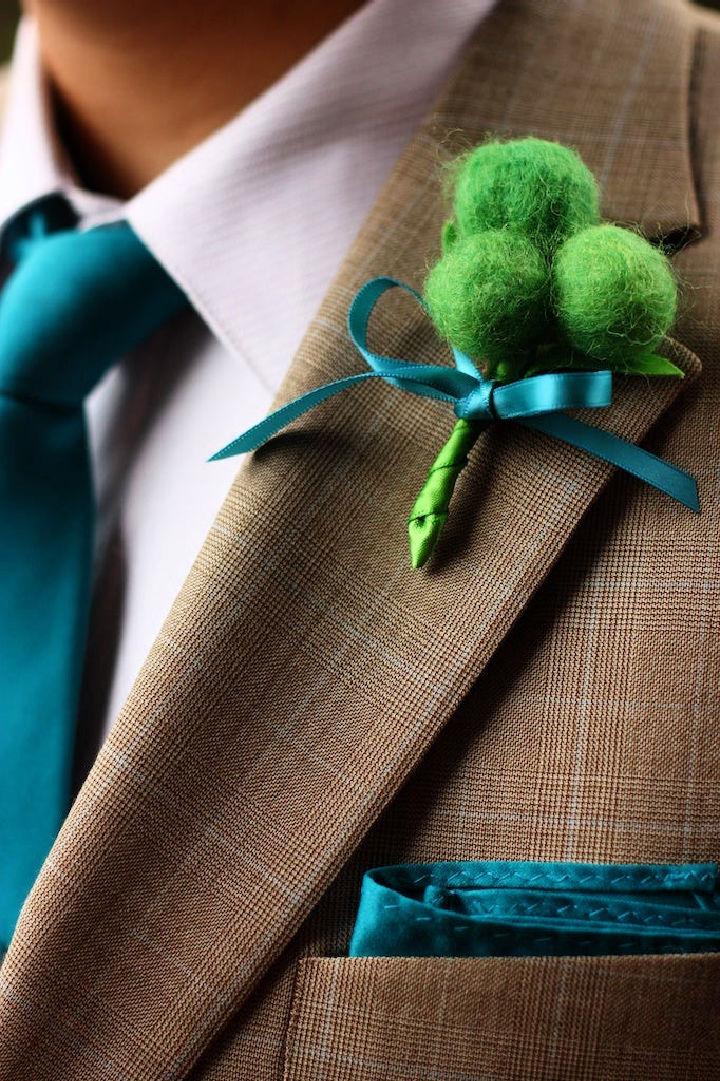 While women hold the flowers in their hands on their special day's men wear them in the form of the boutonniere. Here is the idea of this DIY wool felted ball boutonniere to make and add a touch of perfect formal elegance and beauty to your man. So get your hands on the wool roving, ribbons, boutonniere pin to work it up. The detailed plan is here! instructables
5. DIY Wedding Bouquet and Boutonniere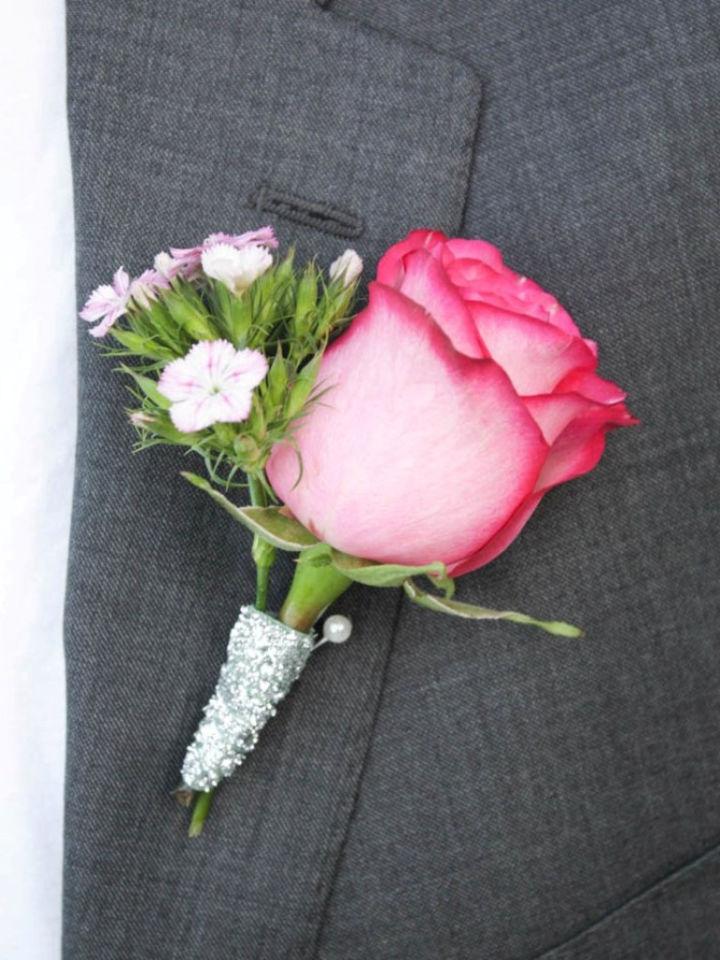 The groom's look is incomplete without a cute little boutonniere being adorned in his jacket or wedding suit. Now you can make this lovely DIY wedding bouquet and the boutonniere yourself and save yourself a lot of time and money. The boutonniere for the groom matches the bouquet of the bride and thus coming out more complimentary. Details here! thisfairytalelife
6. Make a Flower Boutonniere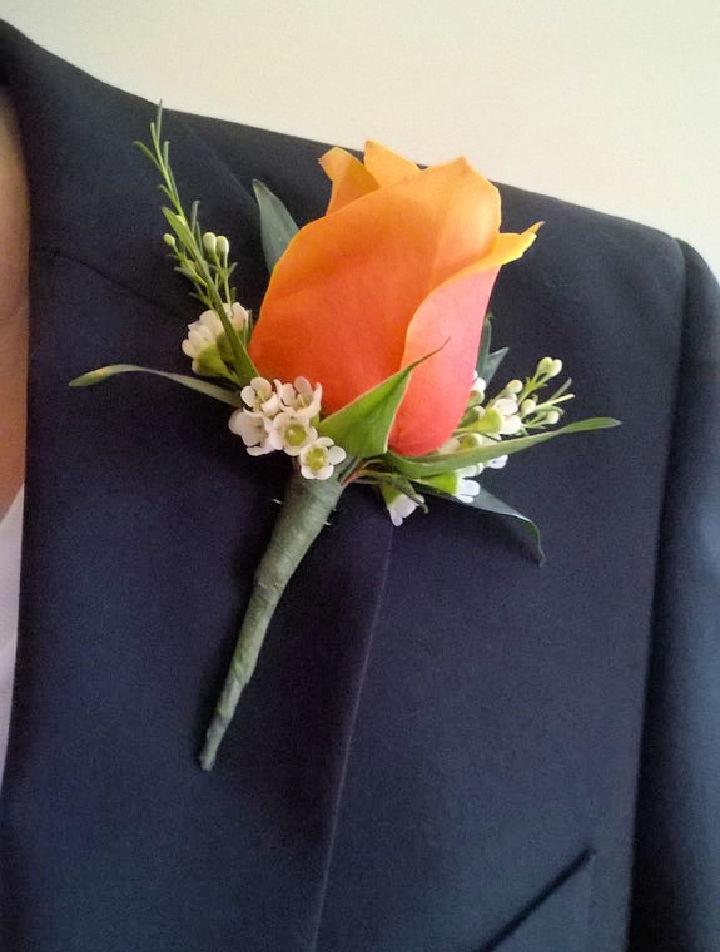 Bring the perfect grace and beauty to your man's formal look for an event with this handmade flower boutonniere. You can easily shape this super cute and gorgeous flower boutonniere with things like centerpiece flowers, filler flowers, foliage, greenery stem wires, and floral tape. You can check out the details of the idea here! instructables
7. Easiest DIY Wedding Boutonniere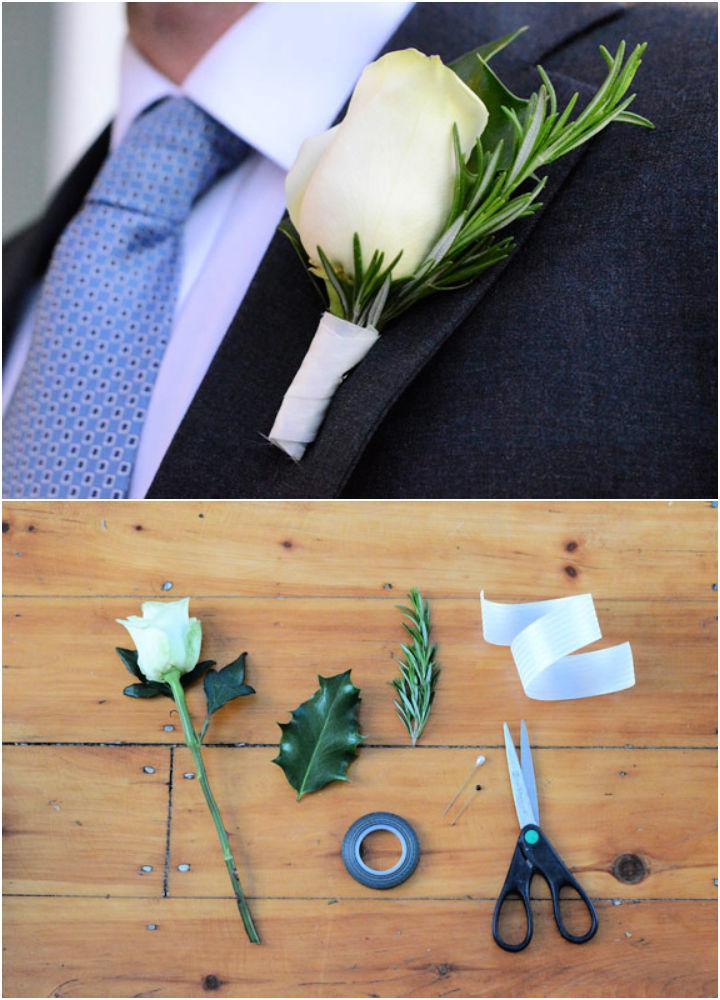 The bridal bouquet and the groom's boutonniere would look great, matching with the same flowers. So if you are making your bridal bouquet at home, then here is the idea of the easiest DIY wedding boutonniere from the left-out flowers and enhance the grace of your groom. Get your hands on flowers, boutonniere pins, floral tape and the ribbon to work it up. Details of the idea here! onefabday
8. Make Your Own Boutonniere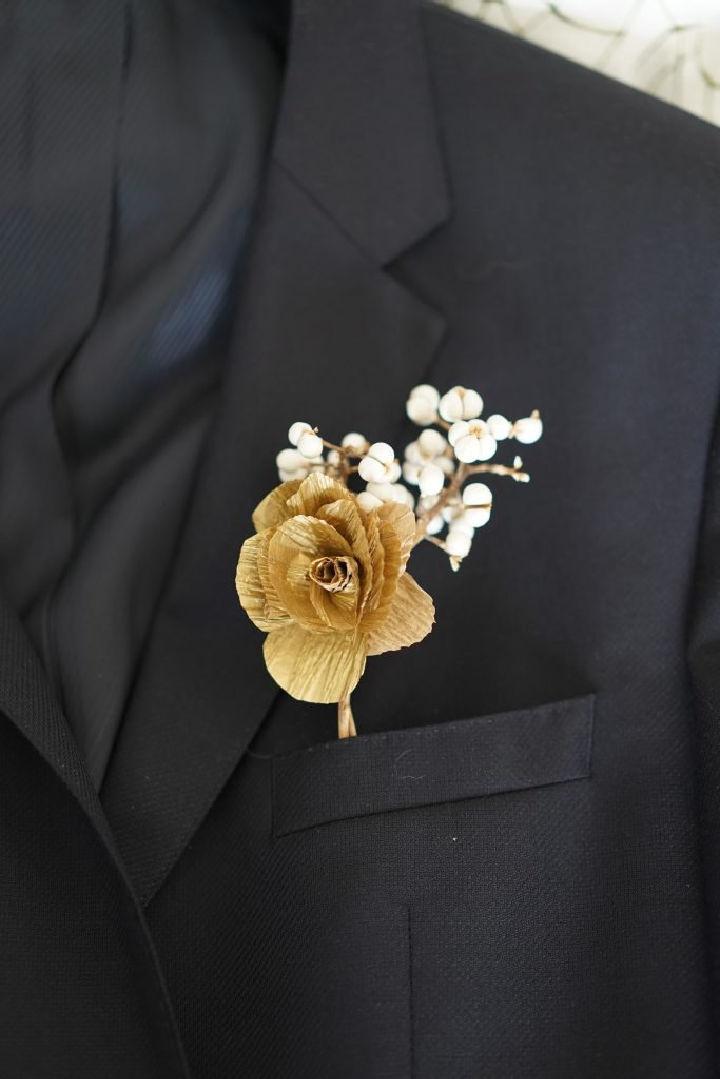 Here is the perfect boutonniere for you to make at home with the cheapest things lying around. This one is made out of fake flowers and would make a perfect part of your husband's jacket for a formal evening. So get an artificial crepe paper flower and the twig with a corsage pin or twine or ribbon. Check out the details of the idea here! domesticheights
9. Easy to Make Flowers Boutonniere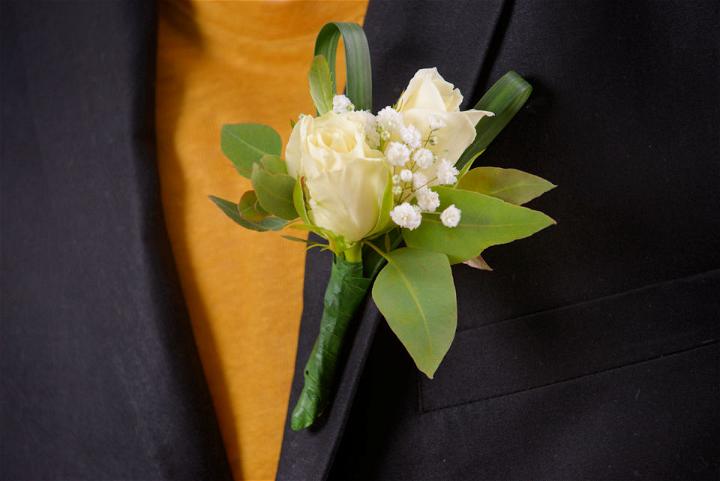 Here is another great idea to make this flowers boutonniere for your grooms and the bride maids too. Using the faux flowers of your choice along with the floral stems, some floral tape, and the pins, you can easily make these cute little boutonnieres on your own. This would make a great gift idea for the groom. Details of the idea here! floraqueen
10. Making a Winter Boutonniere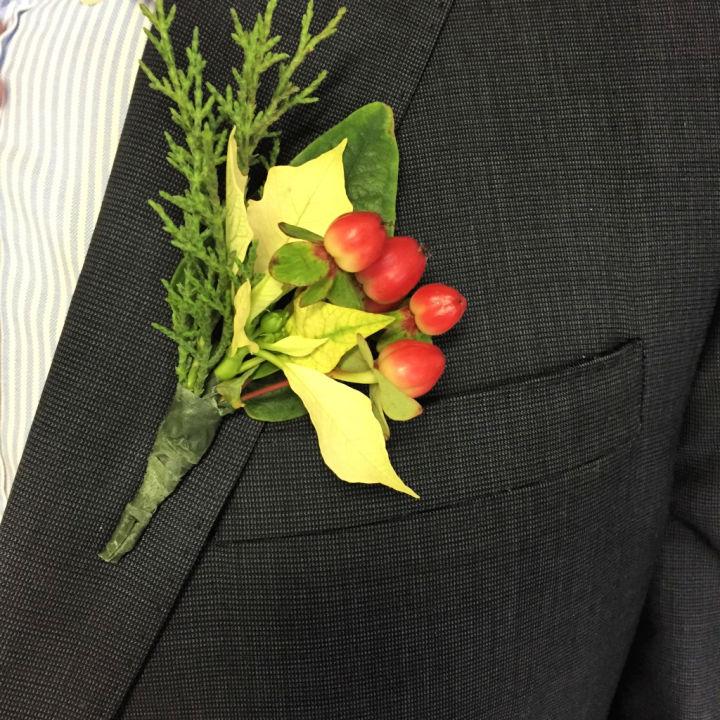 You can use the seasonal flowers to make the perfect boutonniere for the men in your life. This makes a winter boutonniere to get your hands on, and it's quite cheap and fun to make. It would take only fifteen minutes for you to make this winter boutonniere with flowers, cotton balls, floral wire and tapes. Check out the details here! diybride
11. Easy DIY Crystal Boutonniere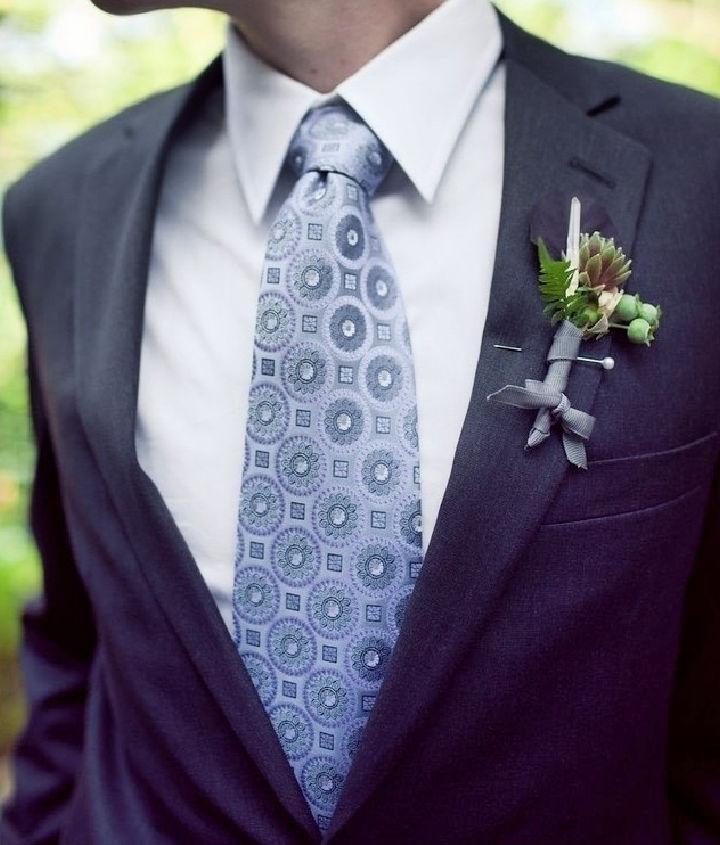 Go crafty on your wedding with some handmade stuff to use, just like this DIY crystal boutonniere. This cute little DIY boutonniere is adorned with various decorations like crystals, feathers, ribbons, berries, and so many more that you would love to an add in. Check out the details here! cutoutandkeep
12. How to Make a Boutonniere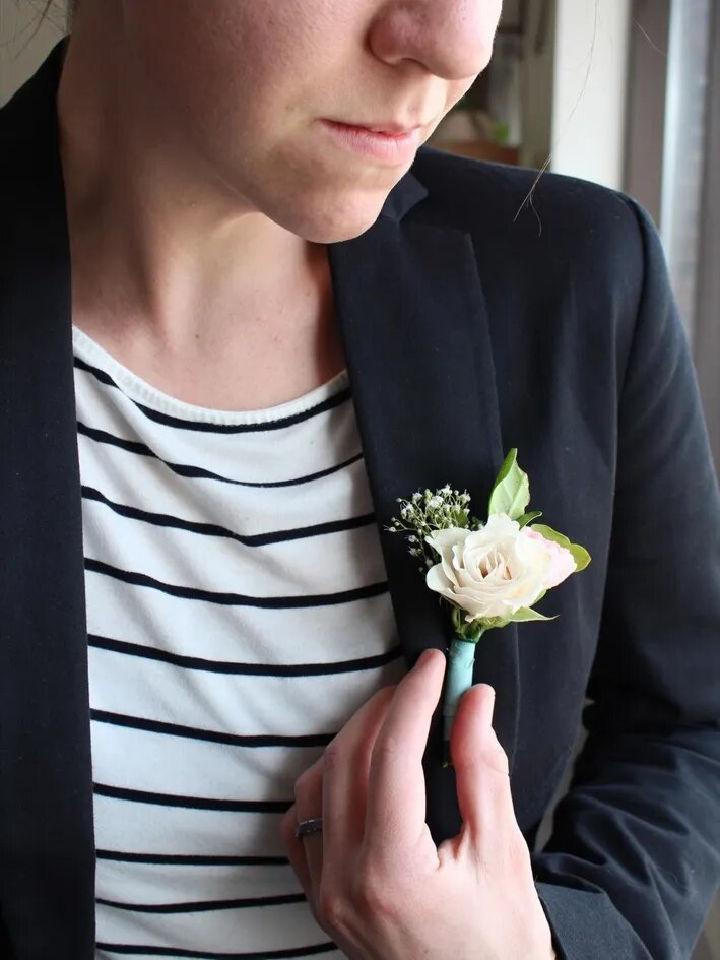 A boutonniere is not only for the groom and the bride's maid but also for everyone going to the wedding. Using the flowers, greenery, and supplies like floral tape, floral wire, and corsage pins, you can easily work up this pretty and fun boutonniere for yourself and so many others around. Check out the details here! curbly
13. DIY Nautical Rope Boutonniere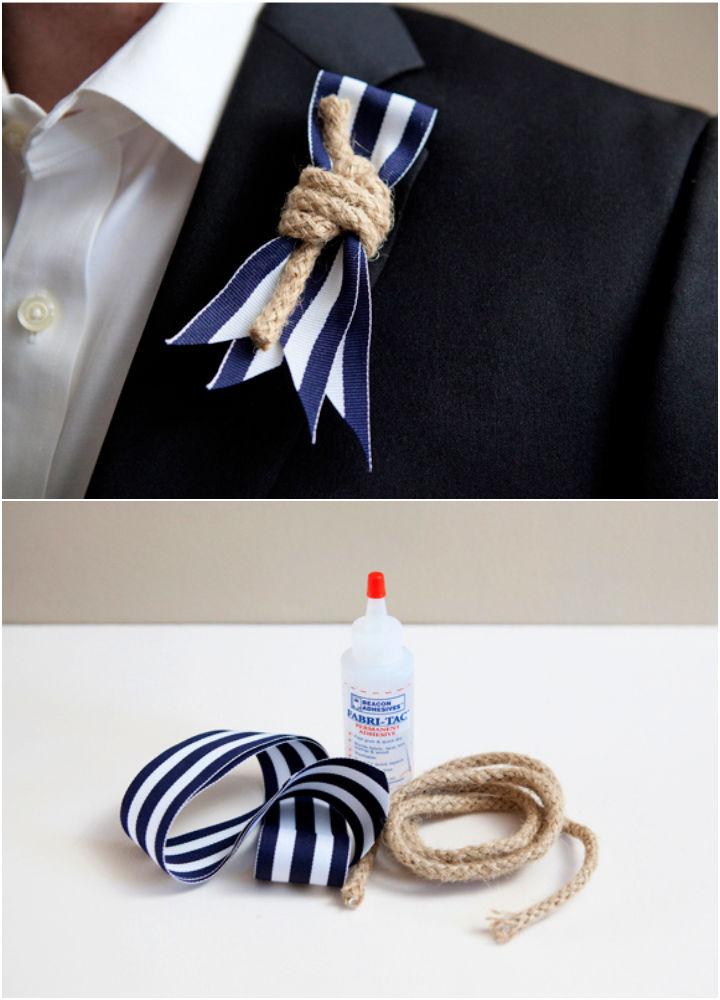 If there is a sea theme or the summer nautical theme party or wedding, then this DIY nautical rope boutonniere is the perfect thing to get your hands on. The things used to make this DIY nautical rope boutonniere are the blue and white striped ribbon, a classy button, fabric glue and a nautical rope. Follow more details of the idea here! somethingturquoise
14. Real Flower Boutonniere for Wedding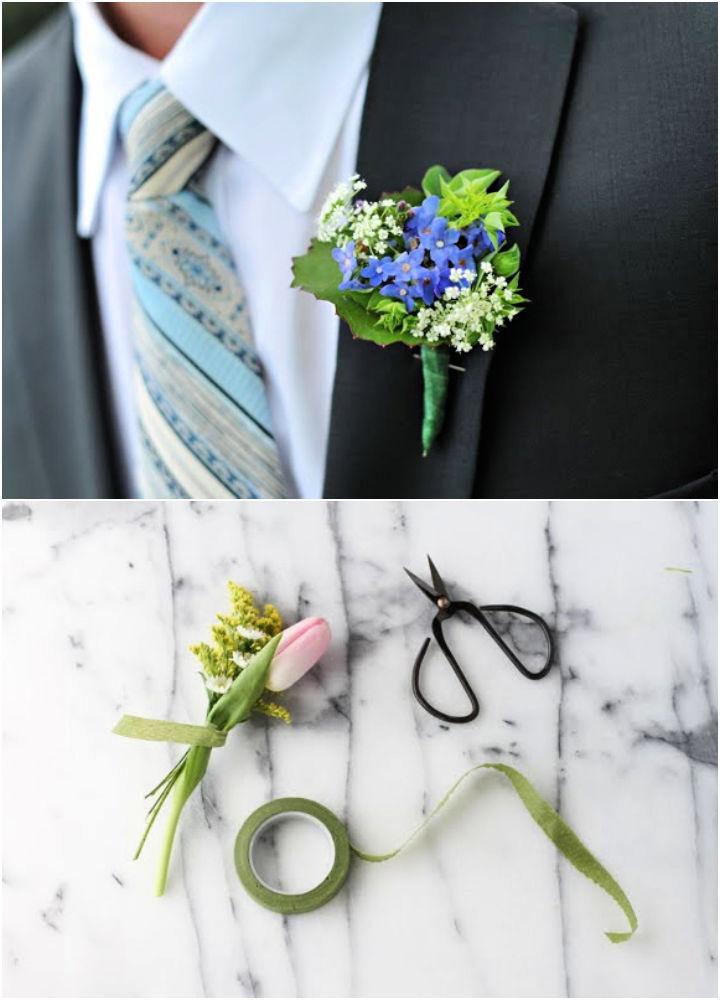 A boutonniere in the suit lapel of a man makes him perfectly ready for the formal events. The good thing is that now you can make your own flower boutonnieres on your own. Just get your hands on your favorite flowers and the greens along with the ribbons, wire cutters, corsage pins, and get the boutonniere ready. Details of the idea here! weddingvenue11
15. Homemade Personalized Boutonniere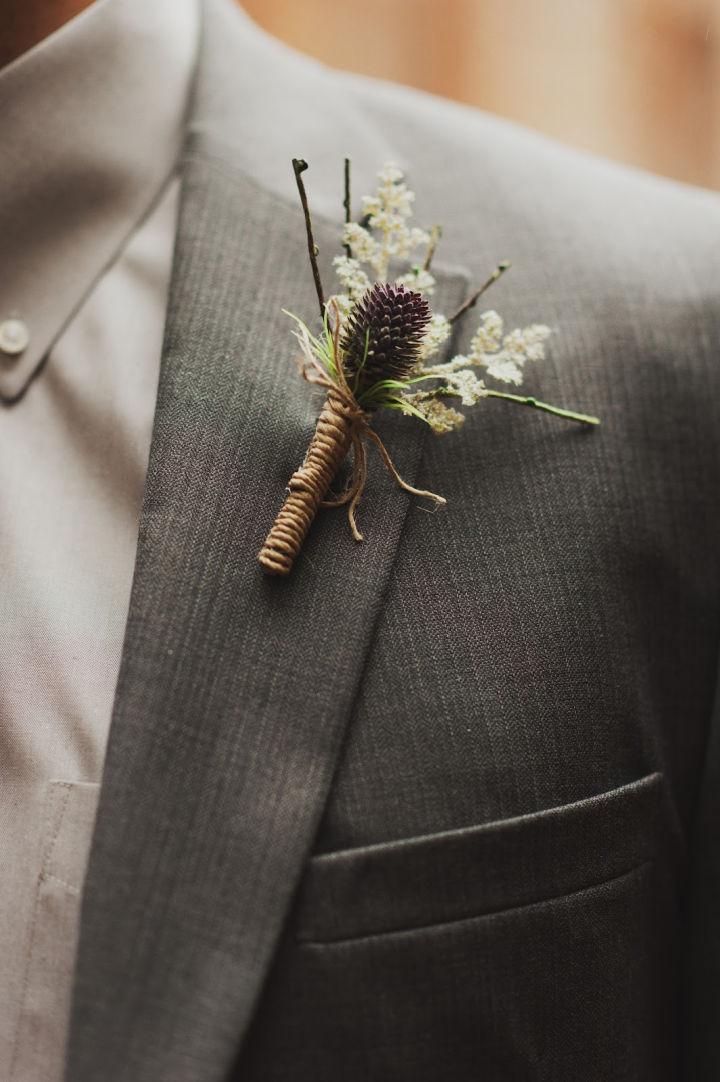 One of the good things about making a handmade personalized boutonniere is that you can customize it the way you want. Use your favorite flowers and make this homemade personalized boutonniere for them in the house to look charming and ready enough for the event. Follow the easy and fun tutorial right here! sewingbarefoot
16. Fathers Day Flower Paper Boutonniere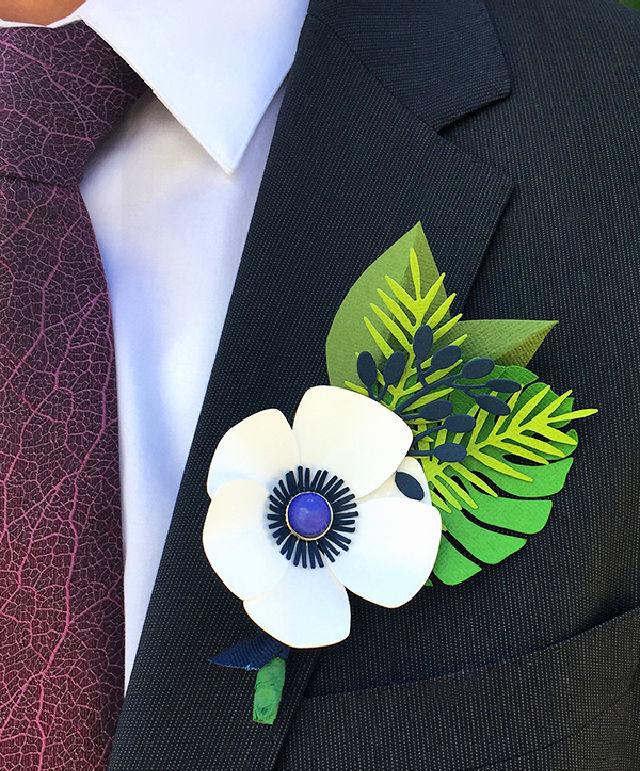 Make your dad feel special for father's day with this super lovely and cue father's day flower paper boutonniere to make on your own. Using white and green flowers, you can easily make the flowers, leaves and stems and then put them together to shape up this adorable boutonniere on your own. Check out the details of the idea here! jengallacher
17. DIY Seashell Boutonniere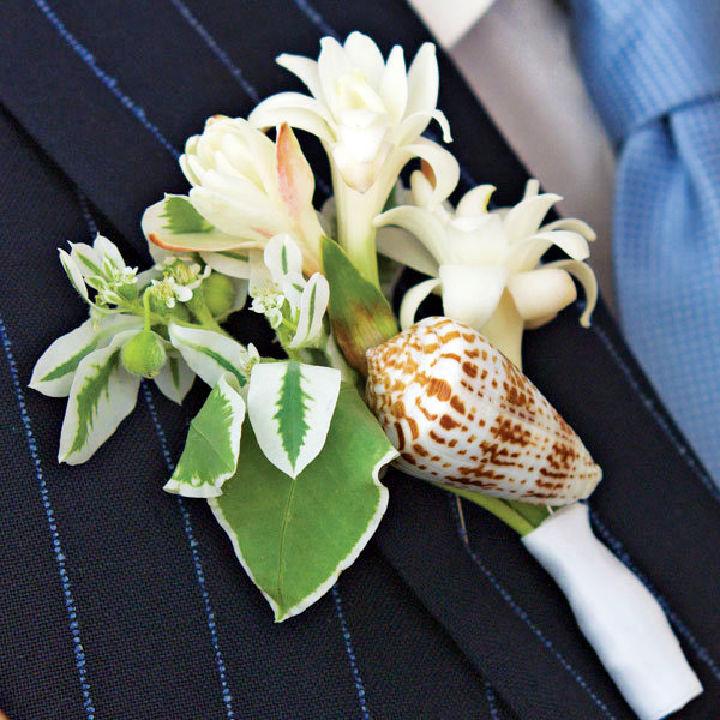 This DIY seashell boutonniere to enjoy the summer sea theme in a pure, elegant and classy way. The addition of the seashell to the boutonniere makes it look just super extraordinary and matches the theme of the sea or the beach. Regular things need to make this boutonniere like flowers, tape, greenery, pins and the seashell, of course. Check out the details here! bridalguide
18. Paper Flower Boutonniere for Women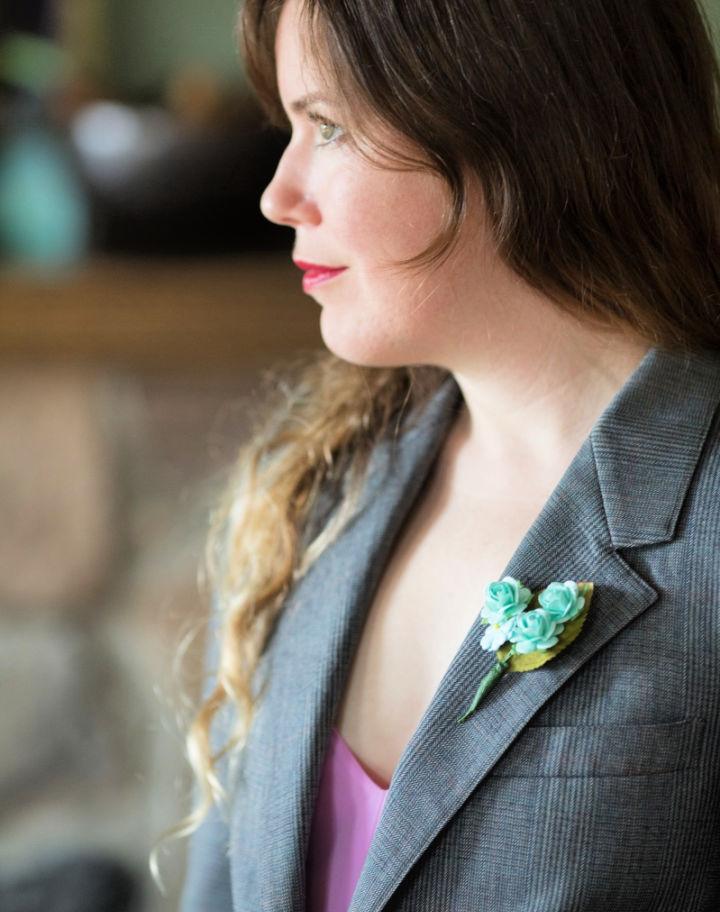 Suits and jackets make you look bold and badass, and an addition of a cute little flower boutonniere can really make you look less bossy. Yes, this paper flower boutonniere would add a touch of elegance, kindness and charm to your look and let you emit some really nice and noble vibes. Follow the details of the idea here! popshopamerica
19. Amazing DIY Wedding Boutonniere

Add a pop-up of color and charm to your groom on the wedding with this amazing DIY wedding boutonniere. Using a red rose, either real or artificial, along with the baby breaths, floral tape and corsage pins, you can easily shape up this boutonniere on your own. Check out the video tutorial of the idea right here! youtube
20. Homemade Boutonniere Out of Fake Flowers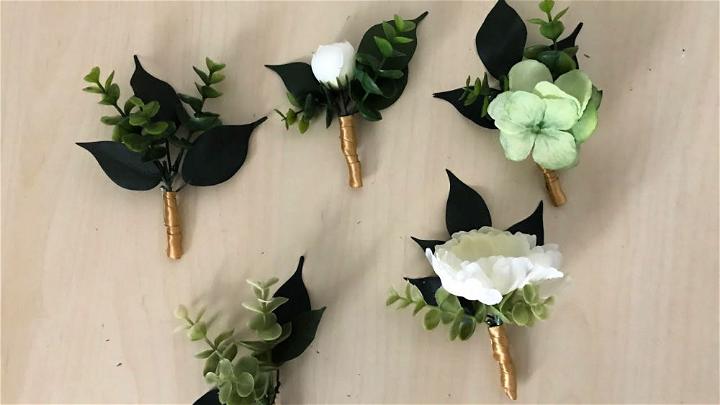 Either you want to get your husband or father ready for a formal event or get your boys up for the prom, these homemade boutonnieres are just perfect for them all. They are made out of fake white flowers, green leaves, and vines with a copper wrap to look catchy and cool. Learn to make them right here with video help! youtube
Conclusion:
Are you highly obsessed with the boutonnieres and corsages? Don't know how to make them at home? Then follow here these DIY boutonniere ideas and learn to make them at home. It will only take one or two of your favorite flowers, foliage and custom fillers to make the boutonniere you are looking for.
Along with the free step-by-step instructions and tutorials, these diy boutonniere projects will also share complete material lists, tool lists, and hardware and custom accent lists to quickly make you a boutonniere like a pro. These diy boutonniere ideas are easy and quick to do and will allow you to keep using the flowers you get from the bouquets and other home flower arrangements.