Before the scorching summer heats start teasing you, add up your outdoors with these DIY pallet pool ideas, sure to save you a lot of money. On the other hand, building a pool anywhere outdoor can be a matter of bigger investments. However, selecting pallets for building a swimming pool will not break your bank. However, it will be too easier to build a pool with pallets that you don't need to hire professionals for it. So, you can build all of the given DIY swimming pool designs yourself with pallets. They vary in shapes, heights, and sizes and also in lots of other features.
Explore these 15 DIY pallet pool projects providing amazing design inspiration and share various ways to build pallet swimming pools. At the same time, one can use these pools as outdoor spas to relax after a long busy day. All these projects are beginner-friendly and budget-friendly and will help bring those soothing waters into your property.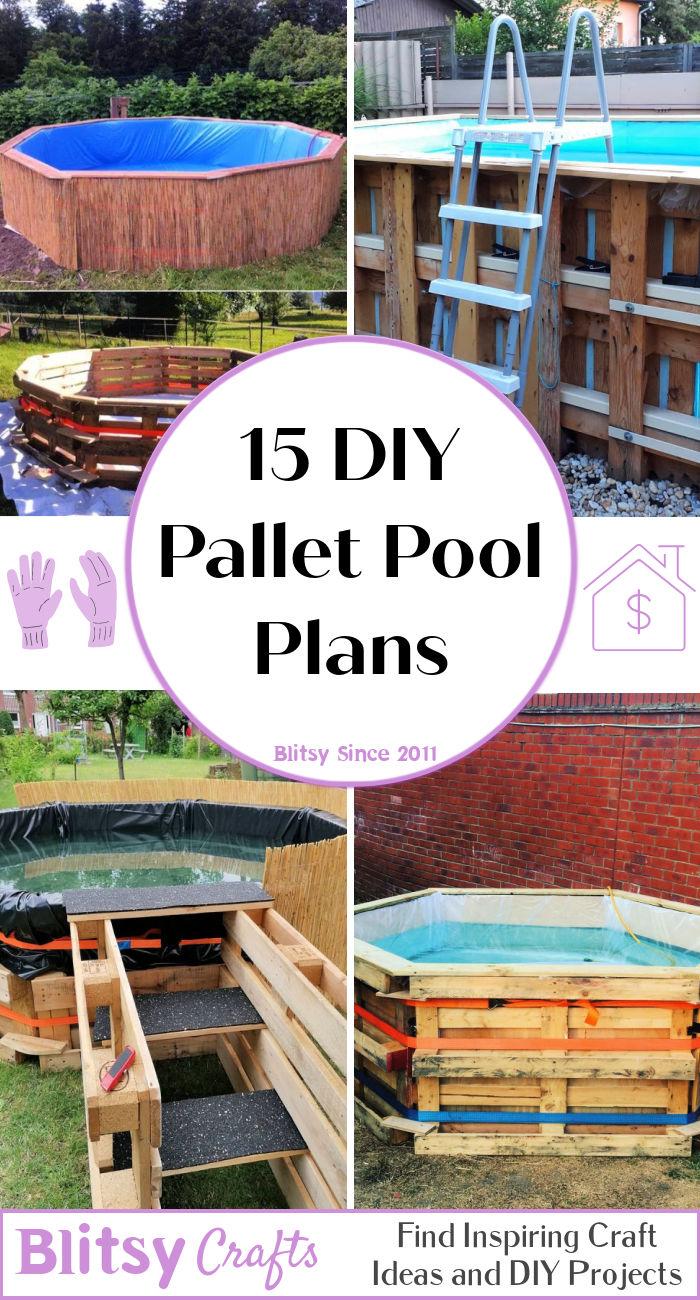 Most of the pallet projects are all about building highly stable poolside boundaries. Next, you can cover the whole interior with waterproof plastic pool fabric. Installing pumps, making PVC pipe plumbing connections, and building pool decks and stairs will be optional. However, you can strengthen the vertical pallets, building the pool's boundary, with ratchet straps that will go all around the pool frame. At the same time, you can use durable hardware and rope also for this purpose. Read through all these DIY pallet pool ideas to get a lot more creative information about the pallet swimming pool building.
1. IBC Above Ground Plunge Pallet Pool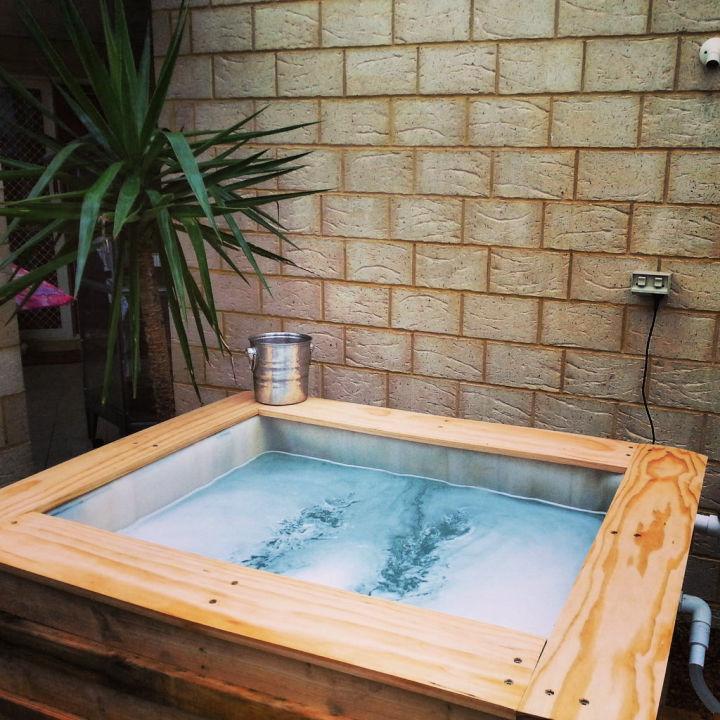 Due to being readily available in bigger stocks, the pallets are used for some next-level projects too. Follow here guides to build an above-ground pool out of some free pallets, sure to be an amazing summer fun project. Peek into details of this project that involves building an above-the-ground swimming pool using a 1000L IBC and some free recycled pallets. It will be the best spa and pool for both kids and adults. You also need plenty of PVC pipes with fittings, spa suction and provision jets to complete this wooden pallet pool. instructables
2. DIY Pallet Swimming Pool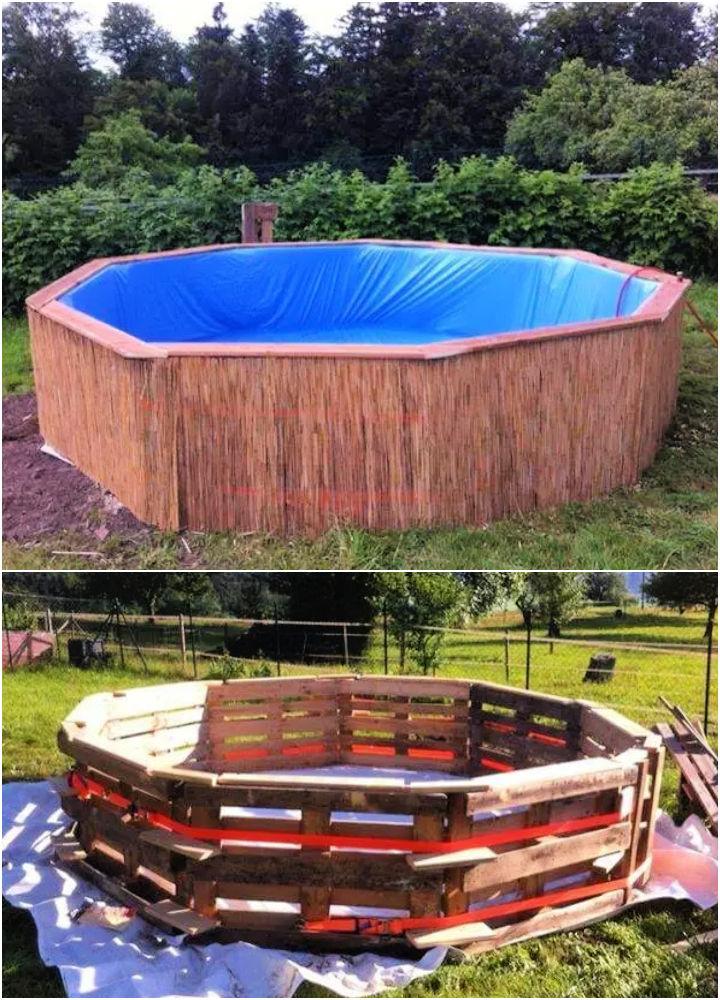 Get here instructions to build a giant outdoor pool with free rustic pallets. The first thing is to mark the area and build the pool boundary with the vertical positioning of pallets. Tie the pallets into pool shape using hardware and other heavy-duty ropes or ratchet straps. Spread the plastic fabric on the floor and also install the waterproof plastic fabric inside the pool. Do the plumbing connections and fittings, install the water pump, or bring a garden hose to the pool. Cover the whole completed design with cane reed fence panels, and this will give you a luxurious outdoor spa or pool in octagonal shape. easypalletideas
3. How To Make A Pallet Pool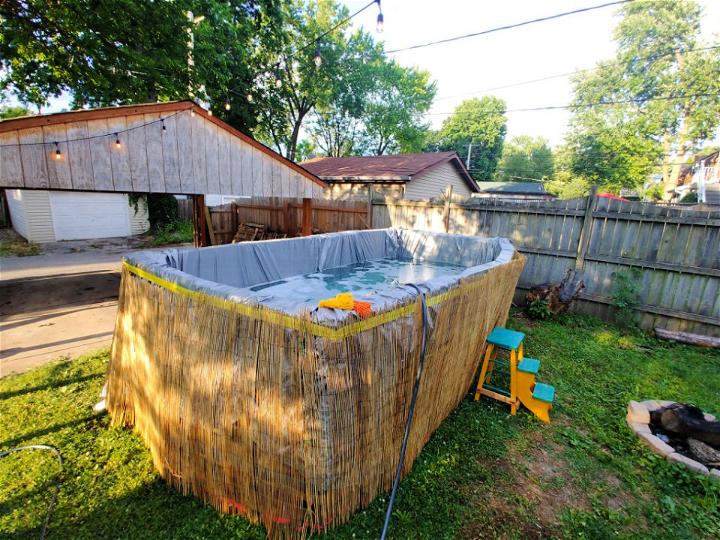 Want to boost the summer outdoor water fun? You should consider building an outdoor pool, and it can be a bigger investment for sure. However, you can head over to some free pallets to build one economically. Look at the given luxurious pool model that you can build yourself. You need pallets, tarp, 3" deck screws, 2" ratchet straps, pavers, mulch and some leftover wood for bracing to complete this solid and beautiful wooden outdoor pool. First, align the pallets vertically to build the pool frame. Cover the whole inside of the pool with plastic waterproof fabric and finish by making the plumbing connections. archreactor
4. Pallet Pool With Pallet Deck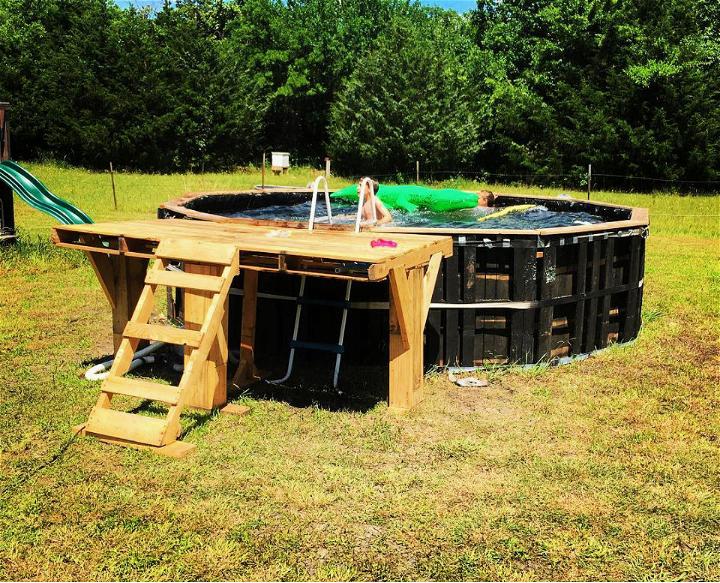 You will keep on staring at this outdoor water fun station made of pallets. This is where the handsome-looking octagonal swimming pool is made of pallets, and it also comes with a nice wooden deck made with pallets. The construction starts by putting the pallets vertically in a round shape. Next, use custom hardware and ratchet straps to assemble the pallets in shape durably. Make the plumbing connections using PVC pipes and use the leftover pallets to build stairs and pool deck. Install the plastic pool fabric inside, and then fill it up with water.
5. Pool Made From Pallets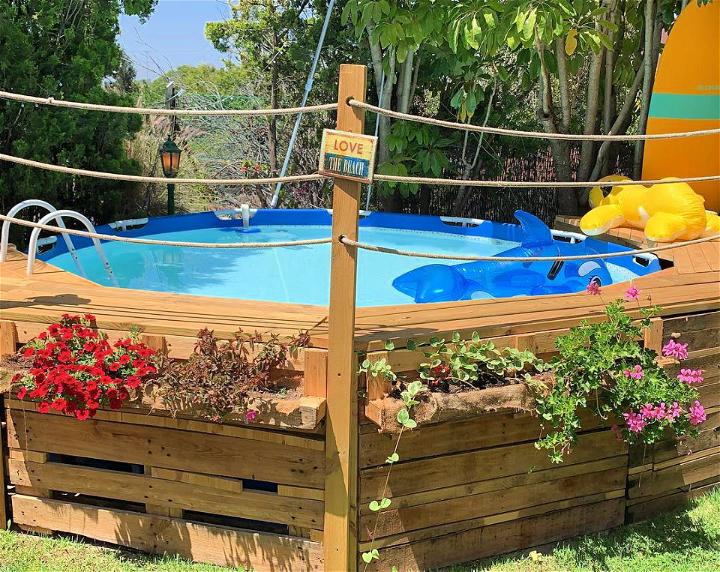 Nothing will help beat the summer heat but the outdoor water fun. You will love this stunning design of wood pallets, truly something mind-blowing to look at. This handsome pool is made with pallets and is strengthened by installing the vertical wood poles and threading the heavy-duty rope into them. What makes this entire pallet wood look amazing is the top-built deck, colorful hanging planters and some lights. Use the PVC pipes for plumbing connections—one of the best DIY Pallet Wood Pools to make at home.
6. Recycled Wood Pallet Pool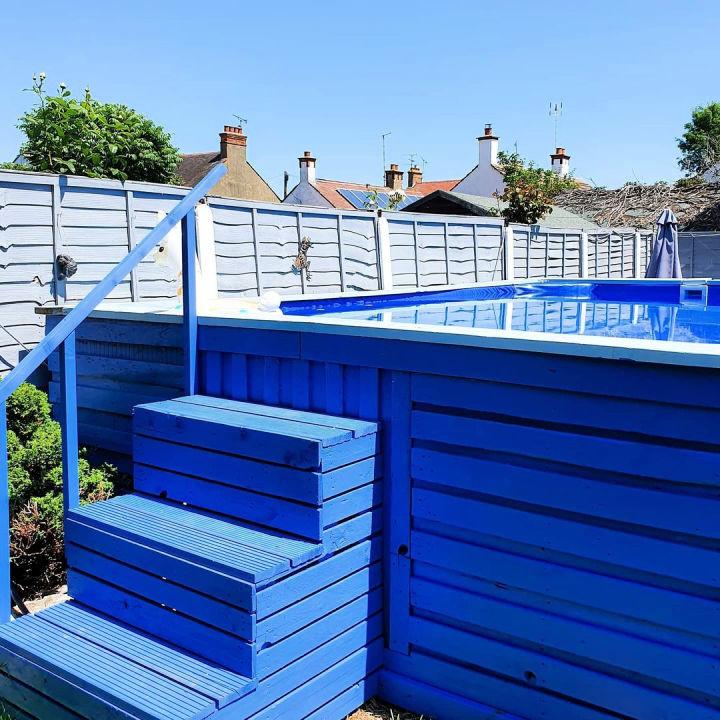 You can do wonders with the rustic wood pallets, and this solid wooden swimming pool is one of those creative pallet wood wonders. Follow here guides to build a solid wooden swimming pool anywhere outdoor. The project involves building each part of the pool, like the overall boundary, the stairs and even the pool deck, with free wood pallets. Finally, the entire wood pallet pool is painted in aqua color for bigger decor statements—one of the best DIY pallet wood achievements that everyone can do with ease.
7. Swimming Pool Made Out Of Pallets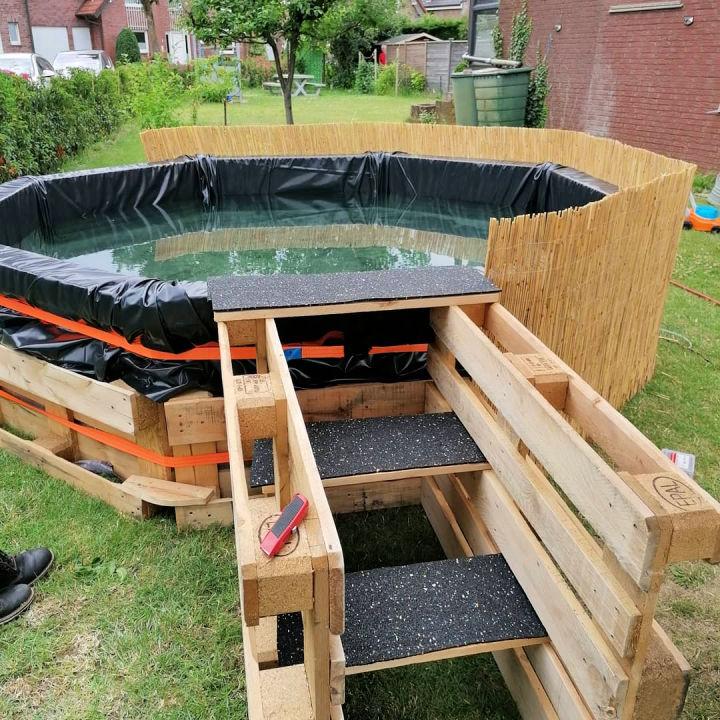 Building a swimming pool is always a bigger investment, and it is unaffordable for many of us. But here, you will learn to build a lasting, longer wooden swimming pool out of free wood pallets, which will certainly come in everyone's budget. Not only the swimming pool, but you will also learn to build the stairs with free pallets. Decide your garden area to build the swimming pool, and then hold all the pallets together using the ratchet straps. Install the additional pallets to build the swimming pool deck and stairs and cover the whole boundary of the pool with mulch. Use the heavy-duty fabric to put inside the pool. Don't forget to cover the stairs with your favorite mat-like materials.
8. Affordable Pallet Swimming Pool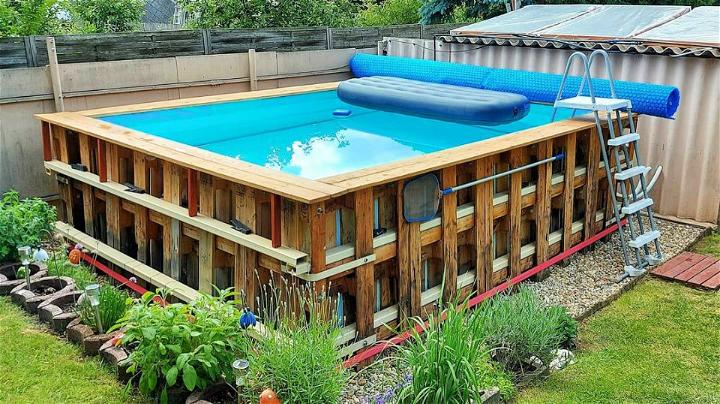 Staring at this beautiful wood pallet swimming pool will surely put you in great amazement. It is built solid and enchants with solid wooden boundaries all around. The pool comes in the perfect rectangular boundary and is a smart pallet wood built. The whole project will be easier, from building the solid wooden pool frame to installing the indoor fabric to adding the pool chairs. Use the ratchet straps to hold the whole pallet pool frame strongly in place. The boundary of the pool allows the users to hand and store a lot of other materials too.
9. Pallet Pool For Kids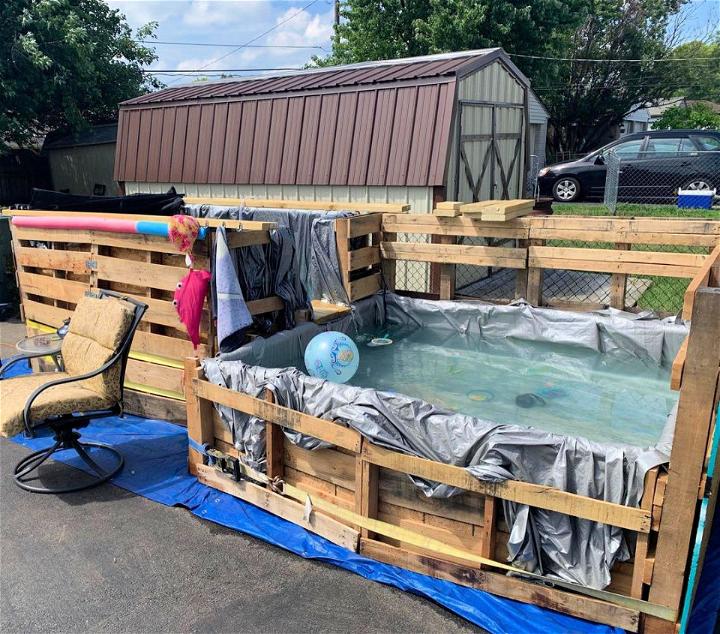 Willing to repurpose the pallets for summer outdoor water fun. You can easily build awesome outdoor showers and even pools out of them. Grab here guides to build an outdoor swimming pool out of recycled pallets, and this will help beat the summer heat beautifully. Align the pallets beautifully to build the overall pool frame, and then cover the whole inside of the pool with waterproof plastic fabric. Use a water hose to fill the pool with water and let the kids jump into it.
10. Kiddie Pallet Pool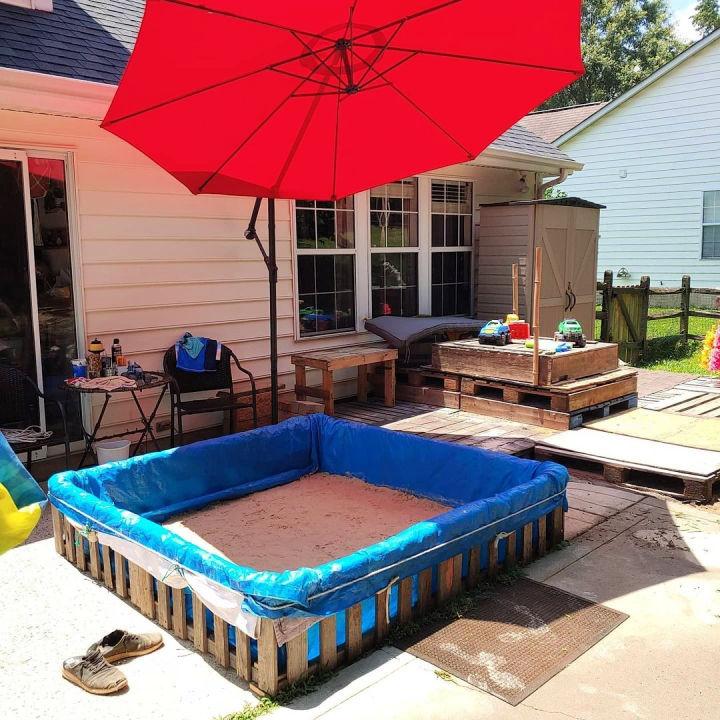 Willing to build a cute miniature pool for the kids this summer? But don't have the very required investments for that? Then time to build this fantastic wooden outdoor swimming pool for kids with boundaries made of rustic wood pallets. It enchants with the square wooden boundary all around. This pool can be filled with water and sand and be a big entertainment center for the little kids at home. You need free pallets, plastic fabric, rope, and custom hardware to duplicate it easily.
11. Pool From Old Pallets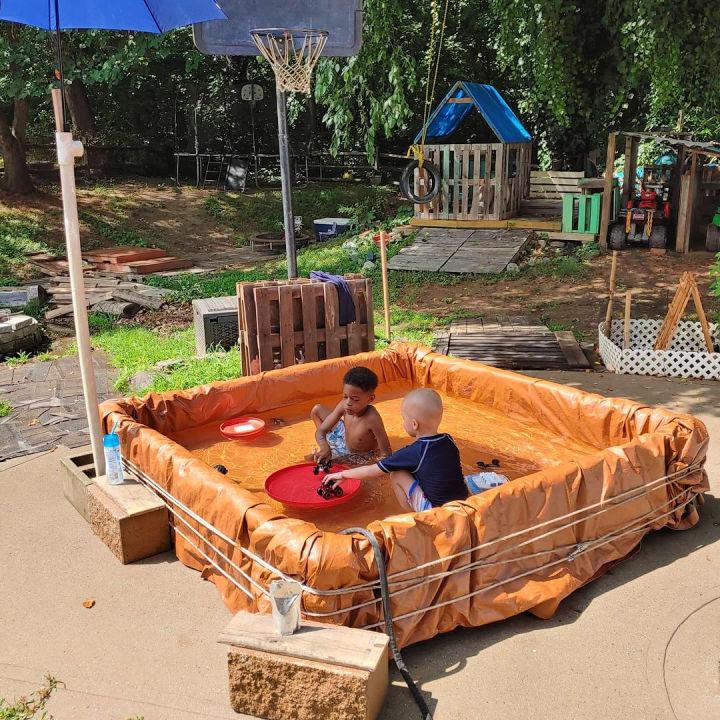 Duplicate this another easy-to-build design of an outdoor swimming pool that will create too much fun for the kids. All parents can easily set it up using the free pallets and some waterproof plastic cloth. The idea is to build the pool with pallets and to cover it entirely with waterproof plastic fabric. Use the heavy-duty rope to hold the entire pool fabric in place tightly, and then fill the whole pool with water. You can add sand also to it if your kids love to play with sand. The best outdoor pallet pool that makes a great sandbox also.
12. Very Creative Pallet Pool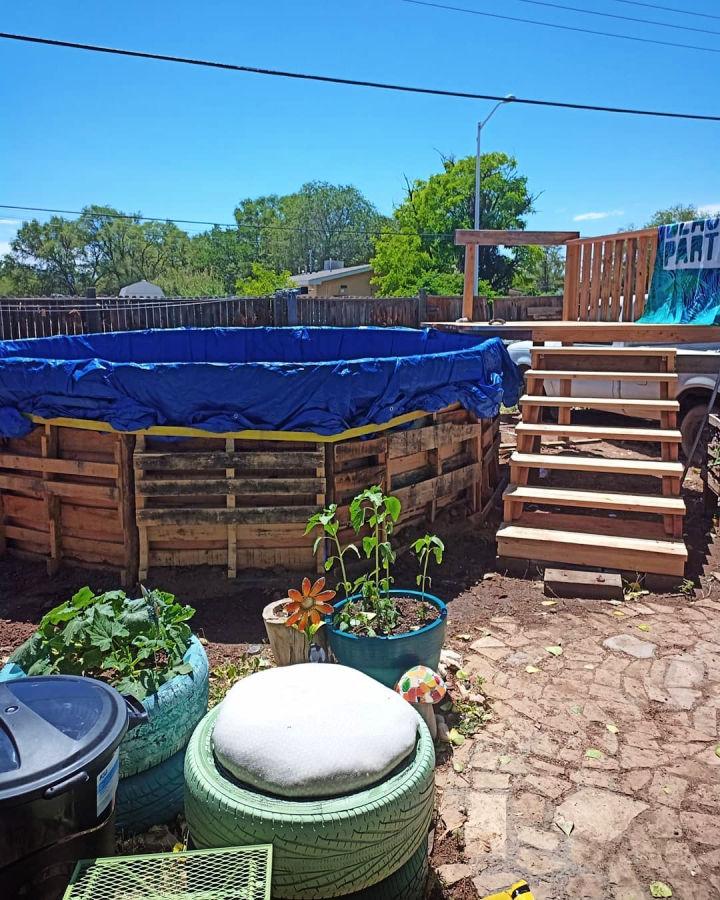 You will love to get creative with pallets again and again after peeking into the details of this wooden pallet swimming pool project. Yes, here a big pool is built with free pallets and to avoid water leakage the whole pool is covered with plastic waterproof fabric. The project is all about building the pool frame by aligning the pallets vertically. Use the heavy-duty rope and ratchet straps to hold the vertically standing pallets in an exact round frame or shape durably. Cover the whole pool inside with the waterproof plastic fabric, and that's it. This pool also comes with the stairs and pool deck, both made of leftover pallets.
13. Pallet Swimming Pool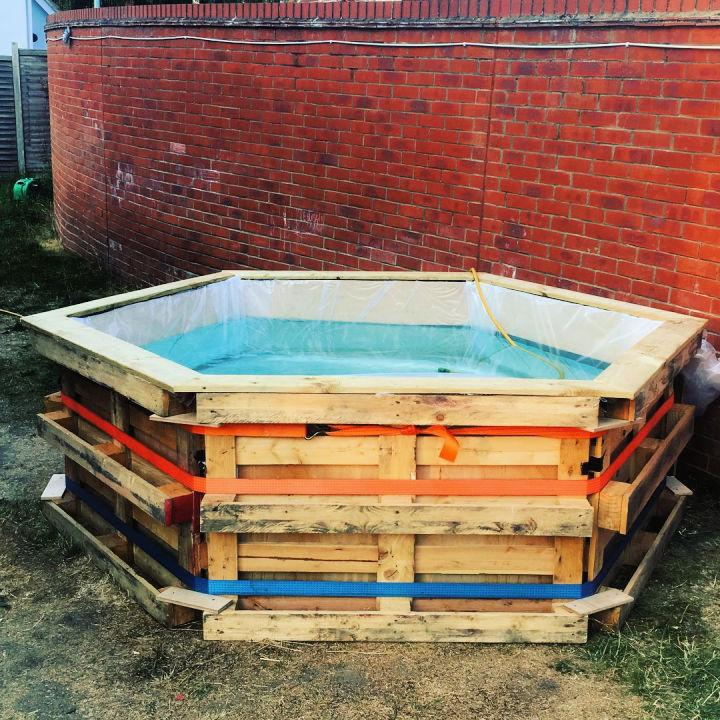 The pallet swimming pool designs are never-ending, and you can put pallets in various shapes to build lasting longer wooden pools. You will love this hexagonal outdoor spa or mini pool, sure to be the perfect relaxing spot after a long busy day. Aligning the pallets vertically to build the pool is what the project is all about. Hold the pallets together strongly using the ratchet straps and also use the latest hardware to assemble them. Before installing the final hardware, make sure the whole inside of the pool is covered with waterproof fabric, and the fabric is well stretched over the edges.
14. Euro Pallets Pool

The EURO pallets are one of the best pallets that come with precise design dimensions. The perfectly built shapes of EURO pallets always help bring lots of precision to your project. So, here the EURO pallets are used to build this big rectangular pool, sure to be a big recreational sport at your outdoor. It will be a great outdoor improvement that will help beat the summer heat and booting the kids' activities. Without hiring a professional, you can easily build this lasting, longer design of wooden pallet pool.
15. Pallet Pool For Summer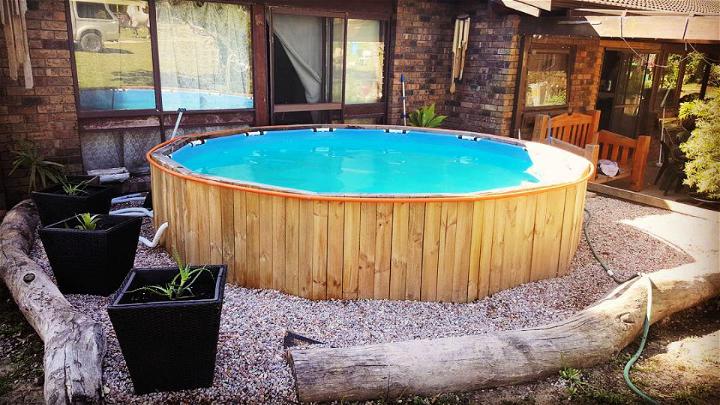 Are you willing to spend the summer season happily without getting roasted by the sun? Then time to be in this outdoor pool every time you feel hot in summer. This giant outdoor spa or pool is made of pallets and provides enough space to swim. Kids will find it a perfect playing spot in the summers, which will certainly create never-ending fun. Use the pallets to build the outdoor boundary of the pool and then install the inside waterproof fabric lining. Install the plumbing pipes, pump, stairs and also a pool deck if possible.
Conclusion:
Pallets are being used extensively worldwide for doing some great DIY furniture, home decor and other home and garden improvement projects. Now, you can build outdoor swimming pools also out of free recycled pallets. These DIY Pallet Pool Projects will share comprehensive details about planning the pallets for so many amazing swimming pool projects. From easy to intermediate to advanced, there are pallet pool projects for all skill levels. At the same time, you will get here pallet pool projects fitting to so many different budgets. Reading and looking through these projects will surely provide lots of creative information about how to easily build a swimming pool right on your property using free pallets.