Building these wood pallet backdrop ideas to get rustic appeal to your wedding and party decor themes. Building a rustic pallet wedding backdrop or stage background can be a frugal way to build one for yourself in no time. Explore these 20 cheap and easy wood pallet backdrop ideas made for weddings, baby showers, bridal showers, and birthdays. Some pallet photo backdrop comes with enchanting lights, and others appear with graceful flowers and greenery.
Some of these DIY backdrops are grabbing attention with the balloon arches, and others win the heart with the painted and stenciled art design. Choose any from the list that suits your needs or grabs your attention the most. One thing is guaranteed, they are all budget-friendly and easy to install even for a beginner. With an amazing recycling potential, the pallet projects have become one of the favorite materials for home, wedding and party decorations.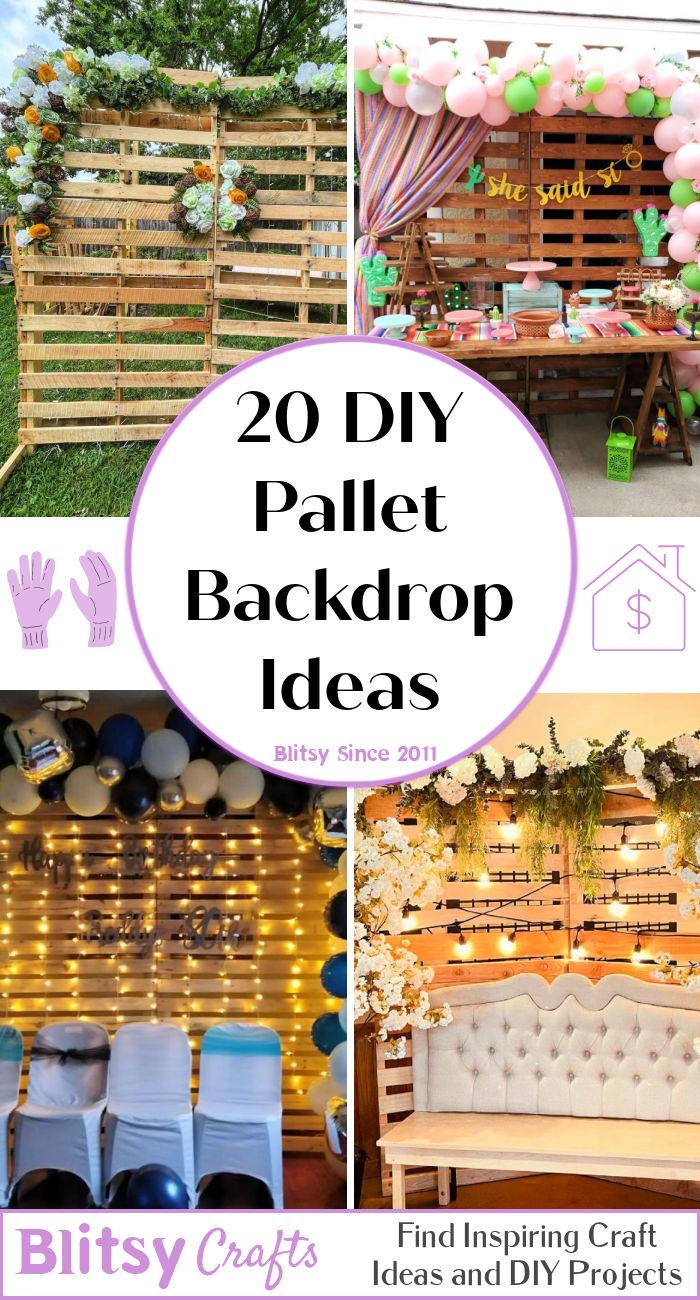 Just like you build the portable wood pallet walls or pallet dividers, you can set up the pallets vertically for a large wooden background. Next, you can decorate it in the way you like while using lights, balloons, flowers, stencils, and everything you find interesting and appropriate. Looking through these DIY pallet backdrop ideas will surely give you tons of design inspirations to choose from. However, these rustic wood pallet backgrounds can be added to party photo booths and professional studios to add interesting antique backgrounds to photos.
1. Pallet Photo Backdrop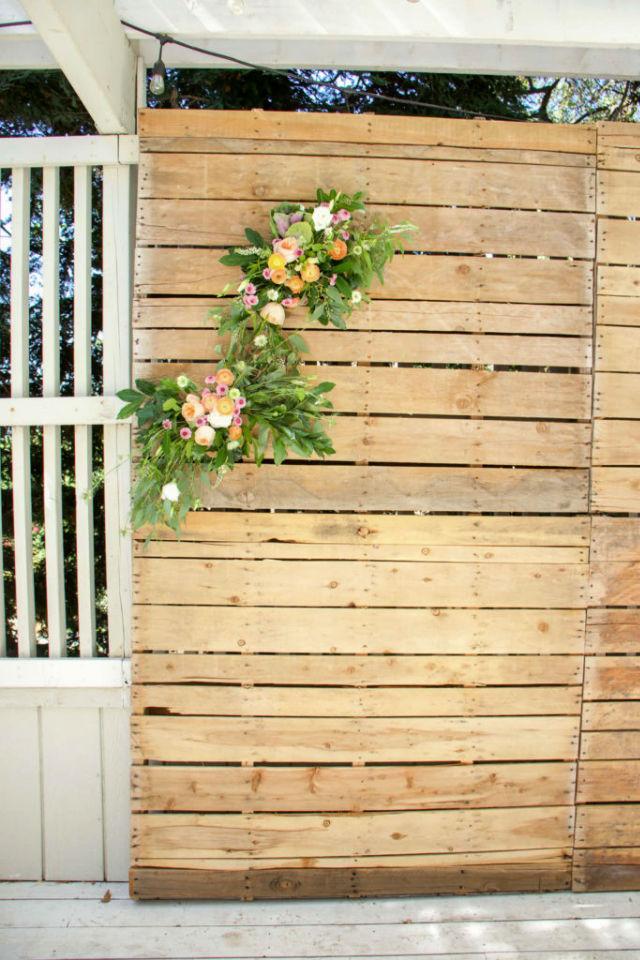 Are you willing to elevate the theme and decor of an event by installing a beautiful DIY photo backdrop? Opt for this wood pallet photo backdrop that will be great for a rustic party theme. Just put together a few pallets to build a solid wooden wall and then add a little greenery to it for a brilliant garden or natural flair. This will be your rustic backdrop that you even install to the party photo booth. Opt for this glam wood pallet backdrop when you need a rustic one for your professional photo studio. Don't forget to add lights for some amazing night view. okayestmoms
2. DIY Portable Pallet Backdrop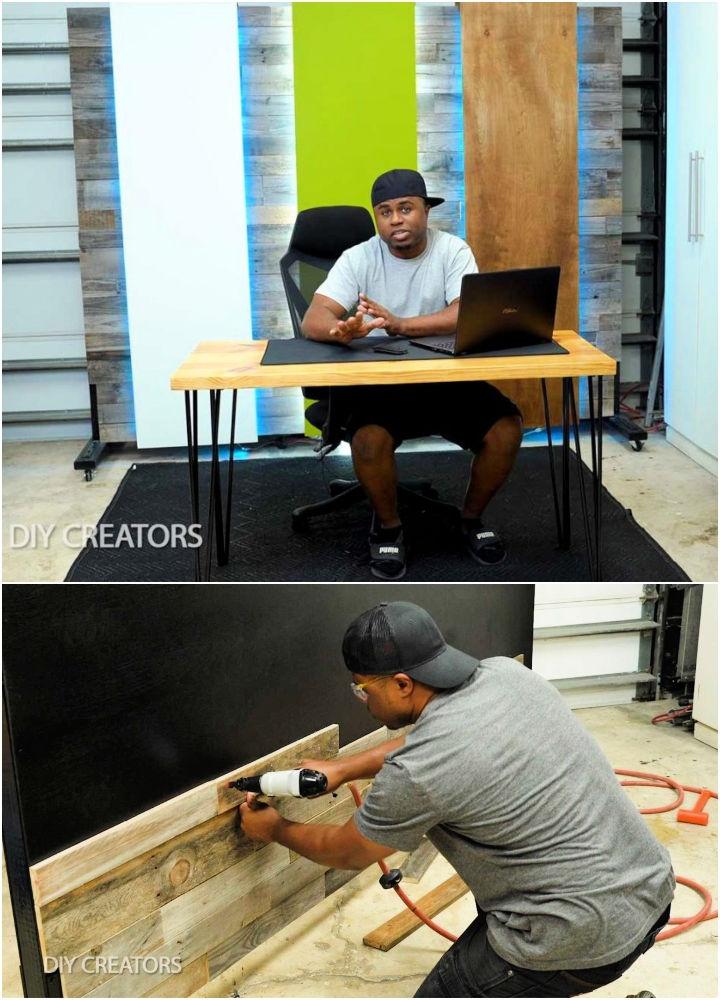 Wood is the most natural element to install in your home for a brilliant touch of natural elegance. So, follow here quick guides to install a portable wooden accent wall at a fraction of cost. It is made of rustic pallets and will help bring that necessary antique touch to your modern interior. The addition of LED lighting makes it appear extra beautiful and modern also, and it will also make a great backdrop for the party. You need lots of pallets, 2×3 lumber boards, ¼" plywood, 2x4s, 2" casters, ¼" x 1" lag bolts, 10" corner brace, wood glue, danish oil, masking tape, paint and LED strip panel in RGB and white color to complete this project. diycreators
3. Wooden Pallet Backdrop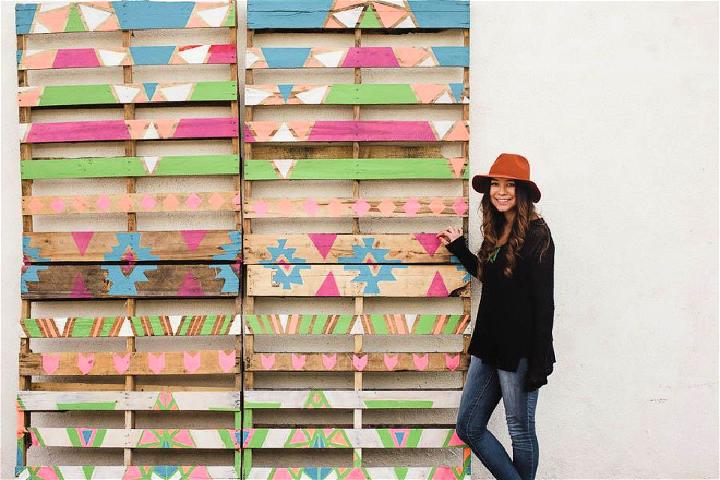 You can go handmade with pallets to build some amazing wedding backdrops, also like a pro. The project is based on painting skills and involves drawing and painting so many different patterns on the pallets making the backdrop. It will take about 4-6 pallets to build this lovely backdrop. Moreover, you also need painter's tape, bright-colored paint, paintbrushes, wood screws, drill and plumbers plastic hanger strap to duplicate this rustic wood pallet backdrop. stylemepretty
4. Floral Rustic Pallet Wedding Backdrop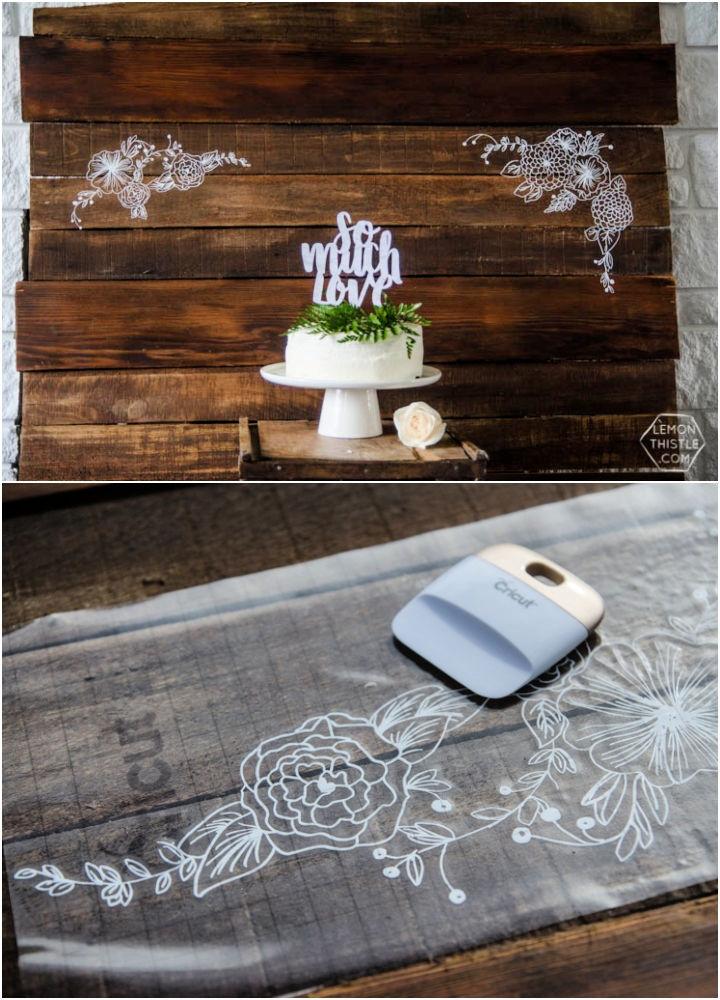 Take the rustic elegance of the rustic wedding theme to the next level with this rustic floral backdrop. This is here a crazy pallet wood achievement that everyone can do with ease. You need a pallet or other scrap wood, saw, sander, stain, drill with 1″ screws, Cricut Explore, white vinyl, transfer tape, floral design and custom wedding tools to easily whip up this rustic floral backdrop. Just cut the floral design on the white vinyl, and then weed it up. Adhere it on the wooden backdrop, and that's it. Add custom vinyl letters and quotes also for added visual grace. lemonthistle
5. Pallet Photo Backdrop With Balloon Garland

However, you can add balloons to pallet wood walls and build interesting wedding backdrops in no time. Here you need a total of 4 pallets and a balloon arch to complete this arresting rustic yet modern backdrop. It will rock for the wedding photography and is a total breeze to whip up also. The pallet photo backdrop project involves using assorted colors and sizes of balloons. The selected balloon colors are creamy white, light peach and copper. However, you have the freedom to try out this project with your favorite balloon colors.
Pallet Ideas You'll Love To-Do:
Pallet Wall Art: Pallet art project is a perfect choice. To get the rustic and warm feeling in your home follow this pallet wall art project to build one for yourself.
Pallet Signs: Building a wooden pallet sign is a great way to present a chic and rustic hanging decor in your home.
6. Pallet Backdrop with Lights For Wedding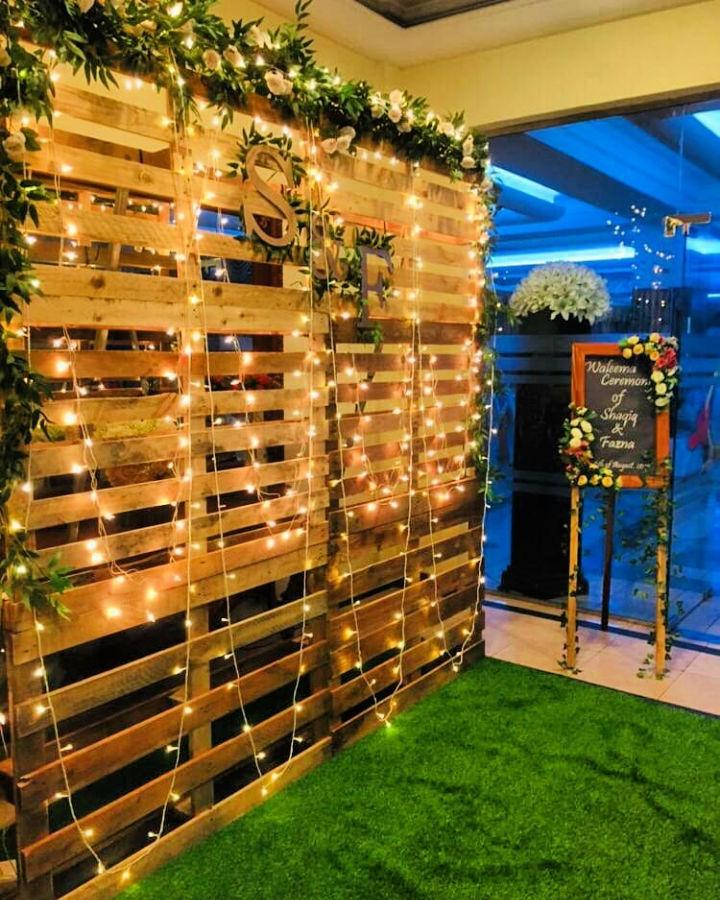 Intending to make some cool wedding backdrops with some fabulous lighting effects? Then you will surely fall for this arresting design of pallet backdrop with lights that come loaded with tons of greenery and lights. What makes it look super unique is the addition of name letter initials that are also spruced up with the greenery. Put together the rustic wood pallets vertically to construct this arresting backdrop wall. Next, you can use the custom flowers with fillers and LED string lights to decorate the completed backdrop more. It will rock for the party photo booths and professional photo studios also.
7. Baby Shower Pallet Backdrop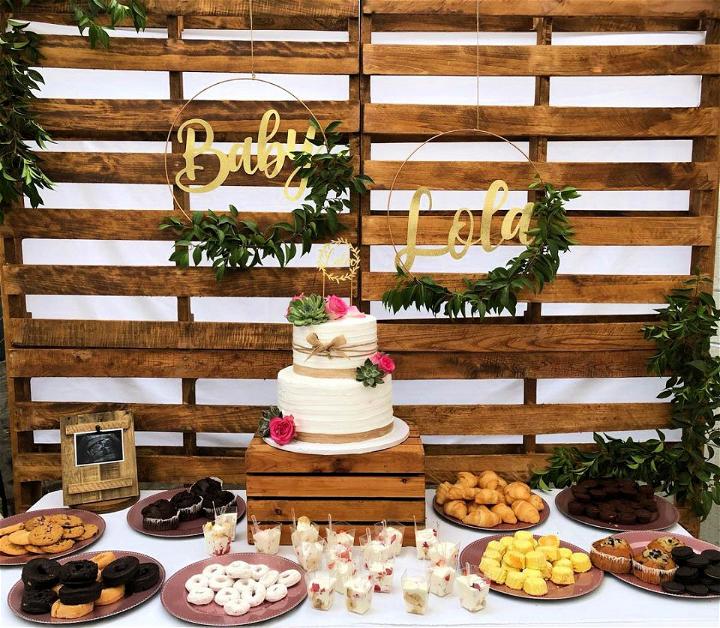 Rock the entire baby shower also with this easy-to-build wood pallet backdrop. It gives an impressive rustic background to the entire party dessert table and is a total breeze to build, even with minimal carpentry skills. Put together the rustic wood pallets to cover the targeted area and then load the flowers and greenery on it for an amazing green and floral touch. The baby's name appears in the metal hoops that are also spruced up with the faux greenery. One of the best DIY pallet backdrops for the baby shower party.
8. Pallet Ceremony Backdrop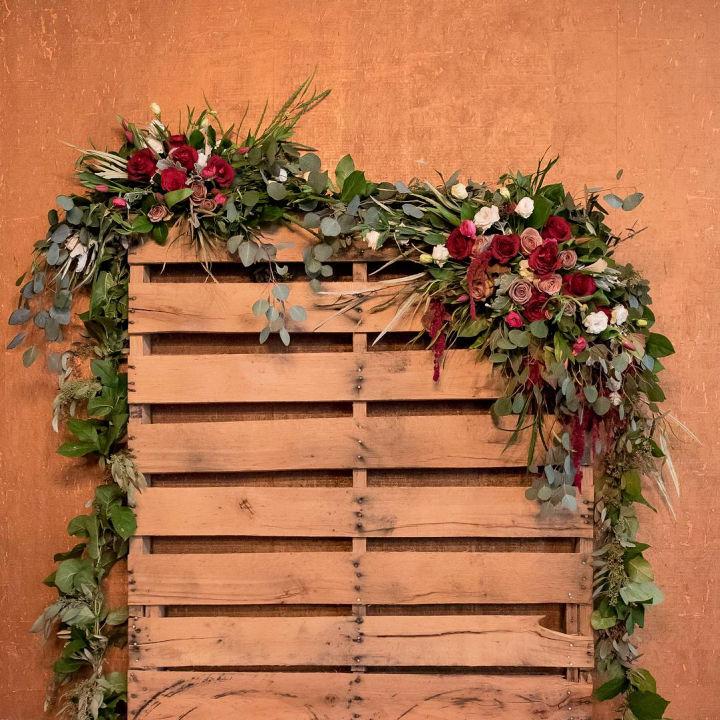 Sorting out the best rustic backdrops for a rustic wedding theme? Hiring a professional to build one can get expensive. But you can save tons of your costs by whipping up this wood pallet rustic backdrop. It looks amazingly graceful with the glam touch of wood and floral elegance. The best part is that you can build it simply with 1 or 2 pallets. Just grab a rustic pallets and then load tons of greenery on it along with some colorful flowers to complete this fantastic rustic wood floral backdrop.
9. Pallet Wedding Backdrop
Use this wood pallet wedding backdrop as a great divider or backdrop at the same time. This is something totally easy and quick to build with minimal crafting and carpentry skills. You only need some pallets, scrap wood pieces, assembling hardware and some flowers with fillers to complete this wedding backdrop. Stack up to 2 pallets vertically to build each vertical panel for a backdrop. Put both panels with loads of greenery and faux flowers to easily duplicate this rustic wood pallet wedding backdrop. The entire project will be super economical and much doable for all.
Pallet Furniture: Use these cheap, easy, and wood pallet furniture ideas to build great-looking furniture and accessories for your home.
10. Pallet Bridal Shower Backdrop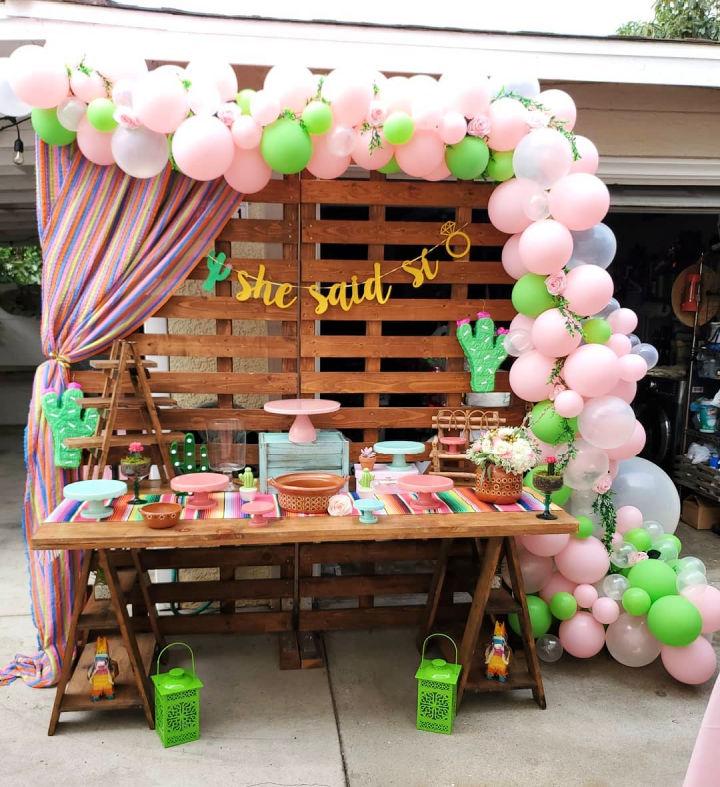 Impress all with your bridal shower decorations and settings by installing this rustic wood pallet bridal shower backdrop. It comes with a quoted garland, curtain, and a large balloon arch It looks stunning with the colorful balloon and natural wooden appeal. The entire backdrop design is super easy to construct as it involves simple arrangements and stacking pallets. However, you can secure the wood pallets in place using durable hardware. Get your kids also involved to make the quick lovely balloon arches. One of the best and quick-to-build wood backdrop projects ever.
11. Pallet Birthday Party Backdrop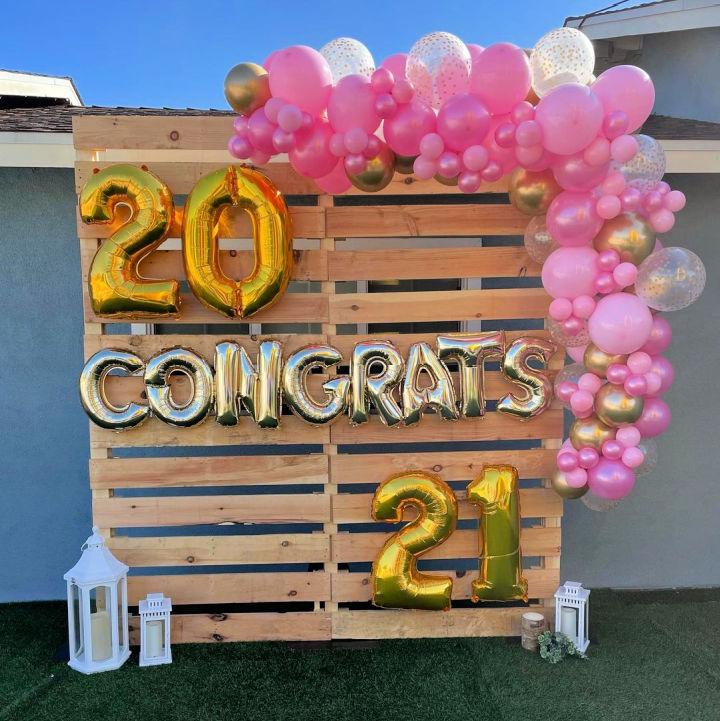 The backdrops are the real beauty of party decorations. However, there is a backdrop for every party theme, but a rustic backdrop can go with almost every party theme. So, opt for the rustic pallets to whip up some quick, beautiful rustic wooden backdrops for your party spaces. Get inspired by this wooden pallets birthday backdrop that looks stunning with the balloon arch, balloon letters and also with congrats letters. It Put together 1 or 2 pallets together to easily whip up the entire wooden frame. Next, load the custom balloon, balloon numbers and letters on it, and that's it.
12. Pallet Graduation Party Backdrop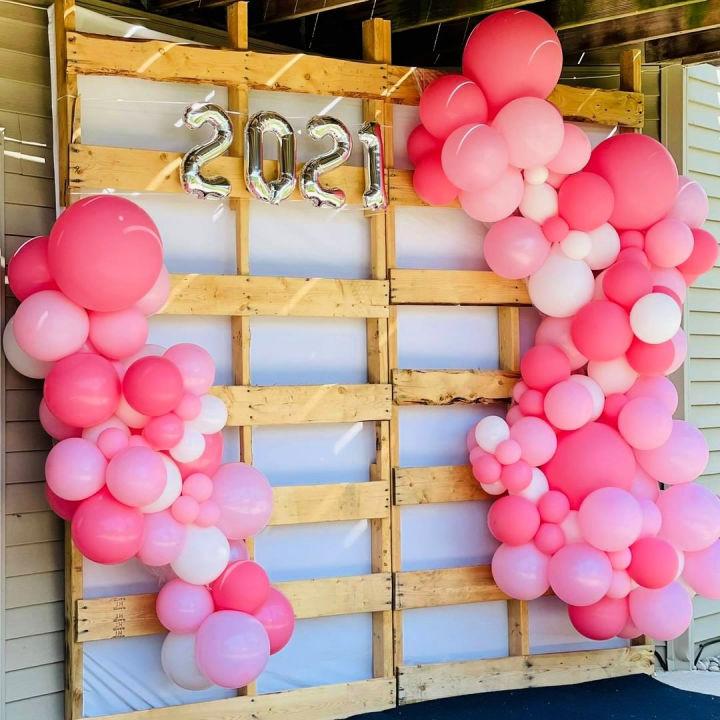 Sorting out the best backdrop for the graduation party? Then nothing will work great, but this wooden pallet graduation party backdrop, rustic and elegant at the same time. Just cover the pallets with custom paper or fabric that will be visible. Next, add the party balloons on ti and also custom balloon letters to gain a quick backdrop. However, You can decorate it more using custom graduation-inspired decors like diplomas, graduation hats, and more. The backdrop will fit every theme, and you can even paint and stencil the pallets to match a custom party theme.
13. Rustic Pallet Brunch Backdrop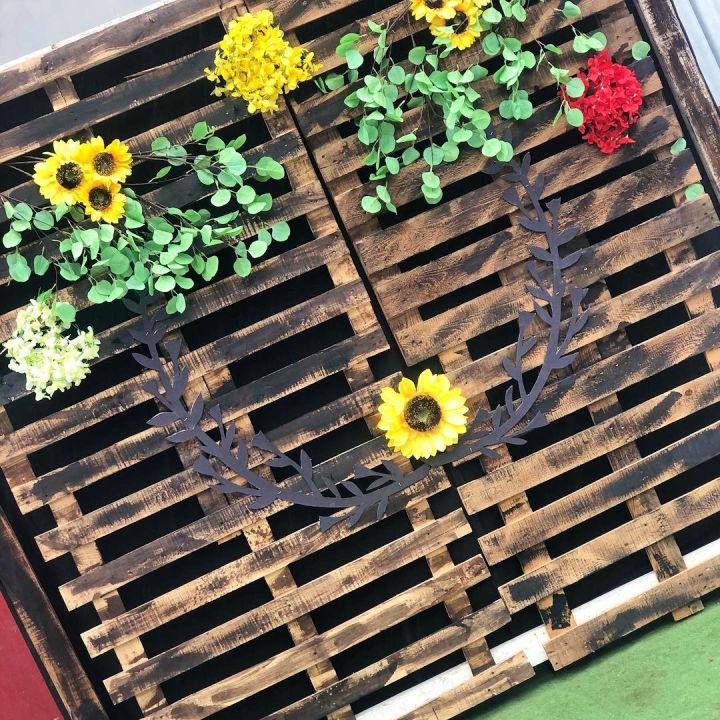 The design ideas for the rustic wood pallet backdrops are never-ending. Presenting here another gorgeous rustic pallet wedding backdrop design that is much visually captivating and can quickly be made at home. Build the wood pallet wall using the wood pallets and then load the faux or real greenery and flowers in the custom assortment. Use the custom paper cutouts also to decorate the backdrop more, and it will never get out of style for sure. The entire project will be a piece of cake for you to do once you arrange the pallets vertically on each other.
14. Cheap Pallet Wedding Stage Backdrop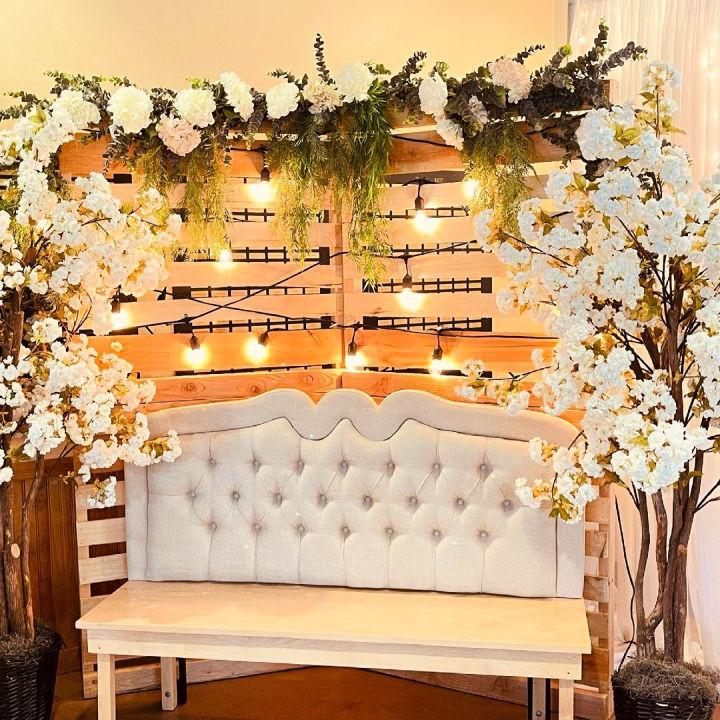 Your urge for the marvelous wooden wedding backdrop will end up here. Just peek into the details of the given wooden pallet wedding stage backdrop that is much visually captivating and will complete just at the drop of a hat. It features adorable lights, a wooden background, tons of white flowers, and greenery and will surely fancy up every wedding stage. 2-4 wood pallets skids will be enough to whip up this solid wedding stage backdrop, sure to be a big love of all. The entire project will be completed simply in no time, and every beginner will just love duplicating it too.
15. Pallet Baby Shower Backdrop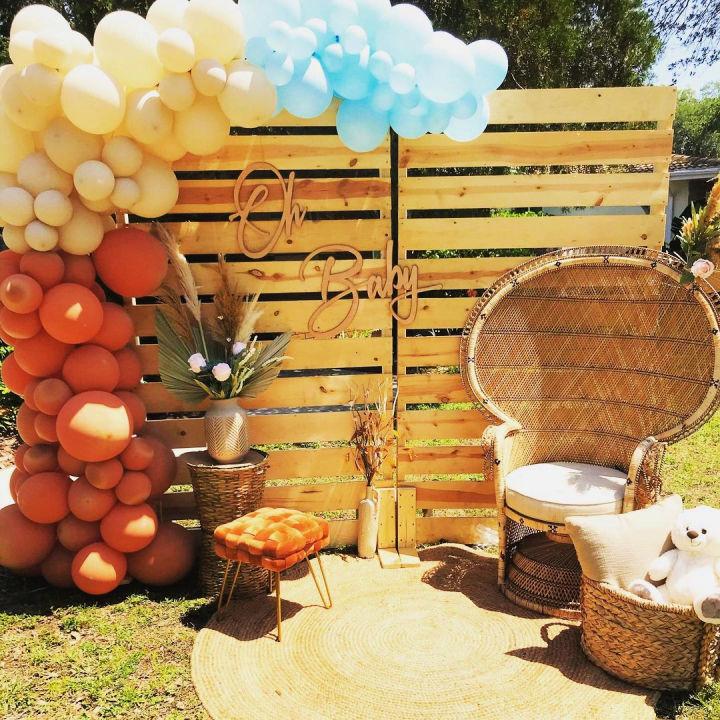 What costs you more in the party decorations is always a lovely party backdrop. However, it is also the most challenging part of the party decorations if you are willing to build it yourself. So, this rustic wooden pallet backdrop idea will solve all your problems. It is easy to build and also goes much easy on your wallet. You need two or more pallets, balloons, baby letters, custom vases, and assembling hardware to easily duplicate this wooden pallet backdrop. The entire design is much doable, even for a beginner.
16. Pallet Backdrop With Fairy Lights

Once you put together the wood pallets to build a wooden wall, you can simply load anything decorative on it, including the lights and balloons, to transform it into a brilliant backdrop. You will fall in love with this pallet backdrop with lights that will rock for a baby boy shower. It features blue and white balloons and also some silver ones for a graceful boyish appeal. The addition of string lights makes it look a lot more special and much visually captivating. One of the best and quick-to-build DIY wood pallet backdrops that will rock every party for sure.
17. Easy Pallet Backdrop For Wedding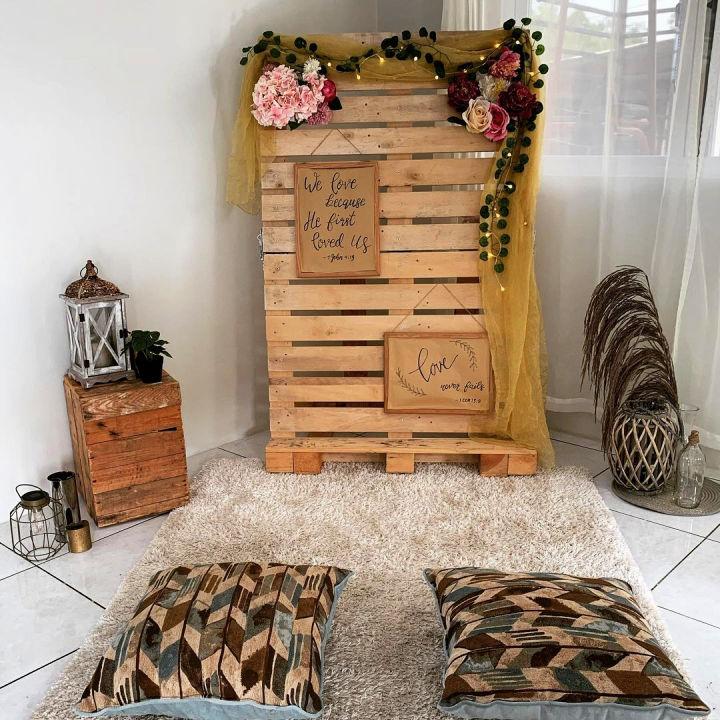 Want to impress the guest with the amazing wedding decors? Then this wooden pallet wedding backdrop will surely do the trick. It is cheap, rustic, but super beautiful, and you have the freedom to easily duplicate it. Put together the wood pallets to shape the wood wall, and next hang the custom quoted boards. Finish by adding custom flowers with foliage, and you can also add some LED string lights for some amazing light effects. The project is easy and quick to do and will simply cost you next to nothing.
18. Photo Backdrop Made From Pallets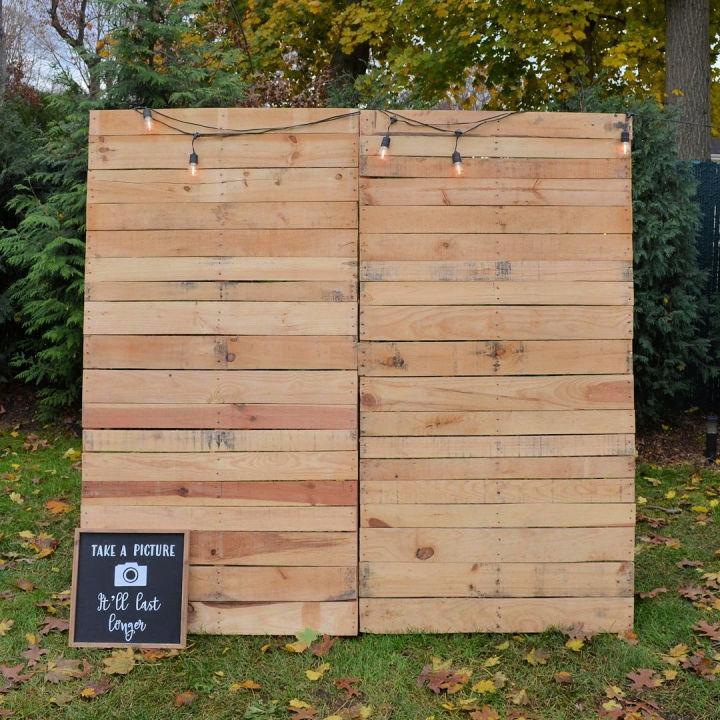 Building portable walls and dividers with pallets can also make you get some outstanding backdrops. You will love this another flawless wooden pallet backdrop design that looks amazingly graceful due to enhanced lighted rustic appeal. Pick your favorite wood pallets to easily duplicate this photo backdrop, and it will never get out of style also. However, you can add custom balloons, balloon letters and numbers for a graceful view. Moreover, you can stencil or decorate with flowers and greenery also. Build this portable wood pallet backdrop for your party photo booths and also for the professional studio.
19. Blue And Pink Pallet Backdrop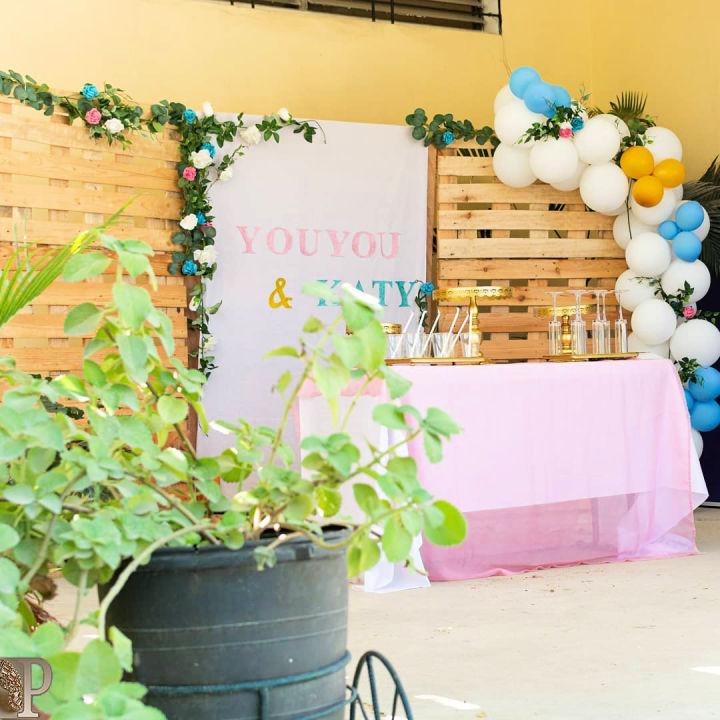 The design ideas for wood pallet backdrops are never-ending. Check out here another brilliant blue and pink wood pallet backdrop that will rock for both boys' and girls' baby birthdays. The backdrop is built right behind the party dessert table and is an easier craft project also. Grab the wood pallets, balloons in colors of choice, faux or real flowers, foliage, assembling hardware and various other embellishments of choice. The whole project is more than easier to do and will also complete simply in no time. Use a desired number of pallets to build a large pallet wood backdrop.
20. Bridal Shower Pallet Backdrop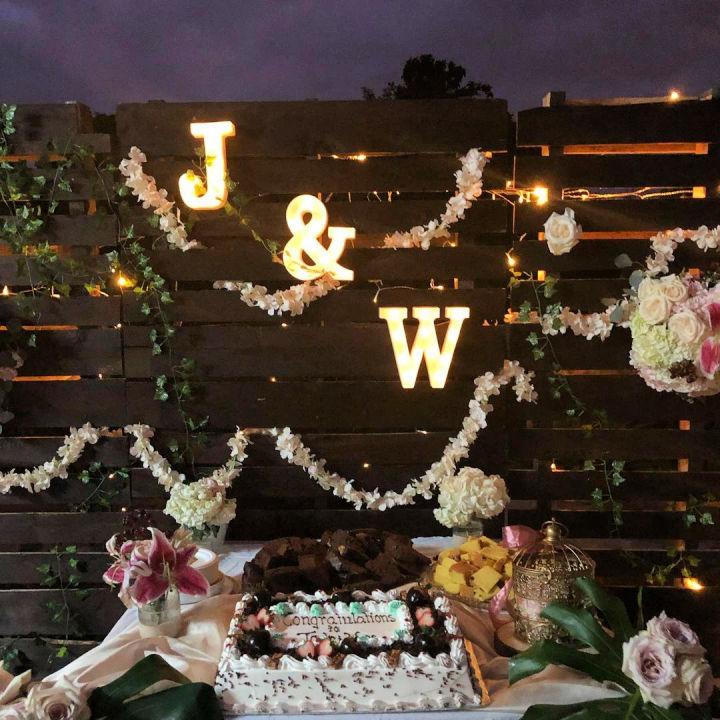 Rock your wedding with this antique yet lighted wood pallet backdrop that also comes with tons of greenery and flowers installed to it. The illuminated name letter initials are the real beauty of this gorgeous wood pallet backdrop. It will be loved dearly by all the bridals for sure. Put the pallets vertically together with side-to-side arrangements to build the robust wood pallet wall, which will be your antique backdrop. Next, you can decorate it in the way you like. The project is more than easy to do even for a beginner and will also cost you next to nothing for sure.
Conclusion:
Want to build a lovely rustic wooden backdrop for a rustic wedding without breaking the bank? Then pallets can be a great option for you. Get helped by these DIY wood pallet backdrop ideas and build your favorite rustic backdrops in no time without causing any load on your wallet. From setting up the pallets to decorating them to adding lights, you will get guides for all the steps. Moreover, the pallet backdrops collection shares a wide range of designs to choose from and get inspired by. All these wood pallet backdrop ideas are guaranteed to win the heart of a rustic decor lover.