Owls are the most interesting birds created by nature because of their ambiguous behavior. Children love to learn to draw them and color them, so learn how to draw an owl with these 25 cute and easy owl drawing ideas with step by step sketch guide, printables and coloring pages.
These owl drawings are perfect for taking help from so that drawing this beautiful bird can be easier for you, and kids will love to follow the simple steps. The process makes the drawing project much more fun as simple one by one step creates something so magnificent that everybody becomes amazed by the results. So everybody who is a beginner in learning to draw an owl or just looking for something to do for fun, these owl drawing ideas are the best head start.

Your craft supply project must have a pack of drawing pencils and a few papers. So start doodling and come up with something you can be proud of. Create beautiful life-sized drawings of different species of owls using these owl drawing ideas. You can try making a snowy owl or learn to make just the face of the owl. Inspired by barns? So make a barn owl or an owl with great horns! Simply use some ink and pen to draw the whole body of the owl and draw a realistic owl! Or you could try making a Hedwig Harry Potter-inspired drawing of an owl by following simple owl drawings step-by-step instructions.
1. Realistic Horned Owl Drawing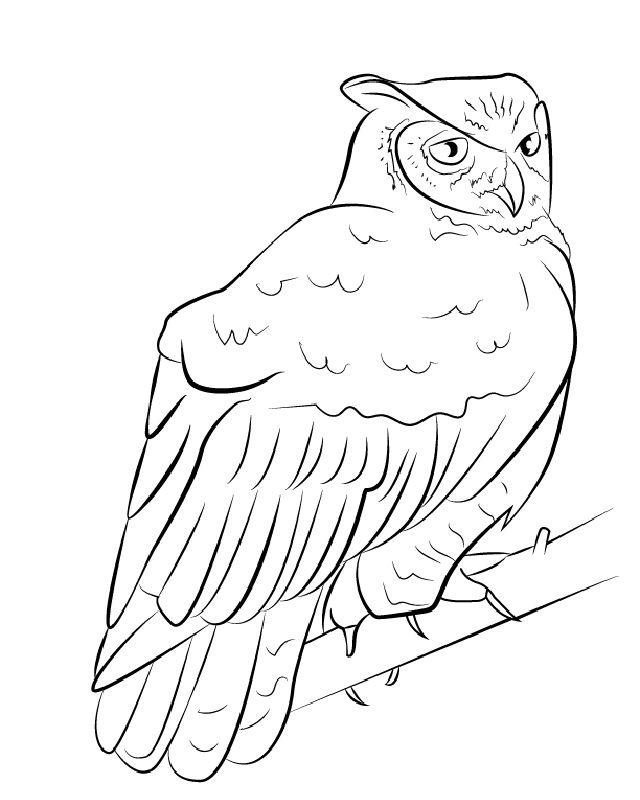 A beautiful drawing of an owl can be made perfectly by following some simple instructions. Take help from owl drawing ideas to learn to make a great horned owl which is a beautiful wild beast flying around in the woods. This owl is also called the tiger owl because of its resemblance to the great tiger. Learn to draw the great horned owl easily, like starting with drawing just an oval and a circle as your first step with curved lines inside. drawingtutorials
2. How to Design a Barn Owl Drawing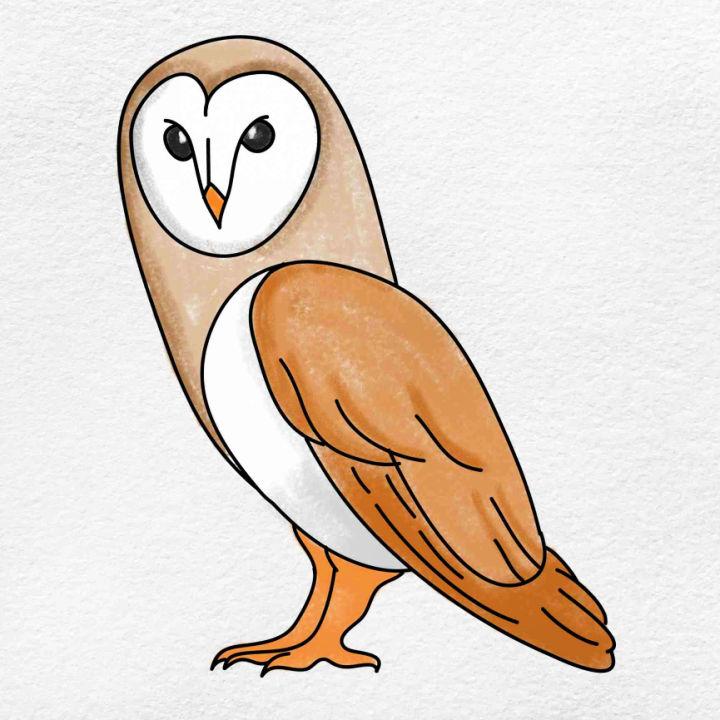 Kids are so excited to learn to draw different things when they are just beginning to draw. Teach the kids how to draw a barn owl by following a few simple steps. Breaking the whole drawing into small chunks makes it easier to draw, and the results are also quite amazing. For drawing this barn owl, you will need supplies like a pencil, drawing paper, crayons or colored pencils, a black marker and a barn owl printable. You must start by drawing the body of the bird first. helloartsy
3. Cute Owl Drawing Step by Step Guide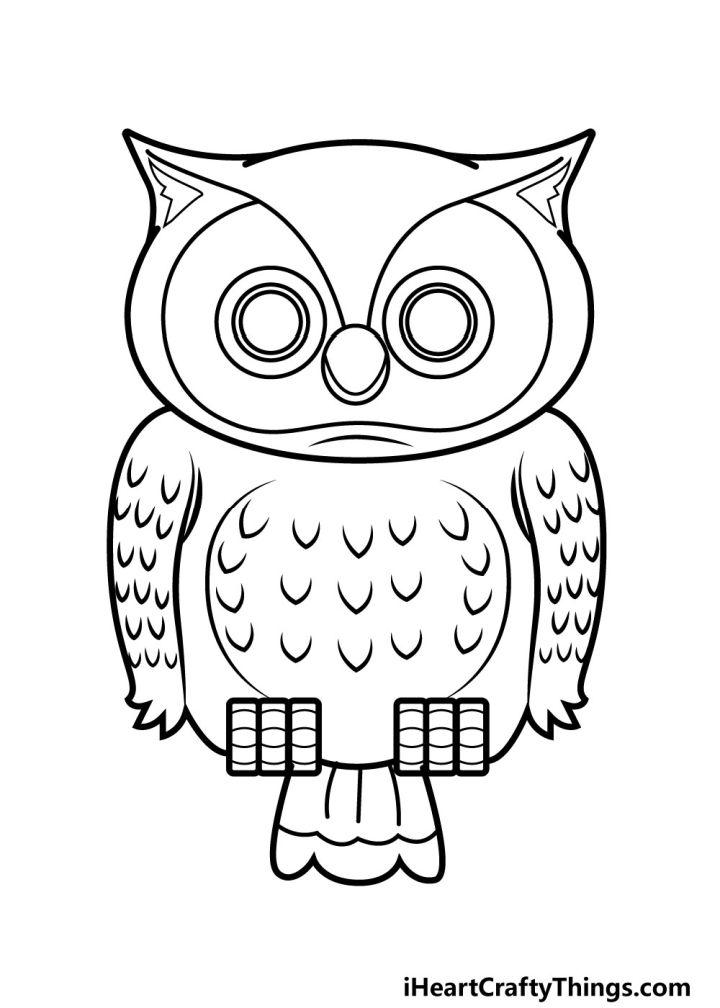 Owls are considered mysterious birds because of their ability to drift through the night air. They stay up all night because of their sharp night vision and stay inactive the whole day. There is a lot of mystery related to this beautiful bird. Learn how to draw an owl using owl drawing ideas and make a perfect drawing for yourself. Easy-to-follow steps make the process easy to understand, making the process super fun for everyone. Enjoy the coloring too! iheartcraftythings
4. How to Draw an Owl Face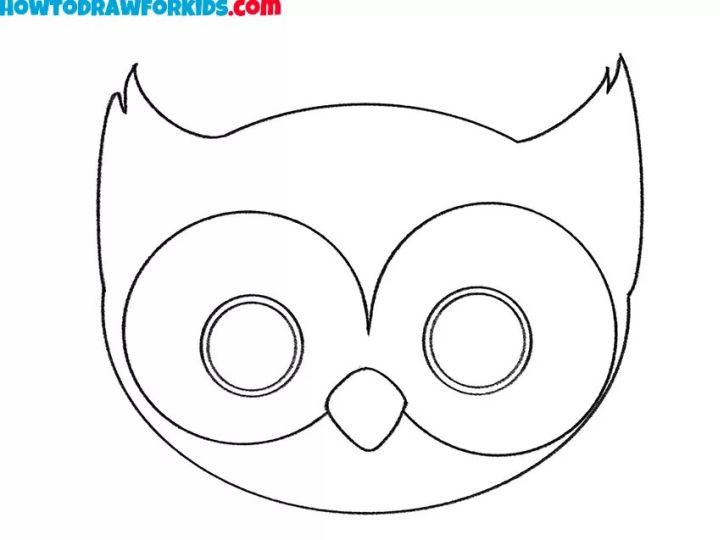 Some cute little drawings are so much fun to make if you have a proper guide to follow. That's why we have compiled some owl drawing ideas for you just to make your drawing projects fun and useful for you. Follow a simple step-by-step guide to make a cute owl's face that is really very easy. You just have to get the shape of the face right which basically starts with making just an oval. Make a cute beak in the middle. howtodrawforkids
5. How to Draw a Snowy Owl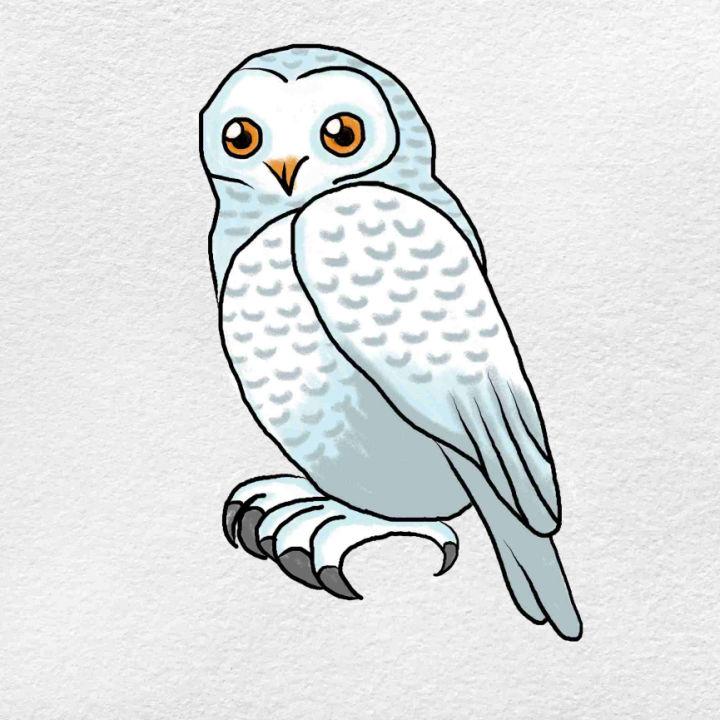 A scary film is never complete without the spooky howling of an owl in the background at night. Owls are pretty interesting birds, especially for little ones. Learn to make a simple drawing of a cute snowy owl in a few simple steps. Even if you are just a beginner in drawing anything, you can follow the instructions to get every part of the bird right. Just grab your drawing pencil and a piece of paper, and you're ready to start learning. helloartsy
6. Easy Way to Draw an Owl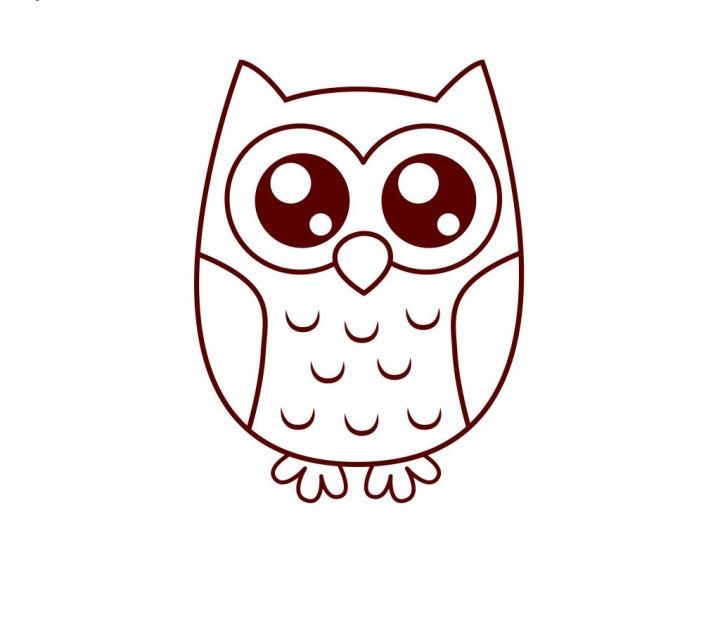 The large interesting eyes of an owl have always been very interesting to draw for artists all over the world. We are sharing some easy owl drawing ideas that can help you make a drawing of an owl easily without any expert art skills. The owl drawing can be made easier if you make the body of the owl first so that you can decide on the size of the head too. Just draw a small oval with two cute ears on top. diybunker
7. How to Draw Line Owl – Owl Outline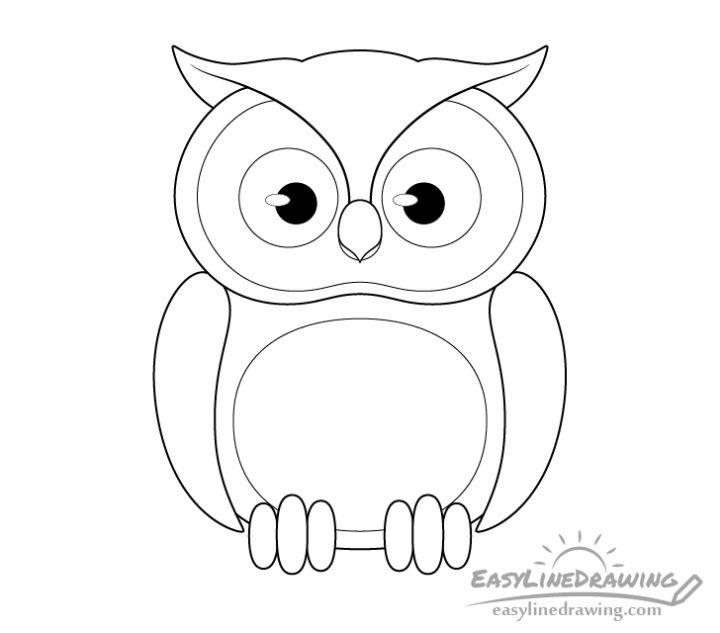 Looking for drawing something just to kill some time? Make a cute drawing of an owl using some owl drawing ideas and enjoy your drawing project. Follow step-by-step instructions to make a simple owl drawing that will amaze even you. The key to getting the drawing perfect n your first try is by making thin fine lines that are easier to erase at the end. Attach two different shapes together as your base, which will be the head and body of the owl. easylinedrawing
8. How to Draw an Owls Face and Head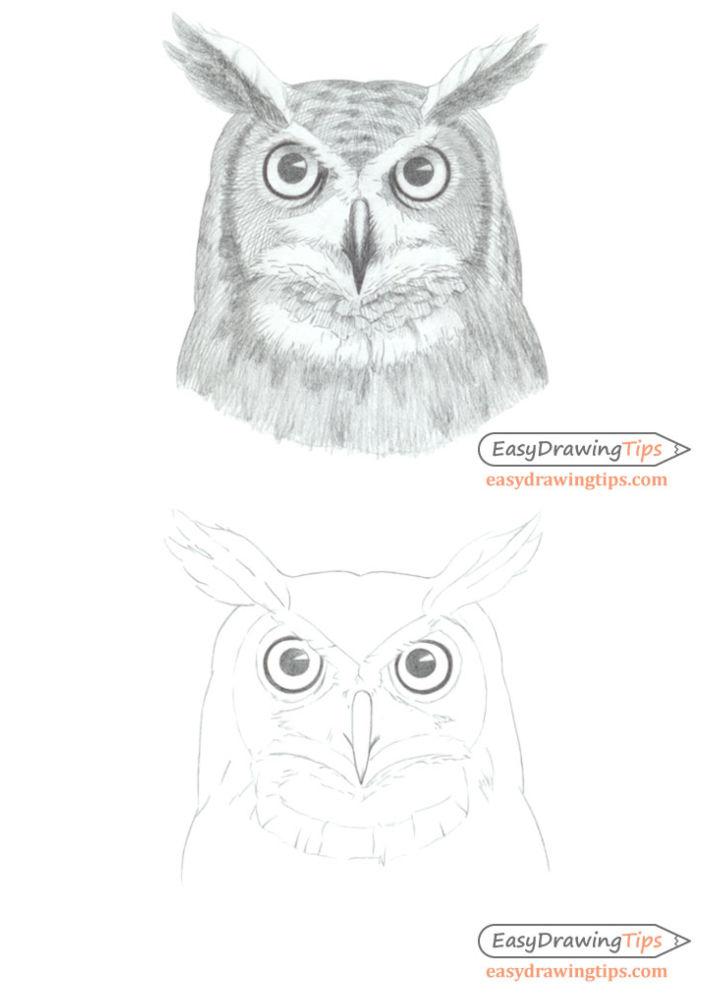 There are quite a lot of ways to draw an owl, but if you follow a simpler process, the drawing becomes more fun and, not to mention easy. Make the owl drawings by following a simple process broken into small steps. Start your drawing by making light lines on paper that can be made darker as you proceed. You can also make shading at the end so that your drawing can look more realistic. Start by making construction lines. easydrawingtips
9. Colorful Owl Drawing Step by Step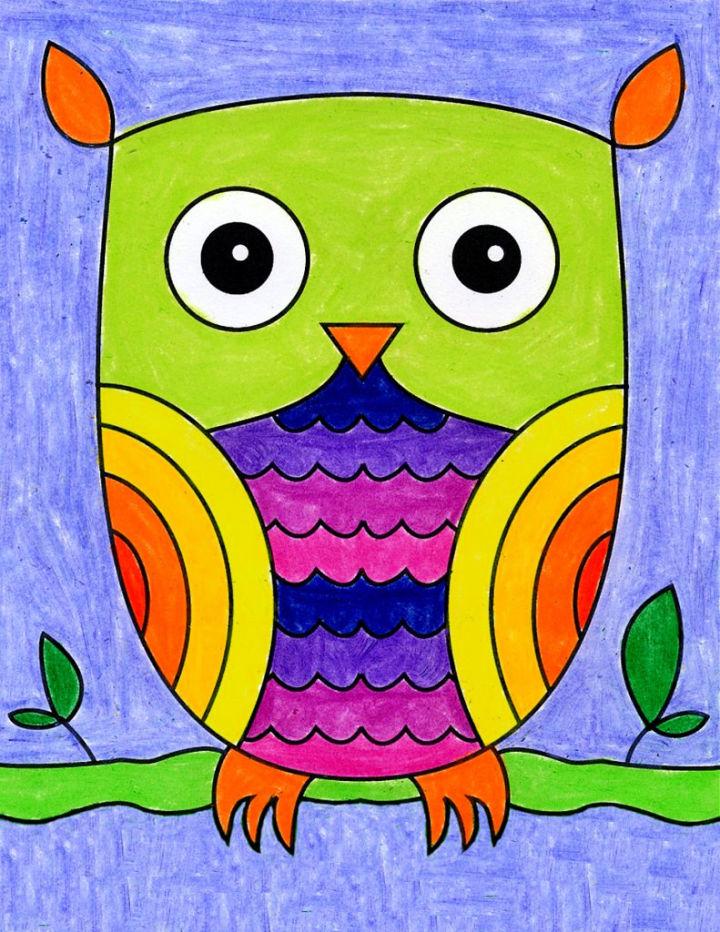 Drawing anything is so much fun if you involve the little ones. Make the drawing of a cute owl which can later be used as a coloring project too. Ask the kids to color the body of the owl in cute rainbow colors, which they will gladly help you with. For wings, you could draw curves that will look super cute. The step-by-step tutorial involves drawing a large outline which will be the shape of the body and head of the owl. artprojectsforkids
10. Barn Owl Drawing – Draw a Full Body Owl with Pen and Ink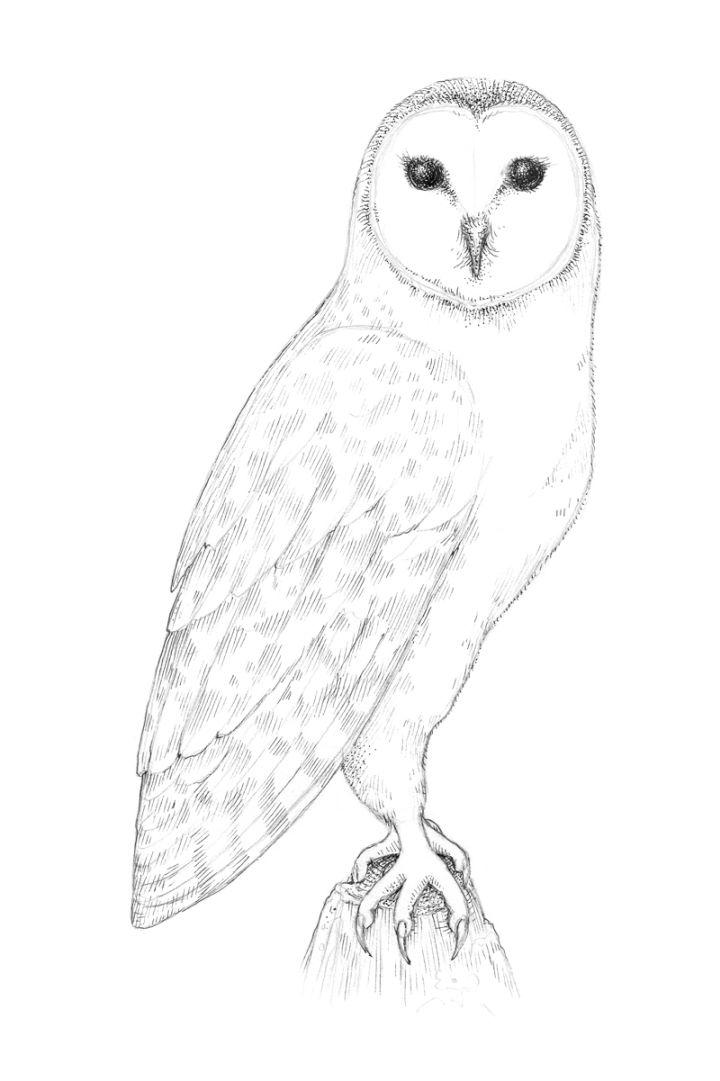 Owls are amazing animals with their peculiar behavior, making them unique from other birds. They just go by silently on their way at night time, making light howling sounds. That's why learning to draw a barn owl drawing is also quite an interesting process. Make a cute owl drawing using just some ink and your drawing pen. A graphite pencil and three different ink liners are recommended for this drawing. Use an A4-sized paper with nib or dip pens and do some preparatory work before starting. thevirtualinstructor
11. Simple Way to Draw an Owl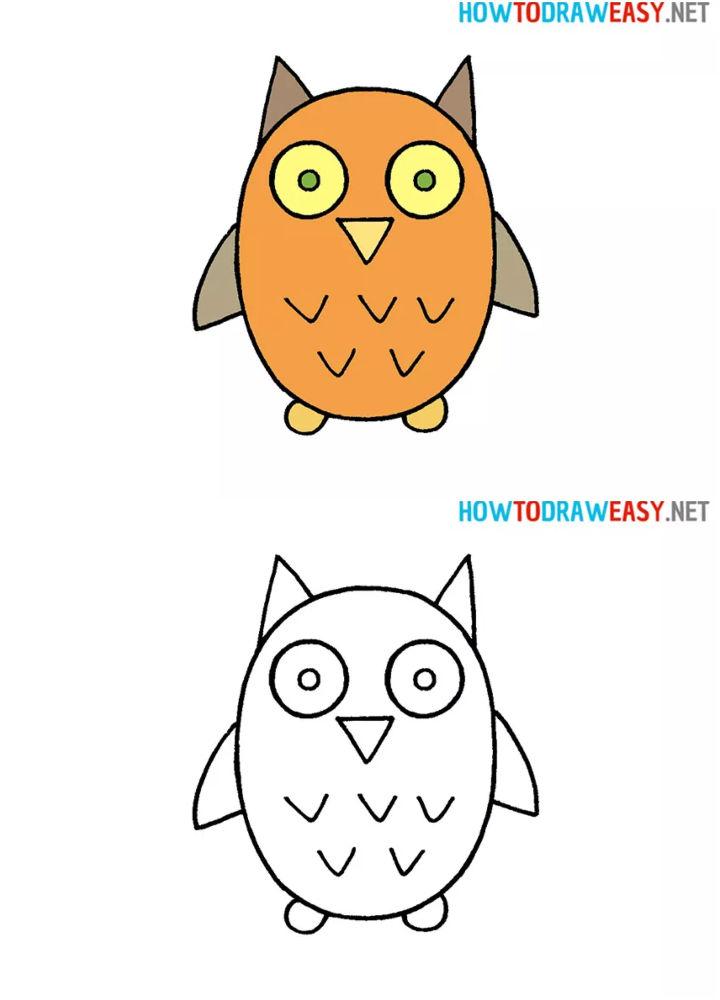 Follow a step-by-step tutorial to make the drawing of an owl made easier, especially for the kids. Preschoolers and schoolers can learn to draw an owl easily which will make the process a lot of fun for them. They can even color their drawing later on as it will be a very interesting little piece that they created on their own. The first step involves making a huge oval and then making two small circles on its top, which will be the eyes. howtodraweasy
12. How to Draw Realistic Owl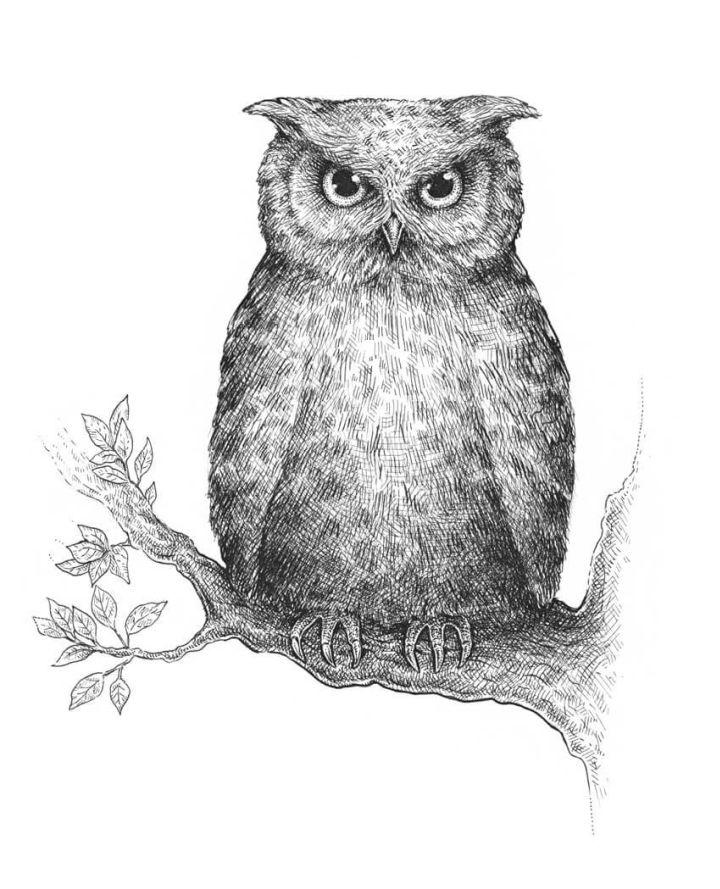 A very fascinating bird with mesmerizing pair of eyes is an owl. Learn to draw this bird simply by following a tutorial that offers step-by-step instructions. Drawing a realistic owl might feel a bit intimidating at the start, but it's really quite easy to draw. You will need three ink liners, a B or HB type graphite pencil and a sheet of thick drawing paper. Start by cutting the owl's figure into two halves. You must make the measurements properly. design tutsplus
13. Snowy Owl Flying Drawing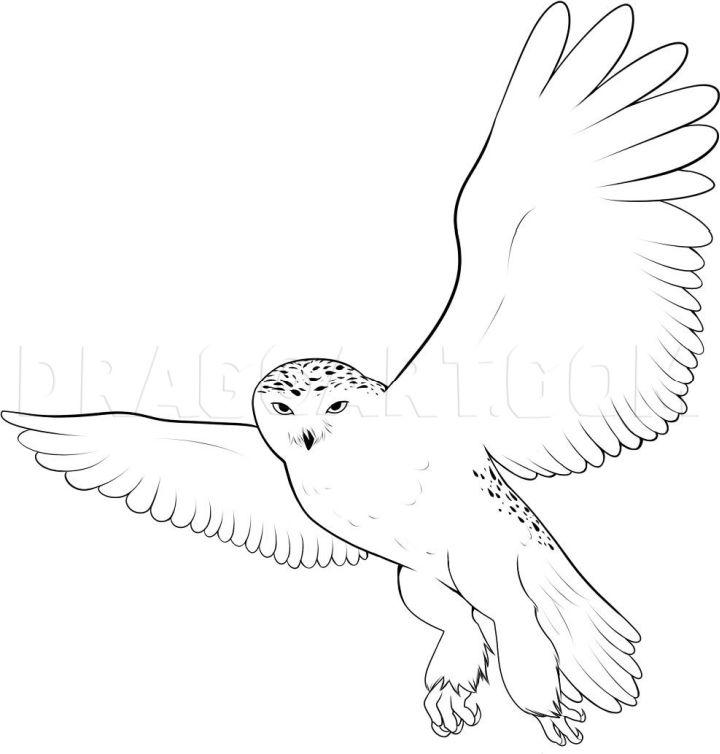 This snowy owl drawing reminds us of Hedwig flying over Hogwarts's skies from the Harry Potter series. It truly looks as magical as Hedwig! Get ready to draw this beautiful creature by yourself, following some super-simple steps. Draw the body shape of the owl by making sort of an inward tooth structure. Then make a circle for the face and 2 flying lines in opposite directions to depict wings. Hit the link for further steps! dragoart
14. Cute Owl Cartoon Drawing for Kids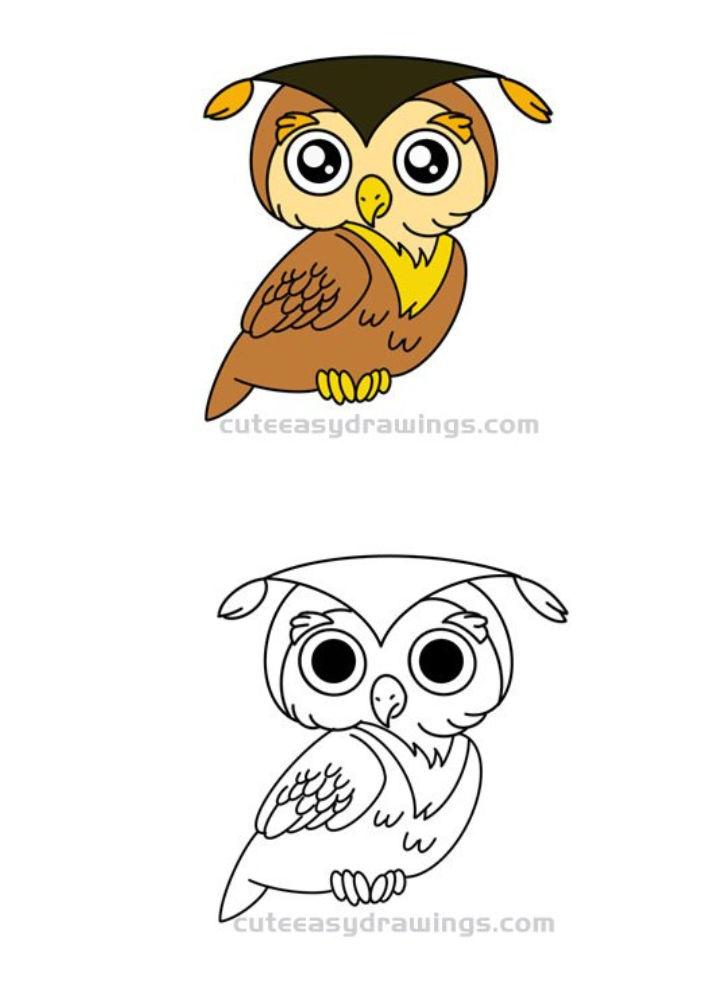 Here's another cute and quite a wiser-looking owl drawing idea! Kids are usually either afraid or inspired by owls, so if you are trying to make your kids learn more about owls, here's a pretty cute Dr. owl version for them! You start off by sketching the base outline of the owl's head, followed by drawing its huge, deep eyes and a tiny beak. Throw in some haphazard lines to add detailing and finish off by stepwise drawing its body and wings. cuteeasydrawings
15. Hedwig Harry Potter Owl Drawing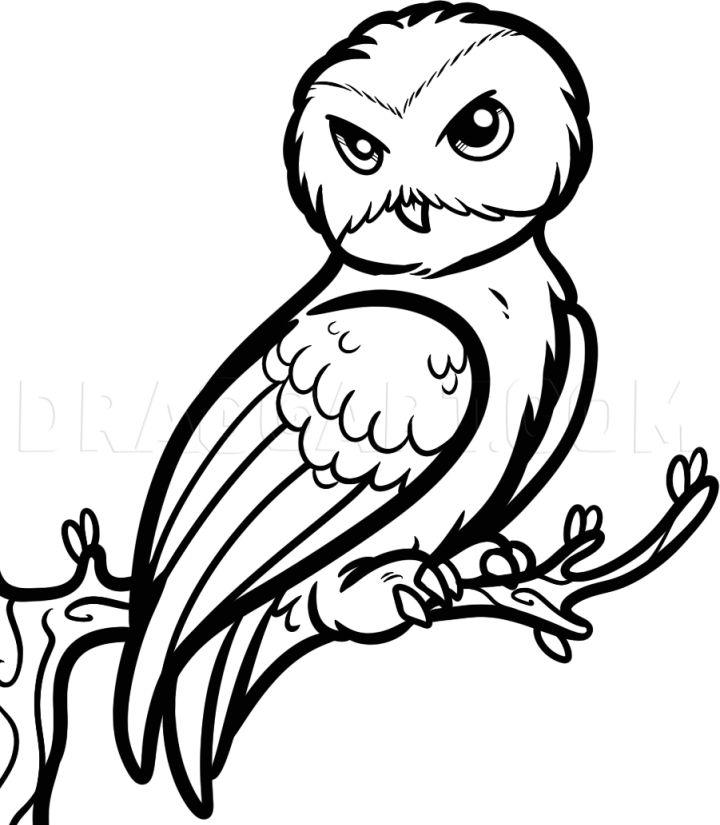 So, here's another Harry Potter series-inspired owl drawing of Hedwig! It is quite true that having a look at the finished drawing will have you thinking it's pretty difficult, but that's not true! You really start off by drawing a circular shape for its face and then adding some lines to give it that fluffy, feathery texture. After that, sketch the eyes and the beak with the help of the squares inside and finish off by drawing the body with wings. dragoart
16. Cute Owl Drawing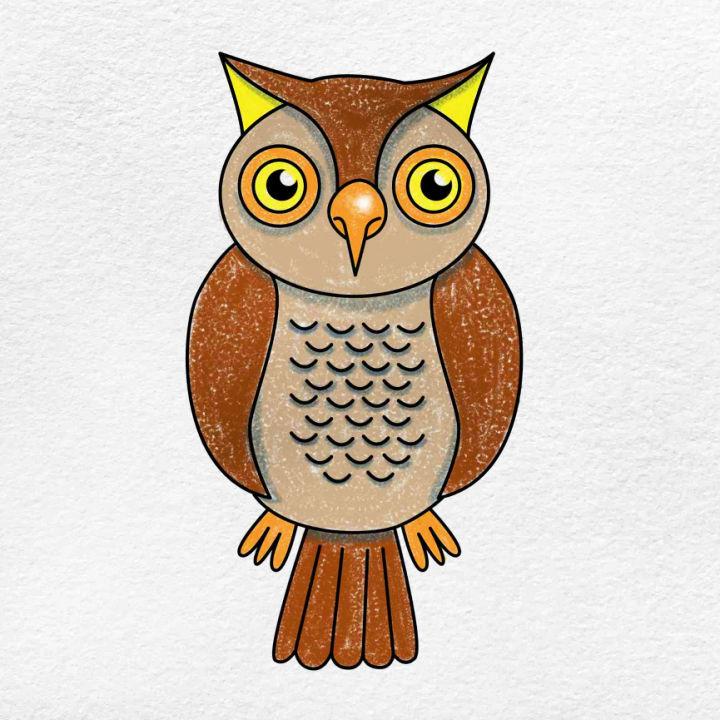 This one is a pretty simple and classic comic owl drawing idea! Plus, you really need simple supplies to get started. Get your hands on a pencil, color pencils or crayons, white paper, a black marker. Plus, you can also download the owl drawing's PDF from the link below. Start step by step by drawing the oval shape for the owl's face and take it up from there! helloartsy
17. How to Draw an Owl for Children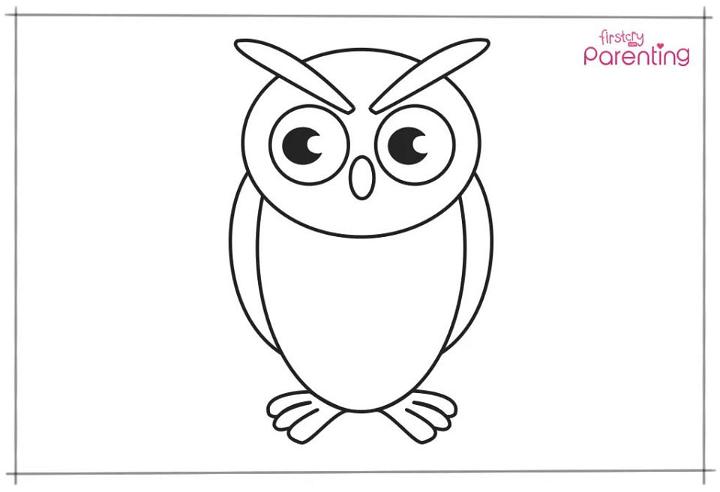 Here's another very simple and fun to do owl drawing that you can enjoy drawing with your little ones. You can also follow the video tutorial for a more exciting look into this one! Firstly, gather supplies like a pencil, a drawing or white paper, eraser, markers and colors. You start off by basically drawing a horizontal oval shape and a vertical rather longer oval shape, which is going the be the outline of the owl's body. parenting firstcry
18. How to Draw an Owl Eye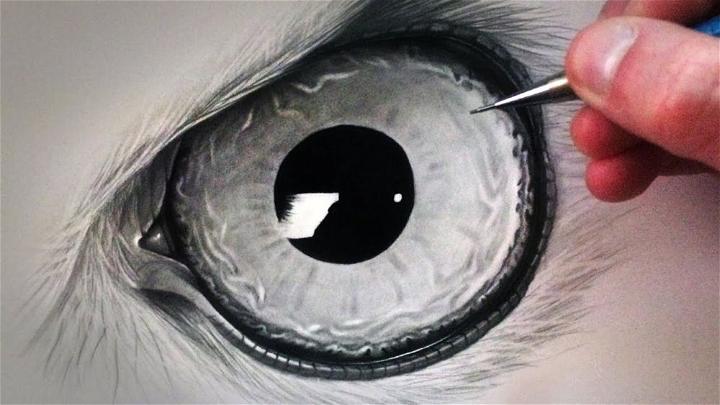 Are you a fan of sketches? Because they really give the look and feel of a very real, living appeal. Then check out this tutorial that can guide you on how to sketch an owl's eye! It's an absolute charmer, and your magic supply is going to be an HB pencil in 2b or 6b shading. You start off by sketching the outline for the eye and eyebrow first. And then, you use the eraser and shading stick for blending the look.
19. How to Draw Owl Feet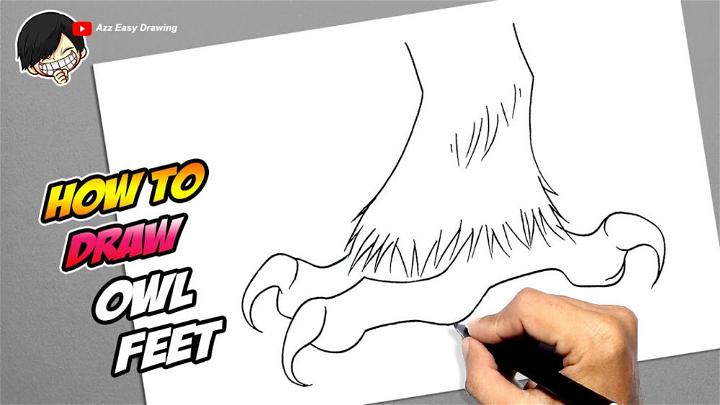 Just like an owl's eye, their feet are also quite the mystical part of their bodies! Because their claws are quite huge and giant in size, which helps them capture their prey with a firm lock on it. With this guide, you can learn to draw an owl's feet by simply using a marker on a plain whiteboard. It starts off by drawing the outline of its claw first and takes it up from there. Head over to the link and get started.
20. Sketch Owl Drawing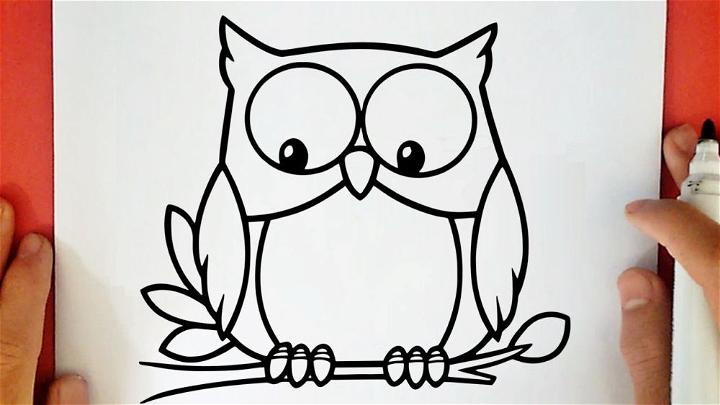 This cutesy owl drawing idea has us all reminiscing about our childhoods! We have seen so many of these owls in many cartoons, and now it's time for the kids to learn and draw this charming bird. The tutorial uses quite a fun and ridiculously easy approach; their idea is to basically mix and match a couple of shapes together. Starting off with 2 alike circles to make the huge eyes of the owl. Then you make the beak by joining three lines in a triangle and so on.
21. Easy Owl Drawing with Only 1 Pencil

Get your hands on supplies like a 6B pencil, an eraser, a simple pencil, a blending stump and white paper. Start off by drawing the outline of the owl's body in the form of a large inward flower petal. After that, draw the horns of the owl on the top and darken the head's base. Hit the link and follow the video guide for more!
22. How to Draw a Cute Owl Kawaii

We are absolutely in awe of this adorable owl kawaii! With its blushing cheeks and cute eyes, it truly is oozing love and affection. You can easily draw this with your little ones or make it a pretty card for someone you adore. It's pretty easy to draw as it involves one huge and main circle shape for the owl's body outline, and then you make the eyes and tiny claws inside.
23. Black and White Owl Drawing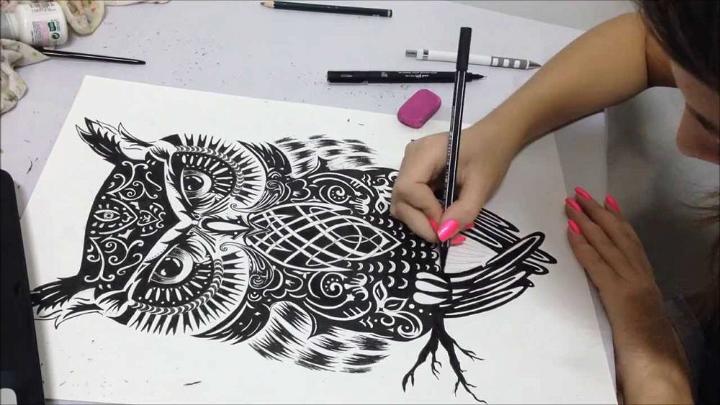 Check out this super mesmerizing owl drawing idea! Filled with superb art details. It has quite an artistic appeal, and if you are already inspired to draw it, get started! Though it might look like a rather heavy design project. But with this tutorial, you can follow it step by step and ace at this one easily by starting off with the feathery owl ears at first!
24. How to Draw Flying Owls with Wings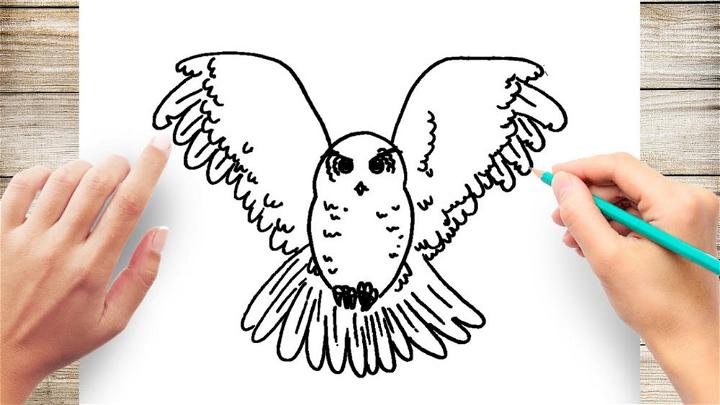 So here's a pretty easier and quick approach for drawing a flying owl! Do you feel it might be a bit difficult to draw? Well, this tutorial will have you thinking otherwise. You simply start off by drawing the owl's body, again sort of like a huge petal and then you draw its eyes and beak inside. After you are done with the body, you make its huge feathers with textures on the edges.
25. How to Draw an Owl Skull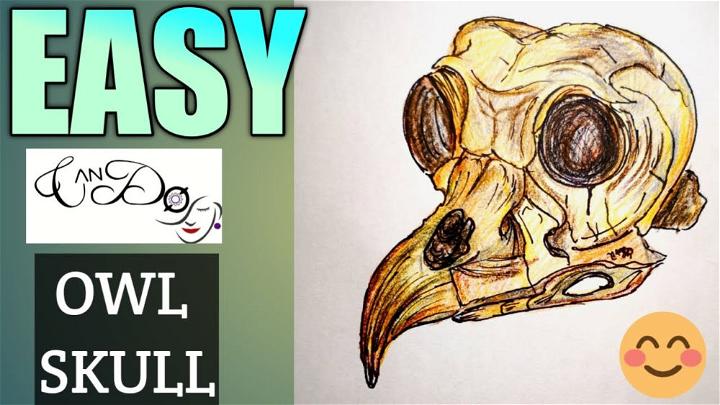 Be it Halloween, costume party preparations or animal anatomy lesson, this guide has you covered for drawing an owl's skull! It might look pretty difficult to draw at first, but you actually start simple! How? Well, start by drawing the beak at first, and then you carry on by drawing the face and onto the head. Hit the link to get started!
Related drawing ideas:
Eagle Drawings: Drawing ideas for eagles of all shapes and sizes. Learn how to draw an eagle in five easy steps.
Crow Drawings: Find out how to do a crow drawing. Find inspiration for your next crow drawing, or share your crow art.
Bird Drawings: Browse through the huge gallery of bird drawings and find inspiration for your own designs.
Conclusion: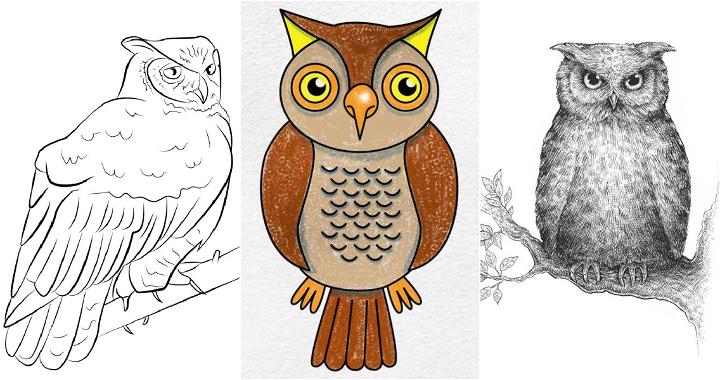 A plain regular day can be turned into an exciting one by trying these different owl drawing ideas. You can try making different types of owls with large, always looking surprised eyes that make the beautiful bird so cute and fascinating.
The best part is that owls just have a cute face to learn to draw while the whole body is covered with a large pair of wings which makes the bird quite easy to draw.
For budding artists, the simple face becomes very easy to learn to draw because of the beak and protruding eyes. Make sure that you follow the proper owl drawings process so that you can get the whole drawing perfectly right. Happy owl drawings to you!