Crochet baby headbands are a delightful way to add a touch of charm and personality to your little one's wardrobe. Explore our collection of 25 free crochet baby headband patterns, each pattern designed with easy-to-follow instructions and detailed PDF guides to ensure a seamless crocheting experience. These versatile crochet baby headband patterns cater to both novice and seasoned crocheters, featuring an array of designs, such as stretchy crochet baby headbands, crochet newborn headbands with bows, and crochet tie-back headbands.
You'll discover a variety of crochet baby headband patterns suitable for infants and toddlers, ensuring that your baby girl will look adorable at every stage of her growth. Some popular patterns include the crochet bloomin baby headband, the crochet sweet sunshine baby headband, and the crochet textured headband for children. These crochet baby headbands are fashionable and functional, providing a comfortable and secure fit for your little one.
By selecting from various yarn types and colors, you can easily customize each crochet baby headband pattern to match your baby's outfits or create unique gifts for friends and family. From intricate flower designs to simple yet elegant bands, there's a crochet baby headband pattern to suit every taste and style. So, gather your crochet hook, yarn, and pattern of choice, and embark on the journey of crafting beautiful crochet baby headbands for your little one.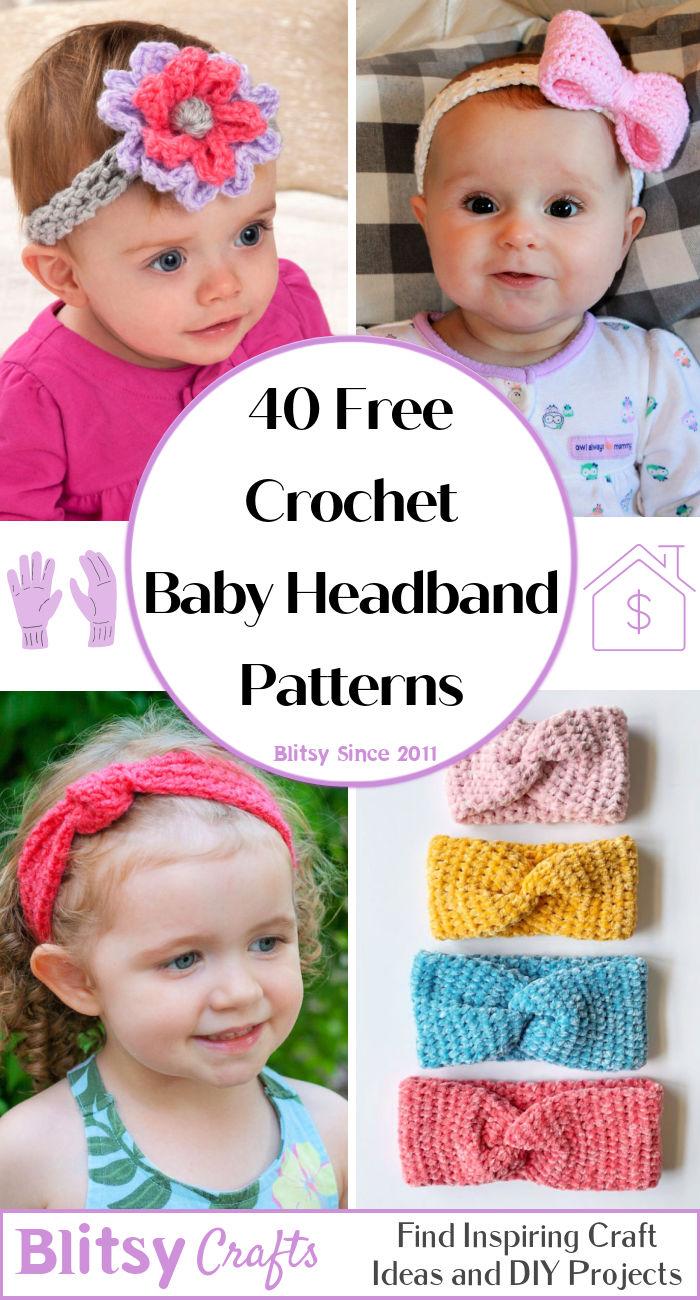 Crochet Baby Headband: A Beginner's Guide
Crochet baby headbands are a cute and easy way to accessorize your little one's outfit. They are also a great project for beginners who want to learn how to crochet. Here you'll learn how to make your own crochet baby headband, including:
What yarn and hook to use
How to measure your baby's head
How to crochet a simple headband in the round
How to add a flower or bow embellishment
How to sew on the flower or bow
Some tips and tricks to make your headband look neat and professional
Let's get started!
What yarn and hook to use
The best yarn for crochet baby headbands is a soft and lightweight one, such as fingering or sport weight. You want to avoid anything too bulky or scratchy that might irritate your baby's skin. You can also choose a yarn with some stretch or elasticity, such as wool or acrylic blends, to make your headband more comfortable and fit better.
The hook size you need depends on the yarn you use and your personal tension. You want to use a hook that gives you tight and even stitches but not too tight, making your headband stiff or hard to work with. A good way to find the right hook size is to make a small swatch with your yarn and see if you like the result. You can also check the label of your yarn for a recommended hook size.
For this article, we will use a fingering weight yarn (weight #1) called Hawthorne from We crochet, a wool and polyamide blend in beautiful tonal colors. We will also use a 3.5 mm (E) hook, which gives us a gauge of 22 stitches and 24 rows in 10 cm (4 inches) of single crochet.
How to measure your baby's head
Before you start crocheting, you need to measure your baby's head circumference. This will help you determine how many chains or stitches you must start with. You can use a measuring tape or a piece of string, or a ruler. Wrap the tape or string around your baby's head where you want the headband to sit, usually just above the ears. Make sure it is not too tight or too loose. Then, note down the measurement in centimeters or inches.
You can also use this chart as a reference for average head sizes for different ages:
| Age | Head Circumference |
| --- | --- |
| Newborn | 35 cm (14 inches) |
| 3 months | 40 cm (16 inches) |
| 6 months | 43 cm (17 inches) |
| 9 months | 45 cm (18 inches) |
| 12 months | 47 cm (18.5 inches) |
Of course, every baby is different, so it is always better to measure your own baby's head if possible.
How to crochet a simple headband in the round
Now that you have your yarn, hook, and measurement, you can crochet your headband. We will use a simple single crochet stitch throughout, which is one of the easiest stitches to learn. If you are unfamiliar with this stitch, you can watch this video tutorial for help.
To start, make a slip knot on your hook and chain as many stitches as you need to match your baby's head circumference. For example, if your baby's head is 40 cm (16 inches), you need to chain about 88 stitches (40 x 2.2 = 88). You can adjust this number as needed depending on your gauge and tension.
Then, join the last chain with the first chain with a slip stitch to form a ring. Be careful not to twist the chain as you do this. Alternatively, you can chain one more stitch and single crochet in the second chain from the hook for the first stitch. This will create an invisible join that looks neater than a slip stitch.
Next, chain one and single crochet in each stitch around. Join with a slip stitch to the first single crochet of the round. Repeat this round until your headband is as wide as you like. For a thin headband, you can make about four rounds. For a thicker headband, you can make more rounds.
To finish, cut the yarn and fasten it off. Weave in the ends with a yarn needle.
How to add a flower or bow embellishment
To make your headband more fun and cute, you can add a flower or bow embellishment on top of it. You can crochet these separately and sew them on later.
How to sew on the flower or bow
Once you have crocheted your flower or bow, you need to sew it on your headband. You can use the same yarn you used for the flower or bow or a matching sewing thread color. Here are the steps to sew on your flower or bow:
Thread your yarn needle with a long piece of yarn or thread.
Position your flower or bow on your headband where you want it to be. You can use pins to hold it in place if needed.
Insert your needle from the back of the headband to the front, through the center of the flower or bow.
Pull the yarn or thread through, leaving a tail at the back of the headband.
Insert your needle from the front of the headband to the back through another point of the flower or bow.
Pull the yarn or thread through, ensuring it is not too loose or tight.
Repeat steps 3-6 until you have secured all the edges of the flower or bow to the headband.
Tie a knot at the back of the headband with the two tails of yarn or thread.
Cut off any excess yarn or thread and weave in the ends.
Tips for Crochet Baby Headband
Some tips and tricks to make your headband look neat and professional
Here are some tips and tricks to make your crochet baby headband look neat and professional:
Choose a yarn that is soft and gentle on your baby's skin. Avoid anything too rough or scratchy that might cause irritation or discomfort.
Choose a hook size that matches your yarn weight and gives you a tight and even stitch. Avoid anything too big or small that might make your headband too loose or stiff.
Measure your baby's head before you start crocheting, and adjust your chain number accordingly. Avoid making your headband too tight or too loose that it might slip off or squeeze your baby's head.
Use a stitch marker to mark the beginning of each round when you crochet in the round. This will help you keep track of your stitches and avoid mistakes.
Use a yarn needle to weave in all the ends when you finish crocheting. This will prevent any loose ends from unraveling or poking out.
Block your headband after you finish crocheting. This will help smooth out any wrinkles or bumps and give your headband a nice shape.
Congratulations! You have just learned how to crochet a baby headband in one hour! Now you can enjoy making more headbands for your baby or as gifts for others. Have fun and happy crocheting!
Here are some 25 easy and free crochet flower patterns that you can try:
1. Crochet Bloomin Baby Headband Pattern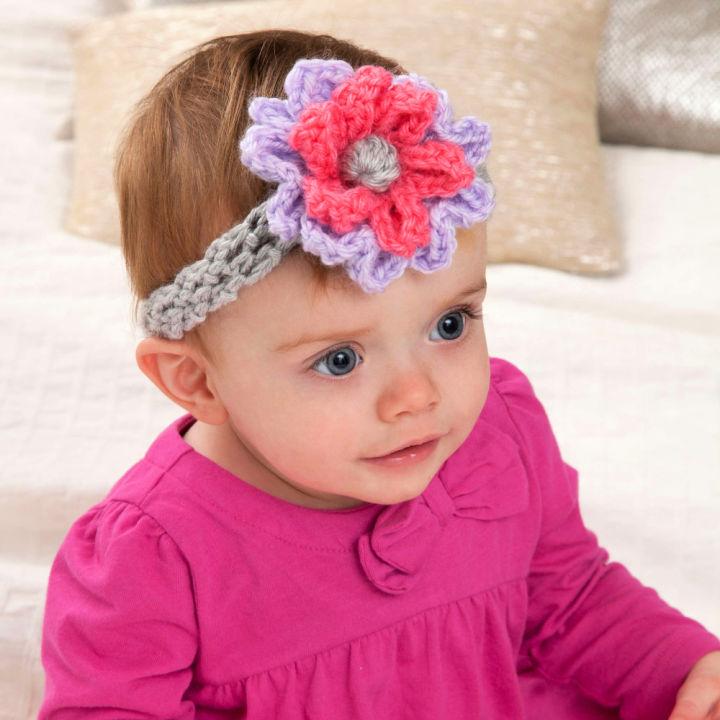 Create the perfect accessory for your little one with this bloomin' baby headband crochet pattern! The gorgeous headband features a flower in two colors, attached to an adjustable crocheted band. Perfect for preemies, babies and toddlers, it is crafted using red heart soft baby steps yarn and 5mm/6mm crochet hooks. Make it in different colors to coordinate with the baby's outfits. Easy enough even for beginners – get ready to start those stitches now! yarnspirations
2. How Do You Crochet a Baby Bow Headband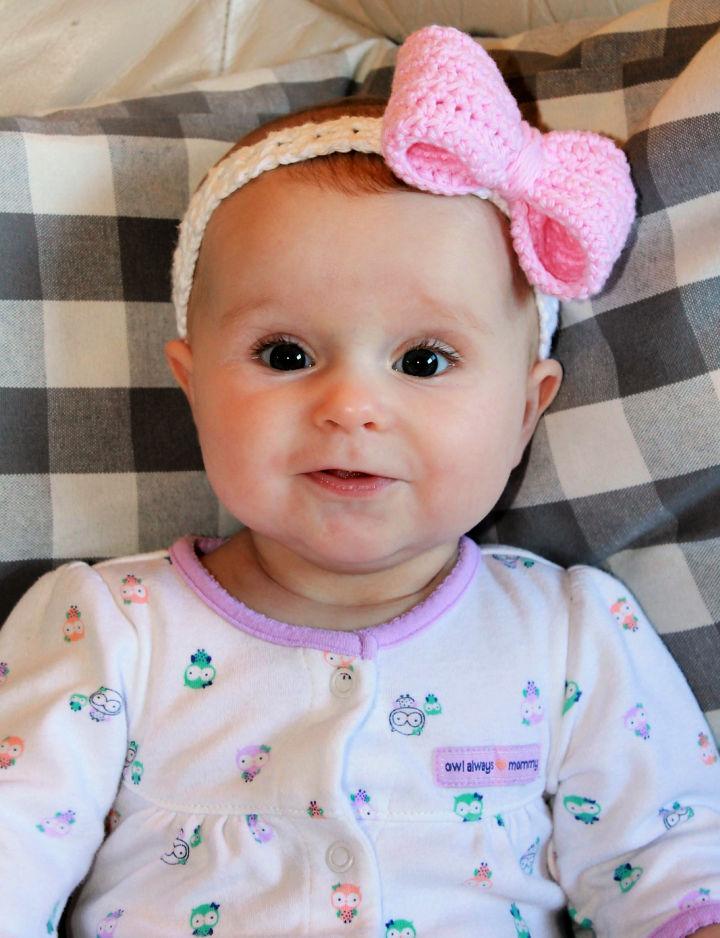 Make your little one even more adorable with this crocheted bow headband pattern! All you need is an f hook and worsted-weight yarn (cotton is perfect for summer). This DIY project is versatile enough for crocheters of any level, so don't worry if you're new to the craft. Change your baby's wardrobe by weaving in sweet style with this fun headband project. Give her a precious accessory that will bring out her cuteness in any outfit! craftsbysarahliz
3. Easy Crochet Knotted Baby Headband Pattern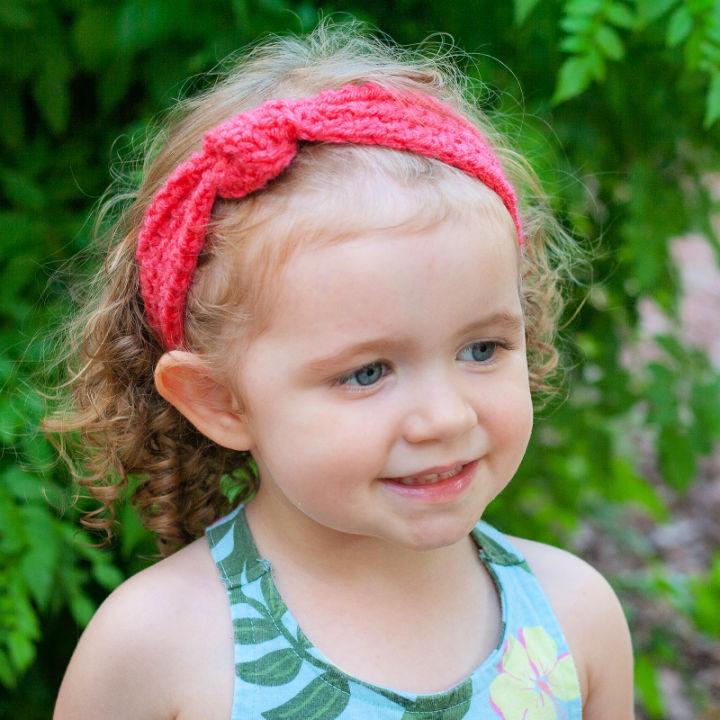 Searching for a simple crochet project? Look no further than this beginner crochet knotted headband pattern! Perfect for beginners, it only requires size 4 yarn, a size h 5mm crochet hook and your desired headband size. Get detailed instructions on baby, child and adult sizes too. This hassle-free project is ideal for the last-minute holiday gift or to accessorize any outfit with that handmade charm! Get creative and make one today! windingroadcrochet
4. Crochet Sweet Sunshine Baby Headband – Free PDF Pattern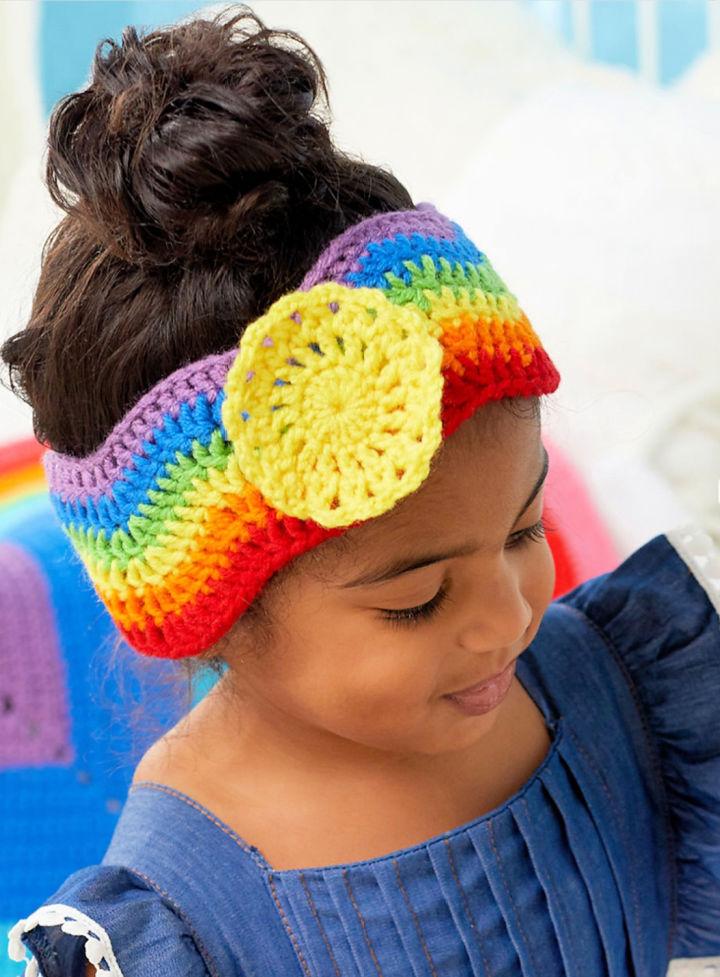 Bring a ray of sunshine to your little girl's wardrobe with this cheerful sunshine headband crochet pattern! This fun and colorful headband uses red heart super saver yarn in medium purple, blue, spring green, bright yellow, pumpkin and cherry red. With two crochet hooks – 4.5mm & 3.5mm – you can easily make the fit band sizes from 16″ to 20″. Just follow the instructions, and remember to bring out the right side facing throughout! yarnspirations
5. Crochet Walking on Sunshine Baby Headband Pattern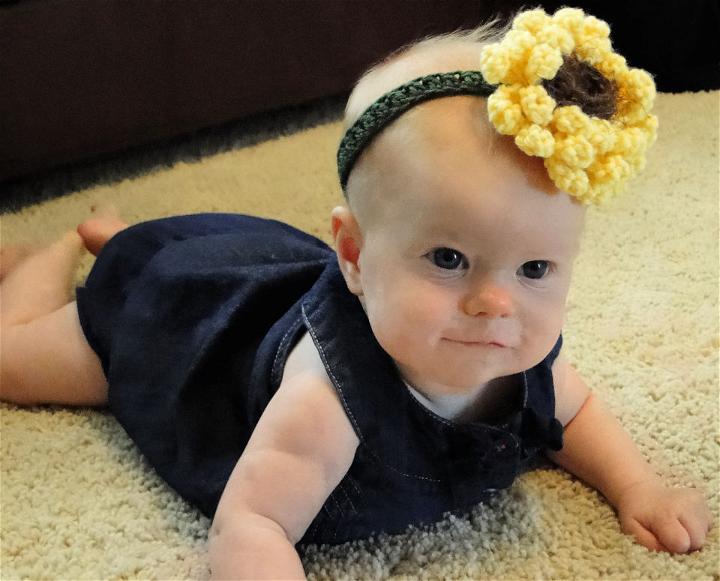 Ready to unleash your creativity? Try this versatile pattern and create unforgettable crocheted headbands for little girls and adults. Choose between the rose, sunflower, or mum flower options to customize. Gather worsted-weight yarn, size h hook, tapestry needle, tape measure and scissors to get started. The pattern comes in sizes ranging from 0-3 months up to adult large with a 12-18 inch circumference. To achieve the best results, avoid 100% acrylic yarns; wool blends work best! ravelry
6. Cute Crochet Flower Toddler Headband Pattern

Stop the search: your perfect flower girl or bohemian-inspired headband is right here! This free crochet pattern requires patons grace in color "natural" for the band, a size e/3.5mm crochet hook, and 3″ of foldover elastic! Use a variety of yarns to make beautiful flowers. From babies to adults, sizes are included for everyone – making it a great choice for any special occasion! With its delicate blooms and natural-looking band, this headband will have you looking like a vision no matter where you go. makeanddocrew
7. Crochet Textured Headband Pattern for Childrens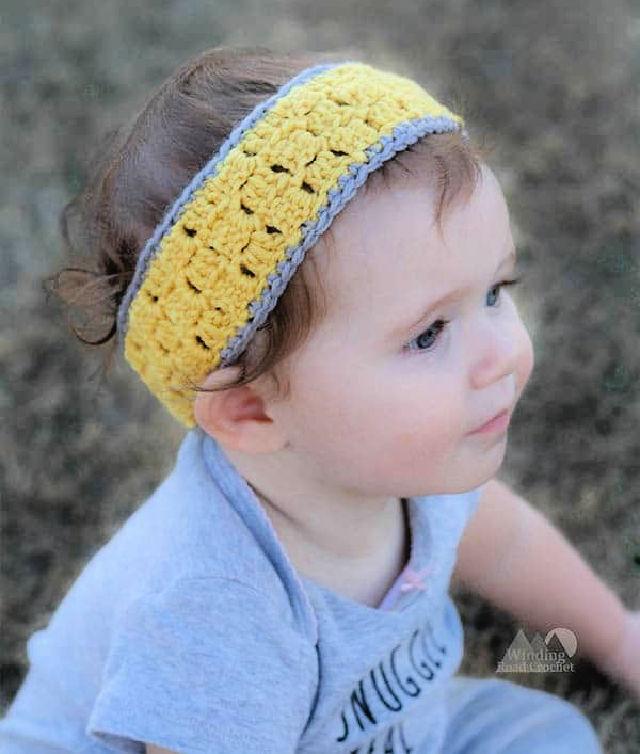 Here is the solution if you have tired of having bad hair days! Put an end to them today with this easy-to-make textured crochet headband! Working quickly with the corner-to-corner crochet technique, this pattern provides a stylish and colorful accessory for any outfit. Plus, you don't need to buy extra materials; you can use some leftover yarn instead! Let's start your diy project now – all you need is some yarn, a hook, and a few minutes of your time. windingroadcrochet
8. Crochet Bobble Headbands for Babies – Free Pattern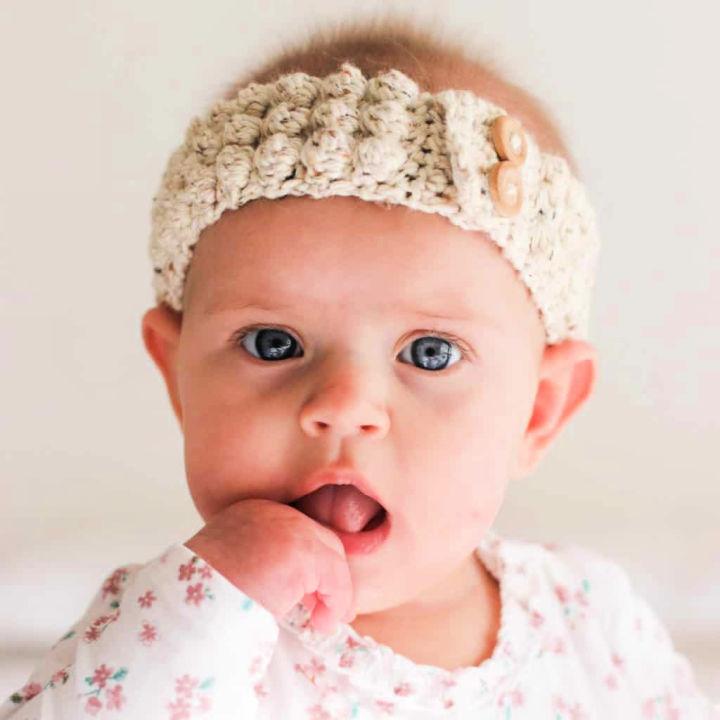 Crochet something special for your little one with this free crochet baby bobble headband pattern. You can create a sweet and cozy accessory with just a 4mm crochet hook, worsted weight or dk yarn, and two wooden buttons. You can also customize the colors using yarn scraps to make it uniquely yours! The blocked length of the headband is 41 cm, making it perfect for babies. Even if you're a beginner crocheter – this pattern will be easy to follow! thoresbycottage
9. Crochet Aspen Socialite Baby Headband Pattern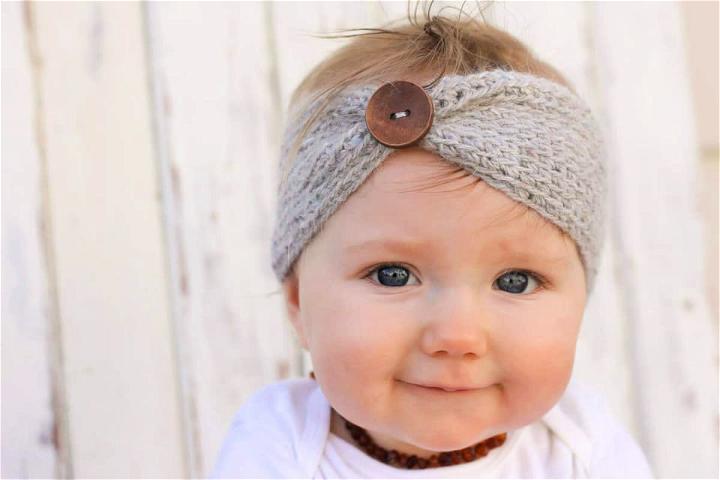 Give the perfect gift in an hour! Crochet yourself a one-of-a-kind "aspen socialite" headband for your loved ones. This stylish and practical accessory is suitable for any occasion – perfect for baby showers, birthdays or even just as a surprise. You can make this ear warmer in all sizes with dk or worsted-weight yarn and an f/5 crochet hook. Complete with a wooden button to give it that extra special touch! Download the free pattern today to get started on your last-minute DIY gift. makeanddocrew
10. Newborn Crochet Scalloped Lace Baby Headband Pattern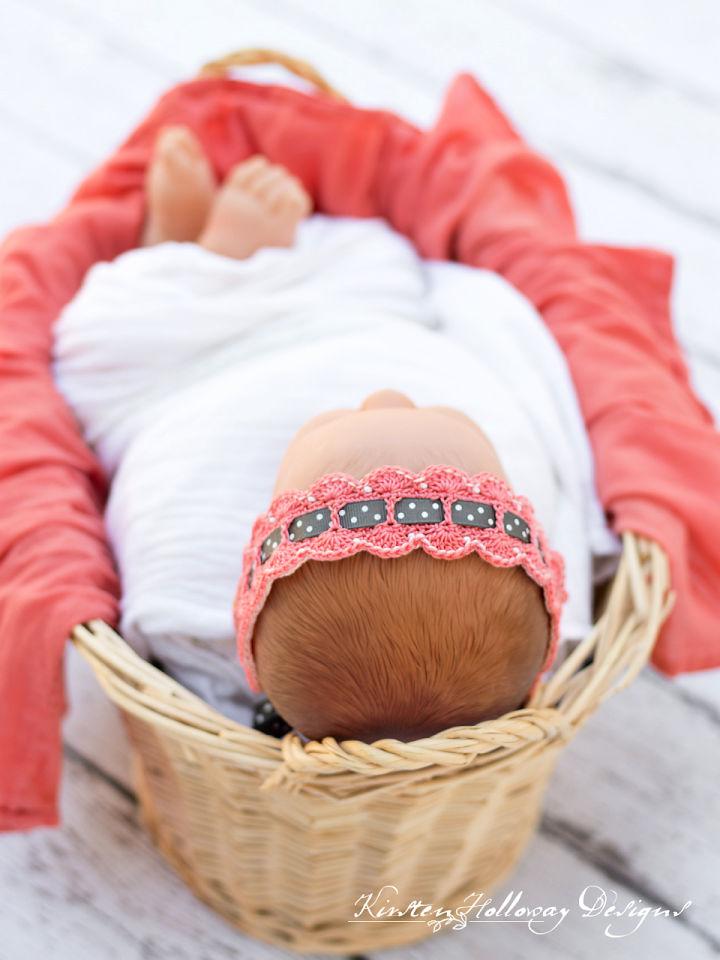 Dazzle the little ones in your life with an adorable crochet baby headband! This easy project requires only a few materials, like a 1.9mm (#5) steel hook and aunt lydia's #10 crochet thread. With the scalloped lace design, you can create beautiful headbands perfect for any occasion – plus, add ribbon for an extra special touch! Give this beginner-friendly tutorial a try to make something gorgeous – it doesn't get easier than this! kirstenholloway
11. Colorful Crochet Velvet Twist Baby Headbands Pattern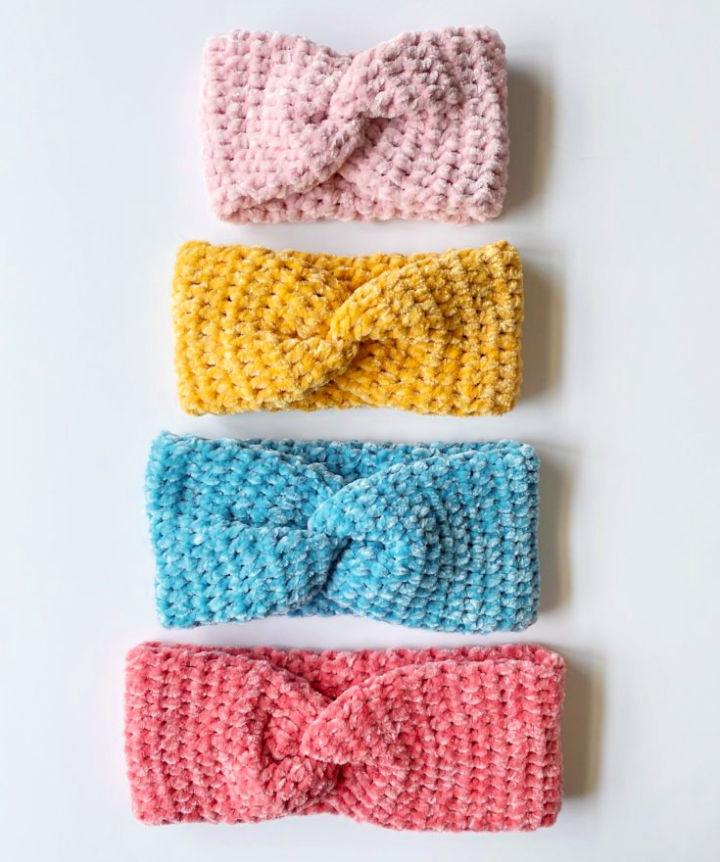 Be the envy of everyone with these colorful crochet velvet twist headbands! They are perfect for those who desire both comfort and style. Two adult-sized headbands can be made with just one skein of polyester yarn. Reach the ideal texture and twist by using a size h/5mm hook. These unique headbands will quickly become your favorite accessory because they look great and soft. So don't wait: make yours today! daisyfarmcrafts
12. Crochet Baby Girl Headband With Bow Pattern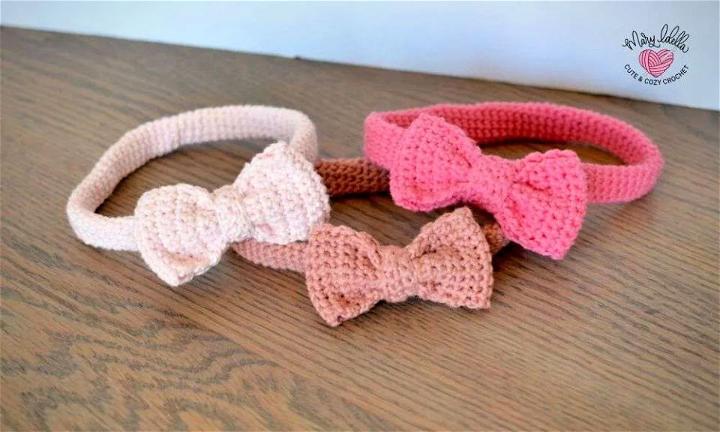 Treat the special little ones in your life to a handmade gift with this free crochet bow headband pattern! Personalize it with endless possibilities of colors, and make sure it fits perfectly by using ⅜ inch braided elastic. All you need is lightweight cotton yarn and a 3.75mm crochet hook – easy peasy! Create something beautiful that will be treasured for years to come. Get started on these adorable crochet bow headbands now! cuteandcozycrochet
13. Crochet Fun Fringe Baby Headband Pattern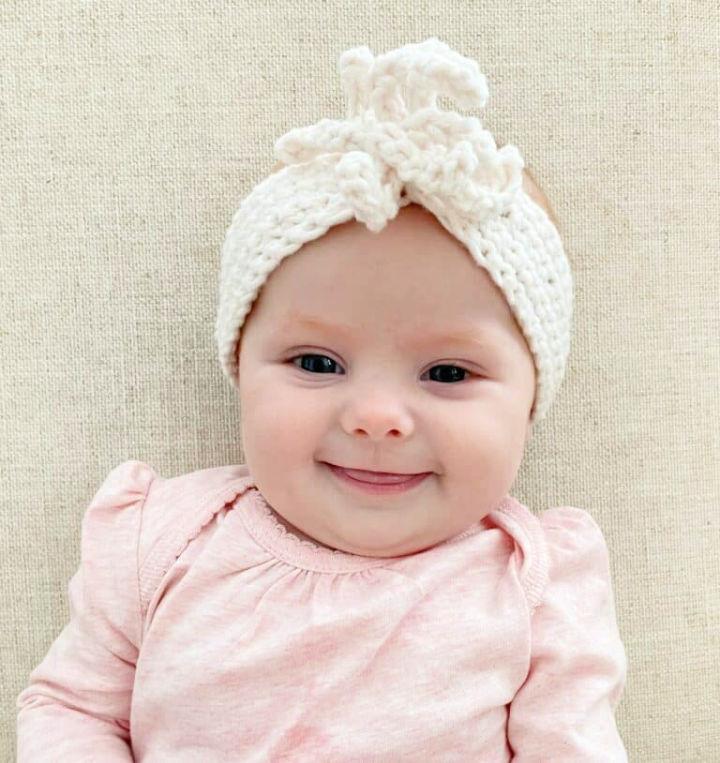 Be the coolest new parent around with this crochet fun fringe baby headband! Perfect for those chilly days, it's made with 100% polyester and is quick and easy to make. Its fringe design adds a stylish touch to keep your baby looking its best. Before you get started, measure the head circumference of your little one and make sure the headband is 2.5-3″ smaller for the perfect fit! Ideal for beginners, this project makes a great gift too. daisyfarmcrafts
14. Simple Crochet Chevron Baby Headband Pattern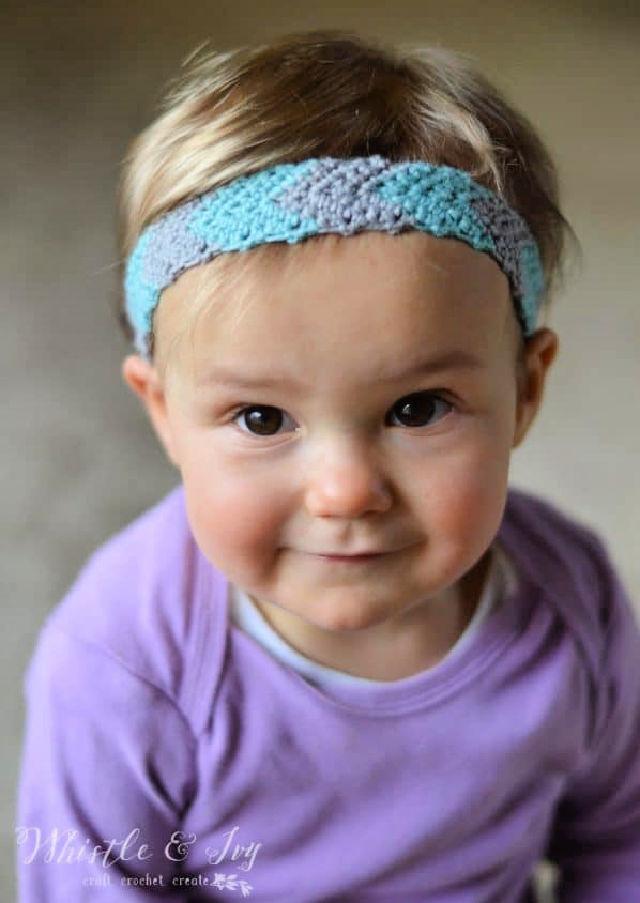 Create a stylish and comfortable headband with ease! This free crochet pattern for chevron headbands is perfect for beginners. Using basic materials like fingering weight yarn, size e hook and foldover elastic, you can quickly make them in any size. Relax and enjoy the repetitive motion of crocheting – it's both soothing and fun. Give yourself or your loved ones a special gift made with care – get started on this easy project now! whistleandivy
15. Crocheted Knot Me up Baby Headband – Free Pattern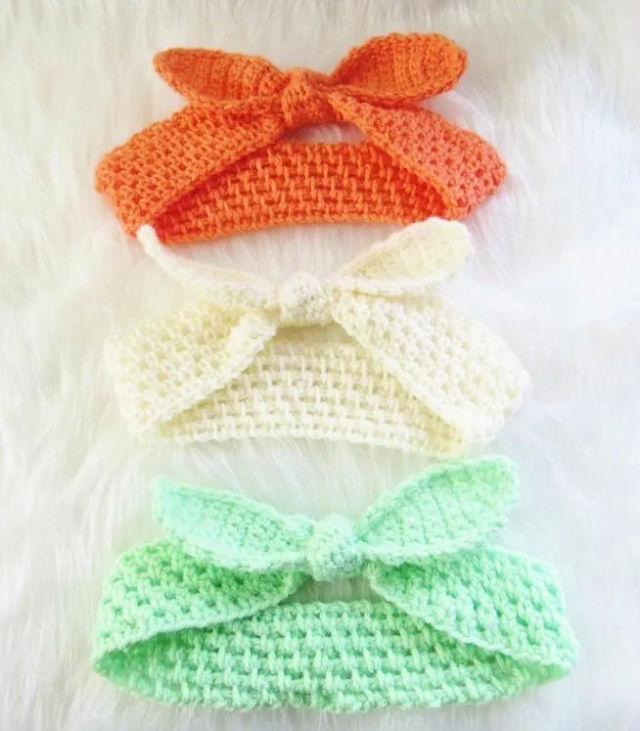 Looking for a stylish and comfortable headband crochet pattern? The knot me up headband is perfect for you! With instructions for sizes ranging from babies to adults, this easy-to-follow pattern can be created using dk weight yarn and h (5mm) hook size. Ideal as a baby shower gift or something special, why not try this free crochet pattern today and make your knot headband? Give it a go – you won't regret it! crochetdreamz
16. How to Crochet a Blueberry Dance Baby Headband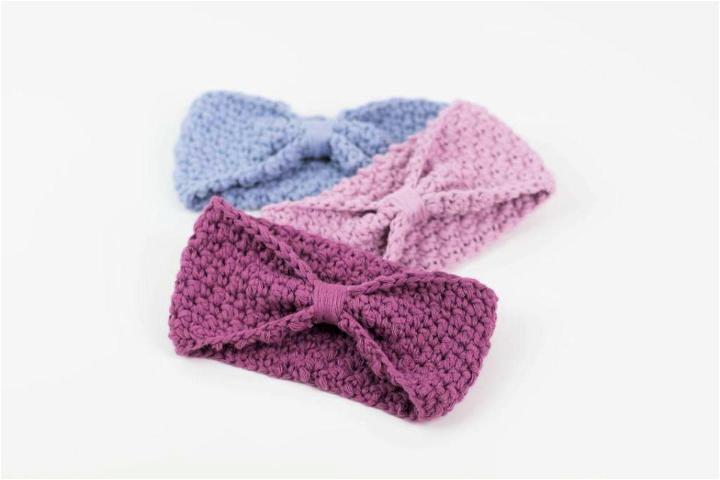 Make a splash this summer with the blueberry dance headband crochet pattern! Perfect for beginners, this free pattern is inspired by the sweetness of blueberries and can be made with aran weight 100% cotton yarn and a 4.5 mm hook, ranging from newborn to adult sizes. With a circumference of 30 cm and height of 7 cm, you can craft a comfortable yet stylish headband for everyone in your family. So why not try it today – let them dance in those blueberries! crobypatterns
17. Free Crochet Pattern for Baby Headbands With Flowers

Crochet a unique, one-of-a-kind gift for the special little girl in your life – with this crochet flower headband pattern! With instructions for sizes from newborn to adult, you can craft a beautiful headband anyone would love. All you need is worsted-weight yarn and an h hook – easy enough for beginners. Get started and delight your tiny fashionista with this sweet crochet gift today! midwesternmoms
18. How to Make Roseys Headband for Babies – Free Crochet Pattern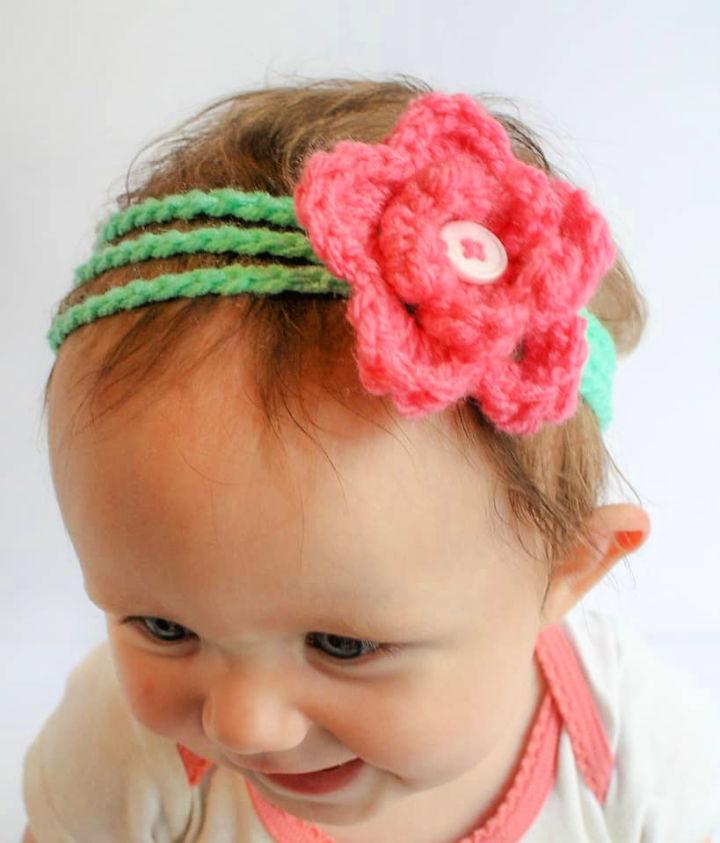 Give your child an extra special something with rosey's headband! It'll make them feel loved and appreciated! This free crochet pattern for a baby girl headband is made with soft and comfortable red heart baby hugs yarn, bringing a perfect touch of style to any ensemble. Plus, it features a ½-inch button flower that will make your baby look like an absolute darling. With crochet hook in size i (5.5mm), you can easily create this headband quickly. Why not give rosey's headband a try today? windingroadcrochet
19. Crochet Hippy Girl Headband Pattern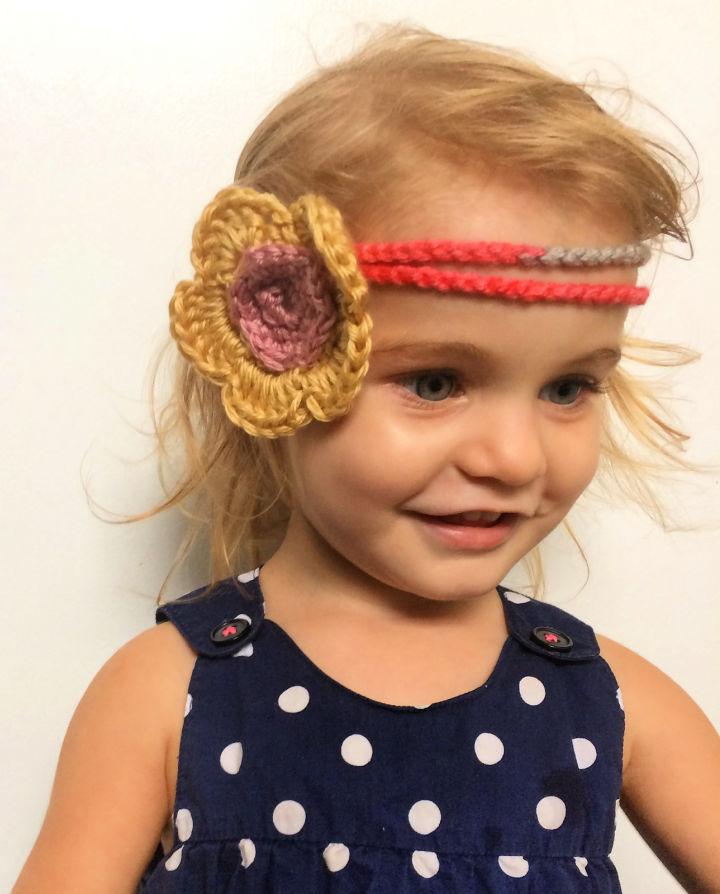 Brighten up your day with the crochet hippy girl headband! Made using red heart with love yarn in delightful and caron simply soft yarn for the flower motifs, this headband is sure to make a statement. With two hook sizes required – g (4.25mm) and f (3.75mm) – it's an easy project that will take some time to craft. Plus, you can use scrap yarn too! So why try out this free crochet pattern today? Add some vibrancy to your wardrobe now! knittykrissyblog
20. Crochet Baby Girl Lace Headband Pattern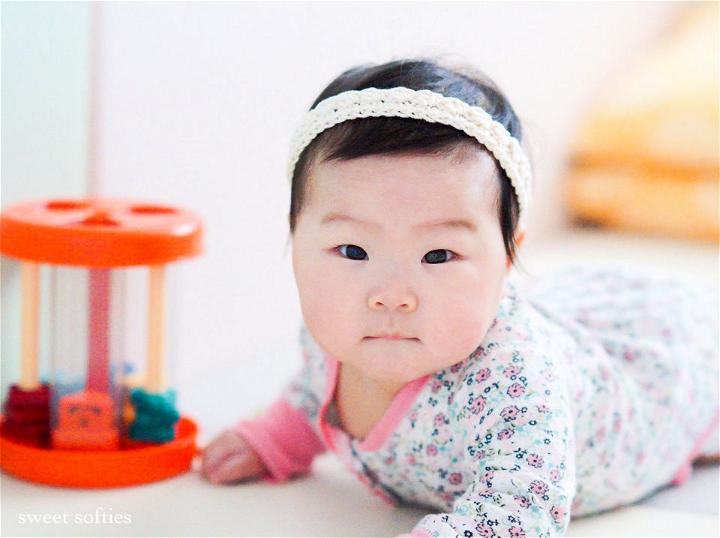 Add a touch of vintage elegance to your look in no time at all with this easy-to-make lace headband crochet pattern! Perfect for beginners, you can make one in 10 minutes or less – no sewing required. All you need to get started is light (3) weight yarn and a 5mm crochet hook. Why not give it a try and create your stunning headband today? sweetsofties
21. Quick and Easy Crochet Baby Headband for Beginners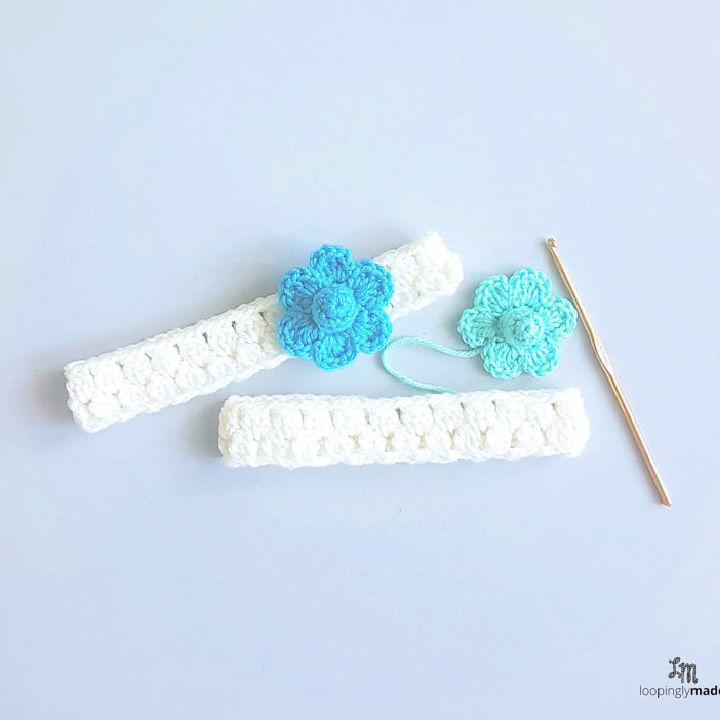 Welcome to the world of crochet! With this free pattern, you can easily make a cute headband for the little one in your life. Just 25 minutes, some worsted-weight yarn, and a 4.5mm hook are all it takes! The pattern offers three sizes suitable for 0-12 months, babies. It's easy even for beginners; have fun customizing it with different colors and embellishments to make it unique! Prepare to create wonderful headbands that would be an ideal baby shower gift in no time! craft her
22. Crochet Glamas Stretchy Rose Baby Headband Pattern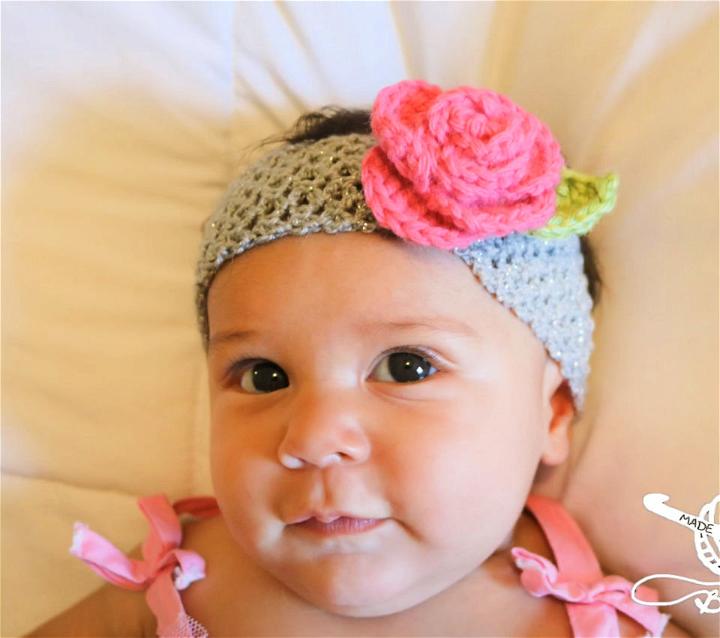 Whip up your own beautiful, stretchy crochet rose headband with the help of this easy-to-follow DIY video tutorial! Learn each step from beginner to experienced crocheter and enjoy a comfortable fit. All you need is some yarn and a crochet hook for this stylish accessory. Make it for yourself or as a gift – an unforgettable present! Follow along with the video now to make your very own glama's stretchy rose headband.
23. Crochet Big Bow Rainbow Baby Headband Pattern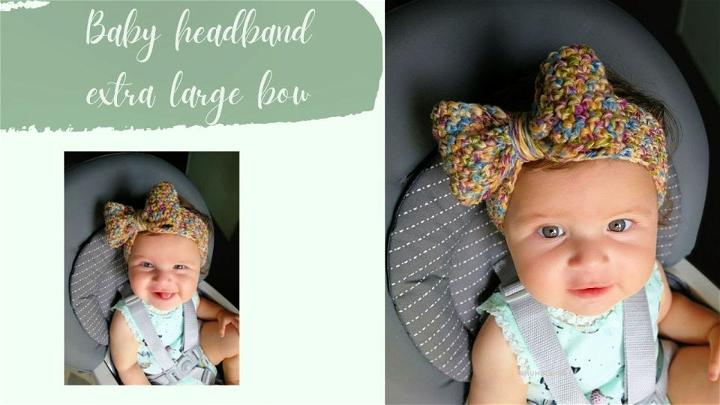 Show off your skills with this unique crochet headband! This easy-to-follow tutorial is perfect for beginners and includes step-by-step instructions to make a beautiful accessory in bright rainbow yarn. Create the perfect fit, from newborns to adults, by customizing your headband size. In no time, you'll have a stylish addition that's great for babies, toddlers, and kids of any age! Get started now with just a few simple stitches and colorful yarn – let's get crocheting!
24. Beautiful Crochet Infant Headband Pattern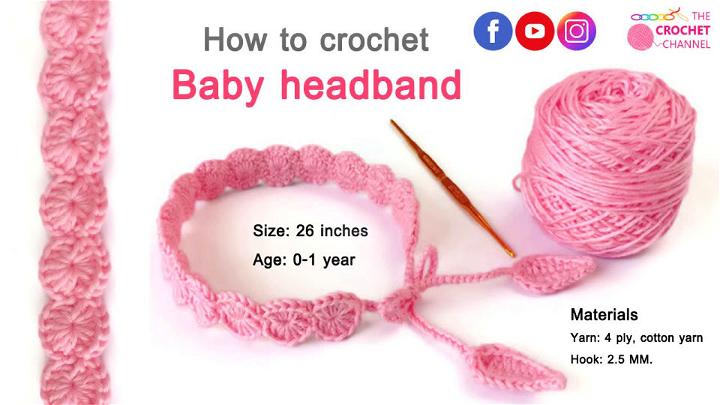 Stitch a beautiful and easy crochet baby headband in no time with this diy video tutorial! Perfect for beginners, the pattern is in single crochet stitches and can be customized to fit your little one. All you need is some lightweight yarn and a crochet hook – with just a few simple steps, you'll have an exquisite accessory for your baby's wardrobe. Follow along to make an impressive headband that will turn heads!
25. Crochet Blue Dahlia Flower Babies Headband Tutorial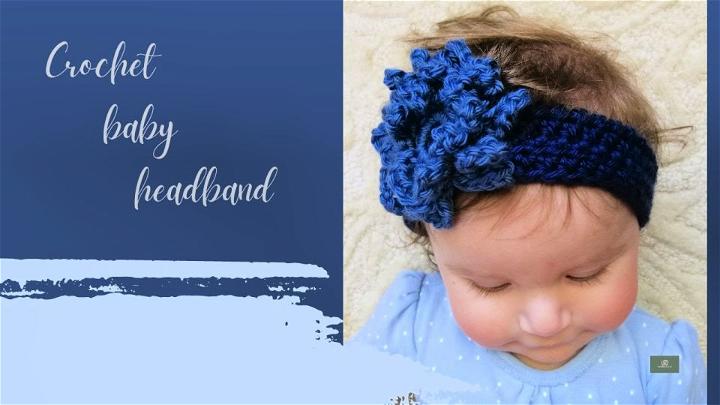 Flaunt your toddler's adorableness with this straightforward crochet headband technique! Perfect for beginners, the dahlia flower headband uses lightweight yarn and a 5.5mm hook to adjust the fit – sizes are included from 0-6 months up. Half double crochet gives it a unique look and is ideal for spring and summer fashion. Please remember never to leave your baby unattended while wearing a headband. Get creative with this delightful accessory today!
Related Free Crochet Patterns
Create something special for your precious little one with these free crochet baby patterns! From booties and blankets to hats and toys, find the perfect project for your bundle of joy.
Conclusion: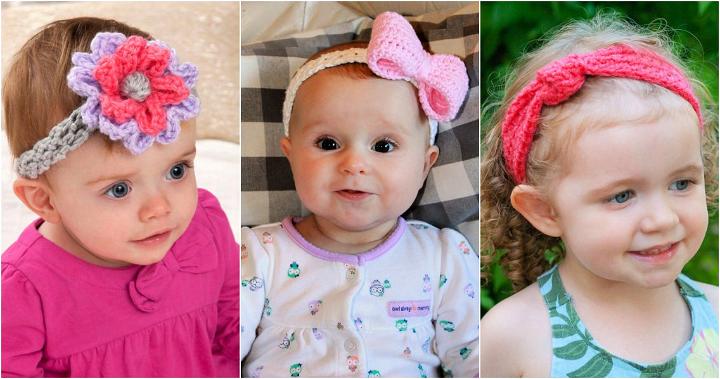 In conclusion, these 25 free crochet baby headband patterns provide an incredible range of options for both novice and proficient crocheters to explore. With patterns such as the bloomin baby headband, knotted baby headband, and crochet blue dahlia flower babies headband tutorial, there are numerous choices for crafting delightful and charming accessories for baby girls of all ages. Utilizing these free crochet patterns for baby headbands will create stunning, comfortable, and stylish headwear, sure to bring smiles to faces and elevate any outfit. Happy crocheting!