Dress your little one in style with these 25 free crochet baby dress patterns that are perfect for every occasion. Each crochet baby dress pattern offers detailed instructions and step-by-step guidance, making it easy for crochet enthusiasts of all skill levels to create adorable outfits for their little ones. From vintage-inspired designs to modern, chic styles, these crochet baby dress patterns cater to various tastes and preferences. Whether you're making a crochet baby dress for a newborn or a toddler, you'll find the ideal pattern in our curated selection.
These crochet baby dress patterns include the charming annie dress and bandana, the elegant vintage crochet baby dress, or the playful popcorn candy dress. Try the chic chevron crochet baby dress for a more contemporary look, available as a free PDF pattern. You can also choose from various sizes, including crochet baby dress patterns for 0-3 months, 3-6 months, and 6-12 months, ensuring a perfect fit for your precious bundle of joy. Customize your crochet baby dress by selecting different yarn colors, textures, and stitches to create a unique and charming piece.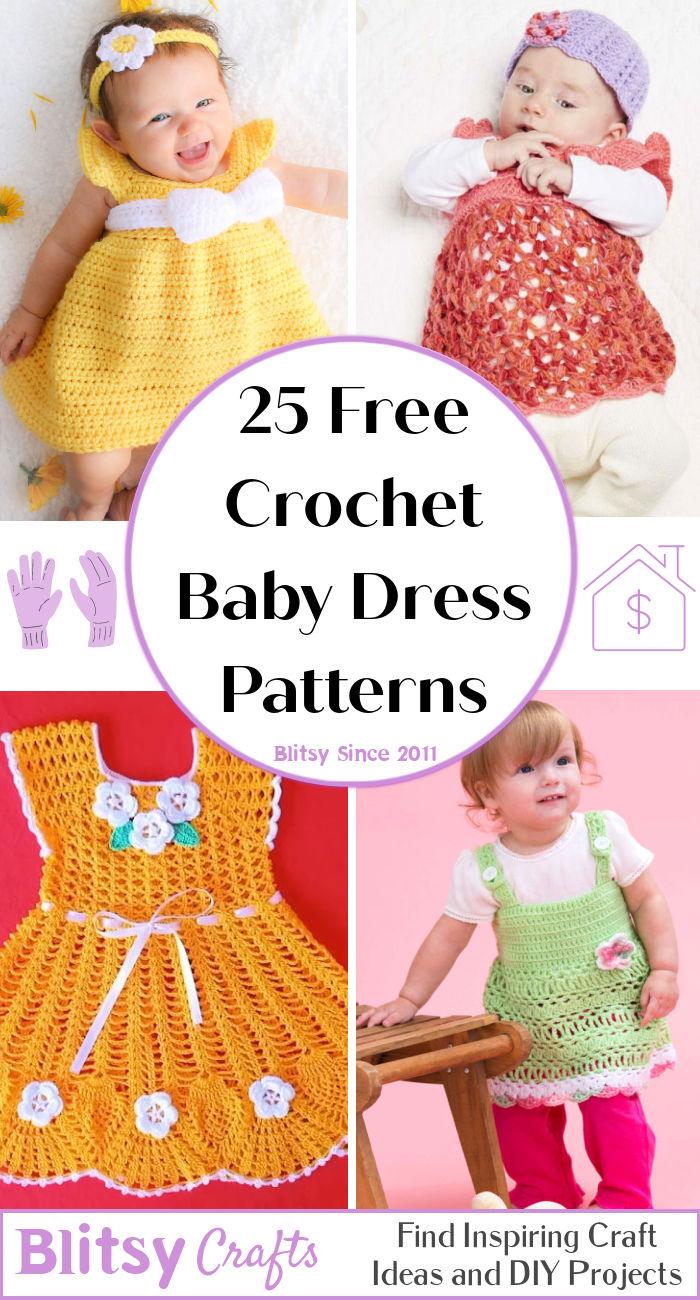 Each crochet baby dress pattern provides a list of needed materials and clear instructions to help you create stunning crochet outfits for your little one. With these free crochet baby dress patterns, you can customize your creations by selecting different yarn colors, textures, and stitches. So why wait? Dive into the delightful collection of crochet baby dress patterns and start creating unique, handmade garments for your baby today!
Crochet Baby Dress: A Guide for Beginners
Crocheting a baby dress is a wonderful way to create a handmade gift for a new arrival or a special occasion. Baby dresses can be made in different styles, sizes, and colors, and they are fun and easy to make. Learn how to crochet a baby dress based on some of the best free patterns below.
Before you start, you will need some basic supplies and skills. You will need:
A crochet hook is suitable for the yarn you are using. Most baby dress patterns use light or medium-weight yarn, so you need a hook size between 3.5 mm and 5.5 mm. Check the label of your yarn for the recommended hook size.
Yarn in the color and quantity specified by the pattern. You can choose any soft, washable yarn that is suitable for babies. Some popular choices are cotton, acrylic, or blends of these fibers. Avoid wool or other animal fibers that may cause allergies or irritation.
A tape measure, scissors, stitch markers, and a yarn needle. These are essential tools for measuring, cutting, finishing, and sewing your crochet project.
Basic crochet stitches and techniques. You should know how to make a slip knot, a chain stitch, a slip stitch, a single crochet stitch, a double crochet stitch, and how to increase and decrease stitches. You can find tutorials for these stitches online or in any crochet book.
A pattern to follow. There are many free crochet baby dress patterns online that you can download or print. We will suggest some of the best ones below.
Now that you have everything ready let's look at some of the patterns you can try.
Crochet Baby Dress Size Chart: A Guide for Crafting the Perfect Fit
Crocheting baby dresses is a delightful and creative activity that allows you to create beautiful, one-of-a-kind garments for the little ones in your life. However, to ensure a perfect fit and make the most of your crocheting efforts, it is crucial to have a comprehensive size chart at your disposal.
Here we provide a detailed and unique crochet baby dress size chart covering various age groups, from premie to 24 months, including essential measurements such as height, weight, head, chest, hip (with diapers), back of neck to hip, and foot length. This chart will be your ultimate guide to crafting well-fitted and comfortable dresses for babies.
Crochet Baby Dress Size Chart
The following chart provides the approximate measurements for each age group, keeping in mind that every baby grows at a different rate. These measurements are meant to be used as guidelines to help you create a garment that fits comfortably.
Please note that these measurements are in inches.
| Age Group | Height | Weight (lbs) | Head Circumference | Chest | Hip (with diapers) | Back of Neck to Hip | Foot Length |
| --- | --- | --- | --- | --- | --- | --- | --- |
| Premie | 15-17 | 4-7 | 11-12 | 10-12 | 12-14 | 6-7 | 2-2.5 |
| Newborn | 17-21 | 7-11 | 13-14 | 12-14 | 14-16 | 7-9 | 2.5-3 |
| 0-3 Months | 21-24 | 11-15 | 14-15 | 14-16 | 16-18 | 9-11 | 3-3.5 |
| 3-6 Months | 24-27 | 15-20 | 15-16 | 16-17 | 18-19 | 11-13 | 3.5-4 |
| 6-9 Months | 27-29 | 20-23 | 16-17 | 17-18 | 19-20 | 13-15 | 4-4.5 |
| 9-12 Months | 29-31 | 23-27 | 17-18 | 18-19 | 20-21 | 15-17 | 4.5-5 |
| 12-18 Months | 31-34 | 27-31 | 18-19 | 19-20 | 21-22 | 17-19 | 5-5.5 |
| 18-24 Months | 34-37 | 31-35 | 19-20 | 20-21 | 22-23 | 19-21 | 5.5-6 |
Please remember that these measurements are meant to be guidelines, as every baby grows at a different rate.
Crochet baby dress size is a measurement that indicates how big or small a crochet baby dress is. It is usually based on the age, height, weight, and body measurements of the baby who will wear the dress. Different crochet patterns may have different sizing instructions and charts, so checking the pattern before starting to crochet is important.
Cute Crochet Baby Dress Patterns Free
Explore this great collection of 25 free crochet baby dress patterns that range from simple to complex, classic to modern, and plain to colorful. You can find patterns for different seasons, occasions, and sizes. Some patterns include matching accessories like hats, booties, or jackets.
1. Free Crochet Annie Dress and Bandana Pattern

Looking for the perfect crochet dress and bandana set for your baby? Look no further! This free crochet Annie dress and bandana pattern is designed to fit babies from 1 to 18 months of age, with adjustable chest size. Featuring a beautiful ruffled trim on the shoulders and knees, also this dress will make any little one look extra adorable. The unique S twist shape of the included bandana also has a ruffled center detail that adds an extra touch of cuteness. Get your free crochet pattern today and create this stunning dress & bandana combo in no time! myaccessorybox
2. Vintage Crochet Baby Dress Pattern

Check out this vintage two-toned crochet baby dress pattern! Step-by-step instructions and a guide will help you create a beautiful finished product with ease. Available in four sizes – 6, 12, 18 and 24 months; 19″, 20″, 22.25″, 23.5″ chest circumference – it can be worked up using US size 4 medium-weight yarn. Beginner friendly skill level is required! Get started on this adorable outfit today with this amazing vintage crochet baby dress pattern! ravelry
3. Free Crochet Popcorn Candy Dress Pattern

There is nothing sweeter than this free crochet popcorn candy dress pattern! This over-the-top outfit will be your little one's favorite. From the yarn to the hook and stitch markers, all materials you need are included in this easy tutorial.
Create a cute and stylish dress with acrylic blend yarn that has beautiful colors to choose from. You can make a unique look for any special occasion with just a few simple measurements and steps! Make your child stand out by following this free crochet popcorn candy dress pattern today! topknotchcrochet
4. Chevron Chic Crochet Baby Dress – Free PDF Pattern

Grab this chevron chic crochet baby dress – it is an adorable and easy-to-make addition to your little one's wardrobe. Download the free PDF pattern from Red Heart Yarn; this project calls for soft white yarn, a susan bates 6mm crochet hook, a yarn needle, and stitch markers. Ensure you note the gauge given in the pattern when you start stitching this precious piece! Perfect for special occasions or everyday wear – have fun making this dress today! yarnspirations
5. Simply Crochet Spring Baby Dress Pattern Newborn-6 Months

Welcome to the simple spring baby dress pattern! With this free crochet baby dress pattern, you can easily create a cute dress for any newborn up to 6 months old. Perfect as a last-minute baby shower gift, this easy-to-follow pattern requires minimal effort and time while still making your little girl look gorgeous. The simple spring baby dress will surely be a hit for any special occasion with its spring color options. Make your life easier with this free crochet pattern today, and see how beautiful it turns out! windingroadcrochet
6. Free Crochet Peapod Baby Sundress Pattern

Check out this free crochet peapod baby sundress pattern; it is perfect for creating an adorable princess look for your little one. Crafted with soft yarn and intricate stitching, this pattern makes an unbelievably cute doll-like dress that will be the perfect addition to any wardrobe! With easy-to-follow instructions and detailed diagrams included, you can start making this beautiful dress in no time. Your baby girl will love feeling like a true princess wearing this gorgeous sundress made by you! yarnspirations
7. Free Crochet Raglan Baby Cardigan Pattern

Beginner at crocheting? Worry not, as with this free crochet raglan baby cardigan pattern, your crocheting endeavors are sorted for anyone, even beginners! It's an easy top-down design with no shaping and 6 sizes (up to 4T), so you can make one as your own little one grows. Enjoy making a few of these cozy cardigans that are sure to keep your special someone warm this season. So, get the essential supplies and start this productive yet creative work now! crochetdreamz
8. Crochet Newborn Baby Dress Set Pattern

Craft a beautiful and unique baby girl outfit with this amazing crochet newborn baby dress set pattern! Perfect for friends, family or your own little one, it includes a lovely dress, boots and a headband. The dress has a finished length from the shoulder of 13.5 Inches and a sleeve length from the underarm of 1 inch for added comfort. Get creative crocheting something special today – great for baby showers or as a thoughtful gift! crochetncreate
9. Modern Crochet Desert Willow Baby Infant Dress Pattern

This modern crochet desert willow baby infant dress pattern is ideal for any spring or summer wardrobe. It's an easy-to-stitch one-piece design and comes in four sizes! Crafted with drops of belle unicolor, this dress is perfect for newborns to 12 months old. Plus, it only requires a hook, stitch markers, a needle, and three buttons to complete the look. Make your little one stand out in style with this gorgeous crocheted dress pattern today! crochetkim
10. Crochet Ruffle Yoke Baby Dress Pattern Diagram

Crochet, a beautiful dress for your baby with this crochet, ruffle yoke baby dress pattern! This free crochet baby dress pattern is perfect for any parent wanting to make something unique for their kids.
It features detailed diagrams and instructions, making it easy to follow along and create stunning clothing. With its intricate design, this pattern will add an extra layer of flair to your little one's wardrobe. The step-by-step guide will ensure that you can easily get the desired result with no hassle. So don't wait any longer; click the link now and start stitching away! yarnspirations
11. Fancy Crochet Baby Pineapple Frock Dress Pattern

Get your hands on this crochet baby lacy pineapple frock dress pattern; it is perfect for babies aged 12-24 months. This modern and stylish design makes it a great choice for the summer or spring season to protect your baby's delicate skin. With the addition of these beautiful baby-beaded crochet shoes, you can create an adorable look that will make your little one stand out! This pattern is easy to follow with detailed instructions, so try it out today and add some style to your baby's wardrobe! crochetcrosiahome
12. Rainbow Ripple Wrap Dress Crochet Pattern

We have added something perfect for active toddlers, a rainbow ripple wrap dress crochet pattern! Available in sizes 2T, 3T and 4T, it works well with one color changing and one solid yarn or two solid colors. To complete this adorable project, you'll need worsted weight yarn, a yarn or tapestry needle, and locking stitch markers or safety pins. Making the perfect gift for your little ones' summer wardrobe, you won't be disappointed after finishing this fun dress pattern. Get started on creating something special today! stitchesnscraps
13. Free Crochet Spring Party Girl Dress Pattern

Make your little one the star of any special occasion with this gorgeous free crochet spring party girl dress pattern. Featuring set-in sleeves with a stunning gather at the top for some added "poof," elegant skirting featuring tiny bobbles and an understated bow in front, this dress is sure to turn heads. With easy-to-read instructions and simple stitches, you will have a breathtaking garment that rivals even large department store chains. Get creative and craft something beautiful today! crochetkim
14. Free Crochet Pleated Baby Dress Pattern

Unleash the perfect charm to your baby's wardrobe with this free crochet pleated dress pattern! This beginner-friendly pattern uses simple stitches and is great in any color combination. All you need is a 4.0 and 5.0 mm crochet hook, DK weight yarn (Lilac for color A and white for color B), stitch markers (optional), and a yarn needle. Get creative with this sweet little dress today! toyslabcreations
15. Crochet Thread Elizabeth Dress Pattern

Style an adorable and fun dress for your little girl with this crochet thread Elizabeth dress pattern! This pattern is perfect for newborns up to 24 months old and works in a round alternating front post stitch. Add a simple necktie to complete the dress, then customize it with any color scheme or accessories you choose – from princess themes to more everyday looks. Make your daughter look beautiful in this easy-to-follow crochet thread Elizabeth dress pattern! theleitherco
16. Isaac Mizrahi Crochet Baby Dress Pattern

This classic piece of infant fashion follows a simple yet sophisticated design, perfect for any special occasion. The detailed instruction booklet helps you understand each stitch and step along the way. With this pattern, make sure to grab your favorite color yarn and create something that will be remembered for years to come. Never worry about needing more experience or time, as this project is designed for anyone from beginner crocheters to seasoned artisans alike! Create a timeless keepsake with this free crochet baby dress pattern today! premieryarns
17. How to Crochet Jordynns Dress – Free Pattern

Unveil the perfect dress for your special little one with this free crochet baby dress pattern! This step-by-step tutorial teaches you how to create a beautiful Jordynn dress. From choosing yarn and hook size to crocheting the final product, we have all the details covered. We also provide helpful tips on finishing techniques and how to customize depending on individual needs. Follow along as you make this lovely piece of clothing from start to finish – it's sure to be an enjoyable experience that will result in something truly special. ravelry
18. Crocheting a Garden Party Child Dress – Free Pattern

Unleash your little one's inner fashionista with this free crochet pattern for a garden party child dress! It features one of our favorite stitches and is designed to be as adorable and fun as your child.
Imagine them prancing around in color combos resembling watermelons, bees, and stunning stripes – you won't miss out on this special design. Enjoy crafting something unique that will make others say, "aww!" Check out this link today and see the video tutorial and start crocheting! simplycollectible
19. Free Crochet Sweet Baby Outfit Pattern

Welcome to a free crochet sweet baby outfit pattern. This beautiful, easy-to-make pattern is perfect for crafting an adorable and warm clothing set for your little ones.
It consists of a simple crochet cardigan with a hood and matching booties that will keep them comfy all day long. The amazing combination of colors will make it look unique and stylish at the same time.
Get creative by playing around with different yarns and stitching techniques. Also, spend quality time making something special for someone you love! Download this free pattern today to get started on bringing life into your favorite handmade pieces! yarnspirations
20. Adorable Crochet Baby Girl Outfit Pattern

Easy stitches make up this yoke of the dress, and post; shell stitches create texture on the skirt. Follow these instructions to craft an adorable garment your little one will love. With this simple and straightforward pattern, you can give your infant a unique look in no time at all! Make your own version of this beautiful dress and see how quickly it becomes a favorite piece in your wardrobe. maisieandruth
21. Crochet Infant Dress Pattern for Beginners

Create a cute dress for your baby this summer with our easy crochet infant dress pattern, perfect for beginners. With a 4mm steel crochet hook and 3ply cotton yarn, you will use the basic single and double crochet stitches along with chain patterns to create the yoke and flare shell stitch pattern. The border is decorated with pineapple stitch pattern double crocheted shells. Finally, top it all off with 2 layer crochet flowers! Try out this fun project today!
22. Very Easy Crochet Newborn Dress Video Tutorial

Are you looking for a very easy crochet newborn dress tutorial, best for starters in crochet? Look no further! This video tutorial on free crochet baby dress patterns will help you make a beautiful, soft and comfortable dress that is perfect for your little one. With these step-by-step instructions, we guarantee to make the process of crocheting the dress simple and enjoyable.
This project is ideal even if you are starting out with basic crochet stitches, so don't worry if you're a beginner – this pattern has been designed especially with beginners in mind.
23. Crocheted Baby Dress Tutorial – 0-3 Months

This tutorial on free crochet baby dress pattern is perfect for creating a beautiful 0-3 months baby dress. All you need are materials such as needle and thread, ruler, scissors, and hook sizes 4.5 mm & 5.0 mm to craft this gift or great first pictures prop. Easily follow the pattern in the link and get started on making your special piece! This crocheted baby dress will be something your little one cherishes forever – start crafting today with our easy-to-understand tutorial!
24. Crochet Baby Dress With Flowers Design

Nothing makes an outfit more peaceful and calming than a crochet dress for your baby. This crochet baby dress with flowers design is the perfect addition to any wardrobe. Its delicate design features soft petals in white, pink and yellow shades that will coordinate perfectly with any look.
The lightweight cotton fabric will keep your little one comfortable all day long. At the same time, the intricate stitching adds texture and style to her ensemble. Whether you're dressing up or just looking for something special, this unique baby dress is sure to be a hit!
25. Crochet a Pineapple Stitch Baby Dress – 6-9 Month

Spruce up a beautiful pineapple stitch baby dress fit for 6-9 months old with this simple crochet pattern. Using the finest quality wool and crocheting hook, you can easily craft a unique crochet dress your little one will love to wear. With other essential materials included in this pattern, it's easy to make a handmade garment perfect for special occasions or everyday use. Craft your own pineapple stitch baby dress today and enjoy the satisfaction of creating something special!
Related Free Crochet Patterns
Bring your creativity to life with our selection of free crochet baby patterns! Create beautiful, one-of-a-kind garments and accessories that will make friends and family ooh and ahh.
Conclusion:

In summary, the world of crochet baby dresses presents many options, from simple beginner-friendly patterns to intricate designs for experienced crafters. With a rich collection of 25 free crochet baby dress patterns catering to various age groups, from 0-3 months to toddlers, you will surely find the perfect dress for any little one. As you explore this delightful selection of patterns, you'll uncover the joy of creating adorable and cherished clothes for the precious babies in your life. So, why wait? Start your crochet baby dress pattern today and bring your creative vision to life with these delightful designs.