Phones are usually costly and worth protecting, so you need to be careful about what you protect them with. The phone cases available in stores can be bland and uninspiring. If you wish to have a unique phone cover then personalize your smartphone with these 25 best diy phone case ideas vary from beginner to advanced and look as fun as they are to make! No matter what your level of crafting is, you will be able to find a diy phone case that is affordable and fully doable to recreate. So gather all your supplies and tools to know what project you should make utilizing those things and eventually give your phone a new look!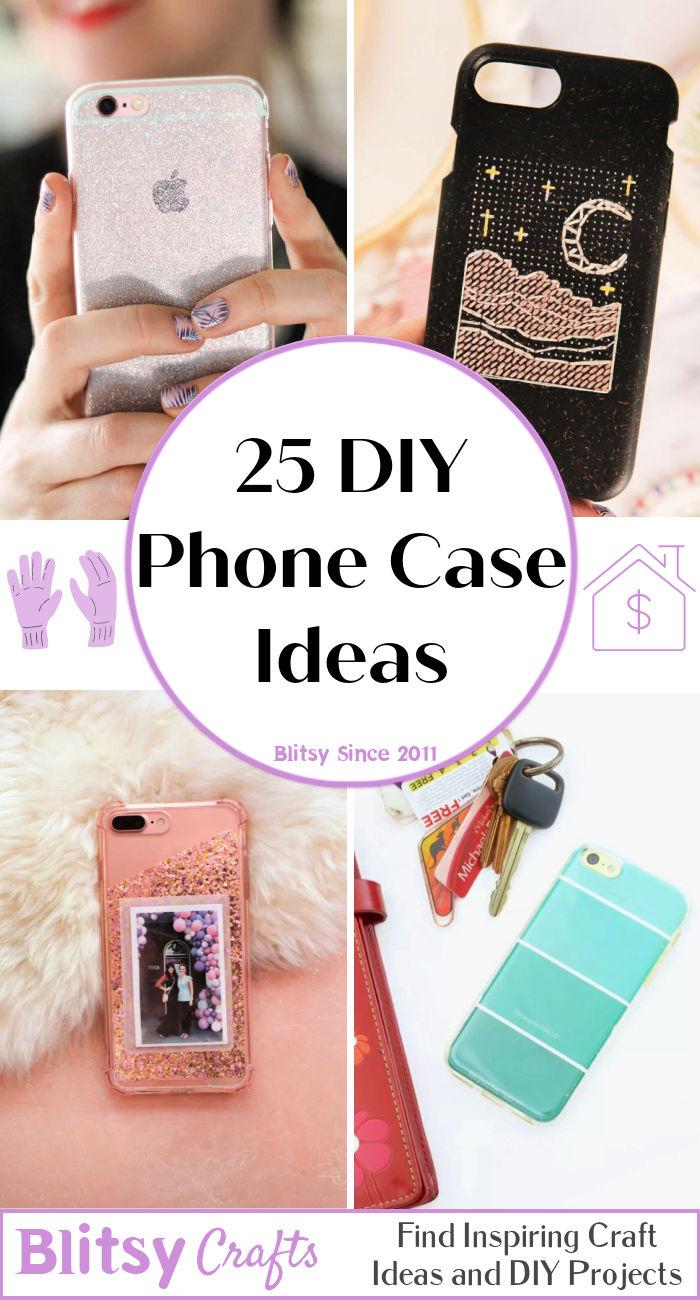 In this article, we have covered a huge variety of DIY phone case ideas to make a phone case for you. We can find lots of different things to make the case, including beads, spikes, prints, wood, glitter, craft papers, embroidered patches, washi tapes, paint chips, watercolors, and much more! As you can see, we have a lot of diy phone cases options for you to pick and choose from!
All you have to do is pick up the best crafting plan that suits you, your comfort, and your skills the best and start working on it. They are very reasonable to make, and mostly the supplies are already present in your homes which is a great thing, right? So, what are you waiting for? Without any further ado, let's give these homemade phone case ideas mentioned below a try!
1. Fancy DIY Phone Case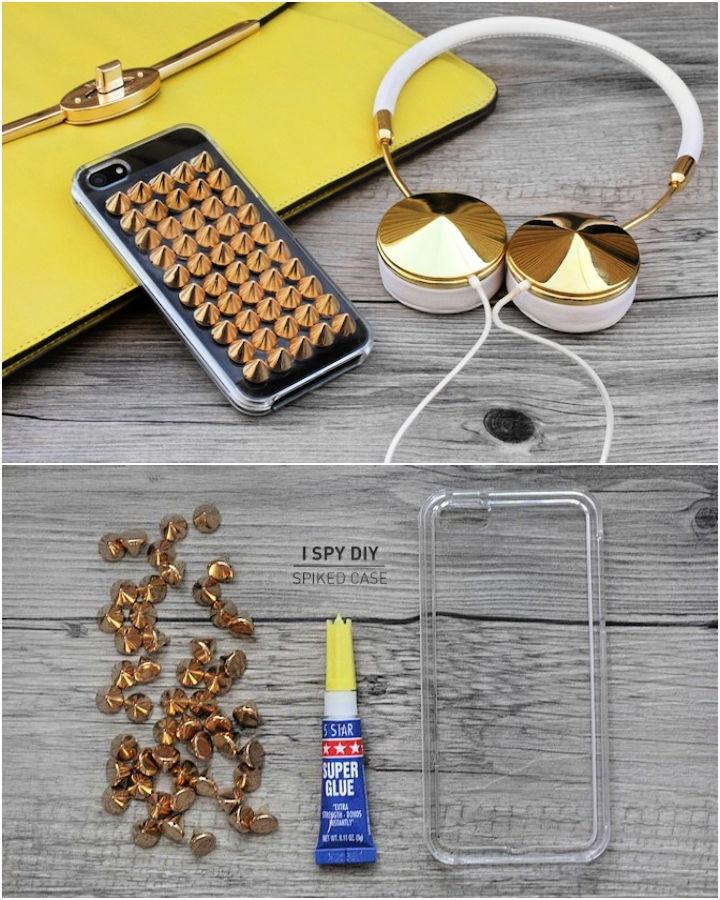 Are you someone who loves to embellish their phones and create different DIY projects? Then you need to try this DIY spiked case project out! It is super fun and easy to make, which will literally take a few minutes to complete. So, let's try and give a new look to your phone with some basic supplies like super glue, a clear phone case, and spikes! ispydiy
2. Printable Phone Case With Vinyl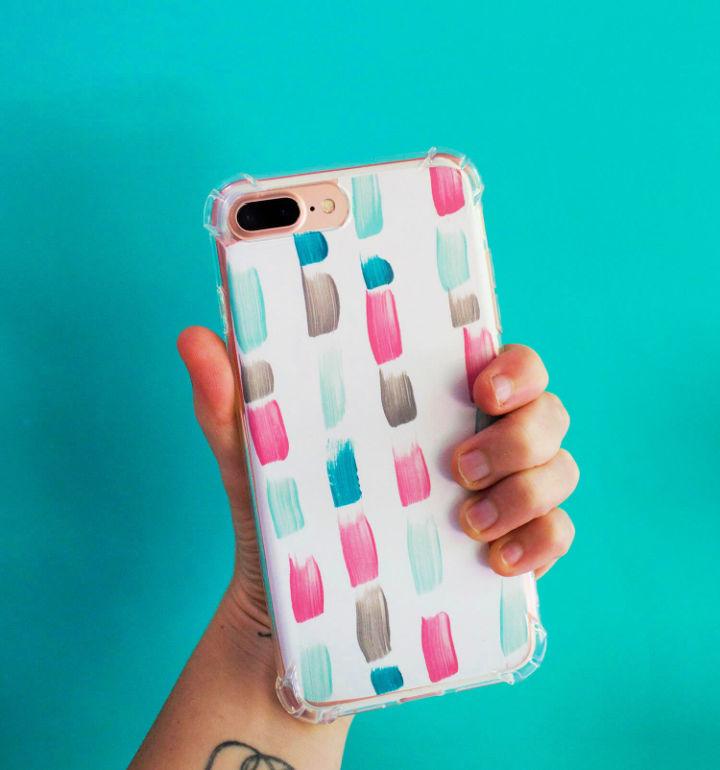 Find this one of the best phone case painting ideas! Make this printable phone case with vinyl at home easily! This project lets you use your imaginative skills and make a phone case to spruce up your boring phone easily within minutes isn't it cool? It also costs very little and can be completed with supplies which are usually present at home. The materials include paper for painting, paints, brushes, scrap notebook paper, inkjet printer, inkjet vinyl paper, scissors, and X-acto knife. abeautifulmess
3. DIY Glitter For Your Clear Phone Case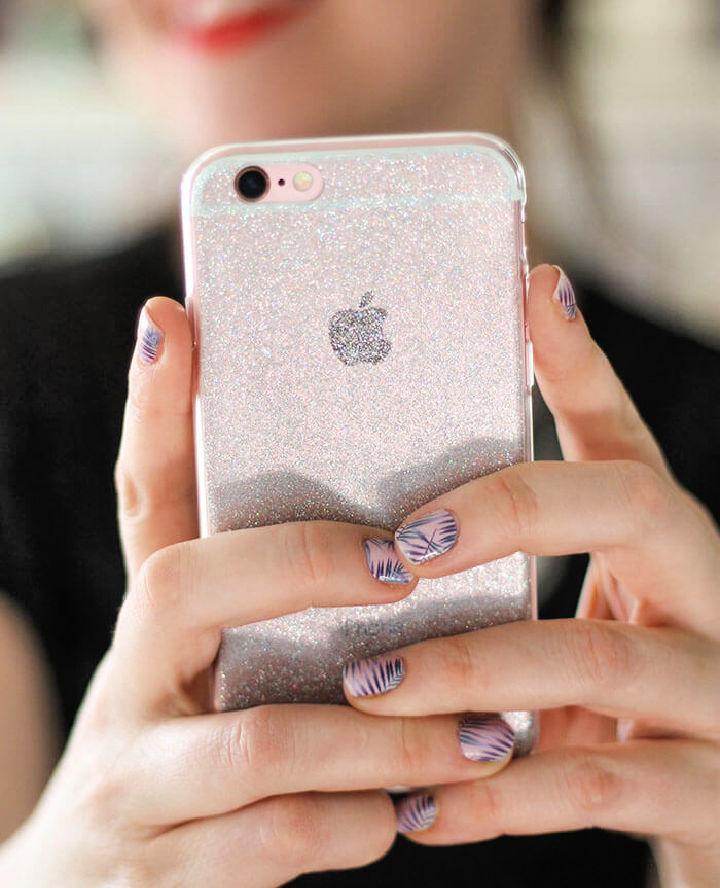 Add some glitz and glamour to your phone with this super simple and quick glitter phone case. It instantly upgrades your phone, and you can make your own design in a few minutes! The simple and clear cases usually lack personality so this fun DIY helps to change that and make the cases appear more attractive and beautiful. So are you ready for this magical project? If yes, grab all the supplies like a clear phone case, transparent glitter vinyl, weeding tool, craft knife, silhouette cameo or electronic cutting machine, and my triangle SVG file. persialou
4. Homemade Beaded Phone Case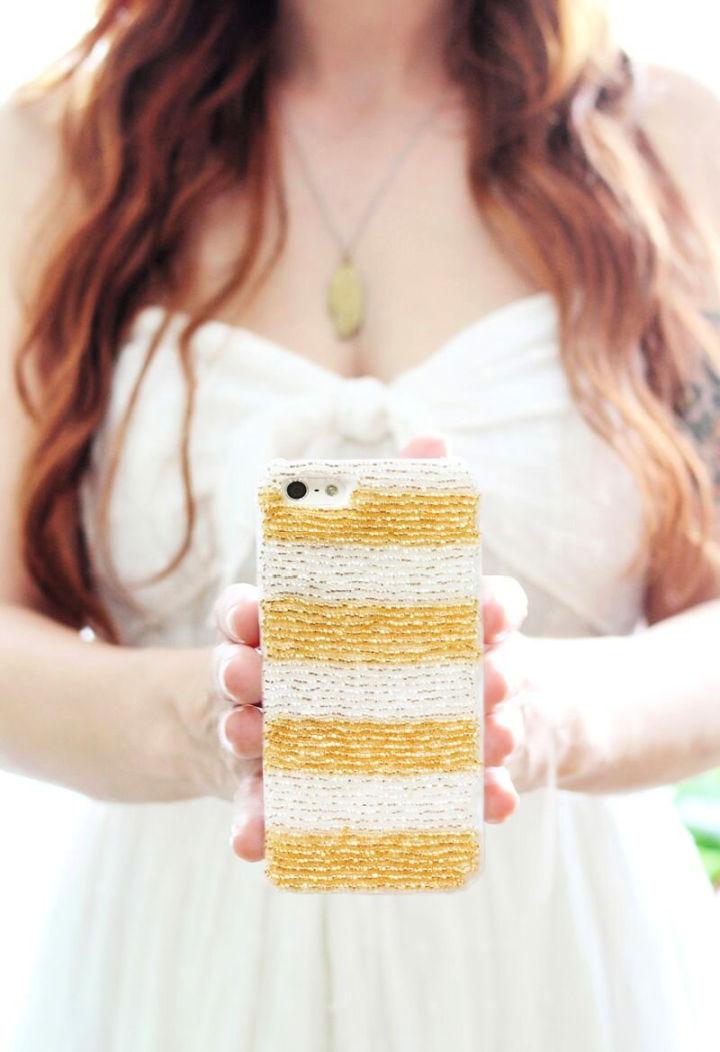 Now you can make your own DIY beaded phone case and show off your artistic skills to the world. This phone case is very simple to make and can be completed within a few minutes, so if you have a party to attend, you can easily make this project the night before. Other than that, for this plan, we will need a few basic supplies including glass beads in whatever color you like, a blank phone case, E6000 glue, and a small needle and thread. abeautifulmess
5. DIY Embroidered Patch Phone Case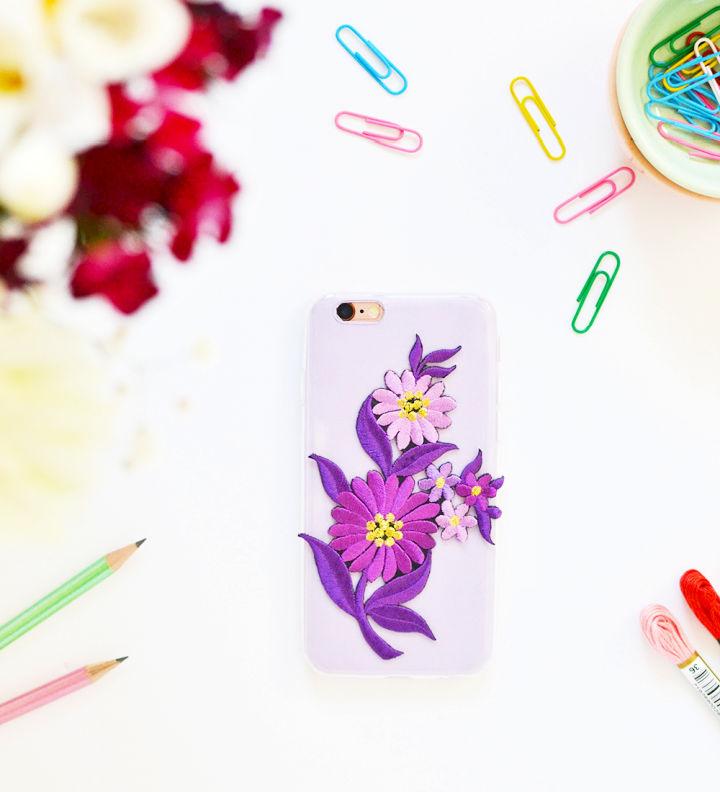 Texting all day can be hard on the hands, especially when your phone case is hard and uncomfortable. So as a solution to this, here we have this DIY embroidered patch phone case which adds a soft and thick piece of embroidery to the back. It will make your phone much more comfortable to hold and use, along with adding a nice touch of glam to it isn't it the best? So, to make this, you will need materials like a transparent phone case, craft papers, embroidered patch, x-acto knife, super glue, and a pair of scissors. enthrallinggum
6. Printable Smart Phone Case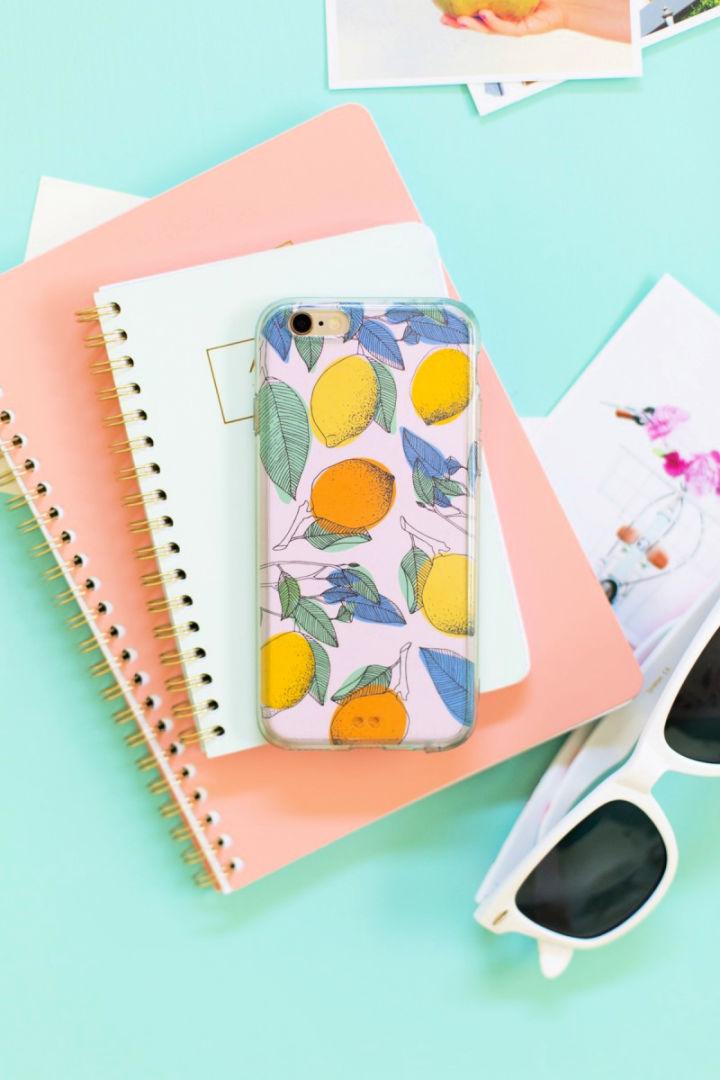 Here we have a printable smartphone case for you to make instantly. You can choose any cool printable design from the internet to give a new look to your phone within minutes. Rather than spending a huge amount of money while buying a case from some store, you will need some materials for this project, including a clear smartphone case, printable cases in the small or large, printer, and scissors or craft knife. lovelyindeed
7. Build Your Own Cricut Phone Case with Vinyl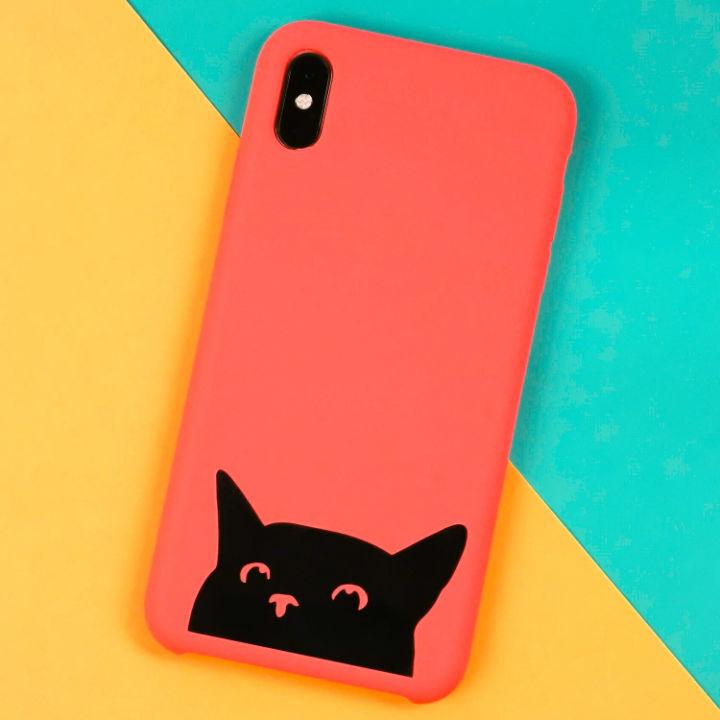 Next up we have this cool idea to build your own Cricut phone case with vinyl at home very easily, so if you wish to customize your phone according to yourself, this is a super cool and fun way to do that. Moreover, the supplies you will be needing to complete this project are Cricut maker, Cricut joy or Cricut explore, blue light grip or green standard grip, permanent adhesive vinyl, phone case, weeding tool, and cat SVG. heyletsmakestuff
8. Make A Photo Cell Phone Case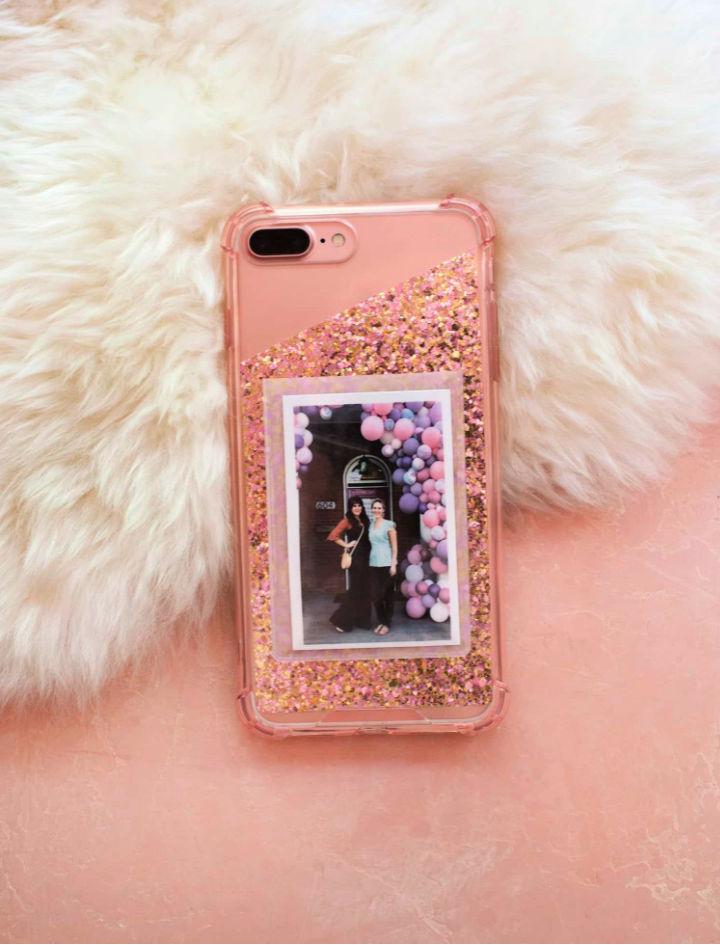 Keeping photos as our wallpaper is quite a common and old idea to display the faces of our favorite people to the world, right? So, let's change up this trend by making this DIY photo cell phone case. It is quite a unique and interesting way of personalizing your phone and you will surely have a lot of fun making this as well. Other than that, it is made with basic materials and does not cost a lot how amazing is that? For this, you will need a clear cell phone case, business card plastic sleeves, glitter paper, glitter, sequins, craft paint, nail polish, clear drying glue, and IVY mini photo printer. abeautifulmess
9. Wooden iPhone Case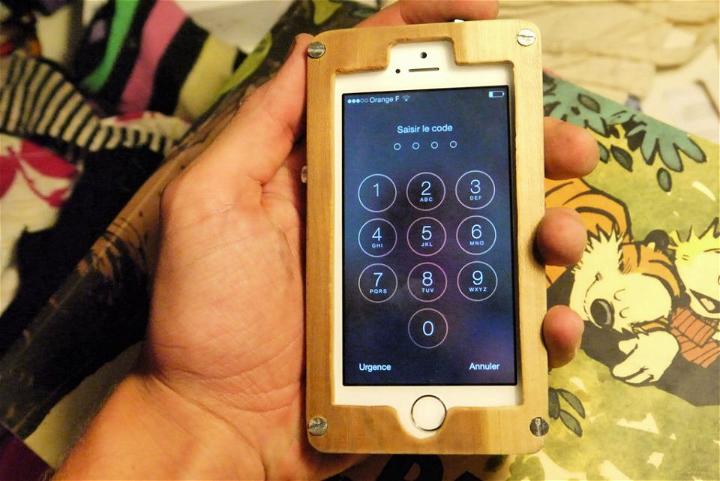 Do you want to build a strong and sturdy case for your phone? Here we have the best option for you to try! This wooden iPhone case can easily be made at home and will protect your phone for a long time. Moreover, the supplies you ?ll need are thin hardwood sheets, thicker hardwood scraps, small screws, nuts, super glue or wood glue, scroll saw, belt sander, drill press, a variety of screwdrivers, hammers, and sandpaper. instructables
10. How To Make Phone Case Out Of Paper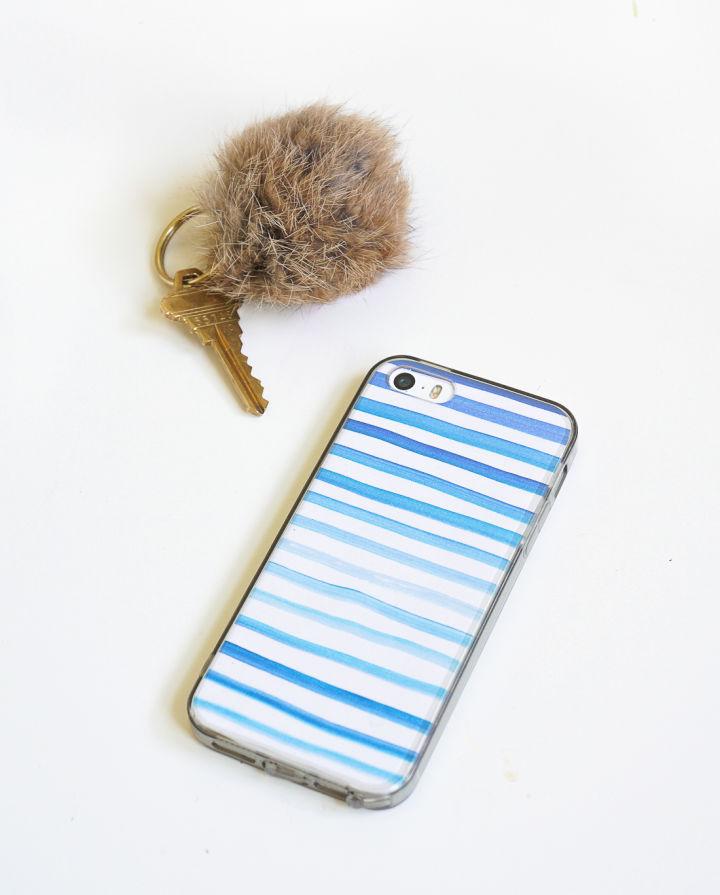 Are you someone who loves to paint using watercolors? Then this is the perfect plan to make! Just grab all your supplies like a clear cell phone case, medium-weight white paper, watercolor paint, water brush, scissors, artist's knife, and pencil. This project is quite simple to make, which you can complete in just 5 minutes how cool is that? Isn't it? So get rid of your old and chipped phone case and make a new one within minutes! francoisetmoi
11. Abstract Gradient Painted Cell Phone Case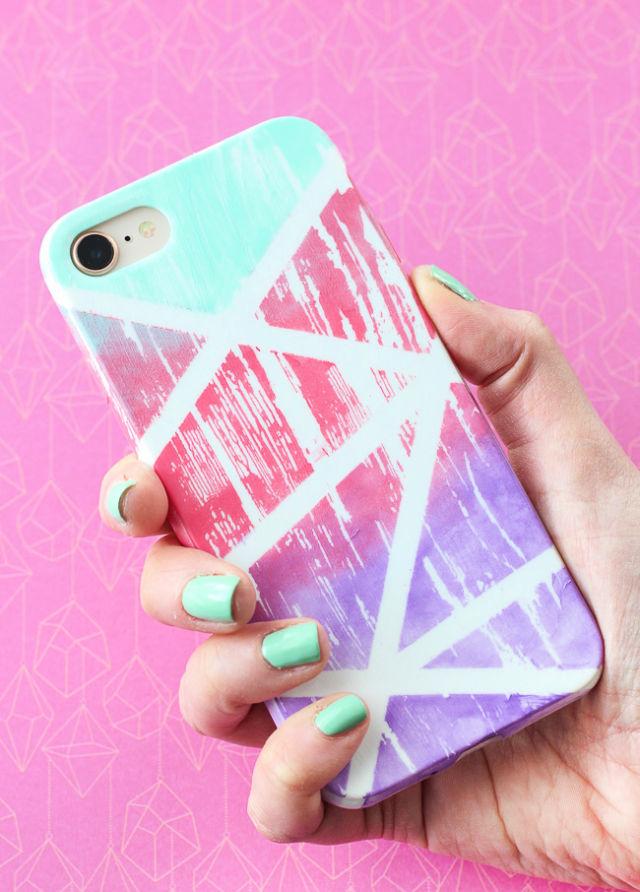 Turn your phone into a gorgeous accessory by making your very own DIY abstract gradient painted phone case. This quick and easy craft is effortless to make and can instantly revamp your phone case in minutes. Moreover, you can choose any colors that you like for your phone case. Some necessary supplies in this project are a cell phone case, waterfront, Americana dura clear soft-touch varnish, thin painters tape or washi tape, cosmetic sponge, needle, pen cap, fingernail needed for creating distress vertical stripes. lydioutloud
12. How to Make a Phone Case – Free Sewing Pattern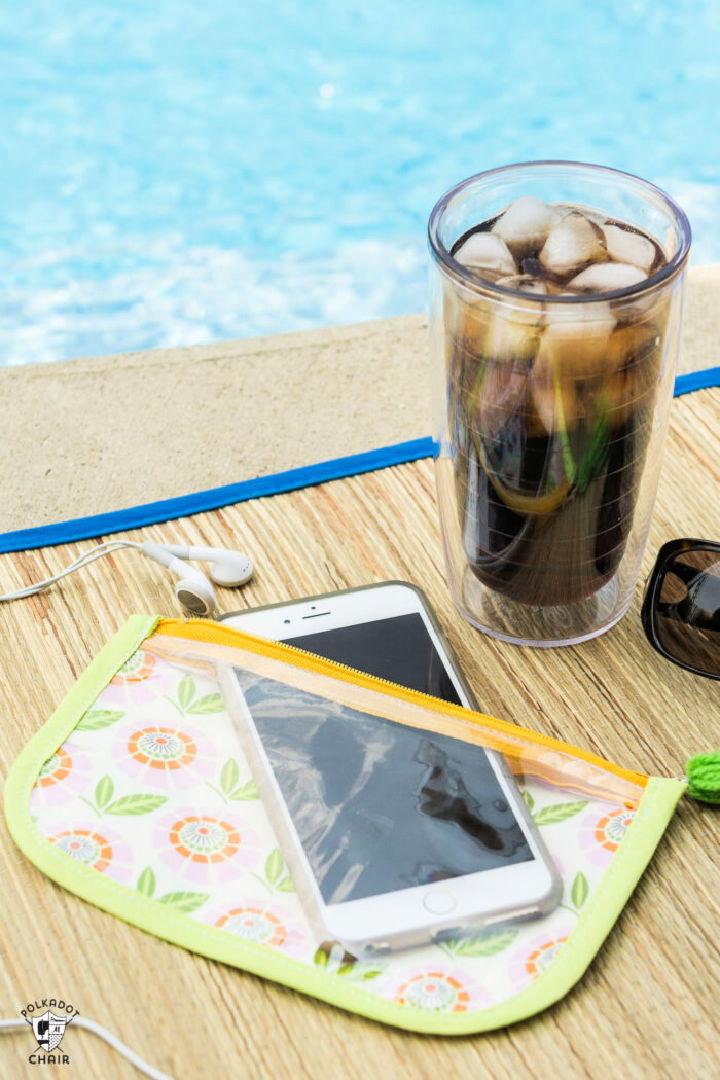 Are you someone who loves to go to the beach during summers? If yes, then you would surely need to have something that will keep your phone protected in the water, just like this DIY splash-proof phone pouch. It is super fun to make, and you will also save a lot of money with this project. Moreover, you can customize the design in any color that you like. The supplies for this DIY include two 5×8 pieces of clear vinyl, 7 zipper, extra wide double fold bias tape, two 5 x 8 pieces of fabric, one 5×8 piece of heat n bond lite, zipper foot for a sewing machine, scraps of tissue paper, and threads to match your bias tape. polkadotchair
13. Chevron Glitter iPhone Case Design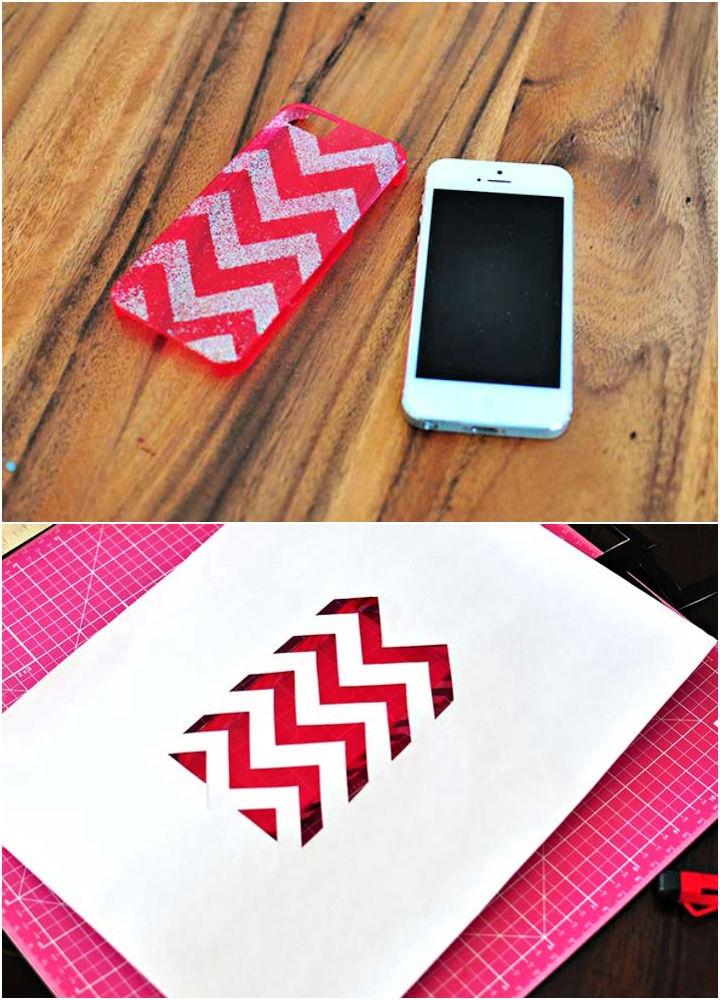 Do you love changing your phone case just like a fashion accessory? Then let's try out this chevron glitter DIY iPhone case which is super cheap and easy to make. This fun project is great to spruce up your phone within minutes. For his, you just need glitter, repositionable adhesive, craft knife, paper, printable chevron pattern, plain plastic phone case, printer, and clear acrylic sealer. consumercrafts
14. Easy Jeweled Cell Phone Case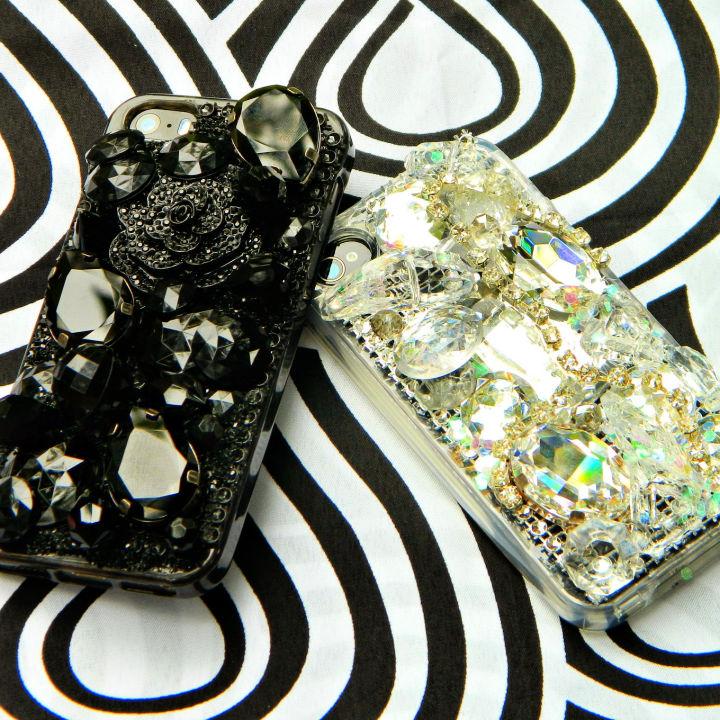 Who doesn't love a bedazzled and jeweled fancy phone case? Well, here is a DIY plan a phone case at home easily with a few materials and you will have a new and fun case for a fun party or night out. You will need 5-6000 in clear and black, black rhinestone trim, beads or gems, crystal rhinestone trims, and basic cell phone cases, which are easily available at dollar stores. markmontano
15. Creative Cross Stitch Phone Case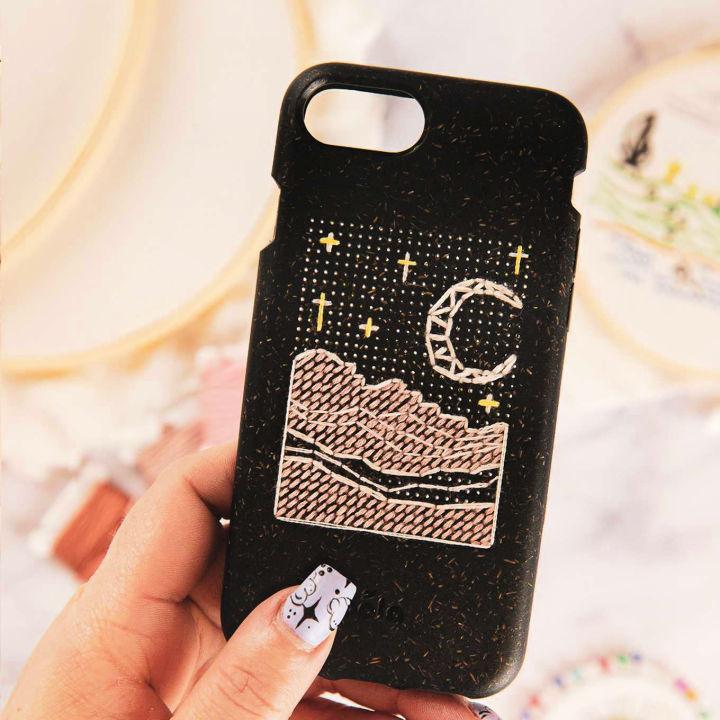 Spruce up your phone with this gorgeous and creative cross-stitch phone case. The mystical landscape looks beautiful in embroidery and is easy to make if you are familiar with basic stitching techniques. So, before you start working on this project, grab all the necessary supplies, and let's start making it right away! thisiscolossal
16. Decorate Phone Case With Nail Varnish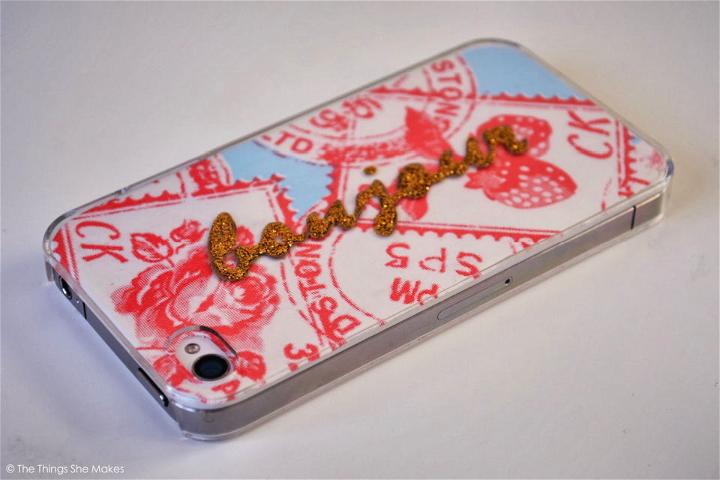 Let's try and replace your old phone case by making this DIY phone case with nail varnish. This project is much easier and fun to create without making a huge mess around you, which is one of the best parts. For best results, you can customize it according to the colors you like the most. Other than that, you will need a clear iPhone case, nail varnish, pretty paper, wrapping paper or tissue paper, scissors, Q-tips, or tweezers. thethingsshe
17. Washi Tape Phone Case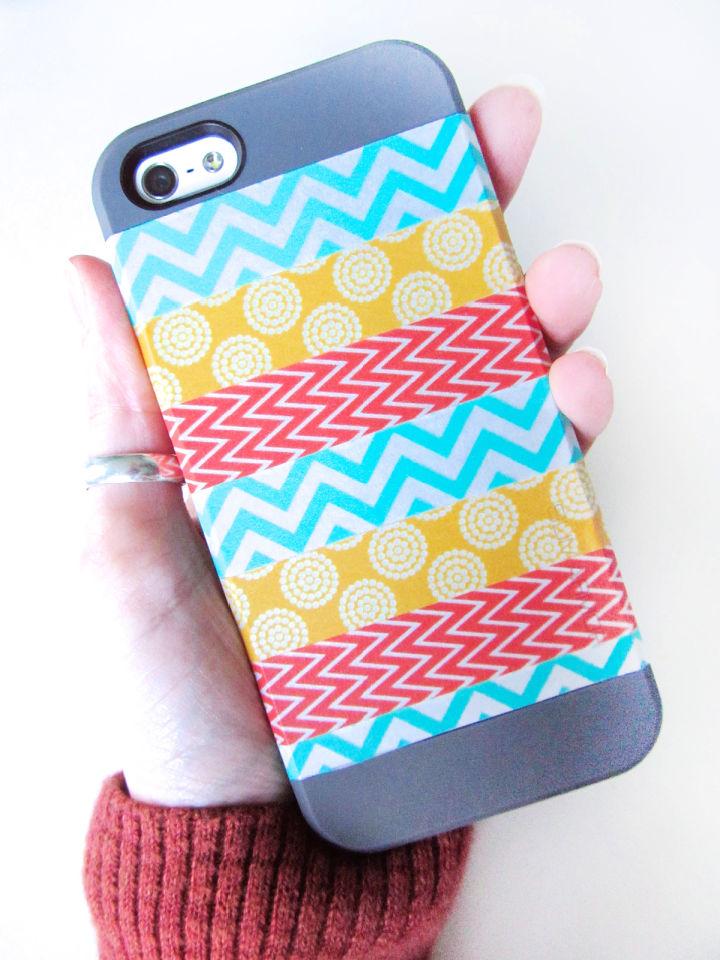 For a contemporary and bold type phone case, you can add some geometric details to it. To do this as simply as possible, you can use tapes. A washi tape is still a popular way to add fun details to craft projects relatively inexpensively. It is n quick and easy way to turn your phone more colorful and cheerful bandwithin the budget. For this, you will need some basic supplies like assorted washi tapes, phone cases, and micro-tip scissors. imagineourlife
18. Make Your Own Cell Phone Case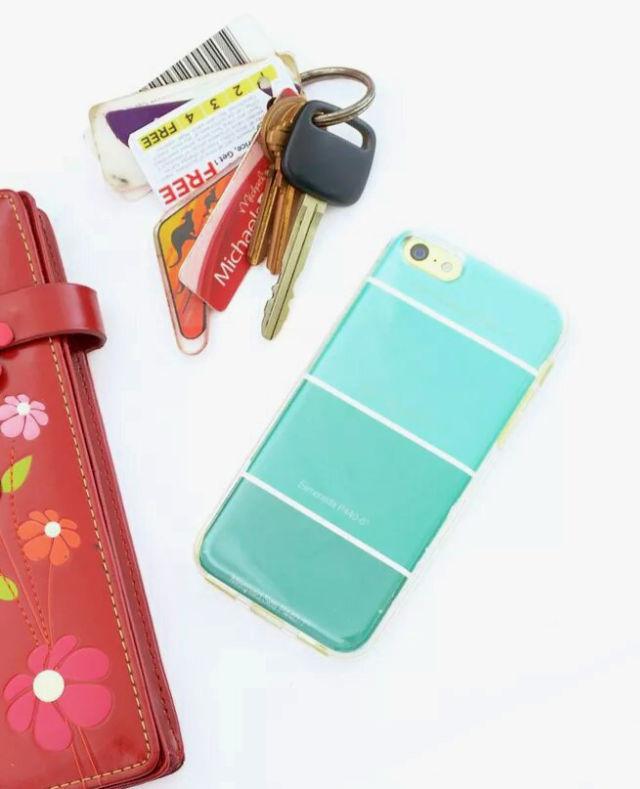 Tired of spending a lot of money on store-bought phone cases? Then let's DIY a phone case easily at home with this plan. It requires minimal effort and supplies and within a minute you will have a nice and new phone case for your device. So, make sure you have the right clear case for your phone, a free paint swatch from any hardware store, an x-acto knife, and a pair of scissors. plasteranddisaster
19. Simple Duct Tape Cell Phone Case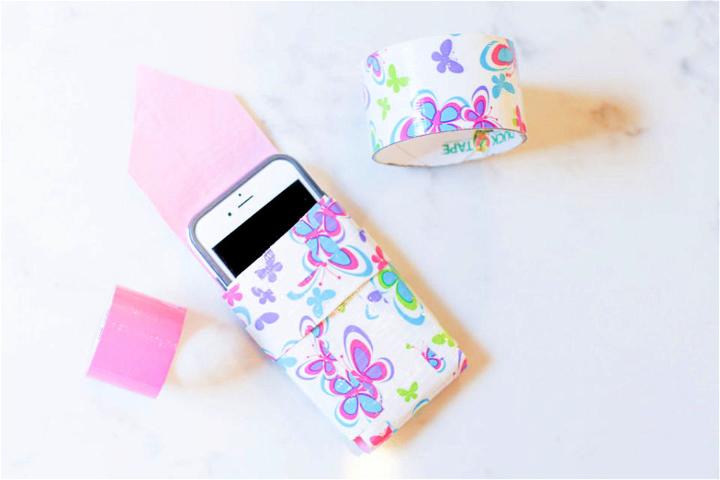 Do you have free time at hand and want to do something productive? Well, let's make a fun and easy DIY duct tape cell phone case for yourself or to gift to a friend on their birthday. It is super simple and handy, which will look pretty and be very inexpensive to make! It requires some creativity so you can unleash the artist in you while working up this beautiful case. Moreover, the supplies you will need are duct tape, an old t-shirt or some felt about 6 x 15″, scissors, a ruler, your phone to measure, and goo is gone. wannabebalance
20. Making Pearl iPhone Case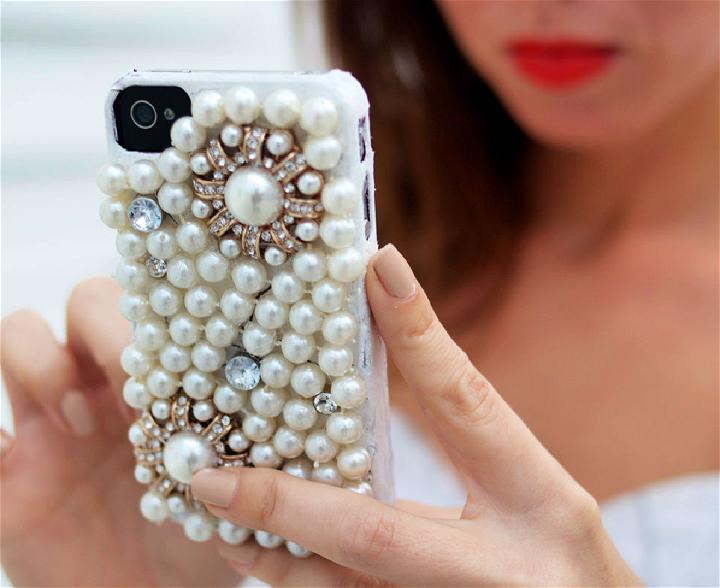 Are you someone who loves to DIY stuff at home and create new things every day? Then let's try out this unique and fancy pearl iPhone case. It is a super quick and fun way to embellish your phone. You can customize the design with your favorite stones, pearls, and other decor pieces. To start with this project, you must have a clear phone case, paint, pearls or stones, and E-6000 with you which are the basic supplies for this plan. So get ready to customize this pearl case and prepare for the compliments coming your way! sydnestyle
21. Hot Glue Phone Case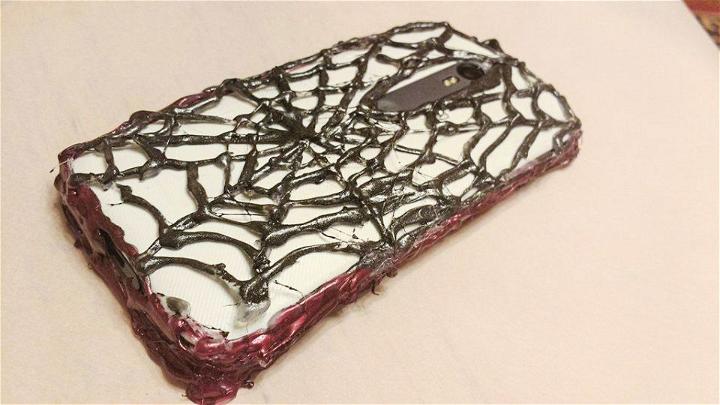 Do you always break your phone case and looking for a sturdier and better option? Then try out this DIY hot glue phone case. It is one of the simplest DIY to make, giving a nice look to your phone and that too on such a low budget! You need basic things like a hot glue gun, glue sticks, parchment paper, tape, nail polish or acrylic paint, and a permanent marker. You can use your imagination and add color to the case in whatever shade you want! instructables
22. Really Cool Phone Case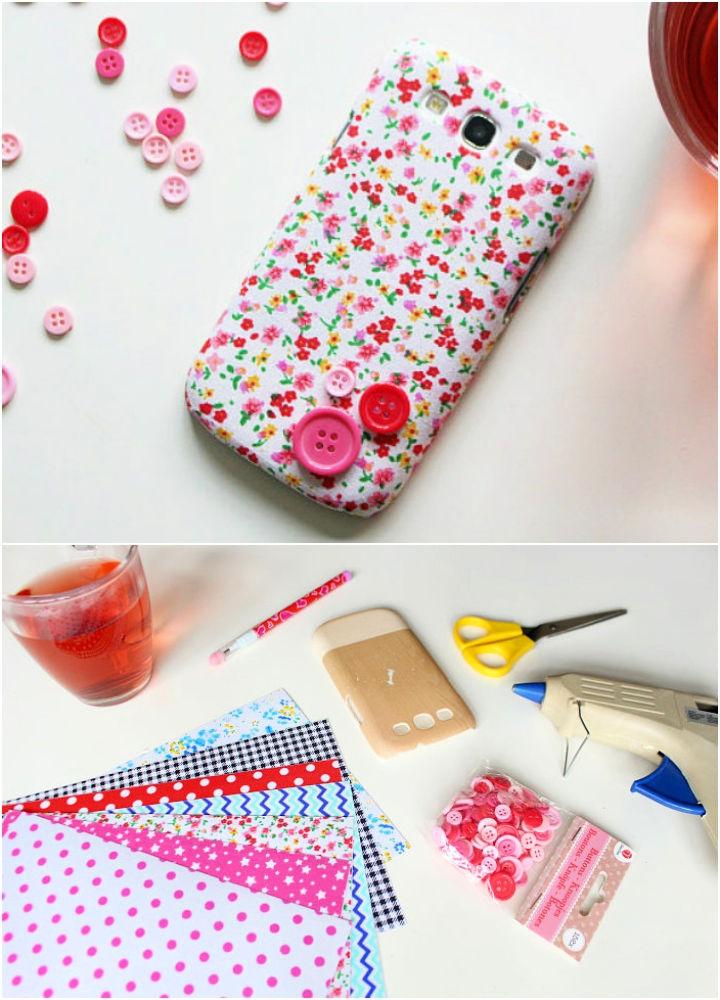 Here we have another option to make a really cool DIY phone case for yourself. This plan is really easy and simple to work up which is quite inexpensive as well. To make this, you will need some materials, including a phone case, some different printed papers design, cute buttons, a hot glue gun, a pencil, and a pair of scissors. loepsie
23. Wet Formed Leather Phone Case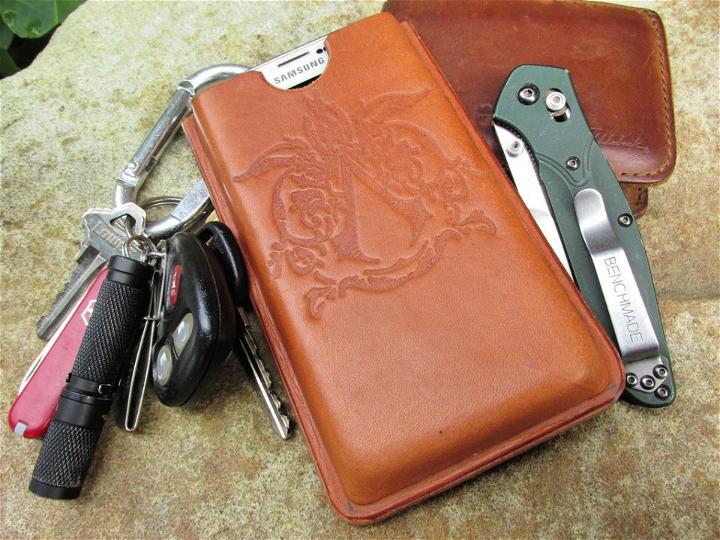 This is a DIY phone case project in which you will learn to make a simple yet stylish leather case for your phone at home. It is an easy-to-make technique that is simple to learn and make numerous cases. So if you have a weekend free, let's utilize this time for something fun and productive! The supplies we will need are leather, E6000 glue, leather finish, gum tragacanth, phone, table saw, drill & bits, Kreg pocket hole jig, router, jig saw, clamps, utility/craft knife, edge beveler, and edge slicker. instructables
24. Unique Artistic Phone Cases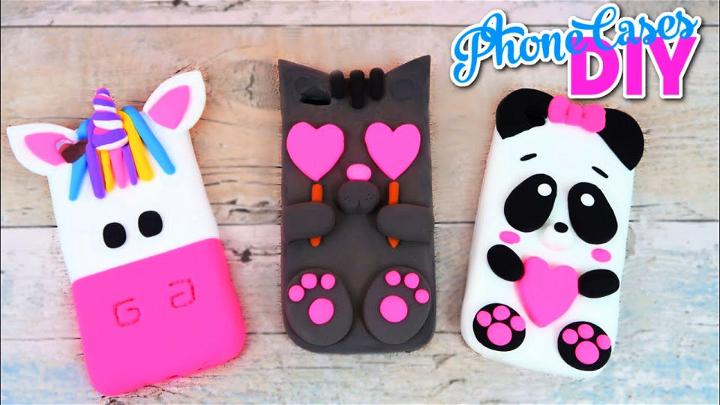 Are you a big fan of cartoons or animals and love such artistic stuff? Then you should definitely try out this DIY phone case at home! It is super fun and easy to make, which will instantly give your phone a more cheerful and happy vibe in a very reasonable amount how cool is that? Moreover, the supplies you need for this cute phone case are model magic (jumping clay), foam paper, glitter foam paper, felt fabric, hot melt glue gun, hot glue sticks, liquid silicone, super glue, white clay, and white glue. youtube
25. DIY Hello Kitty Kid Phone Case

Are you or someone you know a big fan of Hello Kitty? Here we have an easy and fun gift for them that you can make at home without much hassle a DIY Hello Kitty phone case! This project will not take a lot of time or money, yet it will transform your phone and give it a new look. So, to start this plan you will need some materials like cardboard, glue, glue gun, colored paper, scissors, and pencil. youtube
26. DIY Phone Cases From Scratch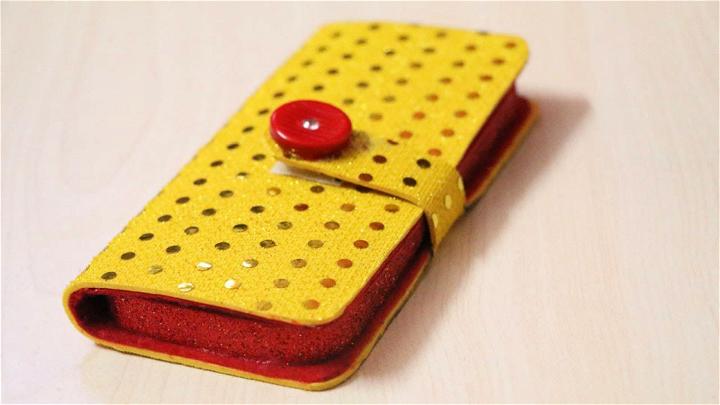 Last but definitely not least, this option is about making a DIY phone case from scratch. It sounds like a super fun idea and a great way to pass the time while being productive at the same time! This quick project is quite easy to make if you are someone who loves arts and crafts. It will give you a nice phone case which you can either use for your phone or gift it to a friend as well; after all, handcrafted gifts are always the best! The things that you need for this DIY project are a foam sheet, felt fabric, thick paper, glue, button, scale, pencils, scissors, cutter, adhesive loop, and hook. youtube
Conclusion:
So, to wrap it all up, we believe that you are inspired by these gorgeous and easy-to-make DIY phone case ideas and planning to make them too. Learning how to make these diy phone cases from scratch will be a great way to save up some money and make something unique and personalized for your phone! You can even gift it to your friends or relative on their birthdays with your own customized designs.
Moreover, this is a super fun craft to learn and practice, which can help you to earn some money during summer vacations. You can customize phone cases for people and sell them for reasonable rates how cool is that? None of our DIY phone case ideas will take you a lot of time and budget, so these are good enough to brighten up your phone within minutes! Let's give these plans a start right away!