The sweet tradition of sending out homemade cards on special occasions right back to the 15th century. We bring you exquisitely remarkable 50 unique DIY card ideas to make homemade cards for every occasion easily! These include DIY birthday cards, mothers day cards, fathers day cards, valentine's day cards and all other greeting card ideas. Who doesn't love receiving a heartfelt handwritten note? We all do! Getting a card on your birthday or any other big day in your life has a far greater emotional impact and makes you feel so much more special & cared about rather than simply receiving emails or texts.
In the present day of modern technology, we somewhat have forgotten the value of such things, isn't it? Worry not – our simple homemade cards bring the tradition of writing with love back to being the norm.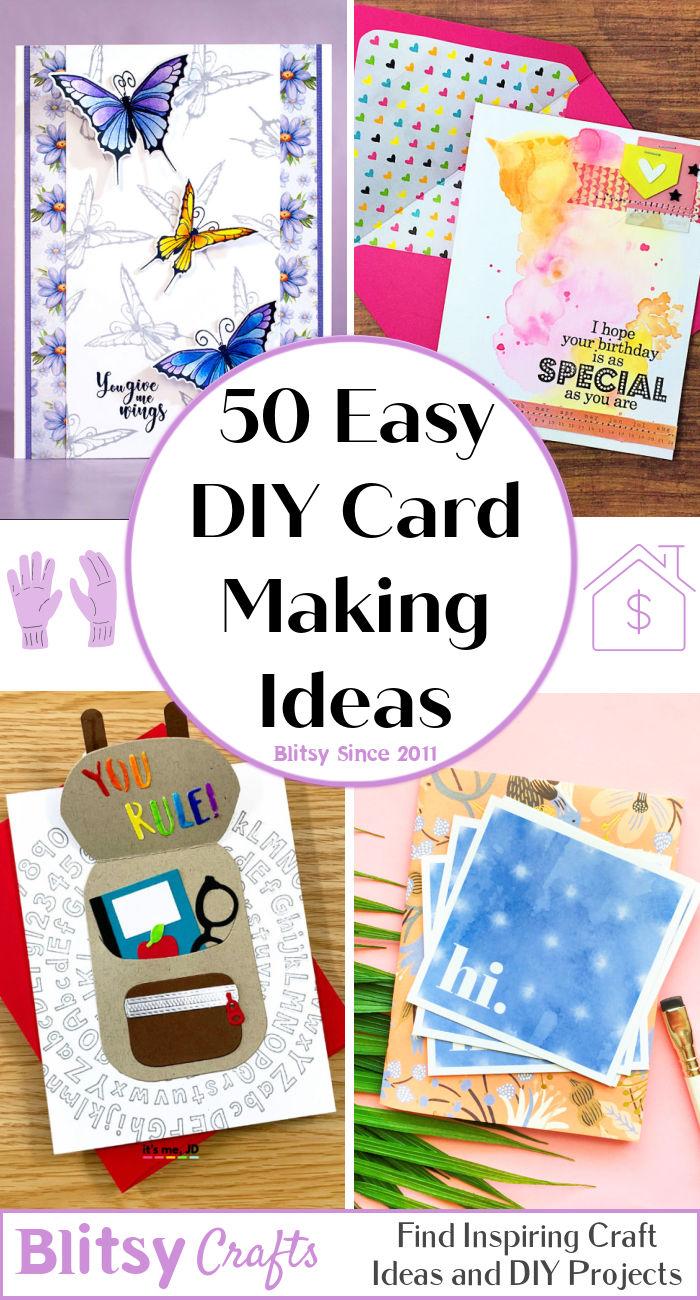 From a DIY watercolor birthday card to pop-up Valentines' day and Mother's day to tie-dye homemade cards, we have it all for you. Not only are the below-mentioned ideas super-easy, but you will love each second you spend making them. Such a fun activity to make use of your scrap stationery items and also involve your little ones in the process to make them aware of the importance self-made DIY cards have. The best way out there is to make your close friends feel important and so dearly loved. You have no idea how much can a little gesture of kindness mean to someone. Find the 50 best DIY cards making ideas below to choose from. Let's get started card making right now!
1. DIY Watercolor Birthday Card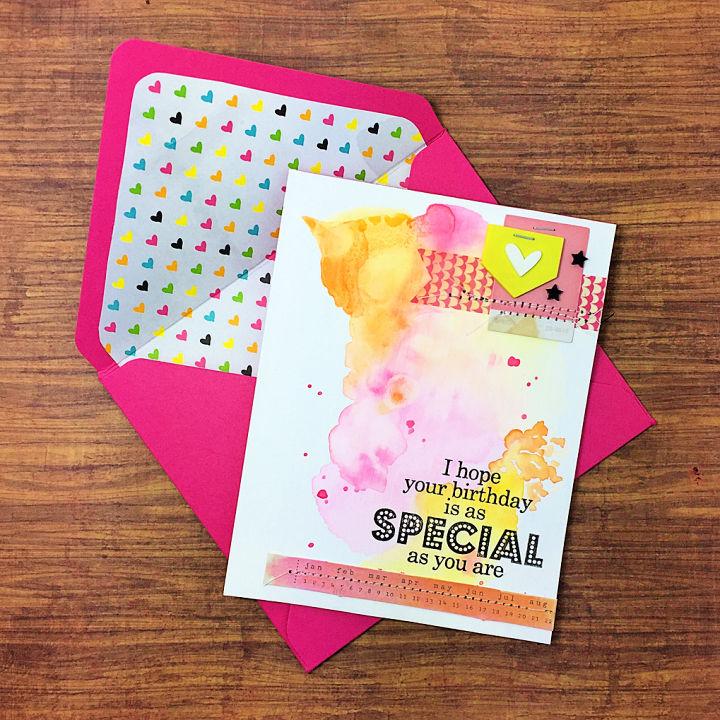 Looking for a unique birthday card design? Look no further – this DIY Watercolor birthday card is perfect! Play with your favorite blend of colors and make an elegant-looking front cover. Before beginning to paint, make sure to apply a gesso coat to your paper to avoid paint soaking. Adorn after the paint completely dries just as you want to make their birthday the most special ever! bigpictureclasses
2. DIY Pop Up Valentines Day Card

Want your girl to fall in love with you all over again? Make her this attractive Pop-up Valentines' day card! Don't worry; you do not necessarily have to be an artist to master this motif-conversation hearts design. Just follow the simple tutorial instructions wise, and you're done. A ruler, cutting mat, card-stock, pencil, pastel heart shapes, a glue stick, and a pair of scissors are the materials you will need. damasklove
3. Handmade Thank You Card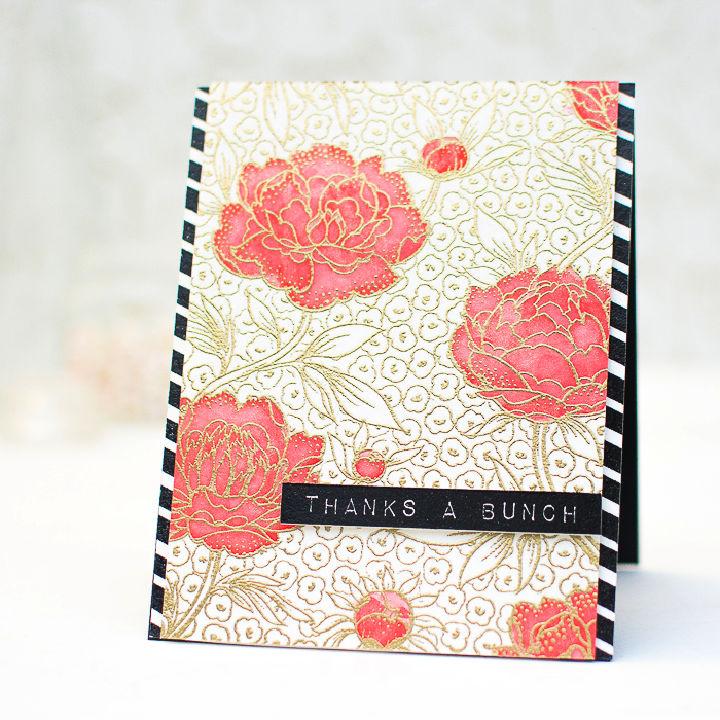 At times, we feel the need to thank people in our lives who tirelessly do so much for us, isn't it? Send them this Homemade thank you card and make them smile. This plan includes gold embossing powder and watercolors. What a pleasing combination, isn't it? All you need is a little dedication towards the task, and by following the step-by-step instructions, there's no stopping. Choose your favorite colors and start now! mayholicraft
4. Handmade DIY Mothers Day Card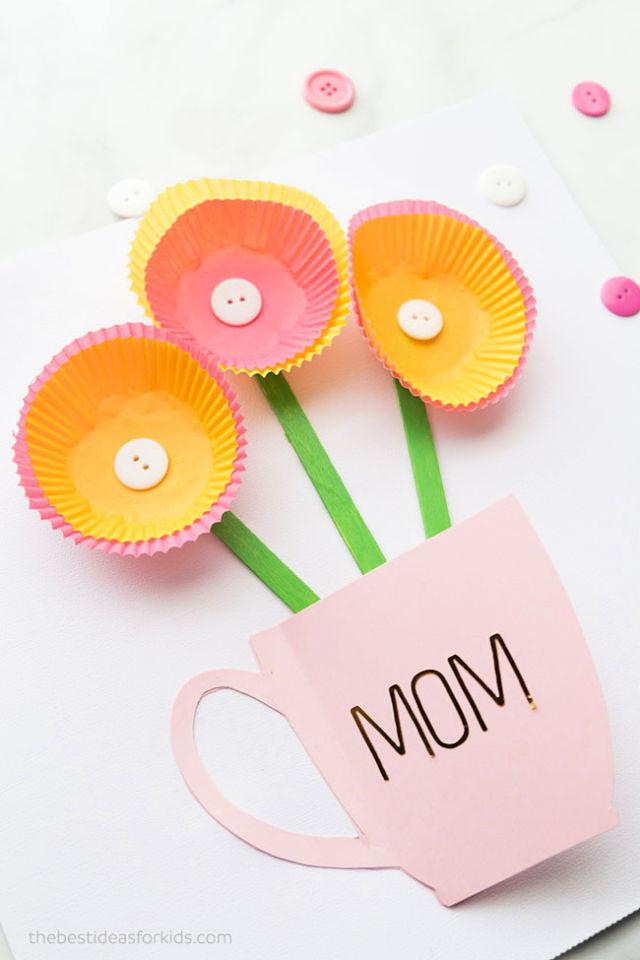 This May make your mom feel over the moon with this extra lovely handmade Mother's day card. These are the best crafts for kids and adults to work on. So very easy and filled with nothing but abundant love. Mothers are the superheroes who deserve everything good and beyond, isn't it? Get your hands on this card by following the easiest steps and be proud of your marvelous creation. thebestideasforkids
5. DIY Tie Dye Greeting Cards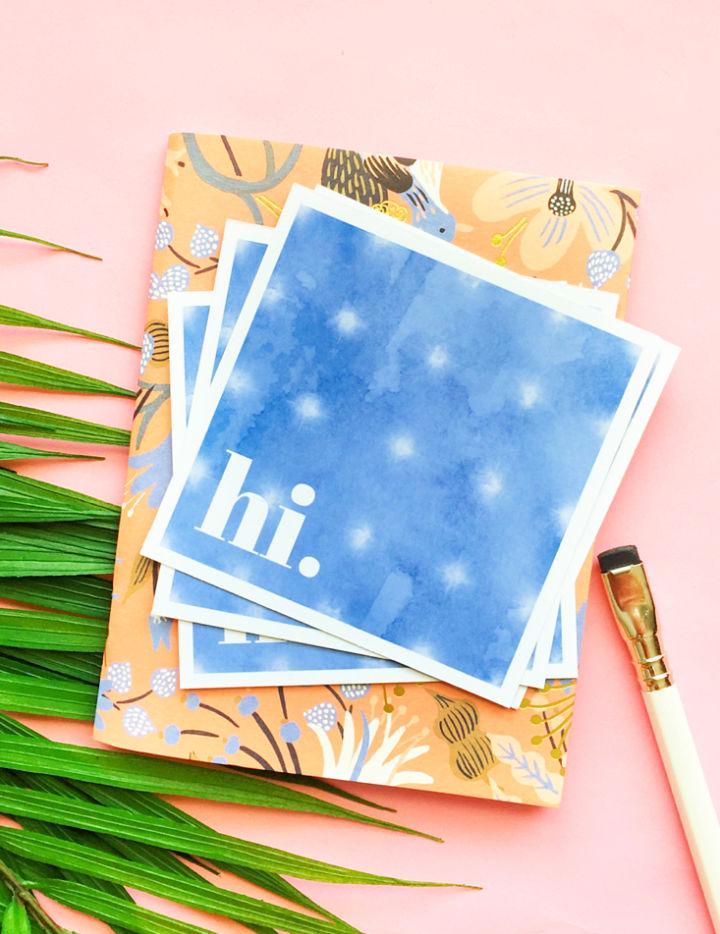 If you are a person fond of pretty yet, simple crafts you're in the right place! These DIY Tie-dye greeting cards are something to drool over. All you will require are some cool tie-dye brushes and stamps to start with. Be as creative with your designs as you want and make your masterpiece. Follow the detailed tutorial on how to go about it, and you are all set to begin! maritzalisa
6. Butterfly Card Colored with Prismacolor Pencils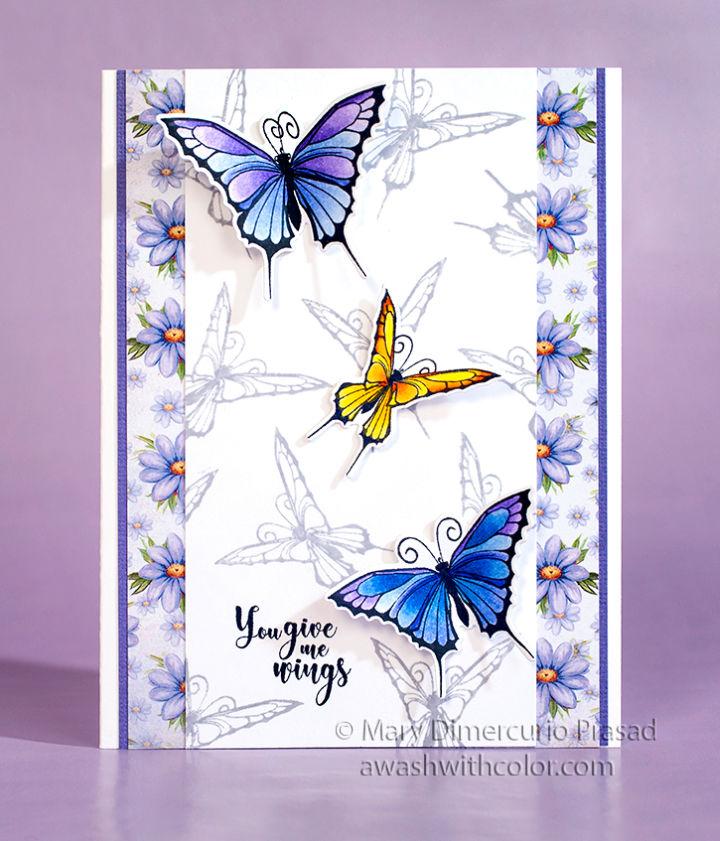 Looking for some unique DIY Cards? We have the perfect butterfly card colored with Prismacolor pencils for you. It is a beautiful craft that will take you on a lovely ride into the world of art and colors. All you need is card stock, patterned paper, colored pencils, solvents, stamps & stumps, dies, and ink to begin with. Take hold of the mentioned instructions and start crafting! awashwithcolor
7. DIY Embroidered Wedding Card With Free Template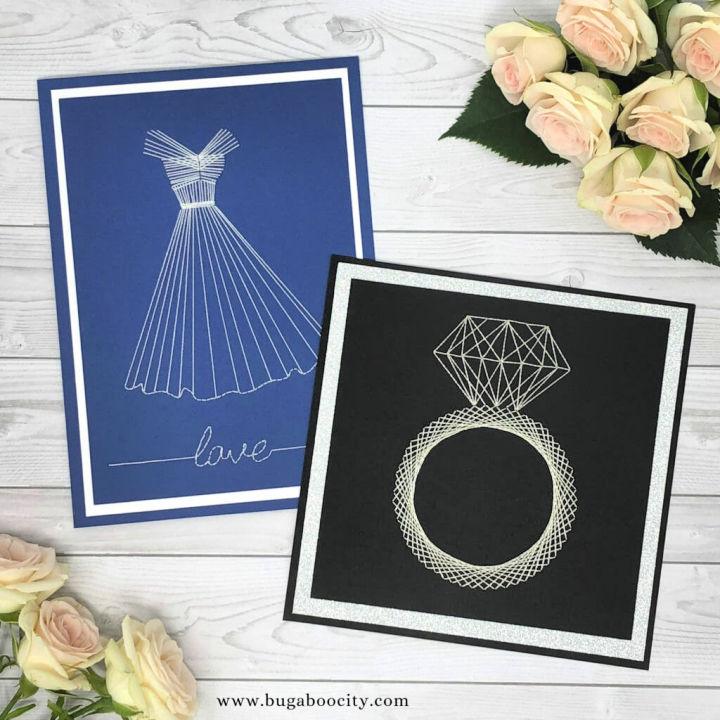 Searching for charming wedding invitation designs? Look no further – we have got you! This embroidered wedding card inspo with a free template is the best option there is. Not only weddings but also can be sent out as bridal showers or bachelorette party invites. You can make this card easily with embroidery floss in no time! What can be better than a keepsake-worthy card? Follow the tutorial and do it yourself! craftingcheerfully
8. DIY Fathers Day Pop Up Card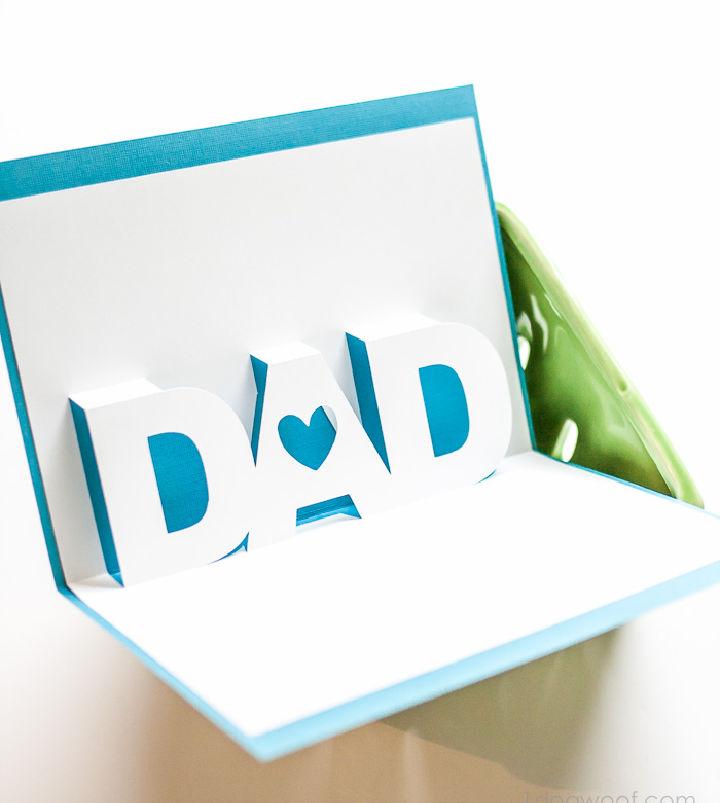 Fathers Day is right around the corner, and you have no clue what to do? Worry not – here comes the best yet, the easiest Fathers day pop-up card ever! It is a fairly quick project to work on if you have a Silhouette; even if not, your Exacto knife skills will do the job. The additional materials required are cards-stock and glue. Seems right about easy, no? Follow the instructions step-by-step, and it's a baby craft done in no time! 1dogwoof
9. Best DIY Thanksgiving Card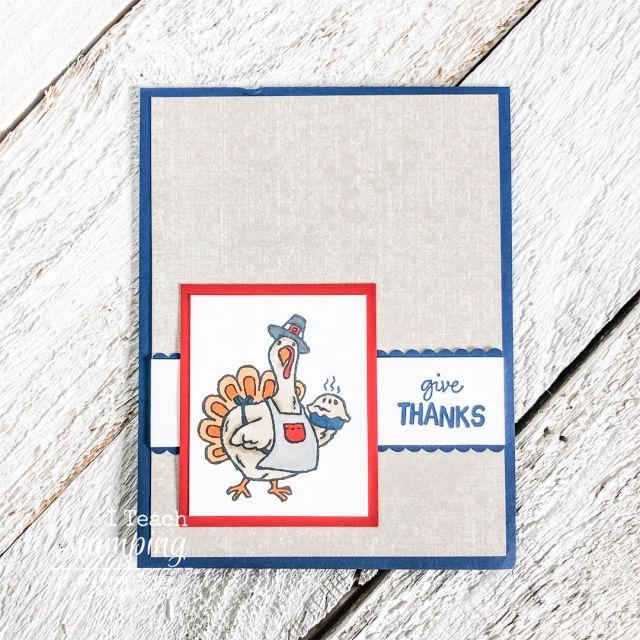 Thinking of sending out Thanksgiving cards this November? We have got the best homemade Thanksgiving card idea for you! Something easy to make does not take much time and is super-fun too. Go with your customized design or follow the same in the tutorial; it's up to you. A stamp set, stamp & ink pad, different colored card-stock, dies, markers, and design paper are the required materials. iteachstamping
10. Happy Teachers Day Card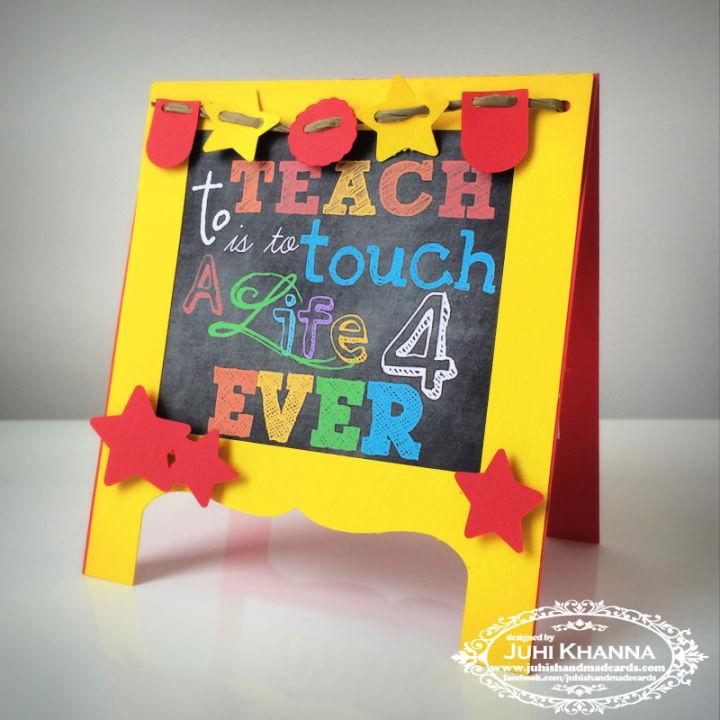 This Teachers day, surprise your life mentors and tell them exactly how much do they matter. The handmade cards for Teachers day are the best way to express gratitude towards them, isn't it? Follow the tutorial to make an easel-shaped card or any other you want. Go crazy with your creativity and take out all your crafty materials to finish making this beautiful yet, classic idea. juhishandmadecards
11. DIY Baby Shower Card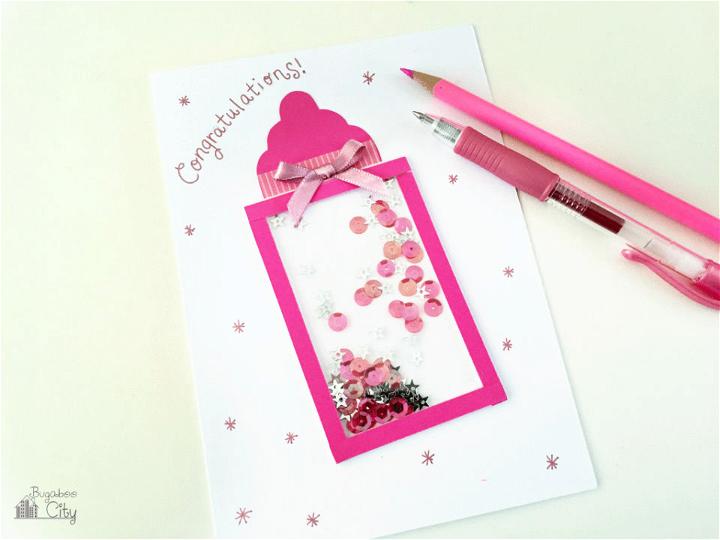 We present to you the cutest DIY Baby shower homemade cards! If any of your friends are expecting a little angel this is the sweetest gesture to convey your love. Follow the simple tutorial for the method of using foam tape in bottle shaker cards. You can even make up a gender-neutral adorable card. All you will need is a white & colored card stock, sequins, ribbon, glue stick, a pencil, and scissors. craftingcheerfully
12. Creative Love Card For Him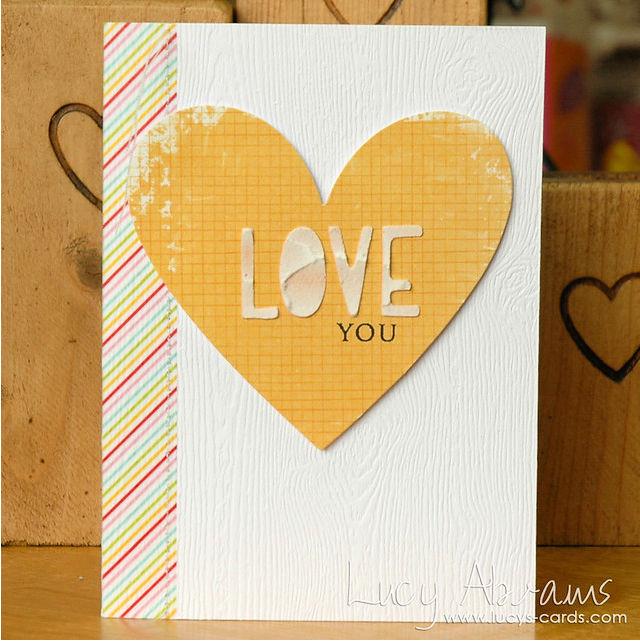 Looking for a creative way to surprise your husband this birthday? We have got a 'Creative love card for him' idea! Use super cute die-cut shapes as stencils to make the perfect full of love card for your partner. Gather your favorite colored card stocks and start right away. Embellish with little hearts and express your love inside the card. Pair it with the birthday gift and some roses to make their day the most special ever! lucys cards
13. Graduation Cards with Positive Quotes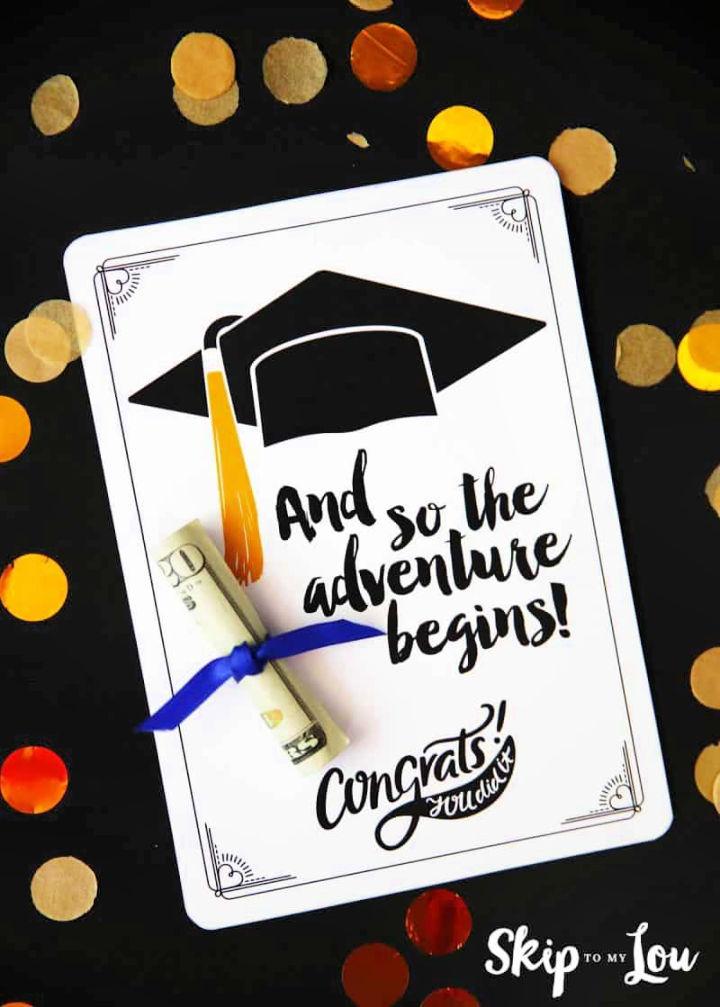 Is anyone you know graduating college soon? Here are the perfect ideas for Graduation cards with positive quotes! Every graduate needs encouragement on the new journey they take on after finishing college. You may simply print these cards and attach the money for a Graduation gift as a diploma on top. If you have some time on your hands, you can even make one on your own easily! skiptomylou
14. Watercolor Business Card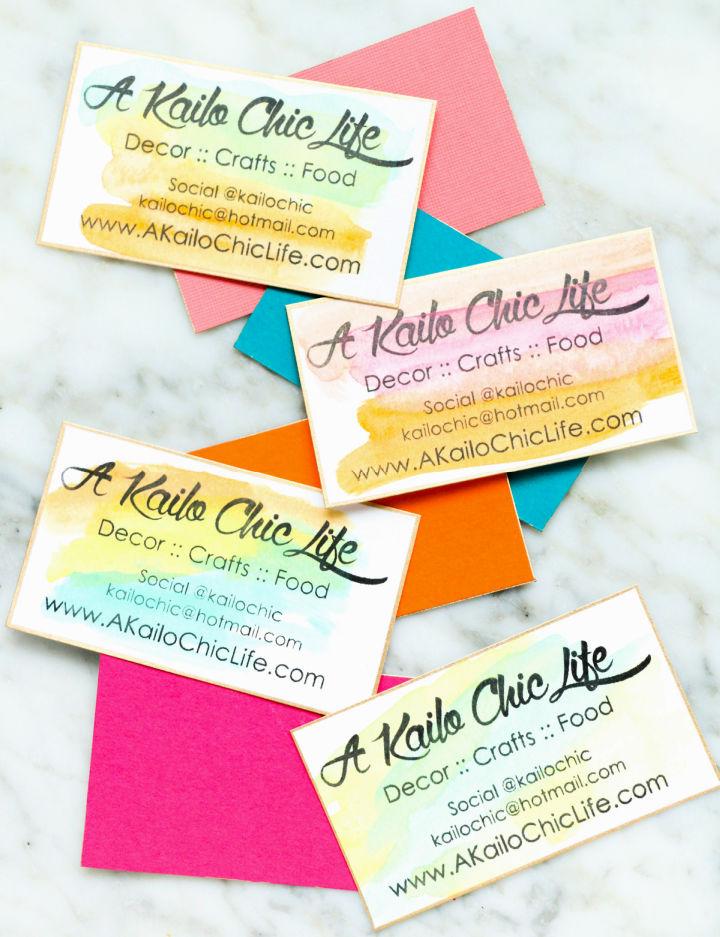 Are you a crafty business owner? We have the best DIY card ideas for you to upgrade! These watercolor Business cards are exactly what you need. Not only are they super easy to make, but also so very attractive. Match your business color schemes with these unique cards and attract more customers than ever. A mint machine, black ink, stamp sheet 90mm x 45mm, mount & base, water paints, scissors, and card-stocks are the required essentials. akailochiclife
15. Cute Honey Pot Slider Card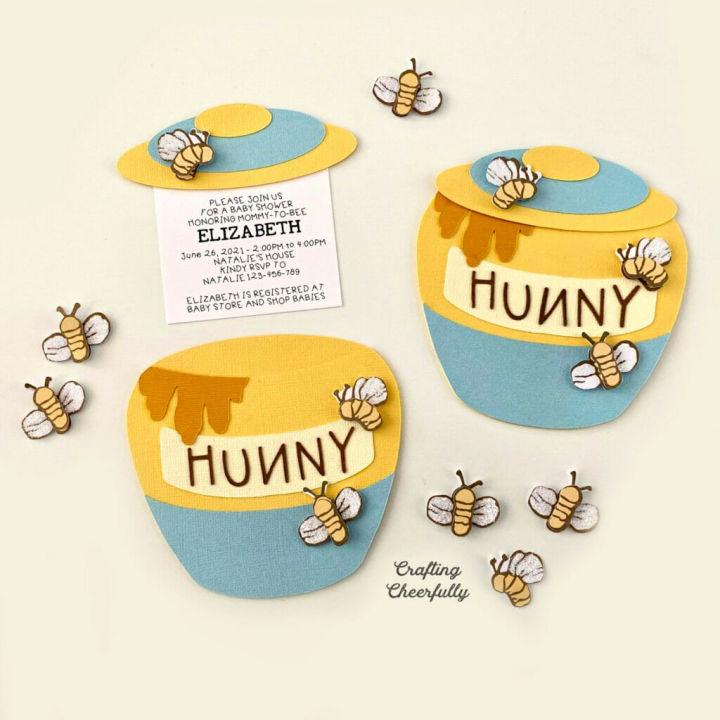 Looking for something innovative? These DIY Honey pot slider cards can make the perfect invites for any party! It can also make a special birthday card alongside the gift. The cuteness is to die for, isn't it? Organize a Winnie the Pooh-themed party or any other with these extra adorable pull-up cards. Follow the complete tutorial to make your very own cards. craftingcheerfully
16. Quilled Retirement Card

Retirement day can be an emotional roller-coaster ride. This Quilled Retirement card can make your friend cheer up! It is a large 8 x 8 inches" design. Also, it is open to customization personalize it however you want. Go with a theme of their best-loved activity or what they are most passionate about to make the occasion even special. Gather all your supplies and begin crafting! paperdaisycard
17. Pop Up Birthday Card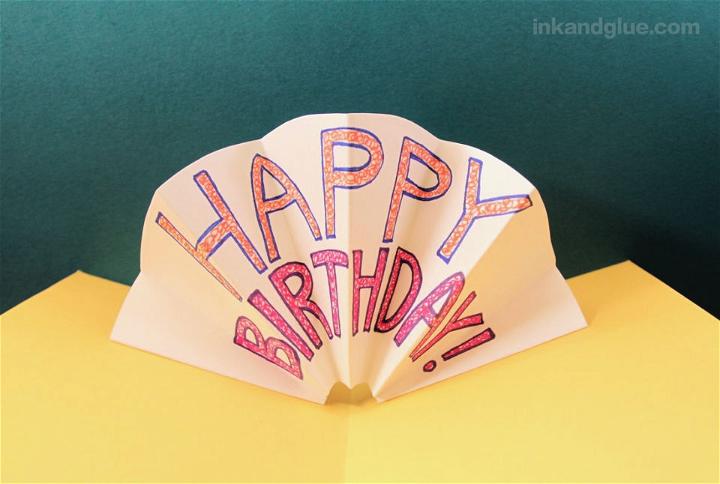 A Pop-up birthday card is the best way to make birthdays far more special. Unwind your creativity and craft this super-cool, fun, and easy homemade card in no time. All you need to do is follow the instructions carefully and it will be a piece of cake. Colorful paper, pencil, bright marker, and eraser are all essential supplies you need to begin with. inkandglue
18. Handmade Sympathy Card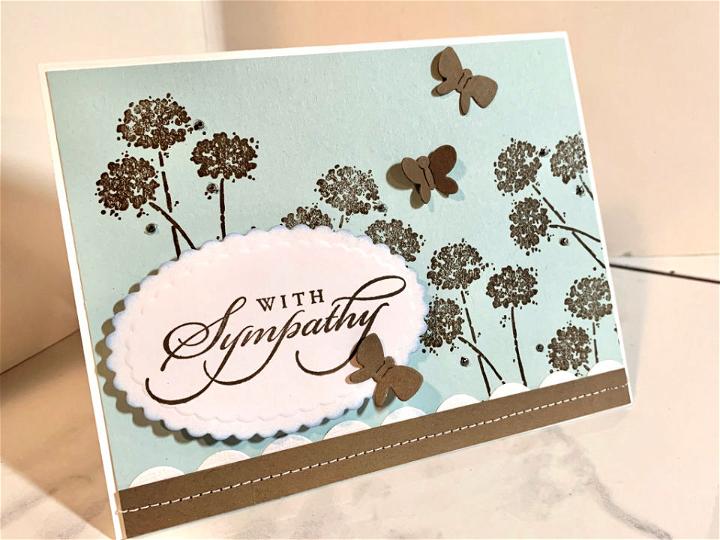 The true essence of feelings and emotions is no doubt felt best physically. This Handmade Sympathy card fulfills the very purpose. Especially, in a time like this instead of buying store-made cards, or sending texts over the phone make a card yourself for a loved one. Following this simple yet, classic tutorial step-by-step. Choose your favorite colored card stocks and start right away! amyscreative
19. Beautiful Cricut Layered Floral Card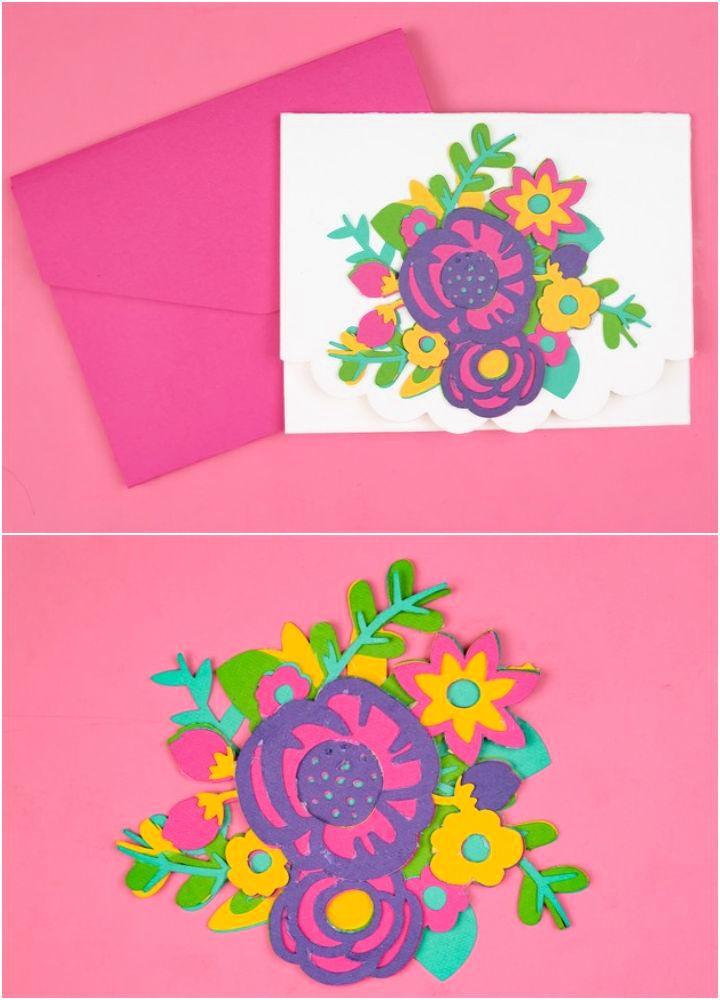 Here's the most beautiful circuit layered floral card to simply brighten someone's day. This method is such an easy-peasy one and takes a little amount of effort. All you have to do is create individual pieces and assemble them accordingly later on. Go with your best-loved colors to progress this idea and follow the detailed instructions for the best possible results. Good luck! madincrafts
20. DIY Bridal Shower Card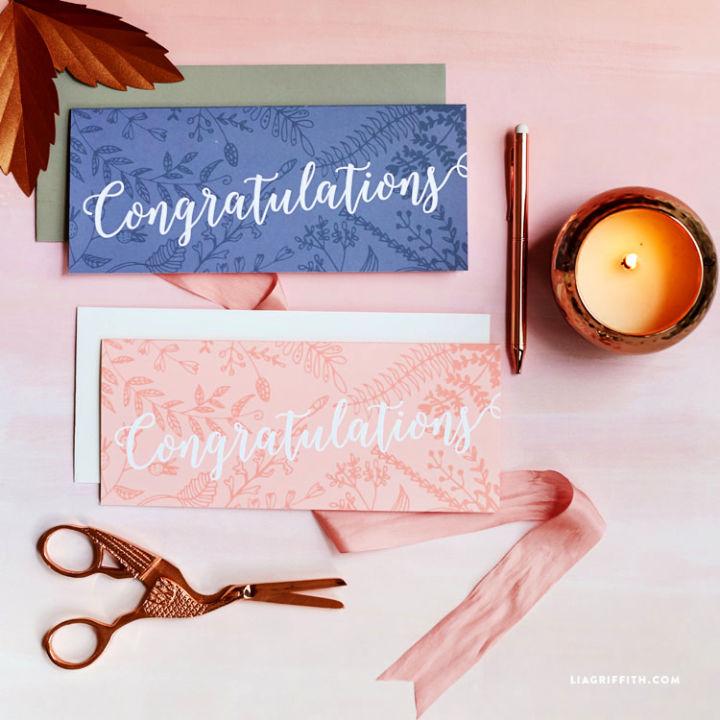 Are you soon a bride-to-be? We have the prettiest DIY Bridal shower handmade cards for you. Instead of buying a beautiful card – why not make one yourself? Make your go-to colored background with the text font of your liking. All you need is an 8.5×11 white card stock and this card is ready to send. You may also accessorize it with a cute ribbon bow for an enhanced look! liagriffith
21. Free Printable Anniversary Cards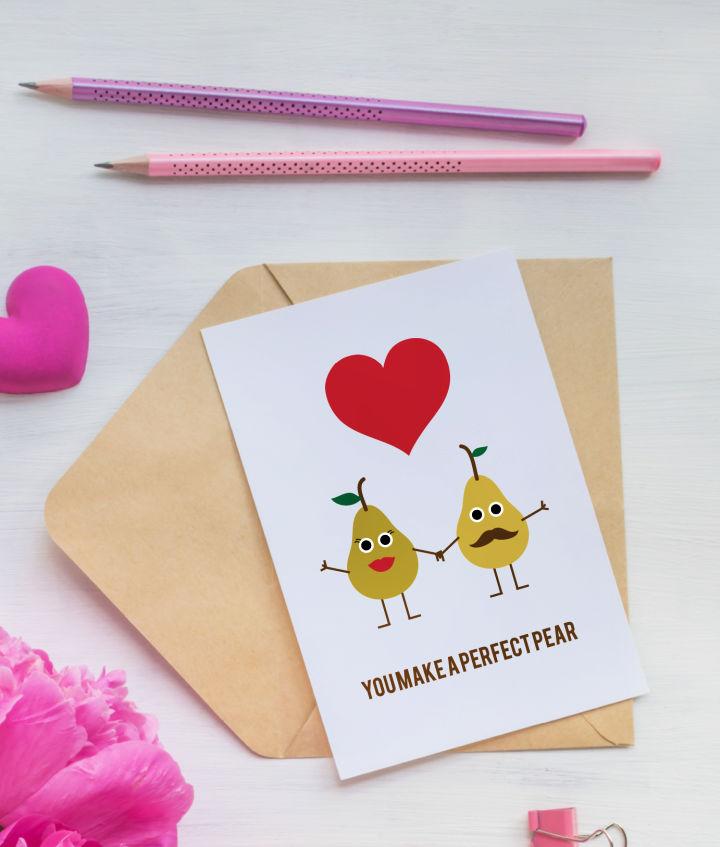 Do you want to make a customized card for your grandparents on their wedding anniversary? If yes, you can get the idea with complete instructions from this plan. For sure, you can show your love and care for them with the help of this handmade card efficiently. So, make it using a simple cardstock. Moreover, you will need the free printable of your choice to print on the card according to the occasion. All you need to do is print the template on the cardstock. That's All! inspirationmade
22. Alcohol Ink Note Cards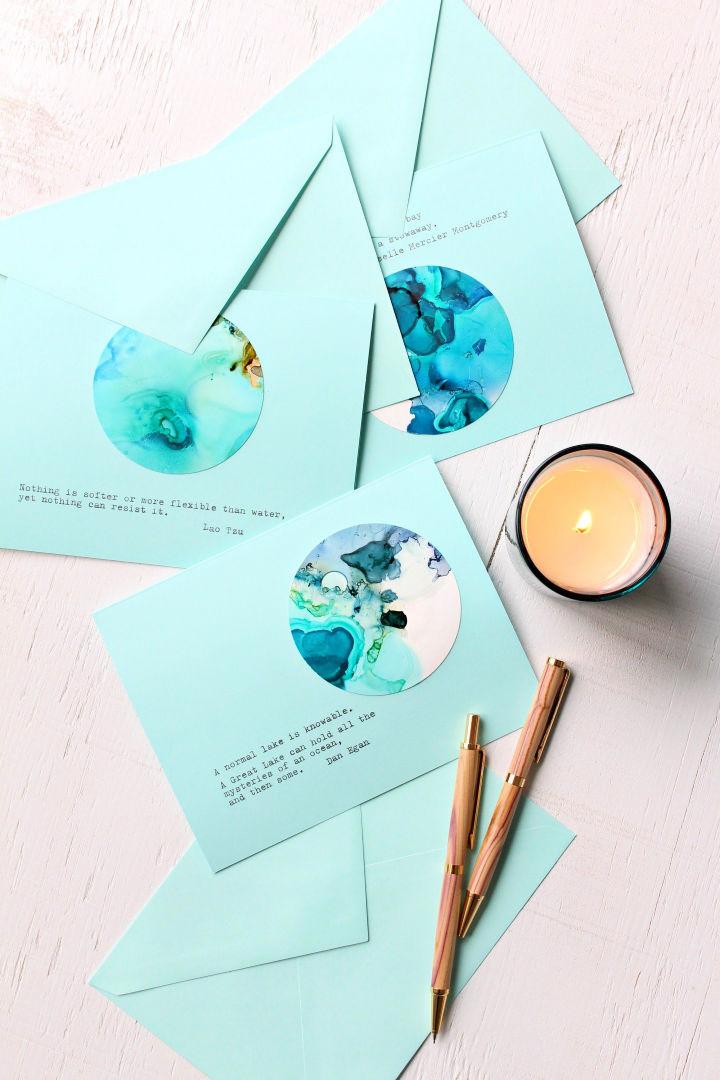 No doubt, this alcohol ink handmade card would be the best DIY craft for crafters of all levels. Ideally, you can consider gifting this card to people of any age group. The best thing is that you can give this card an utterly personalized look with the desired template. The needed materials and supplies are alcohol ink in different shades, cardstocks, scissors, ruler, pencil, paper straw, glue stick, blank note cards and craft markers. danslelakehouse
23. Birthday Card For Toddlers To Make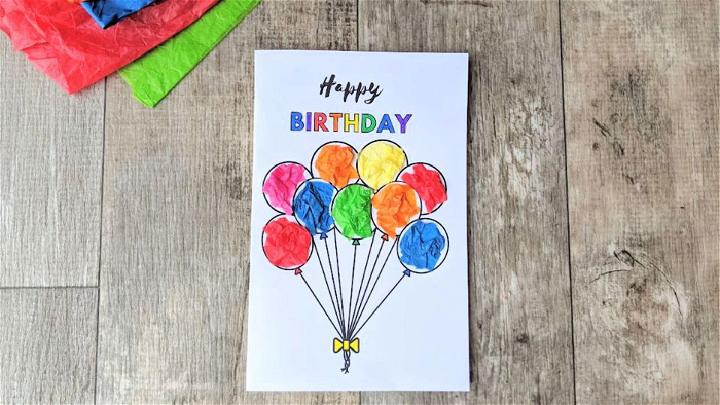 Nothing would be sweeter than receiving a customized birthday card from a toddler. If you are looking for an idea, let your child make this card to gift his friend or sibling on their birthdays. Indeed, the results of this customized card look fantastic for all. For this, the needed supplies and materials are a birthday card or poster, cardstock, scissors, glue stick, ruler, pencil, tissue papers and colorful markers. Make sure to print the printable on the cardstock before coloring or embellishing it. goplaceswithkids
24. Create A 3D Oval Aperture Card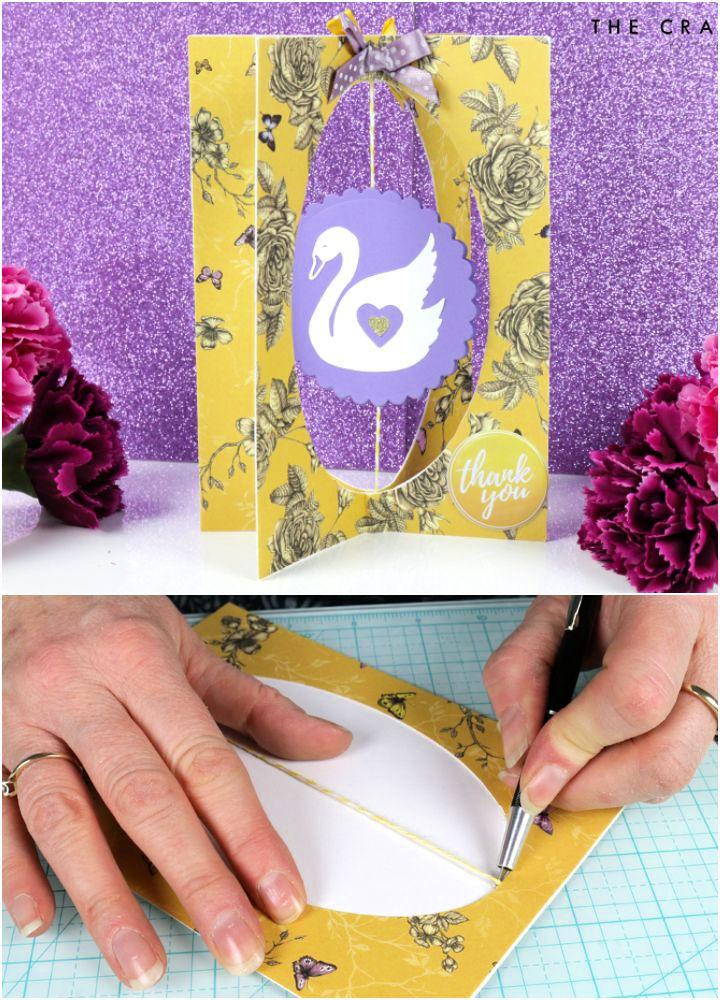 Learn to make a high-end and super adorable 3D aperture DIY cards by following the step-by-step guidelines and instructions. You can create this card for any occasion. The stunning paper colors in this card will make it a little more interesting to represent your loved ones. The things you will need to collect for this DIY include two aperture card blanks, 12*12 grace papers, scissors, glue stick, twine, cardstocks and Swan die set. All you need to do is cut the aperture paper and decorate it with natural grace papers. thecraftblog
25. Beautiful Floral Recipe Cards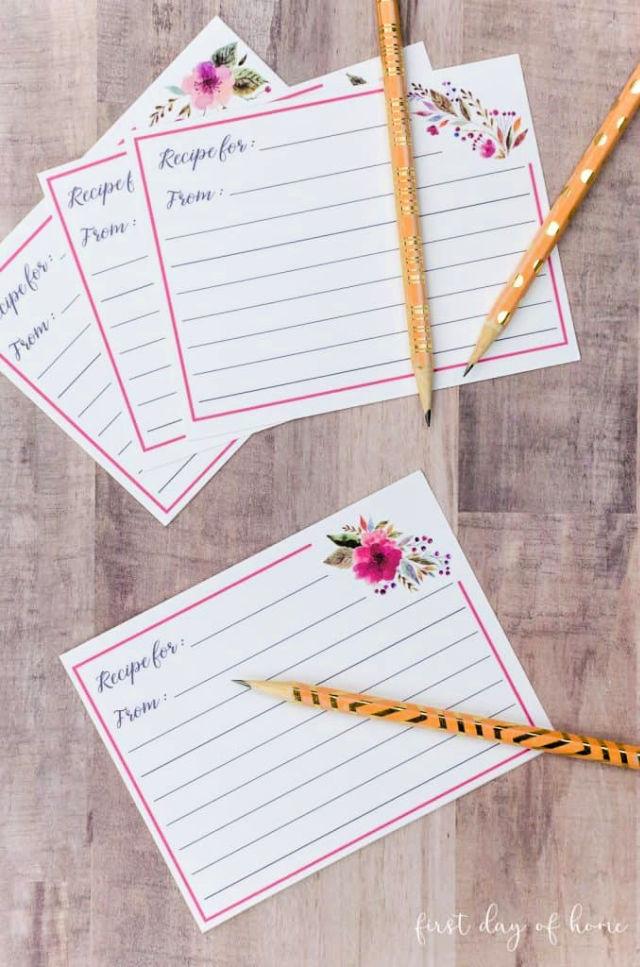 Do you want to save the recipes in a fun-loving and more stylish way? If yes, nothing would be a better option than making this floral recipe card. Ideally, it's super easy and affordable to make this card with the free printable and a few supplies. The needed materials and supplies for this craft are a template of your choice, cardstock, scissors, glue stick, ruler, pencil and colorful craft markers. Additionally, use a paper trimmer for the smooth finishing of this card. firstdayofhome
26. Free Origami Photo Card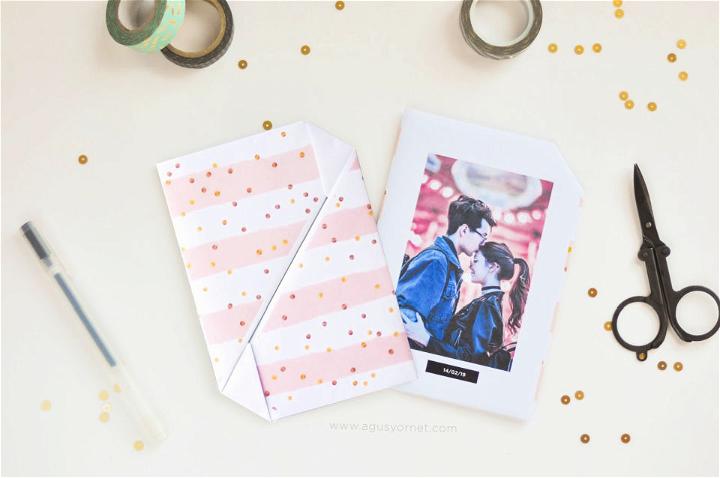 Valentine's Day is coming! We all love to gift the best and more memorable things to our loved ones on this occasion. If you are still looking for an idea, consider making this super adorable Origami envelop printable. Excitingly! You can add your favorite photos to this envelope to gift someone special. The things and materials you will need for this craft include a printer, photo editor, Origami paper, scissors, ruler, washi tape, decorative ribbons and a glue stick. agusyornet
27. DIY Get Well Soon Card

Do you want to give an adorable get well soon card to your friend or loved one? If yes, you don't need to buy a dull card from a store or online. Make a super stylish and lively "Get Well Soon" card yourself with this DIY plan. Ideally, you can make more than one card within the same materials and time frame. All you need to do is collect the supplies and start working on this craft. For this, you can use a printable template, cardstock, scissors, 3D printed flowers, glue stick, twine and other desired decorative embellishments. scrapawayg
28. DIY Fathers Day Trading Card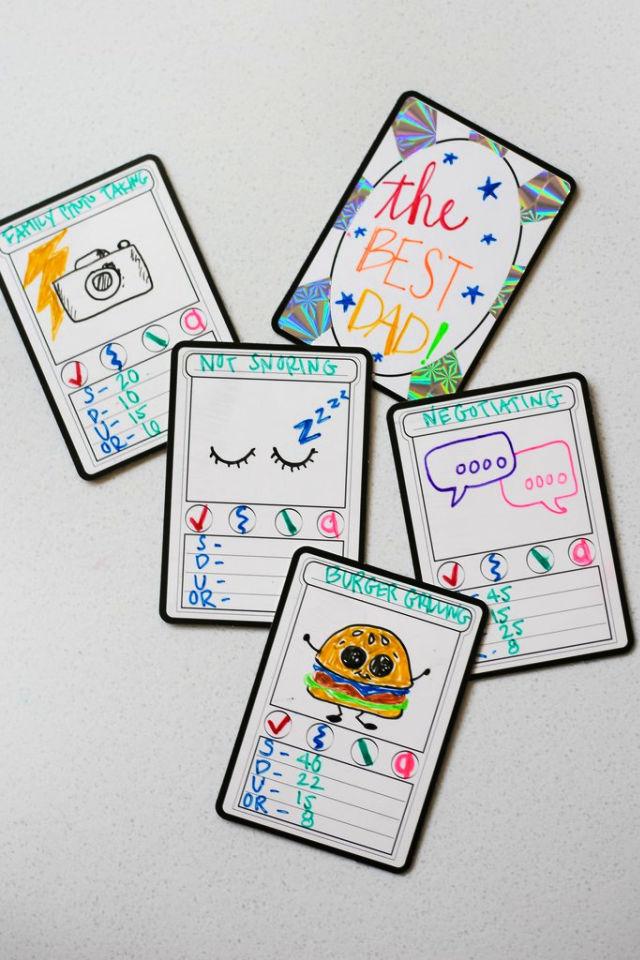 Wish your dad on Father's Day more loveably and fun-lovingly with this customized card. No doubt, this card would be the perfect and adorable gift for a father from his children. Indeed, you can consider making this card even in the last minutes of this Day, especially if you don't have too much time and supplies. For this, you will need a modern trading card kit, colorful craft pens, markers, ruler, pencil, scissors and templates of kid's choice. kidmademodern
29. Pokemon Cards Free Printable Template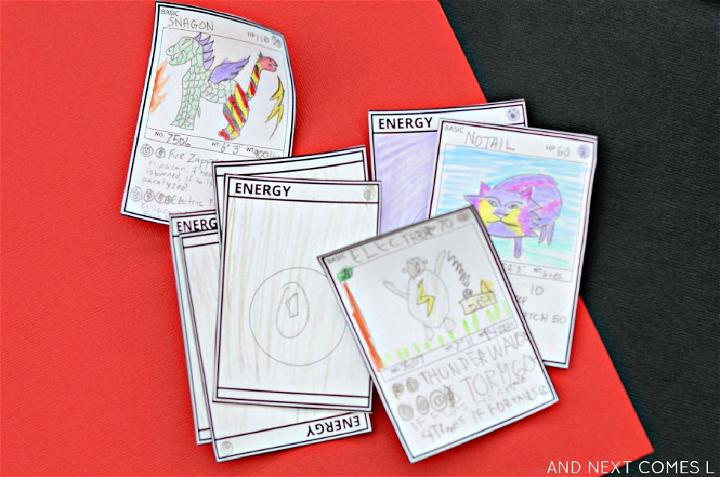 No doubt, boys are crazy and more enthusiastic about Pokémon. Instead of carrying the ready-made Pokémon cards, kids can make these super adorable cards themselves by following the step-by-step guidelines and instructions. Children can explore more things about this character by working on this craft. You will need to collect these cards include cardstocks, jumbo size Pokémon cards, scissors, colorful markers, pencil, ruler and Pokémon free printable. Kids will surely love to draw and trace their favorite drawings on these cards. andnextcomesl
30. Halloween Snow Globe Card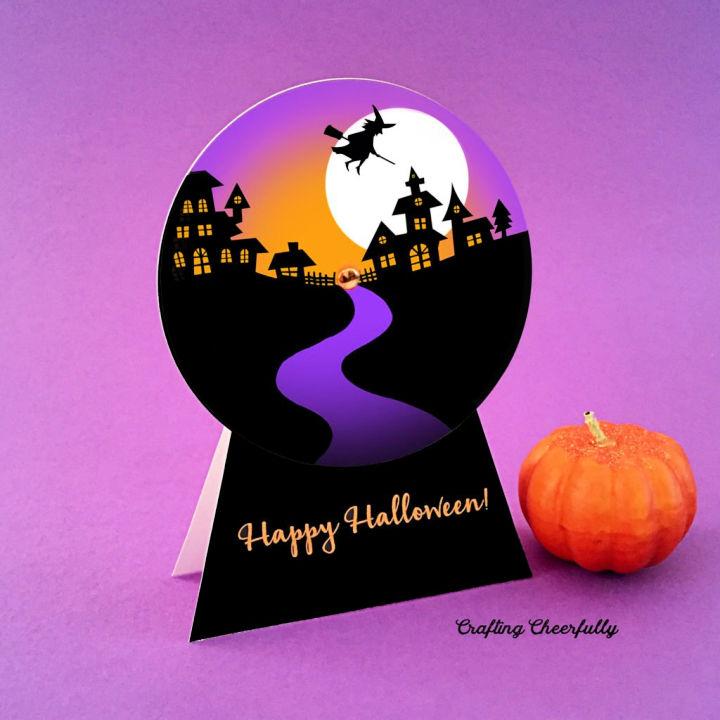 Learn to make super creative and unique Halloween cards to decorate your room yourself. You can also choose to make this card for gifting your friend on a spooky night. It's super easy even for the non-crafters to make this card with the help of the free printable. For this, the needed materials and supplies are a little flying witch, printable template, scissors, cardstock, Cricut design file, Circuit maker, a grip cutting mat, vinyl transfer, craft plastic, envelops, glue stick, brads and an X-Acto knife. craftingcheerfully
31. DIY Farm Animal Flash Cards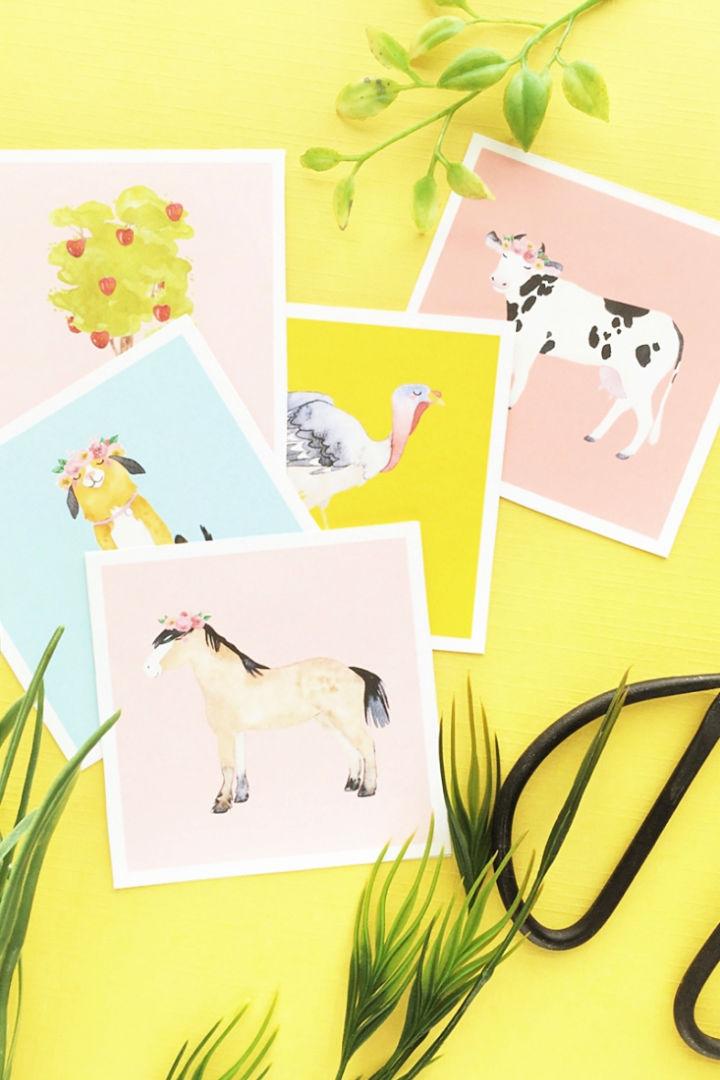 If you want to teach the new words to your kids in a more fun-loving way, nothing would be a better option than these farm animal flashcards. Ideally, it's super easy for all the parents and teachers to make these cards with the free printables. It would be the perfect gift for the little or new learners. So, make these cards yourself using a silhouette machine, farm images, printer, scissors, glue stick, ruler, sticker paper and colorful craft markers. maritzalisa
32. Make Your Own Scratch Off Card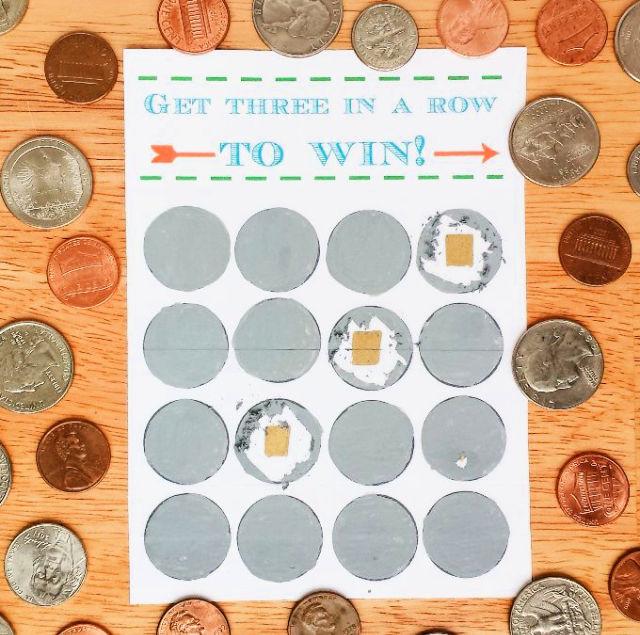 Kids are huge fans of scratch-off cards. Undoubtedly, elders also love to scratch off the cards as the best engaging activity in their free time. If you are also one of them, you can make this scratch-off card using a card template, paint, dish soap, packing tape, scissors, pencil and ruler. Make sure to mix the paint and dish soap in the 1:2 ratios to make these cards go smoothly. You will need the three layers of paint on the card to make the paint opaquer. destinationdecoration
33. DIY Save the Date Card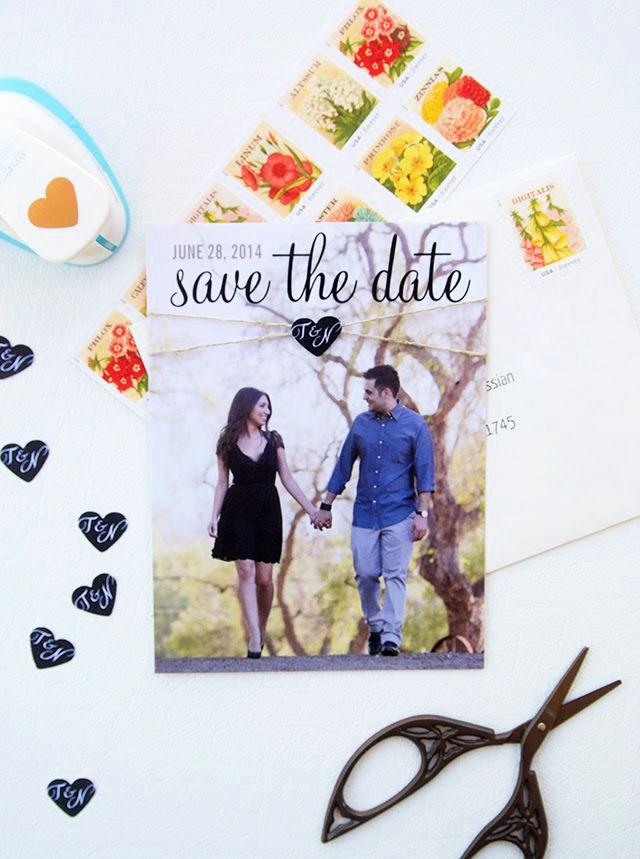 This saves date card would be a perfect gift for your loved one on the wedding anniversary. Ideally, you can make this card in no time and effort, even in the last moments of your event. You don't need any specific type of crafting skills to get your hand on this card. So, make it using date invitation printable, twine, sheet cardstock papers, scissors, heart hole punch, glue gun and other desired decorative embellishments. You can also choose this card for the engagement or wedding session photos. cremedelacraft
34. Free Printable Bridesmaid Cards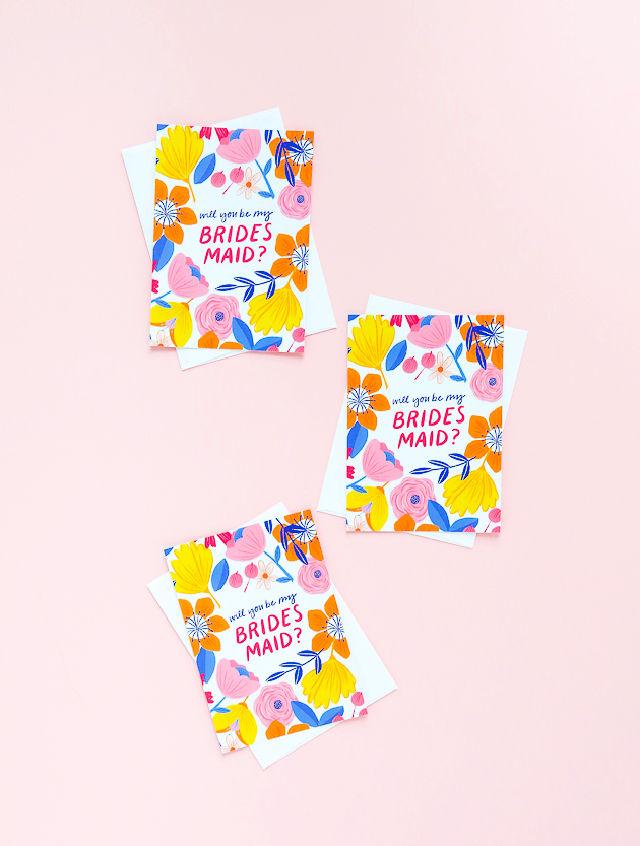 If you are thinking about hiring a wedding planner for all tasks on your event, it may cost you more than your budget. However, you can cut the cost by crafting these bridesmaid cards yourself instead of paying professionals. For sure, you can make these cards a little bit funkier and more loveable with a personalized design. All you need to do is download and print the desired bridesmaid card file on the cardstock. That's All! thecraftedlife
35. Handmade Fall Card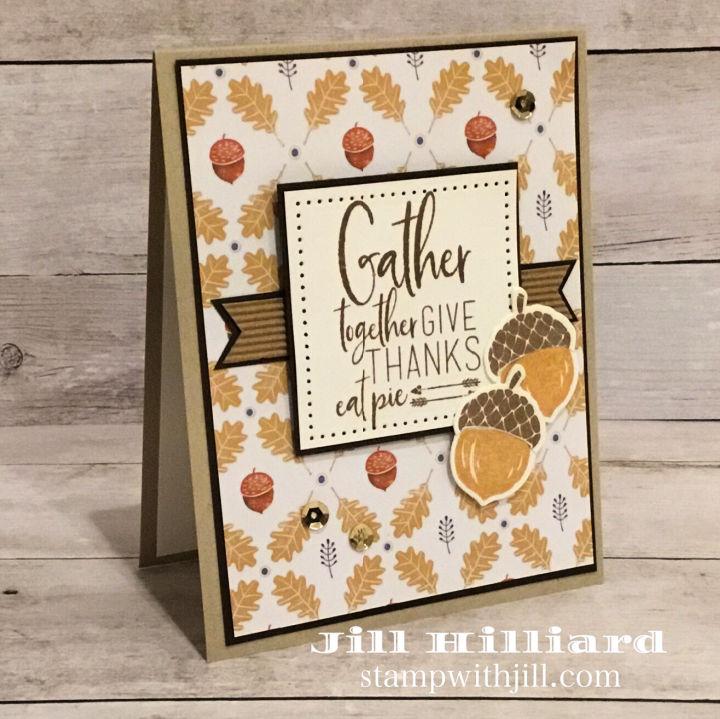 Let's celebrate the Fall season by showing more love and care to the special ones by gifting these adorable Fall cards. Indeed, it's super easy and fun-loving to make these cards even for the non-crafters. If you know how to stamp the art, it would be easy for you to make these cards. For this, you will need Fall-O- Ween prints, gold friendship sequins, glue stick, corrugated cardstocks, ink pad, journey color burst, journey foam square and Thankful friend's bundle. stampwithjill
36. Handmade Cards For Teachers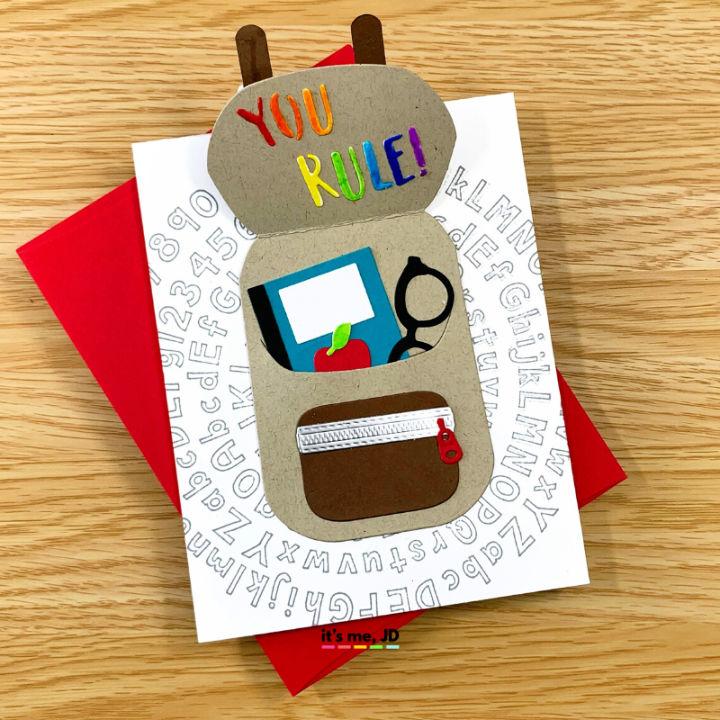 Show your love and appreciation to your teachers with these super adorable Teacher's Day cards. It's easy and quick to make these handmade teachers' cards with the desired templates or printables. It would be the perfect handmade gift for your teacher. You can make this card a little bit more enjoyable with a personalized note. So, make it with corrugated cardstock, colorful craft markers, glue stick, decorative ribbons, Cricut maker, vinyl transfer tape, a grip cutting mat and a black permanent craft marker. itsmejd
37. DIY Origami Shirt Card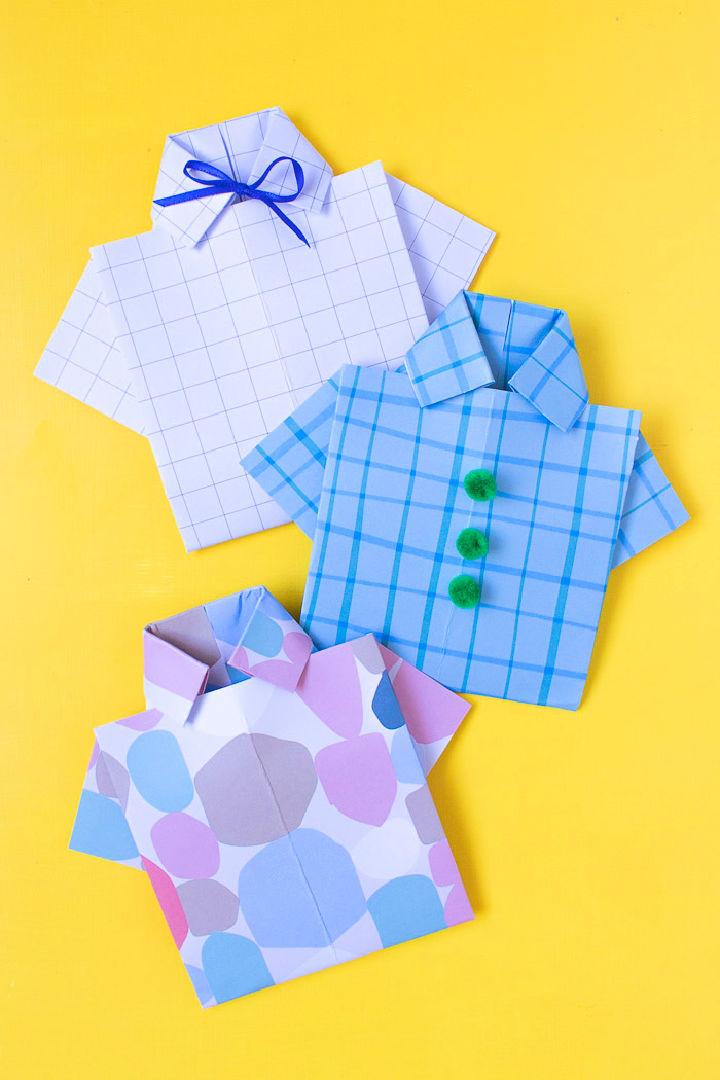 Are you looking for a statement and classy gift for your father on Father's Day? If yes, nothing would be more elegant than gifting this super adorable and mesmerizing Origami shirt card to your dad on this special occasion. Ideally, you can complete this card with the desired embellishments to make it super cute. The needed supplies for this Father's Day card are patterned cardstock, scissors, ruler, pencil, solid cardstocks, decorative embellishments and a glue stick. clubcrafted
38. Printable Mothers Day Card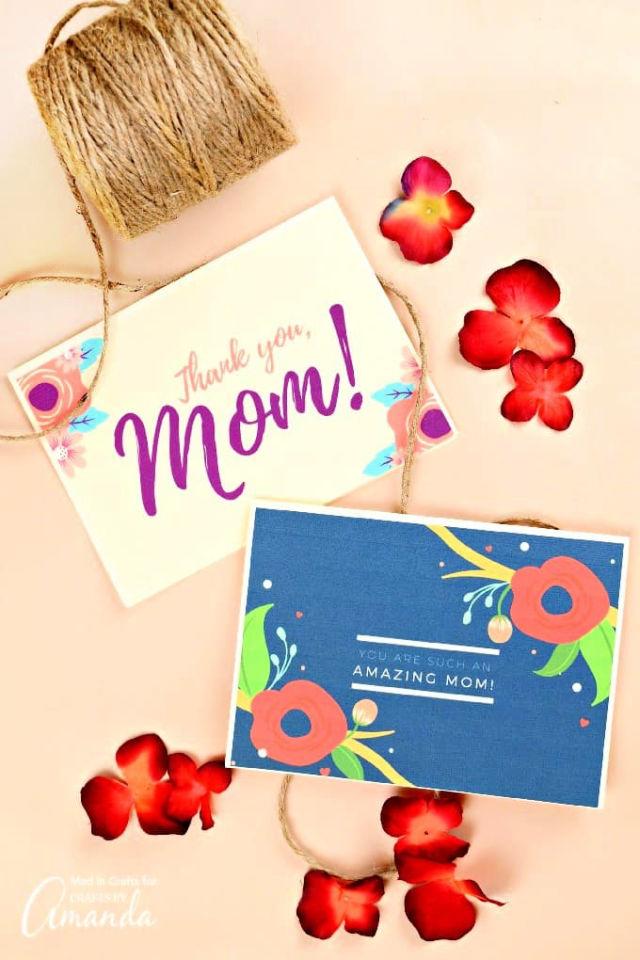 Moms are the real blessings of God! Do you want to say "I love you" or adore your mummy more adorably? If yes, consider making this super cute Mother's Day card for her. It's super easy and efficient to make this floral printable Mother's Day card for all the crafters and non-crafters. You will need to get your hand on this craft include cardstocks, a color printer, a printable template of your choice and colorful envelopes. craftsbyamanda
39. th Of July Stitching Card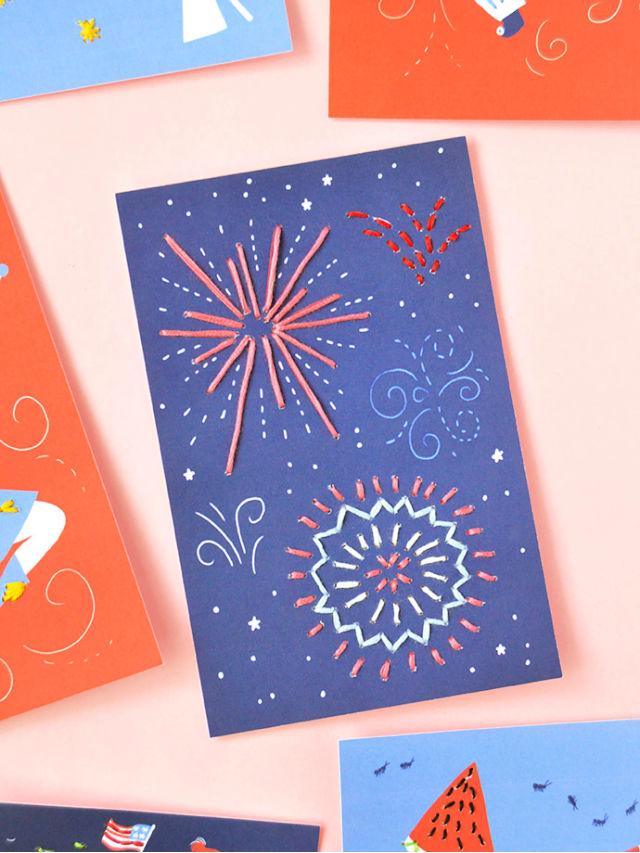 Are you ready to celebrate the 4th of July? If yes, you can enhance the enjoyment of this day celebration by crafting this 4th of July stitching card. Well, the stitching doesn't mean that you require expert-level stitching skills. You can make it efficiently and effortlessly, even if you are a beginner sewer. For this, the needed supplies and materials are printable stitch cards of your choice, scissors, glue stick, embroidery thread, needles, clear tape and masking tape. handmadecharlotte
40. Handmade Masculine Cards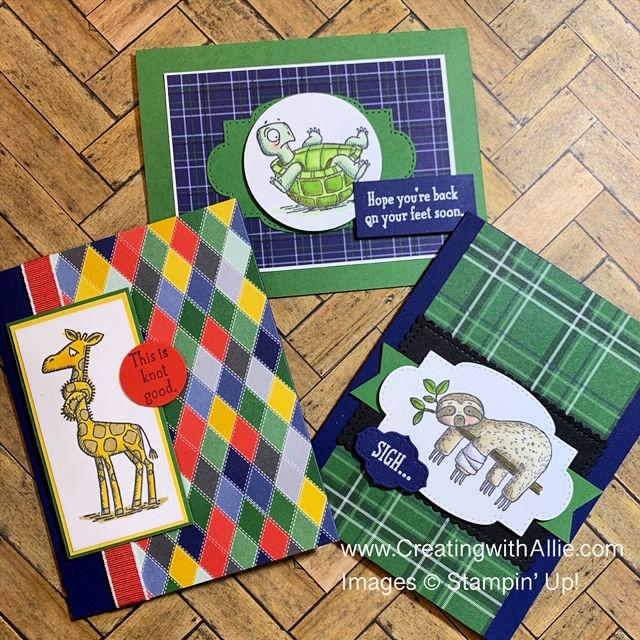 Do you want to encourage your special one with a stunning and prettiest masculine card? If yes, you don't need to buy it from a store. Make it yourself with this DIY plan. Indeed, it would be the perfect gift to give a man or get an ideal man in your life. To make this masculine card, the needed supplies and materials are desired template, series of paper cards, scissors, glue stick, ruler, pencil and designer series papers. creatingwithallie
41. Making A Miss You Card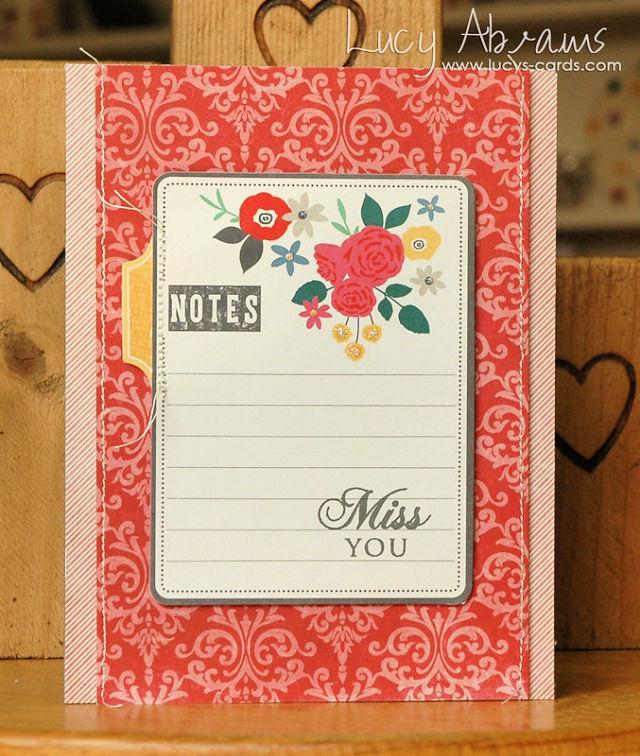 Do you love to show your feelings and love for others with the cards? If yes, you can surely love to make this "miss you" card to say something charming to your special one. For sure, this card would be a great gift to give your loved one who is living far away from you. You can make this card in endless ways and patterns with the help of the free printable. Even if you are not a crafter, you can still make this card using white cardstock, colorful construction papers, glue sticks, a paper trimmer, printable templates, and a high-quality printer. lucys cards
42. Full of Fun Love Card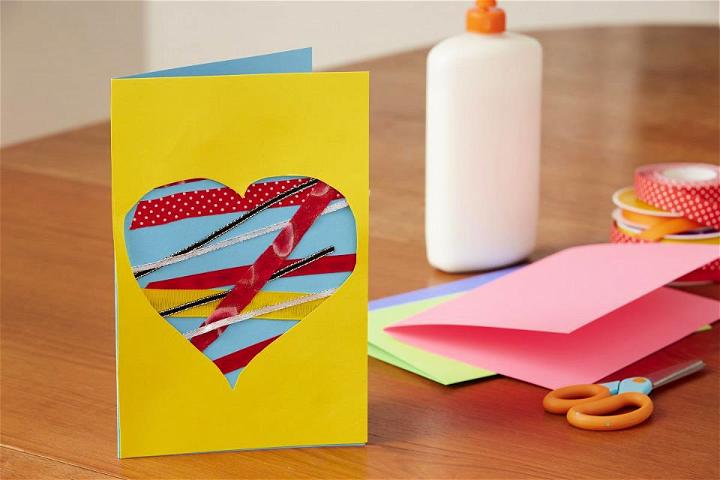 If you are looking for a mesmerizing craft to give your loved one, nothing would be a better option than making this full of fun and love card. For sure, it's super easy to make this card within a few supplies. All you need to do is copy and pasting the template on the cardstock to get your hand on this craft. Moreover, the needed supplies and materials for this project are colorful construction paper, cardstocks, scissors, glue stick, ruler, pencil, washi tape, decorative ribbons and other desired decorative embellishments. kindercare
43. Funny Cat Mouse Birthday Card

Are you looking for fun-loving DIY birthday cards for your friend or any family member? If yes, it would be a significant consideration working on this adorable, funny cat and mouse birthday card. Ideally, you can use available supplies from your collection to get your hand on this super attractive card. You can make this card for all age groups according to their interests. For this, you will need cocktail party stamps, white cardstocks, construction papers in desired colors, scissors, ruler, pencil, glue stick and decorative twine. yanasmakula
44. How to Make A Pop Up Box Card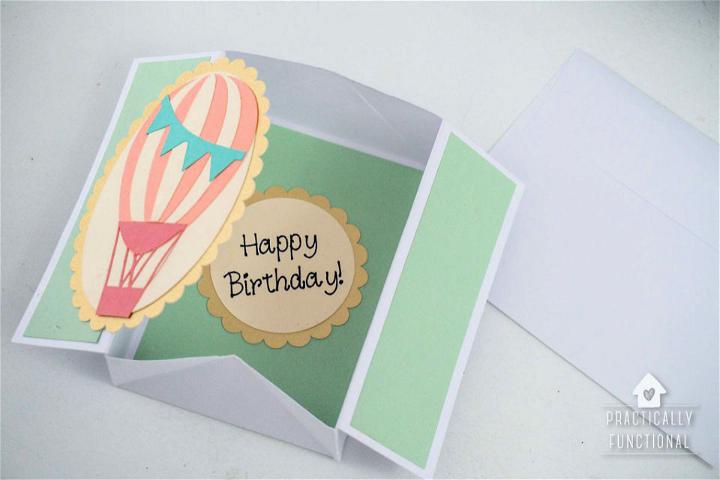 No doubt, we all love the surprising cards and gifts. You can also make a pop-up card to surprise your friend or loved one on a particular day. Indeed, it's super-efficient and quick to make this card even for beginner crafters. You can make this card a little bit more fascinating by adding a customized note inside it. So, make it using a Cricut maker, vinyl transfer tape, scissors, glue stick, pencil, black marker, a grip cutting mat, Cricut single scoring wheel, cardstock sheets, foam sheets and other desired decorative embellishments. practicallyfunctional
45. DIY Birthday Card For Dad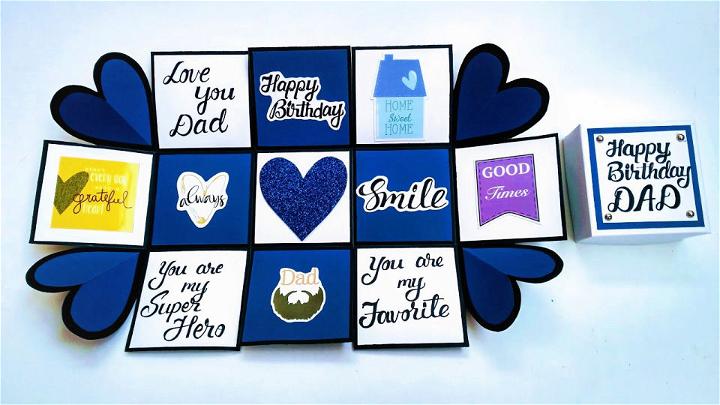 Wish your dad on his birthday in a more adorable and loveable way with customized birthday cards. It may look challenging to make this card. But everyone can surely make it effortlessly by watching the tutorial and following the guidelines. For this, the needed supplies and materials are white, light blue and dark blue construction papers, cardstocks, super glue, glue stick, paper cutter, ruler, pencil, glittery felt hearts, customized notes, craft markers and a black sharpie. youtube
46. Birthday Card For Grandma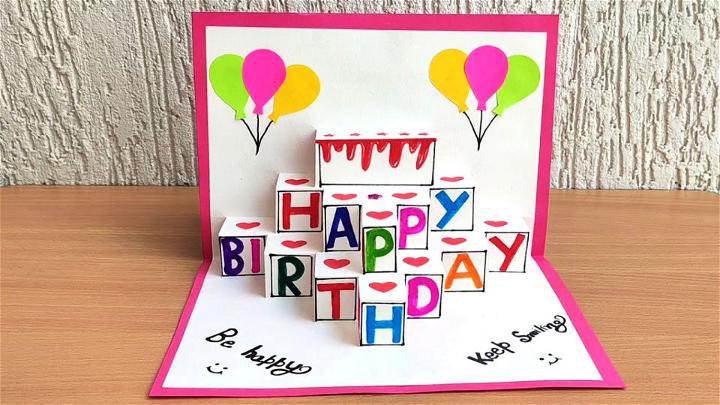 Grandparents are a real blessing of God for all of us! You can adore and show your love to your grandmother on her birthday by giving these super cute birthday cards. No doubt, you can surely get a card from a store and online. But it would be more fun-loving to make a card for your grandma yourself. If you want to make this card, get help and complete details by watching the tutorial. Moreover, collect the supplies, including white cardstock paper, construction paper in the desired color, craft markers, pencil, ruler, scissors, black sharpie, paper glue, felt paper for colorful balloons and birthday card template. youtube
47. DIY Birthday Card For Grandpa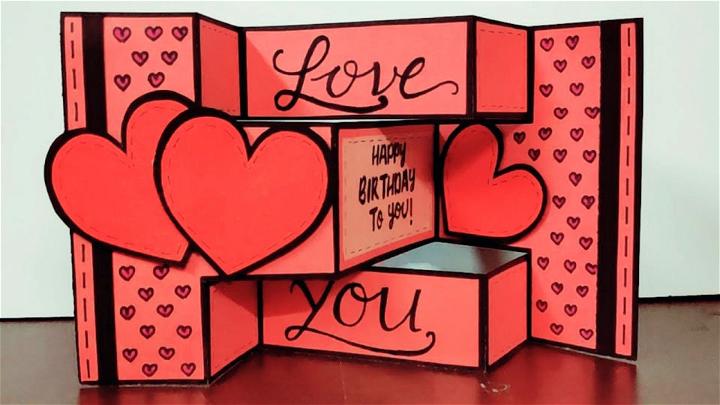 Show your love and care for your grandpa in a more fun-loving way by crafting this super adorable birthday card for him. You can choose this card as the best gift, especially if you are running out of budget. Ideally, you can complete this card craft with already available goodies from your craft studio. All you need to do is understand the DIY requirements to get your hand on this project. The needed materials for this card are red construction paper, cardstock, scissors, pencil, ruler and a black sharpie. youtube
48. Beautiful Birthday Greeting Card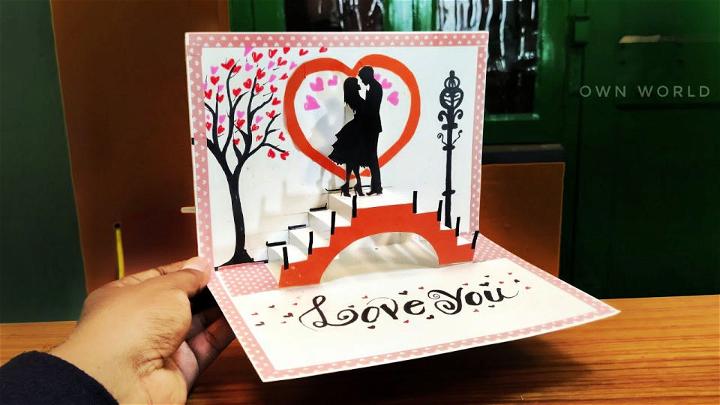 Say "HAPPY Birthday" to your loved one in a beautiful way with this adorable birthday card. You can also consider working on this card, even for your friend or a family member. If you are new to this project, watch the tutorial to get the complete guidelines and instructions. The things you will need for this DIY include the Cricut maker, a grip cutting mat, painter's tape, transfer tape or vinyl, scissors, ruler, glue stick, SVG design file of your choice and white cardstock. youtube
49. How To Make Valentine Card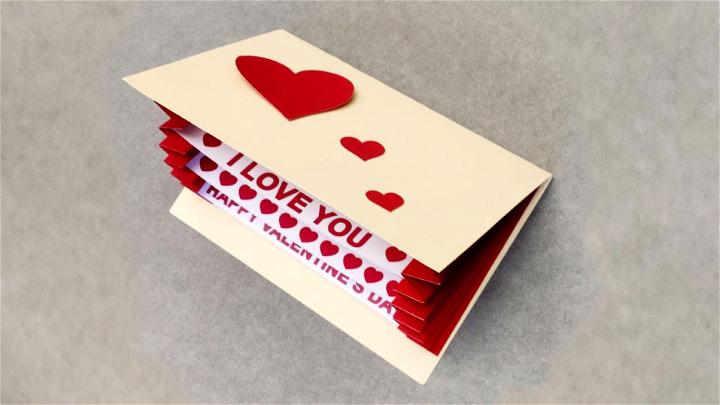 Do you want to express your love and feelings to your special one on this Valentine's Day? Of course, yes! Nothing would be a better option than making this love DIY card for your loved one. It's super easy and affordable to make this card even for the beginner crafter by following the step-by-step guidelines and instructions. The needed supplies for this craft are a love card template, light pink cardstock, construction papers in light pink and red colors, scissors, a paper trimmer, glue stick, ruler, pencil and a black sharpie. youtube
50. Birthday Card For Best Friend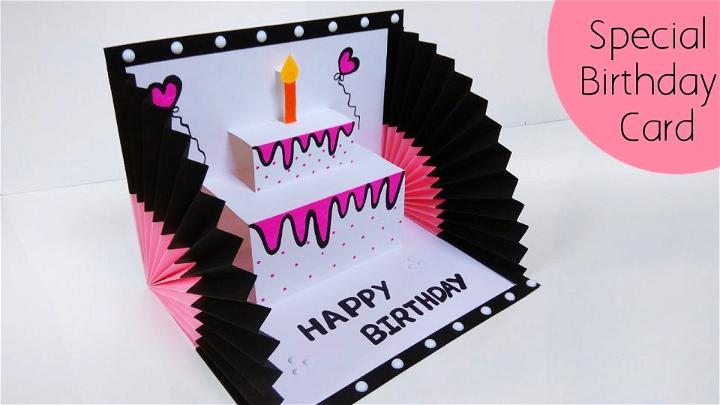 Wish your best friend on his birthday in a more fun-loving and adorable way with this customized birthday card. It would be super easy and efficient to get your hand on this craft if you know how to use the Cricut Maker. So, what are you thinking about? Start working on this card with white cardstock, colorful craft markers, card template, black sharpie, scissors, ruler, pencil glue stick and colorful construction papers. youtube
Conclusion:
So, are you excited to begin already? No more spending money on expensive fancy cards when you can make your own DIY cards. These simplistic and trendy homemade cards will make all special occasions feel 10 times more special. Also, it can be a great way to cheer a friend up and let them know that you are thinking about them. Other than this, simply sending out a card is the foremost way of expressing all your emotions in one. Be it thankfulness, sympathy, joy, love, or admiration. It even allows us to connect with the people we dearly adore on an emotional level. Make sure to stay in touch with your dear ones, send them these special handmade DIY cards on various occasions to put a smile on their face. Great wishes your way! 🙂